I got incredible experiences after tasting these best Mezcal cocktails. To help you celebrate a perfect party, I will share these excellent ideas for cocktails made from Mezcal to diversify your drinks menu.
In particular, these suggestions are easy to make and have excellent flavor. They will leave deep impressions on your diners' minds. Do not hesitate to follow these recipes to make delicious alcoholic treats right now.
Do You Know Anything About Mezcal?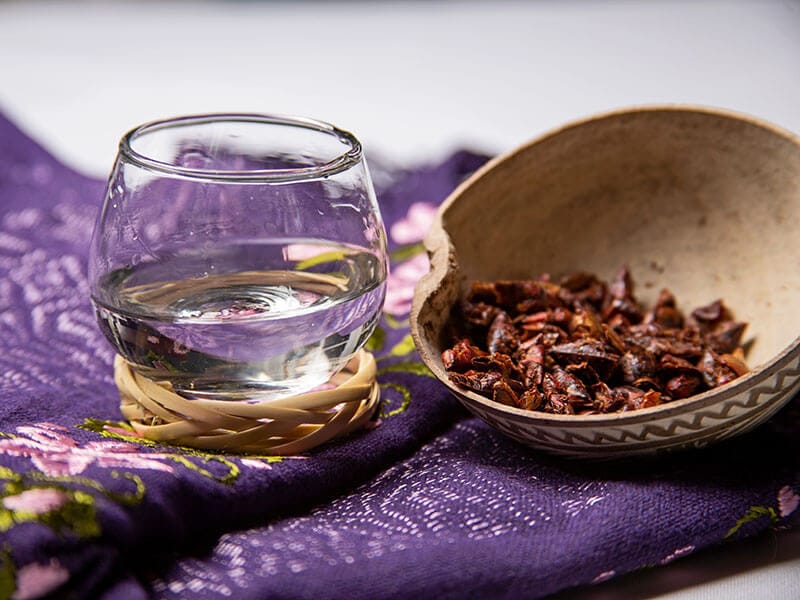 When talking about Mezcal, I will think of a type of distilled liqueur. Agave is the primary ingredient of this alcoholic beverage. Its name is taken from the "Mexcalli" word, which means "oven-cooked agave" in Nahuatl.
Mezcal is typical in Mexico. Agave existed in Mexico in the pre-Spanish Mexico period, but the origin of this liqueur is not certain.
The Oaxaca state is the primary producer of Mezcal because it accounts for about 70 percent of Mezcal products across Mexico.
There are about 30 different varieties of agave, so you can find many types of Mezcal made from various agave species. You can enjoy Mezcal straight or add it to many cocktails. You can take part in the International Mezcal Festival annually in Oaxaca.
Let's Check The Real Flavor Of Mezcal!
To make Mezcal, you need to roast agave, so the smoky flavor is the dominant touch of this alcoholic drink. However, it can have strong, moderate, or subtle smoky hints depending on the different brands.
Many people think that tequila and Mezcal are the same. However, tequila is one of the Mezcal kinds. Commonly, tequila is popular in Guanajuato, Jalisco, Michoacan, Nayarit, and Tamaulipas. Meanwhile, Mezcal is made widely in Oaxaca, Durango, and Zacatecas.
The main difference between Mezcal and tequila is the distillation process. To make tequila, agave will be steamed in ovens and distilled in copper pots.
However, to prepare Mezcal, people will use Lava Rocks with lots of charcoal and wood to cook agave and perform the distillation process in clay pots.
Enjoy Your Party With These Yummy Mezcal Cocktails
Let's chill with these standard cocktails made from Mezcal and other ingredients. These simple recipes take a short time to make, so follow these instructions to get the best results.
Total time: About 5 minutes
Mezcal Paloma is the perfect cocktail for Christmas because of its freshness and fruity taste. This fantastic cocktail is the harmonious fusion between citrusy and smokey. They come from grapefruit juice and Mezcal.
If Mezcal is not available in your kitchen, it is possible to substitute it with tequila to make traditional Paloma. Moreover, you can turn this drink into a wonderful Crown Royal cocktail by using Texas Mesquite whisky. I prefer using pink or ruby red grapefruit juice to bring the eye-catching color to this treat.
The cocktail will be more delicious with a bit of club soda on top. In terms of decoration, grapefruit wedges are the perfect additions.
Let's find the procedure to create a wonderful Mezcal Paloma right now.
Total time: About 15 minutes
If you have tried Bee's Knees cocktail made from gin, honey syrup, and lemon, you should not ignore the Killer Bee version. It will be smokier than Bee's Knees because Mezcal will replace gin.
Honey syrup is crucial to sweeten this drink. Water and honey are the main elements of this syrup. After finishing the sweetener, you will shake Mezcal, honey syrup, lemon juice, and ice for 10 seconds. You can serve it with ice or no ice.
Total time: Around 10 minutes
Due to its appeal, I have always received many demands to prepare a Mezcal Harvest Ole cocktail at parties. The mixture of apple cider, maple syrup, Mezcal, and citrus juice will conquer you on the first try.
It is one of the most straightforward cocktail recipes, and it takes a short time (10 minutes) to get the excellent cocktail for winter. Your task is to fill the shaker with all components and shake it to blend them. Let's prepare a coupe glass to serve this tasty drink.
Total time: About 5 minutes
If the classic Whiskey Sour or Rum Sour is your favorite drink, why don't you try tasting Mezcal Sour? It is a well-known cocktail in Mexican cuisine. Instead of using whiskey and rum, I will take advantage of the distinctive hazy taste of Mezcal to create an appealing cocktail.
This delicious cocktail has the perfect balance between the sweet taste of agave syrup and the citrus note of lemon or lime juice. In particular, you will fall in love with the smooth and silky texture of Mezcal Sour made with egg whites.
Furthermore, you can make the vegan version of this recipe with some changes. Instead of using 1 egg white, making Mezcal Sour with ¾ ounce of aquafaba (aka chickpea water) is the best suggestion for vegetarians.
Total time: About 5 minutes
Many delicious cocktail recipes are made from Mezcal, and Mezcal Margarita is one of them. The smoky flavor is the prominent highlight of this beautiful dessert because of the appearance of Mezcal. Furthermore, the citrus note of this drink will wake you up.
If you want to serve Mezcal Margarita professionally, creating a salt-rimmed glass with a lime slice and salt is better. Let's prepare a shaker and fill it with lime juice, Mezcal, Cointreau, and simple syrup.
After shaking the mixture for a few seconds, you can serve this alcoholic drink with ice. Primarily, you can enhance the aesthetic by garnishing with a lime wedge.
Learn the tutorials to create Margarita with Mezcal properly.
Total time: Around 3 minutes
This Cognac-based cocktail is a famous choice of Mexicans. Its name is given by the year of the Mexican Revolution. I was impressed by the particular name of this cocktail. The dark red hue makes it look fabulous and charming.
Besides Cognac and Mezcal, maraschino liqueur made from Marasca cherries adds a mild sourness to this drink. You should prepare Punt e Mes (Italian vermouth) to give this cocktail a bitter note.
Total time: About 5 minutes
You will go crazy with the complex taste of the Naked And Famous cocktail. It is a mix of sour, earthy, bitter, and smoky flavors. Joaquin Simo is the inventor of this excellent drink. It is the variation of Aperol-based Naked And Famous.
However, instead of using Aperol, this unique version will be added to the Bruto Americano to bring the lovely red color. A bit of tartness and sourness of lime juice will fascinate you immediately.
In particular, you will love the creamy and smooth texture of this fantastic drink because of the use of egg white. Using a few thyme leaves is the best way to decorate this delicious cocktail.
Total time: About 5 minutes
If you are searching for a delicious alcoholic treat for autumn and winter, the cozy Mezcal Old-Fashion will knock you out right now. You can find the high kick of cinnamon and the sweetness and smoky hint of apple syrup and Mezcal when trying it.
Its flavor can make you think of a smoky apple pie taste. Orange bitters will diversify the taste of this drink. This dessert will be better when served with ice.
You can adorn this masterpiece with fanned apple and cinnamon dust. Typically, the old fashioned glass is the standard choice to serve this drink.
Explore the instructions to prepare wonderful Mezcal Old-Fashioned.
Total time: About 10 minutes
Watermelon-Basil Mezcal Margarita is an incredible cocktail for Halloween occasions. Although watermelon is the summer fruit, I can purchase it all year round at grocery stores.
You need to use a moderate amount of Mezcal to create a reasonable smoky flavor. The refreshing, sweet taste and juiciness of watermelon will make you want to give this drink a shot right away.
Decoration plays an essential role in cocktail recipes. To garnish this drink, you can use a skewer with watermelon, basil leaf, and a lime wedge. In addition, making salt-rimmed glass is an excellent idea.
After getting juice from the cubed watermelon, you will mix it with the lime juice, basil leaves mixture, and Mezcal. With just a few shaking movements, you can enjoy this fantastic cocktail.
Total time: Around 5 minutes
I love ginger beer's bubbly and spicy flavor in cocktails, so Mezcal Mule is my favorite choice. Besides, the smoky and citrus note of Mezcal and lime juice can tickle your taste buds. This yummy drink is the ideal suggestion for your summer.
In particular, a copper mug is one of the distinctive features of this cocktail. It will keep the coldness and deliciousness of Mezcal Mule. You need to mix lime juice and Mezcal before adding ginger beer to bring the best efficiency.
If you ask me whether you can use ginger ale in this recipe, you will receive a refusal from me. That's because it is bubblier and sweeter than ginger beer.
Total time: About 5 minutes
It is time to make your holidays more memorable with the Island Mango Mezcal Breeze recipe. Sweet mango juice and Mezcal are the primary ingredients of this excellent drink. Besides, you can find the flavor of chili powder, lime, and silver tequila in this cocktail.
Have you ever used chili powder in cocktails? If not, let's try instantly. The reasonable spicy touch of Island Mango Mezcal Breeze will stimulate your taste buds immediately. Do not ignore finishing the cocktail with sparkling water.
Total time: About 5 minutes
Strawberry Mezcal Mojito will meet your cocktail requirements of deliciousness, simplicity, and cheapness. This tropical Cuban cocktail is mouthwatering with the appearance of smoky Mezcal, sweet strawberries, and cool mint.
Mojito is a traditional cocktail made from rum. And I will help you make this drink by using Mezcal with some effortless operations. Before making this excellent cocktail, you need to prepare essential ingredients, a shaker, and a Collins glass.
Let's start adding strawberries, mint, agave, and lime juice to the shaker and mixing them. Next, continue to fill the shaker with Mezcal and ice and shake until you get the chilled mixture. You can add seltzer and fresh ice to enhance the cocktail's flavor.
Total time: About 5 minutes
The Mezcal Negroni cocktail is complex in taste with the outstanding smokey of Mezcal, the sweetness of vermouth, and the bitter touch of Campari (Italian aperitif). In addition, the gorgeous red shade of this drink will captivate you instantly.
You should use large ice cubes to gain the best performance and decorate this drink with an orange wedge. If the ice cubes are not available, 2 to 3 pieces of ice are the perfect substitutes. There are many ways to serve Mezcal Negroni, depending on your preferences.
If you have a big party, you can prepare Mezcal Negroni in a large pitcher and arrange short bodega glasses for guests to serve themselves. Or, premixing this drink is another way to perform while going camping. Also, enjoying it in a cocktail glass is an incredible option.
Follow these directions to make excellent Mezcal Negroni immediately.
Total time: About 2 minutes
You should make Marrakesh Express right away if you have pomegranate and Mezcal in your house. This recipe is also known as Pomegranate Mezcal Cocktail with Harissa. Gabriella Mlynarczyk invented this excellent Mezcal option in the US.
The yummy pomegranate-based cocktail is ideal for crowded parties because you just spend 2 minutes preparing it. The fresh and intense flavor of pomegranate juice will steal your soul instantly. This drink tastes spicy with the appearance of Harissa (chili sauce).
The liqueur note comes from the Mezcal. In particular, this drink has a foamy consistency due to egg white. To garnish this cocktail, it is possible to use pomegranate seeds, flaky salt, and pink peppercorns.
Total time: About 2 minutes
Have you ever tried mixing honey with Mezcal? It is time to change your palate with the Honey And Smoke Mezcal cocktail. The intense flavor of Mezcal liqueur blends perfectly with honey's exquisite and naturally sweet taste.
Furthermore, it is hard to resist ginger beer's peppery and spicy notes. The taste of this dessert will not be complete if it lacks lime juice. You can decorate the glass with salt and chili powder by making salt-rimmed glass.
Let's find out the easy ways to create a Honey And Smoke Mezcal cocktail.
Total time: About 5 minutes
Do you have any cocktail ideas for your birthday party? Let the pink Prickly Lady cocktail become an essential part of your birthday. This delicious drink is an excellent combination of prickly pear juice, lime juice, Mezcal, ginger liqueur, and powdered sugar.
If you have never done any cocktail before, you can still succeed with this drink because it is straightforward. You just need to combine all common ingredients in a cocktail shaker or a pitcher and serve this mix with ice.
Total time: About 2 to 3 minutes
A cocktail containing Aperol and Mezcal is a perfect option for your weekend party, and Division Bell is a suggestion you have to consider. It is effortless to make this drink with easy steps, so let's do it right now!
In addition to Aperol and Mezcal, ice, lime juice, and maraschino liqueur are the crucial ingredients you must prepare before making this cocktail. Fill the shaker with all elements and shake to blend them. And I often adorn it with the grapefruit twist.
It is simple to make a mouthwatering Division Bell with these steps.
Total time: About 2 minutes
Closing Argument is the well-known Last World cocktail variation made from Mezcal and other ingredients. The Last World appeared in the Prohibition era. It was served in the Detroit Athletic Club's bar in the 1920s.
Traditionally, Last World comprises gin, maraschino liqueur, lime juice, and Chartreuse liqueur. However, in the Closing Argument version, the smoky Mezcal is added to give the characteristic and intense taste.
The Closing Argument contains about 23.4 grams of alcohol. Ultima Palabra is the famous variant of this drink with the additions of pineapple juice and chilled water.
Total time: About 5 minutes
Let's make your summer special and wonderful with a cocktail recipe made from peach. You should take advantage of the sweetness and freshness of this fruit to create a perfect drink. However, it will become a masterpiece with the addition of smoky Mezcal.
Perhaps, you often encounter jalapenos in foods, but adding them to drinks is also a great creation to enhance the spicy taste of beverages. In addition, the cocktail will become more perfect with the bubbly texture and warm flavor, and ginger beer will bring these features.
Total time: Around 5 minutes
The sweet and smoky Apple Cider Mezcal Margaritas is my favorite recipe at the end of the day. Exceptionally, the typical aroma and woody taste of cinnamon make me comfortable after a tiring workday.
Using apple cider in cocktails is common since it has apples' sweet taste and fragrance. In this drink, apple cider will be shaken with Mezcal, lime juice, and ice cubes.
The most common way to decorate this drink is to make a rimmed glass with cinnamon, sugar, and salt. Please beautify it with some honey crisp apple slices.
Let's Try Making These Mezcal Cocktails!
Have you ever prepared any cocktail in this article? It is time to show your talent by making these excellent cocktails with Mezcal to treat your loved ones. I guarantee you will get memorable moments while enjoying the party with these cocktails.
Do you know any other yummy Mezcal cocktails? If yes, feel free to share your thoughts in the comment section. Moreover, let's share this post to introduce these recipes to many other people. Thanks a lot.
Nutrition Facts
1 servings per container
---
Amount Per ServingCalories250
% Daily Value *
Total Fat 0.1g

1

%
Sodium 1675mg

70

%
Potassium 105mg

3

%
Total Carbohydrate 17.7g

6

%

Dietary Fiber 0.7g

3

%
Sugars 21.2g

Protein 0.4g

1

%
---
* The % Daily Value tells you how much a nutrient in a serving of food contributes to a daily diet. 2,000 calories a day is used for general nutrition advice.