Which one is the best: pink lemonade vs. lemonade? The majority of people still make mistakes and cannot identify the distinctions between them. Understanding their main characteristics will save your money and help you find out which one is your favorite.
Mistaking the differences between each type of lemonade can alter your favorite drink's flavor. This post can offer you a closer look at pink lemonade and lemonade and some guidelines for your homemade recipes.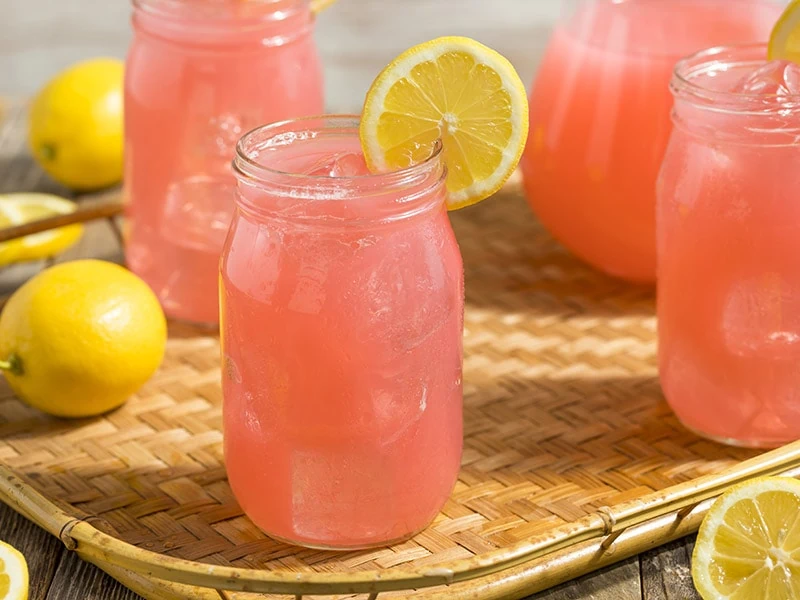 Pink Lemonade Vs. Lemonade: Similarities And Dissimilarities
Drinking lemonade immediately satisfies your thirst and naturally reduces your body heat on scorching days. If you want to try something different but as healthy and tasty as regular lemonade, pink lemonade can be on your list.
Pink lemonade and lemonade do not only differ in colors. The unique taste, origin, and ingredient combination of pink lemonade set it apart from the regular one.
Who Are The Fathers Of Pink Lemonade And Lemonade?
Despite being one of the most popular drinks in the U.S, not many people know the history of pink lemonade and lemonade. Let's find out the hidden stories!
Pink Lemonade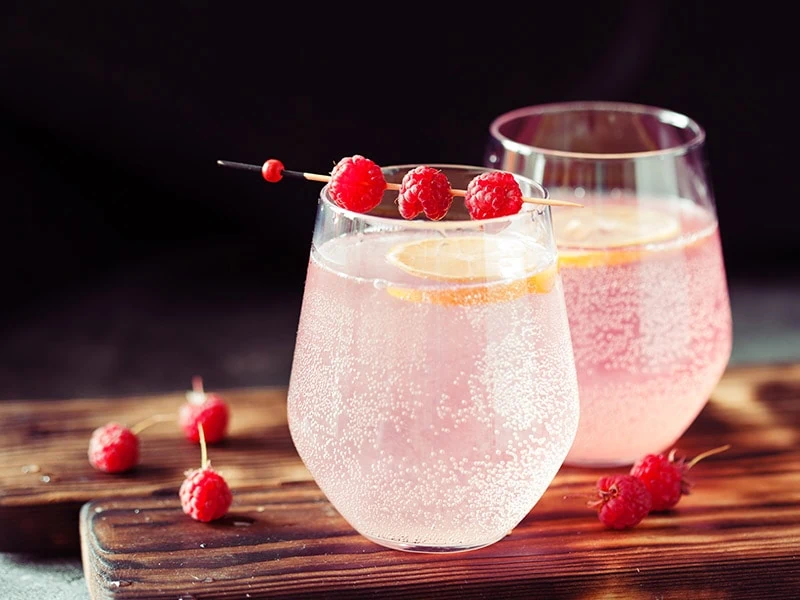 Surprisingly, there are many ways to clarify the first debut of pink lemonade, and the true story behind it is mysterious.
In one story, pink lemonade is a product made by Henry E. Elliot. The inventor of pink lemonade was a circus man in Chicago, and one day he unintentionally dropped several red cinnamon candies into a lemonade tub. Then it turned into an iconic drink at that time.
Another tale shows Peter Conklin, who is known as a famous clown, is the father of pink lemonade. He discovered the new lemonade recipe by accident when he ran out of water. He mixed water-dyed pink and some lemons and then called it "strawberry lemonade" in 1857 (1).
Therefore, pink lemonade is typically the result of adding some color to make it more appealing, and it is still the most popular beverage these days.
Lemonade
The first reference to lemonade can trace back to the 13th-14th century in Egypt, which refers to a beverage made with fresh lemons, honey, and dates (a flowering plant in the palm family). Back then, people called it "Qatarmizat", the name of a lemon juice with sugar drink (2).
Traditional lemonade is also referred to as cloudy lemonade, which you can primarily find in the US, Canada, Australia, and India. This is non-carbonated including fresh lemon juice. Today, lemonade has become a well-known drink in summer.
Check here for more information about the origin of lemonade.
Definitions Of Each Type
What are the definitions of pink lemonade and lemonade? Scroll down to see two different explanations!
Pink Lemonade
Pink lemonade is a drink that has some ingredients added to make it pink, but it tastes almost like lemonade. Today, pink lemonade, produced in soft drink cans in many supermarkets and shops, is a favorite drink of all ages.
Lemonade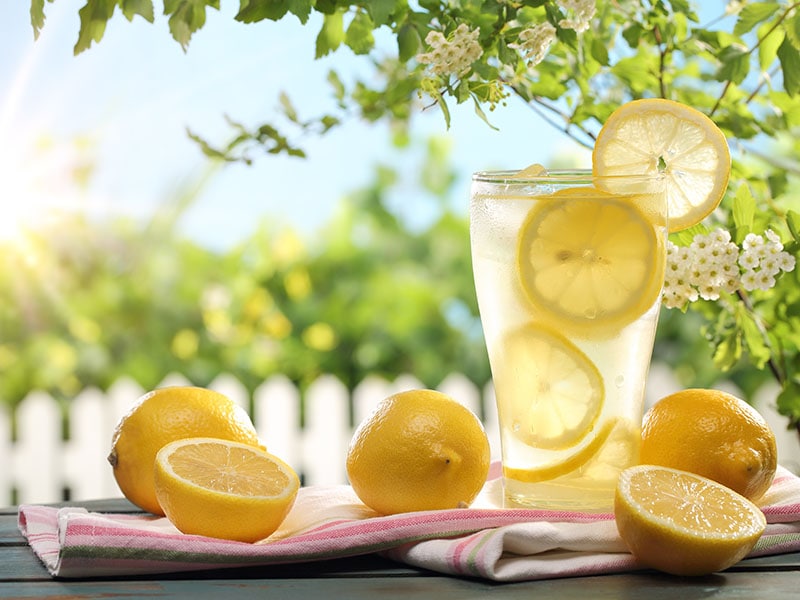 Lemonade, or yellow lemonade, is the traditional drink with a translucent, slightly yellow color that is widely known in every country and frequently used to cool off body temperature.
Variety Of Ingredients
The distinguished ingredients of the two kinds set them apart, but not everyone may know this.
Pink Lemonade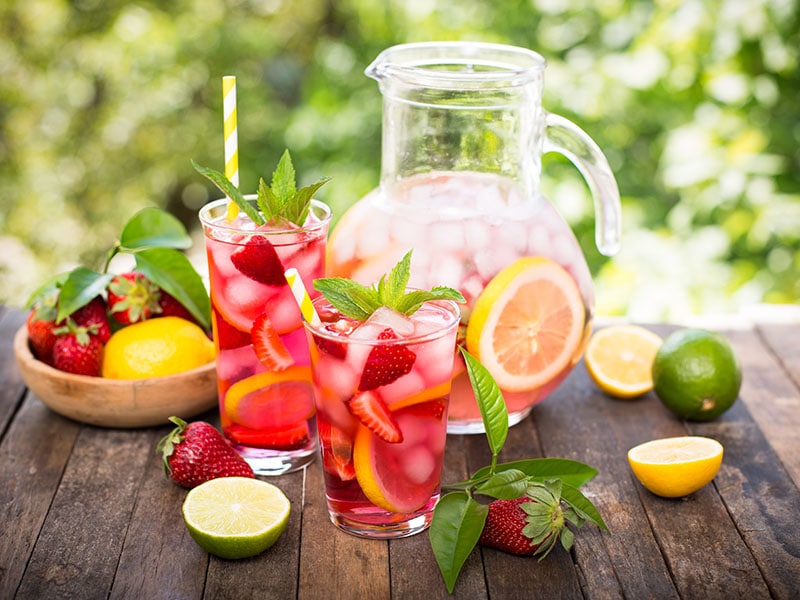 Almost pink lemonade sold in supermarkets or grocery stores contains some main ingredients such as lemon juice, syrup, natural flavor, food coloring, etc.
In addition, people tend to mix pink lemonade with alcohol and many other types of ingredients to meet the needs of consumers. Some popular pink lemonade drinks are pink lemonade cocktails, pink lemonade vodka punch, pink lemonade vodka slush, etc.
Lemonade
Lemons, the main components of lemonade, are an easy-to-find citrus fruit variety that appears in every kitchen all over the world.
Though the primary components of lemonade are still lemons, water, and sugar, you can mix classic lemonade with a wide range of different ingredients.
Differences In Characteristics
In terms of characteristics, pink lemonade and lemonade are various from color to flavor.
Pink Lemonade
Different from the light-yellow color of the traditional drink, pink lemonade has a rose-tinted color. The explanation for this pink color is that people add some food coloring or red dye to it.
However, pink lemonade can be made from lemons, strawberries, cranberries, watermelons, etc. These ingredients change the classic lemonade into a pink lemonade without using artificial colors.
What's more, the taste of pink lemonade and lemonade is dissimilar. Unlike the original taste of classic lemonade, mixing pink lemonade with some fruits also makes it less acidic and leaves a sweeter flavor in your mouth.
Lemonade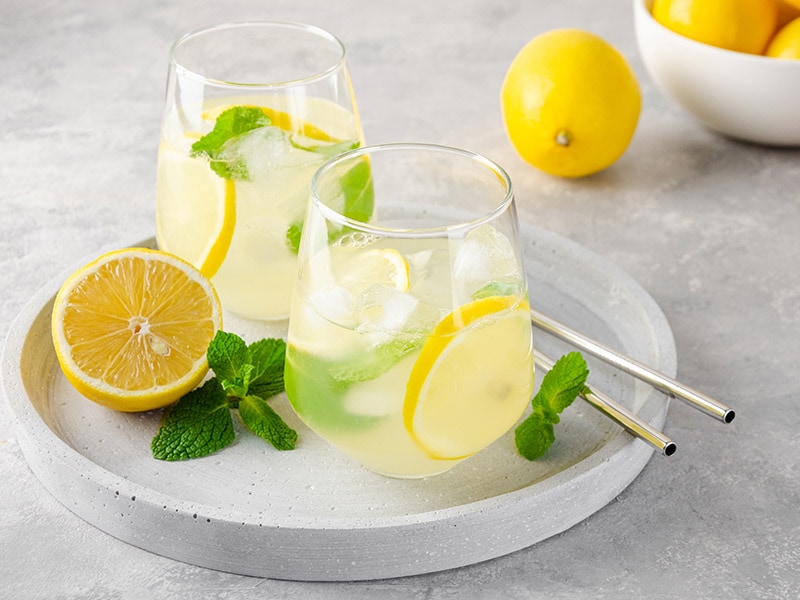 Traditional lemonade has a transparent natural light-yellow color, a fresh smell, and a sour and tart taste. That's why classic lemonade is more acidic and richer in vitamin C compared to pink lemonade.
Yellow lemonade, which is the best beverage to cool down your thirst in a flash, leaves a sour but refreshing taste and is never a bad choice in the summertime.
Health Benefit Analysis
Which one is healthier? This is one of the most commonly asked questions when people think about pink lemonade and lemonade.
Pink Lemonade
One of the main ingredients used to make pink lemonade is lemon juice, so pink lemonade can provide a considerable amount of vitamin C. Besides dehydrating, pink lemonade can boost your energy and provide some kinds of minerals.
Lemonade
Some researchers report that lemons can be a huge source of vitamin C and are universally famous for their many uses and benefits, particularly for human health.
Therefore, some of the typical health benefits of lemons can be aiding digestion, reducing cholesterol, helping to lose weight, protecting against cancer, etc. (3)
Health benefits of lemons that you never expect.
Compare Pink Lemonade Vs. Lemonade In Tabular Form
This is the difference between pink lemonade and lemonade, provided in tabular form to help you clearly distinguish the boundary between these two drinks.
| Name | Pink Lemonade | Lemonade |
| --- | --- | --- |
| Origins | Found accidentally by Henry E. Elliot or Peter Conklin | A drink comprising lemons, honey, and dates found in the 13-14th century in Egypt |
| Definitions | A pink drink with a lemonade flavor, adding some food coloring | A traditional drink having a translucent color and containing no food coloring |
| Ingredients | Lemon juice, syrup, natural flavor, food coloring, etc. | Lemons, water, sugar, ice, etc. |
| Colors | Rose-tinted color | Translucent light-yellow color |
| Flavors | Sweeter, less acidic, and tart taste | The higher acidic and tart taste |
| Health Benefits | Dehydrate, boost energy, implement some minerals, etc. | Dehydrate, boost the immune system, aid digestion, synthesize collagen, etc. |
How To Make Homemade Lemonade Like A Pro
Making lemonade or pink lemonade doesn't seem to be a problem, but not everyone knows how to make it in a simple, safe, and precise way. Follow these tips to make a glass of fresh and tasty beverage:
1. Choosing The Right Ingredients
Without a doubt, picking the right ingredients can change the whole thing. Someone may think there is no need to pay too much attention to the ingredients. This is true. However, choosing the right ones saves you time and money while also making your efforts worthwhile.
This is a detailed guide to taking your lemonade (or pink lemonade) to another level:
Step 1: Determine What You'll Need For Your Lemonade
You can mix a wide range of ingredients with lemonade, like fruits, mint leaves, alcohol, etc. Lemonade is among the most popular types of drinks for everyone, from kids to adults, with its numerous varieties.
That's why you need to find out which one you would like to taste, search for appropriate recipes, and then make a full list of ingredients first. Remember to choose the right one for your kids, and don't forget to avoid your food allergies (if any).
Step 2: Some Kinds Of Lemons
Indeed, you can find lemons in every supermarket or grocery store around your residential areas. Nonetheless, there are dozens of types of lemons that you can use for different purposes. Let's discover your suitable types of lemons!
Four common varieties and types of lemons you can use to make lemonade are:
Lisbon Lemons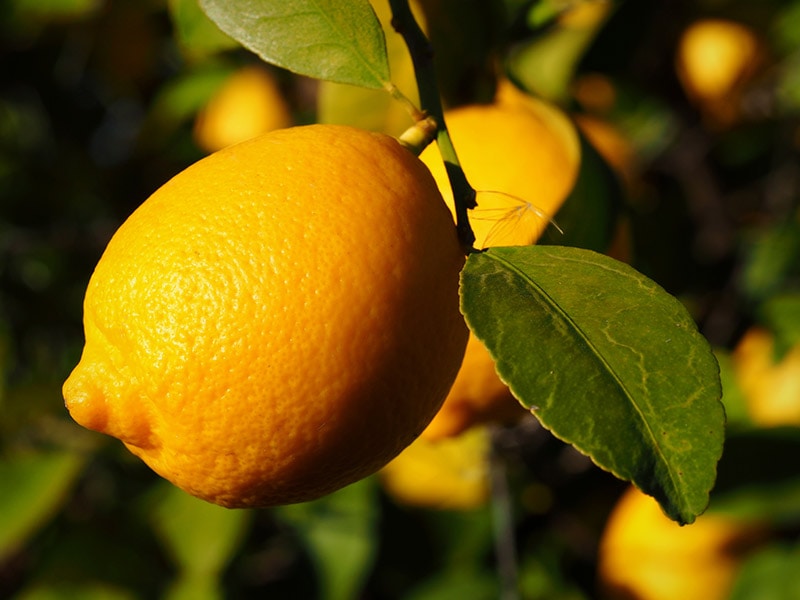 This type of lemon, which is classified as Citrus limon, is from medium to large in size. The Lisbon lemon has a pitted and vivid yellow peel. It is one of the most common varieties of lemon and has a very sour and tart taste, as well as highly acidic flesh.
Even though Lisbon lemons produce great juicy flesh, you may not want to use them to make sweet lemonade but traditional sour one instead.
Eureka Lemons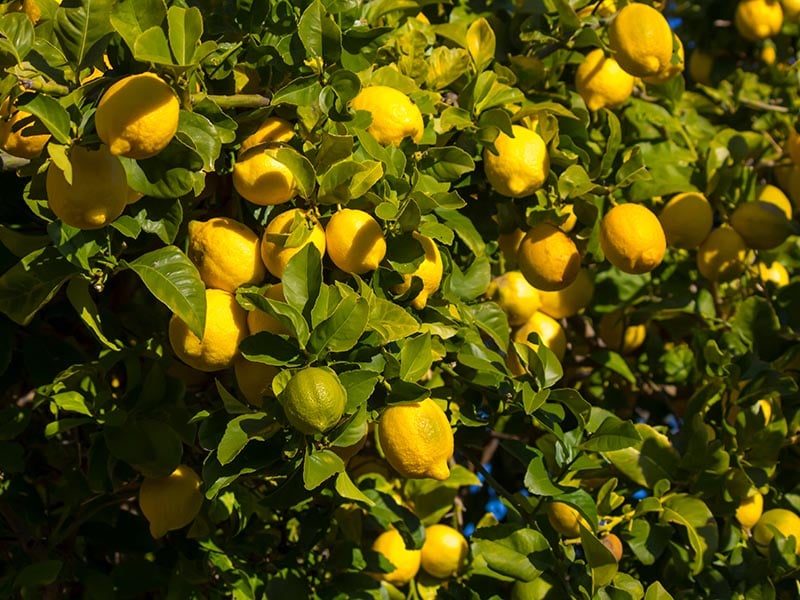 Eureka lemons have an identical peel to Lisbon ones. Somehow, they mention that it has a flat stem end, pale yellow or green flesh, and a slightly rough and thick peel.
Some Eureka lemons are seedless or have a few seeds and provide an acidic and tangy taste, and a refreshing smell.
Pink Eureka Lemons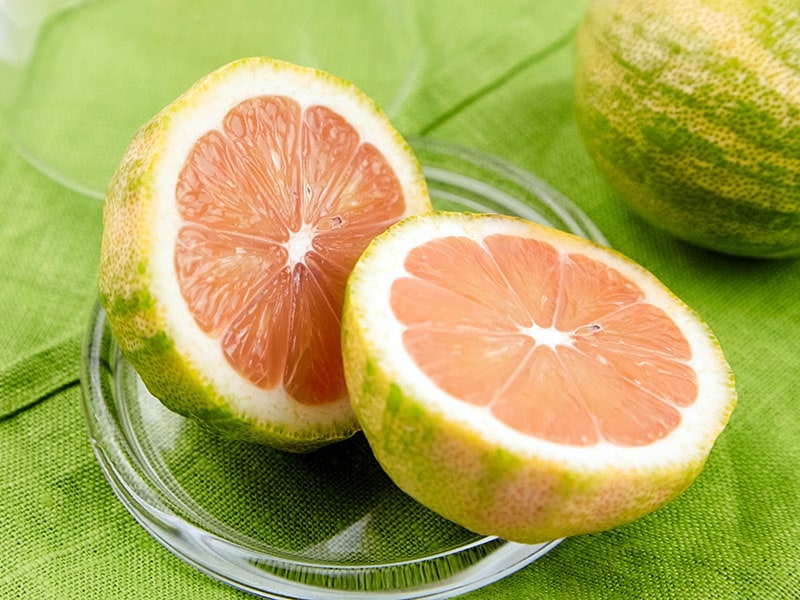 Pink Eureka lemon, which is a cultivar of lemons, also known as the variegated pink lemon, or pink-fleshed Eureka lime, was founded in California. The pink-fleshed Eureka lemon is medium in size, covered with a striped yellow color, and has a high juice content.
Persian Limes
Another perfect lemon variety to make lemonade is the Persian limes, also known as Bearss limes, Tahiti limes, or seedless limes.
Unlike Lisbon or Eureka, Persian limes have a round and oval shape, a thin, smooth, and green-covered surface, as well as tender pale-yellow flesh.
The advantages of this citrus fruit are:
Easy-to-find
Absence of seeds
Larger in size
Highly juicy content
Low acidity, less tartness, and sweetness
Sweet and refreshing scent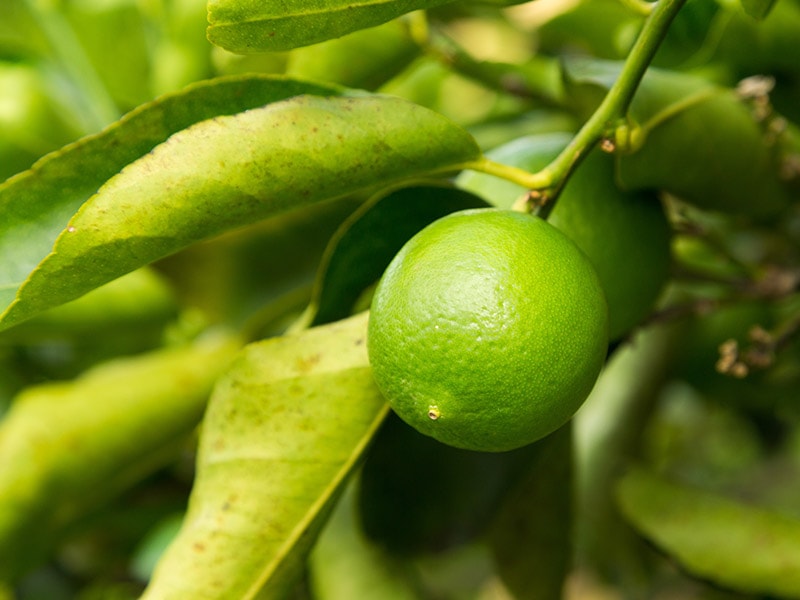 Meyer Lemons
Meyer lemons have some similar features to some lemons: a less acidic and sweeter taste, a floral scent, and thinner skin. However, this kind of lemon is fairly costly and hard to find.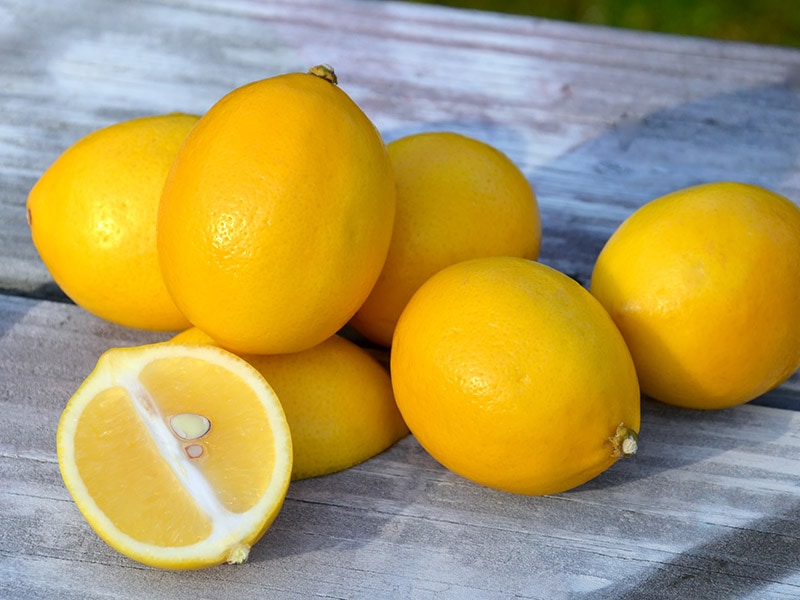 Step 3: Choosing Fresh And Juicy Lemons
Don't ignore the quality of the ingredients, unless you want an unexpected glass of lemonade!
The best lemons for your lemonade should have:
A fresh and pleasant scent
Small to medium ones but heavy in size
Bright color, no signs of mold
Thin skin
2. Considering The Right Amount Is Very Important
Most people underestimate the importance of measuring the right amount of ingredients. This will certainly make all your efforts worthless.
So, in order to make a perfect lemonade, you should think:
How many glasses do you need?
How many lemons should I use?
Do you prefer sugar-free, less sugar, or a sweet tooth?
Does your drink contain alcohol?
Then, all you need to do is carefully calculate the proper amount for each type of ingredient based on recipes.
3. Making Your Tasty Lemonade Like A Barista
This is a detailed but simple guideline that helps you make lemonade like a pro.
Step 1: Roll Lemons Before Squeezing Them
This may be strange for some, but do not forget to roll lemons before squeezing. This can make them juicier and fleshier. Place the lemon on a hard surface and use your hands to roll it along the counter until it becomes softer.
Another way to make lemons get more juice is by putting them in the microwave for about 20-30 seconds or soaking lemons in hot water for about 3 minutes.
Here is the best way to squeeze lemons that you should know.
Step 2: Slice The Lemons
Slicing lemons in an appropriate way will help you not waste any drop of juice. Cut lemons in half lengthwise and use a fork to remove the inner membranes, or cut them into smaller slices.
Step 3: Squeeze The Lemon
Using highly recommended lemon squeezers is better than using your hands. These types of cooking tools can increase the amount of extracted juice in a fast and effortless way.
7 Ideas For Your Homemade Lemonade
Would you like a glass of fresh lemonade but don't know how to make it? I'm here to share with you 7 tasty but easy lemonade recipes. Roll up your sleeves and make your tasty pink lemonade today!
Classic lemonade is an old-but-gold drink. Serving lemonade for your whole family with just a few steps is never an old-fashioned idea. In around 10 minutes, you have a glass of lemonade that is convenient, simple, safe, and healthy.
Refreshing your body with classic lemonade is never a bad idea.
One of the iconic beverages is strawberry lemonade, which is famous for its delicious combination of flavors: fresh, sour, and sweet. With no food coloring and easy-to-find ingredients, strawberry lemonade is everyone's favorite drink, from children to adults.
Lemonade and watermelon? A fantastic combination in the summertime. It is hard to describe the freshness in every sip, but the sweet flavor of watermelon and a little sourness of lemons will surely make your taste bud dance.
Overall, watermelon lemonade is tasty, low-cost, and 100% natural.
Another recipe for lemonade should be on your list: blueberry lemonade. For those who are true fans of blueberries, they can't miss this. A little bit of the tart and sweet flavor of blueberries combined with the sour and refreshing taste of lemons can conquer your heart for the first time.
Making a cocktail with your lemonade is definitely a marvelous idea! Save the guide below to make this hot drink like a professional bartender. Even more amazingly, you could make your own pink lemonade vodka punch with your friends on a relaxing evening.
Try it out and serve your friends with a pink lemonade vodka punch.
Are you finding a cocktail recipe with a nice pink color? This pink lemonade cocktail will suit you. From now on, you don't have to go any further to enjoy your favorite. Let's make it and enjoy it at home.
Vodka, lemonade, and strawberries are what you need to make a tasty glass of pink lemonade cocktail.
If you're a fan of margaritas, this recipe is for you. Pink lemonade margaritas are globally famous for their special combination of tequila and triple sec, the sweet flavors and rosy color of pink lemonade, and a little bit of salty taste of the salted-rim glass.
Find out the simplest way to make pink lemonade margaritas like a professional bartender.
FAQs
There are some frequently asked questions about pink lemonade vs lemonade as well as many types of lemons. This section will provide you with short and precise information to clear up your doubts.
Pick Up Your Favorite: Pink Lemonade Vs. Lemonade
In short, pink lemonade and lemonade are quite different in terms of color, taste, and ingredients. Pink lemonade has a rose-tinted color and is sweeter in flavor than classic lemonade. Moreover, the reason for the rosy color of pink lemonade is that people add food coloring to it.
Pink lemonade or classic lemonade is still your own choice. If you find this post helpful, don't forget to enjoy your favorite lemonade and share the recipes with your families and friends.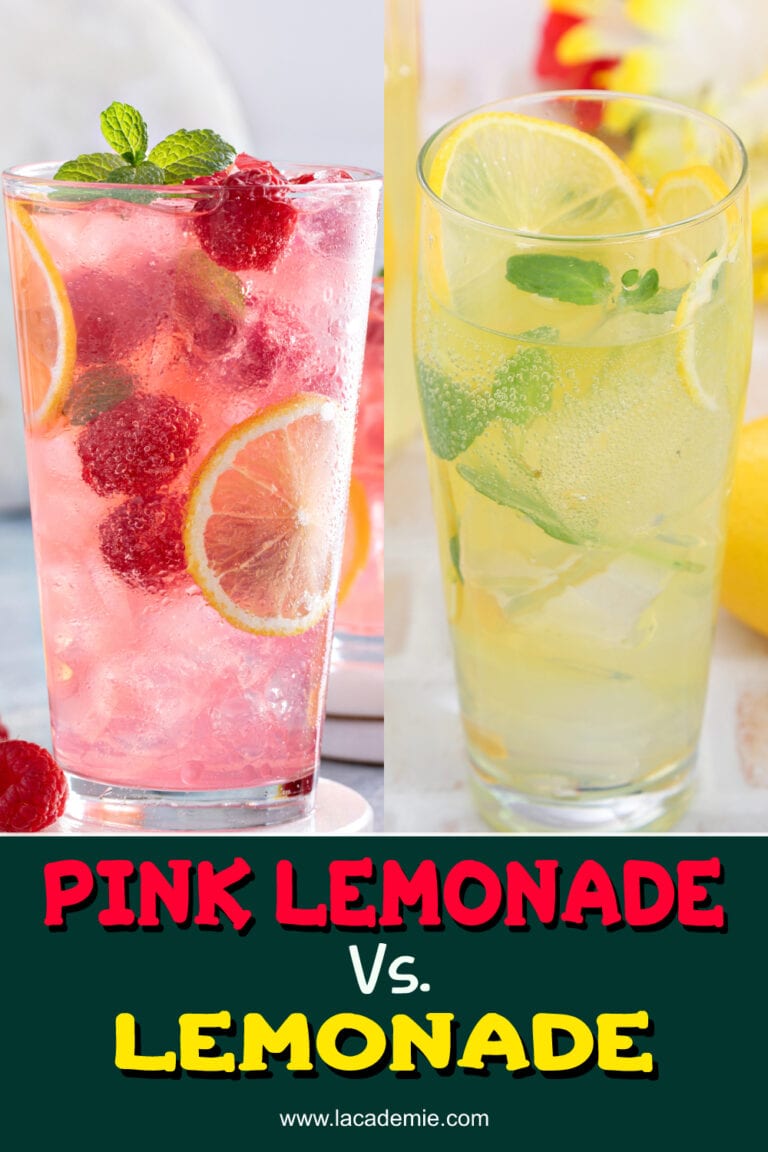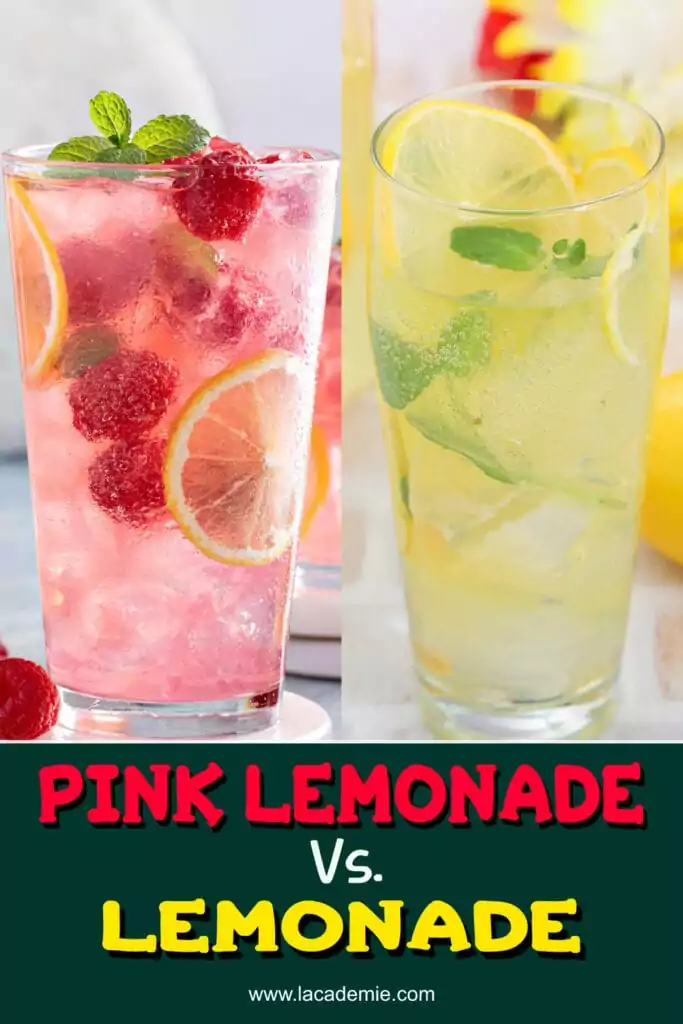 References
Smith, L. (2021). The Circus Origins of Pink Lemonade. Retrieved 17 May 2022.
Lemonade – Wikipedia. (2022). Retrieved 24 May 2022.
Hernandez, D. (2016). The health benefits of lemon – Vital Record. Retrieved 20 May 2022.