You are curious if the lemons in your fridge go bad because sometimes you see them with unsmooth skin, but they are still good. However, some fresh-look lemons don't give you as fresh lemon juice as you want, so how to tell if your lemon goes terrible.
It's sometimes tough to say whether your lemons are good just based on their appearance, but outside signals can partly tell you about the current status of the lemons.
I believe that there are numerous unique things about lemons in your fridge you will find out from the article. Let's check them out!
What Do You Know About Lemons?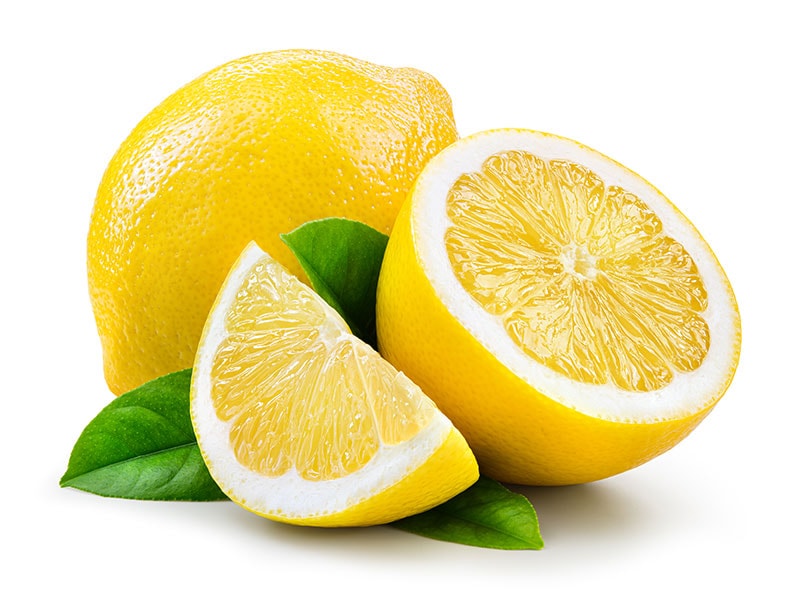 Lemons are a versatile fruit. Lemons are available in many cultivars, and they are nutrient-rich, zesty, and refreshing and have many benefits related to health, the culinary field, skincare, and sanitation.
Health Benefits
Lemons are full of antioxidants, vitamins, minerals, and phytonutrients that can help you with:
Heart Health. Vitamin C and some minerals in lemons are good to reduce your risk of heart disease and stroke and lower cholesterol levels.
Weight Control. Lemon juice is considered a weight-loss food, and drinking hot water with lemon can help you with weight loss.
Prevent Kidney Stones. Citric acid from lemons is beneficial to reduce kidney stone formation.
Improve Digestive Health. Lemons contain soluble fiber that can help you enhance digestive health. However, it will be better if you eat the pulp of the lemon, not just the juice.
Provide soothing relief for coughs, sore throats, and flu symptoms.
Cooking Field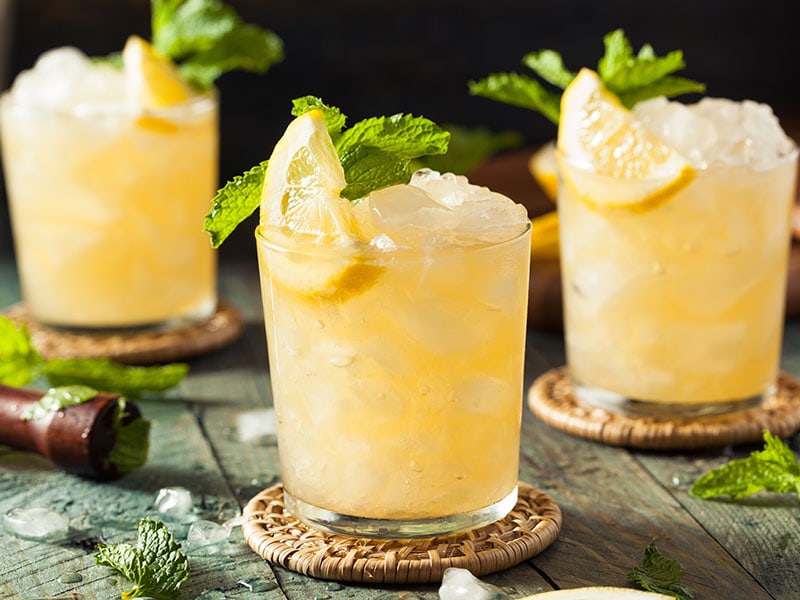 Bring Sour Flavor. Lemons are indispensable because you need lemons to flavor many sweet treats, savory dishes and sauces. Their sourness stimulates your taste while enjoying time.
Make Baked Goods Light. Adding some drops of lemon in flour makes your baked goods brighter and fresher to enjoy.
Prevent Discoloring The Flesh Of Some Kinds Of Fruits And Vegetables. Lemons are good to help you keep the color of fruits and vegetables such as avocados, apples, white cabbage, and so on.
Tenderize Meat. I know that some of you already have some specific tools to tenderize your meat. But when you bake, grill, or steam meat, adding some lemon juice to the meat will make it softer and enhance its flavors.
Beverages. With lemon, you can make many kinds of juice or cocktails that can make you energetic and refreshing.
Skin Care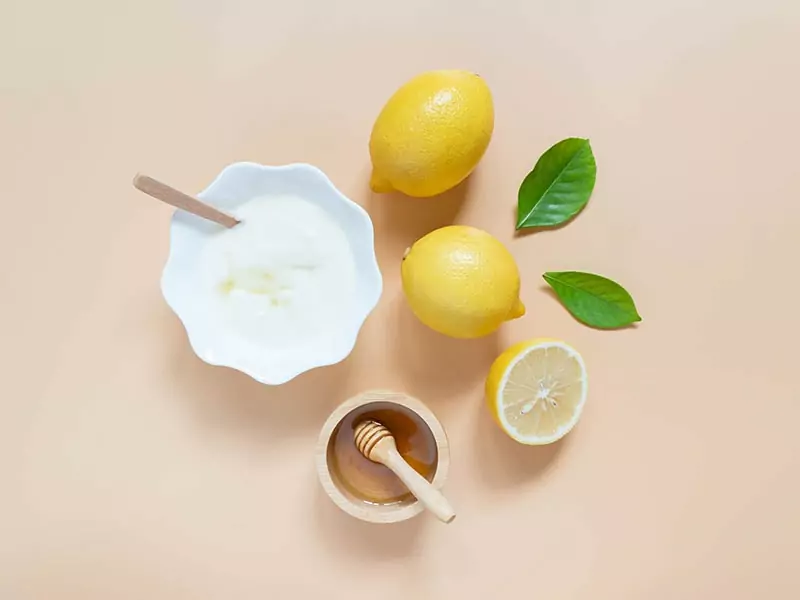 Lemons can also be used in home beauty treatments to rejuvenate the skin. Lemon juice is used to lighten sunspots on the skin and put highlights in hair.
Sanitation
Cleaning Agent. Lemon can help you remove stains on fabrics and odors from the skin.
How To Tell If Lemons Are Bad, Rotten, Or Spoiled?
This section will matter to you if you don't know if your lemons are rotten or not. Below are several standard signals to indicate spoiled lemons.
Color Alteration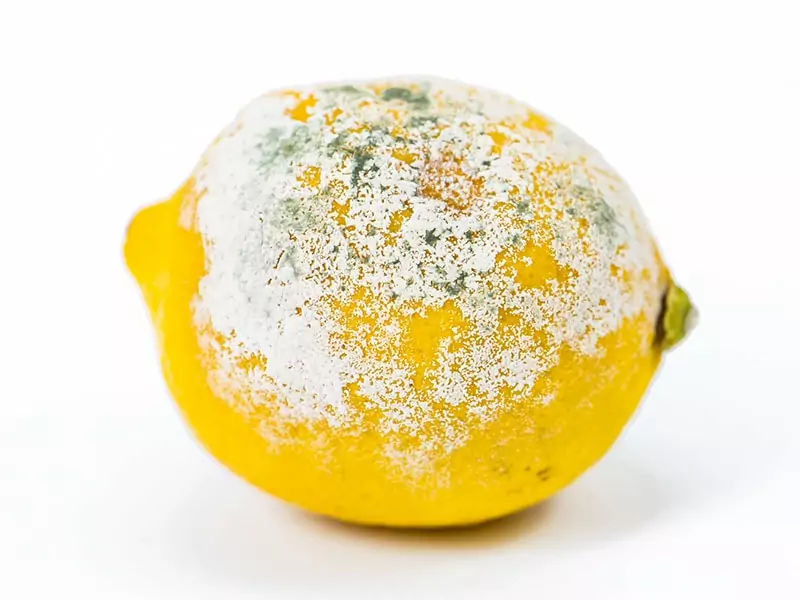 To know whether your lemons are spoiled or not, the easiest way is to observe them from the outside.
Take a look at your lemons; if you notice brighter spots, your lemons have started to lose their moisture and rot. The fresh lemons will have a bright yellow color.
Some white or brown spots in the lemon skin stated a mold is growing in the lemons.
The slimy outer skin is also a signal to indicate that lemons have gone wrong.
Notes: You may also notice the lemons going bright green in some other areas, making them similar to limes. This is not a signal of rotten lemons; this phenomenon is because of drastic temperature changes.
Thus, you can use your lemons as long as they are not dusty and moldy.
Texture Changes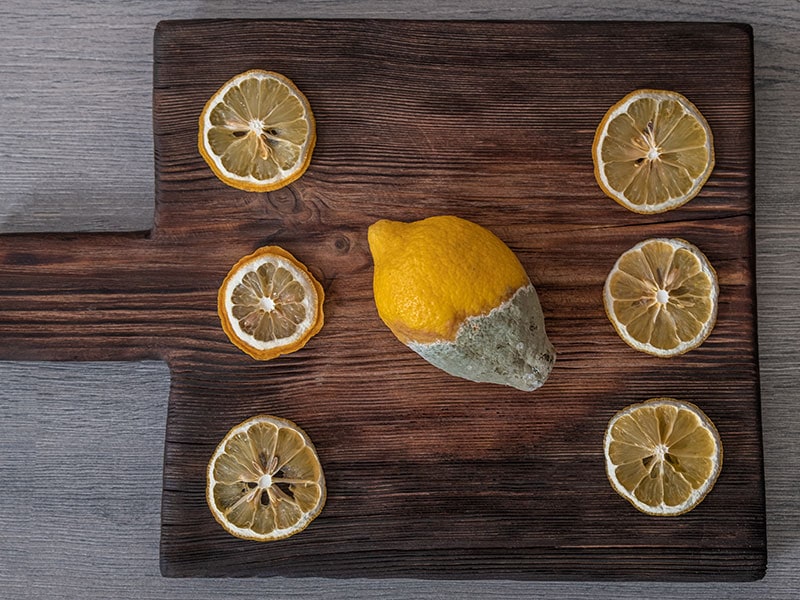 Lemons gradually lose their water; thus, they become firm to touch and shrunk in size when they get bad.
Besides, bad lemons have a soft and squishy, shriveled, and wrinkled texture, so don't use them anymore if you find them with these features.
Moreover, the powdered and dusty surface can also be a visible sign to tell that they are bad.
Changes In The Taste And Smell
One sign of lemon decay is the gradual loss of the lemon's distinctive taste. If the lemons have lost some of their aromas, you should discard them.
Rotten lemons will release an unpleasant and fermented smell, so if you discover a bad odor from your lemons, throw them away.
How Long Does Lemon Go Bad?
Like fruits, how long lemons go bad depends on where you store them, if they are cut or not, the current level of their freshness, and the storage conditions, leading to the fact that there has been no exact answer to the question.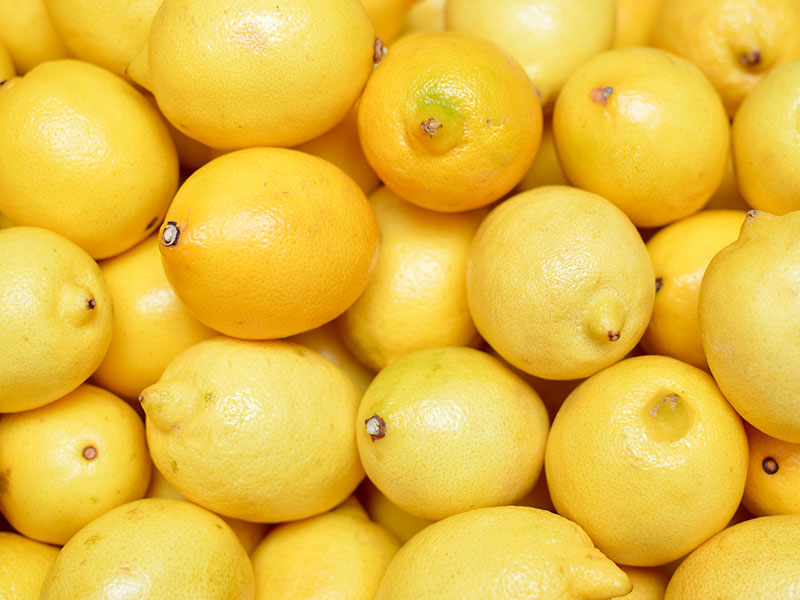 However, I also give you some estimated time to store your fresh, raw, cut, or uncut lemons.
First, after cutting up lemons for use, the abundance should be kept in the fridge or the freezer for next use. If you forget to store it in cool places, the cup-up lemons will go bad early.
These lemon slices can be stored and kept fresh in the refrigerator for three to four days and in the freezer for up to three to four months but will remain safe beyond that time.
However, if you keep the lemons uncut, you can store them for a much longer time. The whole lemons can stay fresh at room temperature and dry places like a countertop for a week.
Whereas, if you store them in cool places such as a cool pantry or cabinet, your lemons can last up to 2 weeks. However, more extended storage can cause fading and losing the flavor of lemons.
In addition, keeping lemons, both cut and uncut, in a container compatible with your freezer is a perfect idea because the lemons can stay good in the freezer for up to three to four months.
Additionally, freshly squeezed lemon juice will stay fresh at room temperature for just about a few hours, while if you put it into the fridge with a tightly covered container, the juice can be fresh for two to three days.
| Types | At the room temperature | In the refrigerator | In the freezer |
| --- | --- | --- | --- |
| Lemons - fresh, raw, cut up | - | 3- 4 days | 3-4 months |
| Lemons - fresh, raw, whole | one week | 3-4 weeks | 3-4 months |
| Lemon juice - freshly squeezed | a few hours | 2-3 days | - |
(Sour: Stilltasty)
Must-Known Notes To Store Lemons Effectively
As has been said before, the lemons' freshness will depend on storage conditions. Therefore, I will give you some tips to make perfect ones for keeping lemons good for a longer time.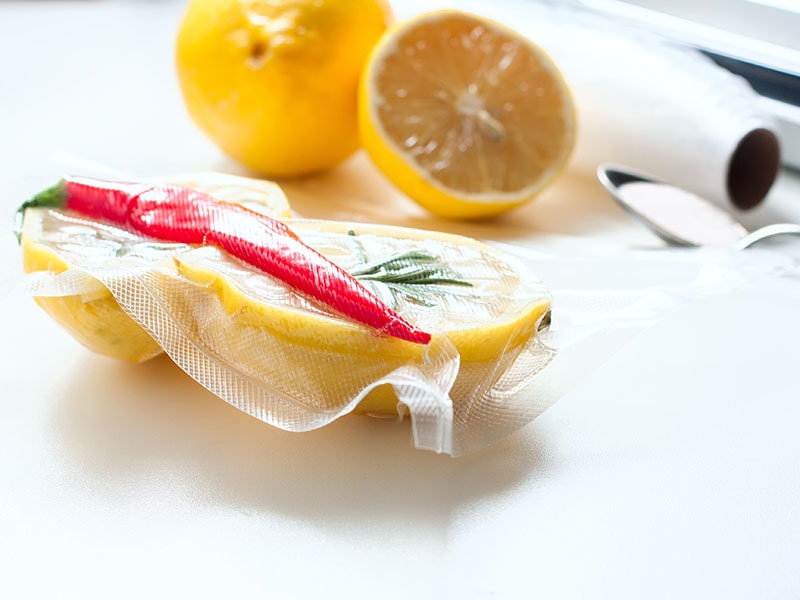 Cut-up lemons have been kept constantly frozen at 0 degrees celsius to stay safe.
Wrap cut lemons tightly with aluminum foil or plastic wrap, or place them in a covered container or resealable plastic and refrigerator to maintain the moisture and maximize the shelf life.
Cut lemons frozen in the plastic bags will be mushy when thawed but can be used for juice.
Use an ice cube tray to freeze already squeezed lemon juice and take them to heavy-duty freezer bags.
You can defrost whole frozen lemons in the microwave for a few seconds or submerge them in cold water for about 15 minutes.
Store lemons in cool and dry places because hot and humid conditions can stimulate the spoiling process.
Zested lemons must be stored in sealed bags before putting them in the fridge because zested ones will go bad faster.
This video explains to you how and why to freeze lemons!
How Can You Use Lemons That Are Going Bad?
Actually, lemons are a versatile food ingredient in your kitchen because, with lemon, you can do a lot of things, but if they are going bad, can you use them anymore? -Yes, you can use bad-going lemons to do several things below. Let's see what they are!
Use The Zest
If you squeeze some lemons for a drink or cooking, store the juice in the fridge or freezer, and keep their zest because it is also helpful. As long as the zest doesn't have mold signals or has a yellow color, it can be safe to use for many recipes, cocktails, and toppings.
The video will show you five different ways to zest lemons!
Lemon Water
The most delightful thing you can do with your lemons that have started going bad is to make lemonade .
Keeping Foods From Turning Brown
Lemon juice plays an important role in preventing some foods from changing colors after being cut up, such as avocados, apples, or bananas.
Water a small amount of lemon juice on the cut sides of them, you can make them keep their colors because lemon juice is good to limit the oxidation process, but you need to put those cut slices in a tight air container before taking it in the fridge.
DIY Cleaner
Combining lemon juice with pure water is what you do to make a good and natural cleaning solution because lemons have antibacterial and antiseptic properties due to their acids that can act as bleach.
The lemon cleaning solution can help you eliminate bacteria and persistent stains without using harmful chemical substances. Thus, it is possible to use the solution to clean your portable ice makers, garbage disposal, blender container, or cutting board.
Make Jam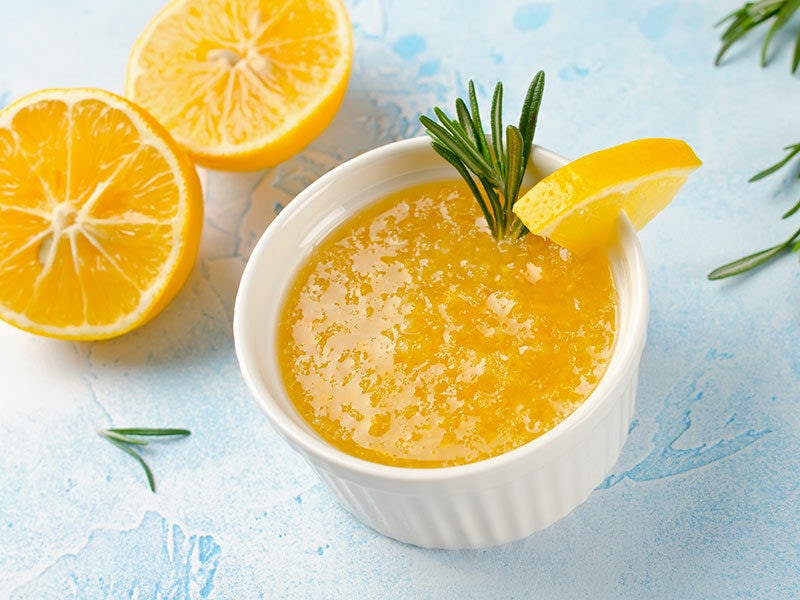 If you are worried that your many lemons get bad before using them, making jam is the best option. Making jam from these bad-going lemons is not as difficult as you think; what you need is time for cooking.
This video will let you know how to make lemon jam. I hope you enjoy it!
What Happens If You Consume A Bad Lemon?
You are always advised to consume good food if, for whatever reason, you have eaten bad lemon slices, you probably won't experience any symptoms.
With moldy lemons, if you just consume a small amount, there will be no significant health risk involved, but a large number of bad lemons will make you sick.
Hence, if you don't ensure the safety of lemons, it is best to toss them!
What Should You Look For When Buying Lemons?
Some tips can give you a hand in choosing good lemons for your purposes. Let's see how useful they are!
Select a lemon that is heavy for its size and has a pleasant fragrance.
Pick lemons with bright yellow skin but without wrinkles.
You had better opt for lemons with thin skin because they will yield more juice; however, if you want to use lemon zest, choose the thicker-skinned ones.
Just buy lemons that are too soft and have no signals of white or green mold.
FAQs
Continue reading this section to discover more critical information about lemons.
One More Secret About Preserving Lemons
In the article above, I have shared with you background information about whether the lemons go bad, some suggested ways to store them for extended preservation, and recommended tips to help you pick good lemons in the markets.
However, I also give you some more secrets about using and storing your lemons as my thanks to you:
If you don't get plastic wrap available, preserve your lemon, pry open the flowered lemon, sprinkle salt and sugar inside before throwing them into the jar.
If you use quarters, just use your fingers to mash salt and sugar into the skin and remaining flesh.
If you find my reading useful, please spread it to your relatives who may need it like you. However, the reading definitely cannot cover everything about lemons; hence, if you discover something new about them, comment below to share with me!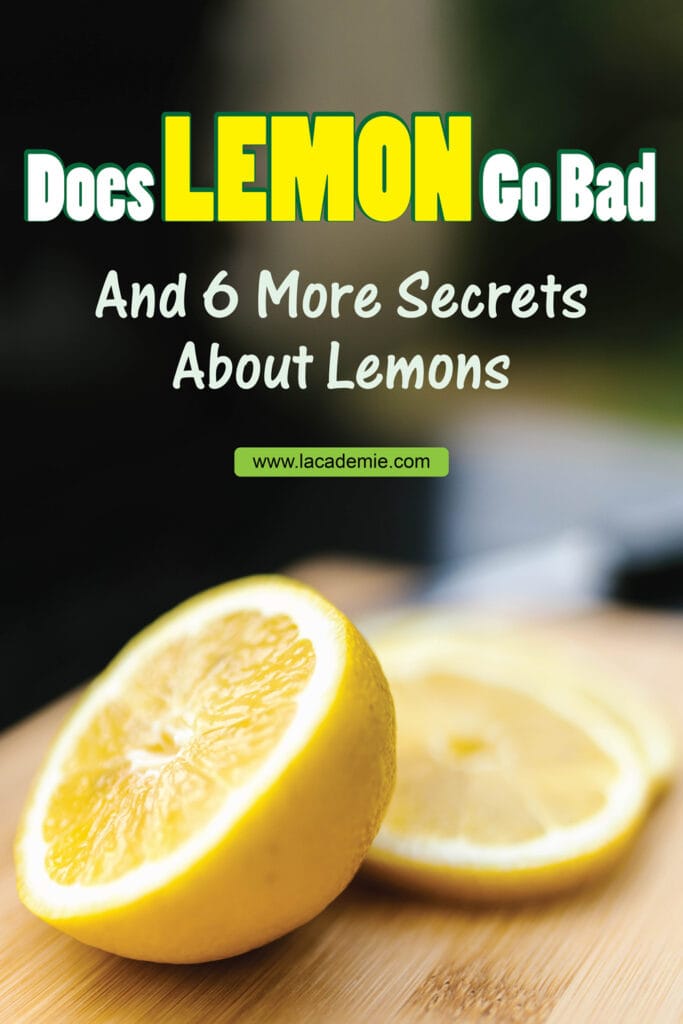 References
Stilltasty.com. 2021. StillTasty: Your Ultimate Shelf Life Guide – Save Money, Eat Better, Help The Environment.