"Is rice vegan?" There is debate on that. Do you know what veganism means to devout vegans? Knowing about the definition of veganism might change how you view the ways produced and handled before it ever reaches you.
You might even be thinking before you reach this article that because rice comes from a plant, it must be vegan. Well, I am here to tell you that the truth is a lot more complicated than that when determining whether something is vegan or not.
So to answer your question about the vegan nature of rice, read more to find out.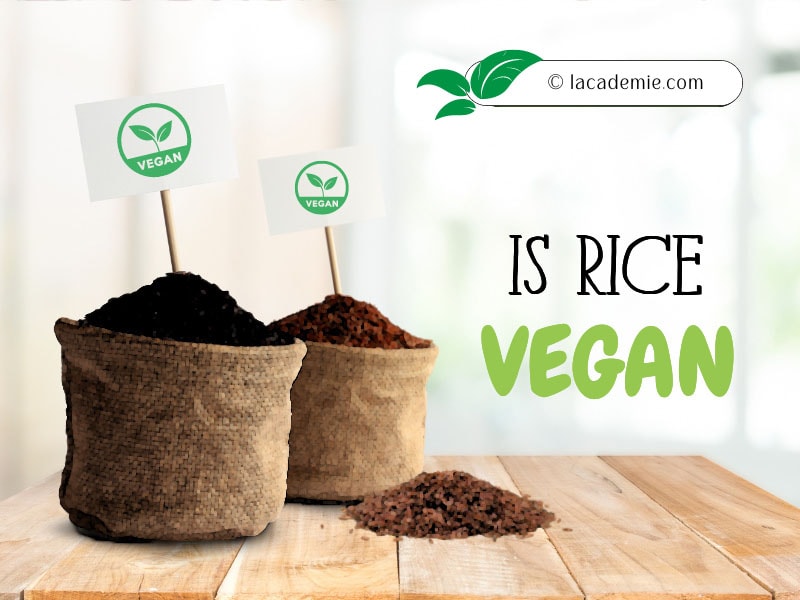 Exploring The Scopes Of Veganism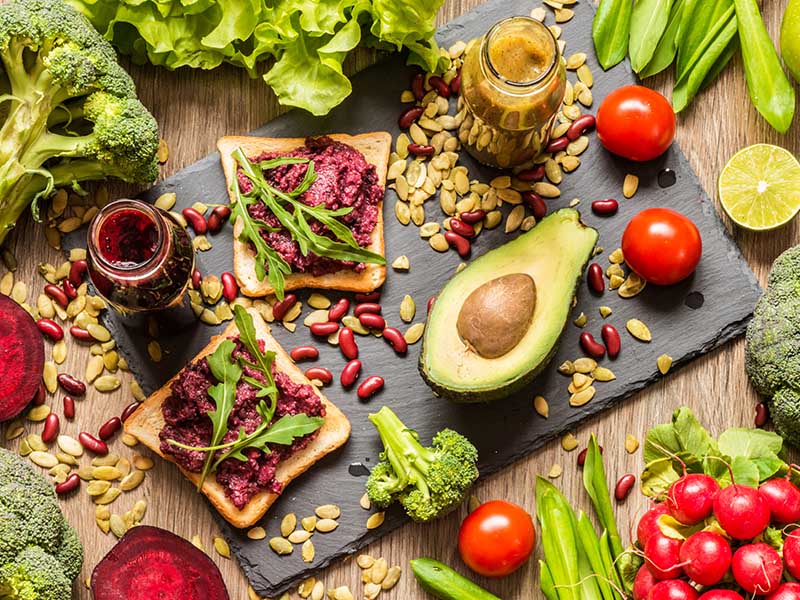 Veganism is defined as a diet or lifestyle excluding all products or goods produced through the exploitation of animals. That is the gist of it anyways. Don't confuse it with vegetarianism, which is similar but not the same thing.
While both diets have the same goal of minimizing the cruelty of meat production, veganism focuses on excluding all animal-derived products. In comparison, vegetarianism focuses on a plant-based diet with a few inclusion of animal products such as eggs and dairy.
At its core, veganism aims to discourage the exploitation of animals for human consumption. Though that concept now sometimes extends also to the conservation of the natural environment and human well-being. There is much more to discuss on the matter.
Here is an A to Z explanation of what veganism is.
Is Rice Vegan?
Something is categorized as "vegan" when it is free of the exploitation of animals in all of its stages of production. So what is rice, and is it vegan?
A Brief Reintroduction On Rice
Perhaps you know what rice is before reading this article. You may even be closely familiar with it or consider it part of your daily diet. But did you know that the rice you know and love is only a part of a much larger family? Allow me to reintroduce you to rice.
Rice is a type of cultivated crop that is the seed of a type of grass (yes, you heard that right, who says you can't eat grass?). It is the world's third most cultivated crop, right after sugarcane and corn.
The crop is also one of the most important economic drivers in many Asian and African countries.
So What Is The Answer?
You can now breathe a sigh of relief to know that rice is vegan. As I said, rice is the fruiting body of a type of grass and therefore is not an animal-derived product.
Rice is a product of the plant Oryza sativa. This is just one of the thousands of rice varieties that you can find in the Americas. Rice has had religious and cultural significance in groups known to abstain from animal cruelty.
Are All Types Of Rice Vegan?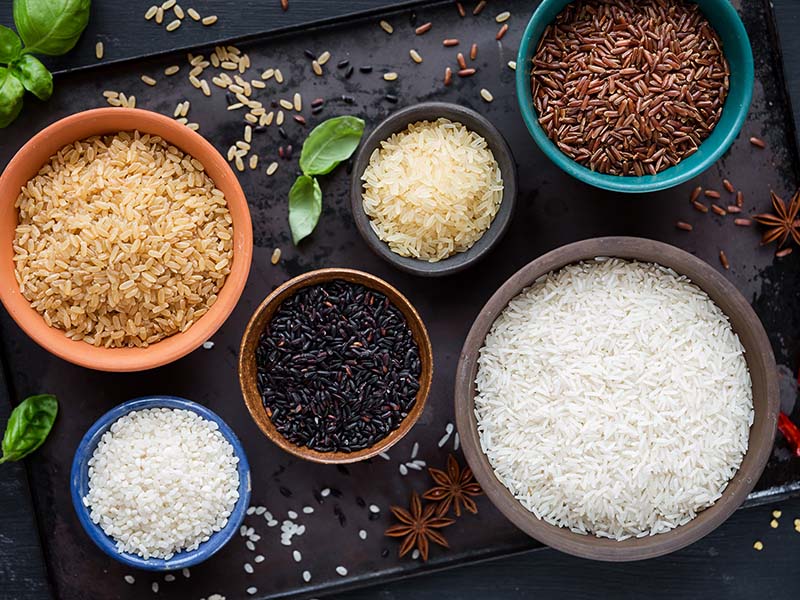 There are about 120,000 varieties of rice in the world, and I am happy to inform you that all of them are vegan-friendly. Everything from brown rice and white rice to wild rice is plant-based, so they are vegan approved.
However, some environmentally conscious members of the vegan community may choose not to consume commercially available rice. This is due to the environmental impact that rice production has on the communities.
Are Rice-Based Dishes Vegan?
You may conclude that because rice is vegan, it must mean that rice-based products are vegan. You would be partially incorrect. Still, the products and dishes that you find commercially available might have non-vegan components.
Here are 9 vegan and 9 non-vegan products you can identify the next time you go out. I hope this will clear up some of the confusion surrounding rice.
Vegan Rice-Based Products
These are the rice products you can find readily available at your local grocery store. Not to mention that these options are very reliable most of the time if you are uncertain of what to buy at the store.
Rice Noodles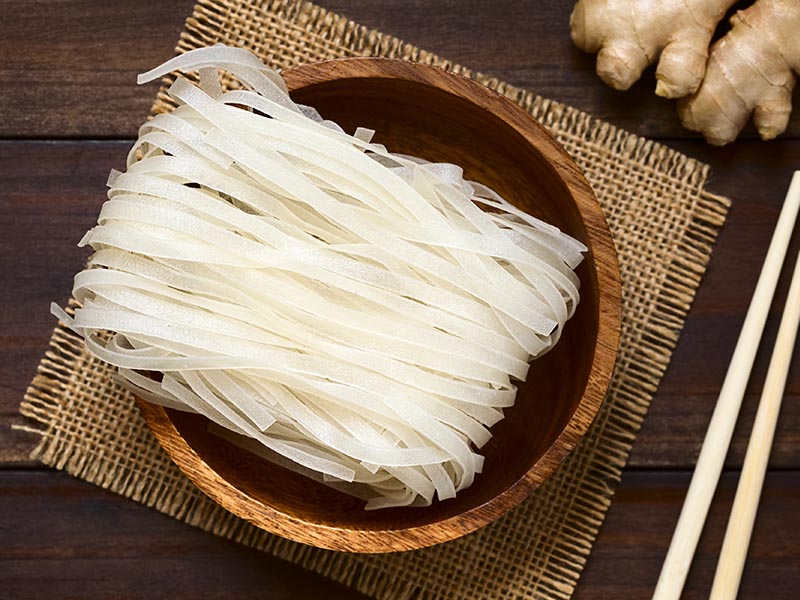 Rice noodle is a product of combining rice flour and water. With enough kneading, the noodles become incredibly chewy and delicious with numerous irresistible rice noodle dishes to try. Because of its two-ingredient components, rice noodles are vegan-friendly
Korean Rice Cakes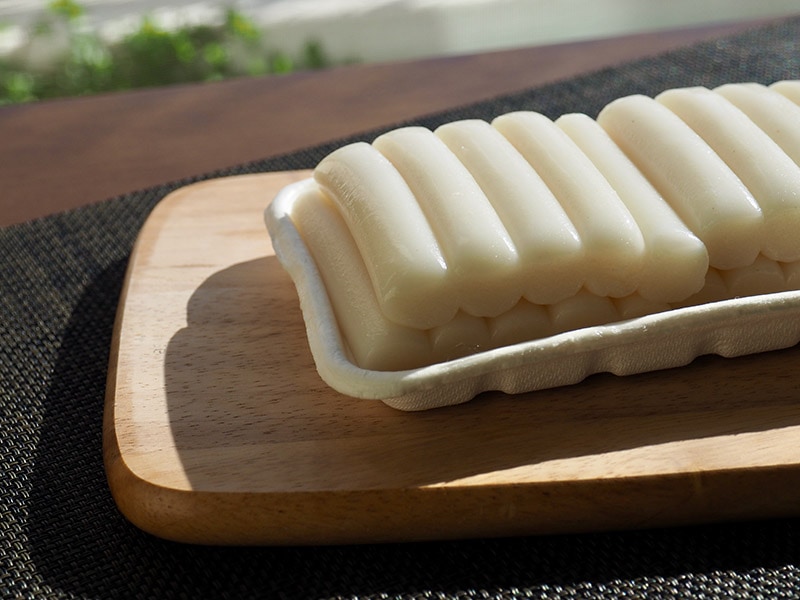 More commonly known as Tteok, this is the main ingredient of the internet-famous Korean street food Tteokbokki. While Tteokbokki isn't vegan, the Tteok themselves are since they are made by simply steaming rice and pounded until elastic and chewy.
Rice Vinegar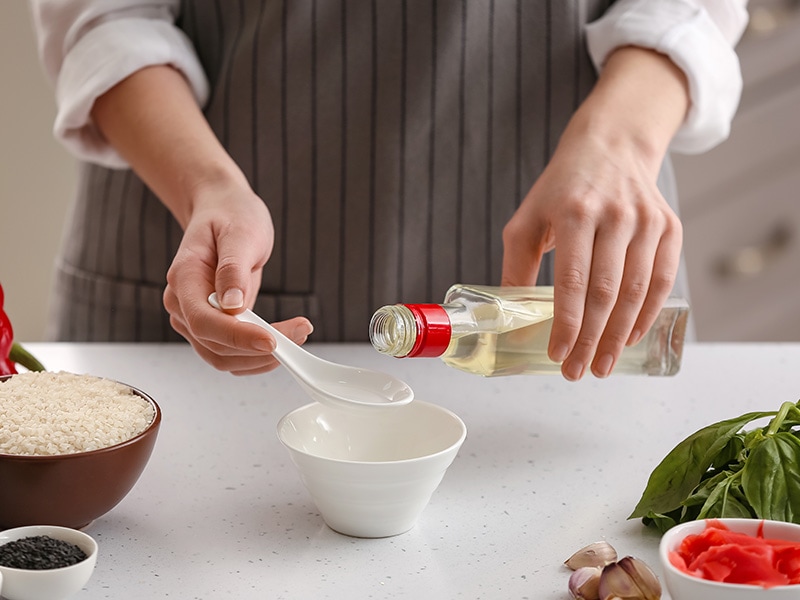 Rice vinegar is made from fermenting rice wine. The bacteria present in the atmosphere will consume the natural sugars in the rice starch and produce vinegar. The same process applies to rice wine. Both are suitable for a vegan lifestyle.
Puffed Rice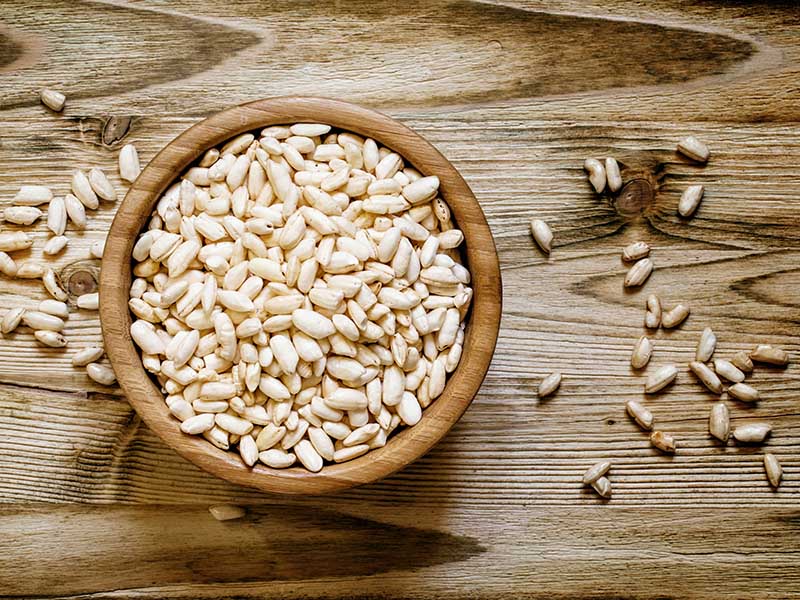 These are the base ingredients in the very famous Rice Krispies Treats. Though the sweet treats themselves are not vegan-friendly for some reason (more about it later), the puffed rice is vegan. Puffed is just dry rice that is fried until light and crispy.
Mochi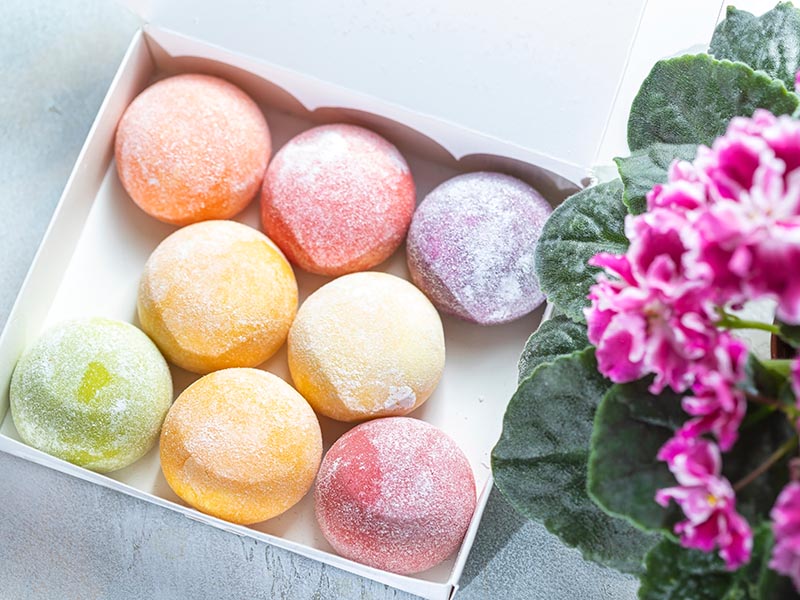 Mochi is a vegan sweet that has held cultural significance for a long time. This delicious Japanese sweet delicacy is made by pounding rice dough until it becomes smooth and elastic. It is usually served during the Lunar New Year or Children's Day in Japan.
This guide will show you how to make chewy mochis with only 3 simple ingredients.
Rice Paper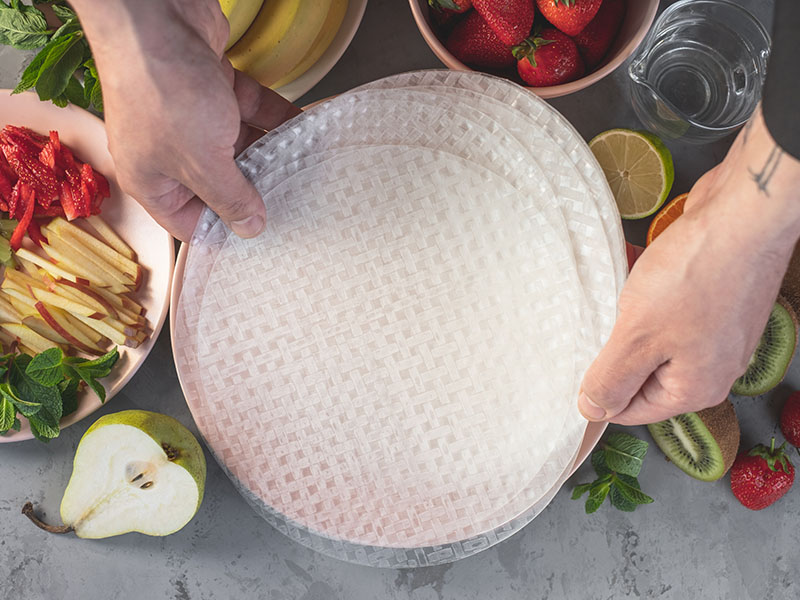 Rice paper is another plant-based product that is vegan friendly and has gained more popularity in recent years. This special type of edible wrapping is made by drying out the cooked starch of rice. You may know it as the wrapping outside Salad Rolls.
Rice Milk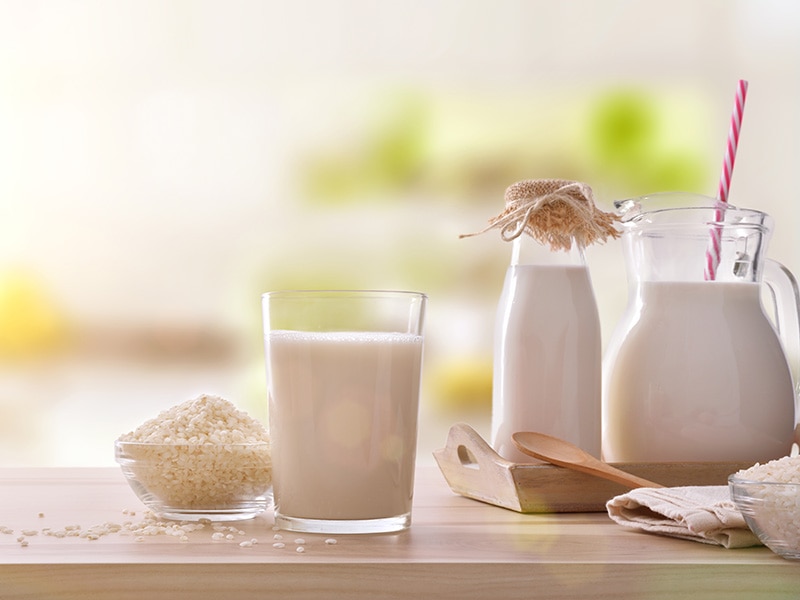 Alternatives to cow milk are getting more and more popular every day, with people becoming increasingly conscious of the ethical issues evident in animal-based products. And rice milk is among the vegan options that many people turn to.
Amazake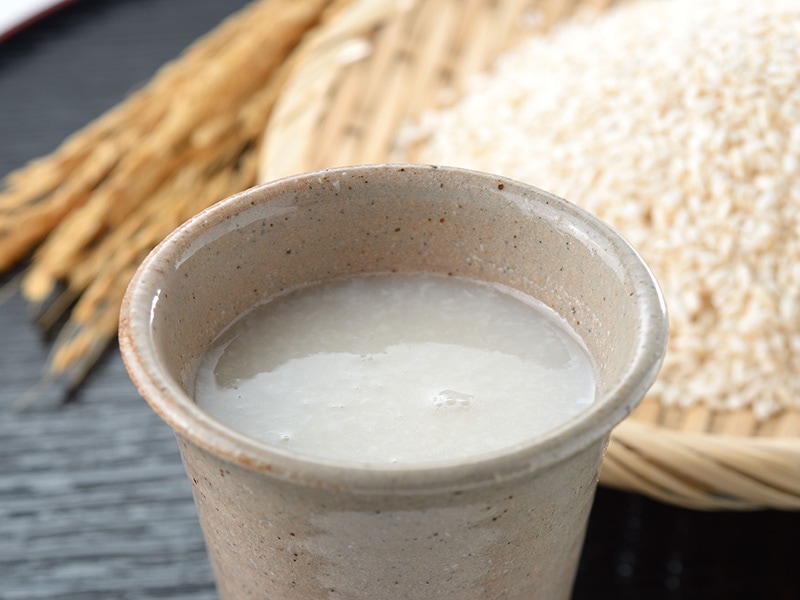 If Mexico has Horchata, Japan has Amazake. This low alcoholic or even non-alcoholic drink is made from the fermentation of rice. This vegan-worthy drink becomes naturally sweeter due to the carbohydrates in rice breaking down and becoming natural sugar.
Cooked White Rice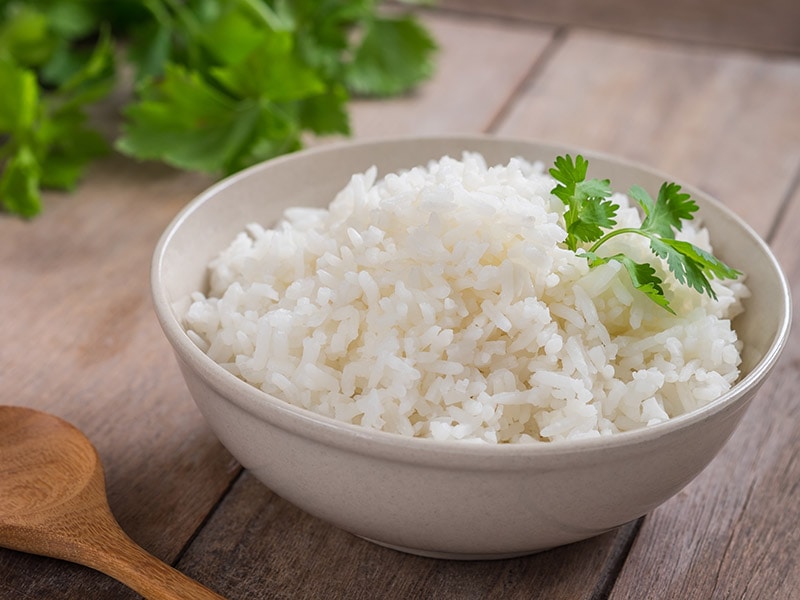 This might be one of the most common and simplistic ways I can think of when adding rice to the dinner table. It doesn't take a rocket science degree to make, and it is so delicious when you eat it with other food. Steamed rice is vegan.
You don't need a fancy rice cooker to make delicious rice.
Non-Vegan Rice-Based Products
To balance things with the segment above, I will also give you the non-vegan counterpart. You can avoid them if you follow a vegan diet or expand your menu with these options in case you don't.
Biriyani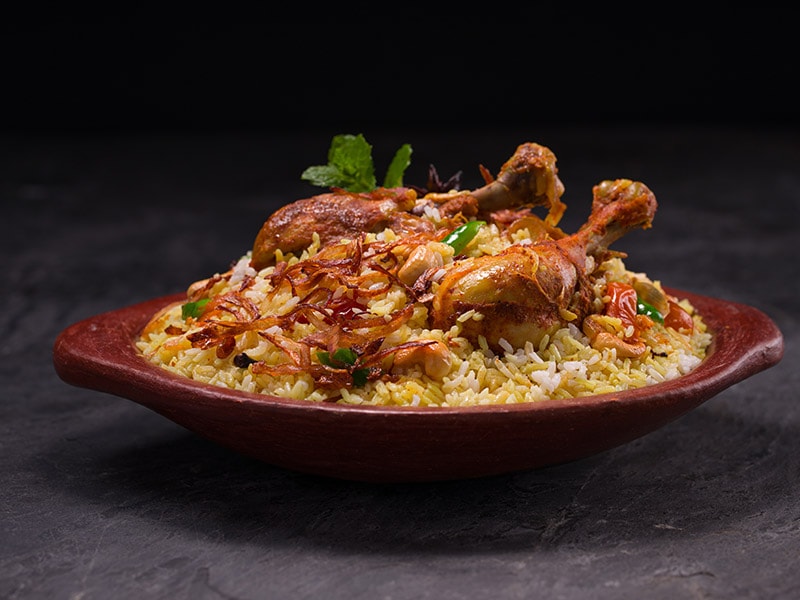 Biriyani originates from subcontinental India and has been cooked and served as the main course for the past few hundred years. This is a mixed rice dish that is often cooked with meat protein such as mutton or beef with a mix of various Indian spices.
Bibimbap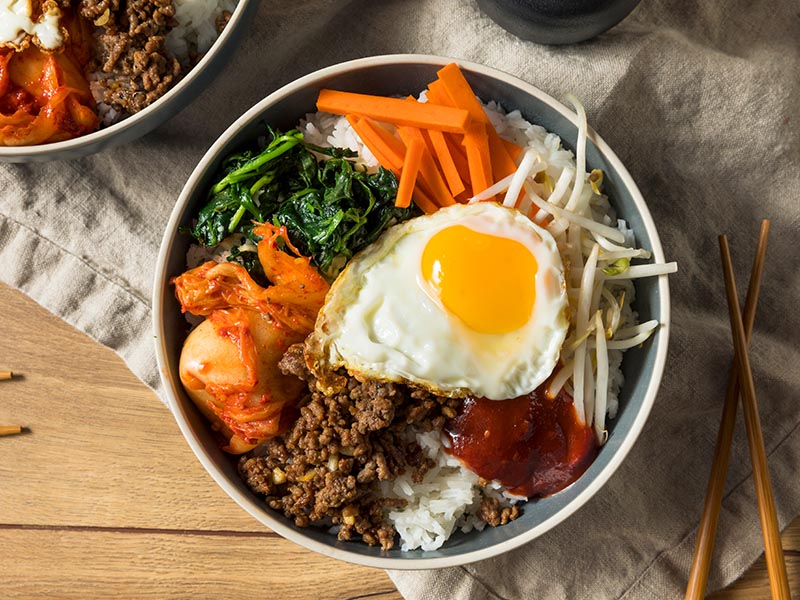 The delicious flavors of Korean Bibimbap are hard to match when it comes to the intricate architecture of colors and textures.
Bibimbap is extensively customizable and can be made with vegetables, grilled meat, and egg (optional). This dish is not vegan, though you can change its ingredient list to make it so.
Spanish Rice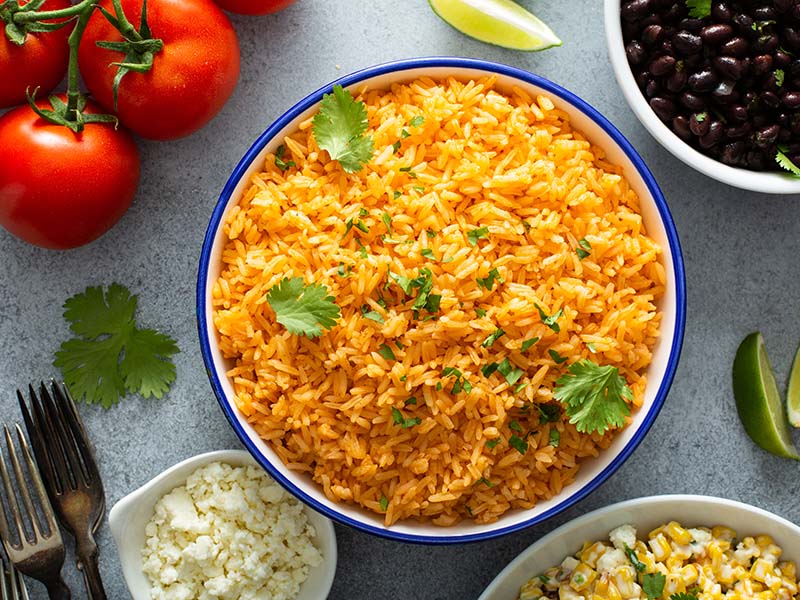 Spanish rice or Arroz Rojos is a Mexican take on a rice side dish that is delicious and flavorful. The combination of tomatoes, garlic, onions, and a flavorful chicken broth gives Spanish rice such an addictive quality. Spanish rice is not vegan but can be made vegan.
Spanish Rice is a side dish that goes well with many meat dishes.
Pilaf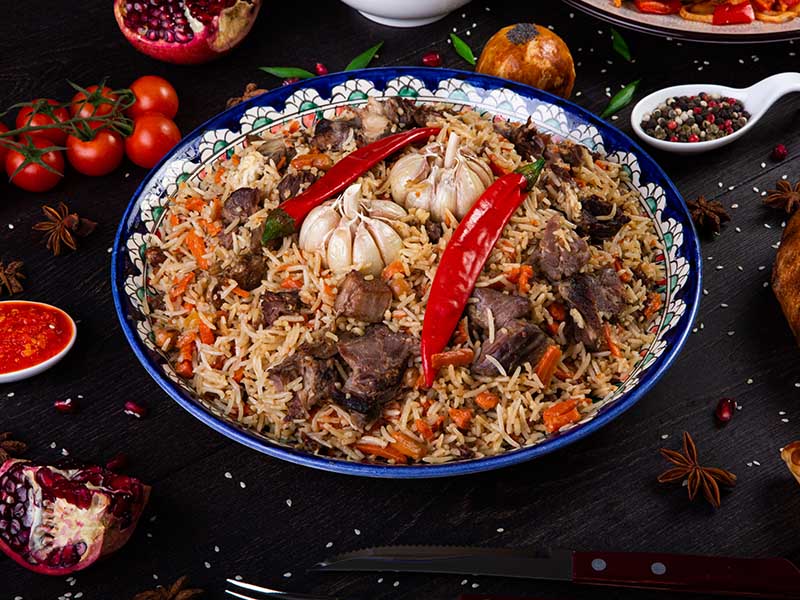 Pilaf rice is made in such a unique way that it is a wonder in and of its own. Pilaf rice is parboiled and combined with herbs, spices, and meat. The combination is then added to a pot and sealed. This way, the rice grains all remain separate after being cooked.
Paella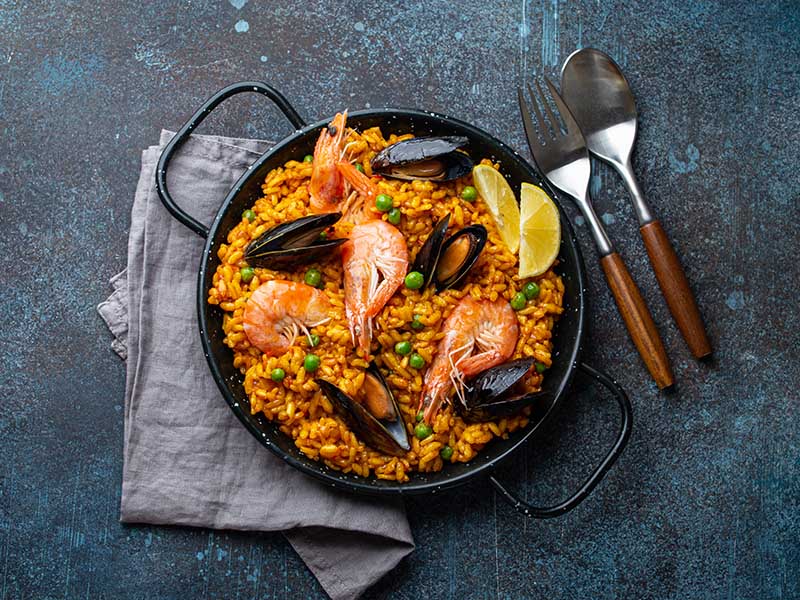 Though many people may have the pre-conceived notion that Paella is the national dish of Spain, this rice dish is actually a region-specific dish in Valencia city. Spanish restaurants usually cook Paella with lean protein, chicken broth, and various vegetables.
Learn how to make Paella from a professional chef.
Risotto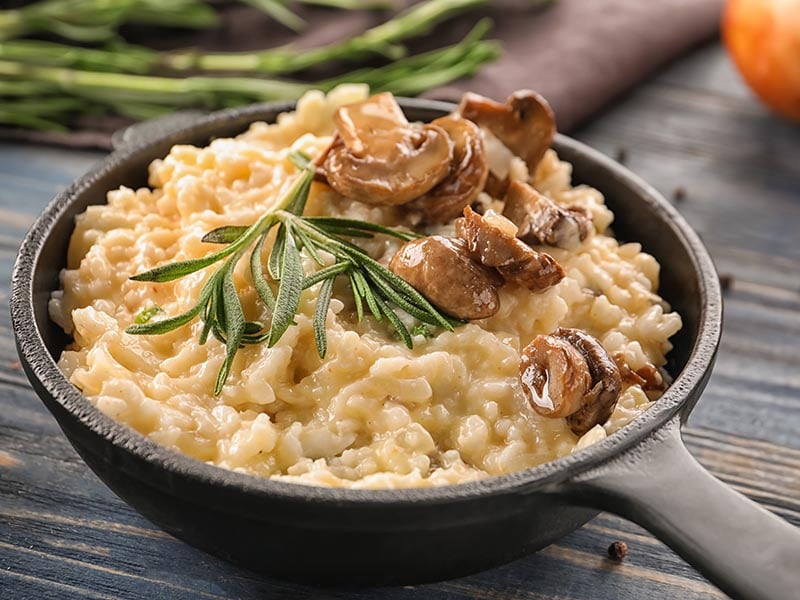 The texture of Italian Risotto is similar to the texture of the Spanish Paella. Risotto is made by cooking short-grain rice in a broth that needs to be added a little at a time. It is usually cooked in chicken or beef broth and served by itself as the main course.
Étouffée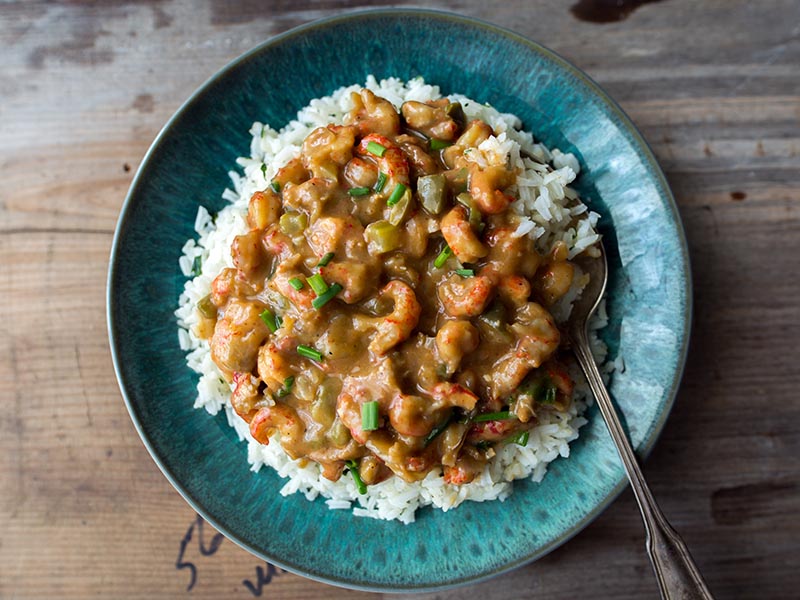 This is one of the many Creole delicacies from Louisiana, US, you can find with rice as a base ingredient. This dish is made by smothering rice in an intensely flavorful shellfish stew that is comforting and filling. Étouffée is not vegan.
Rice Krispies Treats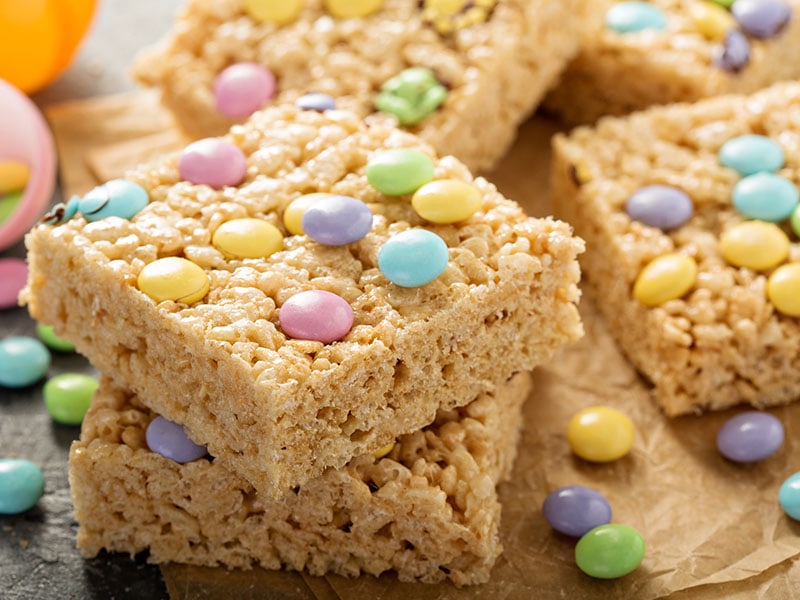 I brought up that Rice Krispies Treats are not vegan earlier when I mentioned Puffed rice. This is because this type of sweet contains dairy and gelatin. Both of which are derived from animals.
Fried Rice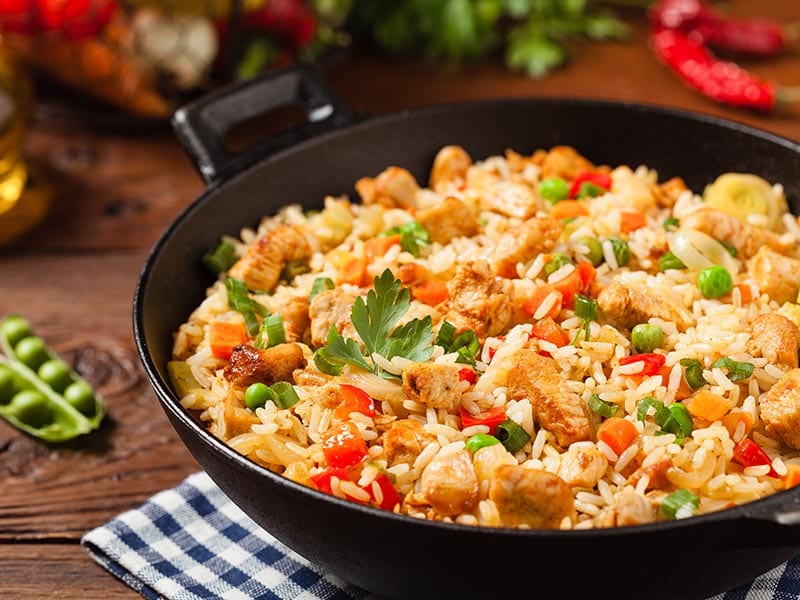 The final option is everyone's favorite. It is also what people dream about when they crave Chinese takeout food. There are endless possible combinations for fried rice, vegan and non-vegan alike.
Vegan Rice Brands
I would like to start off this segment with the reiteration that all rice is vegan. But if you are concerned about whether your rice brand is truly vegan, I would suggest you check out the ingredients portion of the products. Here are 5 brands that I recommend: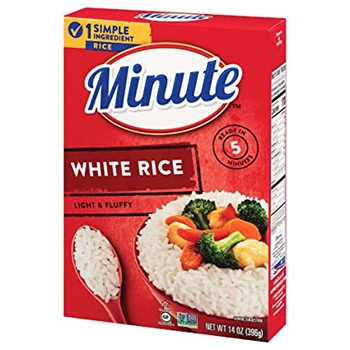 Minute Rice is a product that every busybody needs for dinner. It is ready in just a few minutes, and the fluffy and clean taste is superb. The technology behind the cooking time is par-cooking the rice so it has a shorter finishing time.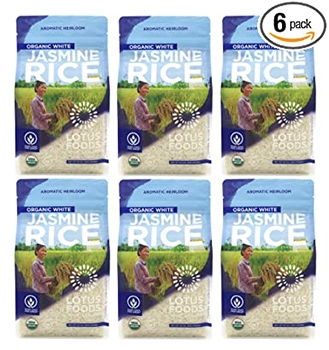 Lotus Foods jasmine rice comes with the prestigious Regenerative Organic Certification. It essentially means that aside from being certified organic, they also put a lot of effort into the promotion of humanitarian and animal fairness.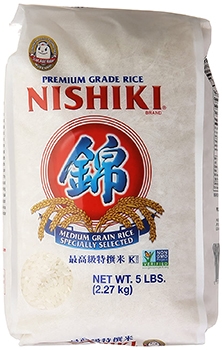 Nishiki rice is a popular Japanese rice brand that produces premium quality medium-grain rice. Though both the logo and the name on the package might mislead you to believe it is imported from Japan, Nishiki sources their rice from California.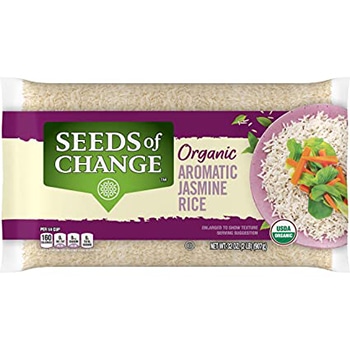 Seeds Of Change offer a wide array of rice varieties. Everything from plain jasmine rice to Spanish rice is made readily available by the brand. So mix and match, but make sure you are choosing the ones that are labeled vegan.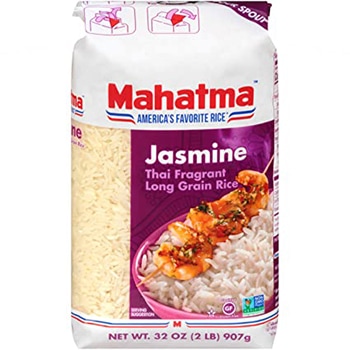 Mahatma rice was categorized as America's favorite rice by a 2018 rating. It boasts multiple raw rice products, including short-grain to long-grain rice. There is always a type of rice for every rice dish you can think of.
Environmental Impacts of Rice Production And Veganism
Often the misconception and confusion surrounding the debate of whether rice is vegan or not stem from the scrutiny placed on rice cultivation. There is no doubt that it has been detrimental to the local and global ecology.
Effects Of Rice Production
There are four most discussed effects that rice cultivation has on the environment, in which rice was the driving economic factor. These four are water consumption, greenhouse gas emission, child labor, and chemical usage.
Water Consumption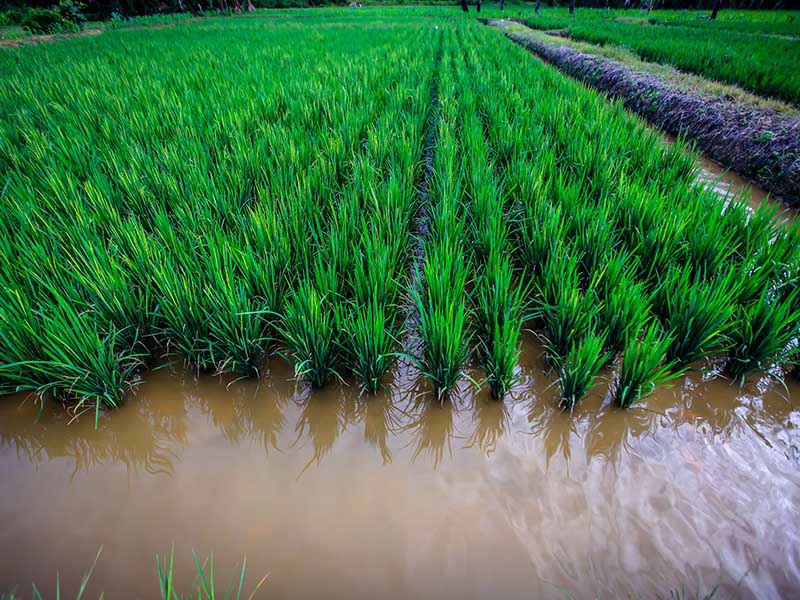 One of the most detrimental effects that rice production has on the environment is water consumption. With more than 90% of the total rice production coming from Asia, rice cultivation here uses up 80% of the world's total irrigated freshwater content.
Over 2,500 liters of water can be used per 1 kilogram of unmilled rice. That is more than what the average human drinks in an entire year, to put things in perspective. This culminated over time and is becoming an alarming problem for farmers worldwide. (1)
Child Labor
Another problem that runs in the undercurrent of the rice production industry is child labor. Child labor is defined as exploiting children, robbing them of their childhood, and preventing them from attending regular schools.
Though the governments in many countries have attempted to identify and minimize these issues, the problem is generation deep and is ingrained into the beliefs of many.
Greenhouse Gas Emission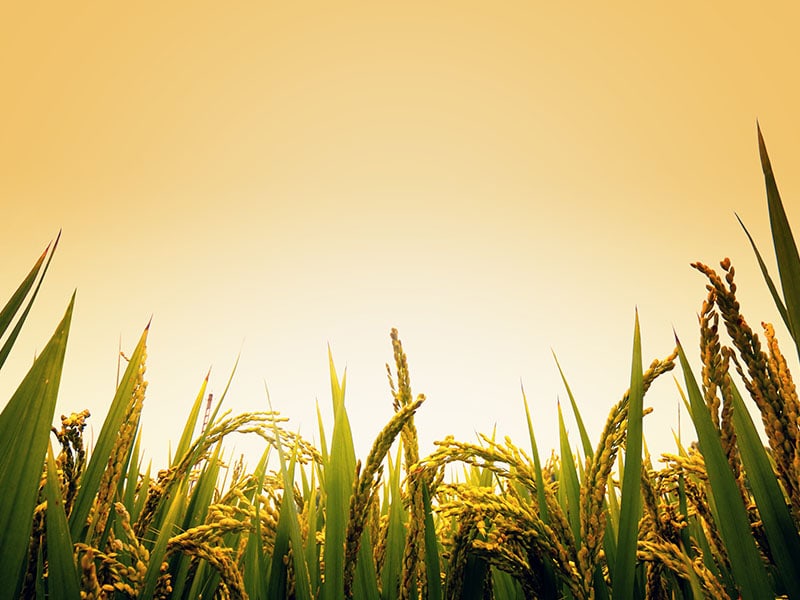 Greenhouse gasses are composed of many volatile and long-lasting gaseous substances. The majority of the greenhouse gasses found in the atmosphere are methane, nitrous oxide, and carbon dioxide.
Greenhouse gasses have a corrosive impact on humans and the environment by trapping heat in the atmosphere. The trapped heat increases the earth's ambient temperature, causing climate change and respiratory diseases.
Rice crops emit a large and stable quantity of methane and nitrous dioxide, especially through rice scraps – the byproduct of rice production – when they break down and decompose. (2) In fact, rice emits more greenhouse gasses per calorie than some staple crops like corn and wheat.
Pesticides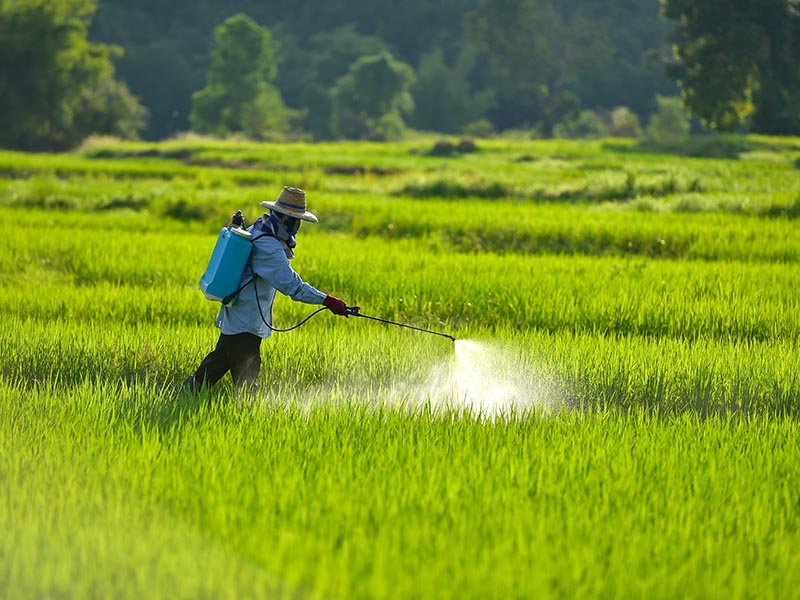 I cannot argue the importance of pesticides, herbicides, and other industrial chemicals used in rice cultivation. Everything from harmful fungus and miscellaneous weeds to insects can affect the crop yield of rice.
I cannot also deny the many irreversible effects that the usage of these chemicals has left on the natural environment. Pesticides can seep into the soil and contaminate the water supplies in surrounding areas, posing a great threat to public health.
Not to mention the detrimental effect that many of these chemicals have on the natural habitats of native animals, causing them to starve or die out from poisoning. The animals that have adapted to this living condition carry poison to infect humans when consumed.
Some Vegan Prefer To Not Eat Rice
While rice is vegan and does not involve the exploitation of animals, it can harm the environment. Vegan conservationists have opted not to eat rice for this reason.
However, this does not influence the debate on whether or not rice is vegan. The answer is an absolute yes. If you are looking to add rice to your diet solely to exclude animal-derived products, you have found the correct solution.
When Is Rice Not Vegan?
Rice by itself is vegan, and that is a fact. However, the lines become more blurred when you order rice-based dishes at your favorite restaurants. A safe way to ensure your rice dish is vegan is to go to a vegan-friendly restaurant.
When rice is cooked in commercial kitchens, it may come in contact with other animal-based products such as eggs and fish sauce. Sometimes even the sugar used in rice cooking is non-vegan due to a component known as bone char.
Is Fried Rice Vegan?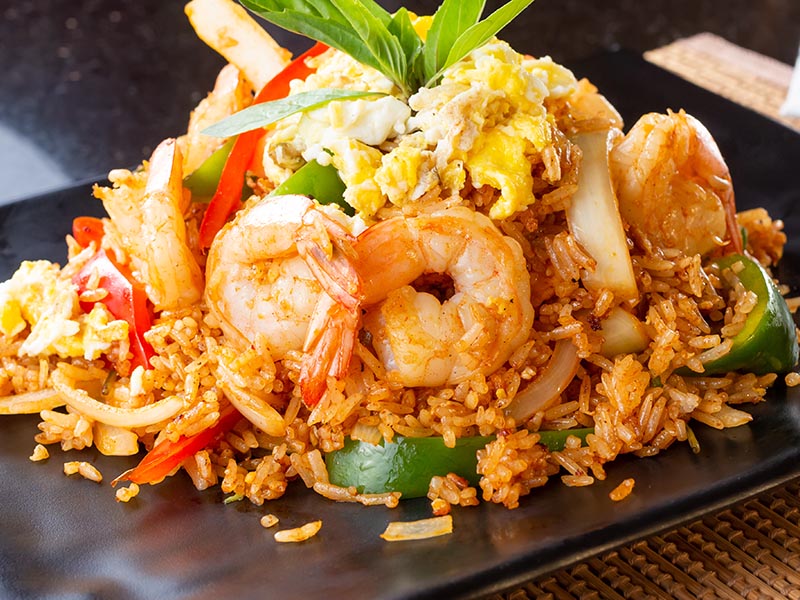 Fried rice is only vegan if it is made with vegan-friendly ingredients. A great way to ensure this is to support your local vegan restaurants since they aim to source mostly vegan products. It is harder to be sure in restaurants where vegan dishes aren't the focus.
Though many restaurants try their best to adhere to the vegan guidelines, they will not waste much effort sourcing high-quality vegan products. As opposed to a vegan-focused establishment where the main goal is making sure everything is as vegan as possible.
Another element worth mentioning is that though you choose to eat vegan products at a non-vegan restaurant, you are still endorsing their practice of using meat or animal products. It is best if you go vegan all the way when eating out.
How To Make Vegan Fried Rice
Another way you can be certain that your fried rice is vegan is by making it yourself. You get total control over the ingredients selection process and how it is made. Don't be intimidated by the dish because it is easy with just a few simple steps.
You will need these ingredients
1 block of firm tofu, cut into cubes or crushed by hand.
Leftover rice
Diced vegetables of your choice
Salt and pepper to taste
Spices of your choice
Soy sauce
This dish comes together very quickly, so I recommend you get your "mise en place" ready before you start cooking.
Step 1: Cook The Tofu With The Spice And Vegetables
Heat a large wok until the oil starts to smoke (that's how to make it non-stick). Add the crumbled tofu bits and chopped vegetables to the hot pan and stir-fried until it turns slightly golden brown. Season with a pinch of kosher salt and spices to taste.
Step 2: Cook The Rice
Remove the stir-fried vegetables from the hot pan and add more oil. Add the leftover rice to the wok and mix vigorously to separate the rice grains. Season with a bit of salt and pepper to taste.
Step 3: Add The Tofu, Soy Sauce, And Cooked Veggie
When you see the rice has warmed up and separated from each other, add the soy sauce and the sauteed tofu and vegetables to the rice. Mix to combine.
Step 4: Season To Taste
Before you lift the wok off the heat, taste the rice to see what is missing. Adjust the seasoning with salt and pepper to taste before serving.
There are a few tricks that you can apply while cooking this vegan fried rice to enhance the deliciousness:
Using day-old rice will improve the texture of your fried rice because the grains have had time to dry out and become separate.
You should always season your wok after using it to ensure that the wok remains non-stick.
Make sure you add a small pinch of salt every time you add an ingredient to a dish to season all the ingredients evenly.
It is always important to taste your with a separate spoon to ensure the flavors are perfect before serving and maintain food safety.
This vegan fried rice is rich in protein and healthy vegetables.
These Rice Recipes Are Vegan-Certified
Do you want more vegan rice varieties to add to your diet? Rice is a building block of many delicious vegan recipes that you can try your hands at making. These 5 vegan rice recipes are beginner-friendly and are perfect for a balanced meal of the day.
Spanish rice is different from rice enjoyed in other countries because it is cooked in a mixture of species and broth. Though traditionally made with chicken broth, you can easily make this dish vegan by using vegetable stock.
This Sriracha baked tofu rice bowl is everything you need in a blanched meal. The crispy baked tofu adds such a nice crunchy texture to the rice bowl and the sauteed vegetables. With the addition of avocado for healthy fats, you will keep wanting another bite.
Vegan wild rice pilaf is a great application of classic french Mirepoix. In traditional French cooking, a combination of celery, onions, and carrots is used to sweeten and add flavor to any stock. When wild rice is cooked in this mixture, it will produce a beautifully complex pilaf.
Though traditional bibimbap recipes call for some sort of meat protein, there are no rules against customizing the topping to fit your vegan needs. King oyster mushrooms successfully take the place of meat in this vegan Korean bibimbap to add texture and flavor.
Teriyaki fried rice is one thing that cannot go wrong regardless of what you might be craving. This dish is heart-healthy and will provide you with a full stomach at the end. Teriyaki sauce is vegan, and so are the vegetables you add to this rice.
FAQs
Besides being curious about questions such as "is rice vegan?" I am sure you have some other concerns that need to be addressed. These are a list of questions that everybody wants to know relating to the main topic of the discussion thus far.
Rice Is Vegan, End Of Discussion
I will leave you with this information that will put all your doubts aside "all rice is vegan." The concerns around the vegan nature of rice involve the environmental impact of rice production. They have nothing to do with whether rice is made from animals or not (and no, it isn't).
If you choose a vegan lifestyle as one of your new year's resolutions for 2022, you have come to the right place. Now I hope you are more comfortable exploring new and exciting ways to enjoy rice. Leave a comment and share this article with your friends who are vegan novices!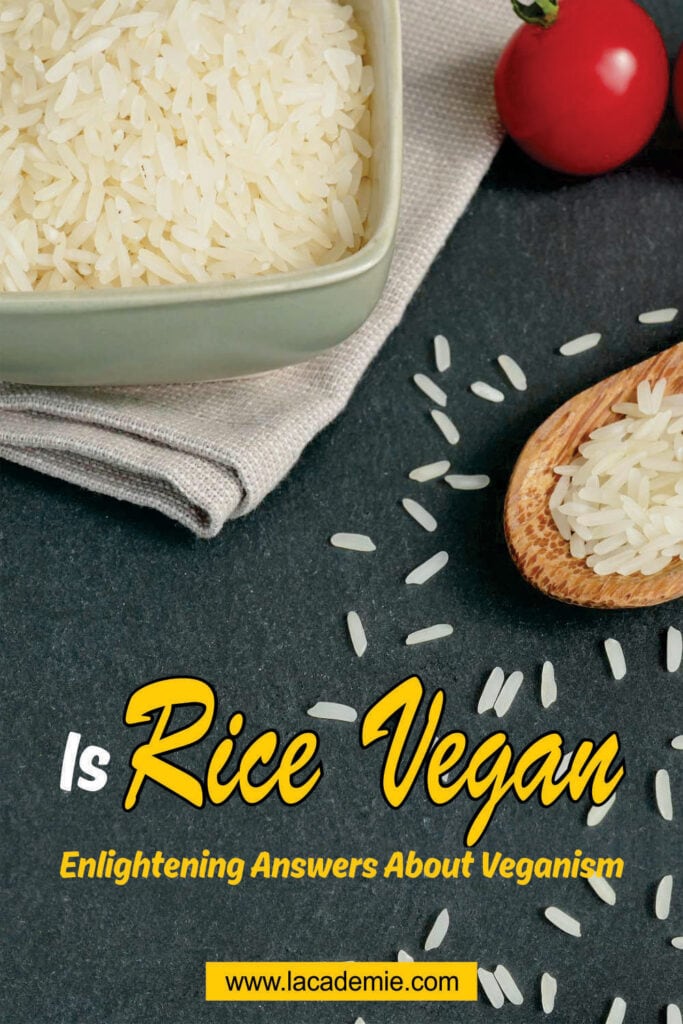 References
Bouman, B., 2022. How Much Water Does Rice Use?
Win, E., Win, K. and Bellingrath-Kimura, S., 2022. Greenhouse gas emissions, grain yield and water productivity: a paddy rice field case study based in Myanmar.