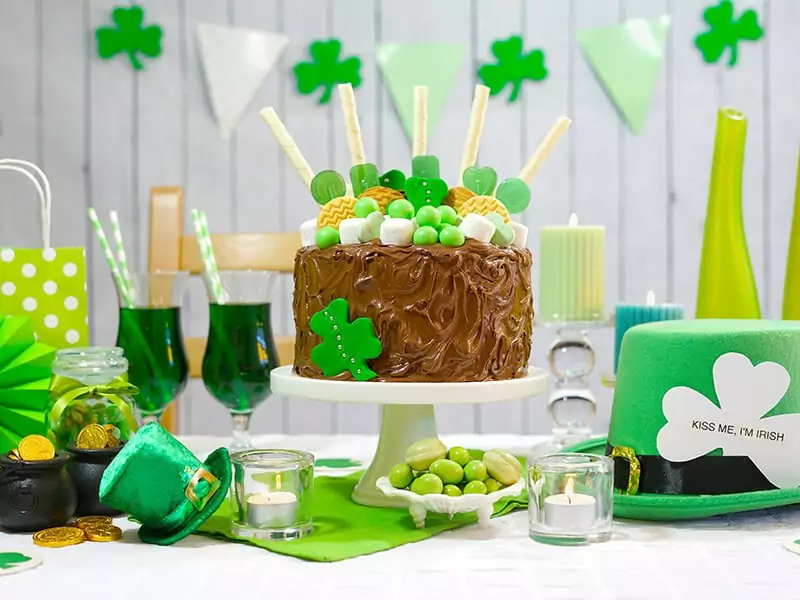 Ireland is famous for verdant fields, beautiful coastline, and not to mention attractive Irish desserts. This country is not only known as a great study abroad destination in Europe but also known for its unique cuisine rich in identity.
Desserts of Ireland is the harmony and learning of famous cuisines in the world, creating unique traditional dishes of their country. And these delicacies are, of course, indispensable in St. This year's Patrick of your family.
Well, if you're a sweet tooth, you'll have to stick around until the end of this article. 30 great Irish dessert suggestions this year will make your mouth water and inspire you to create delicious Irish treats!
Let's See What I Bring You Today: 30 Stunning Irish Desserts!
It is difficult to choose for yourself the most delicious and easy-to-make Irish desserts to enjoy because they are all stunning! Here are 30 great suggestions for you to gradually prepare from today:
Irish Cakes:
Baileys Poke Cake
Baileys Chocolate Coffee Cake
Bailey's Butter Cake
Irish Apple Cake
Guinness Cake
Porter Cake
Chocolate Cake
Irish Pancakes
Irish Bread:
Irish Soda Bread
Irish Barmbrack
Irish Blueberry Scones
Irish Pudding:
Irish Soda Bread Pudding
Baileys Bread Pudding with Whiskey Butter Sauce
Irish Lemon Pudding
Irish Cheesecake:
Baileys Cheesecake
Mudslide Cheesecake
Irish Brownie:
Baileys Brownies
Irish Cream Mint Brownies
Irish Drinks:
Shamrock Shakes
Grasshopper Cocktail
Classic Irish Coffee
Baileys Frozen Hot Chocolate
Other Irish Desserts:
Milk & Cookies Shots
Irish Toffee Shortbread
Baileys Truffles
Irish Whiskey Truffles
Irish Apple Crumble
Irish Cream Pots de Crème
Irish Potato Candies
Irish Oat Flapjacks
30 Amazing Irish Desserts to Definitely Delight Your Dining Table
Irish desserts, although simply prepared, are exceptional and charming, with an incredible taste. Here I will introduce to you 30 dishes that anyone who sees them will want to enjoy immediately:
Bring Festival Atmosphere To Your Home With 8 Soft And Sweetish Irish Cakes:
Desserts are not only used to eat but also to enjoy. They must be beautiful to look at. And yes, here are the most delicious and good-looking Irish cake desserts for you. You will be completely overwhelmed by both the beauty and the taste that they bring:
Bailey Irish cream is the name you will encounter in most Irish desserts. And if you worry about whether your Bailey Irish cream is good to go, you can start with this poke cake. This famous alcoholic cream can become a baking ingredient, creating an iconic Irish flavor.
As the name suggests, poke cake is created by poking holes into the cake with a fork, chopsticks, or spoon handle, and then pouring in any liquid flavorings of your choice, this time called Bailey. It will keep the cake moist and soft.
Imagine a poke cake filled with Bailey Irish cream inside and a stream of chocolate pouring out as you cut the cake. You won't be able to resist that feeling.
These cakes, when taken from the oven, will smell like Bailey. The cake has a sweet taste mixed with a bit of chocolate bittersweet and a gentle yet attractive coffee smell. The cake base is smooth and moist that can melt in your mouth so you can enjoy a large piece without feeling bored.
Each pretty and eye-catching piece of cake will captivate any guest who visits your house. This is also a lovely, wonderful gift you can prepare for your friends and loved ones on St. Patrick!
Butter cake uses a high percentage of butter, so the cake has a buttery aroma. Eating small pieces of butter cake with a hot cup of tea is irresistible.
Unlike sponge cakes like chiffon cakes, butter cakes have a denser and heavier texture but are very moist and soft at room temperature. The cake has a gentle aroma and a wonderful Bailey Irish flavor.
The childhood of Irish children is associated with apple pie – a famous traditional Irish cake. The apple pie just came out of the oven with the aroma of flour and apples blended together extremely seductively.
Fluffy, soft, and beautifully decorated apple pie creates a very classic Irish cuisine. You can get creative by combining apples if you like when making this cake.
You will love the taste of this traditional Irish apple cake. Learn how to make your best version with this easy one bowl recipe!
This is a gorgeous cake for your St. Patrick. It has the intense flavor of Guinness stout beer. The sugar in the recipe is balanced to remove the bitterness of this iconic Irish drink gently.
Besides, a layer of cream cheese on top of the black cake would be perfect both in terms of aesthetics and taste. You're sure to love this mouthwatering and mysterious Irish cake recipe.
Porter cake has the bold taste of porter wine, cherries' fruity sweetness, and buttery taste. This is a traditional dessert that the Irish people have always loved. Enjoy this cake with coffee or tea, preferably a little bold, which would be perfect.
The interesting thing is that the longer it is left, the stronger the flavor of this cake will become, meaning it will become more delicious. You can make it in advance and eat it during the holidays without worrying about the taste.
Stout beer always gives your cake a glossy and black appearance. The layers of melted cake will make you feel so lucky to eat it. It's even better when paired with chocolate.
The chocolate in the cake is subtly flavored with the intense taste of the stout beer. Its texture is exceptionally moist and spongy, so make sure it won't lack your holiday.
Irish Pancake is the perfect choice for a lazy Sunday breakfast! Not requiring many sophisticated techniques and ingredients, making pancakes is also instantaneous, so it is no exaggeration when the Irish pancake is dubbed the easiest pancake to make.
With this simple classic Irish pancake recipe, you can choose to serve it with creamy whipped cream, sweet honey and jam. This is suitable to make snacks for your close friends and family when gathering this holiday.
Try this simple recipe to make your best version of Irish pancakes! Everyone will enjoy it once you follow the tutorial exactly!
Satisfy Your Stomach With 5 Splended Irish Bread Desserts
Yes, the Irish have their own lovely soda bread and others. You should know about these must-try foods from Ireland, and you should taste them because they will never let you down!
Why "soda bread"? Because traditional Irish bread uses a combination of buttermilk and baking soda to make the dough rise in a short time. With only basic ingredients, you can make this cake yourself at home. Your breakfast menu will be complemented with this nutritious and attractive dish.
The cake after baking time will have a beautiful golden brown color with a crispy crust. Tap the tip of your finger on the bread, which will make a hollow sound. Irish bread does not need to wait for the bread to rise, so it is speedy and simple to prepare.
This bread is both delicious, soft and will definitely be a perfect Irish way for your family to start a new day. It is also very popular among North American people during the Halloween ghost festival.
Learn how to make Irish soda bread with this easy recipe! You will definitely love the smell and the texture of this traditional Irish bread!
Irish Barmbrack is traditionally served on Halloween. But I'm sure you'll love eating it every day. Raisins soaked overnight in tea, then blend them with honey butter, and Irish spice to create this soft barmbrack.
The interesting thing is that you can choose the sweetness for an Irish barmbrack. The dough is also very easy to mix at home, and you can easily succeed with just your old oven.
Irish blueberry scones are a popular sweet treat for camping, picnics, travel, and other outdoor activities or even as gifts. Many also consider it to be the ideal dessert because it has a simple and fast way to make, and it doesn't take much time.
Get in the kitchen today and try making delicious Irish scones with blueberry flavors! Pairing this fresh-out-of-the-oven dish with a little warm butter is perfect for a perfect holiday.
Try To Make These Soft Irish Pudding And Your Guests Will All Be Cheering:
Well, pudding is something for dessert that you can't do without in a delicious party. And Irish pudding with a delightfully exotic flavor that will make all your guests irresistible to say wow!
From the soda bread above, you can make it into a lovely pudding sweet. The main ingredient of this dish is soda bread, old or new. This cake is also very suitable for breakfast or a snack.
You will surely be mesmerized by the taste of bread, buttermilk, and a faint smell of baking soda. Making bread pudding is not as difficult as you think. It turns out that it is very simple and the ingredients are always available.
Like soda bread pudding, Baileys bread pudding with Whiskey butter sauce is super easy to make. Imagine a cold, snowy day; you feel so lazy, then this will be a perfect quick dessert served right out of the oven for your guests.
This dish is best enjoyed while still hot. And even when it's cold, it's still delicious. If you do not eat it all right away, you often cover it and put it in the refrigerator for a few days and reheat for a few minutes in the microwave when you want to eat.
The cool Irish lemon pudding is the best option you should try. Its sweet and sour taste is very stimulating. Lemon juice has a beautiful bright yellow color, radiates a gentle aroma, and has an ethereal sour taste.
It is no coincidence that chefs love to take advantage of this wonderful fruit. This pudding is so easy to make that you don't need to measure the exact ingredients to make it. Soft, cool, lemon-flavored puddings will surely make you fall in love.
Let's Create More and More Ireland Vibes by 2 Creamy Irish Cheesecakes:
Dear Sweet Teeth, you can't live without these delicious Irish cookies and pies! Why not make a few and put them in the fridge to eat gradually? The fatty sweetness that melts in your mouth will make you drool!
If you love Baileys, you will absolutely go crazy with this cheesecake. Also, Bailey cream will bring cheesecake to the next level. This is absolutely a new favorite dessert to make these days!
The crust is a delicious oreo cookie, filled with smooth and creamy bailey cheesecake, then topped with a delicious ganache and soft chocolate whipped cream.
The characteristic fatty flavor of Bailey cream combined with the smooth texture of cheesecake is guaranteed to make you swoon. It also has a moderate Irish sweetness so it won't leave you feeling overwhelmed.
Another boozy recipe for you with sweet, creamy and delicious stuff! This cheesecake uses the distinctive flavour of Irish Baileys to bring the best taste!
Inspired by cocktails, the cheesecake mudslide has a creamy and smooth texture. The cheesecake surface is covered with a layer of fresh Irish cream. Layers of rich cheesecake piled on top of each other, with a crushed cookie base plus layers of chocolate ganache that will make you fall in love.
Furthermore, this mudslide cheesecake adds the intense flavor of vodka, which adds to its appeal. This really deserves to be an excellent dessert for Patrick's day.
2 Attractive Irish Brownies Are What You Cannot Miss In Your Holiday Party:
I know, there are so many of you who love brownies! How could this wonderful, rich and sweet dessert be missed on any special occasion, right? These two Irish recipes will leave you satisfied!
Because of its delicious taste and shallow alcohol content, Bailey cream is a popular ingredient in baking, and brownie is one of them. Characteristic with fatty and aromatic flavor, combined with ingredients to create a new and intense aroma.
Combining Bailey with traditional chocolate brownie will bring the perfect flavor to conquer any fastidious diners. This brownie will feature Bailey's fatty and aromatic taste and the characteristic bittersweet taste of chocolate.
Chocolate brownie with a soft, fluffy texture, chocolate flavor mixed with fragrant mint, and passionate Irish cream create a masterpiece. You can make this dessert for breakfast or for a mid-hour snack.
It's not difficult to make a delicious mint chocolate brownie with Irish cream at all. Just make sure you know all the signs showing your brownies are ready to eat. After you're done, if you don't eat all of it, you can store these brownies in the fridge for later use during the holidays.
You Will Wish You Knew These 4 Attractive and Amazing Irish Drinks Sooner:
Parties should not lack drinks. And the following delicious beverages with a strong Irish flavor mixed with a variety of delicious ingredients and a little bit of drunkenness below will bring you the best taste ever:
Shamrock shakes like McDonald's, why not? Great signature mint milkshake for St. Not only can this Patrick's day be enjoyed in the store, but it's also very easy for you to make at home and enjoy with all the family members, especially the kids!
This shamrock shake recipe has a creamy smooth texture that's heavily flavored with mint, milk, and vanilla. You can't get through this festive season without it!
The name "Grasshopper" refers to the particular color of this cocktail. The Grasshopper Cocktail recipe is like a perfect harmony between mint and chocolate, resulting in a wonderfully soft green drink.
The special color of this cocktail has really impressed many people, and until they directly enjoy its taste, all impressions seem to be doubled. Grasshopper is a beverage that few people can resist because of the perfection they bring.
The blend of mint and chocolate is all you need to have a perfect evening. Not to mention, the Grasshopper cocktail also has a reasonably light alcohol content, suitable for both men and women, and is good after meals.
Irish Coffee is a type of coffee mixed with Whiskey, caramel sugar, and a layer of cream on top and enjoyed hot. With all the above ingredients, this is considered a great drink with the bitter taste of coffee, the passionate taste of Whiskey, along with the fatty taste of the cream layer.
In particular, it is recommended to use very strong coffee to avoid the coffee taste being overwhelmed by the Whiskey. In the cold weather, a cup of Irish Coffee makes our body warm and forget the cold of winter.
The elegance lies in the simplicity of making and the incredible smoothness! This traditional coffee is sure to lift your spirits and warm your soul.
Chocolate is known as the most attractive ingredient on the planet. People like chocolate because it soothes the taste buds, from the sweet, seductive scent to a little bit of bitterness. And combine with passionate baileys? There is nothing more wonderful!
Bailey's frozen hot chocolate is simply chocolate milk. A cup of hot chocolate with passionate baileys with your favorite book and some soft music will make you feel very comfortable on the weekend.
There Are Still Many Other Irish Desserts That You Must Try Every Day!
Besides all that I have brought you, Ireland still has dozens of desserts for you to continue with your passion. Why not try each recipe every free day from now until the end of the year? You can have it all, as long as you love it!
Cookies and milk are an inseparable duo. And the milk and cookie shot is a great invention to bring this duo together in the most lovely way. They are simply classic chocolate dough that is skillfully molded into the shape of a glass filled with milk.
These cookie shots are loved because the sweetness of milk and the bittersweetness of chocolate dough make it attractive, plus the appearance is extremely eye-catching.
Irish toffee shortbread is a wonderful combination of shortbread, chocolate, and caramel with a taste no one can deny. These bars with chocolate layers have a rich sweet and bitter taste that becomes absolutely delicious when together.
Plus, this shortbread is coated with a thick layer of caramel that's sweet enough to make you feel happy. This recipe is pretty easy to make with basic ingredients that are easy to find, so give it a try for Patrick's day this year!
Truffle is a type of chocolate candy with a soft inside and a hard outer shell. Interestingly, you can add Bailey cream to give it a bold Irish flavor. You can also cover them with many toppings you like.
The small shape of each tablet and the sweet taste will make your guests extremely excited. How to make Bailey truffles is not too picky or complicated. It just takes a little time to finish.
Truffle again, but with Irish Whiskey. It brings the spirit of Ireland to your holiday season. This is a new level of truffle with a strong whiskey flavor in every bite.
This dessert is made with simple ingredients and easily forms the center ganache. But because it contains alcohol, it will not be suitable for children!
You will have a crispy dessert, the mild taste of fresh apples, and the wonderful aroma of butter. With this apple crumble, you don't have to be fussy like with other baked goods and still have a great crumble. When baking, the aroma of apples warms the whole room.
Sweet and sour apple taste without being overpowering, topped with a layer of butter flour is perfect. My favorite is to serve this with vanilla ice cream while it's still hot. You can also serve it with creamy custard or sweet caramel sauce.
Apple crumble is one of the easiest desserts to prepare with this super simple recipe! Why not make your own version today?
The aroma, softness, coolness, and indescribable charm are what you can feel when enjoying Irish cream pot de crème. This is a delicious dessert with a sweet and cream scent that will make your day.
This dish may make you think of flan or caramel. However, pot de crème is much more attractive by combining the interesting flavor of Irish cream. With only simple ingredients, this dessert is enough to capture the hearts of sweet lovers.
With a shape that looks like cute little potatoes, this dessert will be a favorite of both kids and adults. These potato candies are even more tempting than the real potato!
The Irish potato candies will satisfy everyone with its crispy texture and delicious taste. Each golden fried candy looks really eye-catching, fragrant with a crispy outside, and the inside of melted cream cheese is really attractive.
Making this "potato" is quite simple, but you can change the filling with many different ingredients depending on your preferences. Feel free to get creative with whatever filling you desire!
Irish oat flapjacks are signature oat bars and really simple to make. They can be customized by adding the ingredients you like.
This dessert is ideal to eat as a snack. Moreover, if stored in an airtight container, they stay fresh and fragrant even after a few days. This is also a source of many nutrients because it provides a full range of fiber, carbohydrates, protein, and good fats for your health.
One Irish Dessert Per Day, Why Not?
So, are you intrigued by the delicious Irish desserts? You can easily find these dishes anywhere, but making it yourself is an experience that you should try if you get the chance!
Well, Irish cuisine is truly unique and diverse, isn't it? And don't forget to share the recipes that I recommend above with friends and relatives. Now, go enjoy making your Irish desserts!
Nutrition Facts
4 servings per container
---
Amount Per ServingCalories245
% Daily Value *
Total Fat 10.4g

16

%
Cholesterol 116mg

39

%
Sodium 120mg

5

%
Potassium 145mg

5

%
Total Carbohydrate 31.8g

11

%

Dietary Fiber 1.2g

5

%
Sugars 17.6g

Protein 8.1g

17

%
---
Calcium

134

%
Iron

1

%
Vitamin D

13

%
* The % Daily Value tells you how much a nutrient in a serving of food contributes to a daily diet. 2,000 calories a day is used for general nutrition advice.