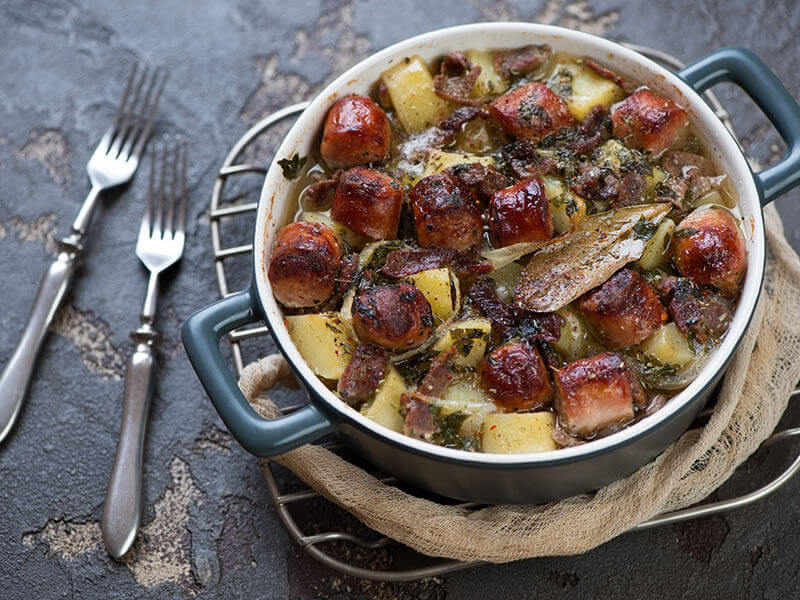 Irish recipes? Well, there are so many things "The Emerald Isle" can offer, but one thing you can be sure of is these leprechauns love their potatoes and cabbage! These two ingredients are dominant in their cuisine. And every Irish meal is just like a small-sized family party.
If you are looking for satisfying, rich, and hearty dishes, Irish recipes are the way to go. Forget about these calorie-counting formulas. This country is not diet-friendly! Let's throw yourself into joyfulness and enjoy this beautiful life with all the flavorful and pleasant treats.
From appetizers, main courses to desserts and drinks, this list has all the things you need! Don't hesitate and check them out right now!
32 Irish Recipes That Are Irresistibly Delicious
You will never want to escape from these hearty, comforting, and flavorful dishes that come from Irish cuisine. My list below includes Irish appetizers, main dishes, desserts, and drinks too! You even can make an Irish-styled party only with this collection!
Appetizers
Colcannon Soup
Irish Potato Soup
Seafood Chowder
Boxty (Irish Potato Pancake)
Irish Flag Salad
Guinness Beer and Cheese Dip
Guinness Glazed Meatballs
Main Dishes
Dublin Coddle
Irish Stew
Irish Stew Pie
Full Irish Breakfast
Bangers and Mash
Spiced Beef
Irish Fish Pie
Mini Shepherd's Pies
Colcannon (Irish Mashed Potatoes)
Desserts
Barmbrack
Irish Apple Cake
Mint Irish Cream Brownies
Irish Bread Pudding
Irish Whiskey Truffles
Irish Shortbread
Irish Tea Cake
Fifteens
Drinks
Shamrock Shake
Scáiltín (Irish Whiskey Milk Punch)
Irish Coffee
Irish Cream
Guinness Float
Irish Mule Cocktail
Black Velvet
Irish Flag Shot
7 Irish Appetizers Recipes You Should Try Once In Your Life
Looking for an Irish-style appetizer can be hard sometimes, but once you find the right ones, it will be your best decision ever! Now, scroll down to look for your most favorite Irish appetizers!
If you are not interested in potato salad, try potato soup. Colcannon soup is literally the more watery version of colcannon. In other words, it is less heavy in texture than colcannon.
A plus for this potato soup: You can add some bacon to push up the taste of the soup. The crispiness from this meat product is a wall-breaking. But don't worry. The Irish recipes are pleasant enough to accept small changes.
Not sure what bacon to add to this? Irish bacon's nature will complement this dish fantastically. As this is an Irish recipe, it makes sense to add some juicy, authentic Irish bacon to the dish. Am I right?
Don't mistake this soup for colcannon soup. This Irish potato soup doesn't have cabbage. But it is still as delicious as the colcannon soup too.
If you want an appropriate appetizer for your kids, pick this one. This soup can even be fed to your 1-year-old baby. All you need is to adjust and measure the ingredients. I believe no one can hate this simple but lovely appetizer.
Seafood Chowder is a kind of soup. But the fresh and chunky seafood is the prominent trait that a traditional soup does not have. All the ingredients go well with each other. You will not want to put the spoon down until there is nothing left!
Let's start with simmering the vegetables first. The seafood will come up later when the veggies have become softer. Remember not to overcook the seafood as it will lose the chunkiness. To be more specific, the maximum time for seafood cooking is 10 minutes.
4. Boxty (Irish Potato Pancake)
Potatoes Potatoes! Potatoes! Don't try to run away. Potatoes have almost become an indispensable part of every Ireland's citizen. Boxty is the way the Irish show their love for their precious ingredient.
Made from potatoes, flour, and eggs, this appetizer appears regularly in Irish meals. Boxty is also a "multi-used dish", that can be served as an appetizer, a breakfast as well as a side dish for dinner. It also can be eaten with several kinds of side dishes.
The Irish seem to extremely love their country. This love can be seen everywhere even in their cuisine. Irish Flag Salad is just like its name, which is made from green spinach, white pears, and orange oranges.
It's really funny and interesting when looking at the plate. I can even imagine the Irish flag hiding behind the salad. And I actually have eaten all the salad plate only to find whether there is a real flag inside!
How can someone resist this creamy beer and cheese dip?! As you have known, cheese is every Irish treasure. This dip is made with different kinds of cheese: mozzarella, Gruyere cheese, block cream cheese!
You will find yourself indulging in this sweet and cheesy treat and never want to escape!
As its name suggests, don't forget your Guinness stout. This will be a big mistake as the classic Irish drink will round off the flavor beautifully! After the dip is finished, serve it with cookies, crackers, bread, or tortilla. This appetizer is a must-have item for every occasion of your family.
I would love to share this recipe with all of you. If there is something I want to have on a cold rainy day, it's Guinness glazed meatballs. The tender, tasty and mouth-watering meatballs can incredibly be paired with my crispy toasts.
You don't even need to cook any other main dishes or desserts. Meatballs and toasts. That's all. You need a vegetable salad for a healthier meal? No problem. But remember to pick the vinegar-based ones. Cheese-dressed salad is a bad idea.
9 Savory Irish Recipes For Main Dishes – Dreams Aren't That Good!
You totally can expect a full calories, nutritious and hearty meal with these Irish main courses. My 9 Irish main dish recipes below can satisfy your hungry belly in a flash!
The idea of dublin coddle comes up when the Irish want to take advantage of all their leftovers. This is an easy-going dish that you can add mostly anything left in your fridge. From potatoes, bacon to sausage, somehow you can make this one-pot delicacy.
Since all ingredients are seasoned and simmered for a long time, dublin coddle has a rich and sharp flavor. As soon as you try it, home-flavored may suddenly come to your mind as it reminds you of your mom's cozy little kitchen.
Like potatoes and cabbage, the Irish love their stew! Stewing allows the condiments to penetrate deeply into the ingredients. And there is nothing you can fall in love with than a hot and cheerful Irish stew.
Every time I take the stew from the oven, all I want is to devour the whole pot. Yes, you don't hear it wrong. The Irish will probably put their stew in the oven. You will be amazed to discover that oven-stews are even more delicious than the stoved one!
If you have already been invited to the St Patrick's Day celebration party by your Irish friends, this delicacy is definitely no stranger to you. Irish Stew Pie is another higher level of Irish stew with a little more complex cooking technique.
This pie seems similar to all other sweet treats with pie crust, but it is the fact that all the gems will be hidden under a crispy puff pastry. Make sure you can be overweight by this bunch of food reunions but isn't that all we love?
Every Irish meal, even Irish breakfast can be described with the word "hearty". Let's wake up early on Sunday morning, go for a jog, and watch the sun slowly rise from the east. Then, fuel up your day with a full Irish breakfast!
What you need to do is grab all of the ingredients you like and cook them. Either it is bacon, mushroom, potatoes, or sausage, remember to make an omelet! Moreover, putting all the foods into one large plate will be the classic way of enjoying the authentic Irish full breakfast!
Full Irish breakfast? Delicacies are on a plate! You should see the video below:
Bangers and mash is originally a traditional dish from Britain. However, the complicated relationship and history lead to its relationship with Irish cuisine. Bangers and mash consists of sausages and mashed potatoes. And you usually find that peas are served as an addition.
Moreover, the highlight for this simple dish is the onion gravy. Bangers and mash cannot be completed if the onion gravy is out of the plate. Therefore, make sure to have the most stand-out qualified gravy on hand!
Spiced beef is a salted beef that originates from County Cork, Ireland. It is usually served at Christmas parties or New Year's Eve. However, because of the simple recipes and delicious flavor, spiced beef also can be found in any restaurant in Ireland year-round.
However, it takes you a long time, for about 1 week to 2 months to prepare as the beef needs time to absorb the spices. In return for that cost, its flavor is amazing!
How is the authentic Irish spiced beef prepared? It takes so much patience! Watch this video:
The Irish prefer meat. It's true, but fish-based dishes are not out of their culinary world. With the classic cooking method, fish and other ingredients are mixed, cooked, and baked under the soft layer of potato mash.
Sharing the meal with your family is the best way to spend this pleasant and comfortable experience. Irish fish pie is undoubtedly a recipe that is worth a try for any American home cook.
These top-covered potato mini shepherd's pies are just the greatest invention ever! Inside the pies, you can find ground lamb and a mixture of various vegetables.
This mini shepherd's pie especially works well in a buffet as it allows you to enjoy the full flavor without sharing it with anyone. That's why I love this mini version much more than the big one! Because they're all mine!
Note: Although some recipes may use ground beef as a substitute, for me, only ground lamb is the true partner!
Watch this video to know more:
Let's start your family party' main courses with colcannon. This Irish version of mashed potatoes is even abundant and more delicious than the American ones. As potatoes are specially treated here, Irish mashed potatoes are filled with heavy cream and butter.
It is creamy, warm, and soul-calming. Moreover, colcannon is the typical Irish food since it includes both potatoes and cabbage. You may find it weird to mix cabbage with potatoes. But it's how Irish cuisine is shaped!
One of my favorite way to round of colcannon' flavor is by serving this as side dish for chicken cordon bleu. The mouth-watering combination of flavors and texture from Irish signature mashed potatoes as well as chicken cordon bleu is definitely something to die for.
Surprise Your Friends By 8 Comfort Irish Dessert Recipes
People mostly only talk about elegant French or Italian desserts, but they don't know excluding the majestic natural beauties, Ireland also has breathtakingly luscious desserts. Let's check out some of them now!
Barmbrack is a traditional quick bread filled with raisins. It is often found in Halloween celebrations in Ireland. Customarily, a ring (or any items) will be put into the bread. The person who receives the barmbrack with the ring inside is considered to be fortunate.
I had once luckily received a toy ring in the in-store barmbrack. It's a quite interesting coincidence that a few days later I met Jack – my boyfriend (currently my fiancé).
So, is the myth true? Who knows!
Irish apple cake is an addictive item that can hook you forever. This cake is dense and heavy but it is also so tender and soft. The apple cubes inside somehow still keep their little crunchiness even baked in the oven for almost 1 hour!
If you want to add some moisture to the cake, don't forget the custard sauce. And once these two things are combined, there is nothing except the tastiness.
Mint Irish Cream Brownies are a legend! You will not be able to stop your craving when the sweet smell of the mint buttercream gets through your nose. By somehow, the Irish always know how to turn some rustic and simple ingredients into masterpieces!
Let's enjoy the beautiful sunset and fresh air in the garden with these cute brownies. I'm sure you will not be bothered by the over-sweet taste as these cuties can be served with a cup of hot green tea.
I don't know how many recipes Irish put their whiskey on, but I'm sure bread pudding is one of those. Whiskey caramel sauce thrives in more moisture to the cake and makes the pudding one hundred times better!
This pudding is similar to many other kinds of Irish desserts, which can be made into both mini and large versions. Depending on which types you'll make, choose the appropriate baking pan for this pudding. Live alone? Pick small ones! And larger ones are for sharing.
These Irish whiskey truffles have been my precious little secret for a long time. I almost have an addiction to these sweeties. It's never enough to have them on my stressful days. Instead, these truffles are like a sweet medicine that can calm down my chaotic mind.
You can make them by yourself to freely adjust the sweetness. Eat them all, or you can keep them in the fridge for about one week. These whiskey truffles do not lose their texture as well as their flavor.
Irish shortbreads are really easy to make. They are also an easy-going dessert you can bring by your side for snacking or sharing with friends. Another interesting thing about these bread is they can come in many different shapes.
Depending on the bakers' preferences, Irish shortbreads can be shaped like flowers, squares, circles, or can even have more elaborate looks due to being made by various kinds of molds. You probably won't know if it's Irish shortbread until someone tells you their name.
If you are a true foodie, perhaps Irish tea cake will not leave any special impression. However, this is the childhood memory of many Irish. My fiancé once told me that he loves the Irish tea cake I make because it looks exactly like the one in his grandma's cozy kitchen.
The sweetness and satisfaction this cake brings you are special as well. It's calming, caring, and tender like your grandma's love.
Surprised? I bet this special name is enough to pique your curiosity! You'll be more awed to know that while its name is "fifteen", this dessert just has three ingredients. More exactly, each ingredient in this cake asks for fifteen (in quantity).
Even when they are cut into slices, it is compulsory that you need to cut the cake into fifteen slices. I don't know where all this comes from, but it's funny to make this cake according to the "rules"!
Prepare your favorite fifteen ingredients for "fifteen"! You should see the video below:
8 Irish Drink Recipes You Will Absolutely Fall In Love With
When it comes to beverages, everyone knows the Irish Guinness beer. But since this famous drink is an exclusive product, it's obvious you can get the recipes. Don't be disappointed. Irish also has many different delicious drinks that have been hidden for a long time!
Ireland has so many things to love. Not only the picturesque landscape but also the wide range of drinks it offers to you. I started to raise my love for this country's drinks when I first tried shamrock shake.
Being an ice cream-addicted person, I almost want to try everything related to this sweet treat. With the flashing and attractive appearance, it's not hard to find out that I have fallen in love. And sooner or later, you will too. I guarantee.
Milk fans, this is good news for you! There are still fascinating Irish milk recipes for you to try, but here is your best deal: A cup of Scáiltín!
Although Scáiltín still contains a quarter of Irish whisky, it will not bother you that much. You know, the Irish are proud of their whisky, so they add this precious thing into almost every drink to push up the flavor. And as you try this recipe, you will know how clever the Irish are!
Irish coffee is a comfortable experience that you should not miss! This food with "I" as the beginning has a distinctive flavor as one of its ingredients is whiskey. But don't worry. The alcohol content is not enough to get you drunk.
On the top of the coffee, the Irish add a layer of whipped cream. And you know what? They are just a perfect match! The cream even makes the coffee more complete. And when you have tried it, you never want to come back to the regular ones!
This is one of the most famous Irish drinks you can find in every city of Ireland. Irish cream is a cream liqueur. With the creamy flavor and a hint of Ireland whiskey, this dessert is favored by both men and women.
Luckily, it's not an exclusive product. Therefore, you can find your way to achieve this recipe. And don't look any further; the perfect recipe is right in front of you now!
One short evaluation: It's so soo sooo good! Not only that, but Guinness float is also the most easy-to-make drink that I have ever known! Just pour the Guinness beer into the ice cream. Boom! You have got your dinner drink!
Remember to buy the Guinness beer! If you substitute it with another beer, it is not the authentic Irish Guinness beer float no matter how delicious the substitute one is.
It will be unfair if I spend all of this section talking about the other drinks without cocktails. Cocktail lovers, it's time for you! Let's check out the Irish mule cocktail and add it to your list right now!
The whisky-based cocktail is divine, and this cocktail too! Also, with the presence of ginger beer and lime juice, this drink is so much more refreshing!
Another must-try Irish cocktail I want to introduce you to is black velvet. This drink has an elegant look with a mixture of black Guinness and white champagne.
You can use another white sparkling wine for champagne, but nothing can replace the Irish Guinness. This beer is almost cemented to Irish cuisine as it goes on both food and drinks!
This drink is a gift for those who are patient enough. If you have gone so far into my collection, congratulations! Irish Flag Shot is for you.
Irish Flag Shot has an utterly vibrant appearance. As its name suggests, this drink looks like the national flag of Ireland with three colors: Orange, green, and white. Serve it in your gatherings. This drink absolutely will be your party vedette!
Irish Flag Shot? Well, simple but more techniques included! You should see the video below:
Irish Recipes Are As Comfort As Their Lovely Owners
All I want to tell you through this list is the delicious Irish recipes I have kept for a long time. Irish cuisine may not seem as elegant as French's, but one thing I'm sure of is: It's full of satisfaction, love, and homey.
And if you love these feelings when enjoying the food, don't ever miss out on these Irish recipes. In case you have already been an Irish food lover, cheer with me!
In the last words, if all of you have any other questions about my Irish food collections, please leave a comment in the section below. I will reply as soon as possible!