Let's discover the power of Mediterranean spices and herbs, from the aromatic allure of oregano to the exotic flavors of saffron. These culinary treasures can transport you to beautiful shores and ancient landscapes.
In this article, I invite you to unleash the flavor of esteemed components of Mediterranean cuisines. And get ready to elevate your cooking to new heights and embark on a culinary adventure like no other.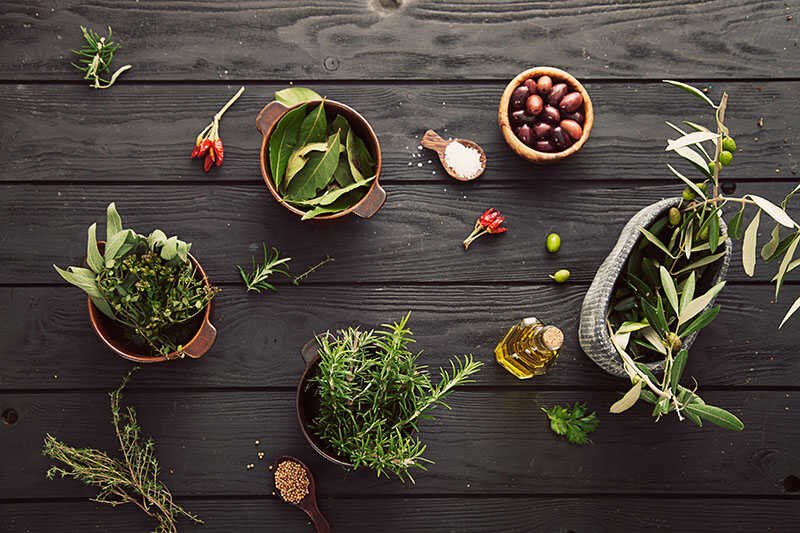 Historical Context
Brief History Of Spice And Herb Used In The Mediterranean
The Mediterraneans have used spices and herbs since ancient times. The region's warm climate is ideal for various types of herbs and spices to grow, leading to a staple in the inhabitants' diet.
For instance, the Egyptians might use herbs and spices for culinary and medicinal purposes as early as 3,000 BC. In classical times, the Greeks and Romans valued spices and herbs not only for their flavors but also for their preservative and medicinal properties.
Influence Of Mediterranean Spice Trade In History
The spice trade has profoundly shaped the course of history in the Mediterranean. Despite not being native to the Mediterranean, spices, such as pepper, cloves, and cinnamon, were imported from the East through complex trade networks.
Mediterranean cities like Alexandria, Venice, and Genoa became significant trade hubs, resulting in wealth and prosperity. The spice trade also spurred exploration, leading to the discovery of new trade routes and lands.
Impact Of Spices And Herbs On Mediterranean Culture And Traditions
Spices and herbs have a significant impact on Mediterranean culture and traditions. They appear in various cultural practices, from creating classic Mediterranean foods to religious rituals, traditional medicine, and celebrations.
Spices and herbs also contribute to the identity and variety of Mediterranean cuisines, reflecting the region's historical influences, migrations, and trade connections.
Leafy Herbs
1. Basil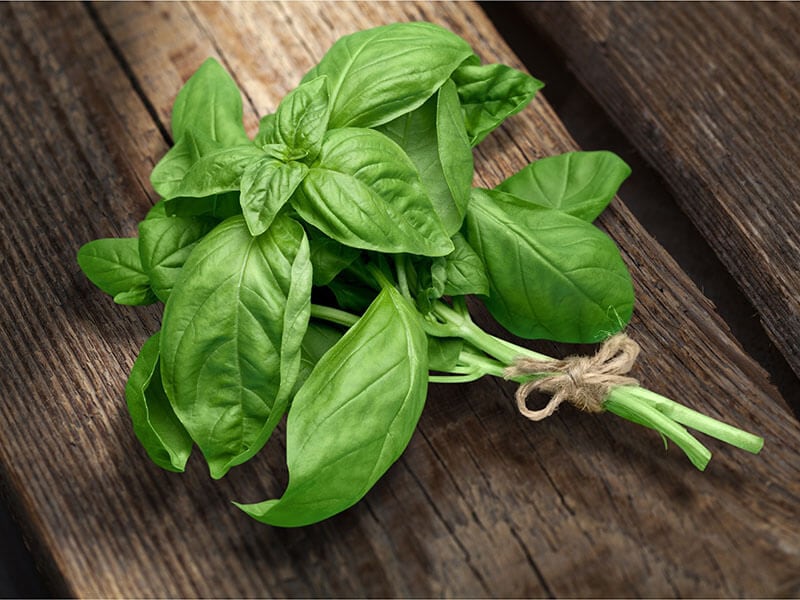 Basil is a native of tropical regions from Central Africa to Southeast Asia. There are many basil species: Thai, sweet, and lemon basil. I can't get enough of its sweet, spicy, particularly vibrant aroma in its fresh form.
Fresh basil often appears in tomato sauce for pasta. It is also necessary for salads, marinades, and the traditional Italian pesto. Make sure to only toss it into cooked dishes like soup and curries at the last moment to avoid ruining the taste due to the cooking temperature.
I love making a warm cup of tea with basil during my free time. Beyond culinary uses, basil supports health in numerous ways since it's brimming with B vitamins, vitamin K, calcium, and antioxidants (1).
The herb can help with cardiovascular and liver health, potentially protecting against cancer, reducing high blood sugar, and improving mental health.
2. Chive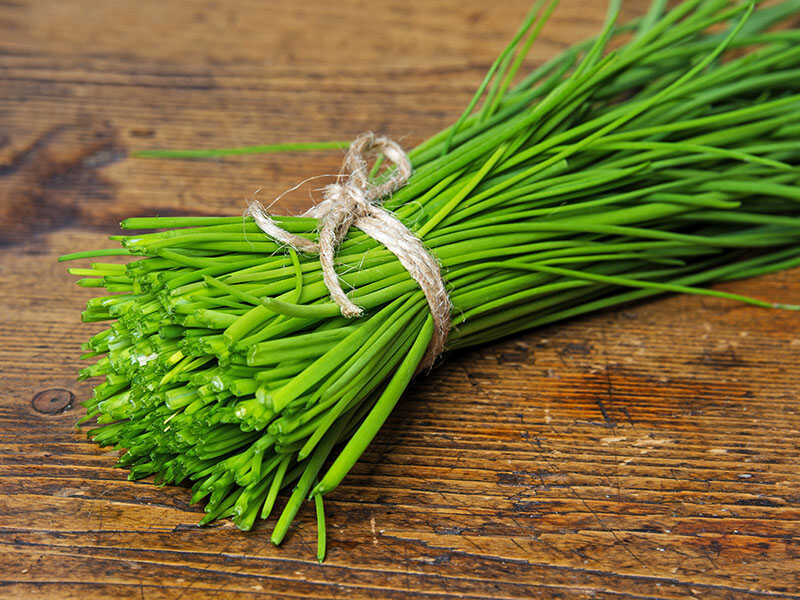 Chives are close relative to onions, shallots, garlic, and leeks; all come from the Allium family. They are cherished for their edible leaves and flowers. Usually available in stores, chives are versatile, serving as a garnishing herb or a flavoring agent.
These herbs infuse dishes with a subtle oniony taste, not as potent as onions but still distinct, and a hint of garlic, all underlined by a slightly grassy aroma. Furthermore, chives can work well with soups, pasta, dressings, hummus, and salads.
Aside from cooking, chives are rich in flavonoids, aiding in cancer risk reduction. Additionally, it's full of vitamin K, fortifying bones, and can help decrease calculi disease (2).
3. Coriander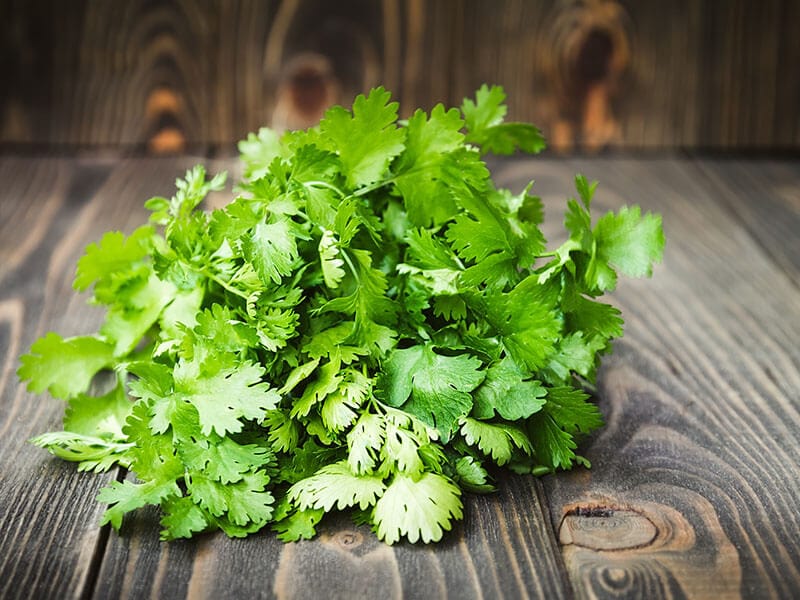 Coriander, also known as cilantro, hails from the Apiaceae family and is indigenous to the eastern Mediterranean basin. Its fresh leaves and dried seeds are culinary stars with unique flavor profiles.
The leaves offer a warm, mild, and citrusy hint with a floral note. On the other hand, the seeds, whether whole or ground, are sweet, earthy, and slightly tart. The roots also earned a reputation in many regional Asian dishes due to their punchier flavor than the leaves.
I like using coriander raw in salads and guacamole or as a garnish for meat, fish, and soup. I recommend pairing coriander with garlic for an ideal fragrant combo. However, coriander's flavor can't handle high heat, so you'd better have it raw.
As for the health benefits, coriander is packed with vitamins A, C, and K and antioxidants, thus aiding in reducing heart risks, blood sugar, and inflammation (3).
4. Oregano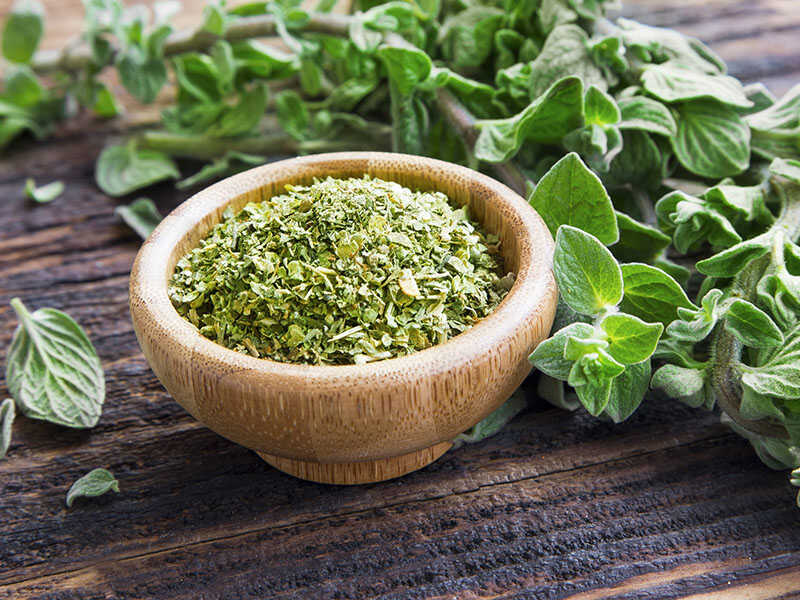 Oregano, a herb from the Lamiaceae family, is a cherished staple in Mediterranean culinary practice, particularly in Italian specialties and Greek cuisine. I often use its leaves to flavor my dishes.
They have an intense, minty, earthy flavor with a dash of bitterness. Believe it or not, drying the leaves amplifies oregano flavor. As a fan of good tomato dishes, pasta, or pizza, oregano is my go-to herb. It's fantastic with egg-based dishes, stuffing, marinades, meats, and vegetables.
Dried oregano should go earlier in cooking to unlock its flavors fully. There are ideal oregano alternatives that you can refer to.
Besides cooking, oregano has been used medicinally for thousands of years due to its anti-inflammatory, antioxidant, and antimicrobial properties. Its essential oils also serve as a natural antifungal (4).
5. Parsley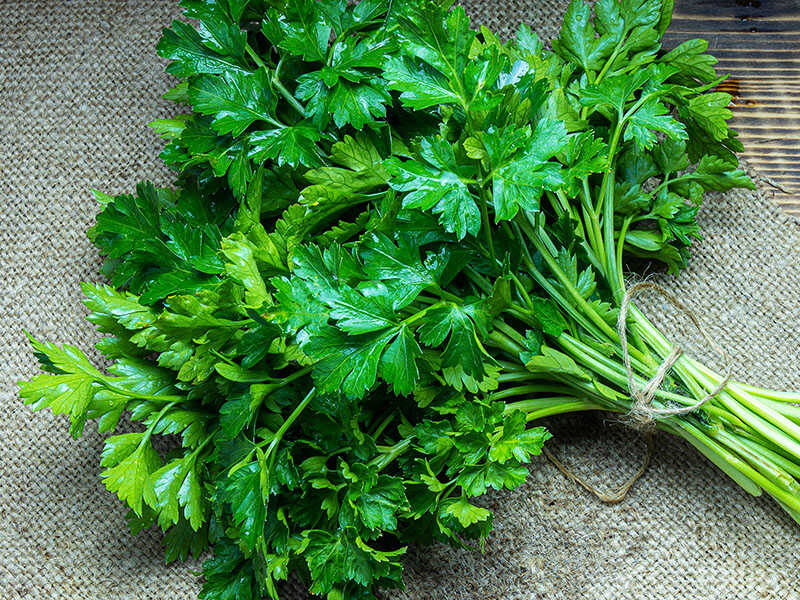 Parsley is a vibrant green herb from Greece, Morocco, and the former Yugoslavia. And now, it has entered American, Mediterranean, and Middle Eastern cuisines. Its feather-like leaves add a refreshing touch to dishes as a garnish and flavor enhancer.
There are four common types of parsley: flat-leaf (Italian parsley), curly (common parsley), Japanese, and Hamburg. My favorite is the Italian variant, with its flat, green, serrated leaves.
Parsley is the star of Mediterranean cuisine, lending a fresh and herbaceous note to salads, stews, soups, sauces, and meats. The Italian Salsa Verde and Tabbouleh salad won't be the same without parsley. I simply sprinkle it on top before serving!
For the best experience, it is important to keep in mind some tricks to store parsley. Besides, parsley comes packed with vitamins A, K and antioxidants. So it can boost your health by improving bone strength and eye health and preventing cancer (5).
6. Rosemary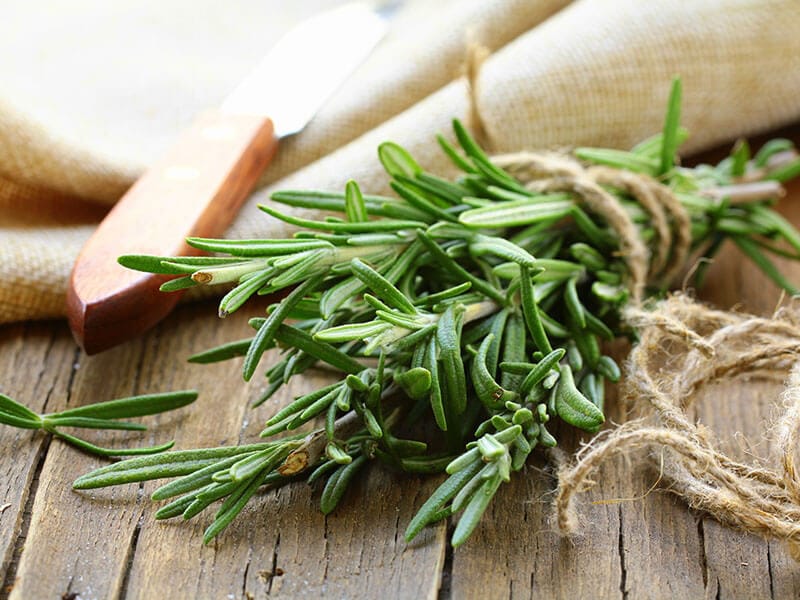 Rosemary is already a native herb from the Mediterranean region. Its intense aroma and woodsy, slightly bitter taste are a hit for Mediterranean cuisine. Whether fresh or dried, rosemary perfectly matches poultry, pork, steaks, lamb, fish, potatoes, and mushrooms.
Thanks to the astringent and piney flavor, this herb will take roasts, BBQ dishes, salads, and bread to new levels. As for the leaves, my preferred way is steeping them into herbal tea. Rosemary also has several health benefits!
Its antimicrobial, anti-inflammatory, and antioxidant-rich properties can strengthen the immune system, alleviate muscle pain, and boost memory and concentration (6).
7. Sage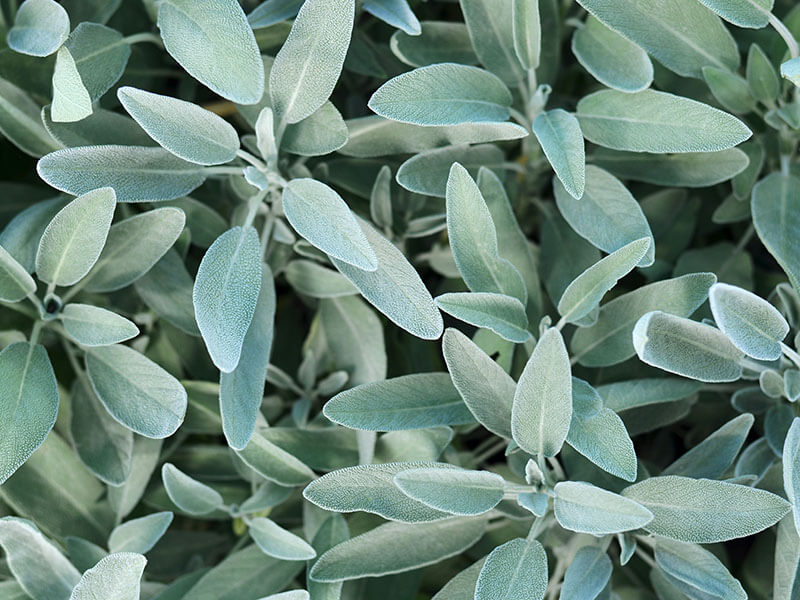 Also called common or garden sage, sage takes pride in its grayish leaves and woody stems. Whether you use fresh or dried leaves, they still add a pungent, slightly peppery kick with hints of mint, lemon, and eucalyptus to your meals.
Sage's distinct flavor can elevate all kinds of poultry, seafood, pasta dishes, stuffings, and cured meats. Pairing it with veggies (parsnips, winter squash, and potatoes) or herbs (marjoram, thyme, rosemary, and parsley) can create a fresh twist.
However, if you don't have sage on hand, you can use other ingredients as sage replacements. Beyond its culinary prowess, sage has been a herbal remedy since ancient Greece and Rome, offering benefits like lowering blood glucose and controlling inflammation (7).
8. Tarragon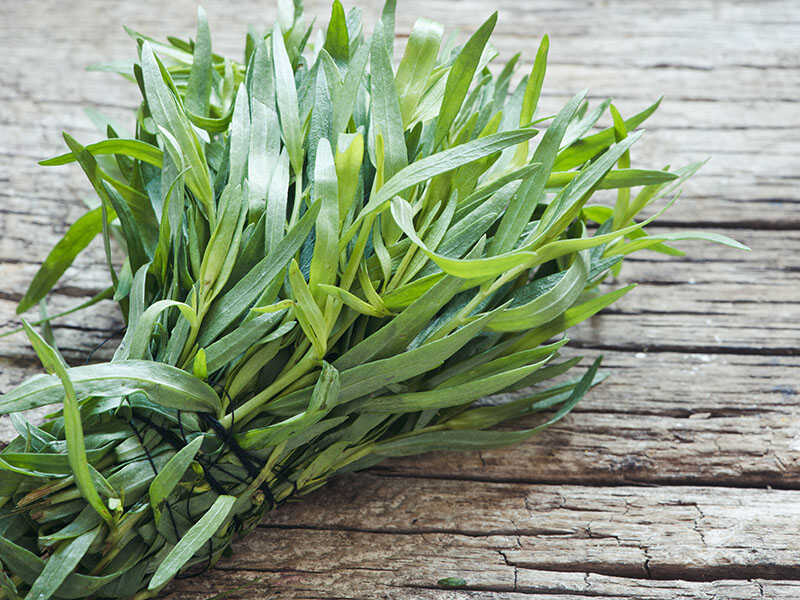 Tarragon is a leafy green bushy herb with a different name: estragon. It has a robust aroma and subtle licorice flavor because of the estragole compound. Tarragon also has different varieties. But overall, this herb is slightly sweeter than thyme and less bitter than oregano.
Whether pickles, relishes, mustards, salad dressings, or sauces, tarragon is the top choice. It's also a fantastic match for meaty dishes, cheese, etc.
When buying, remember fresh and dried tarragon have a big gap. For example, in seasoning blends, dried tarragon is a superior option since it harmonizes well with other herbs like thyme, rosemary, oregano, sage, and anise seed.
Tarragon also offers numerous health benefits, such as relieving pain, reducing fungal infections, and improving the immune system (8).
9. Thyme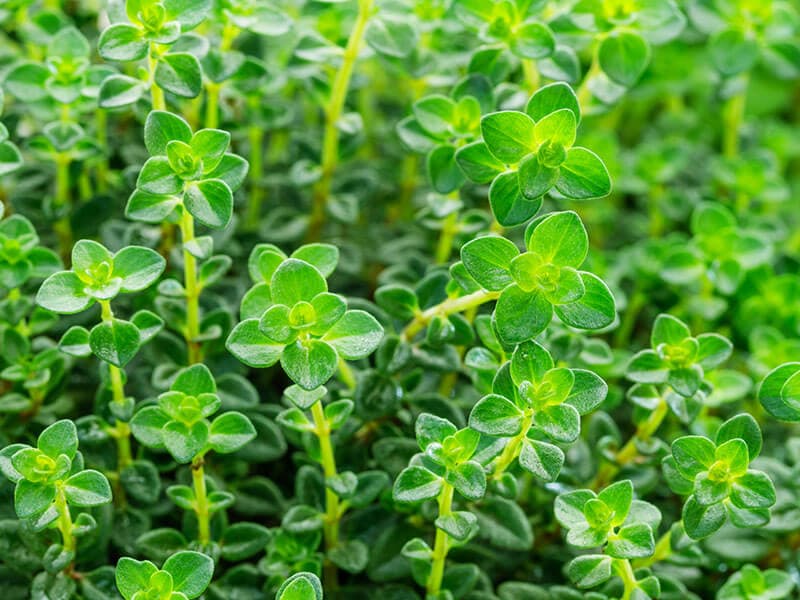 Available in both fresh and dried forms, thyme has been popular since the ancient times of Greek and Egyptian civilizations. Thyme possesses a distinct flavor, which feels like a combination of wood, floral, and sharp grass notes.
There are countless varieties, but nothing stands out in Mediterranean cooking more than lemon thyme, thanks to its soft herbal note and subtle lemon essence. It enhances savory dishes like poultry, fish, seafood, and veggies.
Thyme really shines in simple salads, marinades, sauces, and stuffings. Moreover, I've found thyme oil to be excellent for stomach health. The herb's anti-inflammatory and antimicrobial properties are also great for skin problems (9).
10. Dill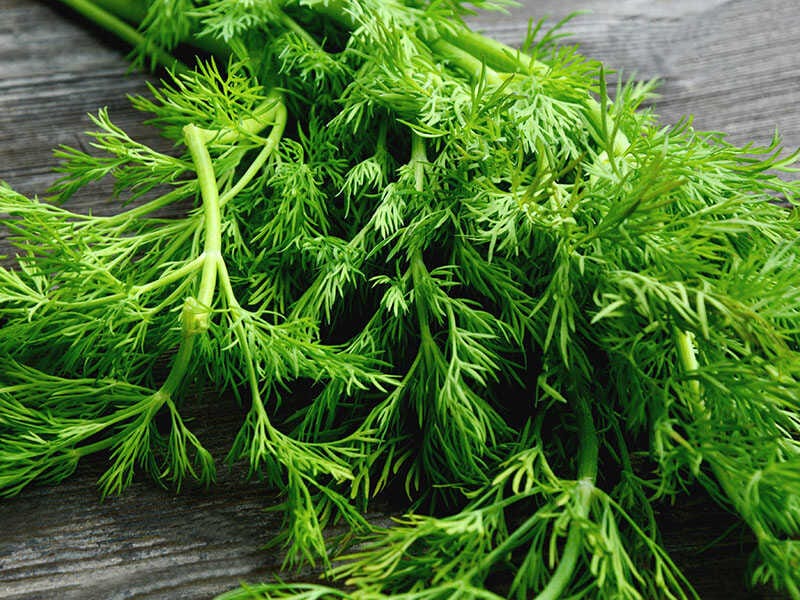 Dill, a herb from the celery family Apiaceae, has been enriching dishes since ancient times. Once, I learned that ancient Greeks used dill to flavor their wine! It has deep roots in southwest Asia and plays a certain role in Mediterranean cuisines.
For me, its leaves provide a refreshing, sweet, grassy flavor reminiscent of anise. This licorice note gives it a unique edge, found equally in its seeds. Keep in mind that there are certain differences between dill seed and dill weed.
I remember the perfect combined taste of the spinach-dill combo! Regarding combinations, dill is a versatile component for many dishes: bread, pickles, sauces like tzatziki, and creamy dressings. Sometimes, I also add it to potato-based salads and egg dishes.
Of course, you need to store your dill correctly to enjoy it at its best. Besides, dill contains vitamins A, C, magnesium, and calcium. This herb is also beneficial for heart health and tackling type 2 diabetes (10).
11. Lavender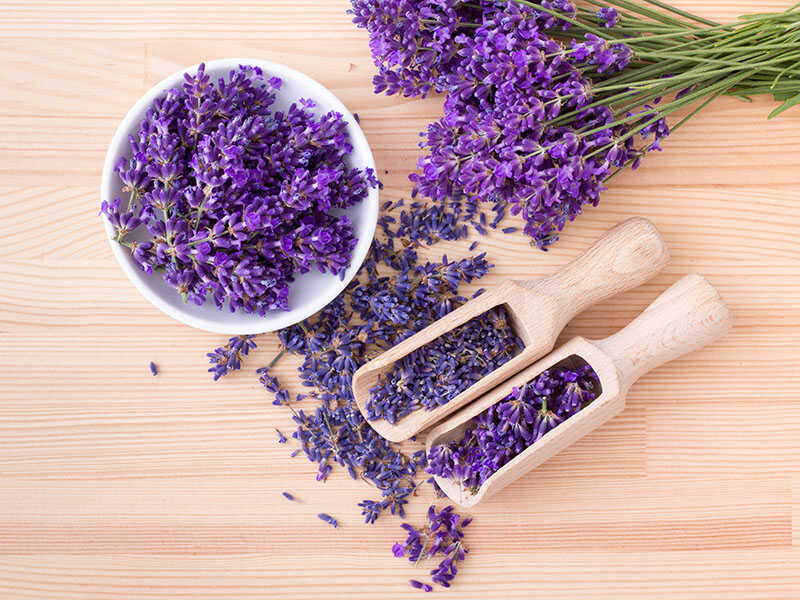 Surprisingly, both lavender leaves and flowers are edible, each having a distinctive flavor. The leaves bring a powerful aroma with hints of mint and a bitter touch. Meanwhile, lavender flowers taste floral and bitter, accented by mint and rosemary hints, especially when dried.
Lavender's unique flavor profile is harmonious with meats (chicken, lamb, and turkey) or fatty fish (tuna and salmon). Lavender is also an attractive garnish in baked goods, marinades, and salads.
You might also recognize lavender as a member of Herbes de Provence, alongside oregano, rosemary, and savory. For storage, ensure it's dry by keeping it in a warm, dry room for several days or baking it at 200°F for 10 minutes. Then, you can house it in a clean, airtight container.
12. Marjoram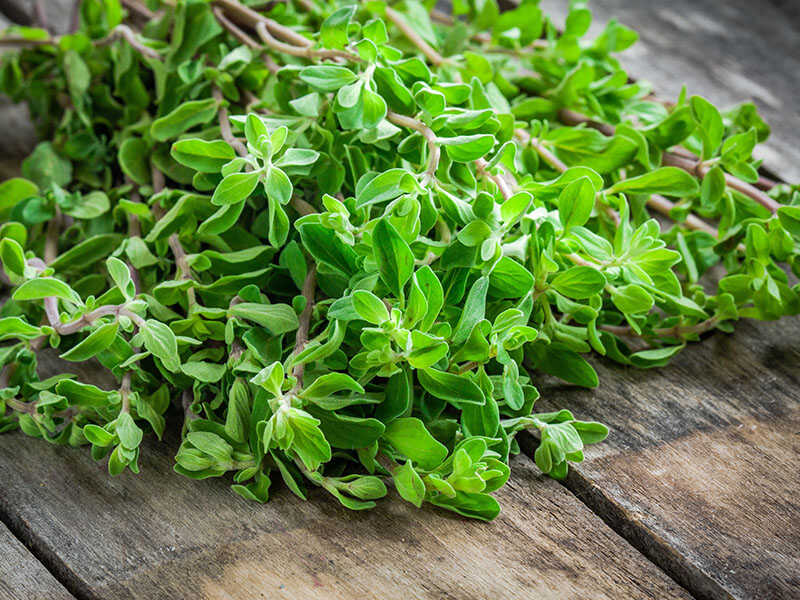 Marjoram is a low-growing herb that can thrive at home. Its flavors are a fusion of sweet pine and citrus with a dash of bitterness. Although it quite resembles oregano, marjoram has a milder and smoother taste. Its scent also packs more punch than thyme.
Whether in meaty dishes, salad dressings, marinades, tomato-based dishes, pizza, or roasted vegetables, marjoram can enhance the taste, fresh or dried. Marjoram tea is a recommended choice for hormonal health.
Beyond its culinary prowess, marjoram has many health benefits, including anti-inflammatory, antimicrobial, and antioxidant properties. It can be a helpful aid in treating anxiety and reducing infectious bacteria (11).
13. Mint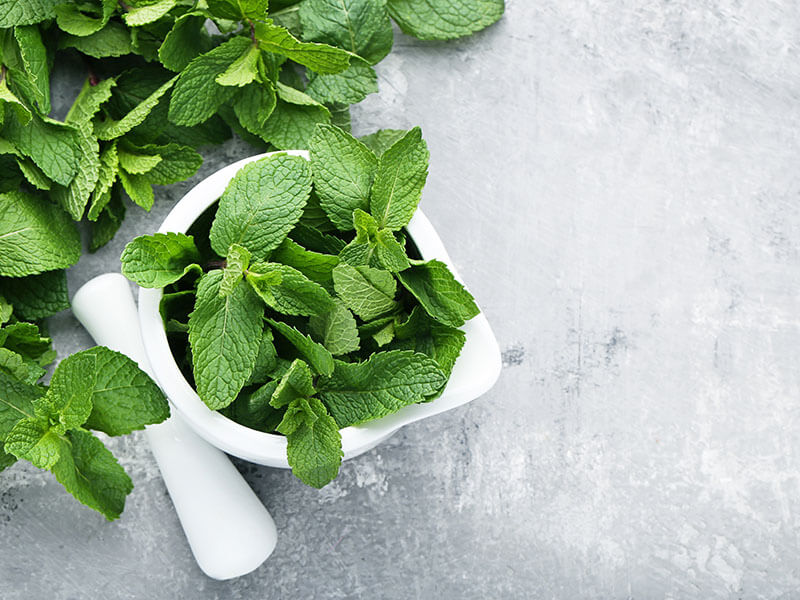 Mint is a perennial herb from the Lamiaceae family. Its toothed, fragrant leaves include a subtly sweet taste with a distinctively cool sensation, thanks to the menthol compound in the herb. Don't mistake mint and basil, they are totally different herbs.
They are available in fresh and dried forms. The herb also fits in many Mediterranean desserts and sweets like mint chocolate or candy, besides other elegant savory dishes, dressings, marinades, salads, cocktails, and garnishing.
Meanwhile, dried mint provides a flavor boost when added to stew or sauce during simmering. As a bonus, mint is rich in vitamins A, C, D, E and has anti-inflammatory, antibacterial properties, enhancing the immune system and oral health (12).
14. Bay Leaf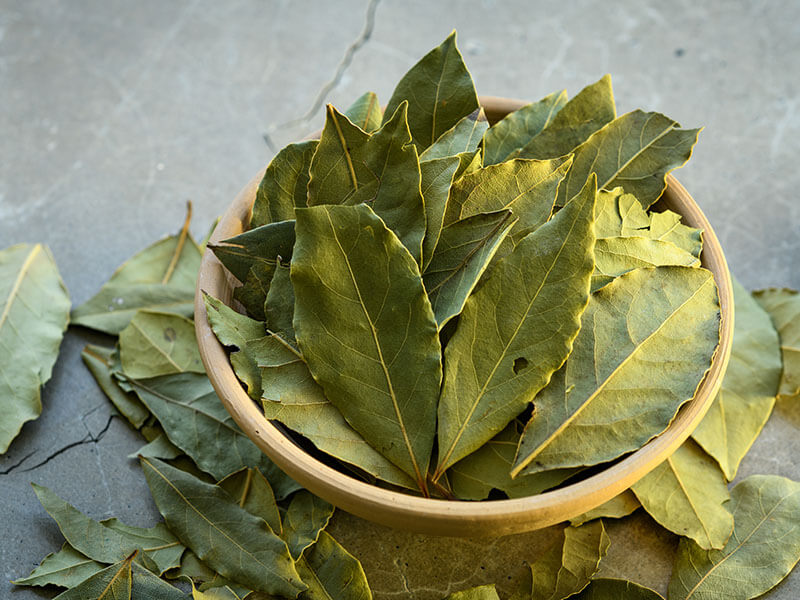 Found in the Mediterranean, bay leaf is a go-to aromatic herb in European, American, and of course, Mediterranean cooking. Although diverse forms include dried, fresh, whole, or ground, it's mostly seen as a dry, whole leaf.
Bay leaf's pungent and slightly bitter flavor when fresh shifts to a more herbal note when dried. It is a flavor enhancer in long-cooking and liquid dishes like soups, stews, and braises, particularly those with meat.
It's equally wonderful in sauces, vegetables, or rice-based dishes like risotto. Greek cuisine sees it in meat and fish marinades. Among all varieties, Turkish ones are unique with a tea-like, mildly menthol flavor.
15. Savory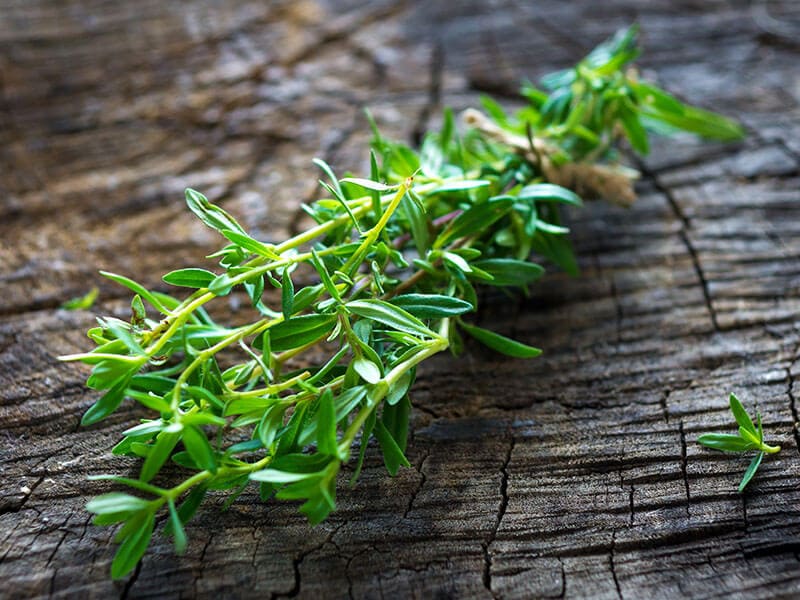 As a part of the mint family, savory comes in two main variants: summer (Satureja hortensis) and winter (Satureja montana). The former is a delicate plant presenting a sweet, hot, and peppery flavor.
Contrastingly, the latter is a semi-woody herb with a deeper, piney taste, edging on the bitter side compared to its summer counterpart. But no matter which, both are ideal for meat, fish, beans, peas, soups, etc. Savory is also a key ingredient in the French seasoning, Herbes de Provence.
16. Chervil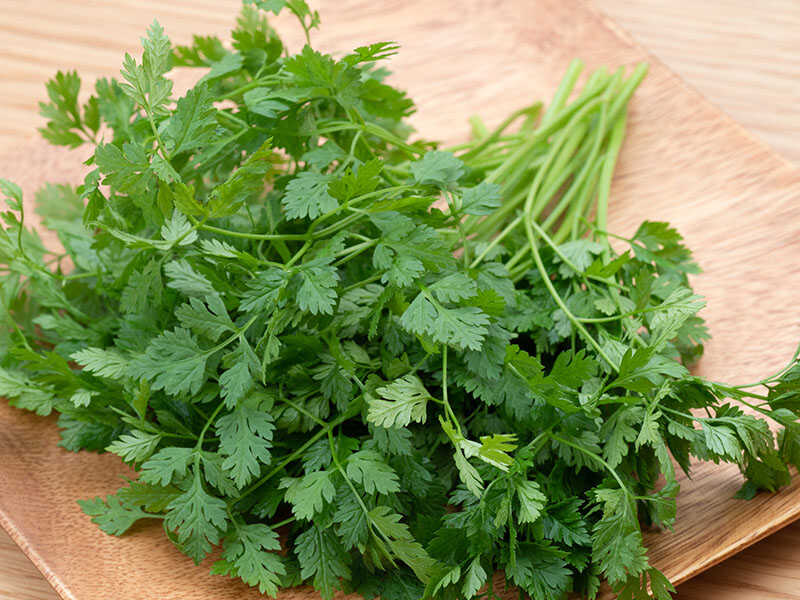 As a close relative of parsley, chervil, sometimes French parsley, holds a prominent place in traditional French cuisine. Its resemblance to parsley is not limited to looks; its mild flavor may remind you of a mix between parsley and tarragon.
Chervil also adds a hint of licorice to your dishes. Therefore, it is an excellent choice for seasoning mellow dishes, like egg dishes, or crafting sauces, soups, dressings, and salads. Its moniker, "leaves of joy," perfectly summarizes the joyous note it imparts to all dishes.
Spices (Seeds, Roots, Bulbs, Bark, and Berries)
17. Cumin Seeds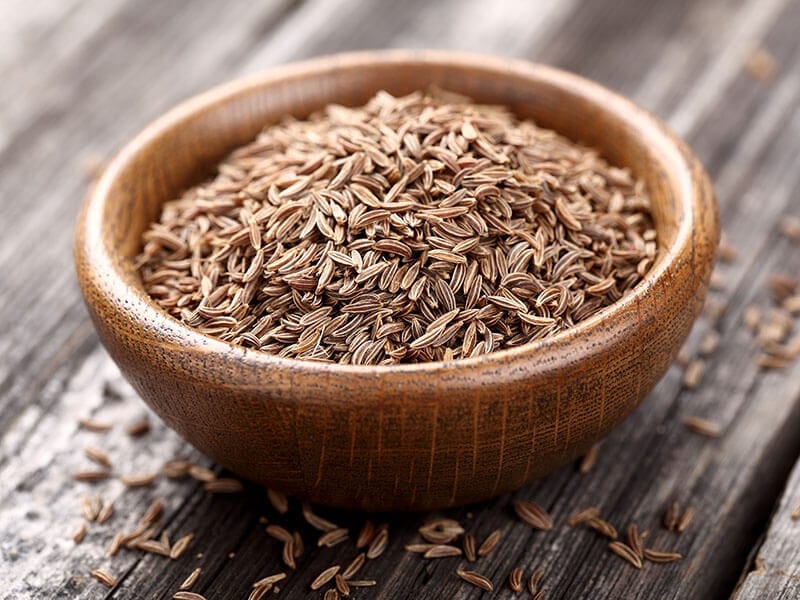 Cumin, the dried seed of the Cuminum cyminum plant, has roots in Western Asia and has been widely available in the Middle East since ancient times. Cumin pairs well with the sweetness of root vegetables, thus elevating vegetarian dishes.
Cumin's flavor is savory, nutty, and slightly bitter. It is a testament to its status as the "king of condiments," a title bestowed by Roman naturalist Pliny the Elder. It's a fantastic addition to various dishes, from hearty stews and soups to aromatic curries and spice blends.
18. Fennel Seeds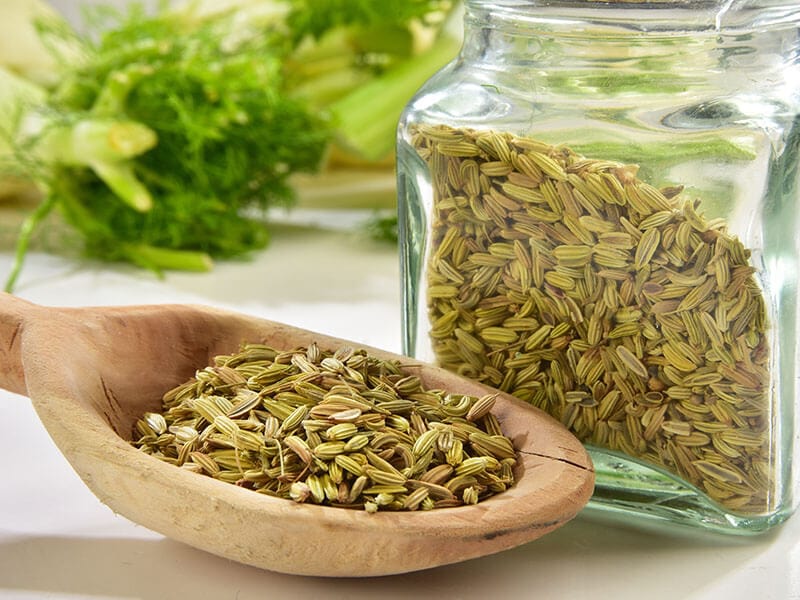 Fennel seeds, originating from the southern Mediterranean region, have become a popular spice. While their sweet, warm flavor may remind you of anise and licorice, even licorice haters love these seeds!
Fennel seeds fit in both sweet and savory dishes. Besides bringing a nice change to marinades, soups, sauces, and curries, they also enhance pickles, sausages, kebabs, etc.
If that wasn't enough, fennel seeds are a hit in confectioneries and various baked delights like bread, cakes, or pancakes. What are trusty fennel seed alternatives? Opt for caraway seeds in Mediterranean and Middle Eastern bread, they work excellently in place of fennel seeds.
19. Garlic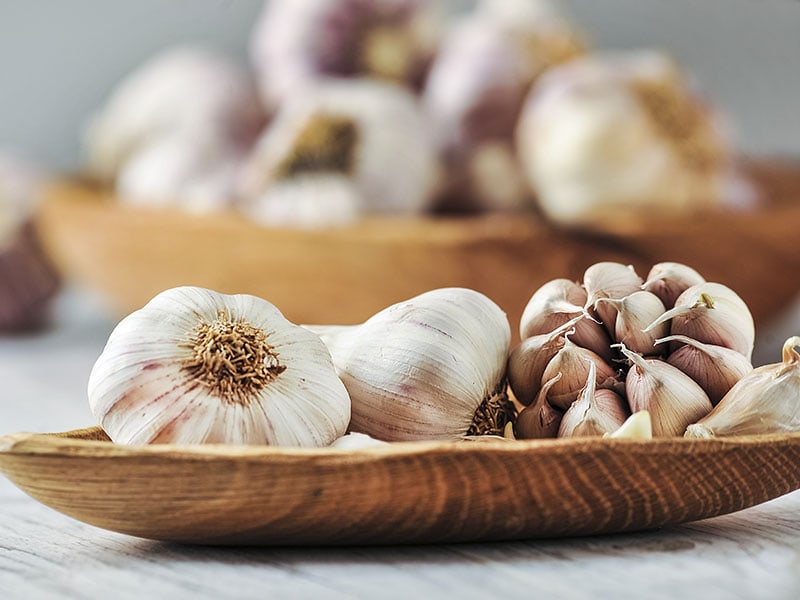 Garlic is from the Allium family with roots in Central Asia. It comes in both fresh and powdered forms. Yet, I recommend slicing, mincing, or chopping the cloves to release more flavor.
In addition, granulated garlic and garlic powder are different. So be careful when choosing the right one for your dishes.
In general, raw garlic has a pungent punch. But when cooked, it transforms into a sweet, buttery delight with a bold finish.
Mediterranean cuisine, especially Greek, Italian, and Lebanese, uses it in many dishes, from pasta and pizzas to stews, sauces, soups, paellas, risottos, pilafs, and salad dressings.
20. Ginger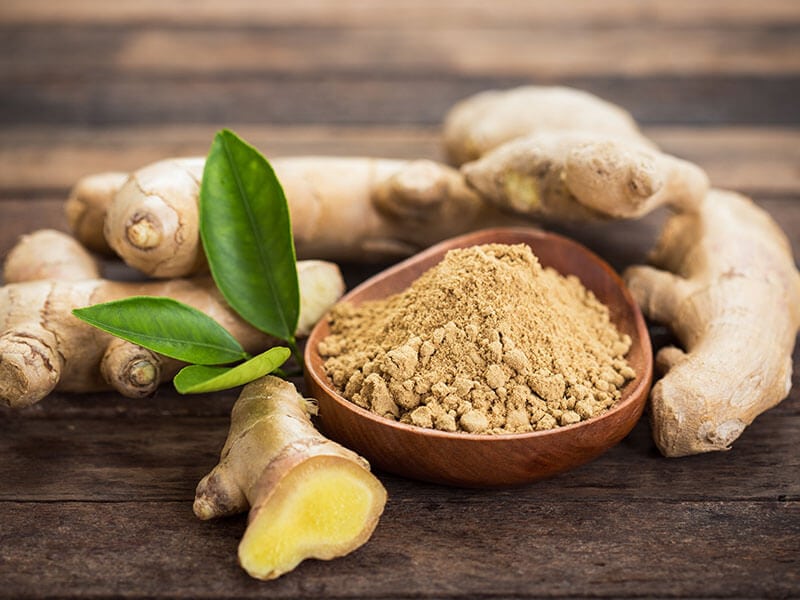 Although its birthplace is Southeast Asia, ginger has entered the Mediterranean since ancient times. This is an underground stem or rhizome, offering a mix of spicy, peppery, and slightly sweet flavors.
I prefer the fresh form for its robust flavor, but dried or powdered ginger guarantees a longer shelf life and convenience. If you also prefer fresh form, make sure to use some tips to mince garlic like a pro.
Whether it's a dry rub, marinade, salad, spice blend, or stew, ginger never fails to deliver. Plus, it works great at eliminating fishy or greasy odors in rich meats or seafood.
21. Onion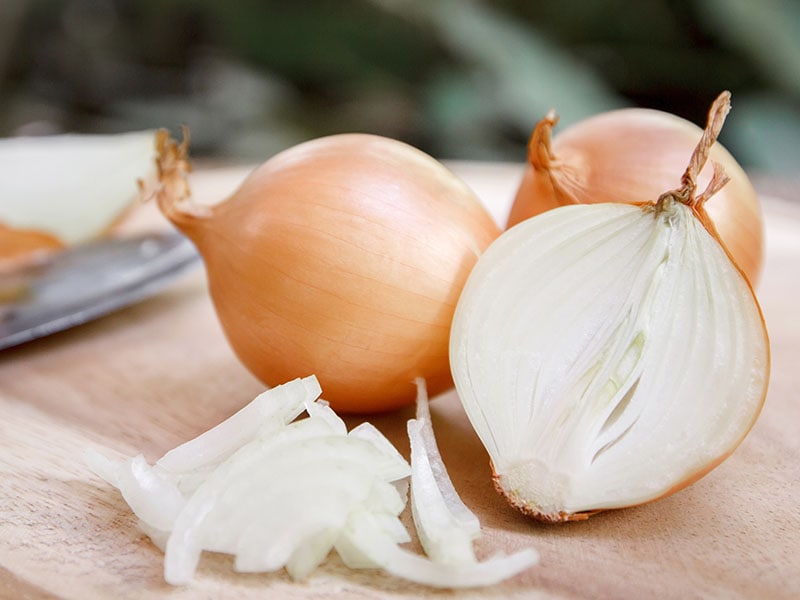 Onions, also called common or bulb onions, are round, flavorful veggies. Their sharp, strong taste and pungent odor are thanks to organic sulfur compounds.
Onions always appear to give depth to soups, stews, pasta, salads, gyros, or doner kebabs. Pickled red onions are an irresistible side dish and condiment! If you already cut them, you need to learn good tricks to store cut onion right to avoid losing flavor or texture.
Full of vitamins and minerals like folate, vitamin C, B6, and potassium, onions are healthy too! Among all colors, the red ones take the nutrition prize.
22. Black Pepper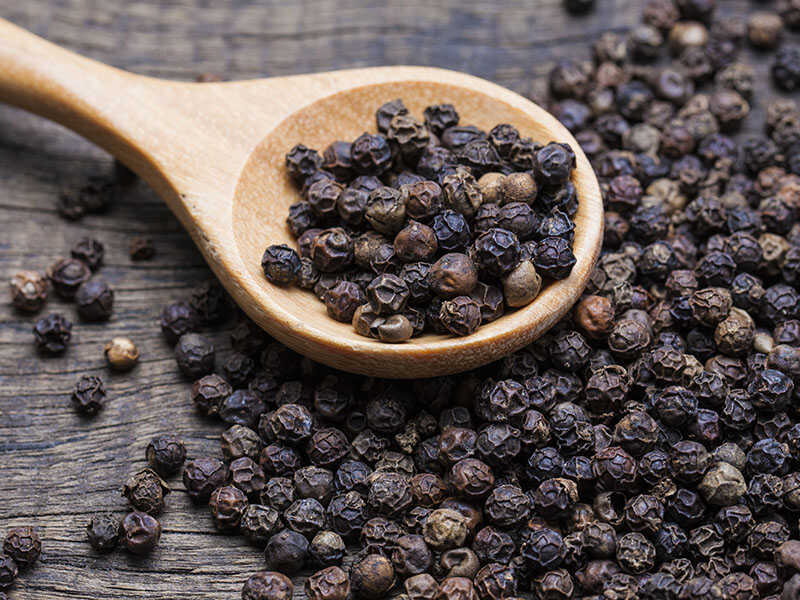 Black pepper is a cornerstone spice in Mediterranean cuisine, adored in Europe since the Middle Ages. It emerges from the dried, mature berries of the Piper nigrum vine, setting a fine line in distinguishing white and black pepper.
What is its flavor? This spice delivers a woody and herbaceous spiciness to any dish, from salad dressings to spice blends and rubs.
However, the heat from black pepper, provided by piperine, differs from the chili peppers' burn.
23. Cloves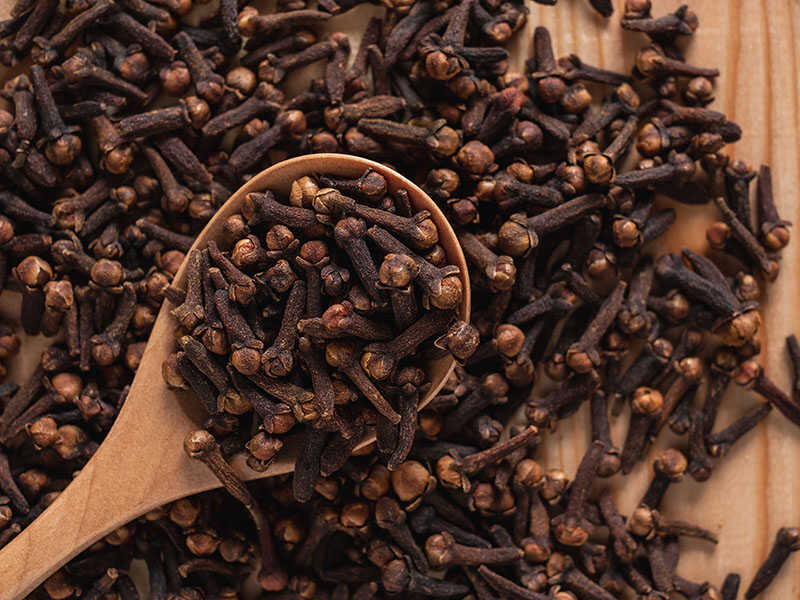 Cloves, the nail-shaped flower buds from the Syzygium aromaticum (a tropical evergreen tree), are a rarity, mostly found in Indonesia, Tanzania, and India. With their Asian origin, these expensive spices have created their place in Mediterranean cuisine.
The rich, warm flavor tinged with a slight bitterness works brilliantly in stews, soups, sauces, rice dishes, and meat. Whether used whole, ground, or as part of a spice blend, cloves add an unparalleled depth to various dishes, even Christmas baked goods or mulled wines.
24. Paprika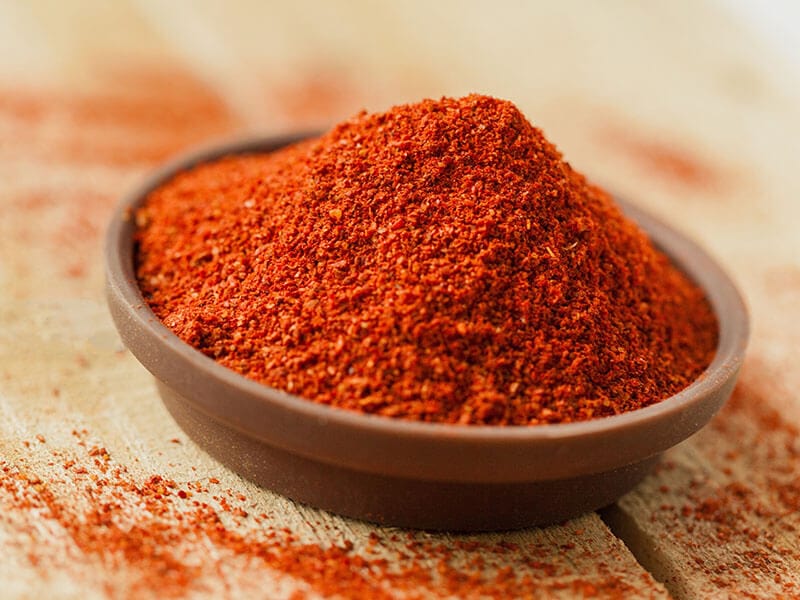 With its captivating red hue, paprika is made from dried and finely ground red peppers, primarily of the Capsicum annuum variety. Originating from Central America, it found fame in the Mediterranean after its introduction to Spain in the 16th century.
Paprika's name takes after the Hungarian term for pepper. This species has many variants: bell peppers, cayenne, jalapeños, etc. As a result, paprika's flavor is quite broad, ranging from sweet to medium or super hot.
Paprika brings life to stews, casseroles, sauces, and deviled eggs! Or have you tried it as a dry rub for meats? If not, you're in for a flavorful surprise.
In case you can't buy this spicy spice in your local supermarket, try other paprika replacements, like hot sauce or Cajun spice.
25. Saffron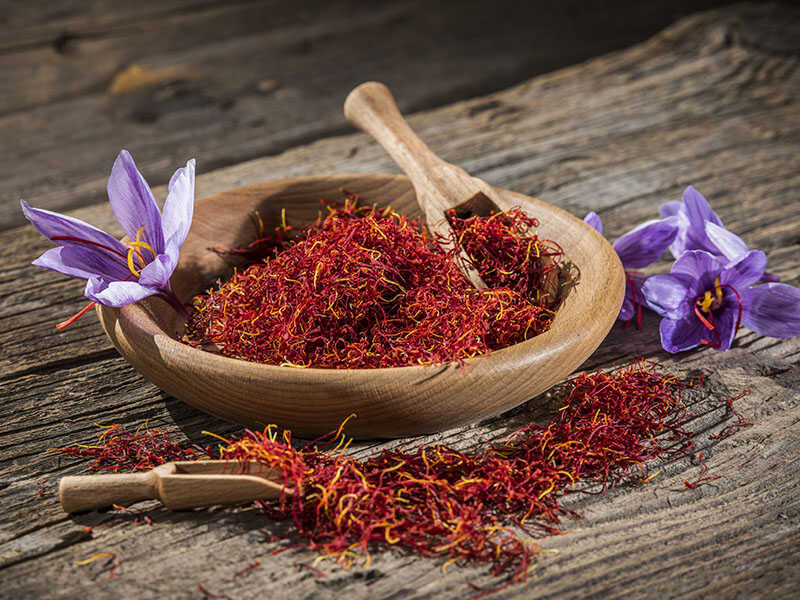 Saffron is born from the stigmas of the saffron flower, explaining its beautiful reddish-brown color. I'm attracted to saffron's unique flavor profile: a distinctive sweetness combined with floral, earthy, and peppery tastes that are unlike anything else.
Saffron is grown in only a few countries, including India and Greece. And its labor-intensive cultivation leads to an extremely high price. If you ever run out of this spice, turmeric can be one of the handy substitutes for saffron.
I've used saffron in different rice dishes, like risottos, paellas, and pilafs. It can even show up in stews and desserts.
Its high antioxidant content is great for the nervous system, mood enhancement, and brain health. Therefore, people with depression are recommended to use saffron. A word of caution: Saffron is unsuitable for pregnant or breastfeeding women and individuals with bipolar disorder (13).
26. Sumac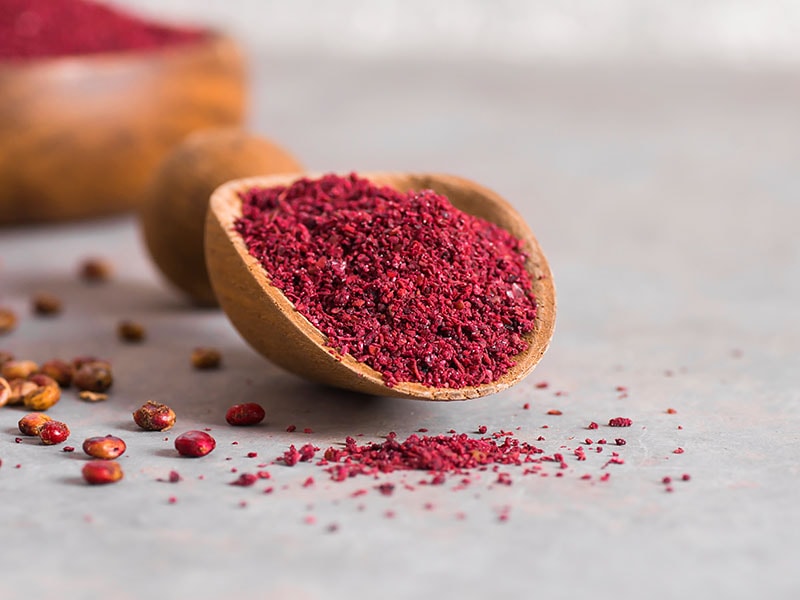 Sumac is a vibrant spice native to West Asia, particularly Iran, and the Mediterranean. It's basically the ground, dried pea-sized berries from the sumac tree. Its name refers to the Arabic term 'deep red', showing its color.
Both main kinds, smooth and fragrant sumac, showcase a primarily acidic profile with fruity, floral notes. Sumac tastes quite similar to lemon juice but doesn't have any bitterness. If you're cooking meats or other savory dishes, this spice can boost the flavor and add an appealing color.
Nutrition-wise, sumac is brimming with antioxidants, aiding blood sugar control and helping soothe muscle aches. For such an exotic spice, it's surprisingly budget-friendly too.
27. Turmeric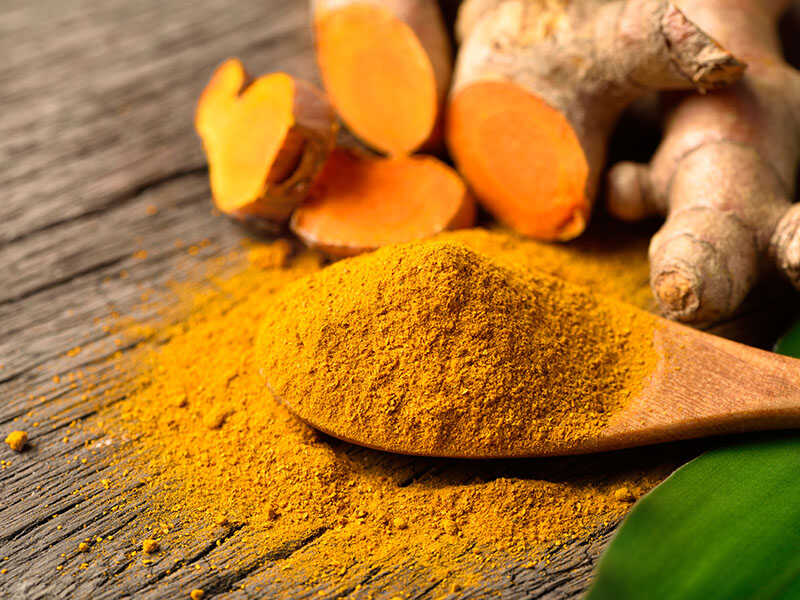 Turmeric is a renowned name among many Asian spices and herbs. It also appears in many North African, Middle Eastern, and Mediterranean dishes. The earliest record proves Mediterranean folks knew about this spice over 3700 years ago (14).
Turmeric's bright yellow-orange shade can turn any dish into a vibrant showstopper, such as the famous Mediterranean yellow rice and grilled chicken. It carries a unique flavor, marked by a bitter, peppery undertone and a ginger-like zing, making it a favorite in many Mediterranean spice blends.
Beyond its culinary role, turmeric is well-loved for its beneficial properties: rich in antioxidants, antiseptic, and anti-inflammatory qualities.
28. Cinnamon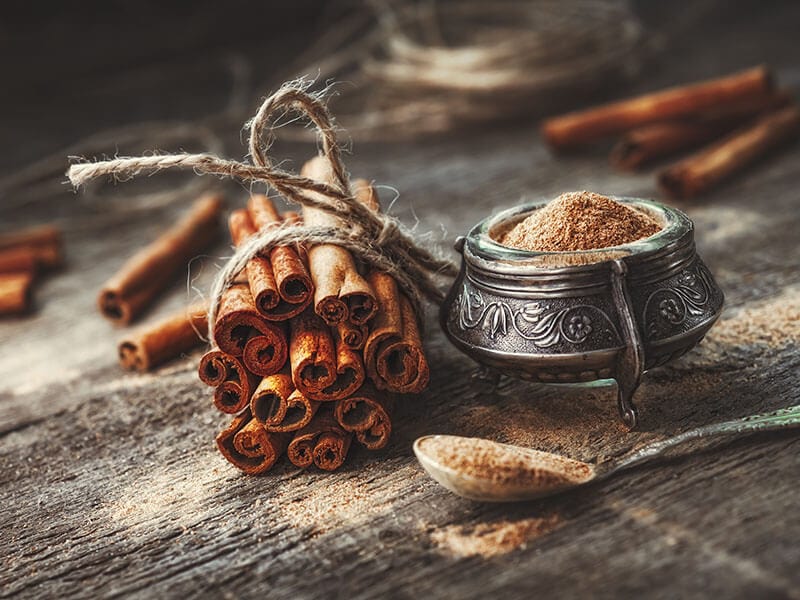 Cinnamon is a sweet, slightly citrusy, and woody spice from the inner bark of the Ceylon cinnamon tree. These tan-brown rolls, better known as cinnamon sticks, can be ground into powder or used to create aromatic extracts.
Still, don't mistake the authentic cinnamon for pungent imposters, as the former carries a delicate aroma. Use the ground form to sprinkle on desserts or baked goods or infuse savory beverages and soups with whole sticks.
Loaded with antioxidants and anti-inflammatory properties, cinnamon supports heart health, reduces blood sugar, and may prevent certain cancers. However, consuming large amounts of raw cinnamon can lead to serious internal organ damage (15).
29. Nutmeg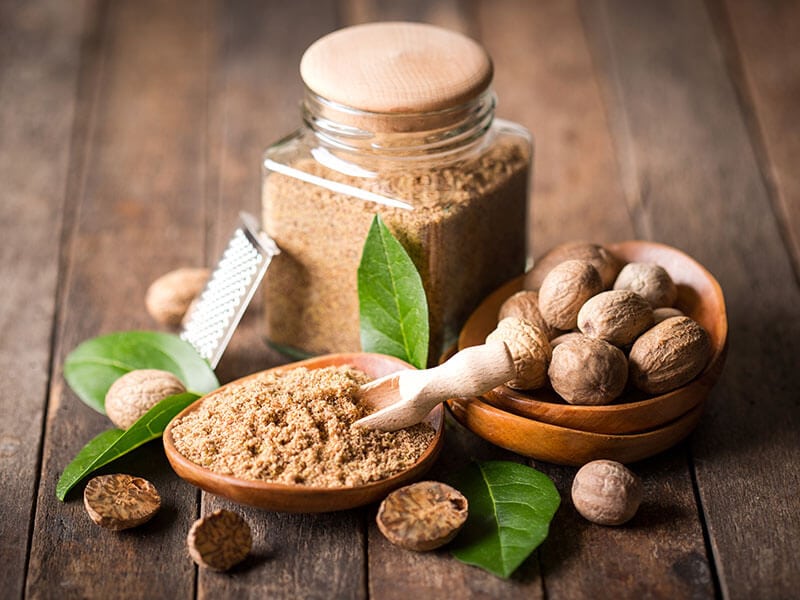 Nutmeg is derived from the dried and ground seeds of its namesake tree. Its close relative, mace, comes from the delicate membrane surrounding the same seeds. You'll find nutmeg mostly in Indonesia at a fairly high cost.
Nutmeg's remarkable flavor sets it apart, combining sweetness, warmth, nuttiness, and earthiness. This spice works wonders in various culinary creations, from delectable puddings, candies, and baked goods to savory dishes, sauces, cured meats, and starchy vegetables.
Remember that whole nutmeg lasts longer when stored in airtight containers, while ground nutmeg tends to lose its flavor more quickly. Additionally, nutmeg boasts powerful antibacterial and antidepressant properties (16).
Spice Blends
30. Italian Seasoning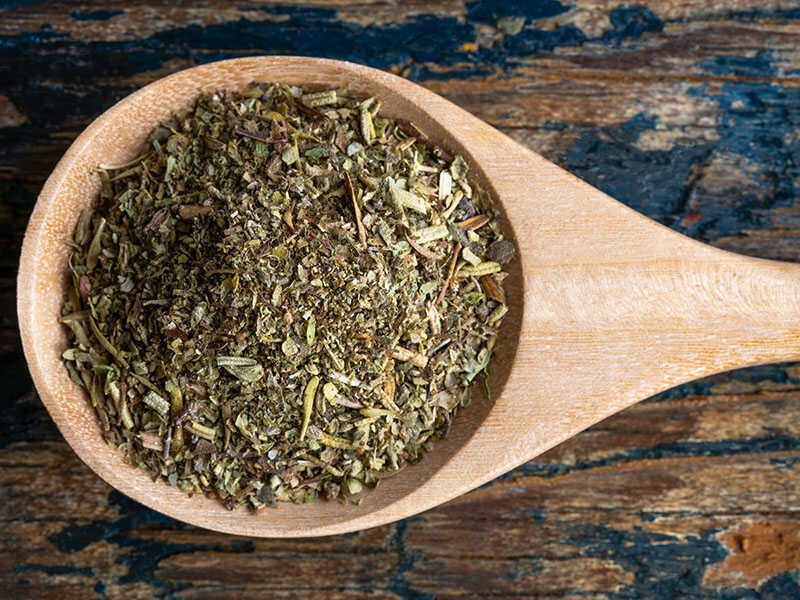 Despite its name, Italian seasoning is an American creation and not very popular in Italy. Don't confuse it with Italian dressing, the tangy vinaigrette-style salad dressing made with olive oil.
Italian seasoning is a blend of various ground herbs: oregano, basil, coriander, rosemary, garlic powder, and thyme. This flavorful mix adds a delightful touch to marinades, salad dressing, or pasta sauce. It can even be a tasty dip for bread when mixed with olive oil.
Even better, you can easily whip up your own batch at home by combining the mentioned herbs in ground form. Italian seasoning can substitute for Herbes de Provence in a rush, offering a similar taste profile.
31. Za'atar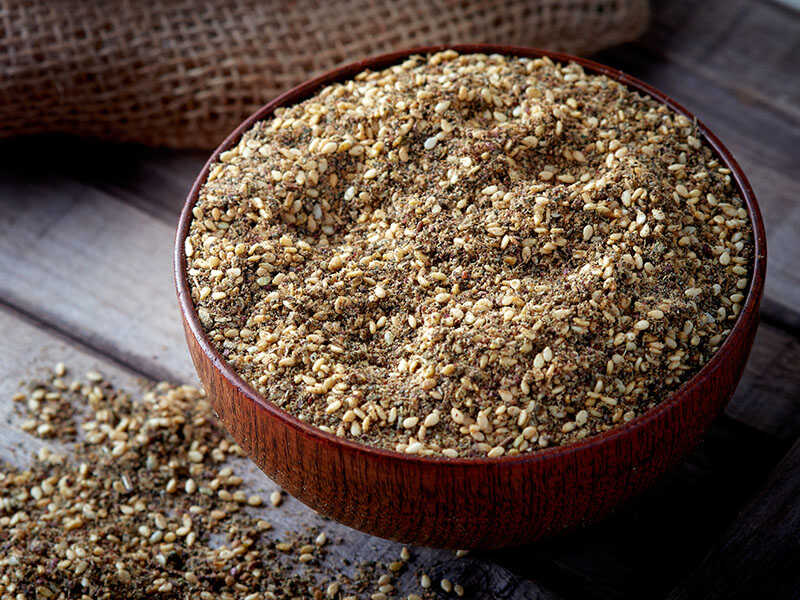 Za'atar, originating from the Middle East, is a unique spice blend containing thyme, oregano, marjoram, sumac, toasted sesame seeds, and the za'atar plant (or Oreganum syriacum). Its floral, woodsy, tangy, and nutty notes create an exotic experience without being too spicy.
Za'atar enhances various dishes: feta cheese, labneh (a soft Middle Eastern cheese), pita bread, roasted chicken, and others. I suggest only buying za'atar in small batches as the flavors gradually diminish.
32. Advieh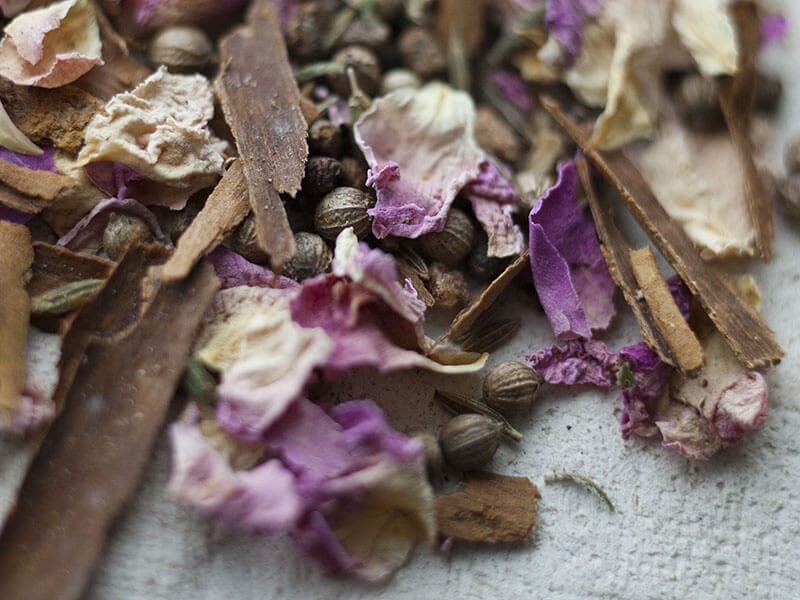 Advieh, a Persian spice blend, is a versatile addition to both Persian and non-Persian recipes: Chelo Kabab (kebabs with rice), pilaf, Ghormeh Sabzi (herb stews), frittatas, soups, pickles, etc. Or you can simply sprinkle it directly on rice for added flavor.
Advieh uses popular spices like cinnamon, cardamom, turmeric, cumin, and cloves. What sets it apart is the special ingredients like rose petals or rose buds, saffron, and mace. Advieh leans more towards the sweet side rather than being spicy, lending a delightful aroma and taste.
33. Baharat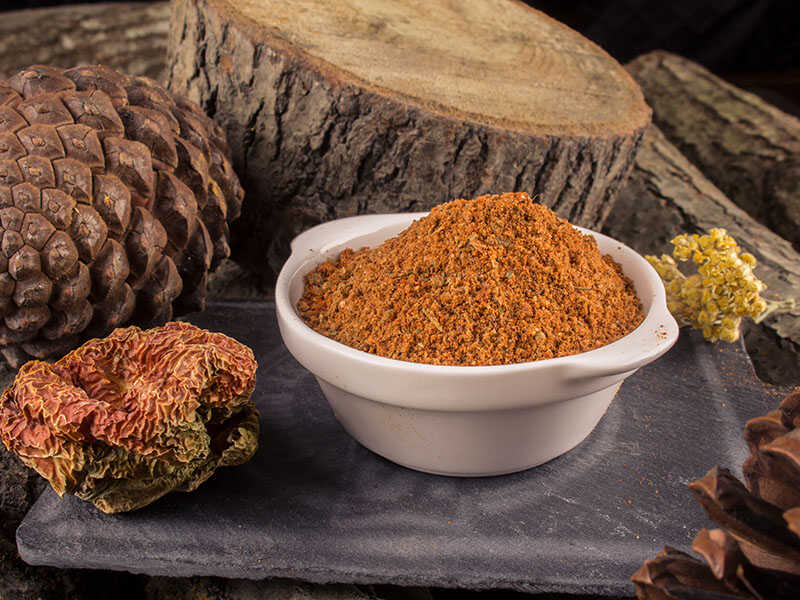 Baharat is an all-purpose spice blend widely used in Middle Eastern cuisine. Its versatility makes it suitable for any culinary use. This unique blend offers a sweet, earthy, and smoky taste, infusing your meals with the rich flavors of the Middle East.
Its ingredients include cardamom, black pepper, paprika, cumin, cloves, coriander, nutmeg, and more. When I don't have Baharat on hand, I create a substitute by combining equal parts paprika, cumin, and cinnamon.
34. Herbes de Provence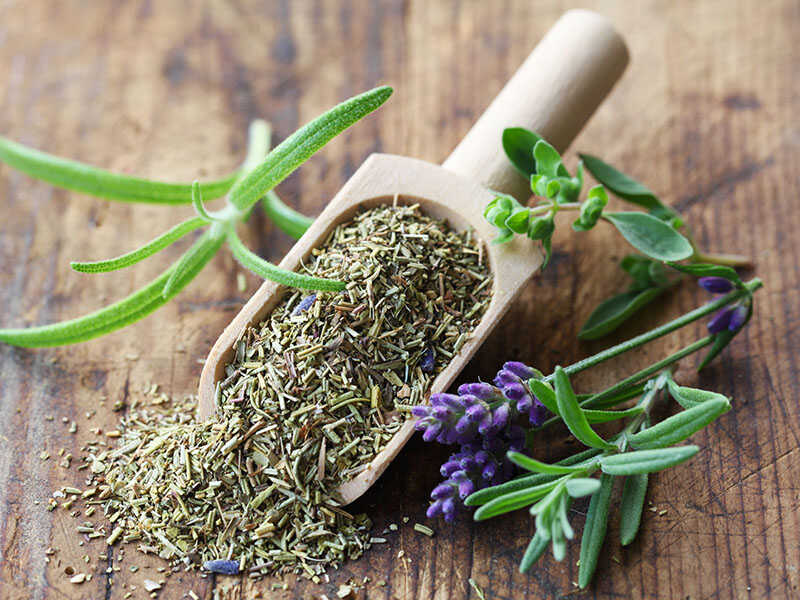 Herbes de Provence, originating from a French region with the same name, is a versatile spice blend suitable for various dishes: vegetables, meat, seafood, and poultry. I even use it as a dry rub for baking and grilling or an enhancer for stews.
Among all dishes, Bouillabaisse, a Provençal fish stew, won't be complete without Herbes de Provence. While it includes the same ingredients as Italian seasonings (thyme, rosemary, lavender flowers, etc.), the stronger floral flavor still makes it stand out.
35. Quatre Épices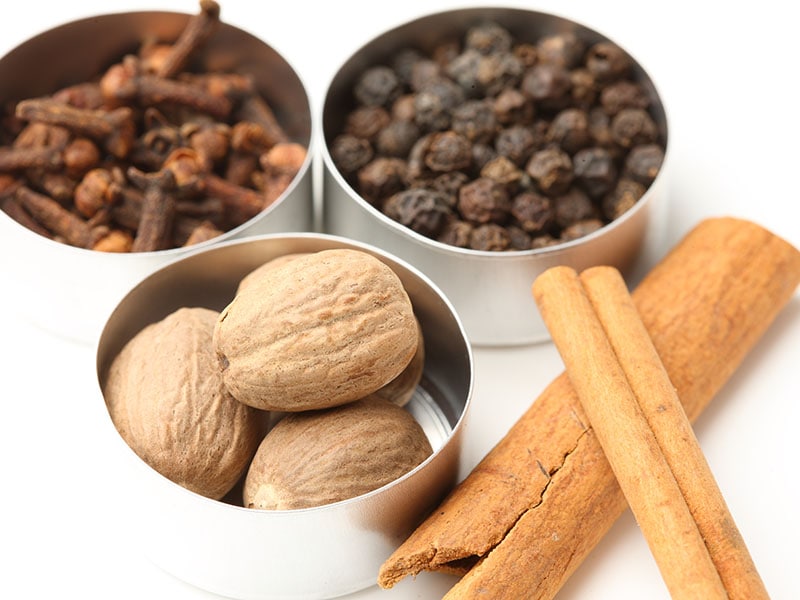 Quatre Épices, meaning "four spices" in French, is a popular blend mainly used in French cuisine. Its roots can be traced back to at least the 18th century. This spice mixture combines cinnamon, clove, nutmeg, and cracked black or white pepper.
Quatre Épices is a wonderful addition to savory dishes like stews, soups, and braised dishes. Still, remember that this blend is different from allspice.
36. Ras el Hanout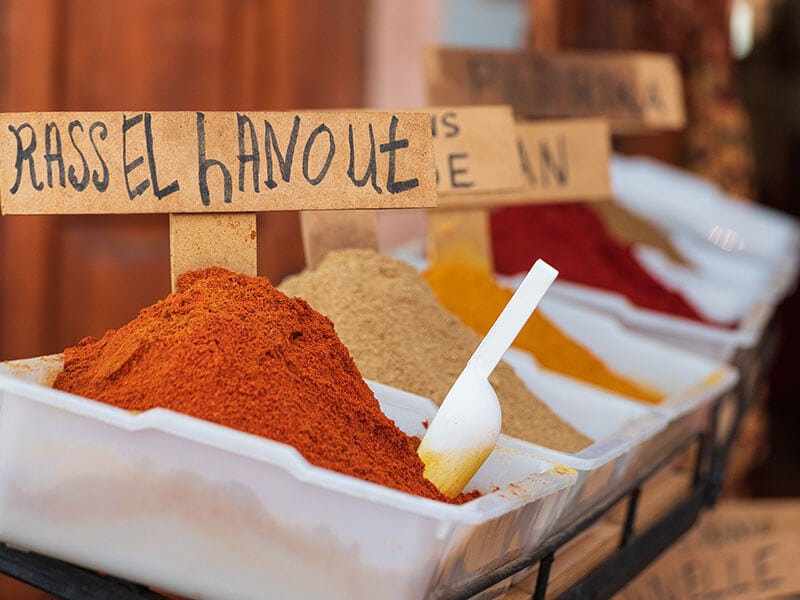 Ras el Hanout, a Moroccan spice blend, often appears in Moroccan and North African dishes, including Tangie, a savory meat stew, grilled vegetables, and roasted meat. Its name translates to "top shelf," highlighting its superb quality.
It is one of the most intricate spice blends, incorporating up to 40 different spices, and some versions may contain more. The main ingredients include cumin, ginger, coriander, turmeric, salt, cinnamon, white pepper, allspice, cloves, nutmeg, and rose petals.
Ras el Hanout's flavor profile can vary significantly depending on the spices. Still, it's usually a balance between sweetness and bitterness, with warm and earthy notes. When lacking Ras el Hanout, substitute it with garam masala or create your own blend using on-hand spices.
37. Vadouvan French Masala Curry
With its origins in the British, Vadouvan French masala curry is a unique spin on traditional curry powder. Despite the name, it actually tastes sweet and somewhat smoky, devoid of any overwhelming spiciness.
Searching for Vadouvan French masala curry can be a challenge, but the result is worth the hunt. The aromatic medley comes from various ingredients, like mustard seeds, thyme, garlic, cumin, fenugreek, turmeric, cardamom, red pepper, coriander, and shallots.
This spice blend can replace curry powder or become the dry rub for your meat. It's also a fantastic addition to stews, soups, or starchy vegetables.
Incorporating Mediterranean Spices and Herbs into Everyday Cooking
Tips and Techniques
Fresh vs. dried: While fresh herbs offer a vibrant flavor, dried herbs and spices have a stronger and more concentrated flavor. Fresh herbs are perfect as a finishing touch for salads and dishes, whereas dried herbs work well for long-cooking stews and grills.
Cooking with herbs and spices: Add robust herbs and spices early in the cooking process, allowing their flavors to infuse the dish over time. However, more delicate herbs, like basil or parsley, should go in by the end of cooking to preserve their flavor.
Storing herbs and spices: Proper storage is essential to maintain the flavor of herbs and spices. Keep them in a cool, dark place and try to use them within six months to a year.
Toasting spices: Toasting whole spices before grinding them can enhance their flavors significantly. My method is to heat them in a dry skillet over medium flame until they become aromatic.
Making blends: Making your own spice blends, like za'atar or Ras el Hanout, can provide a personalized touch to your cooking and an opportunity to customize the flavor profiles of your dishes.
Sample Recipes
Mediterranean Herb Salad: Combine various fresh Mediterranean herbs such as parsley, mint, and basil. Toss with a simple vinaigrette made of lemon juice, olive oil, minced garlic, pepper, and salt. Top with crumbled feta cheese.
Spiced Grilled Fish: Make a spice blend of ground cumin, coriander, paprika, and a pinch of saffron. Then, rub it on a firm white fish filet. Grill until fish is cooked, and serve with a squeeze of fresh lemon.
Herb Roasted Chicken: Marinate chicken pieces with olive oil, lemon juice, crushed garlic, fresh rosemary, thyme, and sage. Season them with salt and pepper. Roast the chicken in a preheated oven until fully cooked and golden brown.
Tomato And Basil Pasta: Sauté garlic in olive oil, add fresh tomatoes and cook until soft. Add salt, pepper, a pinch of chili flakes, and fresh basil leaves. Toss the sauce with cooked pasta and garnish with Parmesan cheese.
FAQs
Elevate Your Meals With Mediterranean Spices And Herbs
Mediterranean spices and herbs are a great asset in the culinary world. Their flavor makes you feel like you are visiting the beautiful beach shores and landscapes in the Mediterranean. I bet your everyday meal will become more flavorful with their help.
Besides using already available spices, now you can make your spice blend based on the description above. Tell me more in the comment section if you have other stories regarding this theme. Then, share this article so more people know more about these herbs and spices.
References
Basil: Uses, benefits and Nutrition (no date) Medical News Today.
Protective effects of chives leaves (allium schoenoprasum, L.) infusion.
Coriander: Health benefits, nutrients per serving, preparation information, and more (no date) WebMD.
Leyva-López, N. et al. (2017) Essential oils of oregano: Biological activity beyond their antimicrobial properties, Molecules (Basel, Switzerland).
Parsley: Health benefits, nutrients per serving, preparation information, and more (no date) WebMD.
Ghasemzadeh Rahbardar, M. and Hosseinzadeh, H. (2020) Therapeutic effects of rosemary (rosmarinus officinalis L.) and its active constituents on nervous system disorders, Iranian journal of basic medical sciences.
Sage: Health benefits, facts, and research (no date) Medical News Today.
Tarragon health benefits: Skin, hair, digestion, and more (no date) Medical News Today.
Thyme: Health benefits, nutrients per serving, preparation information, and more (no date) WebMD.
Dill: Health benefits, nutrients per serving, preparation information, and more (no date) WebMD.
Marjoram: Health benefits, nutrients per serving, preparation information, and more (no date) WebMD.
Mint: Benefits, nutrition, and dietary tips (no date) Medical News Today.
Coolicc (2023) Could spicy saffron benefit your health?, Cleveland Clinic.
Magazine, S. (2020) Ancient mediterranean people ate bananas and turmeric from Asia 3,700 years ago, Smithsonian.com.
Leech, J. (2022) 10 evidence-based health benefits of cinnamon, Healthline.
Nutmeg: Health benefits, nutrition information, and how to use it (no date) WebMD.