The world of Mediterranean food ingredients offers a buffet of fresh, vibrant, and tantalizing flavors to explore. As you delve deeper, you'll discover transformative ingredients, health benefits, and the sheer joy of creating signature Mediterranean masterpieces in your kitchen.
Get ready to spruce up your culinary canvas with the colors, flavors, and history of the Mediterranean culinary art. Add a Mediterranean touch to your cooking today!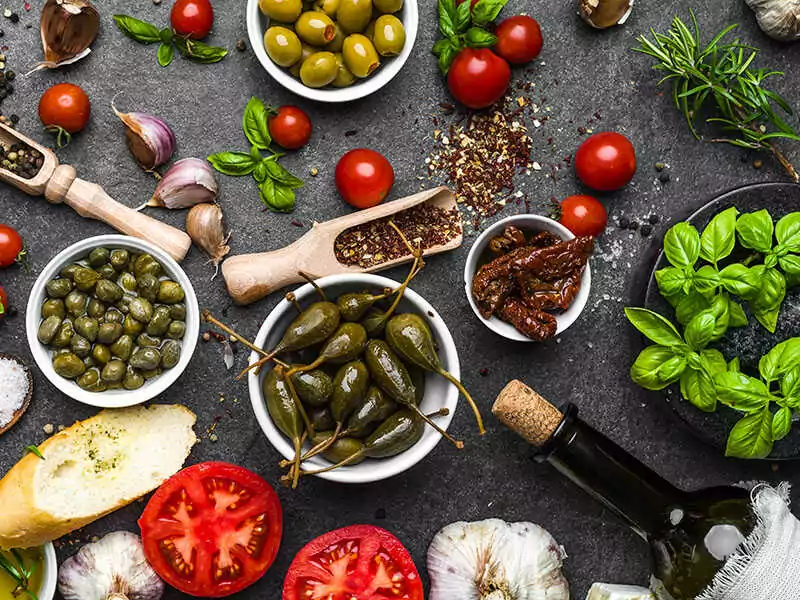 Fresh Fruits and Vegetables
1. Tomatoes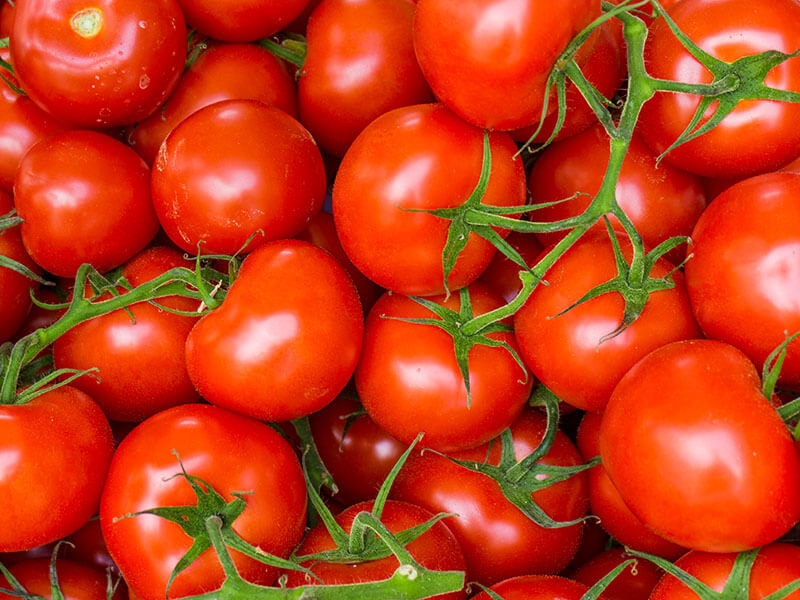 Tomatoes, fondly known as Italy's 'red gold', are a proud member of the nightshade family and a cornerstone of Mediterranean cuisine. They confidently star in a medley of dishes from sauces, stews, and soups to dips and salads.
They also give an extra zing to pasta and generously jazz up pizza and flatbread as toppings. Their rosy hue enhances the palette when roasted in the oven. Tomatoes, with their tangy sweetness, are a staple in Mediterranean breakfasts, standing out in the delightful crunch of salads.
Take menemen, for instance, a hearty Turkish concoction of scrambled eggs, tomatoes, green peppers, and spices, not unlike the strapatsada of Greece and Cyprus.
2. Olives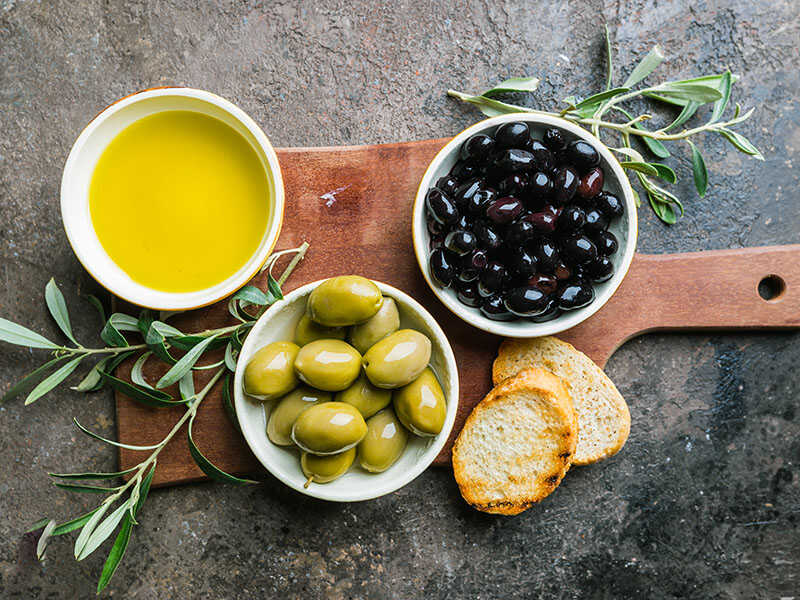 Olives are those delightful little fruits with big personalities! It's hard to believe they've been with us since the early Bronze Age, cultivated in places like southern Turkey, the Levant, and Crete. Today, their abundant growth in the Mediterranean serves as a symbol of this vibrant region's cuisine.
From their origins in Persia and Mesopotamia over 6,000 years ago, their journey has been a flavorful one. Green or black, their stage of ripeness is the only distinction, each kind possessing its unique charm.
They're amazing in many forms – marinated, cured, fermented, or even stuffed with goodies like anchovies, peppers, garlic, etc. Their presence elevates dishes, be it in salads, pizzas, flatbreads, pasta, or even as a simple tapenade.
My personal favorite? An olive-laden charcuterie board paired with a glass of wine or beer. Plus, they're tasty and packed with vitamin E, antioxidants, and healthy unsaturated fats. And let's not forget olive oil, the liquid gold extracted from these fruits, capturing 90% of their production (1).
3. Lemons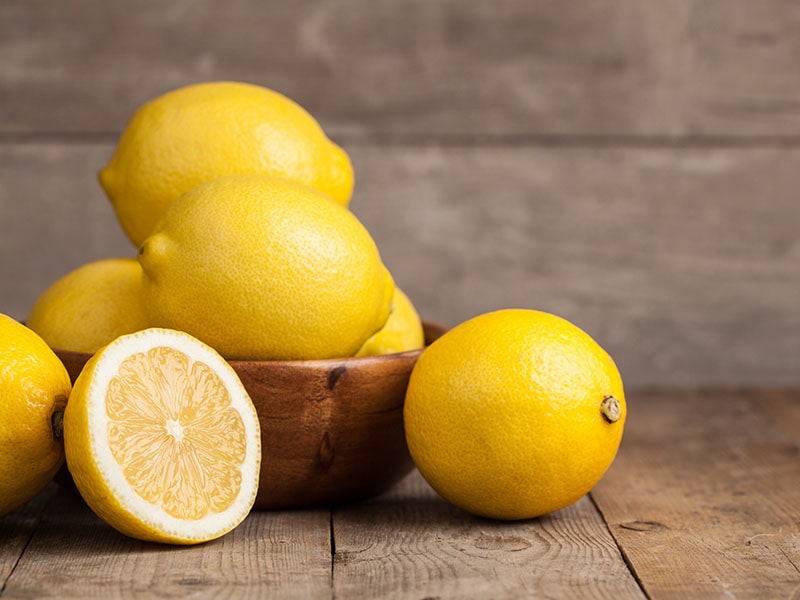 Lemons, those sunny, tart staples of Mediterranean cuisine, are loved in France, Spain, Italy, and Greece. Their influence extends to cooking, baking, and beverage making, with juice and zest offering a burst of citrus magic.
And there's more to them than just tang and zing. Lemons come with a neat trick – they can slow down the emptying of the stomach. That's right; adding lemons or lemon juice to a meal can actually lower its overall glycemic load. So, they're not just bright and refreshing; they're pretty smart too!
4. Eggplants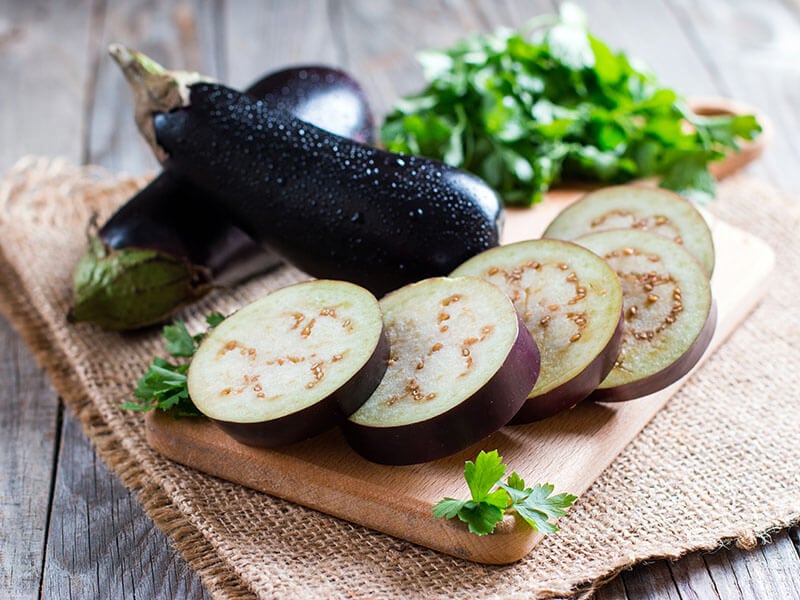 Eggplants, and the unique characteristics each kind of eggplant possesses, play an essential role in Mediterranean cuisine, from Spain and Italy to Greece and Turkey's delicacies. What makes them special is their knack for absorbing sauces and enhancing their taste.
You can roast them in the oven, grill, fry, stuff, or even puree them, like the typical Macedonian dip, Malidzano. One of my favorites is the Greek salad Melitzanosalata, a must-try in Athens, where eggplant is the star.
Health-wise, they're a source of fiber and potassium, and remember the chlorogenic acid found in their skin, which could have antiviral and cancer-fighting properties (2).
5. Zucchini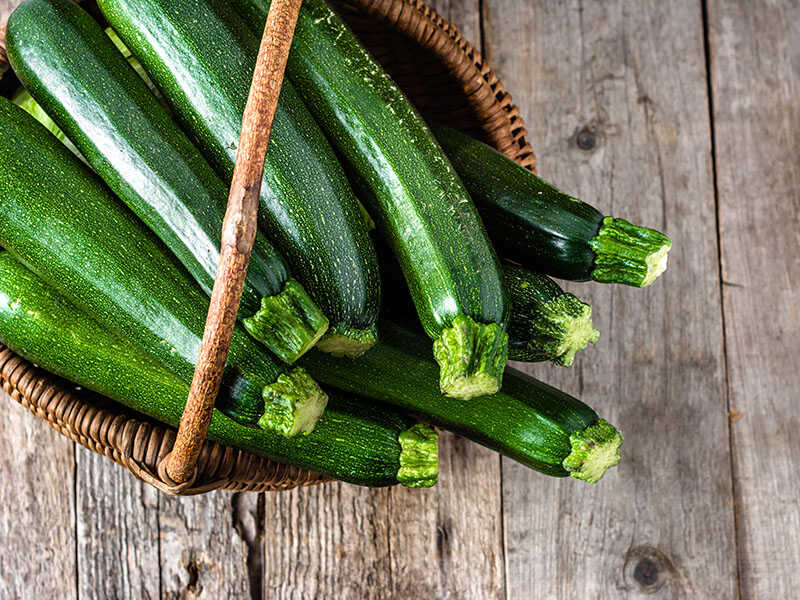 Zucchini, a vegetable abundant in the Mediterranean, is a staple in many local dishes. On the island of Crete, zucchini is lovingly baked or fried in extra virgin olive oil, releasing its mild and slightly sweet flavor.
Zucchini fries and fritters have become popular treats, offering a crispy, savory bite. Plus, it's an excellent choice for anyone steering clear of gluten.
6. Grapes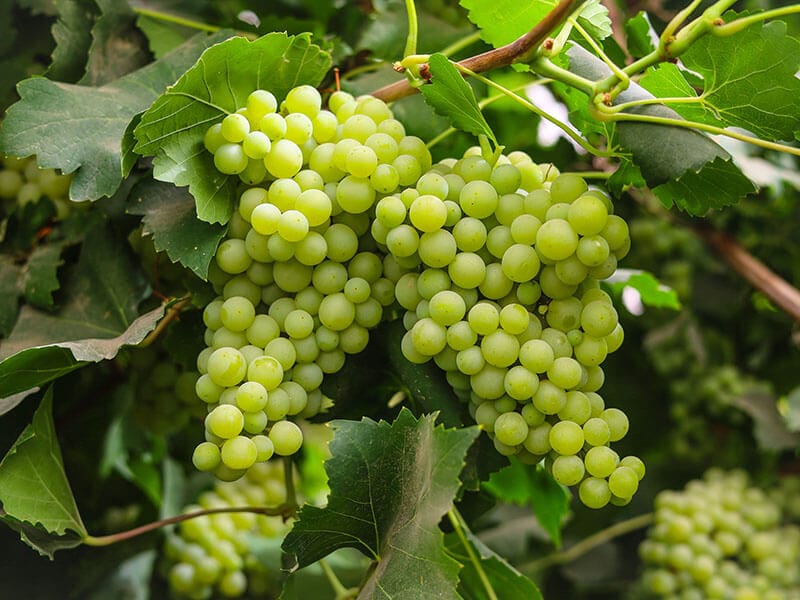 Grapes are a versatile fruit dating back to 7,000 and 4,000 BC. They originated between the Black Sea and Persia, spreading their vine-growing charm to Greece, Crete, Spain, and eventually to Italy and France's gourmet(3).
Wine, a beloved Mediterranean treasure, has humble beginnings in these ancient vineyards. Most of these succulent fruits go into making wine and vinegar, staples in the Mediterranean diet.
Yet, they're also enjoyed as table grapes and, when dried, become sweet raisins. With Southern Europe producing 21% of the world's harvest (4), it's safe to say the Mediterranean remains a hub of grape cultivation.
7. Broccoli Rabe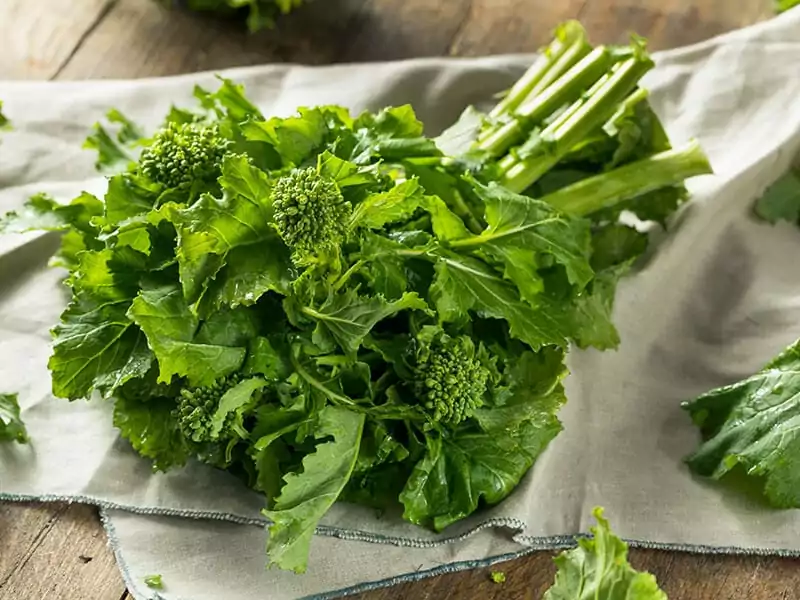 Broccoli rabe, or rapini, isn't your average vegetable. This dark leafy green is a proud member of the cabbage family, sporting a unique, earthy bitter brassica flavor. It's the kind of vegetable that loves the company of bold ingredients like sausage, anchovy, and hot pepper.
More than its distinctive taste, broccoli rabe offers plenty of health benefits. It's loaded with vitamin C, potassium, calcium, and fiber. Plus, it's a good source of carotenoids and cancer-fighting compounds like indoles and isothiocyanates (5).
8. Sweet Peppers / Bell Peppers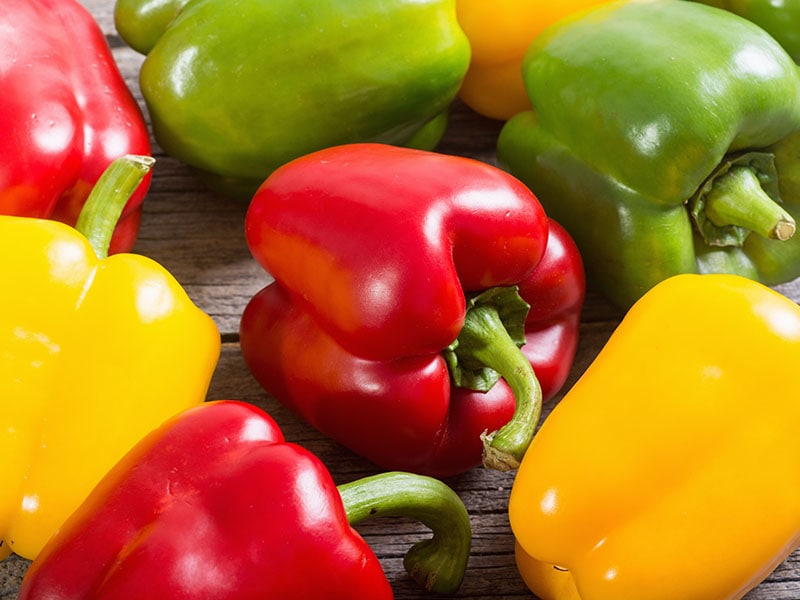 Sweet peppers, also known as bell peppers, are a feast for the eyes and the palate. With colors ranging from yellow to red, orange, and green – the latter being slightly less sweet – they add a vibrant splash to any dish.
They're a go-to ingredient for traditional Mediterranean stuffed vegetables, fresh or cooked. Roasted, they make superb Mediterranean meze or side dishes. Regarding food pairings, sweet peppers are a match made in heaven with tomatoes and olives.
Plus, they're nutritionally rich, brimming with vitamin C, carotenoids, and antioxidants, all contributing to better eye health and reduced chronic issues (6).
9. Artichoke Hearts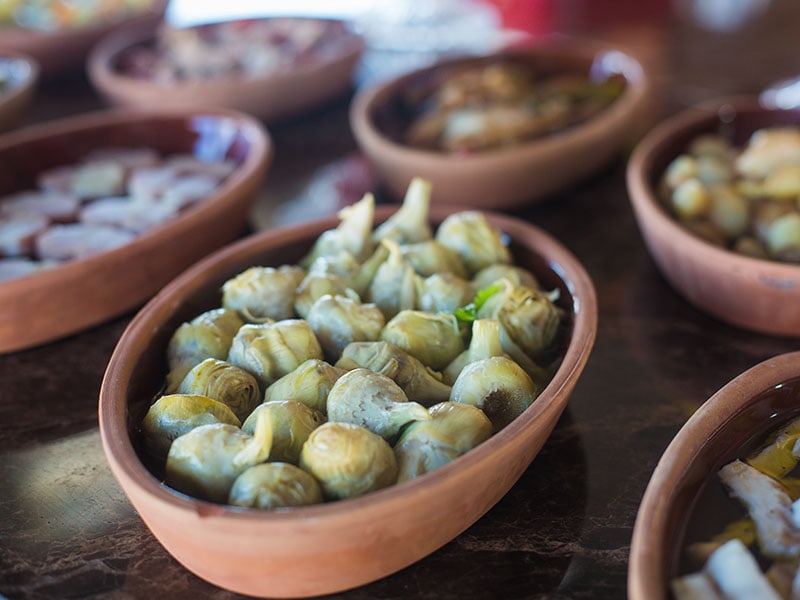 Artichoke hearts hold a historic allure, dating back to the 8th century BC, with the ancient Greeks and Romans heralding this as their "food of the Gods". Known for their herbaceous flavor carrying nutty undertones, the Greeks uniquely focus on the heart rather than the leaves in their cooking.
This distinction has led to many artichoke-rich dishes in Greek cuisine, from poached to grilled, baked, fried, and even eaten raw. But it's not all about taste – these versatile gems are low in fat and high in fiber, laden with vitamins, nutrients, and antioxidants.
They offer impressive health perks, such as reducing bad cholesterol, aiding blood pressure regulation, and promoting liver health (7).
Grains and Legumes
10. Wheat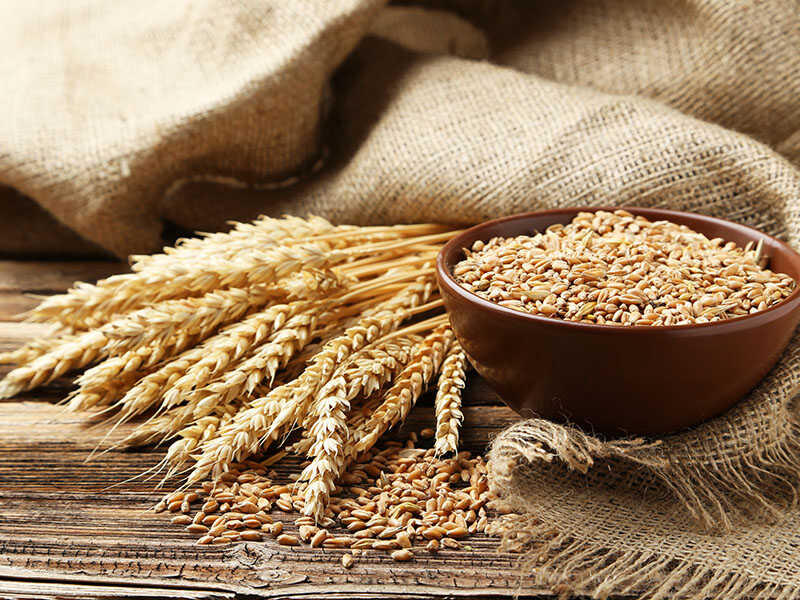 Wheat, the crux of Mediterranean cooking, traces its roots back to the Fertile Crescent, roughly 10,000 years ago. By 5,000 BC, its influence had unfurled across the Mediterranean as far as Spain, even playing a pivotal role in the ancient Roman Empire (8).
Unrefined wheat and barley flour form the backbone of most bread in Italy and beyond. Think of pasta with a low glycemic index and semolina products like couscous and bulgur—these staple wheat-based foods are as versatile as they are nutritious.
From my own culinary explorations, I have been mesmerized by unique wheat-based dishes. Take the tasty Greek dessert galaktoboureko, for instance, where filo pastry wraps around a custard made with semolina.
Then there's Halva, a sweet delight found from Turkey and the Levant to Iran and India, crafting a dessert of sweetened semolina with butter, milk, and pine kernels.
11. Couscous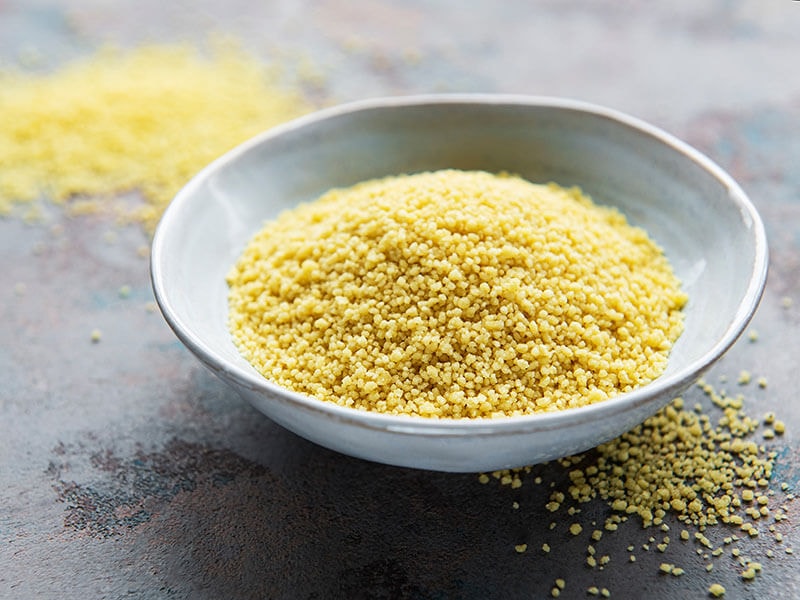 Couscous, unrefined grains sitting at the foundation of Mediterranean diets, balances taste and health like a champ. As a powerhouse in the world of whole grains, couscous maintains a low glycemic index, causing only gentle rises in glucose and insulin levels – a clear contrast to refined counterparts.
With its natural bounty of fiber, magnesium, vitamin E, and other antioxidant phytochemicals, it does a commendable job of warding off chronic ailments, from heart disease to diabetes.
12. Quinoa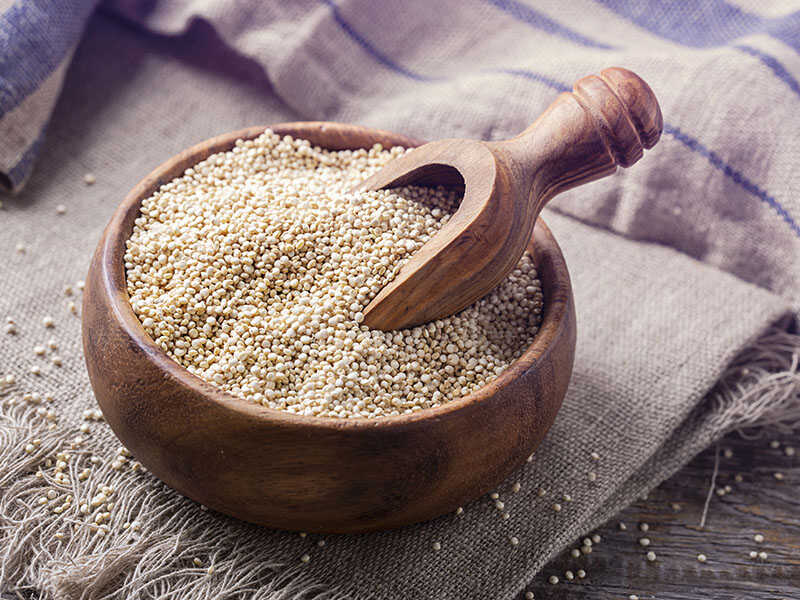 Quinoa is a true culinary gem, just like chickpeas, brimming with protein and fiber. It's a remarkable mineral warehouse, storing phosphorus and magnesium, which are instrumental for blood pressure regulation and fortifying bones.
Among its abundant nutritional profile, quinoa is enriched with manganese, folate, and thiamin (Vitamin B1) (9). You should definitely consider the Mediterranean Quinoa Salad – a medley of quinoa, crisp cucumbers, ripe tomatoes, and tangy feta cheese.
13. Cornmeal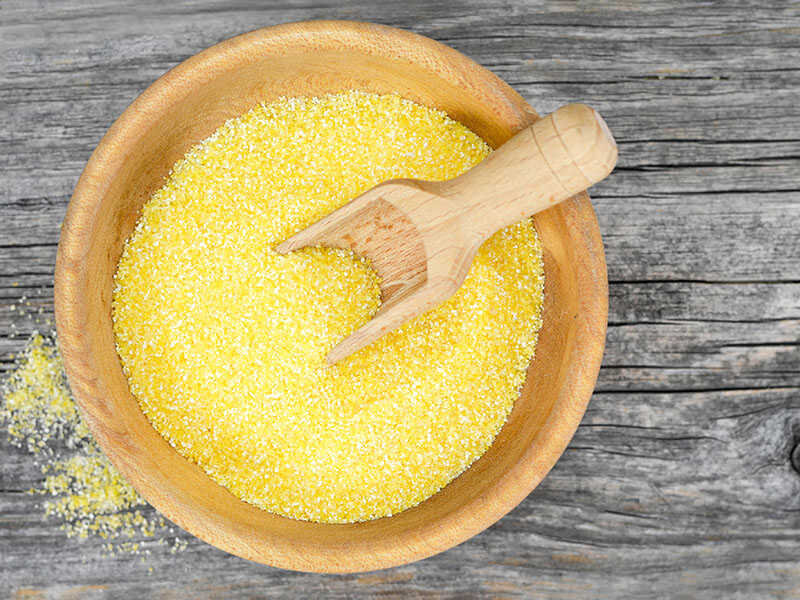 Cornmeal, ground from dried corn, comes with a unique textural character. This common staple food has a gritty charm that's all its own, presenting a variety of consistencies ranging from coarse to fine – although not quite as finely ground as wheat flour.
Take Italy, where boiled cornmeal transforms into a beloved dish known as polenta. Over in Romania, it swaps roles to become a handy bread substitute.
14. Buckwheat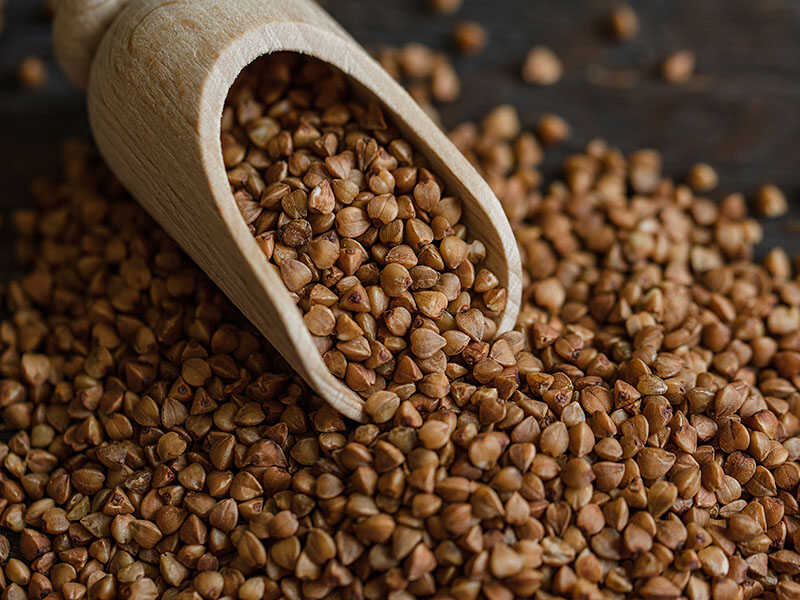 Buckwheat, intriguingly, is different from what it seems. It's a bit of an imposter among grains, as it's not even a member of the grass family. With closer ties to rhubarb and sorrel than to wheat, it's a pseudocereal that sports a high starch content.
That starch is my secret weapon when I crave hearty dishes like pancakes or noodles, especially the pasta di grano saraceno of Italy's Apulia region or the beloved pizzoccheri from Valtellina.
Once cooked, it also adds a delicious twist to salads or side dishes. Plus, its impressive nutritional profile, rich in protein, calcium, iron, and a host of other minerals, just sweetens the deal (10).
15. Millet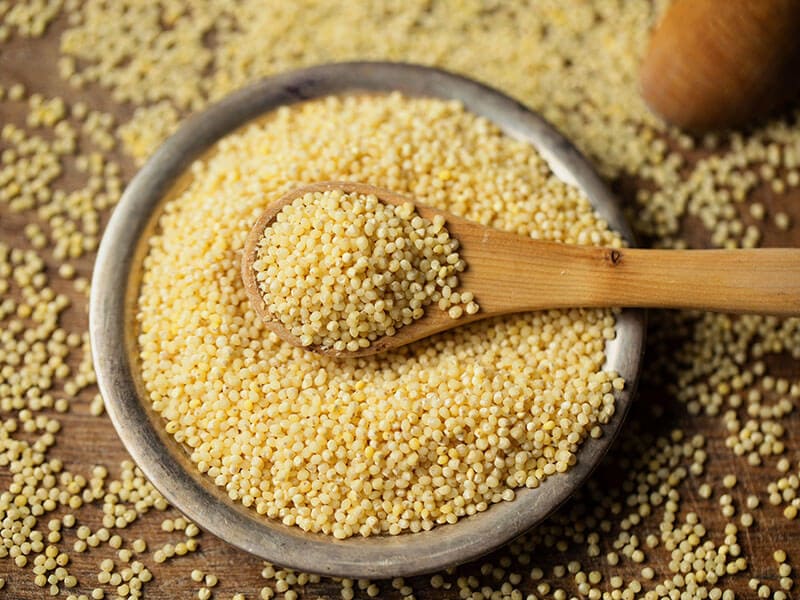 Millet is an ancient grain that was one of the earliest crops to be cultivated. I find it fascinating how versatile it is! Its small, yellow orbs transform to a couscous-like texture when cooked, making it a perfect stand-in for couscous in any dish.
One of my favorites is using millet in a pilaf or adding it to soups for an extra hearty touch. It can also serve as a side dish with various proteins like chicken, meat, or fish. In the mornings, a slow-cooked millet porridge brings warmth to my day.
It's even milled into flour for baking, used in salads, added to soups, made into polenta, cooked like pasta, tossed with a salad, eaten as a snack, or made into a grain bowl.
Best of all, it's high in magnesium and is a gluten-free grain, making it friendly for those with celiac disease or gluten sensitivity.
16. Farro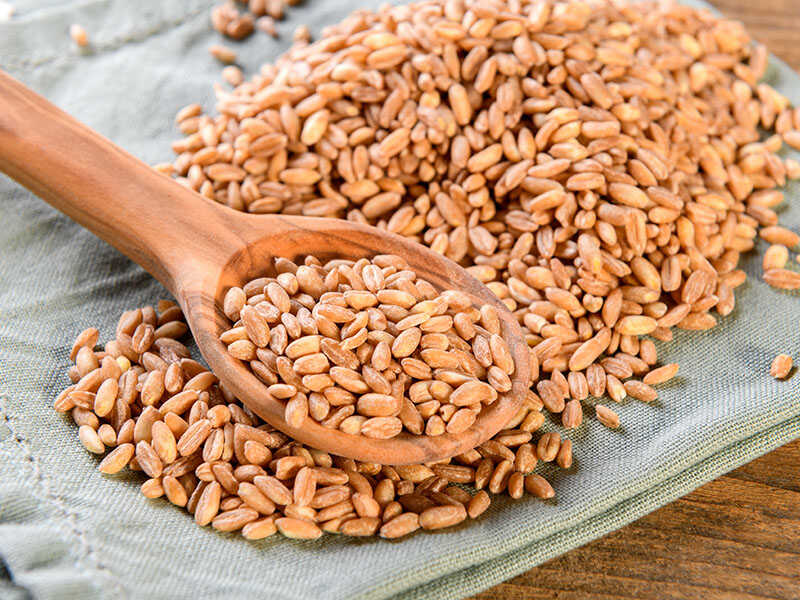 Farro, an ancient grain with roots in the Middle East and Mediterranean, has charmed palates for millennia. With its invitingly chewy texture and subtly nutty flavor, it's quite versatile in the kitchen.
Tossed with roasted vegetables, it creates a nourishing side dish. If soup or salad is on the menu, farro adds a delightful twist. What's more, this grain isn't just tasty. It's packed with fiber, iron, magnesium, niacin, and zinc, making it as healthful as it is flavorful.
17. Bulgur Wheat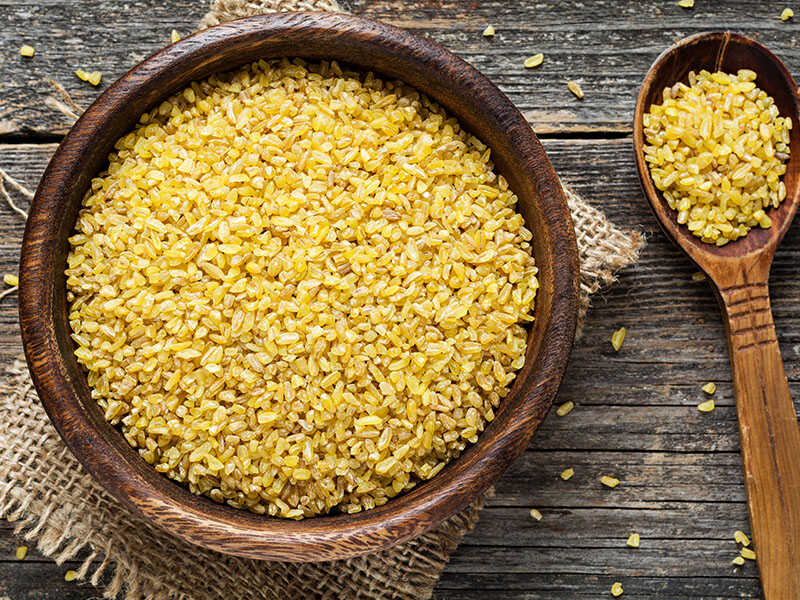 Bulgur wheat, crafted from whole wheat berries, is a favored choice for vegetarians and vegans alike. Its wealth of fiber surpasses that of quinoa, oats, and corn, keeping you satisfied.
This fiber-rich food works wonders for your health, regulating blood sugars and pulling cholesterol away from the heart. But that's not all! Bulgur wheat is an excellent source of B vitamins, which are vital in protein, carbohydrate, and fat digestion (11).
And let's remember its iron content, essential for red blood cell production and hormone, protein, and neurotransmitter synthesis.
18. Barley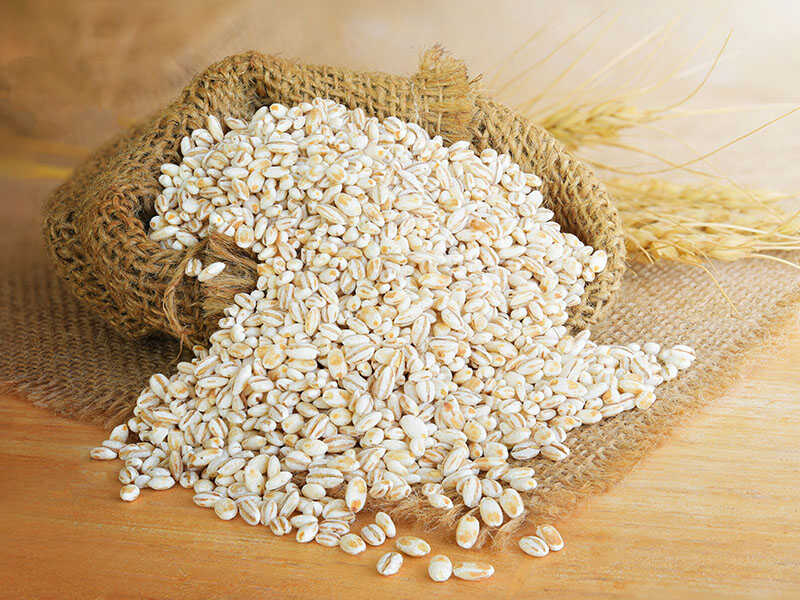 Barley, a member of the grass family, is a major cereal grain that thrives in temperate climates. Its versatility in the kitchen shines through, whether used in hearty soups and stews or paired with fruits and nuts for a satisfying breakfast cereal.
A sauté with onions and garlic transforms it into a flavorsome side dish that can even be baked into wholesome barley bread. Beyond its culinary uses, barley grains are also made into malt.
But it's not just about taste – barley's soluble fiber is beneficial for health, helping reduce blood sugar and cholesterol.
19. Rice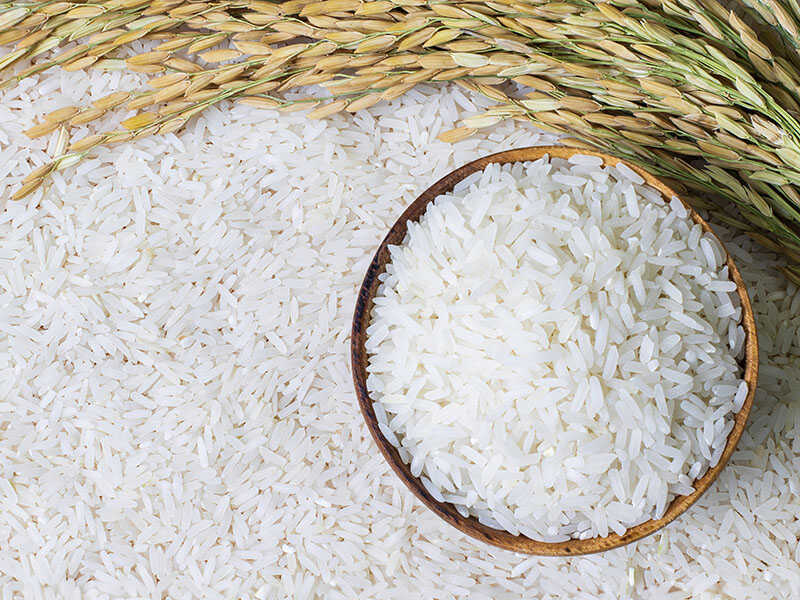 Rice, a familiar face in kitchens worldwide, thrives in many Mediterranean regions. With a broad palette of rice varieties like short-grain, long-grain, and Arborio, each type brings its own flair to different dishes.
The chosen rice can entirely shape the culinary journey, from a comforting risotto to a fragrant biryani. Moreover, rice isn't relegated to the sidelines as a simple accompaniment. It often steps into the limelight, transforming from a side dish to the main event.
20. Bread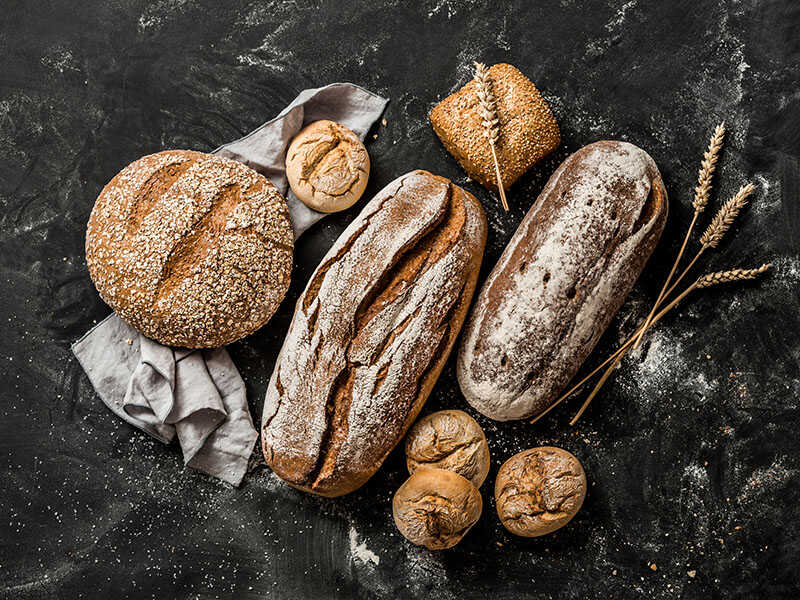 As a lifelong food enthusiast, I can't help but appreciate the humble beauty of each bread type. On countless occasions, it's been the soul of my meal, baked to perfection and warm from the oven.
I've savored it spread with rich butter, or dipped into soups and gravy, each bite carrying the comfort of home. I've also adored it with toppings, from sweet jams to savory cheeses. And who can forget the classic sandwich, with layers of flavor tucked between two slices?
21. Pasta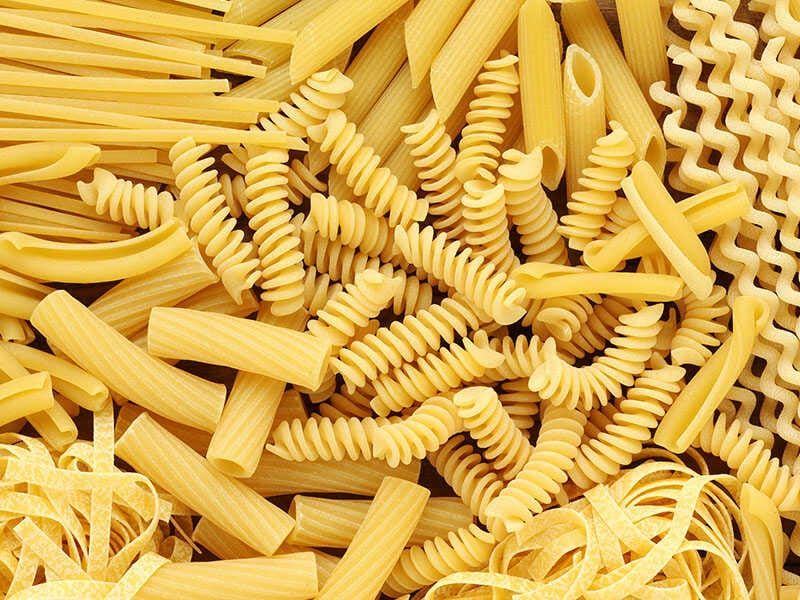 Pasta, crafted primarily from durum wheat, stands as a culinary icon. Sauces accent its versatile nature, varying from region to region in Italy's culinary tradition. Up in the North, you'll likely find it donning a simple white sauce, without much of the tomato, garlic, and herbs.
On the contrary, Southern Italy embraces a rich palette of flavors – think fresh vegetables, olives, capers, and seafood nestling into the pasta folds. And let's not overlook pasta's humbler yet equally delicious role when it's served in a soothing broth or vegetable soup.
22. Lentils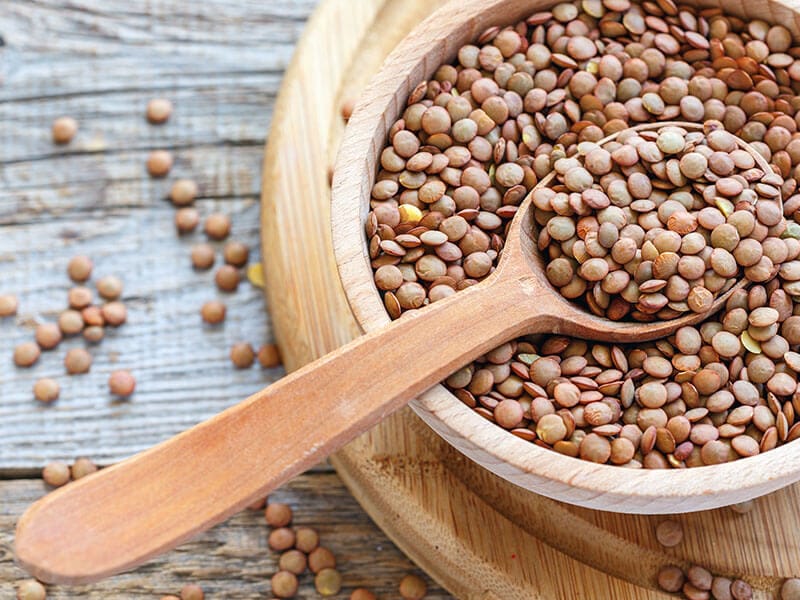 Lentils, a Mediterranean staple, carry a humble, earthy flavor I've grown fond of over the years. I've witnessed their chameleon-like ability to transform into various dishes – be it a heart-warming soup, a thick stew, or a vibrant salad base.
Whether soaked, germinated, fried, baked, or boiled, each cooking method reveals a different facet of this versatile ingredient. Their cooking time is a swift 10 to 40 minutes, with red ones sans husk, being the quickest.
Interestingly, husked lentils hold their shape while their huskless counterparts morph into a creamy purée. In bread making, they even enhance emulsification, which is accentuated further by dough fermentation.
23. Chickpeas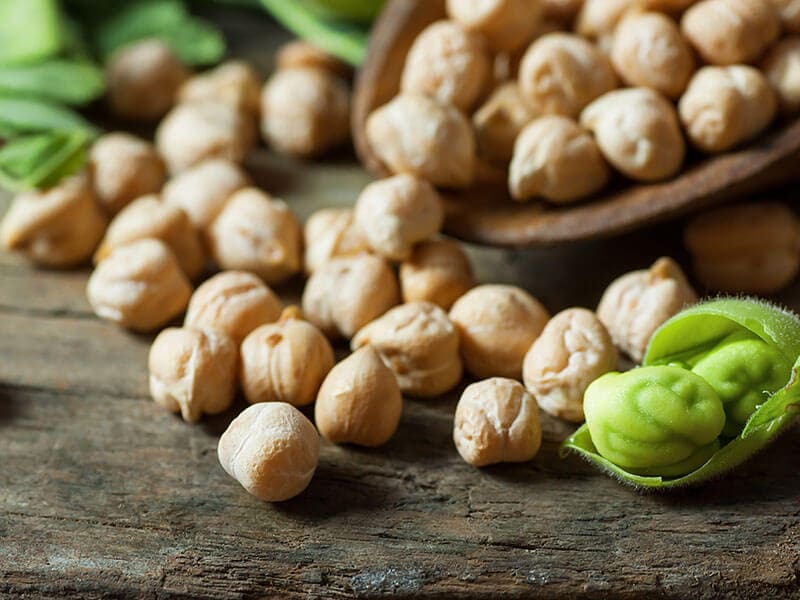 Chickpeas, the star ingredient in hummus, hold a special place in my culinary journey. They are the unsung heroes in an array of dishes, whether paired with grains, included as a satisfying snack, or tucked into a main meal.
What's truly admirable is their nutritional profile. They come packed with high-quality protein, folate, calcium, iron, magnesium, and zinc (12). Their fiber content, both soluble and insoluble, along with phytates and phyto­sterols, is nothing short of impressive.
I was amazed to learn that these humble legumes could aid diabetes management, potentially prevent colon cancer, and even contribute to reducing heart disease risk.
24. Beans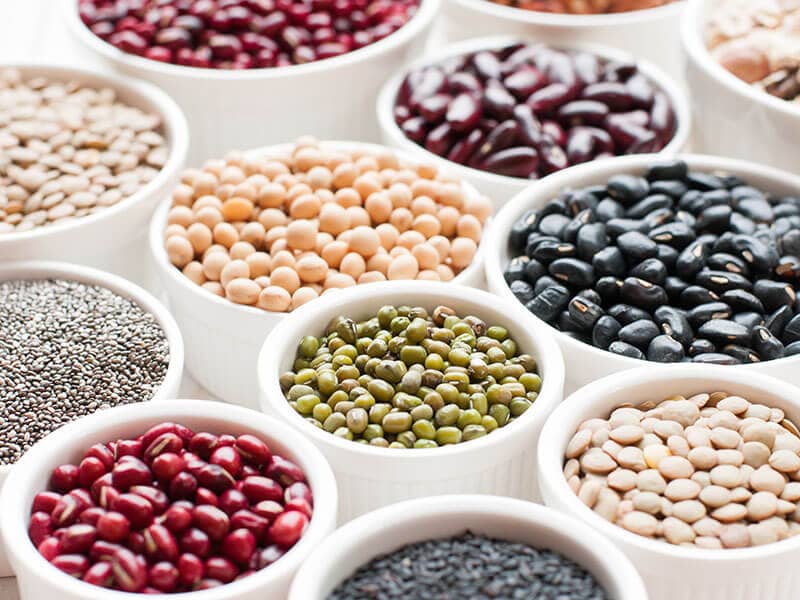 Beans, with their dual nature, are like the chameleons of the food world. Many bean cultivars serve as a key component in the Mediterranean diet, playing a pivotal role in traditional meals throughout the region.
Melded with vegetables and stock, they bring an extra layer of depth to meat flavors. Yet, in a twist of versatility, they bear similarities to both protein and vegetables. It's their ability to blend and adapt that makes them such an integral part of the cuisine, not just in the Mediterranean but across the globe.
Proteins
25. Seafood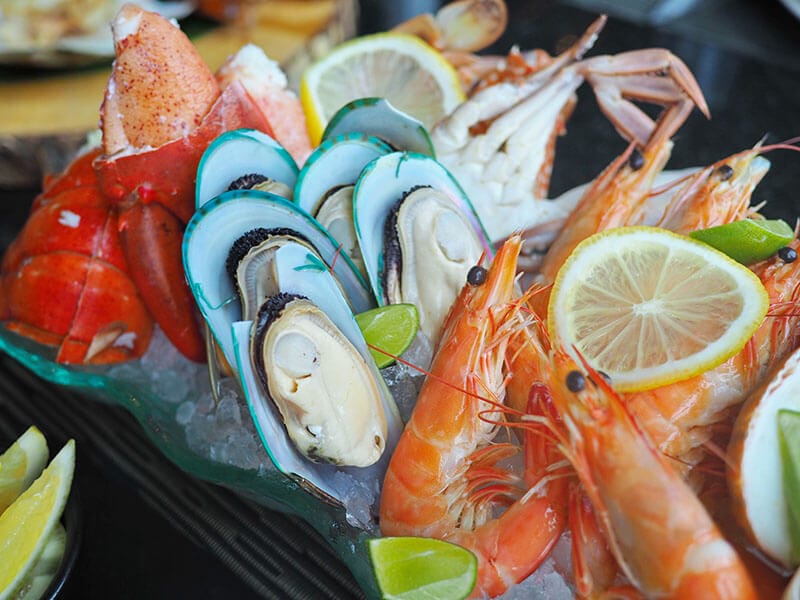 Seafood is more than just the delicious taste; it's the heartbeat of Mediterranean cuisine. People in this region, bless them, have long harnessed the bounty of the sea, with fish varieties like tuna, sardines, sea bream, anchovies, swordfish, and hake being the hero in many dishes.
But it's not only about their abundance; it's also the tantalizingly simple way they're prepared. Think olive oil, parsley, and maybe some fried garlic, all highlighting the fish's freshness and flavor.
From omega-3-rich tuna to other seafood species like shrimp and squid, they've got the health benefits covered. And those times I've tasted sea bream or squid in stews, stuffed, or fried? Pure gastronomic joy.
26. Poultry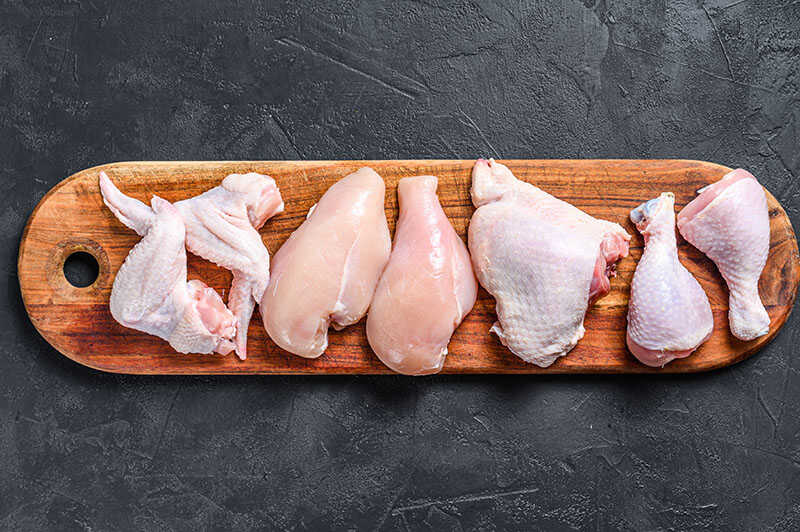 When it comes to a main dish that's both accessible and affordable, poultry has this aspect covered. It has a special place in the Mediterranean diet, not just as a moderate portion but also for its fantastic ability to add flavor to plant-based dishes.
Picture a salad, a stewed bean dish, a soup, or even a pasta dish, all given a flavor boost with some poultry magic. And that chicken broth? It's a popular choice to lend some extra character to soups and stews, making it an indispensable part of the culinary world.
27. Lamb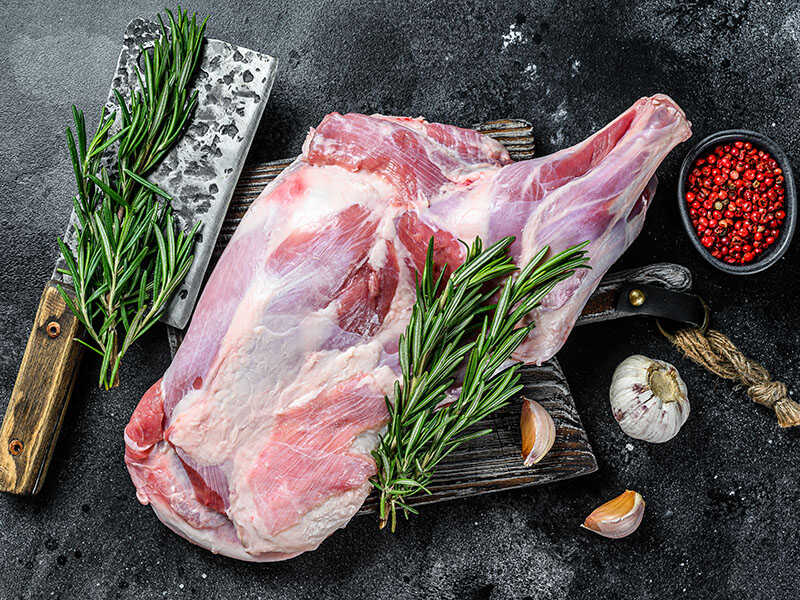 In Greece, lamb holds a cherished place on the dining table. It becomes incredibly tender and properly cooked, either baked or grilled to medium or medium-rare. Overcooking, however, may leave it tougher than desired.
The ideal lamb dish features clean cuts with minimal fat, keeping it light. And remember, a small portion goes a long way, making it a flavorful indulgence rather than a daily staple.
28. Goat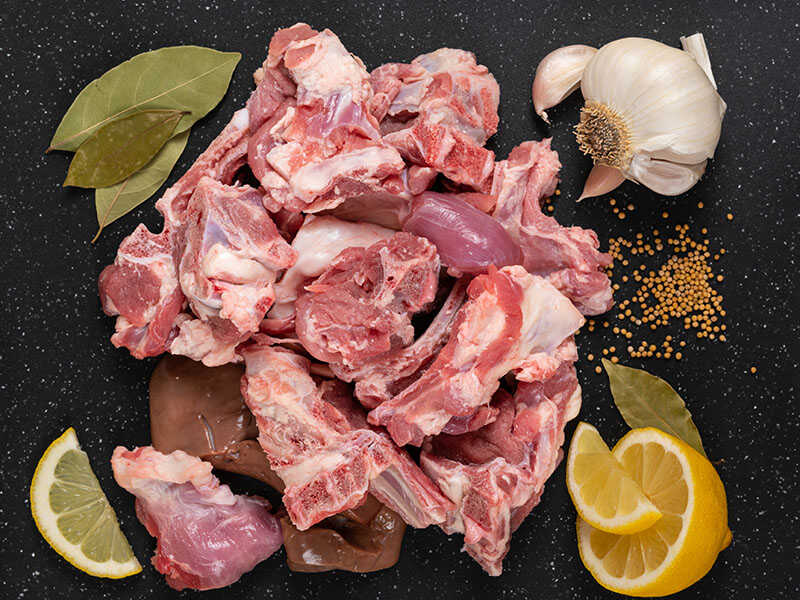 On the island of Crete, goats are more than just animals; they're a nutritious delicacy. These creatures roam freely, grazing in the vast countryside and mountain tops. Their diet is primarily grass, which makes the meat leaner, healthier, and rich in omega-3 fats.
These species of meat, with lower total fat content (13), provide a distinct, savory flavor that is hard to resist.
29. Cheese (Parmesan, Feta, Halloumi, Manchego and Ricotta)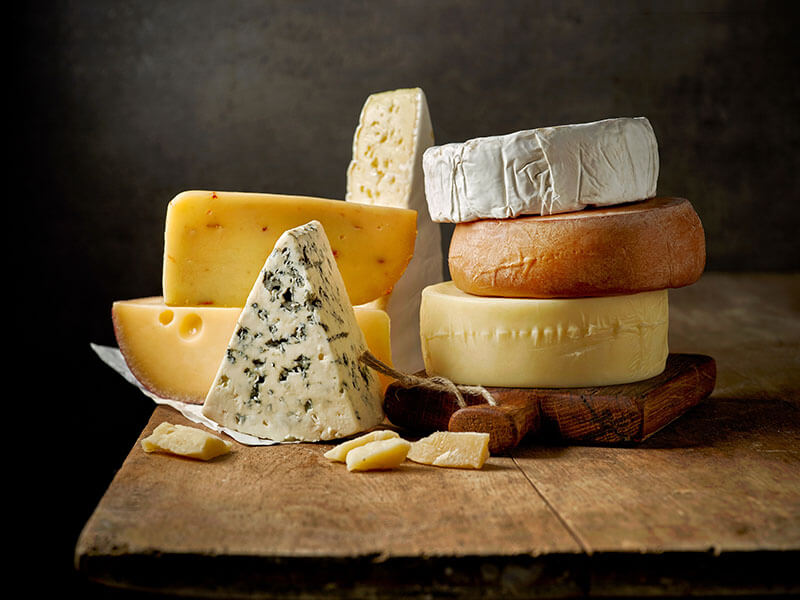 In the Mediterranean, cheese is more than food – it's part of life's fabric. Traditional cheeses like Parmesan, feta, halloumi, manchego, and ricotta transform from fresh, cream-style to semi-cured and cured versions.
These cheese varieties are made from diverse sources, including sheep, goat, cow, buffalo, or a mix, and seamlessly blend into breakfast, lunch, dinner, or snack time. Parmesan, aged for two months, can enhance pasta flavors, soups, and risotto.
The feta came next, crumbled over salads and soups, stuffed in burgers, or mixed into dips. With its unique texture, Halloumi was a sight when grilled and used to top a salad or fill a veggie gyro.
One unforgettable experience was tasting manchego in Spanish tapas, a semi-soft, pale yellow cheese with a firm texture.
And who can forget the creamy ricotta, used in classic stuffed shells, transformed into a delicious dip, or even used in pancakes?
30. Greek Yogurt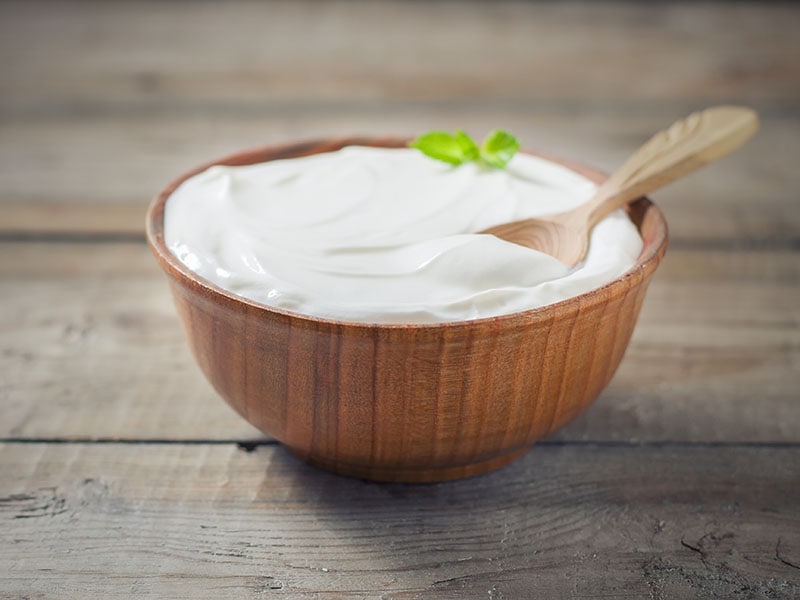 Greek yogurt stands as a culinary wonder, known by different names such as strained yogurt, yogurt cheese, sack yogurt, or kerned yogurt. It's a staple in Eastern Mediterranean, Middle Eastern, and Eastern European kitchens.
Unlike regular yogurt, this sort of yogurt is thicker, creamier, and carries a slightly tangy taste. Its versatility, though, is what sets it apart. One moment, I'm using it in savory dishes; the next, it's the star of my sweet recipes.
In Egypt, it's served with olives and oil or sweetened with honey, becoming a delightful breakfast or snack. In Turkey, I discovered its role in mezze and dips like haydari.
But Greece left a lasting impression, where it's a cornerstone in Cypriot signature dishes. Greek yogurt is also a vital ingredient in the refreshing Tzatziki Sauce. Besides being versatile and tasty, it's also a nutritional powerhouse, high in protein, calcium, potassium, and vitamin B12 (14).
Nuts and Seeds
31. Almonds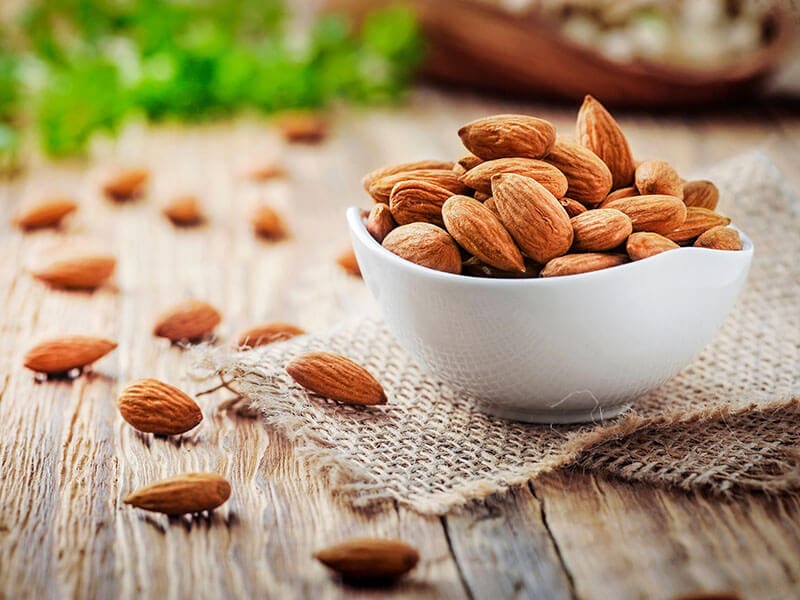 The Mediterranean nurtures these almond little gems, with their almond trees thriving in the region's moderate climate. In Sicily, they are as abundant as the sun, even gracing our dishes like Sicilian pesto.
The Eastern Mediterranean isn't left out either; their presence in Brown Rice Pilaf is simply memorable. Baking aficionados like me use almond flour or mix it with pistachios for a delicious Baklava.
Oh, and the almond-based marzipan? It's an unforgettable treat! Moreover, they come filled with vitamin E, monounsaturated fats, fiber, biotin, calcium, phosphorus, magnesium, and copper (15).
32. Walnuts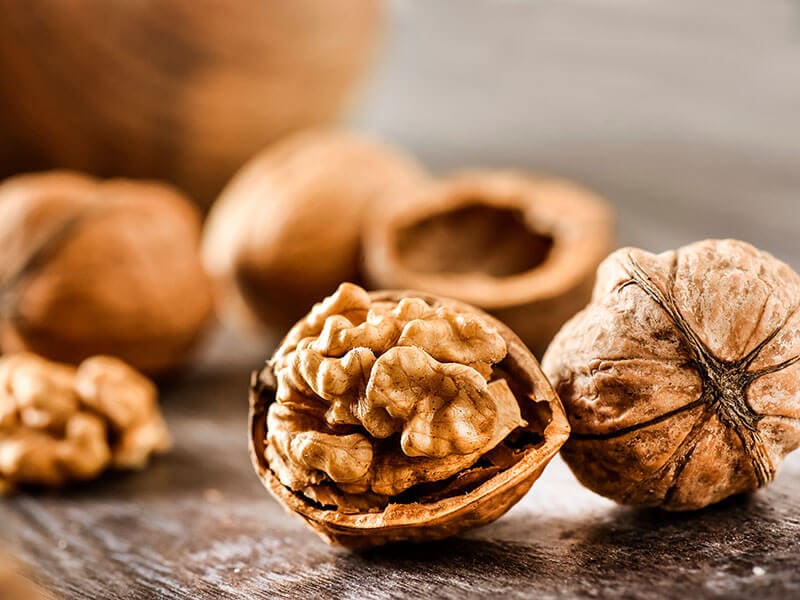 Walnuts, those round single-seed stone fruits of the walnut tree, have a distinctive charm. Enclosed within a husk, their brown and wrinkly shells hold a treasure trove of flavors and nutrients.
These Mediterranean delights lend themselves to sweet and savory dishes, surprising taste buds across the globe. Picture the Italian Riviera, where ravioli filled with greens dance in a ricotta and walnut sauce.
Meanwhile, in Turkey, cooked vegetables are embraced by a thick garlicky walnut sauce called tarator. Not to be outdone, the French artfully incorporate walnuts into salads, bread, and desserts, creating a symphony of culinary delights.
Beyond their culinary prowess, walnuts also boast a high percentage of omega-3 fat and are an excellent source of vitamins and minerals like copper, folic acid, phosphorus, vitamin B6, manganese, and vitamin E (16).
33. Pistachios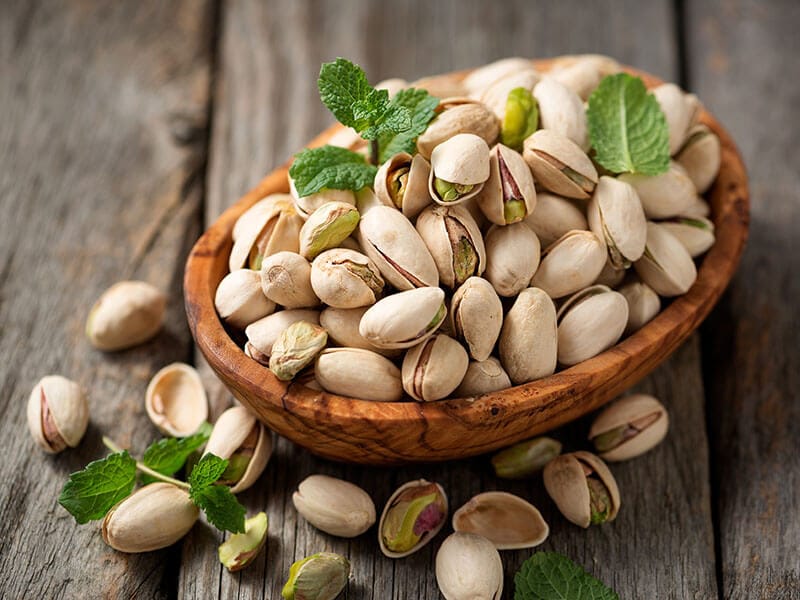 Let's talk about pistachios. These little gems are often found in Mediterranean and Middle Eastern cuisine, adding their unique touch to various dishes. You'll spot them in hearty stews, flavorful rice dishes, and refreshing salads.
They bring the perfect crunch and a nutty flavor that complements the other ingredients perfectly. What's fascinating is their versatility. Ground and folded into sauces and doughs, or nestled within the layers of delectable baklavas, pistachios always find a way to shine.
Have you ever tried pistachio granita? It's a cool and creamy treat that will leave you wanting more, and the best part is, it's dairy-free! For a twist on your Mediterranean couscous salad, adding pistachios will bring a delicious texture and flavor.
Apart from their deliciousness, pistachios are also packed with goodness. They are a great source of protein, fiber, antioxidants, and vital nutrients like vitamin B6 and potassium (17).
34. Hazelnuts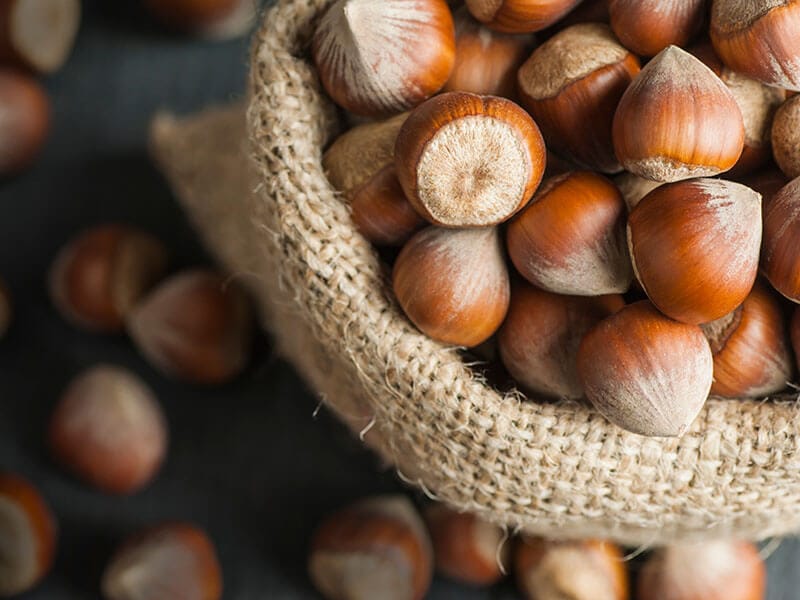 Hazelnuts are one of the most popular and tasty nuts out there. They're not just a snack; they play a starring role in sauces, creams, and desserts in Mediterranean Cuisine. Turkey takes the lead in hazelnut production, supplying a whopping 57% of the world's hazelnuts, as of 2016 (18).
In fact, 8 out of every 10 hazelnuts consumed worldwide come from Turkey. Turkish and Georgian delicacies both embrace the deliciousness of hazelnuts in their traditional dishes.
Ever tried Farro & Arugula Salad? Toasted hazelnuts add a delightful crunch and flavor to this mouthwatering salad. Egyptian Dukkah, a blend of hazelnuts, almonds, and walnuts, brings a unique taste sensation.
Hazelnuts are not just delicious; they're also packed with vitamins and minerals like vitamin E, manganese, and copper. Plus, they contain a high content of beneficial omega-6 and omega-9 fatty acids (19).
35. Mediterranean Pine Nuts (Pignolias)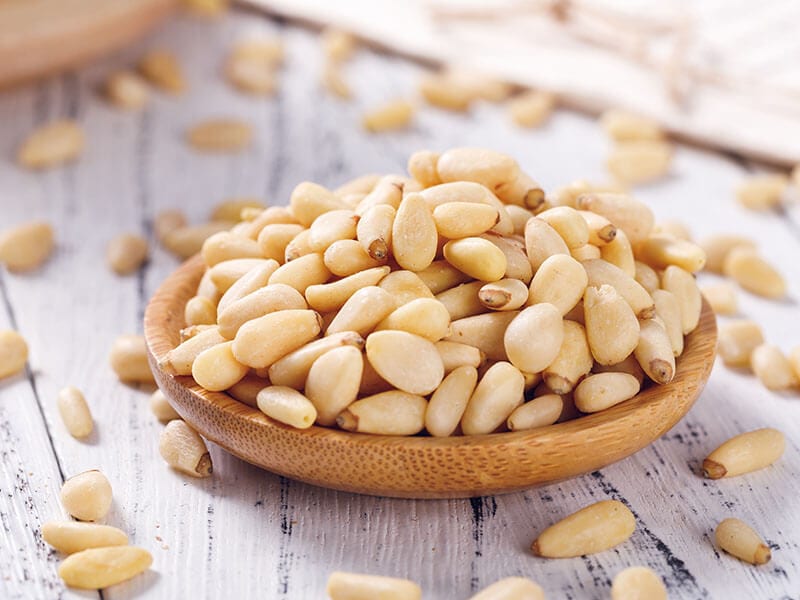 Mediterranean Pine Nuts, affectionately known as Pignolias, are a distinct breed of pine nut that calls the sun-kissed region of the Mediterranean home. A notch above in size, their golden-brown exterior encases a soft, textured interior that exudes a unique nutty flavor.
From raw veggies to legumes and from fish to bread, their adaptable palate has firmly anchored them in the heart of Italian cooking and Lebanese gastronomy. Look for them next time you're at the supermarket or a specialty store!
Their nutritional profile is to be noticed too. Packed to the brim with heart-friendly fats, antioxidants, and dietary fibers, they also dish out a good dose of potassium.
Plus, they've got a stellar line-up of vitamins A, B, C, D, and E, and are brimming with essential minerals like zinc, magnesium, and iron.
36. Sesame Seeds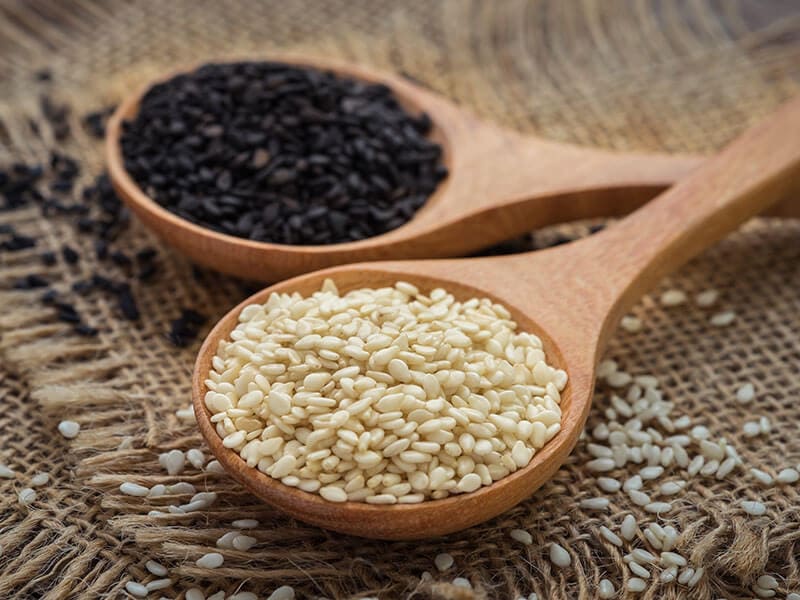 Sesame seeds, those tiny, oil-rich gems that grow in pods on flowering plants, have roots tracing back to Africa, Asia, and the Middle East. Versatile in their culinary applications, they sweeten and spice up dishes across Mediterranean, Middle Eastern, and Asian kitchens.
Tahini, a tasty raw sesame paste, takes center stage in numerous Mediterranean and Middle Eastern delicacies. Sesame oil, too, another gift from these seeds, plays a starring role in Mediterranean fare.
And if you're thinking of stocking up, Middle Eastern markets and specialized health and spice shops should be on your radar.
Other
37. Herbs and Spices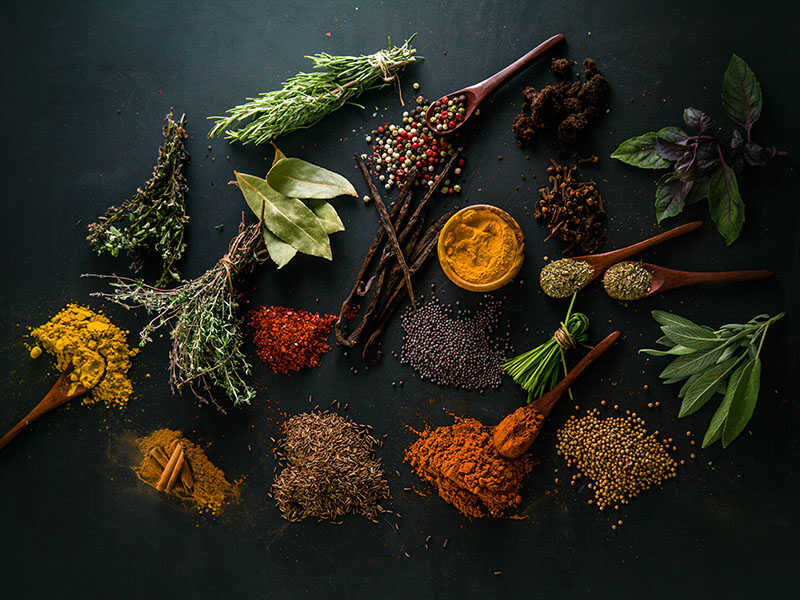 Herbs and spices in Mediterranean cooking are true game changers. They bring a flurry of flavors and aromas to your dishes, transforming even the simplest meal into a gastronomic delight.
Health benefits? Yes, they've got those too. Plus, they help curb the urge to reach for the salt shaker. From the fragrant basil, mint, and thyme, to the fiery cumin, nutmeg, and smoked paprika, these little additions can add a dash of color and palate-pleasing notes.
Distinct regions of the Mediterranean even have their own spice blends like Za'atar, Italian herb seasoning, and Herbes de Provence.
38. Olive Oil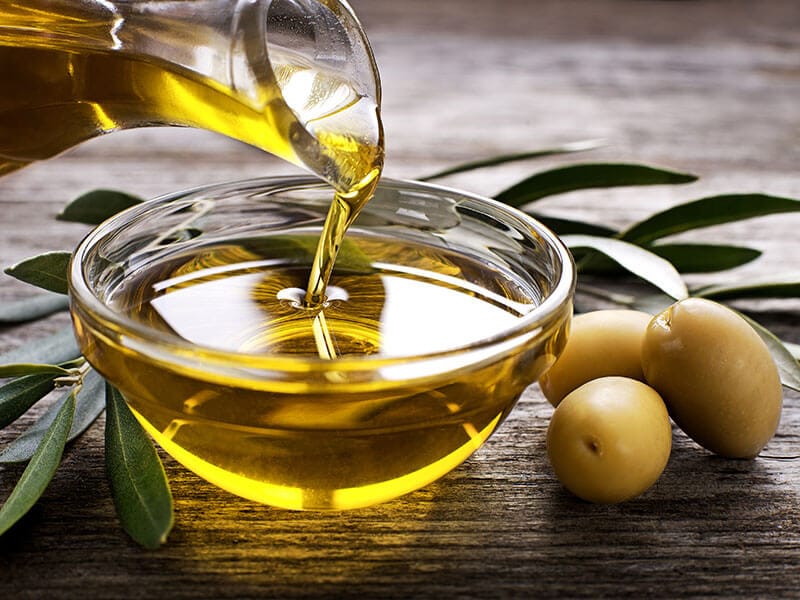 There's something deeply satisfying about the golden flow of olive oil, a liquid fat lovingly squeezed from olives, a Mediterranean Basin staple tree crop. Drizzling it on a range of dishes, from sizzling pans to fresh salads, brings a certain culinary magic to my meals.
Its ubiquity in my kitchen makes it hard to believe that Spain, just a small part of the world, is responsible for nearly half of the world's olive oil production (20).
Beyond its kitchen prowess, it's a comfort knowing the olive oil sitting on my shelf isn't just tasty, but is packed with antioxidants and anti-inflammatory properties, aiding in lowering risks of various health concerns like cardiovascular disease, cancers, and even dementia (21).
39. Red Wine Vinegar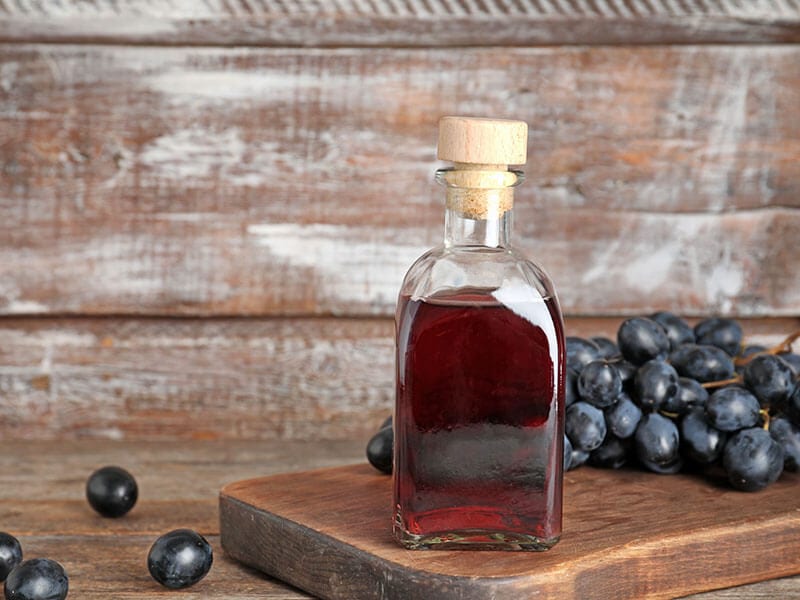 On my kitchen shelf, red wine vinegar is a trusty ally in my culinary endeavors, a star ingredient of Mediterranean cuisine. Its tangy flavor gives a special twist to my vinaigrettes and marinades, not to mention its role in pickling.
Creating it was an adventure, with a live starter substance, the "mother," initiating a fascinating transformation when mixed with red wine and water in a glass container. The process involves alcoholic fermentation, where oxygen turns wine into vinegar.
As a bonus, this robust condiment brings more than just flavor to my dishes, it's loaded with key vitamins, minerals, and even a little iron and potassium (22).
40. Wine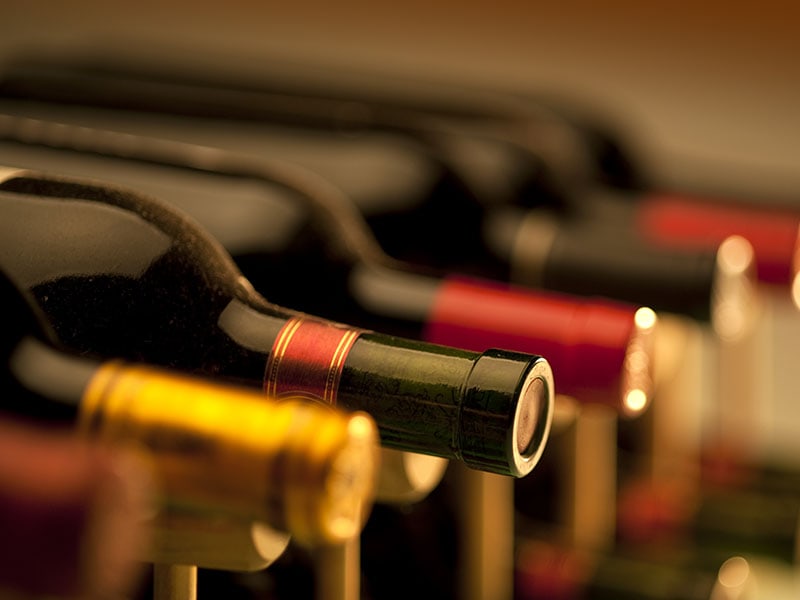 In the heart of the Mediterranean, wine holds a special place, an embodiment of the region's rich culture. Both red and white variants, born from diverse grape types nurtured in the favorable climate and soil, find their way into Mediterranean recipes.
These wines, created in vineyards sprawled across the countryside, bring unique flavors, each reflective of their country's style, to pair elegantly with traditional dishes.
41. Capers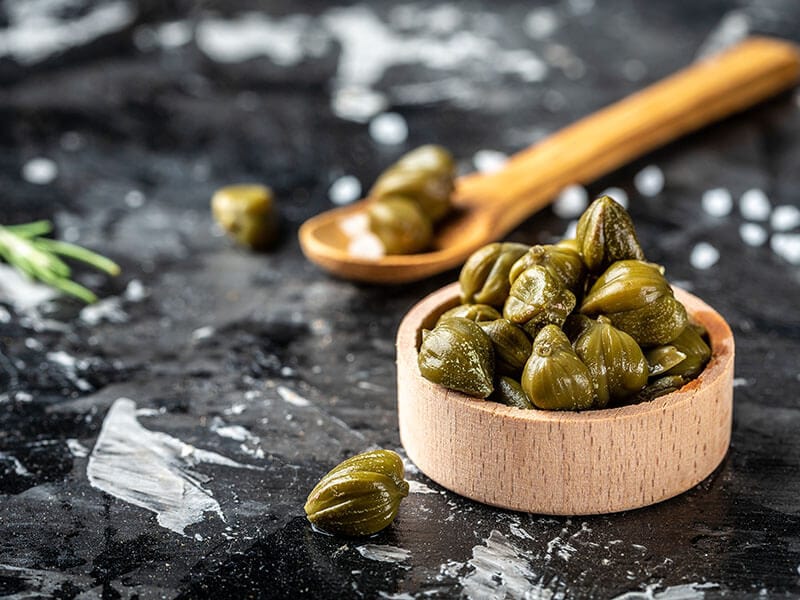 Capers, the small flower buds of the caper bush, are a marvel of the Mediterranean, with roots in parts of Asia too. These buds are harvested, then pickled or preserved in salt, bringing an enticing, salty flavor to your cooking that can elevate dishes such as salad, fish, and pasta.
Dating back to 2000 BC, their use is steeped in culinary history, especially in Mediterranean cuisine – from Cypriot to Italian, Aeolian Greek, and Maltese gastronomy.
Pasta puttanesca and chicken piccata are two Italian recipes that sing with the addition of capers, while French chefs incorporate them into Skate Meunier with browned butter.
In Spain, they're an essential ingredient for several tapas. Beyond flavor, capers are rich in fiber, sodium, vitamin K, and micronutrients like iron and copper (23), showing that great things do indeed come in small packages.
Incorporating Mediterranean Ingredients Into Everyday Cooking
It's time to explore the delightful art of incorporating Mediterranean ingredients into everyday cooking and unlock the secrets of time-honored Mediterranean dishes.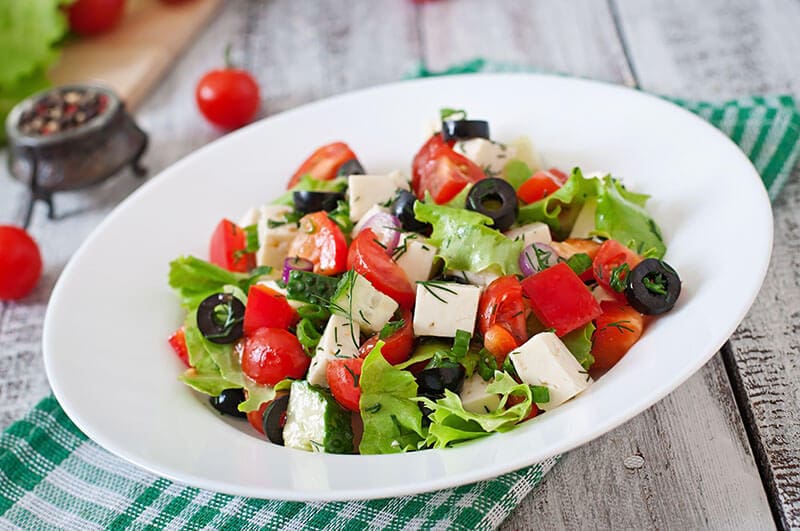 Pasta al Pomodoro: A classic Italian dish comprising pasta tossed in a simple tomato-based sauce flavored with garlic, basil, and olive oil.
Greek Salad: This refreshing dish features ripe tomatoes, cucumbers, red onions, bell peppers, and olives, all tossed in a dressing made from olive oil, red wine vinegar, and oregano. A generous slab of feta cheese tops off this healthy salad.
Paella: A famous Spanish dish that combines saffron-infused rice with a variety of proteins, like seafood, chicken, or rabbit, along with vegetables like bell peppers and green beans.
Tabbouleh: A Lebanese salad made from fresh parsley, tomatoes, mint, onion, and bulgur, dressed with lemon juice and olive oil.
Turkish Lentil Soup: This hearty soup, made with red lentils, onions, carrots, and a dash of mint, is both comforting and nutritious.
How to Choose Quality Mediterranean Ingredients
For olive oil, look for "extra virgin" on the label, which means it's of high quality.
When buying seafood, freshness is key. It should smell like the sea, not fishy.
Choose ripe, colorful fruits and vegetables. Organic, when possible, is often a good choice.
For grains and legumes, look for whole, unprocessed versions.
For meats, choose lean cuts and consider options from free-range animals.
Benefits Of Mediterranean Food Ingredients
Nutritional Aspects
Mediterranean ingredients are typically high in nutrients and low in unhealthy fats. They provide a good source of fiber, protein, vitamins, and minerals.
For instance, olive oil is high in monounsaturated fats, legumes, and whole grains provide dietary fiber, and fruits and vegetables are rich in vitamins and minerals.
Health Benefits
Studies have shown that a Mediterranean diet can contribute to weight loss, improve heart and brain health, help fight cancer, and prevent chronic illnesses. It's also been associated with a lower "bad" LDL cholesterol (24).
Role In Preventing And Managing Diseases
Adopting a diet rich in Mediterranean food ingredients can help manage diseases such as hypertension, diabetes, and certain types of cancer. It's also been shown to improve metabolic health, reduce inflammation, and promote gut health.
The Mediterranean diet is often recommended by health professionals for disease prevention and overall wellness.
FAQs
Endnote: Mediterranean Food Basics
Mediterranean food ingredients are nothing short of a trove teeming with rich flavors and a plethora of health benefits. Their diversity, freshness, and inherent wholesomeness are the heart and soul of Mediterranean cuisine.
I eagerly look forward to hearing about your delightful cooking adventures, so please share your experiences, experiments, and success stories in the comments. Remember, every shared recipe or cooking tip spreads the love for Mediterranean cuisine a little bit further.
References
The olive – history and production (2005) https://www.wistv.com.
Eggplant: Health benefits and nutritional information (no date) Medical News Today.
(No date) Genetic structure and domestication history of the grape | PNAS.
Wine (no date) Agriculture and rural development.
What are the health benefits of Broccoli Rabe? (no date) WebMD.
BSc, A.A. (2023) Bell Peppers 101: Nutrition Facts and health benefits, Healthline.
Brown, M.J. (2023) Top 8 health benefits of artichokes and artichoke extract, Healthline.
de Sousa, T. et al. (2021) The 10,000-year success story of wheat!, Foods (Basel, Switzerland).
Quinoa (2021) The Nutrition Source.
Buckwheat: Health benefits, nutrition, and side effects (no date) Medical News Today.
Bulgur wheat: Health benefits, nutrients, preparation, and more (no date) WebMD.
Chickpeas: Health benefits and nutritional information (no date) Medical News Today.
Hallal, F. (2022) Goat meat: Nutrients, benefits, downsides & more, Healthline.
Greek yogurt: Health benefits, nutrients per serving, preparation information, and more (no date) WebMD.
Journal of the American College of Cardiology (2022) Almonds, The Nutrition Source.
BSc, A.A. (2023b) Walnuts 101: Nutrition Facts and health benefits, Healthline.
Benediktsdottir, A. (2023) 9 health benefits of pistachios, Healthline.
Jibodu, A. (2023) Hazelnut production : U.S. and Azerbaijan are after Turkey, Tridge.
Semeco, A. (2018) 7 ways hazelnuts benefit your health, Healthline.
Spain's olive oil ambition: To be the world's best (2020) Olive Oil Times.
Howard E. LeWine, M. (2021) Is extra-virgin olive oil extra healthy?, Harvard Health.
Red wine vinegar: Is it good for you? pros and cons, nutrition information, and more (no date) WebMD.
Capers: Health benefits, nutrients, preparation information, and more (no date) WebMD.
Tosti, V., Bertozzi, B. and Fontana, L. (2018) Health benefits of the Mediterranean diet: Metabolic and Molecular Mechanisms, The journals of gerontology. Series A, Biological sciences and medical sciences.