Mediterranean vegetarian recipes are a complete package. They are exquisitely good, easy to make, and so much fun to eat. If you think eating healthy is hard or need to switch up your diet, don't hesitate to take a chance on this diverse cuisine.
The Mediterranean diet revolves around a natural way of eating, with the main ingredients being mostly vegetables, legumes, and whole grains. Even so, their endless creativity makes it impossible to find the dishes boring. Take a look at this list if you need more proof.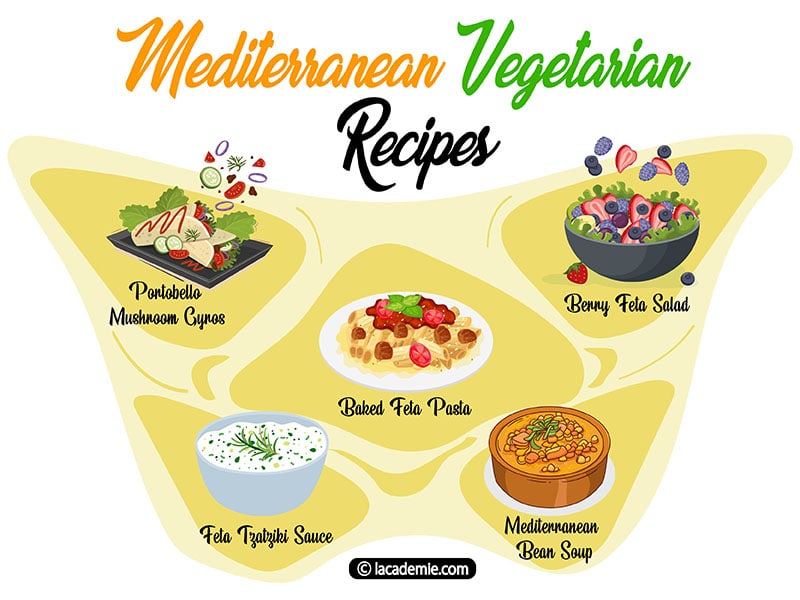 28 Mediterranean Vegetarian Recipes For Your Balanced & Healthy Diet
Just because you're vegetarian doesn't mean that your meal rotation will be limited. In fact, there are many dishes for people on vegetarian diets from Asia, Middle East, Europe, etc. Mediterranean cuisine is no exception. Let's check out the vegetarian dishes from this cuisine.
Mediterranean Vegetarian Soup And Stew Recipes
Mediterranean Bean Soup
Pisto (Spanish Vegetable Stew)
Mediterranean Lentil Soup
Revithosoupa (Greek Chickpea Soup)
La Peperonata With Potatoes (Italian Pepper And Onion Stew)
Mediterranean Vegetarian Salad Recipes
Mediterranean Farro Salad
Berry Feta Salad
Panzanella Salad
White Bean Salad
Mediterranean Quinoa Salad
Greek Orange Salad
Mediterranean Vegetarian Baked Dish Recipes
Spanakopita Triangles (Mini Greek Spinach Pies)
Baked Feta Pasta
Mediterranean Cauliflower Pizza
Moroccan Stuffed Eggplant
Sesame Crusted Baked Feta
Greek Stuffed Portobello Mushrooms
Mediterranean Vegetarian Fried Dish Recipes
Menemen (Turkish Scrambled Eggs with Tomatoes)
Creamy Asparagus Risotto
Pasta Arrabiata
Portobello Mushroom Gyros
Eggplant Caponata
Tomato & Artichoke Gnocchi
Mediterranean Vegetarian Dips & Sauce Recipes
Tyrokafteri (Spicy Feta Dip)
Spinach & Artichoke Hummus
Feta Tzatziki Sauce
Romesco Sauce
Olive Tapenade
Warm Yourself Up With These 5 Mediterranean Vegetarian Soup And Stew Recipes
Whether it's summer or winter, hot or cold, you could always use a hot steamy bowl of soup to comfort the heart. Let these soups and stews keep you toasty and healthy all year long.
This creamy white bean soup is the cold day comfort food you have always needed. It is vegetarian, gluten-free, and incredibly flavorful. All you need is three cans of beans, some fresh vegetables, and aromatic herbs to make this hearty soup.
This soup's flexibility is one of the best things about it. Even though the tomatoes and beans are the stars of the show, you can still add mushrooms, potatoes, zucchini, or any other vegetable to make it more diverse. The more, the merrier, right?
This soup is commonly known as the Spanish version of the infamous ratatouille for its similarities in ingredients. It uses many crunchy vegetables like eggplant, zucchini, onion, tomatoes, pepper, and a whole lot of olive oil. The main difference lies in its cooking method.
You can enjoy pisto as a savory side dish or delicious appetizer from Spain, especially when eaten along with bread, egg, or cheese. You'll see how this stew is a complex mixture of flavors. It has a little bit of sweetness but also powerful flavors with a slightly bitter and tangy undertone.
Let's make Pisto with this video:
Lentil is a very popular and staple ingredient in many Mediterranean cookbooks. It is versatile, tasteful, and packed with great nutrition. As the cold season approaches, make yourself this delicious and heart-warming soup to help combat any possible diseases.
This soup is a wonderful flavor mixture of warm, tangy, sweet, and spicy because of its various vegetables and spices. Its creamy consistency can make it hard for you not to come back for more. As a finishing touch, you can squeeze some lemon on top to bring everything together.
Too busy to keep your eye on the cooking process? Lucky for you, the steps required to cook lentils in rice cookers are simple. And once you've popped the lentils into the rice cooker, you won't have to supervise the cooking process, thus giving you free time to do whatever you want.
Healthy, warming, and easy to make, this traditional Greek dish has it all. Its main ingredient is chickpea, which many people choose for a vegetarian dish because it is appetizing and also a great source of energy.
The buttery and creamy consistency of this soup combined with its nutty flavor is what makes it the perfect addition to your daily meal. The best part is you can make one big pot and save some in the fridge for the future. The ingredients will melt into each other and taste even better.
What better way to spend your summer nights than to enjoy this flavorful stew with your friends and family? It is warm and spicy with an aromatic scent that pairs well with anything. You can expect nothing less than a flavorful explosion when you start to eat it.
This Italian dish will make your mouth water at first sight because of how colorful and juicy it looks. It is a hearty mixture of peppers, tomatoes, lots of basil, and a handful of onions. You can eat it both hot and cold, with wheat foods like bread or pasta.
6 Mediterranean Vegetarian Salad Recipes For All Your Active & Busy Days
Salads are undoubtedly the quickest and easiest way to keep yourself energized and healthy at all times. These enjoyable and colorful salads are the perfect food to accompany you both indoor and outdoor.
Farro is an ancient grain that bears many similarities to barley but is a lot chewier in texture, even after cooking. This strange ingredient has an elegant nutty taste and the same kind of warmth you might find in cinnamon.
This salad is a mixture of textures, flavors, and colors. It's deliciously crunchy from all the squash but also balanced out by the soft tomatoes, peppers, and farro. Drizzle some lemon dressings over it, and you can have the perfect side dish for all occasions.
Get ready to impress all your guests at your summer parties and brunches with this beautiful salad. It is a gorgeous medley of fruits and vegetables with a little feta cheese to tie everything together.
In terms of flavor, this salad tastes just as good as it looks. All the berries bring about a harmonious mixture of sweet and sour, while the veggies and feta make everything so much more tangy and vibrant. If you want extra heat, add some pepper and cayenne.
This is an Italian bread salad that is ideal to have as the warm weather approaches. Bread is one of the most common ingredients in Mediterranean cuisine, so it's no surprise that it has an entire salad revolving around it.
This salad will capture your heart from the first bite because of how fresh and summery it is. It features tomatoes, basil, and shallots soaked in simple vinaigrette dressing alongside crispy bread. I can't think of a more amazing side dish for all your dinners this summer.
Learn all about how to prepare and make a fresh bowl of Panzanella Salad by this video:
Bring some colors and crunchiness to your next picnic with this incredible salad. It is so great for outdoor activities because it tastes great even as a cold dish and can withstand the heat quite well, as long as you store it properly.
This healthy salad includes various fresh veggies and white beans, giving you not only a flavorful dish but also one that is packed with protein and fiber. It can help to improve your digestion and support healthy body weight.
Quinoa is a grain crop that has recently gained a lot of attraction because of its many health benefits. With that being said, many find its earthy taste difficult to eat. If you're one of them, don't worry because this salad is the easiest thing to both make and eat.
This recipe pairs quinoa with popular veggies like red bell peppers, olives, chickpeas, spinach, etc., all soaked in the garlicky and tangy Balsamic sauce. While it seems like a lot, this salad is actually quite light but somehow still manages to leave you with a mouthful of flavors.
Sick and tired of the usual veggie combo in all of your salad? Let's give this delectable and interesting orange salad a go then. It is a real eye-catcher with the bright orange as the main ingredient, and if you feel like it, arrange it nicely to attract even more attention.
This recipe features the two main ingredients, orange, and mint. But don't worry, the signature sweet-tart citrus flavor isn't all you will taste. Extra seasonings and vinaigrette dressing give it a spicy and tangy undertone that you won't be able to get enough of.
6 Easy And Impressive Mediterranean Vegetarian Baked Dish Recipes
If even something as demanding as a paleo-friendly and vegetarian diet can have such a wide range of possibilities, I don't see why the same can't be said about Mediterranean vegetarian dishes. And with the oven, you'll get to enjoy brand new ways to prepare your dishes.
Spanakopita is a traditional Greek pie made by stuffing spinach and feta cheese inside a phyllo pastry. This recipe is a smaller version of the original pie, perfect as an appetizer or a light snack to eat between meals.
Having a phyllo exterior means that these triangles are deliciously crunchy on the outside, a total contrast with the luscious spinach and cheese fillings. Flavor-wise, they are herby and tangy with an aromatic aftertaste. Eat these snacks hot to fully enjoy the savory vegetable mixture.
A quick glance around social media will tell you all about how well-loved this baked pasta recipe is. It is a lot simpler than it looks, just a flavorful mixture of pasta, feta cheese, cherry tomatoes, and a few extra ingredients.
Like all viral dishes, this one is also unbelievably easy to make. Prepare all the ingredients, lay them out on a large baking tray, and let your oven do the work. Give it a try and see if it's worth the hype.
Who says pizza can't be healthy and gluten-free? Cauliflower can make a fantastic alternative for regular pizza crusts if you are on a diet or just simply looking for more nutritious choices.
You don't have to worry about this pizza not tasting as enjoyable as traditional meaty ones. With an endless option of toppings, like chili, sun-dried tomatoes, fresh mozzarella, roasted red pepper, and more, you can still enjoy your favorite dish without having to compromise the flavor.
Find out how you can make this healthy pizza with various topping options, check out this video:
Eggplants may seem daunting at first to cook because of their slimy texture and mild flavor, but they are full of hidden potential. With this recipe, you will be able to fully enjoy these amazing fruits beginning with "E", even if you weren't a fan before.
Compared other common Moroccan treats, this dish requires a bit of effort and patience, but every minute is totally worth it. The vegetables and spices create such a heavenly burst of exciting and cozy flavors.
From the appearance to the taste, there is nothing that wouldn't overwhelm your guests the first time they have this dish.
It's very rare to find a Mediterranean recipe that doesn't use feta cheese in some ways. Whether you're making salad or pasta, there's always room for some feta on top. This sweet and savory dish, however, revolves entirely around it.
Baked feta is something you need to try out at least once in your life. It remains crispy on the outside but so tender and warm on the inside. The added sesame seeds give a fun little introduction to this creamy appetizer. Drizzle some honey over it to complete the dish.
Stuffed mushrooms sound a bit strange at first, don't they? But these portobello mushrooms are anything but ordinary anyway. They can be made in many ways, but baking them with other vegetables really brings out the smoky and earthy flavor that you will fall in love with.
Their odd and eye-catching appearance makes them the perfect appetizer for all your feasts with friends and family. If you're eating them as a light lunch, pair them with some crunchy toasted bread or side salad.
Top 6 Irresistible Mediterranean Vegetarian Fried Dish Recipes
Spend some time by the stove and treat yourself to these dishes. They bring a savory and tempting twist of flavor to some good old classics. The best part is, they are so effortlessly good for things that take no more than an hour to make.
No more feeling like your egg dishes is too dry or plain, because the juicy sauté vegetables from this recipe can bring new life to everything. If you're sick and tired of eating eggs the same way, make some slight adjustments and create this dish instead.
Menemen can be eaten both as breakfast and as a main dish. You can have it with some crispy toasted bread like the locals usually do, or get creative and add some cheese, olives, or mushroom to the mix.
Risotto is a traditional Italian rice dish that is slowly cooked and stirred until it becomes creamy. This version of risotto centers specifically around asparagus. This veggie is low in calories and packed with nutrients that are very good for your health.
This creamy rice dish is the perfect comfort food for all occasions. It's simple, tender, and surprisingly aromatic, thanks to all the herbs. For a more intensely flavorful dish, sprinkle some cheese, lemon zest, or black pepper over the top when you are done.
Arrabiata is a spicy Italian sauce made by simmering puree tomatoes with lots of spicy seasonings, especially red chili flakes. If you have a thing for spicy food, then this recipe is for you.
This pasta is quite healthy as it provides excellent nutrients while also boosting your metabolism and preventing colds. It only takes thirty minutes to make, and you can also save the sauce in the fridge for other meals. Top it off with some parmesan cheese, and voila, there's your dinner.
Have a quick lesson on how to make this deliciously spicy pasta, check out this video:
A gyro is a very popular Greek street food, made mainly from well-seasoned meat wrapped in a flatbread called pita. If you are a vegetarian and still want to enjoy this gorgeous dish, consider replacing the meat with portobello mushrooms instead.
Marinated portobello mushrooms surrounded by vegetables and sauces can create a flavorful dish that tastes just as good as the original version. Feel free to indulge yourself in as many of these as you want because not only are they delicious, they are also healthy.
Caponata is a Sicilian dish made by frying chopped vegetables like eggplants, onions, bell pepper, etc., with various seasonings. It's a simple yet tempting blend of savory, sweet, and sour flavors that you can eat in many different ways.
This dish is flavorful and delectable enough that it can be eaten entirely on its own. However, you can also serve it as a side dish or appetizer. Many also make extras to use as a sauce for pasta and other grilled dishes or dips for chips.
Let's make Eggplant Caponata in the chef level with this video:
Gnocchi is an Italian pasta and dumpling hybrid. It consists of small lumps of cooked dough, mashed potatoes, flour, and eggs drenched in various types of sauce. This recipe uses tomato and artichoke hearts as the main ingredients to pair with this dish.
The diverse mixture of vegetables used to make this dish gives it a very distinct taste. Everything is lusciously soft and tender but carries a mildly nutty and sweet blend of flavor. You only need less than 30 minutes and one frying pan to create this delightful comfort food.
5 Mediterranean Vegetarian Dips & Sauces That Will Transform Your Meal
Dips & sauces play a much more significant role in a meal than one might think. They can take your food to a whole new level, both flavor, and texture-wise. See how you can improve your dishes in a blink of an eye with the following recipes.
The only thing better than feta cheese is spicy feta cheese. Tyrokafteri is a wonderfully creamy Greek dip made by whipping feta with some Greek yogurt, roasted red pepper, and cayenne. It still has that signature tangy feta taste, but with a bold and zesty layer of spiciness over the top.
This flavorful dip is best eaten as a spread on sandwiches or pita sandwiches if you're really in a Greek mood. It will also bring some savory, rich taste to your roasted vegetables and salads. Whatever the food is, this spicy feta dip can always make it better.
Hummus is a creamy dip made from various vegetables, olive oil, lemon juice, and tahini. This recipe, in particular, is a spin-off of the famous spinach artichoke dip, only way more smooth and flavorful. It's so tasty that even if you're worried about the likelihood of hummus spoiling, you'll still want to make this dish in large batches.
This vibrant green hummus is the easiest way to make all your dishes ten times more fun and exciting to eat. Thanks to its salty-sweet and light zesty taste, hummus is something that can go marvelously with roasted veggies, pita bread, pasta, and even salads.
For those who just want a chill and light sauce to accompany their dishes, Tzatziki is the ideal choice. It is a famous Greek dip made with yogurt, cucumber, olive, and other fresh herbs. This recipe takes it to the next level by adding some feta cheese to the mix.
Unlike some other dips and sauces, you can be as generous as you want with Tzatziki. Being made mostly from yogurt and fresh vegetables, it's pretty low on calories. If you're on a diet, it will make a fantastic alternative for mayonnaise or regular ranch dressings.
Romesco is a Spanish sauce whose main ingredients are red peppers, almonds, and other nuts. This sauce is unlike anything you have tasted before. It's a balanced fusion of nutty and fruity flavors, all wrapped up in the spicy pepper heat.
You can make this sauce in many different ways. Cooking it properly will create a more rustic taste and a thicker texture. If you don't have time, a blender will still give you a smooth and flavorful end result nonetheless.
Learn how to make this addicting sauce with just a few simple steps by this video:
Olive lovers, this one's for you. Tapenade is an olive-based sauce often used as a snack, spread, or appetizer. Unlike most of the dips and sauces on this list, it has a much more chunky texture and savory flavor.
With this recipe at your disposal, you'll never have to worry about whether olives can go off anymore. Whenever you feel like eating raw olives has gotten a bit boring, you can change things up by whipping up this delectable olive tapenade.
Many people's favorite way to eat this sauce is with toasted bread. You can also eat it with other contrasting dips, like hummus, to highlight its salty flavors. It lasts from one to two weeks in the fridge, so don't worry if you make too much; there's always time to experiment.
Eat Healthy To Stay Happy!
Mediterranean vegetarian food consists mainly of tomatoes, red bell peppers, chickpeas, spinach, and grains. Being packed with fiber and antioxidants, they offer a healthy and balanced way to lose weight. They can also help prevent heart diseases while improving your memory function.
Take your tastebuds on a journey by exploring some of these versatile and nutritious Mediterranean vegetarian recipes. Who says eating healthy is boring and repetitive? Slip these dishes into your daily meals and let me know how you've been enjoying them.
Nutrition Facts
6 servings per container
---
Amount Per ServingCalories156
% Daily Value *
Total Fat 11.2g

17

%
Cholesterol 5mg

2

%
Sodium 775mg

33

%
Potassium 177mg

6

%
Total Carbohydrate 12.9g

4

%

Dietary Fiber 1.8g

4

%
Sugars 3.4g

Protein 4.7g

8

%
---
* The % Daily Value tells you how much a nutrient in a serving of food contributes to a daily diet. 2,000 calories a day is used for general nutrition advice.