Indeed, Moroccan foods are the face of Morocco – a colorful and delightful country in North Africa. With the abundant cultural heritage, these delicacies are also rich in flavors that you will be wowed from the first taste.
These delectable Moroccan dishes will take you to either a fine-dining restaurant or uproarious streets to enjoy the most authentic food in the Moroccan spirit. So prepare yourself to dig into the world of this amazing cuisine. Let's get started!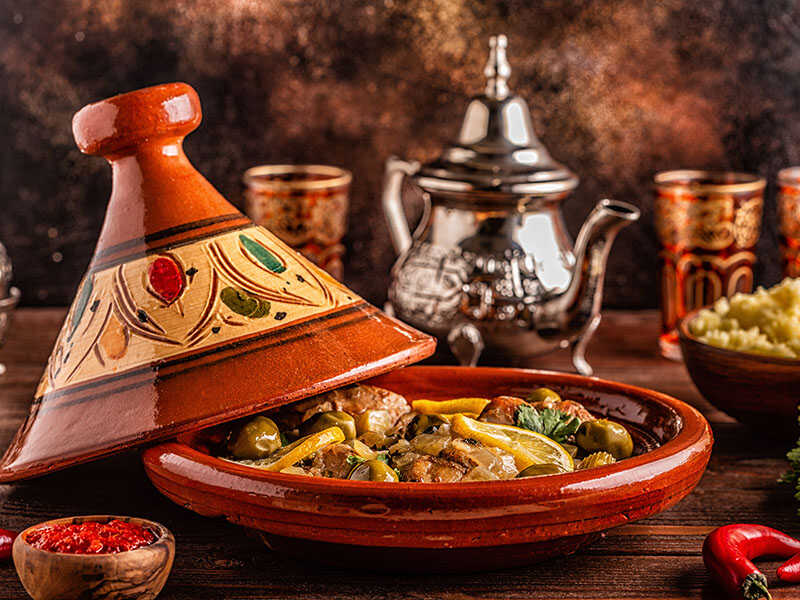 Brief Overview of Moroccan Cuisine
Moroccan cuisine is a vibrant and diverse culinary tradition that has evolved over centuries, reflecting the rich history and culture of the country.
Known for its bold flavors, aromatic spices, and unique cooking techniques, Moroccan food is a delicious fusion of Berber, Arab, Andalusian, and Mediterranean influences.
Some of the most famous Moroccan dishes include tagine, couscous, pastilla, and harira.
Influence of Various Cultures
Moroccan cuisine has been shaped by a variety of cultures throughout history. The native Berbers introduced the use of locally grown ingredients, such as olives, figs, and dates.
Arab invaders brought with them new spices like saffron, cinnamon, and ginger, as well as new cooking techniques such as slow-cooking in tagines.
Andalusian Moors, fleeing from Spain, introduced additional ingredients like citrus fruits and almonds, while Ottoman Turks contributed to the use of pastries in the Moroccan culinary repertoire.
Finally, French colonization added a touch of European refinement to Moroccan dishes.
Importance of Spices And Flavors
Spices play a central role in Moroccan cuisine, with each dish often featuring a unique blend of flavors. Ras el hanout, a complex spice blend, is a key ingredient in many Moroccan recipes, along with cumin, paprika, saffron, and cinnamon.
Fresh herbs such as cilantro and parsley also add depth and freshness to Moroccan dishes. The careful balance of spices and flavors is what sets Moroccan cuisine apart from other culinary traditions.
---
First of all, these dishes are very versatile since you can enjoy them in various ways based on your preference. With these delicacies as salad, soup, couscous, and meat dishes, you will see the diversity in the cooking of Moroccan people.
1. Couscous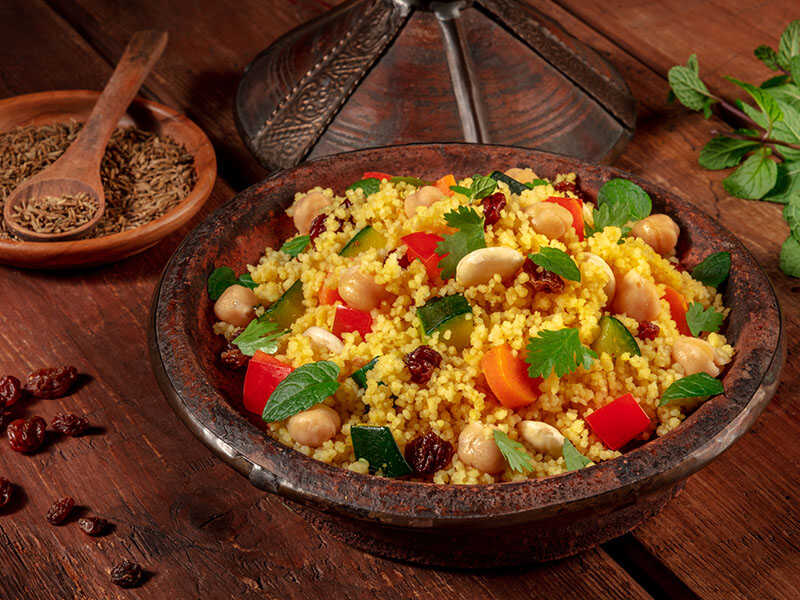 Speaking about Moroccan foods, couscous is the national dish of this country. Couscous is also a highly regarded dish in Algeria, Tunisia, and Mauritania. They can be made in different ways, but they are truly a cultural treasure in North African cuisine in general.
Until now, the origin of couscous is still unknown. Many food researchers think couscous was an ancient food in the Masinissa domination millennia ago, while others claim it is a dish of the Berbers who lived in Morocco and Algeria from the end of the 11th century under the dynasty of Zirid.
They are, technically, a kind of grain that looks like rice or quinoa. You can cook them with anything you want. And it only takes minutes to create a healthy dish with this ingredient.
Couscous also makes a fantastic side dish. Herbed couscous, for example, is a famous side dish in Brazilian cuisine. Or even simple plain couscous can make amazing accompanying food for beef stews instead of white rice.
On the other hand, some people also serve couscous for their dessert. In which couscous will be steamed a few times to have pale color and fluffy texture, then they sprinkle some cinnamon, sugar, or almonds on the top.
In Morocco, diners embrace the right-hand-only dining etiquette, reserving the left hand for hygienic purposes and passing dishes to fellow guests.
As you delve into the couscous with your thumb and fingertips, shape it into a compact ball before savoring the flavorful burst. Just make sure to use only your thumb and first two fingers to avoid the appearance of gluttony.
Intriguingly, couscous takes center stage in Moroccan homes every Friday, a holy day akin to Sunday in Christian cultures.
Following prayers, families unite over a sumptuous couscous and stew, featuring a vibrant medley of seven vegetables: eggplant, carrots, zucchini, pumpkin, parsnips, tomatoes, and cabbage.
As you enjoy the meal, remember to savor only the portion directly in front of you, where esteemed guests may be delighted to find the most succulent cuts of meat.
2. Taktouka
(Cooked Salad)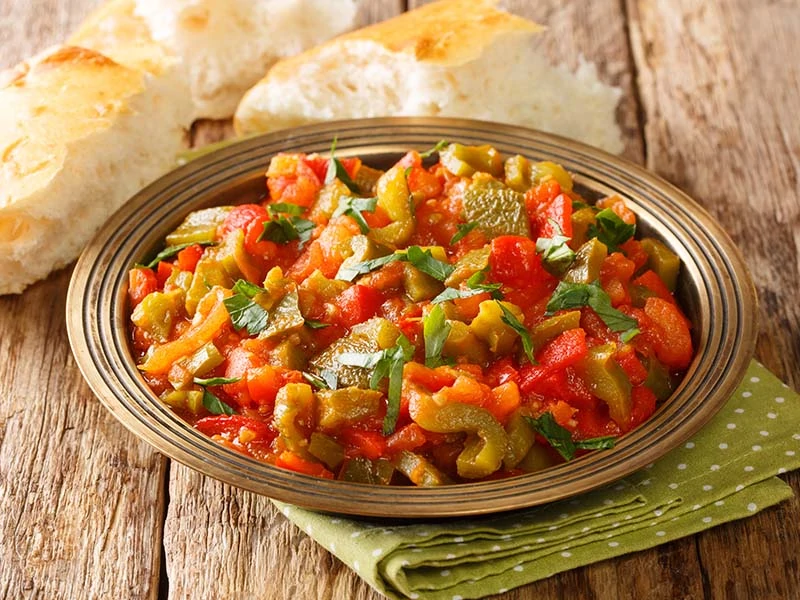 Taktouka is a light dish to start your meal or a wonderful accompaniment to any grilled dish, or Chermoula dishes, which I will explain in more detail in the main course part. In the Eastern areas of Morocco, natives also call Taktouka Flifla.
They are a genuine Moroccan-spirit salad made from cooked bell peppers, tomatoes, paprika, and olive oil. You can cut the veggies into smaller pieces or grind them together.
While it shares some similarities with its cousin – shakshuka, taktouka forgoes the eggs and embraces a milder taste, presenting a less saucy delight for your palate.
Far from being a breakfast staple like shakshuka, taktouka shines as a versatile side dish, effortlessly complementing grilled meat and fish creations. Alternatively, let it take center stage as a delectable dip, paired with freshly baked bread for a mouthwatering experience that captures the essence of Moroccan cuisine.
Overall, Taktouka is one of many Moroccan finest treats packed with flavors and aroma. And there are more choices in serving condition, as you can consume them semi-warm, or cold, depending on what you like.
3. Harira
(Tomato-based Soup)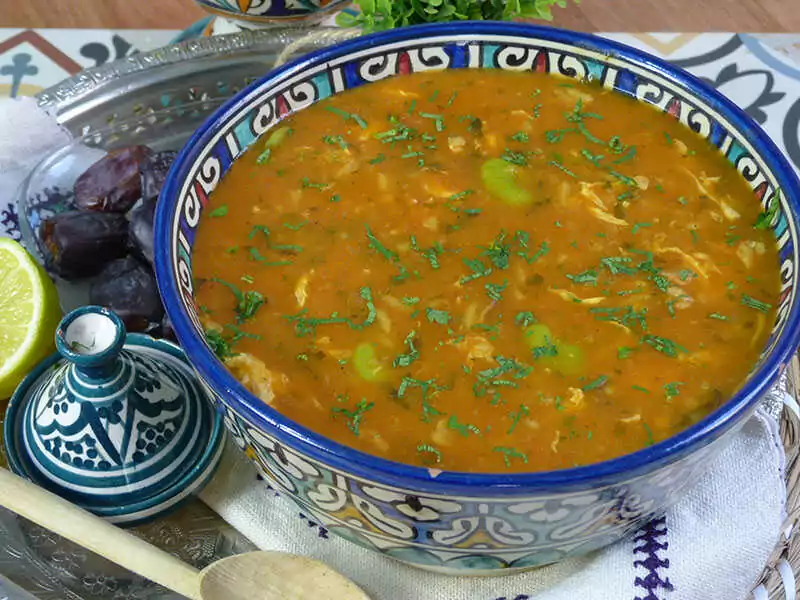 Harina is another classic soup from North Africa. They are especially famous in Algeria and Morocco. Because of the difference in nations or cultures, Harina can come in different recipes.
The soup is a staple for iftar, the evening meal that marks the end of the daily fast, and it proudly sits alongside chebakia, a Moroccan pastry, as a Ramadan must-have in Moroccan households. 
They combine some authentic ingredients like Tadouira – a thickening agent composed of flour and water, lentils, chickpeas, fava beans, tomatoes, rice, eggs, and small portions of meat (ideally chicken, beef, or lamb).
These components will be cooked in broth, normally lamb stock, and seasoned with turmeric, cinnamon, or even saffron to make Harira have a stunning color.
4. Zaalouk
(Eggplant Salad)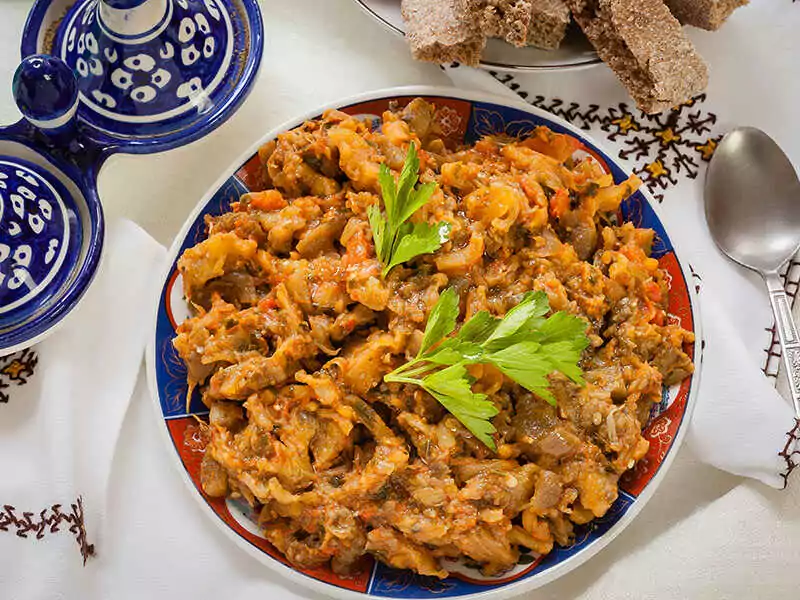 Like Taktouka, Zaalouk is also a cooked salad with different components like tomatoes and eggplants. They are normally eaten as a warm dip to enjoy bread in the Moroccan way. And they are a great starter, particularly in the cold season.
In addition, many specialists found the taste of Zaalouk somehow resembled the flavor of Chermoula, a special marinade of Moroccan citizens.
To make it, people will grill eggplant, then combine it with fresh tomatoes, garlic, and spices. Zaalouk is a healthy yet tasty food that highlights the savor of this cuisine. With a little bit of lemon juice, the flavor in Zaalouk is so contrasting yet so enchanted that you can not forget.
5. Bissara
(Split Fava Beans Dip or Soup)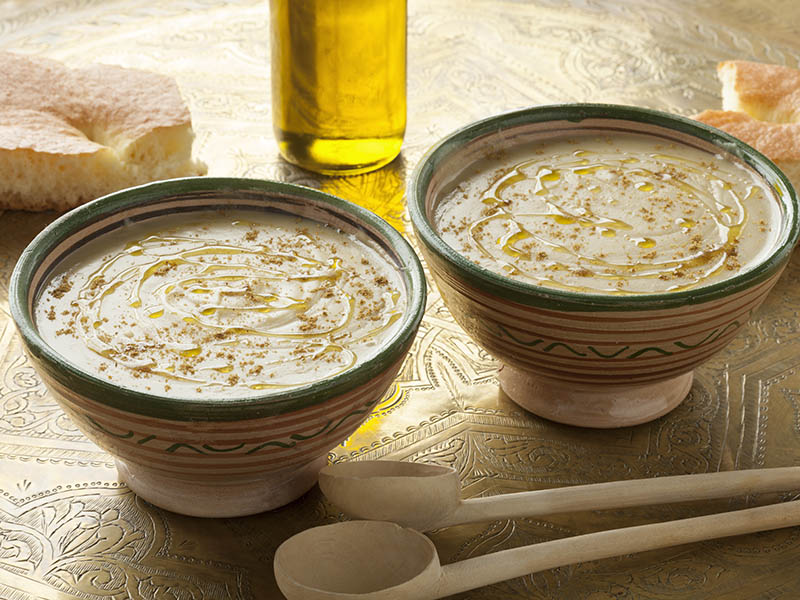 Fava beans have been traced back from 18,000 years ago in North Africa; Bissara is a 100% North African specialty. Moreover, the initial form of the term "Bissara" was "Bees-oro", which means "cooked beans". With a long history, Bissara has become a part of Moroccan cuisine nowadays.
You can see them in various ways, like those in the menu or Middle Eastern food or Egyptian cuisine, which reflect the different cultures based on the geographic location. But regardless of what version they are, Bissara is an impressive dish to many travelers.
Bissara in Morocco style has two variations: one is in the form of split pea soup, which is perfect for chilly days, and two, is made of dried fava bean to create a delicious dip, which is more famous in the Northern regions of Morocco.
However, the ingredients for both versions are quite similar, but their textures are different. Skillfully prepared by simmering legumes with garlic, cumin, cayenne pepper, paprika, and olive oil, Bissara transforms into a smooth, velvety delight.
For more information, if you want to enjoy Bissara in a dip form, pair it with Taktouka, dishes made with fishes, or Moroccan bread, like Khobz or Harcha. Find Bissara gracing the streets of Morocco as a beloved street food, offering a comforting embrace during the chilly winter months.
6. Méchoui
(Slow-roasted Lamb's Leg or Shoulder)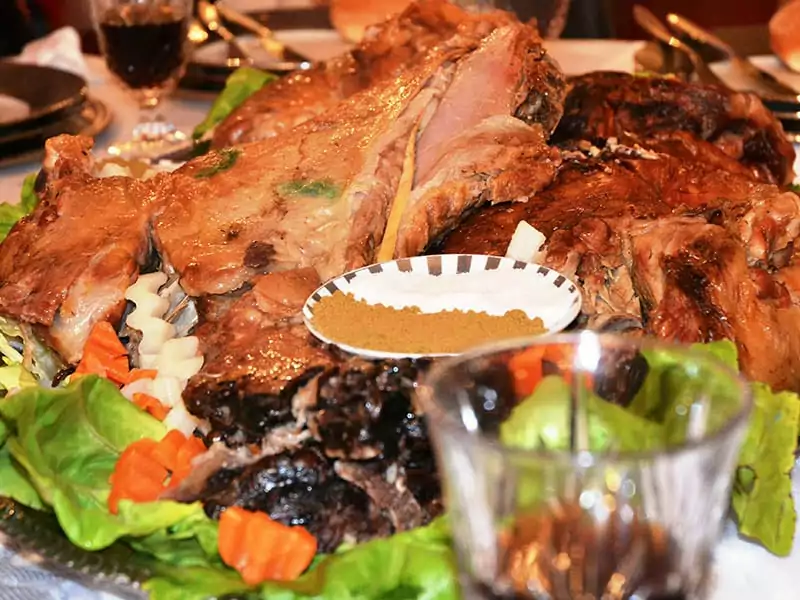 Little head-ups: Vegans might find this dish a little bit disturbing.
Why? Because Méchoui is a roasted dish with a whole lamb or sheep. The animal will be pierced by a tree branch and roasted slowly with a spindle over a wood fire to evenly distribute heat.
Additionally, the term "méchoui" comes from the Arabic word "šawā", which means roasting or grilling. And it is an iconic food in North African countries in general.
Its popularity is especially emphasized in Morocco. However, instead of serving it as the main dish, Méchoui is actually an appetizer. And as it comes with a whole animal, it will take around four to five hours for cooking.
Embodying the essence of Moroccan culture, Mechoui's distinct serving style is intricately woven into the fabric of local traditions.
Frequently featured at the onset of a lavish feast, the host commences the Mechoui experience by selecting pieces of succulent meat using their right hand and graciously presenting them to their esteemed guests.
7. Briouats
(Puff Pastry)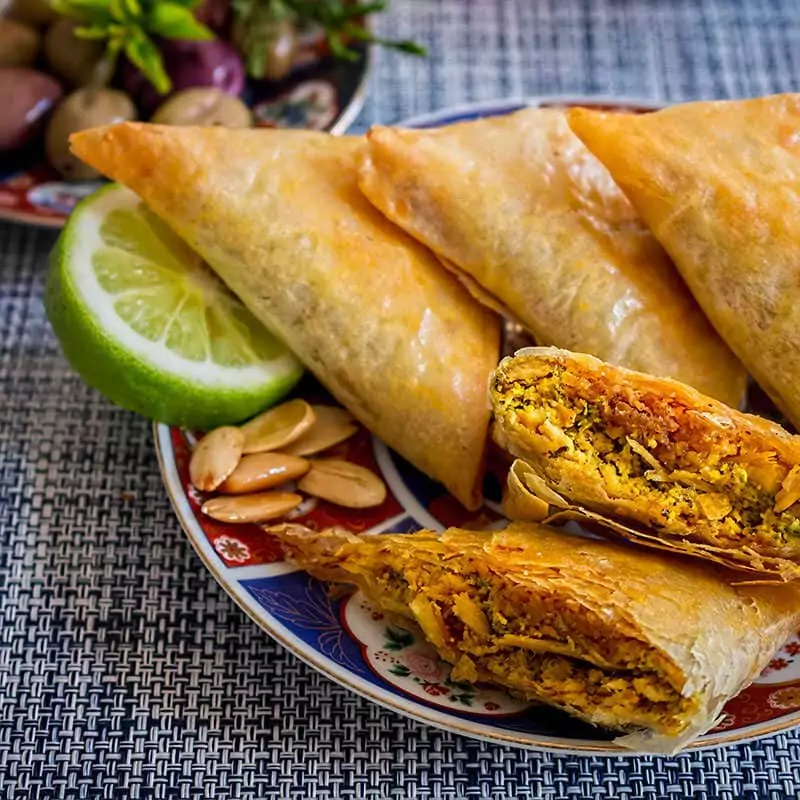 Briouat (or Briwat) can come in sweet and savory varieties, and they play an essential role in this cuisine. The word "Briwat" is, in fact, a plural form of "Briwa", which means "letters". They are a familiar food in all Moroccan families that carry the special taste of this country.
In this part, I mainly focus on the savory version, which is made with meat (lamb or chicken), cheese, pepper, and lemon. Plus, as Briouats are wrapped with a thin dough (called warpa) and shaped into a cylinder or triangular form, you can feel how flaky and delicate they are after one bite.
They are a tasty deep-fried appetizer to stimulate your taste bud. And like many other dishes, Briouats are popular during the month of Ramadan.
Families lovingly prepare large batches in anticipation of the holy month, sharing them alongside other traditional Moroccan sweets such as chebakia and sellou (a roasted flour dessert).
8. Khobz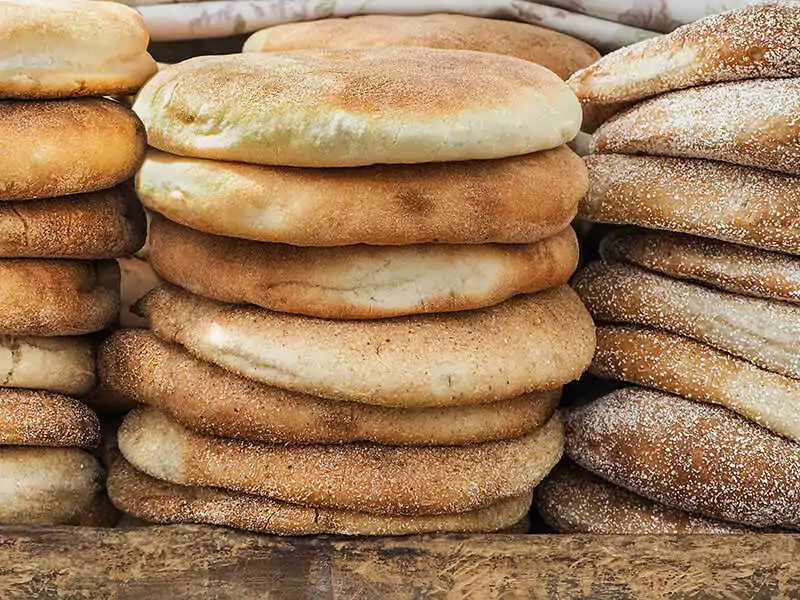 In Moroccan culture, the prominence of bread is undeniable, playing a role similar to rice in Southeast Asian cuisine. Khobz, a distinctive round bread known as Kesra or Agroum in the Berber language, is a beloved staple that's thicker than conventional flatbreads, measuring about 1 inch in thickness.
Appreciated for its coarse texture and adaptability, Khobz is a mainstay in Moroccan meals. Made from robust white flour, this disc-shaped loaf serves a dual purpose: as a nourishing food and a practical tool for scooping up dips, salads, tagines, and other dishes.
As a multi-purpose everyday bread, Khobz effortlessly complements Moroccan dishes and also works well as a base for grilled meats and sandwich ingredients.
While thickness varies, a majority of Moroccans opt for Khobz that is 0.6-1.2 inches thick. The versatile loaf comes in individual portions or larger family-sized rounds up to 12 inches in diameter.
Although Khobz can be easily purchased at local bakeries, many Moroccan households take pride in crafting homemade Khobz (khobz dyal dar) and baking it in either home ovens or communal wood-fired ovens called ferran.
Embrace Moroccan customs by beginning your day with Khobz paired with honey and soft cheese or dipped in olive oil. As lunch and dinner unfold, you can enjoy Khobz as the perfect sidekick for soups and tagines.
In Morocco, bread holds a sacred significance and is never taken for granted or wasted, reflecting the deep appreciation for this staple.
9. Maakouda
(Potato Cake)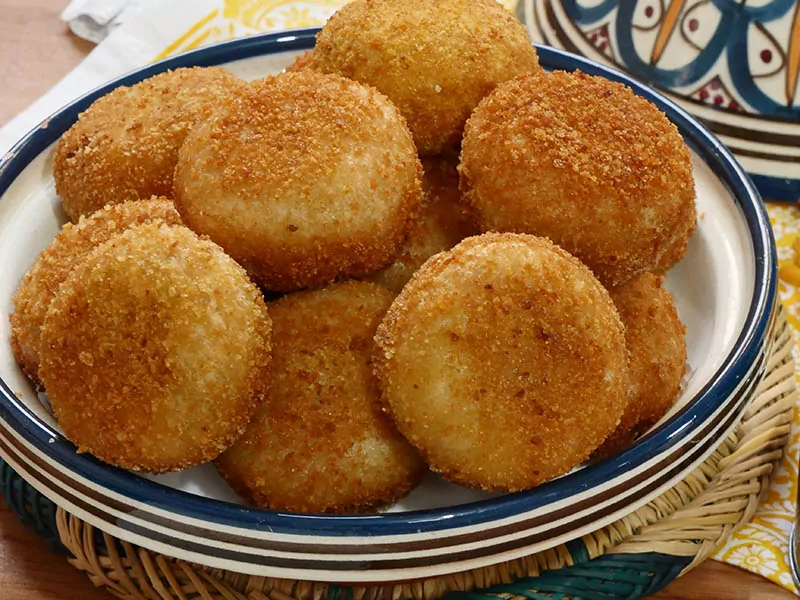 Initially hailing from Algeria, this dish has gained popularity not only in Morocco but also in Tunisia. Many people refer to Maakouda as a French fried dish in Moroccan style. But instead of having long, thin pieces, this one looks like small patties or fritters.
The etymology "Maaqouda" is translated as "thick" or "bound". The root of this treatment is still in debate, but today, they are a common food sold on Moroccan streets. In native restaurants, they can also act well as a side or appetizer.
They are good on their own, or they can be a perfect sandwich filling for bread, like Khobz. If you eat them plain, Maakouda is an ideal gluten-free addition to your menu.
On the other hand, others also like to enjoy Maakouda stuffed with ground meat, fish, or cheese. But no matter which way you choose to eat them, I guarantee they are the excellent solution to please everyone, even the pickiest ones.
10. Harcha
(Semolina Bread)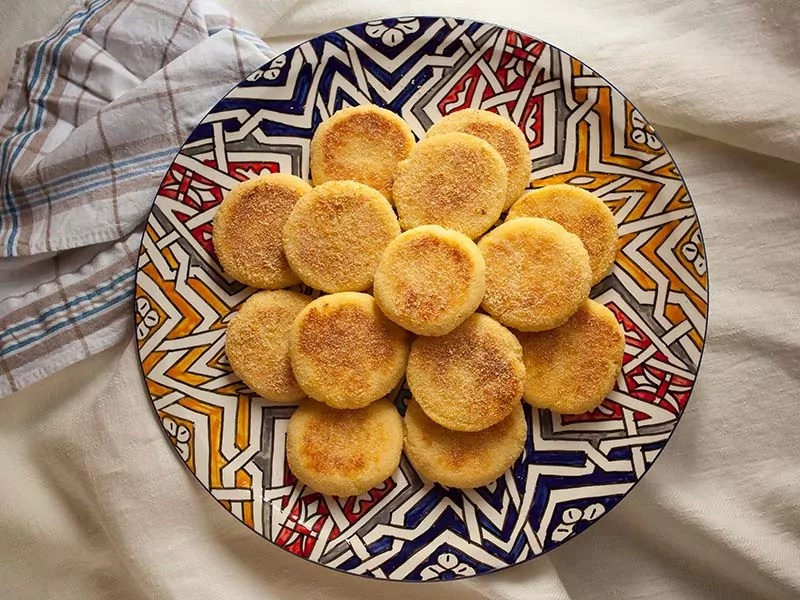 If you have known awesome Lebanese dishes, you might have known semolina. It is a familiar ingredient in many Middle Eastern dishes, so are Moroccan delicacies.
Originating from the picturesque Middle Atlas mountains of Morocco, Harcha is a tasty bread creation that combines the allure of English muffins with the comforting taste and texture of cornbread.
Prepared with a simple yet delicious mix of fine semolina, milk, and butter, Harcha's versatility lends itself to various occasions, from breakfast indulgence to a satisfying snack with a cup of mint tea, or even as a crumbled foundation for a hearty stew.
The name Harcha, which translates to "rough" in Arabic, reflects the bread's distinctive crispy and coarse exterior, achieved through the use of semolina.
To make this enticing bread, combine semolina, baking powder, butter, milk, salt, and sugar to create a dough, and then shape it into balls, which are rolled in coarse semolina.
Gently cook the formed rounds on a griddle until they turn a tempting golden brown hue. Harcha can be fashioned into individual cakes or larger rounds for sharing with loved ones.
Often accompanied by mint tea, Harcha is traditionally enjoyed with an array of mouthwatering toppings such as preserves, cheeses, or a luxurious honey-butter syrup.
As a favored choice during the month of Ramadan, this delicious bread occupies a cherished place in the culinary traditions of Morocco.
11. Batbout
(Pita Bread)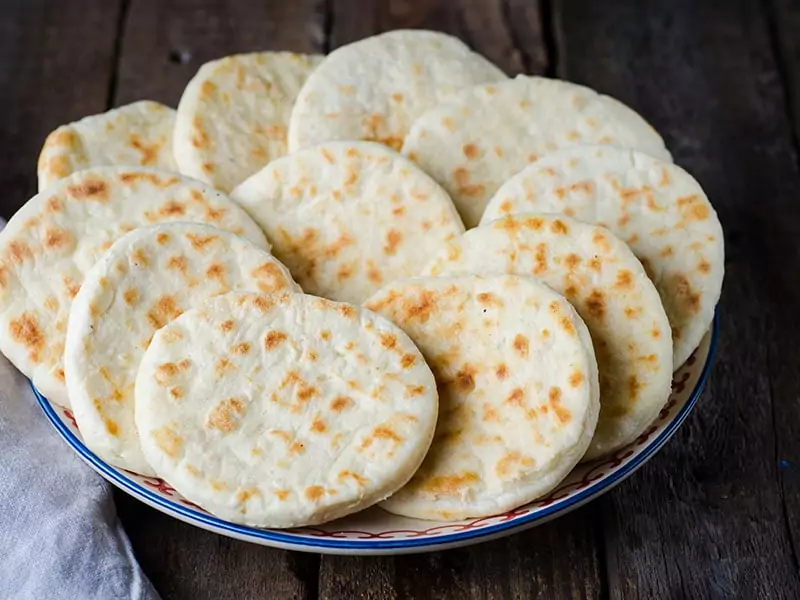 Pita bread has been an accomplished food in the Middle East, Mediterranean, as well as in Morocco and its neighboring countries. They originated in the Middle East during the Stone Age 14,500 years ago.
But in Morocco, it has the name Batbout, which is the Berber language. Batbout features a chewy but soft texture that can go well with other foods, for example, Bissara!
The recipe to make this treat is pretty simple, like yeast, flour, semolina, water, oil, and water. Unlike Middle Eastern pita bread made by an oven, this version is acceptable to cook on a stovetop or griddle. If you have a good griddle to make pancakes, you can make this bread with it.
Batbout is a flexible bread that comes in various dimensions. Similar to pita, it features a pocket, making it an ideal container for a range of sandwich fillings. When enjoyed solo, batbout is commonly consumed at breakfast with spreads such as butter, honey, or jam, or it may be presented as a side dish alongside grilled meat entrees.
12. Krachel
(Moroccan Sweet Rolls)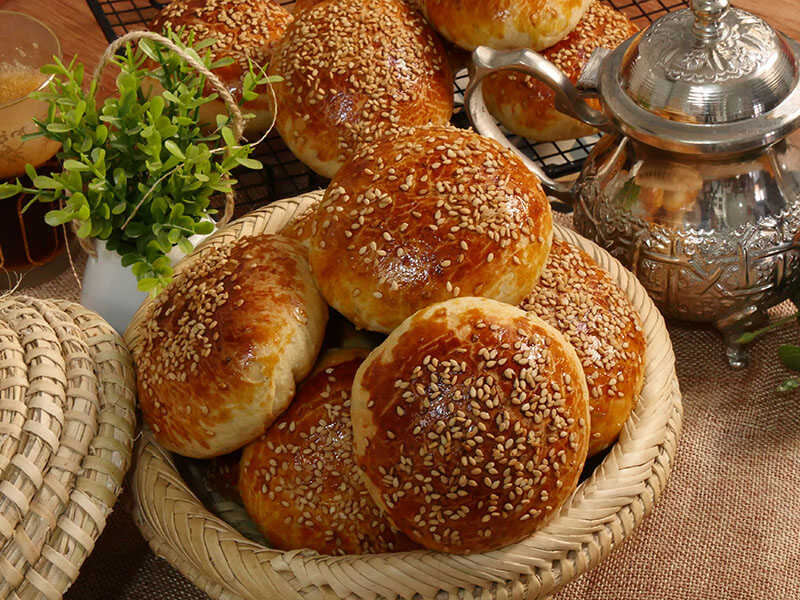 This is a bite-sized bread roll that I guess you would love from the first bite. Yes, it is Krachel, a traditional Moroccan sweet roll (or brioche) made with dough, orange flower water, anise seeds, and sesame seeds.
What I love about Krachel is they are not too sweet. They are fragrant food with a distinctive taste. You can pair Krachel with any meal you like or consume them for your Moroccan-originated breakfast with the companion of butter, cream cheese, jam, coffee, or tea.
But it might take time to prepare because you have to wait for the yeast to work and make your dough rise.
With a delightful scent and rich aroma, these pastries are coated in egg wash and sprinkled with sesame seeds prior to being baked until they reach a deep golden hue.
Krachel is frequently enjoyed during breakfast or as a light treat alongside Moroccan tea. It can be savored plain or paired with an assortment of spreads such as butter, jam, or cheese.
Additionally, it is often incorporated into iftar meals to end the day's fast during the holy month of Ramadan.
13. M'semen
(Moroccan Flatbread)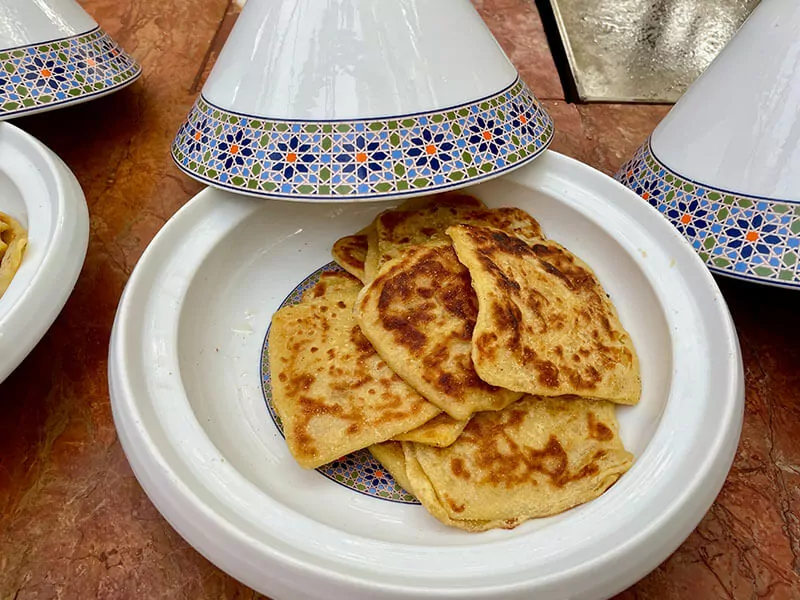 M'semen is the irresistible golden flatbread that has its roots in the Maghreb region. This flaky, delightful treat has gained a devoted following in Tunisia, Algeria, and Morocco, where it is cherished both as a morning favorite and sought-after street food.
Echoing the characteristics of Malaysian roti canai, Indian paratha, and Singaporean roti prata, M'semen (alternatively known as rghaif) boasts a scrumptious dough.
The dough, composed of durum wheat semolina, flour, soft butter, salt, sugar, dry yeast, and water, promises the ultimate comforting experience that can be easily replicated at home.
Skillfully molded into thin circles, the dough is folded into squares and garnished with butter and semolina, giving birth to its unique layers. Each square is then cooked to a crisp, golden brown finish on a griddle or frying pan.
This versatile flatbread shines in both sweet and savory variations, making it the perfect accompaniment to your morning coffee or tea, or as a snack. Paired with sumptuous hot honey and butter dipping sauce, M'semen becomes an indulgent breakfast option.
Those who lean towards savory fare can fill the flatbread with an assortment of ingredients, such as onions, herbs, and spices, as well as ground meat, which typically includes beef or lamb.
M'semen is not only a mainstay on Tunisian, Algerian, and Moroccan breakfast tables, but it also complements Rfissa, a main dish that you will explore in the next section.
If you have a soft spot for pancakes or crepes, you'll undoubtedly be captivated by the buttery, melt-in-your-mouth texture of M'semen – a mouthwatering Maghreb delight that is simply too good to pass up.
14. Meloui
(Round Pancake)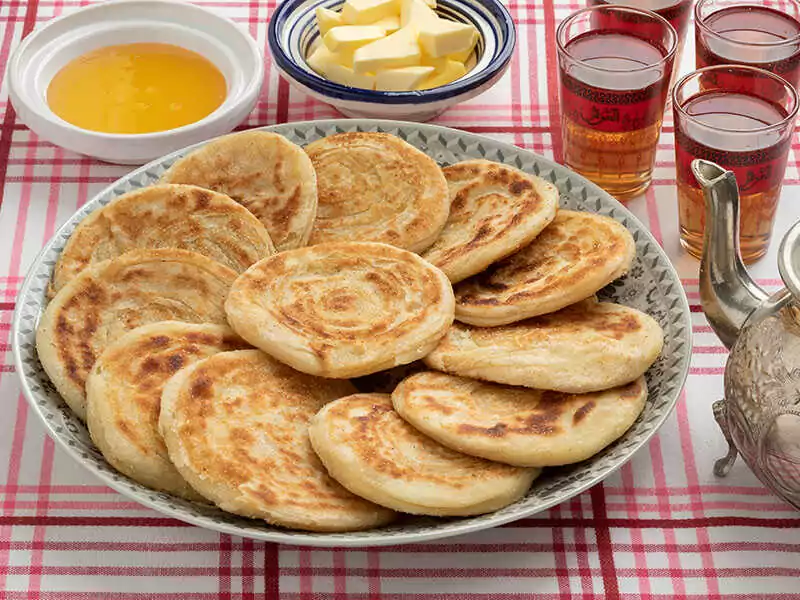 Meloui is an exquisite flaky pancake hailing from the enchanting Maghreb region. These delightful Moroccan creations, also known as "malawi", derive their name from the Moroccan Arabic word for "rolled," perfectly capturing their unique essence.
Wake up to the delightful aroma of Meloui, an ideal treat for breakfast or tea time. Served with a delectable combination of butter and honey, these pancakes are a scrumptious alternative to their square-shaped cousin, M'semen.
While their size and shape might resemble American-style pancakes, the texture of Meloui sets them apart, elevating them to a league of their own. Crafted from a pliable, hand-formed dough rather than a traditional runny batter, Moroccan Meloui pancakes undergo extra steps to achieve their distinct texture.
When prepared with finesse, these pancakes boast a beautiful rolled effect, allowing you to enjoy the experience of uncoiling them from the outside-inward as you savor each bite. Easily found as a street food or bakery item in Morocco, Meloui has captured the hearts of food enthusiasts far and wide.
15. Baghrir
(Semolina Honeycomb Pancakes)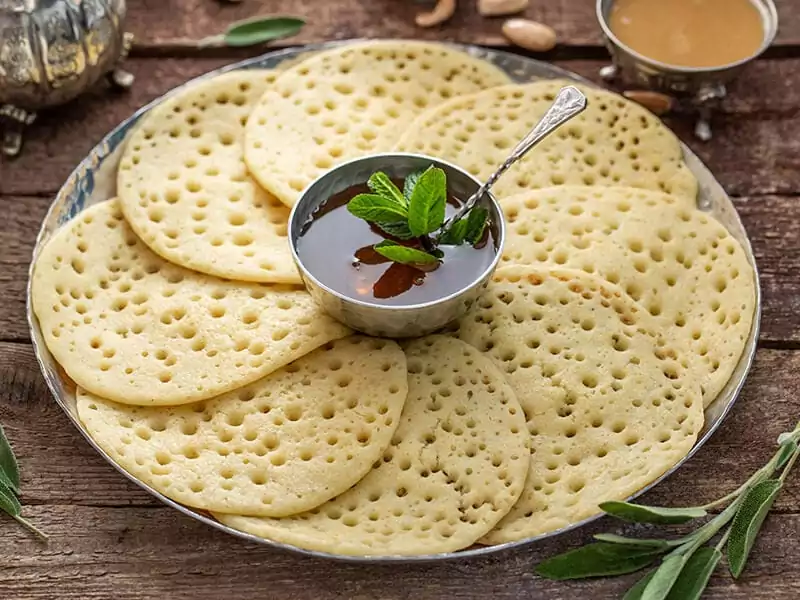 Baghrir is a Moroccan pancake that boasts a unique, spongy texture with a captivating twist. Also known as the "thousand-hole pancake," this dish is crafted from semolina flour, yielding a light and airy creation that is both heartwarming and yummy.
Rooted in the rich culinary heritage of North Africa, Baghrir is cherished by Moroccans and Algerians alike, who both proudly claim its origins. This age-old recipe has transcended generations, taking us on a journey back to the era of the Berbers, the indigenous people of the region.
Nowadays, Baghrir is not only a staple in Moroccan and Algerian cuisine, but it has also found a place in the kitchens of Tunisia. The magic of Baghrir lies in its countless tiny holes, which form naturally during the cooking process, eagerly awaiting a luscious sauce to seep in. This peculiar characteristic sets Baghrir apart from other pancakes.
Baghrir holds a special place in the hearts of those who indulge in it, whether enjoyed for breakfast, as a snack, or during iftar in the holy month of Ramadan. In fact, the Mozabite people of Algeria have a cherished tradition on the 9th day of Ramadan, when they exchange these scrumptious pancakes, known as m'layin.
Though typically dipped in a heavenly honey-butter mixture, Baghrir's versatility allows it to be served with various accompaniments, such as being sliced into wedges and adorned with your favorite jam.
16. Moufleta
(Honey-Drizzled Crêpes)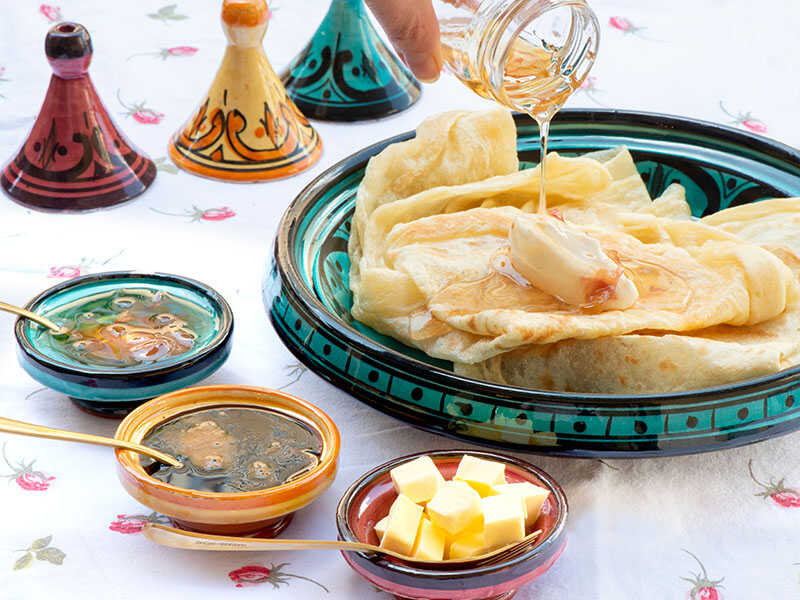 Moufleta is a Maghrebi Jewish pancake that holds a cherished place in the vibrant Mimouna celebration, which takes place the day after Passover. Originating from the Jewish communities of the Maghreb, particularly Morocco, this holiday has traveled all the way to Israel, bringing along its sumptuous traditions.
The alluring Moufleta is a delicate, thin crêpe crafted from a simple blend of water, flour, and oil. This pancake's enchanting charm lies in its skillful preparation, as the dough is carefully rolled out and gently cooked in a greased frying pan until it achieves a tantalizing yellow-brown hue.
Once warm and ready, Moufleta becomes a canvas for an array of toppings. Drizzle it with golden honey, slather it with velvety butter, or adorn it with your choice of flavorful jams, syrups, crunchy walnuts, pistachios, and even dried fruits.
The possibilities are endless, allowing you to customize your Moufleta experience to suit your likings. During the evening of the Mimouna celebration, families come together to enjoy a magnificent feast adorned with fruits, confections, and an assortment of pastries.
The first part is about those main dishes with meat, poultry, or eggs that you can enjoy for your magical Moroccan night treats.
17. Tagine or Tajine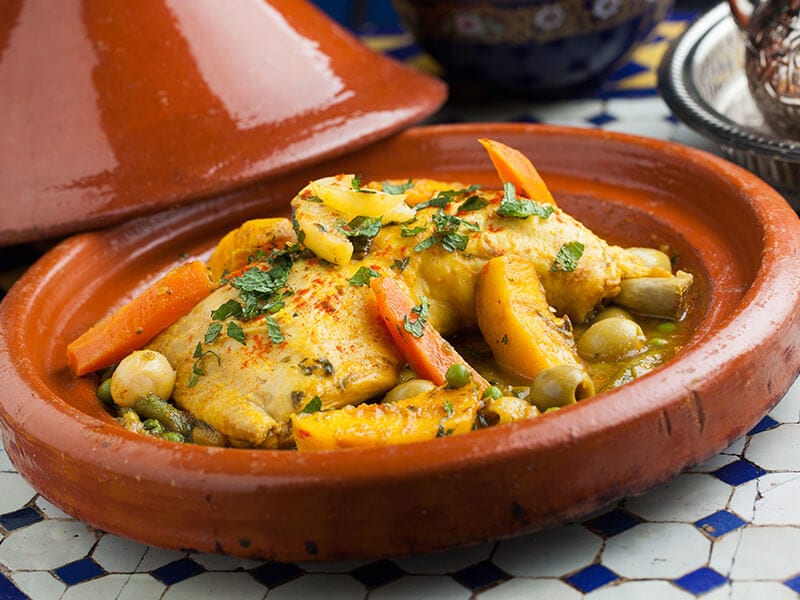 Allow me to whisk you away on a culinary journey to North Africa, where the enchanting Tagine reigns supreme. With a rich history that can be traced back to the 700s under Harun al-Rashid, the dish is also popular in Libya, Algeria, and other North African countries. 
Imagine a symphony of spices, featuring cumin, cinnamon, saffron, ginger, and turmeric, dancing together in perfect harmony. Tagine also boasts a spicy kick, thanks to the presence of chili and paprika.
Paired with bread or salad, this North African treasure promises a flavor extravaganza that you won't soon forget.
Tagine's allure goes beyond its mouthwatering taste; it also refers to the stunning earthenware pot in which it's cooked. Derived from the Berber word "tajin," meaning "shallow earthen pot," the Tagine cookware features a flat circular base for cooking and serving, as well as an iconic conical lid.
These pots come in a variety of sizes and finishes, with unglazed versions favored by cooks for their ability to infuse dishes with an earthy depth.
The ingenious design of the conical lid works to trap steam, returning condensed moisture to the simmering dish below, resulting in impeccably tenderized meat and water conservation – an essential consideration in areas with limited water resources.
Within the realm of Tagine, you'll discover an exquisite array of Moroccan stews, starring meat, poultry, fish, vegetables, and fruit. These dishes showcase a perfect balance of sweet and sour flavors, often incorporating fresh herbs, olives, preserved lemon, nuts, and dried fruit.
One must-try variation is Kefta Tagine, a dish featuring spiced beef or lamb meatballs bathed in a vibrant tomato sauce akin to shakshuka. Served with Moroccan bread and sometimes crowned with poached eggs, it's an irresistible treat.
18. Shakshuka
(Poached Eggs with Spicy Tomato Sauce)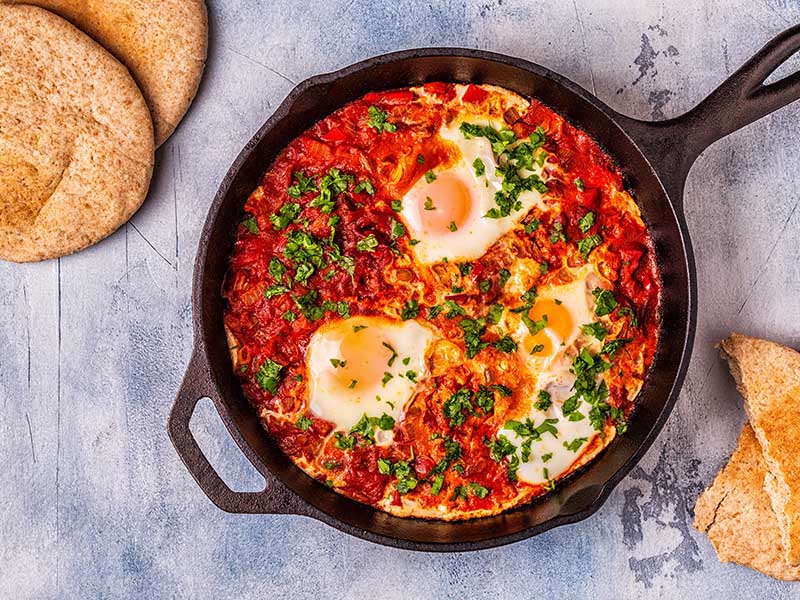 Moroccan, Turkish, Libyan, etc., have debated the true origin of Shakshuka. Still, according to Joan Nathan – an American newspaper journalist and cookbook writer, Shakshouka is native to Ottoman North Africa from the mid 16th century.
She believes this dish appeared right after Hernan Cortés – a Spanish conquistador introduced tomatoes as the exchange of the Columbian. The name "Shakshuka" fittingly translates to "mixture," reflecting its diverse and flavorful origins.
As versatile as it is scrumptious, Shakshuka can be prepared in numerous ways. While poached eggs are the classic choice, you might also encounter a Turkish menemen-inspired version with scrambled eggs.
An array of spices, including ground coriander, cayenne pepper paprika, and cumin lend this dish signature warmth. Each Shakshuka recipe is unique, with some incorporating preserved lemon, olives, harissa, sausage, sheep milk cheese, or minced lamb to elevate the dish to new heights.
Served straight from the pan it was cooked in, Shakshuka invites you to enjoy its rich tomato sauce and soft poached egg with crusty Moroccan bread – the perfect companion for this irresistible meal.
Nowadays, you can find this hearty dish with eggs as the main star in many Middle Eastern nations like Egypt, Palestine, Israel, etc. You can make them at home with ease because it only takes around 30 minutes to prep and cook.
19. Tangia
(Clay-Pot Stew)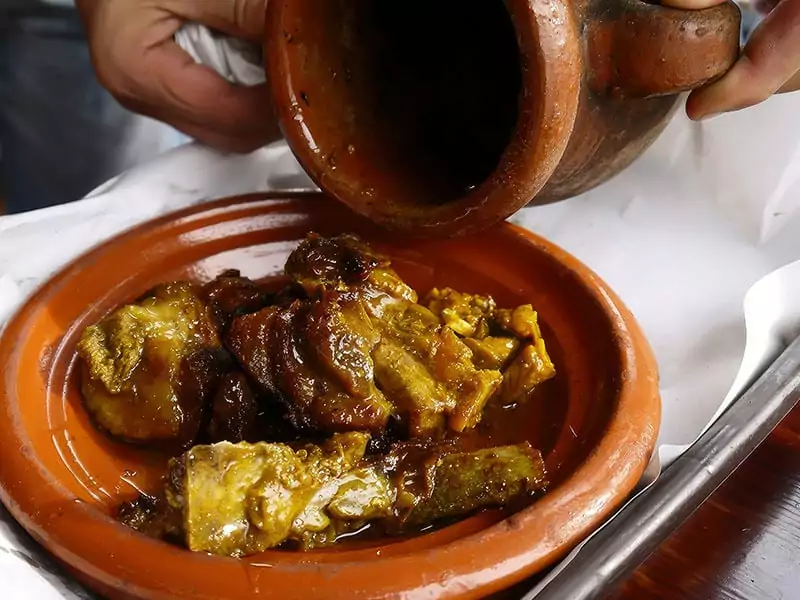 Though this one is also a slow-cooked food with a pretty similar name as Tangie, these are two different main dishes. The meaning of Tangia is "daughter of ashes".
Interestingly, Tangia is also the name of an urn-shaped cooking vessel made of clay. And people also use tangia for cooking Tangia. This is a well-loved food in Marrakesh – an economic center city in the west of Morocco.
But a delightful fact about this dish is they were more famous among men, especially unmarried ones, that's why people refer to them as "bachelor's stew". If you do not have a Tangia pot, you can use another clay-based pot or a Dutch oven.
The ingredients to cook Tangia are diverse. You can use various types of meat, like chicken, lamb, or rabbit. They can include or not include veggies. The flavors of Tangia are also different. Some are savory; some are sweet as there is a sweet variation of Tangia.
In the company of others, the enjoyment of this shared dish is heightened. This uplifting dish, expertly seasoned with understated spices, presents a distinctive sweet or tangy profile. With the true essence of Tangia emerging through a leisurely cooking process, it's certainly not for the impatient.
Let's check and see why Moroccans are so into Tangia through this interview.
20. Rfissa
(Chicken and Lentils)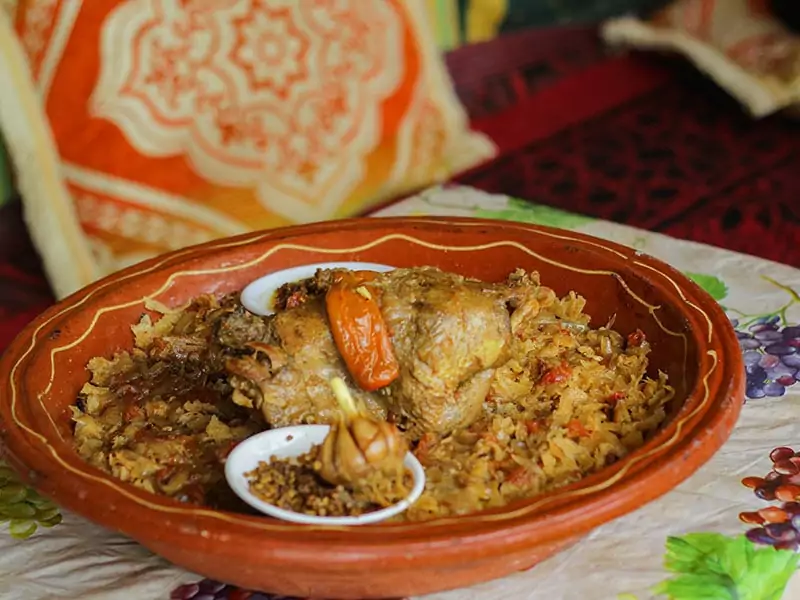 Rfissa is an extraordinary Arab Moroccan delicacy with chicken, lentils, onions, fenugreek seeds (in the Arabic language is Helba), saffron, and spices.
It has a close association with Tharid – a classic Arab dish prevalent in UAE and Saudi Arabia. Until the 1990s, this dish officially appeared in Moroccan cookbooks. You might find them not too elegant, but it is one of the goodness to serve on many special occasions.
Indeed, many individuals choose it to prepare for their family parties. Rfissa is also a special food on the third day after a baby's birth since fenugreek is well-known for fostering mothers.
While there are several fantastic ways to use rice cookers to prepare lentils, you should stew them with onions, marinated chicken, and other ingredients. Serve this mouthwatering dish on a bed of shredded M'semen, or different kinds of bread.
21. Bastilla
(Chicken or Pigeon pie)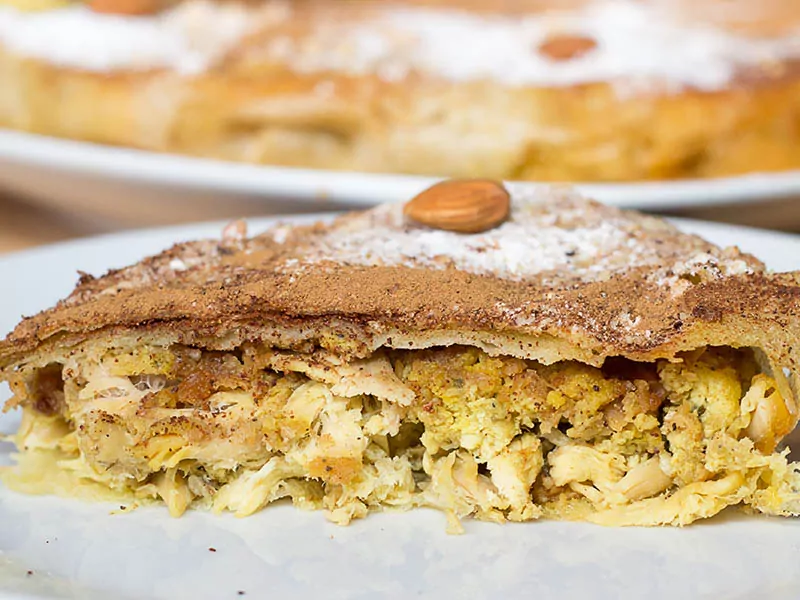 Bastilla is a mouthwatering culinary masterpiece hailing from the enchanting lands of Morocco and Algeria. This savory delight, with a history rooted in the 10th century, showcases the perfect fusion of Andalusian and North African flavors.
Bastilla, also known as b'stilla or pastilla, is a renowned dish in Moroccan cuisine that has gained equal admiration in Algeria. This delectable pie is crafted with delicate, crispy warqa dough, enveloping a flavorful filling of either poultry or seafood.
The name itself, derived from the Spanish word "pastilla," translates to "small pastry" and has evolved into its current form to seamlessly blend with the Arabic language.
Relish the taste of tradition as you savor poultry Bastilla, once made with pigeon meat but now more commonly prepared with chicken.
Witness the artful assembly of Bastilla as layers of buttered warqa dough cradle the sauce and chicken mixture. A delightful surprise awaits you in the form of a crushed almond layer, mingled with sugar and cinnamon before being topped with additional layers of dough.
Baked to a golden hue, this savory-sweet pie is garnished with powdered sugar, cinnamon, or fried almonds, creating an irresistible aroma and taste.
For those craving a fiery twist, seafood Bastilla offers a zestier alternative. Packed with fish, squid, and shrimp, the filling also features vermicelli noodles, black mushrooms, and a spicy tomato sauce that will leave your taste buds dancing.
There is no reason to show off your cooking skill with this Bastilla idea.
22. Brochettes
(Kebabs)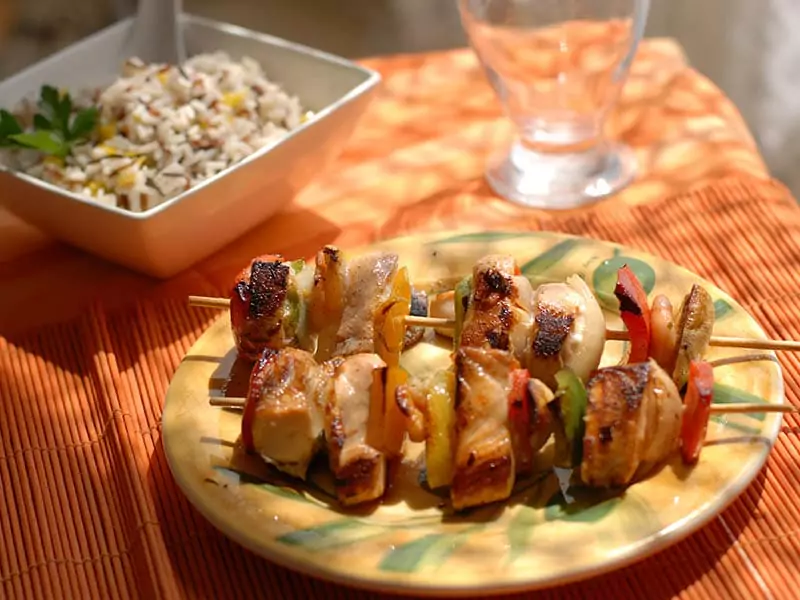 Brochettes in Morocco are basically kebabs. The word "brochette" is a French word to refer to skewers. Other Arabic words for Brochettes are Qotban, Sfafed, or Qodba. They are a famous food to consume in Eid al Adha – the official Islam holidays.
Besides Morocco, other African countries also share a love for this dish. It's considered an important dish of the food culture in Gabon, Togolese, and many more.
The significant part that decides the success of this dish is how you marinate the meat to ensure they come out moist, juicy, and flavorful. And the meat can be chicken, beef, or lamb.
Plus, you might find Brochettes easier on the streets or coffee shops rather than in a luxury restaurant. But you can still make Brochettes right in your kitchen effortlessly. They mostly come with fresh salad or fries, depending on your favorite.
---
Morocco is bordered by the Mediterranean sea and North Atlantic ocean; therefore, their foods must be closely associated with fish or seafood. So keep rolling down and check how they typically cook with these auspicious foods.
23. Fish Chermoula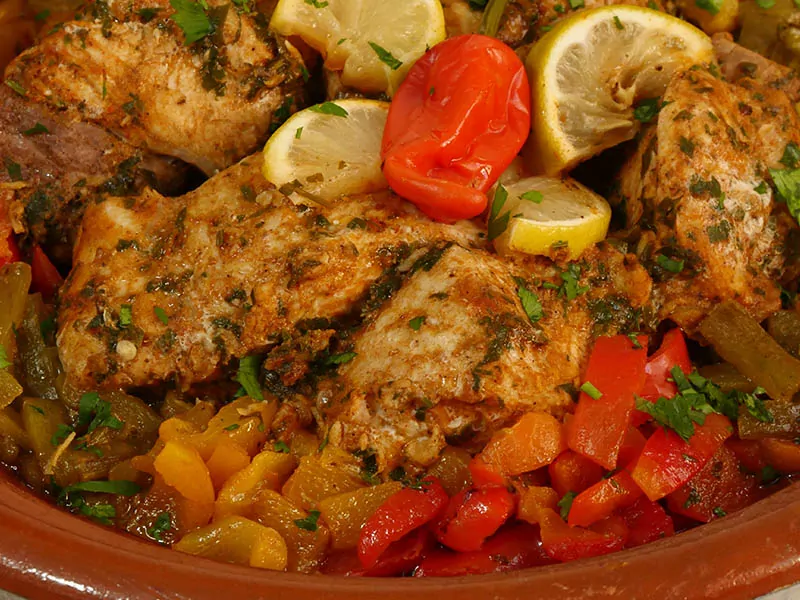 Chermoula is a well-known thick marinade to increase the flavor of fish or seafood dishes in Northwest African regions, including Morocco. Aside from being a staple African dish, chermoula is also widely used in Libyan, Tunisian, and Algerian culinary recipes.
On the other hand, people also use Chermoula in their meats or veggie dishes. But here, let's see how Morrocan make their fish Chermoula and how tasty it is.
Chermoula itself has many variations. Morocco's recipe consists of cumin, paprika, parsley, and seasonings like salt and pepper. Then mix this mixture with fish and let them sit for a day in a fridge to optimize the flavor absorption.
Also, they are normally served with rice. Feel free to choose quality brown rice if you need a healthier solution instead of normal white rice.
24. Moroccan Stuffed Fried Sardines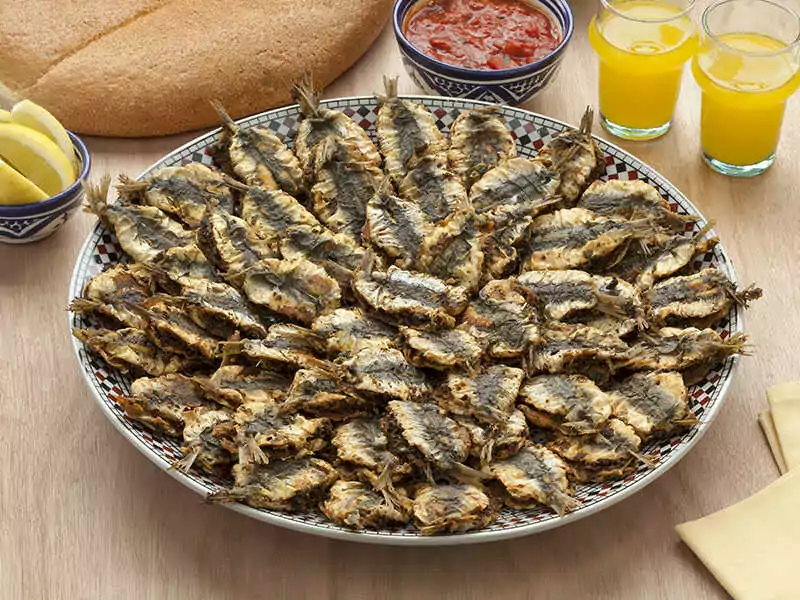 Do you know Morocco is one of the biggest sardine suppliers to the European market? Situated along the northwestern shores of Africa, Morocco flaunts over 1,864 miles of coastal expanse, providing a rich variety of fish and seafood.
Accounting for over 62% of the Moroccan fish haul, sardines play a vital role in the nation's fishing industry. Owing to their bountiful presence, sardines serve as an affordable sustenance option within Morocco.
Each year, around 600,000 tons of sardines are processed. Therefore, they are also the number one canned sardine exporter worldwide. That's why stuffed fried sardine is so special on this nation's menu.
It is mostly found as classic street food in Morocco. Sardine is a staple component in Moroccan people's diet, particularly those who live near the coast.
But you can still buy them in non-coastal areas in this country, like in Marrakesh, or Medina of Fez – an old town in Morocco that is listed on the World Heritage Site.
This treat includes fish filets flavored with chermoula (the marinade I mentioned above). Then you need to coat them with butter and flour before frying. People love to enjoy them as a main meal, or you might find them as a starter in many Moroccan-authentic parties.
25. Babbouche
(Snail Soup)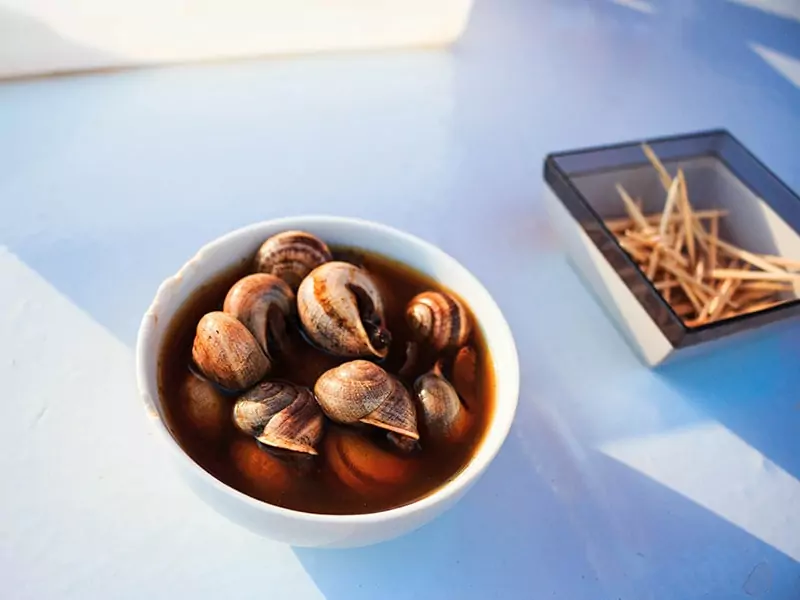 "Eww" might be some of your first expressions about this soup, but trust me, if you do not try it, you would not know what you would miss. Snails might not be a well-liked food in some Western countries, but let this authentic food change your mind.
Like many amazing Vietnamese cooking ideas with snails, Babbouche is a Moroccan-based soup with the main ingredient – obviously, snail. It is common street food, especially in Marrakesh.
The snails in this dish will be cooked in broth with various ingredients like mint, thyme, licorice, caraway, and aniseed. Therefore, the soup seems to be a flavorful and hearty dish to highlight the uniqueness of this cuisine.
And do not even ask for a fork to eat the snail. Instead, you will need a toothpick to get the snail meat out of its shell.
---
What is the first thing that comes to your mind about the greatest Moroccan desserts? Have no clue? Then you have to check these ideas below to broaden your horizon about how irresistible they are.
26. Sfenj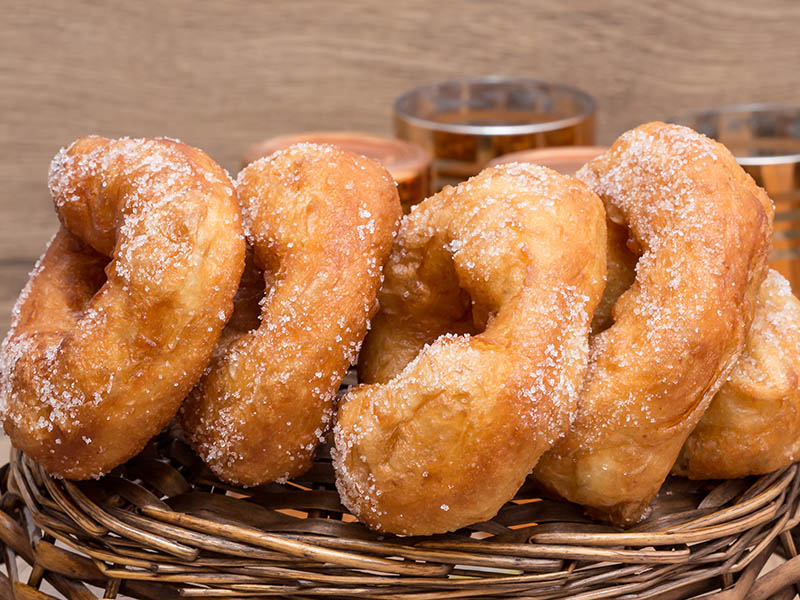 Stenji is a spongy doughnut with the origin of the Maghrebi (Northwest Africa); therefore, their appearance in Morocco is undoubted. In Arabic, Stenji also means "sponge".
On the other hand, some paper shows this sweet treat was from Al-Andalus, the Iberian Peninsula's Muslim-dominated area. And it was a product of a mistake when the baker accidentally dropped a ball-shaped dough into a hot oiled pan.
Nowadays, it is an indispensable food in all of North Africa. And people usually enjoy it as a dessert or breakfast with a cup of tea. Equip yourself with a decent and functional donut maker so that you can whip up Moroccan donuts with ease.
They are good on their own, with a little bit of sugar or dip in honey. Honestly, Stenji is super spongy and fluffy with a crispy exterior and airy interior that I can hardly stop myself from eating.
27. Chebakia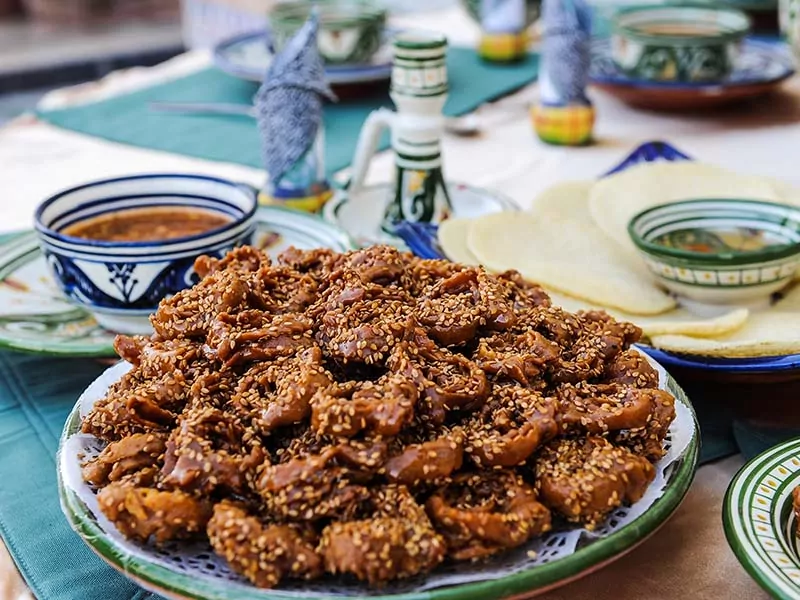 Chebakia (or Shebakia) is a 100% Moroccan-originated delicacy with a pretty golden-brown color. Indeed, they are a deep-fried pastry dessert made of dough strips and shaped into a flower.
They are also coated with honey and sprinkled with sesame on the top. Similar to harira, chebakia is customarily enjoyed to break the fast during Ramadan; however, it is also commonly prepared to mark various other festivities.
However, this dish is time-consuming as you will need to spare a lot of time to shape them, particularly when you want to prepare a big batch of them. But the outcome is stunning for sure.
28. Kaab el Ghazal
(Gazelle Ankle Cookies)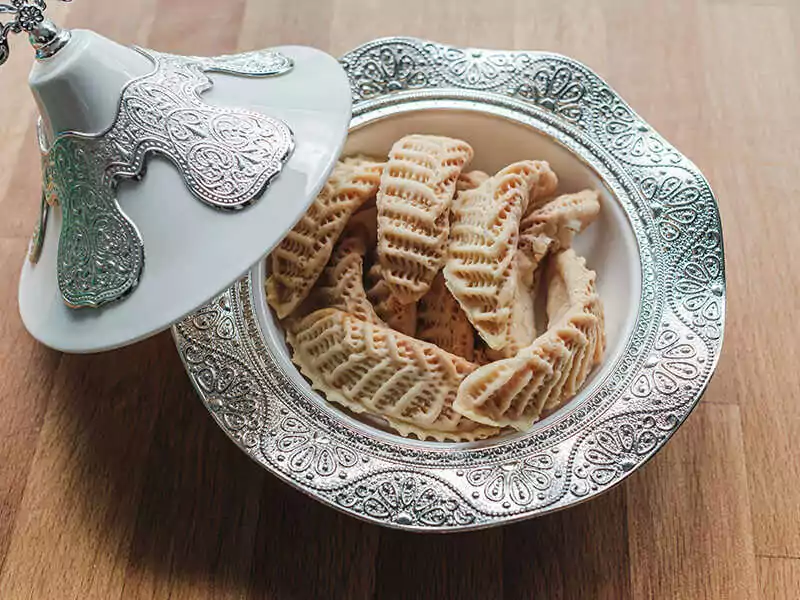 Kaab el Ghazal, which means "gazelle ankles" in Arabic, is another traditional Moroccan dessert. It is also famous in French names as Cornes de Gazelle or Gazelle Horns. On the other hand, you can also see them in Algeria and Tunisia.
Unlike other cookies with a round shape, this treat has a crescent form. They are made of flour dough with the filling of almond paste and orange blossom water, then baked to have a golden outside layer.
Moreover, with a touch of flavorful cinnamon, you will sense the deliciousness and warmth at the same time when enjoying these cookies. People normally serve them on special occasions, like weddings, because Kaab el Ghazal is quite expensive due to the almond ingredient.
29. Almond Briouats
(Moroccan Pastries)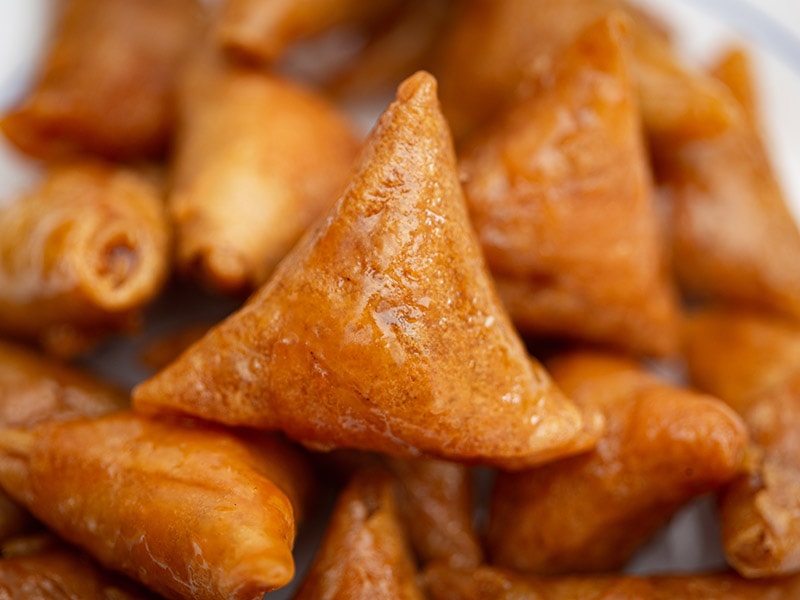 Let me introduce a sweet version of Briouat with almond paste. Like I mentioned above, Briouat has two versions: savory ones for appetizers and sweet ones for dessert. Similarly, they have a flaky pastry exterior with sweet almond paste inside.
It is also a classic dessert that you can enjoy all year round with tea or special events. Therefore, when you travel to Morocco, you need to list this food in your must-try Moroccan dishes.
You can fry them in oil or bake them in the oven. Either way, they all come out amazingly to impress everyone. They are also an ideal breakfast or afternoon snack. You can enjoy them during Ramadan, besides your Sellou or Chebakia.
30. Sellou
(Unbaked Sweet)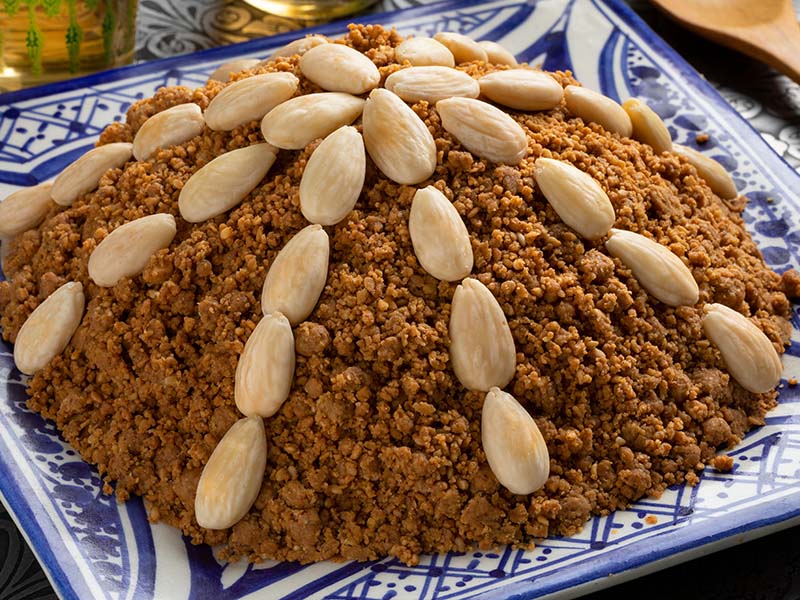 Sellou (or Slilou, or Sfouf) is Morocco's popular unbaked sweet course. They are a perfect dessert for those who need a nutty flavor from ground-fried almonds and toasted sesame with roasted flour.
Plus, it is an ideal flavor package since it includes cinnamon and anise, 2 iconic spices with a strong yet mesmerizing aroma. There are several ways to shape Sellou. They can be round, or molded by a mould, or you can form them into small balls or square-shaped desserts. But it takes time to make as well. So if you have a lot of leisure time, you can try them.
Similar to the Chebakia treat, Moroccan people also love to serve it during their holy month – Ramadan.
Additionally, Sellou is regarded as a natural dietary solution due to its highly nutritious and calorie-dense composition. Consequently, Moroccan women who are breastfeeding are recommended to incorporate Sellou into their diet for a minimum of thirty days postpartum.
31. Ghoriba Bahla
(Shortbread Cookies)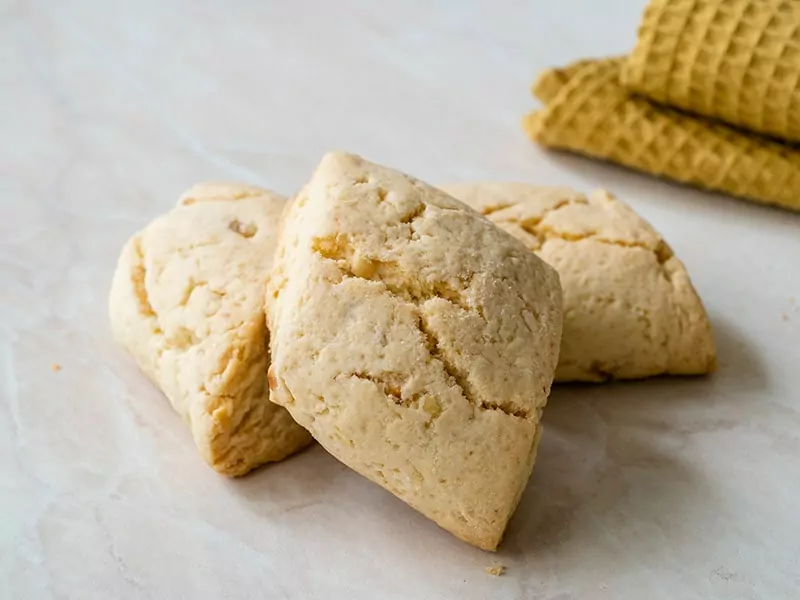 Here is another melt-in-your-mouth cookie from this beautiful country that I would like to introduce. It is Ghoriba Bahla, a shortbread cookie in Moroccan style.
I can never forget these cookies after my trip to Morocco because of their name translation. Do you know that Ghoriba Bahla literally means "silly stranger" in English? Let me tell you why they have this name.
They are called "silly" because of the cracks on the cookies' surface, which look like crooked smiles. But frankly, no matter how "silly" its name is, once you take a bite of them, you will sense these cookies' goodness.
You may be curious about whether Ghoriba vs Ghoriba Bahla is the same? Ghoriba cookies can be prepared using various methods, with ghoriba bahla being a popular variant recognized by the unique cracks that appear on its surface. If the cracks are absent, the cookie can only be referred to as ghoriba, not ghoriba bahla.
But you might not need to travel to this country to enjoy them as you can easily make some at home with some key ingredients like almond paste, butter, sesame seed, flour, and others. I am sure the result is so tasty, with a nutty flavor and crunchy texture.
32. Kaak D'Essaouira
(Moroccan Cookie With Anise)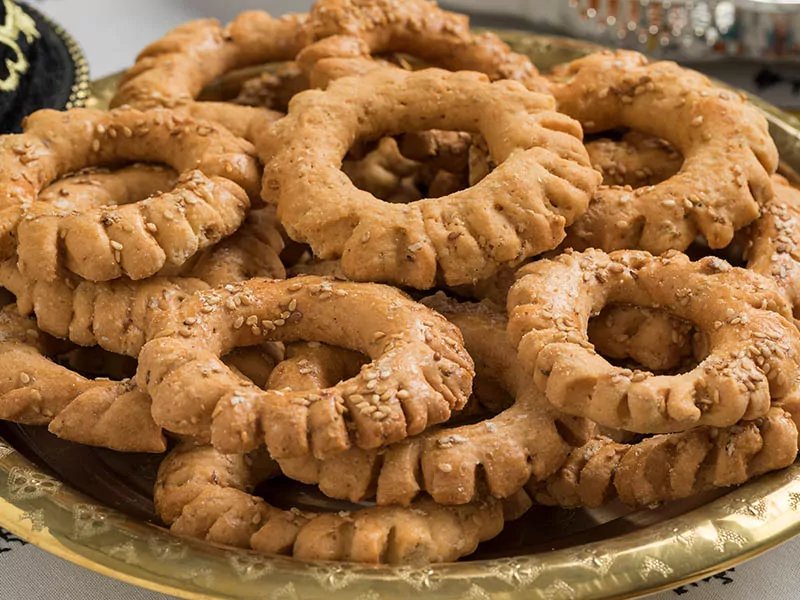 Kaak D'essaouira is a type of cookie named after a Western city in Morocco – Essaouira. They are the combination of North African ingredients for cookies like flour, sugar, anise, orange blossom water, and more.
Moreover, you do not need eggs to prepare them, making Kaak D'essaouira an excellent food for vegans. These cookies are usually sold on many Moroccan streets, but it will not take too much effort to make them yourself.
Like most cookie recipes, you will need an ideal baking pan or baking tray and an oven. With a mixed dough, you shape them into a ball, then roll them back and forth to form a rope-like shape.
After that, you need to fold the rope and turn them into wreaths for attractive looks. Then bake them in the oven at 350 F degrees in 30 minutes. Voila! Now you have a big batch of delicious cookies with anise to enjoy with your family.
33. Moroccan Cinnamon Oranges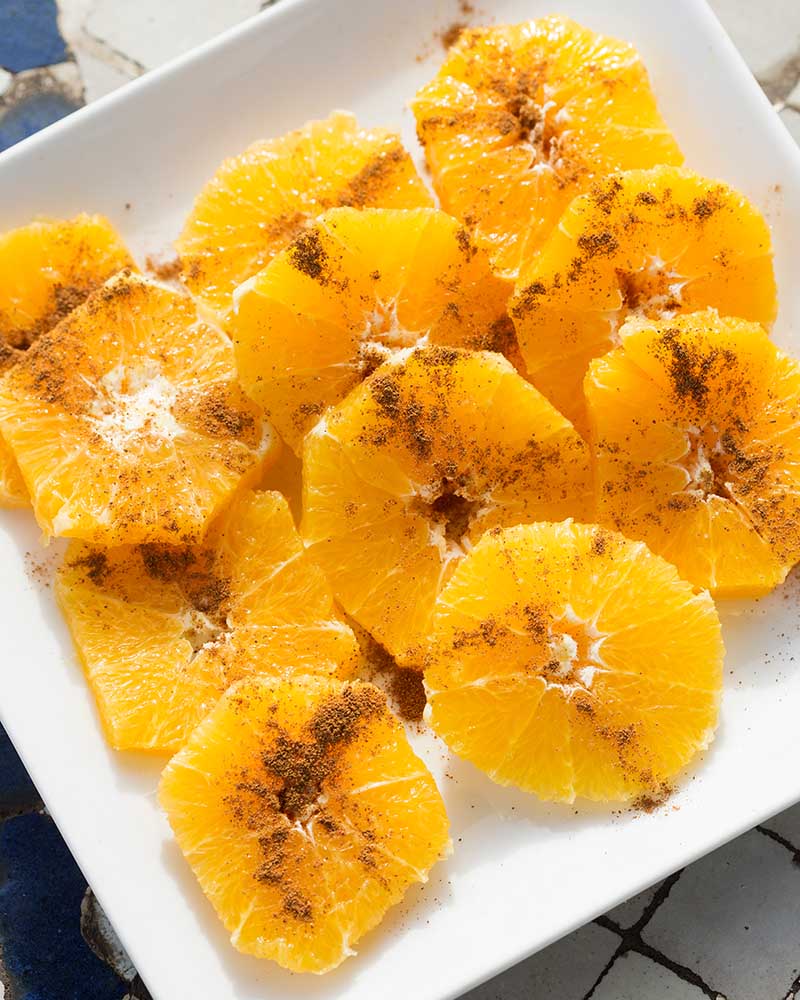 You can imagine how this dessert tastes like right from its name. Yes, with 2 key ingredients: cinnamon and oranges, they are something between the earthy warmth of cinnamon and the juiciness of oranges.
Technically, it is a type of salad served as a dessert. With plenty of orange variations in Morocco available all year, they are an easy and affordable food to refresh your mind and tummy.
With minimal prep, all you have to do to make this dessert is peel and slice oranges, then sprinkle a bit of cinnamon and orange blossom water to garnish.
34. Maghrebi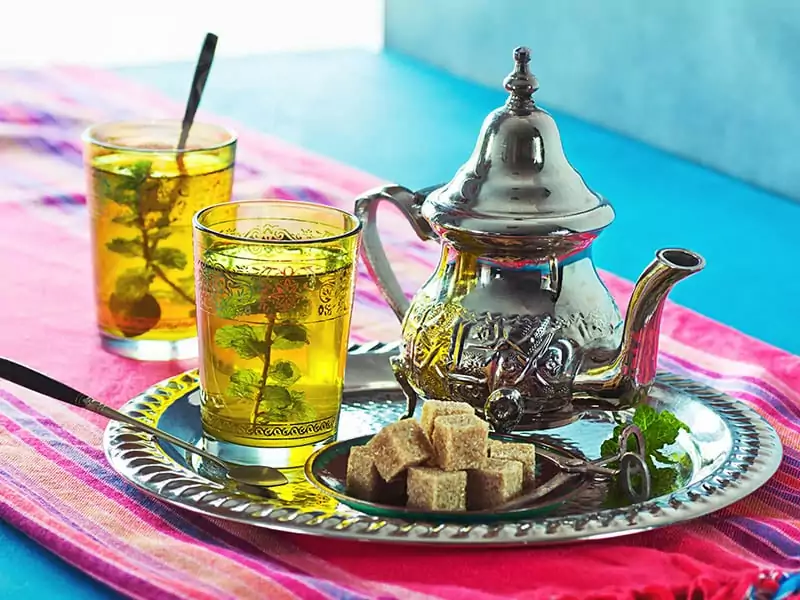 Mint tea? Why does it appear in this list while it is already a familiar drink around the world? Actually, if you can visit Morocco, you should not miss this brewed beverage because they are more special than the regular mint tea that you usually have.
Maghrebi mint tea is a special drink made from green teas, sugar, and spearmint leaves in this country. Basically, this drink is famous throughout North African countries, but it has a special connection with Moroccan history.
However, there is a debate about its exact origin, but most people claim Maghrebi was introduced to Moroccan citizens in the mid-19th century by the British. This beverage is usually served to guests or at many social activities.
For more information, mint tea in Morocco might be flavored with flowers, herbs, or orange blossom water. Especially in cold months, adding warm herbs to mint tea is a wonderful idea.
Eating Customs And Traditions
Experience the warmth and conviviality of communal dining, and immerse yourself in the timeless rituals that make Moroccan mealtimes an unforgettable journey of hospitality and togetherness.
Traditional Table Setting
Moroccan table settings often feature colorful tablecloths and ornate serving dishes. Meals are typically served on large communal platters, with smaller plates and bowls for individual diners.
Traditional Moroccan tableware includes tagines, decorative plates, and teapots for serving mint tea. Diners often use pieces of bread to scoop up food, which is considered both a utensil and a staple food in Moroccan culture.
Communal Dining
Communal dining is an important part of Moroccan culture, with family and friends often gathering to share meals together.
Eating with the right hand is customary, and diners take turns scooping up food from a shared platter, usually starting with the person closest to the dish and moving clockwise. This tradition fosters a sense of closeness and togetherness, making mealtime an essential aspect of Moroccan social life.
Importance of Hospitality
Hospitality is a central tenet of Moroccan culture, and hosts take great pride in welcoming guests and ensuring their comfort.
Offering food and drink is a common way to demonstrate hospitality, with guests often being greeted with a glass of refreshing mint tea and a platter of cookies or pastries. It is considered impolite to refuse food when offered, as it may be seen as a rejection of the host's generosity.
Ramadan and Other Religious Food Traditions
Ramadan, the Islamic month of fasting, is an important time for Moroccan Muslims. During this period, they abstain from food and drink during daylight hours, breaking their fast with a meal called iftar after sunset.
Traditional foods served at iftar include dates, harira (a hearty soup), and various sweets. Another significant religious occasion is Eid al-Adha, the Festival of Sacrifice, during which families gather to share a special meal featuring lamb, often cooked in a tagine or roasted.
These food traditions play a crucial role in reinforcing cultural and religious identity within the Moroccan community.
FAQs
From the most renowned dishes to surprising culinary facts, let your curiosity be your guide as you discover the alluring world of Moroccan food.
---
Let's Wrap Up The Ultimate Guide To Morocco Through Their Cuisine
Isn't learning about another country's cuisine the best way to know them? So I hope these amazing foods have partly shown you Morocco's wonderfulness.
And if you love my post with all the information about these delicacies, please do not hesitate to give me a thumbs up in the below part. Moreover, I would love to hear your opinion or experience with the foods above.
Thank you for your time! See you in the next foodie article.