Do you want to know more about Mediterranean cuisine history, a voyage through time and the rise and fall of empires? This region boasts many culinary secrets as enchanting as the ancient ruins that stand proudly along the picturesque coastlines with azure waters.
Many people know that Mediterranean cuisine is extremely flavorful and beneficial for health, but they don't know how that came to be. Read this post, and you will discover that it didn't happen overnight but rather the result of a melting pot of civilizations that have been around for a long, long time.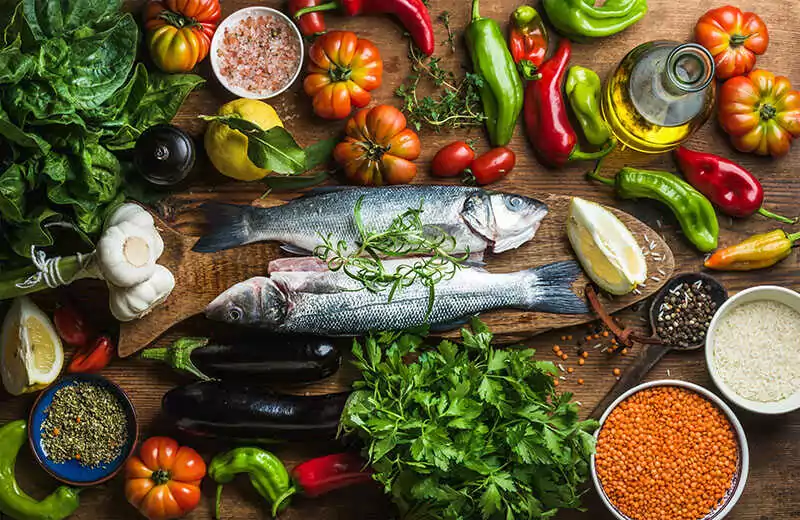 Overview Of Mediterranean Cuisine
Before I begin, you should know this: while the Mediterranean cooking traditions have a long history, the term "Mediterranean cuisine" only appeared in the 1950s and became popular afterward (1).
In addition, Mediterranean cuisine has more than just the sun-kissed lands of Italy or Greece. It contains many other regional cuisines: Levantine, Ottoman (Turkish), Maghrebi, French, Iberian, etc.
Origins of Mediterranean Cuisine
Early Age
It all began in the Fertile Crescent, the cradle of civilizations, where settled farming took shape and changed humanity forever. The domestication of many plants and animals that provided key Mediterranean ingredients occurred here.
Some examples are olives, figs, grapes, goats, and sheep (the last two produced milk and cheese). The process took place somewhere between 8,000 and 6,000 years ago.
Influence Of Different Ancient Civilizations
Ancient Greeks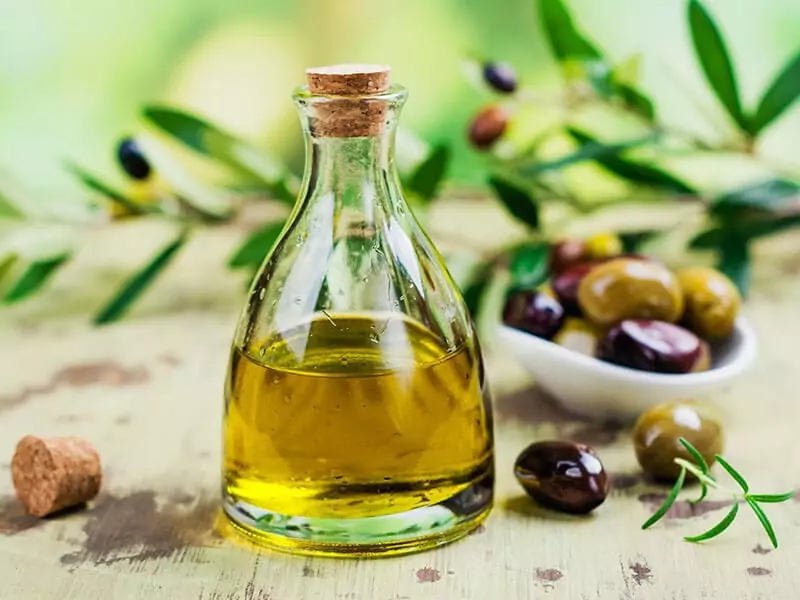 Greek cuisine played a fundamental role in shaping Mediterranean food. The ancient Greeks had a primarily plant-based diet, making extensive use of olive oil, grains, legumes, fruits, vegetables, and herbs. They supplemented their diet with fish and limited amounts of meat.
This was the basis for the 'Mediterranean triad': wheat, olive oil, and wine. Greeks also pickled vegetables in olive oil and vinegar to enhance flavors and preserve food longer.
Ancient Egyptians
The ancient Egyptians cultivated various fruits, vegetables, and grains. Their country's strategic location, straddling between the West and the East, granted them access to many foods from Asia. They introduced ingredients like onions, garlic, and leeks to the Mediterranean pantry.
Romans
Romans significantly influenced Mediterranean cuisine in many ways, especially during the era of the Roman Empire. Like Greeks, they loved grains, vegetables, legumes, vegetables, cheeses, and fruits, with low consumption of meat and fish.
They popularized many techniques of food preservation, like smoking and salting. They also offered elaborate banquet preparations.
In addition, the empire's vast trade network enabled the movement of new foodstuffs and spices (like black pepper, cinnamon, and cumin) across the regions, leading to a more diverse cuisine.
Phoenicians
Skilled seafarers from the Eastern Mediterranean, the Phoenicians played a crucial role in disseminating Mediterranean cuisine across different cultures.
They established trade routes connecting various parts of the Mediterranean, contributing to the early exchange and spread of food products, ingredients, and culinary practices. The widespread use of salted fish, olive oil, bread, cheese, or seasonal fruits was partly their doing.
The Role of Geography and Climate
The Mediterranean Sea
The Mediterranean Sea offered a rich source of fish and seafood, which formed an essential part of the regional diet. The extensive coastline and abundant marine life also fostered a rich fishing tradition.
But more than that, the world's largest inland sea also facilitated trade and cultural exchange between the countries along its coast. This interaction resulted in a blend of culinary traditions and an incredible diversity of foodstuffs across the Mediterranean basin.
Impact Of Regional Climate On Crop Varieties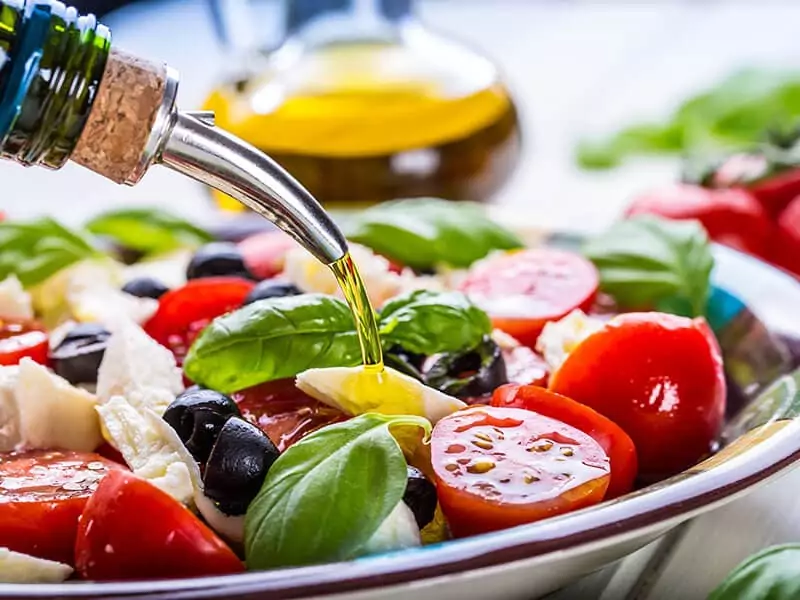 A unique climate with hot, dry summers and mild, wet winters characterizes the Mediterranean region. This climate is ideal for the growth of staples in Mediterranean cuisine, from olive trees and grapevines to numerous herbs like basil, rosemary, and thyme.
It also supports the cultivation of a wide variety of fruits and vegetables, including tomatoes, eggplants, lemons, oranges, and figs. Legumes and grains, such as lentils, chickpeas, and barley, also fare well in this climate.
How Terrain Affected Animal Husbandry
The hilly and mountainous landscapes led to the development of pastoral farming, with sheep and goats being the primary livestock. These animals are well-adapted to rugged terrains and provide milk, cheese, and meat.
Evolution Of Mediterranean Cuisine Through The Middle Ages and The Renaissance
Influence of Christianity and Islam
Both religions greatly influenced Mediterranean cuisine during the Middle Ages. Religious fasting practices, such as the Christian Lent and Islamic Ramadan, shaped dietary habits.
For instance, the consumption of fish increased during Lent due to restrictions on eating meat. On the other hand, Islamic dietary laws (or Halal) led to certain foods, like pork, being excluded from Muslim-dominated areas.
Muslim conquests across North Africa, Spain, and Sicily during the Middle Ages also introduced new culinary traditions and techniques. They brought novel ingredients, such as rice, citrus fruits, spinach, and eggplants, to the Mediterranean.
In addition, they popularized innovative methods, such as distillation, which is used in the production of spirits, essential oil, and rose water.
The Byzantine Empire: A Cultural Bridge
With its capital in Constantinople (present-day Istanbul), the Byzantine Empire played a significant role in connecting the East and the West, between the Arabic world and Europe.
The Byzantines refined cooking methods influenced by their Greek and Roman heritage and applied them to ingredients, spices, and culinary practices brought by Arab merchants. The fusion greatly contributed to the Mediterranean culinary landscape.
This is how many aromatic spices and herbs (like ginger and saffron) found their way into the western portion of the Mediterranean kitchen. But their effect was still negligible, and it would take a tragic event to increase their popularity.
Effect of the Crusades on Spice Trade and Food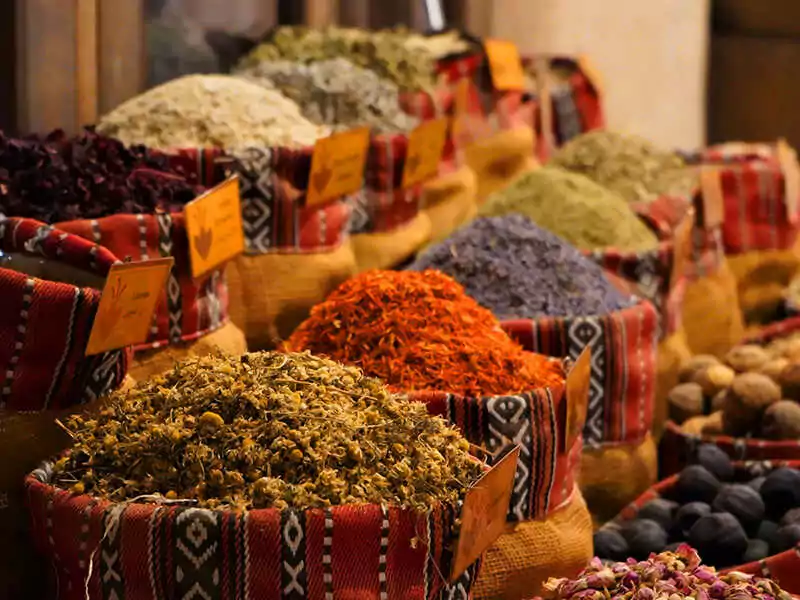 The Crusades, a series of religious wars between Christians and Muslims, had a profound effect on Mediterranean cuisine. As Crusaders traveled to the Middle East, they were exposed to new spices and flavors, like cinnamon, nutmeg, and cloves.
While Westerners had already known about Asian spices, only then did they experience their full glory. Crusaders brought them back home and consequently initiated a greater demand for spices in Europe. Thus, spices became a more prominent feature in Mediterranean cooking.
Introduction of New Foods from the East and Americas
The discovery of the New World in the late 15th century changed Mediterranean cuisine forever. The subsequent establishment of trade routes between the two continents as part of the Columbian exchange brought foods like tomatoes, corn, beans, citrus fruits, potatoes, and squash to Europe.
They eventually became widely accepted and even staple ingredients in many cultures. For example, can you imagine Mediterranean dishes without tomatoes, particularly Italian and Spanish recipes?
Development Of Regional Variations In Mediterranean Cuisine
North Africa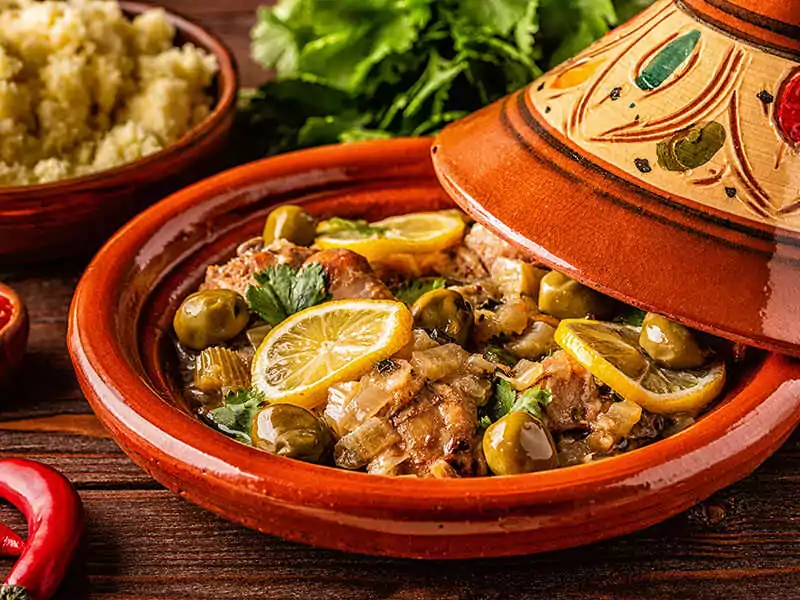 North African cuisine is a flavorful blend of African, Arab, and Mediterranean influences. Staple ingredients include couscous, legumes (like lentils and chickpeas), meat (especially lamb and chicken), and an array of spices like cumin, coriander, and saffron. Dishes often include fruits.
Sweet pastries, legume-based dishes, grilled meats, and slow-simmered stews are famous staples. In fact, Tagine, a slow-cooked stew named after the earthenware pot that contains it, is a signature dish in this region.
Eastern Mediterranean (Greece, Turkey, Lebanon, Israel)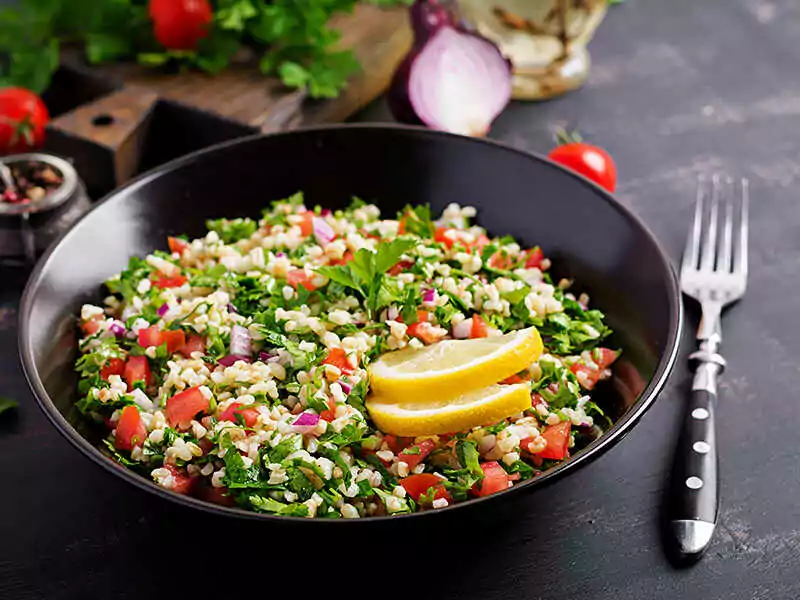 The Eastern Mediterranean incorporates Greek, Ottoman (Turkish), Egyptian, and Levantine cuisines. That last one includes names like Jordan, Israel, Lebanon, and Syria.
Olive oil, fresh vegetables, legumes, yogurt, and a variety of cheeses like feta and halloumi are common ingredients in the region. In Greece and Turkey, dishes like Dolmas (stuffed vegetables/ grapevine leaves), Souvlaki/ kebabs (skewered and grilled meat), and baklava are famous Mediterranean dishes.
Lebanese cuisine is known for delights like hummus (chickpea-based dip) and Tabbouleh (Levantine parsley salad). Meanwhile, Israeli cuisine is a blend of traditional Jewish dishes and influences from various Arabic recipes, with falafel and Shakshuka being well-known dishes.
Southern Europe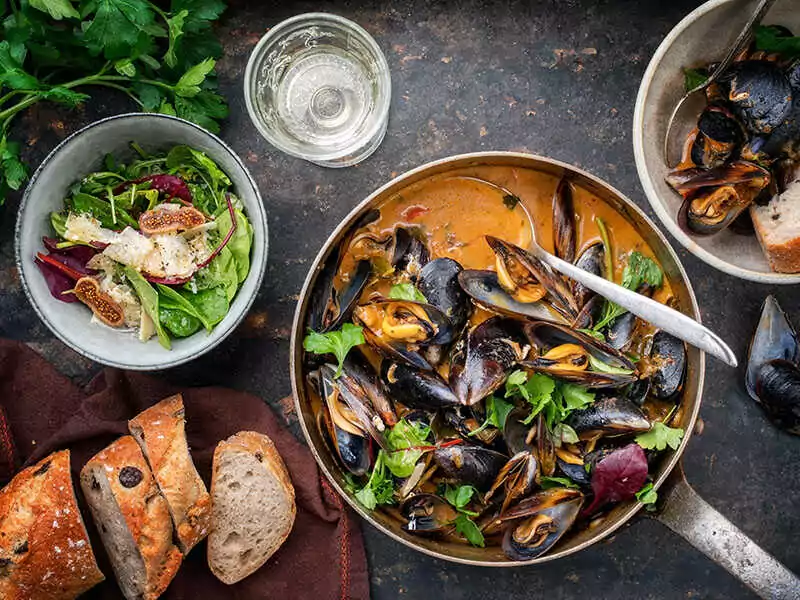 Generally, Southern Europe consists of Italy, Southern France, Spain, and Portugal. Italian cuisine is the epitome of the whole region's food scene, using only fresh ingredients and a small number of spices and herbs to bring about their natural deliciousness.
Italian famous dishes are pizzas, pasta, and risotto. Meanwhile, Spain is known for its tapas culture and wonderful bites like paella and Gazpacho (cold vegetable soup). Popular ingredients are olive oil, rice, bread, cheese, ham, seafood, etc. Portuguese cuisine shares many similarities with its neighbor.
The Mediterranean part of French cuisine usually follows the techniques of the Provence region. Its food is rich in olive oil, garlic, vegetables, and spices (especially the herbes de Provence spice blend). Seafood is also a top-notch ingredient, as evident in the signature fish soup Bouillabaisse.
How Different Cultures Influenced These Variations
Cultural influences are always a great factor in regional Mediterranean cuisines. For instance, Arab influence is evident in North African cuisine with the use of certain spices (like cumin, garlic, or harissa – roasted red pepper paste), lamb, couscous, and oranges.
Greek cuisine was influenced by both the ancient Greeks and the Ottoman Empire, while Italian cuisine evolved from its Roman roots.
The Moors in Spain introduced new ingredients and irrigation techniques that increased the variety of vegetables and fruits grown (the effects are still felt today). Likewise, their fondness for spices enriched Spanish cuisine. Rice, almonds, eggplants, and saffron came here during the Moorish rule.
The 19th And 20th Centuries: Formation Of Modern Mediterranean Cuisine
The Impact Of Industrialization
Industrialization in the 19th and 20th centuries profoundly influenced Mediterranean cuisine. The advent of new technologies in agriculture boosted crop yields, while transportation advancements made it easier to import and export foodstuffs.
Canning and refrigeration technology also increased food preservation capabilities. They allow many items, like fish and vegetables, to be enjoyed year-round and transported over longer distances.
Migration And Its Influence On Cuisine Exchange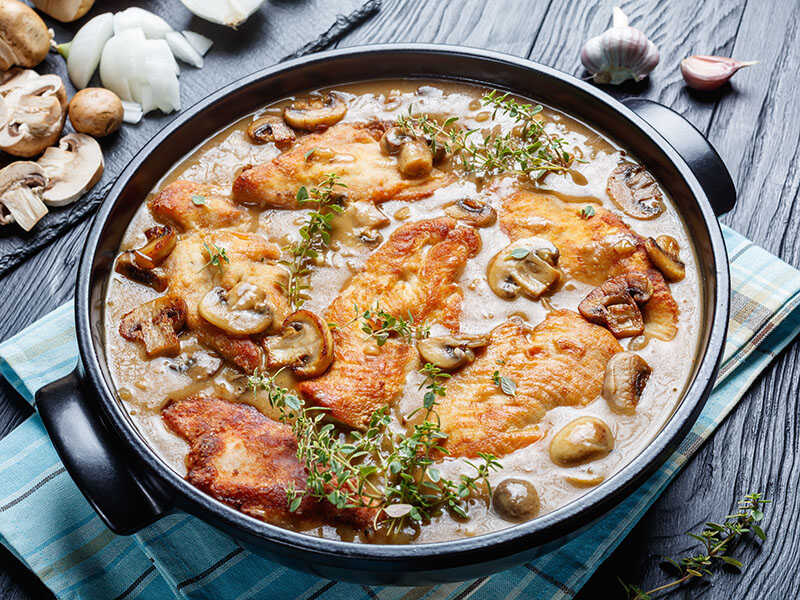 The last few centuries saw significant waves of migration, both within the Mediterranean region and from the Mediterranean to other parts of the world. Immigrants brought their culinary traditions with them to their new homelands, and vice versa.
This cross-pollination resulted in a more diverse Mediterranean cooking tradition. For instance, the migration of people from Southern Italy to America resulted in the evolution and popularization of Italian-American cuisine.
Role Of Tourism In Popularizing The Cuisine Globally
Tourism played a crucial role in the global popularity of Mediterranean cuisine during the 20th century. As the Mediterranean region became a popular vacation destination, tourists discovered the local cuisine and carried a love for Mediterranean dishes back to their home countries.
Mediterranean restaurants have sprung up worldwide, increasing global familiarity with dishes such as Greek gyros, Italian pizza, Spanish paella, and Moroccan couscous.
Emergence Of The "Mediterranean Diet"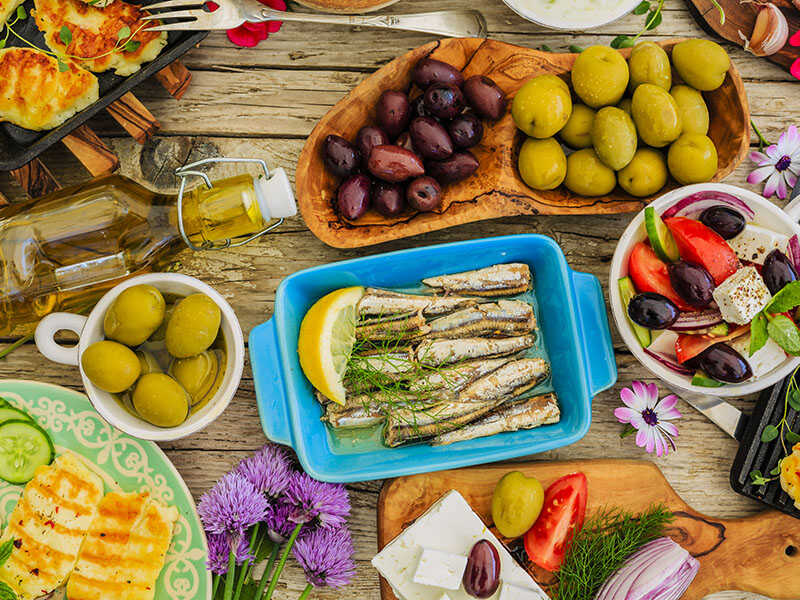 In the mid-20th century, researchers started taking an interest in the dietary habits of the Mediterranean region due to lower rates of chronic diseases and longer life expectancy. And so the term "Mediterranean diet" emerged.
This concept emphasizes a diet high in fruits, vegetables, legumes, whole grains, and olive oil, with moderate consumption of fish and poultry and small amounts of red meat and dairy.
Mediterranean cuisine is associated with many health benefits, which increases its popularity and influences dietary habits globally. Today, the Mediterranean diet is widely acknowledged as one of the healthiest eating patterns and is recommended by many health organizations (2).
Contemporary Mediterranean Cuisine
Continuing Evolution And Fusion
In the present day, Mediterranean cuisine continues to evolve and adapt to global food trends. Chefs constantly experiment with fusion dishes, such as combining traditional Mediterranean ingredients with Asian or American flavors and techniques.
The use of locally sourced and organic ingredients is also increasingly prevalent to align with the global trend towards sustainability and eco-conscious eating.
Mediterranean Diet And Its Health Benefits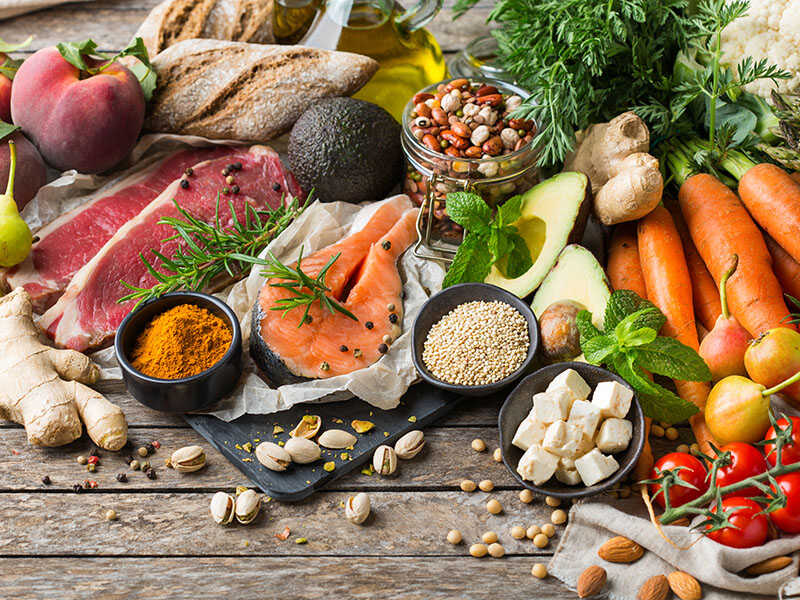 The simplicity of Mediterranean cooking, which emphasizes fresh, high-quality ingredients, resonates with many modern consumers. In addition, this diet is rich in wholesome ingredients, such as fruits, vegetables, whole grains, lean proteins, and healthy fats, particularly olive oil.
Its focus on plant-based foods and moderation, rather than restriction, makes it more sustainable and easy to follow for many people.
There are many health benefits you can gain from a Mediterranean diet. Among the most famous advantages are a lower risk of heart disease (especially in women), better sleep quality, and protection from cognitive decline. It is also associated with increased longevity (3).
The Mediterranean Diet: An Intangible Cultural Heritage
The Mediterranean diet's significance extends beyond its culinary appeal. In 2010, UNESCO recognized it as an Intangible Cultural Heritage, acknowledging its cultural and social importance.
It is more than just eating food: enjoying a Mediterranean meal also means sharing a good time with your friends and family members.
Common Ingredients In Mediterranean Cuisine
Olive Oil
Perhaps the most ubiquitous food ingredient in Mediterranean cuisine is olive oil. It is particularly associated with heart health due to its incredibly high content of monounsaturated fatty acids (4). This flavorful oil is regularly used for cooking, baking, dressings, and even drizzling over finished dishes.
Fruits And Vegetables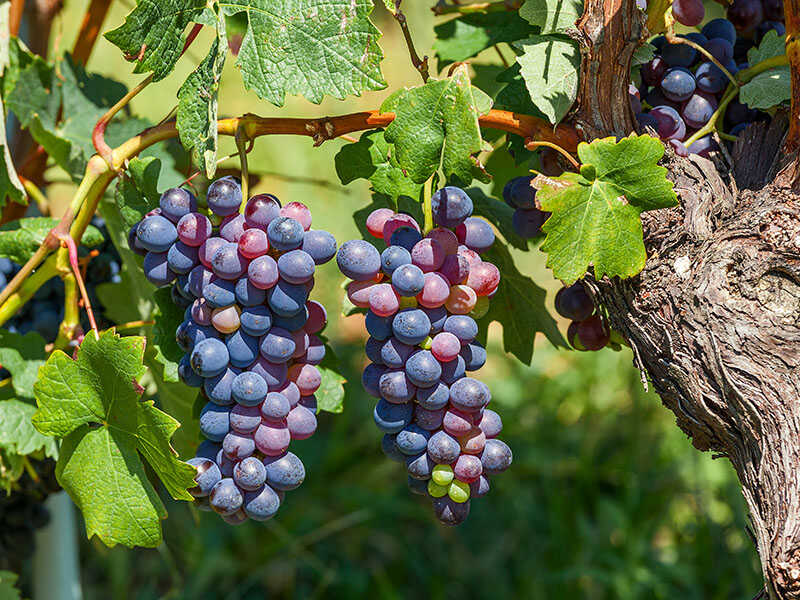 The most popular vegetables in Mediterranean cuisine include tomatoes, onions, eggplants, zucchini, cucumbers, leafy greens, and onions. Fruits like lemons, oranges, figs, grapes, and olives are also widely used as a main ingredient in dishes, as a topping, or as a dessert.
Grains And Legumes
Whole grains form the basis of many dishes on a Mediterranean table, particularly breads and pastas. Wheat is especially prevalent, but barley, couscous, and bulgur are also common. Legumes, such as lentils, chickpeas, and beans, are frequently used in soups, salads, and side dishes.
Seafood And Meat
Given the Mediterranean region's extensive coastline, seafood naturally plays a significant role in the local diet. Fish, shellfish, and other seafood are often grilled, baked, or used in stews.
While meat plays a lesser role compared to a typical Western diet, poultry, lamb, and goat are consumed in moderation. Pork is a common sight in regions where religious dietary laws do not restrict its consumption.
Dairy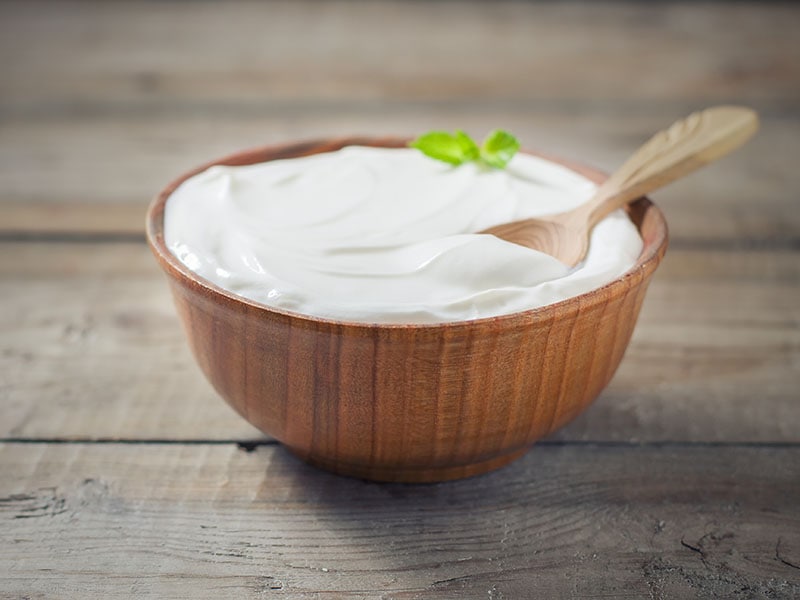 Cheese and yogurt are essential dairy products in Mediterranean cuisine. Varieties like feta, mozzarella, ricotta, and halloumi are common, while yogurt (especially Greek yogurt) often appears in sauces, dips, and desserts.
However, moderate consumption of these products is encouraged. And Mediterranean cuisine disapproves of processed dairy, such as flavored yogurts and commercial American cheese. Drinking plain milk or using it in cooking isn't a popular practice.
Herbs And Spices
You can find many fragrant herbs and spices in Mediterranean cuisine. Basil, oregano, rosemary, thyme, dill, and parsley are common herbs, while it is easy to cook marvelous Mediterranean dishes with cumin, coriander, cinnamon, saffron, and paprika.
Nuts And Seeds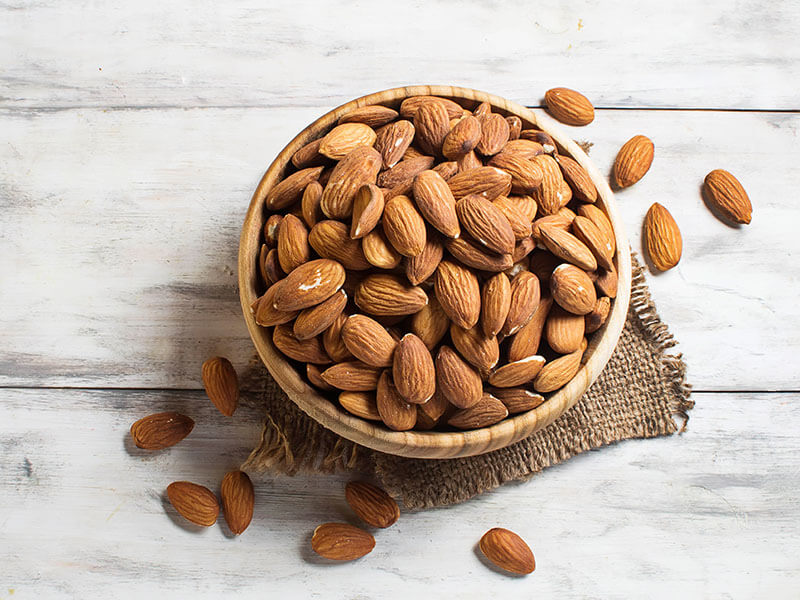 Ingredients like almonds, pistachios, walnuts, sunflower seeds, sesame seeds, and pine nuts create many Mediterranean dishes. They can be found in everything, from pilafs, salads, or savory stews for lunch and dinner to pastries and desserts for snacks.
FAQs
Sunset Over The Sea: The Latest Chapter In Mediterranean Cuisine History
As you reach the end of this exploration into the history of Mediterranean cuisine, I hope it has opened your eyes to the rich heritage behind these delectable dishes. But the evolution of this magnificent cuisine is still in progress, and you will likely see more interesting developments in the future.
Now, it's time to join the conversation – like, share, and comment on this article to inspire others to discover the fascinating world of Mediterranean cuisine. Let's celebrate and preserve this UNESCO-recognized wonder for generations to come!
References
Mediterranean cuisine (2023) Wikipedia.
Diet Review: Mediterranean diet (2023) The Nutrition Source.
Mayer, B.A. (2023) Mediterranean diet: 8 scientific benefits, according to New Research, Healthline.
The benefits of adding a drizzle of olive oil to your diet (2023) www.heart.org.