Let's dive into the enchanting world of traditional Mediterranean dishes, where vibrant flavors and wholesome ingredients await you.
In this post, I'll unveil the secrets behind these mouthwatering creations that have stood the test of time.
So get ready to indulge in a gastronomic experience that will surprise your taste buds, broaden your culinary horizons, and discover the flavor of Mediterranean cuisine right in your kitchen.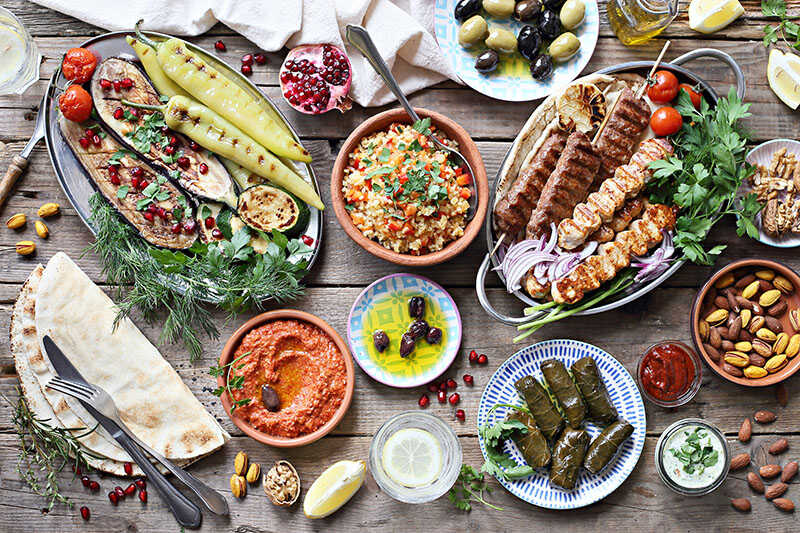 The Overview Of Regional Mediterranean Cuisine
Eastern Mediterranean
In the history of Mediterranean Cuisine, especially in the Eastern Mediterranean, the culinary traditions of Greece, Turkey, Syria, Lebanon, Israel, Palestine, and Egypt intertwine to create a vibrant tapestry of tastes.
Yogurt and fresh cheeses like feta, halloumi, and labneh play prominent roles, with yogurt appearing in various sauces and as a condiment, while cheese can be enjoyed cooked or raw.
Parsley, sumac, mint, and lemon juice are also prominent ingredients to add a refreshing touch. On the other hand, pomegranates and nuts are regular ingredients in sauces and spreads.
Grains take the form of fragrant rice and flatbreads such as pita and lavash. Regarding proteins, lamb, mutton, poultry, and goat meat are prominent, often grilled in different forms like skewered kebabs, ground kibbeh, or spit-fired Gyros.
Bulgar wheat finds its place predominantly in salads, while chickpeas frequently serve as a meat substitute.
Southern Europe
Southern Europe, encompassing Italy, Southern France, and Spain, boasts a distinct culinary identity that sets it apart from the rest of Europe and other Mediterranean countries.
Wine plays a prominent role in Southern European cuisine, acting as a flavor enhancer in cooked dishes and a standalone beverage. Pork is a preferred meat, surpassing goat, mutton, and lamb in popularity.
Plus, traditional dishes in Southern Europe use a range of flavorful ingredients, including tomatoes, capers, garlic, mustard, anise, and pine nuts.
The region's diverse grains are showcased through leavened bread, pasta, and rice, so you can have various meal options.
North Africa
North Africa, with Libya, Tunisia, Morocco, and Algeria is renowned for its spice-laden cuisine. Spices like saffron, cumin, coriander, chilies, paprika, cinnamon, and cloves infuse dishes with rich flavors.
In Moroccan traditional dishes, Harissa and Ras el Hanout are prominent spice blends, adding characteristic heat to stews and sauces. Dried fruits such as dates, apricots, and raisins lend a sweet touch, while preserved lemons offer a salty and brined pungency.
Couscous, a granular semolina grain, is a popular accompaniment to stews and meats in this area. Lamb, mutton, and goat meat dominate the protein choices, but chicken and beef are also enjoyed.
In Greek
1. Horiatiki (Greek Salad)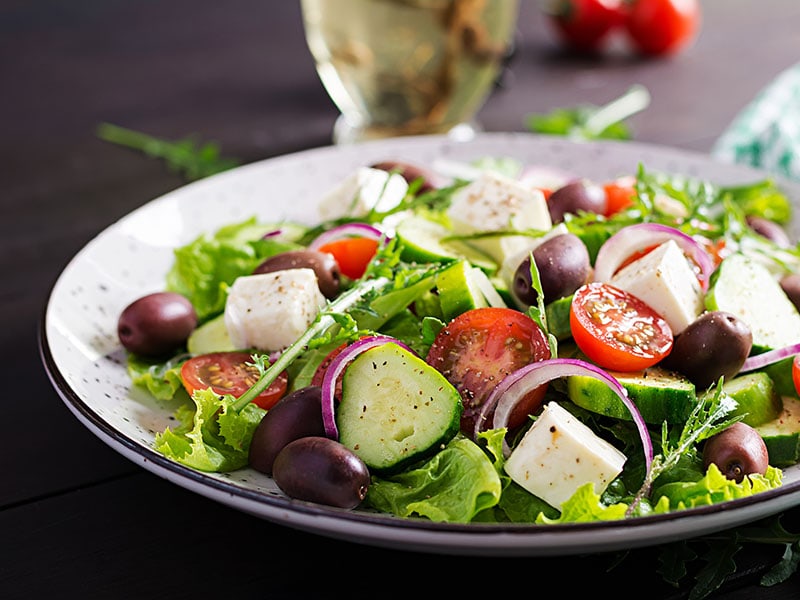 When coming to a quaint cafe or restaurant in Greece, you will spot a colorful salad on the menu known as Horiatiki, which is named after a charming Greek village.
Invented by tavern owners in the historic Plaka district between 1960 and 1970, this classic Greek specialty embodies the flavors of summer.
Served as a light, refreshing meal or a side dish, it shines with ripe and wholesome Greek fruits and vegetables like chopped cucumbers, tomatoes, bell peppers, onions, and black olives. A generous chunk of crumbled feta cheese or a thick slice adds a layer of creaminess.
Moreover, the mild tangy bite of onion is balanced by a drizzle of extra virgin olive oil, while a sprinkle of oregano or fresh mint imparts a zesty punch. Remember the crusty Greek bread for scooping up every flavorful note of ingredients.
2. Moussaka (Eggplant Casserole)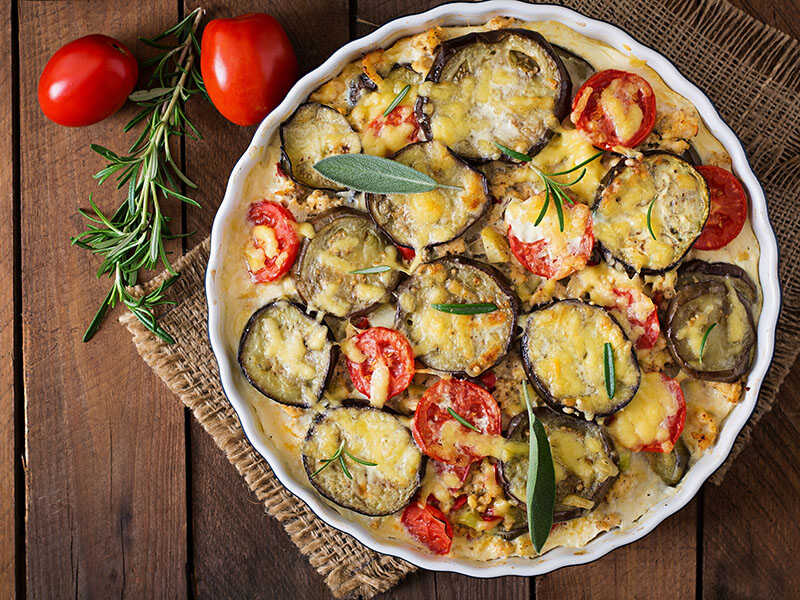 Moussaka is a traditional eggplant-based dish famous in Mediterranean cuisine, especially Greek, Levant, Turkish, and Egyptian.
Its story begins around the 13th century which is believed to have sprung from Arab countries. Later, Moussaka was reimagined in the 1920s by Nikolaos Tselementes, a French-trained Greek chef.
This gave birth to the Greek variant you see today that is reminiscent of an Italian lasagna with layers of eggplant or potato lavishly drizzled in olive oil. A rich tomato sauce and ground meat, typically lamb or beef, nestled between each layer, capped off by a sumptuous Béchamel or white sauce.
I also love its vegetarian version, which is Levant Moussaka made with chickpeas. Turkish Moussaka, meanwhile, breaks with tradition by forgoing layers.
3. Tzatziki (Cucumber Yogurt Sauce)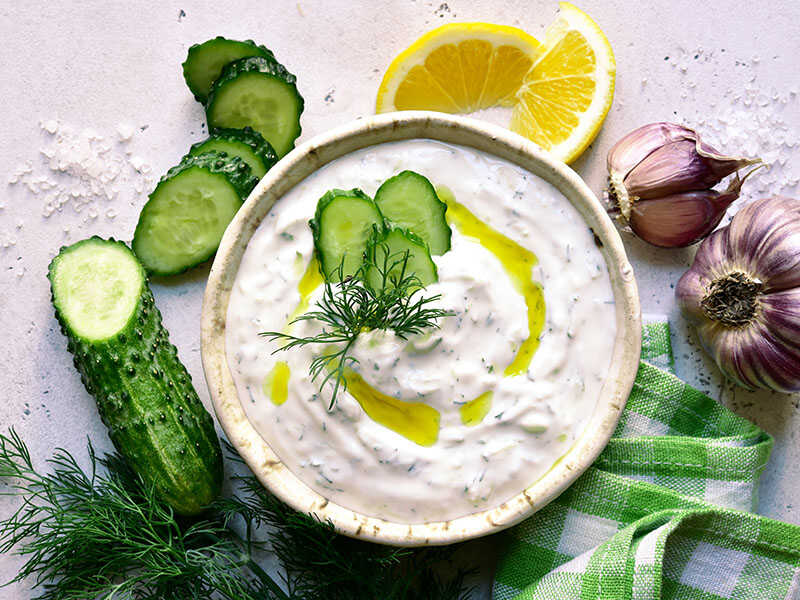 To me, Tzatziki (or cacık or tarator in some cultures) is more than just a dipping sauce. This Greek sauce uses strained or diluted yogurt as its base, mixed with a perfect blend of cucumbers, garlic, salt, olive oil, and vinegar or lemon juice.
Herbs such as dill, mint, parsley, and thyme lend their distinctive notes, bringing a garden-fresh aroma. The combination of a refreshing cucumber taste with a yogurt tang makes it irresistible as well.
Perfect as a cool, creamy mezze or side dish, it doubles as a sauce for Souvlaki and Gyros sandwiches. And the cherry on top? It's low in calories alongside carbohydrates and fat while rich in vitamins and protein, making it my favorite dish for my diet plan.
4. Spanakopita (Spinach Pie)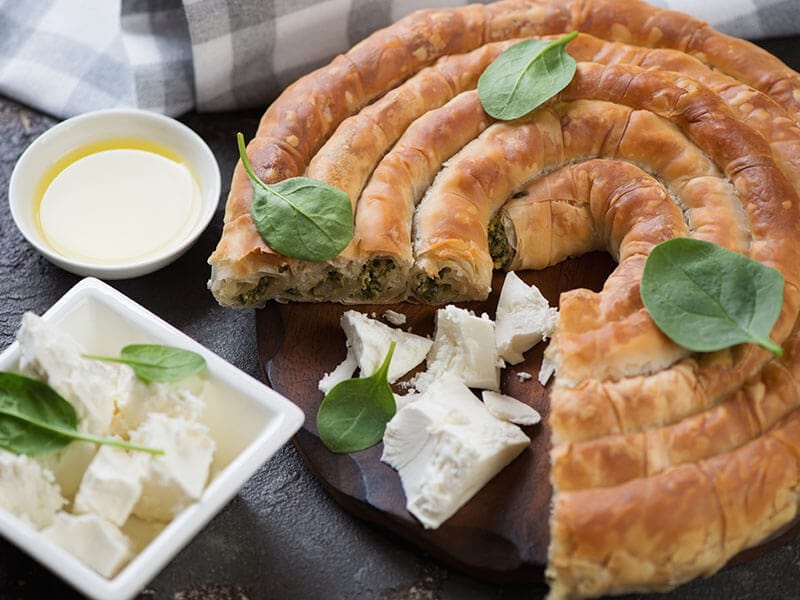 Spanakopita is a tasty savory pie from Greece, delivering an earthy, buttery flavor through a spinach filling. This filling combines cooked spinach, tangy lemon juice, crumbled feta cheese, and sometimes a hint of dill, enveloped by flaky phyllo pastry.
Flexible in its serving, Spanakopita fits snugly as a small snack, an appetizer, or a light main course.
It's known as Spanakotiropita in northern Greece, while southern Greeks savor cheese-inclusive versions of spanakopita. Moreover, those observing religious fasts in this country do not use cheese and eggs.
5. Feta Cheese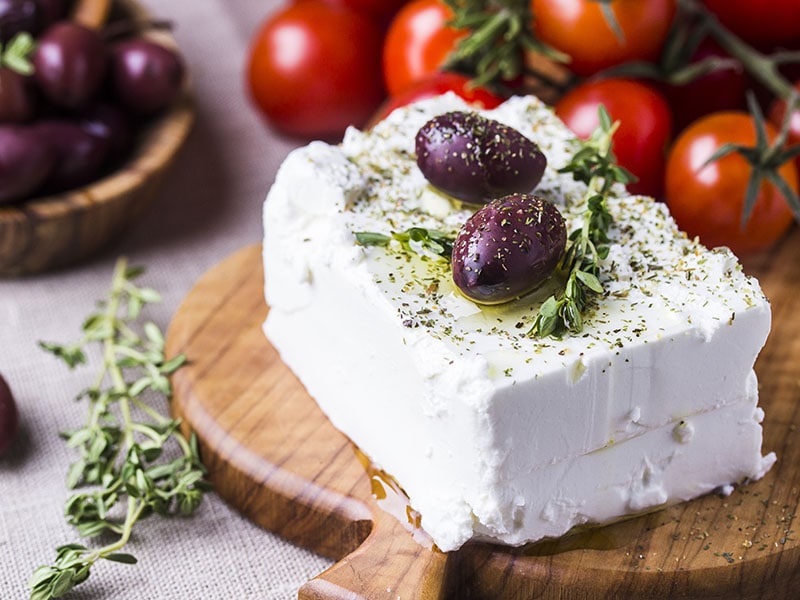 Feta, a Greek-brined white cheese, brings a creamy, crumbly texture to your palate. It's made primarily from sheep's milk, with some variations combining sheep and goat's milk. It has a soft texture with small or no holes and a compact appearance with few cuts and no skin
Feta cheese is typically formed into large blocks and aged in brine, resulting in a tangy and salty flavor spectrum that ranges from mild to sharp.
Feta is not only my favorite table cheese but also enhances Greek salads and adds richness to Greek pastries like Spanakopita "spinach pie" and Tyropita "cheese pie". Plus, it's a guilt-free choice, low in calories and fat, yet rich in B vitamins, calcium, and phosphorus (1).
In Italian
6. Caprese Salad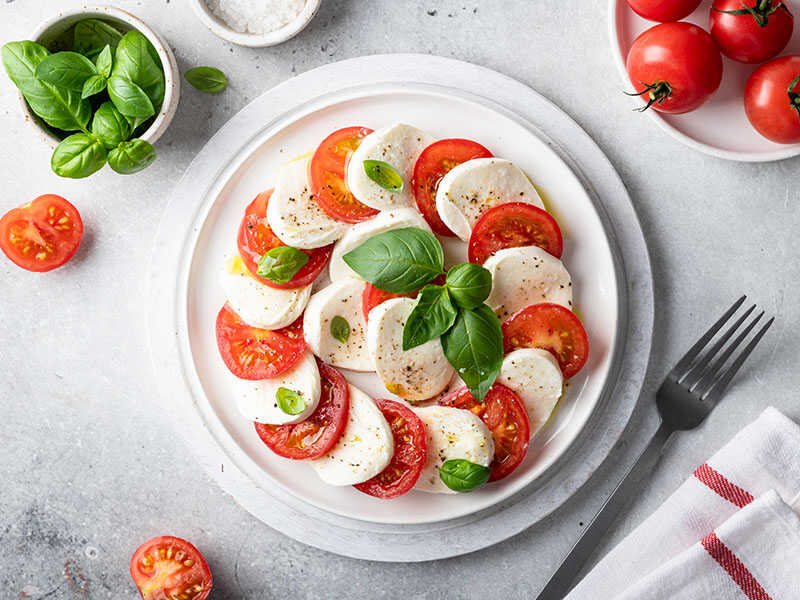 Here is my top favorite Italian delight on my list! Caprese salad is named after the sunny island of Capri. Its creation dates back to the 1920s, at the famed Hotel Quisisana, post-World War 1.
Since then, the salad quickly captured hearts across Italy with its delightful combination of sliced fresh mozzarella, sweet green basil, and ripe red tomatoes, all beautifully seasoned with salt and olive oil.
Like pizza Margherita, it resembles the colors of the Italian flag – a bright green, clean white, and vibrant red. Not just a side dish, this salad is a popular antipasto, perfect for starting a meal.
Since this is a salad with fresh greens, they can be your new refreshing, healthy snack at any time of day, particularly on a warm summer afternoon.
7. Pizza Margherita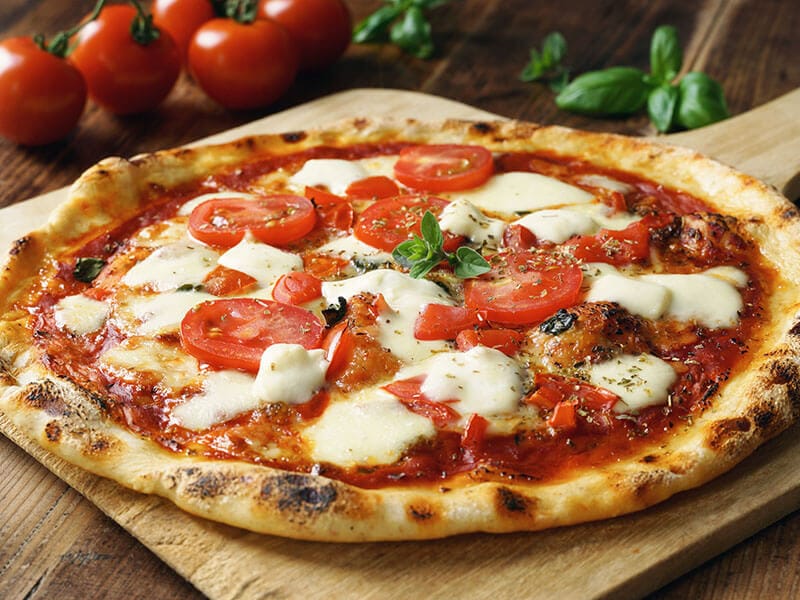 Pizza Margherita is a symbol of Neapolitan cuisine. San Marzano tomatoes, mozzarella cheese, fresh basil, salt, and extra-virgin olive oil come together in delicious harmony on this classic pizza.
Commonly, the colors of the ingredients mirror the Italian flag with the tomato's red, mozzarella's white, and basil's green.
Unlike many of its American counterparts, this delight is served uncut and calls for a knife and fork. With its crispy dough and gooey cheese, it promises to give you a winning combination of textures.
Quick fact: The name of this pizza has historical roots: Raffaele Esposito, the chef at Pizzeria Brandi, invented this dish in 1889 to honor Queen Margherita of Savoy and the Italian unification
8. Risotto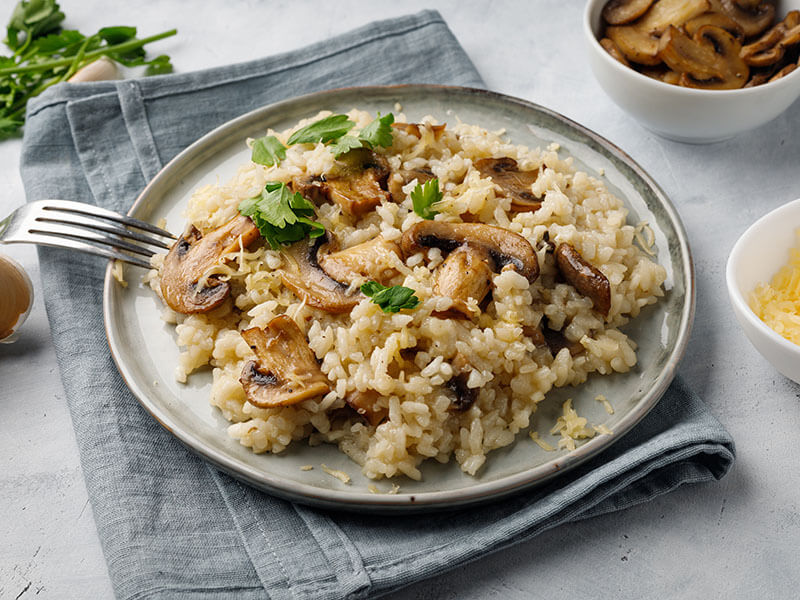 Risotto is a rich and creamy rice dish from Northern Italy. Its recipe has evolved over centuries, with some of the first versions appearing in 18th-century cookbooks.
Arborio, a short-grain Italian rice grown in Piemonte, is the backbone of this dish. The rice is lovingly stirred with a flavorful broth until it becomes thick and creamy. This broth can come from various sources: meat, fish, or vegetables.
Furthermore, the golden hue of traditional Risotto is a nod to its saffron infusion. In Italy, making Risotto is also one of the most common rice cooking methods. Italians prefer to savor this comforting dish as a first course, and it is best to enjoy it warm in a bowl or plate.
9. Lasagne / Lasagna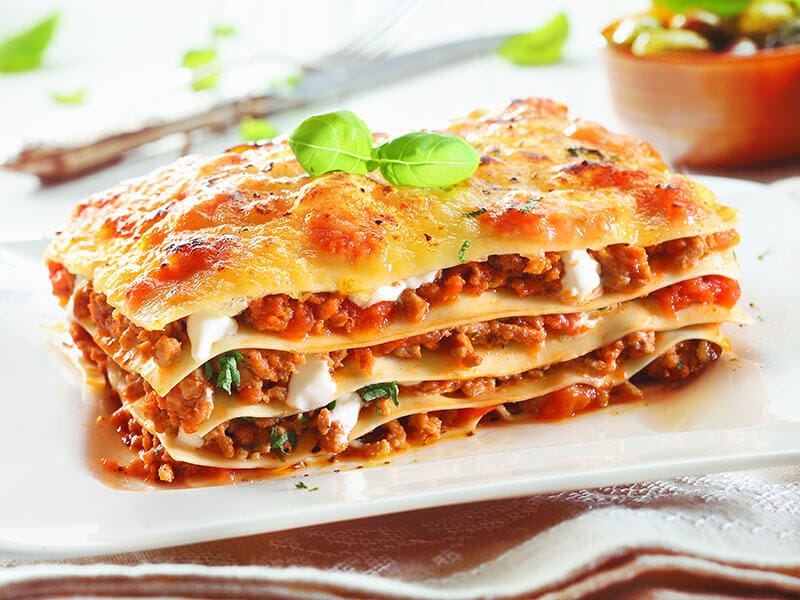 Lasagna, one of the oldest forms of pasta, first charmed taste buds in 14th-century Naples, Italy. This pasta takes shape in wide, flat sheets that are easily recognizable. Lasagna is also a term referring to a dish that uses this pasta, which is artfully stacked, and fillings separate each layer.
Whether the filling is robust ragù Bolognese (my top choice of Italian sauce), velvety béchamel sauce, fresh vegetables, or indulgent cheeses, lasagne welcomes them all.
Don't forget a final sprinkle of grated cheese, which melts beautifully in the oven. Today, it is not only a comfort food but also a staple in many family meals.
10. Gelato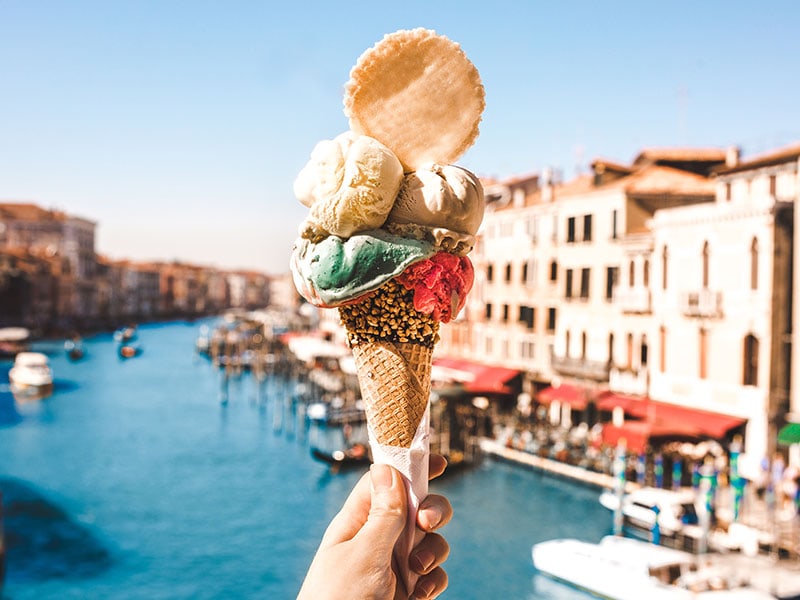 Speaking of desserts in Mediterranean cuisine, Gelato, the Italian version of ice cream, is a great choice.
It carries a rich legacy of flavors and textures. Its character comes from a lower butterfat content (6%–9%)and a slower churning process compared to conventional ice cream. This unique method imparts a denser consistency and a silkier texture.
The gelato flavors vary. Some classic versions are vanilla, chocolate, and fruit (like strawberry), while more exotic tastes like hazelnut, pistachio, tiramisu, or stracciatella (vanilla with crunchy chocolate pieces)
11. Pasta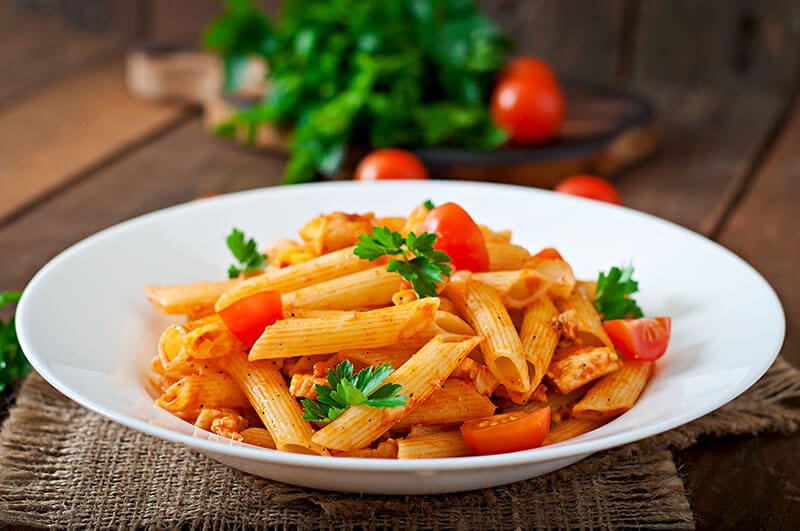 Pasta, the pride of Italian cuisine, traces its history back to the 13th and 14th centuries. It's the result of a simple combination between wheat flour and water or eggs, forming an unleavened dough.
This dough is then shaped into various forms, creating several pasta variations, from spaghetti strands to tubular penne or fanciful farfalle bows. Whether dried (pasta secca) or fresh (pasta fresca), it's prepared by boiling or baking, then paired with sauces, lending a savory balance.
What's better, pasta isn't limited to a saucy partner, so just pick your well-loved sauce and create a hearty meal. Plus, it can cozy up to a warm broth or join a vegetable soup for a satisfying meal.
12. Bruschetta (Toasted Bread)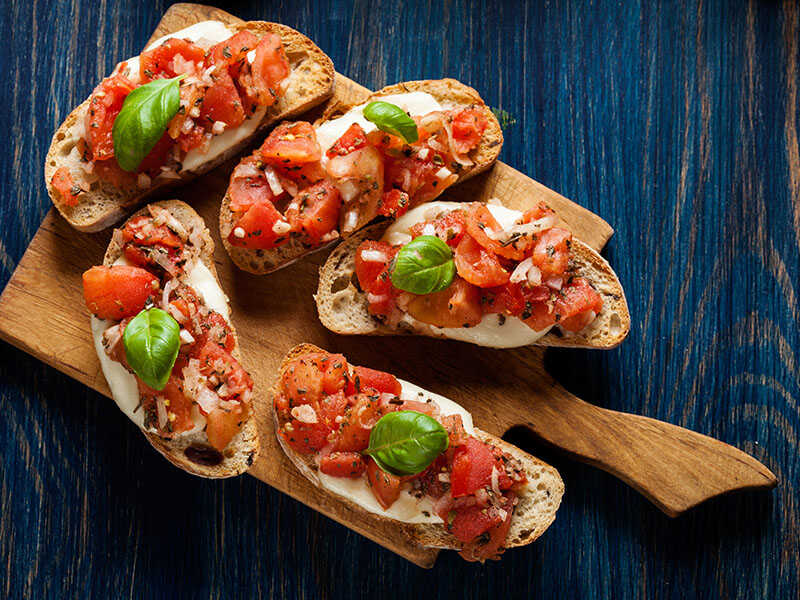 Dating back to the 15th century, Bruschetta is an inviting antipasto (starter dish) in the country. The nickname 'fettunta', or 'oiled slice', aptly encapsulates its essence.
It begins with a slice of Tuscan bread, famously known as 'silly bread' because it's made without salt. This slice is toasted, usually on a brustolina grill, then rubbed affectionately with garlic. A drizzle of olive oil and a sprinkling of salt bestow it with simple yet profound flavors.
Other important components are basil and tomatoes. These ingredients don't just tantalize the taste buds; they also celebrate Italy, with their green from the basil, "white" from the bread, and red hues from tomatoes that mirrors the Italian flag. You can add meat or salami if desired.
13. Tuscan Chicken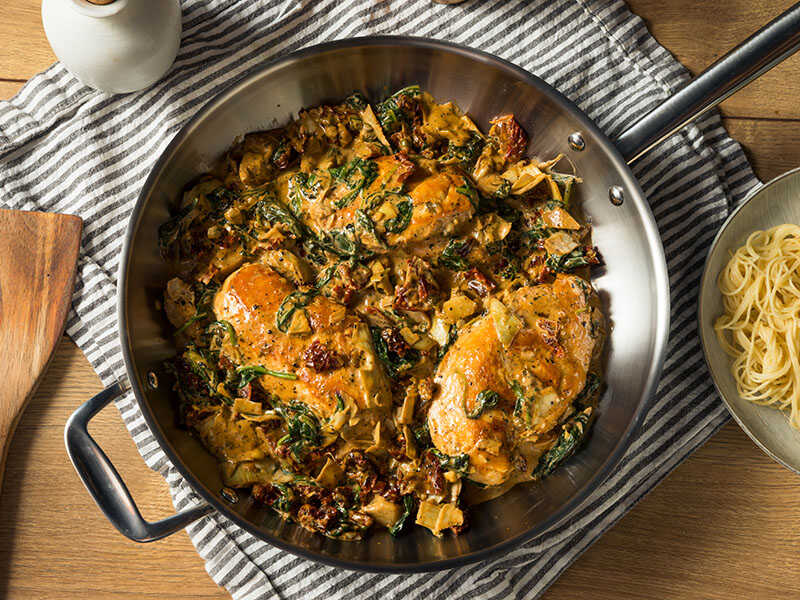 From the heart of Italy's Tuscany region, I've found a comforting dinner choice that's both simple and scrumptious called Tuscan chicken. Thin chicken breasts take center stage, gaining a juicy and tender texture once cooked.
Sun-dried tomatoes, spinach, and basil contribute to the wonderful blend of flavors, while parmesan cheese and a creamy sauce provide an indulgent finishing touch. And Tuscan chicken is easy to whip up at home.
The versatile nature of this dish allows for pairing it with rice or potatoes for a fulfilling meal. Alternatively, pasta and a salad are also worthy companions.
In Spain
14. Paella (Rice Dish)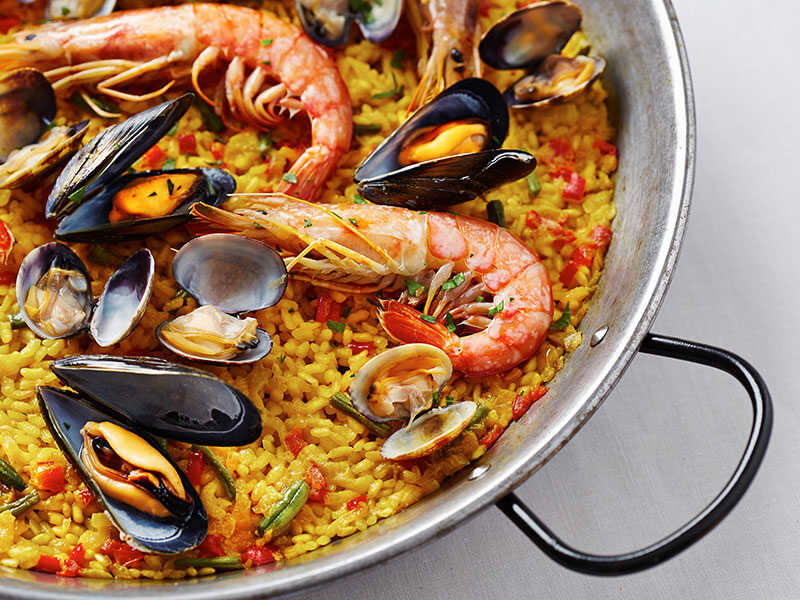 Paella is a crown jewel of Spanish cuisine, hailing specifically from Valencia, making it a symbol of this region. Overall, this dish involves short-grain rice, ideally of the bomba variety, sizzling alongside chicken or seafood in a shallow pan.
Interestingly, the word 'paella' also refers to this type of pan, hence the name. Fresh green beans, bell pepper, and tomatoes add crunch and color, while saffron, or its economical alternative turmeric, tints the dish with its appealing yellow hue.
To make it, you cook onion, saffron, and vegetable for 5 minutes, then add chicken (or other protein of your choice) and stock, and slowly simmer them together at medium-low heat.
Once complete, a garnish of chopped parsley and lemon slices adds the colorful touch to this Spanish masterpiece. FYI, there are three notable variants – Valencian paella (Paella Valenciana in Spanish), seafood Paella (Paella de Marisco) and mixed paella (Paella Mixta).
15. Paella Valenciana (Rice Dish From Valencia)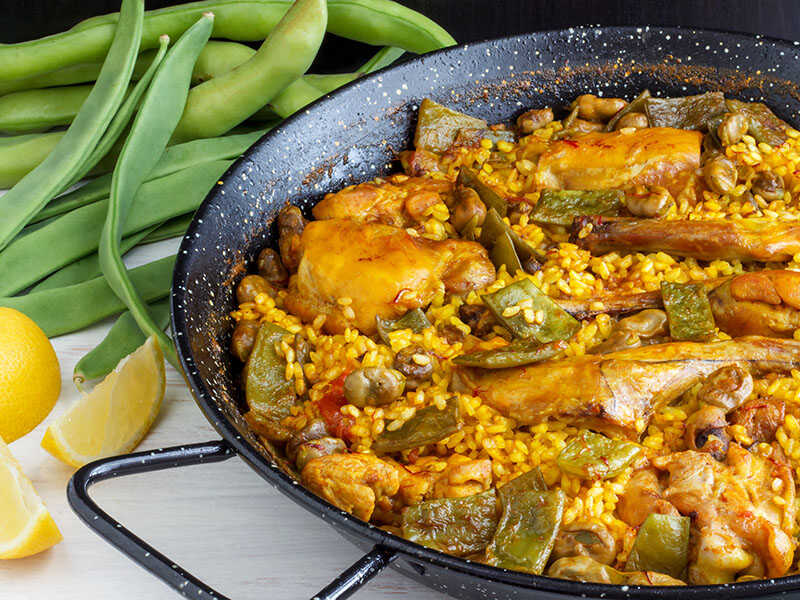 As one of the most famous variants, Paella Valenciana is traditional to the Valencia region. It combines round-grain rice, rabbit, and chicken or duck. The additions of bajoqueta and tavella, two local green beans, also enhance the dish's overall flavors.
When it comes to the cooking method, it is similar to regular Paella. Keep in mind, a well-crafted Paella Valenciana provides a crispy crust at the bottom of the rice layer, known as 'socarrat'. This crispy part is carefully maintained by limiting stirring during cooking.
16. Gazpacho Soup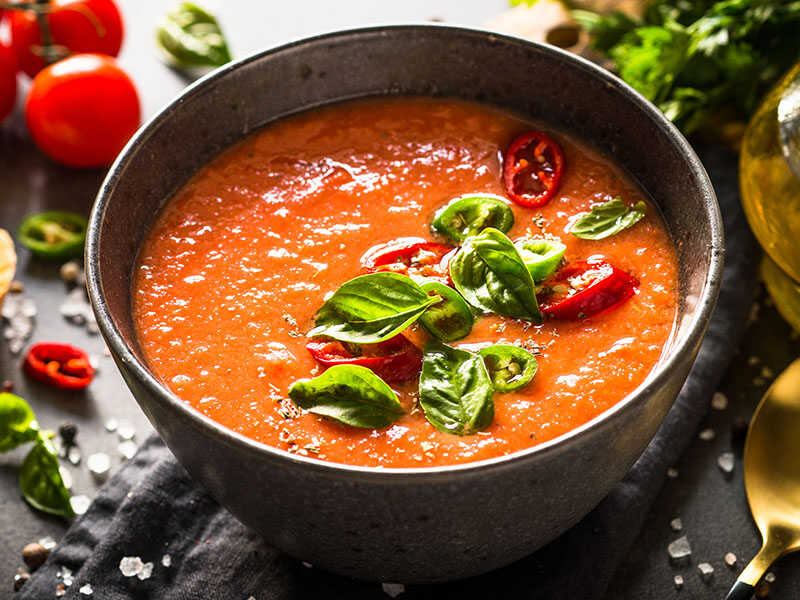 Gazpacho soup, also known as Andalusian gazpacho, is a refreshing delicacy enjoyed in Spain and Portugal. Made from raw, blended vegetables, it is one of the best cold soups during summer.
Think raw tomatoes (main ingredient), cucumber, bell peppers, onions, and garlic, all harmoniously blended with olive oil. The beauty of gazpacho soup is its highly customizable; you can bring in seasonal ingredients for an exciting twist.
A bowl of this soup served with a spoon, can be elevated with toppings like crunchy croutons or additional chopped vegetables.
Quick fact: the word 'gazpacho' comes from Arabic, meaning "soaked bread."
17. Tapas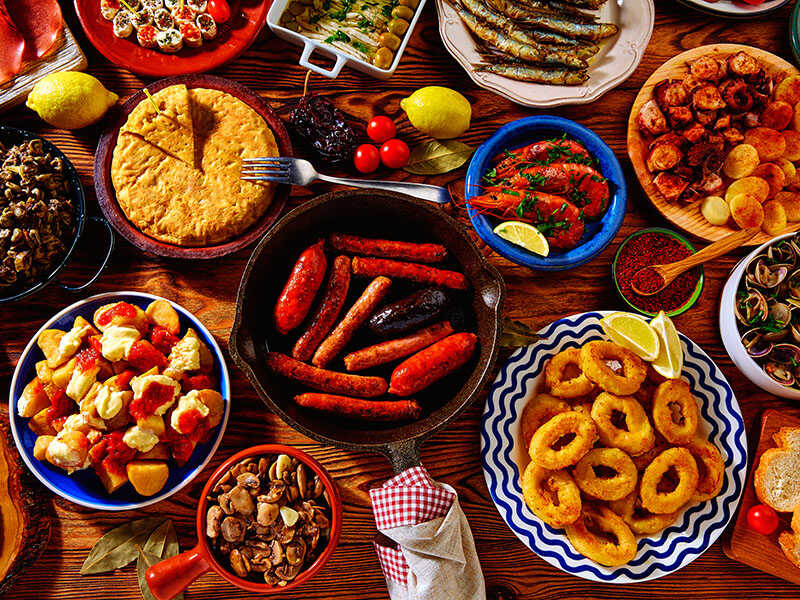 In Spanish culture, tapas play an integral role. It refers to small plates of food that pairs well with wine or beer, serving as appetizers or snacks.
They can be hot or cold, their varieties stretching from bread-based tapas like pinchos, to meat, ham, olives, and enticing cheese and charcuterie platters.
Garlic shrimp, or as Spaniards call it, 'Gambas al ajillo', is among the most loved tapas. Now, if you're seeking an authentic experience, head straight to Seville, a city renowned for its abundant tapas bars.
18. Pan Con Tomate (Tomato Bread)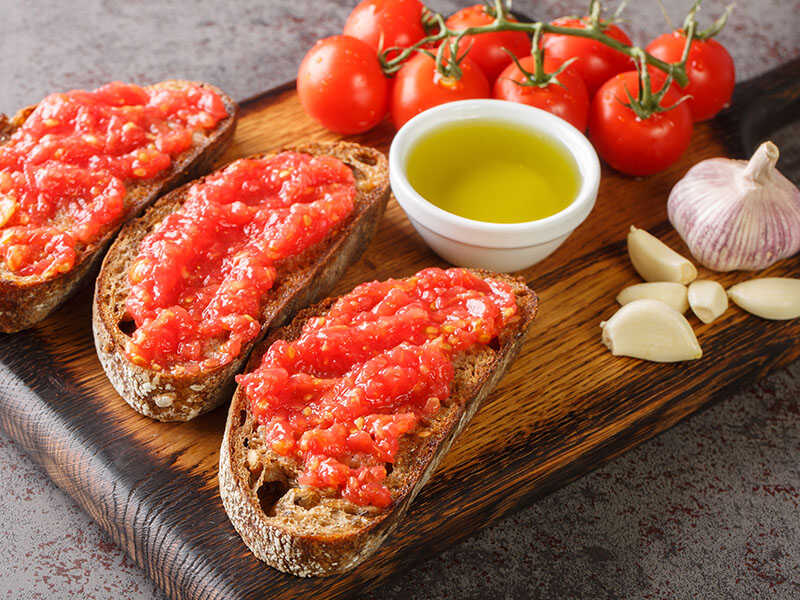 Pan con Tomate (or Pa amb tomàquet) with the meaning "bread with tomato" is as simple as it gets. Toasted bread meets ripe tomato and olive oil, with a hint of salt if you fancy, to create this humble delicacy yet its appeal is far-reaching.
It has secured a firm place in Catalan, Aragonese, and Balearic cuisine. From breakfast to dinner, this tapa finds its way to any meal in Spain. It is easy to spot it in bars all over Spain.
Although it looks similar to Italian bruschetta, its simplicity sets it apart, featuring mashed tomatoes and oil instead of finely chopped tomatoes and other ingredients in Bruschetta.
19. Escalivada (Roasted Vegetables)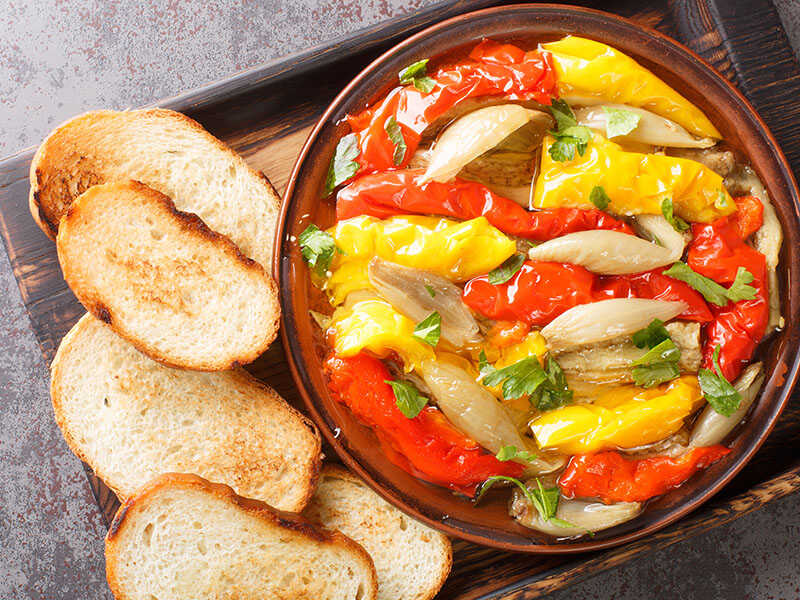 Escalivada is a tasty spectacle from regions like Catalonia, Valencia, Murcia, and Aragón in Spain. It is a very simple dish, with the smoky grilled vegetables, notably eggplant and bell peppers, coated in olive oil.
Certain spins on this recipe might include tomatoes, salt, and garlic for extra flavor. After roasting the vegetables, you need to peel their skin off and cut them into slices with 1/2- to 1-inch.
In this country, Escalivada serves as a light tapa, a companion for meaty or fish dishes, a flavorful topping on Coca (Catalan flatbread), or whatever you like.
20. Bacalao Al Pil Pil (Salted Cod)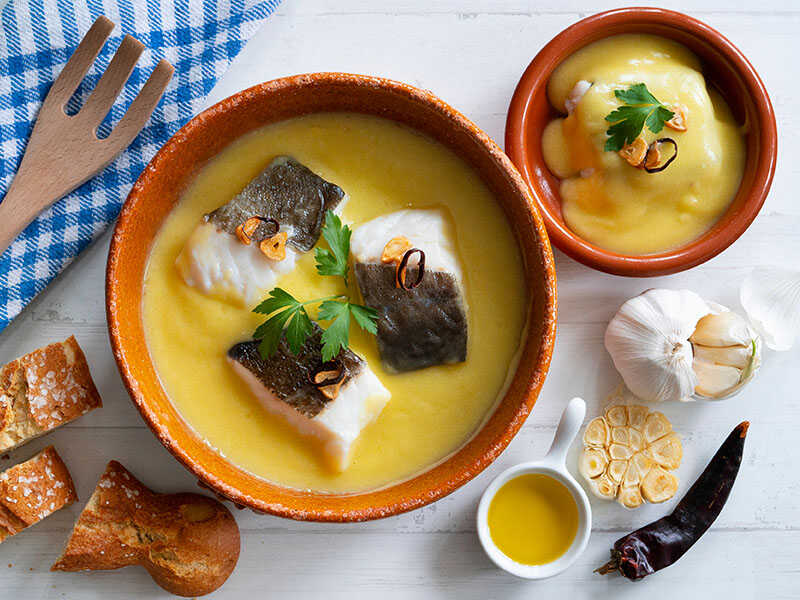 Bacalao Al Pil Pil is a specialty from the Basque Country, a northern region of Spain. And it has captured the hearts of both Spaniards and tourists.
This dish pairs salted cod with a fiery yet creamy sauce made of chili, garlic, and parsley. More specifically, the sauce, aptly named pil-pil, is a fusion of olive oil and salt cod.
Creating the thick texture of the sauce can be a bit challenging, but when achieved, it's totally worth it. And for a more attractive Bacalao Al Pil Pil, just garnish it with leftover garlic and chili peppers. The dish, of course, is best served hot or warm.
In Turkey
21. Pide (Oval-Shaped Flatbread)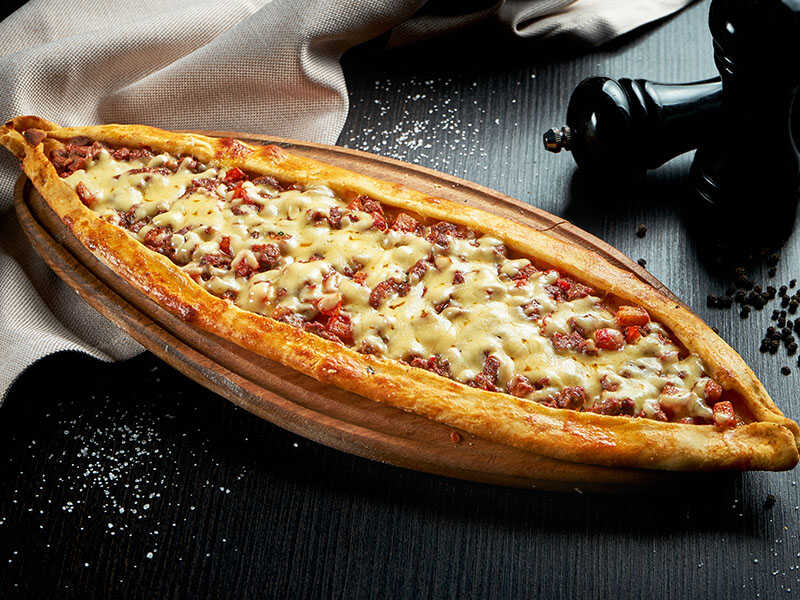 Pide, originating from the city of Samsun, has been a beloved part of Turkish gastronomy in the Black Sea region since 1725. Shaped like a narrow American football, this oval flatbread is baked to perfection in stone ovens, resulting in a crispy exterior and soft, slightly chewy interior.
Pide is different from pizza by foregoing the sauce. Instead, it's adorned with an assortment of meat or vegetable toppings. You'll likely spot people savoring this handheld treat at pide shops, known locally as "Pideci."
Variations of this staple include the Bafra Pidesi, where a thin dough layer embraces the filling, and the Trabzon Pidesi, a round pide version featuring melted Trabzon cheese and an egg nestled in the center.
22. Dolmas (Stuffed Grape Leaves)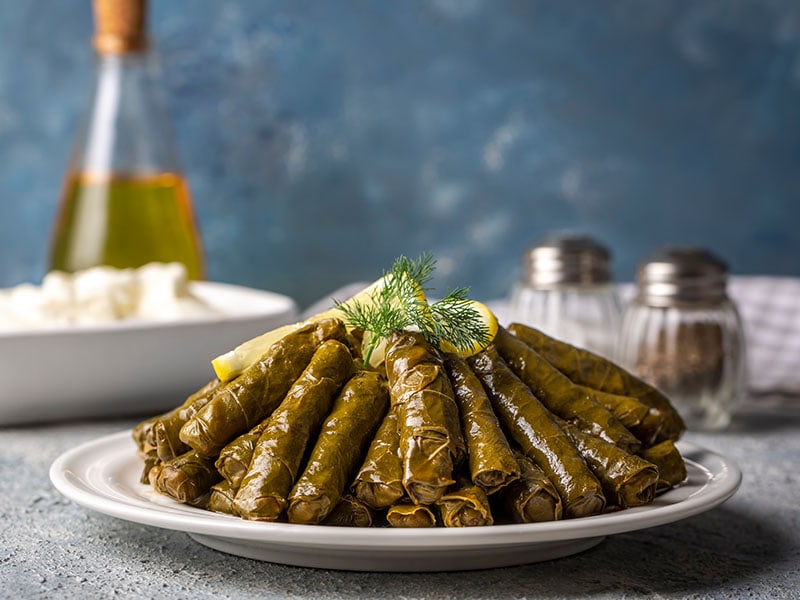 Dolmas, traced back to the reign of King Khusrow II in the early 7th century, are a famous dish of Ottoman cuisine. This family of stuffed dishes packs a flavorful punch, with fillings like rice, minced meat, offal, seafood, or fruit tucked inside a leaf or vegetable wrapper.
Whether warm or at room temperature; they're a perfect addition to any meal. In traditional Turkish taverns or "meyhane," sardine dolmas can be served as a mezze platter.
Wrapping favorites include grape leaves, which leave a subtle, wine-like taste. Dolmas come in two broad groups: those without meat and those drizzled with olive oil.
The latter is endearingly known as "yalanci," meaning "imitation," while meat dolmas always come with rice or, occasionally, bulgur filling.
23. Borek (Savory Pastry or Pie)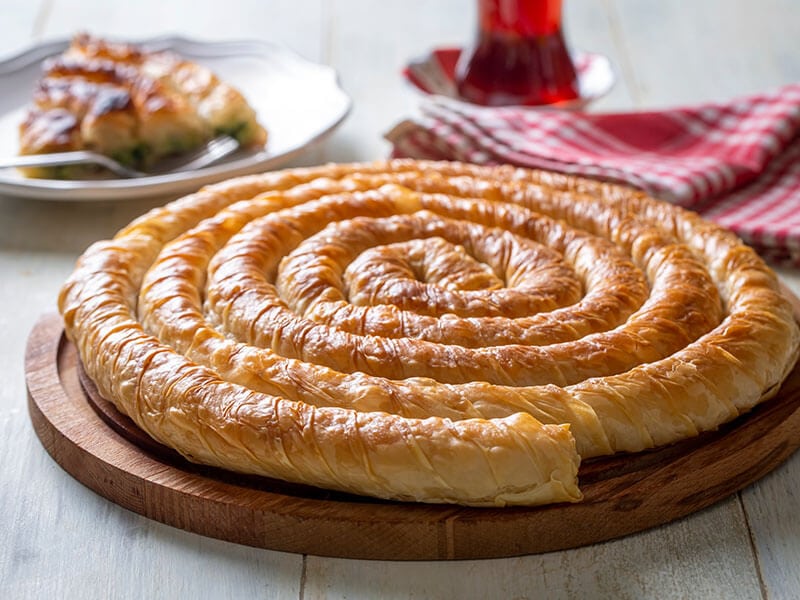 Borek is a famous savory pastry for breakfast and brunch. And its popularity is not only in its homeland but also in the Balkans, the Middle East, and Central Asia.
A bite of Borek reveals layers of ultra-thin yufka dough, an egg mixture, and various fillings. The dough is made from flour, salt, and water.
On the other hand, the filling varies, from unsalted Turkish cheese and parsley to chicken and minced meat, and occasionally, a vegetable lineup featuring potatoes, spinach, leeks, or fried courgettes.
Borek comes in many sizes or shapes. It may be a cigarette-shaped roll for a quick bite or a large tray for a family meal. There are sweet versions that work well as a dessert. But whether sweet or savory, Borek is ever ready to surprise your taste buds.
24. Zeytinyağlı Pırasa (Braised Leeks and Carrots)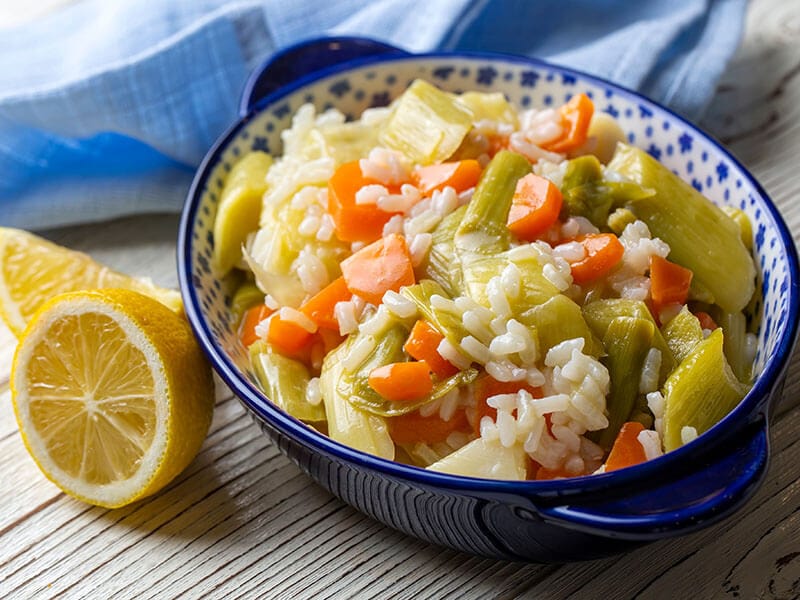 Zeytinyağlı Pırasa (meaning leeks with olive oil) offers a pleasing feast to vegetarian souls. A carefully prepared blend of leeks, olive oil, carrots, lemon and orange juice, and a pinch of granulated sugar delivers this delightful dish.
The dish, garnished with fresh herbs like dill or parsley, can be relished either warm or at room temperature. It is also a versatile treat, which you can treat as an appetizer or side dish.
25. Shish Tawook (Skewered Chicken)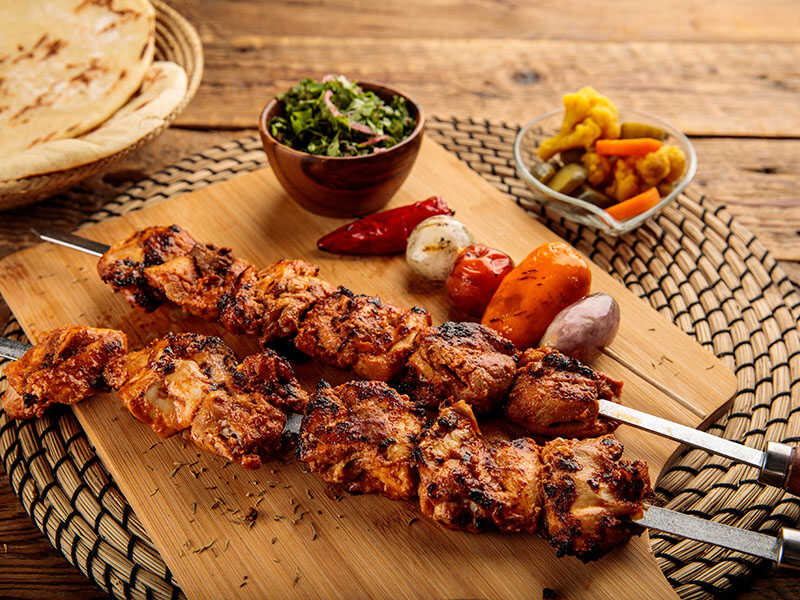 Shish Tawook is a classic chicken shish kebab from the Ottoman era. It is a global delight served in kebab houses worldwide, especially in the Middle East and Caucasus.
This dish includes marinating chicken cubes in a mixture of yogurt and either lemon juice or tomato puree, followed by skewering and grilling. You can savor it on a platter with vegetables, accompanied by rice or French fries, or relish it as a sandwich.
I prefer savoring it with rice, yogurt, cucumber salad, and skewer-grilled vegetables, to enjoy it like a local. If you're going for a sandwich, it's wrapped in flatbread or dürüm (Turkish-based wrap).
In Lebanon and Syria
26. Kibbeh (Bulgur Meatball) – Lebanon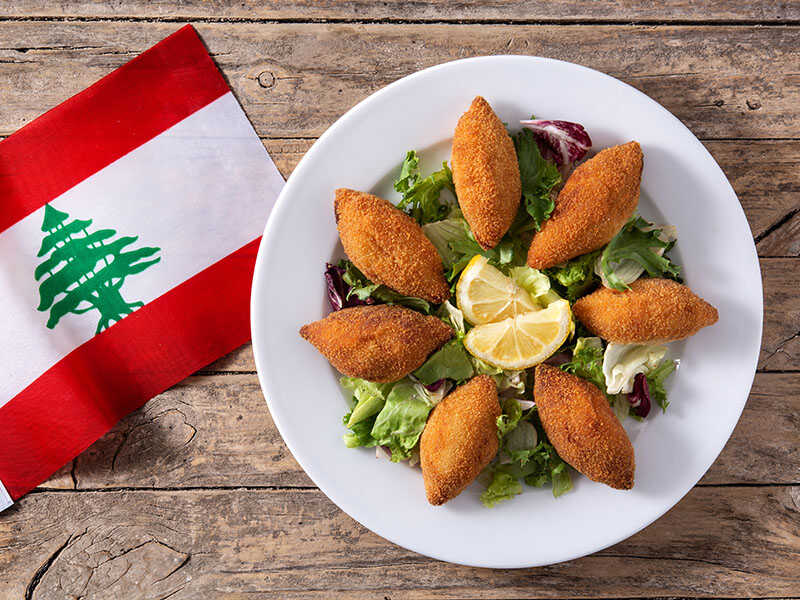 Kibbeh is another adored dish in Middle Eastern cuisine. It contains spiced ground meat, onions, and grain, and it's deemed a national dish in Lebanon and Syria.
Its taste is reminiscent of a meatball or meatloaf, with its flavor influenced by the type of ground meat chosen. For its creation, bulgur wheat and meat are pounded into a fine paste, forming balls with toasted pine nuts and spices.
But its presentation isn't confined to balls – it could be layered on a tray, deep-fried, grilled, or even served raw. For garnishing, mint leaves and olive oil are ideal additions. They are served alongside scallions, green hot peppers, and pita/pocket bread.
In Lebanon cuisine, I also find it shines on the dining table as part of a meze, or starter.
27. Baba Ganoush (Eggplant Dip) – Lebanon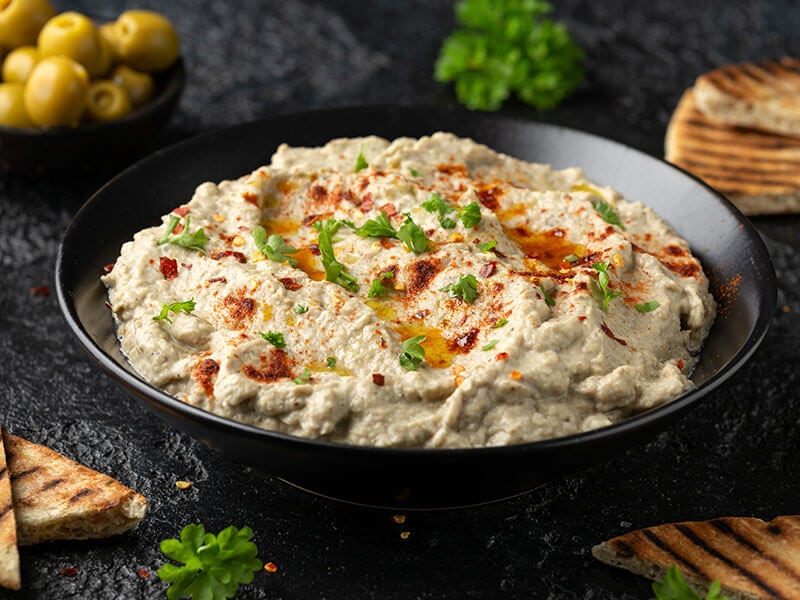 Baba Ganoush, sometimes spelled as baba ganoush or baba ghanouj, brings together roasted eggplant, olive oil, lemon juice, a selection of seasonings, and tahini in a delightful melange.
The eggplant, initially baked or broiled over an open flame, gives the dish a soft and smoky taste. Smooth and luxurious, its rich flavor profile makes it an irresistible start to any meal.
As versatile as it is tasty, the natives frequently enjoy Baba Ganoush as a side dish or a dip for pita bread. Overall, this delicacy effortlessly adds a touch of Middle Eastern flavor to the meal.
28. Fattoush Salad – Lebanon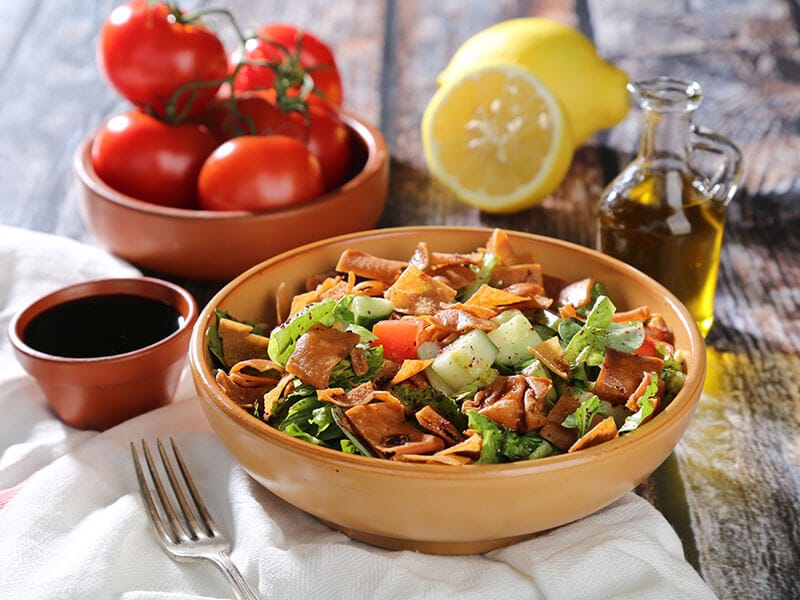 In Lebanon, the Fattoush salad holds a special spot on the dining table. Assembled from toasted or fried khubz (Arabic flatbread), mixed greens, and vibrant vegetables like radishes and tomatoes, it's a taste of the Levant that all communities embrace.
Stale flatbread forms its base, while its top is packed with season-varying vegetables and herbs. Its unique flavor twist? Sulac, a shrub tree from the cashew family, imparts a slightly sour, lime-like taste, making each bite refreshingly distinctive.
29. Tabouli (Parsley and Bulgur Salad) – Lebanon, Syria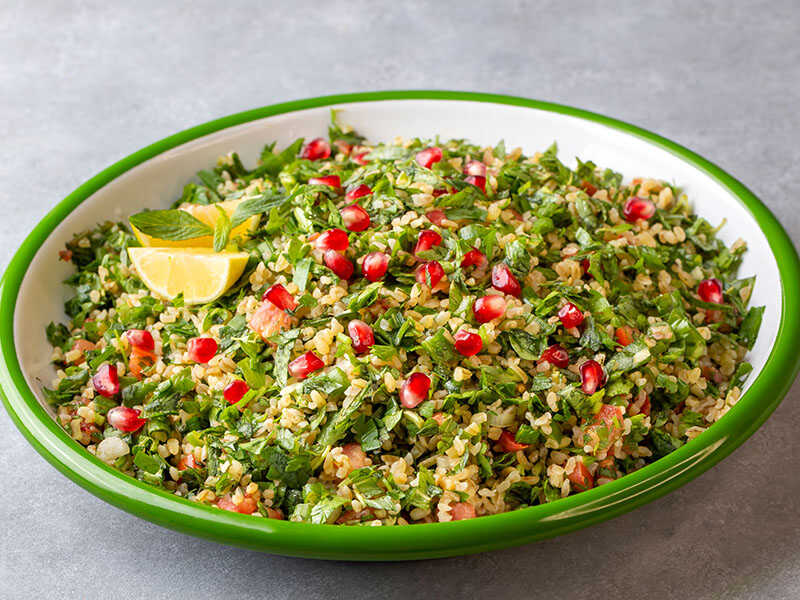 Tabouli is a fresh Levantine salad coming from Lebanon and Syria. And it truly showcases the power of parsley.
The salad is a fine mix of chopped parsley, tomatoes, mint, and onion, brought together with soaked, uncooked bulgur. What's more, a simple dressing of olive oil and lemon juice ties the flavors together.
As a part of a mezze in the Eastern Mediterranean and the Arab world, Tabouli brings a burst of taste while also being a boon for health, boasting low fat, no cholesterol, and high fiber and vitamin content.
30. Muhammara (Roasted Red Pepper And Walnut Dip) – Lebanon, Syria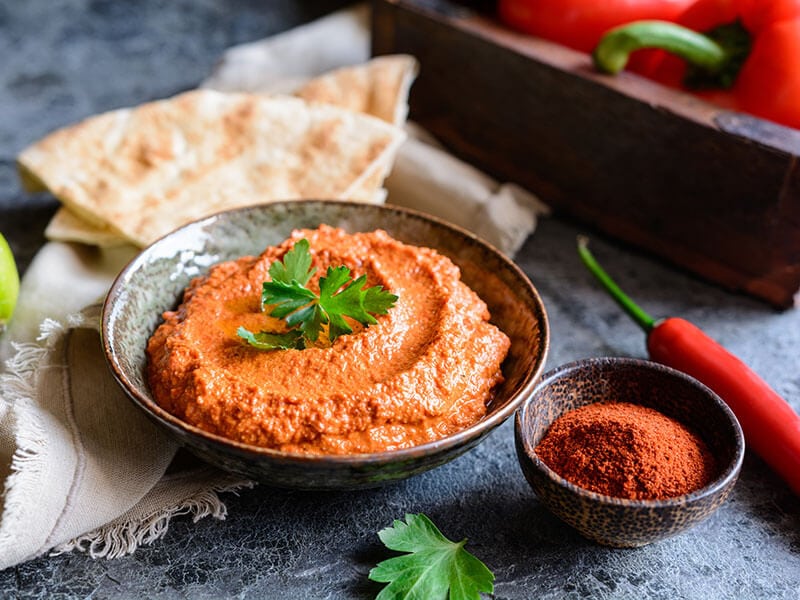 Muhammara (or Mhammara) originates from the vibrant city of Aleppo, Syria, but has won foodies' hearts across Middle Eastern countries.
This Syrian signature food blends red Aleppo pepper, walnuts, pomegranate molasses, and breadcrumbs to achieve a palate-pleasing balance of sweet, nutty, and spicy flavors. Of course, the exquisite tartness gifted by pomegranate molasses is totally amazing!
Whether you're spreading it on pita bread, tossing it into salads, stacking it in sandwiches, or using it as a zingy condiment for kebabs, this condiment for a mezze surely has a certain spot on your table.
In Egypt
31. Falafel (Deep-fried Chickpea And Fava Bean Balls)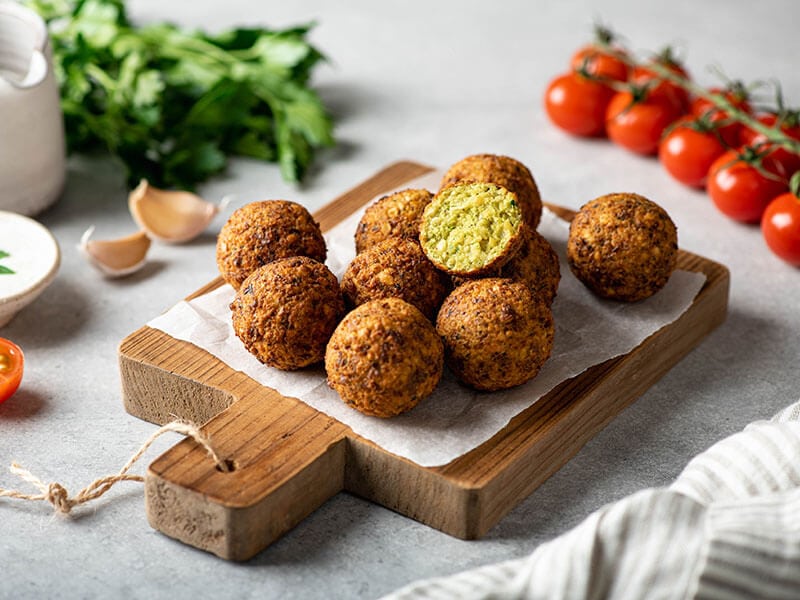 Falafel is my favorite fast food and street food. Its roots possibly lie in Egypt, but that's still debatable. Regardless where it comes from, it is one of the most famous foods in Egypt.
This delicious bite is a mixture of chickpeas, garlic, fava beans, spices, and a combination of herbs, such as parsley and scallions, all formed into balls and deep-fried to perfection.
Its crunchy, crispy exterior and savory flavor make it a fantastic vegan alternative to the usual suspects like fried chicken or hamburgers. Nestled in pita bread, tossed in salads, or partnered with dipping sauces, it can transform into healthy wraps suitable for any meal.
Not only delicious, Falafel is also packed with fiber, proteins, and minerals that can substitute meat. However, it is still high in fat.
32. Ful Mudammas (Stewed Fava Beans)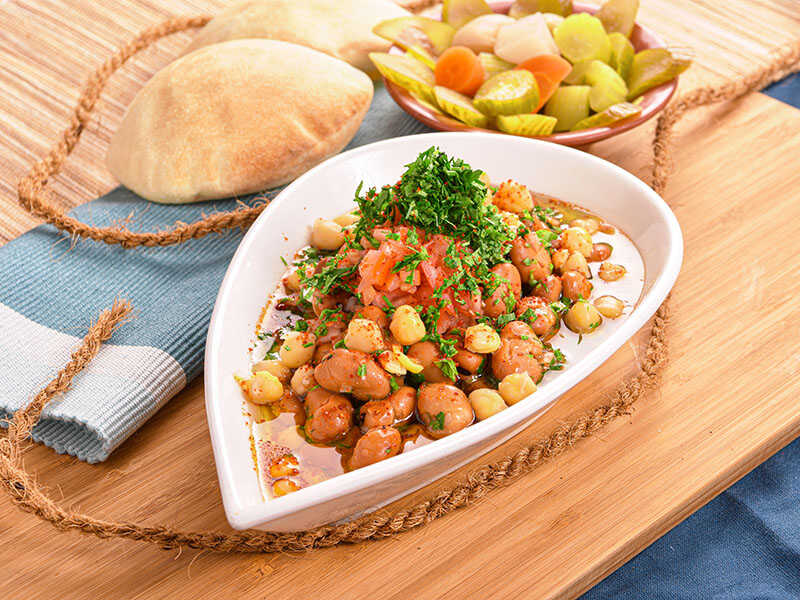 Ful Mudammas, also known as Ful Medames or Foule Mudammes, is a beloved breakfast dish with ancient roots in Egypt. In this country, Ful Mudammas is particularly favored during the holy month of Ramadan
This rich stew is a flavorful blend of fava beans, olive oil, tomatoes, lemon juice, spices, and fresh parsley. Its taste has creamy, tangy, and spicy notes that linger on your palate.
The ideal side of this stew is hummus, rice, Falafel, or even tucked inside pita bread, creating a fantastic source of fiber and protein. The stew's versatility is also a highlight, as it can be transformed into a salad, perfect for a mezze spread.
However, it's worth noting that it's not suitable for those sensitive to fava beans.
33. Molokhia Soup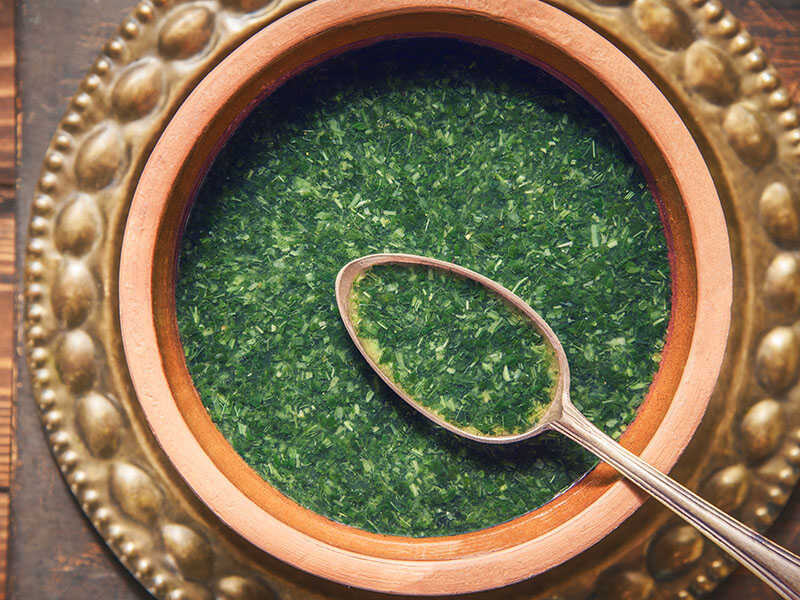 Molokhia soup, also spelled Mulukhiyah, Mloukhiya, or Molohiya, is a thick vegetable stew that is very popular in the region.
It uses the leaves of the jute mallow plant (known as nalta jute, Egyptian spinach or or tossa jute). It's a sweet and mildly savory dish, similar to spinach, with a thick, glossy, and slightly slimy texture akin to cooked okra.
Egyptians often prepare it by boiling the dried leaves in water or broth. It can be meatless, or with added lamb, beef, or chicken for nutritional boost.
Its health benefits include improved sleep quality, better eyesight, and digestion. So next time you're in the mood for a wholesome meal, reach for a bowl of Molokhia soup, and relish it with the side of flatbread or pickled vegetables!
34. Koshari (A Mixed Dish With Cereals And Legumes)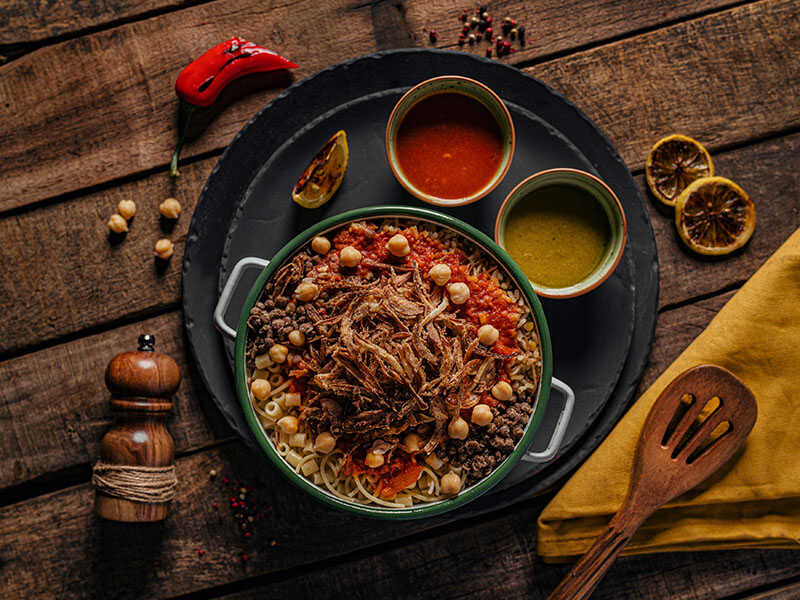 As the national dish of Egypt, Koshari's roots trace back to the Indian dish called "khichri". This street food staple is an intriguing mix of pasta (think macaroni and spaghetti), Egyptian fried rice, vermicelli, and brown lentils.
They're all cooked separately, then tossed together, topped with a zesty tomato-based sauce and some crispy fried onions. Grab a bite, you will taste a spicy, savory, and lemony burst of flavors, especially when you have it hot or warm.
And just when you thought it couldn't get any better, a splash of garlic juice or vinegar elevates the dish. The best part? It's vegetarian but still packs a punch with fiber, proteins, carbs, and minerals.
In France
35. Ratatouille (Provençal Stewed Vegetables)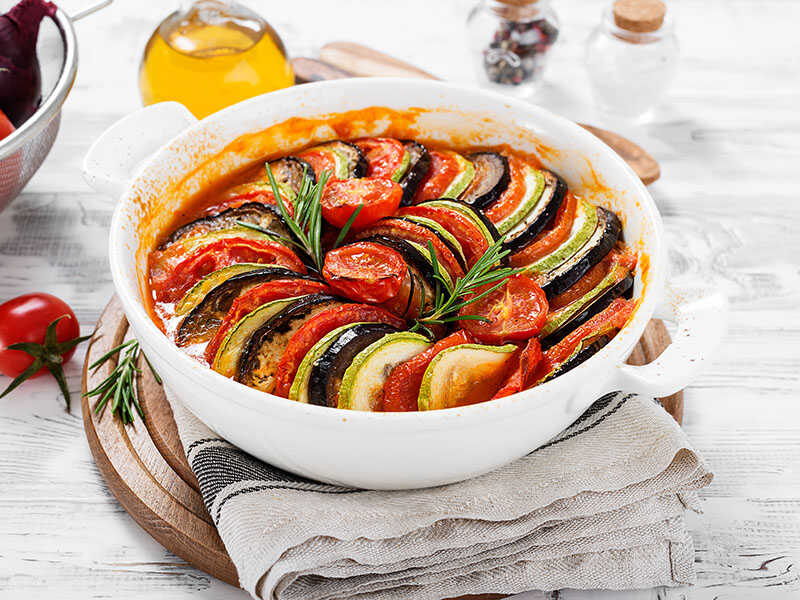 Ratatouille is the signature dish of Nice, Provence. And you might even know it from the Pixar animated film of the same name!
This French delicacy is great as an entree or side dish. This vegan offering brims with the vibrant flavors of Provençal herbs and spices, bell peppers, zucchini, eggplants, tomatoes, and an optional hint of garlic.
Despite its meatless and dairy-free nature, Ratatouille never compromises on the rich, sweet, and creamy flavors that make it a standout. Whether it's a companion to French bread, steamed rice, pasta, or savory meats like sausage and pork chops, it's sure to impress.
Be careful not to mistake it for Tian, which similarly stars these ingredients but assembles them in neat layers atop a tomato sauce base rather than stewing them together.
36. Salade Niçoise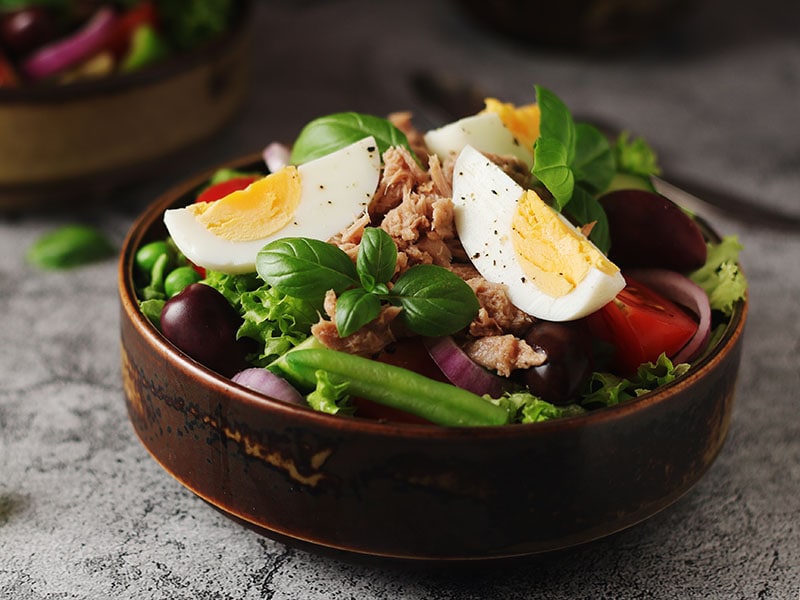 Salade Niçoise, pronounced "nee-suahz," has its roots nestled in the French city of Nice, which gave the salad its name.
As a composed salad, each ingredient – Niçoise olives, tomatoes, bell peppers, artichoke hearts, anchovies, hard-boiled eggs, and tuna – is thoughtfully arranged on the plate like a beautiful culinary artwork.
However, it's not uncommon to find a tossed version elsewhere. Olive oil and dijon mustard make up the dressing, dancing across each ingredient. In a twist, the classic version doesn't include cooked vegetables, but variations in other countries might.
Since the 1920s and 1930s, this vibrant salad has found a fond place in American cuisine. If you're seeking a wine pairing, consider rosé, white, or light reds low in tannins.
37. Bouillabaisse (Provençal Fish Stew)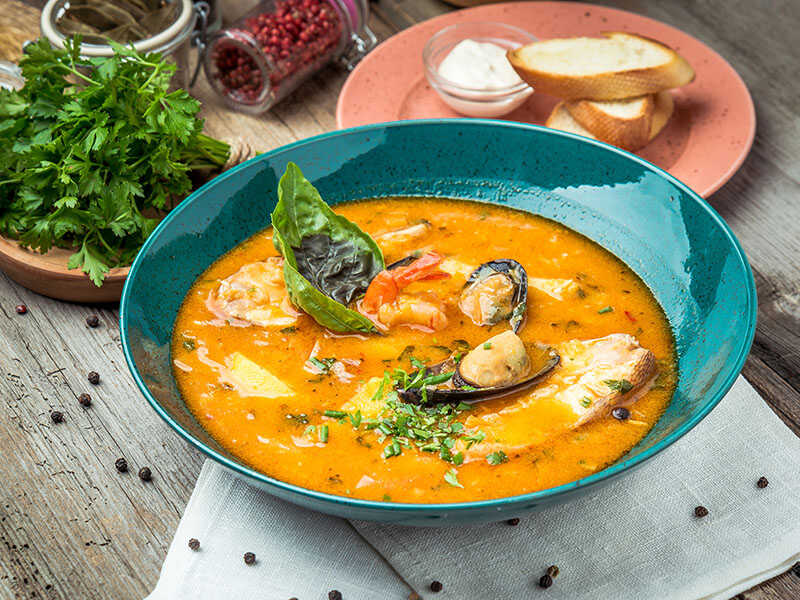 Pronounced "BOO-ya-bess", Bouillabaisse is a classic fish soup from Marseille.
With no fewer than three types of fish in each serving, this dish has humble beginnings. It relied on inexpensive and lesser-known fish, such as European conger, European hake, sea robin, monk fish, mullet, and the bony rockfish rascasse.
Nowadays, fancier renditions might even contain high-end seafood like oysters and lobsters, elevating it into a luxury dining experience in France.
But the soul of Bouillabaisse lies in the aromatic Provençal spices and herbs like thyme, orange zest, and saffron. These elements lend it a powerful flavor profile For serving, it pairs exquisitely with crusty bread and French wine.
38. Escargot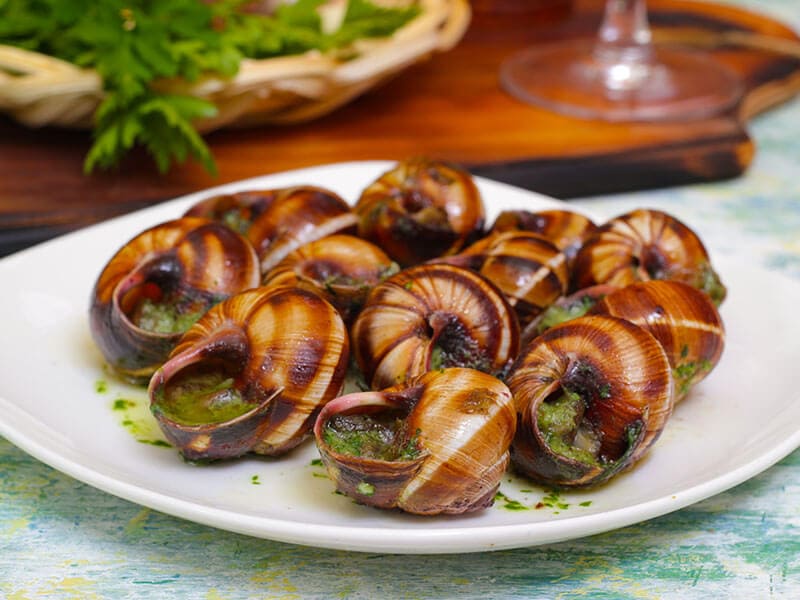 Escargot, derived from the French word for "snail," is an exotic delight enjoyed in numerous Mediterranean countries, including France, Spain, Italy, and North Africa.
Although initially dismissed as a poor man's food, these mollusks are now highly regarded and have a steeper price tag. From a seasonal delight, farming has made it a year-round delicacy.
Popular edible snails include the Burgundy snail, the Turkish snail, and the garden snail. In most American restaurants, they rely on canned snails for their dishes. Cooked to a chewy texture, they boast a subtle, mussel-like flavor.
They're usually bathed in a mix of garlic butter, herbs, and robust spices, served with a crusty bread sidekick. Besides being fat-free, escargots are a rich source of minerals. Remember, never eat these snails raw.
In North Africa
39. Tagine (Meat Stew In A Clay Vessel) – Morocco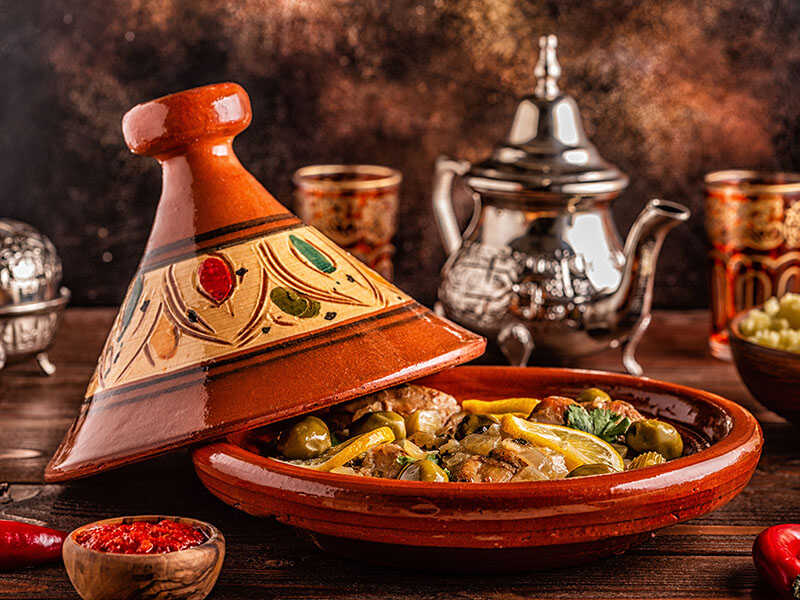 Tagine, or Tajine is another warm, hearty stew that I'd love to share in the list of iconic Moroccan foods. It has a long history, probably mentioned in the famous Arabic-language story collection One Thousand and One Night.
This delight is cooked in a distinct conical-shaped clay pot (also known as Tagine), traditionally placed over a coal fire for slow cooking. To be more specific, the pot consists of two parts: a flat, wide, circular base and a large dome-shaped cover.
The steam couldn't escape thanks to the Tagine pot design, instead condensing and dripping back into the dish. The result? Tagine provides exceptionally juicy and succulent meat, whether it's lamb or chicken.
With a melange of spices like turmeric, cumin, paprika, and vegetables, such as potatoes and carrots, the flavors of Tagine instantly transported me to the crowded streets of Morocco. If you want to eat it like a native, try eating it by hand with bread!
Moreover, locals typically serve the meal straight from its beautiful pot. And if you prefer homemade ones, cooking this dish in a slow cooker can save you time and effort.
40. Couscous – Northwest Africa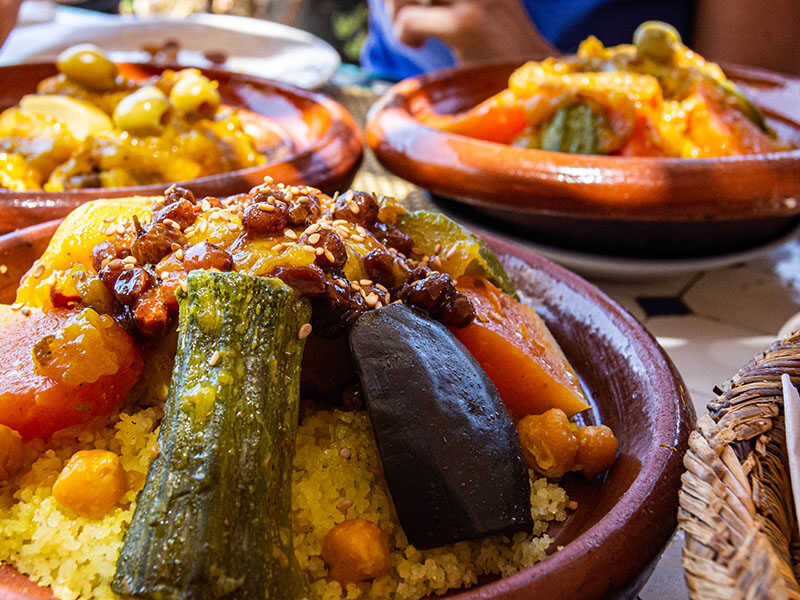 Originating from the Berber culture in Northwest Africa, this dish is made from semolina, which is ground durum wheat, and boiled in water.
It's quite a marvel to learn that it's not pasta, contrary to some beliefs. Instead, couscous is the backbone of starch in many North African cuisines. The Morocco couscous is the most common variety, while Israeli or pearl couscous is slightly larger and normally cooked in salted water.
Overall, Couscous has the appeal of sweet and nutty flavors. It generally has more nutritious than white rice, but less so than quinoa. However, it's high in carbs and not gluten-free, so it's good to balance your portions.
Finally, it is best to pair it with stews, soups, and even roasted vegetables.
41. Dobara (Bean Stew) – Algeria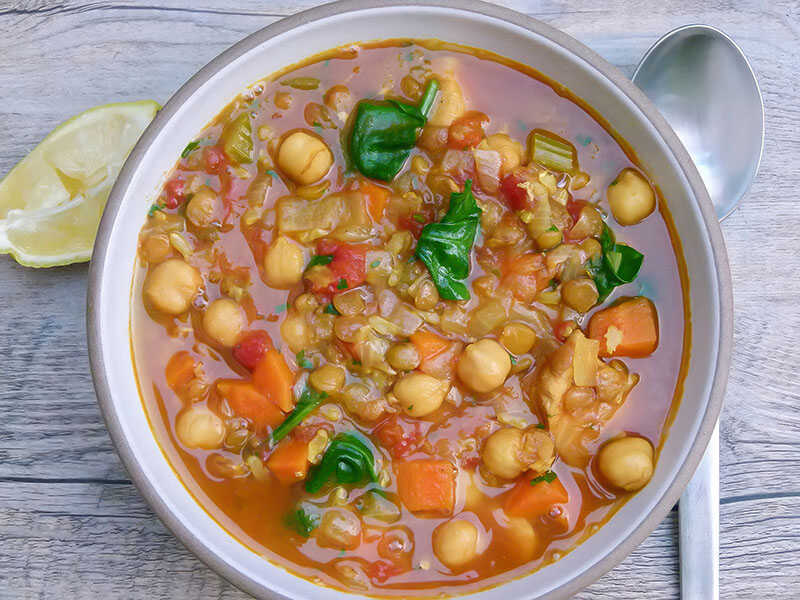 Dobara, also called Doubara, is a heartwarming, vegan stew straight from Biskra, a northeastern town in Algeria.
This is a blend of chickpeas and fava beans, stirred up with a generous splash of olive oil, vegetables, and various kinds of spices.
Spices like cumin, black pepper, and coriander powder provide a warmth that's perfect for a cold winter's day. For a hearty meal, just pair this stew with crusty bread.
42. Shakshuka (Poached Eggs in Spicy Tomato Sauce)- Tunisia, North Africa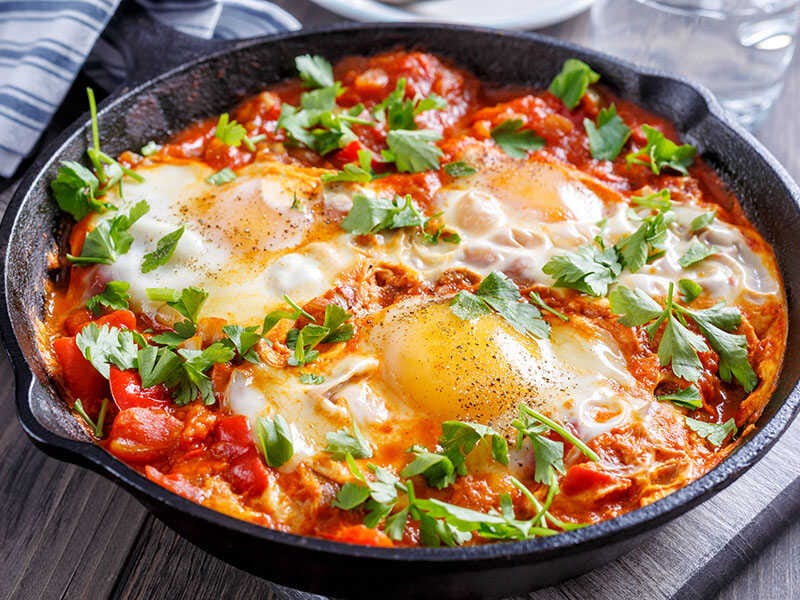 Shakshuka stems from North Africa, believed to have been created in the 16th century. It also found its way into Israeli cuisine in the 1990s.
This enticing dish places poached eggs amidst a luscious sauce containing ripe tomatoes, bell peppers, garlic, olive oil, and spices.
The best spices in this recipe are paprika, cumin, and fiery red chili peppers. Diverging from its Western counterparts, dairy isn't part of the equation. Shakshuka also breaks the norm by being a dish that locals relish at any time, not just for breakfast.
Spice levels can fluctuate, suiting different palates. For serving, bread and salads are the perfect companion for a satisfying meal.
Others / Mixed Origin
43. Kebab/Gyros/Shawarma – Turkey, Greece, Middle East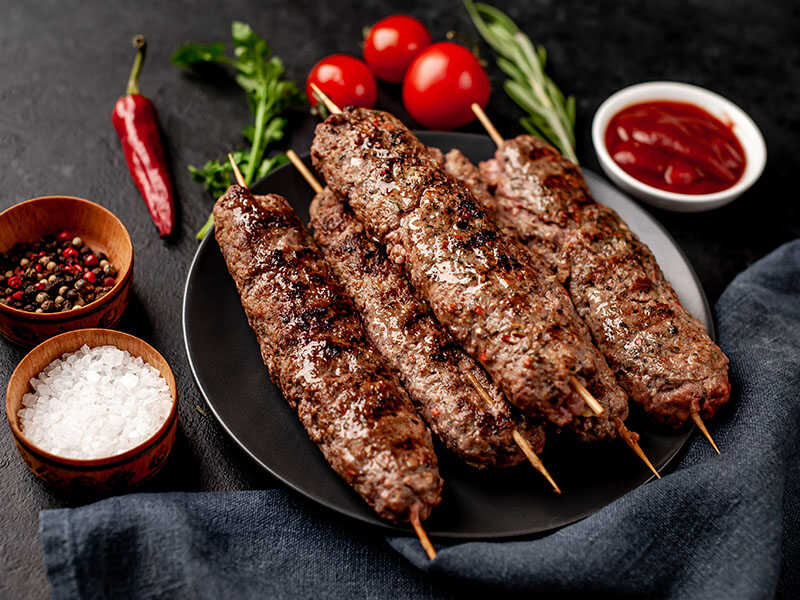 Kebabs, born in Ottoman lands, embody flavorful grilled meat like lamb, beef, or chicken, cooked with skewers. The ingredients sometimes include tomatoes or bell peppers too. Kebabs have various versions, which use meat patties or cook meat on a vertical rotisserie
On the other hand, Shawarma, though shares similar ingredients but opts for a unique approach. The meat is arranged on a vertical rotisserie in a cone shape, not skewered. The Shawarma meat can be stuffed in pita bread with salads, and sauce, or served on a plate, too!
Doner kebab is a type of kebab that is similar to shawarma. Meanwhile, Gyros is simply a Greek version of kebabs with some dissimilarities. Gyros typically contain pork, although beef and lamb are also used. To add more flavor, it is complemented by Tzatziki – a cucumber and yogurt condiment.
44. Mediterranean Wine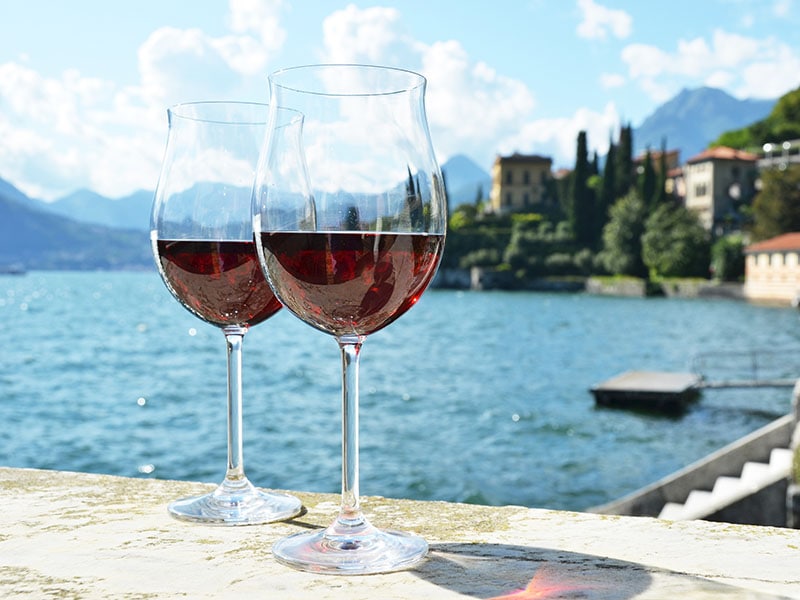 The Mediterranean cradles globally renowned wine-producing countries, with wine-making heritage possibly predating 1000 B.C. And my passion for wine has allowed me to relish these distinct flavors.
Assyrtiko is a delight in Greece. This is a crisp, light-bodied white wine bearing mineral and tropical fruit notes. Italy's Barolo, presenting a fruity, floral aroma, surprises with its dry taste, profound acidity, and tannins.
From Spain, Rioja offers medium sweetness, high acidity, and tannins, while Cava contrasts as a dry, sparkling wine with fruity, zesty, and nutty tones. Portugal's Port wine, a fortified variant, is heavier, exuding sweet berry and caramel hints.
Moreover, France remains a paradise for wine enthusiasts, offering diverse flavors. Cabernet Sauvignon's full-bodied, acidic wine with high tannins balances strong berry flavors with spice and tobacco hints.
Champagne, a dry, sparkling wine, releases a burst of bready, citrus goodness and potentially toasty flavors. Burgundy, a dry, full-bodied red, unfolds complex mineral and earthy hints. Chardonnay, dry and medium- to full-bodied, carries buttery and tropical fruity flavors.
45. Pickled Turnips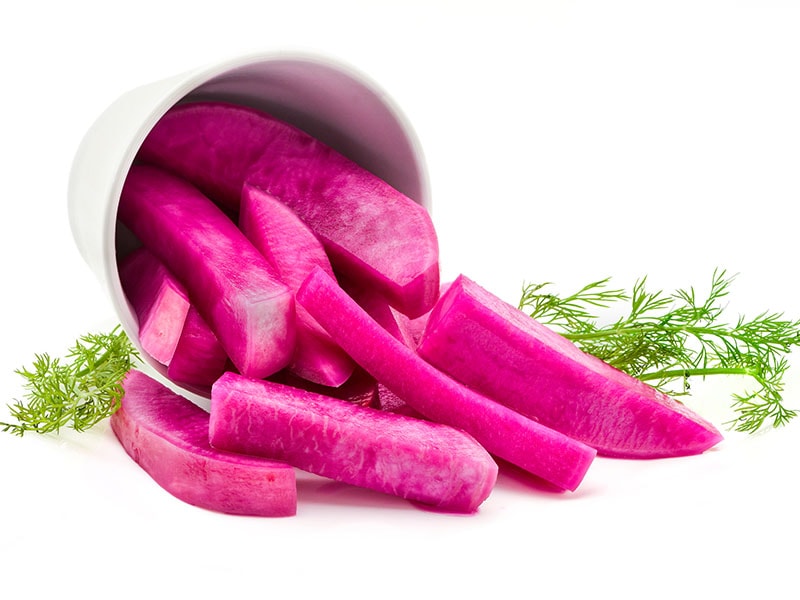 Pickled turnips, beloved in Lebanon, add a pop of purple to any mezze platter. To make it, turnips, beet, and garlic are soaked in a solution of salt, sugar, and vinegar, resulting in a tangy flavor with sweet and peppery undertones.
This texture is firm to make this treat more satisfying. They beautifully complement savory dishes, creating a balanced mouthful each time I pair them with a meal.
In terms of benefits, they are rich in vitamin C, fiber, and minerals like potassium and manganese.
46. Pita – Middle East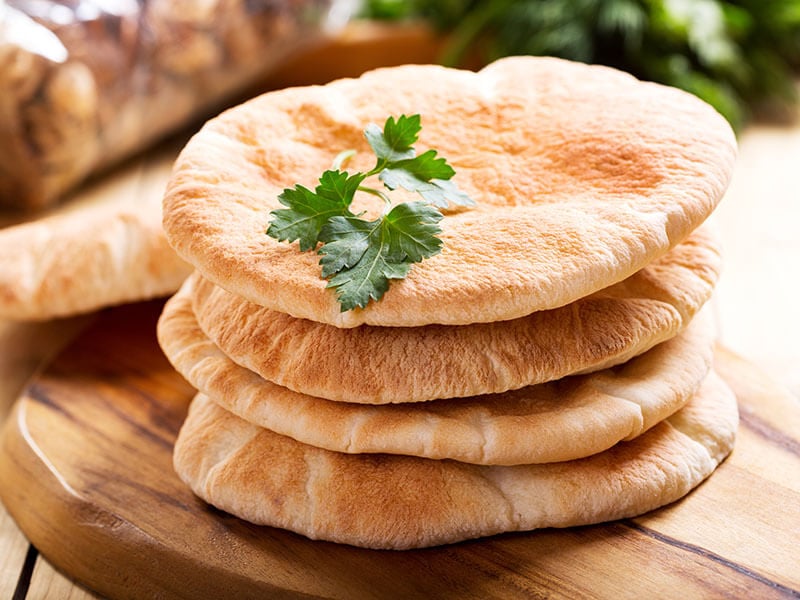 Pita, a staple in Middle Eastern and Greek cuisine, is a soft and spongy leavened flatbread. Created from a simple blend of yeast, wheat flour, and water, it's among the oldest types of bread.
It's this flatbread's hollow interior, often described as a pocket, that makes it an excellent alternative to traditional sandwich bread. Stuffed with Gyros meat, Kebabs, or Falafel, Pita transforms into a flavorful sandwich.
It's also a healthier choice, with lower fat content and abundant fiber, minerals, and proteins. Whether paired with a simple spread like Hummus or Tahini, or brimming with savory fillings, Pita is a truly versatile component.
47. Mezze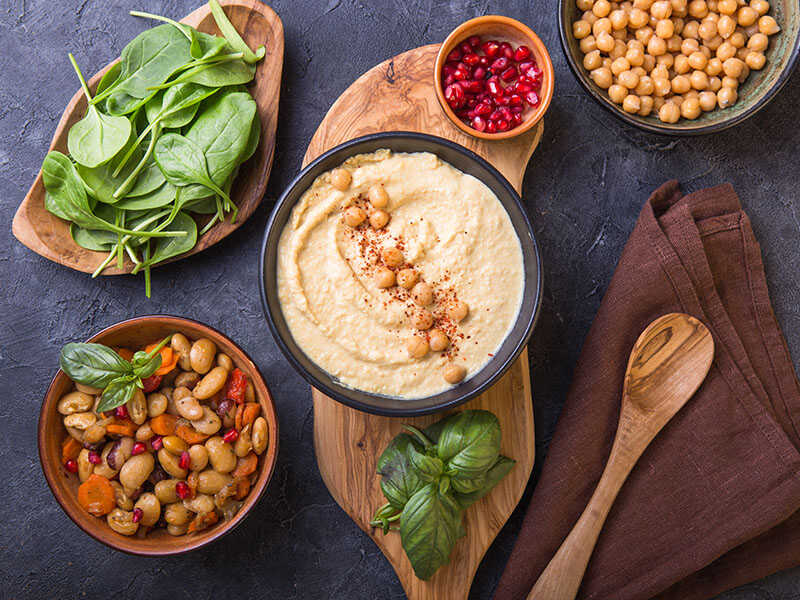 Mezze plays an important role in many dining tables in the Middle East and Mediterranean. This splendid assortment consists of numerous small plates with breads, dips, salads, and much more.
Don't mistake it with Spanish Tapas. Tapas are small appetizers served with drinks to promote socializing, while Mezze are common in the Middle East, the Balkans, Greece, and North Africa and are typically served at the start of multi-course meals.
Plus, people also treat them as a snack or a light meal. Savor it with wines or soft drinks for a complete gastronomic experience.
Popular offerings include fresh fruits like melons and figs, dairy products such as feta cheese and yogurt, a selection of dips like hummus, vibrant salads, and many kinds of vegetables (e.g., artichokes, roasted bell peppers, pitted olives).
Other ideal dishes in Mezze are Dolmas, Çiğ Köfte (Turkish-style steak tartare), and pita bread.
48. Crni Rižoto (Rice Dish With Squids And Cuttlefish) – Croatia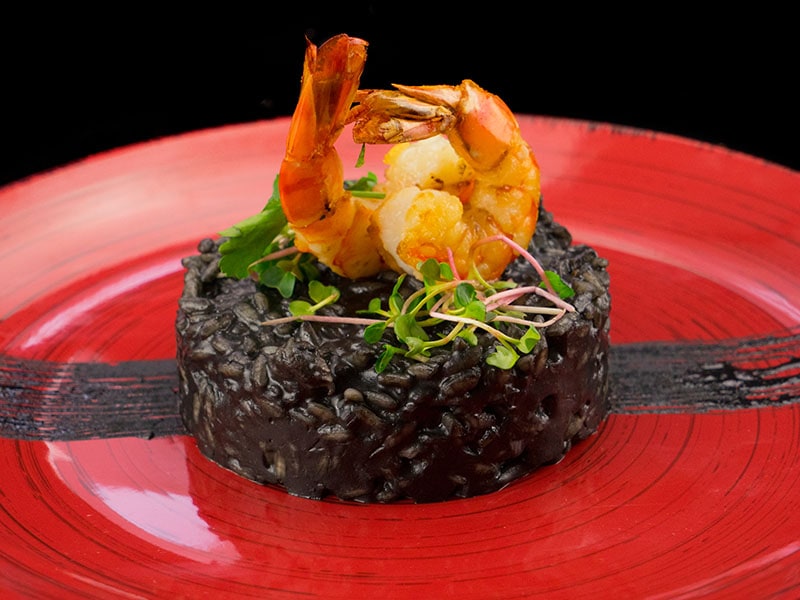 Crni Rižoto, also known as black risotto, is a delicacy from Croatia's Dalmatian region. It's different from other risotto dishes thanks to its mesmerizing color.
Apparently, its striking jet-black hue comes from the cuttlefish ink added during the cooking process, setting it apart from your average risotto. Along with squids, the recipe might include a mix of other seafood delights like clams or mussels.
Whether savored as a light appetizer or as a fulfilling meal, Crni Rižoto's umami-rich taste, like a cross of blue cheese and soy sauce flavor, is bound to make a memorable impression.
49. Cured Meats – Italy, Croatia, Spain, and Across the region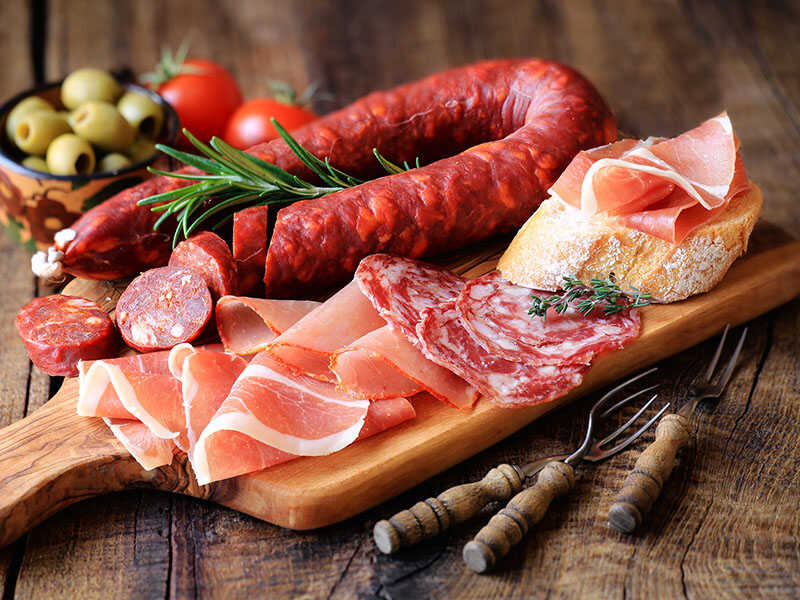 When it comes to cured meats, Mediterranean countries certainly know their stuff. All are unique, offering a taste of the region's diverse food heritage.
From Italy, we get Prosciutto, particularly the highly-regarded Prosciutto di Parma, a dry-cured, unsmoked ham, and Pancetta – a salt-cured pork belly spiced with black pepper.
Italy's Salami, a fermented, air-dried pork sausage, is another treat not to miss. Or Jambon de Bayonne, a cured ham specialty from the Basque Country and Gascony, has quite the reputation in France.
Meanwhile, Spain brings us Jamón Ibérico, a sweet, melt-in-your-mouth ham made from acorn-fed pigs. Croatia serves a delicious non-smoked, dry-cured ham from the island of Krk with a sweet, mildly salty flavor.
On the other hand, Portugal offers Presunto, a dry-cured ham with the finest products from Chaves and Alentejo. Lastly, Greece presents Apaki, a Cretan delicacy of smoked, salted lean pork marinated in spices and olive oil.
50. Stuffat Tal-fenek (Braised Rabbit) – Malta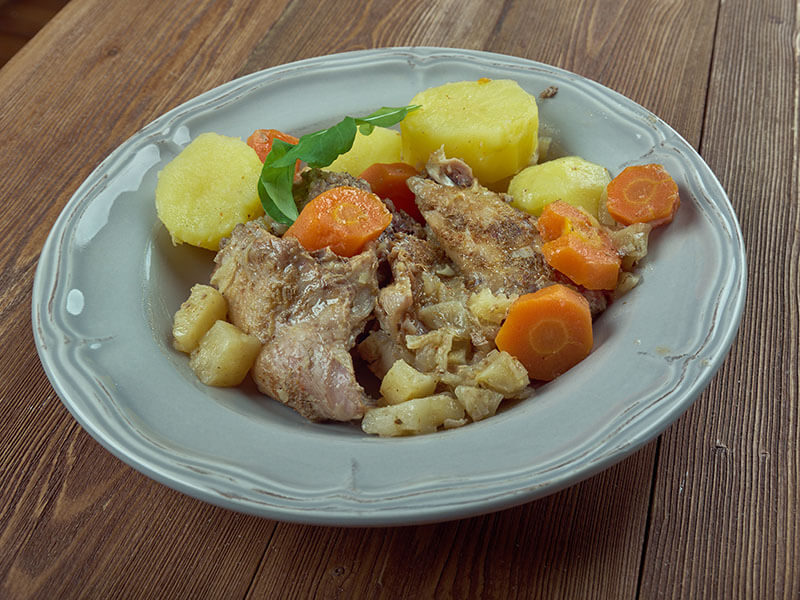 Stuffat Tal-fenek, Malta's national dish, has a rich history, even being forbidden in the era of the Knights of Saint John. This braised rabbit dish, known for its aromatic and flavorful qualities, truly captures Malta's culinary tradition.
Here's what happens: rabbit meat, meticulously marinated for up to 24 hours, is slow-cooked with carrots, potatoes, and herbs in a luscious sauce of garlic, tomatoes, and red wine.
The final result is a tender, melt-in-your-mouth meat. Some even enhance the recipe with rabbit offals, like livers, hearts, and kidneys, served separately, of course. Lastly, remember a side of crusty bread to sop up the remaining sauce.
51. Buzara Mussels (Mussel Stew) – Croatia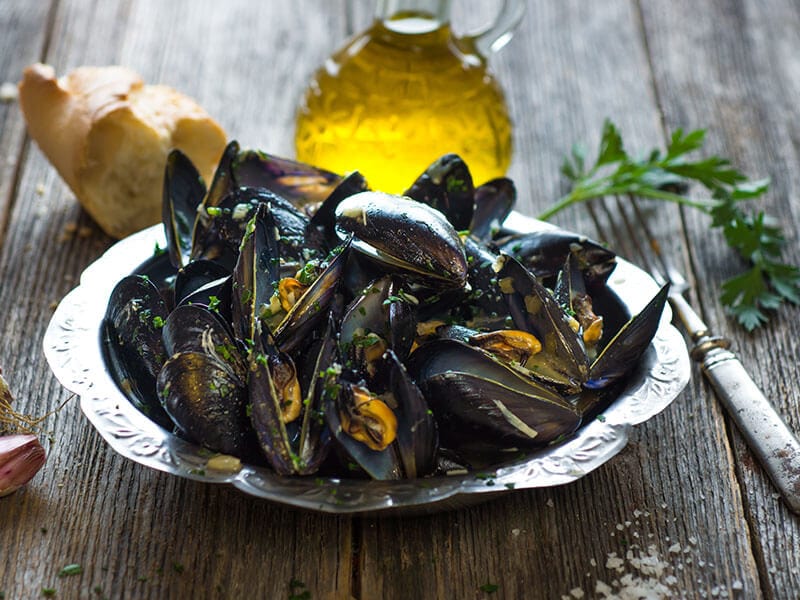 Buzara Mussels, a Croatian seafood stew, is a highlight along the Adriatic coast. If you have a chance to visit Southern Croatia, this is a wallet-friendly delight that you don't want to miss.
Mussels, plucked from local fisheries, play the starring role in this simple yet flavorful dish. In fact, Buzara is a term of cooking method that also suits other seafood.
The deliciousness of Buzara mussels lies in its sauce with a mix of garlic, olive oil, fresh parsley, and wine. A choice of red or white wine gives you control over the final hue of the dish.
And similar to other liquidy dishes, crusty bread is a great side order. It's essential for mopping up every last drop of the irresistible sauce.
52. Hummus (Chickpea-based Dip)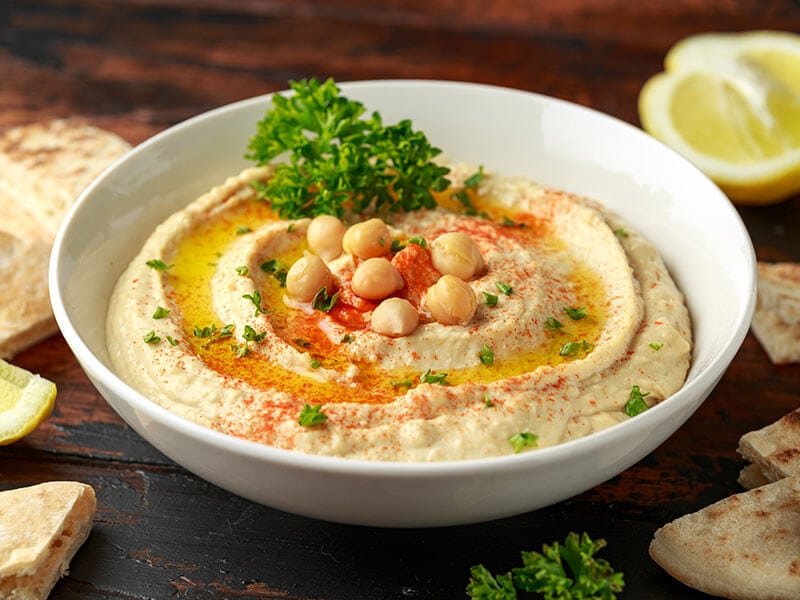 Hummus, or houmous or hommus, is a Western shorthand for the full Arabic name – Hummus bi Tahina. As a treasure with a hazy past, its origins are possibly traced back to ancient Egypt or present-day Lebanon.
Today, this is a celebrated dip or spread in Arabic and Mediterranean cuisine. It contains mashed chickpeas, zesty lemon juice, rich olive oil, aromatic garlic, and tahini, a sesame paste.
How about its flavor? Hummus is a medley of nutty, tangy, and garlicky notes. And when it comes to pairing – think salads, breads, nuts, or chips! But please note that this wonder dip might be easy to spoil, especially homemade hummus!
53. Baklava – Turkey, Greece, and the Middle East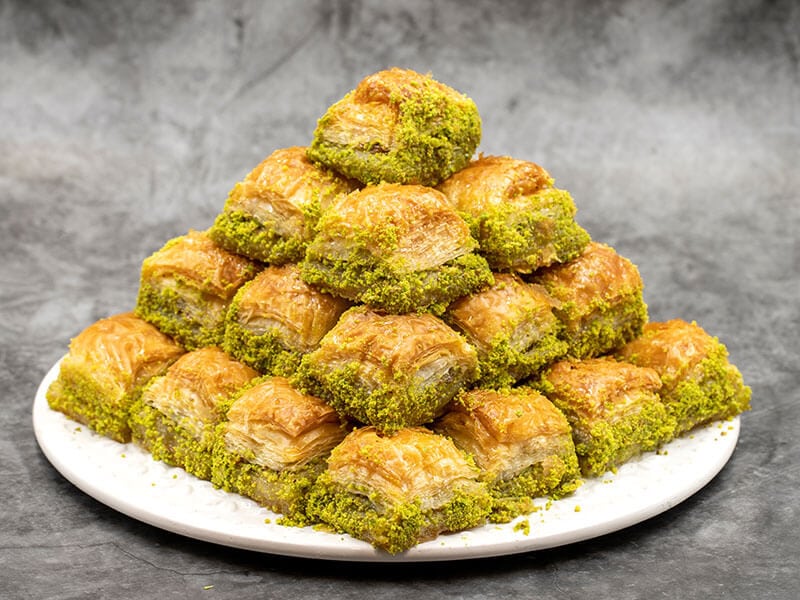 Baklava, a layered pastry hailing from Ottoman times, is a symphony of flaky phyllo dough, crunchy nuts (e.g., walnuts or pistachios), and a luscious coating of syrup or honey. This dessert is cherished not only for its sweet, buttery flavors but also for its adaptability across cultures.
Whether Eid al-Fitr, Ramadan, Easter, Christmas, or Rosh Hashanah, Baklava marks celebrations with flair. In the West, it's a luxury that demands skill in preparation, setting its premium price.
Nutritionally, it's a storehouse of proteins and minerals. However, it is a sugar heavyweight, so mindful indulgence is a must.
54. Knafeh (Kanafed) – Nablus, Palestine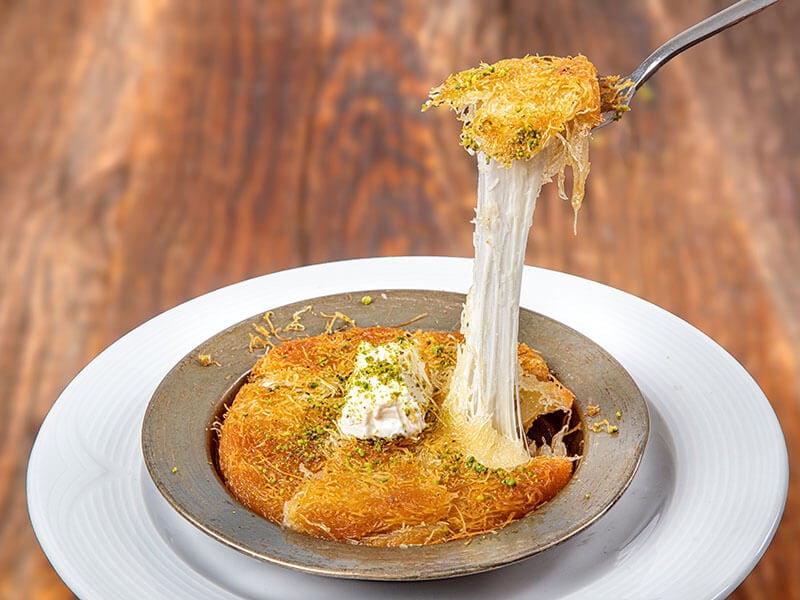 Knafeh, known by various spellings like Kunafa or Konafi, is a delightful Middle Eastern dessert. It's crafted with dough, often shredded phyllo pastry, enveloping a savory cheese filling. Nuts, such as almonds or pistachios, crown this rich dessert.
To add sweetness, Knafeh luxuriates in attar, a sugar-based syrup, which is added after baking. Among its various versions, the Knafeh Nabulsiye from the Palestinian city of Nablus stands out, flaunting a bright orange surface and served in a large, shallow round dish.
Despite being a layered pastry like Baklava, the key difference between these two is, Baklava composes of many thin layers of dough interspersed with nuts.
Key Ingredients in Mediterranean Cuisine
1. Olive Oil
As an essential ingredient in Mediterranean cuisine, olive oil is used extensively in cooking, baking, and as a dressing for salads and bread.
Extra virgin olive oil, in particular, is prized for its rich flavor and health benefits, including heart-healthy monounsaturated fats and antioxidants (2).
2. Fresh Fruits and Vegetables
The Mediterranean diet is renowned for emphasizing fresh, seasonal fruits and vegetables Grapes are prominent ones. They are ideal not only for eating fresh but also widely used to make wine, juice, and vinegar.
On the other hand, fruits like grapes, figs, lemons, and oranges are widely consumed, either as part of a meal, a dessert, or a refreshing snack. Tomatoes, cucumbers, eggplants, peppers, zucchini, and leafy greens are also common.
3. Whole Grains
Whole grains are another key component of the Mediterranean diet. Foods like whole grain bread, pasta, couscous, and bulgur wheat provide essential nutrients and dietary fiber, promoting a balanced and healthy diet.
4. Legumes
Lentils, chickpeas, and various types of beans, are a good source of protein. They are used in dishes, from stews and soups to salads and dips like hummus.
5. Seafood
Given the geographical location of the Mediterranean region, seafood is important in the local cuisine. Fish like tuna, sardines, sea bass, and shellfish like mussels and shrimp, are also great components. People often grill, bake, or add them to stews and pasta dishes.
6. Herbs and Spices
Spices and herbs used in Mediterranean dishes are abundant. Commonly used herbs include basil, parsley, mint, rosemary, and oregano.
In addition, spices like cumin, coriander, saffron, and paprika are also prominent ones to add complexity in flavor to dishes. These herbs and spices offer various health benefits.
Cooking Techniques in Mediterranean Cuisine
The cooking methods in Mediterranean cuisine vary from region to region, but some are universally practiced.
Grilling and broiling are popular ways of preparing fish and meat, enhancing their natural flavors. Slow cooking, as seen in tagines and stews, allows for a melding of flavors.
Baking is used not just for bread and pastries but also for dishes like the Greek Moussaka and Italian Lasagna.
Many Mediterranean dishes are also raw or minimally cooked, like salads and dips, preserving the freshness and nutritional value of the ingredients.
Influence Of Climate On Ingredient Selection And Dish Preparation
The Mediterranean region's climate heavily influences its cuisine. The warm, sunny weather is ideal for growing several kinds of fruits, vegetables, and grains. Seasonality also plays a key role in the cuisine, with meals revolving around what's fresh and available at the market.
Olive trees flourish in the Mediterranean climate, making olive oil a common ingredient. On the other hand, the proximity to the sea also means seafood is widely consumed in this region.
Health Benefits of the Mediterranean Diet
Nutritional Value of Key Ingredients
Many ingredients in this diet are packed with nutrients. For instance, olive oil contributes to heart health due to its monounsaturated fat. Fruits and vegetables are rich in vitamins, minerals, and antioxidants.
Legumes and whole grains provide dietary fiber and essential nutrients. Fish, particularly fatty fish like sardines and mackerel, provide omega-3 fatty acids, which are beneficial for your heart.
Lean meats provide protein, while dairy products like cheese and yogurt contribute calcium and vitamins.
Research Studies Supporting Health Benefits
Numerous scientific studies substantiate the health benefits of the Mediterranean diet. A landmark study published in the New England Journal of Medicine revealed that the diet reduced the risk of cardiovascular events by 30% (3).
Another study in the British Medical Journal found the Mediterranean diet was associated with a longer lifespan (4).
Further, a meta-analysis published in JAMA Internal Medicine concluded that the Mediterranean diet is beneficial for weight loss and controlling blood sugar levels (5). These findings support the diet's role in promoting health and preventing chronic diseases.
FAQs
Wrapping Up Your Mediterranean Culinary Journey
In my exploration of traditional Mediterranean dishes, I've come to appreciate the artistry of this culinary tradition. From the vibrant colors to flavorful flavors, each dish tells a story of culture and heritage.
Now, it's time for you to relish the magic of the Mediterranean in your kitchen. Whip up these timeless recipes, share them with loved ones, and let the joy of Mediterranean cuisine unite people.
And if you find this post helpful, your like, share, or comment on this article is highly appreciated. By sharing it, you can inspire others to explore this wonderful culinary adventure.
Paragraph
Feta Cheese: Good or Bad? (2017). healthline.com.
Marta Guasch-Ferré, Gang Liu, Yanping Li, Laura Sampson, JoAnn E Manson, Jordi Salas-Salvadó, Miguel A Martínez-González, Meir J Stampfer, Walter C Willett, Qi Sun, and Frank B Hu (2020). Olive Oil Consumption and Cardiovascular Risk in U.S. Adults.
Ramón Estruch , Emilio Ros, Jordi Salas-Salvadó, Maria-Isabel Covas, Dolores Corella, Fernando Arós, Enrique Gómez-Gracia, Valentina Ruiz-Gutiérrez, Miquel Fiol, José Lapetra, Rosa Maria Lamuela-Raventos, Lluís Serra-Majem, Xavier Pintó, Josep Basora, Miguel Angel Muñoz, José V Sorlí, José Alfredo Martínez, Miguel Angel Martínez-González (2013). Primary Prevention of Cardiovascular Disease with a Mediterranean Diet.
Marialaura Bonaccio, Augusto Di Castelnuovo, Americo Bonanni, Simona Costanzo, Francesca De Lucia, George Pounis, Francesco Zito, Maria Benedetta Donati, Giovanni de Gaetano, Licia Iacoviello, on behalf of the Moli-sani project Investigators (2013). Adherence to a Mediterranean diet is associated with a better health-related quality of life: a possible role of high dietary antioxidant content.
Cinta Valls-Pedret, Aleix Sala-Vila, Mercè Serra-Mir, et al (2015). Mediterranean Diet and Age-Related Cognitive Decline: A Randomized Clinical Trial.