Green onions add flavor and color to dishes perfectly. But can you freeze green onions when you have a lot of these vegetables and are worried that they will quickly wilt and soften in the refrigerator?
Don't waste any kind of green onions because even when frozen, green onions are ready to help your soups, stews, or other diverse recipes taste fresh and have the perfect eye-catching garnish.
The good news for you is that whether you intend to store green onions for year-round use or handle unused ones, you will find the methods of freezing green onions to be simple and effective with the following information. Just keep reading!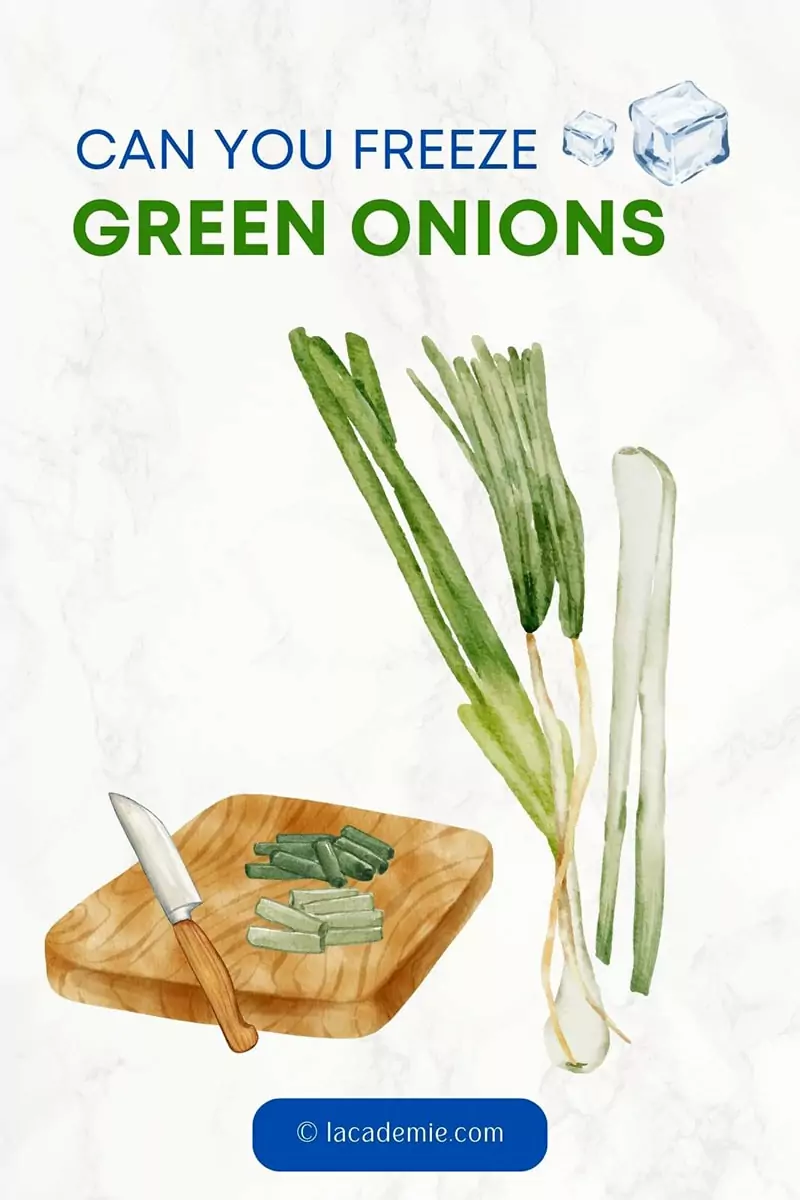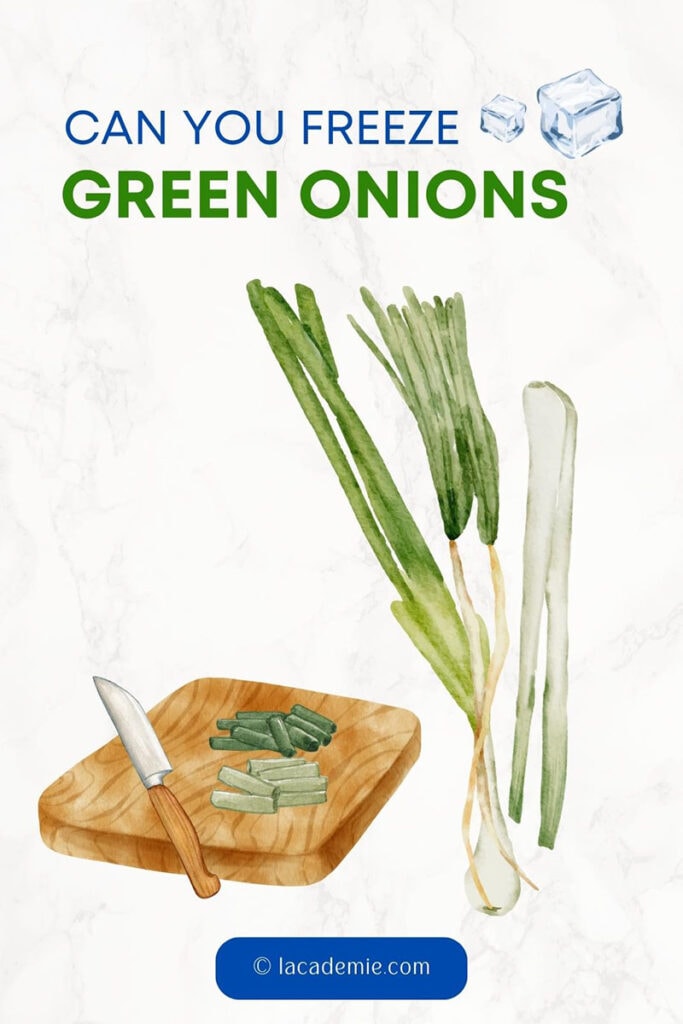 3 Basic Methods To Freeze Green Onions
Freeze green onions properly in the freezer and you can use them for up to several weeks. These methods are very simple, and homemakers can completely apply them.
Method 1: Freezing onions with containers
Method 2: Freezing green onions with plastic bottles
Method 3: Freezing green onions with ice-cube trays
All three methods are basically the same: wash green onions, chop green onions. Then put them in boxes or small bags and store them in the freezer.
Frozen Green Onions – Healthy And Convenient
Green onions (also known as scallions) are part of the allium family, including shallots, onions, and garlic. They have a subtle flavor and aroma compared to other alliums, making them perfect for many dishes.
Green onions bring a lot of benefits to the health of the user. They contain many minerals, vitamins, and phytochemicals that help build strong bones, good for the heart, eyes, and immune system. (1)
Green onions can be eaten raw with seafood or cooked. In addition, green onions are also used to season steak dishes, soups, stir-fries, etc., to supplement flavor.
In some cases, green onions can be used interchangeably with shallot. For instance, despite the dissimilarities between green onion and shallots, these two both work extremely well in most Asian dishes. These two can also be sometimes added to salad for a more pronounced flavor.
Freezing green onions for later use is the best way to save flavor and preserve their aroma.
Like fresh green onions, frozen green onions can be used in cooked dishes, such as soups and stews, ground meat mixtures, casseroles, etc. Especially you don't need to defrost frozen green onions before using them.
How To Buy Fresh Green Onions For Better Freezing Results
Knowing different ways to preserve your scallions is important. But buying fresh green onions is no less crucial, as it greatly affects the freezing outcome. If you get a perfect batch, green onions retain their original freshness after being frozen.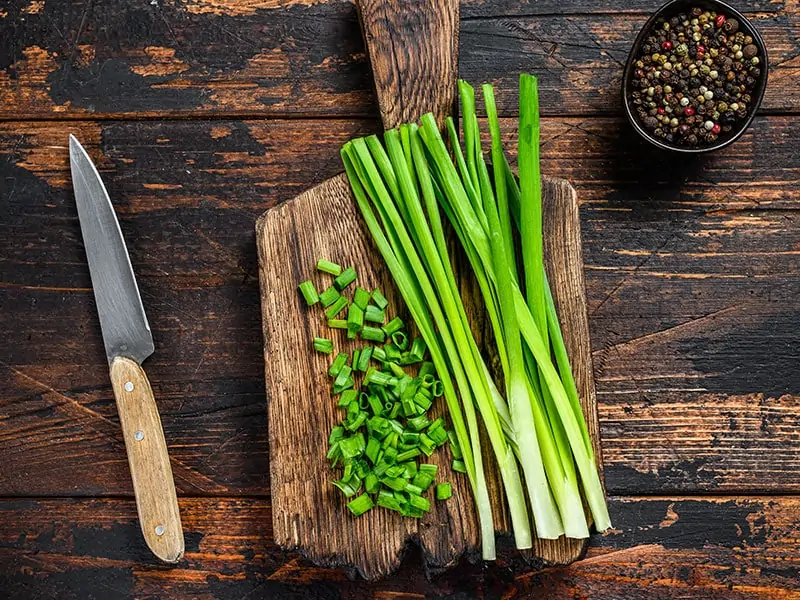 Green onions are sold in supermarkets all year round. When buying green onions, your goal is to look for green onion stalks with fresh, green tops and white ends – evading green onions with yellowing tops or wilted greens.
You should not choose soggy or rotting white scallion tips.
Here's a tip for you: Green onions sold unwrapped (held only by an elastic band) will stay fresh longer than those stored in sealed plastic bags. Because unwrapped Green onions can breathe and soak up moisture from the misters on the produce wall.
How To Freeze And Store Green Onions Right
Freezing is usually the best method to store perishable food like jalapeno, vegetables, fruits, etc, and green onions are no exception. If you intend to freeze green onions, it's best to freeze them as close to purchase as possible.
Freezing Green Onions With Containers
Extend the shelf life of green onions by freezing them in containers.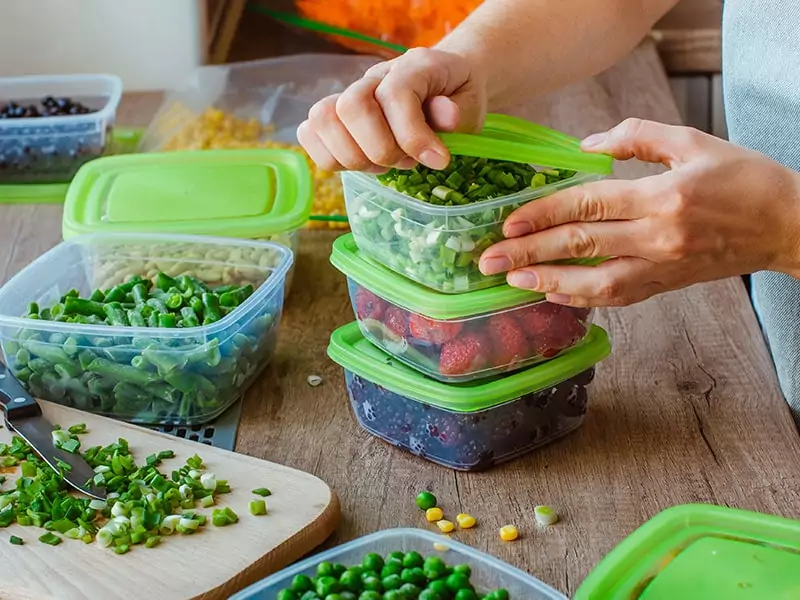 What you need:
Green onions
Cutting board
Sharp knife
Paper towels
Parchment paper
Tray
Jar, freezer bag, freezer container, Ziplock bags
#Step 1: Wash and dry the green onions
Soak or rinse the leaves with water. Then pat dry with paper towels.
#Step 2: Slice or chop green onions
Cut or slice green onions into circles or cut corners on the cutting board. Or cut onion leaves the same length as your container if you want to use them in chunks.
Note: Make sure your cutting board is clean, especially if it's made from bamboo or wood. There are many ways to clean cutting boards made from bamboo or wood, and they don't take that much time. A dirty board can contaminate your onions and make them perish faster.
#Step 3: Pre-freeze green onions
You lay some parchment paper down on the tray (for easier removal later) and spread the chopped onion on it. Then put the tray of green onions into the freezer for 1-2 hours.
If you do this, they aren't all clumped up and frozen together.
#Step 4: Store green onions in the freezer
After 1 – 2 hours, green onions will be frosty but not completely frozen. Transfer the partially frozen onions into a jar, freezer bag, freezer container, Ziploc bags, etc., and seal well. Store green onions in the freezer until you want to cook again.
Note: Only fresh green onions should be stored, not damaged and waterlogged ones.
Freezing Green Onions With Plastic Bottles
In addition to containers or ziplock bags, you can reuse a used plastic water bottle.
What you need:
Green onions
Empty transparent plastic bottles
Sharp knife
Cutting board
Bakery paper
#Step 1: Clean plastic bottles
Remove the label and wash your used plastic bottle. Leave them out to dry. Use a marker to write the "green onions" on the bottle cap or stick a small note on the bottle's body.
#Step 2: Slice green onions
Wash and finely chop the green onions on the cutting board.
#Step 3: Pre-freezing green onions
Place a piece of bakery paper on a tray and spread the chopped green onions. Put the green onions in the freezer for 1-2 hours before pouring them into a plastic bottle to prevent the green onions from sticking together.
#Step 4: Freezing green onions
After 1-2 hours, you take out the green onions. Then stuff your bottle with green onions and pop them into the freezer.
Note: The advantage of this method is that the bottle is transparent, allowing you to see the green onions inside and shake them out of the bottle as much as you want.
Freezing Green Onions Using An Ice-Cube Tray
For this method, you'll divide the green onions into disposable and ready-to-cook cubes. It will be straightforward for you to try.
What you need:
The same as the above two methods, green onions need to be washed and chopped before freezing. So I don't repeat this step in detail. I will start directly with the ice-cube tray.
#Step 1: Put green onions into an ice-cube tray
Take an ice tray, put chopped scallions into each block (make sure not to stick outside the block).
#Step 2: Pre-freeze green onions
Pour a little water or cooking oil into the tray and put the green onions in the tray.
#Step 3: Transfer green onions cubes
After the ice is formed, you can take the tray from the freezer. Then transfer the green onions cubes to the freezer bag, squeeze out all the air, and seal.
#Step 4: Store frozen green onions
After labeling the bag, the scallions are ready to be put in the freezer until you want to cook with them again.
Note: In addition to green onions, this method is also good for herbs.
Save your green onions from the trash can with quick actions of freezing them. Watch this video:
More Notices On Using Frozen Green Onions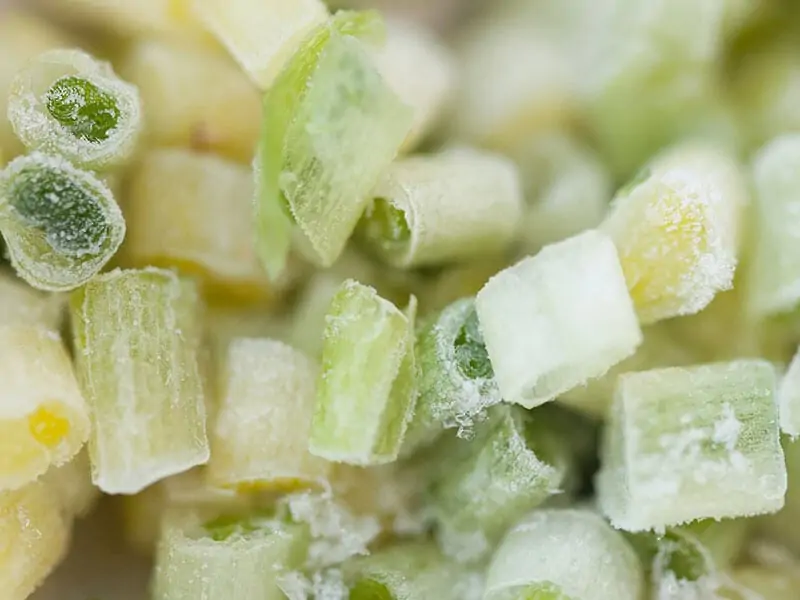 Freeze the green onions for 3-4 months. To use, sprinkle the frozen green onions over your meal. The green onions will thaw within seconds and be ready to eat.
Here are some other notes that you need to pay attention to when using frozen green onions.
Use green onions within six months of freezing for the best flavor.
Since freezing green onions will cause them to lose their crispiness, use them only in cooked dishes, such as soups, sauces, omelets, fried rice, etc.
When using green onions as a substitute, such as a replacement for chives, it's better to go for fresh onions as they can deliver a stronger taste. Frozen green onions might not be able to achieve your desired effects if used as a substitute.
With fried dishes sauteed with grease, ice-cube green onions will be suitable. Toss one of the cubes in a saucepan. The oil will quickly melt, and your green onions are already added.
For dishes that require crispy or eat raw with seafood, use fresh green onions.
Why Is Everyone Advocating Freezing Green Onions?
In the preservation of food, especially vegetables, there are contrast opinions, and freezing green onions are no exception.
Some people think that after prolonged exposure to low temperatures, green onions lose their flavor and vitamins. Furthermore, after thawing, the green onions will lose their elasticity and stick together.
However, if you follow the fundamentals of freezing, nothing like this will happen.
Others think that not everyone knows the use of frozen green onions. Just read the above content to learn more about this.
For those who enjoy using green onions and see the benefits of freezing green onions, the way to identify fresh onions to buy is simple and accessible to everyone.
Frozen chopped green onions help speed up the cooking process. You don't have to buy green onions every day when you go to the market, which means you save time and money.
Therefore, you can feel free to freeze green onions for your cooking purposes.
Extra Method To Preserve Green Onions
If your freezer is small or you don't want to use the space for freezing green onions, you can keep your onions fresh by some other handy ways.
Preserve Green Onions in The Cool Fridge
Refrigerating is one of the familiar storage methods for cut onions, especially green onions. This approach will help the green onions stay fresh for a long time without being waterlogged and keep the natural flavor of green onions.
You should chop or cut green onions into small pieces and place them in the refrigerator.
Preserve Green Onions in Paper Towels
The paper towel will absorb all the moisture of green onions, avoiding waterlogging and damage during storage.
You just need to arrange the onions in the center of the paper towels, then fold the ends of the paper tightly and put it in a zip bag. After that, put the bag into the fridge.
Note: If you have not used up all the green onions after a week of storage, take out and replace them with another tissue, and continue like this for the next week.
Preserve Dried Green Onions in The Freezer
If you are still not confident and are worried that fresh green onions will be waterlogged after a long time of storing, you can preserve chopped and dried green onions.
This way will help you keep them longer, not being waterlogged and damaged like regular fresh green onions.
Note: Storing dried green onions helps you use them longer, but the taste may not be as delicious as fresh ones. You should consider and choose the most appropriate way to preserve green onions.
FAQs
If you are hesitant about freezing green onions, here are some quick-answer questions to help you out.
Freezing Green Onions – Best Way To Store
The way to preserve green onions is straightforward, not too difficult, and does not take much time. For green onions to be kept for a long time, you need to do it properly, storing them separately from other products.
Freezing green onions for long-term use will allow you to preserve juicy green onions. There are various ways to preserve it, in which each homemaker will choose the proper methods for her.
This article has wholly helped you confirm the question "Can you freeze green onions" as "Yes." If you have success using frozen green onions in cooking, please share in the comments below!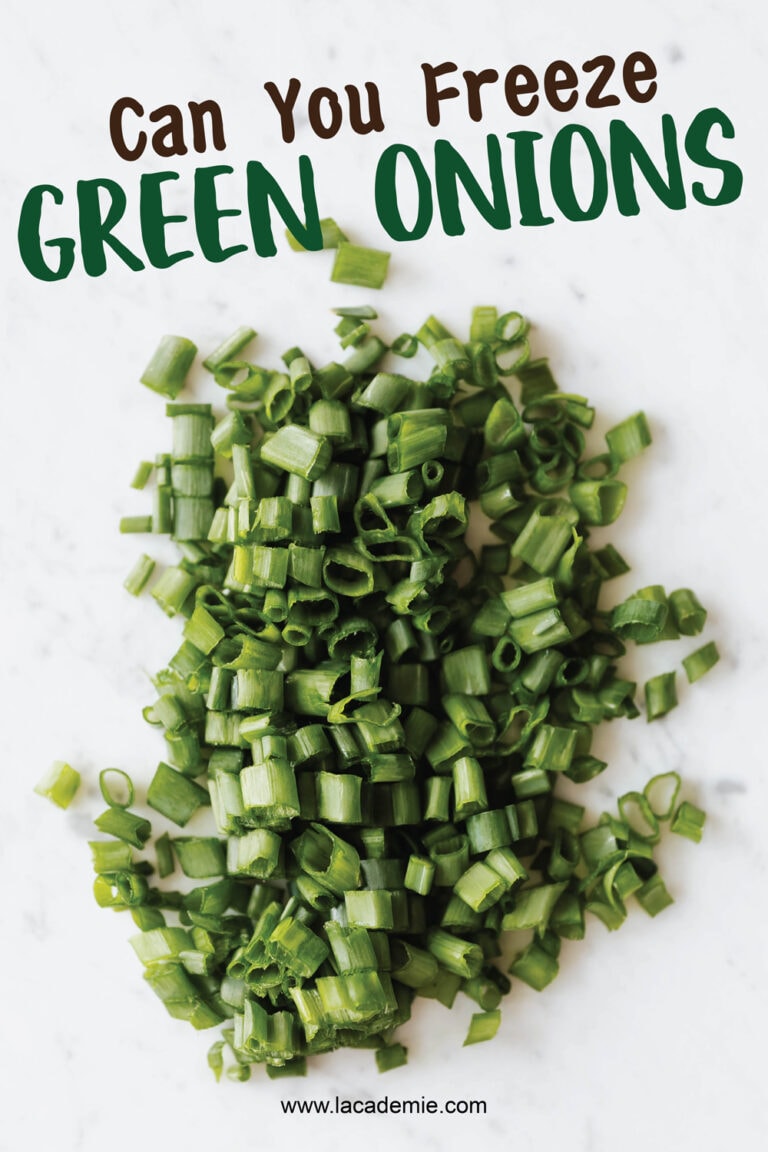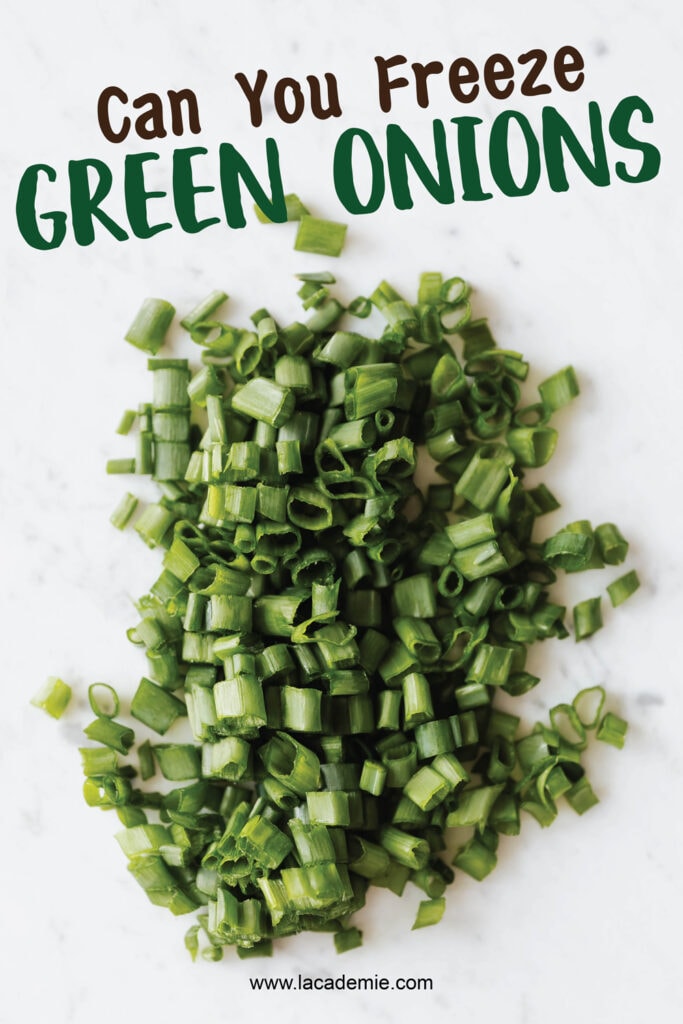 References
Green Onions or Scallions-Are They The Same Thing. 2021. Green Onions or Scallions-Are They The Same Thing.