The cooking ideas with shallot vs. green onions might be tricky for those who have just begun their cooking adventure. But do not freak out; I will help you to distinguish these two in this post.
And for those who are already familiar with shallot and green onions, there is more astonishing information about them that I bet you have not known before. So stick around with me if you want to learn more about shallot and green onion.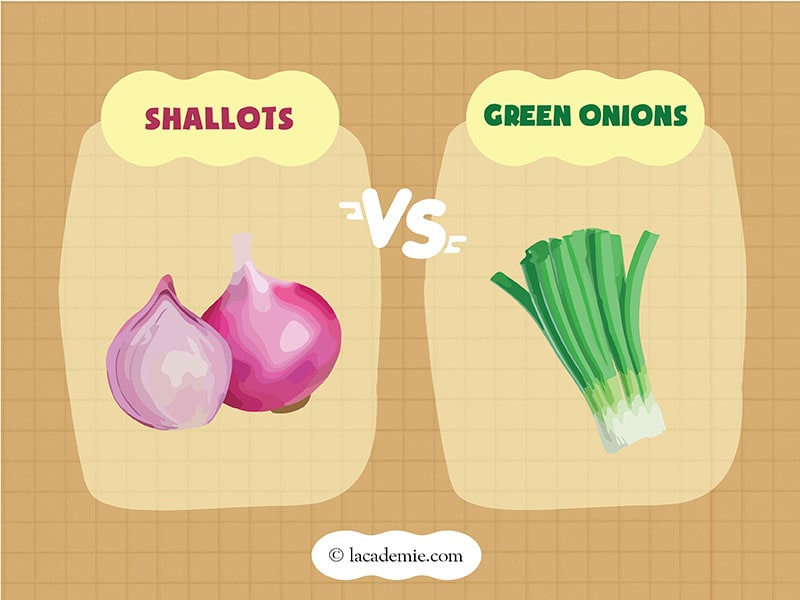 The Encyclopedia Of Shallot
Feeling confused in front of the onion stall with various types of onions in the supermarket? But if you look closer, you can easily spot shallots among these onions.
Now, let's warm up with some information about shallot before identifying the differences between it and green onions. And if someone asks you what foods start with the letter S, shallot should be your first answer. Then impress them with your knowledge about shallot as below.
Shallots are members of the Allium family, which includes garlic, onions, leeks, and chives. 'Allium cepa var. ascalonium' is the scientific name for shallot, which comes from Ascalon, an ancient city in Israel where the Greeks claimed that shallots originated here (1).
Moreover, the word 'shallot' is from the Old French 'escologne' that also indicates shallot. The true origin of shallot is unspecified, but many people believe that shallot is from Asia. After that, they were introduced to India and the Eastern Mediterranean.
How Many Types Of Shallots Are There?
Shallot is the classic ingredient to make sauces or other accompaniments for beef wellington. The shallot's taste can add more flavors to your beef dish, making your meals more glamorous and tastier.
There are 3 main shallot varieties worldwide: Jersey shallot, Gray shallot, and Banana shallot. You can use any shallot type based on your preference or their availability in your area.
Jersey Shallot: They have a look of small onion with red-pink color. They are the most popular shallot variety in the USA that you can find in any market.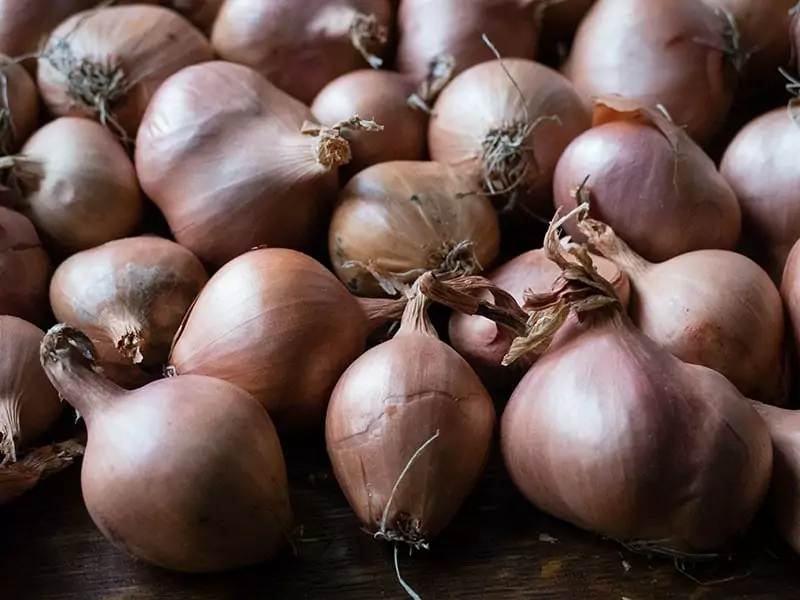 Gray Shallot: As they have a pale gray peel with a pale purple color inside. Gray shallot also refers to 'true' shallot or French shallot.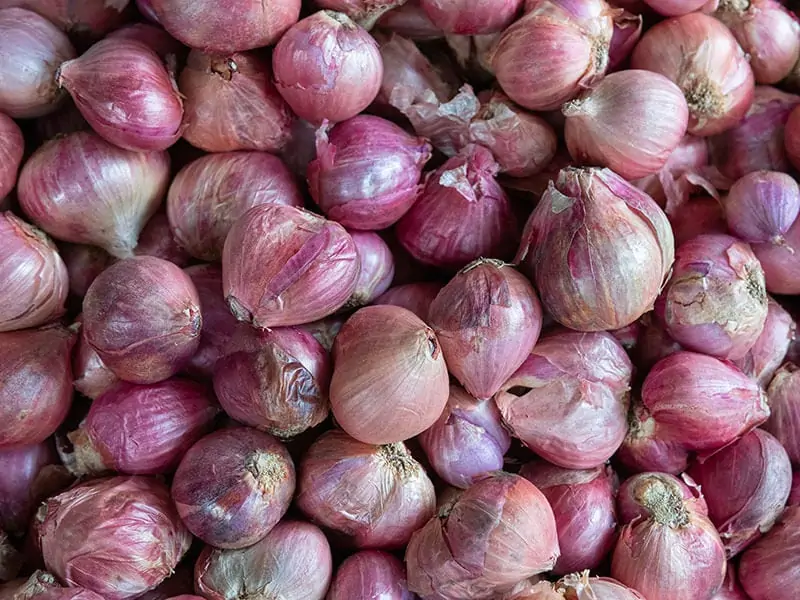 Banana Shallot: This variety is a hybrid shallot formed to mix onion and shallot. Banana shallot is the largest shallot with brown skin.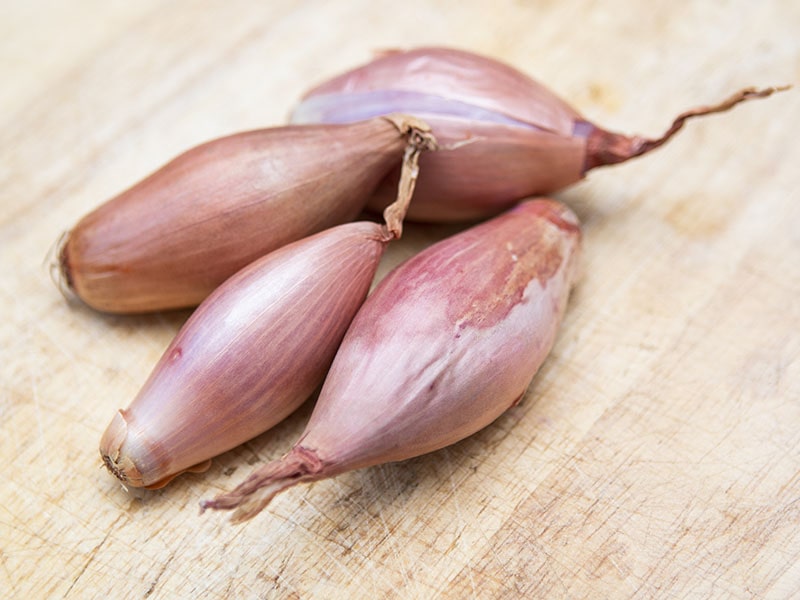 Know Your Onions – Green Onions (or Scallions)
Green onions are not only versatile in cooking, but they are affordable as well. But what else can you talk about besides their green looking? Here is some short information about them.
You might see the term 'green onion' and 'scallions' used interchangeably. In reality, they can be seen as the same thing.
But one minor note about them is true scallion cannot produce bulbs while green onions can. They are both immature onions with long green stalks and white roots.
Plus, green onion (or scallion) is also one of the best replacements for chives. So feel free to use them if this is not a chive season.
The scientific name of green onions is Allium fistulosum (2); therefore, they are in the same group as the shallot. But of course, green onions are not the same thing as shallots.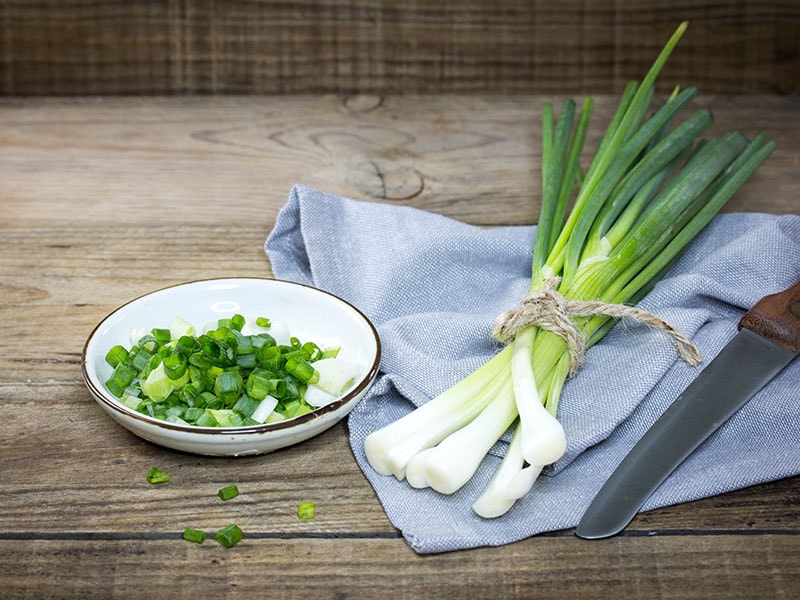 Shallots Vs. Green Onions – Understanding The Differences Between Them
Let's take a look at this table first so you can understand briefly about shallots and green onions.
| | Shallot | Green Onions |
| --- | --- | --- |
| Scientific Names | Allium cepa var. ascalonium | Allium fistulosum |
| Harvest | For bulbs | For the whole stalks with white base and green tops |
| Cultivation | Peak season on summer and fall | Throughout the year |
| Physical | Elongated (some are slight round) shape | Have green, thin, long, and hollow stalks with white bases |
| Physical | Brown, gray, or red-pink skins with the white or pale purple flesh | Have green, thin, long, and hollow stalks with white bases |
| Taste | Pungent. Have onion taste with a garlicky hint | Milder oniony taste compared to shallots and other onions |
| Taste | Fried or caramelized shallot is lightly sweet and mellow | Has grassy flavor on the green tops |
| Culinary Usage | Used both cooked and raw | Used both cooked and raw |
| Culinary Usage | Suitable to flavoring salad, soups, sauces, stews, etc. | Garnishing ingredients for soups, salads, salsa, meaty dishes, etc. |
| Culinary Usage | Caramelized shallots are also popular in some dishes | |
| Nutrition | Higher calories, carbohydrates, protein, and potassium compared to green onions | Higher vitamin C, A, K, and folates compared to shallot |
1. Harvest and Cultivation Differences
Green onions and shallot, basically, have some commons in botany as they are in the same allium family. They have similar parts like the underground roots, bulbs, green stalks that grow from the bulb, and flowers.
However, since green onions are harvested young, their bulb is still tiny or has not formed, and their green part is still alive well. But in shallot, as they are more mature, shallot bulbs are allowed to grow into bigger bulbs, while their green tops will slowly die before being harvested.
Moreover, while green onions can be found all year, shallots are best picked in the summer and fall.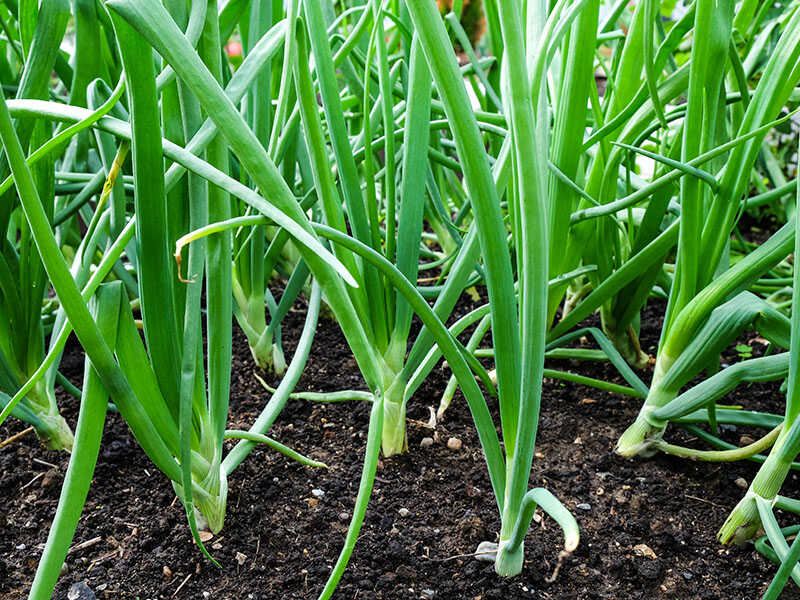 2. Physical Differences
This is the easiest way to tell shallot and green onions apart as they have different looks due to their different botany factors.
First, green onions have a thin, long shape with a white base and green stems. Green onions can produce bulbs, but as they are harvested early before the bulb can develop, so you can distinguish green onions and shallot by their bulbs.
Shallots, on the other hand, can grow the green top, but you will never spot them in the supermarket as shallots are only sold for their bulb parts.
Although there are various types of shallots, overall, shallots have an elongated oval shape with brown, grey, or red-pink papery skins that are easy to remove. Shallot flesh colors are off-white, light-purple, or light-red.
Shallots grow pretty similar to garlic, with many clusters of cloves in 1 firm bulb. Small shallots might have 2 to 3 cloves, while a big one has 3 to 6 cloves.
3. Taste Differences
Though shallot and green onions are in the same genus, they do not have the same flavor. In fact, their taste is pretty distinct to each other.
Shallots' taste is quite similar to onion's taste. Their flavor is also more pungent with a touch of garlicky, while the oniony taste in green onions is lighter.
The reason that green onions have a milder flavor is they are immature onions. Plus, the green tops of green onions have a grassy flavor, while shallots do not have this taste.
Shallots also have a mild sweetness, especially after you cook them until caramelized. In contrast, you can not find this flavor in green onions, even after they are cooked. In fact, green onions might lose all their flavor after cooking, particularly the greener parts of them.
4. Culinary Usage Differences
You can serve green onions and shallot raw or cooked. They are both versatile in many cooking recipes, especially Asian recipes. However, there are still some minor dissimilarities in cooking usages.
For all raw types of green onions, they go well with soups, salads, salsas, and many meaty dishes as the garnishing. You can also grill, roast, stir-fry, or saute them. Basically, the versatility of green onion is undoubtable.
So if you wonder what if you freeze green onions for year-round use, luckily, this veggie can freeze well. But make sure you know how to store them properly in the freezer too!
You can slice raw shallot thinly and mix it in many salad dishes or dressings. Or use it as a substitute for asafoetida. Sauteing shallot with other ingredients can also increase its flavor as a condiment. Pickling shallot is another good way, either in slices or a whole one.
But one special thing that you can do with shallot but not with green onions is caramelized sliced shallots. Or frying shallot is also another way to turn your vegetable into a different dish.
How to have a perfect crispy shallot? Let's get some tips to make them without burning.
5. Nutritional Differences
From the below chart, you can notice some significant differences in nutrient levels between shallot and green, so you might compare them to determine which is best.
| Nutritional Value (per 100 grams) | Shallots | Green Onions |
| --- | --- | --- |
| Calories | 72 Kcal | 32 Kcal |
| Total Fat | 0.1 g | 0.3 g |
| Total Carbohydrates | 16.8 g | 7.34 g |
| Cholesterol | 0 mg | 0 mg |
| Sodium | 12 mg | 16 mg |
| Potassium | 334 mg | 276 mg |
| Protein | 2.5 g | 1.83 g |
| Vitamin A | 4 IU | 997 IU |
| Vitamin C | 8 mg | 18.8 mg |
| Vitamin K | 0.8 µg | 207 µg |
| Calcium | 37 mg | 72 mg |
| Iron | 1.2 mg | 1.48 mg |
| Folates | 34 µg | 64 µg |
Apparently, shallots have more calories, carbohydrates, protein, and potassium compared to green onions. But if you need a higher source of folates, vitamin C, A, particularly vitamin K, green onions are much better.
Overall, they are both excellent for your health. But how good are shallot and green onions, and how do their nutrition affect your body? The following part will show you.
What Benefits That Shallots and Green Onions Can Bring?
The spices in the allium family can bring various health advantages to your body. The following information is some key benefits of consuming green onions and shallots that you should know.
Health Benefits Of Shallot
Support Heart and Blood Conditions: The high amount of antioxidants in shallot allow them to improve your heart health and blood circulation. The thiosulfinates found in shallots also prevent the risks of blood clots.
Prevent Allergy: By consuming shallot, you can reduce the possibility of seasonal allergies that affect your noses and eyes.
Treat Normal Cold or Flu: The antimicrobial compounds in shallot can help you avoid cold, flu, or fever.
Health Benefits Of Green Onions
Prevent Cancer: The allicin compound in green onions can reduce cancer growth, particularly stomach cancer.
Avoid Inflammation: Green onions can kill bacteria or viruses thanks to their phytonutrients.
Reduce Obesity: The antioxidant and bioactive properties of green onions can decrease the risk of obesity.
Good for the Digestive System: The high levels of vitamin C and fiber will boost the function of your digestion.
You cannot know how amazing green onions are until you learn their health benefits. The video below should be able to help you:
Cutting Shallot and Green Onion Like A Pro
If you're afraid of being clumsy with a knife, don't be. Because with these detailed instructions, you can cut anything, especially shallots and green onions, with ease.
How To Cut Onion
Cutting green onions is also super easy. All you need to prepare is a sharp knife, a cutting board, and a bunch of green onions.
Step 1: Search for any wilted stalks so you can remove them before cutting.
Step 2: Place your green onions on a board to cut. You need to cut the root end first. If there are some tough green tops, you can cut them off as well.
Step 3: Now, you can cut them in 2 ways
Move your knife in a circular motion to chop green onions thinly.
Place your knife at an angle, then cut them with the same circular motion for bigger pieces of green onions.
Cutting green onion is more manageable than cutting shallot, and it won't make your eyes tear. Watch this video to know more:
Tips To Cut Shallot Properly
There are 2 ways to cut shallot: cut them into thin slices or cut them into small diced pieces. With the step-by-step instruction, you can cut your shallot easily without hurting your fingers.
Step 1: Cut the root end off. But do not cut too much, just a little bit off so you can remove the skin easier.
Step 2: Remove the shallot skin. You can use your bare hand or a knife to do it.
Soaking in warm water priorly also aids the removing skin process. You can soak them for around half an hour before cutting them.
Step 3: Cut them in half through the root. However, if your shallot is relatively small, you might skip this step.
Step 4: Now cut your shallot toward the root but do not cut through the root. Then slowly cut them into slices with the width based on your preference.
Step 5: Cut your shallot in the opposite direction for smaller diced pieces.
If you want to cut them into slices, it would be easier. Just cut the ends off first, remove the skins, and slice them as thin as you want. But if you do not want your shallot slices to form a circular ring, cut them in half before slicing.
Worried about your knife skills? Let's learn the techniques to cut shallot like a real chef to protect your fingers.
Ways To Prevent Your Eyes From Being Irritated While Cutting Shallots
Even though producing tears while cutting shallot is lower than cutting an onion, the sensation is irritating. So let's use some below tips to prevent shallot tears as:
Freezing your shallots
Turning on a fan while cutting them
Cutting shallot underwater
Using a sharp knife and cutting them fast
Cutting shallow near an open flame
Wearing goggles
What Happens If I Use Shallots In Place Of Green Onions And Vice Versa?
Though both shallots and green onions have a hint of onion, they still have some dissimilarities in flavor and texture.
Raw shallots are much stronger in taste compared to green onions. And cooked shallot is also sweeter than cooked green onions. So you must consider this factor before replacing one with another.
But if you insist on using green onions to substitute shallot or vice versa, they still can work in a pinch. You can only use the white part of green onions to substitute shallot; this is the most important note to remember.
Alright! Let's do a little math for this substitution. First, here are some estimations about shallot:
1 small shallot = 2 tablespoons of chopped/minced shallot
1 medium shallot = 1/4 cup of chopped/minced shallot
1 big shallot = 1/2 cup of chopped/minced shallot
So with 1 small shallot (around 2 tablespoons of chopped/minced shallot), you can replace it with the white part of 1 green onion and vice versa.
But what is the best substitution for shallot, you ask. Well, yellow onion can be the closest substitution for shallot as they have a pretty similar taste as shallots.
Use the ratio of 1:1 for cooked ones (as 1 teaspoon of cooked yellow onion for 1 teaspoon of cooked shallots), and 1/2: 1 for raw ones (as 1/2 teaspoon of raw yellow onion for 1 teaspoon of raw shallots).
Similarly, the best substitution for green onion is chive, particularly as the garnishing ingredients in the fresh forms of them. And you do not even need to estimate the suitable substitution ratio for green onions and chives. They work fine with the 1:1 ratio.
But for cooked dishes, as chive's taste is milder than green onions, you will need more chives to replace green onions. However, remember that long-cooked chives will lose all flavor. They should be briefly cooked; otherwise, chives cannot act as the best substitution for green onions.
What You Can Cook With Shallot and Green Onions
You can find several cooking recipes with shallot and green onions on the internet. But here are some super easy and quick ideas that can save your busy days with a handful of shallot or green onions.
Green onions are indeed a hit in many vegetarian dishes, and this stir-fry of mushroom and green onions is an easy yet delicious solution for you.
You should cut green onions into long pieces; around 1 inch in length is preferred. Since both ingredients are quickly cooked, pay more attention to the heat and timing to avoid overcooking them.
What do you normally do to celebrate your summer holiday? Let me introduce this incredible recipe to cook with green onion. Among many canned corn ideas, I always choose corn fritter treats to mix with green onion and create a perfect appetizer at any party, potluck, or gathering.
With the mixture of corn, green onions, eggs, coconut milk, herbs, and seasoning pastes, every bite of these soft fritters are bursting in flavors.
Do you know what ingredients can bring out the delicateness of this pasta dish? It is caramelized shallot. You cannot imagine how flavorful and tasty it is in just 1 skillet of pasta.
The sweet and soft shallot contrasts the other textures, such as crispy breadcrumbs and chewy pasta. With other ingredients, they all work together to generate the most intense flavor, making your dinner incredibly enjoyable.
This Asian-style green bean salad with shallot will never get old. And of course, this salad is super easy to make because all you have to cook are the green beans and shallot.
Fried shallot is ready to serve in just 3 to 5 minutes. And you can even store them well at room temperature for a week or keep them in the fridge for longer shelf life.
FAQs
Is there anything else about shallots or green onions that is still confusing you? If that's the case, these quick responses would be able to assist you in getting rid of it.
Which One Has The Best Taste? Shallot Or Green Onions?
In fact, it is tough to have the proper answer as it also depends on your taste buds. If you love something strong in garlicky taste but not from garlic, shallot should be your choice. But if you love a lighter flavor with a touch of grassy tone, nothing can beat green onions.
Now, are you ready to impress others whenever they talk about shallot and green onions? And it is even better if you come across as a master chef when cooking with these two as you already understood how they are different in flavors.
Lastly, if you feel your knowledge just has expanded with this information, please click like and share it with your favorite people. They will thank you later.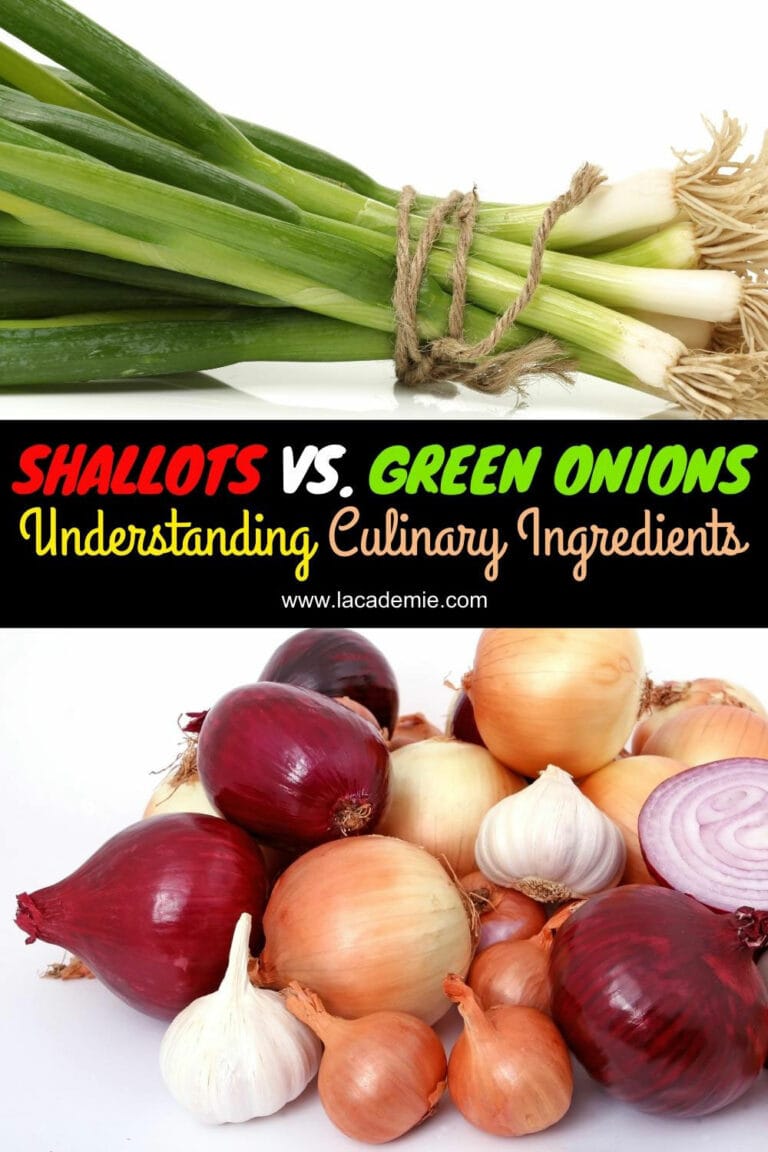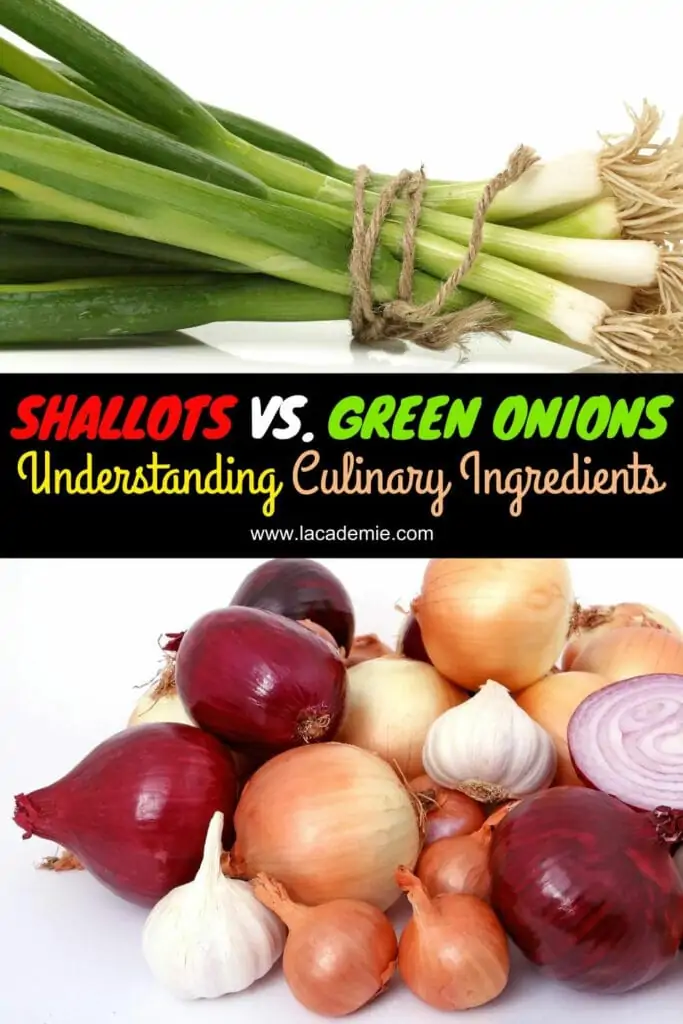 Reference Lists
Newworldencyclopedia.org. 2021. Shallot [Online]. Available at <https://www.newworldencyclopedia.org/entry/Shallot>
En.wikipedia.org. 2021. Allium Fistulosum [Online]. Available at: <https://en.wikipedia.org/wiki/Allium_fistulosum#Ambiguous_names>