I believe there is hardly anyone who has never heard of Trisha Yearwood recipes. But in case you really don't know, Trisha Yearwood is a famous singer and also an author of several best-seller cooking books.
There are various reasons why her recipes are so well-received. One of them is because her dishes are all beginner-friendly. Even ones without advanced cooking skills can perfect them after a few tries.
So, if you are worried about your skills not being good enough, Trisha recipes are born for you!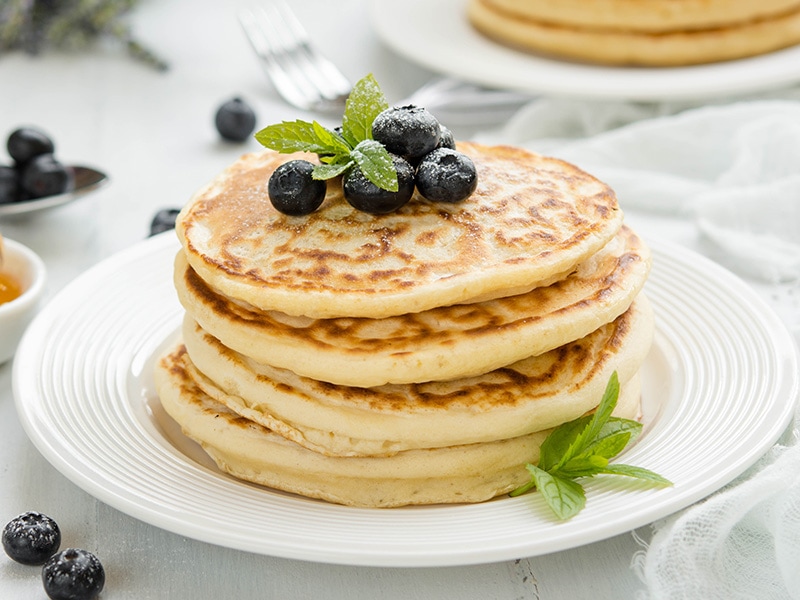 You Can Start By Trying These Trisha Yearwood Recipes
With these Trisha Yearwood recipes, you can make a whole dinner meal all by yourself in a short time. Whether savory or sweet dishes, Trisha will 100% provide you the tastiest ideas ever.
Side Dishes
Orzo Salad
Charleston Cheese Dip
Main Dishes
Mac and Cheese
Chicken Tortilla Soup
Chicken Broccoli Casserole
Sloppy Joes
Snacks And Desserts
Cakes
Key Lime Cake
Chocolate Torte
Blueberry Pancakes
Hummingbird Pancakes
Strawberry Shortcake
Confections And Cookies
Sweet And Saltiness
Crockpot Chocolate Candy
Snickerdoodles
Chocolate Chip Cookies
Pastries
Apple Dumplings
Almond Shortbread
Peach Cobbler
Others
Banana Pudding
Sweet Potato Souffle
Grape Salad
So, let's get started now!
Here Are The Top 2 Famous Trisha's Side Dishes!
If you are stuck not knowing what to do for your side dishes, Trisha has prepared several recipes for you to follow. Among those, these three are all confirmed about their flavors.
This may look like a mixed rice dish at first glance. But the truth is, this is 100% an accompaniment made with pasta. Many people have mistaken orzo for some kinds of rice grain, so you are not the only one.
As it is a salad dish, there's no limit on how many ingredients you can add. Sometimes, I even make it into a lunch meal by mixing shrimp or chicken in. Also, if you want this salad more flavorful, make sure to boil orzo in the chicken stock.
This dish got its name because Trisha creates it based on a cheese dip she ate at a hotel in Charleston. And I really appreciate her for that as this dish is better than any cheese dip I've ever tried.
It's creamy and cheesy with lots of cheese and mayonnaise. And then the crunchiness from crackers on top makes a nice change in texture. Not to mention, this recipe includes a batch of crumbled bacon. What else can I ask for?
With These Trisha's Main Dishes, Your Dinner Won't Get Boring!
Trisha always knows how to elevate regular dishes into something new and exciting. If you don't believe me yet, I'll let these recipes below speak for themselves!
Usually, mac and cheese are made by baking in the oven. However, here in this Trisha recipe, you'll make it with a slow cooker. Does it taste good? Better than you thought! You'll get a lovely, rich, and creamy mixture of cheese and pasta without having to sweat yourself.
And if you want your mac and cheese more delicate with a bit more yellow color, add beaten egg yolks to the mixture. I personally like that option since it provides a custard texture to my dish.
Tortilla soup is a traditional Mexican dish cooked in a crockpot for hours. It often has chicken as the most common choice for filling and tortilla as accompaniment. Aside from these two ingredients, you'll mainly find beans and corn in this dish.
While tortilla soup is usually a thick, hearty soup, you can make it lighter by cutting down on the amount of cheese, butter, or milk. Also, if you want something to contrast the richness of this soup, some salads are an excellent choice for your side dish.
This chicken tortilla soup will warm you up in an instant! Watch this video:
Some are afraid of casserole because of the rich cheese. However, with this recipe, you will no longer worry about your weight when eating it. Why? It's because this casserole includes tons of broccoli, making it healthier than ever.
For chicken, you can choose either chicken breast or tenderloin as each has its own pluses. However, with this recipe, chicken breast is more health-friendly than other chicken cuts. Now, all that's left is a green salad for an extra nutritious dinner.
Nowadays, no one feels strange with sloppy joes anymore. However, with this Trisha version, you'll feel like you've never eaten a true sloppy joe before.
The secret to this astounding recipe is adding brown sugar to the sauce, making it taste more balanced than the regular ones.
Also, you can alter the sauce's texture to your likings. For example, don't cover your pot if you want your sauce thicker.
These Trisha Snacks And Desserts Are Irresistible!
If Trisha's savory dishes are the best, then these sweet treats are the best of the best. Once you've tried them, you can't go back to these store-bought desserts.
Let's Try Making These Trisha Cakes!
These four cakes are perfect for any birthday party or gathering. From simple to complex recipes, they can satisfy even people who don't favor sweet desserts.
If lime is too sour for you, then you should try these key limes. They are milder but still retain lime's signature tanginess, making them perfect for a wake-up dessert.
And that doesn't count for its cream cheese frosting and lime glaze. One's rich, creamy, and sweet, while the other is full of citrus flavor. Isn't that a perfect combination?
Also, one unique part about this recipe is it replaces butter with oil. However, your cake won't turn greasy and oil. Instead, the result is a fluffy and moist dessert.
This key lime cake will wake up your palate! Watch this video:
Just the look of this cake on a stylist cake stand is enough to impress all your guests! 12 cake layers stacking up on top of each other nicely and coated with a chocolate glaze, that sounds really like a desired dessert!
Of course, it indeed takes a lot of work to place and glazes all the layers right when they are still warm. But once finished, the result really makes me smile. And you can always cut down on the number of layers, so it's easier for you.
Everyone loves pancakes for breakfast. And now this dish becomes even tastier with tons of blueberries inside the batter. Their sourness and sweetness will surely wake you up right away.
Not to mention, Trisha even adds lemon zest to her recipe, making these pancakes zing more in your mouth. Also, don't forget baking powder and baking soda when making this dish, as these two will help your pancakes even fluffier than usual.
Hummingbird Pancakes
These Hummingbird pancakes are a little fun twist on the classic Hummingbird cake. For those who don't know what this dessert is, it's a beautiful layer cake full of tropical fruits, like pineapple and bananas. Sometimes, people even put coconut and other dried fruits in it.
Fantastic as it may sound, Hummingbird cake is a bit too much for light eaters like me. Thus, I change it into these pancakes. Remaining as delicious as the original recipe, they are much more suitable for breakfast or midday snacks.
Nowadays, there have been thousands of strawberry shortcake recipes with different types of cake used. But, let's go back in time and appreciate the original version's delicacy with this Trisha recipe.
I actually also prefer this sweet option with whipped cream and fresh strawberries over these modern ones because it's not oversweet. Instead of sponge cake, this strawberry shortcake still uses biscuits.
No one can't say no to this strawberry shortcake. Let's make strawberry shortcake in the chef level with this video:
Everyone Loves These Trisha Confections And Cookies
While cakes are suitable for significant events, these confections and cookies are the best choices when you want something for your midday snacks!
Just its name makes me curious. Sweet and salty at the same time? Is it a dessert or a savory dish? Turn out sweet, and saltines refer to saltine crackers coating in chocolate. And you can enjoy them as both a sweet treat and a side dish.
As for a side dish, saltine crackers usually have melted butter and brown sugar as their toppings, making them entirely sweet. And when you want to serve them in a dinner meal, feel free to add some diced bacon for more saltiness and richness.
Forget about the thermometer and temperature. As long as you have a crockpot, you are good to go with these chocolate candies. You just need to layer the peanuts, chocolate, and maybe some vanilla candies at the bottom of your crockpot.
Then, after you mix them up, just sit down and relax while waiting for them to turn into a gooey mixture full of chocolate flavor. Divide this mixture into different portions, and here is your perfect snack!
There is hardly anyone in America who doesn't know about this sweet treat. And don't mistake it with standard sugar cookies! These snickerdoodles are rolled in cinnamon sugar, providing them a trademark flavor.
Also, these cookies are much chewier since the dough is leavened with tartar cream. This ingredient also makes them taste a bit tarter.
What kinds of chocolate cookies do you like? The crunchy or chewy ones? No matter what side you choose, this Trisha recipe will satisfy you all.
Two versions all start the same with beating butter and sugar at room temperature. The only difference is when you pull your cookies out of the oven. If you want them chewy, take the tray out a bit early. And if you favor crispy texture, leave them to sit in the oven for longer.
Have You Tried These Pastries Made By Trisha Yearwood?
Pastries sometimes sound a bit boring, compared to those flavorful desserts above. However, with Trisha's help, they have reached a new height and can capture anyone's heart at the very first bite.
Apple dumplings are a must-have in my house whenever autumn comes because they are just too good to be true. Not to mention, compared to other desserts, apple dumplings are much less pricey.
All you need is some apples with essential baking ingredients. However, according to the Trisha recipe, I'll use canned biscuits instead of regular dough. Also, you can add other foods to the filling for more flavors like raisins or currants.
Everyone would love to have a bite of these apple dumplings at your party. Watch this video:
Sometimes when I'm busy with work, I would grab some shortbread and a cup of coffee to regain my energy. Something about this buttery, chewy bread always excites me and my brain. Not to mention, now, with the Trisha recipe, it's also packed with nutty almond flavor.
I follow her recipe to a T, but you can cut down on the sugar amount if you aren't too fond of sweet treats. Also, feel free to alter this dish to your liking by changing almonds to raspberries or rum.
Whether it's summer or winter, cobbler always has a solid place in our family's heart (and stomach). When it gets hot, I serve it with some ice cream. And when the temperature drops down, this warm dessert is more than perfect.
Not to mention the scent of this cobbler when you bake it in the oven. Sweet peaches combined with butter scent is enough to make everyone drool. That's why I always make cobbler as a dessert after meals so that I still have something else to eat while waiting for cobblers.
These Trisha Yearwood Desserts Are On Another Level
Though they don't belong to any of these categories above, that doesn't mean they are less delicious. You can try making them for a fun twist in your daily desserts.
You can count on this banana pudding as one of the easiest desserts. It doesn't require any advanced baking skills, though you may need a bit of patience to wait for it to complete.
Simply put, a banana pudding includes layers of sliced bananas, creamy custard, and cookies placed on top of each other. For a better visual, you should brush your bananas with some citrus liquid-like lime juice, orange juice, etc.
For a finishing touch, garnish this pudding with whipped cream, ice cream, or melted chocolate based on your preferences.
Vanilla, chocolate, strawberry,… All these souffle flavors are so familiar already. But have you heard about sweet potato souffle?
For those who don't know about it, this souffle looks more like a casserole than a standard souffle. But believe Trisha and me, you'll get a fluffy, warm, and sweet treat just as you expected.
You can also make a pecan topping for different textures.
This sweet potato souffle is easy yet delicious beyond imagination! Watch this video:
When spring comes, it's time for some picnics outdoors. And grape salad is always my favorite choice when I want something sweeter than just green veggies.
This salad has tons of grapes dressed in a creamy sauce. Don't stop at just one type of grapes! Using as many kinds as you can so your dish will have more colors, flavors, and textures.
As for the sauce, I'd like to add a little sour cream so the salad will taste tangier, not just entirely sweet.
Have You Found Your Favorite Trisha Yearwood Recipes?
The dishes above are already perfect on their own. But there's no harm in making some twists here and there. Maybe you'll create other flavors that are even better than the original.
So, if you have other ideas about Trisha recipes, don't hesitate to share them via comment. And feel free to show this article to your friends so you guys can help each other.