Have you ever wondered if you can refrigerate bananas? If you have, this post is written for you. Suppose you buy a bunch of green and ripe bananas and do not know what to do next, you should read this post very carefully!
Bananas are a tasty and beneficial fruit. You can eat them raw, or use these bananas to make thousands of desserts or juices. Because of that, you probably cannot stop yourself from buying plenty of them when you go to the market.
Then, the problem is, can you store them in the fridge? Do they go bad? How to store them properly? If you are a beginner at refrigerating bananas, read on!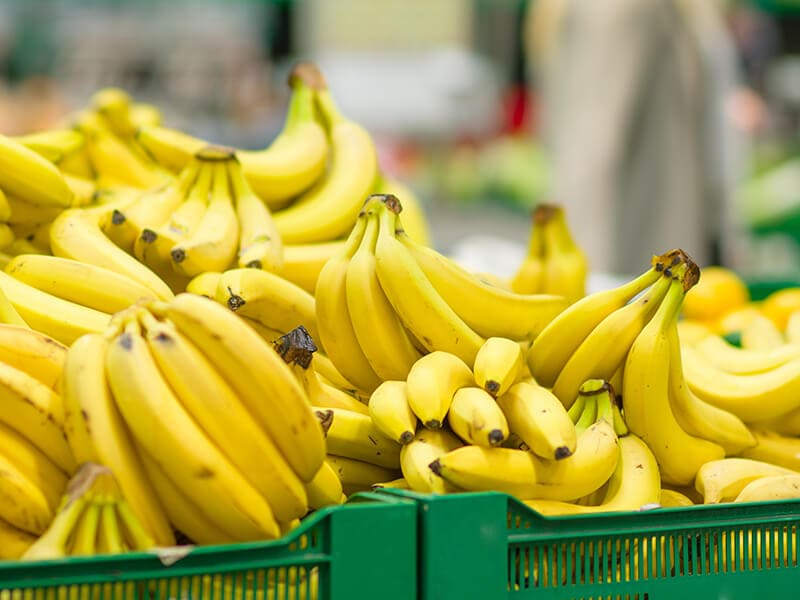 Can You Refrigerate Bananas?
Luckily, the answer is yes. Just like how people store mangoes, ripe bananas can be preserved in the fridge for up to 1 week provided that the storing procedure is done correctly.
Normally, you will buy two kinds of bananas:
Green bananas cannot be refrigerated immediately. You have to wait until they are fully ripe.
Ripe bananas can live safely in the fridge for up to 1 week. If they are unpeeled, they can be stored within 3 – 4 days.
Now you have got a little bit of information about the shelf life of bananas. However, you are still at the starting point. There are many more valuable tips waiting for you to explore.
Bananas Are Not Only Delicious But Also Healthy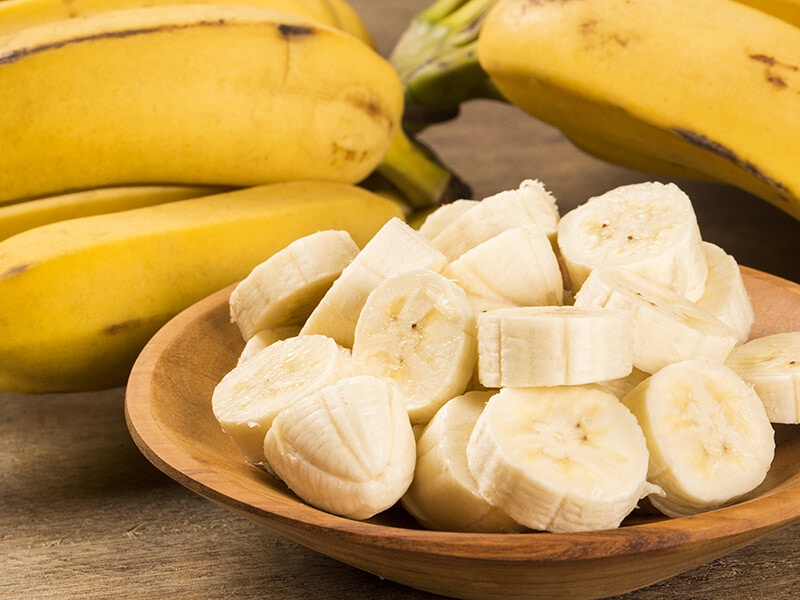 First, let's have a glance at how bananas are beneficial to your health. Since you are here, I am sure that you love bananas as much as I do. They will bring several health benefits to your health.
Bananas are very rich in antioxidants. They contain dopamine and catechins, which, along with potassium and magnesium, promote your heart health and help prevent other diseases.(1)
Bananas are shown to be able to improve digestive health since they contain pectin and resistant starch. Pectin can also prevent colon cancer. (2)
Do you know that bananas have very few calories? In case you want a snack that does not make you gain weight, bananas are one of the best choices.
How Long Do Bananas Last?
As I have shown at the beginning of this post, you can store bananas in the fridge. However, there are more things that you need to know. Check out this table to find out the shelf life of ripe bananas and green bananas.
| Types | Room temperature | Fridge |
| --- | --- | --- |
| Ripe bananas | 1 - 2 days | 1 week |
| Green bananas | 2 - 5 days | 1 week |
Ripe Bananas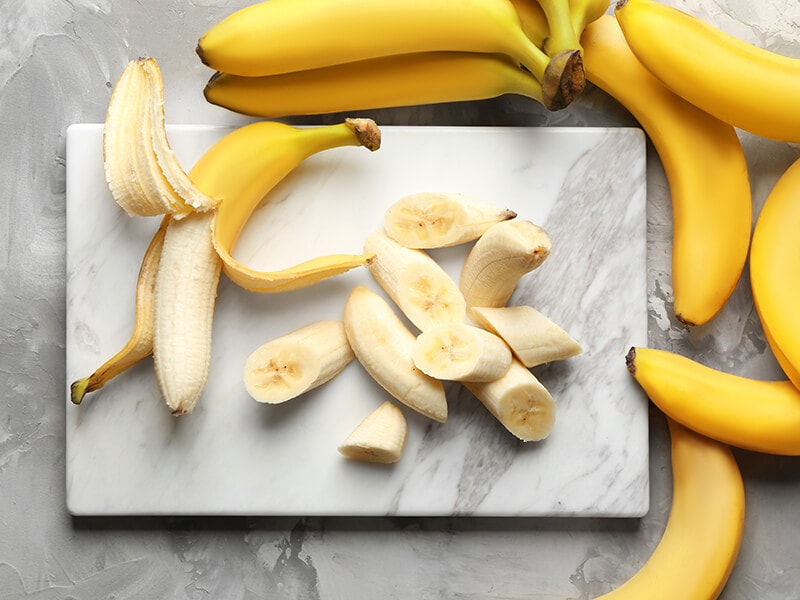 Assuming you buy ripe bananas and intend to consume them in 1-2 days, you do not need to put them in the fridge. Bananas can be stored safely at room temperature for a short amount of time. Make sure that you place them somewhere away from the sunlight.
In case you want to store bananas for a longer amount of time, the fridge is the perfect place. You can store bananas in the fridge for up to 1 week if they are in good condition.
Green Bananas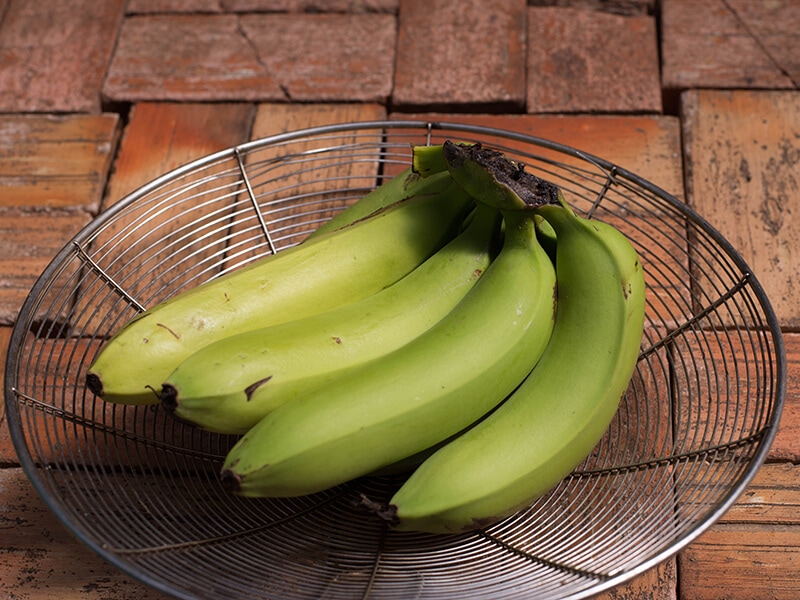 Unlike ripe bananas, you cannot store green bananas in the fridge. This is because they are still ripening, and the low temperature in the fridge will slow down or hamper that process and turn their peels into black. When that happens, the bananas are no longer edible.
This does not mean that you cannot store green bananas. You can definitely store them after they ripen. You should leave them at room temperature for 2-5 days. When they turn yellow, you can put them in the refrigerator.
How To Refrigerate Bananas Properly
The answer to the yes-or-no question "Can you refrigerate bananas?" is not everything you need to know. I think you are here because you also want to keep your bananas fresh for a longer amount of time. Follow this guide, and you can do it.
Ripe Bananas Can Be Directly Refrigerated
Ripe bananas come in two forms, namely peeled and unpeeled bananas. Here is the detailed how-to guide for storing them in the fridge.
Unpeeled Bananas
As I have mentioned above, room temperature is a good condition for storing ripe bananas. You don't need to refrigerate them given that you eat them within 2 days. Make sure to store them at around 12 degrees and keep them away from the sunlight.
In case you want them to stay for a week, you should refrigerate them. Ripe bananas are very easy to refrigerate. Some people even love to eat chilled bananas more.
When you see that the bananas have a bright yellow look with some brown spots, they already ripen. In case you don't want to consume them right away, it is time to refrigerate them. You have to wrap bananas before storing them. Here are two methods to do it.
Method 1: Wrap Bananas' Stems
First, cut the bananas from their bunch. Next, use a plastic layer to wrap their stems. This is because ethylene gas is released from the bunch and the stems, so covering the stems will help to keep the bananas fresh longer.
Method 2: Wrap Bananas' Bunch
You will often see this method in the supermarket. Whenever you buy a bunch of bananas, it will be wrapped with a plastic layer. The reason is the same as in method 1.
The next step is the easiest one, but you should remember this. When you put bananas in the fridge, spare some space for them. Do not put them near other fruits.
Note: When you refrigerate bananas, their peels will turn black and dark spots start to appear after some time. However, this is not always a sign of being spoiled. There is a high chance that the flesh is still fresh inside.
Whenever you are not sure, peel them and check the flesh. Bananas that are still fresh, firm, and have a slightly yellow color are still safe to eat.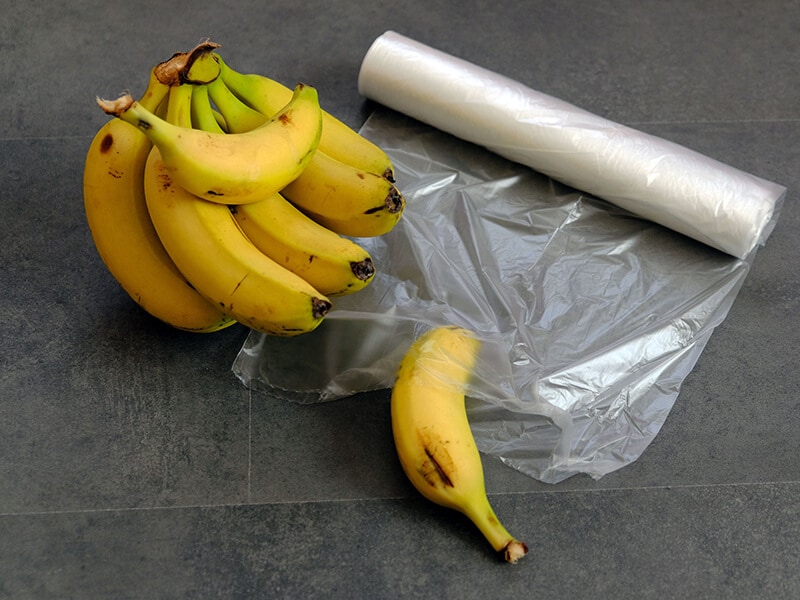 You shouldn't miss this must-watch illustrative instruction on storing bananas. Watch this video to know:
Peeled Bananas
Storing peeled bananas is just as easy as unpeeled bananas. An extra step to take is to slice or mash the bananas. The size of the slice is dependent on your choice.
Importantly, peeled bananas can easily turn brown when being exposed to the air. To keep their fresh yellow color, drop some lemon or pineapple juice on them.
Put them in a resealable plastic bag, a container, or wrap them with a layer of aluminum foil or plastic. All you need to do next is to put it in the fridge. You can keep peeled bananas fresh for 3-4 days in the fridge.
To Refrigerate Green Bananas, You Just Need One More Step
Green bananas are difficult to peel; thus, many people leave them as they are. Therefore, I will show you the complete guide to store unpeeled green bananas.
You cannot refrigerate green bananas immediately since the low temperature will keep them at the unripe state forever.
Instead, you should wait until they ripen. When you see that their skin turns bright yellow, and some brown spots appear, it is time to put them in the fridge.
So how to make them ripe when they are not on the banana trees anymore? There are some methods that you can use.
Method 1: Put Bananas in a Fruit Bowl or a Paper Bag.
This is the easiest way to ripen green bananas. All you need to do is place them in a bowl or brown plastic bag and leave it at room temperature.
If you want to ripen them quickly, put them next to some ripe fruits that also release ethylene gas, such as apples and tomatoes, to accelerate the process.
Alternatively, you can also place the bowl or the plastic bag in the colder room to slow down the ripening process. The ideal temperature to store bananas is 12-14 degrees.
Method 2: Hang Bananas on a Banana Hanger
Another way to ripen green bananas is to hang them off using a banana hanger. This is an excellent way if you don't want to store them longer.
Make sure you check their color often and put them in the fridge right away when you feel that they are ripe.
Place a hanger in a cool place, do not let bananas interact with sunlight. They do not work well with sunlight. Their bottoms can be bruised.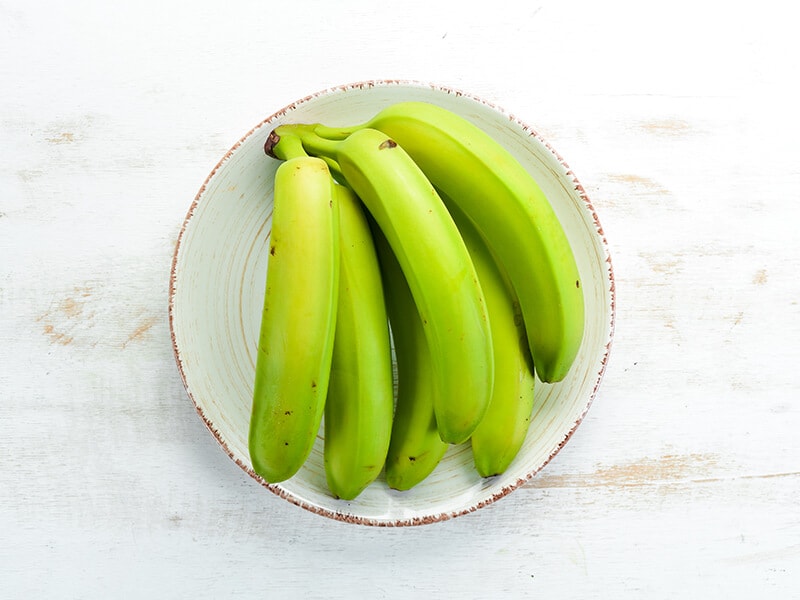 Do Bananas Go Bad?
Once bananas are not stored properly, or you keep them for too long, they will start to get spoiled. Below are some ways to check whether your bananas are still edible. Read them carefully to prevent being poisoned by your favorite fruit.
Look
Ripe bananas have a bright yellow look with some brown and black spots on them.
Unlike other fruits, having some dark spots does not mean that they are spoiled. Actually, that sign tells you that the bananas are really to eat. However, when their colors turn black, mold appears, and the peels become softer, it is time to get rid of them right away.
Texture
Ripe bananas have firm and fresh flesh. If you feel that they are too soft and mushy, then the bananas are probably spoiled. When you see that your bananas begin to ooze, it means that they lose their firm texture and are not tasty anymore. You should buy some new ones.
Smell
Another thing to check on your bananas is their smells. Good bananas smell very fresh. If your bananas have a sour or musty odor, they are not safe to eat. You should check the scent of the peel and the flesh. If they're bad, throwing them away to reduce your fridge's weight is not a bad idea.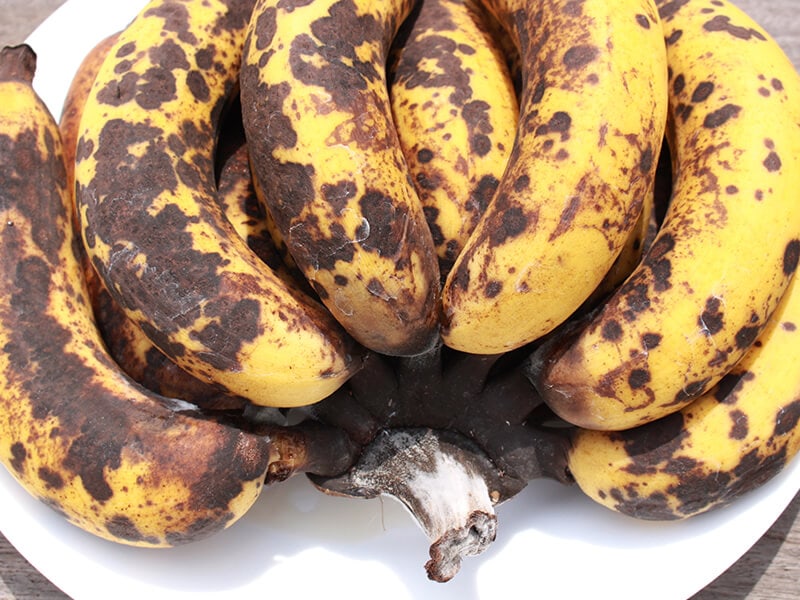 Some Excellent Tips To Pick The Freshest Bananas
Whether you want to refrigerate bananas or not, you should know how to choose fresh bananas from the supermarket. Here are some must-know tips.
Choose bananas that are bright yellow with or without some brown spots and green areas. If you want to eat them immediately, choose those with some brown spots.
Only buy bananas that are firm when being touched.
Do not buy bananas that are bruised. This is an indication of improper storage.
Do not buy bananas that are dull and gray. They are of low quality.
Tips To Store Bananas
Low temperatures slow down the ripening process. Conversely, high temperatures speed it up.
Do not store bananas near other ripe fruits. When bananas ripen, they release ethylene gas, which makes other fruits over-ripen.
Use a container that is designed specifically for storing bananas.
Sprinkle lemon juice and pineapple juice on banana slices to prevent them from turning brown
FAQs
Although I have provided you with all of the tips and methods to store bananas. You may still have some specific questions in mind. Read this FAQs section, and figure them out!
Are You Confident With Refrigerating Bananas Now?
Can you refrigerate bananas? What is your answer now? I bet that you have gained a lot of useful information from this article. So your answer will not simply be "yes" or "no."
Now you can feel free to buy several bunches of bananas and store them for up to a week. Make sure that you remember the storing tips as well as the signs of spoiled bananas.
Do you love bananas? Have you ever refrigerated them? If you use my methods, let me know the result in the comment section. Also, share this article with your friends and relatives who are struggling with storing bananas.
References
Healthline. 2021. 11 Evidence-Based Health Benefits of Bananas. [online] Available at: <https://www.healthline.com/nutrition/11-proven-benefits-of-bananas#TOC_TITLE_HDR_6>
The Nutrition Source. 2021. Bananas. [online] Available at: <https://www.hsph.harvard.edu/nutritionsource/food-features/bananas/>