Danish foods are centered on what can easily be grown or harvested during the country's short summers. Rye bread, meat, fish, and root vegetables were all common ingredients in Denmark.
Regional variances exist as well. For example, people in Jutland and Funen eat more traditional Danish meals together, especially fish-based ones because they live by the sea.
On the other hand, southern Jutland is influenced by German cuisine due to its proximity to Germany. People in Copenhagen, the capital city of Denmark, are more interested in innovative Nordic cuisine.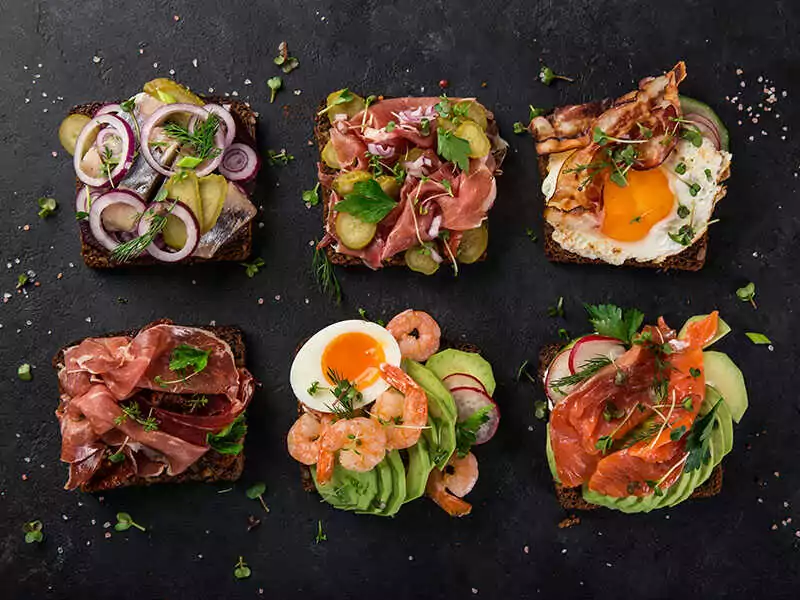 Breakfast Dishes
As the saying goes, breakfast is the most important meal of the day. So here's a checklist of all the delicious Danish recipes that you can enjoy during this time. After looking at these dishes, you will never think of skipping breakfast ever again!
1. Spandauer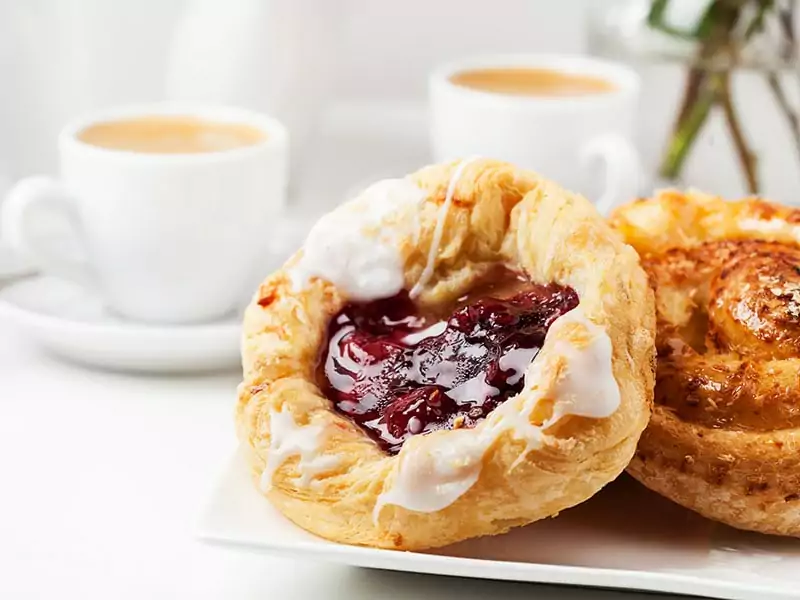 Spandauer (Danish pastry) is a crunchy sweet delight, is the essence of a lovely Sunday breakfast in Denmark. Also known as "the Danish", this yummy treat is a viennoiserie-style multilayered, laminated sweet puff pastry food that everyone should try.
Traditional fruit fillings like apple and raspberry, vanilla custard, and almond paste are popular in Denmark. However, the fillings are generally region-specific because of their popularity. With that being said, Danish cherry is the best when you need a palatable breakfast for birthday celebrations.
Austrian bakers brought the concept of this Danish dessert to Denmark and partly altered the recipe to the Danes' preferences. It has since become a Danish specialty.
2. Rundstykker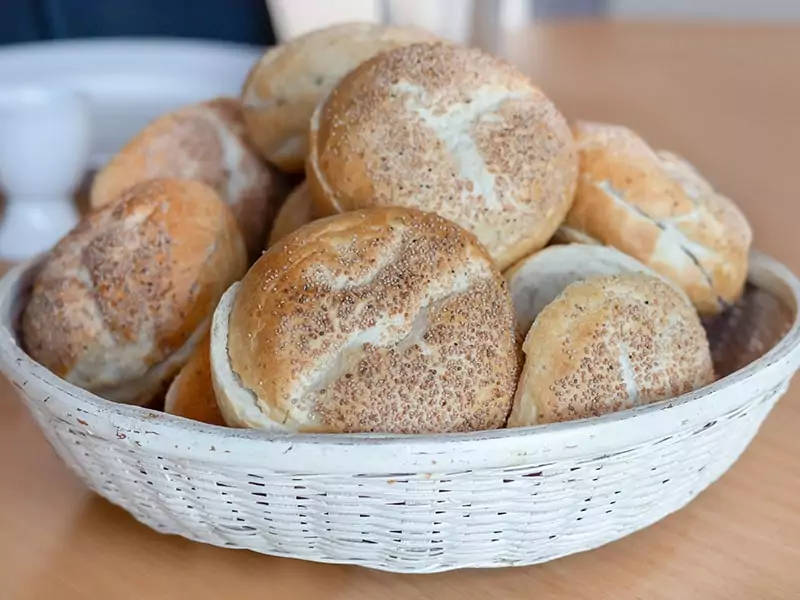 Rundstykker, which literally means "round bits", is a Danish breakfast bun. There are numerous varieties of these buttery bread rolls; some are softer, some are crustier, and some are covered in poppy or sesame seeds.
Rundstykker can be found at every bakery in Denmark, so be sure to grab one if you want a quick breakfast on the go. And don't let the name mislead you, this bread may be eaten at any time of day, not only for breakfast.
3. Grød – Oat Porridge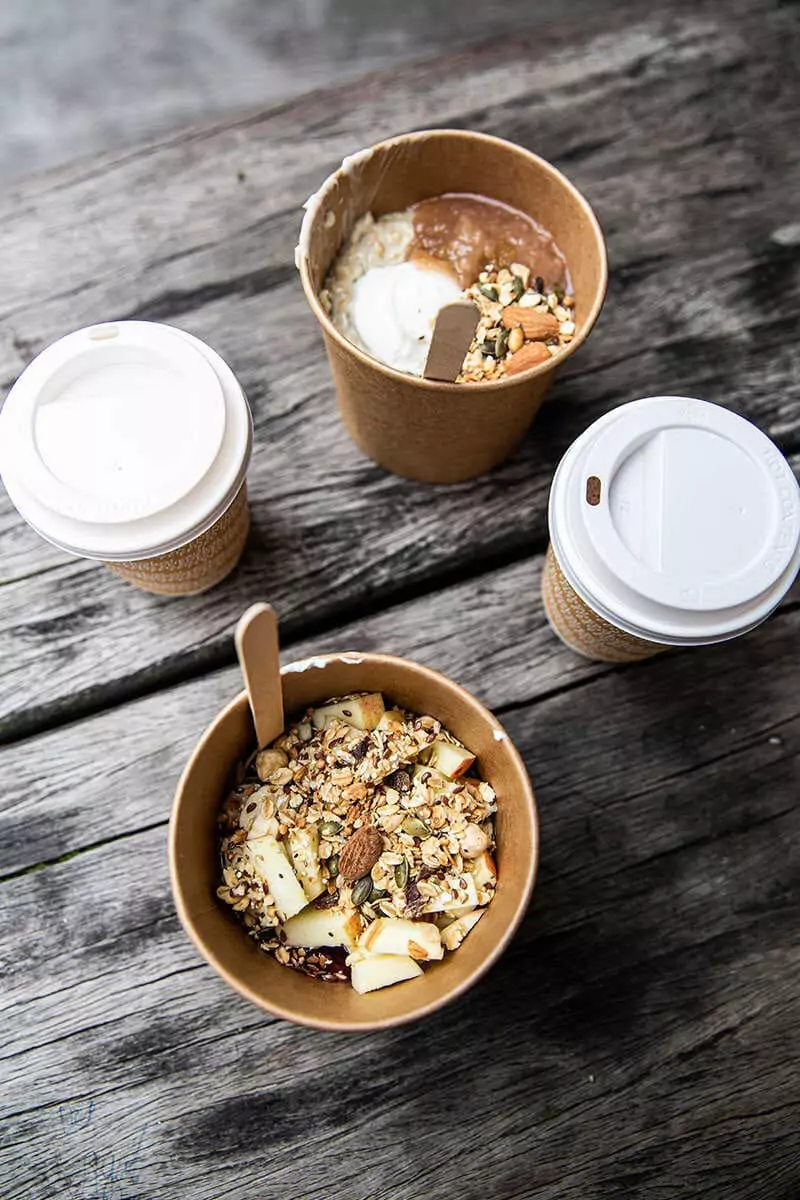 Another comforting Danish dish to start the day with is oat porridge. This affordable and comforting cuisine, known locally as grød, has been one of the best Danish breakfast dish for decades, and everyone has a different method to enjoy it.
Oats can be prepared with or without sugar or butter and topped with dried or fresh fruit along with syrups, honey, and nuts. In the winter, a steaming bowl of grød can instantly warm you up and keep you full for the rest of the day.
4. Pålægschokolade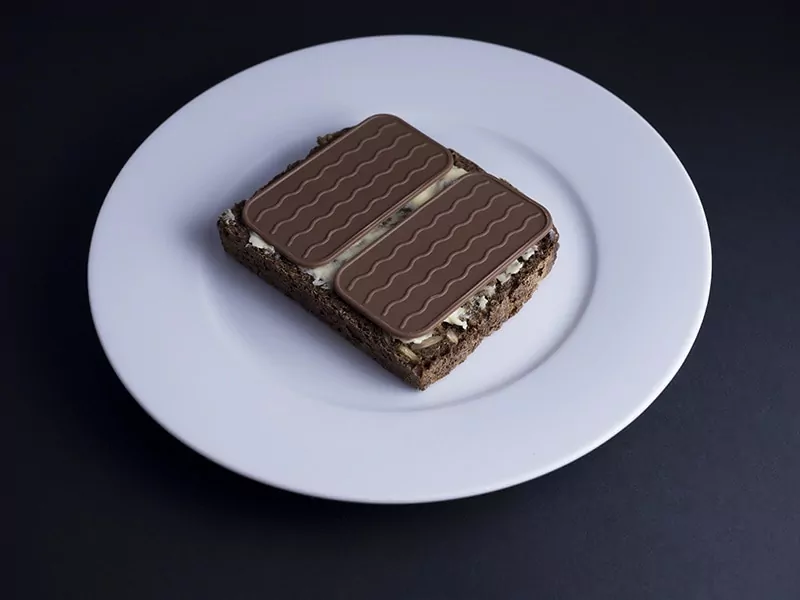 If you're a fan of chocolate, why not include it in your breakfast? Similar to how the Americans add chocolate spread on their bread, the Danes love to top their white or rye bread with thin slices of chocolate (which can be called vekao)
Galle & Jessen was the first to offer Pålægschokolade to the Danish market in 1963. Since its introduction, the product has become an essential element of traditional Danish cuisine.
5. Øllebrød – Rye Bread Porridge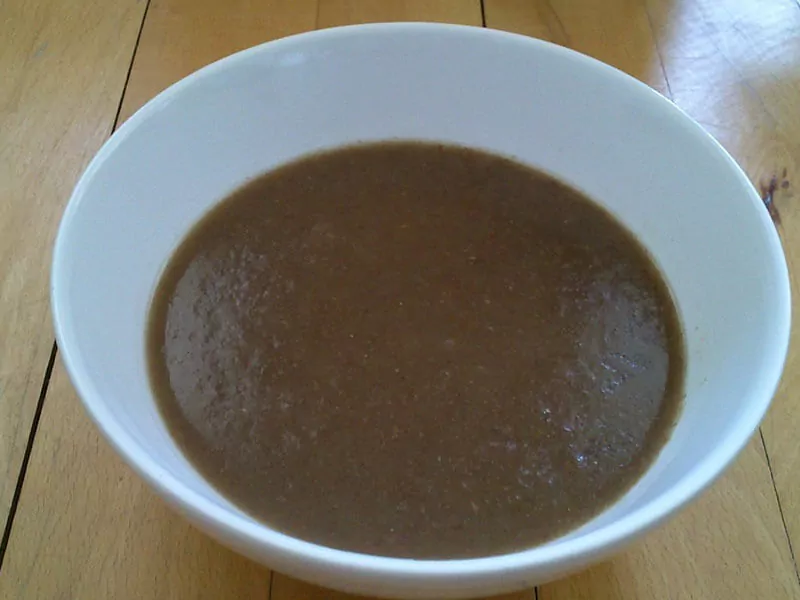 Here's another classic Danish comfort food that you should not miss: Øllebrød (translated to "beer bread"). It's a thick soup or porridge prepared with sourdough rye bread (rugbrød) and beer (usually hvidtøl).
Øllebrød has a somewhat sour, caramelly, rich flavor from these components. And similar to Grød, it's frequently consumed for breakfast. It's also considered easy to digest and healthy, so you can often see this meal at hospitals or retirement homes.
Bread scraps or stale bread are traditionally used for Øllebrød to avoid wasting food. Some say the dish came from monastery life when monks would dip their bread in hot beer.
6. Æbleskiver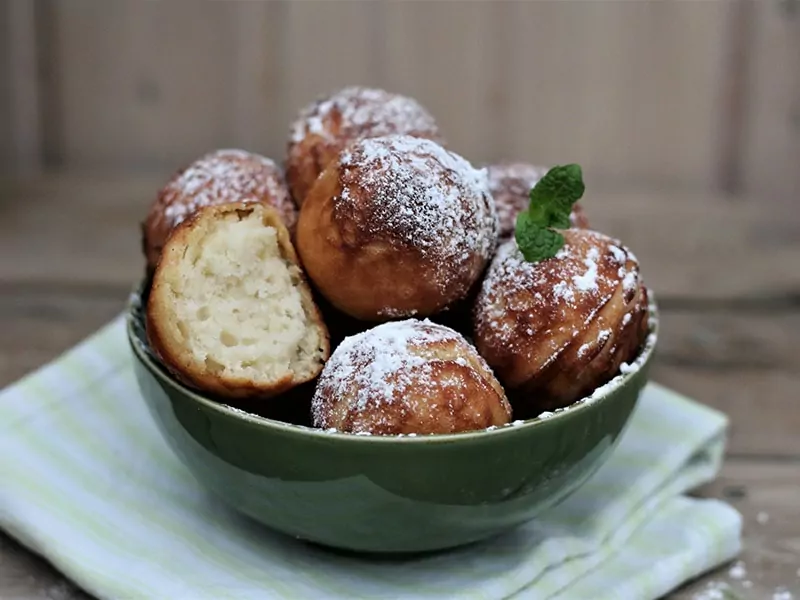 You will often see the Danish enjoy these spherical snacks with some coffee or gløgg (Scandinavian mulled wine) during the Christmas season.
The history behind this unique shape is quite interesting. This dish was invented by a band of Vikings when they were craving pancakes and didn't have a regular pan. So they used their shields (or helmets) to cook them, resulting in these spherical dough balls.
Although apples are not frequently included in modern versions of Æbleskiver, the name of this dish means "apple slices" in Danish. The locals usually serve them with jam and powdered sugar. Maple syrup, butter, and whipped cream are popular toppings too.
In Denmark, Æbleskiver is more often made in casual family gatherings. You can also see them being sold by street sellers in the winter.
7. Æggekage – Omelet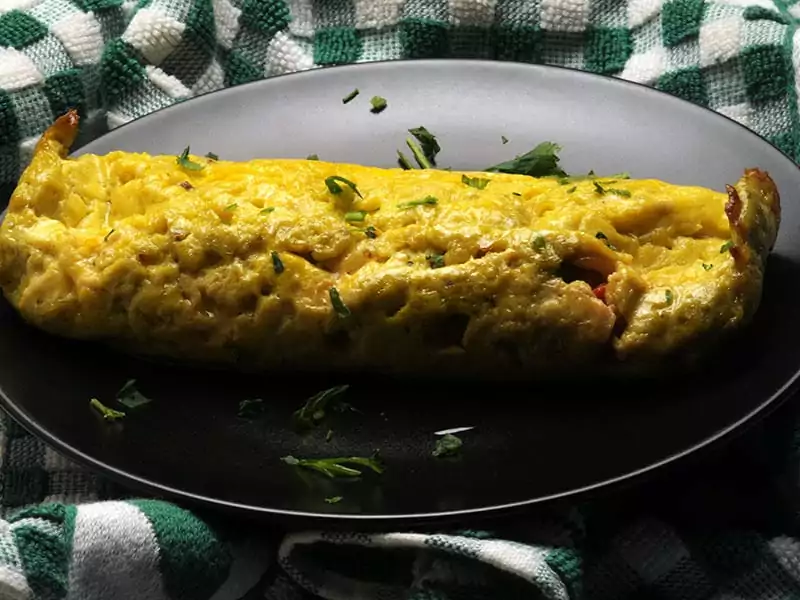 It is believed that the first omelets were invented a very long time ago in ancient Persia. Every country has its version of an omelet from that point on, including Denmark with their famous Æggekage.
This Danish egg-based meal uses beaten eggs, flour, and milk. Slices of fried bacon, tomatoes, and chopped chives are traditional toppings of the Danish omelet, but they might include other additional ingredients based on the cook's preference.
Like most other omelet recipes, this one requires you to master the proper technique to flip omelets. Otherwise, the dish might end up looking like a mess. Of course, you can invest in a beginner-friendly omelet maker, but where's the fun in that?
Overall, Æggekage is an excellent breakfast or supper dish. Serve it with some boiled potatoes and rye bread, and you shall have a super filling and nutritious meal to start your day.
Lunch Dishes
It's time to move on to the bigger meals of the day now that you've learned about the most iconic breakfast options in Denmark. Read on and find out what you can have for lunch in this beautiful country!
8. Smørrebrød – Open-Face Sandwiches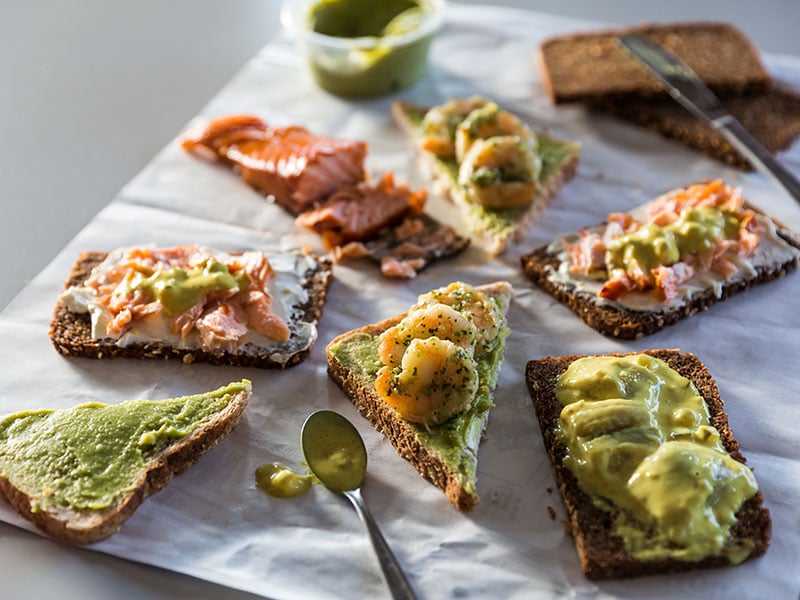 Smørrebrød used to be called Smør Og Brød, meaning "butter and bread" in Danish. And yes, the recipe for this dish does call for buttered rye bread (rugbrød), but it also needs a few toppings like meat or fish, spreads, cheese, and several garnishes.
This Danish-Norwegian open-faced sandwich has many variants to choose from, and the most popular version is Dyrlægens Natmad (meaning Veterinarian's midnight snack). This dish includes dark rye bread, salt beef, meat aspic, liver pâté, garden cress, and raw onion rings.
If you ever feel like your collection of recipes for making sandwiches need a new addition, Smørrebrød would be the prime candidate for this list. Fun, flexible, and delidcious, Danish Open-Face Sandwiches will, without a doubt, satisfy all sandwich lovers out there.  
9. Tarteletter – Chicken and Asparagus Tartlets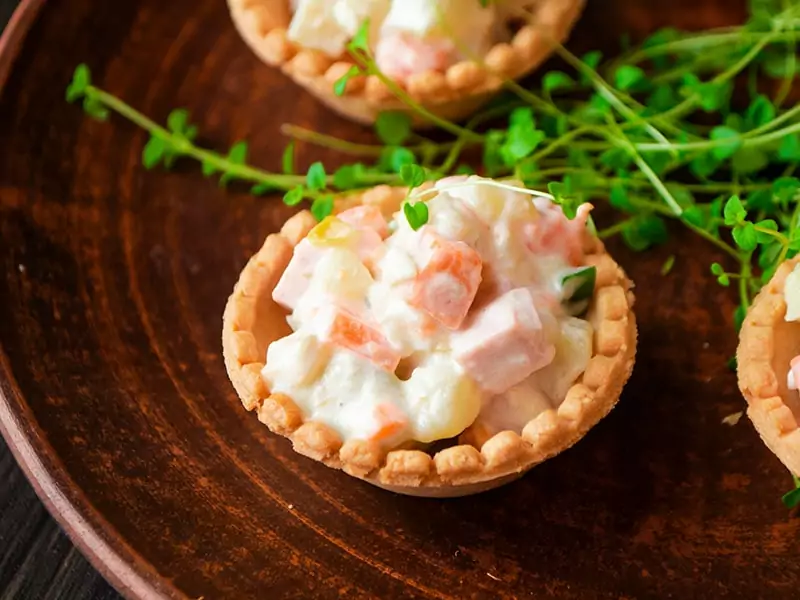 This dish is known in Denmark as "Hens in Tartlets", or sometimes just "Tartlets". Despite being an ancient dish, it is still one of the best Danish lunch dishes.
Tarteletter is commonly offered at buffets in restaurants around Denmark, during Christmas feasts, or at every household's dinner table across the country.
Because of their modest size and lightness, they are frequently used as a starter. They can, however, occasionally be offered as the main course, usually in conjunction with other brunch or lunch dishes.
10. Æbleflæsk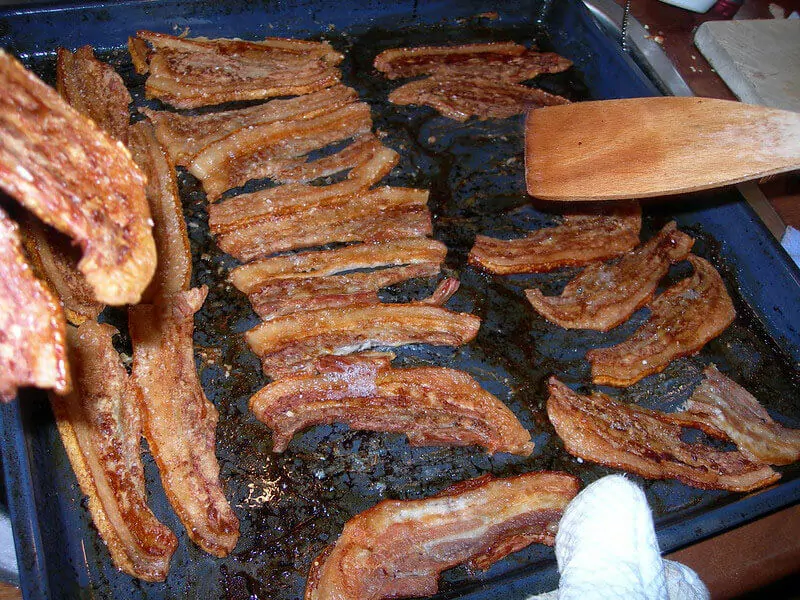 This popular Danish meal frequently makes its appearance around Christmas or Easter. It was created in Funen, a Danish island between Jutland and Zealand, in the 16th century.
The residents of Funen learned the concept of mixing apple and pork from the Romans. Then they created their own dish with a hint of fried onion. It is usually seasoned with salt, pepper, and sugar and served with rye bread.
11. Stjerneskud – Shooting Star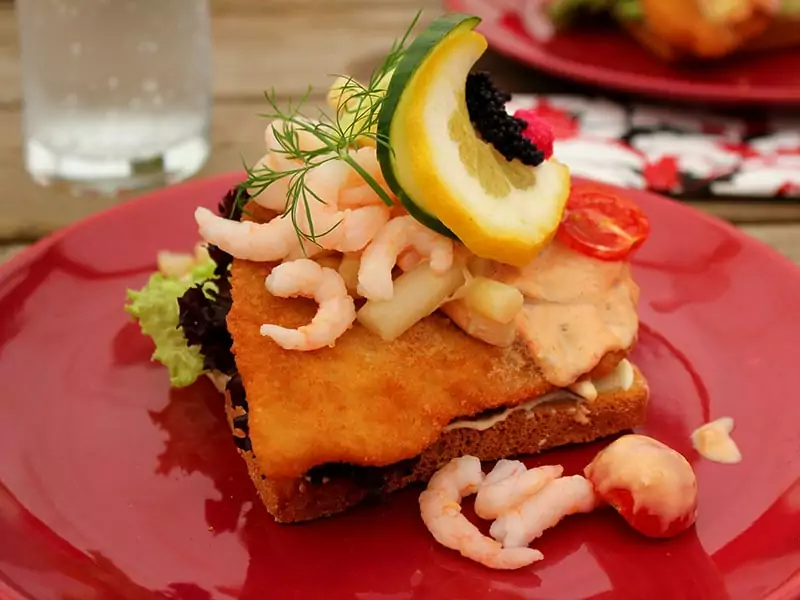 Stjerneskud, which means "shooting star" in Danish, is one of the most well-known versions of Smørrebrød (open-faced sandwiches). To make this dish, various seafood, such as fish filets, salmon, shrimp, and caviar, is meticulously placed on top of sliced buttered bread.
Ida Davidsen, a famous Danish chef, the owner of a Smørrebrøds restaurant in Copenhagen, was the one who created the Stjerneskud. She was inspired to create this dish when astronaut Yuri Gagarin visited the capital in 1962, which is why this meal got its interesting name.
12. Pariserbøf – Beef Parisienne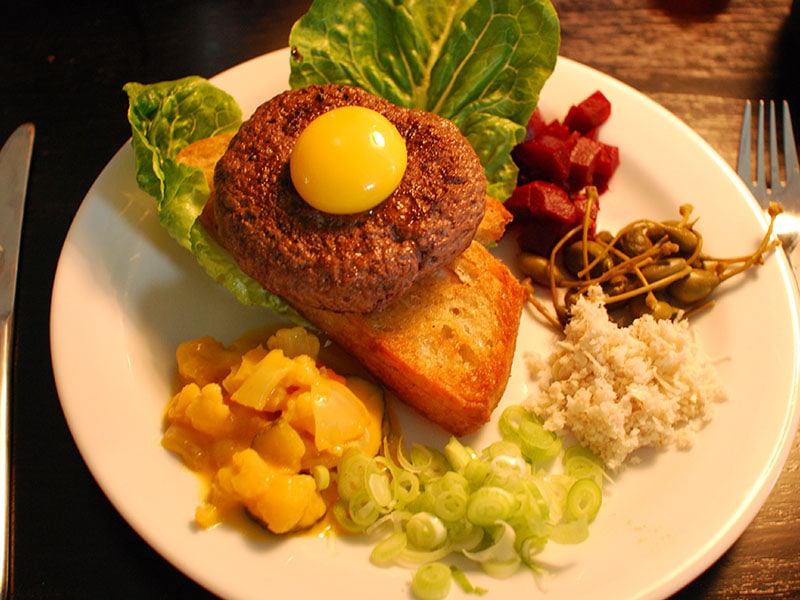 Pariserbøf has been considered a classic since the 1960s. While the dish's name may allude to France, it actually belongs to Denmark, with the addition of pickled capers.
This open-faced sandwich consists of minced beef that has been seasoned and fried in butter. The beef, medium rare or well done, is then served with pickled beets, capers, red onions, and raw egg yolk atop butter-fried French toast.
13. Stegt Flæsk – Fried Pork Belly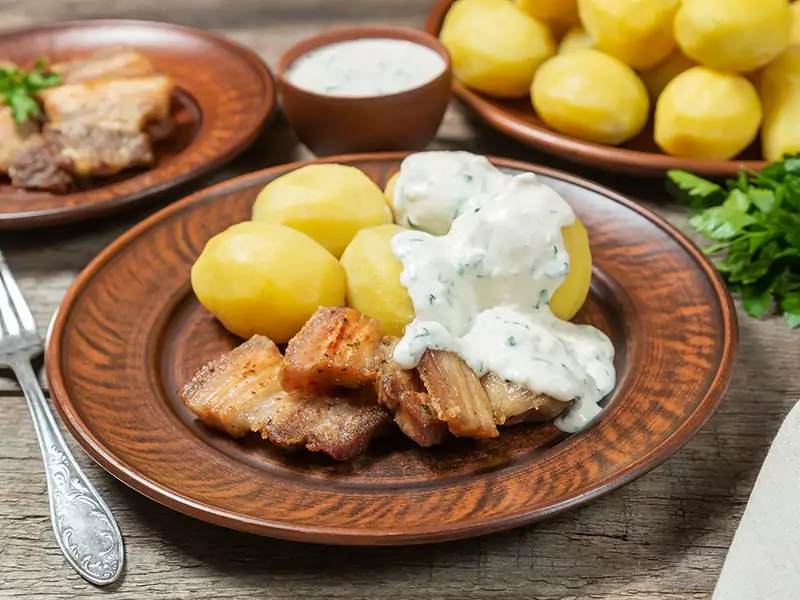 Stegt Flæsk is another irresistible Danish meal made up of fried pig belly, potatoes, and persillesovs (parsley sauce). Sometimes, people call this dish "crisp fried pork slices" and "pork strips". Some common side dishes for pork belly includes mashed potatoes, cornbread, and cheese plater.
Since the 2000s, eating Stegt Flæsk on election nights has become a tradition. The reason behind this is because of a pun on the phrase valgflæsk (meaning "election pork"). People use this term to describe politicians' unrealistic promises throughout their campaigns.
14. Frikadeller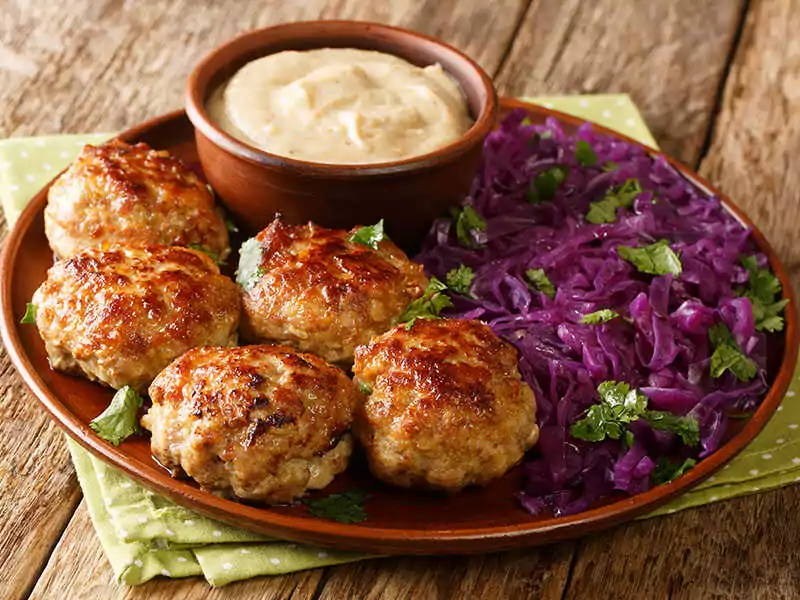 These delicious Danish meatballs are also perfect for lunch. They're typically made using minced veal (or beef and pork), eggs, chopped onions, bread crumbs, and milk. They used to be pan-fried in pork or beef fat, but butter or vegetable oil is more common in modern times.
The dish's origin is still under debate. Despite this, Frikadelle comes in various local variations as the main course and side dish throughout Scandinavia.
Dinner Dishes
It's time for some flavorful Danish dinner recipes! After a long working day, nothing can beat a warm and delicious dinner with your loved ones.
Every savory dish in Denmark is tasty and unique, so be sure to give them all a try if you have the chance to travel to this country.
15. Flæskesteg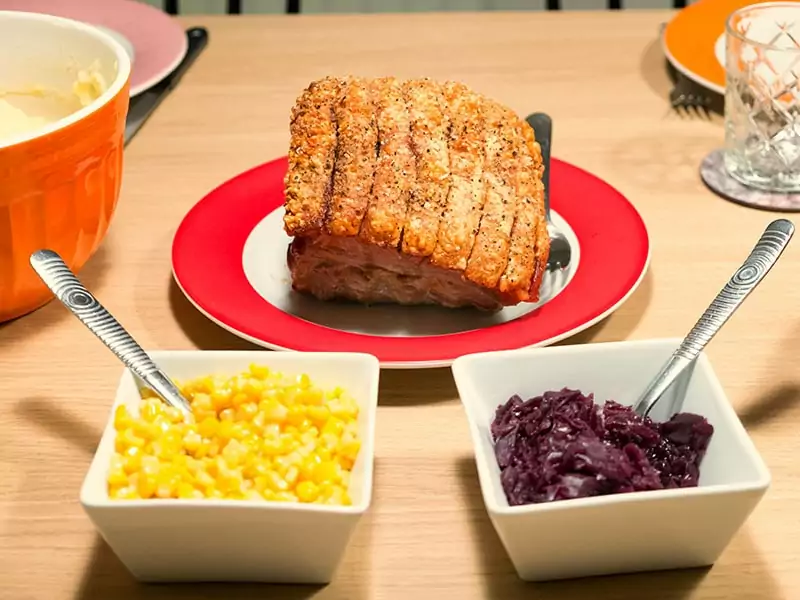 Flæskesteg, or roast pig, is regarded as one of the country's most important meals. It is a traditional part of the Danish Christmas supper, which is served in the evening on December 24th or Christmas Eve.
Pig has long been a popular food in Denmark. Still, it wasn't until the Industrial Revolution in the 1860s, when wood-fired ovens were introduced for domestic use, that roast pork, sausages, and hams became a popular dish.
16. Brændende Kærlighed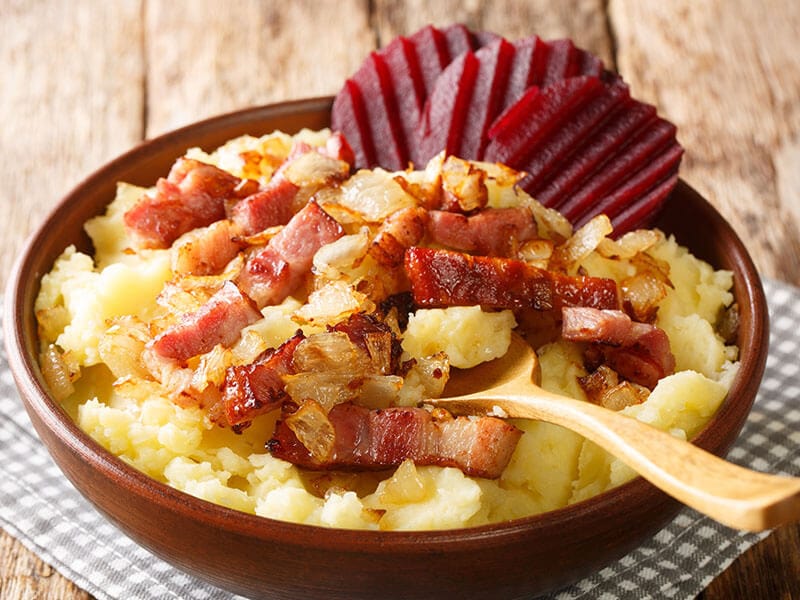 Brændende Kærlighed (which literally translates to "Burning Love" in English) is a typical Danish dish made of mashed potatoes with fried bacon and onions.
This potato dish also calls for toppings like grated nutmeg, leek, parley, and syltede rødbeder (sweet pickled beets) as a side dish.
As I mentioned before, pork became a staple of Danish cuisine in the 18th century, and this classic supper dish also dates back to that time. To preserve bacon then, it was salted and smoked.
17. Bøfsandwich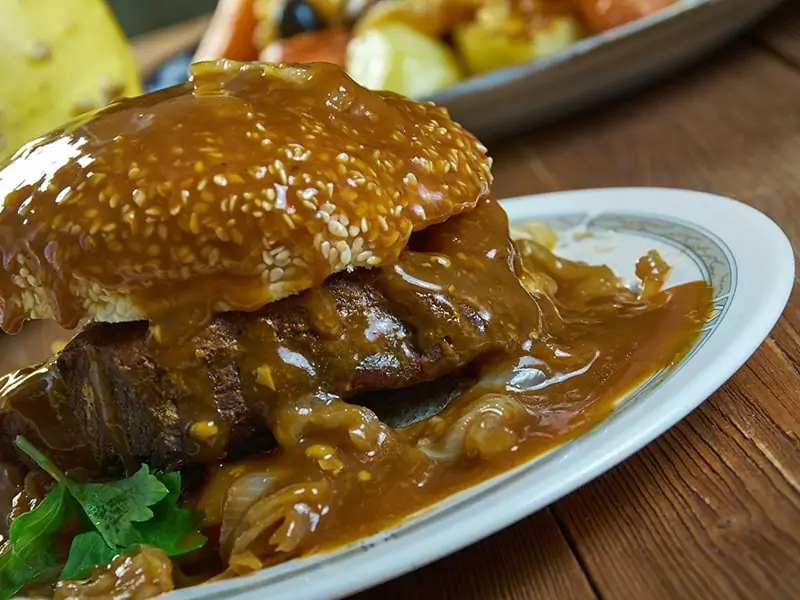 Just look at how stunning this sandwich looks! The famous Bøfsandwich consists of a thick beef patty served on a bun or a bread roll, almost like an American hamburger. However, after being assembled, the sandwich will be coated in a lot of brown gravy.
Bøfsandwich has been an essential element of Danish food culture since its initial appearance in 1949. This dish is customarily served at various burger bars around the nation.
18. Hakkebøf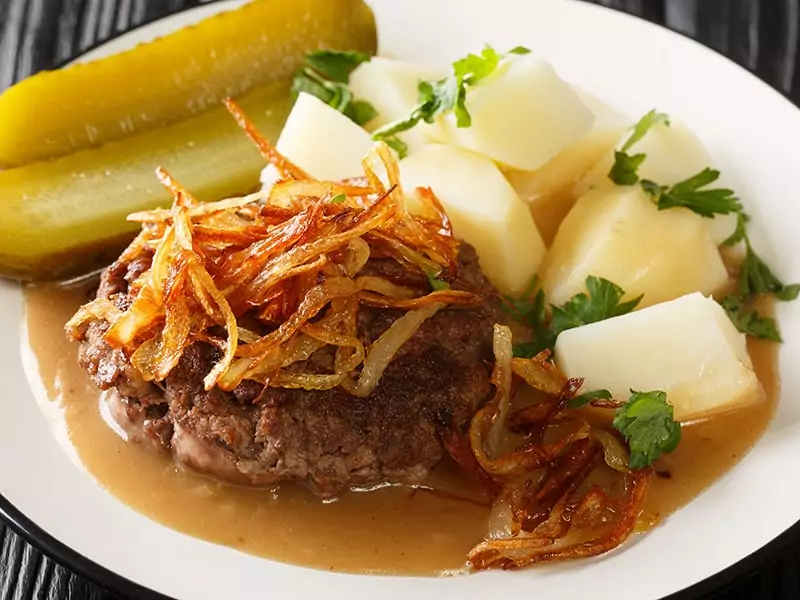 Hakkebøf is a Danish hamburger patty that is often prepared with pan-fried minced beef. Once the patty is served with caramelized onions and boiled potatoes, you can call this dish Hakkebøffer Med Bløde Løg.
It is available in various variations as it is one of Denmark's favorite foods. Hakkebøf is thought to have originated in Copenhagen's suburbs, with the famous American hamburger serving as the true inspiration.
19. Fiskefrikadeller – Fish Cakes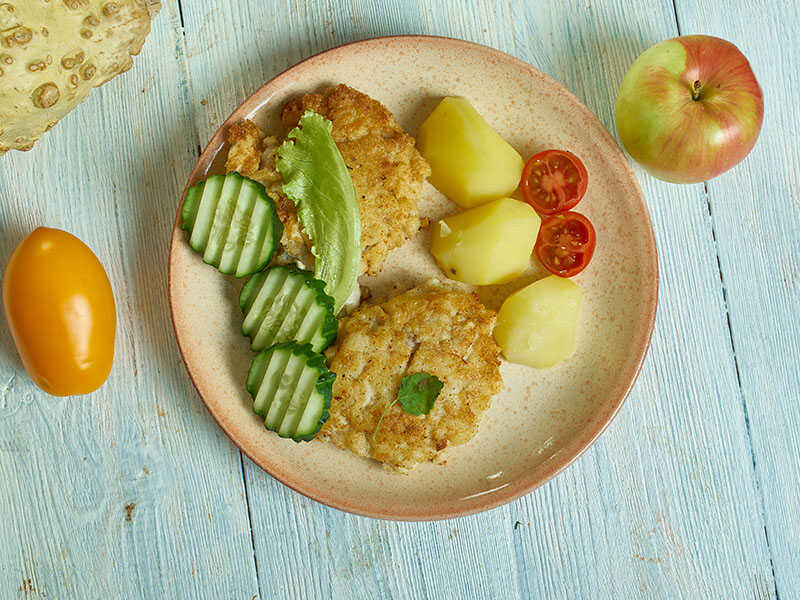 If you're not in the mood for beef patties, you can always go for pan-fried fish patties instead. These patties contain a combination of white fish filets, onions, eggs, milk, spices, and herbs.
Cream, breadcrumbs, and other seafood items like salmon and shrimp are frequently included in certain variations. Fiskefrikadeller from Southern Jutland may contain smoked pork fat.
These filling and healthy fish cakes are typically served as a main meal with buttered Danish rémoulade, boiled potatoes, and lemon wedges.
20. Boller I Karry – Meatballs Curry Sauce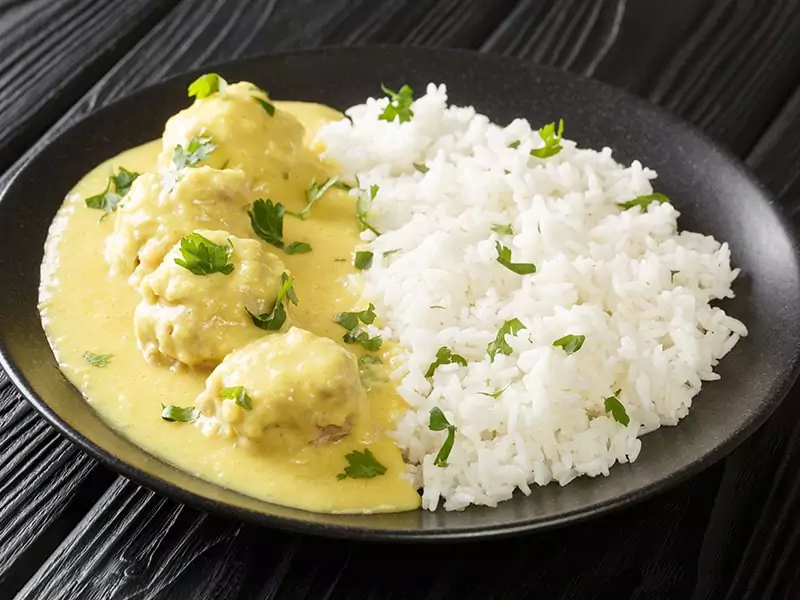 Boller I Karry is a typical Danish cuisine that dates back to the 1840s when the nation received its first curry powder blend.
This delicious meal is made of pork meatballs coated in a creamy curry sauce. And just like any other curry dish, it will go great with a bowl of steaming rice.
It was first considered an unusual meal, but it quickly became famous. Nowadays, it is regarded as a Danish national food. The meatballs are occasionally cooked using turkey meat, and the sauce is frequently thickened with cream to reduce the spiciness.
21. Gammeldags Kylling – Pot Roast Chicken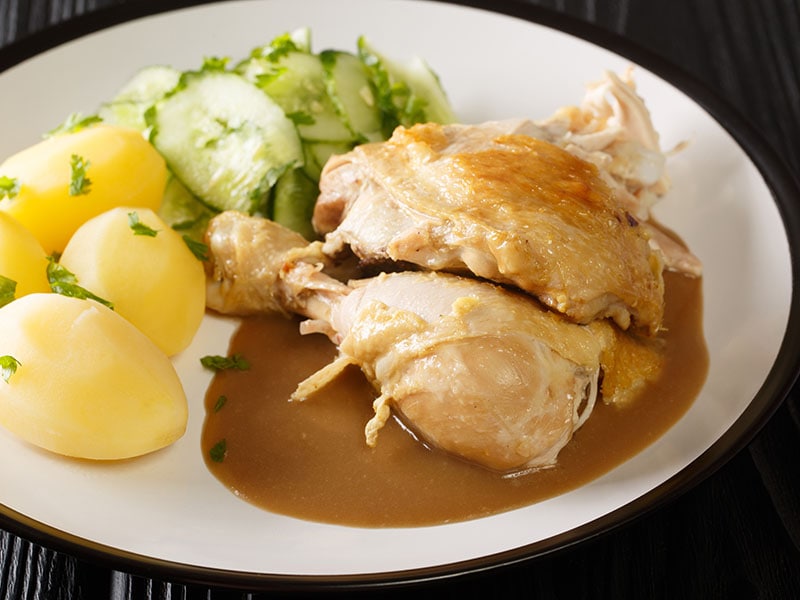 Gammeldags Kylling (meaning "old-fashioned chicken" in Danish) is another well-loved traditional Danish dish that you must try at least once.
To make this meal, an entire chicken is roasted and simmered in a flavorful broth with peppercorns, onions, and parsley. The broth is then reduced and thickened with flour roux or cream once the meat is sufficiently cooked.
This delicious chicken dish is frequently served with cucumber salad, roasted potatoes, and of course, the sauce from earlier.
---
Enjoy Your New Culinary Experience!
Overall, Danish cuisine is centered on fished, harvested, or cultivated items in the countryside, and it is influenced by the natural climatic conditions that exist there.
The Danish dishes I mentioned are pretty different. However, they have one thing in common: they are irresistible! So be sure to check them out the next time you're craving a taste of Denmark!
I hope you have learned something new about Denmark and its cuisine in this article. Please leave a like and share your thoughts in the comments area if you enjoyed it.
And speaking of sharing, remember to send this post to your friends and family to help them learn more about this lovely country. Take care and see you later!