In reality, pepperoni vs. salami are used interchangeably; therefore, many would not recognize their differences. Especially those who are not familiar with sausage in Western styles like pepperoni and salami, they would never guess which one is pepperoni and which one is salami.
However, even if you are a true foodie, there is something about pepperoni and salami that you might not have heard before. So, why don't you spend just 5 minutes to gain more interesting knowledge about them? You will not regret it. I promise.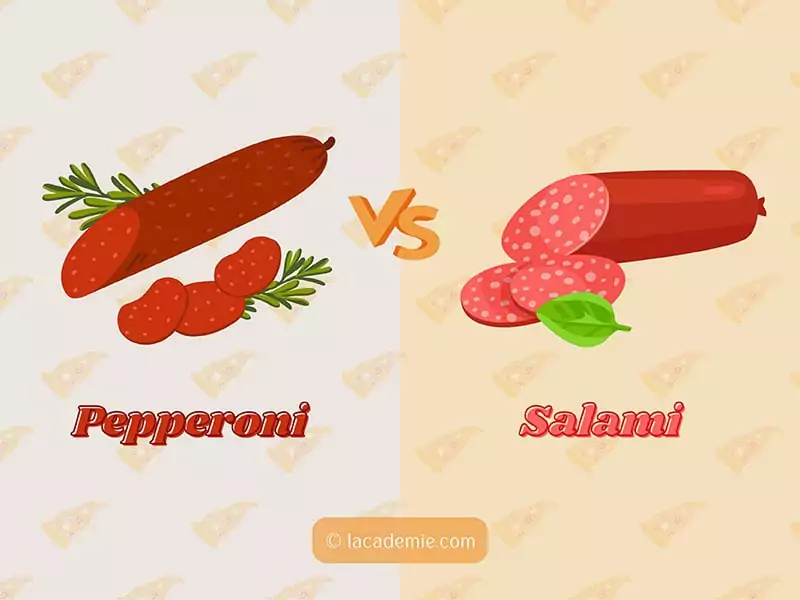 How Does Salami Differ From Pepperoni?
Salami is a generic term for various types of salami, including pepperoni; both have a standard preparation related to fermentation, air-drying, curing, and/or smoking.
However, there are also some differences in their origin, ingredients, taste, appearance, ways to use and serve, and nutrient levels. Let's keep reading to find out how they differ from each other.
The General Anatomy Of Salami
There is a reason why I choose to start this post with salami instead of pepperoni. And by the next parts, you will grasp the overview of the history of salami and the various types of salami around the world. Let's follow me; the salami world is about to be explored.
Where Does Salami Come From?
If you are a fan of cured sausage, then salami might be already in your fridge right now. And it will cost nothing to learn more about them, right? So let's talk about their origin first.
The first salami appearance is still unknown. But in Italian, 'salame' – a term that mentions all kinds of salted meats, is the origin of the word 'salami' – a plural form in English today.
In the past, most Southern, Eastern, and Central Europeans had their own traditional and popular salami, as making salami was seen as the way to preserve meat.
Moreover, each country has a different salami style, but the most well-known salami in the USA is Italian-originated salami. Salami is usually named after the place where they are produced, for example, Arles salami, Hungarian salami, Genoa salami, etc.
In reality, many people mistake the difference between hard salami and Genoa salami, but they are entirely 2 different things in terms of origin, textures, ingredients, and more other factors.
Now, let's talk a bit about how salami is made. Salami refers to big sausages made from dried, fermented, and cured ground meats with fat, herbs, and seasonings.
There are varieties of salami with different ingredients. Most salami is made from pork; some use beef, veal, even donkey meat, like in the Provence region of France.
You can try homemade salami with this easy instruction if you have a sausage-stuffer at home.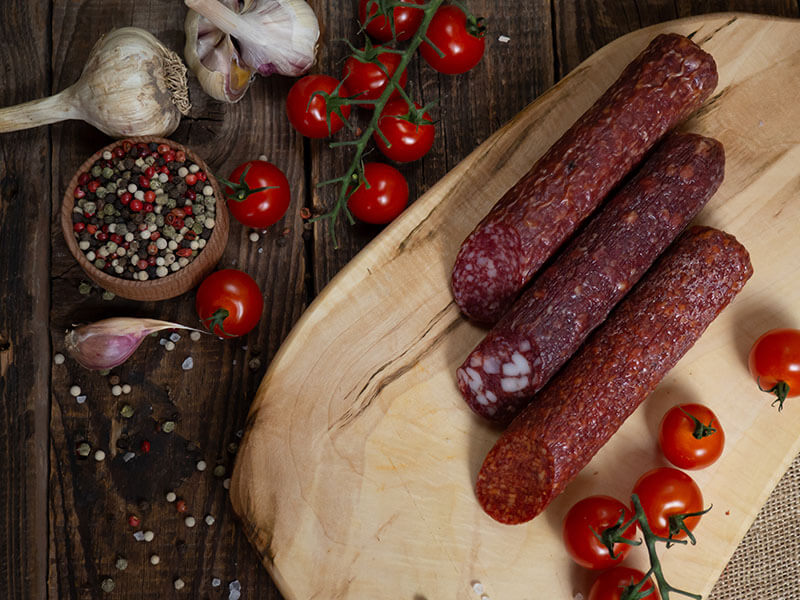 Various Types Of Salami That You Might Not Have Tried
As I mentioned above, there are various varieties of salami around the world. And these salamis are excellent choices for the cold starters, no matter what types of salami you use.
Here are some significant and well-loved salami types with varied ingredients and characteristics based on the place and its ethnicities where they are made.
| Salami Name | Description | Ingredients | Perfect Companion With |
| --- | --- | --- | --- |
| Genoa Salami | The popular choice of salami originated from Genoa, Italy, with a rich flavor | Pork, salt, sugar, garlic, spices, wine, and natural flavoring | Fontina cheese, bread, roasted bell peppers, or Prosecco white wine |
| Felino Salami | Or 'King of salami' that originated from Felino, Italy, with smooth and dazzling tastes from zesty peppercorn and wine | Pork, salt, sugar, garlic, spices, Chianti red wine, and natural flavoring | Bread, Parmigiano-Reggiano cheese, or red wine |
| Soppressata | A well-like Italy-originated salami in the USA with spicy flavor from red pepper flakes | Pork, salt, sugar, garlic, spices, and natural flavoring | Goat cheese, crackers, beer, or dry rose wine |
| Pepperoni | An American version of Italian sausage with smoky and sweet tastes | Pork, salt, sugar, spices, paprika, sunflower oil, and natural flavoring | Pizza, salad, Mozzarella cheese, or beer |
| Peppered Salami | Smooth salami with a rich flavor of black pepper. | Pork, salt, sugar, spices, and natural flavoring | Mozzarella cheese, crostini, tomato basil, or Chianti red wine |
| Cacciatore Salami | Is named after the hunters in Italy with flavorful taste from garlic, black pepper | Pork, salt, sugar, garlic, and natural flavoring | Parmigiano-Reggiano cheese, bread, beers, or Pinot Grigio white wine |
| Finocchiona Salami | Is from Tuscany, Italy, with a rich taste from toasted fennel seeds flavors. For your information, 'finocchio' is fennel in Italian | Pork, pork fat, salt, sugar, garlic, fennel, pepper, and natural flavoring | Salad, olive oil, bread, or Pinot Grigio white wine |
| Wine Salami | Made with a special ingredient - wine. Wine enhances the flavor, aroma, and texture of salami | Pork, salt, sugar, garlic, spices, wine concentrate, and natural flavoring | Soft cheese, bread, or crackers |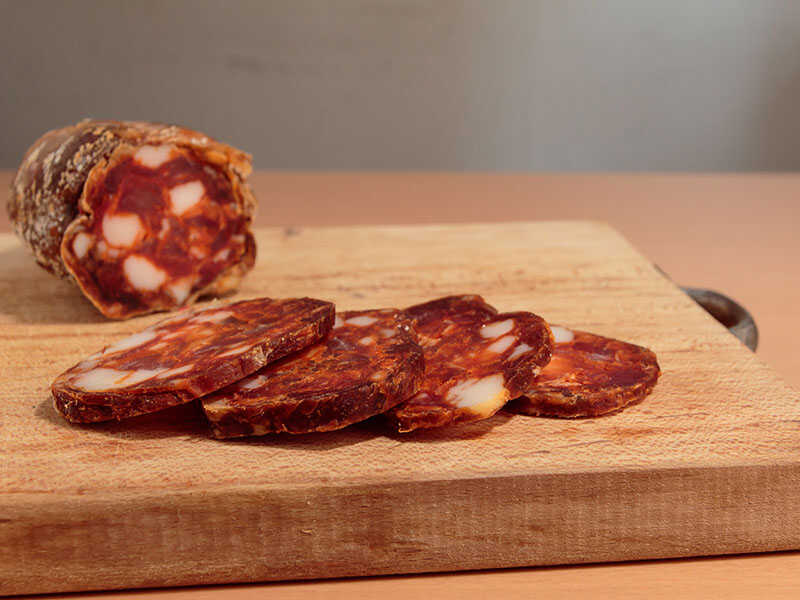 How Much Do You Know About Pepperoni?
Well, you might understand the reason why I want to talk about salami first. It is because pepperoni is one of many salami varieties. So it would be better to discuss the broader term before getting to know 1 specific type of salami as pepperoni, right?
The Surprising History Of Pepperoni
Pepperoni is an American salami with some Italian spices, but Americans entirely make them. The word 'pepperoni' also derives from 'pepper', which refers to bell peppers in Italian.
In the early 1900s, pepperoni was claimed to have been invented by pizzerias and Italian butchers in America (1). Pepperoni and cheese were served as Americans' favorite toppings for pizza, so pepperoni was rarely served alone back then.
Nowadays, you can also use pepperoni as the component for making many tasty side dishes for pizza to increase the goodness of your meal. Overall, the usage of pepperoni in dishes is varied.
The traditional pepperoni was made from the mixture of pork and beef chunks with ground red pepper and spices, then stuffed into pig casings, air-dried/smoked at low temperature. Nowadays, it could be from both pork and beef or pork only and other ingredients.
Although pepperoni is a bit spicier than Chorizo, it's the best-matched alternative for Chorizo. You can even switch between these two with the same amount, provided that you don't mind the spice.
Similarly, use your sausage stuffer to make pepperoni and surprise your family. Watch this video to know more:
Other Fun Facts About Pepperoni With Amazing Number
Here is 5 interesting information about pepperoni in terms of consumption, nutrition level, and even the day to celebrate this incredible food.
Americans can consume approximately 252 million pounds of pepperoni each year.
It could be around 690 thousand pounds of pepperoni that are eaten every day. Such a significant number, isn't it?
66% of Americans choose pepperoni to come along with their pizza.
20th September is National Pepperoni Pizza day.
100 grams of pepperoni provide 504 kcal.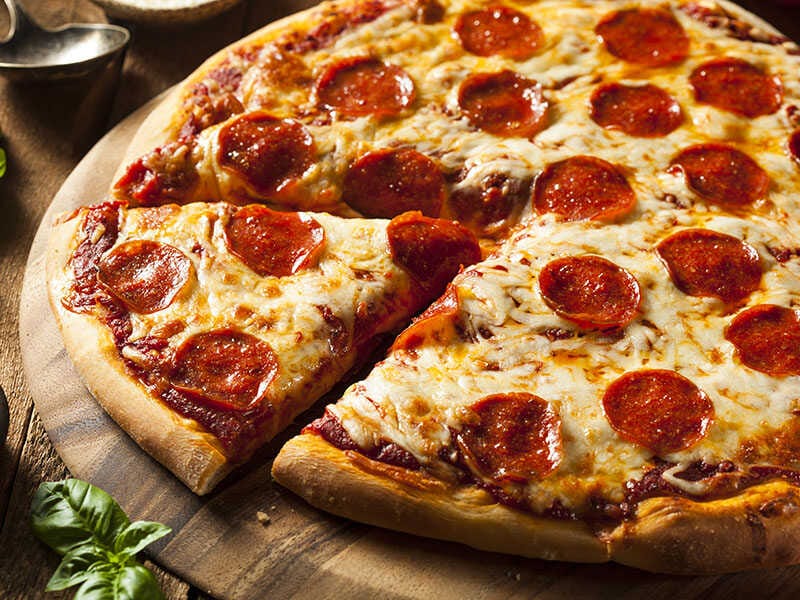 Salami Vs. Pepperoni – Learn The Differences Between Them
For better comprehension, I made a comparison table between these two famous sausage varieties with summarized information for various features that salami and pepperoni have.
Features
Salami
Pepperoni
Origin

From many places like Southern, Eastern, and Central Europeans
The word 'salami' is from Italy

Entirely from America
Definition
A cured sausage made of fermented and/or air-dried meat
A cured, dried and highly-seasoned sausage made from beef and pork.
Classification
Salami is a generic term for many types of salami
A type of salami
How To Process

Take around 17 days to process
Grind meat, add salt, sugar, nitrites, and spices to the meat, then stuff them into casings for fermenting and curing

Take 5 to 6 days to process
Grind meat, add spices, sugar, salt, sodium nitrites, and lactic acid bacteria to the meat, then keep them safe in the fridge for up to 3 days
After that, stuff the meat into castings for the fermentation process in the fridge, then apply low-heat temperature in the oven or smokehouse to dry pepperoni

Ingredients

Meat: Varied with pork, beef, poultry, or venison, etc.
Flavorings: Salt, pepper, powdered garlic, herbs, and other flavorings
Curing Agents: Nitrates

Meat: Ground pork and beef, or only ground beef
Flavorings: chili peppers, paprika, fennel, garlic, vinegar, and other flavorings
Curing agents: Salt and sodium nitrites

Flavors
Herby, rich, some are spicy, some are not

Less sour and less spicy compared to pepperoni
More peppery and smoky flavor

Spicier than some types of salami
Textures and Colors
Mostly red color with a coarse texture and white fat chunks

Bright red-orange color with a finely grained texture and few fat marbling
Softer, drier than salami

Versatility
Pair well with various recipes (e.g., sandwiches, pizzas, side dishes) or serve alone
Topping pizza (mostly) and various dishes and snacks

Rarely serving alone
Eaten Uncooked/Cooked, Hot/Cold

Both uncooked and cooked
Mostly eaten cold
Eaten as a lunch meal or as a part of Antipasto - an Italian traditional first course

Both uncooked and cooked
But as pepperoni is served with pizza, they are normally eaten hot

Nutrition Facts (for the same meaty ingredients)

Less in calories and saturated fat compared to pepperoni
Rich in vitamin B, protein and zinc
1 salami slice can be seen as a whole serving as 1 slice of meat

Rich in vitamin E and K
1. Making Process
Making salami will take around 17 days to process. First, you have to ensure the right proportion of fat and lean meat before grounding to provide an excellent fat marbling look.
Then grind the meat and mix them with salt, sugar, nitrites, and spices. Use a sausage stuffer to put the meat mixture into the casing. Now, it is time for fermentation and curing to make salami.
The process of fermenting and curing requires a constant and precise check in terms of humidity and temperature to prevent bacteria's growth.
Also, during this process, the water content is low, but thanks to high humidity, it can prevent your salami from drying. Good bacteria developed in the salami will reduce pH levels. And when it reaches a proper pH level, that is when you can consume your salami.
However, making pepperoni might take a shorter time of 5 to 6 days to process the finest pepperoni.
First, you will start to grind, mince, or chop pork and beef until they look like a smooth, grounded paste. If you undecide using food processors or blenders to grind the meat, both of them are acceptable.
After that, mix them with spices (red peppers and paprika), then add sugar to the spiced meat paste for acidity balance, as the acidity might rise during the curing process.
Salt, nitrites, and lactic acid bacteria can perform to prevent the fomenting of microorganisms and balance the low pH so the meat paste can be preserved well. Therefore, you should add them to the paste at this stage.
Move the paste into sealed containers and place them in the fridge for 2 to 3 days, allowing the paste to settle at a cool temperature.
In the meantime, you should check the casings. They should be soaked in brine before making them more fibrous to peel the casings easier. Do not forget to wash them with water to remove the salt content in the casings.
When the casings and pepperoni paste are ready to go, stuff the paste into the casings and tie full castings by strings to separate the pepperoni pieces.
To begin the fermentation process, you place these stuffed pepperonis in the fridge for a few days, as this process only works in cool temperatures. After that, use an oven or smokehouse and set them at a low heat to dry pepperoni to get rid of a third of the water in them.
2. Ingredients
You can briefly understand the ingredients of salami and pepperoni from the above parts. But let me make it more straightforward with these details in 2 groups as:
For Meat-Based Ingredients
Apparently, salami have various choices for meat-based components or the combination of 2 types of meat. They could be pork, beef, veal, poultry, venison, horse, or donkey meat. For instance, Vicenza salami contains 60% donkey meat and 40% pork fat (or underbelly meat).
In contrast, pepperoni primarily uses ground pork and beef, or just ground beef.
And Other Ingredients
Salami usually uses salt, black or white pepper, powdered garlic, herbs, and other ingredients. So you can see they do not use many hot spices like pepperoni.
In pepperoni, chili peppers, paprika, fennel, and garlic are key ingredients to enhance the flavor.
Moreover, as both are processed meat, they all need curing ingredients to preserve meat, such as salt and sodium nitrites or nitrates.
3. Flavors
Different seasonings in salami and pepperoni result in different flavors. Paprika and chili powder create a fantastic spicy and smoky taste for pepperoni, while not all salami comes with a smoky taste.
However, some types of salami can be spicy, but some have a mild or herby and rich flavor. For spicy salami, it could be those from Southern Italy. But in general, salami is less spicy than pepperoni.
Moreover, compared to pepperoni, salami might have a bit of sourness that pepperoni does not have. The fermentation process of making salami is the reason for this sour flavor.
4. Textures and Colors
Pepperoni has a smooth-grained, drier, and softer texture than other salami. You can easily recognize many salami have a coarse ground look with the fat chunks mixing meat pieces.
Pepperoni usually has a bright red-orange color due to the touch of chili powder and paprika, while most of the salami is red.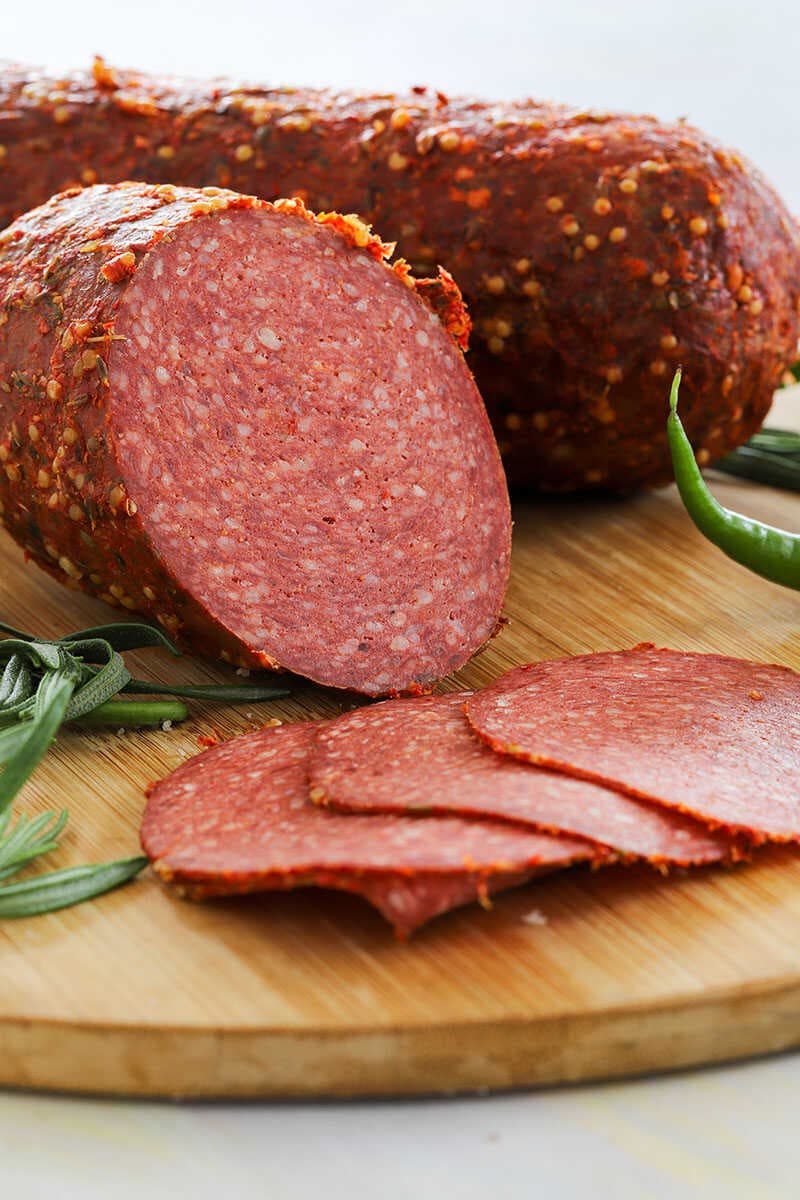 5. Versatility
While pepperoni is too famous for pizza topping, you might wonder what good ways to eat salami are, right? In reality, when I talk about how versatile pepperoni and salami are, salami is more likely to be the winner.
Because salami can be served in many dishes, or they can be good on their own. Pepperoni, in contrast, is rarely performed alone unless you are too into them.
Salami can be found in sandwiches, pizzas (but not too much like pepperoni), or side dishes. Or you can eat them as your lunch meal.
However, it does not mean that pepperoni only fits well with pizza. You can serve them as a topping for your salad, snacks, or other dishes as well.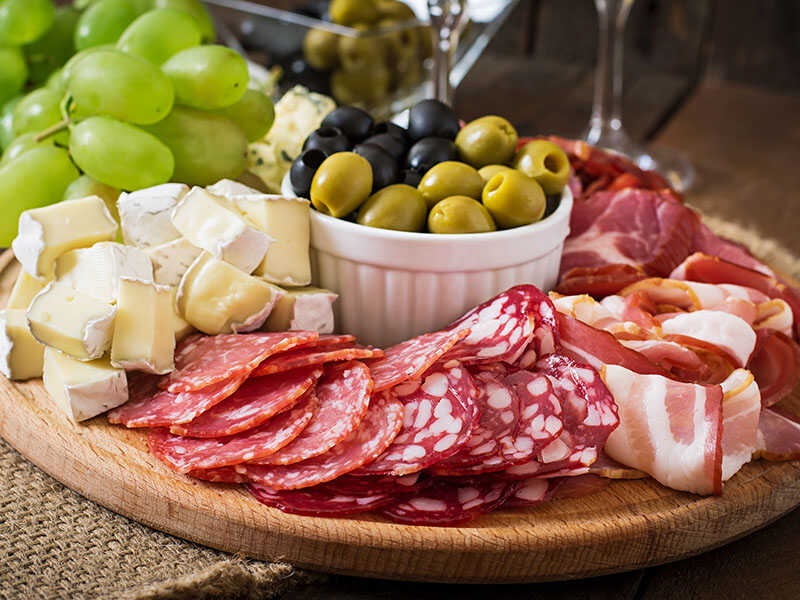 6. Eaten Uncooked or Cooked, Hot or Cold
Salami and pepperoni are dried, cured, and/or smoked sausages; therefore, you can eat them uncooked and cold.
A good example of eating salami cold is they are an excellent supplement for Antipasto, a traditional first course of Italian lunchtime. Or you serve this treat as an appetizer for your Italian party, and ask your Italian friends to rate how good the foods are. I believe their answer is "Perfetto".
Or, if you are too concerned about your health, you can cook salami before eating as well. Just lightly fry them with a minimum level of oil or no oil at all.
However, since you easily find pepperoni on pizza, they are mostly cooked with crispy and curly edges, making them appealing and delicious.
7. Nutrition Facts
Here is the table of comparisons between salami and pepperoni made from beef and pork, so you can see which one is better for you.
| Nutritions Per 100 grams | Salami | Pepperoni |
| --- | --- | --- |
| Calories | 336 | 504 |
| Protein | 21.9 g | 19.3 g |
| Cholesterol | 89 g | 97 g |
| Fats | 25.9 g | 46.3 g |
| Saturated Fat | 9.32 g | 17.7 g |
| Sodium | 1740 mg | 1582 mg |
| Potassium | 316 mg | 274 mg |
| Zinc | 2.93 mg | 2.44 mg |
| Vitamin B3 | 93.5 mg | 51.2 mg |
| Vitamin E | 0.22 mg | 1.03 mg |
| Vitamin K | 3.2 mg | 5.8 mg |
Another difference between salami and pepperoni is their nutrition. Salami has fewer calories, cholesterol, saturated fat, and normal fat from the table than pepperoni.
Salami has a higher level of vitamin B as it is the essential source for effective food metabolism. In contrast, pepperoni has more vitamin E and K. However, regarding minerals, salami contains a little bit more minerals than pepperoni.
However, I can hardly conclude which one is ideal for your health because they are also based on the ingredients as different meats will have different nutrition levels. This is just the comparison for beef-and-pork salami and pepperoni.
Health Issues Of Both Salami and Pepperoni
However, processed meat like salami or, in particular, pepperoni has been classified as one of many factors resulting in Group 1 carcinogen that causes cancer (2).
Therefore, consuming them frequently, for example, 50 grams of processed meat daily, can increase the possibility of cancer by 18%.
I know many of you enjoy salami, but you should be aware of the dangers of over-consuming processed meat like salami. Watch this video to know more:
Tips To Store Pepperoni and Salami
If you are worried about how long you can keep your pepperoni or salami safe, let me show you how to store them.
If you have not opened the salami package, they are safe at room temperature for 4 to 6 weeks, as long as you keep them in a cool, dry place, like your pantry.
You can store unopened salami in the fridge, and it could last for up to 6 months or up to 10 months in the freezer.
If you open a salami pack, they can last for 5 to 7 days in the fridge or up to 2 months in the freezer.
For unopened pepperoni, the best time to finish them is around 4 to 6 weeks if you store them in a cool and dry place. Or 6 months in the fridge and up to 8 months in the freezer. But remember, if your store-bought salami is refrigerated, then you must keep it in your fridge as well.
For opened pepperoni, you must store them in the fridge to extend their shelf life. If your pepperoni comes in stick form, you can store them for up to 3 weeks. But if they are sliced pepperoni, the best time to consume is within 1 week.
So what is the proper storage of the leftover sausage in the fridge or freezer? Well, once you open the package, you should put your food in the refrigerator or the freezer if you cannot finish it in the next few days.
If your sausages come in small sizes, use a sealed airtight bag to store them. You should get rid of the excessive air as much as possible. But if they are too big for a bag, just cut them into smaller pieces. Use plastic wrap or foil to wrap your pepperoni carefully.
How Pepperoni and Salami Change Your Normal Meals
With the 4 recipes below, you can effortlessly transform your plain pieces of pepperoni and salami into incredible dishes that make your weekend more enjoyable and easy.
No more wasting your money on store-bought pizza; let's make your own pepperoni pizza at home. This straightforward recipe will show you how to have a simple but hearty dinner.
Just with a few ingredients like pizza dough, pizza sauce, cheese, and, of course, pepperoni, you will prepare and cook this pizza in around 30 minutes. Pretty fast, isn't it?
If you want to make the pizza dough yourself, let's learn how to make this pepperoni pizza from scratch.
The only cooking part for this dish is pasta. So there is no excuse that you can fail this salad.
Though combined with many veggies and dressings full of flavor, pepperoni slices still have their own place in your stomach and your heart. Serve them with other meaty and heavy dishes for the most fulfilling meal.
Salami sandwiches are a wonderful option for a fast and easy lunch bag. With only 4 key ingredients and minimal prep, these sandwiches will provide you full energy to work.
You can also have various choices for what types of sandwich that you want. It could be regular sandwich slices, soft buns, or bread. You can add more contrasting flavors in one bite by adding some veggies like tomatoes, arugula, etc.
If you are too busy to make an appetizer, these salami roll-ups might save your day. In around half an hour, you can create a big batch of salami rolls.
Made with hard salami slices, cream cheese, herbs (if desired), this recipe is a perfect bite-size appetizer that can stimulate your hunger amazingly.
FAQs
Before wrapping up this article, here are some questions and answers about salami and pepperoni that I believe some are looking for.
Salami Or Pepperoni, What Would You Choose?
These processed meats are popular all over the world because of their rich flavors, which enhance the delectability of many recipes when you add salami or pepperoni.
This article just showed you many facets of salami and pepperoni that you will never be stuck deciding which processed meat is best for you. Finally, your support and your other ideas on these 2 are much welcomed. Thank you for taking the time to read this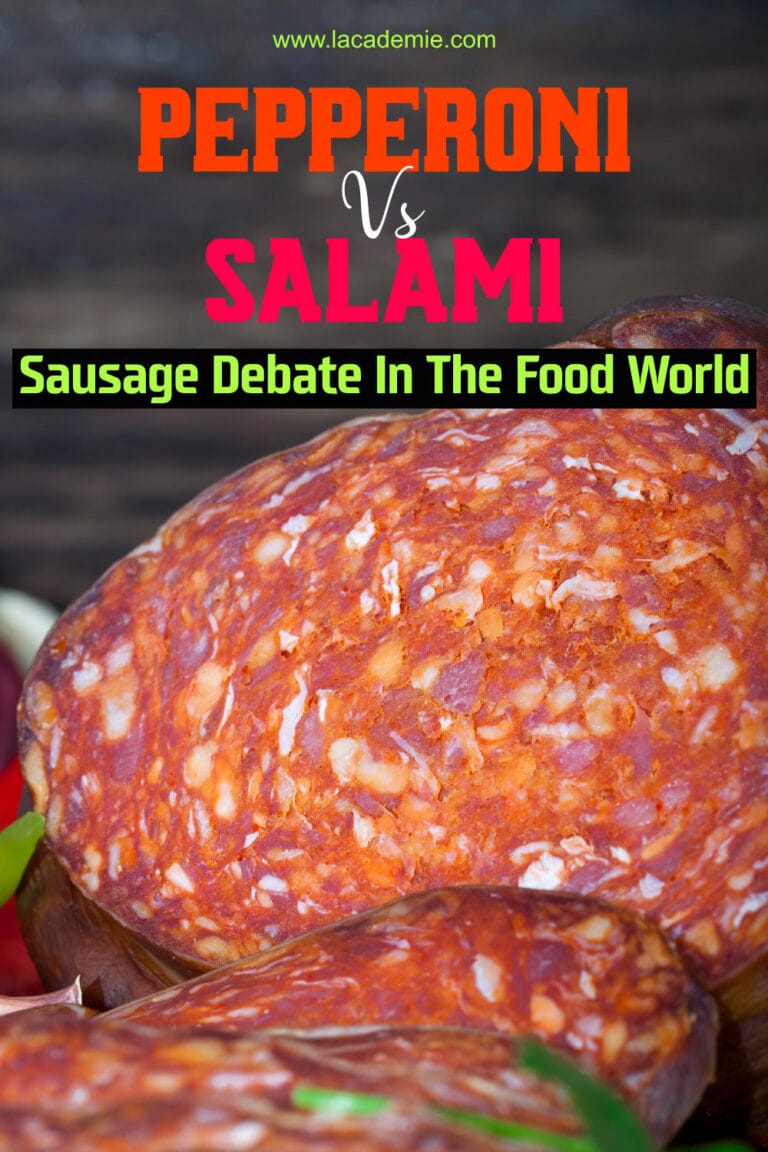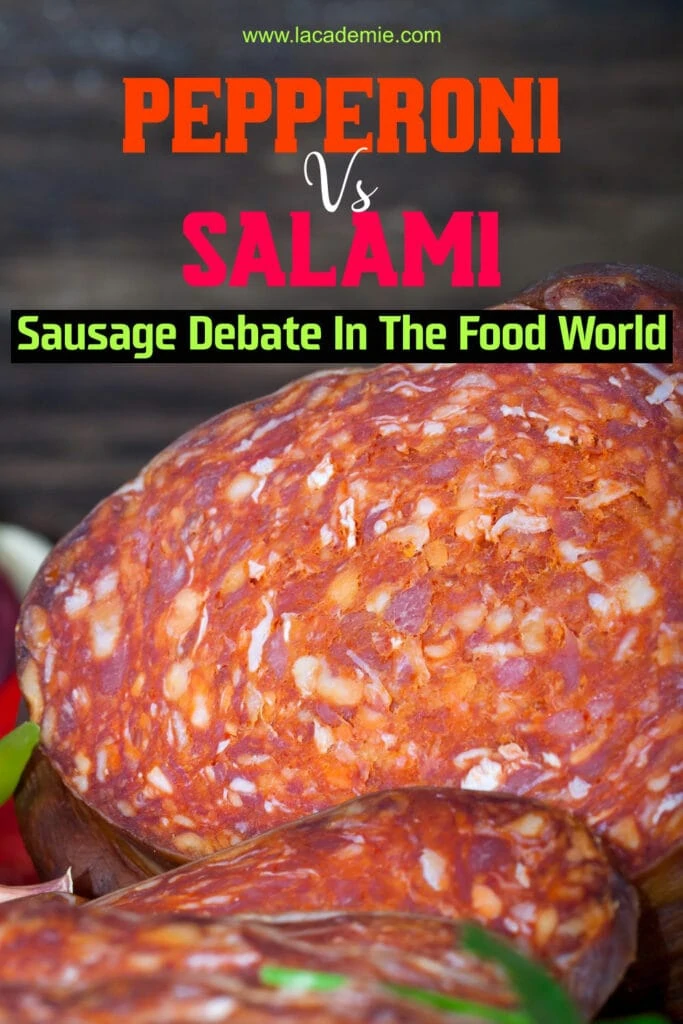 Reference List
Julia, M., (2011), "Pepperoni: On Top", nytimes.com [Online]. Available at: <https://www.nytimes.com/2011/02/02/dining/02pepperoni.html/>.
Cancercouncil.com.au, Red Meat, Processed Meat and Cancer, [Online]. Available at: <https://www.cancercouncil.com.au/1in3cancers/lifestyle-choices-and-cancer/red-meat-processed-meat-and-cancer/>.