Pecans and walnuts are the two most renowned nuts globally. Still, some of you might misunderstand pecans for walnuts and vice versa as they might get a similar appearance and have some similar nutritional benefits to your health.
However, they also have some significant differences in which you can consider distinguishing pecans and walnuts.
My article will compare pecan and walnut and show you their remarkable similarities and differences that can help you spot them easily.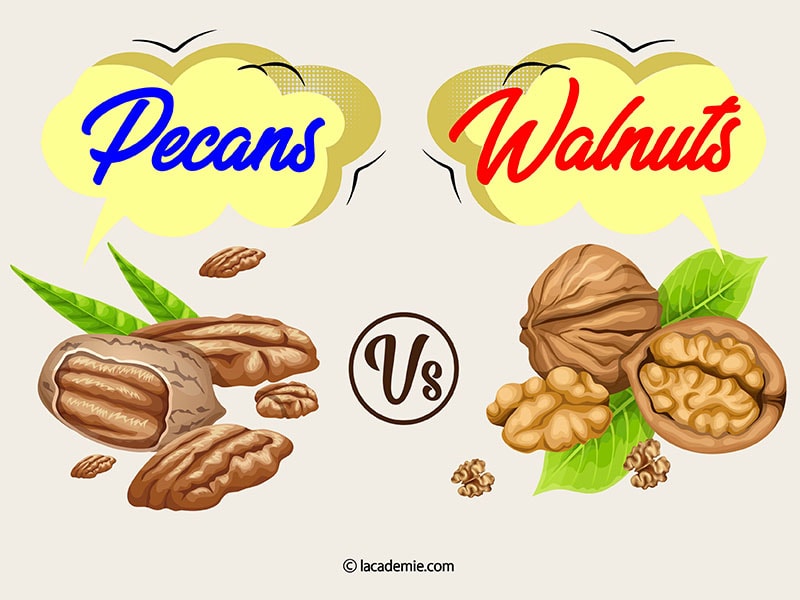 Are Pecans And Walnuts One Thing?
Pecans and walnuts have similarities in serving, shelf life, and classification, leading to some confusion in identifying them.
However, they also have different appearances, leaves, tastes, textures, and even origin features. Keep reading to get more profound knowledge about these nuts.
Pecan and Walnuts: What Is Special About Them?
Pecans and walnuts are famous nuts worldwide as they are good for health and easy to get into many recipes for your meals. They are often misunderstood because of their similar appearance, but they have a distinctive taste and nutritional values.
Do You Know Exactly About Pecan Nut?
Just take a look at this section to find out some should-know information about pecans.
Pecans are familiar to you as you can use them as appetizers or additions to salads, cakes, candies, or even cookies. And if you are hungry, pecans also satisfy your hunger as an essential diet.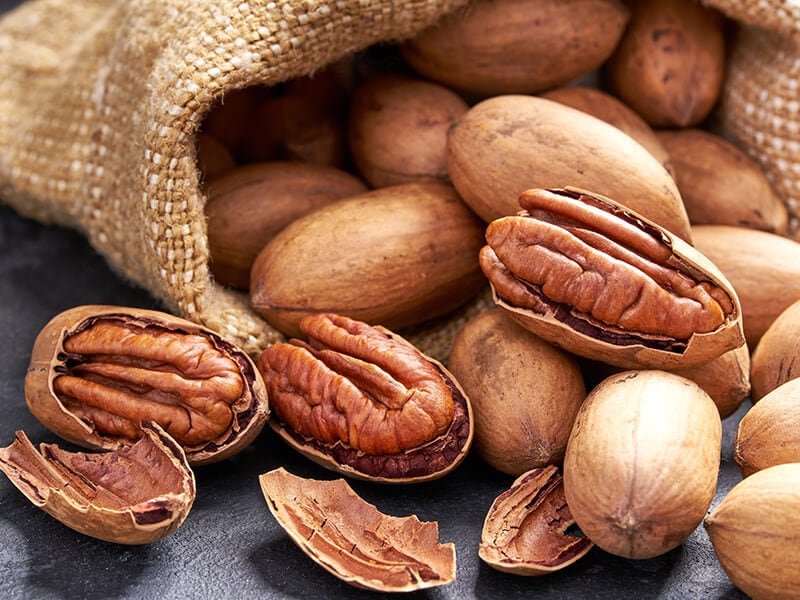 Pecans have a science name like Carya illinoinensis and are fruits of a hickory tree native to North American. Pecans are mainly used as food, of course, and in the late 19th century, they were cultivated with a commercial purpose and have become prevalent until now.
For those who don't know, pecans have mottled brown shells and shape from long to cylindrical, with the pointed apex short and roundish.
What makes pecans irresistible is their taste and texture, which results in several luscious desserts featuring pecan as the star. The sweet, nutty, and buttery flavor they offer will be a fantastic treat to the palates. Moreover, pecans are a good snack because they are also crispy.
Pecans Are Nutritious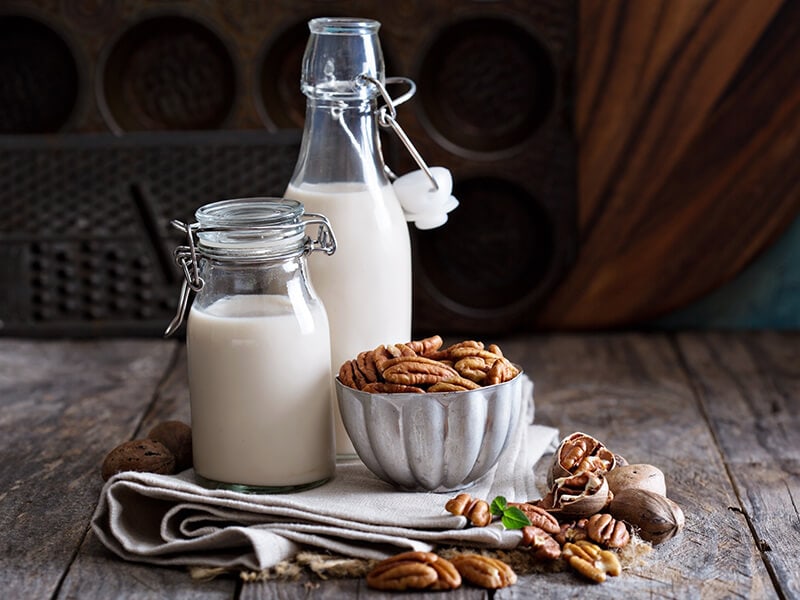 When you consider the nutrients that pecans can bring to you, I'll say that pecans are a complex food that contains various nutritional values to your body. Like many other nuts, pecans are a rich source of calories, sugars, fat, and iron, making them a perfect snack for your day.
For each 100g pecans, they can provide your body with approximately 691 kcal. Pecan can be used to feed yourself when you're hungry.(1)
Pecans contain a high amount of fat and sugar when they provide you over 70g fat and 4g sugar with each 100g pecans. Fat and sugar play an important role in producing calories that energize your body.
However, the nuts will bring your body a great supply of calcium, iron, and potassium that are extremely useful in muscle, bone, and brain regulation.
Furthermore, eating pecans is also a good supply of fiber that will benefit to reducing the risk of diabetes and heart diseases.
Do Walnuts Have Similar Characteristics Like Pecans?
Walnuts are definitely other kinds of nuts that have their origin, taste, texture, and even nutrients that they can offer to your body.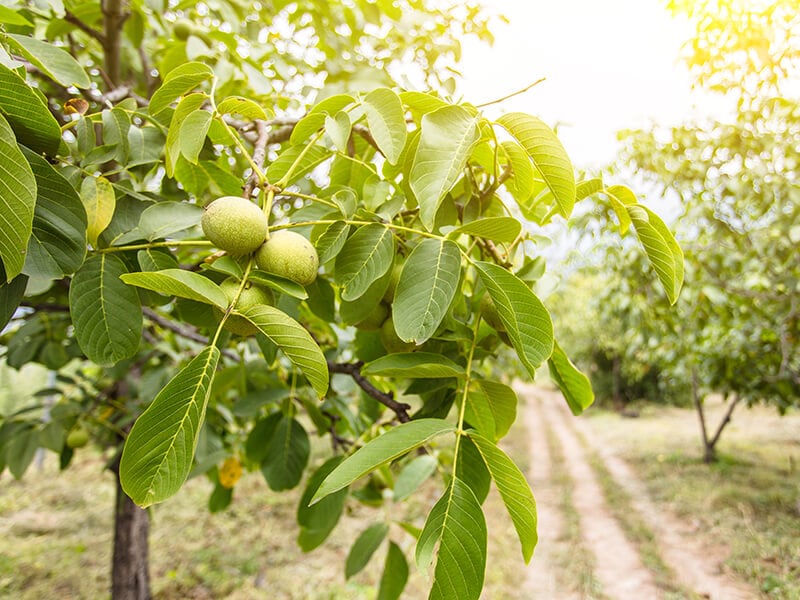 Walnuts get a scientific name as Juglans and originated from the Mediterranean region and central Asia. Like pecans, these W-something foods have also been used as a food for thousands of years and can be eaten as a snack or a tangy ingredient to make bakes.
The crunchiness of walnuts is the primary cause of their popularity. Besides, the mild and earthy flavor and comfortable aroma make the nuts involved in many cake recipes to enhance texture and taste.
And if you don't know, the nuts have a distinctive shape like the brain. For this reason, it's a rumor that walnuts are beneficial to your brain. Do you believe in it? Just continue to read the following section to know whether it's right or not.
Walnuts: Nutrition Values They Can Bring To Your Body
Like pecans, walnuts are considered a great source of fat, sugar, fiber, and many kinds of iron that benefit your body so much but is it right that walnuts are good for your brain development?
Although walnuts contain a high level of fats, a large amount of heart-healthy fats might improve brain health and even reduce the risk of heart ailments. (2)
Strikingly, walnuts seem to be calorie-dense, but your body can absorb just a low amount, making them an excellent nut for supporting weight control and also your appetite.
Moreover, fiber, iron, and minerals from walnuts benefit physical functioning as you get older.
Pecans vs. Walnuts: Similarities And Differences
At a glance, pecans and walnuts have some common colors, sizes, and textures, but actually, they also have different points. Let's break it down with the summary table below!
| | Pecans | Walnuts |
| --- | --- | --- |
| Origin | North American | North and South American, Southern Europe, And West India |
| Tree Leaves | Get a sickle shape More leaves | A lance-like appearance |
| Appearance | Shell: A dark brown color with an oval shape. Easier to crack; Shape: Oval; Size: Smaller | Shell: A light brown color with a round shape. Harder to crack; Shape: Like a human brain; Size: Bigger |
| Texture | Crisp and crunchy | Not too hard and too soft |
| Taste | A sweet, nutty, and buttery flavor | A mild, earthy, and little tangy flavor |
| Types | Over 500 different varieties, but the most common ones are Candy pecans, Cape fear pecans, Desirable pecans, Moreland pecans, Pawnee pecans, and Stuart pecans. | 21 species across the world; The most popular types are the Persian English walnut and the black walnut. |
| Nutritional Values | Be a great source of fat, fiber, iron, making them a high-rate calorie food. | Contain a richer source of fiber but a lower amount of sugar and fat. |
| Price | Cheaper | More expensive |
| Serving | Add them into the bakes; Eaten as a crunchy snack. | |
| Shelf life | Can be stored in the fridge for up to one year and about six months at room temperature. | |
| Family | Share the same family of Juglandaceae | |
| Classification | Culinary nuts, not true nuts | |
Pecans and Walnuts: How Are They Different?
This section will tell you how pecans are different from walnuts regarding some aspects of the origin, leaves, appearance, taste, types, and nutritional values.
Origin
Historically, pecans are the only nut trees native to North America, and now you have got the day to celebrate pecan nuts and enjoy them. The national pecan day is on April 14 every year.
Besides, walnuts originated from North and South American, Southern Europe, and West India.
The Tree Leaves
If you have a chance to look at the pecan or walnut tree, the features of leaves will help you define which one is pecan trees or walnut trees. Generally, pecan leaves have a sickle shape, whereas walnut leaves get a shape as a lance.
In another aspect, you can easily realize that pecan trees have much more leaves than walnut trees in comparison.
Appearance
When comparing the shells, both walnuts and pecans have a brown color with a dense and hard texture; however, the round walnuts are likely to be lighter and easier to break open than peanuts.
After being broken, the pecans have an oval shape, while the walnuts are like a human brain. Besides, considering size, walnuts are a little bigger than pecans.
Taste
You can misunderstand when looking at these two nuts, but the taste is very different, and when you taste them, you'll define pecans and walnuts easily.
Pecans have a sweet, nutty, and buttery flavor. This is why you'll see plenty of desserts featuring these nuts, especially sweet treats in the Southern region. Pecans are considered a scrumptious nut as they contain a high source of oil.
On the other hand, walnut's skin has a sense of slight bitterness, and the nut is earthy, mild, and tangy. Walnut can be eaten raw or used to make butter, milk, or in some cases, baked desserts.
Types
Pecans can offer you over 500 species over the world. Still, some of them might be very familiar to you, such as Candy pecans, Cape fear pecans, Desirable pecans, Moreland pecans, Pawnee pecans, and Stuart pecans.
Whereas, there are about 21 types of walnuts, with Persian English walnuts and Black walnuts being the two most popular walnuts in the world.
Nutritional Values And Benefits
You can see that with the same amount, walnuts can provide you with more calories and protein that are a great source of producing energy for your body. For this reason, walnut meat is considered a good substitute for meat for vegan meals. (3)
Additionally, walnut can pecans are free-cholesterol nuts, making them two of the healthiest nuts. Both contain a good source of omega-3 fatty acids that can help you reduce stress, improve eyesight or improve brain health. (4)
Pecans are a richer source of dietary fiber that is very good at aiding a healthy weight and reducing diabetes risks or heart disease.
However, if you ask between walnuts and pecans, which one is healthier? The answer must be walnuts because they are healthier with a lower content of sugar and fat. And if you're on a diet, eating walnuts is much better.
Pecans and Walnuts, Are They Similar?
The Pecans and walnuts must have some distinctive characteristics as they're two different types of shells, but besides differences, they also get similar points regarding how to serve,
Serving
Both pecans and walnuts can be used as good snacks that can even feed your hunger; however, in another way, you can add them to your meals to increase the deliciousness and texture.
You can use pecans and walnuts to eat raw or the addition of many kinds of cakes. Moreover, the most noticeable recipe for pecans and walnuts is crunchy candies.
Shelf Life
Pecans and walnuts have a lot in common, and shelf life is the next feature. Pecans and walnuts can stay good within one year if you store them in cool places like the fridge, but the shelf life is about six months if you let them at room temperature.
There are some signs that tell you your pecans go bad, such as they become bitter, have an unpleasant flavor, and get mold or the nuts seem to develop an off aroma.
How about walnuts? The bad walnuts are rubbery and shriveled. They have a strange odor. Hence, remember to store walnuts or pecans in an airtight container and let them cool.
Let's see this video to know:
From The Same Family
Pecans and walnuts share the same family of Juglandaceae, but they get different shells and tastes. The trees have large and tangy leaves. Walnuts and pecans are not considered as true nuts as you think; they're culinary nuts, or you can also consider them as fruits covered with drupes.
What Can You Make With Pecans And Walnuts?
Pecans and walnuts are good ingredients to get in your desserts with cake, cookies, candies, etc. And these are some distinctive recipes you can make with pecans and walnuts for versatile desserts.
What Should You Make With Pecans For Good Taste?
Pecans play an important role in making your desserts perfect, and these are something you can consider cooking with your available pecans now.
Crunchy pecan candies must be a good recipe as they include sweetness, spiciness, and even saltiness. The sweets are the best to serve with a cocktail, toss over the salad, or just be a snack.
You can finish the candies recipe within 20 minutes with some simple adding ingredients together with pecans.
How about adding pecans to baked cakes? The caramelized pecans are topped over the cake to create a crunchy and sweet layer to enhance the flavor of the whole cake.
The soft cakes harmonize with crunchy pecan caramel are often served as appetizers to increase the tastiness of your meals.
How About Using Walnuts For Fantastic Recipes?
Thanks to the crunchiness and tanginess, walnuts get involved in many dishes, from side dishes to desserts. You can consider these recommended recipes here and make your meals a masterpiece.
Like pecans, you can also use walnuts to make slightly sweet candies with a crackling texture, making them incredible to end your meals or add to salads for an intense aroma.
Toffee Walnuts are also eye-catching for everyone passionate about eating candies at the beginning of meals or just consuming them as a good snack.
How about eating banana walnut bread for your breakfast? That'll be an amazing idea for your new days. Walnuts and bananas will create a good bread full of nutrients that produce enough energy for your working and studying activities.
Besides, you can use soft and aromatic bread to end your perfect meals and satisfy your guests' expectations. Give it a try when you have free time!
How To Crack Pecans And Walnuts?
Cracking pecans and walnuts sometimes becomes a great issue as, unlike many other nuts, breaking open is very difficult, but this information will help you.
Pecans
If you find it difficult to open pecans, or sometimes you open the pecans with a slight bitterness, follow this section to know some tips for cracking your pecan nuts without bitterness in an easy way.
Pour boiling water into a bowl of pecan nuts.
Let the pecans in hot water for about five or six minutes. That can eliminate the bitterness from the outer.
Drain these pecans and use a nutcracker to break the pecans open. Using the nutcracker is a useful way to keep the nuts from coming out whole.
Note: This boiling technique is one of the ways to open pecans to cut down on the mess and make the pecans not break into pieces
Another way to crack pecans is by using a large knife, such as a Chinese cleaver. There's no need to go for a sharp knife, all you need is to make sure that the blade – the flat component of the knife's anatomy, is firm enough to handle the force used to crack pecans.
Place the side of the knife's blade on the pecan.
Use your wrist to smash on the knife's blade a few times in a similar fashion to how you'd smash garlic.
Once there's a crack in your pecan, pry the shell open with your finger and get the nut out.
You can also use your hands to crack the pecans. Watch this video to know:
Walnuts
There are many ways to open walnuts, but these are three highly recommended ones to crack your walnuts without making them break into small pieces. Choose the suitable way for you right now.
Sharp knife blade. Place the knife into the seam of the walnuts and twist to open. Usually, a sharp utility knife with a firm handle will do the trick. A knife too big will make it hard to slide the blade into the seam, and if the handle is too slippery, you might cut yourself in the process.
Freezing. Let walnuts freeze in the airtight containers designed for the freezers for several hours. When the water in the nuts freezes, the walnut will split open.
Nutcracker. Another easy and safe way to open walnuts is using a nutcracker. Just put the walnuts near the hinge and grip your hand; you'll get opened walnuts.
Opening the walnuts is easy with a small knife or scissors. Let's see this video to know:
FAQs
These are some questions asked by many people globally, and they might have the same ideas. Or you can get a better understanding of pecans and walnuts.
Pecans Vs. Walnuts, Additional Advice For Eating
Pecans and walnuts share similarities in the family and can be stored up to six to twelve months with the appropriate preserving method, but they'll have differences in origin, taste, outside look, and even common types.
Besides, they are good but eating them in excessive amounts will affect your health too much as they also contain a lot of calories.
Eating too many pecans and walnuts for a short time can lead to an increase in cholesterol or diarrhea. Importantly, they are not good for those on a diet if you eat too many of them.
Have you tried pecans and walnuts? How do they taste? Which do you prefer: pecans and walnuts? If you find my post helpful, don't hesitate to share it with your friends!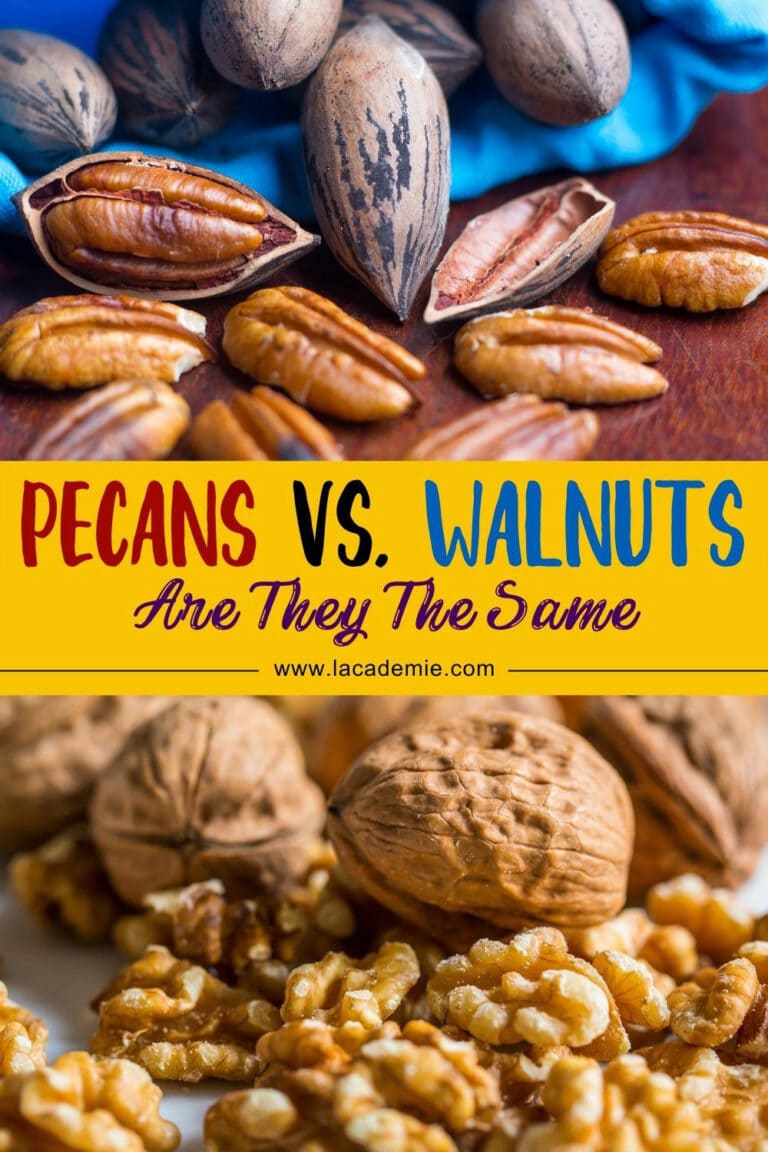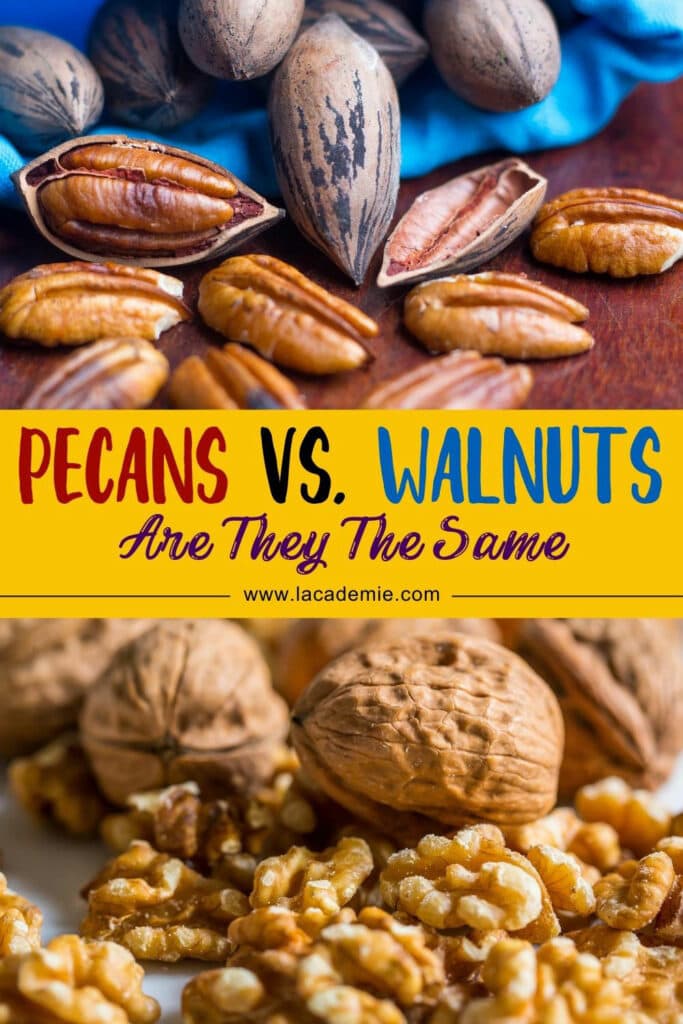 References
Fatsecret.com. 2021. Calories in 100 g of Pecans and Nutrition Facts.
Healthline. 2021. Walnuts 101: Nutrition Facts and Health Benefits.
California Walnuts. 2021. How to Make Walnut Meat (& What to Do with It!) – California Walnuts.
Healthline. 2021. 17 Science-Based Benefits of Omega-3 Fatty Acids.