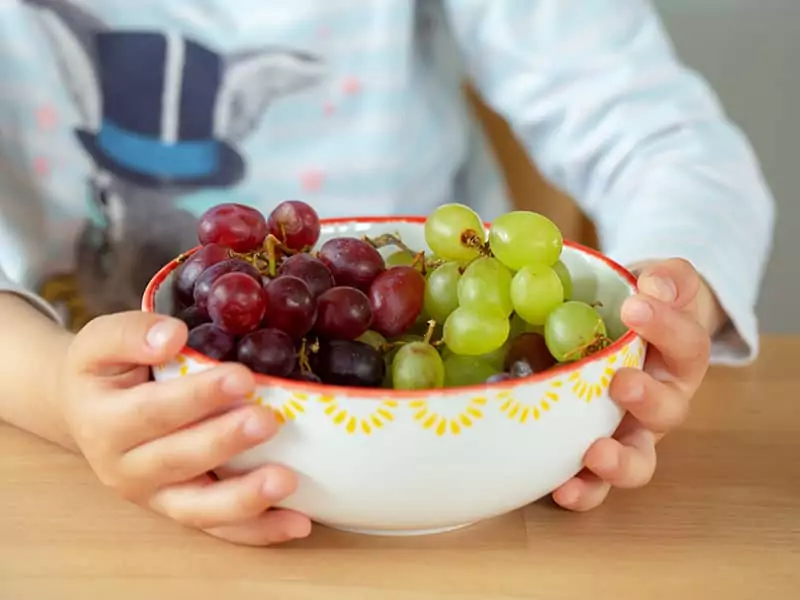 Green vs red grapes, is there anything different about these grape types other than color? 
Red grapes get their color from the disease-fighting antioxidants flavonoids that carry anti-inflammatory properties. They also contain vitamin C and B, potassium, fiber, and they're low in calories.
Green ones also have vitamin C that's good for the repair and growth of body tissue and vitamin K which prevents blood clotting. They're also low in calories, cholesterol, saturated fats, and sodium.
Overall, they're both healthy for you and versatile to make superb grape desserts. But let's find out which variation is better.
Green Vs. Red Grapes: What's The Difference?
Getting proper veggie and fruit intake is a perfect way to keep a healthy weight and decrease the risk of any disease. According to the American Cancer Society, you should get at least 5 servings a day.
Newer recommendations advising people to intake 7-9 serving daily. One serving of grapes would equal about 15 grapes. A small peach or apple, medium banana, and 6 strawberries are other serving sizes.
A half of a cup of cooked veggies, one cup of leafy greens, one ear of corn, and one Roma tomato would be other examples of serving sizes. Most health experts claim that red grapes are better than green ones due to their disease-fighting antioxidants known as flavonoids (quercetin, catechins, and resveratrol).
Research suggests that these flavonoids can help lower blood pressure and keep HDL (good) cholesterol. They also contain potential cancer-fighting properties. Now, let's learn more about their differences.
Taste
Green grapes and red grapes taste differently. However, red grapes are usually considered sweeter than green grapes. Green grapes, on the other hand, are sourer than red grapes.
Except for eating fresh ones, you can also make your juice. Just throw a little bit of both in your good small juicer and enjoy the taste and benefits of both red and green grapes.
Antioxidants
The different color in red and green grapes comes from the production of anthocyanin on a single gene of the grapes. There's a mutation in green grapes that prevents the production of anthocyanin. And this is why green grapes remain green.
The lack of anthocyanin decreases the level of antioxidants. This is why doctors would suggest selecting red grapes over green grapes.
Menopause Symptoms
Red grapes have a flavonoid known as resveratrol. This flavonoid has a similar chemical construction to a synthetic estrogen that helps with menopause symptoms. It's also present in red wine and is considered to be responsible for red wine's benefits.
Cancer Protection
Studies have shown that many properties of red grapes can protect from colon, lung, and breast cancer. The British Medical Journal, for instance, discovered that those that consumed a glass of red wine each day had a decreased risk of lung cancer than people that consumed white wine.
Manganese
Manganese represents a mineral that helps develop connective tissue and stronger bones. Both red and green have a large amount of manganese. A cup of grapes has 1/3 of your recommended daily intake. As you can notice, both green and red grapes are beneficial but reds are better for you.
Check out this video to know:
Are Red Grapes Healthier Than Green Grapes?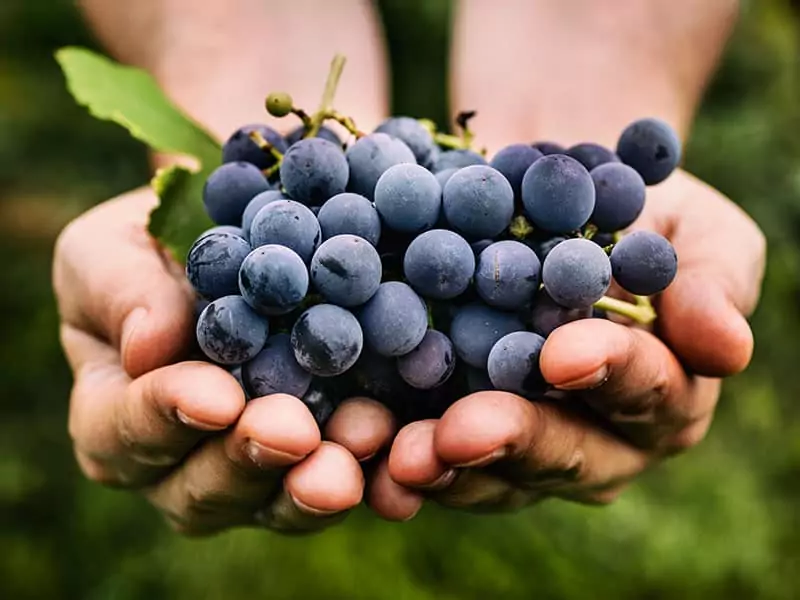 According to studies, yes. There's a bigger difference than just color. However, although red grapes have more health benefits, it's up to you which grapes you pick.
Most health experts would recommend picking red grapes over green ones due to their larger amounts of phytonutrients. These fruits that begin with "R" are sweeter and less sour than green ones.
Nonetheless, I can't tell what tastes better for you. Put both green and red grapes to the test and decide for yourself if the taste of red grapes is also superior to green ones.
Have you ever used any superior oil made from grapeseed? It's another healthy grape-based product that you can include in your cooking. It's rich in Omega-6 fatty acids and vitamin E.
Why Are Red Grapes Better Than Green Grapes?
The fruit that's supposedly better for you is the one you're more likely to consume. Nutritionally, they're similar. And either make a great choice if you're trying to lead a healthier lifestyle.
However, red grapes are slightly superior to green ones because of the high amount of antioxidants such as resveratrol found in the skin of darker grapes that can provide some additional health benefits.
As I already said, they're both a healthy addition to your daily diet. It's just that red grapes have a couple of extra benefits. Let's take a look at their nutritional value and draw a conclusion.
Low Calories
If you're on a diet, you can easily switch between green and red grapes. They're both low in calories. A cup of either grape has 100 calories.
Meaning, on a 2,000 calorie diet, that's just 5% of your daily intake. Also, with a cup serving, they fill you up without putting too many calories in your temple.
If you're trying to maintain or lose weight, just throw a bit of both in a reusable sandwich bag and enjoy them everywhere you go.
Great Source Of Copper
Green and red grapes may be low in calories. However, they're not a good source of nutrients, except for copper. A cup of either red or green grapes meets over 20% of your daily needs.
Copper is a key trace mineral that plays a key role in the production of red blood cells. However, it's also important for bone and nerve, blood vessels, and increases the absorption of iron.
A Lot Of Fiber
Bananas, apples, and grapes are the two most popular fruits in the US. They offer 1.5 grams of fiber per cup. They're not a great source of fiber like raspberries and strawberries.
If you enjoy this fruit, incorporating them into your daily diet can help you achieve your daily goal faster. The fiber in grapes not only fills you up but also boosts bowel function, slows down digestion, and keeps a healthy weight. Adults need 21-38 grams of fiber per day.
Resveratrol
When picking between green and red grapes, it may all come down to color after all.
There's a polyphenol known as resveratrol found in the skin of the darker grapes. It's an antioxidant that protects your cells from free radical damage and can help prevent the growth of chronic diseases.
Studies suggest that resveratrol can help decrease inflammation and protect against cancer.
Check out this video to know:
10 Health Benefits Of Grapes You Need To Know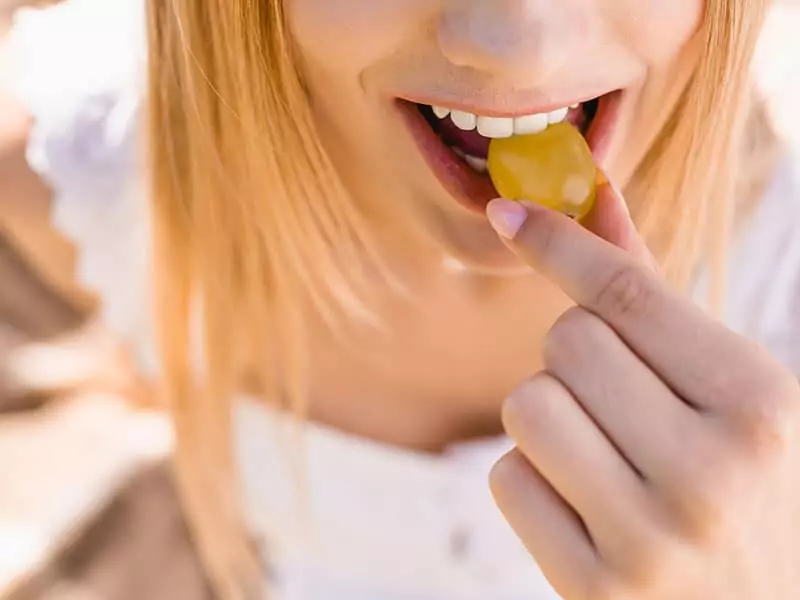 Grapes are spectacular and nutritious fruit, but make sure that you can store grapes properly to avoid any spoilage. Every type of fruit has a spot in your diet. However, snacking on red, purple, and red grapes can help you reach the recommended 1 1/2-2 cups of fruit you need every day.
The Centers for Disease Control and Prevention says only 10% of people in America eat enough. If you're looking for a healthy snack, look no further than grapes. They're both low-calorie and beneficial.
And they're perfect for weight loss. I like grapes because they're water-filled food that can also help my skin. Now, let's take a closer look at some of the other benefits of eating or drinking grapes.
1. They Can Help With Weight Management Or Loss
Grapes are fat-free and low-calorie food with a low glycemic index. They also contain compounds with antioxidant properties like resveratrol. It's believed that resveratrol can boost metabolism.
According to a 2016 study, diets high in antioxidants help weight maintenance. Also, a single cup of red or green grapes contains 100 calories, making them a nutrient-dense, high-volume, healthy snack.
2. Grapes Are A Good Source Of Vitamin C And Vitamin K
The vitamin K in both green and red grapes supports healthy tissues and strong bones. Vitamin C, on the other hand, boosts healing and helps the absorption of iron. A cup serving of green and red grapes has a total of 104 calories, 27 grams of carbohydrate, 1 gram of dietary fiber, and 1 gram of protein.
It also contains 0 grams of fat, 27% Vitamin C, 28% vitamin K, 7% thiamine, 6% riboflavin, 6% vitamin B6, 8% potassium, 10% copper, and 5% manganese. As you can notice, grapes are super beneficial.
3. They're Also An Anti-Inflammatory Snack
Like any plant-based snacks, grapes have antioxidants that can lower cellular damage by protecting cell membranes. Eating about 1-2 cups of grapes daily can help protect your tissues by limiting the chemical reactions that cause inflammation in your body.
4. Grapes Are Good For Your Heart
Grapes can also boost your cardiovascular health. They have some compounds that can help control blood pressure, boost blood flow, reduce inflammation from oxidative stress, and protect your vascular system. Meaning, they're good for your heart among many other things.
5. Consuming Grapes Can Help Your Skin
According to some small studies, certain phytonutrients found in colorful vegetables and fruit like grapes can protect the skin cells from the effects of UV radiation. For a more radiant glow to your skin, eat nuts, berries, watermelon, kiwi, fish, and olives more often.
6. Your Brain Can Benefit From Grapes
Grape polyphenols can boost cognition and protect your brain by boosting vascular health and function. They can also play a role in decreasing the risk of dangerous oxidation and notifying neurotransmitters, both connected to a decreased risk of cognitive decline.
7. They Can Decrease The Risk Of Diabetes
Immune-boosting antioxidants like resveratrol found in grapes are connected to boosting blood sugar regulation by affecting carbohydrate metabolism.
That said, grapes can have a lot of sugar which has the opposite effect. Make sure you're eating fresh or freeze-dried grapes or wine to enjoy the benefits.
8. Since They're 82% Water, They Can Hydrate You
Not everyone knows that grapes are 82% water. And since proper hydration is directly connected to skin appearance, overall health, and cell regeneration, eating grapes is kind of necessary.
As you can see, beverages aren't the only source of water. High-water foods like grapes count too. They can help your skin remain hydrated. What are you waiting for? Go buy some grapes.
9. Consuming More Grapes Can Decrease The Risk Of Some Cancers
The countless benefits of fruit and vegetables make them no-brainers when it comes to picking meals or snacks. But here's the kicker. Grapes are high-antioxidant foods that can also reduce the risk of cancers. They protect cellular DNA, decreasing oxidative stress and preventing tumor growth.
10. Drinking Grapes Is Also Beneficial
Last but not least, I wanted to mention that if you ever get bored snacking on grapes, you can also drink them. The phenolic compounds are still present after the fermentation process. Some research connects regular wine consumption to a decreased risk of chronic disease.
Are You Team Red? Or Team Green?
Both green and red grapes can be purchased and consumed all year round. Always pick wrinkle-free and hard grapes. They should be washed before consumed.
Try eating fresh grapes since most grape spreads, jellies, and juices contain added sugars. Meaning, they can be high in calories. I enjoy grapes daily in different ways.
Sometimes, I slice them in half and add them to a chicken salad. Other times, I make fruit cocktails with pineapple, strawberries, sliced peaches, and of course, grapes.
Grapes are best stored in the fridge. However, you can also freeze them and consume them as a healthy snack anytime, anywhere. Green vs red grapes, who's the winner?
I would say red grapes since they have more health benefits. However, to be honest, I prefer the taste of green grapes. They're sourer than red grapes, but I don't mind.
If you do mind, opt for red grapes. Hopefully, you learned something new about grapes today. Drop any questions, suggestions, and cooking tips in the comments.