Step into the captivating world of Bulgarian cuisine as I introduce you to a delectable Parlenka recipe! This versatile flatbread has long been a staple of Bulgaria's culinary heritage, pairing beautifully with soups, main courses, or even as a standalone snack.
With minimal kneading, quick rising time, and a speedy stovetop cook, you'll be enjoying this tasty bread in no time. Give Parlenka a try today, and you'll soon understand why this delicious flatbread has captured the hearts and taste buds of so many.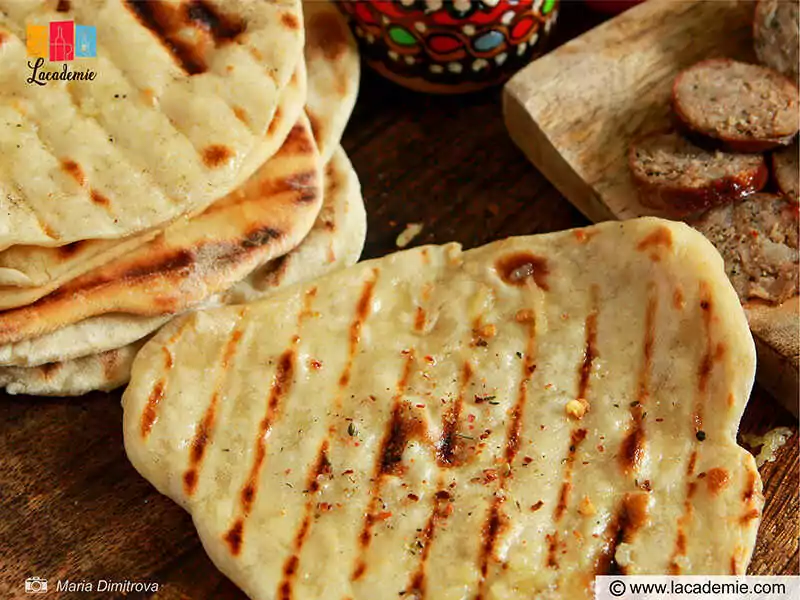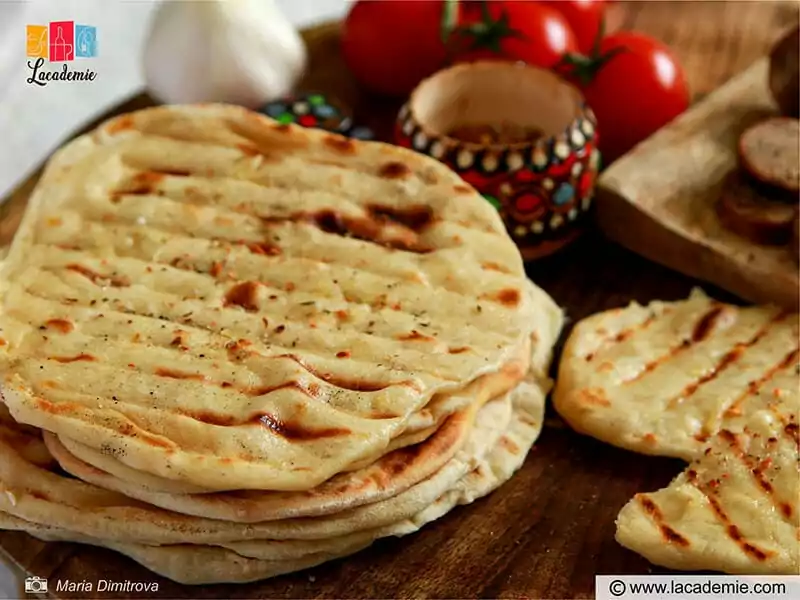 What Is Parlenka
Parlenka, Bulgaria's answer to flatbread, is a cherished staple in the country's culinary scene. This sumptuous bread is made with simple ingredients like flour and yogurt, which come together to create a soft, mouthwatering delight.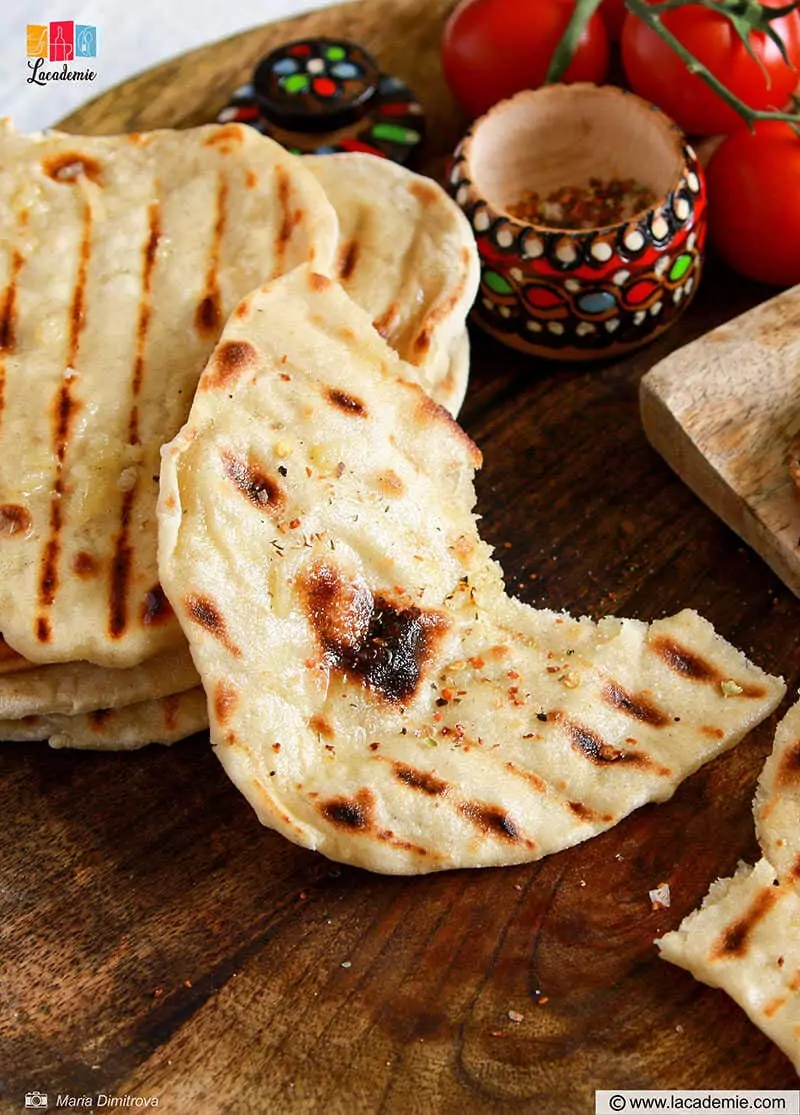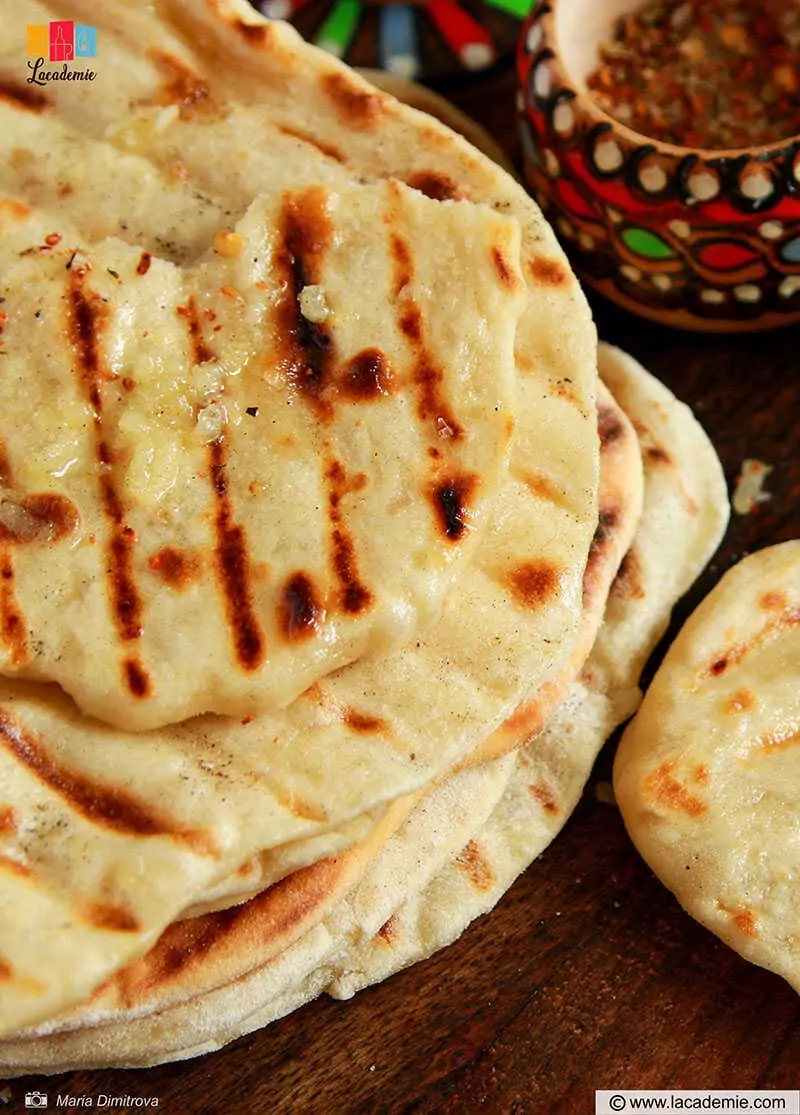 Bulgarian restaurants specializing in traditional cuisine often have their own unique takes on Parlenka, each version as scrumptious as the next. Not only is it easy to whip up, but it can also be enjoyed in various ways.
Spread warm Parlenka with a luscious mixture of butter and crushed garlic, or top it with crumbled white brined cheese for an authentic taste of Bulgaria. For a gooey treat, bake it with yellow cheese until slightly browned and melted.
Tools
Getting ready to make delicious Parlenka? Before you begin, ensure that you have all the essential tools listed below.
Grill pan: This versatile pan is perfect for cooking your Parlenka on the stovetop, giving it that authentic, slightly charred flavor.
Large bowl: You'll use this to mix the ingredients for your flatbreads and prepare the dough, ensuring everything is well combined.
Rolling pin: This handy tool is essential for shaping your flatbreads, making it easy to achieve the desired thickness and evenness.
Knife: A must-have in any kitchen, the knife will help you divide the dough into equal parts and spread the butter on the warm Parlenka.
Garlic press: Crushing garlic cloves is a breeze with this useful gadget, making it easy to spread over the Parlenka for that extra burst of flavor.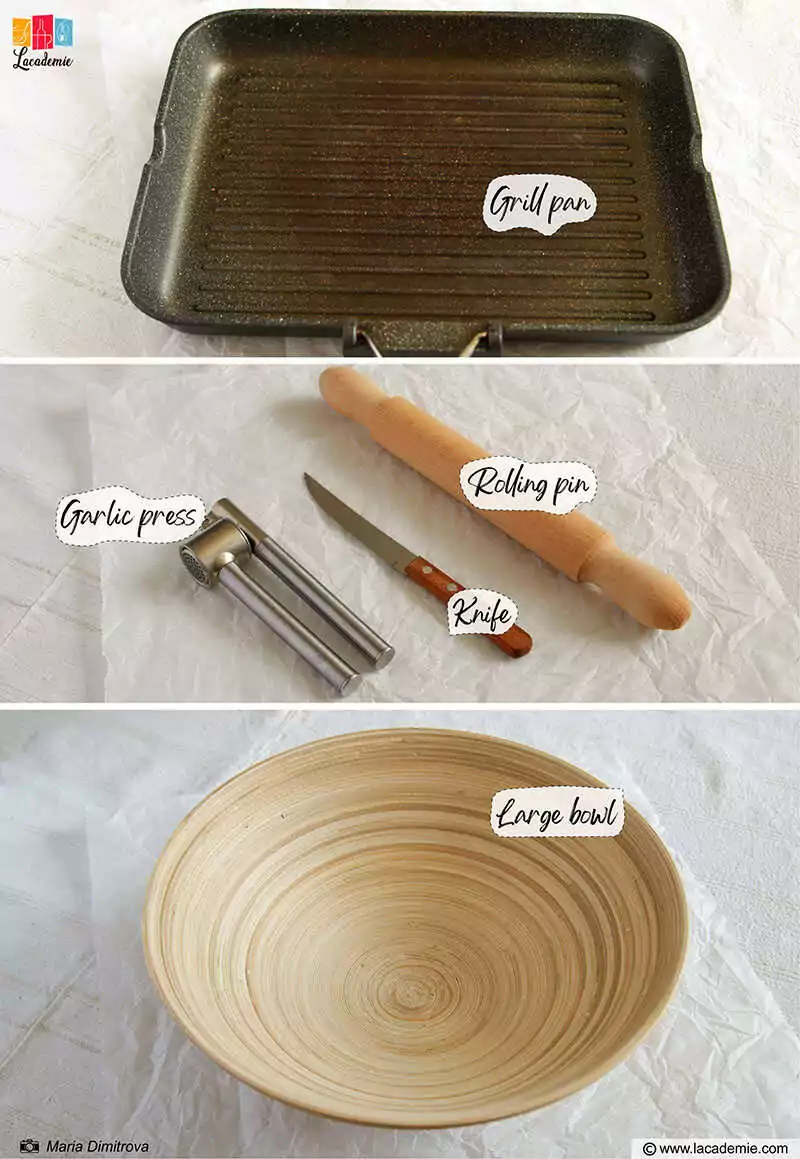 Ingredients
Here's a list of the ingredients you'll need, along with their purpose in the recipe. With these ingredients at the ready, you're all set to create a truly scrumptious Parlenka that's sure to impress!
For the dough
Flour: All-purpose flour is the ideal choice for this recipe, providing the perfect foundation for your Parlenka.
Bulgarian yogurt: To achieve an authentic taste and consistency, use Bulgarian yogurt, which boasts a unique fermentation process involving special bacteria. If unavailable, Greek yogurt or plain yogurt make suitable substitutes.
Baking soda: Just a teaspoon of baking soda helps make your Parlenka fluffier and lighter.
Salt and sugar: These essential seasonings add the perfect balance of flavor to your Parlenka.
For spreading
Butter: Unsalted cold butter is key for spreading on your freshly baked Parlenka, adding a rich and creamy touch.
Garlic: 2-3 cloves of garlic enhance the flavor profile of your Parlenka. If you aren't big on garlic, simply leave it out or opt for crumbled white brine cheese or grated yellow cheese as tasty alternatives.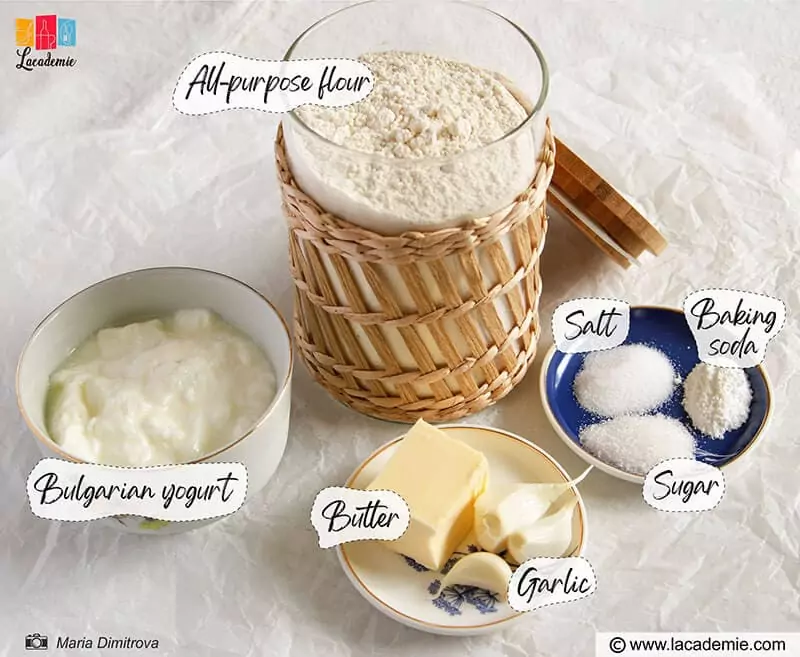 Instructions
Follow these easy steps to bring yummy Bulgarian-style flatbreads to life and enjoy it warm, soft, and full of flavor.
Step 1: Prepare The Dough
Pour the flour into a bowl, creating a small well in the center. Add the yogurt to the well, followed by the sugar, salt, and baking powder.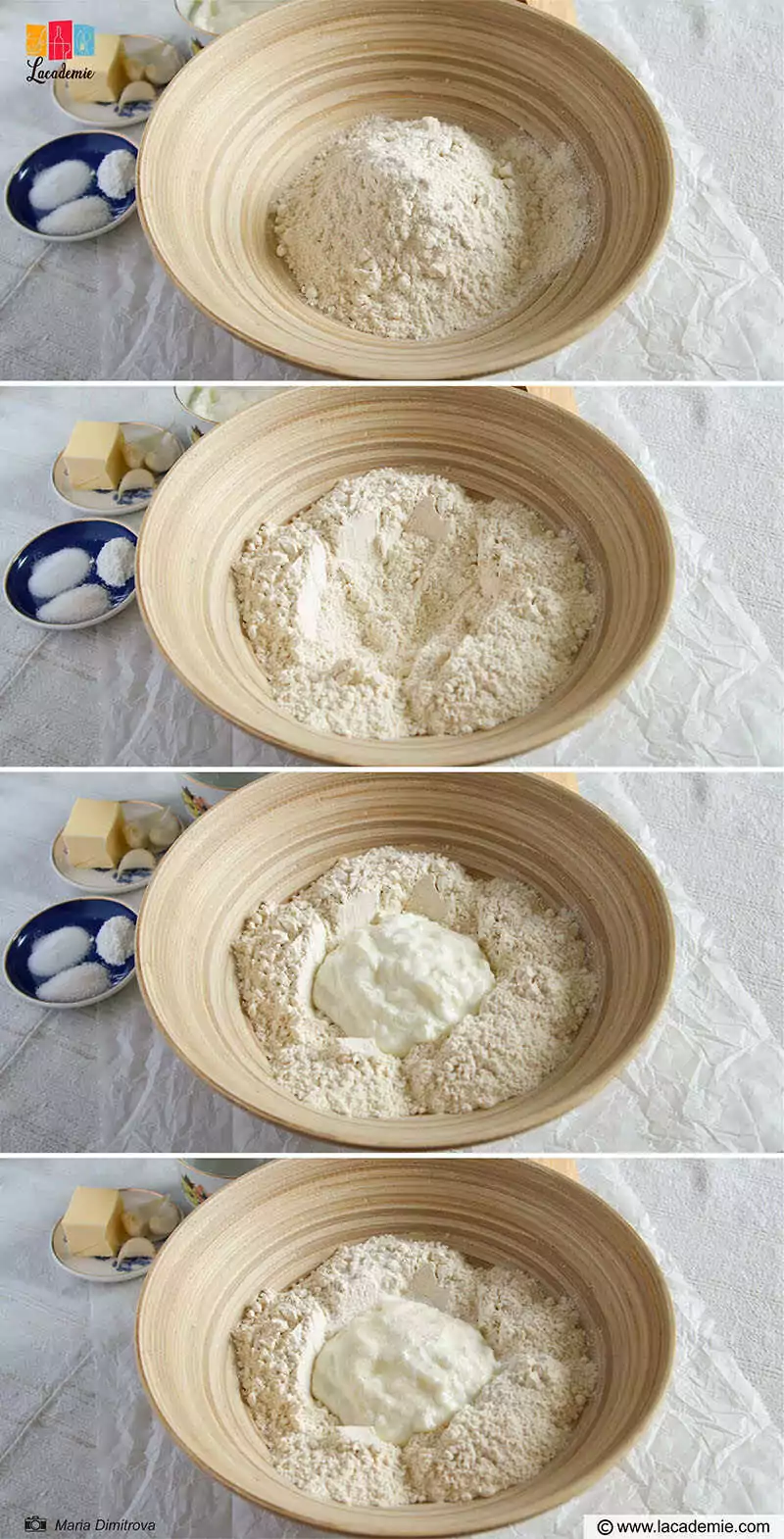 Mix the ingredients together using your hands, working from the center outwards until you achieve a smooth, sticky dough.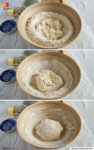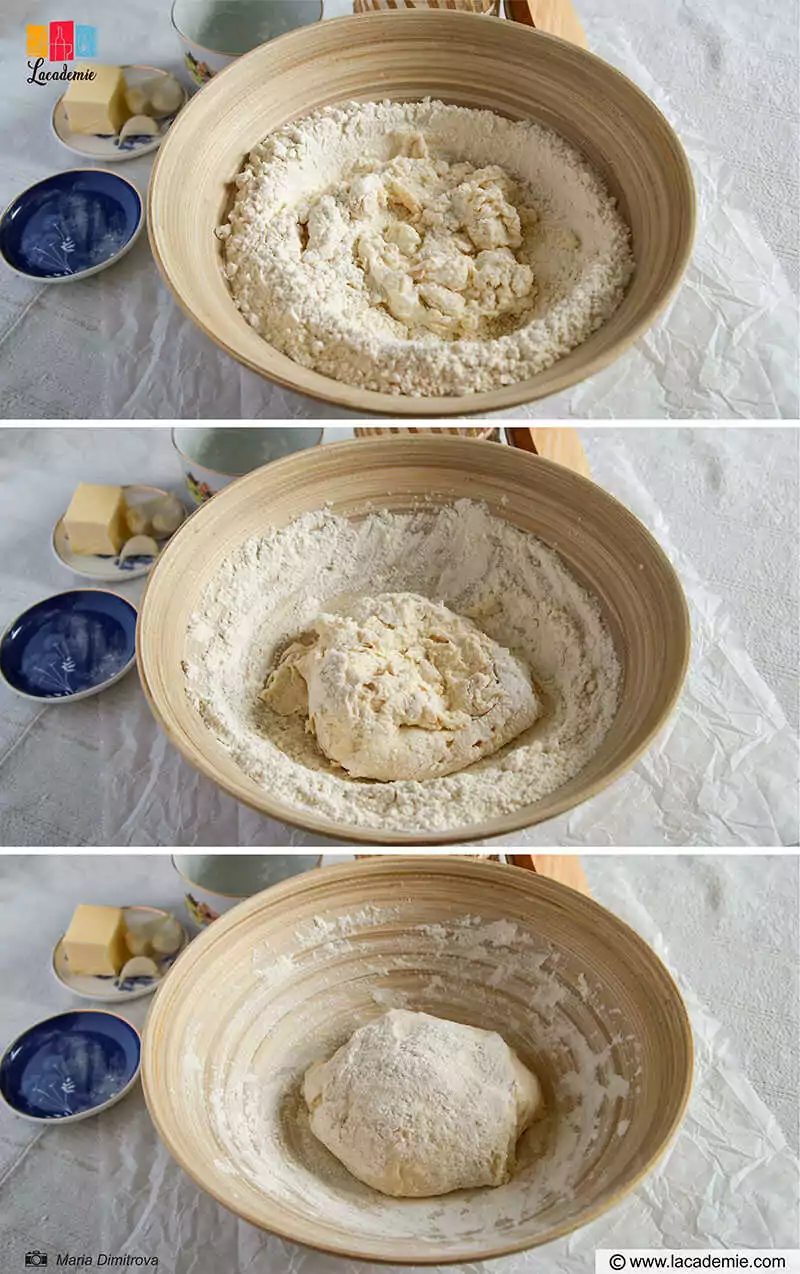 Note: You can also mix the dough using a stand mixer with a hook attachment or set your bread machine to the dough cycle for added convenience.
Step 2: Divide And Shape The Dough
Place the dough out onto a lightly floured surface and cut it into 8 equal-sized pieces using a knife. Roll each piece into a ball and rest them for about 5 minutes.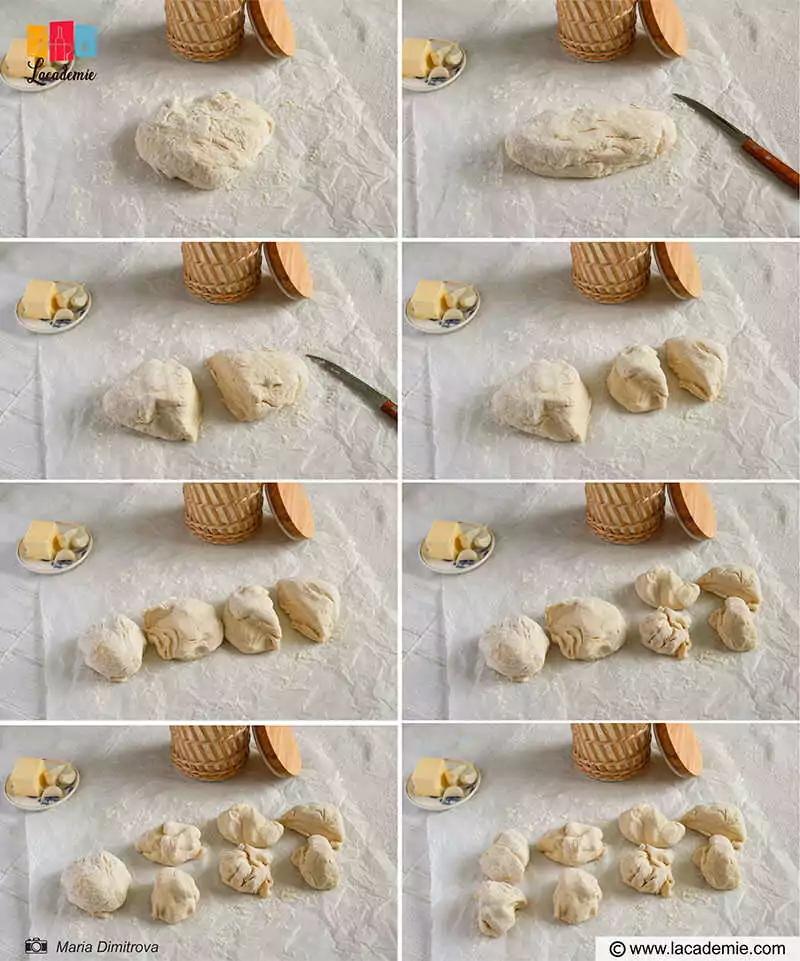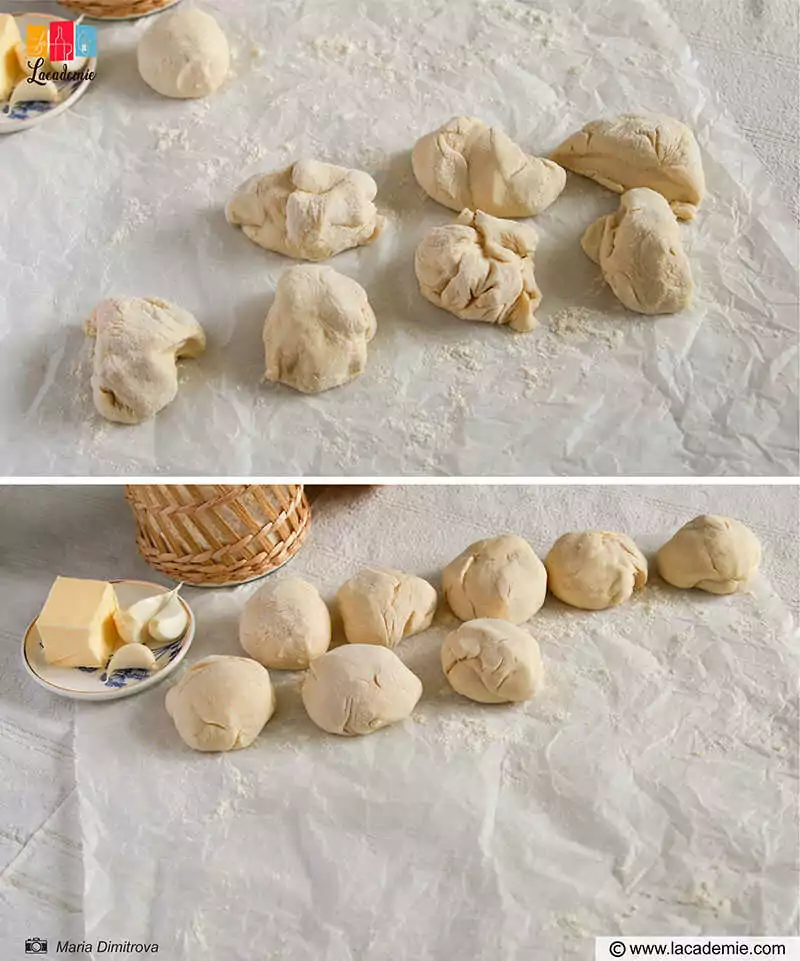 Using a rolling pin, shape each dough ball into a round flatbread. Dust each Parlenka generously with flour to prevent sticking, or place a piece of floured baking paper between them.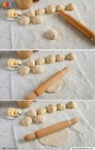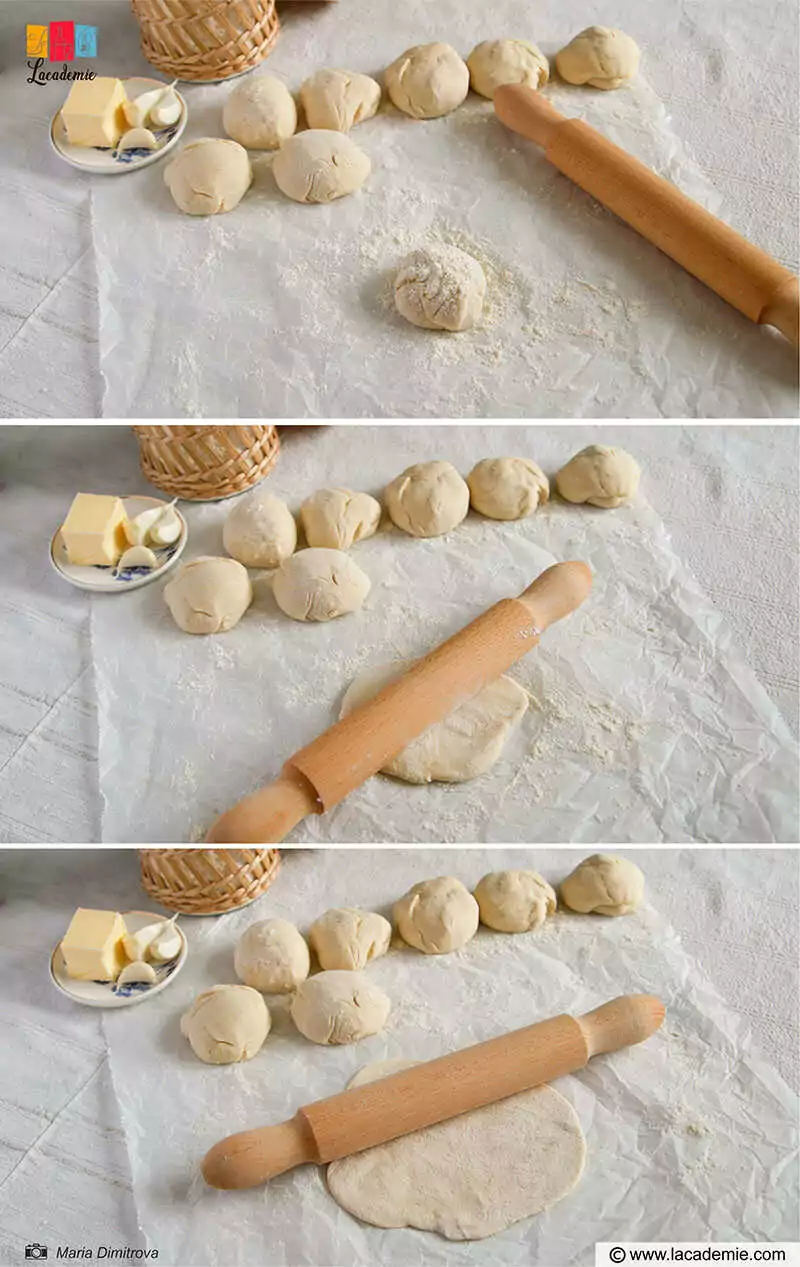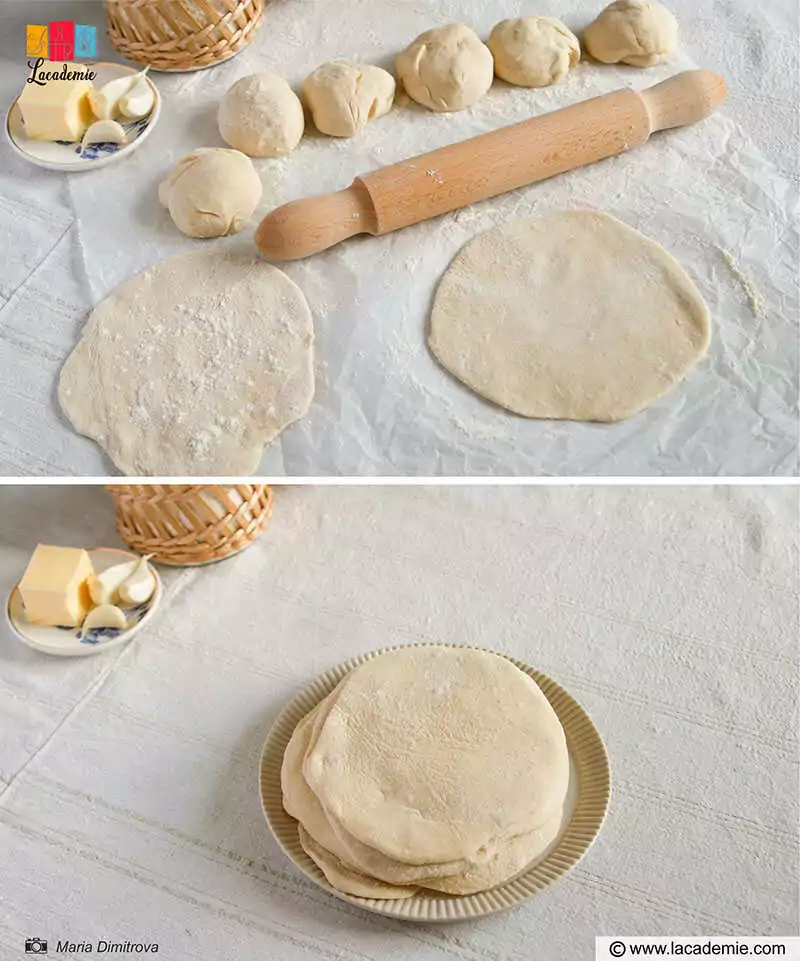 Step 3: Cook The Parlenka
Heat a pan to a moderately high temperature and begin cooking the Parlenki. Cook for 2-3 minutes until the underside is browned. Flip and cook for an additional 2-3 minutes. Repeat with the remaining Parlenki.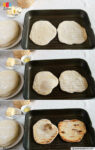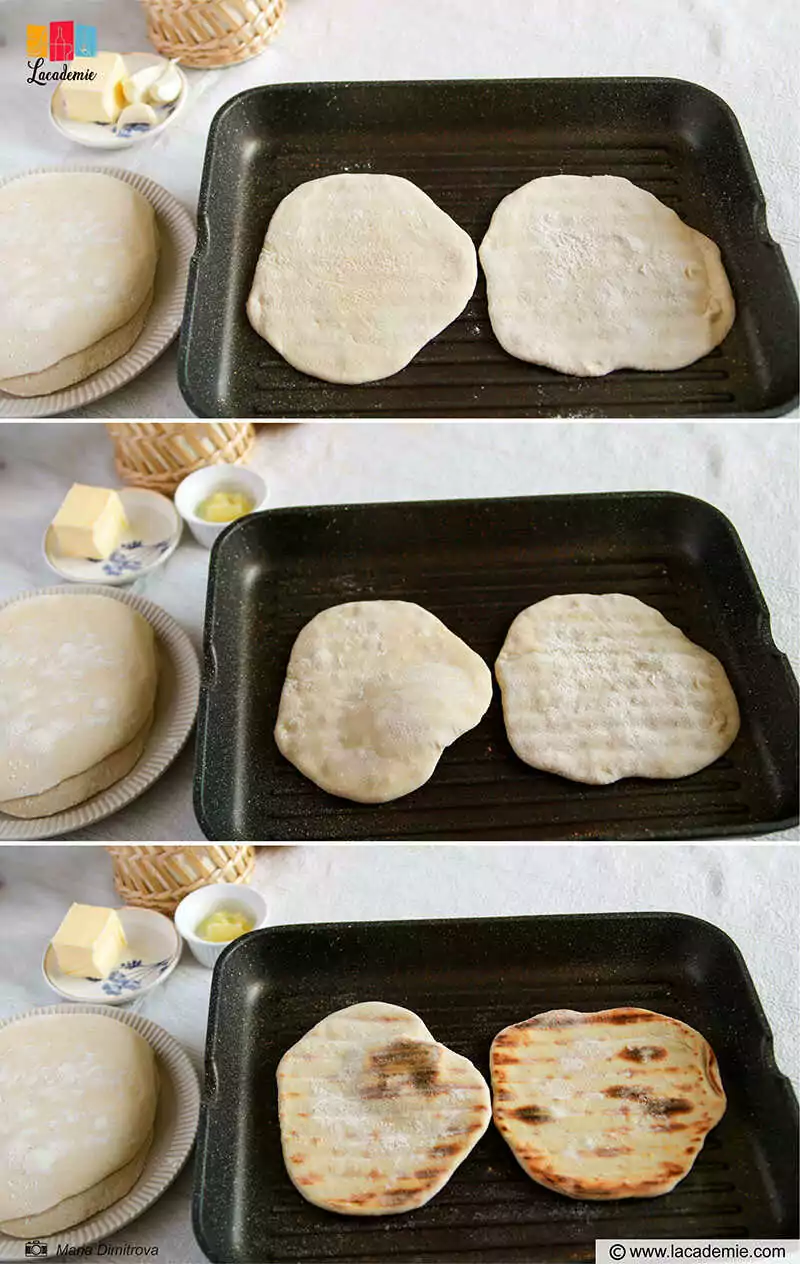 Step 4: Add Toppings And Serve
While the Parlenka is still warm, brush it with melted butter and crushed garlic for extra flavor. If desired, sprinkle chili or sweet red pepper on top for added taste.
Enjoy your Parlenka immediately, as it's best when warm and soft and tends to become tougher as they cool.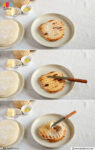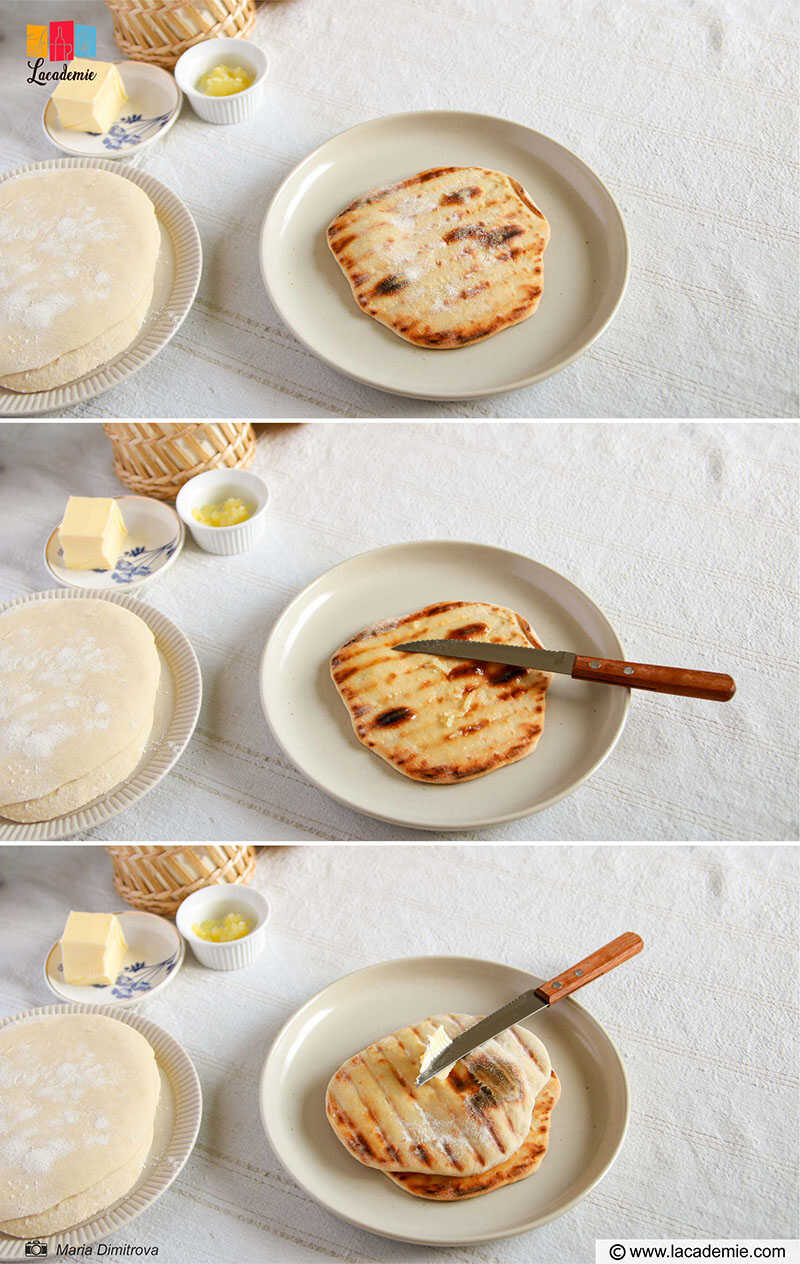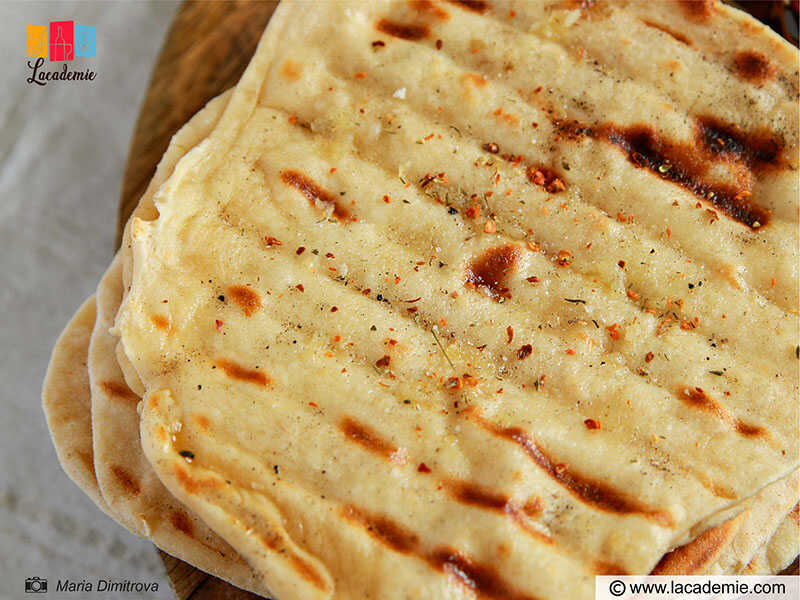 Serving Suggestions For Bulgarian Flatbread
Enjoy your freshly made Bulgarian Flatbread Parlenka in a variety of delicious ways with these irresistible serving suggestions.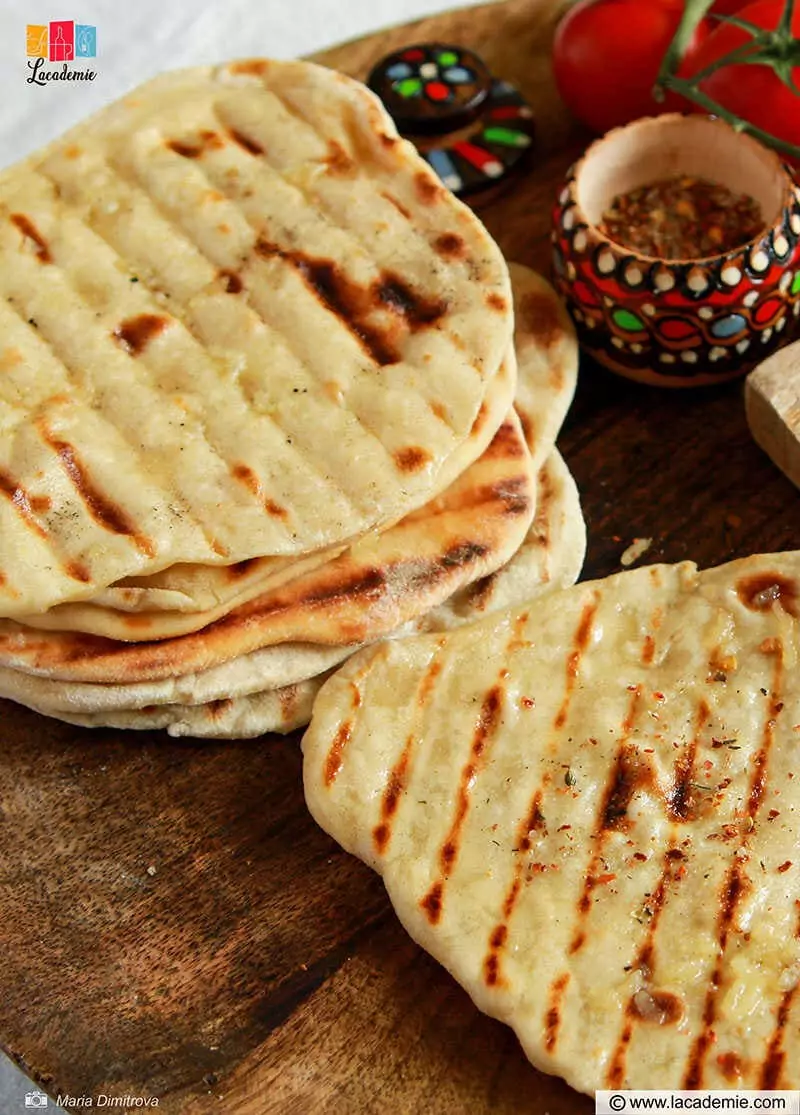 Traditional Pairings: Parlenka is often served at the table as a substitute for regular bread, and it goes great with steaks, meatballs, or barbecued sausages.
Cheesy Delight: Top your Parlenka with a mix of crumbled feta and grated yellow cheese, then broil until the cheese is melted and bubbly, resulting in a scrumptious, cheesy treat.
Savory Sandwich: Transform your Parlenka into an enticing sandwich by adding layers of succulent grilled meats, fresh veggies, and a flavorful sauce or spread of your choice.
Dippable Delicacy: Tear your Parlenka into bite-sized pieces and use them to scoop up your favorite dips, such as hummus, tzatziki, or baba ganoush, for a satisfying and tasty snack.
Supa Topcheta with Parlenka: Dip your warm, buttery Parlenka into a comforting bowl of Supa Topcheta, a classic Bulgarian soup made with meatballs, vegetables, and rice. The rich flavors and hearty textures create perfect harmony.
How To Store Your Parlenka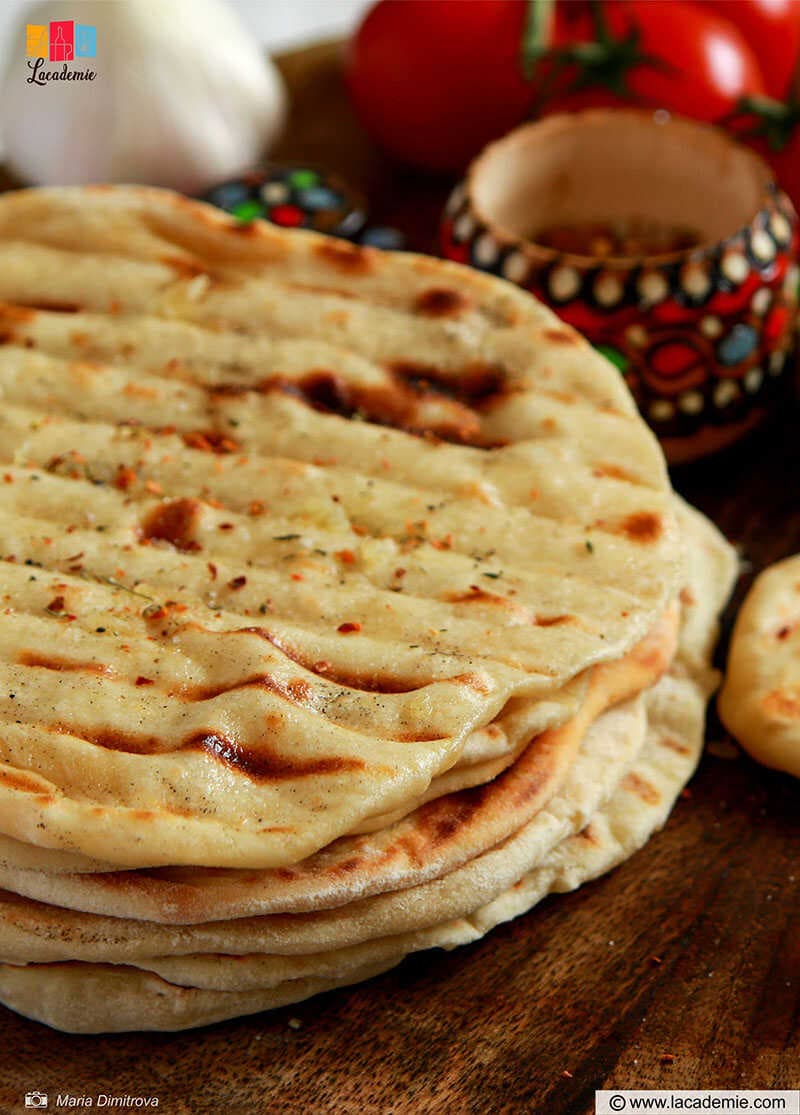 Proper storage of your homemade Parlenka is crucial to maintain its freshness and taste. Firstly, allow the Parlenka to cool completely before storing, as this prevents condensation and sogginess.
Once cooled, wrap the flatbreads in plastic wrap or aluminum foil. Alternatively, place them in an airtight container or resealable plastic bag to keep them from drying out.
Store the wrapped or contained Parlenka at room temperature in a cool, dry place like a pantry or breadbox for up to 2-3 days.
It's best to avoid refrigeration, as this can cause the bread to go stale faster. If you'd like to store the Parlenka longer, consider freezing it.
Individually wrap the flatbreads and place them in a resealable freezer bag labeled with the date and contents. Frozen Parlenka can last for up to 2-3 months.
To enjoy your stored Parlenka, reheat it in a preheated oven at 350 degrees F (175 degrees C) for about 5-10 minutes or until warmed through. If frozen, allow the bread to thaw at room temperature for a few hours before reheating.
Don't Miss These Other Bulgarian Dishes
Now that you're here, I highly recommend you check out other delicacies from Bulgarian cuisine besides Parlenka. I bet you'll love them all.
Palneni Chushki: A mouth-watering stuffed pepper dish filled with a mix of seasoned rice, ground meat, and aromatic herbs. These tender peppers are baked to perfection and often served with a dollop of creamy yogurt on top.
Banitsa: Try this flaky and savory pastry, made with layers of thin phyllo dough filled with a delicious blend of eggs, feta cheese, and yogurt. Banitsa is a beloved breakfast staple in Bulgaria.
Tikvenik: Treat yourself to this pumpkin-filled pastry, made by rolling a sweet and spiced pumpkin mixture into layers of phyllo dough. This golden-brown dessert is typically dusted with powdered sugar for an extra touch of sweetness.
Sarmi: A traditional Bulgarian dish that features grape or cabbage leaves stuffed with a delectable filling of rice, minced meat, and fragrant herbs.
FAQs
Give the commonly asked questions here a read to improve your knowledge of Parlenka and how to make it at home!
A Taste of Bulgarian Flatbread Bliss
With its easy preparation, quick cooking time, and myriad serving suggestions, Parlenka is the perfect starting point for anyone looking to explore and enjoy the flavors of Bulgaria. In addition, there's no shortage of mouthwatering dishes to accompany your flatbread.
So why not give this Parlenka recipe a try? And when you do, don't forget to share your thoughts in the comment section. You can also share this post with your friends and family so they, too, can dive into the delightful world of Bulgarian cuisine.
Nutrition Facts
8 servings per container
---
Amount Per ServingCalories212
% Daily Value *
Total Fat 3.9g

5

%
Cholesterol 10mg

4

%
Sodium 336mg

15

%
Potassium 188mg

6

%
Total Carbohydrate 36.6g

12

%

Dietary Fiber 1.2g

4

%
Sugars 2.8g

Protein 6.4g

12

%
---
Calcium

93

%
Iron

2

%
Vitamin D

2

%
* The % Daily Value tells you how much a nutrient in a serving of food contributes to a daily diet. 2,000 calories a day is used for general nutrition advice.