These Italian seasoning substitutes come to the rescue when you unexpectedly run out of it and need some right away. Whether it's a cupboard staple that you have on hand or a homemade recipe you mean to try out, I've got you covered.
In this substitution guideline, I'll let you in on which herbs and spices work best in place of Italian seasoning, how to use them, and more. Plus, I've put together some drool-worthy recipes that you can make with Italian seasoning.
Keep on reading to find the best alternative for Italian seasoning, so you never have to worry about it running out again!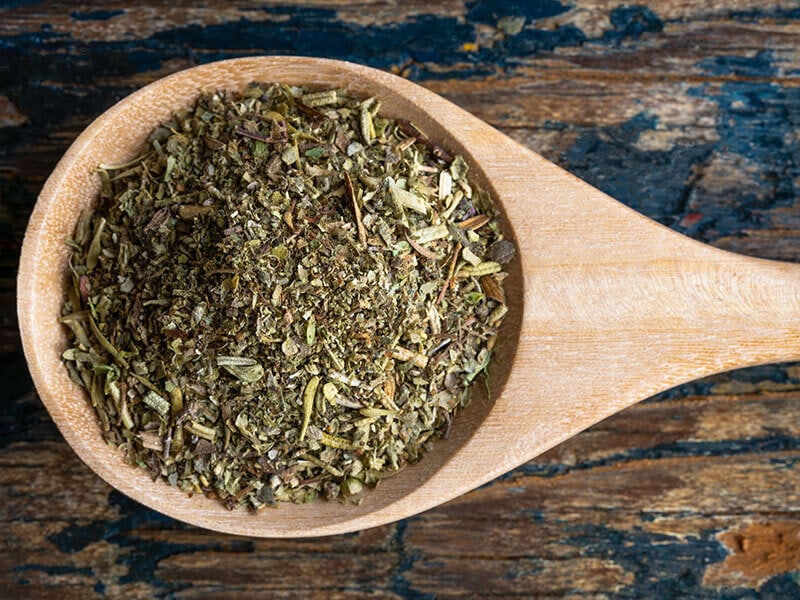 Italian Seasoning – The Quintessential Blend Of Herbs
No herb blend delivers a unique Italian flavor quite like Italian seasoning. Read on for some need-to-know facts when it comes to this classic condiment and its culinary uses.
What's In Italian Seasoning?
As told from the name, Italian seasoning is a blend of herbs hailing from Italy. With its Greek and Roman influences, the condiment is believed to originate somewhere near the Mediterranean. While many regions of Italy also claim their own creation of the blend.
In essence, Italian seasoning is a mix of dried herbs and spices. Though the recipe varies among brands, it often relies on five core ingredients: oregano, basil, rosemary, marjoram, and thyme.
Oregano: Pungent, peppery, and often with a slightly bitter taste, oregano is used to add boldness and excellent heat to dishes. It's mostly sprinkled on pizzas and sauces for an instant earthy note.
Basil: The first thing coming to mind when talking about Italian aromatic herbs, basil is the star of pesto sauce. It's robust and pungent but not bitter. Instead, the taste leans toward a clove-like, sweet tone.
Rosemary: A sprig of rosemary alone is enough to lend your dish a woodsy, peppery flavor that tastes like nothing else in the world. You can't help but be amazed at how different elements come together to create a pleasant, tea-like aroma.
Marjoram: Similar to oregano's delicacy, marjoram delivers a bright, earthy flavor with a mild note of citrus and pine. The herb makes an excellent fit for delicate veggie-based dishes and poultry seasonings.
Thyme: Flavor-wise, thyme can be described as a subtle and minty herb. Thanks to the lemony and sweet scent, thyme pairs well with other Mediterranean spices. Many cooks use it on vegetables, poultry, and seafood in Italian cooking.
Overall, the exact flavor of Italian seasoning varies among brands. But more often than not, this unique herbal blend has a piney and earthy taste, which comes from thyme and oregano. It also hints at a subtly sweet and minty note in the background.
On the aroma side, the artful blend of spices results in an incredible fragrance. You can instantly smell rosemary out of it along with other aromatic herbs.
Culinary Uses Of Italian Seasoning
With such a distinctive flavor profile, it's no surprise how a little bit of Italian seasoning can add a delicious Italian essence to your meals. Keeping a shaker in your spice rack is great for taking your cooking skills up a notch.
Many foodies love to sprinkle it on pizzas and sandwiches, whereas others use it to elevate meat marinades, soups, and stews, just to name a few.
Mix the blend with some butter and parmesan cheese, and you've got yourself a quick and palatable French bread spread. It also goes great on most American-Italian classics as an all-purpose seasoning.
Is Italian Seasoning Good For You?
As it turns out, Italian seasoning does more than give your meals a great boost. The spice blend offers quite a few health benefits, owing to its herbal content.
It's a rich source of vitamin K, B6, C, and other essential nutrients such as calcium and iron. Regular consumption of spices can improve your wellness and equip your body to ward off toxins.
Another true power of these herbs lies in their antioxidant properties. Just a pinch of Italian seasoning in your regular menu can be beneficial for various cancer and Alzheimer's prevention.
With all plant-based ingredients, the condiment provides tons of fiber, thus helping food move through your digestive system easily (1) . Whenever you're bloated or constipated, consider adding Italian seasoning to your daily diet.
Best Italian Seasoning Substitutes Conversion Chart
When in doubt, here are my trusted tips on how much to use in place of Italian seasoning. These will surely help you get it right for your mouth-watering kitchen creations every time.
Substitutes
Substitution Ratio
Dried Oregano And Basil
1 tbsp of Italian seasoning = ½ tsp of basil + ½ tsp of oregano
Fresh Herbs
1 tbsp of Italian seasoning = 1 ½ tbsp of fresh herbs
Herbes De Provence
1 tsp of Italian seasoning = 1 tsp of Herbes De Provence (without lavender)
Greek Seasoning
1 tsp of Italian seasoning = 1 tsp of Greek seasoning
Herbes De La Garrigue
1 tsp of Italian seasoning = 1 tsp of Herbes De La Garrigue
Creole Seasoning
1 tsp of Italian seasoning = ½ tsp of Creole seasoning
Za'atar
1 tsp of Italian seasoning = 1 tsp of Za'atar
Dried Basil, Oregano, And Thyme
1 tsp of Italian seasoning = ½ tsp of dried oregano + ¼ tsp of dried basil + ¼ tsp of dried thyme
Pizza Seasoning
1 tsp of Italian seasoning = 1 tsp of pizza seasoning
Italian Dressing Seasoning Packet
1 tsp of Italian seasoning = Less than 1 teaspoon of Italian dressing seasoning packet.
Homestyle McCormick Culinary Italian Seasoning

1 tbsp of dried rosemary
1 tbsp of savory
1 tbsp of thyme
1 tbsp of oregano
1 tbsp of basil
1 tbsp of sage
1 tbsp of marjoram

Easy Homemade Italian Seasoning

2 tbsp of dried basil
2 tbsp of dried thyme
2 tbsp of dried oregano
2 tbsp of dried rosemary
2 tbsp of dried marjoram

DIY Italian Spice Mix With Fennel Seeds

1 tbsp of fennel seeds
2 tbsp of oregano
2 tbsp of basil
2 tbsp of thyme

Simple Italian Seasoning With Sage

1 tbsp of dried basil
1 tbsp of dried marjoram
1 tbsp of dried oregano
1 tbsp of dried thyme
2 tsps of dried sage
1 tbsp of dried rosemary

Homemade Italian Spice Blend With Black Pepper

3 tbsp of dried parsley
1 tbsp of garlic powder
3 tbsp of dried basil
2 ½ tbsp of dried oregano
1 tsp of rosemary
1 tsp of dried thyme
1 tsp of onion powder
1/4 tsp black pepper

Elaborate Italian Spice Mix

1 tsp of basil
1 tsp of black pepper
1 tsp of red pepper flakes
1 tsp of garlic powder
1 tsp of oregano
1 tsp of rosemary
1 tsp of marjoram
1 tsp of onion powder
1 tsp of thyme
What Can I Use Instead Of Italian Seasoning In A Recipe?
Did you just find out your shaker is empty right in a hurry to get dinner on the table? Save a trip to the spice aisle with these Italian seasoning substitutes that may just be in your home already.
1. Dried Oregano And Basil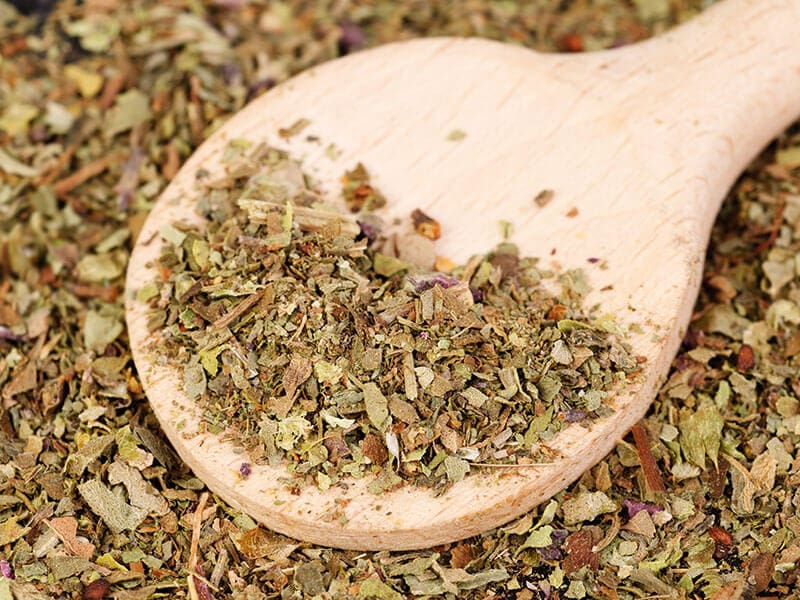 It's safe to say that oregano and basil are the most robust flavors in Italian seasoning. Hence, if you happen to have these two herbs on hand, feel free to use them in a pinch. Keep in mind; this works best with Italian-style recipes only.
Since oregano and basil both belong to the mint family, their flavor profiles are very compatible. For best results, the combo should be added just before your food is finished cooking to perverse its delicacy.
The taste of dried oregano plays on both sides. Typically, it yields the perfect balance between spiciness and sweetness, often with a sharp, slightly bitter tone. Meanwhile, basil tends to give off a stronger sweet undertone and more herbal aroma.
When combined, dried oregano and basil add a strong dimension to your recipes. Therefore, a good tip is to use an incredibly light touch so that the herbs don't overpower other elements.
In most cases, ½ teaspoon of basil with ½ teaspoon of oregano is good to substitute one tablespoon of Italian seasoning. You can always experiment with adjusting the ratio to your liking.
2. Fresh Herbs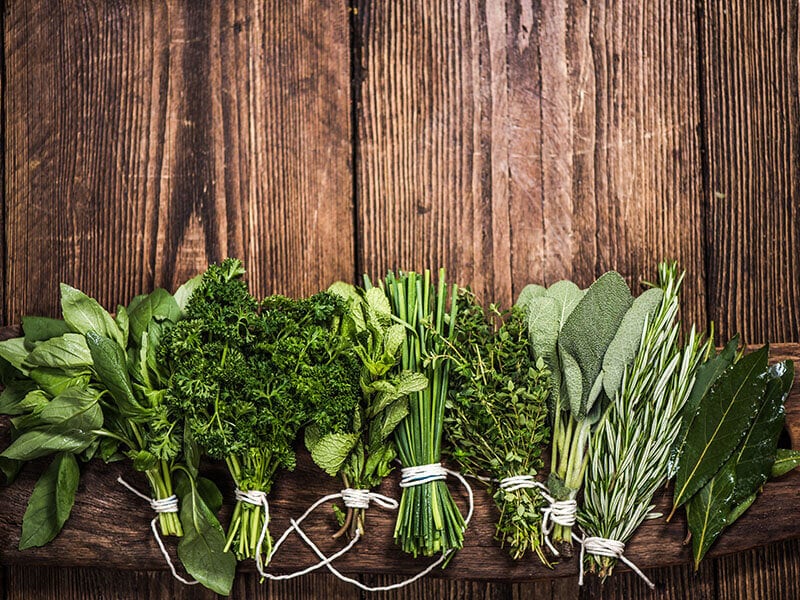 When it comes to American-Italian dinners, fresh herbs are always an excellent option. This isn't necessarily because fresh herbs taste better than dried, but because their aromatic oils do so much good to the dish.
Dried herbs are likely to provide a deeper, more seasoned flavor. In other words, they're more concentrated than their fresh counterparts, which sometimes even lean towards bitterness in cooking.
The golden rule is to use more fresh herbs than you would dry blends. For instance, swap 1 ½ tablespoons of fresh herbs like oregano, rosemary, or thyme for 1 tablespoon of Italian seasoning.
If a dish takes longer to prepare, be sure to add the fresh herbs near the end of the cooking process. This allows you to punch up the flavors, keep them tender, and avoid darkening their bright colors.
Learning to cook with fresh herbs is like mastering a form of art! You can see this video to know more:
3. Herbes De Provence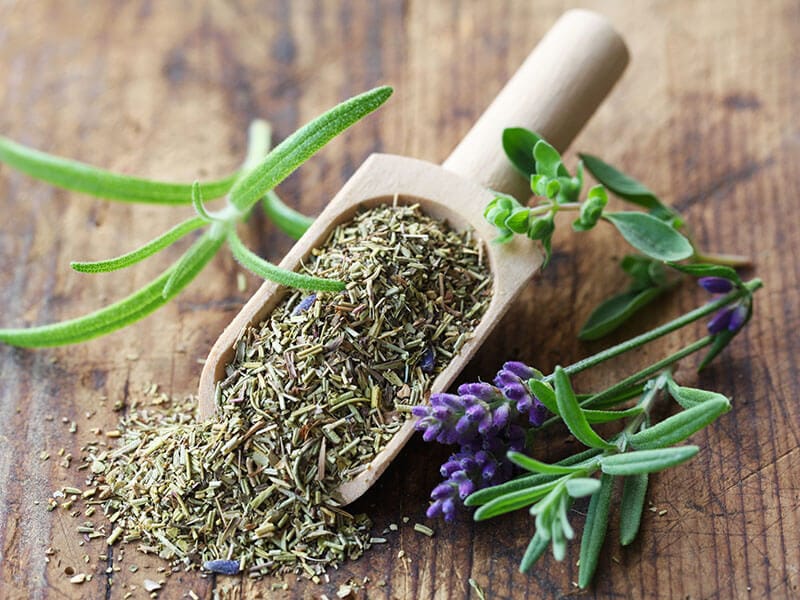 Another aromatic dried herbal blend, herbes de Provence, makes an excellent fit to use in place of Italian seasoning. As you can tell from the name, herbes de Provence hails from the Provence region of Southern France.
In essence, these French and Italian seasonings share the same ingredient list, except for one thing. Herbes de Provence consists of lavender flowers, which gives it a robust floral sense.
A staple in French home cooking, this seasoning lends your recipe a distinctive, earthy, and savory flavor. It's a versatile spice that's meant to be a shortcut for seasoning poultry, meat, and vegetables.
Of course, the show's true star is lavender. If you haven't got the chance to cook with this floral element before, it's crucial to measure carefully so that your dish doesn't taste bitter or like perfume.
Just take an equal amount of herbes de Provence without lavender to replace Italian seasoning, either in a dry rub or marinade. Then, get ready to be in the French countryside without leaving your kitchen!
4. Greek Seasoning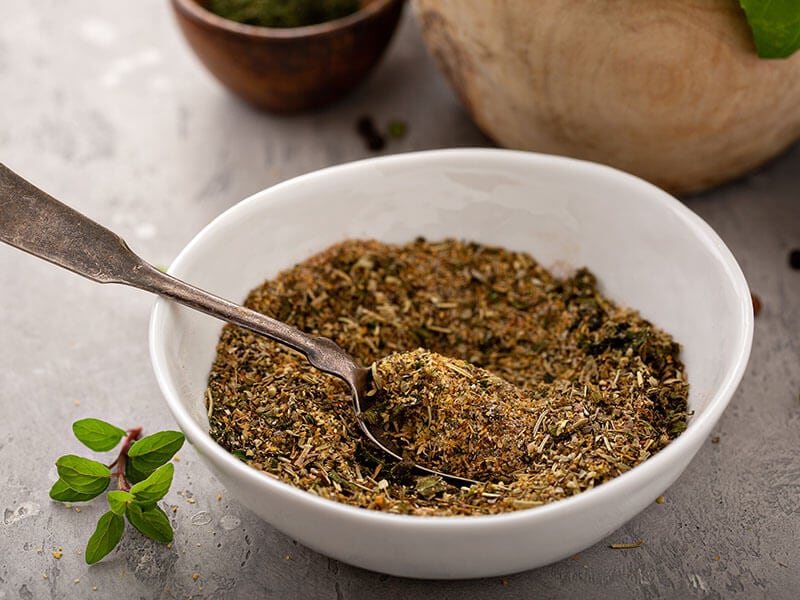 Though not identical, Greek seasoning can be used interchangeably for Italian seasoning in a pinch. Common Mediterranean herbs are included in the blend, such as oregano, marjoram, basil, thyme, and dill.
It's as close as getting the taste of Greece to your kitchen. This dried seasoning gives off a savory and aromatic flavor with a mildly sweet and peppery undertone. The full-bodied profile is such a team player, enhancing everything it's put in.
You'll be surprised just how a sprinkling jazzes up your grilled meats, chicken gyros, and any Greek-inspired recipes. I suggest using a 1:1 ratio when substituting Greek seasoning in place of Italian seasoning for the absolute most delicious result.
On a side note, many variations of Greek seasoning may include cinnamon and lemon peel. So beware of the bright citrus touch in your food.
5. Herbes De La Garrigue
From the Southwestern part of France comes another famous spice blend: herbes de la Garrigue. The condiment is usually made of basil, rosemary, thyme, marjoram, fennel, and sage.
This aromatic blend imparts a more robust and savory flavor compared to Italian seasoning. Despite the hearty addition of sage, fennel, mint, or bay leaves, the mix still pairs well with easy and delicious Italian recipes with ease.
Anywhere you'd like a touch of that rustic French, herbes de la Garrigue might just be the ticket. Moreover, the wonderful fragrance that develops as it cooks will fill your kitchen with joy.
When you crave that rustic French flavor minus the airfare, try herbes de la Garrigue on grilled meat, drizzle it on some home-baked bread, or classic pasta side dishes. With its bold and mesmerizing flavors, the blend does wonders in a variety of slow-cooked dishes.
As this French condiment has a lot in common with Italian seasoning, it's best that you use it as a 1:1 replacement for Italian seasoning. A little goes a long way, but soon enough, you'll start adding it to all your favorite recipes.
6. Creole Seasoning
If you love a little bit of heat to your food, chances are, you may find yourself enjoying the addition of Creole seasoning. The splendid herb blend owns a special place at the heart of Creole cuisine, a melting pot of cooking styles originating in New Orleans.
No wonder this spice blend is a total explosion of flavors that rely heavily on herbs rather than spices. It's very savory, smoky, and peppery in a way that may remind you of barbecues.
Typical herbs that often show up in a Creole seasoning mix are thyme, oregano, basil, and parsley. The fabulous smoky element in its flavor comes from the addition of paprika and smoked pepper.
As a result, the mix is likely spicier than Italian seasoning, but not always. Sometimes, its bright red color is just a result of some mild paprika, so you can have peace of mind using it in home cooking.
Any true Louisiana local will tell you that this rustic blend can be used in nearly all savory dishes. From seasoning popcorn, meat, and seafood to elevating comfort soups, you'd be surprised at how versatile it is.
In most recipes, you can toss in half the amount of Creole seasoning for each amount of Italian seasoning. However, keep in mind that it'll give your food a mild kick, so you might want to start out with a pinch of spiciness isn't your thing.
Make your own Creole seasoning and achieve New Orleans-style cooking at home!
7. Za'atar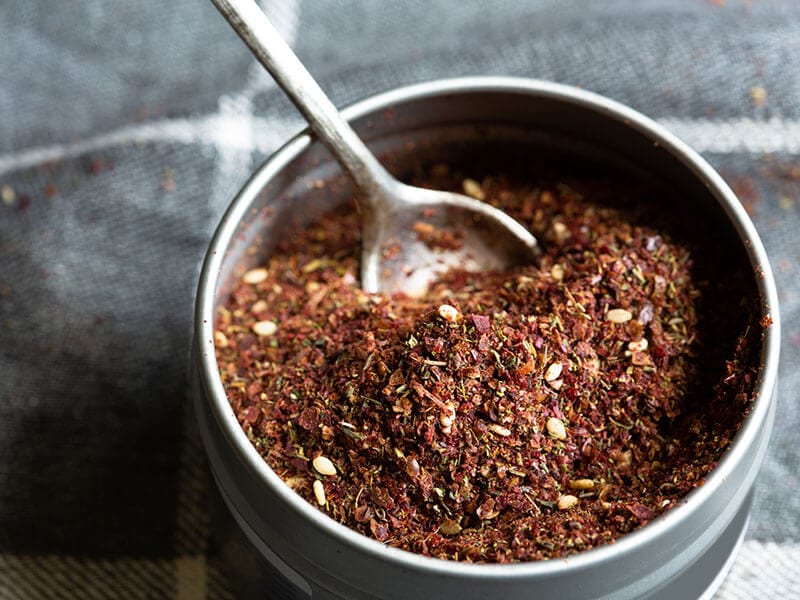 Primarily associated with Middle Eastern and Mediterranean cooking, Za'atar is one of the world's most unique and authentic spice blends. Earthy, herbal, tangy, and salty, there's so much to love about this dynamic blend.
While the ingredient profile varies deeply among regions, Za'atar often features dried thyme, oregano, marjoram, sumac, and toasted sesame seeds for the base.
And as if it wasn't enough, you can also come across dried orange zest, dill, and other wild herbs native to the regions. With each ingredient contributing its special note, Za'atar is chock-full of complex flavors and fragrances.
It's sweet, slightly bitter, and often with a hint of sweetness on an overall toasty essence. Hence, when you're cooking with Za'atar, the spice can hold its own. There're very few savory dishes that won't be enhanced with a dash of this exquisite seasoning.
A typical way to savor Za'atar is to mix with olive oil to create a flavorful, herbaceous marinade. Sprinkle it over chicken, meat, or seafood before cooking, or add a dash over hummus and vegetable salad for a tangy, lemony taste.
One of the things that set Za'atar apart from Italian seasoning is that it's pretty salty. So always be sure to give it a taste test before adding it to your recipe. More often than not, you can use an equal amount of Za'atar when you're all out of Italian seasoning.
Did you ever know that you can use Za'atar in almost everything?
8. Dried Basil, Oregano, And Thyme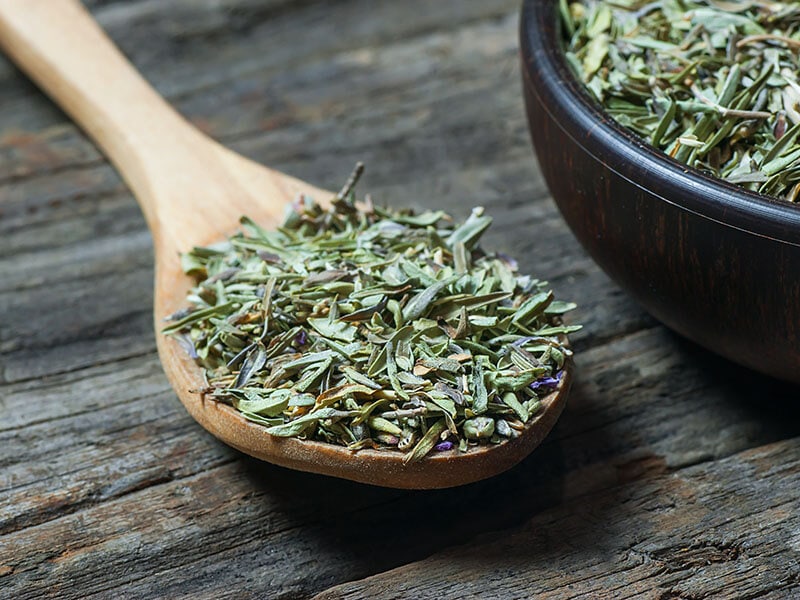 Some of the real magic with Italian seasoning mainly relies on basil, oregano, and thyme. So if you've got this herb trial on hand, it'd be one of the best ways to make up for Italian seasoning's flavor in your recipe.
Basil yields the perfect sweet-and-savory balance with a hint of mint that makes some of the most delicious basil recipes, whereas oregano stands out with its bold and slightly bitter taste. Then, a dash of thyme adds a warm, peppery undertone and a sweet fragrance to the blend.
While you can adapt the proportion to your liking, my suggestion for substituting 1 tablespoon of Italian seasoning is as follows:
½ teaspoon of dried oregano
¼ teaspoon of dried basil
¼ teaspoon of dried thyme
As with other dried blends, all you have to do is mix them up in a bowl. Or else, you can give the mixture a good whirl in the food processor until it's well-combined.
Generally, it's an excellent substitute for poultry and meat seasoning. If it's your first experiment, a good tip is to give the blend a sniff to see if its fragrance will complement the dish.
9. Pizza Seasoning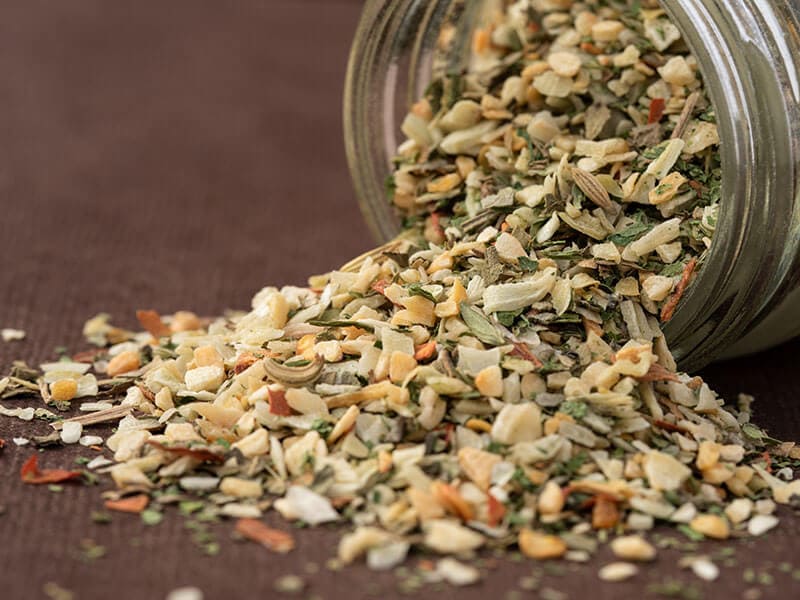 Let's not mess around; pizza is ultimately the best food on earth, especially to carb lovers. As its name suggests, pizza seasoning is primarily sprinkled on pizzas for elevated flavors.
However, there's so much more that this spice mix can do in your kitchen.
Most pizza seasonings contain dried basil and oregano, which are the two main ingredients in Italian seasoning. Other than that, the blend also features onion flakes, smoked paprika, and fennel for an extra boost of flavor.
A sprinkling of pizza seasoning adds a meaty, classic Italian flavor to your plain bland pizzas and garlic bread. It can also be mixed into tomato sauces, soups, baked beans, and delectable pizza side dishes to make them richer and more complex.
For starters, you can replace Italian seasoning with pizza seasoning in a 1:1 ratio. This spice mix works best in low-fat dishes, adding an incredible punch in flavor.
10. Italian Dressing Seasoning Packet
While less commonly available, Italian dressing seasoning packets perfectly make up for those classic Italian flavors. It's a convenient way to jazz up your meal in a matter of minutes. In my household, packets of Italian dressing seasoning are handy to keep on hand.
Generally, the recipe for Italian dressing seasoning varies among different brands. However, it often consists of various ingredients such as herbs, sugar, peppers, onion powder, and other added spices.
As far as the flavor is concerned, this blend yields the perfect fusion of taste to satisfy your hunger. Use it on your favorite snacks, or add a dash on some buttered popcorn, pizza, and casserole.
Of course, this dressing packet is hands-down the best alternative for Italian seasoning when you're whipping up a bowlful of Italian-inspired salad. Each packet is safely-sealed, so rest assured it'll keep well in your cabinet in case of emergencies.
Before popping a packet and adding it to your recipe, make sure to read the ingredient profile. As always, you'll probably need to experiment with a few adjustments to find the best ratio that suits your fancy.
You should start with less than a 1:1 ratio and add more to meet your demand.
11. Homestyle McCormick Culinary Italian Seasoning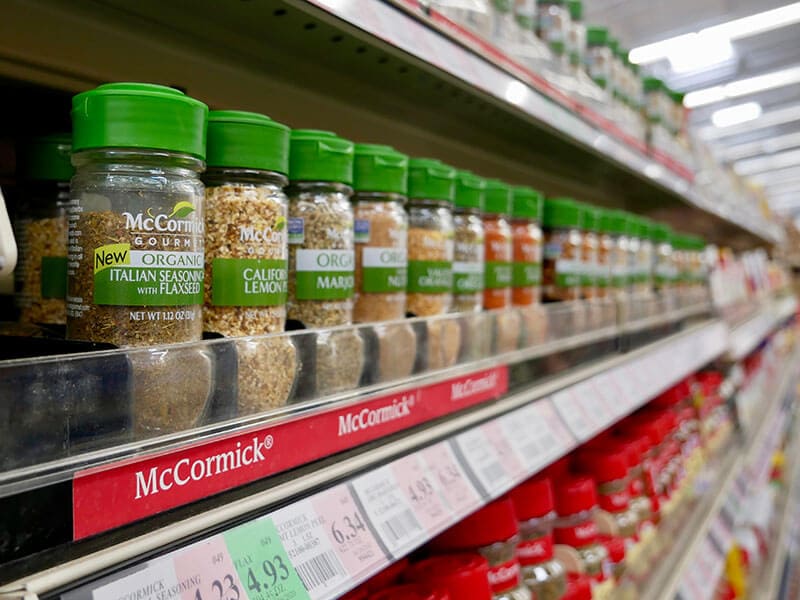 A robust blend of sweet aromatic herbs is just the ticket to bring that timeless authentic Italian flavor to your dining table. The good news is, you can create a similar recipe at home using some of those spices in your pantry.
All the ingredients called for are dried rosemary, savory, thyme, oregano, basil, sage, and marjoram. Take one tablespoon of each and mix the whole thing together.
On a side note, McCormick Italian seasoning is uniformly ground. So for that perfectly fine texture, you should give the mix a quick whirl in your food processor. After that, you're good to go!
Sweet, savory, and absolutely fragrant, the seasoning tastes like heaven on every dish you're preparing. Plus, the flowery tone lends your recipe a subtle and pleasant touch, which is somewhat similar to that of conventional Italian seasonings.
No wonder why McCormick Italian seasoning is a must-have item in many flavor-obsessed chefs' kitchens. As an all-rounder seasoning, this homemade mix goes down beautifully on your Italian-American favorites.
The next time you're cooking some chicken breasts or meatball stews and realize your Italian seasoning jar is empty, try this blend and expect to have your needs met.
12. Easy Homemade Italian Seasoning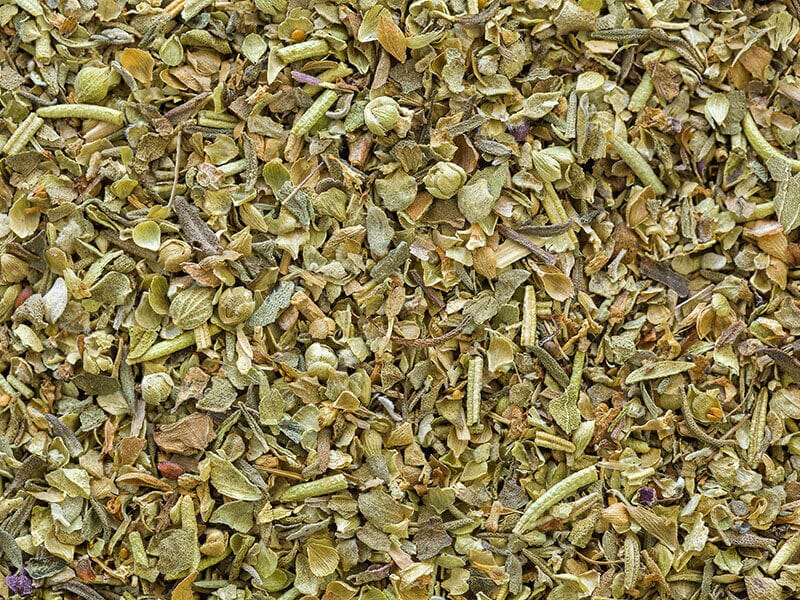 Making your own Italian seasoning blend at home is pretty straightforward, quick, and healthy. Simply put, it's loads better than the store-bought version. This recipe equals 10 teaspoons of Italian seasoning, so you can stash the rest in an airtight jar for later.
Just grab the following ingredients, put them through a blender for 1 minute to create a well-combined, finely ground powder, and you're all set for the next step of your cooking recipe.
2 tablespoons of dried basil
2 tablespoons of dried thyme
2 tablespoons of dried oregano
2 tablespoons of dried rosemary
2 tablespoons of dried marjoram
As you can see, these five primary elements are commonly found in a jar of pre-made Italian seasoning. If any ingredient is missing, just leave it out and continue with the rest.
Besides these herbs, feel free to toss in some red pepper flakes or garlic powder if you want to add more heat. Garlic and onion powder can also be featured to suit your liking. Simply use a 1:1 ratio to get the authentic flavor.
Simple as it is, this DIY recipe yields a wonderful Italian flavor. Use it for your meat, vegetables, or any dish you would store-bought Italian seasoning and expect the best results.
13. DIY Italian Spice Mix With Fennel Seeds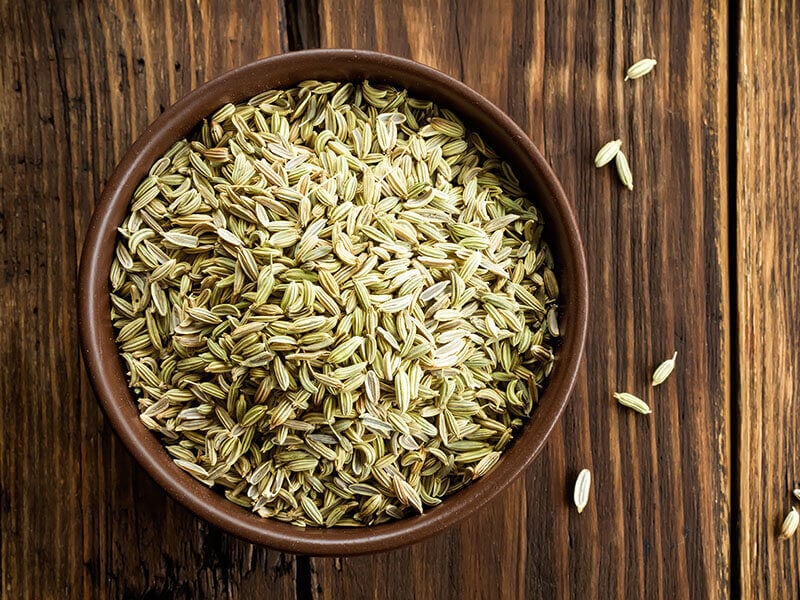 In Italian cuisine, fennel seeds are an extremely popular ingredient. This perennial herb is native to Mediterranean shores and is eaten both raw and cooked in a variety of specialties.
The flavor of fennel seeds is best described as sweet and licorice-like with a delicate grassy undertone. Its mild aroma lends a sunny warmth to nearly any dish, from soups and fish dishes to confectionaries.
To prepare this spice mix, you'll need to assemble the following ingredients:
1 tablespoon of fennel seeds
2 tablespoons of oregano
2 tablespoons of basil
2 tablespoons of thyme
Essentially, all these elements are available in most supermarket spice aisles. Mix it all up with a blender until the desired consistency is reached. Then, it's ready to go in your food.
Besides the essential ingredients in traditional Italian seasonings, the addition of fennel seeds in this DIY mixture can do your health some good. Fennel seeds are a storehouse of vital vitamins, minerals, and nutrients.
Therefore, you might as well make a big batch and stash the rest in an airtight jar for long-term use. At its best, this spice blend keeps well for six months, so you'll never have to run to the store when your Italian seasoning shaker is empty again.
14. Simple Italian Seasoning With Sage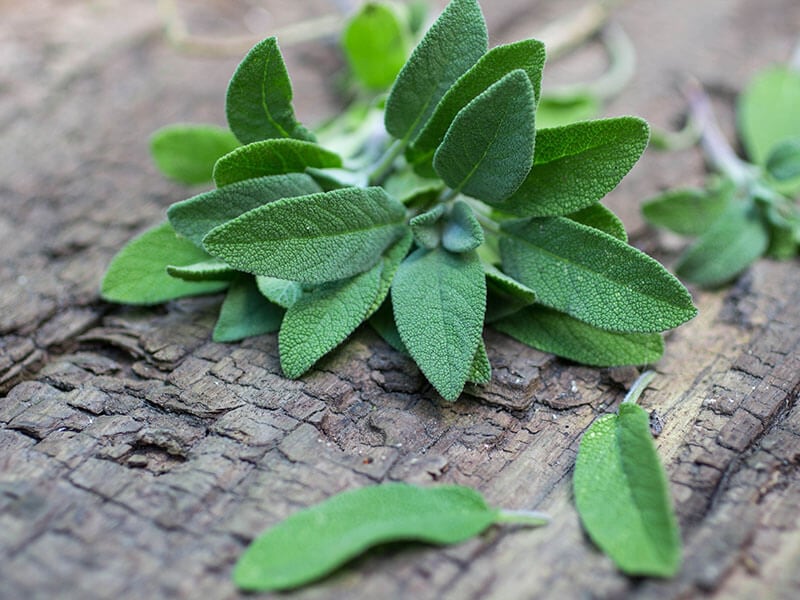 One of the most fragrant herbs in Italian cooking, sage is used generously in dishes like risotto, pasta, roasted potatoes, and fatty meat. It's also part of the mint family and native to the Mediterranean region.
Flavor-wise, sage carries a savory, earthy flavor and a strong herbal aroma for which it's prized. So much so that you'll smell it before starting to cook with it. Its flavor somewhat resembles pine, yet much softer and with subtle citrus notes.
Both fresh and dried sage leaves can be used to create incredible dishes. Perhaps most notable for its use in holiday dishes, sage does a great job at infusing butter, poultry seasoning, and heavy dishes that require a long braising time.
But that's not all the reason to incorporate sage in your spice mix. Known as a "miracle herb," sage is beneficial for treating a sore throat, aiding digestion, and other medicinal purposes. (2)
Creating a spice mix with sage to replace Italian seasoning is a cinch. Here's my quick suggestion:
1 tablespoon of dried basil
1 tablespoon of dried marjoram
1 tablespoon of dried oregano
1 tablespoon of dried thyme
2 teaspoons of dried sage
1 tablespoon of dried rosemary
In case you're missing any of these ingredients, go ahead and continue without it. Chances are, your DIY seasoning blend will still turn out with a fantastic classic Italian flavor.
This combination of herbs and spices can liven up your pasta on nights when you're pressed on prep time for dinner. If you're serving a crowd, feel free to double or triple the recipe. It should satisfy everyone around the table!
15. Homemade Italian Spice Blend With Black Pepper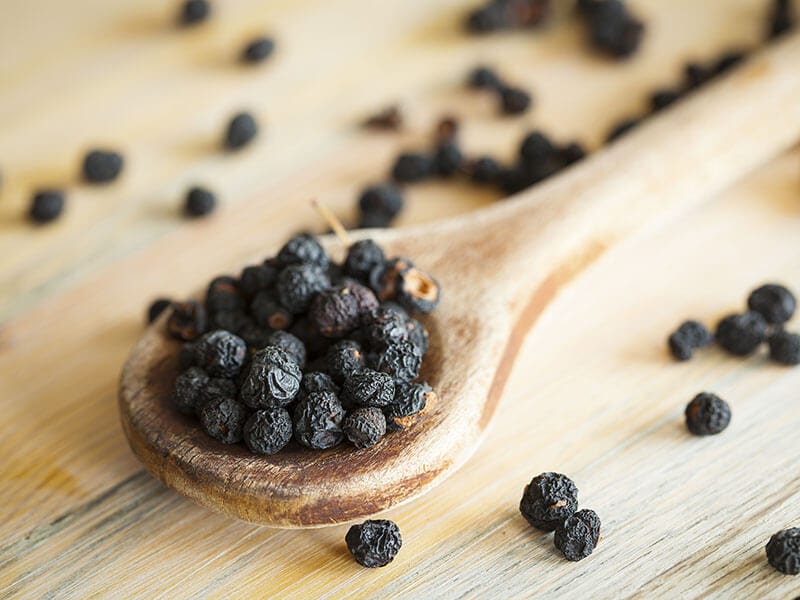 For folks who are craving some spicy food for dinner, adding a dash of black pepper to your homemade Italian spice blend is such a great idea. Besides adding the heat, black pepper also gives the blend extra depth to boot.
Everything that you need for this recipe is probably already in your spice cabinet. Mix them well together and use them right away, or keep them ready in an airtight container away from the sunlight.
3 tablespoons of dried parsley
1 tablespoon of garlic powder
3 tablespoons of dried basil
2 ½ tablespoons of dried oregano
1 teaspoon of rosemary
1 teaspoon of dried thyme
1 teaspoon of onion powder
1/4 teaspoon black pepper
On a side note, in case you don't have any black pepper around to give it a spicy kick, an equal amount of red pepper flake works in a pinch.
It's totally fine to leave out one or a couple of ingredients and just go with others. One of the reasons that this spice blend is all the rage is how easy it is to customize to your taste. Together, it yields a mouth-watering Italian flavor for your meals.
Here's another homemade Italian spice blend with black pepper for your experiment!
16. Elaborate Italian Spice Mix
Whether you're feeling extra-fancy or it's a special occasion, an elaborate Italian spice mix is just the ticket to kick your foodie game up a notch.
With distinctive flavor notes ranging from aromatic to pungent and delicately sweet, this elaborate blend is delicious in its own right. If you're preparing this recipe, keep in mind that it requires a variety of ingredients.
1 teaspoon of basil
1 teaspoon of black pepper
1 teaspoon of red pepper flakes
1 teaspoon of garlic powder
1 teaspoon of oregano
1 teaspoon of rosemary
1 teaspoon of marjoram
1 teaspoon of onion powder
1 teaspoon of thyme
As with other DIY mixtures, you'll need to give these spices and herbs a good whirl in the food processor before using them. This recipe yields around 9 teaspoons of Italian seasoning, which might be a bit abundant for your meals.
Thus, it's best to store it in a cool, dark, dry place for the next time. Rich, complex, and chock-full of herbaceous flavors, this blend is definitely your best shot at substituting Italian seasoning.
Italian Seasoning & Italian Seasoning Substitutes Recipes That Are Basically Italy On A Plate
When it comes to recipes with Italian seasoning, the options seem to be endless. These mouth-watering dishes will transport you to Italy without leaving the comfort of your kitchen.
Fall-apart, rich, and tender tomato beef sauce is an all-time classic meal. Adding a pinch of Italian seasoning can complete your dish, giving it a wonderful Italian essence.
The beauty of this slow-cooked recipe lies in the little prep that it takes. Plus, as it's left to bubble, the flavors meld and get deeper, creating a satisfying taste that'll satisfy the fussiest eaters around.
Let's be real! Calzones are a seriously underrated treat. Similar to the much-appreciated pizza, a typical calzone is an oven-baked pizza folded in half so that all the good stuff stays inside.
Sprinkle some parmesan cheese, Italian seasoning, and olive oil to give the dish a rich, complex flavor. You can serve it with a simple side of marinara for dipping or a green salad to balance out the savory taste.
No hassle since you can learn this incredibly easy calzone recipe!
This easy, fulfilling chicken marinara casserole is simply comforting food at its best. In this treat, chicken soup studded with cooked chicken creates a rich and savory meal that you'll be craving for in those chilly days.
A dash of Italian seasoning is the hassle-free and quick way to flavor your casserole and turn it into a classic culinary masterpiece. Plus, it's a wonderful and simple leftover chicken recipe that anyone can make.
Delicious, easy, and cute antipasto cups are the ultimate starter for any fun outdoor activity. These bite-size treats typically feature antipasto ingredients like basil, mozzarella, and olive stuffed in salty homemade salami cups.
Each bite delivers a wonderful combination of flavors and textures. One thing I love about this authentic Italian appetizer is how easy it is to customize to one's taste. 20 minutes in, and you got yourself something impressive to entertain the crowd.
FAQs
This authentic blend is surely one of the best ways to add a Mediterranean punch to your recipe. Take a glance at these questions and see if you've known all things there are about Italian seasoning.
Expectation Vs. Reality
If you don't have a jar of Italian seasoning in your drawer right now, you know what else to reach for! All the substitutes above are perfect for everyday use, so you don't have to give up on a recipe when Italian seasoning isn't at your disposal.
Have fun, play around with these herbs and spices, and I bet you'll soon discover some new favorites. In case there's literally no seasoning to use, and you're pressed on time for dinner, feel free to go ahead and continue the recipe without it.
What's your favorite Italian seasoning alternative of all? Did your dish get kicked up a delicious notch? Tell me all about it right in the comment box!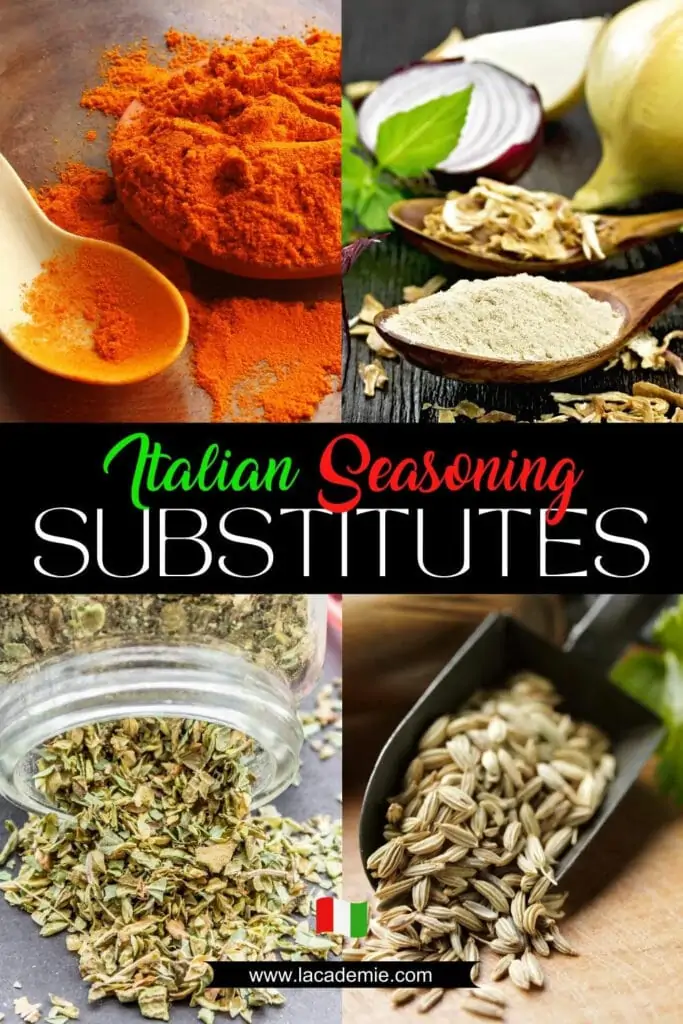 References
Rizvi, S., 2021. Health Benefits of Mixed Herbs – Parhlo.
Wisconsin Horticulture. 2021. Sage, Salvia officinalis.