The most popular Vietnamese noodle dishes are sensational and comforting food. In Vietnam, there are countless places selling these delicacies, from big restaurants to small food vendors. But if you want to eat like locals, small food stores are preferable choices.
On the other hand, as there is a wide array of inviting Vietnamese signature food with noodles, choosing the ideal dishes to start your Vietnamese food adventure might be a bit overwhelming. So let me introduce the top 25 noodle delights that you wish you had known sooner!
Trying these dishes is also an excellent way to practice your chopstick skill. Wait no more! Let's dig into the most famous and popular Vietnamese-style noodle treats and get ready to be amazed!
The Quintessence In Vietnamese Noodle Delicacies
Authentic Vietnamese recipes are not only about rice-based dishes. The unlimited creativity in cooking is also proven through their huge array of noodle delights. Moreover, different regions in the country have different ways of creating noodles and noodle-based dishes.
Therefore, there are countless numbers of Vietnamese delicacies with noodles. But if you are looking for the most famous and popular ones, the 25 ideas below are 100% satisfaction guaranteed.
Total time: 3 hours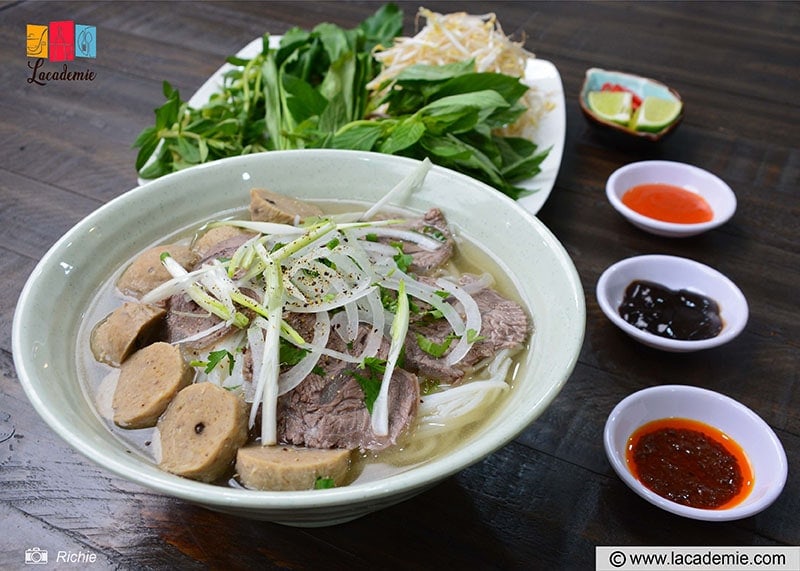 When it comes to the most famous soup recipe in Vietnam, Pho (pronounced "fuh") is the top option. It is considered Vietnam's national dish that consists of noodles, beef-bone broth, beef meat, and toppings.
There are 2 versions of Pho in Vietnam: Pho Nam (from Southern Vietnam) and Pho Bac (from Northern Vietnam). Pho Bac is the original version that originated from Nam Dinh province in the early 20th century.
The noodles in Pho (or "banh pho" in Vietnamese) are totally different from Japanese ramen. Banh pho is made from rice, while ramen is wheat-based noodles. The soup's flavor is very complex due to the slow-simmering of beef bones and exotic spices.
Overall, it is a flawless balance of sweet, savory, spicy, and citrusy in every bite if you eat it like a local. A bowl of Pho is generally served with many garnishes, like herbs, bean sprouts, and accompanied sauces. However, the topping and garnish are varied based on Pho variants.
Total time: 1 hour 30 minutes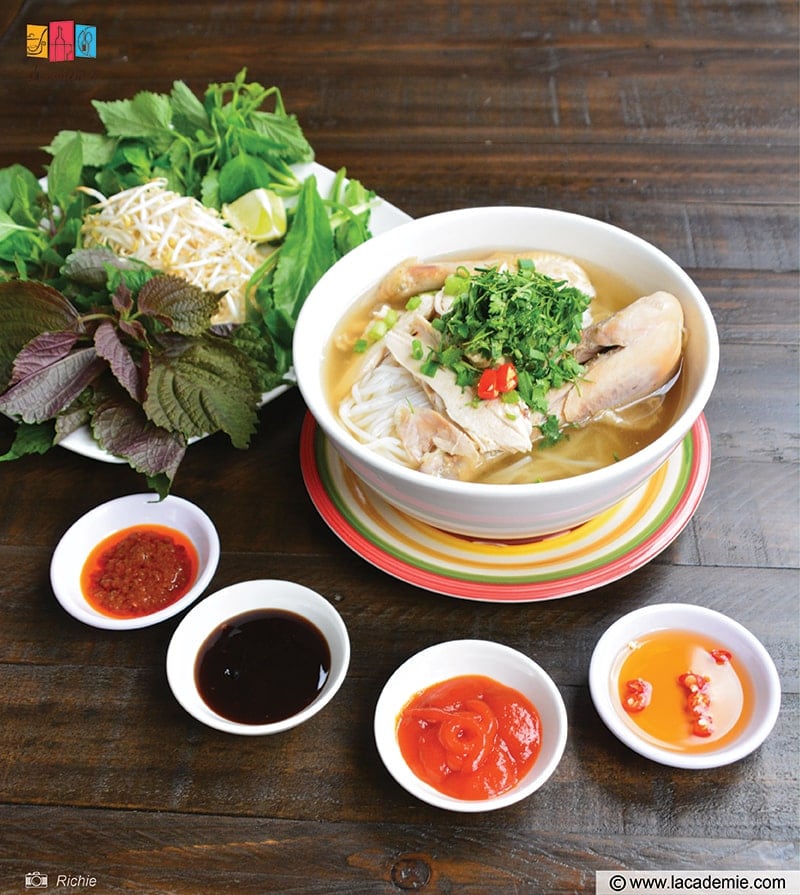 Not a fan of beef? You can still enjoy this amazing chicken recipe in Vietnamese style. Though it is not popular as beef Pho, this variant is still a favorite choice in Vietnam. What's better, chicken Pho is less time-consuming, which is ideal for a family meal.
The reason is chicken broth doesn't require a long time to simmer. With similar ingredients as beef Pho (except the meat and beef bone), this humble soup still wins everyone's heart. It is also a nutritious meal with lean protein, making it one of the healthiest Vietnamese foods.
Apparently, spices and aromatics decide the quality of Pho. Roasted/baked ginger, shallot, and onion with a bag of spices are essential to creating an authentic Pho taste. To make a clear broth, simmering is the key. Plus, don't forget to scoop off the scrum while cooking it.
Finally, enjoy it with aromatic herbs and sauce for a flavorful chicken Pho.
Total time: 1 hour 50 minutes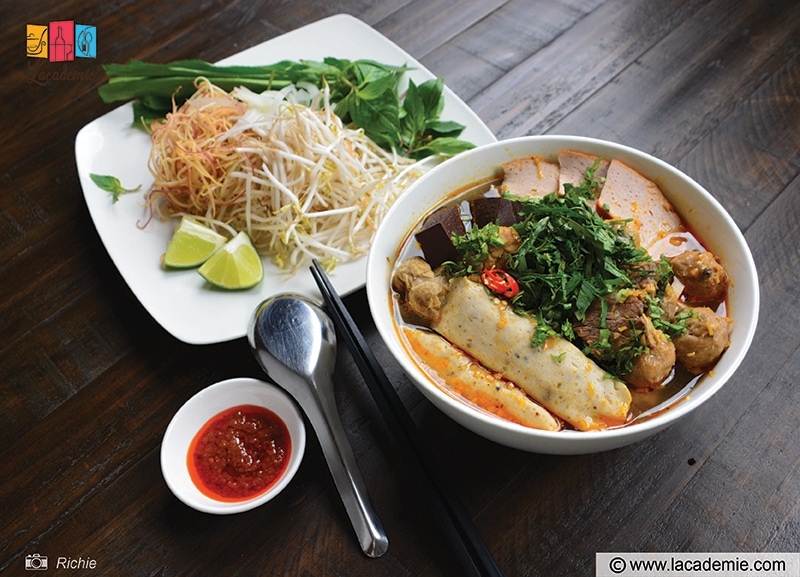 Another famous beef-based Vietnamese noodle dish is Bun Bo Hue. This delicacy's origin is Hue – a city in central Vietnam, hence the name. Though it is also a beef noodle soup, Bun Bo Hue is totally different from Pho due to the broth and rice noodles.
The critical ingredients in the soup are lemongrass, fermented shrimp sauce, and spicy chili oil (also known as sate paste), creating rich, salty, spicy, and umami flavors. On the other hand, the noodles in Bun Bo Hue are thicker and have a rounder shape compared to Pho noodles.
The toppings of this delight are typically beef shank/brisket, pork knuckles, and pork sausage. As it is loaded with protein and calories, this recipe is not a great idea for dieters. But it is worth the risk of gaining weight because of its heavenly-delicious taste.
Total time: 1 hour 30 minutes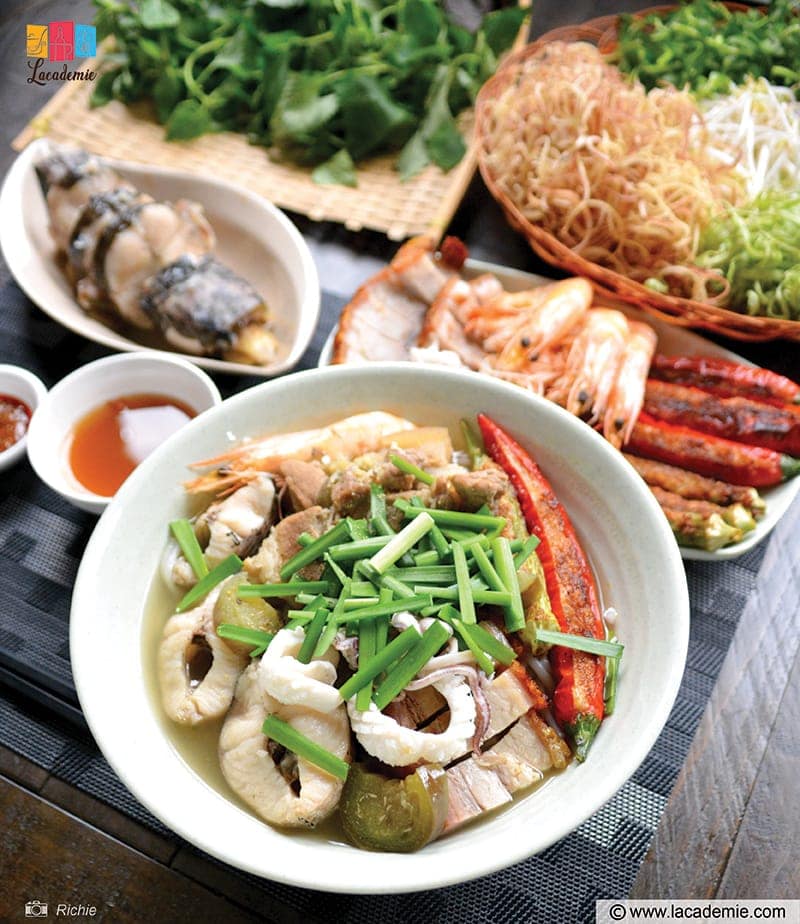 Fermented fish noodle soup is truly a dish for adventurous eaters due to its unique taste. You can guess the main ingredient right from its name, which is fermented fish (moustached danio and snakeskin gourami). And you can buy them in Vietnamese-theme stores or order online.
Therefore, its intense aroma is what will shock you first. However, once you take a bite and get familiar with its delicate flavor, you will be thrilled.
Bun Mam comes from the Mekong Delta region in Vietnam, where fish is a staple. They also have many ways to preserve fish, and using these fermented fish to create a specialty is not a challenging job for the locals.
Moreover, this Mekong Delta treat stands out from other Vietnamese noodle dishes thanks to its various toppings, such as fish, crispy pork roast, squid, shrimp, stuffed okra, etc.
For a fulfilling experience, serve it with many vegetables, namely water lily, shredded banana blossom, bean sprouts, and more.
Total time: 1 hour 30 minutes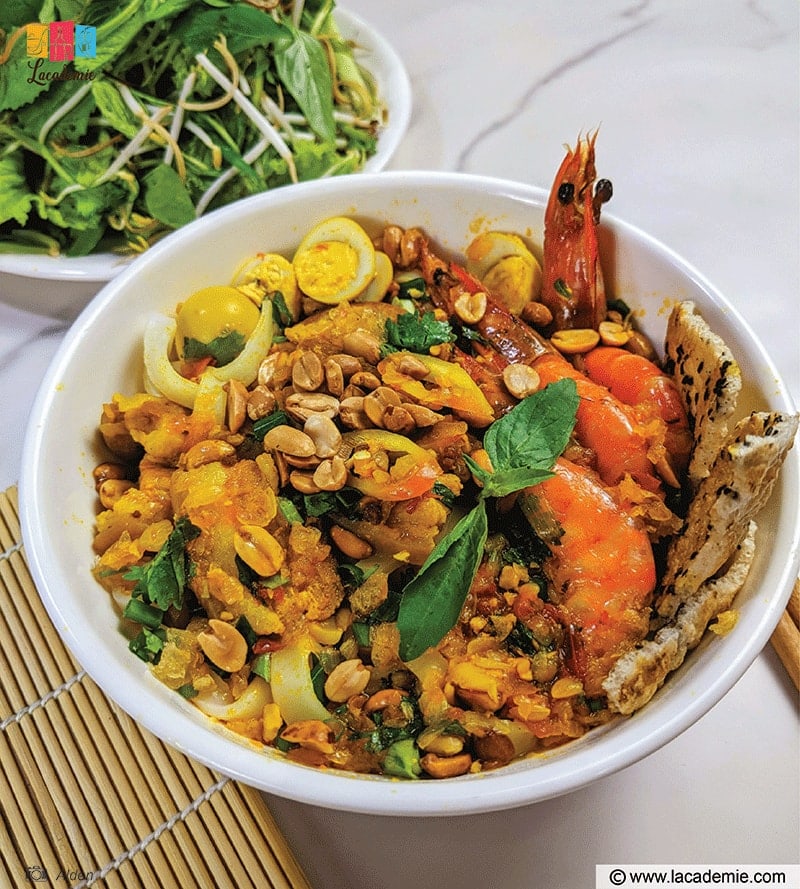 The specialty from central Vietnam is not just about spicy beef noodle soup. Let me introduce one signature dish of Central Vietnam called Mi Quang (literally meaning Quang noodle in English). Similar to Bun Bo Hue, the name of this specialty also implies its origin, which is from Quang Nam province.
Nowadays, Quang noodle soup is widely available across Vietnam, in restaurants or street vendors. FYI, the natives usually enjoy it for breakfast or lunch.
This specialty can be considered the easiest-recognized noodle dish in Vietnam thanks to its characterized yellow noodles. But you can also find them in other colors, such as white or red-orange.
From the first look, Quang noodle soup consists of wide yellow noodles covered in a light yellow broth infused with turmeric and topped with shrimp, pork, peanuts, and sesame rice crackers. So it is a complex treat with tons of flavors and textures.
Like other noodle soups, it is incomplete without additional vegetables and herbs. The ideal veggies for Quang noodle soup are lettuce, peppermint, beefsteak plant, and banana blossom.
Total time: 2 hours 30 minutes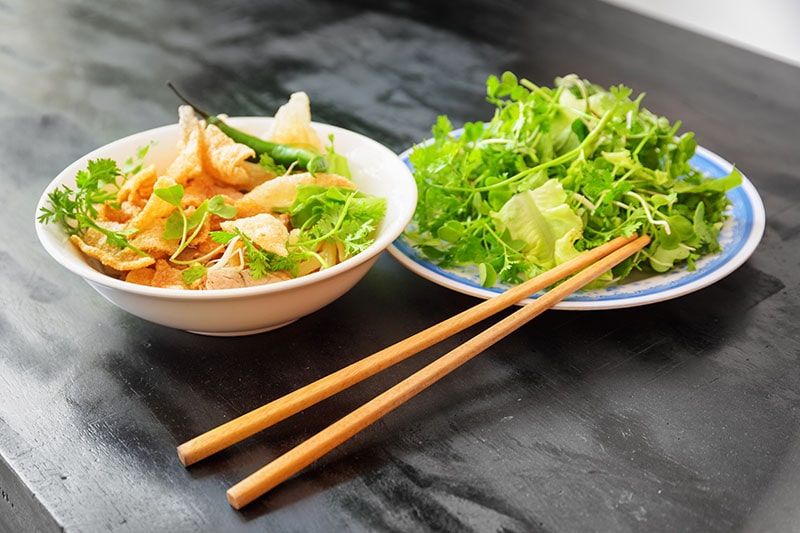 Cao Lau is a classic noodle delight in Hoi An city (in Quang Nam province). It is also a unique local dish that you may not find outside Hoi An city.
The reason is these noodle strands are rice noodles soaked in special Hoi An lye water. That's why the texture and color of authentic Cao Lau noodles are distinctive compared to other Vietnamese noodle-based items.
But don't fret; you can still recreate it at home by using Udon noodles. The broth is made from pork bones, shallots, onions, and seasonings. The topping of Cao Lau is typically marinated pork (pretty similar to char siu pork), greens, herbs, and bean sprouts.
For serving, it only requires a small amount of broth poured over the noodles and toppings. Remember to use chopsticks to give all contents a good mix before eating. You can also adjust the taste by adding lime and chili while consuming it.
Cao Lau noodles are not only delicious, but it also shows Hoi An culinary culture and history.
Total time: 2 hours 30 minutes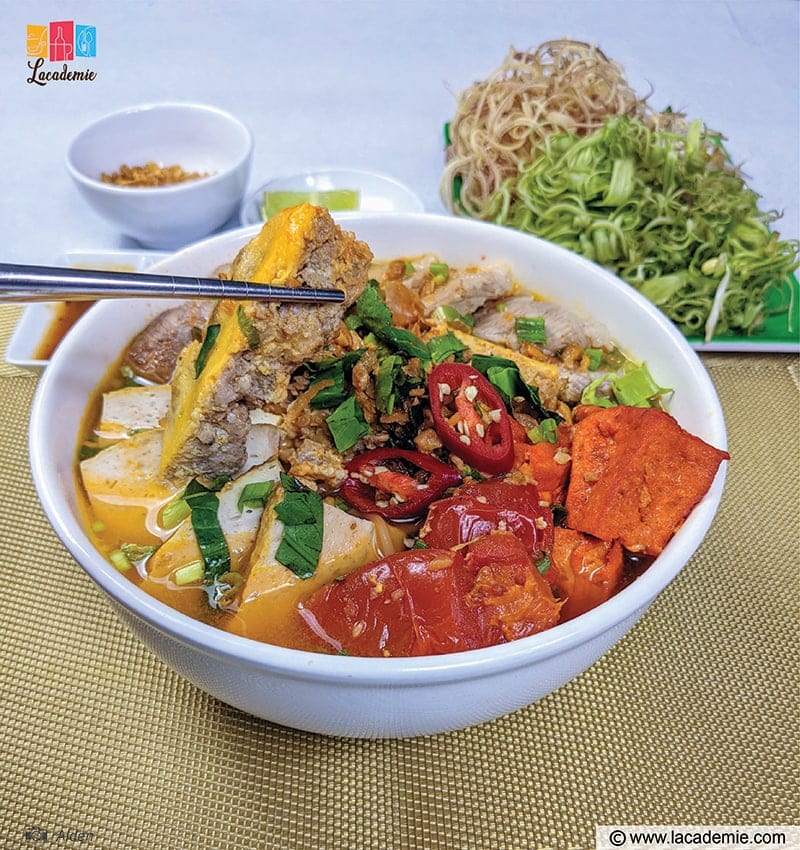 If you crave soup with a balanced sweetness and tart flavor, crab noodle soup is the best-loved choice. Plus, it is also a tasty street food in Vietnam at a very affordable price.
But in case you prefer a home-cook one, try this recipe this weekend! It might take a bit of time and dedication, but it is worth your effort. Bun Rieu is famous for its vibrant reddish-orange hue, which comes from tomatoes and curry seed oil.
The origin is believed to be in the North, particularly from the Red River Delta. Of course, there are some dissimilarities between South and North Bun Rieu, such as their tastes, topping options, and vegetables served aside.
In this recipe, it is a Southern-style Bun Rieu. Overall, a bowl of crab noodle soup is loaded with rice vermicelli, crab paste (which refers to "rieu" in its name), pork, and tofu.
Total time: 2 hours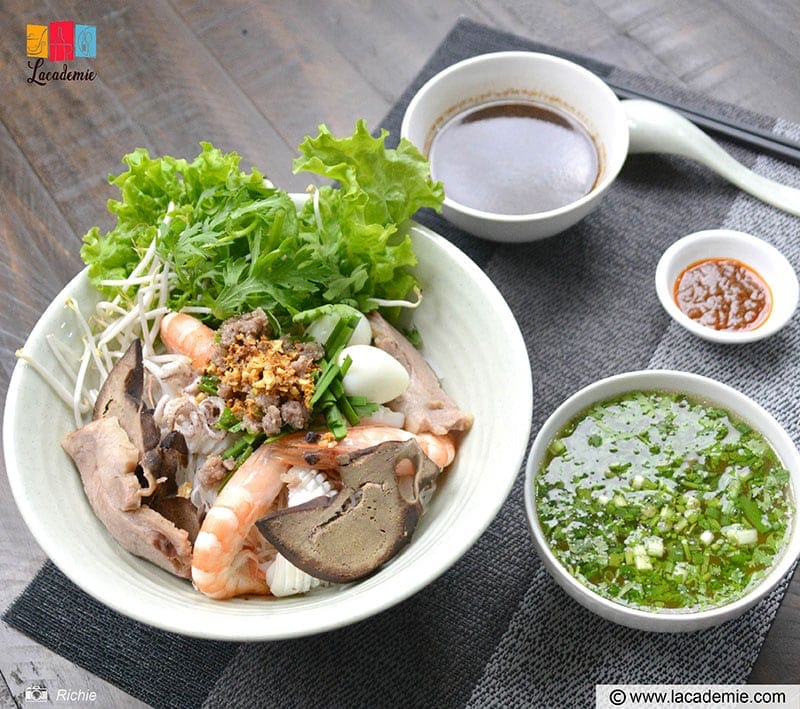 Hu Tieu Nam Vang is a prominent noodle soup in Saigon and other places in the Southern part of Vietnam. In fact, its true origin is not from Vietnam but Teochew people living in Phnom Penh, Cambodia, who immigrated to Vietnam.
The noodle is also made from rice flour, but its texture is tougher and chewier than other kinds. The toppings are diverse, such as ground pork, pork liver/intestines, prawn/shrimp, and quail eggs. But the critical part to deciding its tastiness is the broth.
Pork bone, once again, is the key component in Hu Tieu's broth. It is also flavored with dried shrimp and squid to create a special taste. In Vietnam, you can also find a dried version of Hu Tieu Nam Vang with broth served in a separate bowl.
For more information, Hu Tieu strand is a widely-used ingredient for other noodle specialties, such as Hu Tieu Bo Vien (with beef ball) or Hu Tieu Bo Kho (with beef stew in Vietnamese style). Similar to the above ideas, common veggies to serve with it are scallions, herbs, and lettuce.
Total time: 1 hour 30 minutes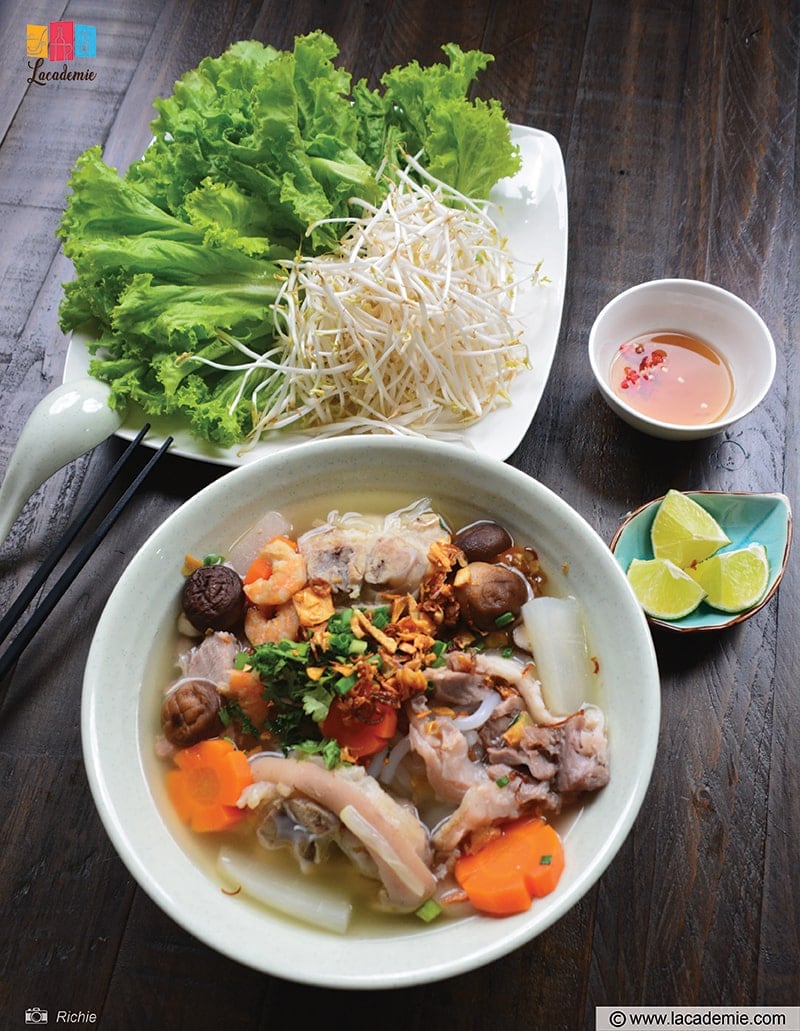 Thick noodle soup comes in many variants, but let's start with the most basic one with pork knuckles and pig trotters!
Apparently, the flavor of these 2 thick noodle soups is dissimilar. But they share the same characteristic: the round, thick noodle strands. They look similar to udon noodles, but the ingredients to make them are different as udon is made from wheat, while this one uses rice flour.
This Banh Canh variant is also a specialty in Trang Bang town in the southeastern areas. What's more, this recipe is not challenging to prepare yourself.
Quick fact: Banh Canh, in English, literally means "soup cake", in which "cake" refers to "banh", and soup is "canh".
Total time: 1 hour 15 minutes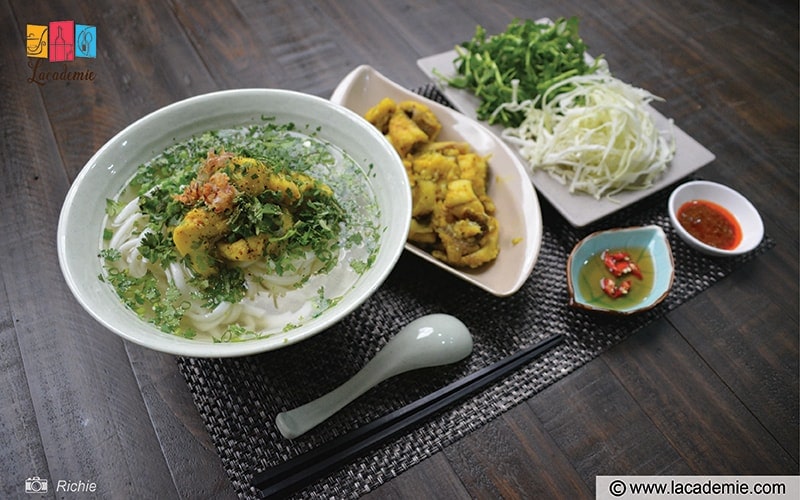 This is another variety of thick noodle soup containing fish, herbs, and pork-based broth. The fish that Vietnamese typically use is wild-caught snakehead fish (or "ca loc" in Vietnamese).
The fish meat is cooked perfectly to keep it firm yet flaky. To increase the flavor, marinating the fish is a must. Vietnamese generally indulge in Banh Canh Ca Loc for their lunch or dinner. And it is best to enjoy hot.
On the other hand, this Banh Canh version is a rustic noodle soup from Central regions, while the above dish is prominent in the Southern parts. You can also find Banh Canh Ca Loc in Saigon, but the flavor is a bit changed to fit the Southern people's taste preferences.
Overall, this dish features a flavor harmony with soft noodles, savory broth, and flavorful fish pieces. Sprinkle some chopped herbs on top and pair your noodle soup with a chili fish sauce; they are amazing!
Total time: 1 hour 15 minutes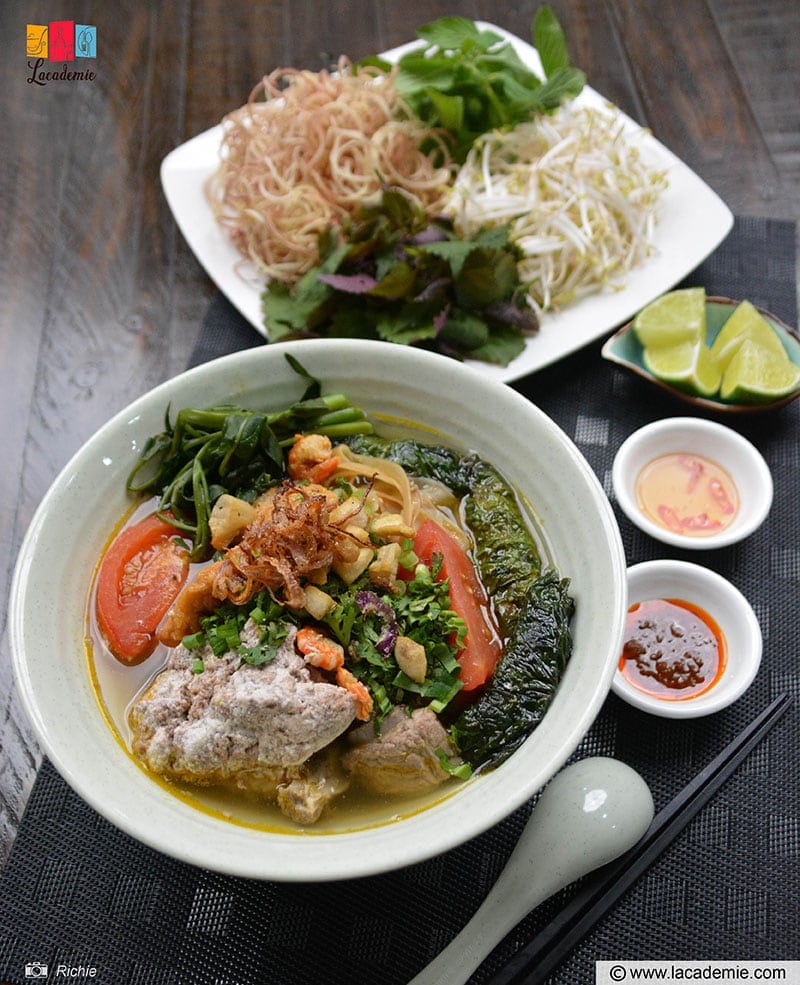 Don't mistake this specialty for crab noodle soup. Look closer; you will see the key difference between the noodles of these 2 dishes.
Banh Da Cua comprises red and transparent noodles with flat and thin shapes, while Bun Rieu Cua uses white rice vermicelli (aka "bun" in Vietnamese).
The texture of these 2 kinds of noodles is also different. Banh Da noodles are soft and chewy, while bun is soft and slippery. However, the versatility of bun is much better than Banh Da noodles because you can only use it for this delicacy.
A bowl of red noodle soup is a harmony of colors with various toppings. It includes tomatoes, minced crab, betel leaf rolls, and water spinach, creating a dish full of texture and flavors.
FYI, red noodle soup with crab is a signature food hailing from Hai Phong province in Vietnam's northeastern areas, which is normally served as a breakfast dish.
Total time: 2 hours 45 minutes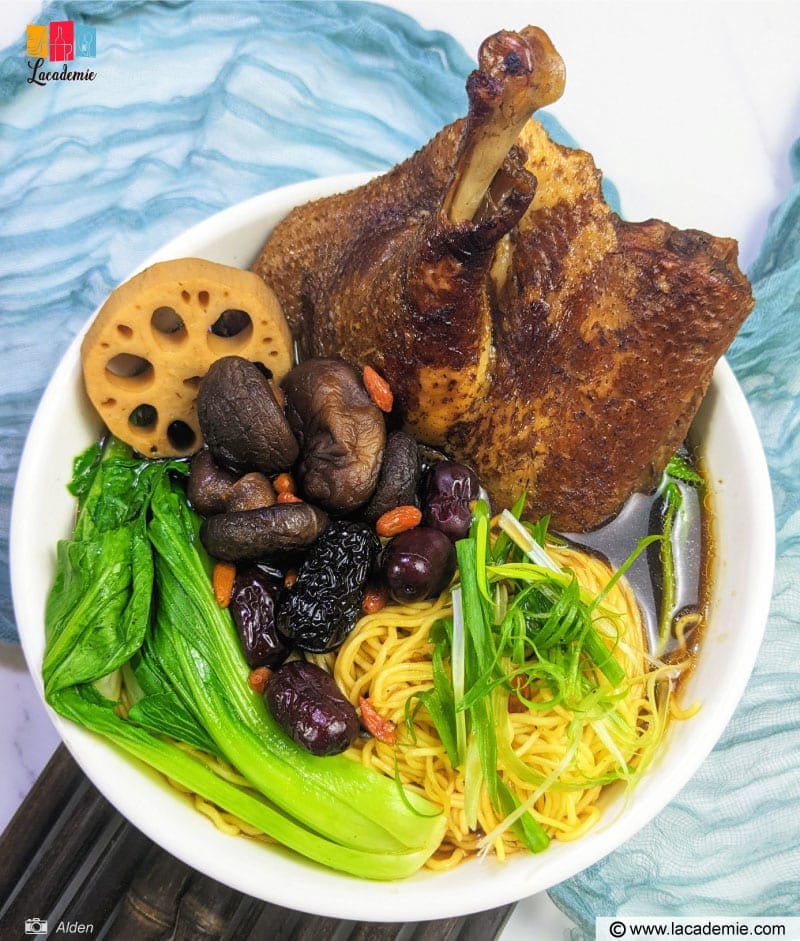 If you are willing to try an exotic noodle soup infused with numerous medicinal herbs, I have an excellent dish for you. It is duck noodle soup, which "duck" means "vit".
This is a delicacy with Chinese root. In China, people love to prepare food with medicinal ingredients to cure disease/sickness and stay healthy. So this duck noodle soup can be seen as a food therapy to improve your health and mood.
The dark broth features a very complex flavor that you can't find in other Vietnamese noodle delights. Therefore, this soup may be strong for some people.
Next to the flavorful soup are fall-off-the-bone duck leg and bok choy, which altogether offer a balanced treat with high nutrients.
Total time: 1 hour 30 minutes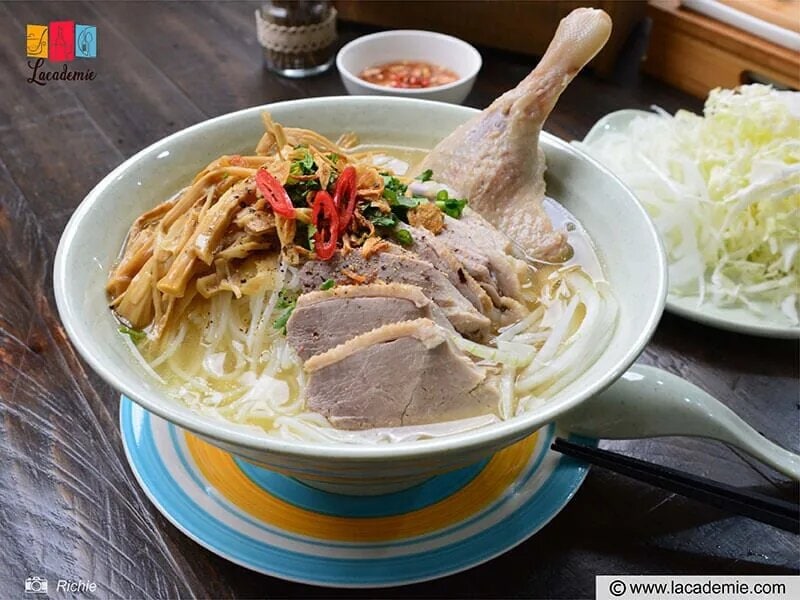 What makes this dish different from the above noodle soup is the appearance of bamboo shoots. No medicinal herbs are used to make the soup; therefore, the soup itself is pretty clear and fatty.
This Northern Vietnam-origin food is equally loved in the Southern part as well. It comprises rice vermicelli, duck, and bamboo shoots as the main ingredients. Plus, fresh herbs are usually served in noodle dishes. In this case, Vietnamese coriander is a common choice.
You can use any form of bamboo, like dried, fresh, or canned, but dried ones are a typical option in Vietnam. They don't have a mild sweetness like fresh ones, but they can add a bit of texture (chewier) and strong flavor to the dish.
This duck noodle soup with bamboo shoots is incomplete without an accompanied ginger dipping sauce. To enjoy this delicacy properly, you need to dip duck slices into the sauce. They have a sharp zingy taste that nicely pairs with fatty and tender duck meat.
Get a closer look at preparing homemade duck and bamboo shoot noodle soup!
Total time: 1 hour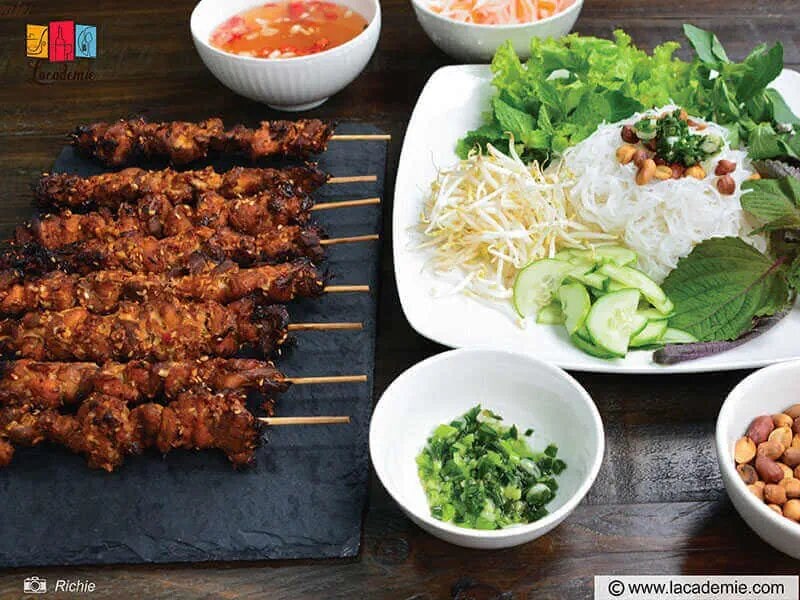 Grilled pork with rice noodles (or Bun Thit Nuong in Vietnamese) is not a dish that comes with soup. Instead, it is special for its Vietnamese-style sauce that you need to pour on top before eating.
It is a specialty from the Southern part. The main components to create a perfect bowl of Bun Thit Nuong are grilled marinated pork, spring rolls, pickles, spring onion oil, and vegetables. Therefore, it looks so fresh and appealing.
The abundance of vegetables and herbs is impressive. The typical veggies and herbs for this recipe are mint, Vietnamese balm, perilla, lettuce, cucumber, etc. However, it might be hard to find all of these veggies outside Vietnam, so you can use basil, coriander, or salad instead.
For the pork, you can cook it on a charcoal grill, which is a common way to prepare Bun Thit Nuong in the country. That's why the authentic version is loved for the pork's smoky flavor. But if you don't have a charcoal grill, you can bake the meat in the oven until golden brown.
Let's follow this talented Vietnamese chef to recreate grilled pork with rice noodles at home!
Total time: 30 minutes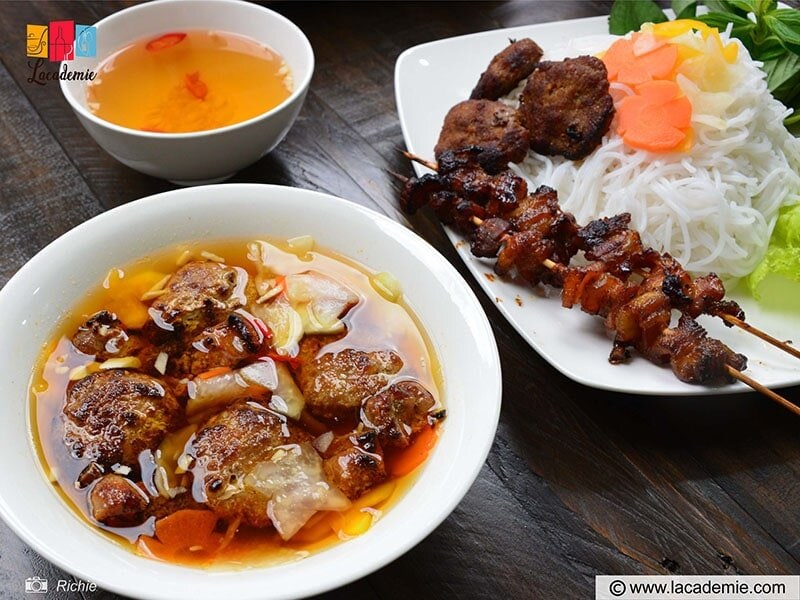 Is it a similar dish to the above recipe? No, it's not. Though the main ingredients are also grilled pork, rice vermicelli, veggies/herbs, and sauce, the way to consume Bun Cha is totally different. Frankly speaking, this is a Northern version of Bun Thit Nuong.
If you travel to Hanoi – the capital of Vietnam, you don't want to miss this signature dish. FYI, "bun" is vermicellis, and "cha" is grilled pork patties. In Hanoi, the natives usually enjoy it as a lunch, but you can also find some places selling it all day, such as in Ho Chi Minh city.
In Bun Cha, they serve the meat patties and noodles in a separate bowl. You need to dunk the vermicelli and the grilled pork into a small bowl of sauce, then pair it with some herbs and veggies to enjoy the full flavor and aroma of Bun Cha.
In general, a bite of this noodle dish is loaded with savory, sweet, and citrusy flavors that you can't get enough of.
Is it hard for Americans to make delicious Bun Cha? You can check this instruction to prepare it.
Total time: 1 hour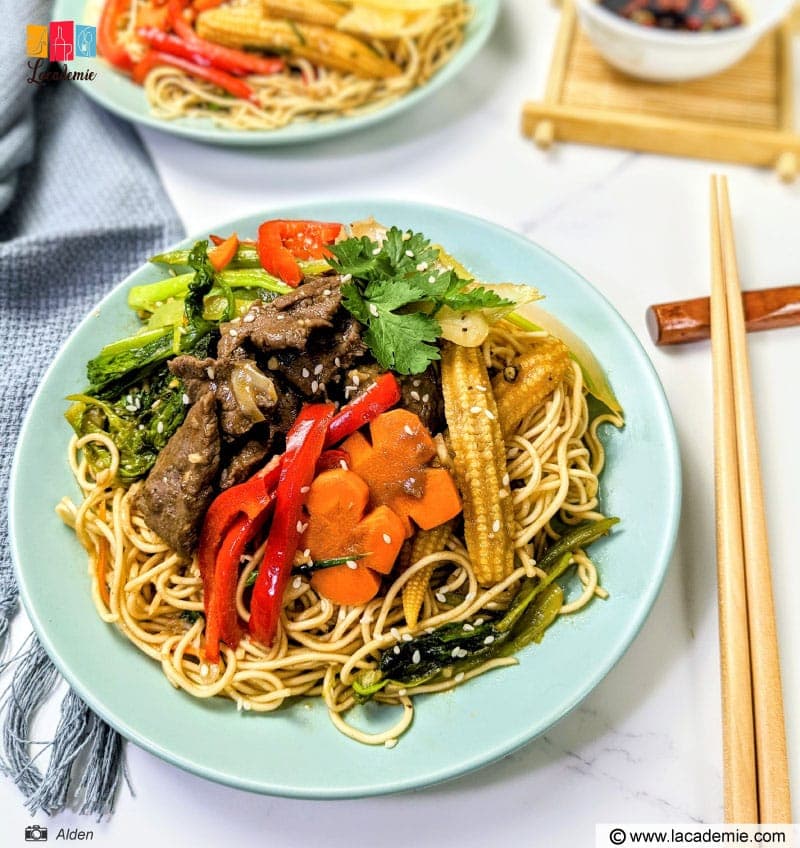 The next recipe is straightforward because the ingredients are easier to find in the USA or other Western countries. The kind of noodles that you opt for is egg noodles, which are also inexpensive.
If you don't like egg noodles, you can opt for Pho noodles (which I will discuss in the following recipe) or Hu Tieu strands.
Besides, beef and vegetables like carrots, leaf mustard, celery, etc., are critical components to enhance the vibrant visuals and nutrition. The veggies are customizable as well, so feel free to choose your favorite ones, like cabbage, bok choy, or mushrooms.
However, the main star of this treat is the stir-fried sauce. It is a critical part to ensure your dish is well-infused with umami, savory, and lightly sweet flavors.
Total time: 55 minutes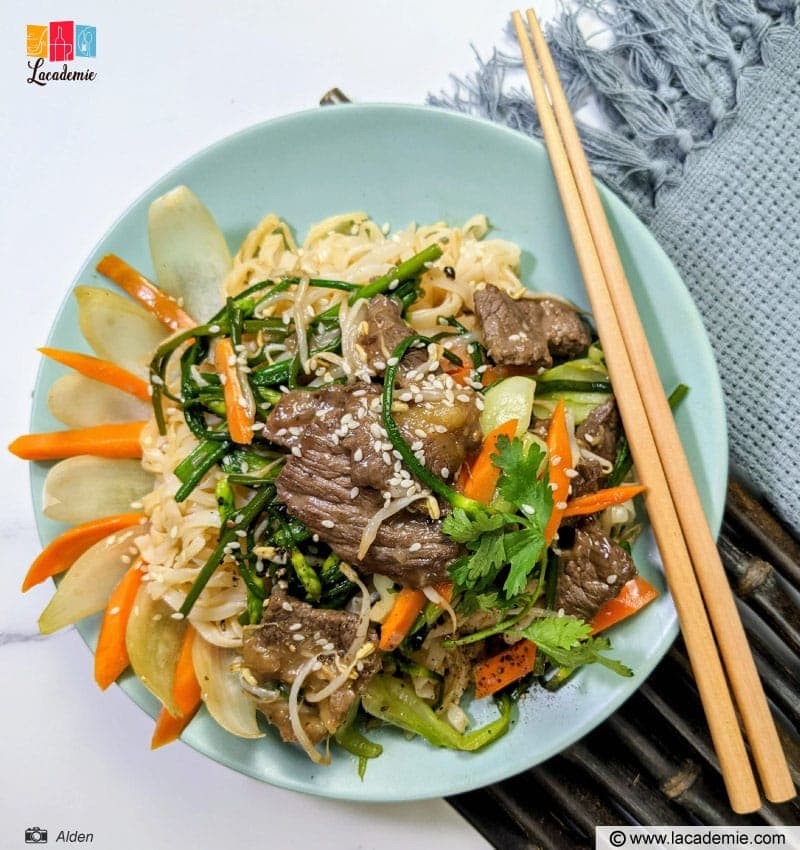 Stir-fried beef can pair with different types of Vietnamese noodles. Here is a version made with white rice noodles named Pho Xao Bo. And this is an excellent daily meal since it doesn't ask for any fancy ingredients like the above cooking idea.
This variant of Pho is even easier than chicken Pho. Within less than 1 hour, you can whip up a savory stir-fried noodle dish.
To make your stir-fried noodles even more delicious, you should marinate noodle strands with sauces, seasonings, and an egg. The last (but not least) component for a complete dish is the accompanying sauce, which can be soy sauce, chili sauce, or sate sauce.
Total time: 25 minutes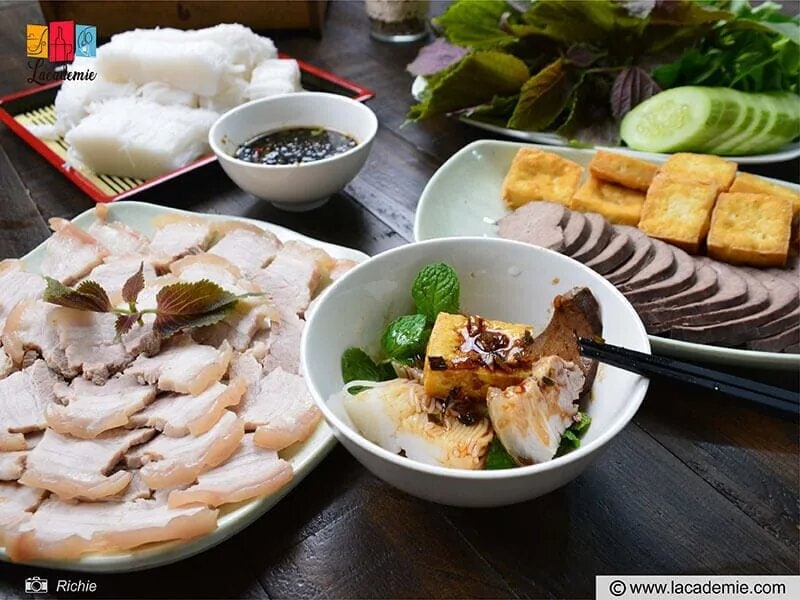 Here is a little head-up: this noodle dish is not for everyone! But if you dare to try one of the most exotic Vietnamese sauces called shrimp sauce (aka "mam tom"), Bun Dau Mam Tom is worth a shot!
In general, this is a specialty of the Northern Vietnamese people. Its popularity is also widely spread to the Southern regions so you can easily find a store or restaurant selling this delicacy.
In Hanoi – where you can find the most authentic Bun Dau Mam Tom, diners can enjoy it as a street food. Served on a round-shaped bamboo tray (called "met" in Vietnamese), this delight is also attractive with multiple components.
Unlike other Vietnamese noodle dishes, the noodles in this specialty are pressed and shaped in chunks, creating a firm texture. The other ingredients in a fulfilling tray of Bun Dau Mam Tom are boiled pork slices, pork offal, cucumber, and various kinds of herbs.
This dark purple sauce is an indispensable part of this specialty. It is made from fermented shrimp. The sauce has a pungent and stinky smell that many tourists feel uncomfortable on the first contact. But once they tried it with noodles and fried tofu, every bite was magical.
For a perfect shrimp sauce to enjoy like a local, you need to add sugar, kumquat juice, and/or chili. Adjust to taste based on your liking.
The thick purple sauce (mam tom) is an indispensable part of this Vietnamese specialty, but not everyone is willing to try.
Total time: 2 hours 45 minutes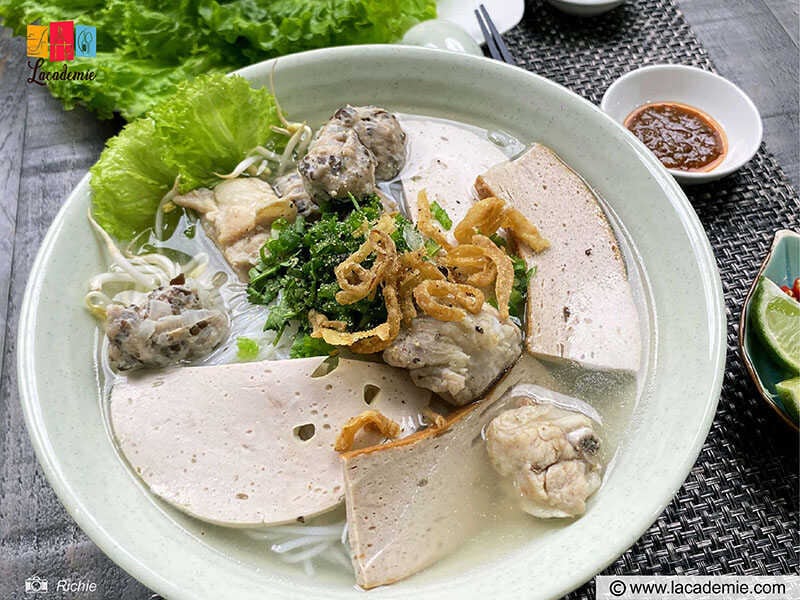 Bun Moc is another Northern specialty with characterized pork balls. It originates from the Moc village (Hanoi). Besides pork balls, the main ingredients in a hot bowl of Bun Moc are rice vermicelli, spare ribs or pork tenderloin, and Vietnamese pork sausage.
The soup is infused with pork and shiitake mushrooms, so it has a clear color with delicate and earthy flavors. Bun Moc is easier to recreate at home, making it a good start if you want to try authentic Vietnamese noodle soup.
For serving, fried shallot and fresh greens, like cilantro and scallions, are typically added on top. Of course, it is best to enjoy hot. If you want to enhance the overall flavor, shrimp paste, fresh chili/chili sauce, and lemon are ideal additions.
Bun Moc is also a good start to discovering the deliciousness of Vietnamese noodle dishes.
Total time: 1 hour 30 minutes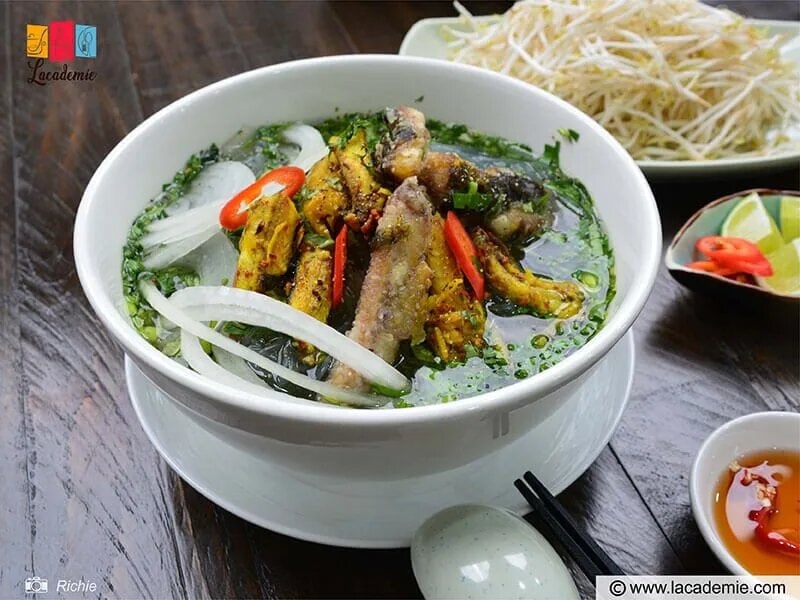 Vietnamese eel glass noodle soup is very well-loved in Hanoi, Ninh Binh, and Nghe An. The key components are glass noodles, fresh eel, and broth cooked with eel bone, ginger, and other seasonings.
The traditional glass noodle used in this case is made from mung beans, so it has a silky texture and transparent color. The eel is carefully prepared to remove the bones. After that, people will season the meat and fry it until crispy.
In Hanoi, many restaurants use dried eel meat, then flour (or bread), and fry it. A hearty bowl of eel noodle soup should contain bean sprouts, herbs, and fried shallot. Soft noodles, crunchy eel, and delicate soup, what else can you ask for a perfect Vietnamese treat, right?
Total time: 2 hours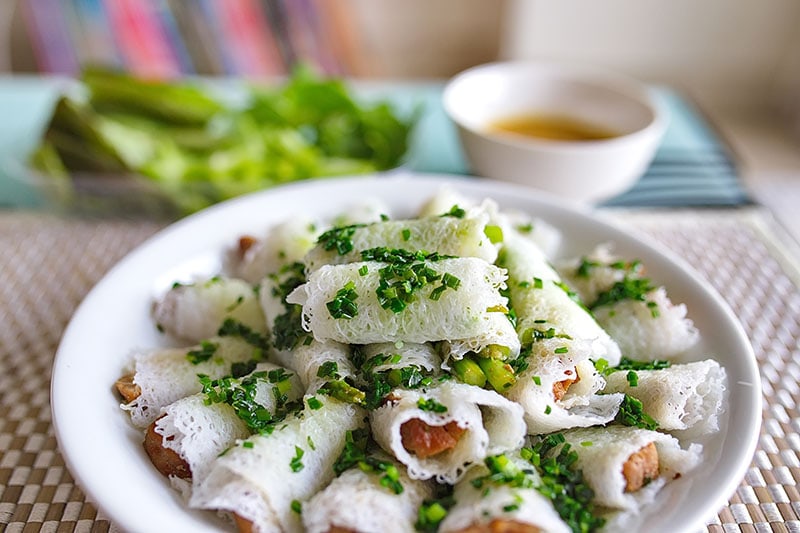 Banh Hoi (aka woven rice vermicelli) is a special Vietnamese noodle style that you can't find in other countries. The noodles are very thin and woven into sheets or bundles. Therefore, it is not a kind of noodle that you can prepare at home.
This unique Vietnamese noodle is from Binh Dinh province (South Central Coast region). The common way to enjoy it is by adding chopped scallion in oil on top and dipping it in a savory sauce. For a hearty meal, crispy roasted pork is an excellent ingredient to add protein.
Herbs and vegetables (like cucumber) are also indispensable parts to complement the dish. With sweet and sour sauce, everything you need for a tasty Vietnamese specialty is in one bite.
Total time: 1 hour
Crispy pan-fried noodle is a popular street food in Saigon city. If you encounter a store on sidewalks with a chef who is cooking with a wok over a fire, there is a high chance that you can order a plate of these crispy noodles.
The star of this crispy pan-fried noodle is, obviously, crispy egg noodles topped with beef, shrimp, squid, and vegetables, then softened in a thick sauce. Its appearance is also special with golden noodles formed like a bird's nest.
Overall, the combination of different components creates a well-balanced masterpiece. To recreate it at home, you can use fresh noodles and fry them in oil with a high burning point. You will need a lot of oil to prepare perfectly crispy egg noodles.
Total time: 1 hour
Bun Thang is a traditional Hanoi noodle dish, featuring the quintessence of Vietnam's capital. In the past, it used to be prepared after Vietnamese lunar new year parties since it is made from various leftover foods. But it doesn't mean Bun Thang is less attractive.
A bowl of this chicken noodle soup owns a delicate look as a five-colored flower. The reason is it comprises different components like shredded chicken, Vietnamese sausage, herbs, noodles, and scrambled eggs. You can find other toppings, such as mushrooms and shrimp floss.
Every ingredient is well-chosen and prepared. For serving, if you want to enjoy it like a true Hanoian, you should add a bit of shrimp paste. As mentioned above, this is a pungent sauce, but when combined with other ingredients, the harmony of flavors is impressive.
Making this Hanoi chicken noodle soup might be easier than you think, if you have an instant pot.
Total time: 30 minutes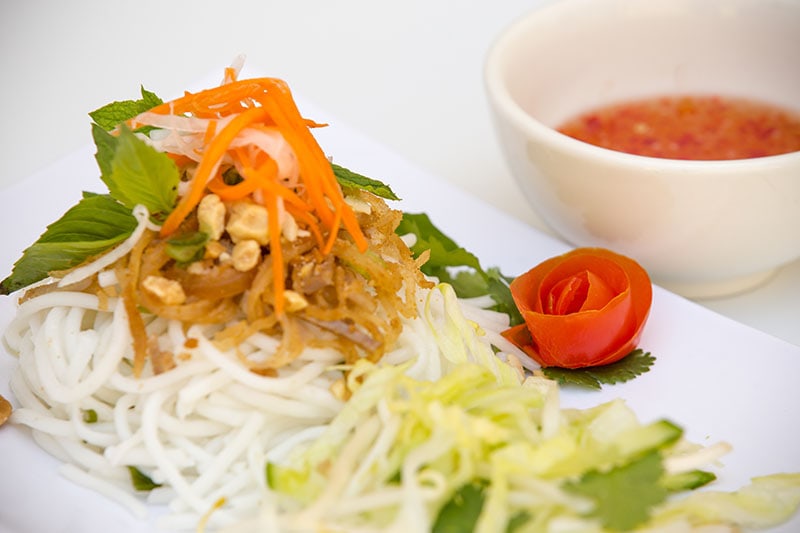 Banh Tam Bi is a Southwest specialty that is very popular in Bac Lieu province and the Mekong Delta area. Unlike the above noodle varieties, this noodle name starts with the word "banh" (meaning "cake"); however, this is still grouped in the list of Vietnamese noodles.
Moreover, the term "tam" in its name implies the appearance of this noodle. Banh Tam strands are made from rice flour with a thick and short look. The locals claim they look like silkworms, hence the name ("tam" means silkworm in Vietnamese).
They are the main ingredient in Banh Tam Bi, which include coconut cream, shredded pork skin, and herbs, and served with chili fish sauce.
The ingredients and flavor of Banh Tam Bi vary based on the region. But this dish is a medley of savory sauce, the sweet and creamy flavor of coconut with chewy noodles and pork skin.
Total time: 1 hour 40 minutes
The last (but not least) noodle dish in Vietnam is nui. It is simply a Vietnamese macaroni with common shapes like fusilli, penne, gomiti, or farfalle in typical yellow color.
The term "nui" stems from "nouille" in French (meaning noodle). In Vietnam, you can easily find it in grocery stores, markets, or supermarkets. They are available in dried form.
The natives usually enjoy nui with hot soup. The ingredients vary based on preference, but they normally contain nui, meat, and vegetables. People also use this kind of noodle to make stir-fried dishes with similar components.
Vietnamese macaroni soup is a hearty treat that you can prepare effortlessly.
What Do You Think About These Vietnamese Noodle Specialties?
Of course, these recipes may not be exactly the same as the original ones that you enjoy in Vietnam. But the deliciousness is undeniable. So why don't you try some and surprise your family?
Finally, I hope you will love these noodle ideas after checking his article. And I'm looking forward to hearing your feedback after experiencing them.
If your friends and family are also huge fans of Vietnamese food, especially noodles, please share this post with them. Thank you for your support!
Nutrition Facts
5 servings per container
---
Amount Per ServingCalories733
% Daily Value *
Total Fat 24.7g

37

%
Cholesterol 177mg

59

%
Sodium 2946mg

123

%
Potassium 1387mg

40

%
Total Carbohydrate 60.4g

20

%

Dietary Fiber 6.4g

24

%
Sugars 15.1g

Protein 68.8g

136

%
---
* The % Daily Value tells you how much a nutrient in a serving of food contributes to a daily diet. 2,000 calories a day is used for general nutrition advice.