Lotus stem and shrimp salad (Gỏi Ngó Sen) is a delectable medley of crispy vegetables and fresh, juicy seafood. Top it all up is a sweet, tangy, and savory dressing made of fish sauce. It's a dish that anyone can make with ease, yet everyone will love.
The star of this recipe is undoubtedly the lotus stems (roots), which have a slight crunch and a mildly sweet taste. Once coated in the flavorful dressing, this signature Asian ingredient becomes irresistibly tasty and will definitely make you crave more.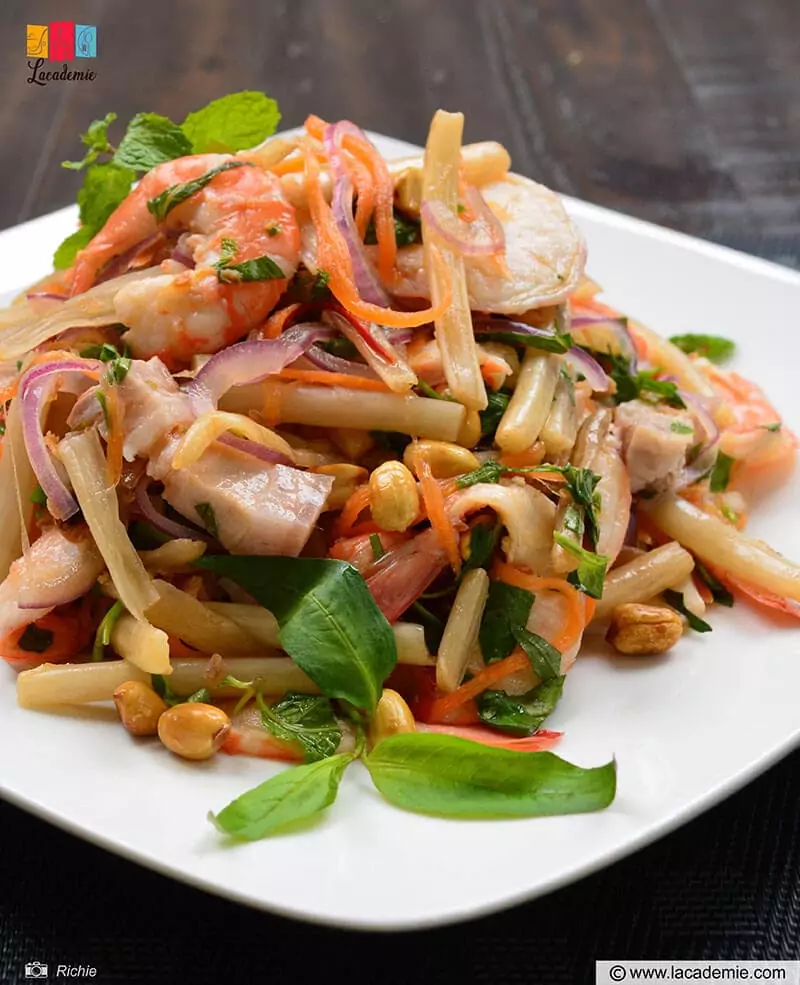 What Is Lotus Stem And Shrimp Salad
When it comes to health-giving Vietnamese dishes, Goi (salad) is an extremely popular choice. There are plenty of delectable Goi recipes to choose from, such as Vietnamese Green Mango Salad With Shrimp (Gỏi Tôm Xoài), and today's dish, Goi Ngo Sen, is among the most famous ones.
The Vietnamese consider the Goi Ngo Sen an essential dish for family gatherings and special occasions. In addition to its immaculate flavor and colorful appearance, another big part that makes the dish such a big hit is how simple it is to whip up.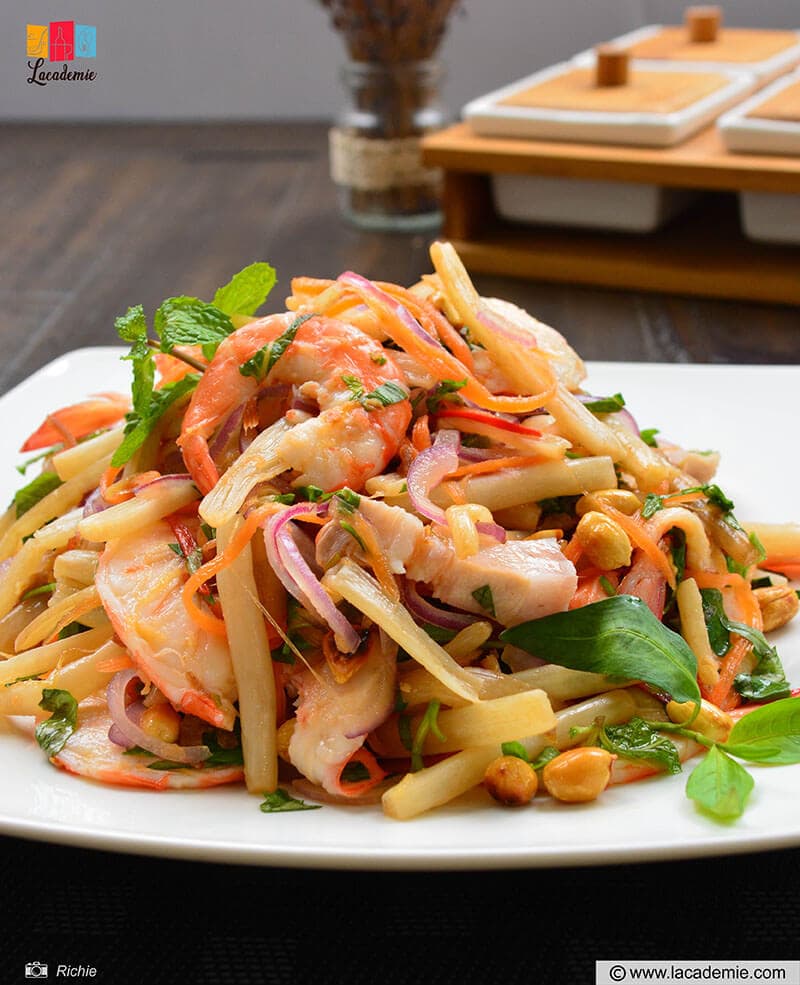 Basically, you only need to boil the meat and seafood, do some cutting and chopping here and there, and mix the fish sauce with some spices to prepare the dressing. Even if you have had very little cooking experience, making this recipe will still be a breeze.
Similar to its cousin Goi Ga (chicken salad), Goi Ngo Sen is also packed with healthy ingredients. Thanks to the addition of pork belly and shrimp, this yummy appetizer can easily fill you up and provides you with valuable protein.
Tools
While making Vietnamese lotus stem and shrimp is super easy, it does require some specific tools. Prepare the ones listed below.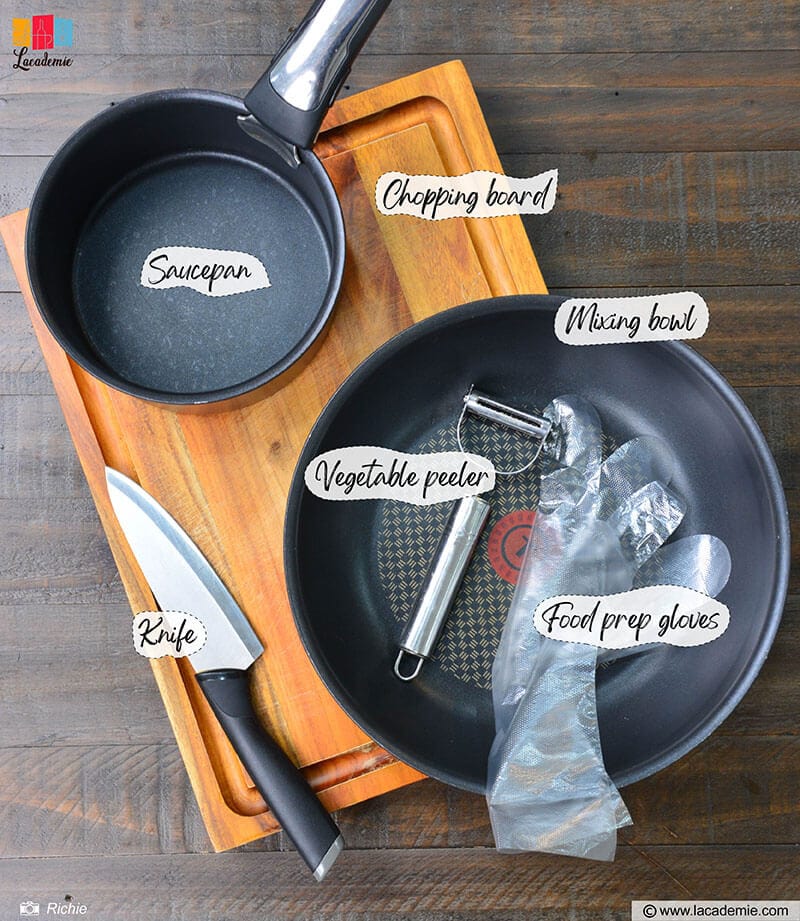 Knife and chopping board: For cutting the vegetables, meat, and seafood.
Saucepan: For cooking the pork and shrimp.
Vegetable peeler: For shredding the carrot.
Mixing bowl: Choose a bowl that allows you to comfortably toss the ingredients.
Food prep gloves: Unless you want your hands to smell like fish sauce for a whole day (I know you wouldn't), it's best to wear food prep gloves while tossing the salad.
Ingredients
For this recipe, you'll need a mixture of protein sources (shrimp and pork), vegetables (lotus stems, carrots, etc.), and some herbs.
Fresh shrimp: You can also opt for high-quality dried shrimp.
Pork belly: Pork shoulder is another great choice if you prefer a less fatty cut. Or you can go for pig's ears, which are really crunchy.
Salt, scallions, shallots, and ginger: For adding to the water while boiling.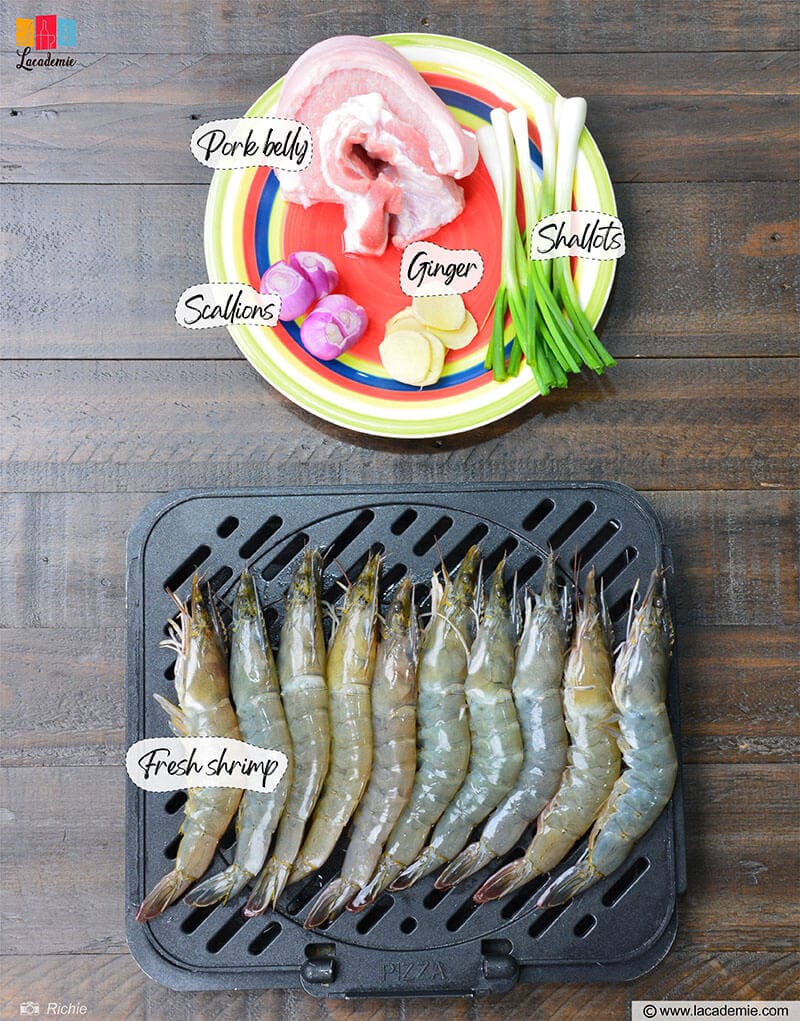 Lotus stems: The main vegetable choice of the salad. These crispy white roots are excellent at absorbing spices.
Herbs: Vietnamese coriander and spearmint. If you can't find Vietnamese coriander, you can use Thai basil instead.
Red onion: I prefer red onion over white onion for this recipe, as it has a sweeter taste and a less pungent aroma. That said, feel free to use the latter if you like its flavor profile more.
Carrot: Adds more crunchiness and sweetness to the salad. Besides, it also brings more colors!
Red cow horn pepper: Make sure that you purchase the sweet type.
Roasted peanuts: The earthy taste of peanuts goes really well with the fish sauce dressing.
Fried shallots: For sprinkling over the salad.
Spices: Salt and sugar.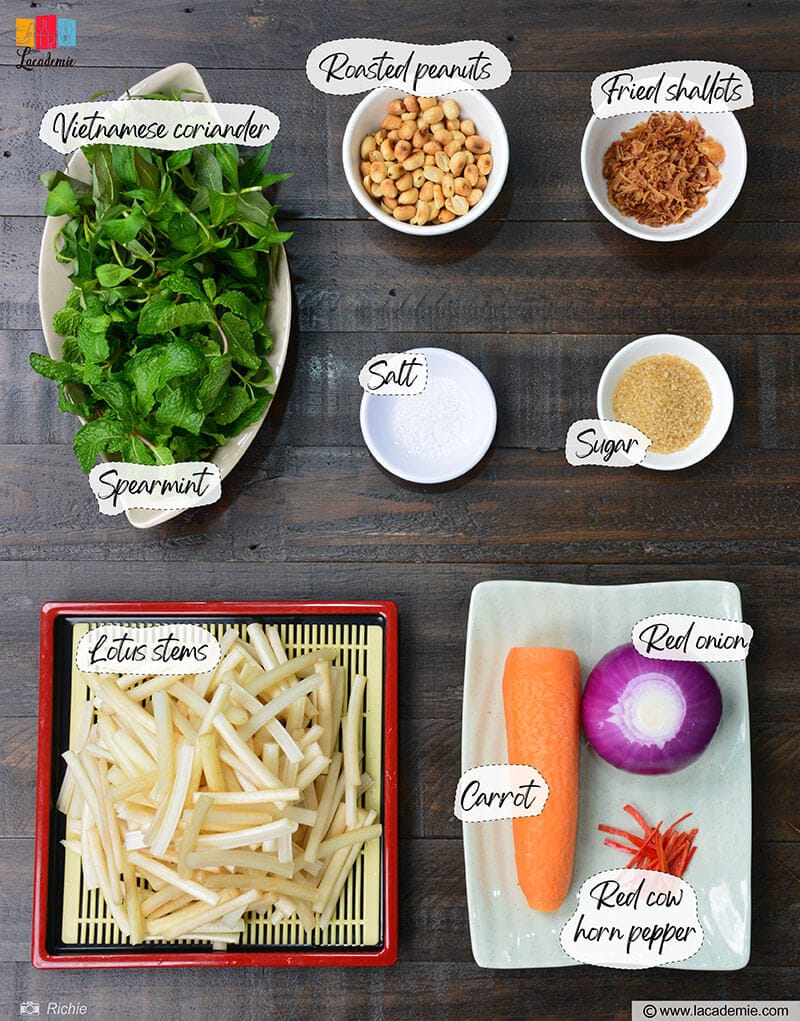 For the dressing: Fish sauce, chili sauce, lime juice, and brown sugar.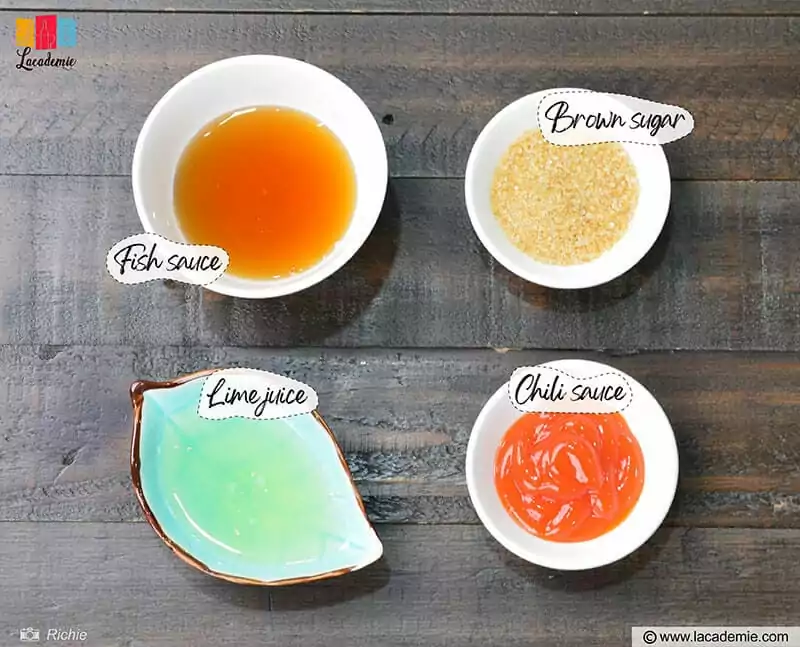 Directions
After preparing all the needed tools and ingredients, it's finally time to cook. Let's make some Goi Ngo Sen!
Step 1: Prepare The Ingredients
Rinse the pork belly and shrimp. Remember to devein the shrimp. If you're new to preparing seafood, it's best that you learn how to clean shrimp properly before making this recipe.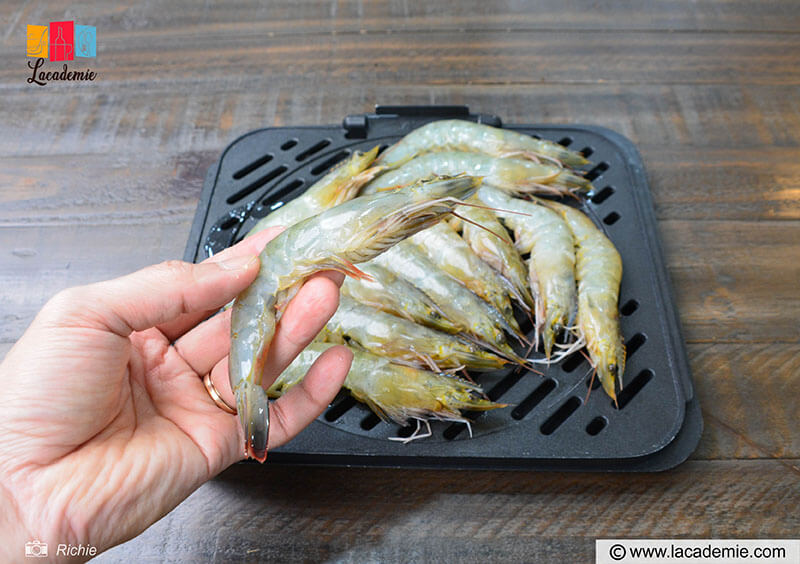 Wash the vegetables. Soak the lotus stems in an ice bath. Add 1 tablespoon of lemon juice or vinegar and 1-2 teaspoons of sugar to the water to help keep the stems' color.
Slice the red onion thinly. Finely chop the Vietnamese coriander and spearmint.
Shred the carrot. Remove the seeds from the cow horn pepper, then julienne it.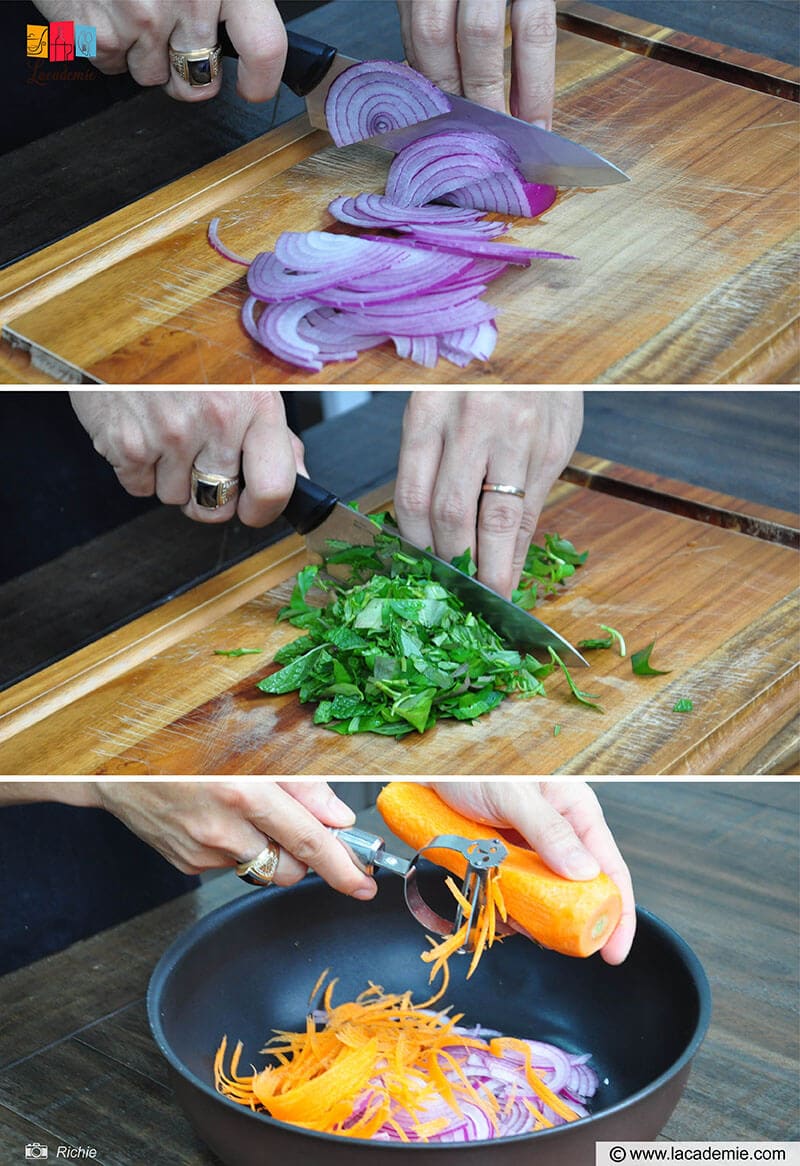 Step 2: Marinate The Vegetables
Add the carrot, red onion, and lotus stems into a mixing bowl. Season with 2 teaspoons of sugar and 2 teaspoons of salt. Mix well and let the veggies sit for 20 minutes to soften and infuse them with the spices.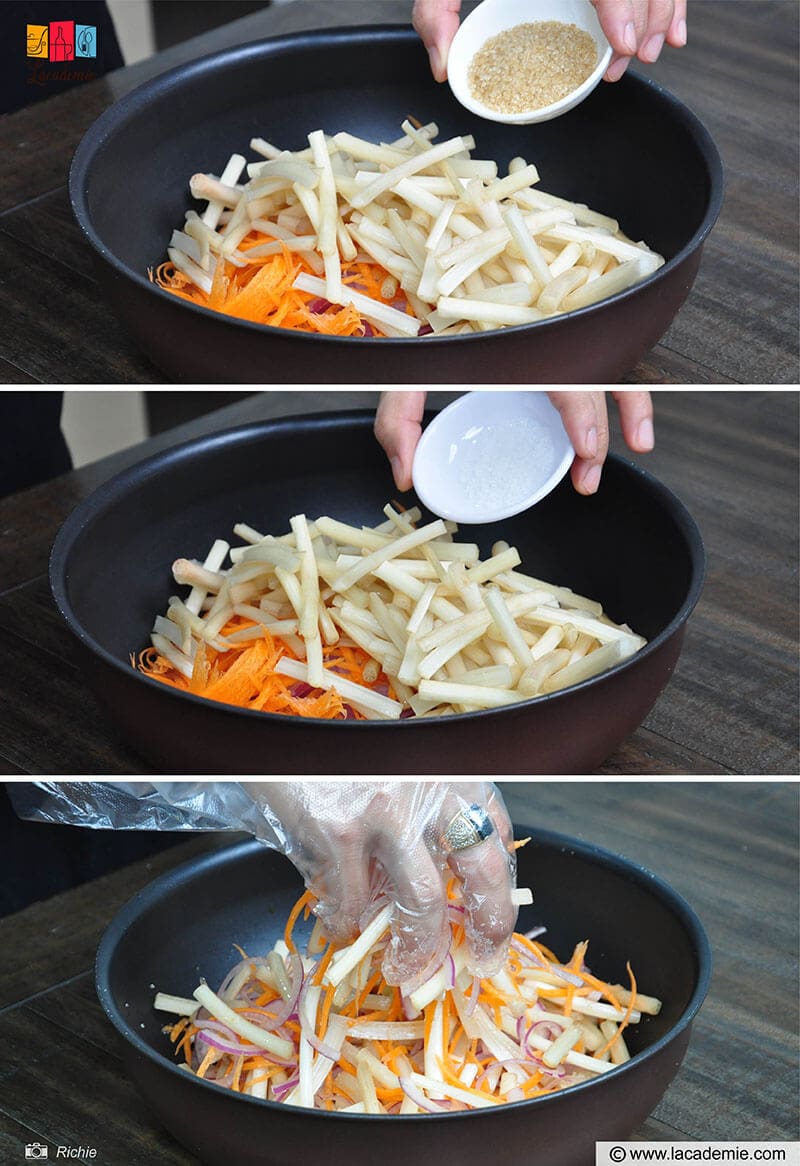 Step 3: Boil The Pork And Shrimp
Blanch the pork in boiling water for 30 seconds to 1 minute. Then, boil it together with some shallots, scallions, a few slices of ginger, and 1 teaspoon of salt. Cook the pork for 20 minutes on medium-low heat.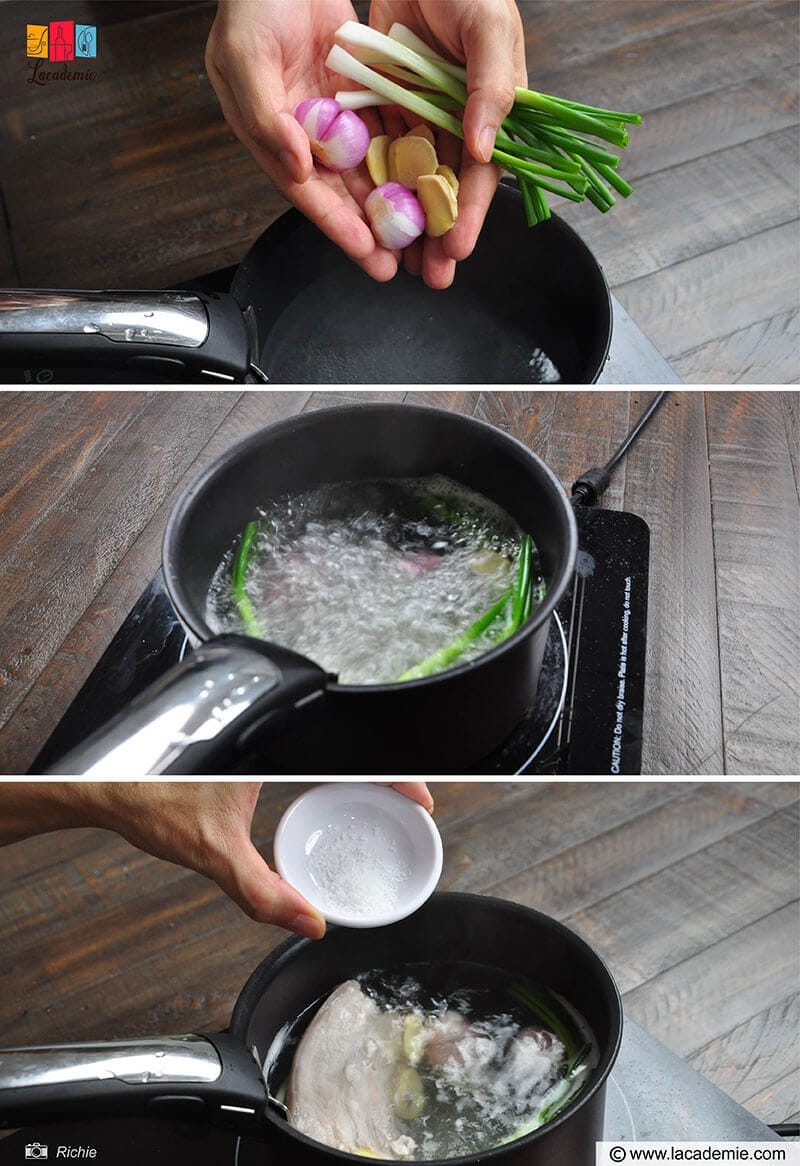 Once cooked, transfer the pork to an ice bath to improve its texture and color.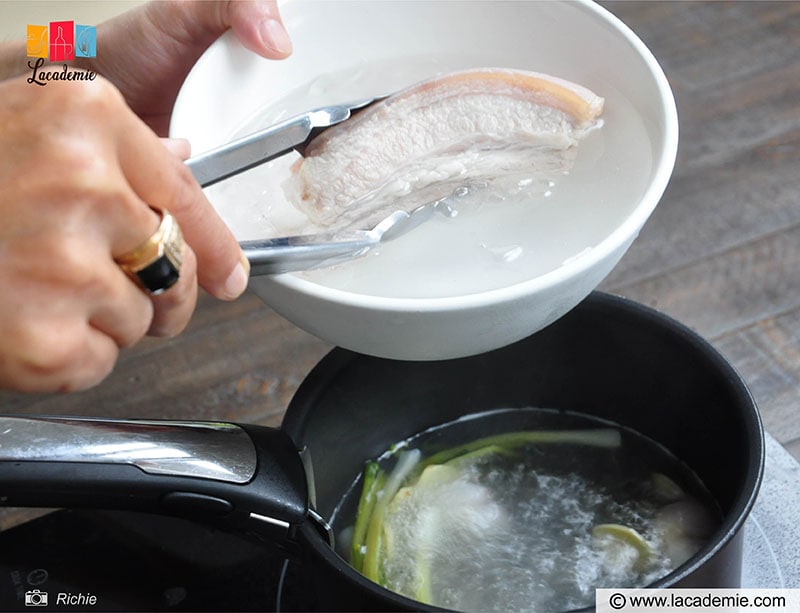 Add the shrimp to the pot you just used to boil the pork. There's no need to change the water. Boil them for 5 minutes. Then, put the shrimp in the ice bath to stop the cooking and make them firmer.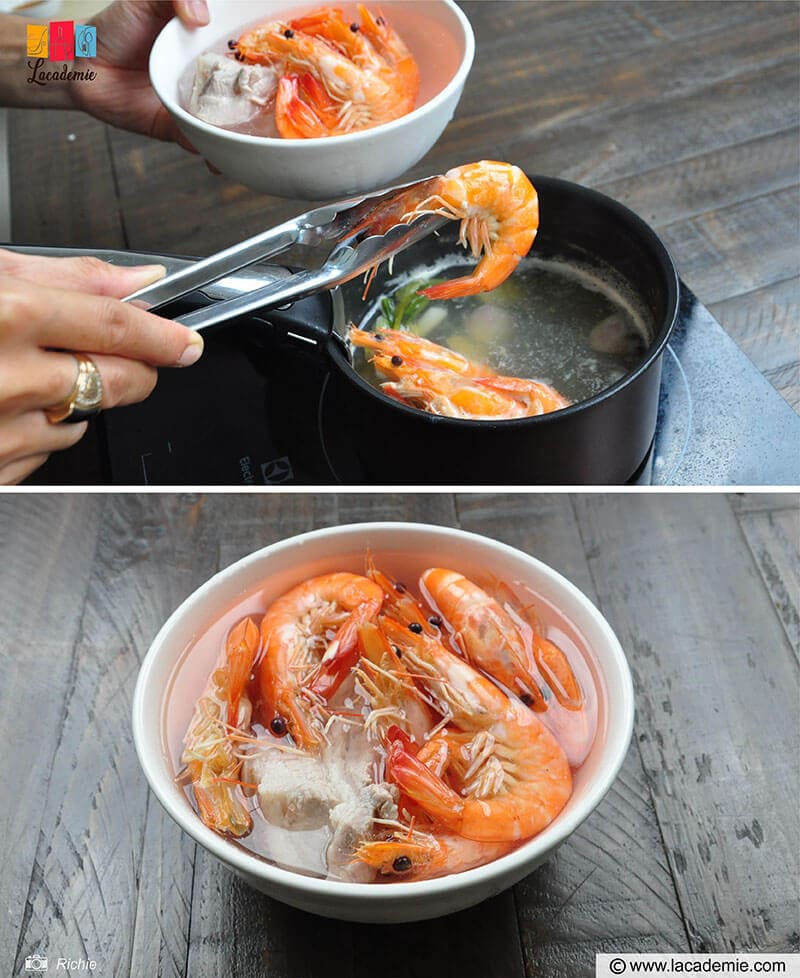 Next, cut the pork belly into bite-sized pieces. Put on the food prep gloves and peel the shrimp. Leave the tails intact to add to the dish's appearance.
If the shrimp are too big, you can cut them in half lengthwise.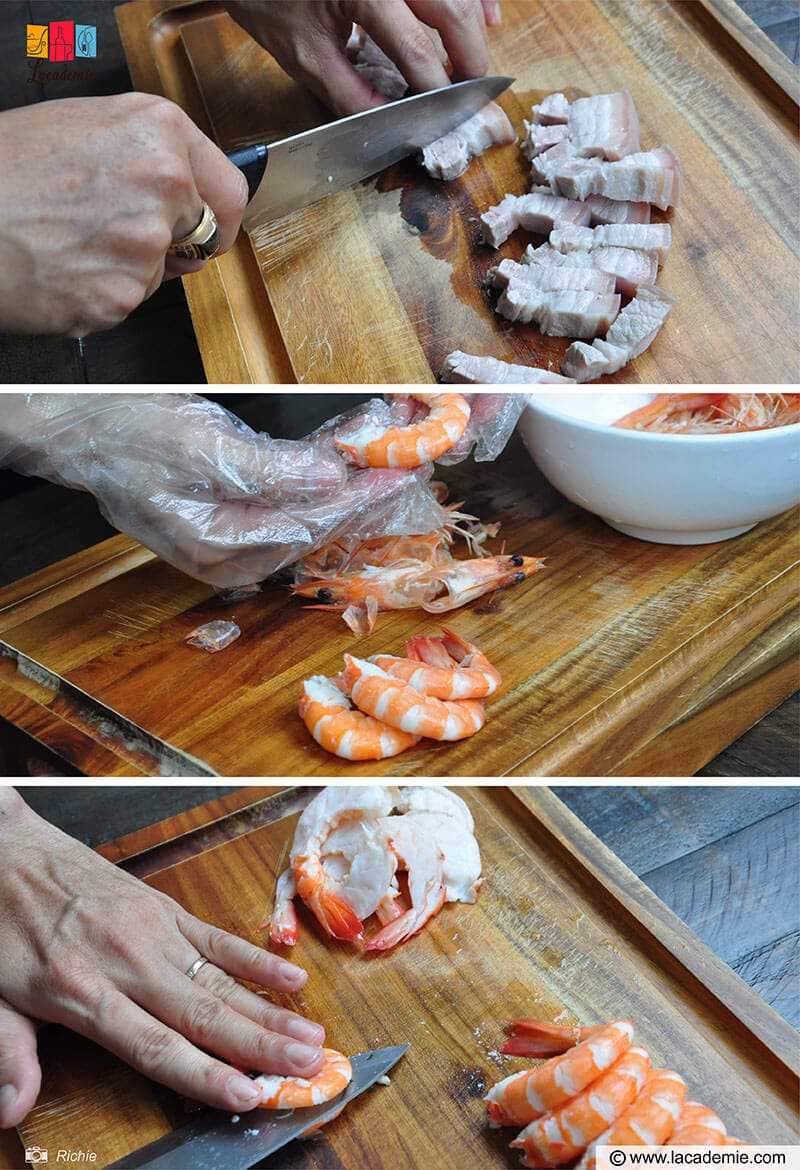 Step 4: Make The Dressing
Combine the ingredients for the dressing (fish sauce, sugar, chili sauce, and lemon juice) in a small bowl. Do a quick taste test and adjust the spices to fit your liking.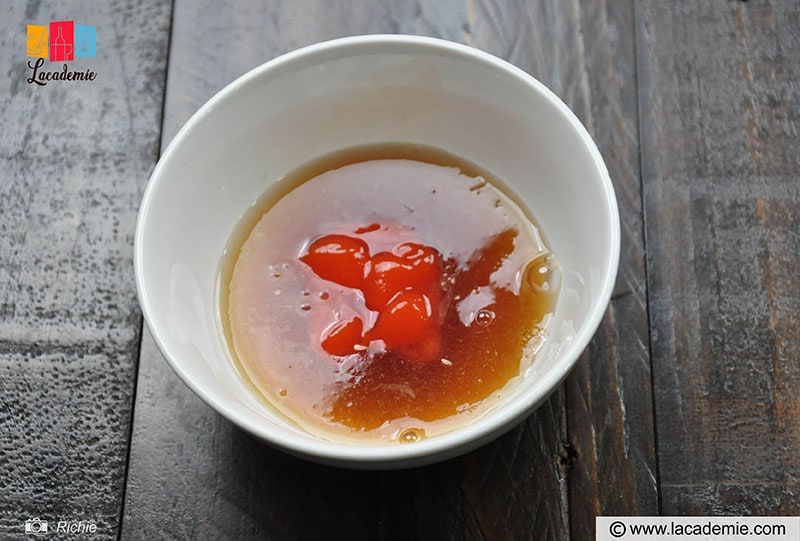 Step 5: Make The Salad
Wear your food prep gloves and squeeze out the liquid in the lotus stems, carrot, and red onion.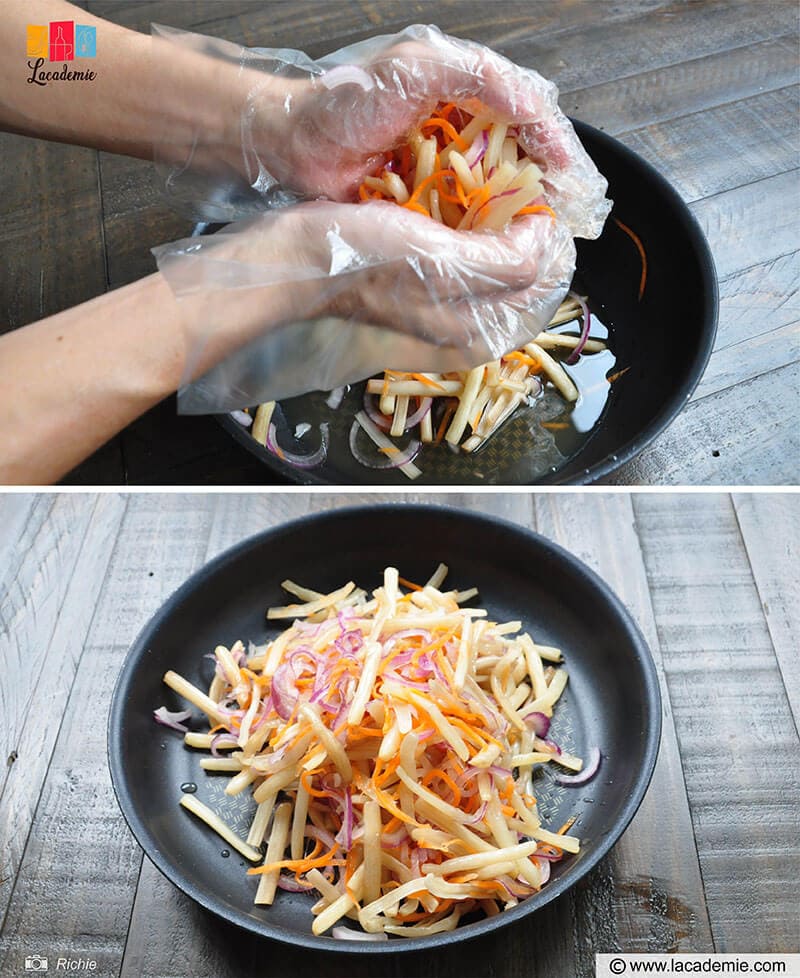 Add the vegetables, shrimp, and pork to a mixing bowl. Toss the salad with ⅔ of the dressing.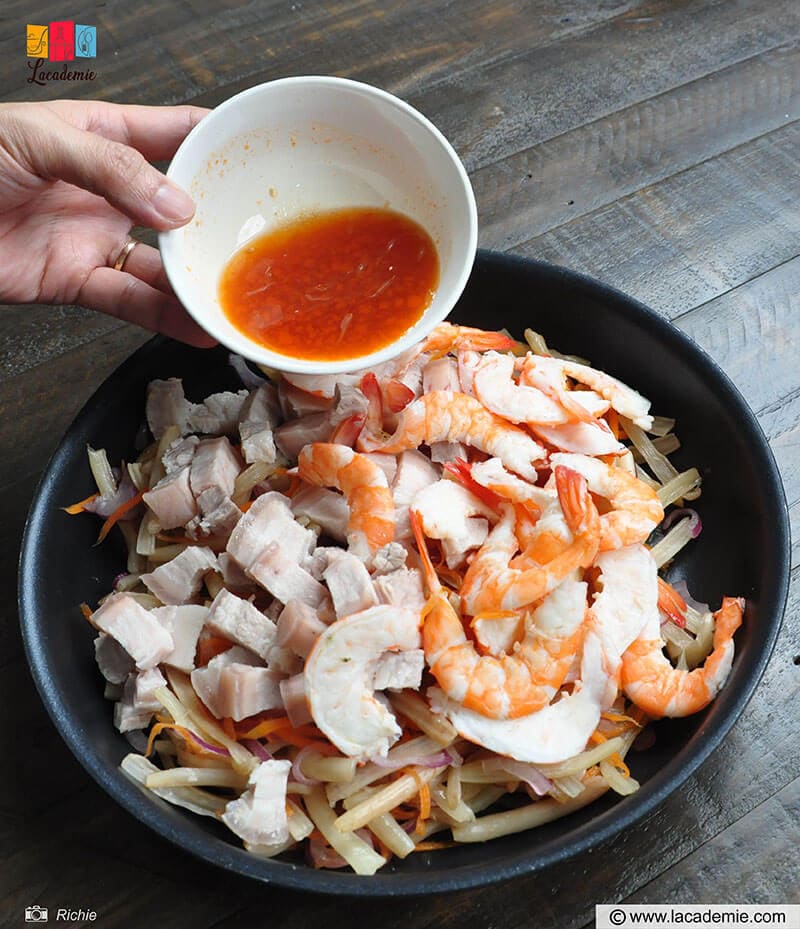 Add the peppermint, Vietnamese coriander, cow horn pepper, fried shallots, and roasted peanuts to the salad. Pour in the remaining dressing and toss well.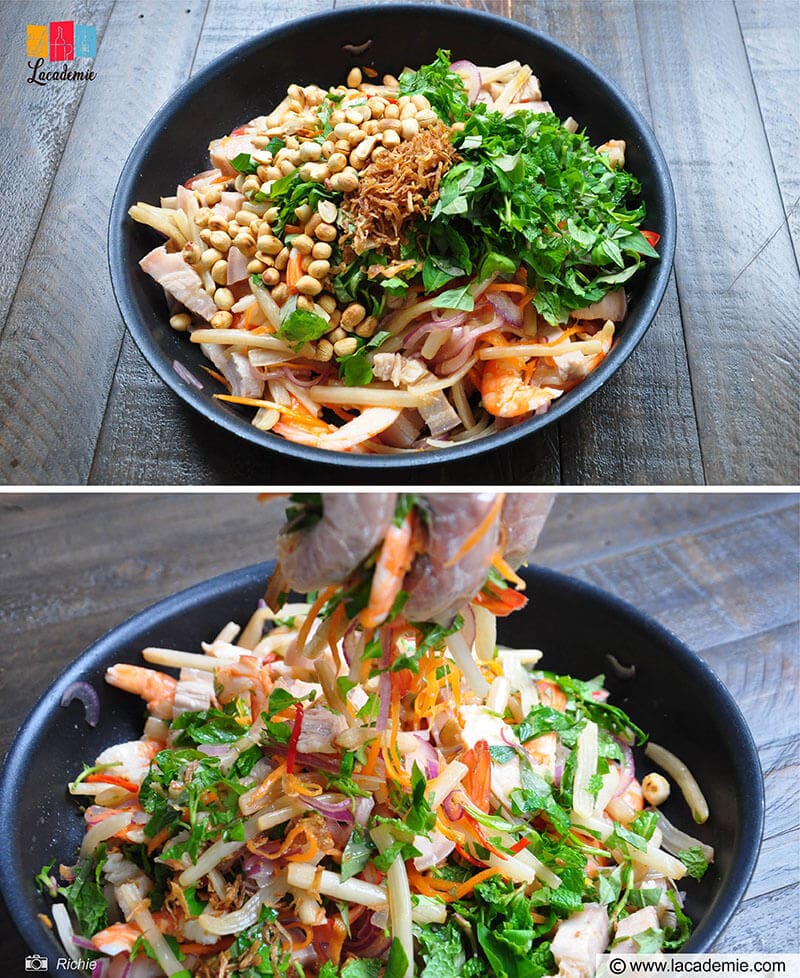 Transfer the salad to a plate and garnish it with some more Vietnamese coriander, peppermint, and chili pepper. Enjoy!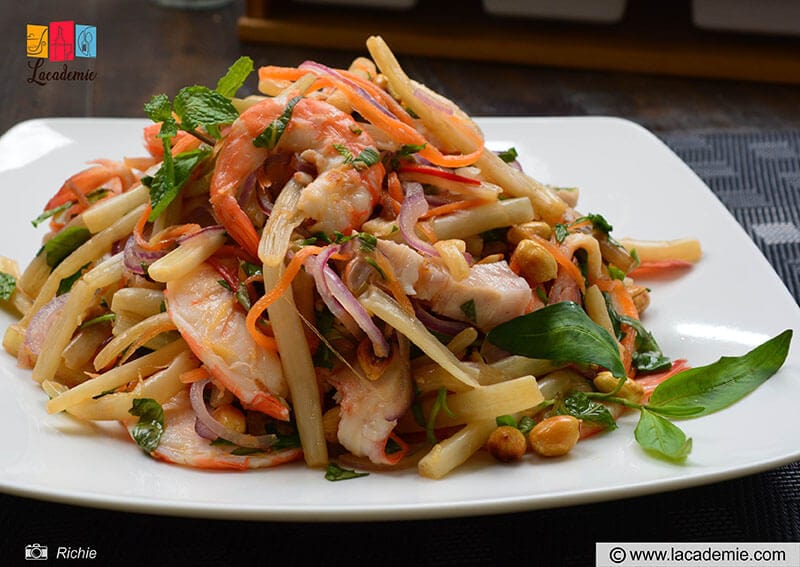 Tips And Tricks
In order to enjoy your Vietnamese salad to the fullest, don't miss out on the useful tips in this section!
You should always prepare the lotus stems as instructed to ensure that they have the best color and crispness.
Banh Phong Tom (Vietnamese prawn crackers) is an excellent treat to pair with Goi Ngo Sen. You can look for them in Asian stores and markets.
In addition to the dressing shown above, you can also toss the salad with Vietnamese Nuoc Cham (dipping sauce).
The best time to assemble the salad is right before serving. Or you can make it about 2 hours in advance and store it in your refrigerator.
Spice Up Your Salad Game!
Lotus stem and shrimp and salad is a colorful and delicious mixture of pork, shrimp, lotus stems, and a blend of flavorsome herbs and veggies. Like many other salad recipes in Vietnamese cuisine, this dish is super easy to make and healthy. I'm sure that everyone in your family will love it!
Do you have any further questions about this recipe? If yes, please let me know by commenting below. Any kind of feedback is welcome! Also, kindly like and share the post to support the website. Oh, and Lacademie has a Youtube channel now, so don't forget to subscribe to it.
Nutrition Facts
4 servings per container
---
Amount Per ServingCalories681
% Daily Value *
Total Fat 25.7g

39

%
Cholesterol 312mg

104

%
Sodium 4265mg

178

%
Potassium 1155mg

33

%
Total Carbohydrate 37.5g

13

%

Dietary Fiber 8.3g

32

%
Sugars 8.7g

Protein 69.3g

138

%
---
* The % Daily Value tells you how much a nutrient in a serving of food contributes to a daily diet. 2,000 calories a day is used for general nutrition advice.