If you are looking for appealing Sardinian foods to fill the menu for your party, the fantastic Sardinian recipes in this article will satisfy you. Their great flavor will meet all requirements for a perfect party.
It is time to diversify the list of foods for your travel book with authentic foods. Do not miss any of them because you will regret it later if you cannot enjoy them while in Sardinia – a stunning Italian island.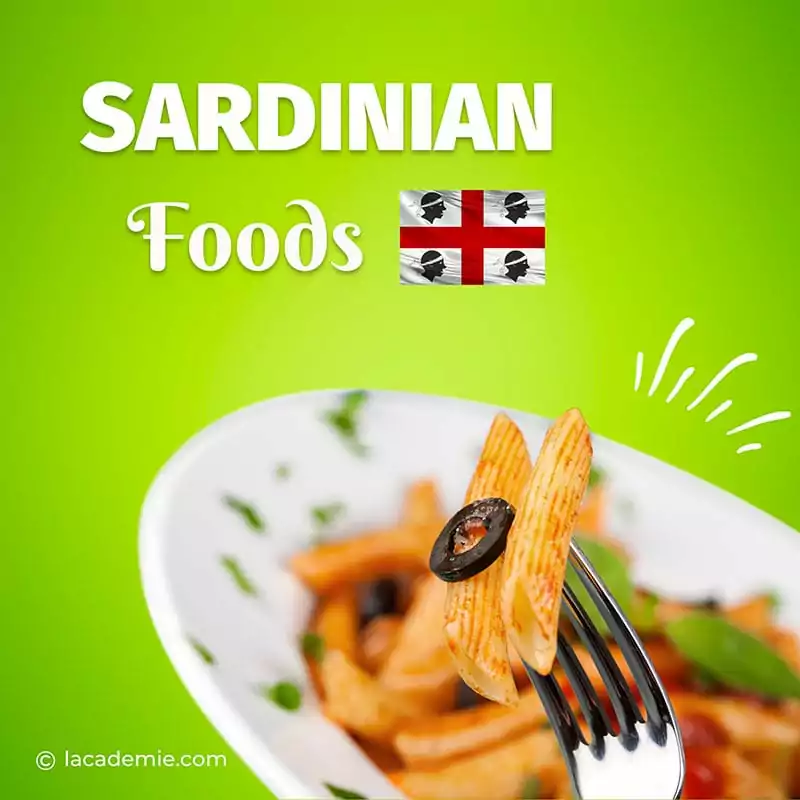 5 Yummy Sardinian Pasta Dishes
Pasta is one of the famous Sardinian and Italian foods. Therefore, it is a shortcoming to miss these delicious pasta dishes when stepping on Sardinia.
1. Culurgiones – Sardinian Stuffed Pasta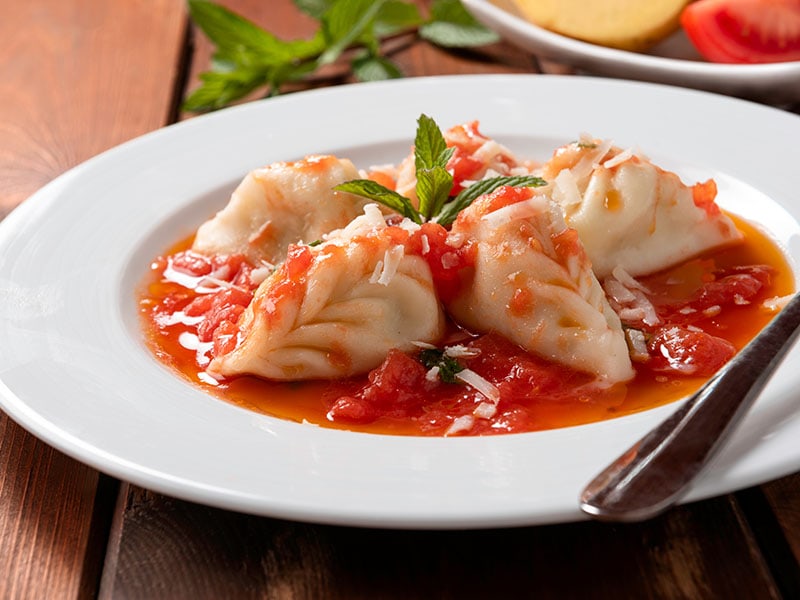 Culurgiones is a famous pasta of Sardinia and Italy. It is a traditional recipe of the Ogliastra region in Sardinia. There are 2 parts, including the dough and the filling. Semolina flour, eggs, and white flour are the ingredients that make dough.
Meanwhile, its filling includes boiled potatoes, Pecorino cheese, mint, and nutmegs. It has different types of fillings depending on the region.
The version of the Ogliastra area will not use cheese, and Barbagia's version will use fresh cheese. It is indispensable to have a little braid on one side.
People in the town of Ulassai will eat it on "Day of the Dead" (November 2), and this tradition was born in the late 1960s. It is also an essential part of Thanksgiving and Carnival.
It is also considered the Talisman of many families. The Sardinians will serve less than 6 pieces of culurgiones on a plate.
Follow the methods to make delicious Culurgiones of Italians.
2. Malloreddus – Sardinian Gnocchi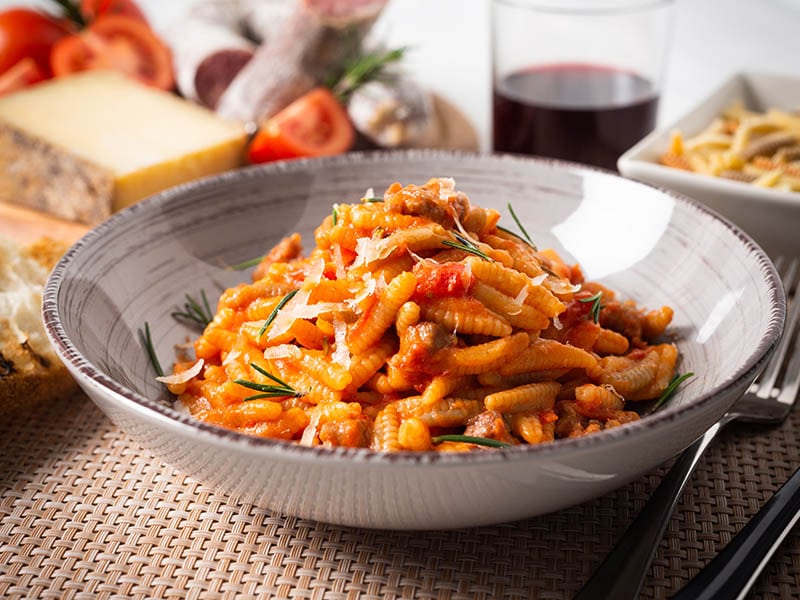 Malloreddus is a famous pasta in Sardinia. Italians often call it Gnocchetti Sardi. Semolina flour and Saffron are the main ingredients that make this delicious food. It has a shape like ribbed shells with about 0.79 inches.
Its taste will be richer when eating with various sauces. It is a specialty of the Mdio Campidano region in southern Sardinia. Its name originated from the word "Mallolus", which means "Trunk of dough" in Latin.
Another idea said that it comes from the word "Malloru", which means "bull". It appears commonly on special occasions, festivals, and weddings. It is an ancient food made for the first time by women. Its origin is associated with wheat cultivation in the Mediterranean.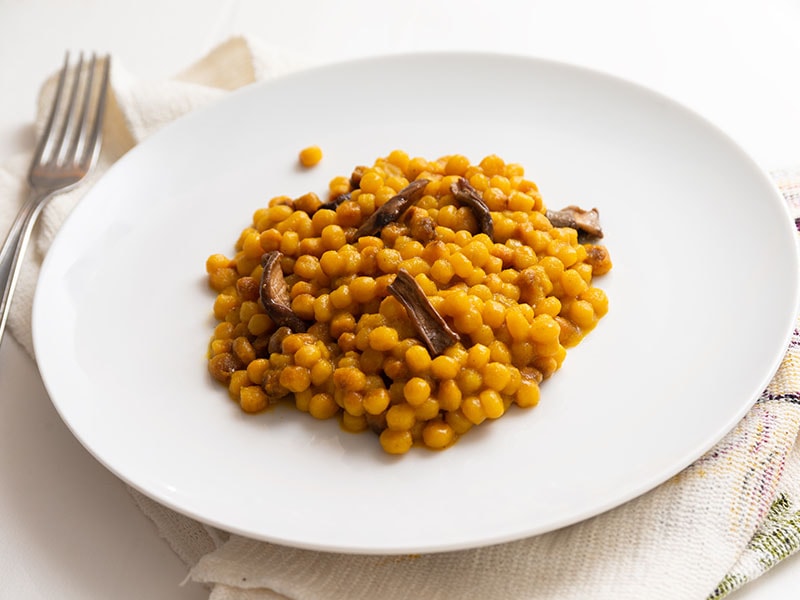 Fregula is one of the famous paste foods of Sardinian cuisine. It was an ancient recipe when it appeared in the 10th century. Many theories think it was derived from couscous and Phoenicians. Punics and Carthaginians have introduced it in Sardinia.
It is similar to them if you know North African Berkoukes and Middle Eastern Moghrabieh. Chefs will roll semolina dough into balls with a size of about 2 to 3 millimeters. After toasted, it will be simmered with tomato sauce and clams to serve.
Compared to traditional pasta, the consistency of Fregula will be tender and more moist.
It is time to listen to some interesting things about Fregula.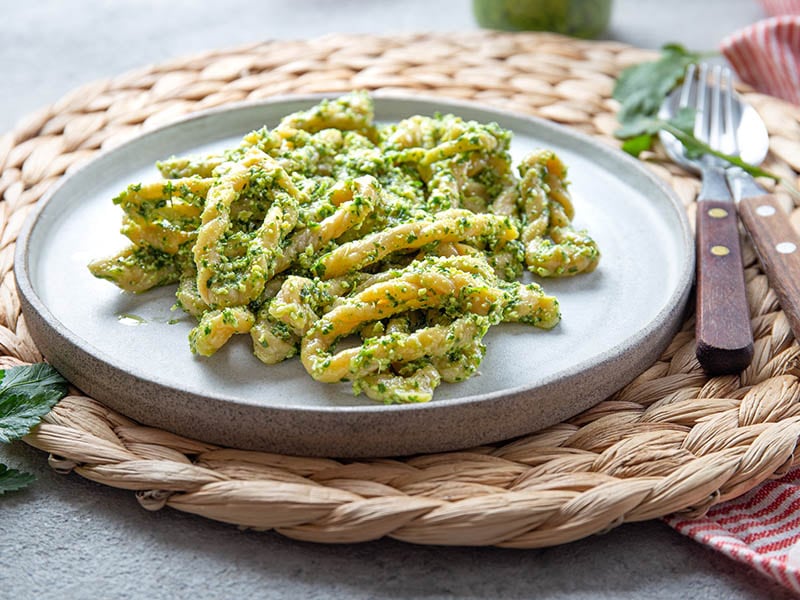 Lorighittas means "small rings" in Sardinian. It is a famous pasta in the Morgongiori region in Sardinia. You will find the PAT label on its packaging when buying because it is recognized as a traditional Italian recipe.
It has existed since the 1500s. Its records appeared from the King of Spain when they ruled Sardinia. This recipe is an indispensable part of Sardinians' All Saint Day Feast on November 1.
There are a few ideas that its unique appearance is made up of iron rings made to tether horses. However, others argue that its name means ears that are worn by young or unmarried women. It is common on the North Coast of Sardinia.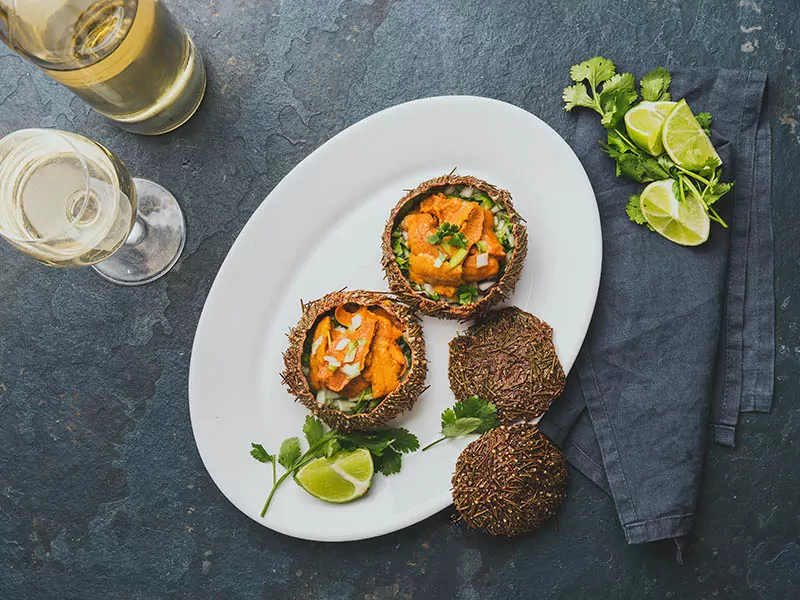 Sea Urchin is nutritious seafood selected by many tourists when coming to Sardinia. It existed about 450 million years ago. This seafood has different types, with about 950 species living across the oceans around the world.
Its characteristic and intense flavor will leave a profound impression on your mind. If you go to Sardinia on the holidays, you will easily catch people eating this food. Sea Urchin festivals take place every year in Alghero of Sardinia.
The Sardinians will combine sea urchins with spaghetti to make a delicious dish. Although the Sardinian authority limits the consumption of sea urchin, it is also common. The delicate flavor of sea urchin will blend with the softness and chewiness of spaghetti.
5 Delicious Sardinian Seafood Dishes
Sardinia is an island, so it has a lot of delicious seafood-based dishes that you have to give them a shot. You can consult these suggestions in this section right now.
6. Burrida – Sardinian Fish Stew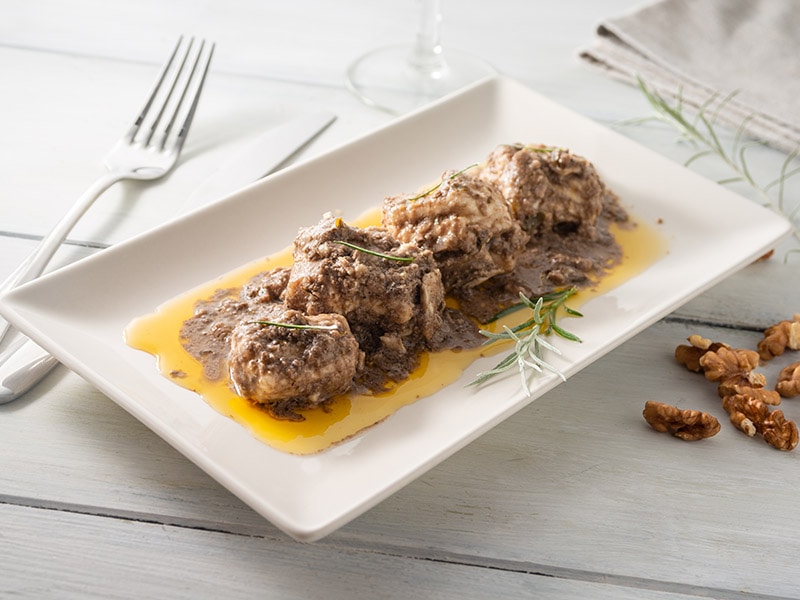 Your Sardinian lunch recipes menu will become more diverse with the appearance of Buridda. It is an ideal suggestion for those who love seafood. This seafood stew recipe originated in Liguria in northern Italy and is widely available in Sardinia.
Chefs will slow-cook fish, onions, tomato, and garlic to obtain a strong flavor mixture and stew-like texture. Many different types of fish are used, and some other seafood such as clams, mussels, squid, or eel.
Sardinians often eat it with Gallette del Marinaio – a kind of classic Italian bread shaped like round bread buns. Buridda Alla Genovese is its famous variant with shrimp and octopus. This recipe is also renowned in the Genoa region of Italy.
It is time to supplement protein and nutrients with the legendary Lobster of Sardinian cuisine. This recipe is significantly influenced by Spanish Catalan cuisine. You will have the chance to enjoy fresh Lobsters on this island.
Aragosta Alla Catalana is a typical recipe of Alghero in northwest Sardinia. This great recipe is a combination of lobster, onions, oil, lemon, and tomatoes. Some other variants have the appearance of potatoes, cherry, and capers.
The natural sweetness of boiled lobster will blend with the flavor of vegetables that make up a fresh food. It is considered the most lavish food of the Alghero region. It will be better when eating hot with a glass of white wine.
8. Sardinian Sardines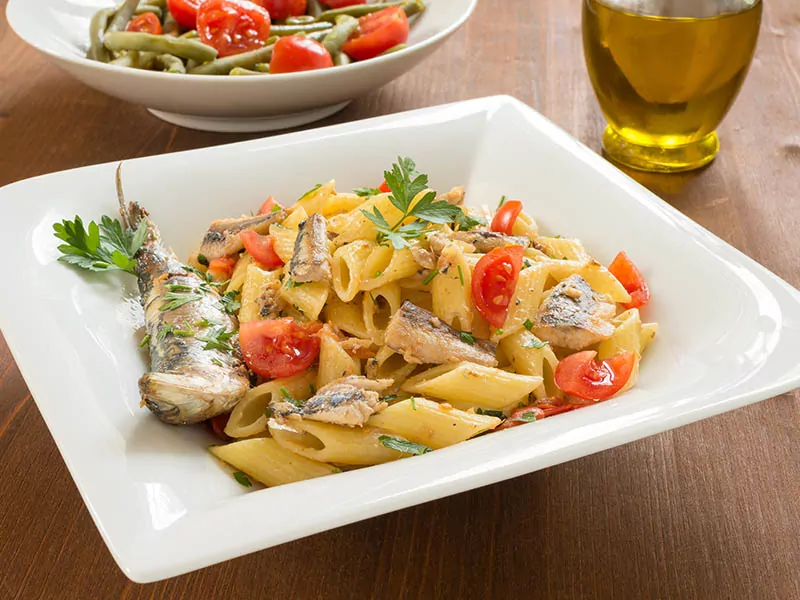 The island of Sardinia is always famous for many fresh and attractive seafood, and Sardines is one of them. This fish is derived from Sardinia, which is also one of the largest sardines reserves in the world.
Thanks to Sardines' delicate taste and freshness, it is a favorite food of the Sardinians. The name Sardines was known for the first time in the 15th century. It lives commonly in the Mediterranean Sea and Portugal, Spain, France, and England.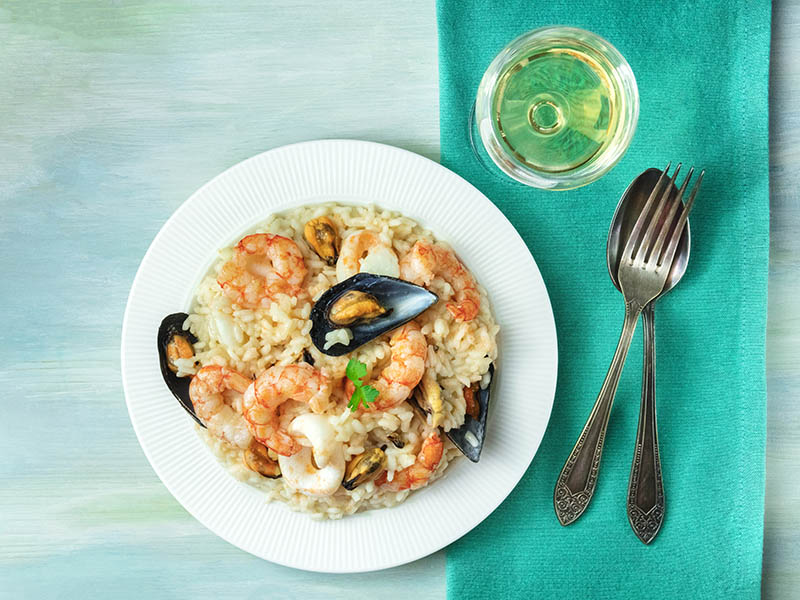 Risotto is a long-standing rice dish of Sardinian and Italian cuisine. The rich flavor and creamy texture, when cooked with broth, will make you flutter. Significantly, fish, mussels, and octopuses will make the taste unique.
Some Risotto versions have the additional appearance of onion, white wine, and butter. Although rice cultivation has existed in Italy since the 14th century, the first Risotto version was born in 1890 with rice, sausages, bone marrow, and butter.
Learn these instructions to make delicious Seafood Risotto.
10. Bottarga – Dried Mullet Roe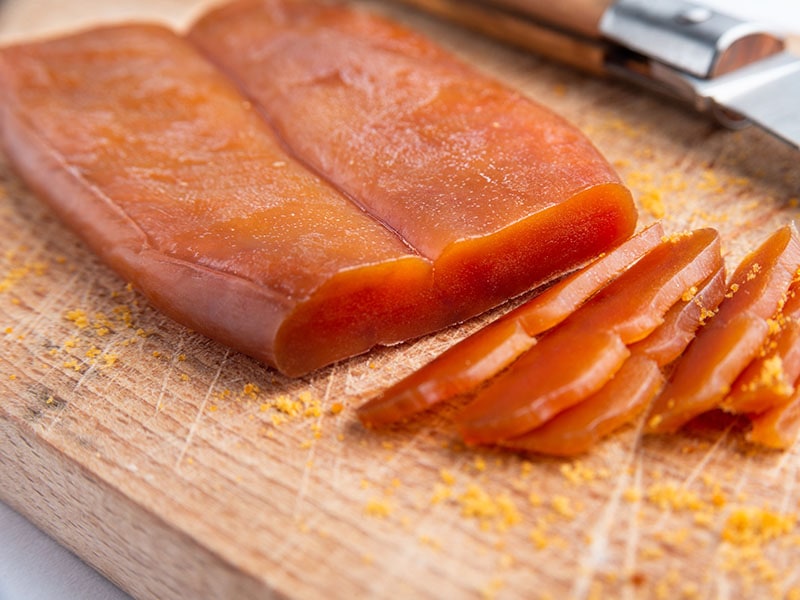 Another delicious food of Sardinia I want to introduce to you is Bottarga. This food is well-known across Sardinia and the Mediterranean. Italians will use flathead mullet in Sardinia to make this food, and Sardinians call it Sardinian Buttariga.
The Sardinians will slice dried mullet roe into thin slices. Furthermore, you will feel the flavor of raw artichokes when consuming this appealing food.
It will become more appealing when consumed with olive oil or lemon juice. Sardinians often combine it with bread or Crostini to make appetizers or add pasta recipes. In addition, it also has variants in the cuisines of Croatia, Egypt, France, and Tunisia.
This food appeared for the first time on the Nile River in Egypt in the 10th century BC. An Italian culinary expert introduced the way of processing Bottarga by salting and smoking it in the 15th century.
8 Excellent Sardinian Desserts and Drinks
If you are searching for outstanding Sardinian desserts and snacks, it is a pity not to stop in this part. It is time to refresh your taste buds with them.
11. Seadas – Sardinian Honey And Cheese Pastry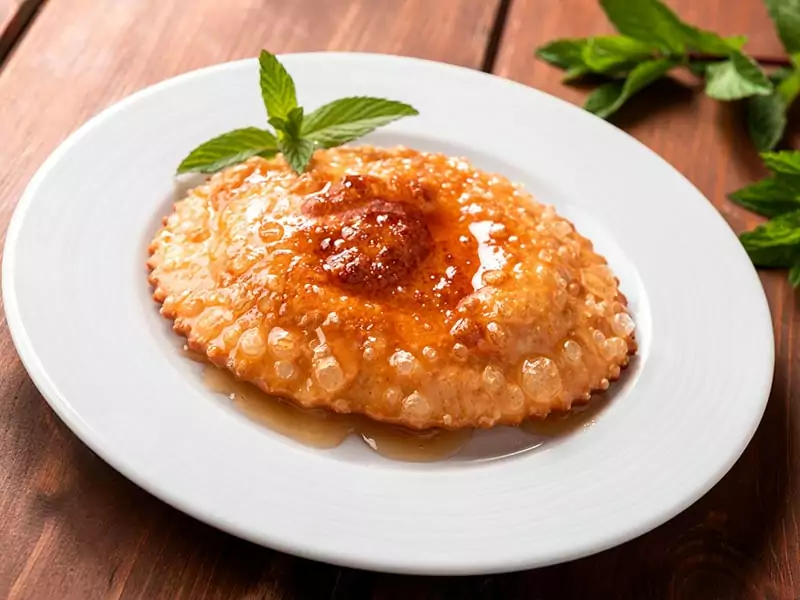 Seada is a great Sardinian dessert recipe that you must try when coming to Sardinia. It is a kind of dumpling processed from semolina with an excellent crunch. Cheese, lemon peel, and olive oil filling will enhance the flavor of Seada.
The sweet flavor of this dessert comes from honey and sugar. This recipe is standard in poor households in rural areas. There are many assumptions about the name of this dessert. It was born in 1479 when Spain ruled Sardinia.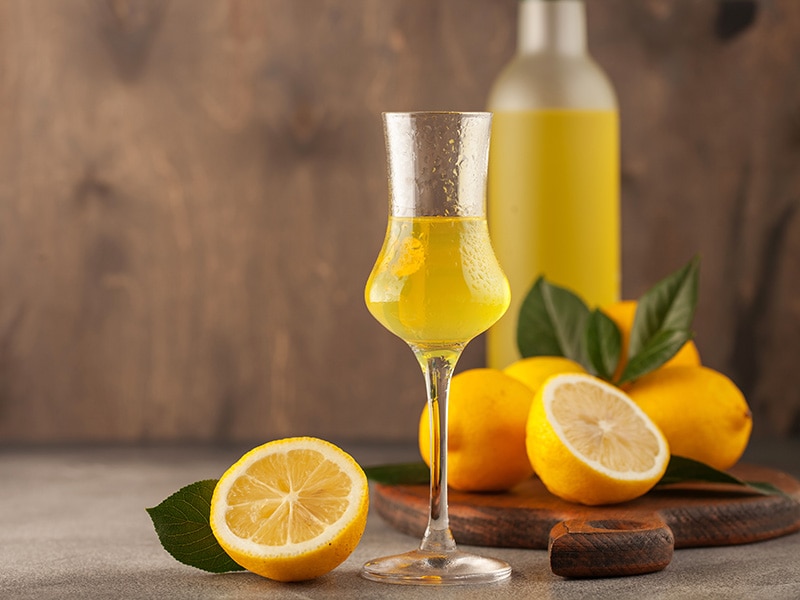 If you are searching for a yummy drink in Sardinia for your party, Limoncello is a perfect suggestion you should consider. It is one of the most loved Italian drinks. Many factories are producing it in Southern Italy and the Sorrentine Peninsula.
This typical drink contains lemon zest, rectified spirit, and sugar. It has a turbid appearance and is a good choice for your dinner. There are many theories about its origin. The Los Angeles Times has shown that it was born in Sicily 100 years ago.
On the other hand, another theory said that it was an invention of people on the Amalfi coast. However, The Star Tribune claimed that a citrus-grove tender made it in1900 in Azzurra, or monks or fishers created it earlier.
It usually appears in small ceramic glasses when serving in the Sorrentine Peninsula and Amalfi Coast. It is a common material for molding cocktails, ice cream, cake, and pastry. Normally, its alcohol content is about 30%.
Let's discover the origin of the incredible Sardinian Limoncello.
13. Pardulas – Sardinian Easter Cake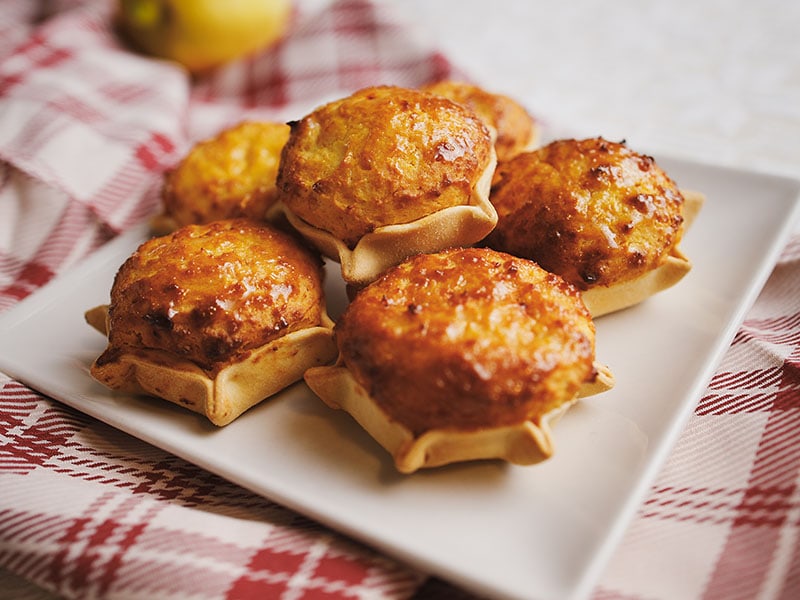 Pardulas is a dessert and snack that will make you remember forever about Sardinia. This traditional pie recipe is an essential part of Easter on this beautiful island. You will go crazy with the ricotta cheese, citrus peel, and saffron filling.
Sardinians often use sheep's milk ricotta to process this food, but they can use cow's milk ricotta to replace it when necessary. The soft and spongy texture of the pie will fascinate you on the first try. A bit of honey and colorful sprinkles will make it better.
Its name will depend on different areas. In Northwestern Sardinia, it is known as Pardulas, but it is called Casadilas around Nuoro.
14. Zuppa Gallurese – Sardinian Lasagna With Carasau Bread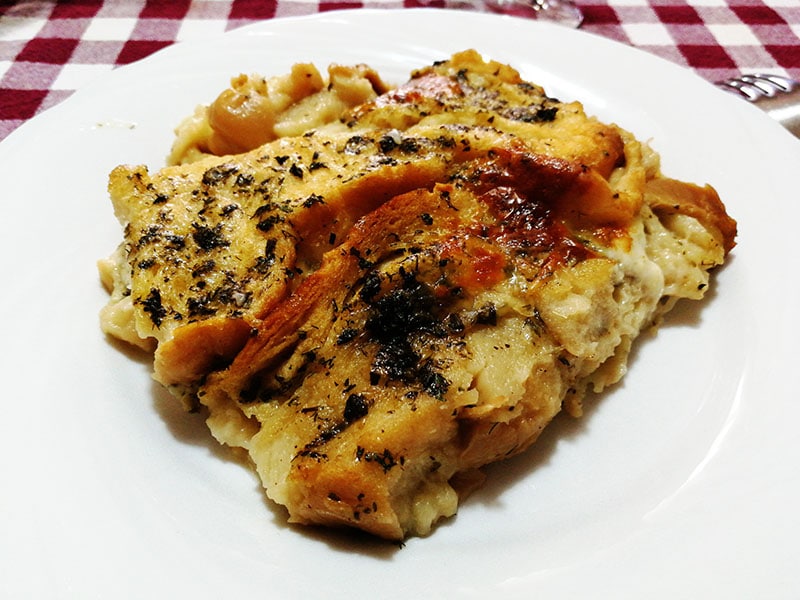 When it comes to the delicious dishes of Sardinia, it is a pity when you neglect the Zuppa Gallurese. It is an excellent option if you like Lasagne and savory bread. Food is a harmonious combination of flatbread, sheep broth, and meat.
The tenderness of the meat and the rich taste of broth will blend with the softness of flatbread to create a hearty overall flavor. Most households in Sardinia make this wonderful Italian casserole. It is an invention of people in Gallura in northeastern Sardinia and along the Emerald Coast.
Take a trip to Sardinia to explore the ways to make Zuppa Gallurese.
15. Pane Carasau – Sardinian Flatbread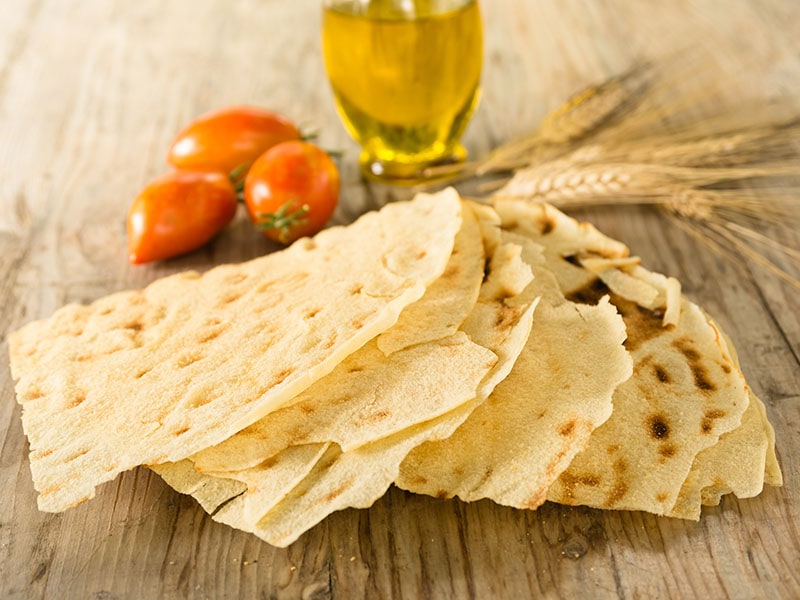 Pane Carasau is a typical bread of Sardinian cuisine. This recipe had existed before 1000 BC when the women made it for their husbands to eat when working on the fields. It is a form of toasted flatbread with an enchanting crunch.
Italians often call it "Carta da Musica" meaning "Sheet music," because it has a thin paper-like shape. Durum wheat flour, yeast, and salt are its main elements. It can keep the shape and texture for a long time. You can enjoy it dry or wet with sauces or wine.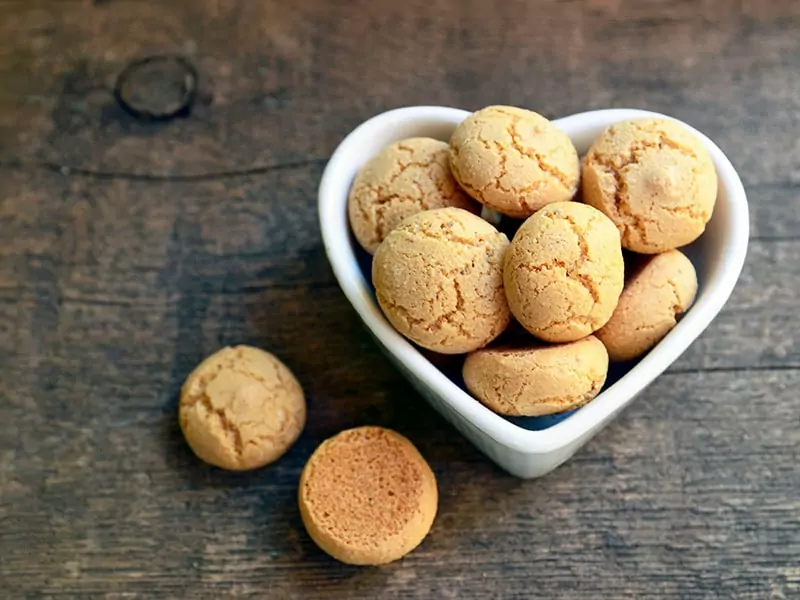 It is time to refresh your taste buds with these sweet cookies. You will find almond flavors in this fine dessert recipe. Its distinctive and eye-catching brown shade will make you want to enjoy it as soon as you see it.
It originated in Italy quite a long time ago. The Lazzaroni family of Saronno invented this dessert. They prepared sweet cookies in 1786 to serve the King of the region. In 1851, they developed Amaretto Liqueur to combine with cookies.
17. Pan'e Saba – Sardinian Christmas Cake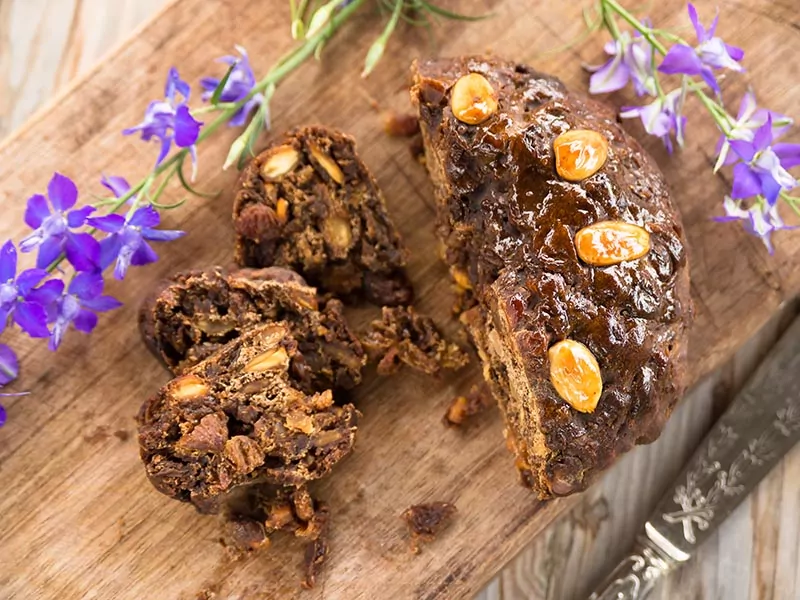 Pan'e Saba is one of the famous Italian dessert recipes in festivals in Sardinia. It is a priority option of the Sardinians during All Saint Day and All Souls Day on November 1. In addition, it is an essential part of Christmas and Easter.
Sweet reduction of must (young wine) is the main ingredient of this dessert. It has existed since ancient Greek. In particular, its flavor will become richer and more robust when adding dried fruits like hazelnuts and walnuts.
Other Sardinian Dishes
Your meal will be more diverse with these other incredible options in this section. Their flavor will not let you down while trying them. Let's check them out.
18. Porcetto Arrosto (Porcheddu)- Roasted Suckling Pig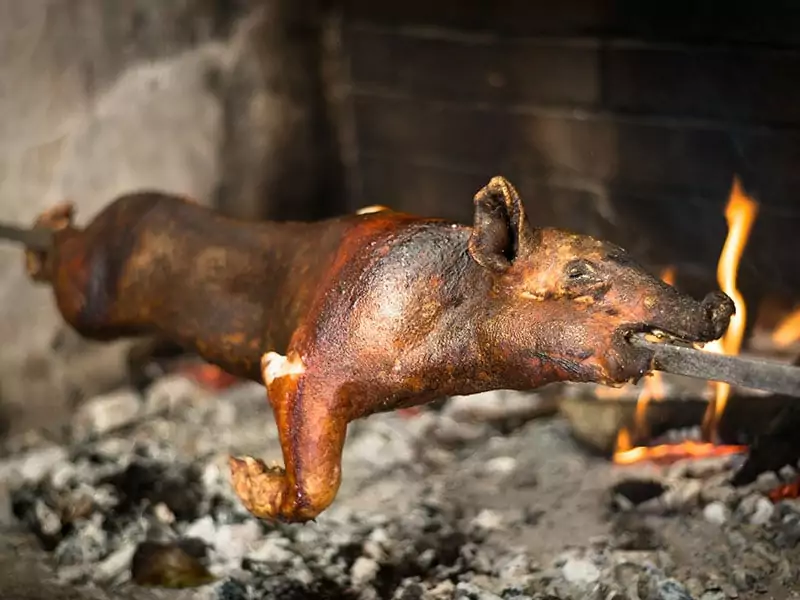 Porcetto Arrosto deserves to appear in your Sardinian dinner recipes list. You can feel the softness and crispiness at the same time when enjoying roasted suckling pig. After roasting for about 6 hours, the meat inside is juicy and tender while the skin of the suckling pig is extremely crispy.
It existed in ancient times when Spain ruled this island. Initially, it was a typical food of shepherds in Sardinia during Easter. You can try its popular variations like Carraxiu that are cooked under the ground and Ammurtau Porcheddu with an outer myrtle leaf layer.
19. Pecorino Sardo – Sardinian Sheep's Milk Cheese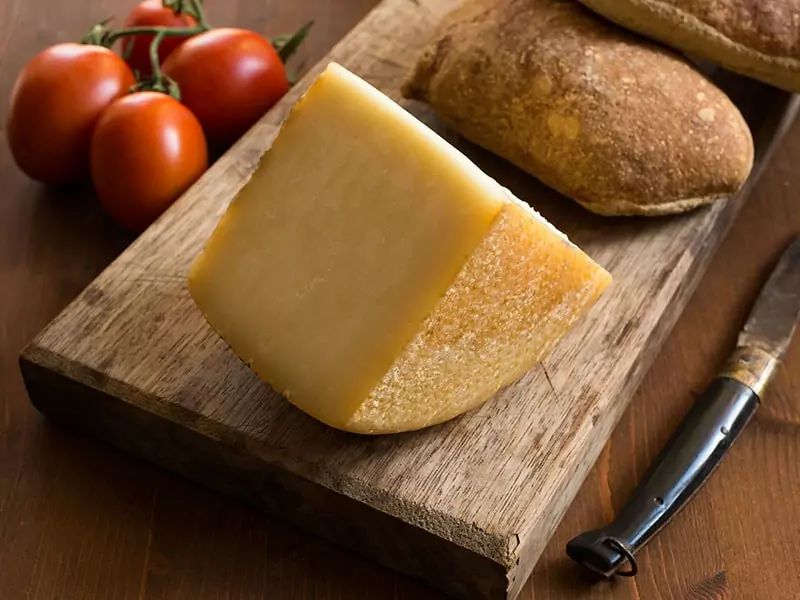 When referring to the famous cheese type from Sardinian, it is impossible not to mention Pecorino Sardo or Fiore Sardo. It is a kind of hard cheese originating from Sardinia with the main component of sheep milk.
Maturation time will affect the sharpness of the flavor of the cheese. If cheese is incubated for more than 4 months, it is called young Pecorino Sardo. And, when it needs more than 6 months to anneal, it will become mature cheese. You can combine it with bread or a sandwich.
This ancient cheese recipe was born about 5000 years ago from the Bronze Ages. It met the Denominazione d'Origine standard (DO) in 1991 and Protected Designed of Origin (PDO) in 1996.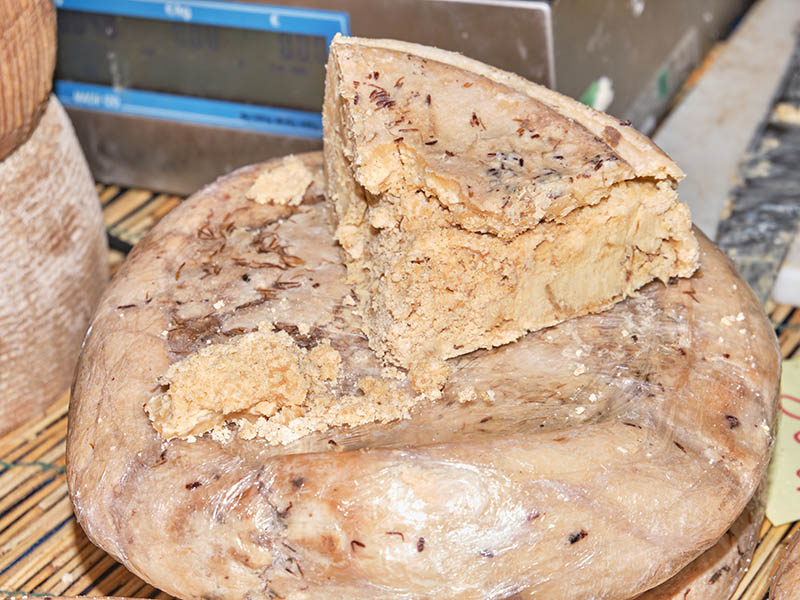 Casu Marzu is a unique and famous cheese in Sardinia. The main component that creates this type of cheese is sheep's milk. In particular, you will find insect eggs inside this cheese.
People will place a strong Percorino outside and create holes for flies to lay eggs inside. When larvae feed the cheese, it will create a creamy texture for cheese. It takes about a few months to age before using.
I advise you not to enjoy this food because the Sardinians said it is an unsafe recipe if the maggots inside the cheese die. The European Union has announced a ban on eating this cheese because of health problems.
Explore some crucial things about Casu Marzu cheese.
21. Tagliere – Meat And Cheese Platters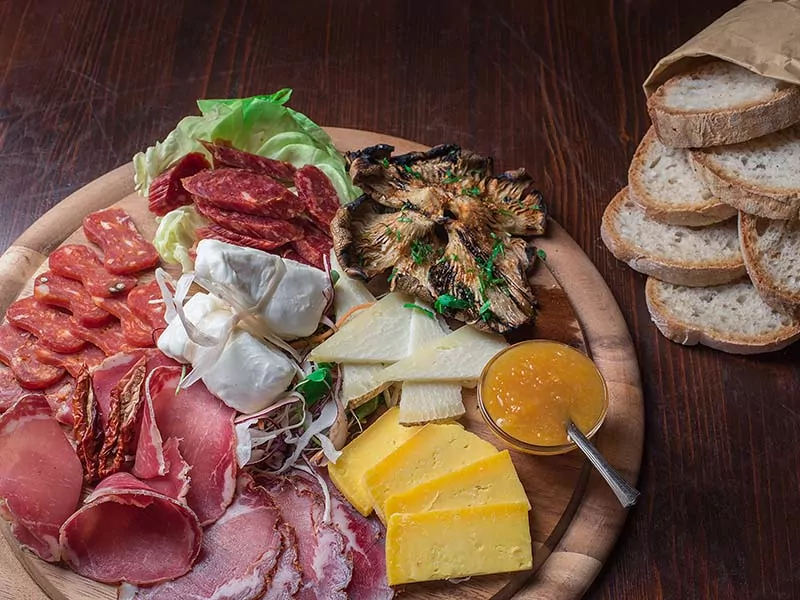 When you arrive in Sardinia, you have to enjoy Tagliere. It is an excellent combination of cheese and meat. It is famous in Sardinia and widely known in Bologna and Emilia Romagna.
You will immerse in the tenderness of the cured meat slices, sausages, and cheese (goat cheese and Ricotta). The taste of the ingredients will blend to create a perfect overall. It is a recipe always present on the menu of restaurants in Sardinia.
22. Cordula – Lamb Offal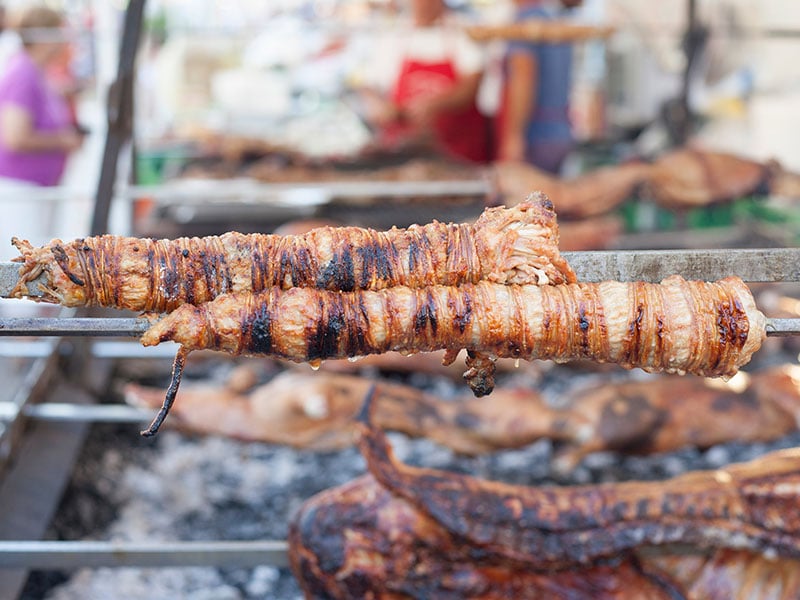 You will have a great experience after enjoying the unique Cordula. It is a long traditional dish of Sardinian cuisine. This recipe includes the intestines and organs of lamb that are spit-roasted or slow-cooked.
Occasionally, you will encounter intestines that are stir-fried with peas, roasted heart, lungs, and liver, and eaten with bread. Sardinians also call it Braid. People often make it at Christmas and Easter. It is common from December to spring as much lamb slaughter takes place.
23. Lumache Al Sugo – Sardinian Snails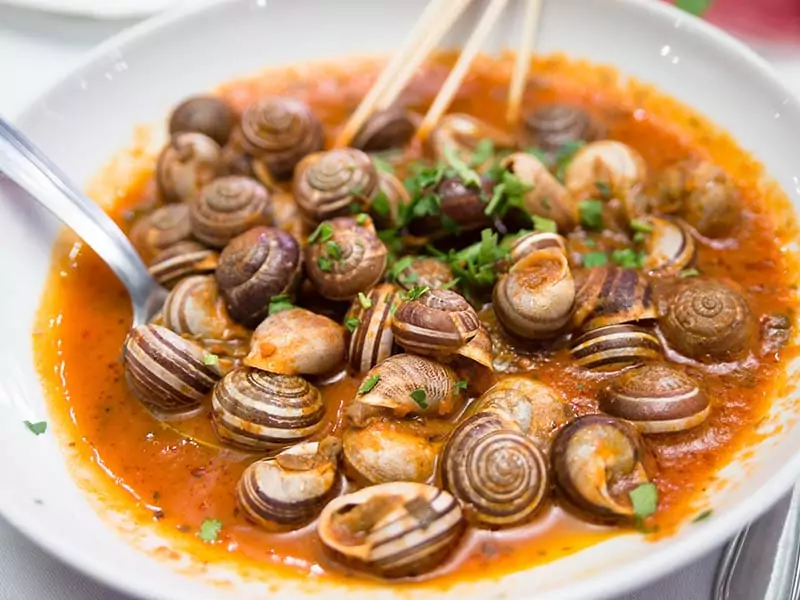 If you are a loyal fan of the foods made from snails, Sardinia is a paradise for you. Their countless snail recipes will stimulate your taste buds immediately. Primarily, it is famous in Sassari city in northern Sardinia.
There are many different ways that the Sardinians used to prepare snails. The chefs can simmer snails with spicy tomato sauce or stir-fry with garlic and breadcrumbs. Their taste will be suitable to combine with a few beers.