The list of 10+ sweet Chilean Desserts that filled your heart with sugars!
If you are crazy about sweets, then Chile has plenty to satisfy you! Directly inspired by spectacular European delicacies, the Chileans' sweet tooth has led them to modify their desserts to be super sweet, rich, and creamy.
Now, what are you waiting for? Take a look at this post and indulge yourself in this sinful sugary passion.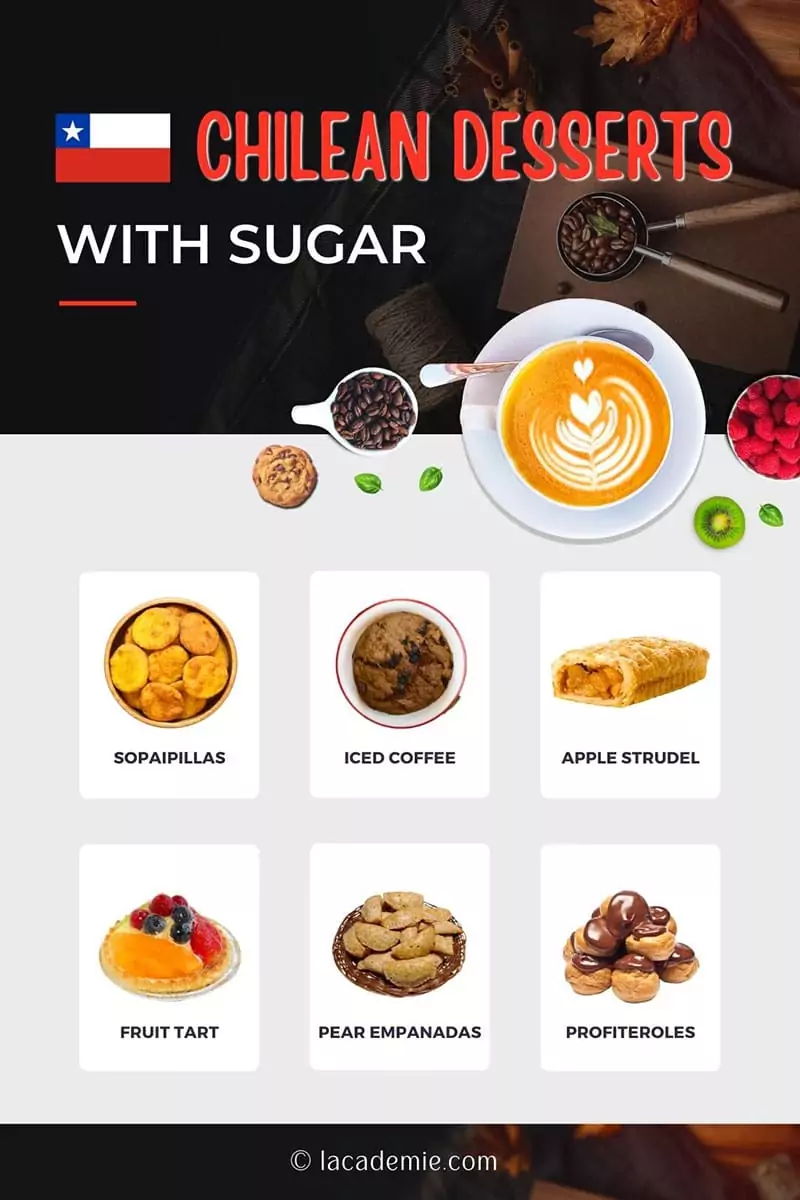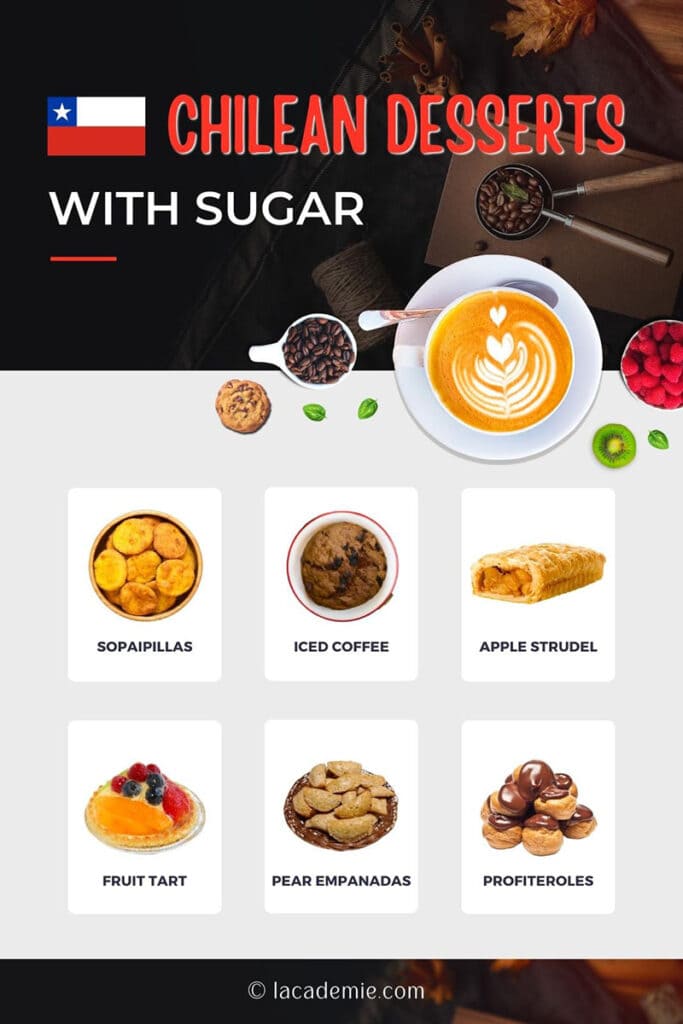 List Of Sweetness Chilean Desserts
Even though red wines and pisco are two special foods in traditional Chilean cuisine, those sweet desserts are miserable. However, if you try those sweets, you will fall in love with them.
Sopaipillas
Leche Nevada
Pan De Pascua
Apple Strudel
Fruit Tart
Pear Empanadas
Profiteroles
Leche Asada
Dulce De Leche Mousse
Apple Fritter
Torte De Mil Hojas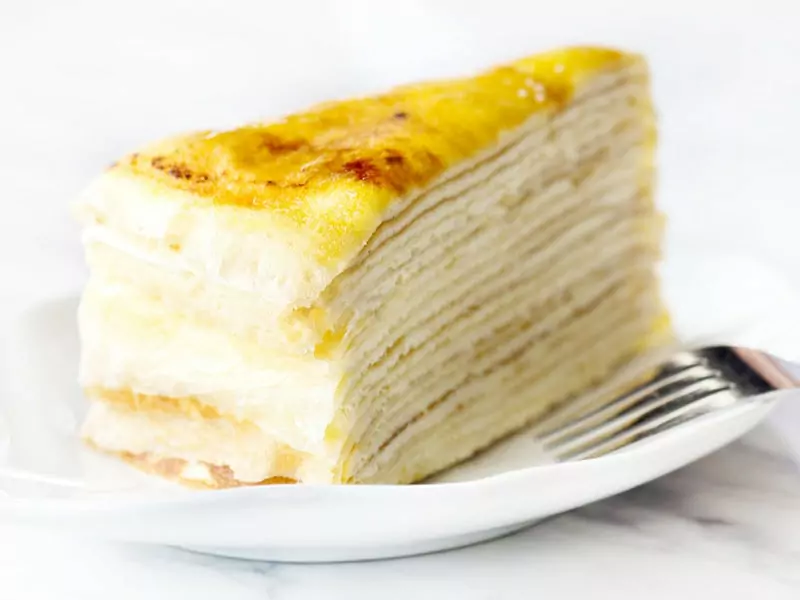 The Sugary Chilean Desserts
Sweet is the most enjoyable taste used in many desserts around the world, and so does Chile. In this Latin American country, the sweetness is taken from fruits, such as apples, pears, and peaches.
A golden-brown crunch on the outside yet soft and moist inside, this Mexican-inspired sweet course is popular with Chileans of all ages and easy to do with only flour, baking powder, salt, and shortening.
Once you have finished frying your Sopaipillas, let's go on to create our sauce. Now the thing is, this dish might be a little plain if we're not adding any flavor to it, so you could sprinkle powdered sugar or sugar-cinnamon.
However, if you think it is a little too dry, you could dip it with honey/ maple syrup or condensed milk. The trick is as long as there is additional flavor (sweet/salty/or sour-sweet) added, then it could really complement this delight's taste.
But if you still wonder which sauce to eat with Sopaipillas, then I recommend my sour-sweet favorite, made from brown sugar, oranges, and cinnamon (recipe below).
Here is a flavorful dessert with a touch of cinnamon that everyone would crave for. Although having quite an aesthetic name of 'floating island', this dessert is not that hard to make.
Light and creamy, this simple dessert could be cooked in a flick with a mixture of meringue, custard, and milk.
You could savor it instantly while it's hot or waits a bit for it to cool down. Lastly, don't forget to sprinkle some cinnamon powder on top!
Pan de Pascua, or translated as 'Easter bread' by English speakers.
The cake brings together the holiday spirit of Chileans by combining strong liquor such as rum/ pisco (Chilean grape Brandy) with a generous amount of nuts and dried fruits diced in cubes.
Possessing a rich, dense texture from the pungent aroma of liquor, the sour-sweetness of dried fruit, and a crunchy yet rich, buttery flavor from nuts, this cake will hypnotize your every sense.
A short recommendation is you could cover the cake in Marzipan (similar to fondant but has almond flavor).
Moreover, it wouldn't be perfect if you forgot to prepare the Cola de mono (a spiced alcoholic coffee concoction known as Monkey's tail) to have the best cake-eating experience.
To put it simply, this trio of unique Chilean holiday traditions will make your every day become Christmas day!.
Apple has always been a super delicious fruit and a versatile ingredient or flavor to many types of deserts worldwide.
And in this topic, I will introduce you to the fantastic Chilean version of apple pie – Apple strudel. You can also find in a list of wonderful German desserts or other countries like Austria, Czech Republic, Italian, etc.
The dish's main ingredient contains homemade pastry dough /store-bought puff pastry, or filo dough (phyllo), and of course, a bunch of fresh apples.
For the filling, prepare sugar, cinnamon, and salt as condiments and mix them with thinly sliced apples. After the mixture is ready, spread it entirely on the dough, and it is ready to be baked.
When you finish, get ready to welcome a lovely treat coated in multiple golden-brown layers with moist and mild apple filling that is just waiting to ooze out in every bite.
Light yet flavorful, this will definitely be the treat that all members love.
For additional information, the apple strudel could be served as a stand-alone breakfast pastry or sides and is best when served hot.
Well, who could ever deny a dewy and colorful fruit tart?
Though the dough stays the same, there are no boundaries on the additional ingredients when making a fruit tart, as long as it tastes fine.
For instance, in the fruit topping, you could use one to your preference, and the tart filling could be lemon curd, cream cheese, or milk cream to create a fascinating dessert with lemon. Overall, this pastry has many variations and is easy to make for you to share with family and friends.
Having a half-round pillow-like shape, the pastry reminds of the Chinese crescent-dumpling.
However, this Chilean version of empanadas is baked, not fried or steamed, so the amount of dough in the recipe is different.
Moreover, the pastry fillings made of pear and pumpkin puree are a star that differentiates it from other variations.
Light, sweet and fruity, the pear empanadas are an excellent snack to have with tea on a sunny day.
While the Chilean and UK called it Profiterole, people in the US know this tasty treat as Cream puffs.
That's why there are many versions of this dish, including those in authentic Turkish desserts. Generally, the pastry was known to be a crispy light ball filled with cream and topped with chocolate.
However, this version of Chilean Gingerbeard Profiterole filled with white chocolate was highlighted by the spiced gingerbread cookie dough topping, which in my opinion, makes it quite similar in shape to the Papparoti, but smaller.
This complex taste combination from white choco mixed with the creamy light pastry and the spiciness of ginger will create an explosion in your mouth.
It seems like Chilian is fond of adding lemon and cinnamon to their dessert, and the Leche Asada is their answer to the creme brulee.
Though the name might sound unfamiliar, it is similar to creme brulee in the US but lighter and might have a distinct aroma.
The Chilean Leche Asada's custard contains mainly cinnamon-lemon and even Pisco (Chilean Brandy).
However, adding alcohol to this dessert is optional; and in case you don't like to add the brandy, you don't need to worry about the taste because it won't change much.
To those who only like the mousse of the birthday cake, this dessert is a perfect match for you. The Dulce De Leche Mousse is a mixture of dulce de leche and heavy cream that is easy to do and prepare.
The Dulce De Leche Mousse is rich and creamy in taste combined with a cooling yogurt-like texture, not frozen like milkshakes.
However, it is not made instantly because you must let it sit for at least 12 hours in cool temperature after covering the mousse.
But just like people said, waiting makes a dish more delicious, and this dessert is definitely worth the wait.
For packaging, you could divide it into small amounts and store others in the fridge.
For serving, one could put any kind of topping on it, from delicious Chilean fruits to nuts or dip the cookie and brownie in.
Imagine how wonderful it would be if friends came to your house and received a cooling sweet treat like this.
These apple fritters bring back good memories of my childhood when at home and when mom fried it for me, and I also have it when I was taken out to the fair.
It is easy to prepare with flour, sugar, salt, baking powder, cinnamon stirred with milk and egg as the batter, and fresh apple filling.
Fold the apple in batter and then deep fry it. This fritter, crispy golden coat with the crunchy and sweet-sour taste of fresh apple indeed brings a satisfying experience to your palette.
Furthermore, it is a light snack that can be eaten in every meal and extremely popular with kids and adults.
The torta de Mil Hojas is the last Chilean traditional cake from this list.
Translated as "Cake of a thousand leaves", this Chilean thousand layer cake is not hard to make; however, the task of preparing the multiple dough layers might be challenging for impatient ones.
The cake's traditional filling is dulce de leche and walnuts sandwiched in thin, crunchy dough layers.
The original recipe might be too sweet for some, so if you like it less sweet, then you could replace the filling with pastry creams/whipped cream or fruit jams such as plum or rhubarb.
If you want more the alfajores recipe is here for you. Watch this video to know more:
Do You Love It?
The list above features some of the greatest traditional and modern Chilean desserts that are simple to prepare and make. These components are diverse and easy to obtain, the recipes are straightforward yet efficient, and each dessert is terrific in both tastes and appearance.
What are you waiting for, buckle up and get ready to make some to enjoy? I bet all the people around you will love these tasty pastries!
Feel free to share new Chilean dessert ideas with me via the comment section or spread the word about this post in your community for more interactions!
Nutrition Facts
24 servings per container
---
Amount Per ServingCalories105
% Daily Value *
Total Fat 3.5g

5

%
Sodium 98mg

5

%
Potassium 65mg

2

%
Total Carbohydrate 16.1g

6

%

Dietary Fiber 0.6g

0

%
Sugars 0.1g

Protein 2.2g

4

%
---
* The % Daily Value tells you how much a nutrient in a serving of food contributes to a daily diet. 2,000 calories a day is used for general nutrition advice.