Is it good to cook when your chicken smells like eggs? Your chicken will have a bad smell due to many conditions. If it smells similar to a cooked egg, what should you do? What makes chicken smell like eggs? You can discover all these questions in this post.
Don't go anywhere! Because in this article, I will help you answer your questions and give you many tips to remove the smell from your chicken. Let's take a look.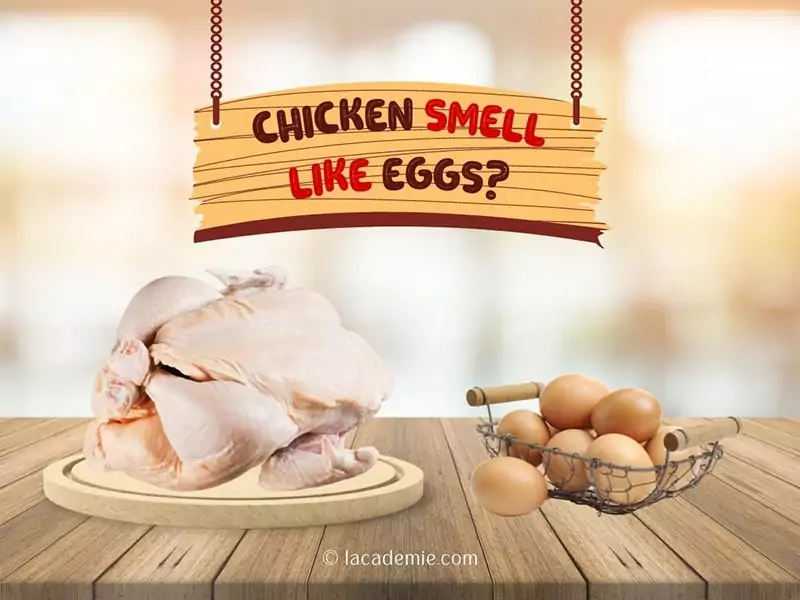 Why Does Your Chicken Smell Like Eggs?
When you take your chicken out of the refrigerator, you may find an eggy smell by giving it a quick sniff. Why does this happen? Many reasons make your chicken smell like eggs. Check it out now:
1. Blood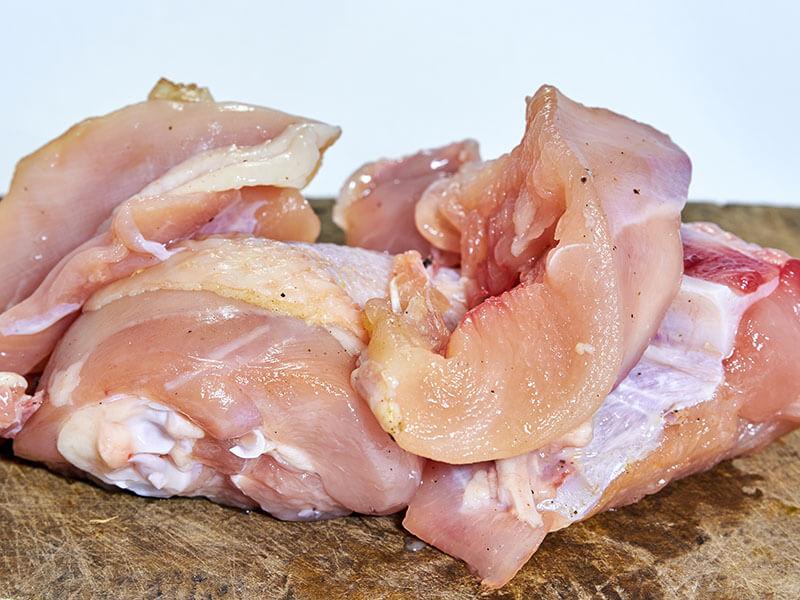 Most chicken smells like eggs because of their blood. Chicken blood spoils faster than meat. This causes the entire package of chicken to have an unpleasant smell. However, you can still eat the meat after some processes.
This means you have to wash the entire chicken thoroughly with water to remove the smell. When the chicken gets rid of that smell, let's start cooking it, ensuring it reaches a safe temperature of over 165⁰F. (1) Then, it is safe to eat.
2. Salmonella Enterica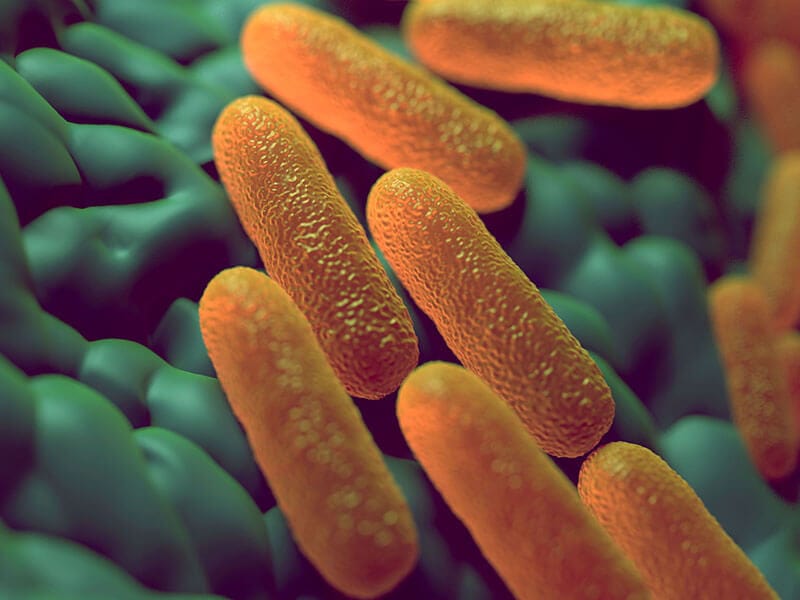 Salmonella enterica is a type of bacteria that can live in the intestinal tubes of humans and animals and cause food poisoning. This bacteria lives everywhere in raw meat. If you eat it, it can cause bacterial enterocolitis. (2)
Some serious problems like mucoid diarrhea, severe abdominal pain, and fever can make the patients pass away. Chicken that contains these bacteria will unleash a gas with a sulfur smell.
What can you do with this bacteria? Don't worry! When cooking at a safe temperature of over 165⁰F, the bacteria will become harmless.
3. Packaging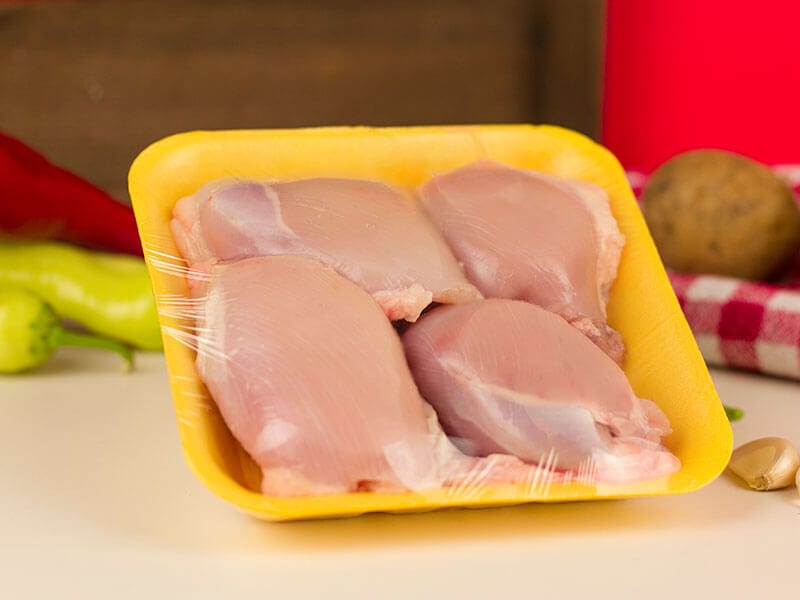 The third reason that creates an eggy smell and sulfur on your chicken is vacuum packaging. If your chicken smells like eggs, it is badly packaged.
Sealed packages with chicken cuts will give off an unpleasant odor when opened. Why does that happen? The truth is oxygen is forced out of the package, and the container creates an eggy odor. People usually call it a confinement odor.
This smell doesn't affect the chicken. You may see that vacuum packaged chicken is more discolored than fresh ones.
Can You Eat Chicken That Smells Like Eggs?
The good news is that even when your chicken has an egg smell, it is still usually safe to eat. If you notice your raw chicken smells bad like old eggs, it must be the vacuum-sealed packaging and blood. You can still eat them if you wash them thoroughly.
In case your chicken has a bad smell because of bad bacteria, you must cook it over 165⁰F to remove the bacteria. It will not cause serious problems such as food poisoning.
If it still has a bad smell after cooking, you shouldn't eat it. Moreover, you need to know that there is limited time for cooked chicken to sit out. Therefore, a bad smell is one of the common signs that your chicken is spoiled.
What Can You Do When Your Chicken Smells Like Eggs?
Don't freak out! I will help you know what to do to discard the bad smell from your chicken. These are 7 ways that you can follow to help your chicken get rid of the smell. Check it out:
Give It Some Air
Let the chicken rest for 10 to 15 minutes before cooking it. If the smell comes from the package, the blood and the boiled egg odor will go away. However, if the smell doesn't disappear, the problem is the meat. It is safer to throw it out.
Wash Under Water
This will work with chicken that is taken out of the freezer. You need to wash the chicken under running water to reduce the smell. It is better if you use cold water since the meat will not be affected by the water.
Adding Salt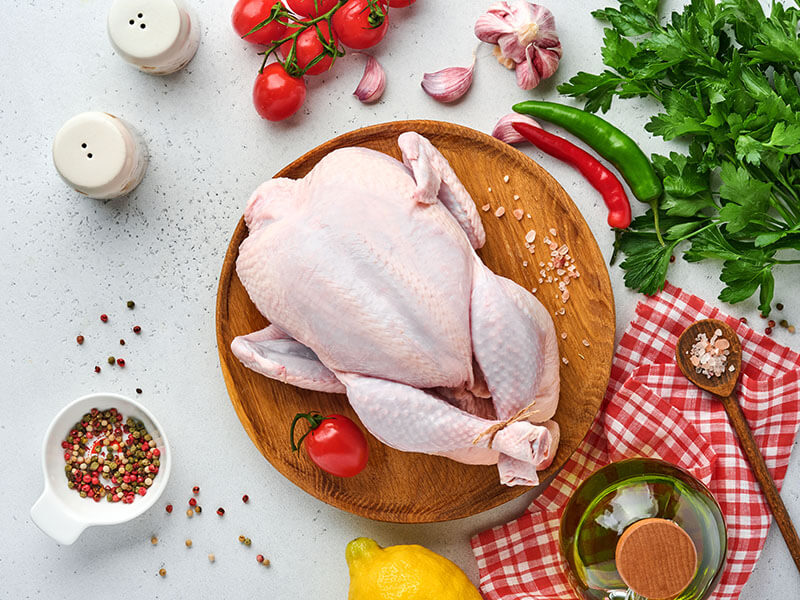 People usually use salt to remove bacteria and dust from their raw food. You can cover your chicken with salt after washing it, then cook it. This solution is best for recipes that contain salt.
Put In Acidic Ingredients
Acidic ingredients like vinegar or lemon juice contain acid that destroys the bacteria in your chicken. Pour these ingredients over the chicken and wait for 2-3 minutes to wash it off.
People also use acidic ingredients to enhance their recipes. You can add these ingredients to your marinade to make your chicken tastier. Marinade aroma can overwhelm the eggy smell.
Adding Baking Soda
Baking soda is a magic product. It is an absorptive salt that can take on many stains and smells. This is a hack for many ingredients since baking soda can enhance the taste and remove bad smells from your food. You should add baking soda before cooking your chicken.
You can apply baking soda to your chicken for a minute. After that, you can clear it out with water. The smell will no longer appear, and your chicken is ready to cook.
Baking soda can also help raise the flavor of your chicken and make it tastier.
Using Spices And Herb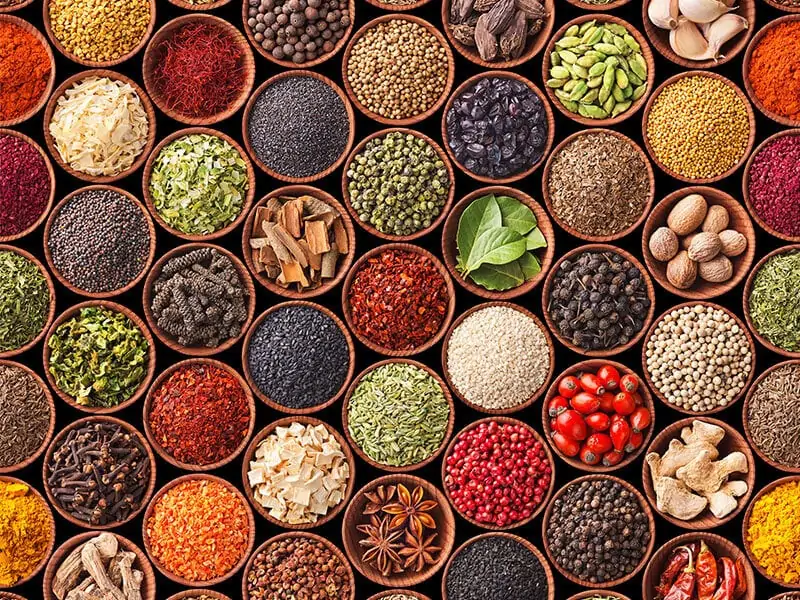 There are various sorts of spices and seasons can help cover the smell and enhance the taste of your chicken. Peper, vegetables, or seasonings like bay leaves are perfect for this job.
You can also use garlic, sage, rosemary, and cilantro to enhance the taste of your chicken. These spices have a strong smell that will consume the eggy smell of your chicken.
How To Know Whether Your Chicken Is Spoiled?
You already know that if chicken goes bad, it will have a terrible smell. What else? Some various conditions and reasons can make your chicken go bad. Keep scrolling down to know more.
Raw Chicken
When raw chicken is fresh, they have pink and lightly fresh color. If you see your chicken has a cream or yellow color, throw it away immediately.
The best descriptive term for spoiled raw chicken is a sour smell and gray color. You can find out whether your chicken is still good by using your hands. If the skin is soft and doesn't have any sticky liquid, it is safe to eat.
There are many differences between good and bad raw chicken.
Frozen Chicken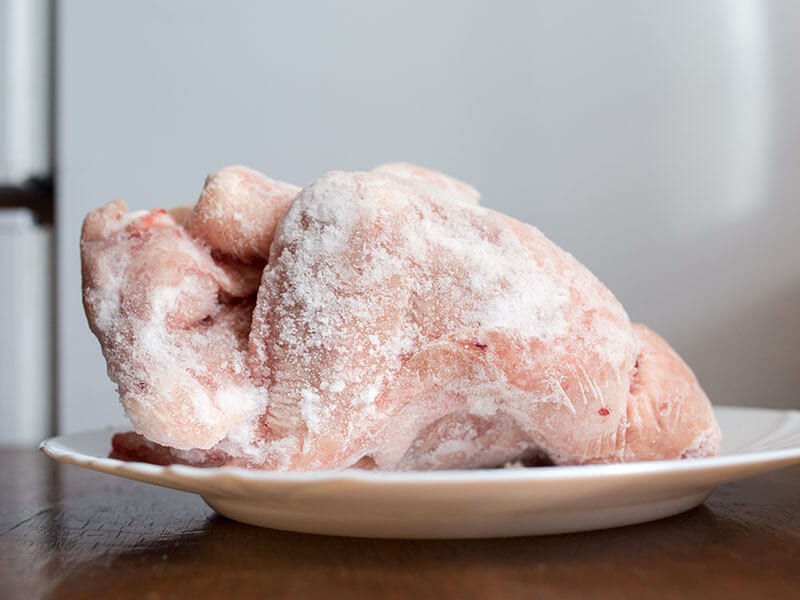 What if you only detect your chicken smells like eggs after removing them from the freezer? Don't worry, it is still safe to eat. The good chicken will have a bright pink color and a clear ice crust.
Suppose that you are about to cook your frozen food and wonder whether to boil frozen chicken is safe or not, checking the texture of your chicken before cooking it is a must. It should have white ice crusts and freezer burns, with colors being neither dull nor cloudy.
After checking on the chicken, if you figure out your chicken has switched to a darker color, it means your chicken is spoiled. In addition, if the skin is slimy, don't hesitate to throw it in the trash bin.
Cooked Chicken
Your cooked chicken shouldn't smell bad. If it has a bad smell after being cooked, it must be spoiled. How to know whether your chicken goes bad by the color? Look at the color of your cooked chicken. If it looks gray and dull, it must contain bad bacteria. It is better not to eat.
Cooked chicken has a firm texture and should be juicy. If it is slimy or stringy, you should not consume it. After a short storage time, you can see mold around your cooked chicken. This means it is spoiled. It would help if you threw it away.
Methods For Storing Chicken
The storage method plays a vital role in protecting your chicken's quality and shelf life. What are the proper ways to store your chicken? Here is the answer you need.
Refrigerator
A refrigerator is a popular choice method to store your food. However, it is just a short-day solution. The longest time you should keep chicken in the fridge is 2-3 days.
The fridge is recommended if you are going to cook your chicken immediately after buying it. It will protect the chicken from being spoiled by bacteria.
Vacuum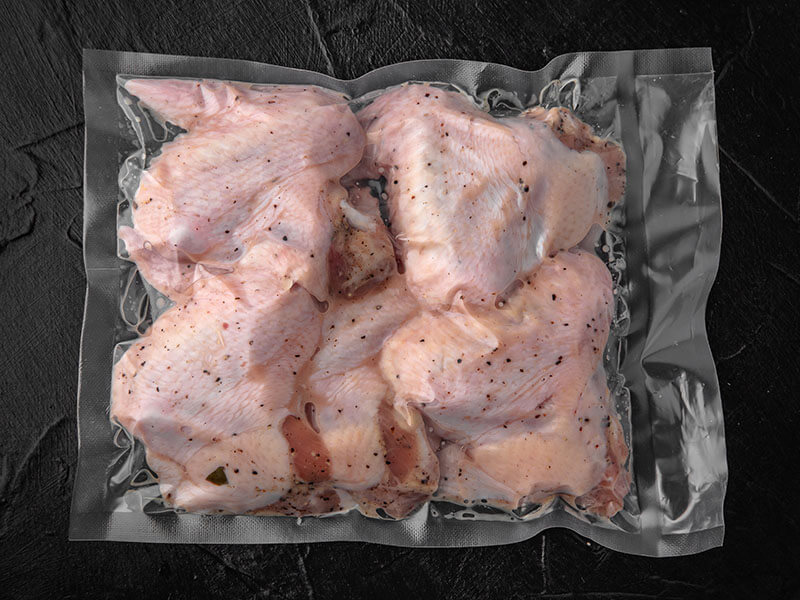 The vacuum method is a great way to keep your chicken away from bad bacteria. As mentioned above, a vacuum chicken package will create a confinement smell, but it is not affecting your chicken's quality.
On the other hand, vacuum chicken can last longer in the refrigerator or freezer. Raw vacuum meat will last 6 to 10 days in the fridge and 9 months in the freezer.
You should follow these tips before vacuuming your chicken to help it last longer.
Freezer
A freezer is a great place for storing your food for the long term. You can keep your raw chicken there for 4 to 5 months. Cooked chicken can last for 3 months.
If you are not sure about freezing fried chicken, rest assured because it can be kept frozen. But you should check the color and smell of the chicken regularly.
Useful Tips
If you are still confused about how to keep your chicken away from an eggy smell, I will show you some easy tips. This article may contain what you need.
Always Check The Expiration Date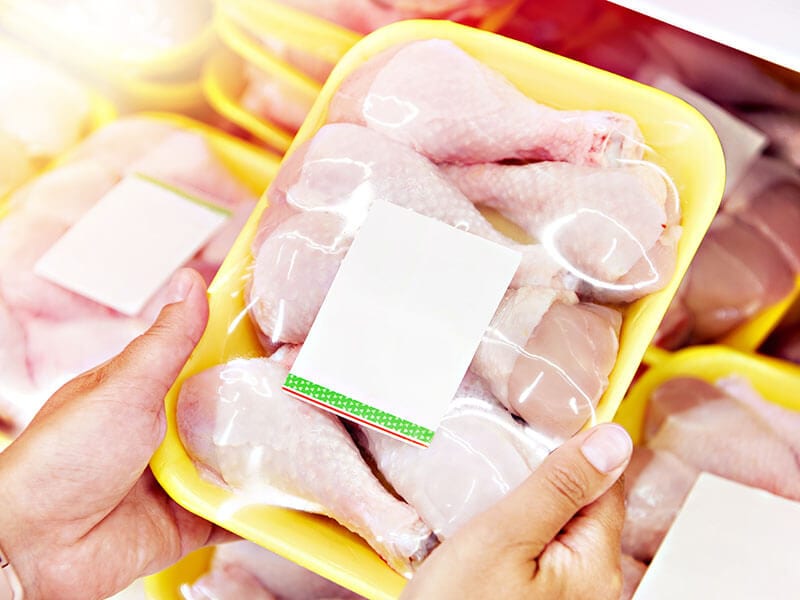 Every food has its expiration date, and so does chicken. When purchasing chicken in the supermarket, you need to check the expiration date. Sellers may put the chicken there for a long time and forget to clear it out.
However, when you uncover the chicken, you need to put it in storage. That will help expand its lifetime. You shouldn't buy chicken, which is going to reach its expiration date in 3-4 days.
Buy The Best Chicken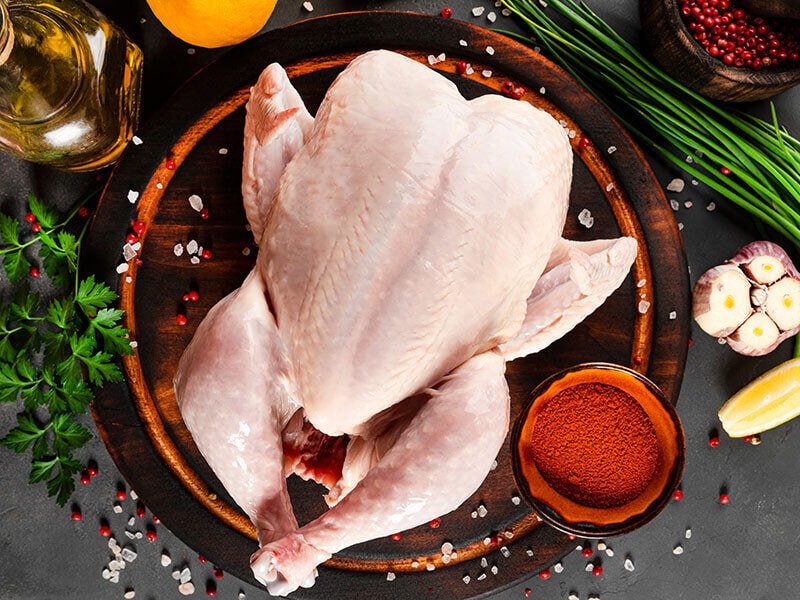 A good chicken will make your dish tastier, so you should carefully pick your chicken from the store. High-quality chicken has a pink and fleshy color. If it is darker than its normal color, you shouldn't buy it.
Storing In Appropriate Time
Chicken has its own storage time. After taking them out from the storage, you need to carefully look at the texture and smell of the chicken before cooking them. If it is darker in color than it used to look, simply throw it away.
FAQs
Do you have any other questions after reading the information above? I bet you have. Below are helpful questions people usually ask and solutions for each problem.
Keep A Healthy Life Without Smelly Foods
Many reasons make your chicken and foods smell like eggs. Sometimes, it depends on the quality of your food. So, you need to buy and store them appropriately to keep them fresh and healthy. I hope this topic has helped you.
Do you have any other way to store your food? Please let me and others know through the comment function. If you find this article interesting, feel free to show it to other people.
References
FoodSafety.gov. 2022. Safe Minimum Internal Temperatures.
Medicalnewstoday.com. 2022. Enterocolitis: Types, symptoms, treatment, and diet.