With a long coastline, Vietnamese seafood dishes undoubtedly have top-notch quality! This list includes numerous options, from familiar fish and shrimp recipes to distinctive ones using snails or eel.
But no matter how unique the ingredients are, these dishes are effortless to complete. You can make some of them into the main dish of your dinner or a piping hot breakfast. Whatever your choices are, your family will surely love these delicacies!
8 Northern Vietnamese Specialties Using Seafood
All Vietnamese regions have their own port cities, leading to special seafood-based recipes in each area. First, let's find out what Northern Vietnam has for you!
Total time: 1 hour (excluding marinating time)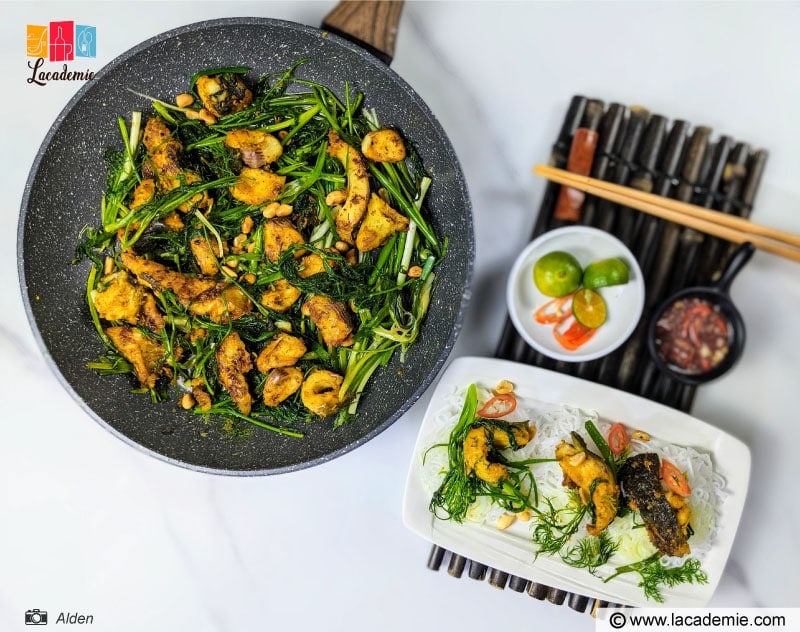 Regarding Northern Vietnamese cuisine, you have to mention the foods in Hà Nội. Since it is the country's capital, Hà Nội holds the epitome of delicate and elegant cuisine. Chả cá Lã Vọng is the classic example.
Although its name is "chả cá" (fish cake), there are only fish filets in this dish. Their eye-catching golden color is from turmeric juice/powder and galangal juice/powder. Chả cá Lã Vọng tastes the best when hot, so the locals often eat it while cooking.
With this detailed guide, you won't have any problem making chả cá Lã Vọng.
Total time: 1 hour 15 minutes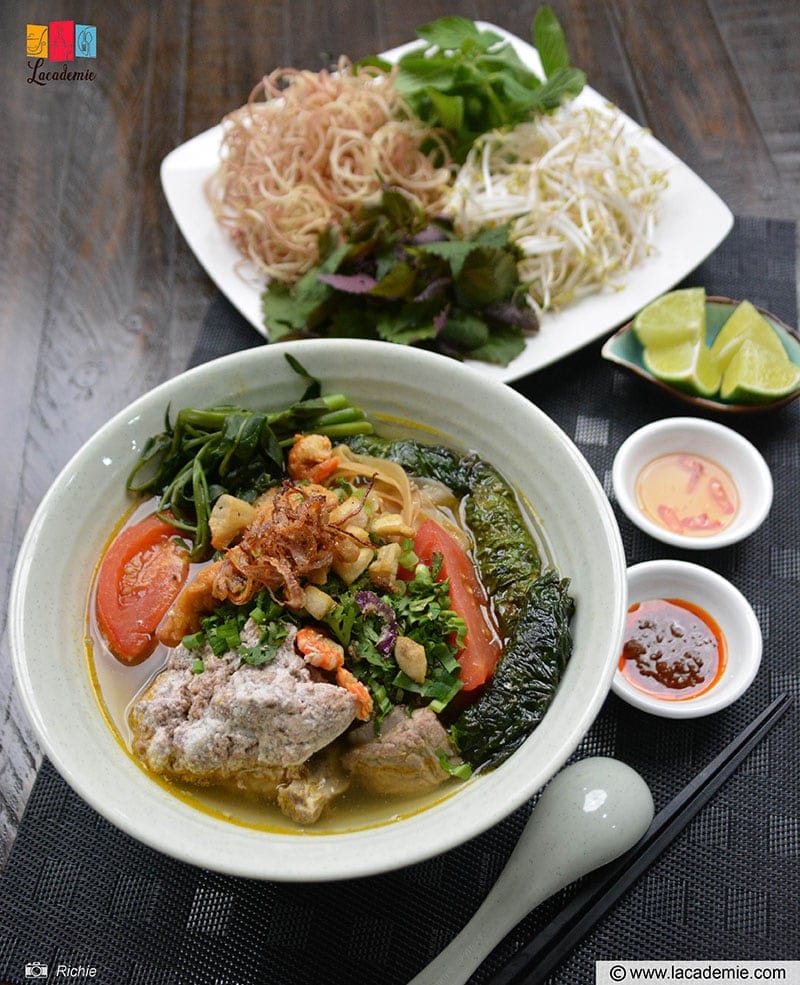 In terms of seafood, not many people appreciate minced crab because it's flavorless and can be grainy if not filtered thoroughly. Let this bánh đa cua change that biased thought for you! Soaked in a flavorful seafood broth, the minced crab here will blow your mind with its taste.
And minced crab isn't the only star in this delicacy. Get prepared for numerous toppings that bánh đa cua has: betel leaf rolls, fish cake, dried shrimp, etc. With different accompanying veggies and herbs, it will be your ideal one-dish dinner meal.
Total time: 40 minutes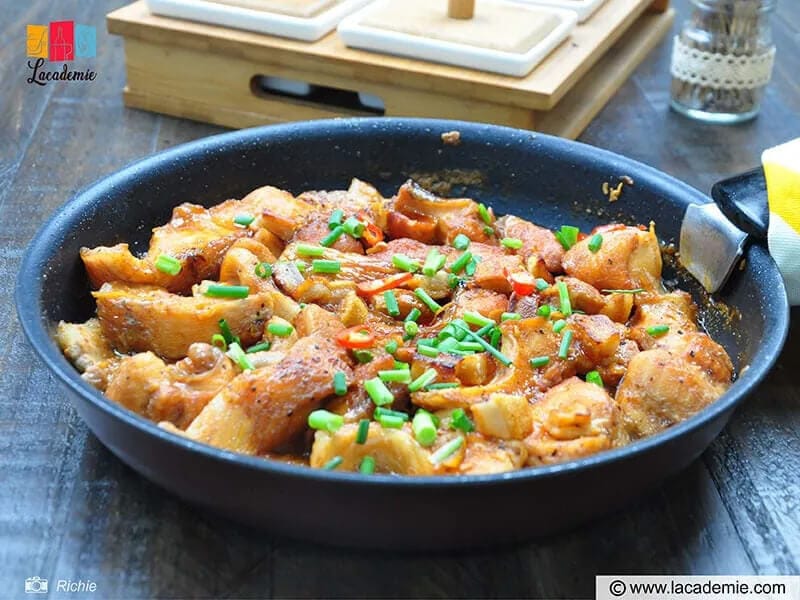 While the two options above are primarily available in diners or restaurants, cá kho tộ is a dish you can see in every Vietnamese meal. Although it's everywhere, it takes a ton of time and experience to make a true cá kho tộ approved by the locals.
The recipe is a simple version for beginners, so you can use a regular pot instead of a specialized clay pot. Follow the instructions, keep a tab of the time and the fire strength, and you'll get a delicious bowl of cá kho tộ for winter.
Total time: 1 hour
Combining shrimp and sweet potatoes into one dish is a strange concept. But the locals have nailed it with their bánh tôm hồ Tây. Even now, it's still a must-try delicacy for any visitor coming to the capital, especially the West lake (hồ Tây).
And unlike other fritters, which require grinding shrimp into a paste, you get to see a whole shrimp in this delicacy. To do that, the sellers need to be extra careful when placing it into the batter.
Total time: 1 hour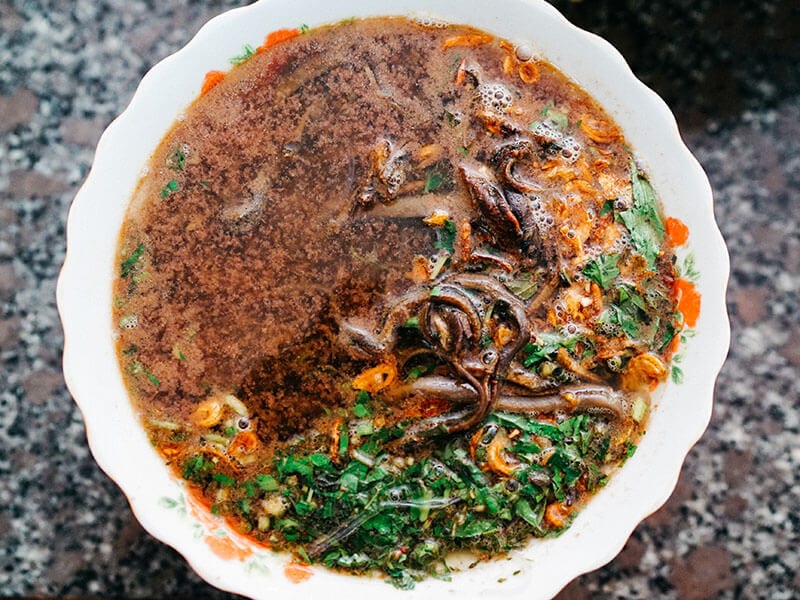 Eel is not a familiar cooking choice since it's hard to prepare. But this dish is worth all the hardship. It's full of eel flavor since even the broth is made with eel bone, making it stand out from other well-loved Vietnamese noodle recipes.
There are many ways to cook the eel topping for miến lươn. You can lightly stir-fry it with mushrooms and veggies, deep-fry it until crispy, or cook it with glass noodles. Either way, it still turns out juicy and delicious.
Get over your fear of eels, and make this miến lươn!
Total time: 50 minutes
For those who don't know what to do with their fish scraps (head, tail, and bones), note down this bún cá in your cookbook! By using these leftover parts to make the broth, this recipe is packed with oceanic flavors.
However, if the overwhelming fish smell isn't to your liking, pork bones are also acceptable for the stock. And adding lots of dills will reduce the scent as well. Make sure to choose a fish with firm flesh because you need it to keep its shape even when dipped in the soup.
Total time: 1 hour 15 minutes (excluding marinating time)
Vietnam is famous for utilizing all available ingredients, even the snails. The locals will pick the highest-quality fresh snails through a careful selection; they are small yet fat and slightly chewy.
Another essential component of this dish is a Vietnamese vinegar called "giấm bỗng". It has an intense sourness, so you only need a little to elevate the broth's flavor and aroma. Bún ốc is still a delicious dish when served cold, so you can enjoy it even in summer.
Total time: 45 minutes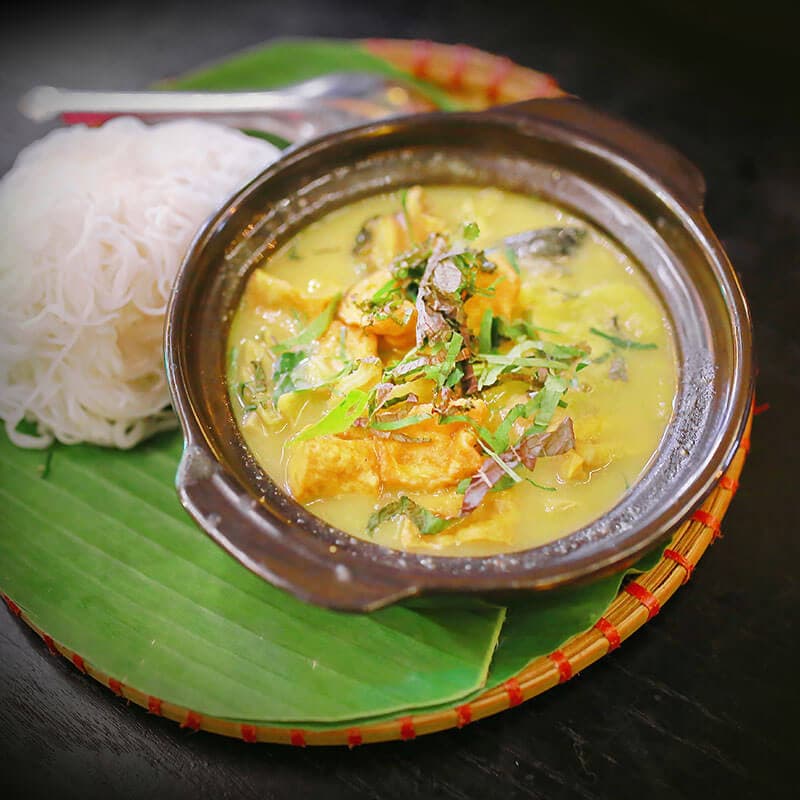 Ốc nấu chuối đậu is another delicacy using snails. But this one is mainly for winter because of its light spiciness and thick texture. People often eat it with vermicelli noodles or rice but feel free to enjoy it on its own.
For me, the most attractive part of ốc nấu chuối đậu is its diverse textures. You get chewy snails, tender green bananas, crispy yet soft tofu, etc. You won't be able to stop devouring this dish.
6 Must-Have Southern Seafood Dishes
Have you ever tried any seafood dish Southern Vietnam has? If not, this category is for you! With these choices below, you can explore their potential to the fullest.
Total time: 40 minutes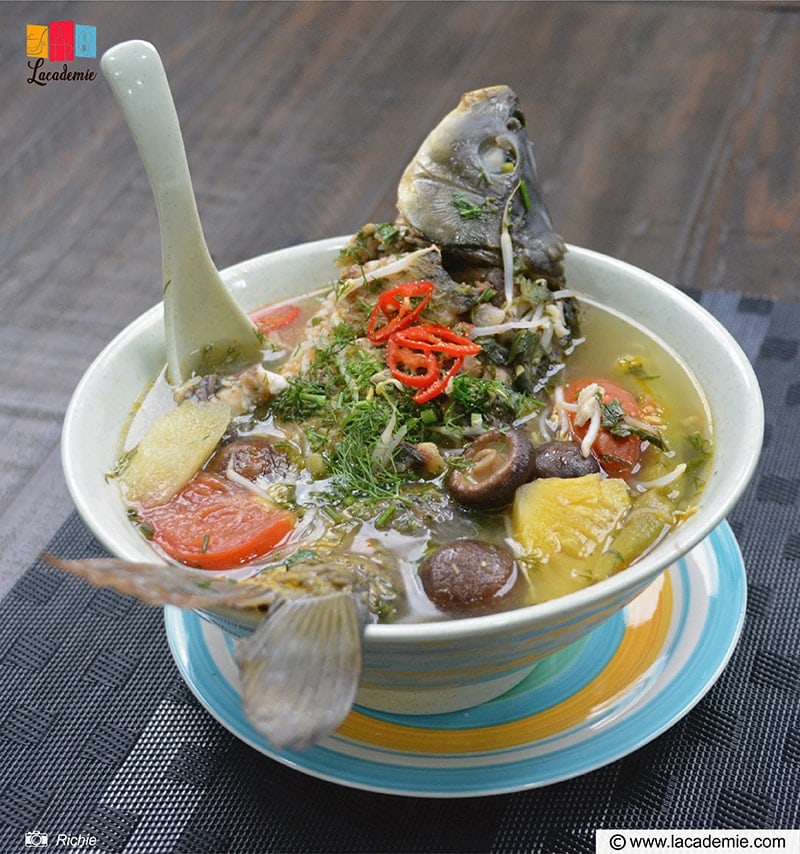 Since Southern Vietnam is hot all year round, the locals have created many sour-tasting dishes to escape the heat. Canh chua is one of them. With a sip of its broth, you'll enjoy a wave of different flavors: sweet, sour, spicy, and umami.
And besides tomatoes, you'll also find tamarind and pineapple in this soup. Although the latter ingredient sounds bizarre, it really elevates the flavor. You can even place some pineapple slices to add some crunchiness.
Total time: 2 hours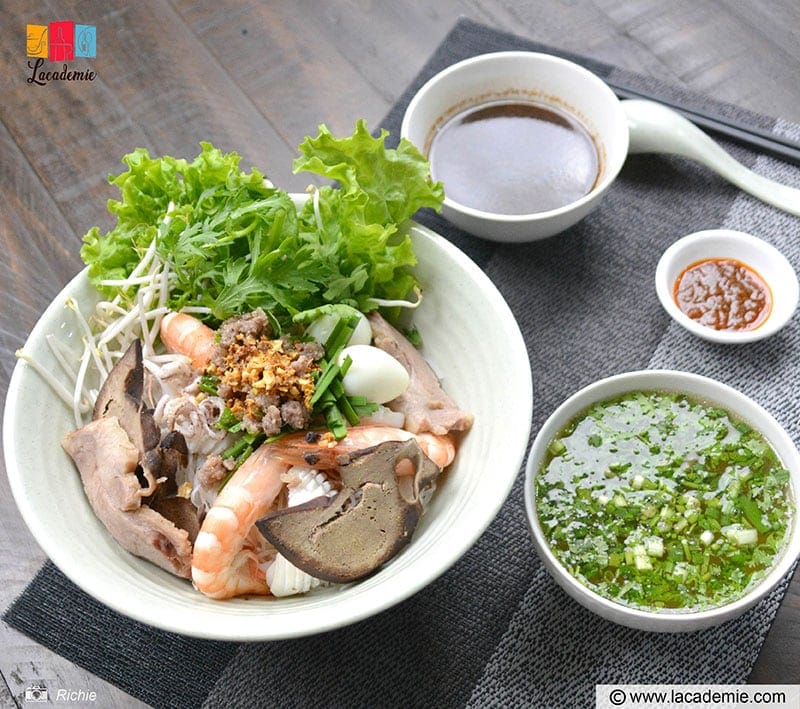 While Vietnam has many of its own specialties, it also owns some fusion dishes learned from other countries. This hủ tiếu Nam Vang is the result of combining Cambodian, Chinese, and Vietnamese food.
It's an excellent choice for people who want to enjoy meat and seafood at the same time. For the meat, aside from pork meat and ground pork, there are pork heart and liver, an unusual but super tasty choice. And you also have prawns and squid for the seafood part.
Combining both seafood and meat, hủ tiếu Nam Vang is an ideal choice for gourmets.
Total time: 1 hour 15 minutes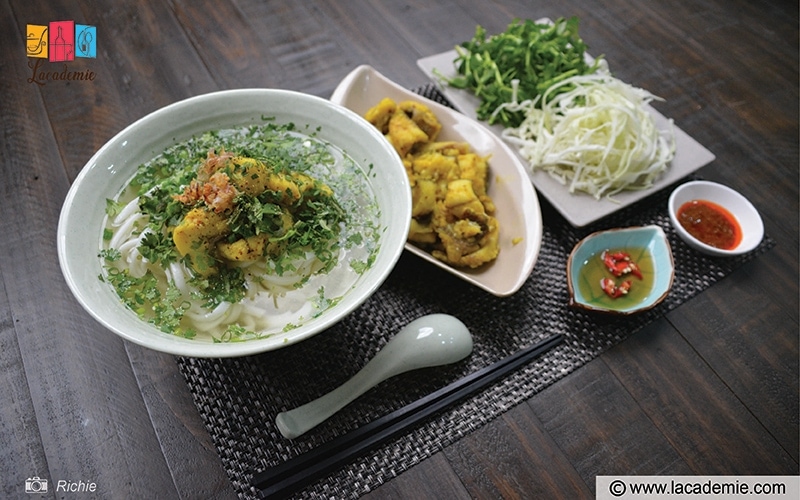 Vietnamese people have hundreds of ways to prepare snakehead fish, from steaming to braising or pickling. And today, you'll learn about a famous dish in South Vietnam called "bánh canh cá lóc".
And unlike other particular Vietnamese noodle soup, this recipe uses a special type: "bánh canh". It looks like Japanese udon and is starchier. You can choose either the rice flour version or the one with tapioca flour.
Total time: 1 hour 30 minutes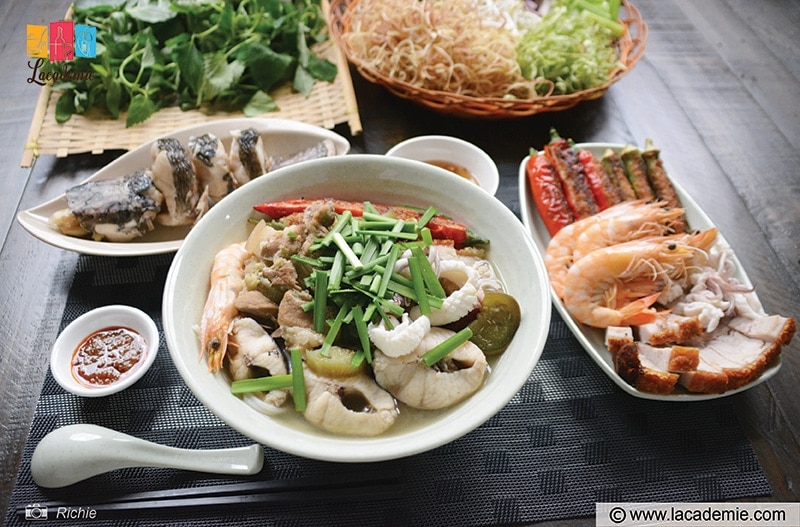 The first thing you notice about bún mắm is its pungent smell. Made with fermented fish, it is a challenging dish, even for Vietnamese people. But once you get used to its aroma, you'll grow to love it.
Various accompanying Vietnamese herbs and spices also help to reduce the smell, so just gather your courage and try this bún mắm. Besides the fermented fish, you'll meet the snakehead fish here again, alongside pork belly, crackling pork, and other kinds of seafood.
13. Vietnamese Noodle Salad With Shrimp (Bún Tôm)
Total time: 25 minutes
You may have heard about one iconic dish in Southern Vietnam: Grilled pork noodle salad (bún thịt nướng). And here is another version with shrimp in place of pork. You can grill it over charcoal like the original recipe or sear it in the frying pan.
Similar to bún thịt nướng, bún tôm goes with various herbs and veggies, such as lettuce, bean sprouts, cucumbers, etc. Pickles are also another option to accompany it, besides vermicelli noodles.
Total time: 30 minutes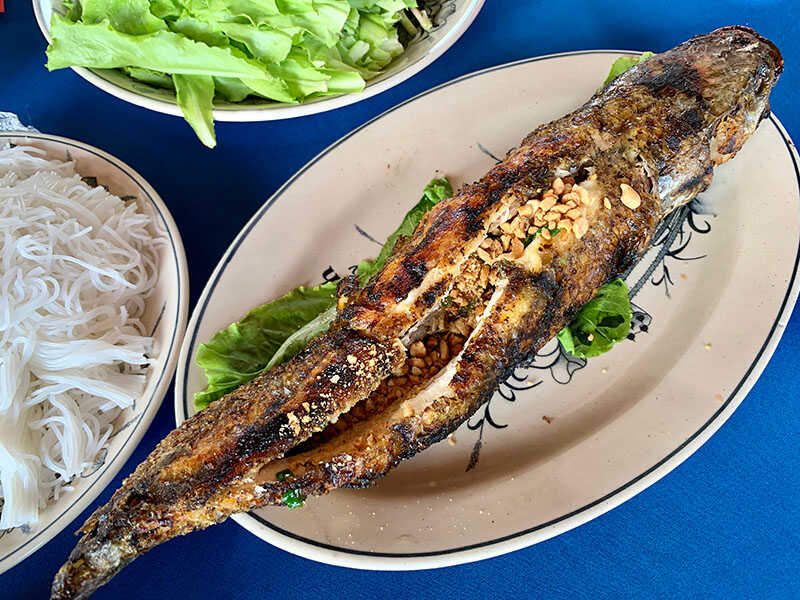 In Vietnam, on the 10th day of every month (the Lunar calendar), many Vietnamese families will prepare a fancy meal to pray to a god to keep supporting them. The dishes vary in each region. And cá lóc nướng trui is one of the must-have delicacies in the South.
The unique part of this dish is that while the outer look is slightly charred, the chefs have to keep the inside meat a bit raw. Thus, nowadays, not many Vietnamese people make cá lóc nướng trui at home. They'll buy the premade ones at famous stores.
6 Seafood Dishes Welcome You To Central Vietnam
Now, it's time to explore the seafood delicacies in Central Vietnam. This region has the most coastal cities. That explains why it possesses so many seafood recipes. Keep reading to know more about them!
Total time: 1 hour 30 minutes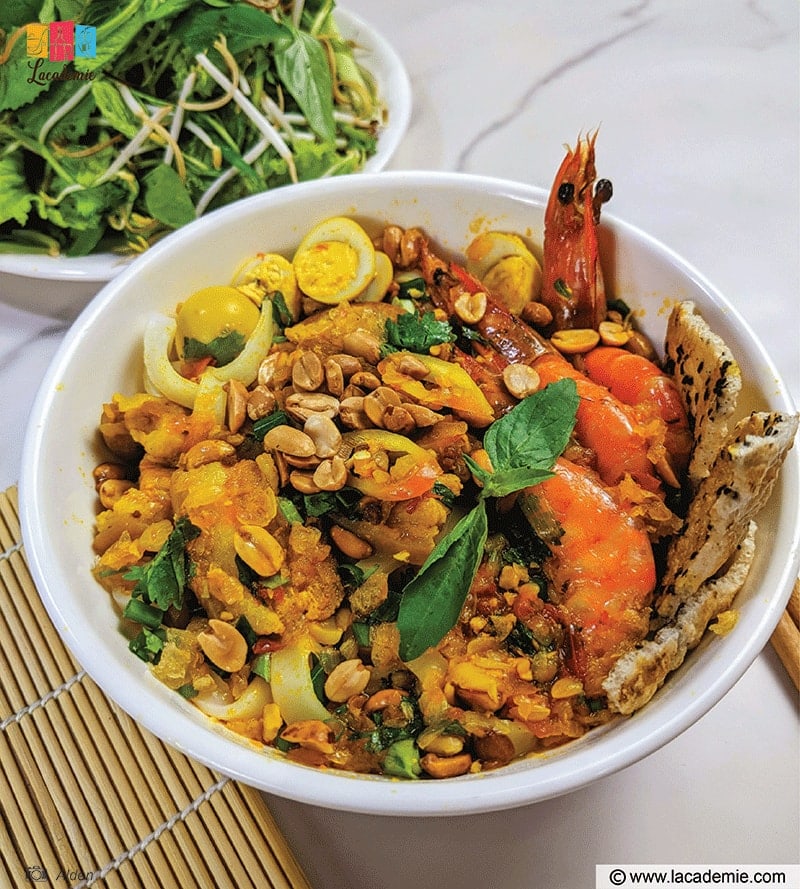 Each region has its own noodle representative: phở in the North and hủ tiếu in the South. Then, the Central has its mì Quảng. However, unlike the other two, mì Quảng doesn't have much broth; the liquid is only enough to barely cover the noodles.
Apart from being a regular choice for everyday meals (breakfast, lunch, or dinner), this dish appears on various special occasions, like family gatherings or the new year holiday (Tết). You can add other toppings like eel or fish.
Total time: 2 hours 55 minutes
Although bánh bột lọc comes in numerous types, the one with shrimp and pork is the most popular. Like bánh tôm hồ Tây, you'll get to see a whole shrimp in these dumplings. But this dish stands out thanks to its transparent appearance.
And don't forget to make a bowl of Vietnamese dipping sauce (nước chấm) to eat with bánh bột lọc. According to some local people, nước chấm is what makes or breaks this Vietnamese snack.
Total time: 40 minutes
You can hardly find this delicacy outside Huế (the ex-capital), explaining why everyone searches for it when coming here. Don't look down on its modest appearance, as cơm hến packs a bunch of flavors.
This dish is commonly served cold, contrasting with other rice dishes in Vietnam. Before serving, the seller will pour a scoop of room-temperature broth over the rice. Then, you mix all ingredients together to enjoy them all.
Total time: 40 minutes
Don't mistake bún chả cá for the bún cá above! This soup uses fish cakes instead of fresh fish, thus a springier and meatier texture. That's why you should avoid those with soft meat like cod.
You can also enhance the fish cakes' consistency by flash-freezing the fish for a couple of hours. Also, one secret of Vietnamese fish cakes is that they contain lots of dills and black pepper to gain a more robust flavor and eliminate the fishy odor.
Total time: 40 minutes
This seafood snack has attracted many people thanks to its unique look. Chạo tôm includes shrimp paste covered a short sugarcane stick. Then, it gets grilled until golden brown and crispy.
Some people have asked me whether they can eat the sugarcane stick. The answer is yes. In fact, its refreshing and sweet juice is an excellent addition to this treat.
Aside from being a midday snack, chạo tôm can pose as an appetizer in the locals' weddings, holidays, or important parties.
Total time: 60 minutes
Although its English name has the same "snail" word, ốc bươu nhồi thịt uses apple snails, a bigger type of snail than the bún ốc or ốc nấu chuối đậu. So, the shell will be big enough for you to stuff the minced pork and pork paste.
And make sure to add the snail meat to this pork mixture for a chewy texture. Another indispensable part of this dish is the lemongrass. It brings a pleasant fragrance, covering any odor left in the snail.
13 Seafood Recipes All Vietnamese People Love
Don't think your journey is over! You've known the distinct specialties in each area. And now is the time to learn the well-received seafood recipes throughout Vietnam.
Total time: 2 hours 30 minutes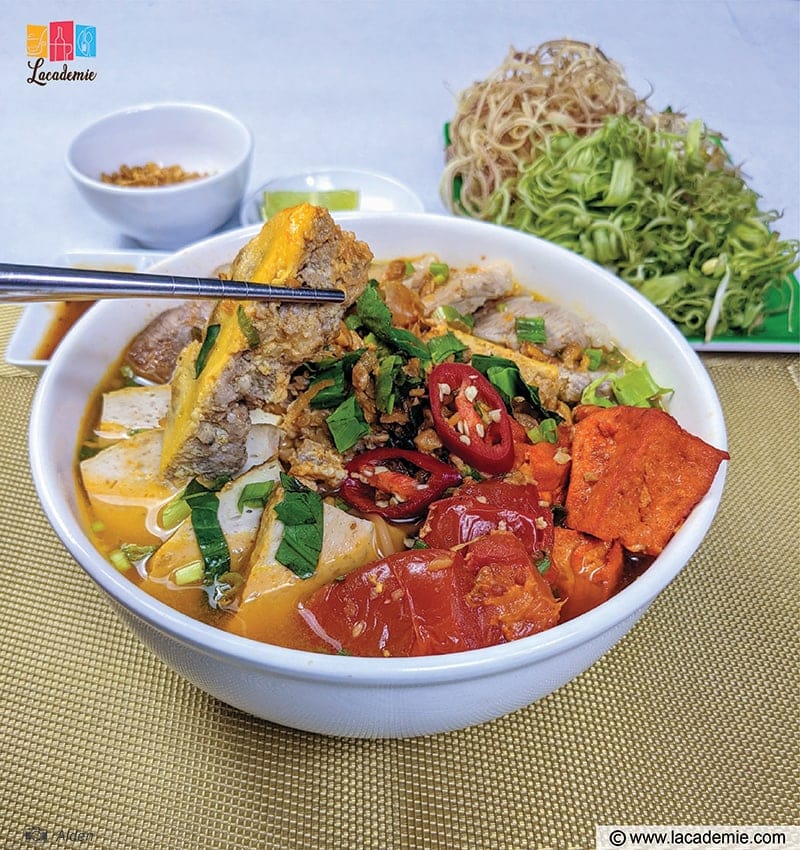 Besides bánh đa cua, bún riêu is another dish utilizing minced crab. But this time, you'll turn it into crab cakes by mixing it with pork paste, minced meat, and eggs. That will elevate the simple minced crab in both texture and flavor.
A perfect bowl of bún riêu will have signature tanginess from tomatoes and dried tamarind. Then, local people add shrimp paste to create a layer of savory flavor. If you're afraid of its smell, don't worry because the paste will dissolve under the heat; thus no odor left.
Total time: 30 minutes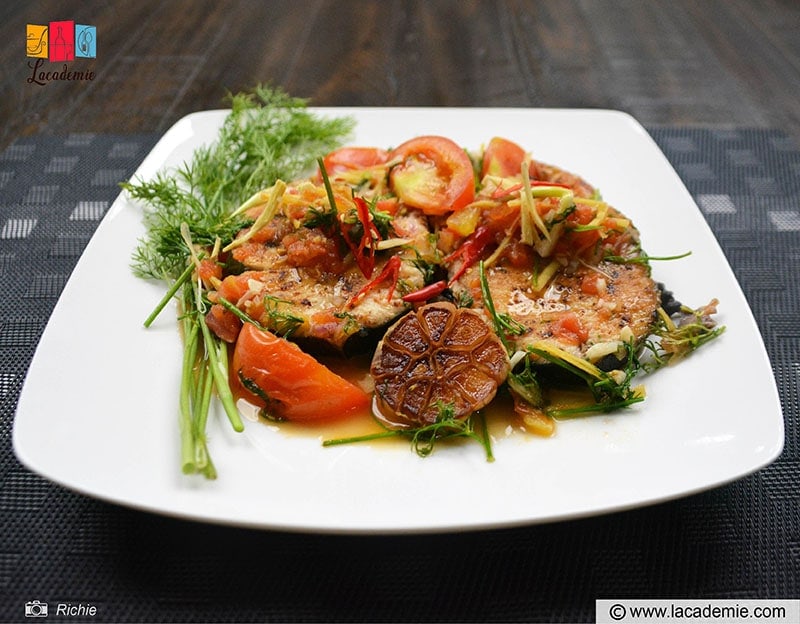 Homey meals play a vital role in all cuisines, and in this article, I'll introduce one of the most beloved dishes in many Vietnamese families: cá thu sốt cà chua. The crispy fried fish with rich tomato sauce is enough reason for its popularity.
One thing to note down: As the fish is already well-fried, you only need to cook it quickly in the sauce. And don't flip it during this step because it can break apart. Prepare some cooked rice in advance to enjoy with cá thu sốt cà chua.
Total time: 1 hour 30 minutes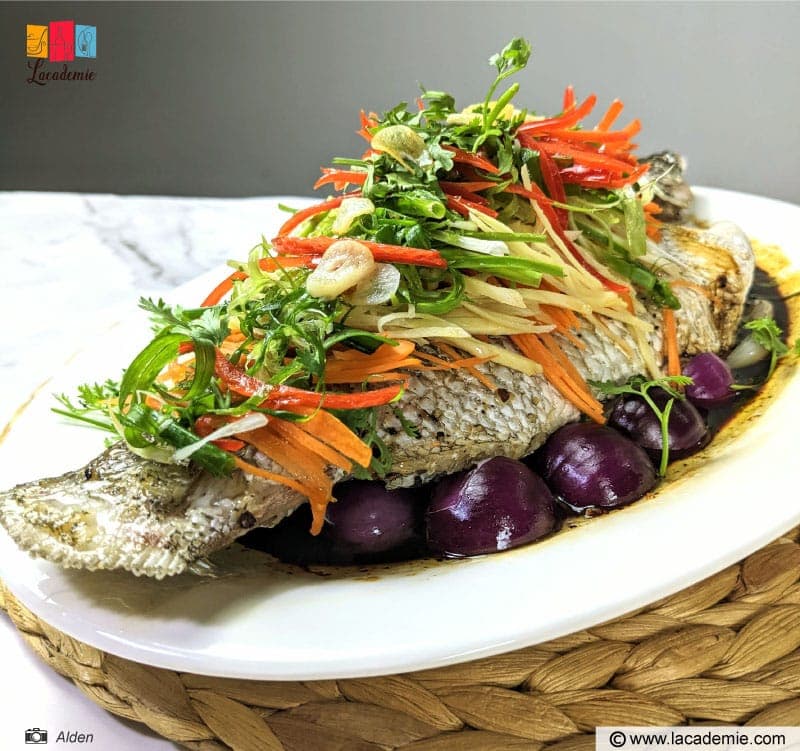 Are you tired of fried fish? Here comes another choice for you: Steam it! You may think steaming foods are plain and need some dipping sauce.
But that doesn't apply to this steamed fish. Since it's marinated with salt, pepper, and ginger before steaming, it comes out full of flavors. It also has soy sauce poured over when served, so you won't have to prepare any dipping sauce.
Total time: 50 minutes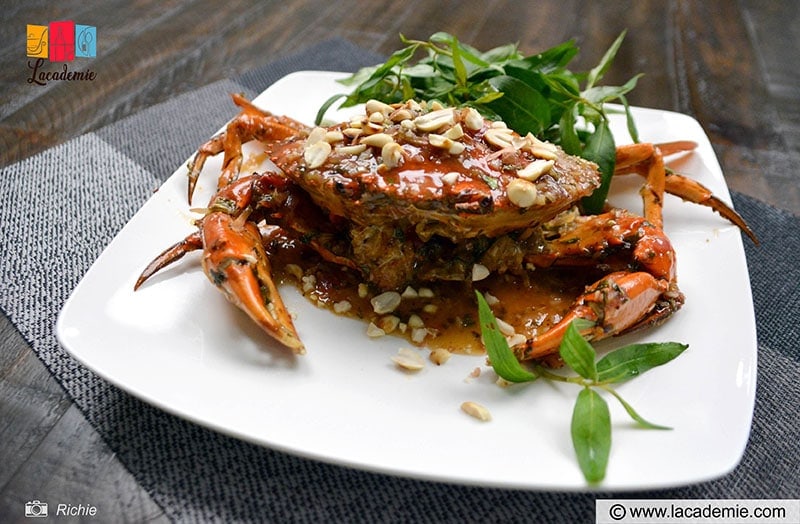 You have seen several dishes with minced crab, so how about a whole crab? Due to its fancy look, cua rang me often appears at special parties or large gatherings.
Since the natural sweet crab meat is the spotlight of this dish, I recommend using live crabs. Then, freeze them for about 1 hour to make cleaning easier. If you can't find fresh ones, frozen crabs are acceptable; just don't use the canned ones.
Total time: 30 minutes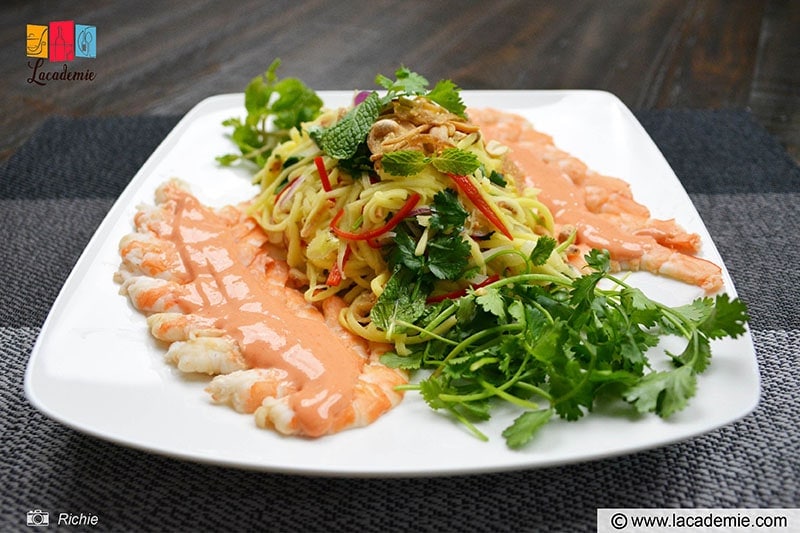 Seafood is often related to luxury main dishes due to its high price and high nutritious content. But this option is a lovely Vietnamese dish for your appetizer slot. You can even make it as a snack at the next gathering.
Its tangy, light, and refreshing flavor will charm all your guests. This dish even has a light spiciness from cilantro, cow-horn pepper, and mustard, making it more exciting to enjoy. Remember to let it rest for several minutes, so all flavors can blend together.
Total time: 25 minutes
Although this delicacy uses oysters, it's pretty different from your usual oyster dishes. First, Vietnamese people will cook and serve it in its shell, so it takes a bit longer to cook. But this way, you won't lose any sweet juice from the oysters.
There are thousands of ways to prepare grilled oysters. And the most typical one is pairing them with scallions and fried shallots. They may sound simple, but their richness and crispiness are perfect complements for the oysters.
Total time: 45 minutes (excluding marinating time)
Tôm rim is an outstanding choice when you want something to go with rice. Its sweet and savory flavor will make you want to eat it forever. And the best thing is the rich glaze made of caramelized sugar and fish sauce.
Many Vietnamese standard meals have tôm rim as the main dish because it doesn't take long to complete. And it goes well with any side dish and soup, so you don't have to think hard about which recipes to pair with it.
Total time: 40 minutes
Famous chef Gordon Ramsay once praised mực nhồi thịt's flavor when he visited Vietnam. Despite its simple components (squid, ground pork, and other seasonings), this dish still fascinates everybody with its taste.
When eating mực nhồi thịt, you'll feel some crunchiness in the filling. That's because the locals will mix the ground pork with some minced squid tubes. Mực nhồi thịt can be steamed or fried, based on how you want it.
Get ready to impress your friends and family with this Vietnamese stuffed calamari.
Total time: 55 minutes (excluding dehydrating time)
Want some changes from the usual potato chips? Welcome you to the Vietnamese prawn crackers. You can imagine them similar to Japanese rice crackers but full of prawn taste. The reason is when making the batter, people have mixed in ground shrimp.
Traditionally, making this snack requires lots of time for the drying process. That's why many people nowadays buy premade crackers and only fry them when used. Besides eating them as a snack, you can use them to scoop your salad like the locals do.
Total time: 50 minutes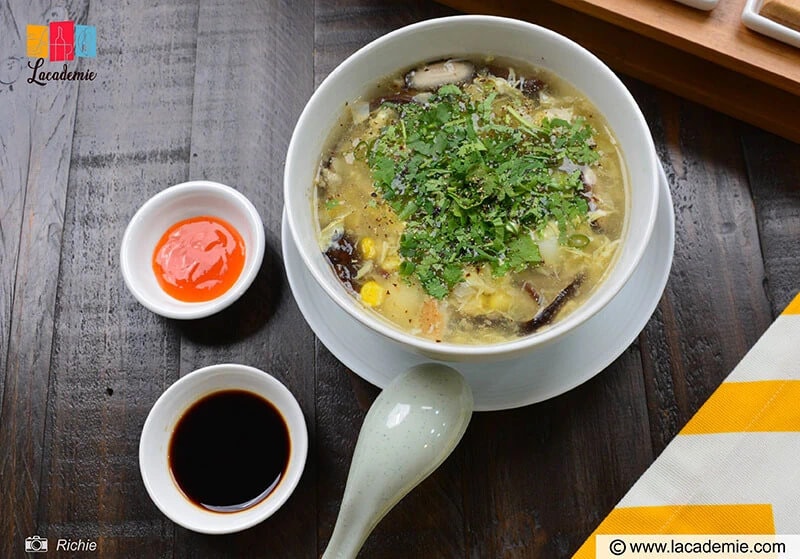 Súp cua is a nice Vietnamese take on seafood. It can be both a lovely appetizer for fancy parties and a quick street food for snack time. Either way, you'll love its smooth, not-so-thick texture.
Also, since each diner has its own way of making súp cua, you will never feel bored. Some standard versions use corn, boiled quail eggs, imitation crab, etc. Despite containing various ingredients, súp cua is not too heavy and won't upset your stomach.
Try this súp cua, and you'll love it right away!
Total time: 15 minutes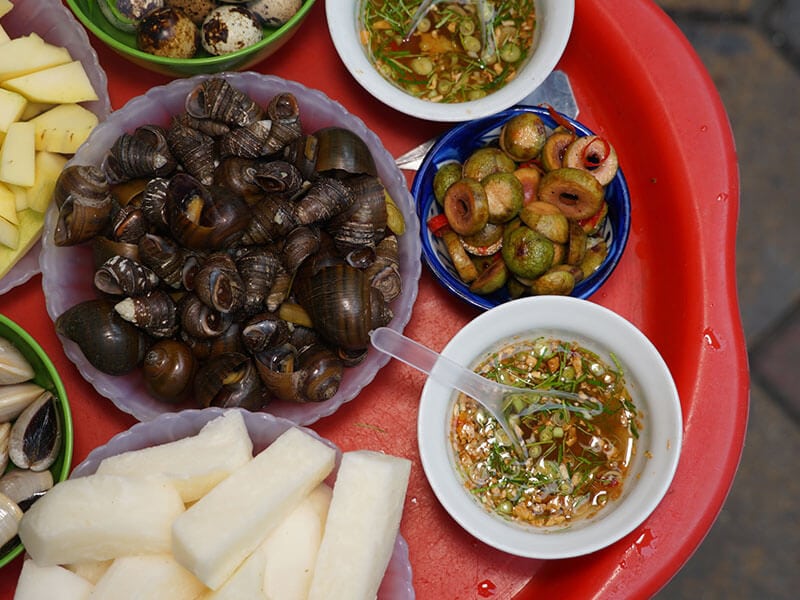 This list has already included several snail recommendations. But there are many more, as snails play a vital part in Vietnamese street cuisine. You can find hundreds, or even thousands, of dishes using them throughout Vietnam.
Snails also indicate how Northern Vietnamese foods are different from the Southern region. In the North, you'll often see boiled snails going with Vietnamese lemongrass dipping sauce (nước mắm sả ớt). Meanwhile, Southern people tend to stir-fry them.
Total time: 10 minutes
Although this is a steamed dish, feel free to enjoy it in summer. Just prepare some cold drinks to go with it, such as coke or beer. In the North, people also eat it with wine when the weather turns cold.
While this dish only requires three ingredients: clams, Thai basil, and lemongrass, you can ask the diners to add some sliced chili peppers if you want some heat. When making it yourself, make sure to wait until the clams open their mouth to eat them.
Total time: 30 minutes
When you want to enjoy many kinds of seafood at once, the best way is undoubtedly lẩu hải sản. With this delicacy, the sky is your limit regarding which seafood to use. The usual options are shrimp, fish, crab, squid, etc.
That also goes with the broth. You can make a tangy broth for summer parties or a rich bone-based broth when the weather turns cold. Hot pot tastes best when shared with other people, so don't hesitate to invite your friends to come over.
---
Dive Into The Ocean With These Vietnamese Seafood Delicacies
I hope now you know what seafood dishes to try when visiting Vietnam. Remember, each region has its distinctive way of making its specialties. You can still find these treats in other areas, but the flavor won't be as authentic.
If you have other recommendations, feel free to share them with other readers and me in the comment section. And don't forget to introduce this fantastic Vietnamese list to other food lovers!
Nutrition Facts
5 servings per container
---
Amount Per ServingCalories838
% Daily Value *
Total Fat 17.8g

27

%
Cholesterol 91mg

31

%
Sodium 4021mg

168

%
Potassium 1150mg

33

%
Total Carbohydrate 108.9g

36

%

Dietary Fiber 8g

32

%
Sugars 14.6g

Protein 59.7g

118

%
---
* The % Daily Value tells you how much a nutrient in a serving of food contributes to a daily diet. 2,000 calories a day is used for general nutrition advice.