This homemade chicken broth recipe is a game-changer for people who love whipping up hearty soups, stews, sauces, and anything in between. Made straight from chicken bones and flavored with aromatics, it tastes better than anything coming out of a can.
If you're trying to level up your home cooking, learning how to make your own broth is an easy first step. In this article, I'll walk you through a simple recipe for made-from-scratch chicken broth. Make a large batch today and store it for various uses in the future!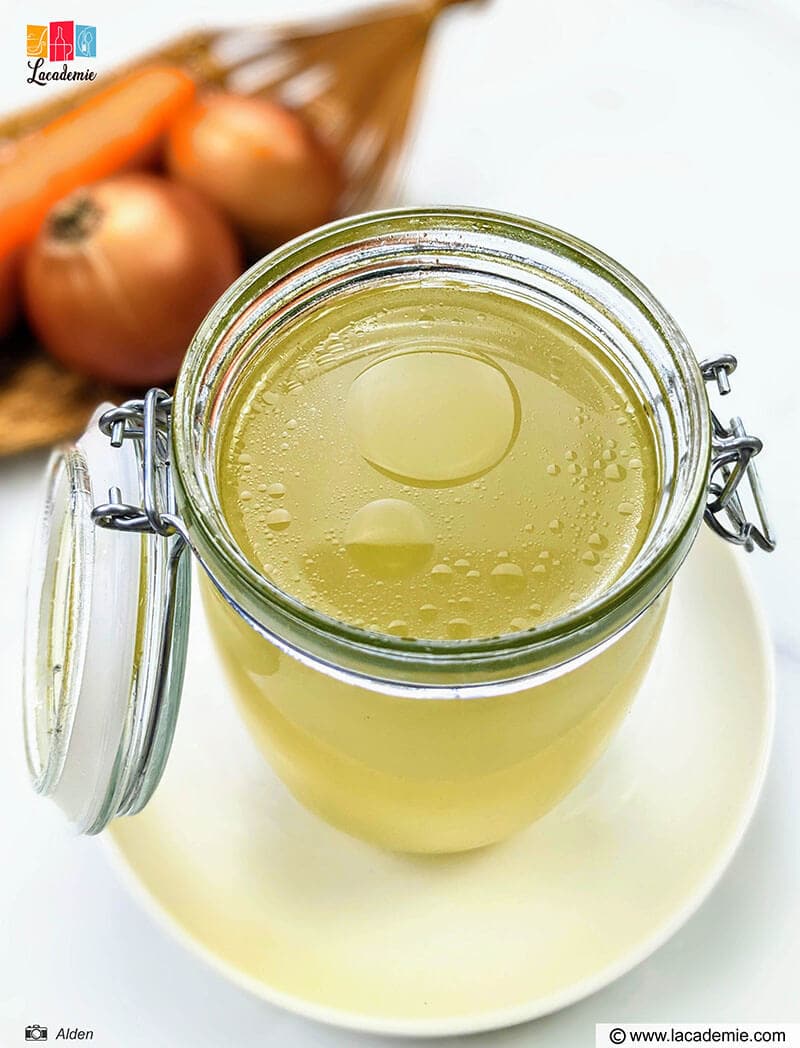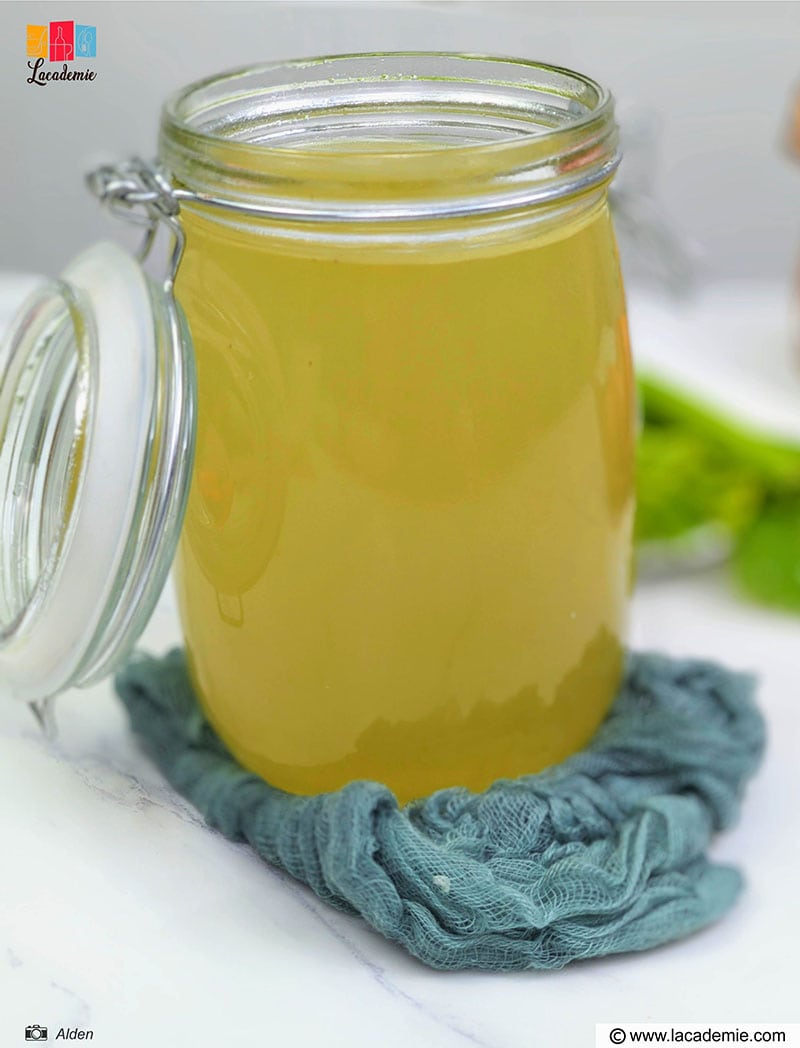 Why This Chicken Broth Recipe Works
There are many reasons that you'll love this chicken broth recipe. Here are a couple of them.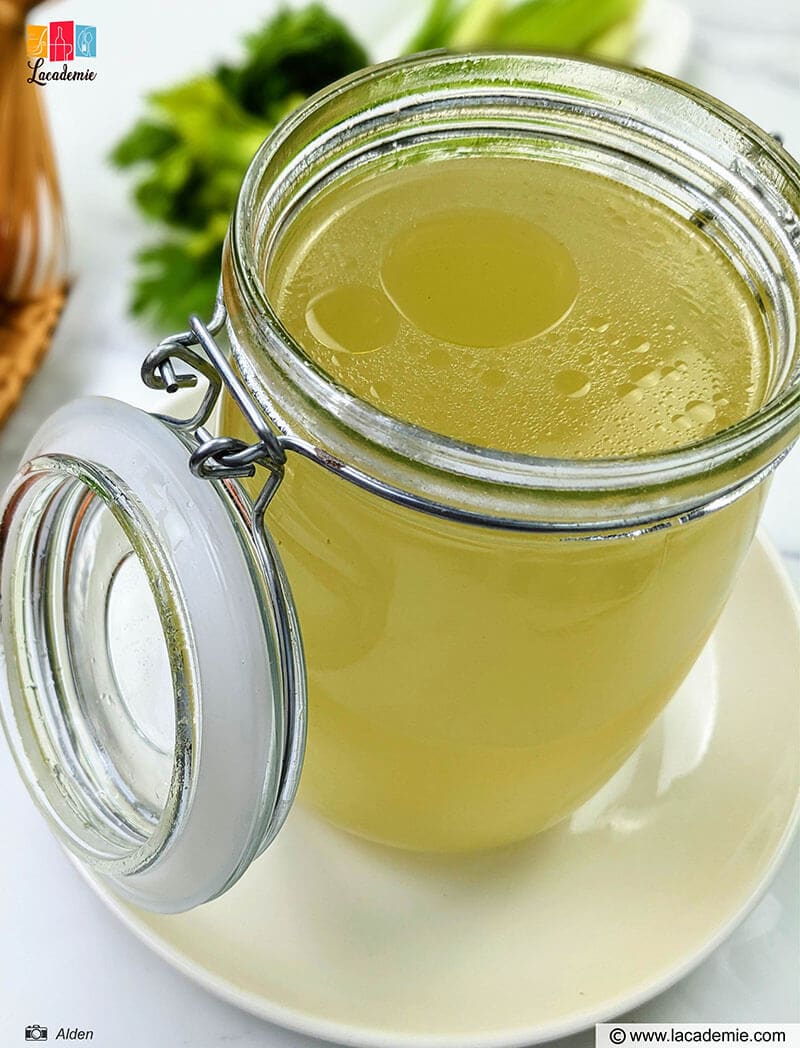 Taste better than store-bought: This goes without saying, but no canned chicken broth will be able to match the taste of your homemade one. In addition, you can freely adjust the seasonings to fit your liking.
Versatile: There are numerous ways to use your chicken broth. From mouth-watering soups to flavor-packed stews, the possibilities are endless!
Reduce food waste: Making chicken broth is a great way to utilize parts of the chicken that you'll otherwise throw away. Got some chicken bones and didn't know what to do with them? This recipe is the answer!
Tools
Before getting to the cooking part, you'll first need to have the following tools at the ready.
Stockpot: For cooking the broth.
Spice bags: Adding spices to drawstring bags allows you to remove them from the pot easily. Imagine how tiring it would be if you had to fish out every single spice!
Strainer ladle: For skimming off the foam, resulting in a clearer broth.
Ladle: Helps you add the ingredients to the stockpot.
Sieve: For straining the stock.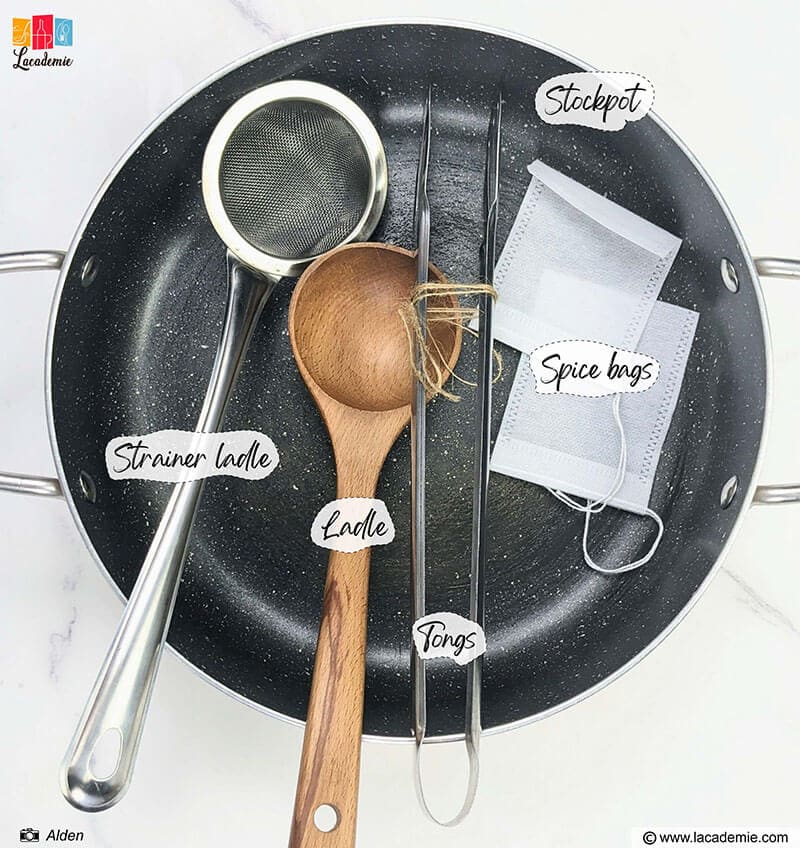 Ingredients
Next are the ingredients. Basically, all you need are some chicken bones, vegetables, and a few herbs.
Chicken bones: The backbone of your broth (no pun intended).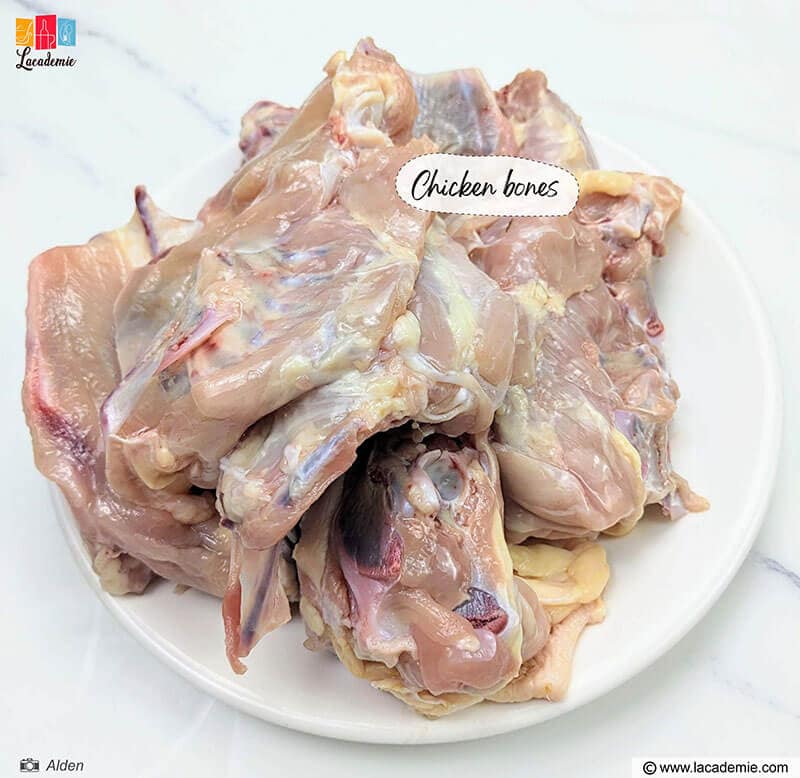 Water: The liquid base for the broth.
Vegetables: Celery, carrot and onion. These veggies add more flavor to the stock.
Aromatics and seasonings: Bay leaves, dried rosemary, dried thyme, white peppers, salt, and garlic.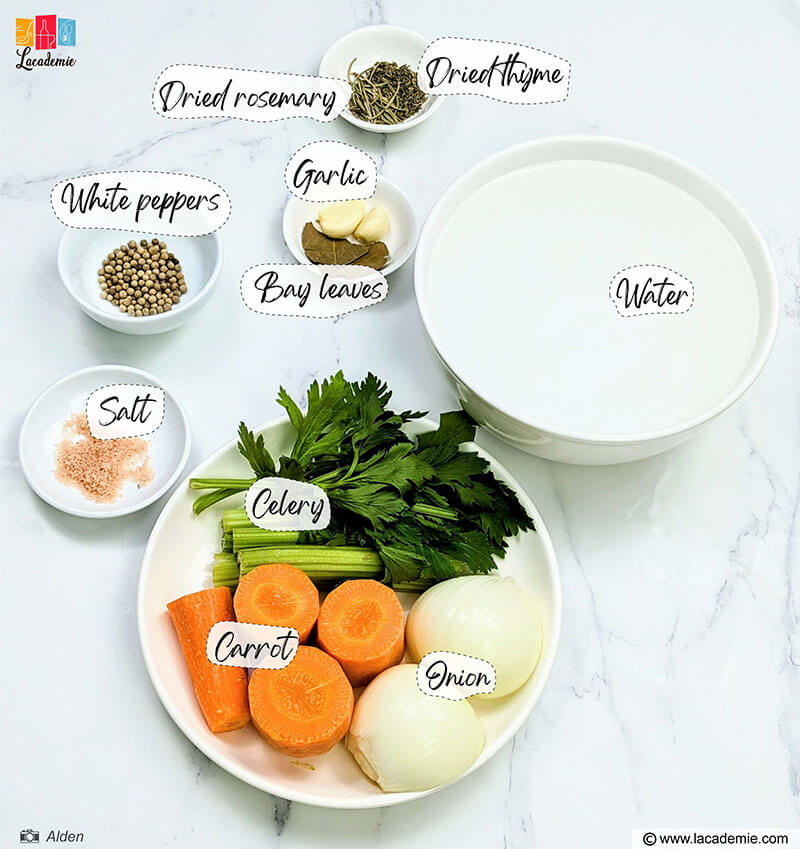 Directions
The fun part begins here! Get your stove ready, and let's cook up some delicious chicken broth.
Step 1: Add The Chicken Bones To The Pot
Pour water into a stockpot and bring it to a rapid simmer. Then, add the chicken bones.
Increase the heat to high and the water to a boil.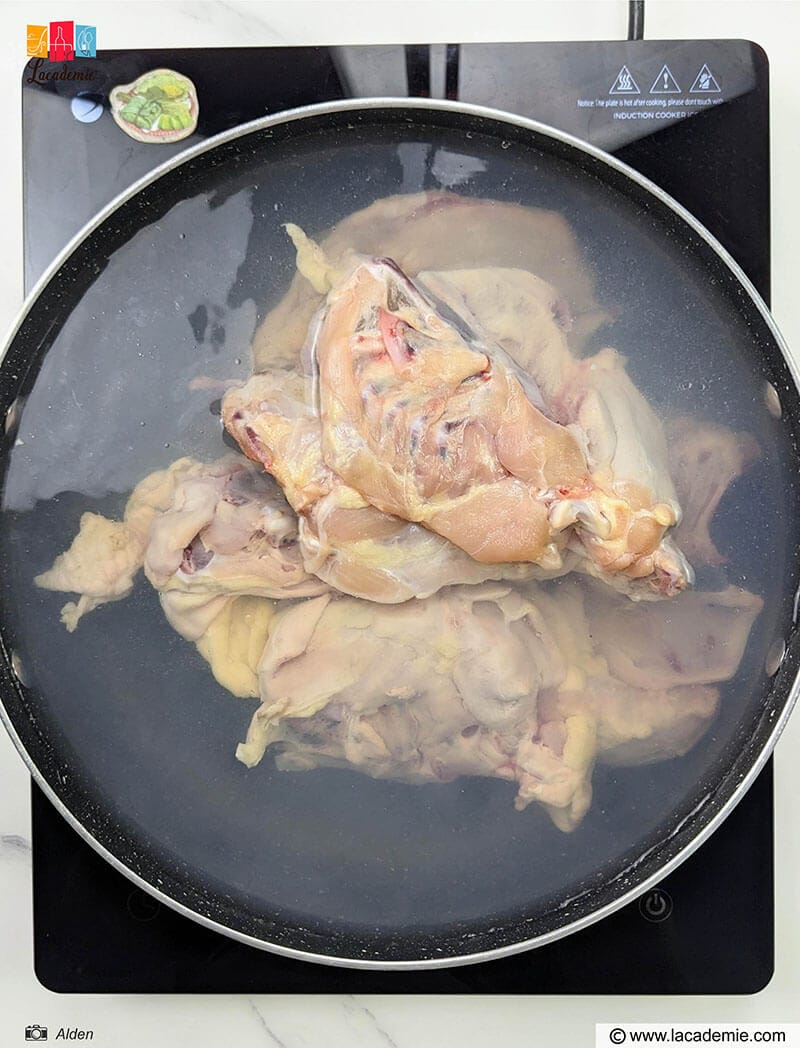 Step 2: Add The Spices And Vegetables To The Broth
While waiting for the water to boil, add the bay leaves, dried rosemary, dried thyme, white peppers, and garlic into spice bags. Since my bags are small, I have to use 2 of them, but you can add all the spices into 1 bag if it's big enough.
Next, reduce the heat to low and skim off the foam. Add salt and the spice bag(s) into the pot.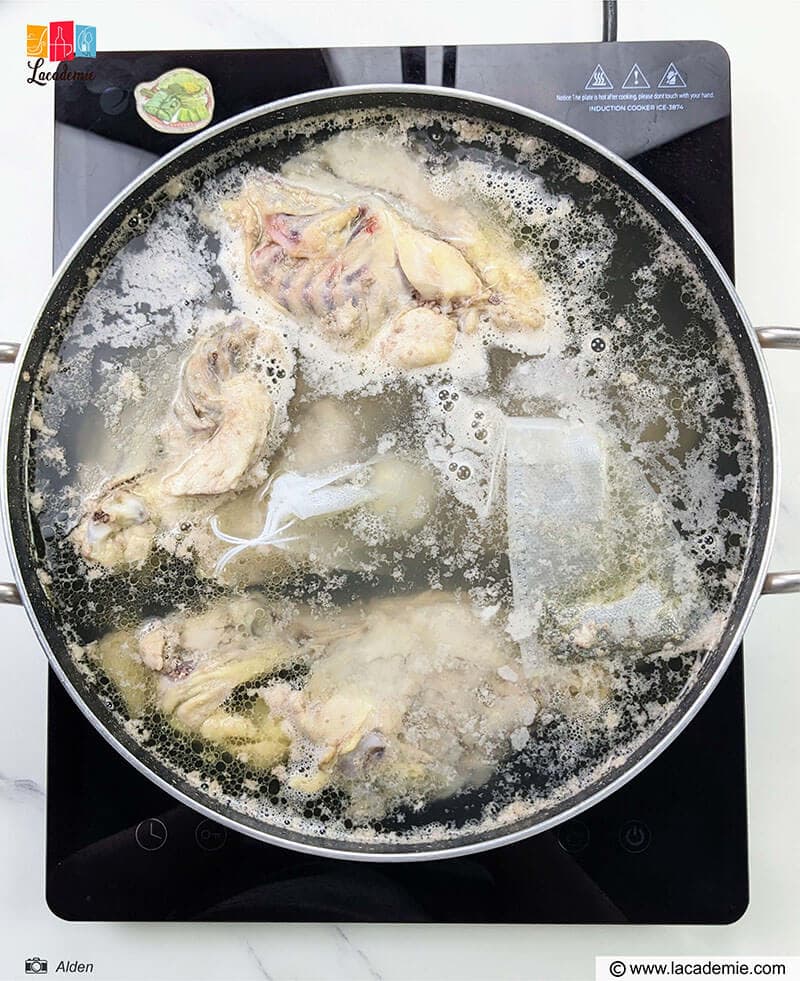 Add the carrot, onion, and celery.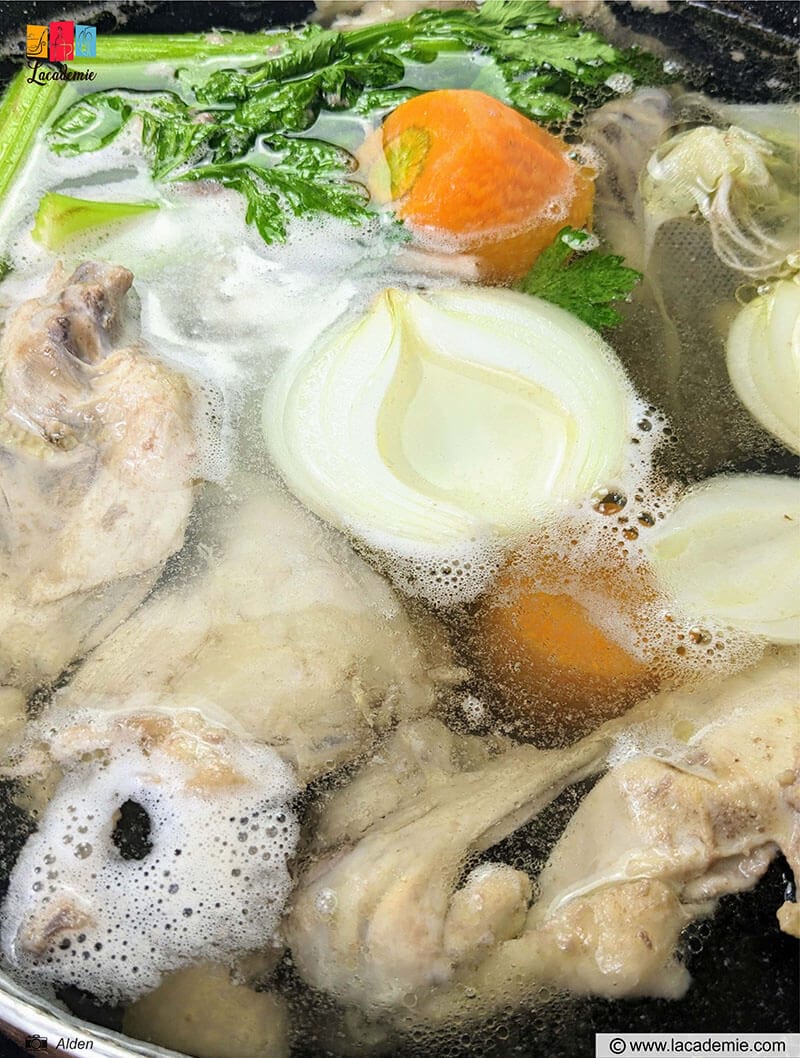 Step 3: Simmer The Broth
Simmer the broth over low heat for at least 1 hour. The longer you simmer, the tastier the broth will be.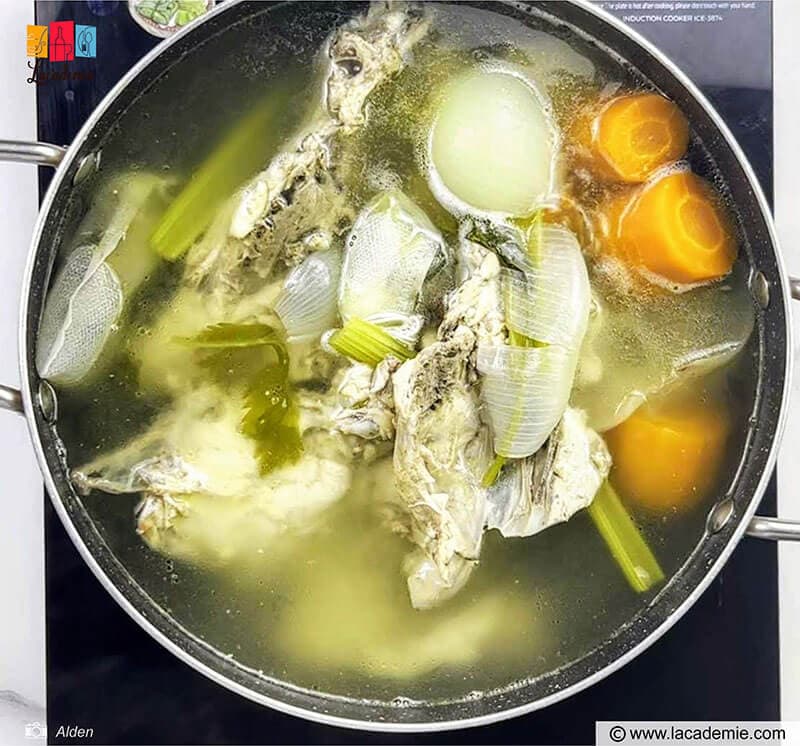 Then, remove the chicken, vegetables, and spices.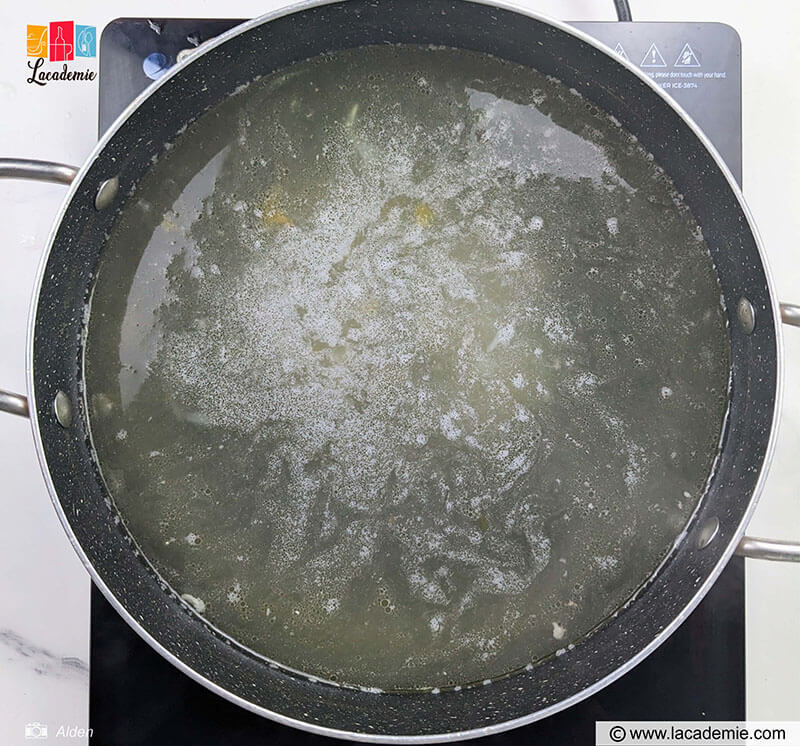 Note: Remember to frequently skim off the foam to ensure a clear broth.
Step 4: Transfer The Broth To A Glass Jar
Turn off the heat and allow the broth to cool. Run it through a sieve into a glass jar. Store your chicken broth in a fridge or freezer.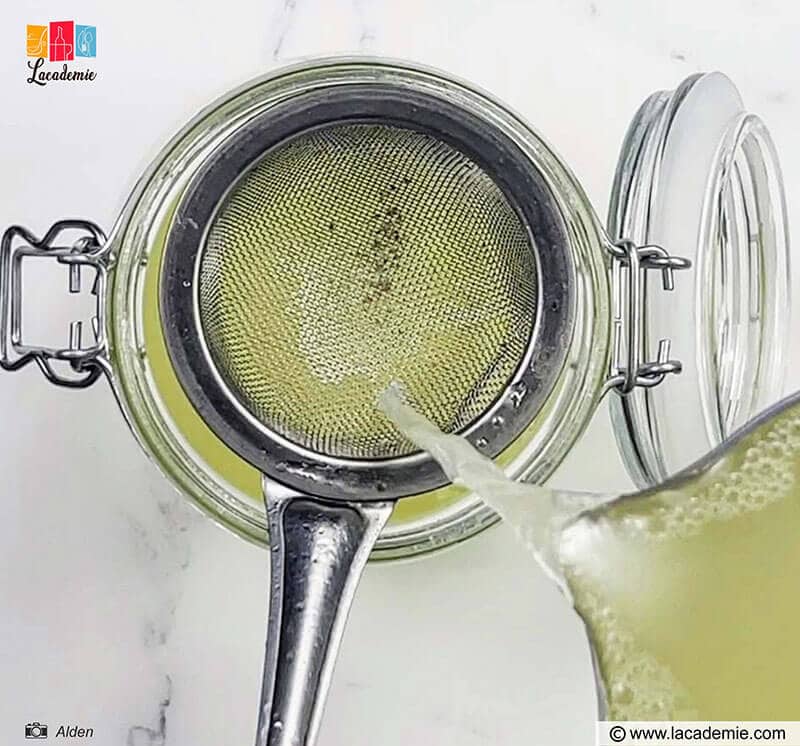 How To Store Your Chicken Broth
A good thing about this recipe is that you can easily make it in a large batch, then store it and use it later. Check out these notes for more information on how to properly store your chicken broth.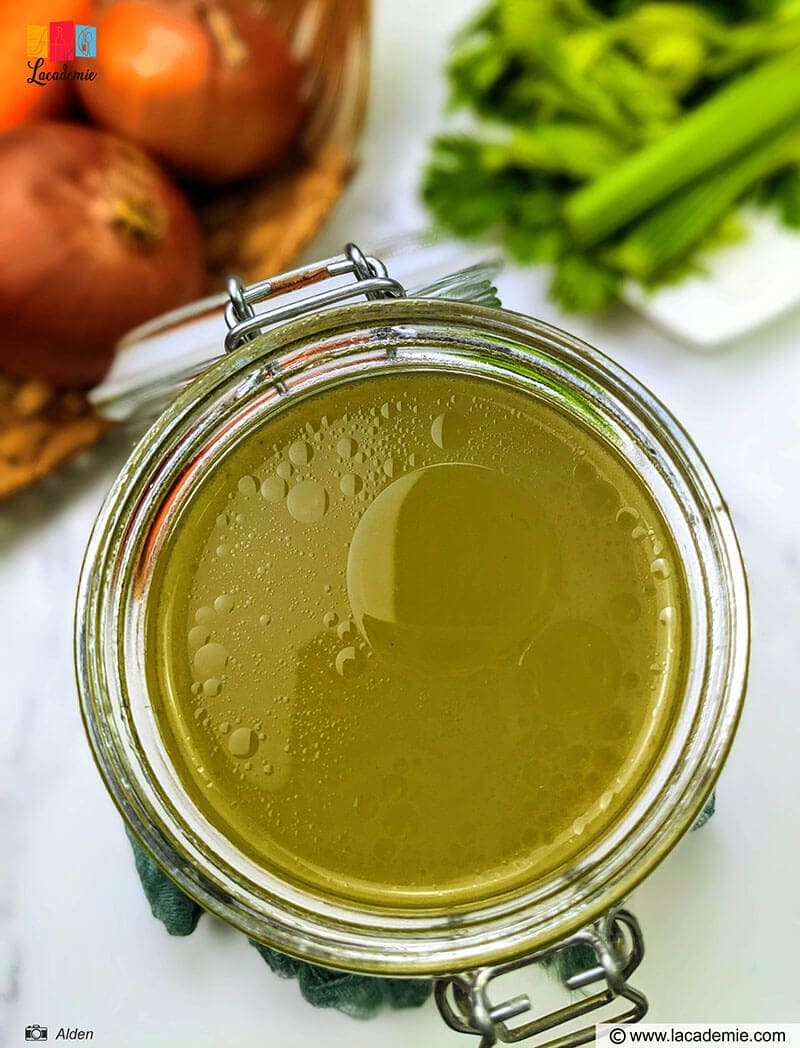 Always let your chicken broth cool completely before refrigerating it. The broth lasts for about 4 days this way.
If you want to freeze the broth for more extended storage, refrigerate it for one night, then skim off the fat accumulated on top. Seal the jar once again, and freeze it for up to 3 months.
Dishes To Make With Chicken Broth
As mentioned, there are lots of ways you can turn your chicken broth into mouth-watering dishes. Here are a few suggestions:
FAQs
In this part, you'll find some commonly asked questions about making chicken broth at home.
Homemade Chicken Broth Is The Way To Go!
By swapping store-bought chicken broth with the homemade version, your soups, stews, and many more, will taste much better! Moreover, you can freely adjust the flavor of the broth, by adding fragrant herbs or reducing/increasing the amount of seasonings used.
What are your favorite dishes to make using chicken broth? Leave a comment to let me know the answer! You can also give me your feedback on this recipe, too. Lastly, please consider liking and sharing today's post if you find it helpful.
Nutrition Facts
4 servings per container
---
Amount Per ServingCalories81
% Daily Value *
Total Fat 2.9g

4

%
Sodium 1590mg

67

%
Potassium 430mg

13

%
Total Carbohydrate 1.9g

1

%

Dietary Fiber 0g

0

%
Sugars 1.5g

Protein 10.1g

20

%
---
* The % Daily Value tells you how much a nutrient in a serving of food contributes to a daily diet. 2,000 calories a day is used for general nutrition advice.