" Can you eat mushroom raw?" you must have thought that when seeing delicious and fresh mushrooms, right? Attractive as they look, are they poisonous? Or have bacterias that can mess up your stomach? Or simply are they tasty?
Now, if you want to find out the answer to these questions, then click on this post right away. I will give you the most detailed answers to whether you can eat mushroom raw and there will also be some valuable side information that will blow your mind.
Keep scrolling down and check out all the answers to your wondering.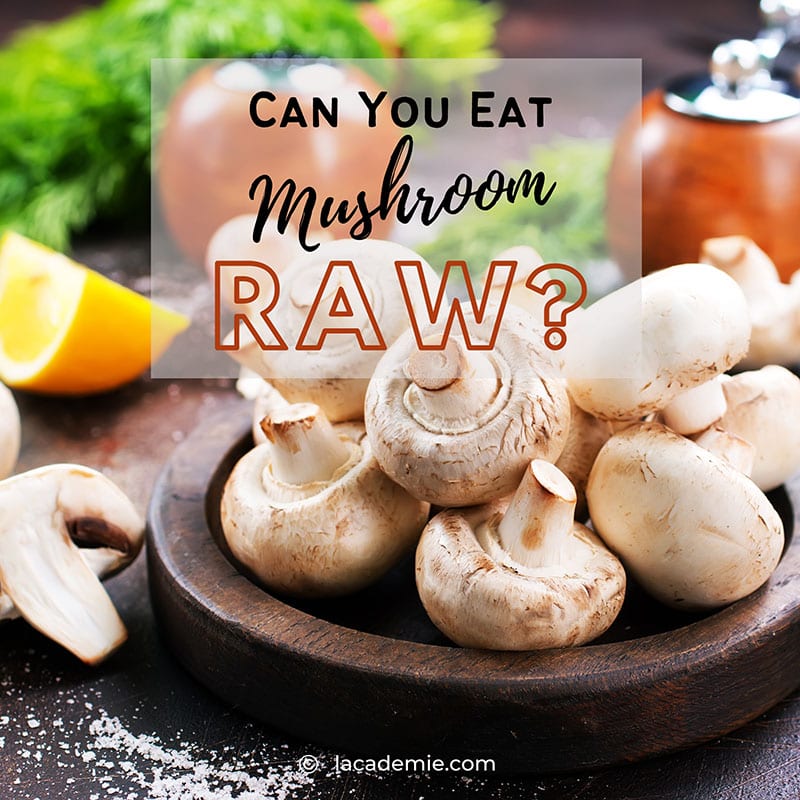 Know What You Eat, Eat What You Know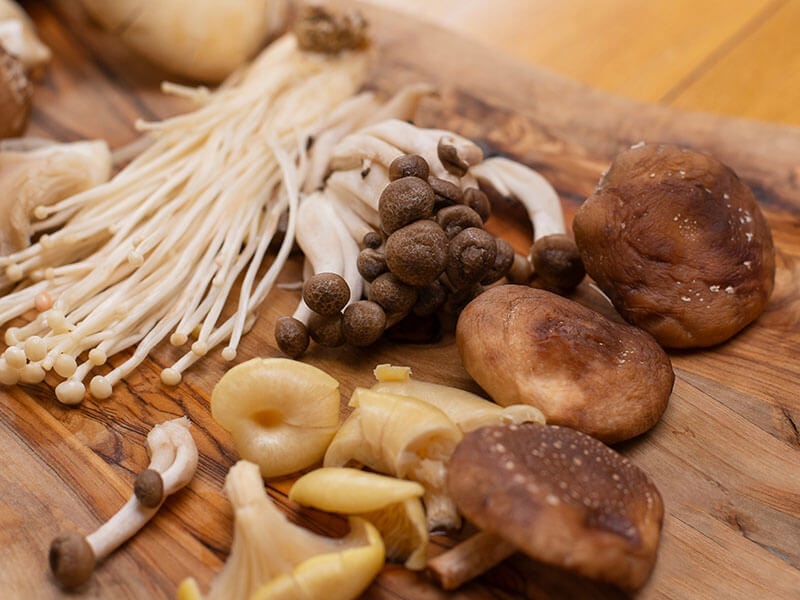 Before asking if you can eat raw or not, you might want to ask yourself what you know about mushrooms. If you think mushrooms are plants, well, you might need to read this part and learn more about your food. It's always good to know more, right?
First of all, repeat after me: "Mushrooms are not plants". If they are not plants, are they animals? Still no. But are mushrooms vegan food? Well, it is a challenging question.
Mushrooms are actually created by fungi. Recently, scientists discovered that they are more closely related to animals than plants(1), what a shock right?
According to Angela Lemond, a professional dietitian, and representative of the Academy of Nutrition and Dietetics, mushrooms themselves have a lot of nutrition, including vitamin B, D, magnesium, zinc, and potassium.
Now, does that make you want to have your mushroom right away? Well, maybe wait a bit more because you will need to know what mushrooms varieties are edible or not. Surprise or not, that little fungi can end you in a blink if you are not careful.
Mushroom Vs You: Who Is Safe From Who?
A mushroom can hurt you, what a surprise isn't it? The negative effect of poisonous mushrooms varies from short-term vomiting and diarrhea to fatality, whether you cook or eat raw. That's why I will show you a way to tell if your mushroom is safe to eat, in general.
Good Rules To Avoid Poisonous Mushrooms:
There are hundreds of cultivars of mushrooms with hundreds of unique traits. Sad to say that there are still multiple poisonous mushrooms still haven't been found out, but here are some major signs of bad mushrooms to avoid. Just in case you "hit the jackpot":
Rule 1: Don't Mess With The Amanita Family
The Amanita mushroom family is notorious for being extremely dangerous. If you are lucky, you will experience hallucinations, vomiting, or diarrhea. But there are numerous reports on difficult breathing, convulsion, or even death.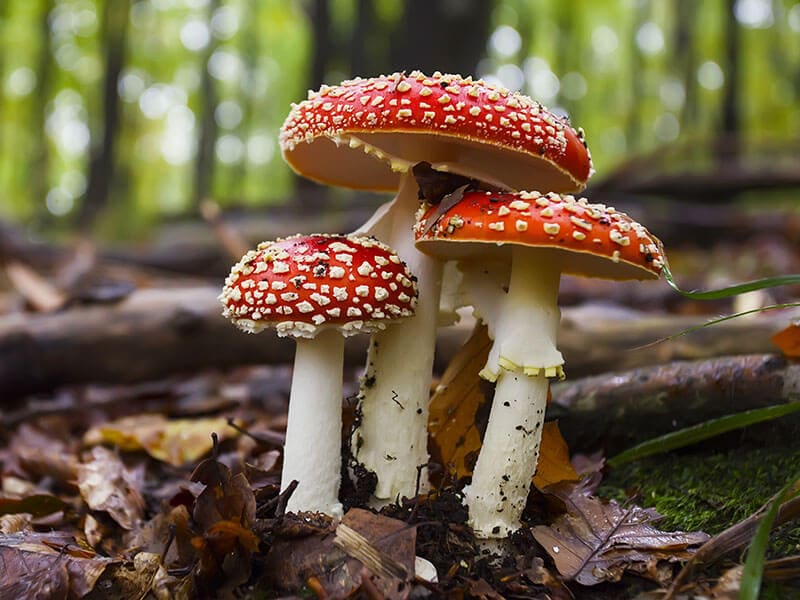 Of course, no one wants this to happen, so here are a few features of the Amanita family:
White gills
Ring on stem
The base that looks like bulbous (or sack)
The truth is not all bulbous-based mushrooms are poisonous, however, this is a very significant sign of Amanita mushrooms. Maybe you miss a few delicious edible mushrooms, maybe you dodge a bullet. Better safe than sorry, right?
Rule 2: Colors Are Traps
If you see mushrooms with colorful caps or stems, more specifically, red. The color red on mushrooms gives you a high alert warning, so why must you risk yourself?
Rule 3: Sweet Smell Mushrooms Are No-No
The sweet smell of mushrooms is very tempting but stay cautious. Most of the mushrooms with sweet scents are poisonous so it's best to not touch them.
Rule 4: Trust Your Guts
Your instinct and senses are very much real and you need to give them a try. So when you feel uncertain about the mushroom, trust me, it's not worth trying.
Am I Having Mushroom Poisoning?
If you have a feeling that you or someone around you is going through mushroom poisoning, here are some signs to notice:
Hallucinations – the toxins in some poisonous mushrooms can cause heavy hallucinations. It can combine with other symptoms: muscles weakness, rapid heart rate, headache
Gastrointestinal illness – a few classic signs for this problem are nausea, vomit, diarrhea, cramp
Liver failure – this symptom happens very quickly within 6-24 hours, so if you notice any Gastrointestinal illness problems, it is also important to have your liver checked also
What Should You Do When Eating A Poisonous Mushroom?
If the symptoms are clear and you don't know what to do now. Get to the hospital right away or call an ambulance. Mushroom poisoning is extremely dangerous and you need to leave the problem to the professional before things get worse.
Don't forget to bring a sample of the mushrooms that you used, so that the medical workers can detect the best solutions.
But Don't Worry, Most Mushrooms Are Good Friends
That is correct, so don't worry too much. Just be careful when you want to use the mushrooms that are handpicked in the wood. But all in all, all the mushrooms that you purchase at the grocery stores or local markets are safe to eat.
Eating Mushroom Raw? Good Idea Or Not?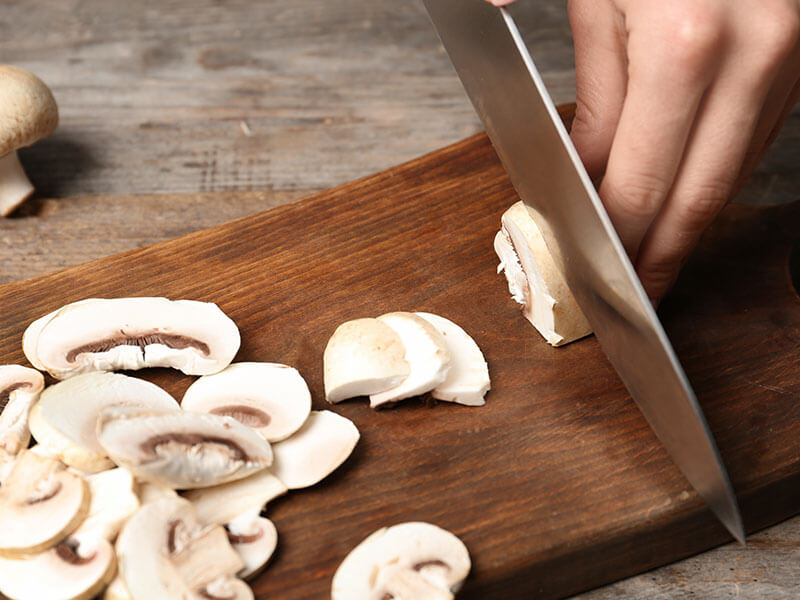 There are multiple ways of using your mushroom, whether sauteing, grilling, or braising. But at one point, you will probably ask yourself: "Can I eat my mushroom raw". Well, I'm here to help you.
The answer is yes. As long as they are carefully cleaned and recognized to have no poison, then you will face no harm in eating the mushroom raw.
However, keep in mind that the fact that "you can eat raw mushroom" is completely different from "you should eat raw mushroom"
Dr. Andrew Weil expressed that he was not a fan of raw mushrooms and pointed out that mushrooms have strong cell walls to protect them. Heat effect is very important to break those walls and let out the essential nutrients.(2)
Mushrooms contain a special substance called chitin. The majority of people cannot "break down" the chitin walls so when you eat the mushrooms raw, your digestive system will have a hard time taking out any valuable nutrients.
And special note to all sensitive readers, raw mushrooms can be health threatening. Bad pathogens and heat-sensitive toxins will potentially damage red blood cells, cause gastrointestinal irritation or allergic reaction. So always consult your doctor first..
But the bright side is you can save some important minerals and hydration that will go away when being cooked.
So, to eat or not, that's on you. But if you're curious about the flavor of mushrooms and eager to try out some new recipes, let's go and explore with me.
A Few Common Mushrooms You Can Eat Raw
Well, you are still here so you are really curious about having your mushrooms raw right? No worry, we have a list of complete safe-to-eat raw mushrooms that you may want to give a try. So what are you waiting for, get ready to take note?
Button Mushrooms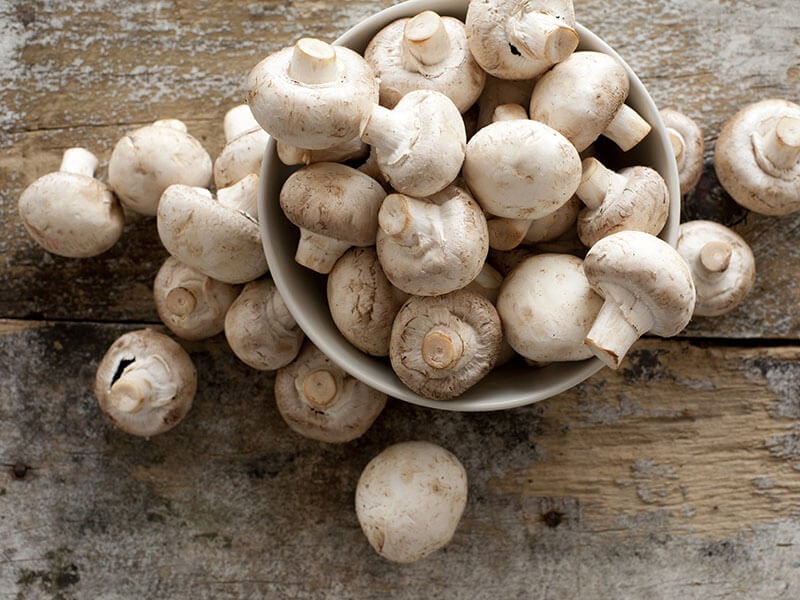 Button mushrooms can also be called white mushrooms, which is the most common type of mushroom that you can find on the market nowadays. Button mushrooms belong to the Agaricus Bisporus family, but it is on the safe side, meaning you are safe to eat them raw.
You probably cannot take all the most valuable nutrients when eating raw because Agaricus Bisporus are very famous for their hard cell walls that can only be broken by heat.
Cremini Mushrooms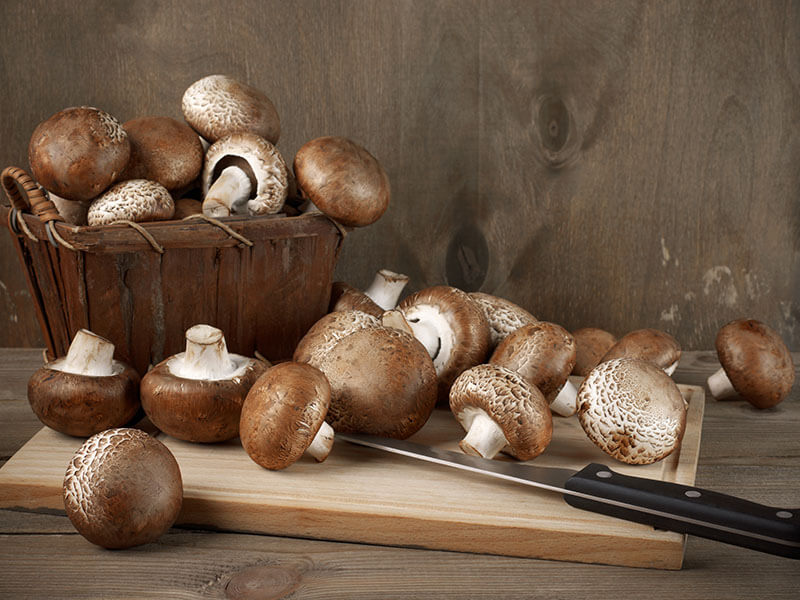 Cremini mushrooms, also known as Crimini mushrooms, are in the same family as Button mushrooms. What's special about this type of mushroom is that they have a unique earthy flavor, with a meat-like texture.
Because of their special taste, they bring tasty flavor whether you eat them raw or cooked. This is also a favorite ingredient of many vegetarians.
Portobello Mushrooms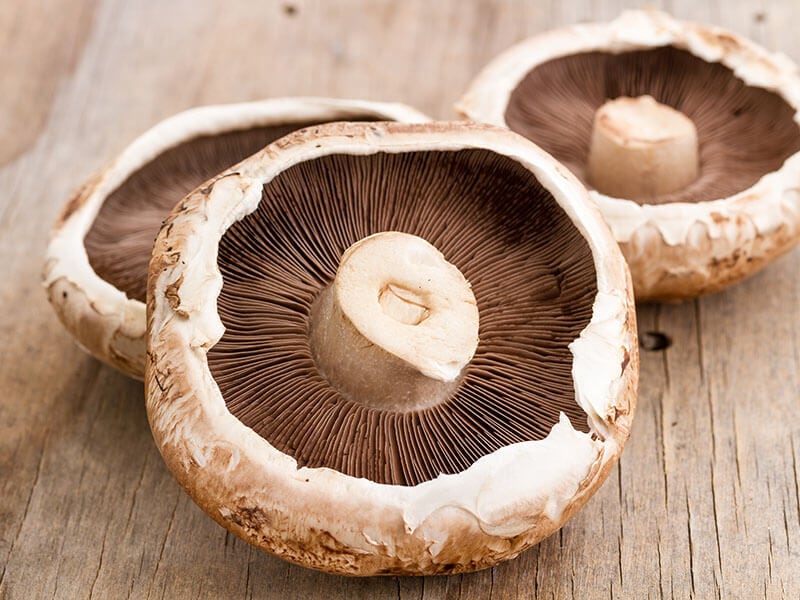 Portobello mushrooms are another member of the Agaricus Bisporus family, but they usually have a bigger size than Button and Cremini mushrooms. This kind is an ideal substitution for Cremini mushrooms. And you can find them in grocery stores or local markets easily.
In terms of taste and texture, there are many similarities with Cremini mushrooms. They both have a meaty texture with a unique taste when using raw, that's why they are very famous to vegetarian people.
Oyster Mushrooms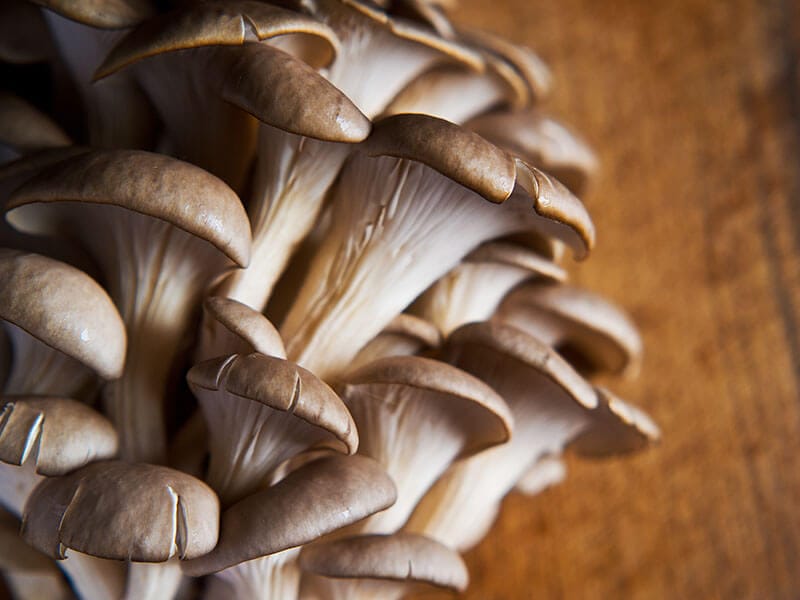 Oyster mushrooms are very well-known for their delicate texture and light flavor.
This type of mushroom is served in multiple Asian cuisines, especially for Chinese and Korean food. With the special shape of a fan with a mild metallic taste, they are seen as seafood of the ground.
Because of its unique metallicity, some people like to have it raw while some don't. But you always have to try before you can decide, right?
Enoki Mushrooms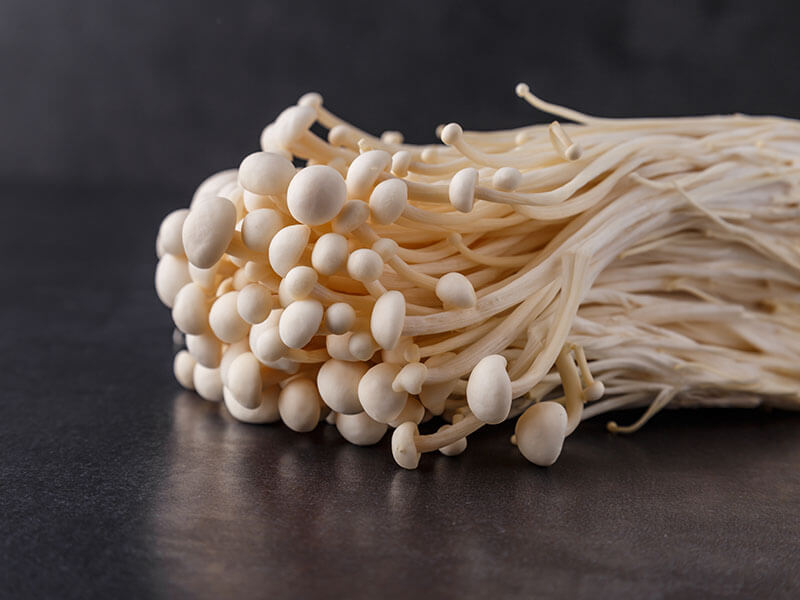 A very popular and commonly-used ingredient in Asian cuisine since this is a Japanese-based mushroom type. These mushrooms come in the shape of long strings and are often sold in clusters in Asian markets.
They come in a very mild earthy flavor and a little crispy texture, which will definitely bring you an interesting taste when using raw.
King Trumpet Mushrooms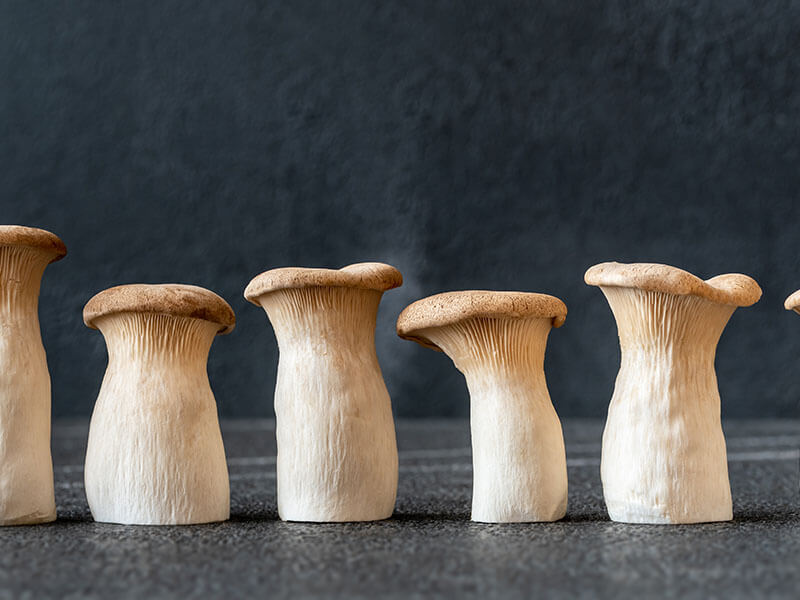 King Trumpet mushrooms also referred to as King Oyster mushrooms definitely must be tried raw once. Try and you will thank me later.
King Trumpet mushrooms are commented to have a mixture taste between Portobello and Enoki mushrooms so you can imagine a bit of the oceanic with a bit of earthy flavors. What a combination right?
They have a pretty dense texture so you might want to shred them out before eating. And want to know something really cool? They are very easy to find in every market and grocery store. So give it a try whenever you can.
Cleaning Before Eating. Yes, That Includes Mushrooms
You just bought the most delicious mushroom from the market and can't wait to eat it. But remember, all veggies are really dirty when you first buy them. So before putting them into the dishes, clean, clean and clean them.
But how, don't worry. That's why I am here, to guide you from A-Z, which includes how to clean your mushroom.
Remember The Old Adage: "Don't Wash The Mushroom"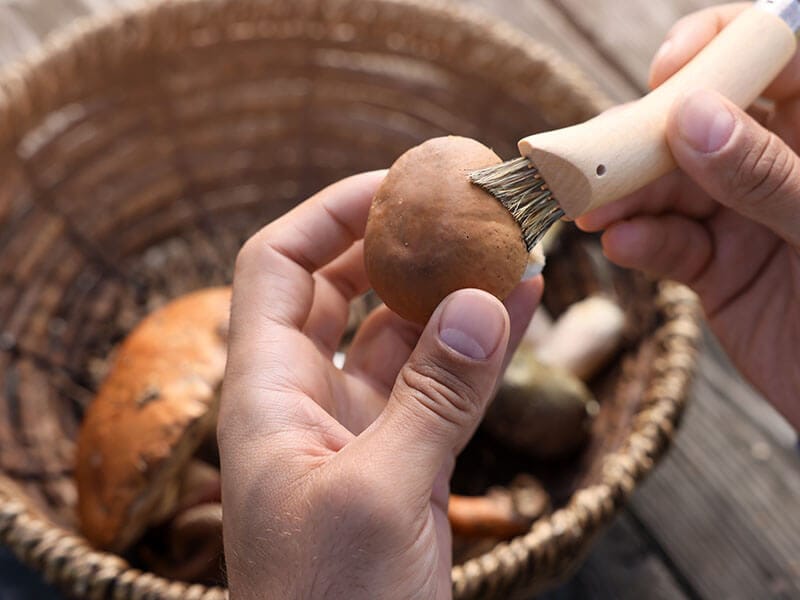 Because the mushrooms are porous, they will absorb the water quickly. In the case you don't want to lose any crispiness, keeping the water away from the mushrooms is a wise choice.
Now prepare these items before we get started:
A clean cloth or a little bristle
Lukewarm water
Now we are ready
Step 1: Damp The Cloth
Hold your little bristle and damp in the warm water. A little moisture would make it easier to wipe off the dirt.
Step 2: Wipe, Wipe, Wipe
Now use the damped bristle and attack all the dirt on the mushroom. Don't forget to clean under the cap of the mushroom.
Step 3: Store The Mushrooms
If you want to put the mushrooms on wait before eating. The fridge would be a good friend but remember to retain good airflow.
Small tip? Don't use a plastic bag because it will block the air and keep all the moisture inside. Consider using the paper bag instead. Plus, ensure you know a few tricks to tell if mushrooms are spoiled or not because consumption of bad ones might lead to food poisoning.
Not understanding yet? Here is an instruction to brush your mushroom like a pro.
But Washing Mushrooms Is Also Okay, If: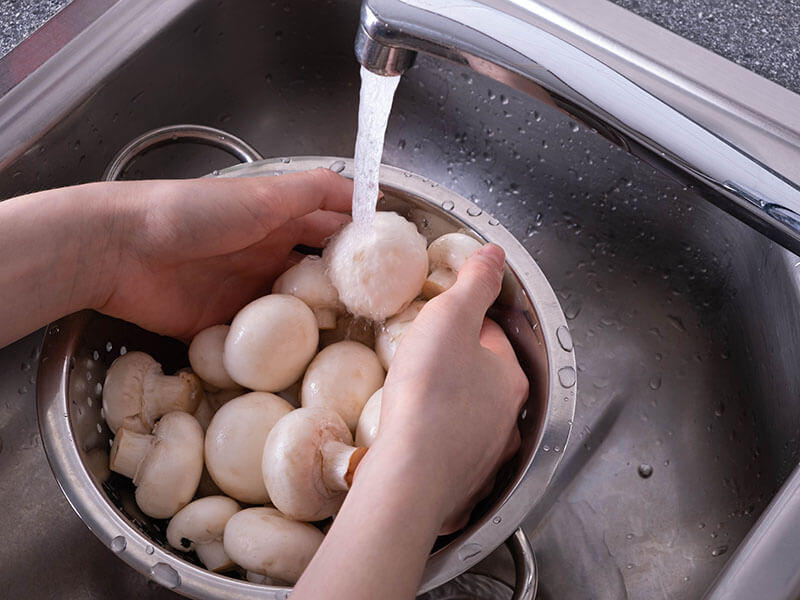 If you plan to use them early and want to keep all the crispiness and freshness. Here is a way to clean your mushrooms quickly before you eat them raw.
Here are a few things you will need:
Cool water
A bowl or a sink
Paper towel
Step 1: Fill The Water
Fill up your bowl or sink with cool water and put all the mushrooms into the water. Use your fingers to wipe away the dirt on the mushroom. But please don't let them soak for too long, or they will be waterlogged
Step 2: Dry The Mushrooms
Take all the mushrooms out of the water and pat them dry with a paper towel. Once they are fully dry, you can totally use them right away.
Fresh, tasty, and clean mushrooms are ready for you to eat raw right away. But if you want to use mushrooms for longer uses, consider dried ones because one of the biggest differences between fresh and dried mushrooms is their shelf life. They are also cheaper solutions.
Step by step to wash your mushrooms like an expert.
FAQs:
Here is some extra information about raw mushrooms, maybe you already knew, maybe you didn't. But it's always good to know more, right?
Mushrooms: Raw Or Cooked?
Mushrooms can benefit your health in multiple ways so definitely don't hesitate to have a lot of them. However, the decision of eating your mushroom raw or cooked totally depends on your own preference. Don't forget if your mushroom is safe to eat.
Well, that's all I have for you today, I hope this is enough information for you to try this in real life. You always have to try for once to know whether you like it or not, right?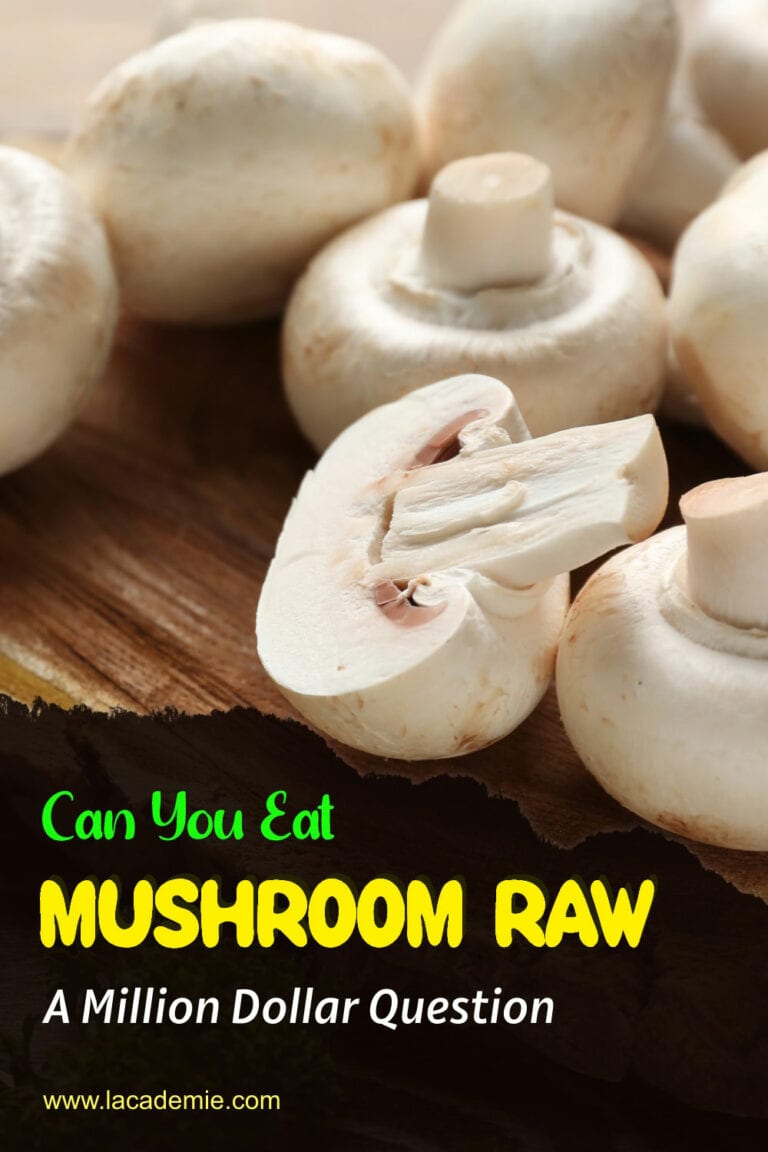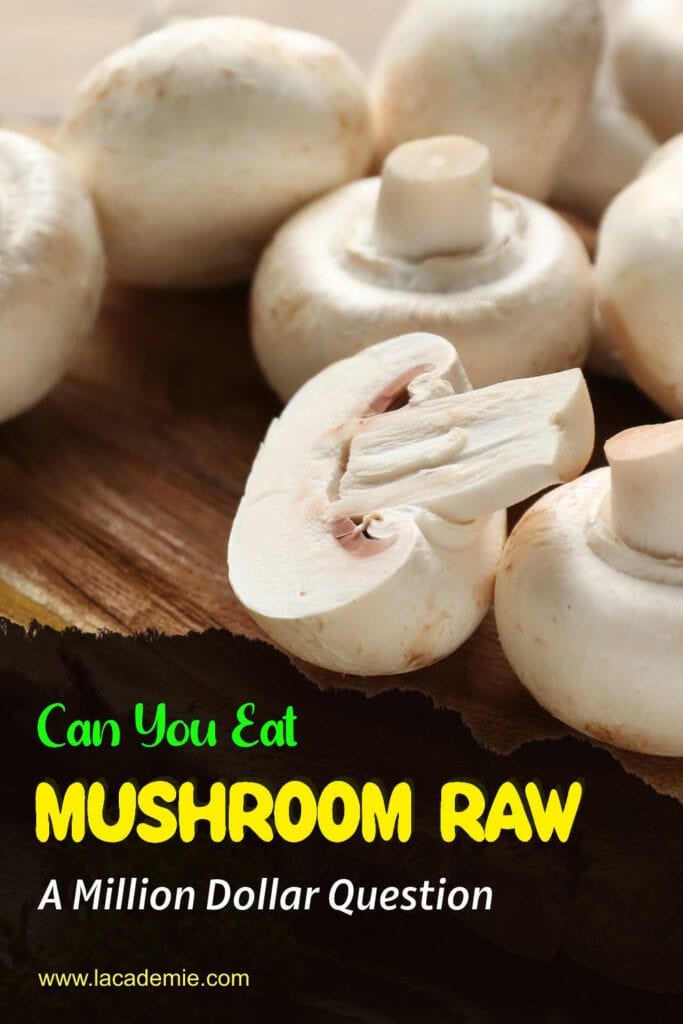 References
For.gov.bc.ca. 2022. What is a Mushroom.
Nutrition, D., 2022. Health Benefits of Mushrooms.