No question is a stupid question, that includes "What do mushrooms taste like?". There are multiple types of mushrooms out there on the market that you probably haven't had a taste of. Ever wonder if they taste like cotton candy? Or steak?
If you are questioning yourself what mushrooms taste like or simply just want to compare your taste and how they are described, then this article is made for you. So many detailed explanations are awaiting you.
Your curiosity is definitely burning for some good answers, so keep scrolling.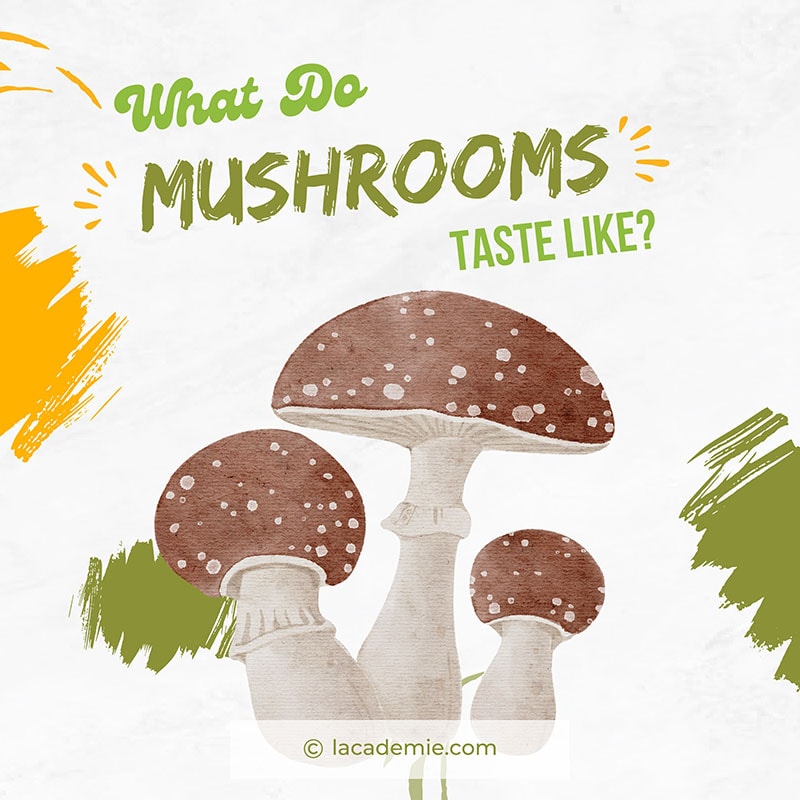 Getting To Know Your Food: Mushrooms
Before we get any further into this article, it's always important to build your knowledge from the basics? Okay, here is the piece of knowledge you might haven't known yet: mushrooms are fungi living in the Fungus kingdom.
But are mushrooms vegan-friendly? The answer is more complicated since it depends on how they grow.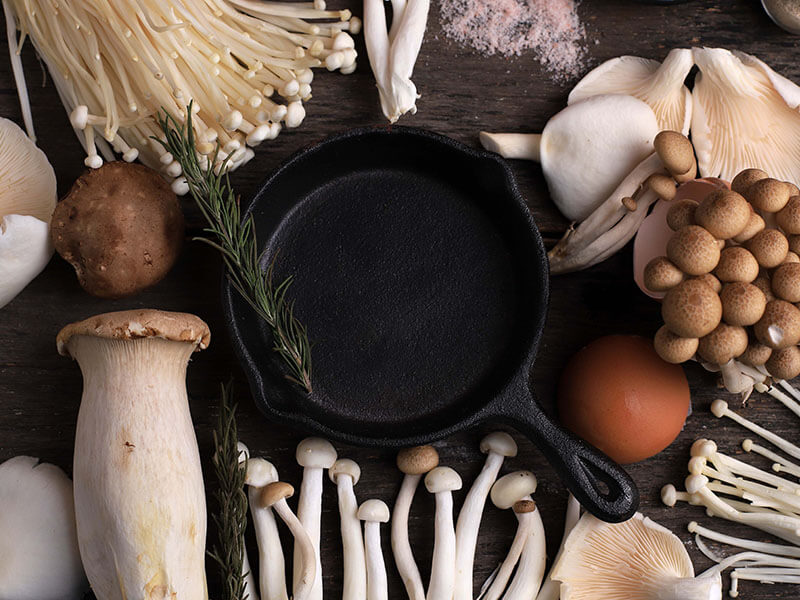 If they are neither plants nor animals, do they have good nutritional values as veggies or meat, or do they taste as good? The answer is a strong yes. They do bring countless nutrients and health benefits and have a spectacular taste.
Now, let's answer each answer one by one, starting with the health benefits it brings to us.
Break Down All The Health Benefits Of Mushrooms
Mushrooms have an enormous source of nutrients, including different types of vitamins, fibers, and minerals. So you definitely cannot go wrong. But this list of all the health benefits of mushrooms will blow your mind.
An All-Day-Energy Source: Mushrooms
Many edible mushroom species are very rich in vitamin B: B1, B2, B9, B5, B3. These B-group vitamins help absorb all the energy from the food we eat. By eating mushrooms, you will have a good source of vitamin B to utilize all the nutritional benefits of the different foods.
Vitamin B also plays an important role in producing red blood cells, which carry oxygen throughout our whole body. So put mushrooms on your food list right away, and make sure you know some tips to tell whether mushrooms go bad for safe consumption with full nutrients.
Mushrooms: The Best Friends To Your Brain
After 12 years of studying, researchers and scientists have announced that foods rich in polyphenols, including mushrooms, will protect the elders from cognitive decline and boost memory ability (1).
More specifically, another research in 2017 revealed that antioxidant ergothioneine and glutathione in mushrooms could help prevent Alzerhmier or Parkinson's, which are pretty common forms of neurological illness in older people (2).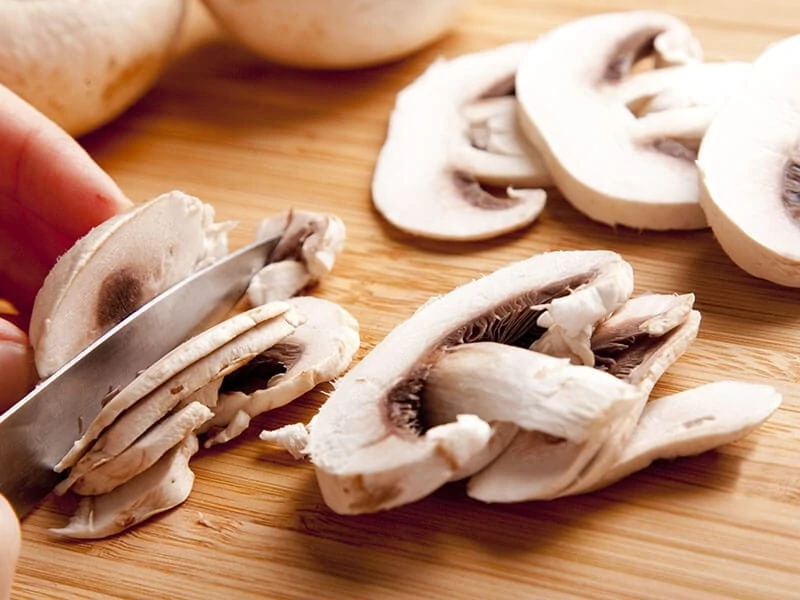 It also has been recommended by the former researchers to consume a minimum of 5 cooked button mushrooms per day to preserve a necessary source.
More Positive Emotions With Mushrooms. Yes, Normal Mushrooms
In 2021, there was research on 25000 volunteers about the correlation between mushroom intake and depression. The correlation was negative, which meant the more you consume mushrooms regularly, the less likely you will risk depression.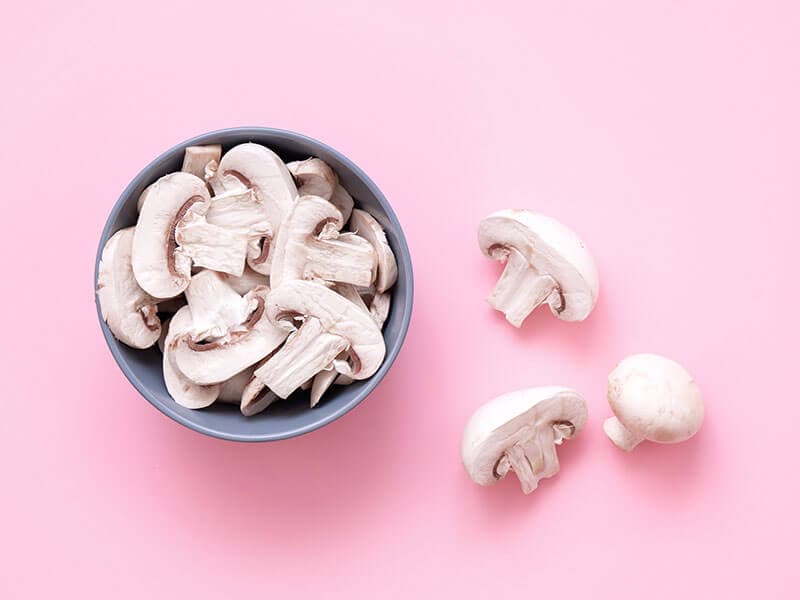 Well, that doesn't mean that if you eat mushrooms, you will not have depression. But it does mean that you will have a lower percentage of depression. Definitely worth a shot, right?
Mushroom – Elixir Of Life?
In 2017, research (another one) on mushrooms showed that the amount of antioxidants and glutathione in mushrooms is very high. And together, they work to decrease the level of stress, which will later lead to physical aging(3).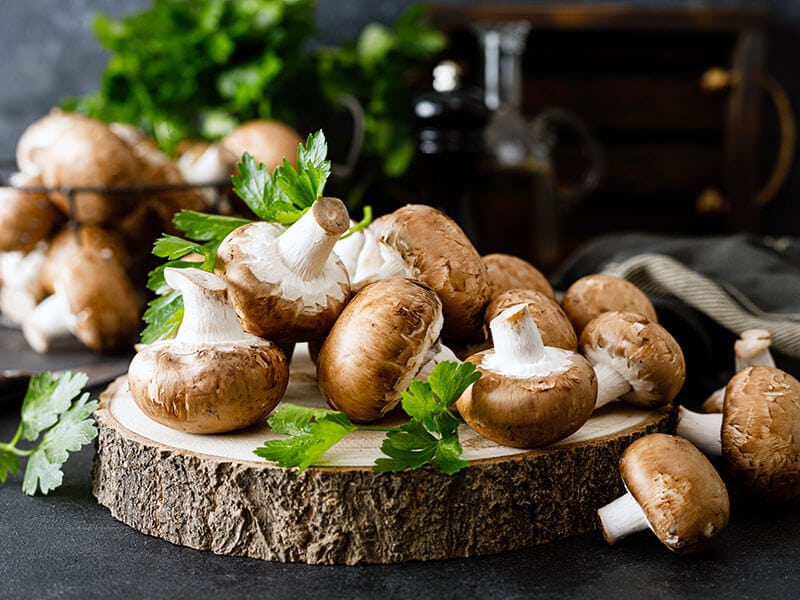 Even though not a very direct causal correlation, the effect was still very significant for the research. Why not give it a try?
Are Your Bones Made Of Steel Or Mushrooms?
Mushrooms have a high concentration of vitamin D, which plays a huge role in strengthening and growing your bones. Vitamin D is an important vitamin that people usually overlook, but I hope you see its value now.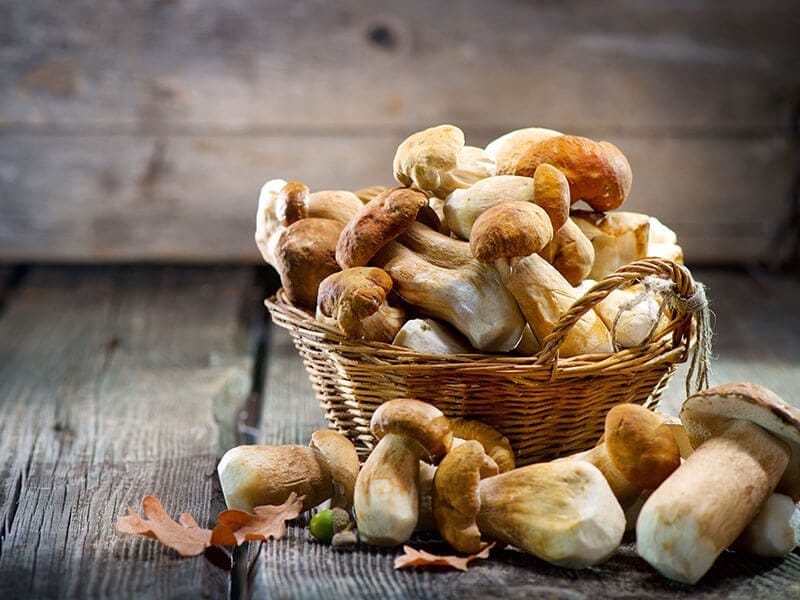 That's why mushrooms are highly recommended for teenagers and elders because these are the age when your bones need a high level of nutrients.
Medicine For Your Heart Problem – Mushrooms
Mushrooms have low fat, cholesterol, and sodium rate. So they are very healthy for people with high blood pressure or any heart problem. Imagine a full cup of delicious and fresh mushrooms, but there are only 5 grams of sodium. What a dream comes true!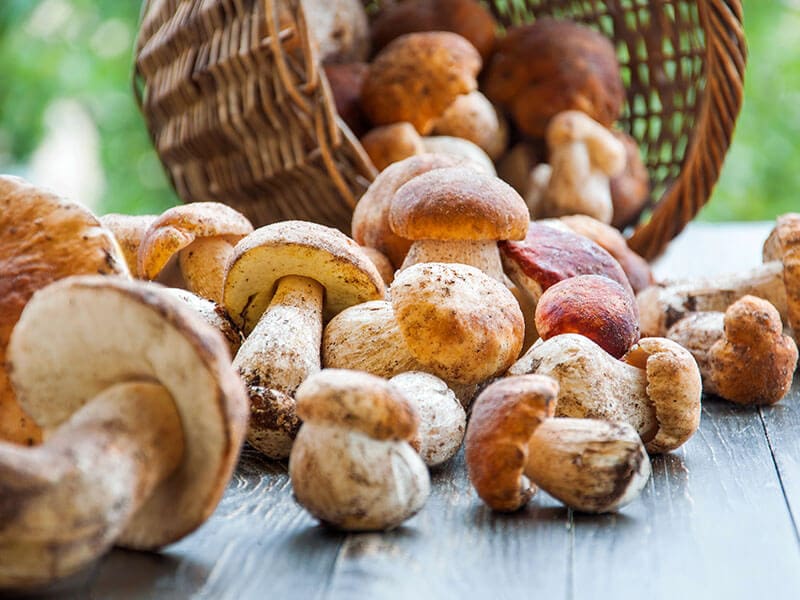 Moreover, if you are considering a low-carb diet, mushrooms would also be very friendly with these qualities. Another plus, mushrooms are very low in calories, yah!
Check out this video to know:
A General Description Of Mushrooms Taste
Here is a brief and simplified depiction of how you will feel when having a taste of mushrooms. If you want more specific information on each type, gotta keep scrolling, but let's take things from the general to the particular, right?
Gordon Ramsey explains the mushrooms' taste and texture with his 2 favorite recipes.
Why Are The Mushrooms So Soft?
If you are the type "no mushrooms on my pizza", don't worry, I will not judge you, but I will give you an explanation on why mushrooms always have those funky, soft textures. Maybe it will change your mind.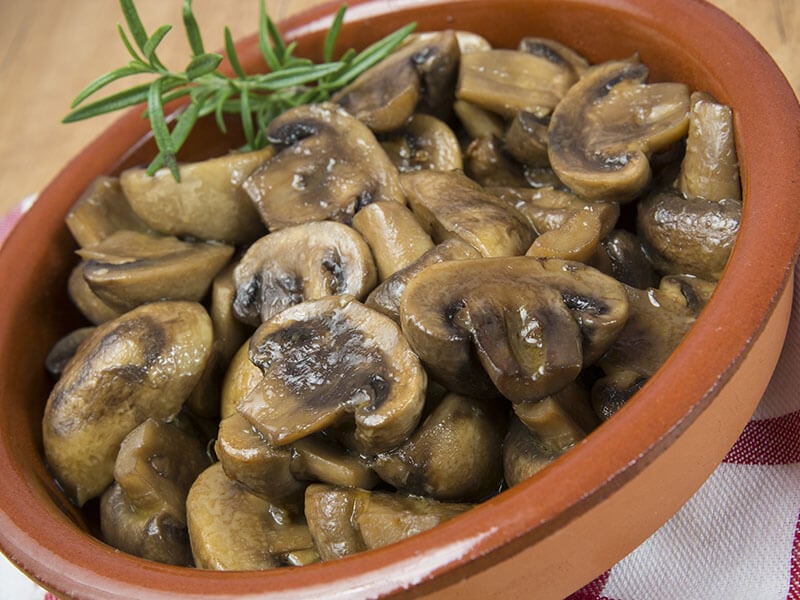 The reason why mushrooms are so soft is that they are made up mainly of water. Some have more protein, fiber, and a tiny bit of fat. That's how mushrooms are created, but with tons of nutrients, what a surprise!
A bit more details about the texture of mushrooms. They are built like a sponge, which means they will easily absorb water when cooking. That's why mushrooms are very soft after cooking, but the taste will remain delicious. So give it a try, and maybe you will like them.
But What About The Taste? Of All Mushrooms?
Well, this is a bit generalizing for all the mushrooms, but I guess they have some similarities in traits, including the taste. Well, they are in the mushroom family after all.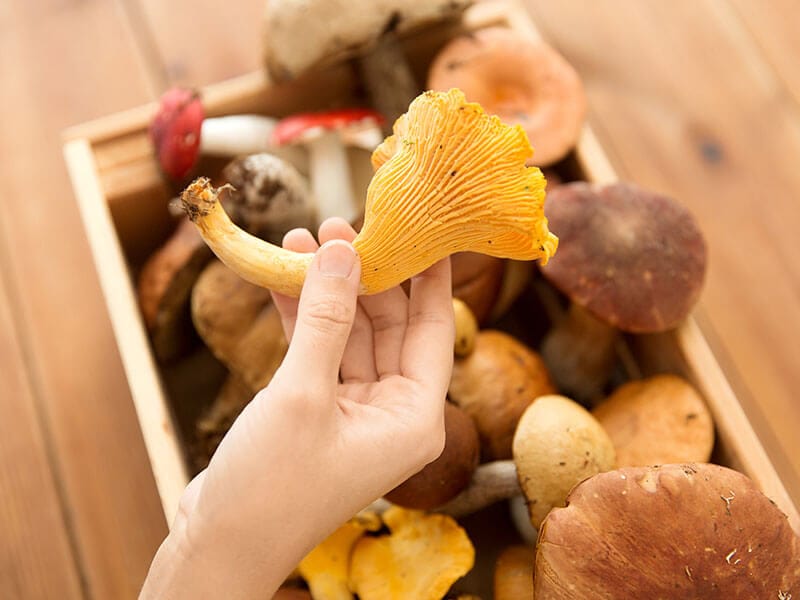 Most common mushrooms that you can easily find in grocery stores or local markets will generally have a signature earthy flavor. But this also depends on the texture of the mushrooms. The denser the texture, the stronger the flavors.
Some people also describe mushrooms as having a meat-like (umami) flavor and texture. But the intensity of the umami flavor varies depending on the state of the mushrooms. And is it possible to enjoy mushrooms raw? Okay, let's get a bit more specific here.
The mushrooms taste is the lightest when raw, but the umami taste increases dramatically once they're cooked. The dried mushroom is also very rich in umami flavor. Next time add some dried or powdered mushrooms to your food. More taste, more nutrients, so why not?
One tip you should know when choosing mushrooms: the darkness of mushrooms positively correlates with the umami flavor. So the darker the color, the stronger the umami taste. So if you are a vegetarian looking for a good meat substitute, this tip will be handy.
Different Type Of Mushroom, Different Taste
Even though mushrooms do share some similar traits, do they taste the same? The short answer is no. Don't be confused, I will carefully describe the taste of the different types of mushrooms right away. Read and choose your favorite one:
Button mushrooms, or White mushrooms, is a very common mushroom. They might not be the most flavorful type of mushrooms, but they are definitely very versatile for cooking. Keep on reading to level up your Button mushrooms recipe.
This type of mushroom is described to have a mild sweetness, along with an umami taste, which is a meat-like flavor. This is why button mushrooms are a good choice if you don't want meat in your dish. And if you are curious about freezing mushrooms, please feel free to do so.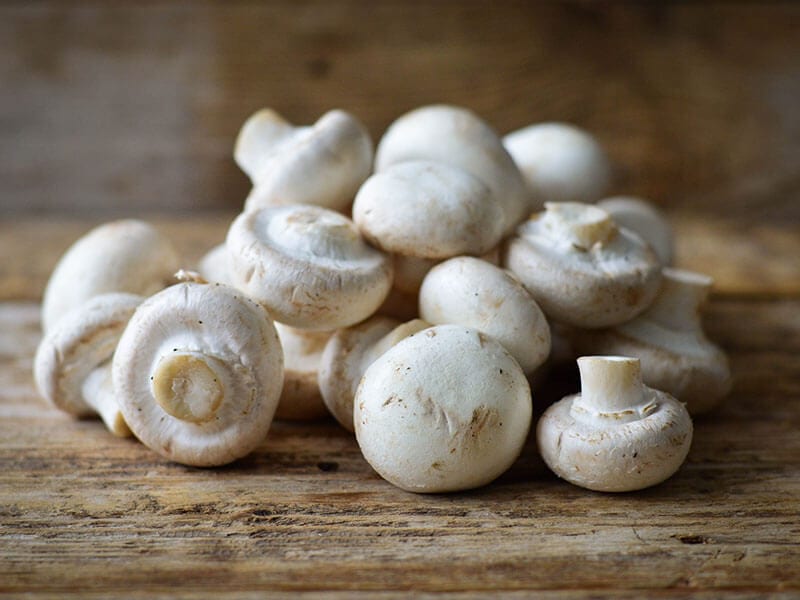 When you decide to use it raw, keep in mind that they might be a bit bland. Just a bit of mild sweetness and umami flavor, but raw Button mushrooms will bring freshness to your salad with their soft, spongy texture. Also, for their mild natural flavors, they are perfect for babies.
But if you want to deepen the flavor, good seasoning and cooking techniques would be a real game-changer. Don't hesitate to add diced Button mushrooms into your pizza, soup, salad, or any pastry dishes to intensify the flavor of all.
Or maybe consider the Asian cuisine? Even though Button mushrooms are not very familiar in Asian food, their mildness and versatility will make them a great ingredient for your soup, stir fry, or raw salad. Just freely experience yourself and see what you like the best!
Simple and delicious way to saute your Button mushroom!
Portobello Mushrooms
Portobello mushrooms are brothers with Button mushrooms. They all come from the Agaricus Bisporus family. This type of mushroom is also common on the market, and you can easily purchase it right away.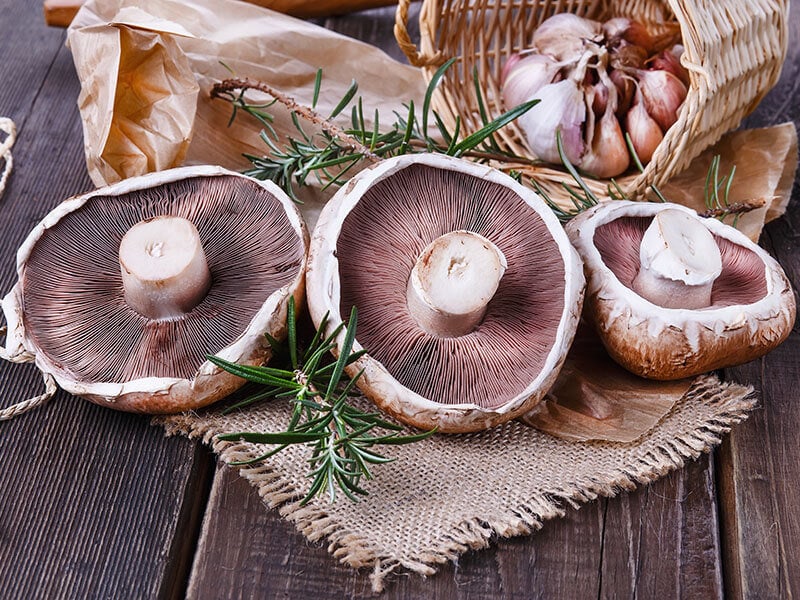 They are described to have a much stronger meat flavor than button mushroom, almost beefy taste with garlic and herbs. Doesn't it make you mouth-watering?
Many famous chefs created vegan meat by using these mushrooms, and do you know what technique they use to imitate the best meat texture? The answer is pan-sear, that's right. This technique will bring out the meaty flavor of portobello mushrooms.
But Portobello is very versatile in cooking. If pan searing is not enough to test your cooking skill, try grilling them. Treat your guests to some BBQ with crispy-outside, moist-inside mushrooms cap. They will be taken aback at how good normal mushrooms can be.
And another trick if your guests do not eat meat, quickly grab some Portobello mushroom caps and normally grill them together with vegan sauce. And done, you have a beautiful "vegan steak". Don't forget to give them some sear like your normal steak!
If you don't want to eat the whole mushrooms, how about cutting or dicing them? I got you covered. Sliced Portobello goes perfectly for sauteing. You can use them as simple finger food for babies, serving as a side dish to pasta, pizza or ragout, etc are all great.
What about diced Portobello mushrooms? Well, trying to add them to your soup or sauce would be a good idea, or challenging yourself a bit by turning them into stuffing in burritos, omelets, or enchiladas, etc. Needless to say, you will love the flavor at the first taste.
Cremini Mushrooms
Many delicious mushrooms come from the Agaricus Bisporus family, and Cremini mushrooms are a part of that crowded family. This type of mushroom is very famous for being low calorie and low fat, so if you're on a weight-loss diet, gotta try this.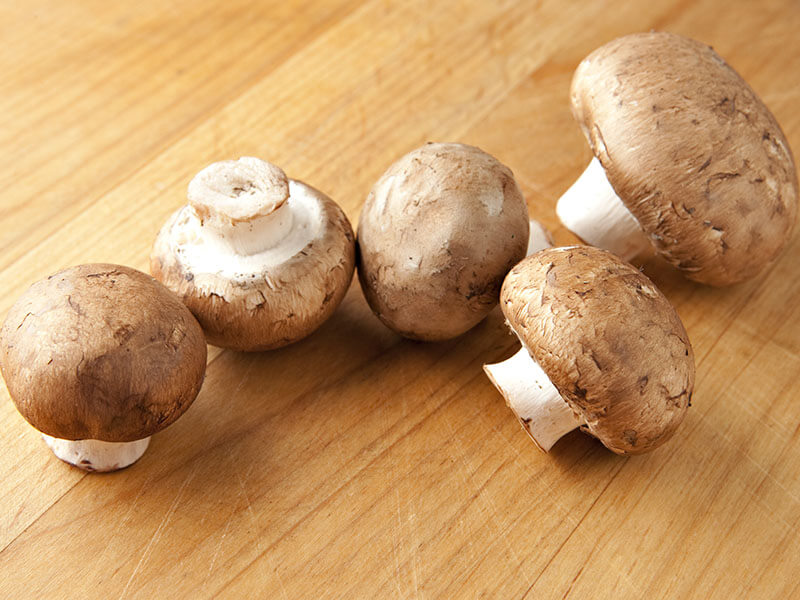 Cremini mushrooms are the most flavourful in the 3 Agaricus Bisporus brothers (sorry Button and Portobello mushrooms). They are believed to have an elegant umami taste, paired with a sweet aroma and a little bitterness in the end.
Many professional chefs will chop them into small cubes so the flavors and smell will be the strongest they can when cooking. And remember the slight umami taste? They would make Cremini a perfect sidekick with your seafood and vegetarian food.
There are many ideal replacements for Cremini mushrooms. And If you thought you could only use the Cremini caps for cooking, not the stems? Sad to say, you're wrong.
Dice the stems and saute them asap. Voila, now you have the best side dish for your soups, sauce, pancakes, or omelet. Easy and tasty, isn't it?
But these combinations are too familiar, and you need a bit more challenges? Just saying that some bakers use Cremini mushrooms in their desserts, and that takes the original flavor and texture to a whole new level. Oh well, guess who will try it today? You!
Candy Cap Mushrooms
This type of mushroom has multiple and very attractive colors: pink, orange, purple, etc. And ready for the best part? When you slice them open, Candy Cap mushrooms' flesh will reveal a strong and pigmented color.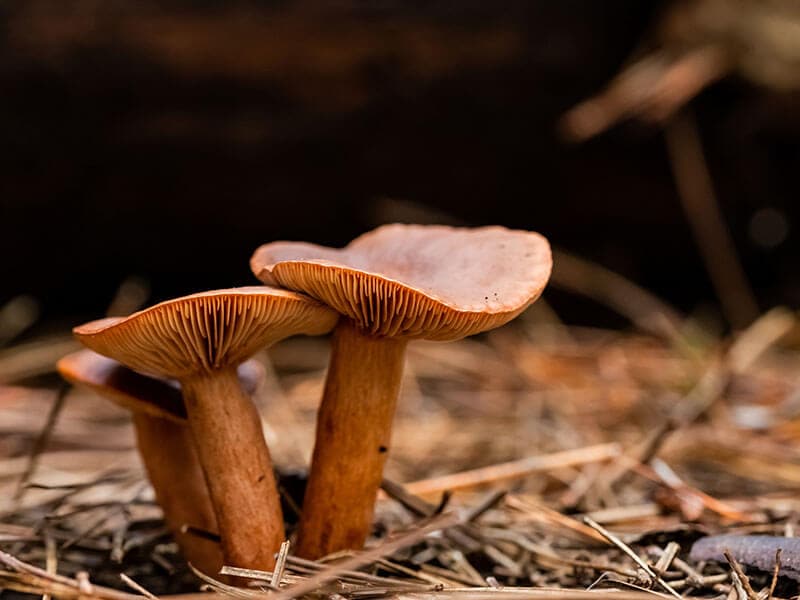 The name "Candy Cap mushrooms" doesn't come solely because of their appearance, but also because of their caramel flavor, with a bit of fruity taste. If you are a sweet tooth, these mushrooms are a must-try.
Oyster Mushrooms
Oyster mushrooms earned this name with their unique shape, resembling seashells. They are widely common in Asian cuisine, especially East Asian cooking, usually served soup, salad, raw, etc.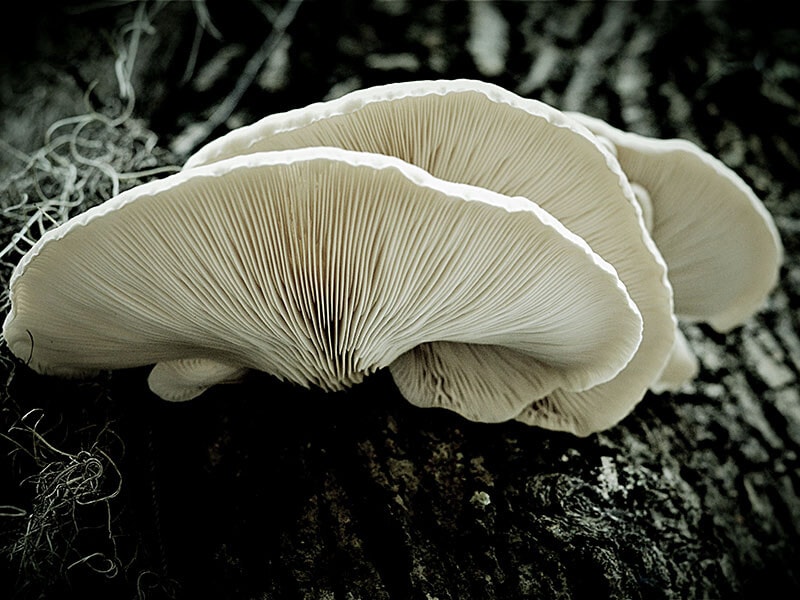 But there are a few different types of mushrooms, depending on their colors, and they all have unique tastes. Keep on reading and see if you notice any interesting relationship between the colors and the flavors?
Yellow oyster mushrooms will have some slight citrus flavor with a hint of cinnamon. Pink oyster mushrooms are described to taste like ham or bacon, which also have a pink color. And blue oyster mushrooms represent the ocean with a creamy seafood-like taste.
See the striking correlation now? One secret you will definitely want to know: the mildness of oyster mushrooms pairs perfectly with stronger spices: chili pepper, soy sauce, or lemon. No need to thank me!
Shiitake Mushrooms
Shiitake mushroom is a Japan-origin mushroom variety. They are famous for being extremely rich in vitamin D, calcium, iron, and multiple valuable vitamins. Among all the mushrooms I will produce for you today, Shiitake probably has the highest and most nutritional value.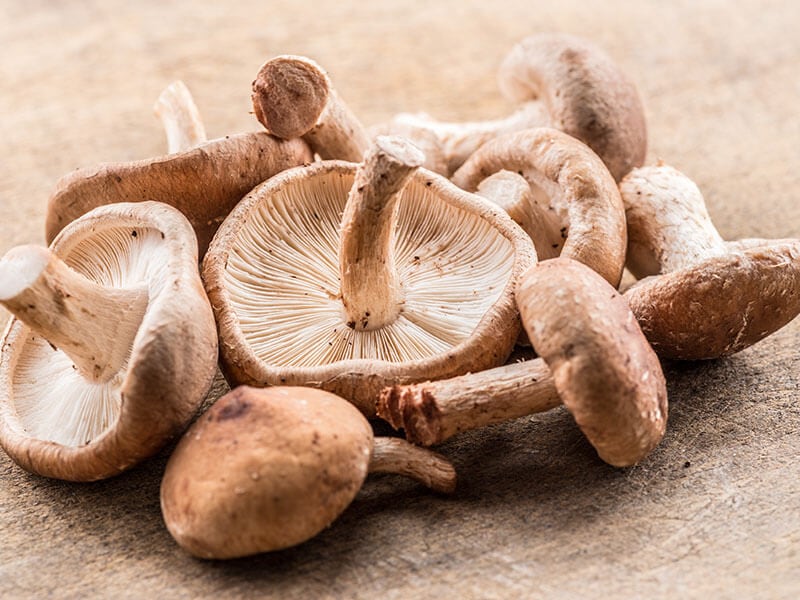 Not only high in health values, but Shiitake mushrooms are also famous for their strong earthy flavors, combined with umami taste and herbs. Their tastes are much deeper, richer than most mushroom varieties.
Some people even describe the taste more specifically by saying that Shiitake mushrooms are a perfect combination of earthy, buttery, and umami, with a final note of smoky wood. But the intensity of the Shiitake's flavor will be on another level once dehydrated. So try it now!
First time cooking Shiitake? This chef will help you prepare your Shiitakes like a pro.
Morel Mushrooms
Morel mushrooms are typically found and harvested in France and Belgium during May and September. Their nutritional benefits are very high, including fiber, protein, magnesium, and iron. But just a warning, their price isn't low, but the mushrooms are worth every penny.
Sneaky tip: you should consider dried Morel mushrooms instead of fresh ones. For the same weight price, you will have more mushrooms. They last all year, and once hydrated, the tender and meaty texture will come back and work perfectly for your broths, sauces.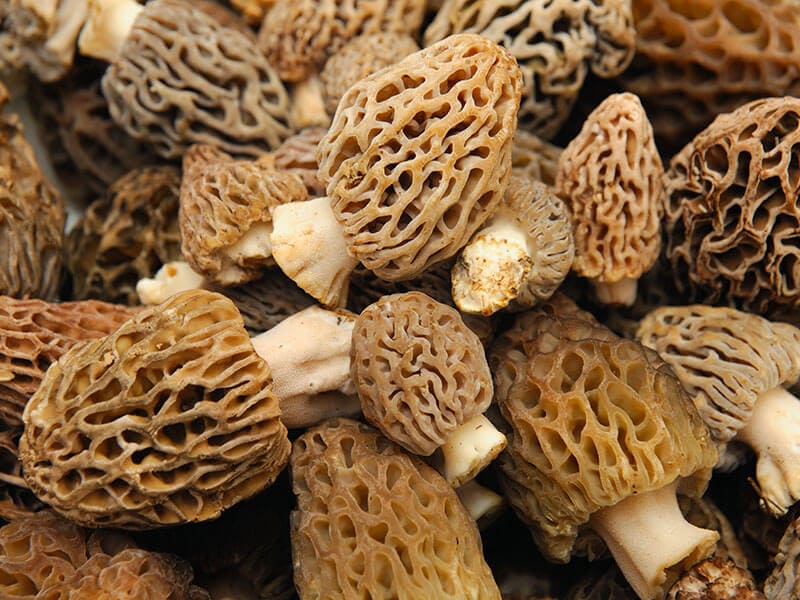 Morel mushrooms have a very signature smoky taste, and their color also correlates with their smokiness level. The darker the color, the stronger the flavor. Because of this special trait, try to simplify your dish when cooking so the Morel mushrooms' uniqueness can shine.
Next time, just saute the mushrooms with white wine, cream sauce, and herbs, and you will be shocked by the taste. This simple dish will charm all the diners with its original flavor. That's why professional chefs serve Morels in the appetizer to impress their customers.
A class French recipe with Morel mushroom – Creamy chicken with Morel sauce. Try now!
Truffles Mushrooms
They are the most expensive mushrooms in the world (so far) because of their rareness as well as their unique flavor. You will need professionally trained dogs or pigs to find these mushrooms from underground, or you will have to pay $300-$800 per pound. Your choice!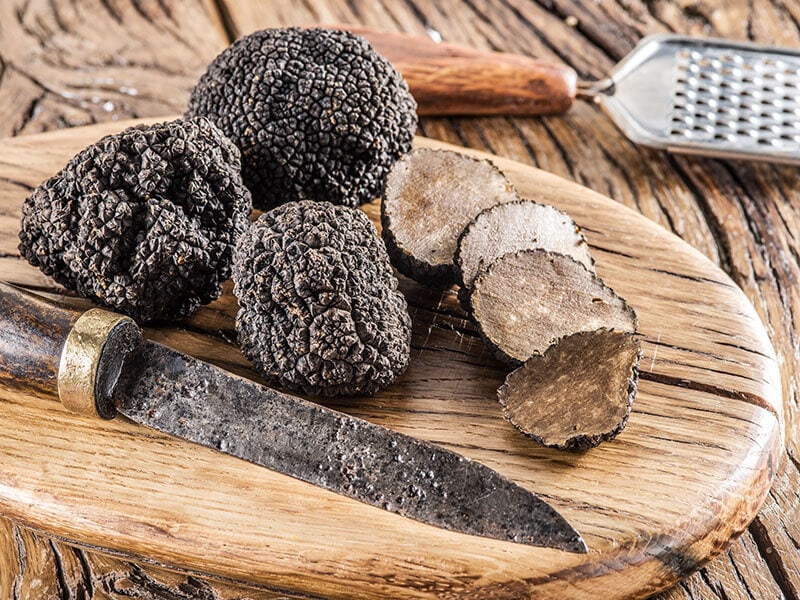 Truffle mushrooms are described to have a strong flavor of beef and prosciutto, but minus the saltiness. The truffle taste is so unique and addictive that you will always crave more after a small slice. There must be a reason why they are that pricey, right?
Chicken Of The Woods Mushrooms
Unlike normal-looking mushrooms, Chicken of the Woods mushrooms have a bright mix of orange and yellow and are usually found on the tree. You must think that this type of mushroom has that name because it looks like a chicken comb, right? Correct, but not all.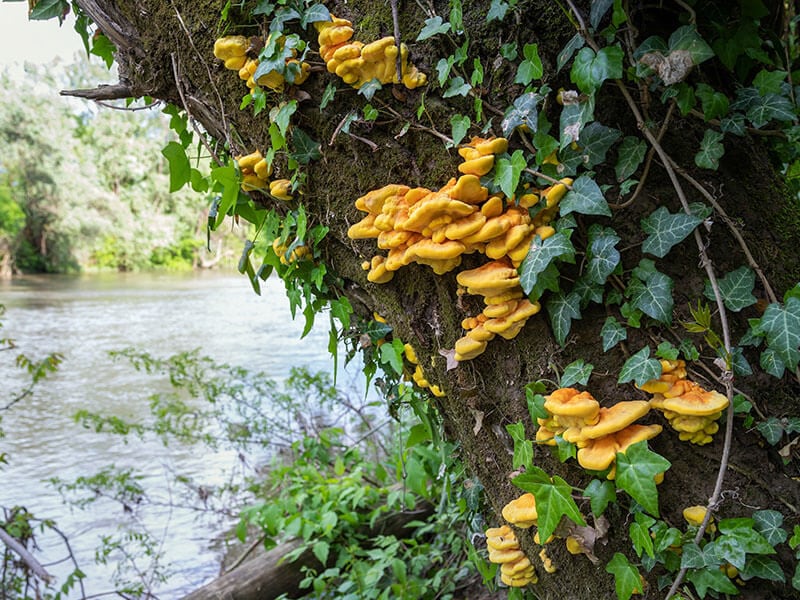 The special thing about Chicken of the Woods mushrooms are their succulent and thick texture, almost chicken-like, and unsurprisingly, they taste exactly like chicken. Well, maybe a bit exaggerating, they do taste like chicken but bring a much lighter taste.
Because of their natural traits, they work perfectly as "vegan chicken", and you can totally cook them the way you cook chicken. So try stripping them and then sauteing with butter, wine and herbs. Deep-frying them and using them with dipping sauce is also a good idea!
But what if you want to cook them like a normal mushroom? Definitely cut into small pieces, then saute them with some flavorful spices and put them as side dishes to your curry, omelet, rice dishes, or soup. Always work like a charm!
But keep in mind this mushroom can cause an allergic reaction, so try some small pieces first. Give your body a few days to decide before having a whole plate of Chicken of Woods mushroom. Better safe than sorry!
Chef Mike Robinson is here to give you a classic vegetarian recipe with Chicken in the Woods mushrooms!
Maitake (Hen Of The Woods) Mushrooms
Hen of the Woods mushrooms or Maitake mushrooms are a type of mushroom with a special deep earthy taste and unique texture. You must think there is a relation with Chicken of the Woods mushrooms, right? Sadly, they are more related to Shiitake in terms of flavor.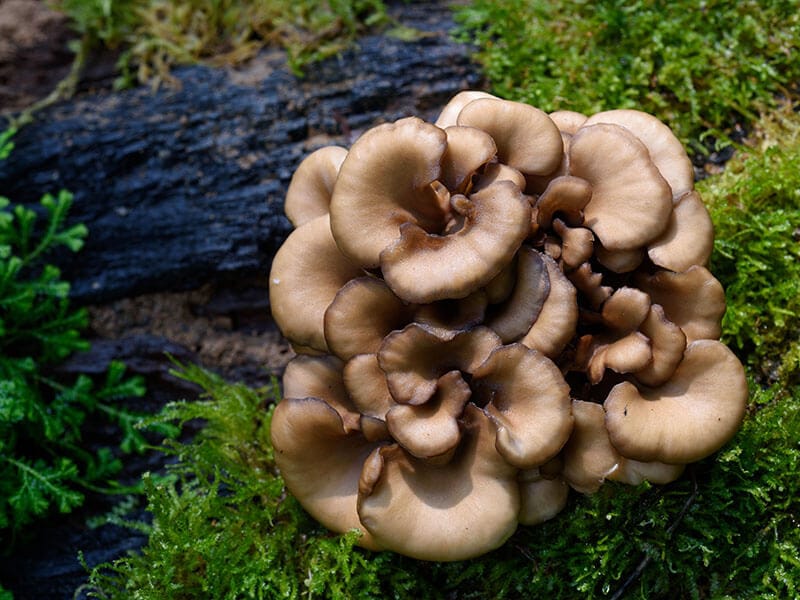 Hen of the Woods mushrooms are described to have a lighter flavor than Shiitakes but with a hint of spiciness. They have a unique feathery, delicate texture that interests many people, including the mushroom haters.
Because of the special texture, they taste the best when sauteed, but you can also deep fry them and use them like potato chips. Or, just like any mushroom dishes, you turn them into beautiful side dishes to soup, pasta, or risotto to enhance the flavor of both.
But quick caution, Hen of the Woods mushrooms can also cause allergic reactions, so don't forget to do a small test before using too much. You will not enjoy any shock-reaction like skin rash, nausea, or worse, heart-stop.
Lion's Mane Mushrooms
Lion's Mane mushrooms have a very different look compared to usual mushrooms. They are covered with droopy white stripes, almost look like feathers, but what do they taste like? That's what everyone has been asking, but don't worry, I will answer right away.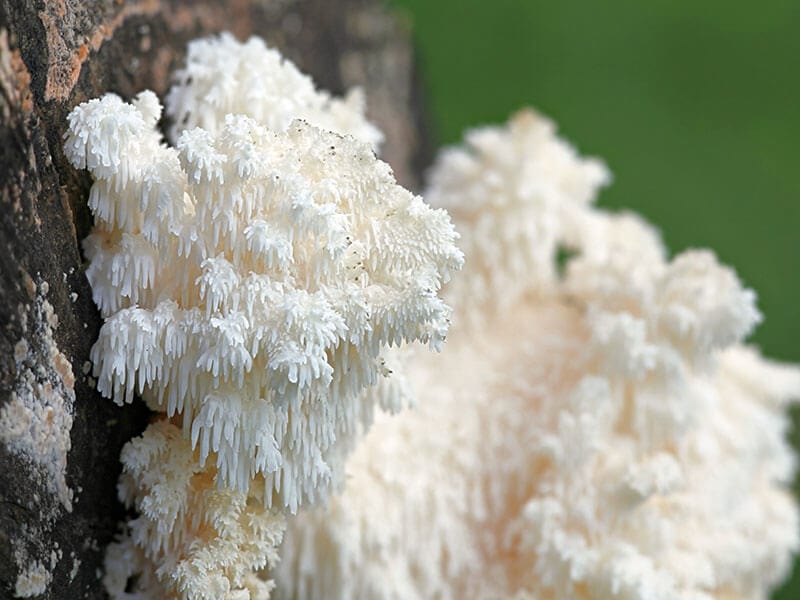 Lion's Mane mushrooms have a slightly sweet flavor with a chewy texture, making them taste very meaty. Some people even compared this type of mushrooms to lobster or crab meat. You have to test if they taste that fancy.
Because of their unique taste as well as texture, you need to simplify your cooking and let the mushrooms shine on their own. So just simply sauteing, roasting, or adding them to stew, promise you won't regret because after all, less is more!
Chanterelle Mushrooms
Chanterelle mushrooms are wild mushrooms with a very attractive look that makes you want to pick them up right away. They have a trumpet shape, bright yellow with a fruity scent, giving you the impression of an apricot or a peach when you first pick them up.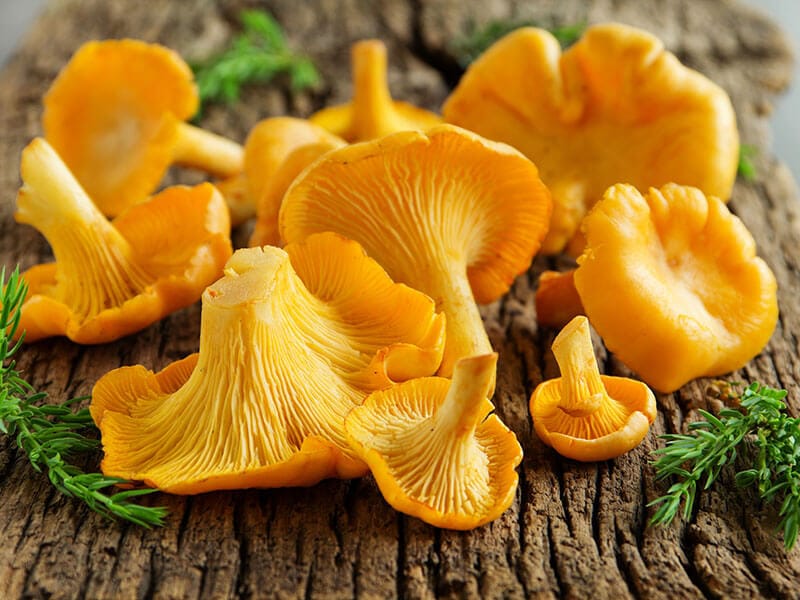 Chanterelle mushrooms have a woodsy and earthy flavor with a hint of pepper, while their textures are extremely soft and delicate. For these characteristics, they're the best to cook with in light butter or olive oil, adding some herbs. Perfecto!
Hedgehog Mushrooms
The name itself probably gives you some impression of this type of mushroom, right? Right, they have quite a hedgehog shape, but with no sharp spine, so it won't hurt you. In fact, the taste will attract you right away.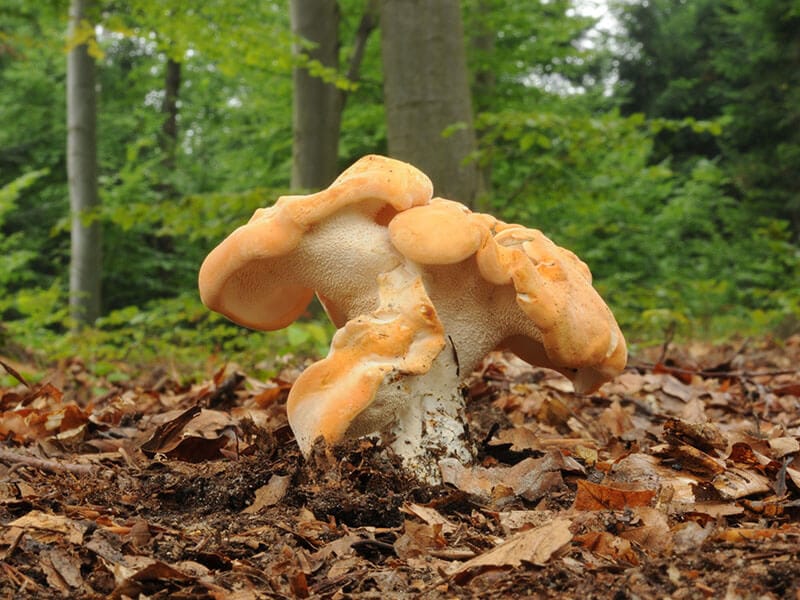 Hedgehog mushrooms have slight fruity-sweetness with an earthy and peppery taste. Some people even compared the taste to the Chanterelle mushrooms, but with a good mix of traditional mushroom flavor. So you can always substitute them together.
Hedgehog mushrooms have a very familiar texture: firm and chewy, promising you a very meat-like experience. And for these textures, you only need to quickly saute them in butter to let out all the unique mushroom taste.
You can also put them on pizza, pasta, or dishes from Italian cuisine. Hedgehog mushrooms are very well-used in Italian cooking, so maybe a bit of mix and match will bring you some valuable experience!
Porcini Mushrooms
The most purchased wild mushroom on the market, and are widely used in the famous all over the world cuisine – Italian cooking. What is so special about this type of mushroom? Let's find out now!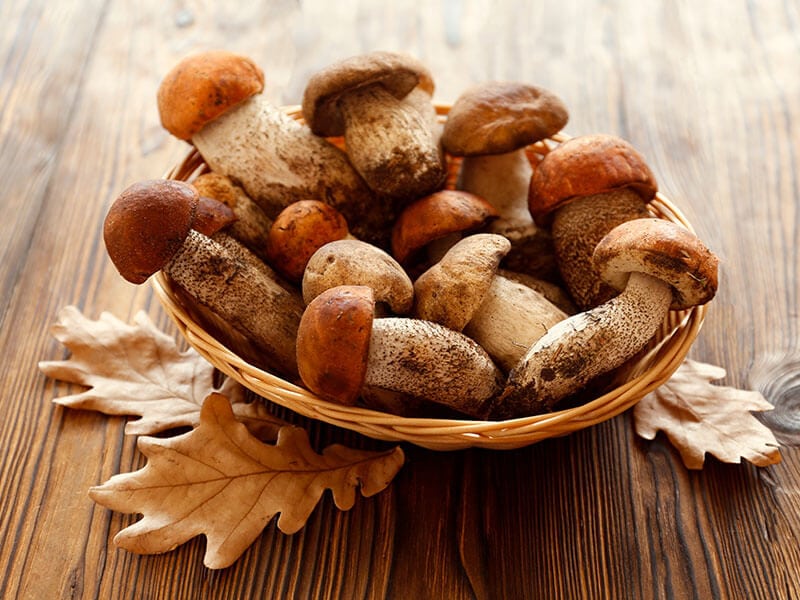 Porcini mushrooms are regarded as one of the tastiest mushrooms for their distinguished taste and aroma: special slight sweet-nutty and woodsy, earthy flavor, with a chewy texture. The best thing is that they can be found in every local market and grocery.
Don't hesitate to buy dried Porcini mushrooms, they will be less expensive than fresh ones, but you can keep them for a long time. When you soak them in water, they will quickly grow to normal form and are ready for you to cook.
In famous Italian cuisine, Porcinis are usually grilled or stewed with herbs. But they are versatile in cooking, so feel free to put them into sauce, soup, pasta, or a topper for your pizza, stuffing for your chicken, etc. There is no way to go wrong with Porcini!
Wanna learn how Italians cook their pasta with Porcini mushrooms?
Enoki Mushrooms
A very familiar ingredient in Asian cuisine, especially in East Asian cooking. But do they taste similar to Western mushrooms like Porcinis? The answer is no, and let's find out what they actually taste like.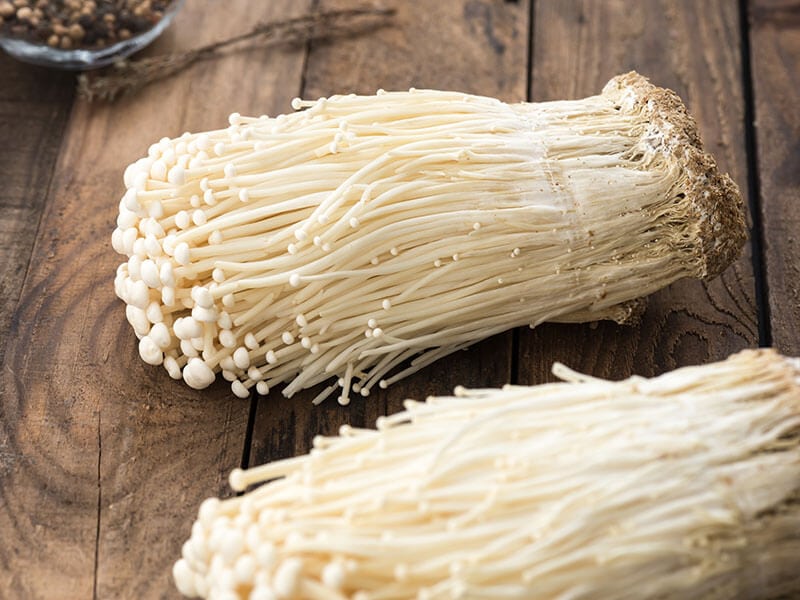 Enoki mushrooms are believed to have a very mild, elegant flavor with a firm but crispy texture. These mushrooms usually grow in clusters, so you will definitely see them packed in one. And before you cook them, don't forget to cut the ends out and slightly separate them.
They are the best for Asian cuisines, such as soup, ramen, or stir-fries. But some also love to have them raw in salad and sandwiches to increase the crispiness to their food.
Spice Up Your Mushrooms Game
Mushrooms, in general, have a very mesmerizing and lingering taste, but they are quite mild when compared to other ingredients. That is why I will introduce you to some spices that can level up your mushroom dishes.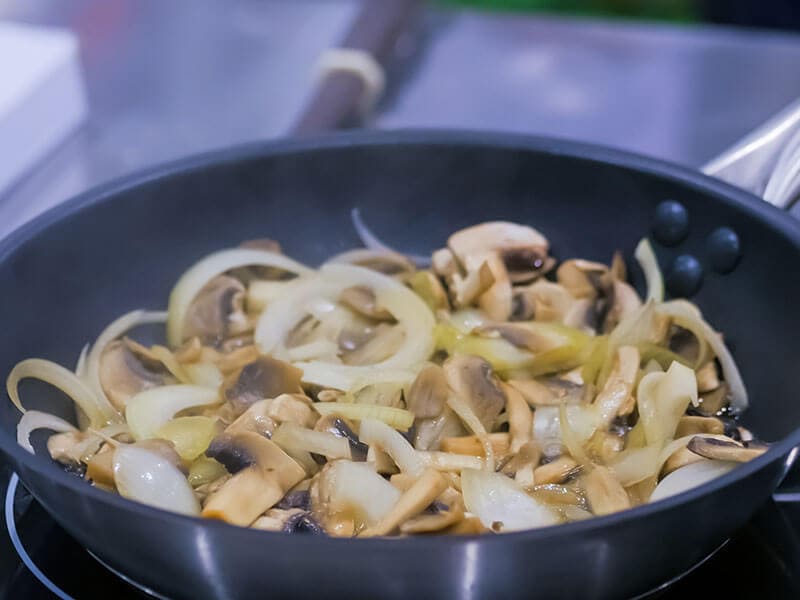 Garlic
Garlic itself has a very strong taste, and for this reason, garlic and mushrooms are dynamic duos that will satisfy every eater, even the strictest "food critic".
Try to cook them together in the same pan and put them as a food topper or a simple appetizer, they will bring out the best flavors of each other.
Thyme
If you decide to use mushrooms as the main ingredient for salad, soup, or sandwiches. Trust me, a touch of thyme will be a game-changer.
A little tip from the restaurant, put the thyme while cooking the mushrooms, but also don't forget to spread a bit of dried thyme before serving. That is how you enhance the smell of thyme.
Butter
Butter and mushroom? A very unusual combination, but trust me, the butter will create a beautiful color for your pan-sealing mushroom.
Even though they have a very mild flavor separately, together, they will create a strong and delicious taste that you will love. A small tip, use a knife and create small cuts on your mushroom for a deeper taste of butter.
Great tips from Chef Adrienne Cheatham to match your mushrooms with the right spices!
FAQs
Just in case you have some further questions about "What do mushrooms taste like?", or maybe you can have some extra information about the mushroom in general. Well, it's always to know more, so why not scroll down?
Taste Of Mushrooms – A Gift From Nature
All in all, mushrooms are very special ingredients in terms of taste and health benefits. But to have a generalized answer to every mushroom would be hard because each is different from the other. So let yourself decide which is your favorite. You will never know unless you try!
Well, that is all I have for you today. I hope this article would answer all your concerns regarding what mushrooms taste like. Comment down below and let me know what mushroom tastes the best for you.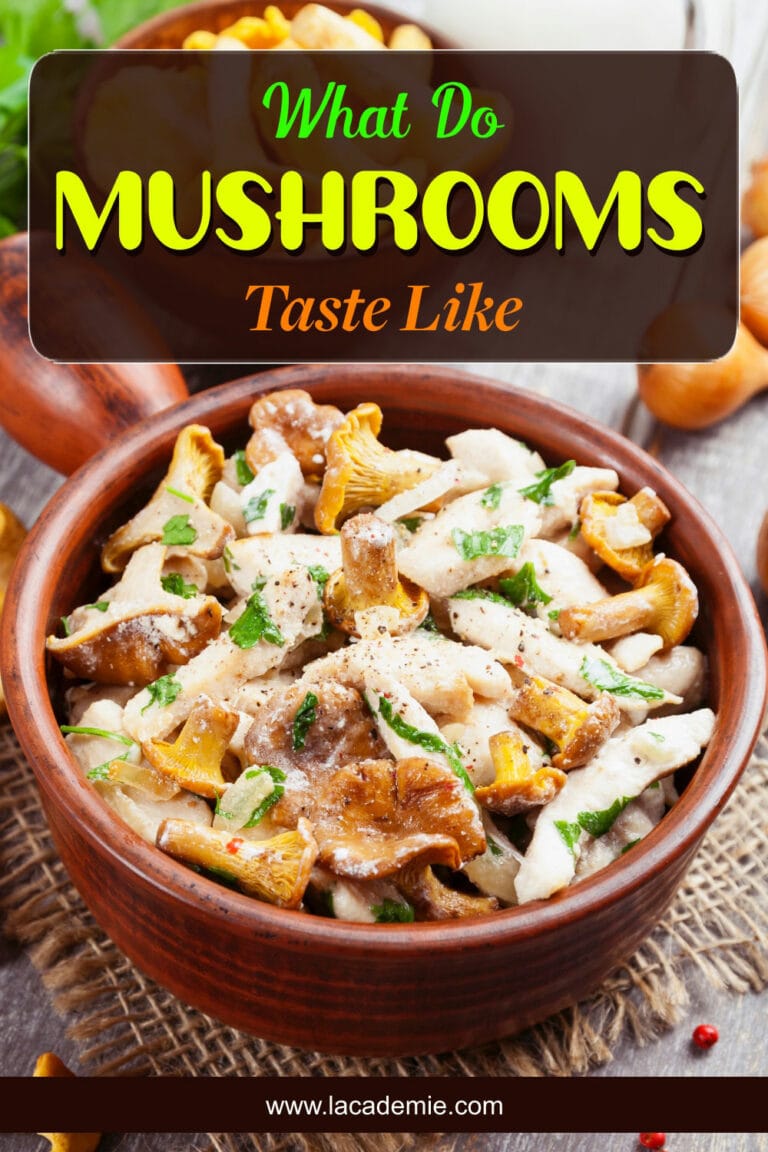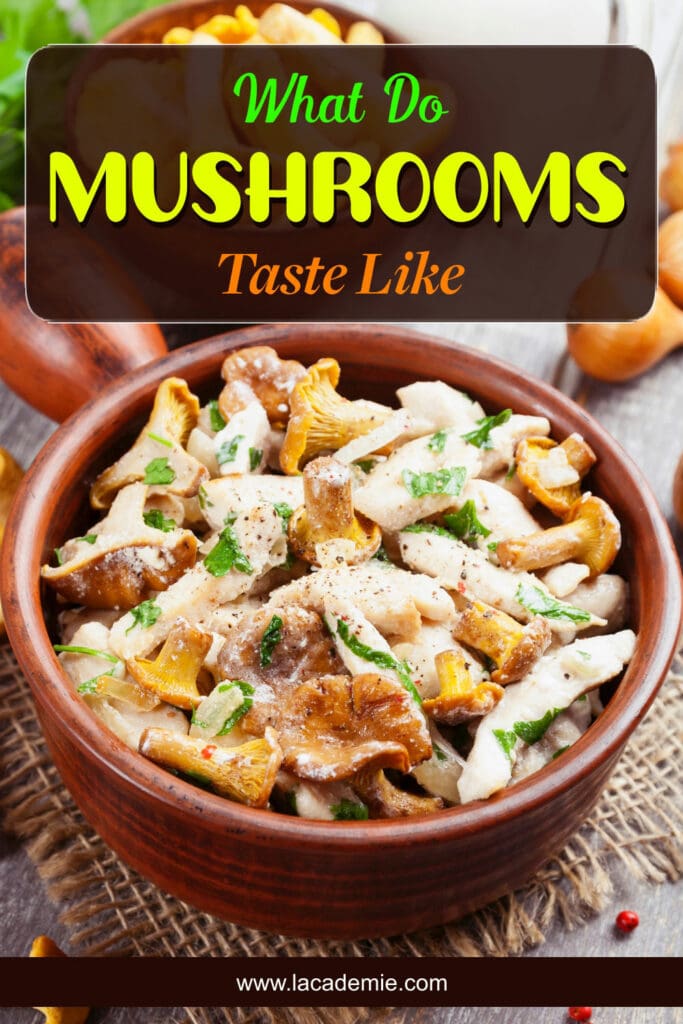 References
Ba, D., Gao, X., Al-Shaar, L., Muscat, J., Chinchilli, V., Beelman, R. and Richie, J., 2021. Mushroom intake and depression: A population-based study using data from the US National Health and Nutrition Examination Survey (NHANES), 2005–2016. Journal of Affective Disorders, 294, pp.686-692.
González‐Domínguez, R., Castellano‐Escuder, P., Carmona, F., Lefèvre‐Arbogast, S., Low, D., Du Preez, A., Ruigrok, S., Manach, C., Urpi‐Sarda, M., Korosi, A., Lucassen, P., Aigner, L., Pallàs, M., Thuret, S., Samieri, C., Sánchez‐Pla, A. and Andres‐Lacueva, C., 2021. Food and Microbiota Metabolites Associate with Cognitive Decline in Older Subjects: A 12‐Year Prospective Study. Molecular Nutrition & Food Research, 65(23), p.2100606.
Kalaras, M., Richie, J., Calcagnotto, A. and Beelman, R., 2017. Mushrooms: A rich source of the antioxidants ergothioneine and glutathione. Food Chemistry, 233, pp.429-433.
Psu.edu. 2022. Mushrooms are full of antioxidants that may have anti-aging potential | Penn State University.