Among all the viable mushroom substitutes, tofu is probably the most well-known. However, you'll be surprised to know the many other options you can add to the list. When you utilize these substitutes properly, most people won't even realize the absence of mushrooms!
If you are having a hard time finding a substitute for mushrooms, this article will help you. After reading, you'll have no trouble replacing mushrooms in any recipe. If that sounds good to you, let's dive right in!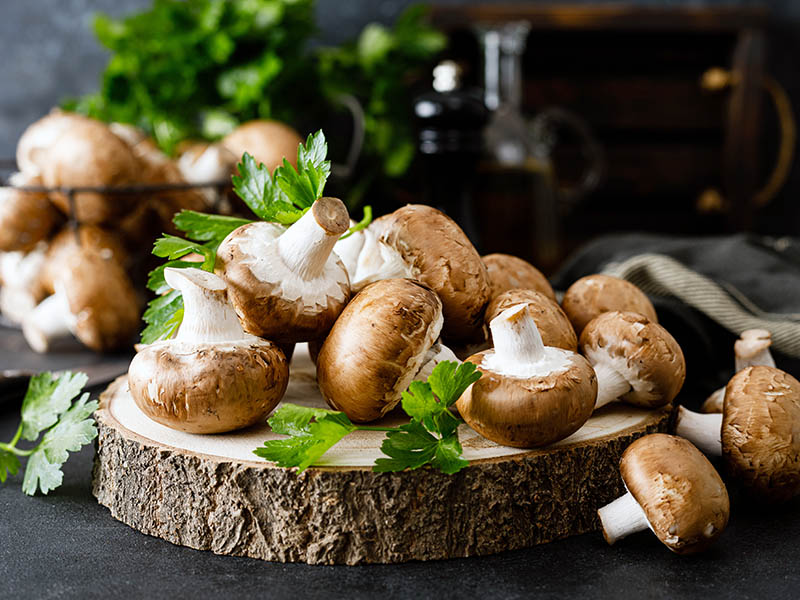 Mushrooms- A Healthy Food
If you need to find tasty food that provides your body with vitamins and other essential substances, mushrooms are your number one choice.
In addition to being rich in B vitamins and metals such as copper and selenium, these bad boys are also a perfect source of protein, fiber, potassium, vitamin D, and calcium. Plus, they'll supply your body with many necessary micronutrients.
But don't think that's all! Mushrooms can have more health benefits than just a source of nutrients. They have antibacterial properties, can reduce blood cholesterol levels, and contribute to the immune system's effectiveness.
Besides, mushrooms are even used to prevent and treat certain diseases like hypertension and cancer.
Mushrooms also have a pretty extended shelf life of at least 6 months. That said, you should always be careful of signs of spoilage on your mushrooms since eating "out-of-date" fungi can lead to severe food poisoning.
Note that some mushrooms are poisonous. If you're not well-versed in the fungi world, I recommend sticking to the safe-to-eat mushrooms sold in the food section. If you have some money to spare, don't hesitate to try premium mushroom types like truffle or Matsutake.
Unfortunately, there will come a time when you're totally out of mushrooms. In those cases, the substitutes in the next section will be your best friends.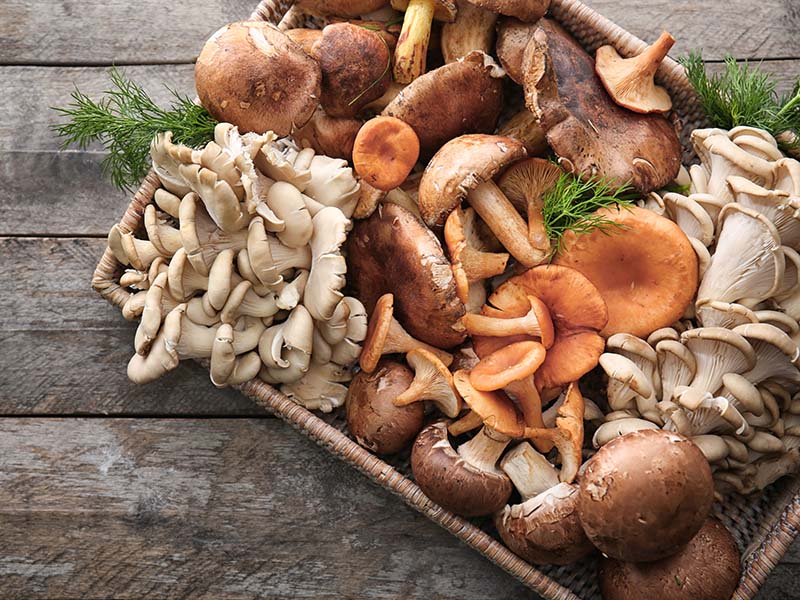 18 Excellent Mushroom Alternatives You Cannot Miss
Mushrooms have a unique flavor profile that can be tricky to replicate. But, no need to think much. The table below will provide 18 substitutes and their corresponding ratio in some dishes.
Substitutes
Substitute Ratio
Tofu
1 part of mushrooms = 1 part of tofu (stir-fried dishes)
Tempeh
Depend on the recipe
Carrots
1 part of mushrooms = 1 part of carrots (soups or stews, chicken marsala, beef wellington and veggie burgers )
Eggplants
1 part of mushrooms = 1/2 part of eggplants (beef wellington)
Lentils
1 part of mushrooms = 1/4 part of lentils (stir-fry dishes, soups or stews)
Umami Seasoning
Depend on the recipe
Zucchini
1 part of mushrooms = 1 part of zucchini (stir-fry dishes, soups or stews, pasta, stroganoff)
Olives
1 part of mushrooms = 1 part of olives (pasta, pizza)
Yellow Squash
1 part of mushrooms = 1/2 part of yellow squash (stroganoff, soups or stews)
Onions
1 part of mushrooms = 1 part of onions (beef willington, chicken marsala, stroganoff and pizza)

1 part of mushrooms = 1/2 part of onions (stir-fry dishes)
Potatoes
1 part of mushrooms = 1/2 part of potatoes (chicken marsala and stroganoff)
Leeks
1 part of mushrooms = 1 part of leeks (chicken marsala, pizza, pasta, soups, or stews)
Miso
Depend on the recipe
Sun-dried Tomatoes
1 part of mushrooms = 1 part of sun-dried tomatoes (pizza and pasta)
Artichoke Hearts
1 part of mushrooms = 1 part of artichoke hearts (pizza and pasta)
Garbanzo Beans
1 part of mushrooms = 1/2 part of garbanzo beans (soups or stews)
Canned Mushrooms
8 ounces of fresh mushrooms = 4 ounces of canned mushrooms
Dried Mushrooms
1 pound fresh mushrooms = 3 ounces of dried mushrooms
*These ratios are for reference only, and you should adjust them to your liking.
Substitute For Mushrooms As The Main Ingredient
If you want to mimic mushrooms in dishes where their taste or texture plays an essential role, replace them with the options listed here. I'm sure these substitutes will surprise you.
1. Tofu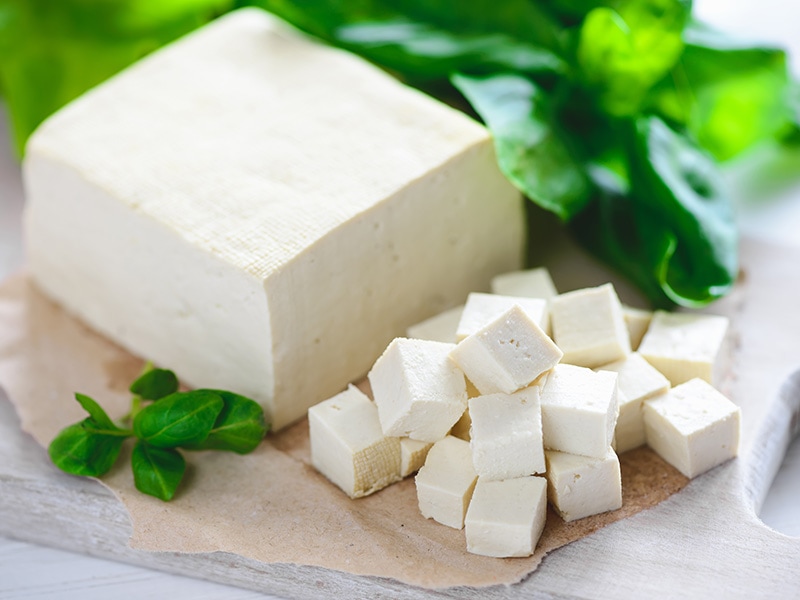 Tofu is one of the best alternatives for mushrooms. It is well-known for its health benefits. Tofu is often made from soybeans and comes in large, white blocks. The texture of tofu is pretty similar to mushrooms.
Tofu is rich in nutrition. Similar to meat and fish, it has a lot of protein. Tofu's flexibility and ease of use make it an ideal substitute for mushrooms. This soy-based product is similar to mushrooms in retaining the nutritional value and chewy texture when cooked.
The only downside is that tofu's flavor will never be close to mushrooms since it is slightly sour and quite bland. The good news is it is an excellent flavor absorber.
You can use tofu in different entrees, including stir-fried dishes and quick-cooking dishes. You should pick extra-firm tofu so the texture won't break down during cooking.
For stir-fries and similar dishes, the best ratio will be 1:1.
2. Tempeh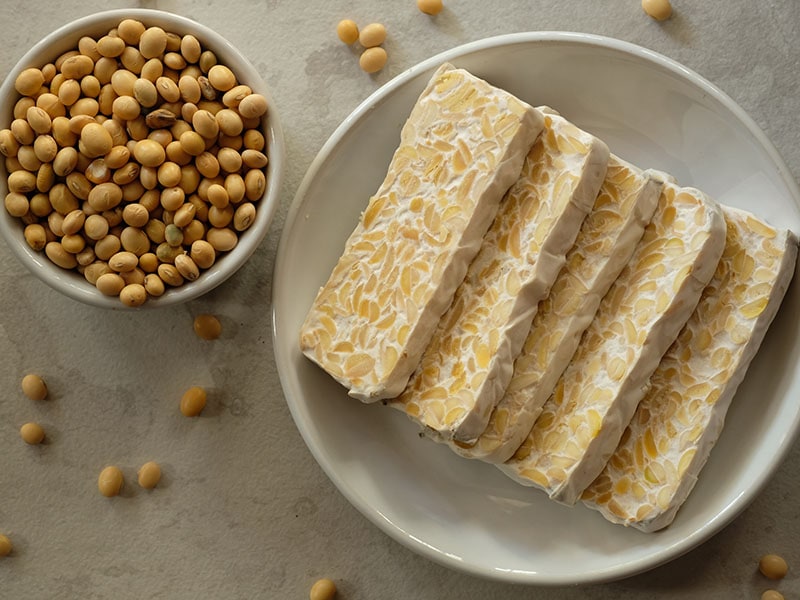 Tempeh is a soy food similar to tofu in flavor and cooking style. However, tempeh has a firmer texture, and in the fermentation process, Tempeh retains more nutrition than tofu. (2)
If you're concerned about the vegan attributes of mushrooms, then tempeh is a perfect stand-in. Thanks to its high nutritional content, tempeh is a popular food for vegetarians and vegans. It looks like marzipan and can be a bit sticky, depending on the age.
Consider tempeh if you want to mimic the taste of mushrooms. It offers an intensified and more complex flavor to your dishes but will not alter the overall taste. If you are nervous about cooking tempeh for the first time, don't worry! Tempeh is easy to prepare.
Like tofu, you can cook tempeh in a variety of ways. It can be sliced, cubed, or chopped and prepare like the way you cook mushrooms. You can use tempeh in casserole or stir-fry without any problem.
The replacement ratio depends on the recipe and your food preferences.
Learn all the differences between tempeh and tofu.
3. Carrots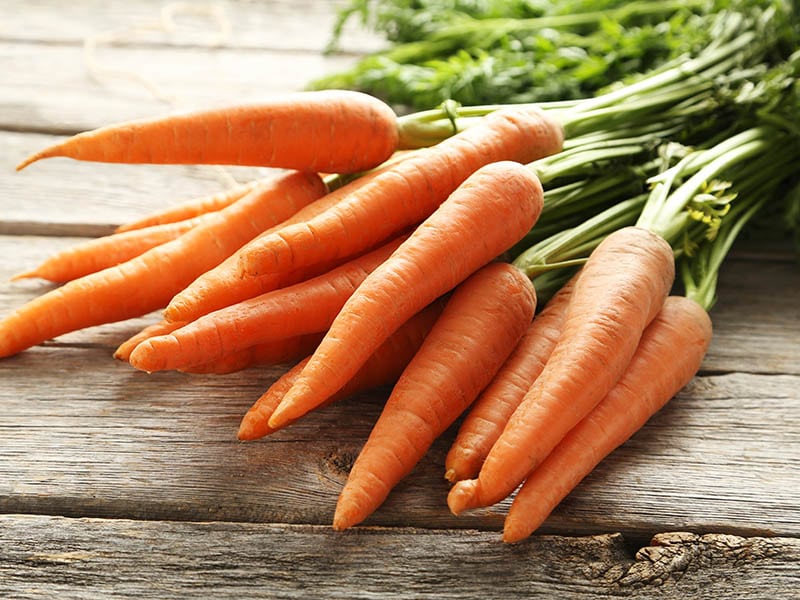 Carrots are also appropriate as a substitute for mushrooms since carrots have different types for you to choose, although their texture is far from that of mushrooms. They are sweet, and they will make everything a nice orange color.
Despite growing under the ground, they lack mushrooms' signature earthy flavor. However, carrots are much sweeter than mushrooms. Use carrots instead of mushrooms in stir-fries, soups, or stew for the best results.
In addition, carrots are a good substitute for mushrooms in chicken marsala and beef wellington. For the best replacement for these dishes, you should replace the carrots in a 1:1 ratio.
4. Eggplants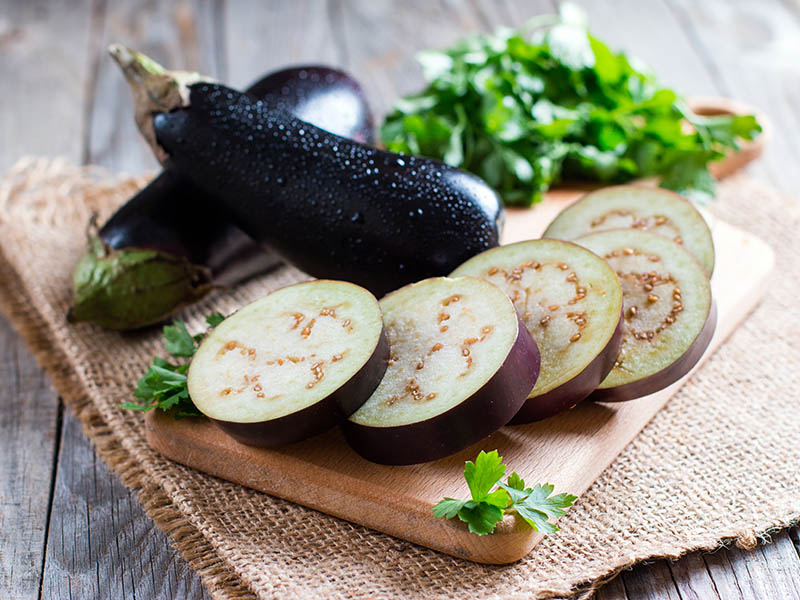 Another mushroom substitute is eggplants. Eggplants are a quintessential vegetable, a popular kitchen ingredient worldwide. These purple veggies taste incredible and are a great source of vitamins and minerals.
They have a soft and sensitive texture similar to mushrooms. Eggplants will not replace the taste of mushrooms, but if it's the texture you want to substitute, they will make a good option.
You won't run out of recipes since eggplants have countless types to choose. Similar to mushrooms, you can also prepare eggplant by slicing or mincing. And eggplants are suitable for baking, grilling, and frying.
While substituting eggplants for mushrooms, it is vital to keep a good eye on eggplants because they can quickly get overcooked. Eggplants are best suited to replace mushrooms in beef wellington. You can use half the quantity of mushrooms that the recipe asks for.
5. Lentils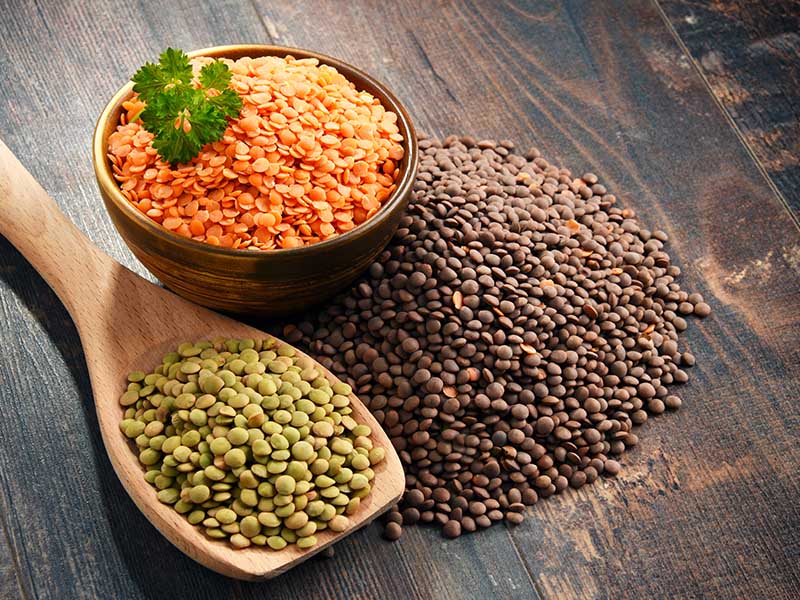 Are you looking for a mushroom substitute? Lentils can be a great ingredient you should consider. Lentils have many types in different colors. Lentils are an excellent source of fiber which is essential for your health.
Although lentils don't have the flavor of mushrooms, they can add bulkiness to your food. They also bring an umami flavor to your dishes. You can easily replace mushrooms with lentils in a stir fry.
However, you should not add too many lentils to the recipes as they can make your meal heavier. In stir fry dishes, soups, or stews, opt for a 1:4 substitute ratio of lentils to mushrooms when using it as replacements.
6. Umami Seasoning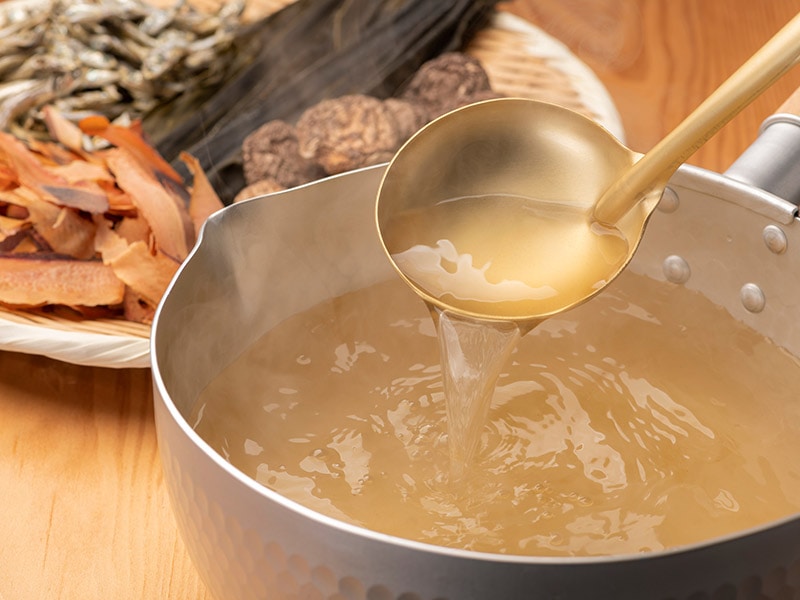 Umami is one of the basic tastes alongside bitterness, sweetness, saltiness, and sourness. It's the signal of protein found in abundance in meat, eggs, dairy, and legumes. You'd often get this flavor from slow-cooking meat or beef.
Mushrooms have a distinct flavor, closely associated with the savory palate "umami". Therefore, umami seasoning is a good choice if you enjoy mushrooms and want to mimic the taste but don't have fresh mushrooms.
The seasoning fits exceptionally well in recipes that call for Shiitake (a type of mushroom native to Japan) or Porcini mushrooms.
You can adjust the umami seasoning depending on the recipes and preferences. And it will provide you with a distinct and savory mushroom flavor in soups or sauces.
Don't miss the best ways to use your umami seasoning.
7. Zucchini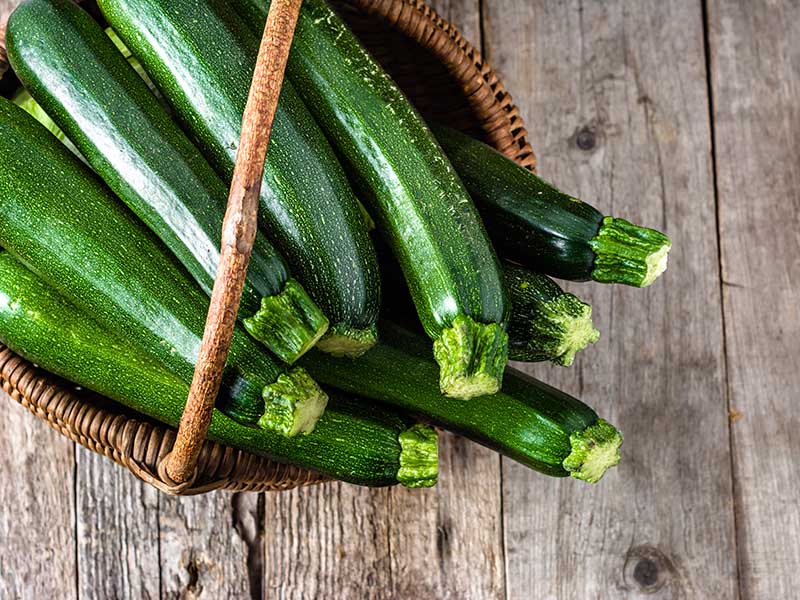 Zucchini can also be used as a mushroom substitute. Zucchini is a vegetable that belongs to the big family of squashes. A unique feature of this vegetable is that zucchini can grow as long as one meter when mature.
Zucchini is rich in nutrients and doesn't require much care. With proper storage methods for your zucchini, it'll retain a sweet taste, which is akin to mushrooms. The texture of its flesh also resembles mushrooms.
Zucchini is widely used in cooking. To use Zucchini, you should cut or slice it into small pieces for easy consumption and digestion. Zucchini will be suitable to replace mushrooms in pasta or stir-fry dishes with a replacement ratio of 1:1.
8. Olives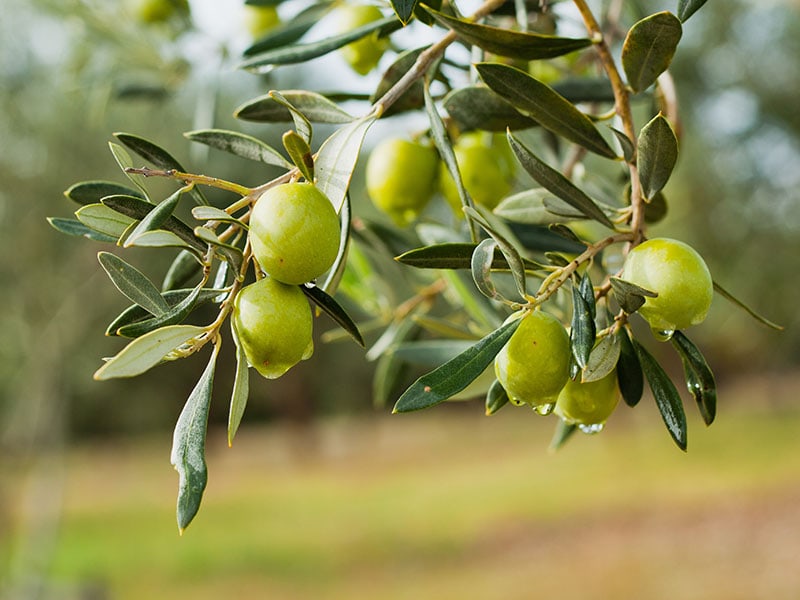 Olives are a small oval fruit, green when unripe and brownish-black when ripe. You can use olives in fruit or oil form. They are considered a great source of nutrients and very good for health.
Olives have a salty, earthy taste and a soft texture. These characteristics are very suitable for imitating mushrooms. However, you should not use too many olives as they will affect the overall palate of your recipe.
For starters, try them with pasta and pizza. And because olives are salty, remember to use fewer olives than mushrooms.
9. Yellow Squash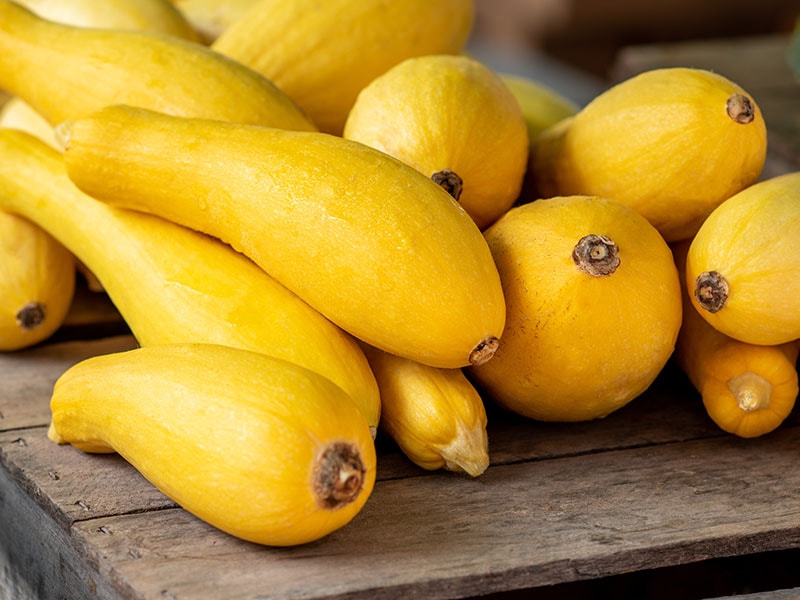 The yellow squash has a long, round body with a beautiful golden color on the outside. Its inside flesh is usually thick and light yellow. It is rich in nutrients and vitamins. Adding yellow squash to the weekly menu helps you reduce disease risks.
Although the texture of yellow squash does not resemble mushrooms, its flavor is quite similar to your beloved fungi. The bright color it brings to a dish also adds to the attraction.
To use yellow squash as a substitute for mushrooms, you should chop it up small and cook it for long enough, so it is not still hard when eating. This vegetable is an excellent choice for making soups, stews, or porridge when you run out of mushrooms.
In a soup or a stew, you can follow a 1:1 replacement ratio, while in stroganoff, squash is best used in 1:2.
Substitute For Mushrooms As An Optional Ingredient
While mushrooms are a must in many recipes, some dishes don't necessarily require these fungi. In cases where mushrooms are merely an optional ingredient, you can be more creative in your substitution choices!
10. Onions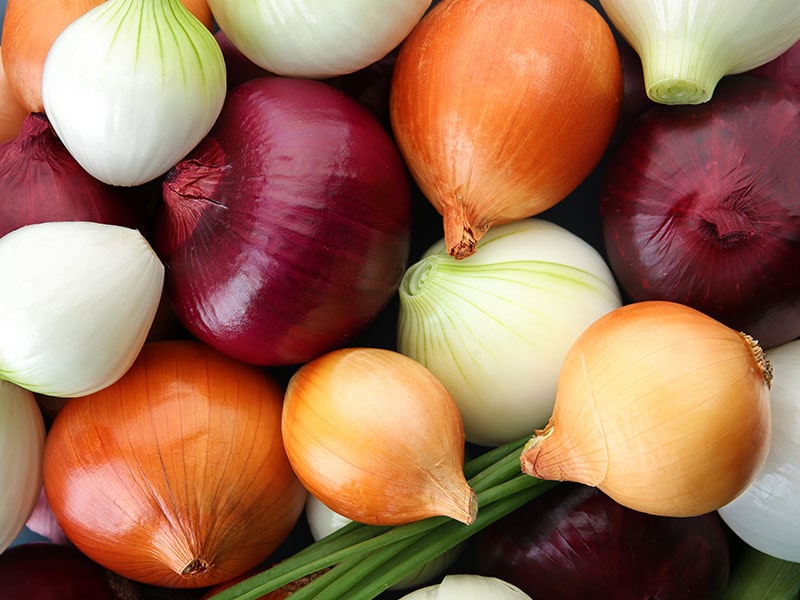 Onions are an essential part of many recipes. They are commonly grown worldwide and closely related to chives, garlic, and scallions. They come in various shapes, colors, and sizes, but the most common type of onion is usually white.
Onions have a crunchy texture. And depending on the variety and season, the flavor of onions ranges from mild and slightly sweet to very spicy and pungent.
Although onions don't have a mushroom-like taste and texture, they do work as a substitute if you do not have access to other options.
If you want the onion to have a mushroomy texture, you must chop the onion before cooking. You can use onions in fried, sauteed, baked, or stir-fried dishes. Use a 1:1 ratio of onions to mushrooms for the best flavor and texture.
11. Potatoes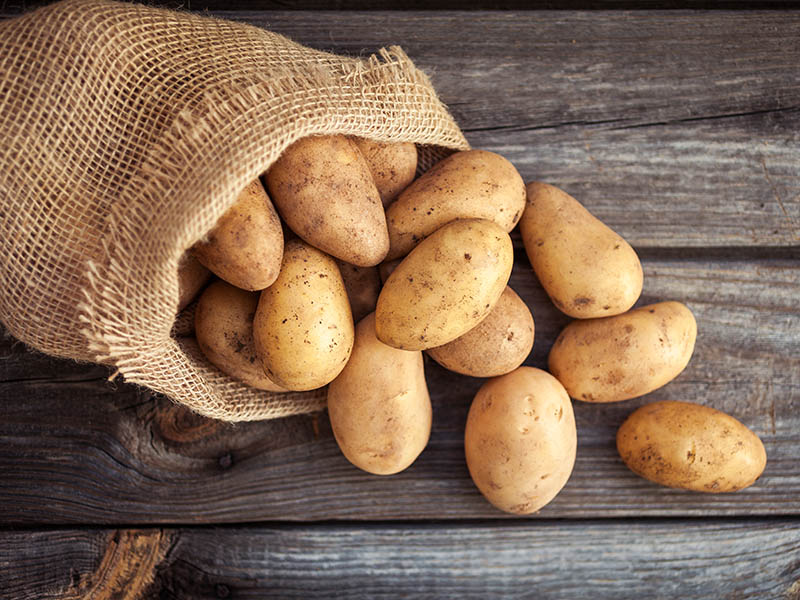 Potatoes are a favorite of many shoppers as well as food enthusiasts. They have a slight golden color, contain a large amount of starch, and can absorb a lot of liquids.
Potatoes may not sound like a good option at first, but with the property of absorbing a lot of liquid, it has the taste of whatever you are cooking – just like mushrooms!
For best-tasting results, you must clean and peel them carefully, then cut them into pieces of a suitable shape and size for the recipes.
Potatoes work wonders in baked or fried dishes. However, they are also good for replacing mushrooms in stews and curries because they soak up all the flavors and maintain their shape.
Potatoes are best substituted for mushrooms in chicken marsala or stroganoff in a 1:2 ratio.
12. Leeks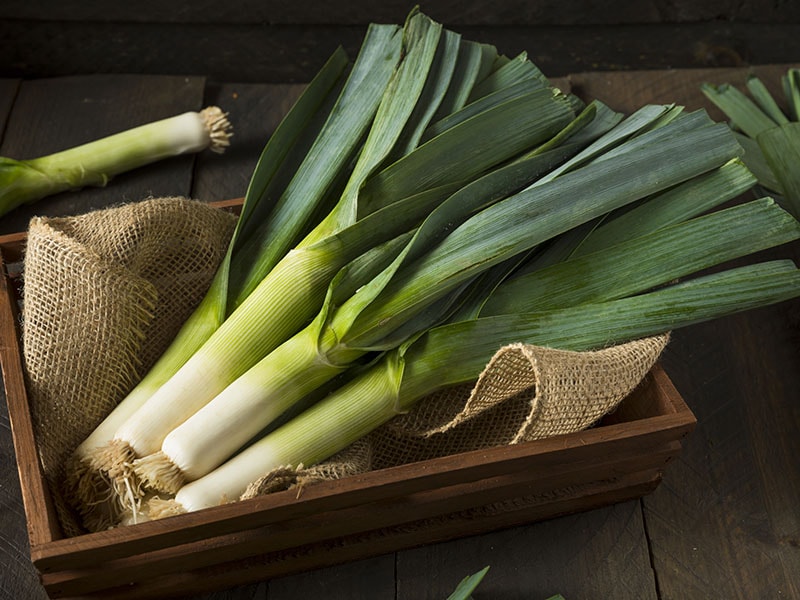 Like onions, leeks provide a similar sweet take on a dish once cooked. But compared to onions, the price of leeks is higher. They have white flesh and leafy green tops.
With a hard texture and a little sweeter taste than mushrooms, leeks are great as a replacement for mushrooms in stir fry dishes with a 1:2 ratio and baked dishes like chicken marsala or pizza with a 1:1 ratio.
13. Miso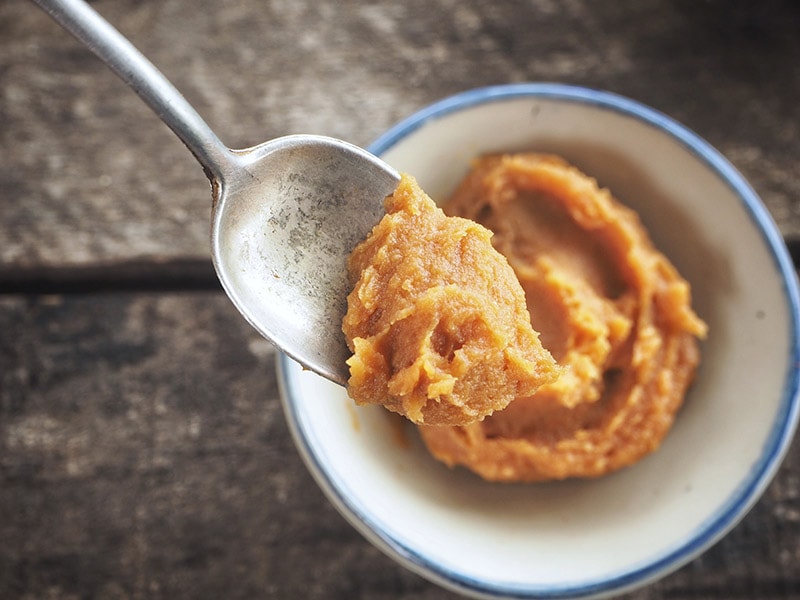 If you're a fan of Japanese cuisine, you're surely no stranger to miso – a famous seasoning made from fermented soybeans. This condiment has a distinct flavor and will surely change the general taste of your dish.
You might hate miso or adore it. Either way, it's an option worth considering if you want to experiment with new flavors in your soups or sauces.
Curious about miso? Here's everything you need to know.
14. Sun-Dried Tomatoes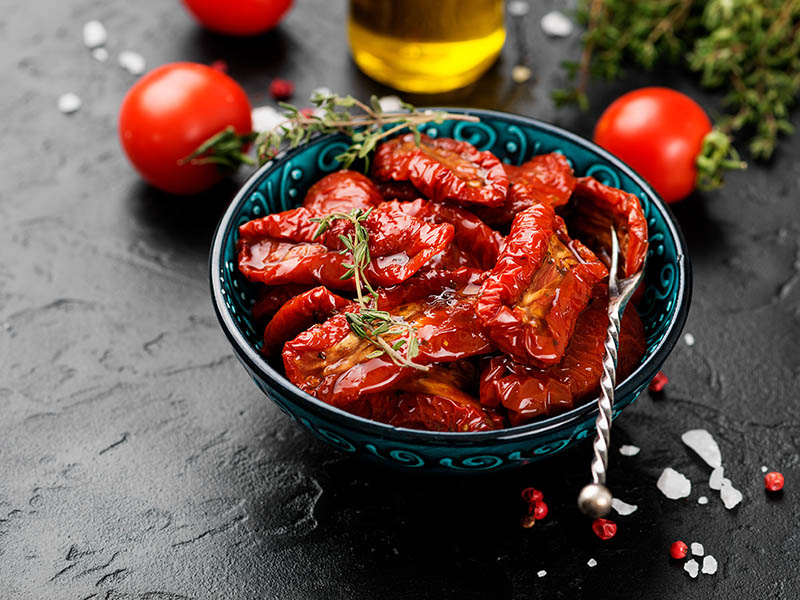 Think sun-dried tomatoes if you're a bit bored of mushrooms and want something different. Once dried, they are added with many seasoning ingredients (such as parsley, dry herbs, etc.) to enhance their flavor further.
Sun-dried tomatoes don't have the flavor of mushrooms. However, they're relatively similar in texture. You should cut sun-dried tomatoes into thin slices for the best taste when using them.
Sun-dried tomatoes can be the toppings in many dishes instead of mushrooms, especially in pasta and pizza. A simple 1 to 1 ratio should be enough for most recipes.
15. Artichoke Hearts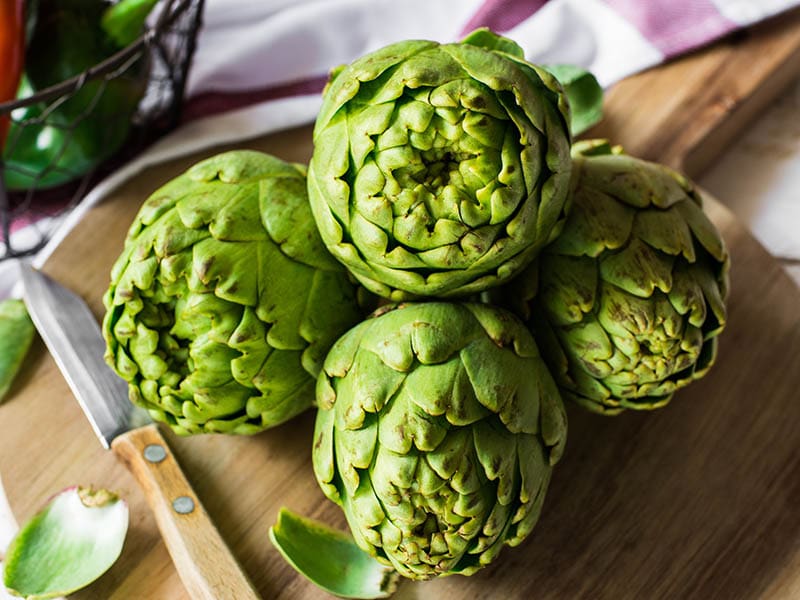 Artichoke hearts are one of the world's oldest foods but are not a popular vegetable. They are green, and the tips of the leaves have sharp spines. Artichoke hearts contain a lot of vitamins and fiber. They have a subtle flavor that fits well in a lot of dishes.
Artichoke hearts have a naturally mild, earthy flavor that is remarkably similar to mushrooms. Their texture is also really very close. So you can easily substitute them for mushrooms in many recipes.
Like sun-dried tomatoes, artichoke hearts are among the best mushroom substitutes for pizza toppings or mixed into pasta with a 1:1 ratio.
16. Garbanzo Beans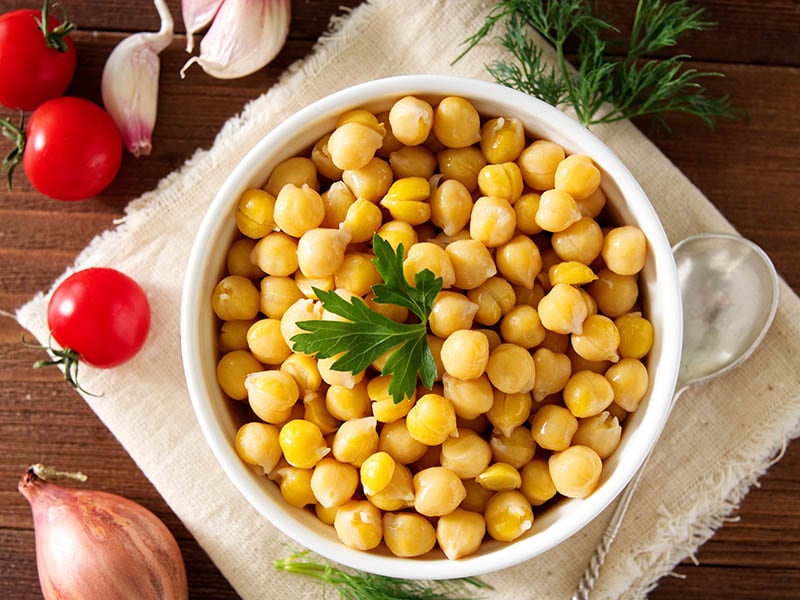 Garbanzo beans are also known as chickpeas. Thanks to their high protein and fiber content, chickpeas are incredibly nutritious. When cooked, they become soft and creamy inside.
Although Garbanzo beans are not exactly similar in taste to mushrooms, they have a "mushroomy" texture. Their distinct mild flavor also makes them a great substitute for mushrooms.
Garbanzo Beans work well in soups and stews. You can adjust the replacement ratio depending on personal preference and the recipe.
Using a 1:2 ratio of garbanzo beans to mushrooms is usually your safest bet. In a veggie burger, you can also replace the mushrooms and chickpeas in a 1:1 substitute ratio.
Other Alternatives
Besides using other foods or spices as substitutes for mushrooms in recipes, you can also use dried or canned mushrooms. Although they might not taste as good as fresh mushrooms, they're certainly more convenient.
17. Canned Mushrooms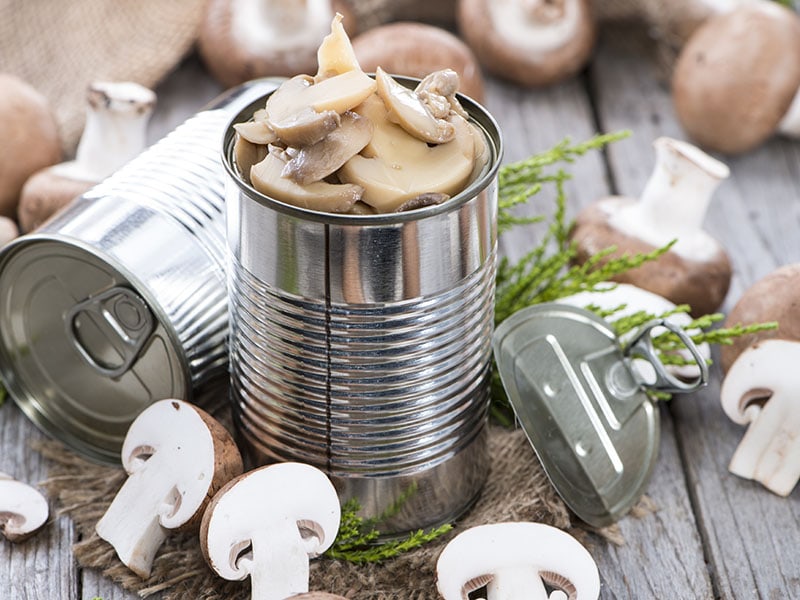 If fresh mushrooms aren't available, consider canned mushrooms for a change. They share the same nutritional value and are a rich source of several vitamins and minerals.
You can generally replace fresh mushrooms with drained canned mushrooms in a 2:1 ratio. For example, if the recipe needs 8 ounces of fresh mushrooms, opt for 4 ounces of canned ones.
18. Dried Mushrooms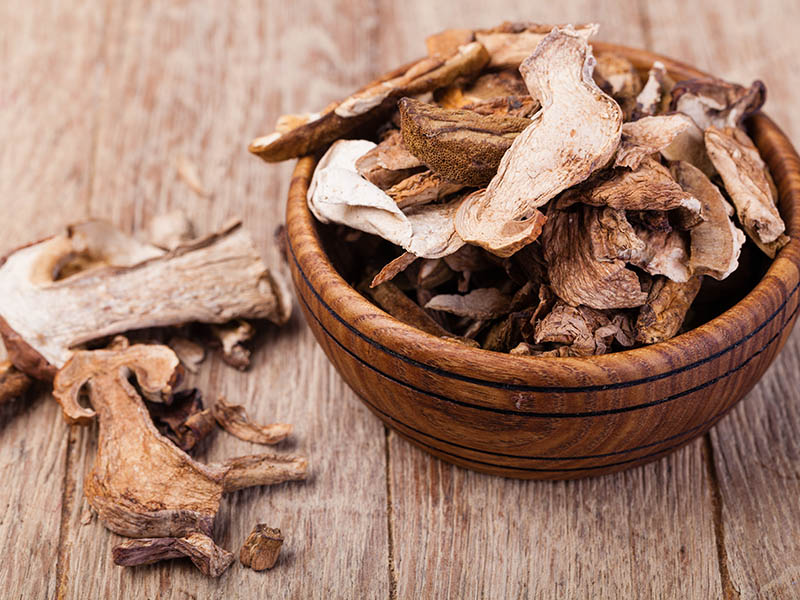 If you preserve mushrooms by drying them, you can use them instead of fresh mushrooms. There is not too much difference between these two types, especially in terms of nutritional factors.
Compared to fresh and canned mushrooms, dried mushrooms usually have a more robust flavor. So if you use them in a soup, sauce, or casserole, use less than the recipe asks for and adjust as you go.
In general, 3 ounces of dried mushrooms should be enough to replace 1 pound of fresh mushrooms.
You also can try the 5.33 rule, which suggests multiplying the volume of dried mushrooms by 5.33 when converting to fresh ones. For example, 1 ounce of dried mushrooms will equal 5.33 ounces fresh.
Learn how to rehydrate dried mushrooms.
FAQs
This section is reserved for your most asked questions. Don't miss out!
An Opportunity For Change
Mushrooms have been with you through thick and thin, adding a depth of flavor to your dishes and making your meals more flavorful.
But one day, if the mushrooms don't appear, don't be sad. See this absence as an opportunity and allow alternative foods to replace mushrooms. Rest assured that you won't be disappointed.
Finally, please share this information with everyone for reference if you think this information is useful. Thanks for reading, and have a great time cooking!
Nutrition Facts
4 servings per container
---
Amount Per ServingCalories173
% Daily Value *
Total Fat 17.6g

28

%
Cholesterol 8mg

3

%
Sodium 1057mg

45

%
Potassium 18mg

1

%
Total Carbohydrate 6.8g

3

%

Dietary Fiber 4.6g

19

%
Sugars 0.1g

Protein 3.7g

8

%
---
Calcium

123

%
Iron

1

%
Vitamin D

2

%
* The % Daily Value tells you how much a nutrient in a serving of food contributes to a daily diet. 2,000 calories a day is used for general nutrition advice.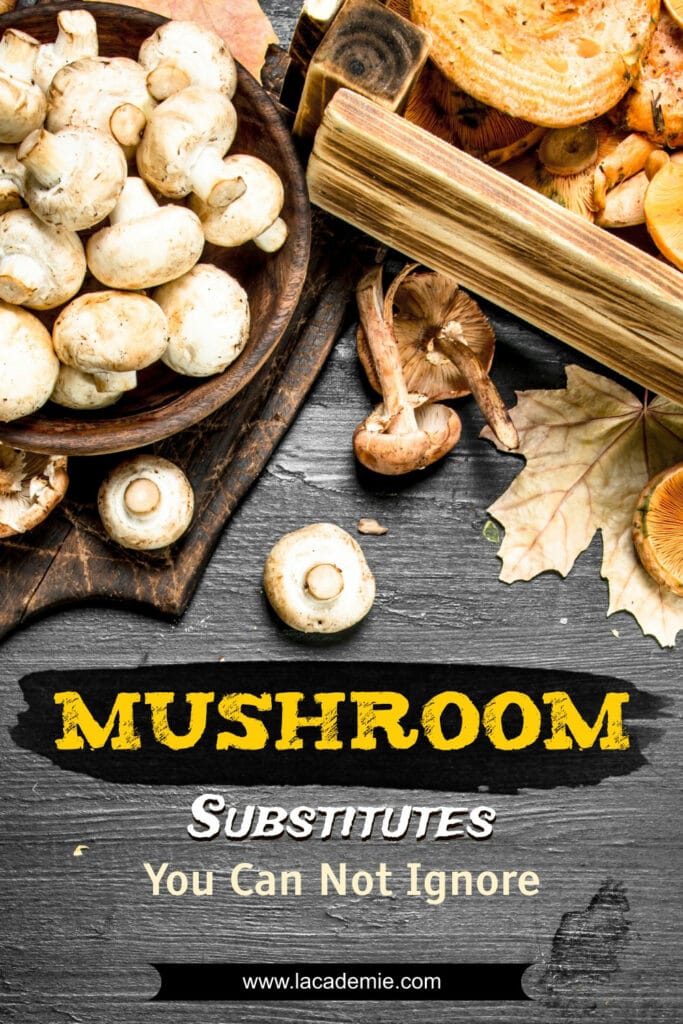 References
D, M. W. R. L., (2019b). Mushrooms: Nutritional value and health benefits [online]. Medical and health information.
Berkheiser, K., (2019). Tempeh vs. Tofu: Nutrition, Similarities, and Differences [online]. Healthline.