Many people have certainly heard about truffles – the diamonds of the culinary world, the priciest fungi on the market, and many more fancy-sounding names. However, their delicacy status comes with a high price that might put lots of people off.
If you're curious about truffles and want to learn all the information about truffles, this is the perfect article for you. Stick around more knowledge about what they are, popular truffle varieties, why they are expensive, and many more!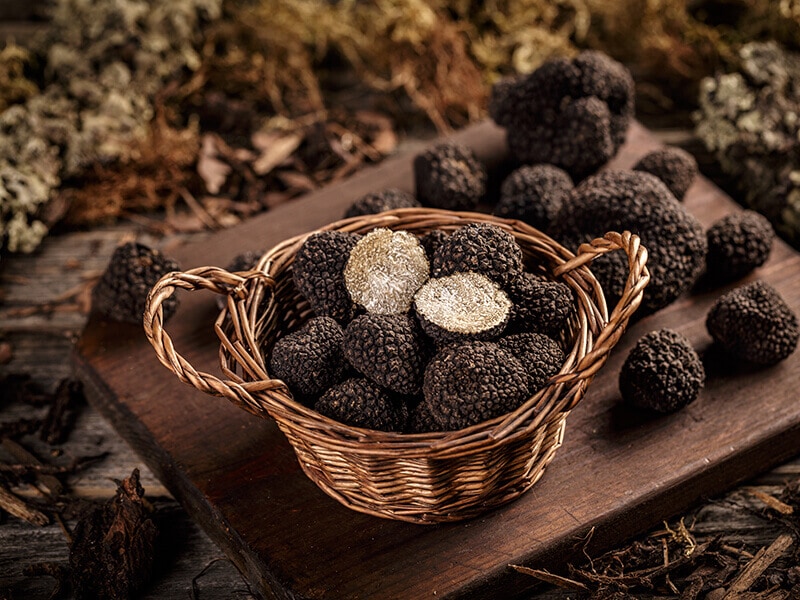 Truffles – The Diamonds Of The Kitchen
Truffles are a type of underground fungi that is well-known for their delicacy status and steep price tag. At first sight, you might mistake truffles for a lumpy, scabrous-looking potato; however, they are much more aromatic and taste nothing alike.
Like other cousins from the edible mushroom family, truffles require particular conditions to grow. They prefer soft, well-drained yet sufficiently moist calcareous soils.
In addition, truffles also grow better in regions with warm springs, hot summers, cool winters, and suitable annual rainfall.
Although these conditions might vary depending on the varieties, one certain thing is that truffles won't be able to exist without trees. Additionally, only a few tree types are suitable for truffles. Beech, hazel, oak, pine, and poplar are some of the common ones.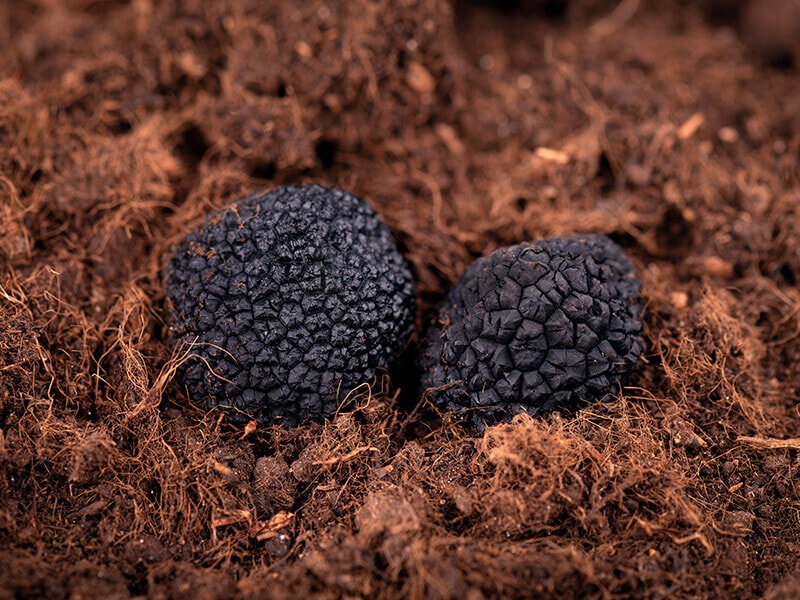 When people go truffle picking, they only harvest its edible part, which is just the fruiting body of this underground fungi. In reality, truffles are connected deeply to the root systems of trees and act as an extension of the roots.(1)
In the beginning, these picky fungi were sniffed out by the so-called "truffle pigs". These days, dogs are a more common choice.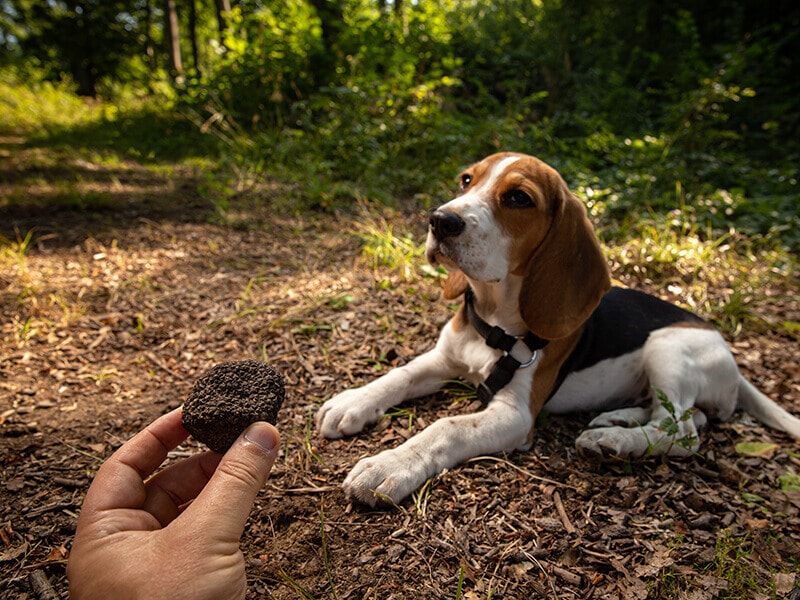 Originally, truffles were primarily exclusive to Mediterranean climate areas like northern Italy, northern Spain, and southern France.
However, thanks to their incredible commercial value, truffles are now grown and harvested worldwide. You can now find truffle farms in America, the United Kingdom, New Zealand, Australia, and other European countries.
That said, they're still considered one of the most problematic types of fungi to farm effectively, even with modern cultivation techniques.
The Exquisite Taste Of Truffles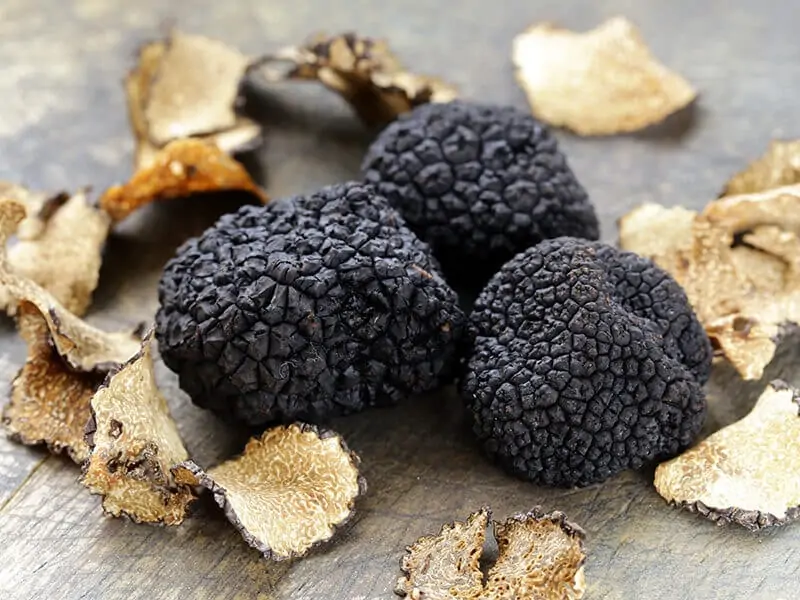 Many people highly praise truffles for their rich and unique taste, to which I agree wholeheartedly. Below is some inclusive knowledge about their flavor.
In general, truffles have a deep umami, earthy flavor with traces of garlic and subtle hints of nuttiness. They also contain the meaty, gamy, and musky feel of mushrooms. But it would be a vast simplification to say that they have a similar taste to other mushrooms.
After the first wave of deep, earthy tastes, you'll be greeted with a perfect combination of sweetness and savory, black olives-like notes. These flavors blend beautifully with the deepness of umami to create a complex taste enough to satisfy even the pickiest gourmets.
Truffles can be enjoyed in their uncooked form for the fullest, richest taste or cooked to tone down the intense flavor.
But these delicacies aren't just about the exquisite flavors; they also have a strong, memorable aroma. In fact, many agree that the intense fragrance is one of the truffles' biggest selling points.
Truffles possess a rich earthy, oaky, and musky fragrance that will bring an intense burst of aroma right off the bat. At the same time, they're also blessed with deep, lingering scents subtle enough to elevate rather than overwhelming other ingredients.
The Diverse World Of Truffles
Although there are many varieties of truffles, a large percentage of them are either inedible or relatively unknown. Here are some of the most well-known truffle kinds available on the market.
| Truffle type | Harvest time | Location | Main characteristics | Main utilization |
| --- | --- | --- | --- | --- |
| Winter Black Truffles | November to March | Spain, France, Italy, and recently Australia | Crunchy, smooth texture with earthy and chocolaty taste. Earthy, subtle, yet long-lasting aroma | Used in roasting meat, served with other food, or for sauce making |
| Summer Black Truffles | May to September | European regions like northern and central Spain and Italy | Crunchy texture with caramelized cream, hazelnut-like taste and subtle smell | Added to salad, served raw or warmed, and layered with other truffle products |
| Winter White Truffles | September to late December/ early January | Northern and central regions of Italy and other European countries | Firm and smooth texture. Strong, earthy, and musky but quick to fade aroma with a garlicky, nutty flavor | Served uncooked and added to gourmet dishes |
| Summer White Truffles | Mid-January to late April | Northern and central regions of Italy | Same texture as winter white truffles, garlicky, sweet taste with a gentle, musky fragrance | The same as winter white truffles |
| Chinese Black Truffles | October to February | Nepal, Tibet, Bhutan, and southwestern Chinese provinces like Yunnan, Sichuan | More elastic than European truffles, relatively mild in both flavor and smell | Pate making and in truffle products manufacturing |
| Terfez Truffles | Late December to April | the Middle East and semi-arid areas of North Africa | Very aromatic, delicate flavor with earthy and musty notes. Spongy texture | Can be cooked in many ways varying from frying, grilling, to roasting. |
Winter Black Truffles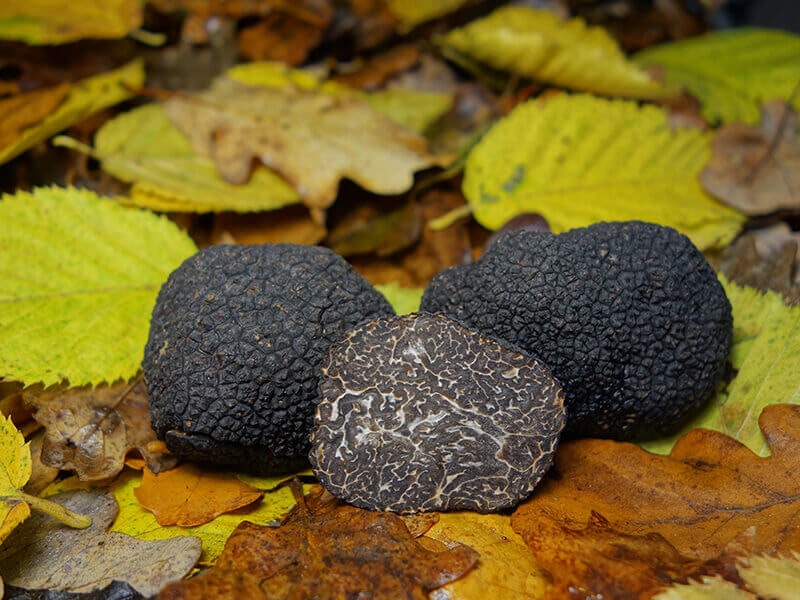 Tuber Melanosporum, also called winter black truffle, Périgord truffle, or The Black Diamond of Provence, is one of (if not) the "best-selling" varieties in the truffle market.
These truffles are widely grown and harvested in Spain, France, and Italy from November to February, thus explaining the name. They can be found at the roots of poplar, elm, oaks, hazelnut, and chestnut trees.
Recently, Australian truffle farmers have successfully cultivated these "black diamonds". Thanks to their June to August winter, Périgord truffles aren't a winter-exclusive delicacy anymore.
They are the most pungent-smelling black truffles and have a crunchy yet smooth texture. These bad boys have brownish to greyish skin with dense, white veins on the inside.
In terms of taste, these foods with a gray shade are often described as a perfect blend of earthy and chocolaty taste. They are also loved for their earthy, subtle yet long-lasting (by truffles' standard) fragrance.
In cooking, they are sliced thin and used for roasting, served with foie gras terrine, meat, pasta, or made into sauces.
Summer Black Truffles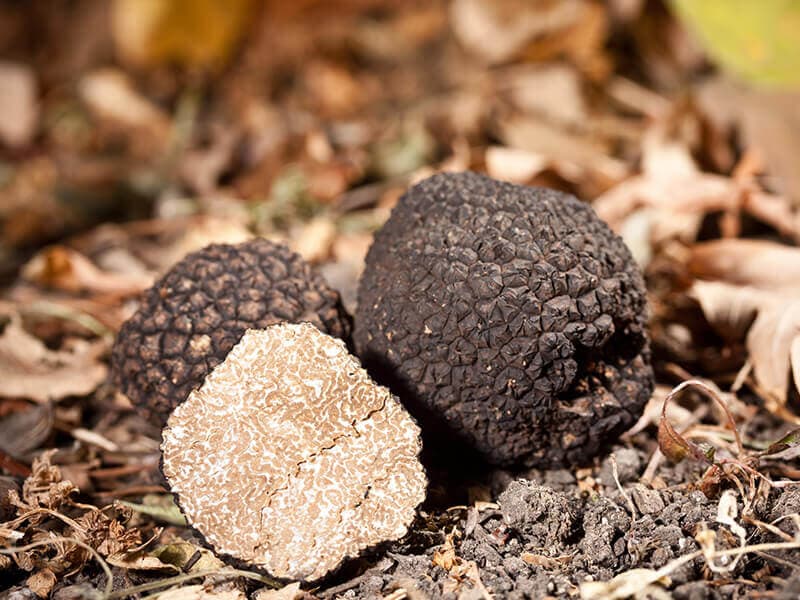 Compared to their winter cousins, summer black truffles or Tuber Aestivum are cheaper and much milder in taste. They can be found in European regions like northern and central Spain or Italy.
Similar to black winter truffles, they also grow under poplar, oaks, elm, hazelnut, and chestnut trees. Summer black truffles are typically harvested from May to September and can look quite similar to the winter variety.
Although these summer delicacies aren't quite as intense in flavor and smell in comparison with "the black diamonds", they are still quite a tasty treat.
You'll find their crunchy texture and caramelized cream, hazelnut-like taste extremely pleasant. As for their aroma, think of it as a combination of earthiness, chocolate, vanilla with a trace of hazelnuts.
Summer black truffles can be added to salad, served raw or warmed, and layered with truffle oil/butter to enhance the earthy flavor.
Winter White Truffles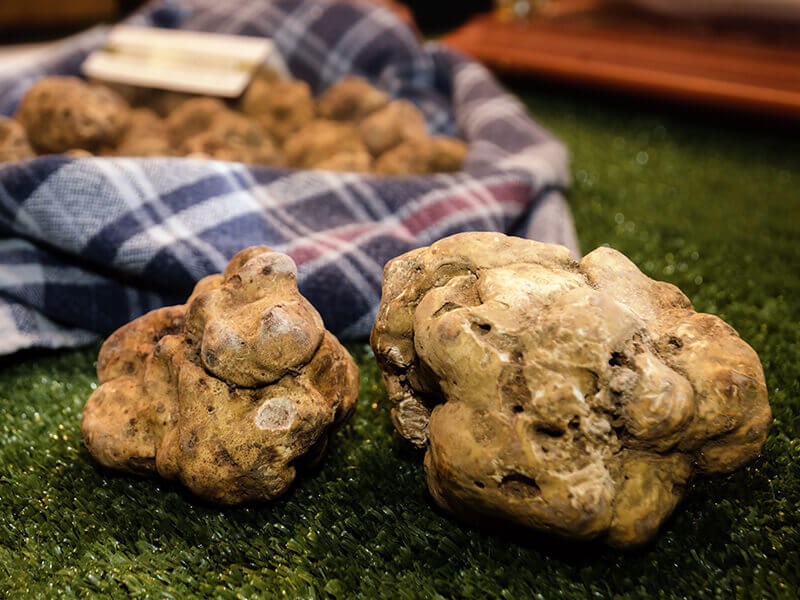 White truffles are generally considered more potent in terms of taste and flavor than black truffles. Winter white truffles (also called Tuber Magnatum Pico, Piedmont Truffle, or the White Truffle from Alba) are a great example of that.
Winter white truffles are mostly found in northern and central regions of Italy (like Piedmont, Marches, or Tuscany) and other European countries from September to late December, early January.
These smooth, yellow-ish fungi are praised for their strong musky, earthy aroma and garlicky, nutty flavor. That said, the intense smell will not last for long and will practically disappear when cooked. For this reason, they are best enjoyed raw.
You'll also find winter white truffles more tender than black truffles with a firm and smooth texture.
Thanks to their intense aroma and taste, white winter truffles are often served uncooked and act as the final touch to round off a gourmet dish.
Even the best chefs in the world are obsessed with white truffles!
Summer White Truffles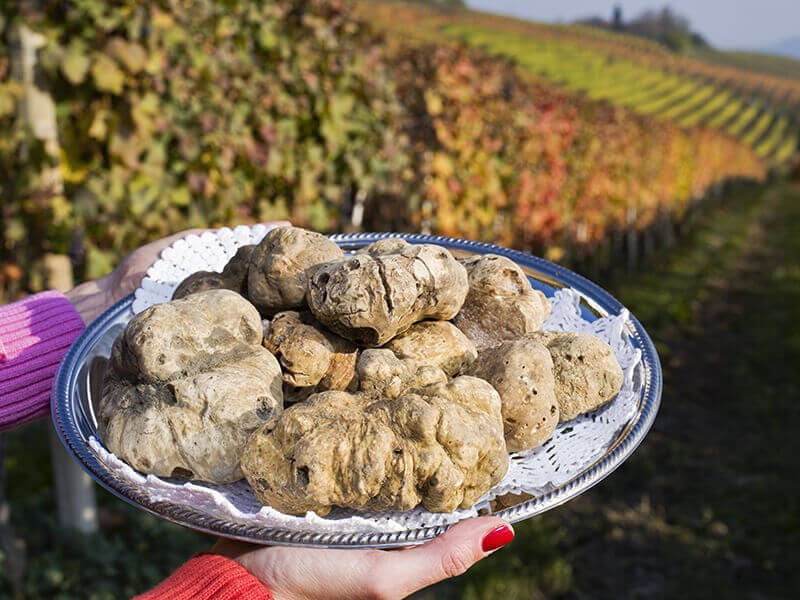 While black summer and black winter truffles are two different varieties, summer white truffles are the same species as their winter cousins.
Similar to the Tuber Magnatum Pico, these are also mainly harvested in northern and central Italian regions. The only difference is their picking time since these are harvested from mid-January to late April.
In terms of characteristics, summer white still has all the signature features of winter white, which is garlicky, sweet with a musky aroma and firm texture.
However, these traits won't be as intense as the winter version. To make up for this "downgrade", summer white truffles are cheaper in price.
Additionally, since these two are basically the same variety, they bear no remarkable differences in appearance. With time, their interior, which is smooth and yellow, will gradually turn into a dark brown color with white veins.
Generally, summer white truffles can be utilized the same way as Piedmont truffles in cooking.
Chinese Black Truffles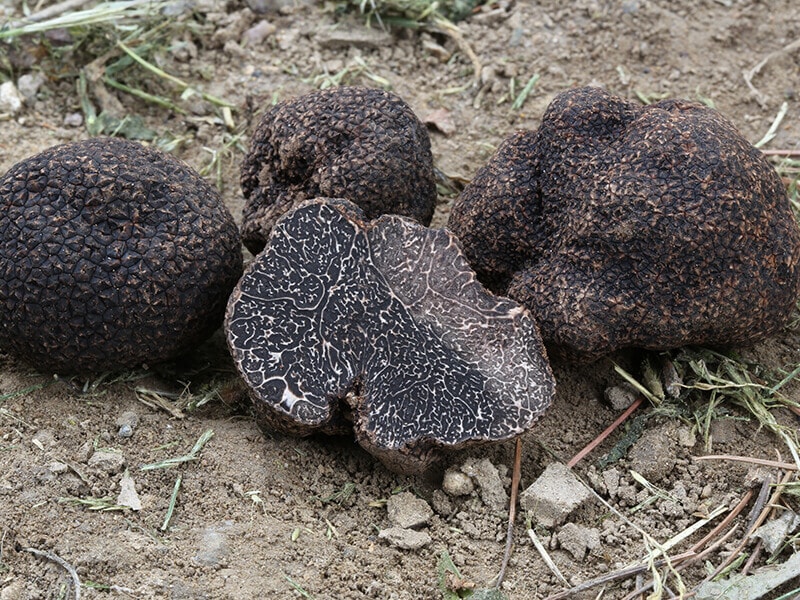 Chinese black truffles (Tuber Sinensis) are one of the most popular Asian truffles on the market. Apart from their slightly smaller size, Chinese truffles look almost identical to European black truffles with black-brownish color and white veins.
That said, they're not as expensive and are often considered inferior to European blacks when it comes to taste and flavors. In addition, Chinese blacks also have a more elastic texture than their European cousins and are harvested from October to February.
You can find these growing at the roots of pine trees and other coniferous trees in southwestern Chinese provinces like Yunnan, Sichuan. Additionally, they're also harvested in Nepal, Tibet, and Bhutan.
Thanks to their low price, Chinese black truffles find their place in pate making and the truffle-related products manufacturing industry.
Terfez Truffles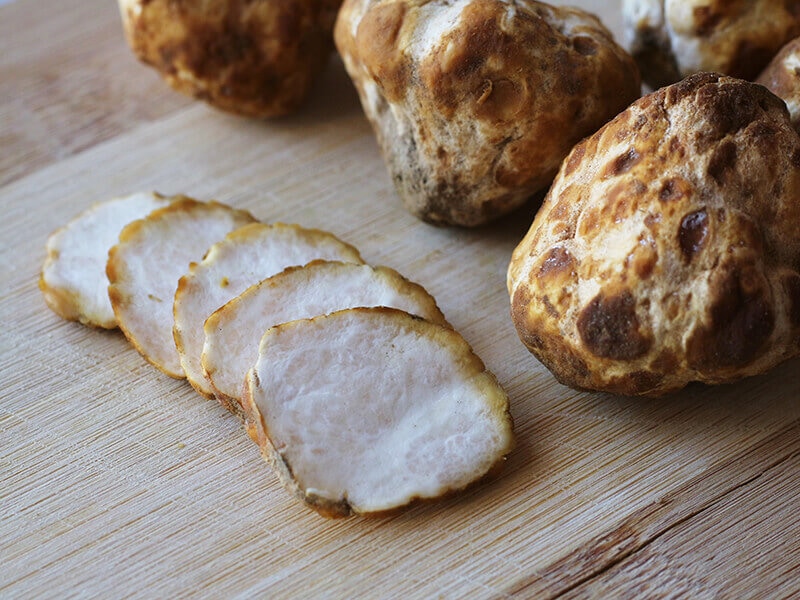 Terfez, Terfezia Bouderi, or desert truffles are first found in the Middle East, particularly from Morocco to Iraq and semi-arid areas of North Africa. They're typically harvested from late December to April and are light in color with a spongy texture.
Terfez truffles are mostly celebrated for their extremely aromatic fragrance and aphrodisiac nature. Although they are larger than European truffles, they are more delicate in flavor with earthy and musty notes.
In cooking, desert truffles can be found in traditional North African dishes like couscous or used as flavor carriers.
These days, Terfez truffles are prepared in an array of ways, from frying, grilling, to roasting. They're also used in meat stews, paired with rice, and have made their appearance in various fine-dining restaurants.
The Real Reasons Behind Truffles' Hefty Price Tag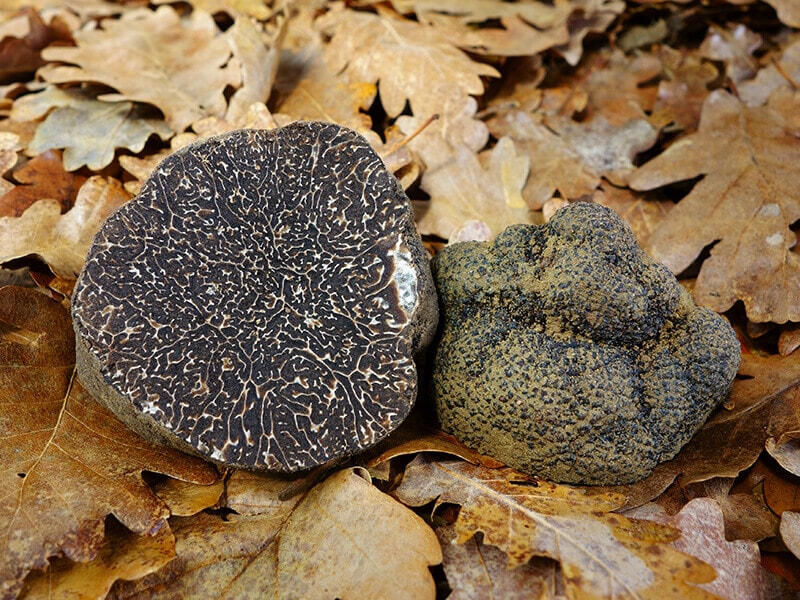 Although truffles are incredibly delicious, they aren't really a family-friendly type of food.
The biggest reason for this is their extremely steep price tag. But why are truffles so expensive? Well, there are actually rational reasons for this.
First, truffles are really difficult to find. Since they are underground fungi, you can't just walk into a broadleaved woodland and pick some.
For this reason, truffle hunters used to train pigs as their "truffle detectors". However, dogs are a better choice these days as they won't "accidentally" eat some of the valuable truffles.
Secondly, truffles are notorious for being a picky type of fungi. They can only grow under very specific conditions. And even with all the requirements met, it'll take at least 7 years until a truffle is suitable for picking.
Although people have recently found a way to farm truffles. Due to their strict requirements,
the actual number of truffle farms in the world is still fairly low.
Lastly, truffles are also virtually impossible to store for a long time. As soon as they're picked from the tree roots, truffles' quality has already begun to decrease.
The intense aroma that truffles are known and loved for will be reduced to half in only 5 days. Even under the very best storage conditions, you'll be lucky to keep these delicacies good for more than 2 weeks.
With all these reasons combined, it's understandable why truffles earned their delicacy status, and with it comes a fitting price point.
Gain more insight about truffle's hefty price tag from a truffle hunter.
More Affordable Truffle Options (And How To Use Them)
While it is true that "real" truffles are expensive, their related products (fortunately) don't always share this attribute. If you want to have a taste of the world-renowned truffles without splurging, here are some great truffle products that you can try.
Truffle Oil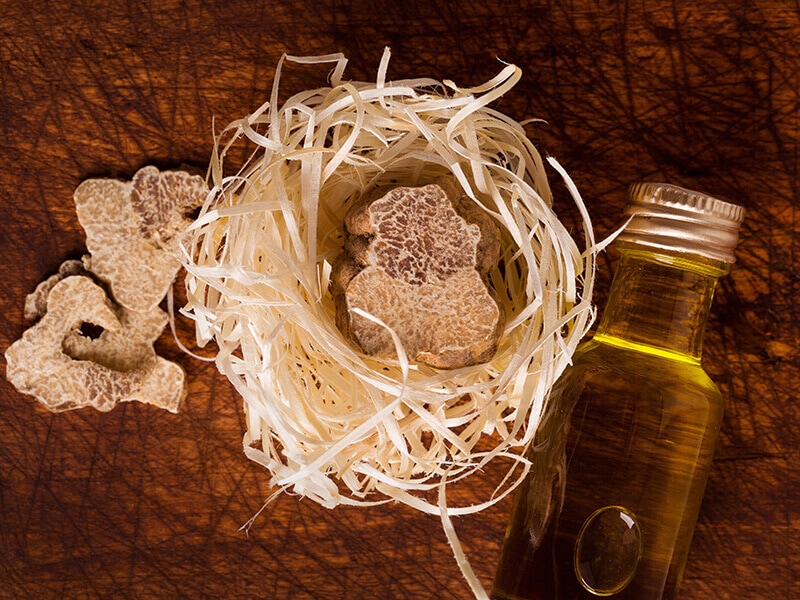 Despite the name, this is not an oil made from extracted truffles. In reality, truffle oil is just food-grade oil (traditionally olive oil) with pieces of fresh or dried truffles added in. By doing this, the oil will be filled with truffle's earthy aroma and tasty umami flavor.
Most of the time, only truffle residues will be used in making truffle oil. This gives the oil a remarkably cheaper price point which makes it an economical way to integrate some of the truffle's smell and taste into your everyday cooking.
Be careful when choosing truffle oils. Not every brand on the market produces the high-quality truffle oil you're looking for.
Some companies use chemicals to give the oil a truffle-like flavor, and you want to avoid these "fake" truffle oils. While most of them are still safe to eat, you might as well get the real thing for the best quality.
To get the best out of truffle oil, sprinkle some on your dishes right before serving to give them a welcome boost in flavor and smell. Some great dishes to pair with truffle oil are fish, lobster, steaks, stews, soups, garlic bread, poultry, vegetables, pasta, and risotto.
Truffle Salt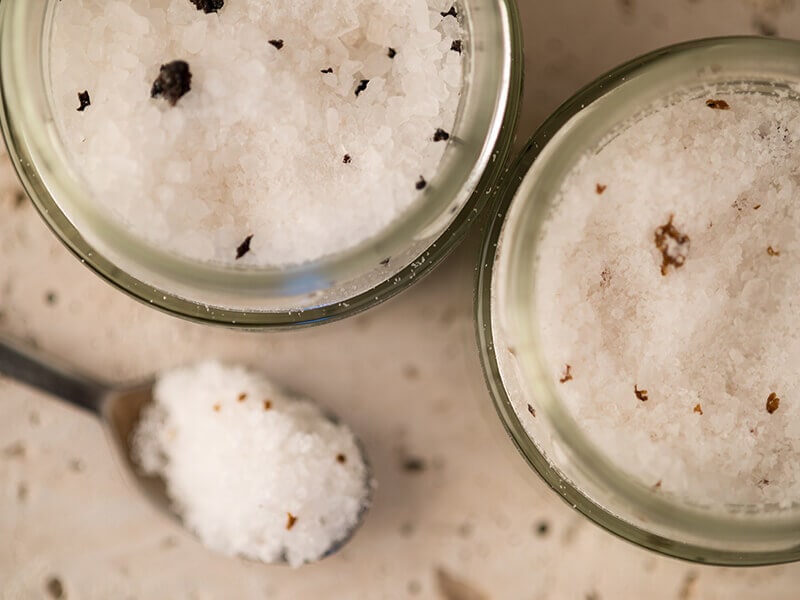 Truffle salt is made by mixing coarse grain or small grain salt with fragments of truffles for the musky, garlicky taste. Same with truffle oil, you should avoid chemical-made truffle salt since they're less potent in both taste and smell.
Truffle salt is a seasoning salt and should be used as one. Simply add a few grains of them into your cooking to elevate the flavor. Just make sure that the distinct truffle's flavor won't clash with any other ingredients in your dish.
If you happen to have some black truffles, try and make truffle salt!
Truffle Butter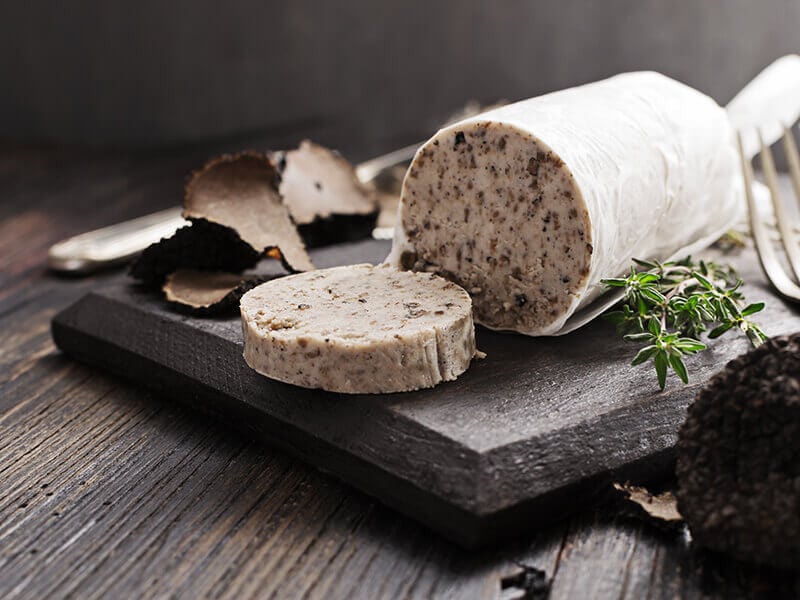 Truffle butter is another great way to infuse truffle's taste into your cooking without breaking the bank. As you've probably guessed by now, truffle butter is butter mixed with pieces of truffle, truffle oil, or both.
Sometimes you will also find olive oil or chopped mushrooms in truffle butter. Nevertheless, the goal is always to create a kind of butter that has the flavor and aroma of truffles.
If the earthy, musky taste of truffle fits your recipe, you can replace ordinary butter with truffle butter. You can also use it as a spread for toast. In short, anything that normal butter can do, truffle butter will do it better (if the taste suits the dish).
Looking To Buy Truffles? Read These Tips First
If you're looking to buy truffles, then I have some useful tips for you. Since these fungi cost quite a lot, it's better to learn about them as much as possible before purchasing.
To get the best truffles, first, you'll need to be aware of their harvesting season. As truffles don't have a long shelf-life, you want your truffles to be as new and fresh as possible.
Picking season will vary from one variety to another, so make sure to consult the previous section for more information on this.
Remember to always buy truffles from reliable sources such as specialty stores or well-known restaurants.
If you have the chance to choose and purchase your truffles directly, you should judge them based on the following factors:
What Does The Truffle Look Like?
Truffles are underground fungi, which means that they will surely have some dents, holes, and even looks a little dirty. While it's true that a truffle doesn't have to look perfect, you want to avoid the ones that are overly damaged with many holes or too dirty.
Does It Feel Heavy In Your Hand?
A truffle's weight should be fitting for its size. If it's surprisingly light, the inside might have already rotted or dried out. If it's too heavy, there might be something fishy going on. Some truffle dealers might fill the fungus with dirt or other things to fake the weight.
Is It Firm Or Mushy?
Firmness is another indication of high-quality truffles. You can pick the truffle up and give it a gentle squeeze to test its firmness. If it's too soft or mushy, it means that the truffle has already started to rot or dry out. However, you also don't want a rock-solid truffle.
In short, always look for truffles that are firm, not too soft, not too hard.
How Is The Smell?
Truffles are famous for their highly aromatic nature, so always give them a sniff test before purchasing. Black truffles should possess an earthy, chocolaty smell that will remind you of red wine. For white truffles, look for an intense, garlicky fragrance.
You especially don't want to buy any truffle that emits an ammonia scent.
In addition, the better quality and heavier the truffles are, the more costly they're going to be. So if the truffles you plan on buying have a surprisingly low price, be cautious as they might be of low quality.
For truffle-based products like truffle oil, salt, or butter, as mentioned above, you want to buy the types that include actual truffles inside, not chemically-flavored ones.
How To Store Truffle
Truffles' aroma and flavor will start to dwindle as soon as they are exposed to air, so it's best to enjoy them as soon as possible. However, when push comes to shove, you can still store them (and should only store them) for a short time.
| | | |
| --- | --- | --- |
| Truffle type | In the fridge | In the freezer |
| Fresh truffles | 1-2 weeks (best quality) | 1-3 months (best quality), keep for up to 6 months |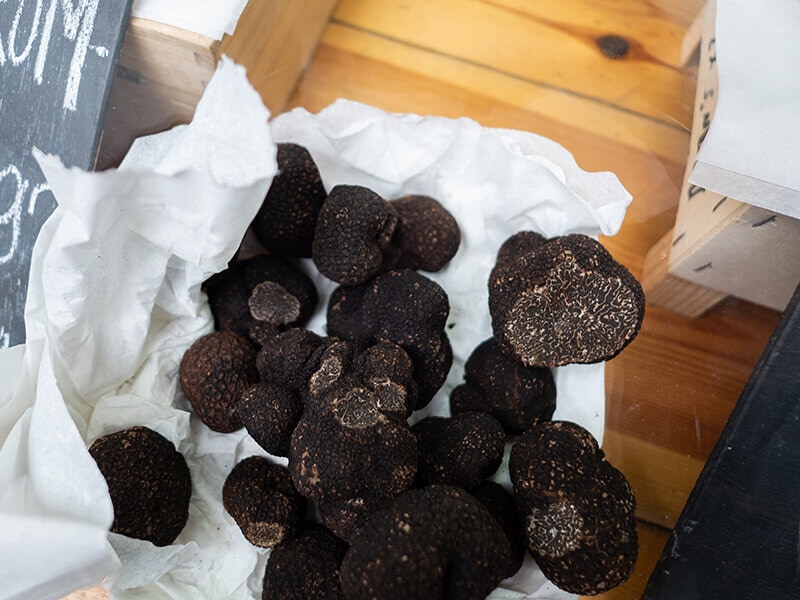 Store Truffles By Refrigerating
The first method to store truffles is by using a refrigerator. The fridge will be able to keep your truffles good for about 1-2 weeks. After that, you can still eat your truffles but with a significantly reduced quality.
Follow these steps to properly refrigerate your precious truffles.
Step 1: Wash the truffles quickly under running water with a small brush.
Step 2: Dry the truffles carefully with kitchen towels. Make sure that they're completely dry before storing.
Step 3: Wrap each truffle in kitchen towels.
Step 4: Place the truffles in a secured airtight container and keep them at the warmest department of your fridge (most likely the top shelf)
For old truffles that have already got some soft and wet spots, you can try refrigerating them together with rice. Now, you might be asking yourself, "why would I want to submerge my truffles in rice?".
Well, the rice will work as a moisture absorber to protect your truffles. At the same time, the truffles will slowly infuse their fragrance into the rice. So I'd say that's a win-win.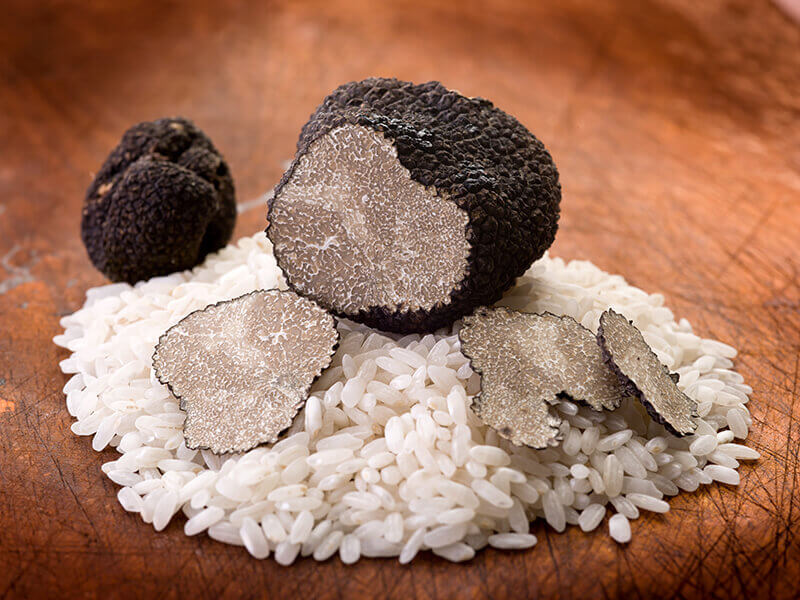 However, because rice sometimes does its job a little too well, it can dehydrate the truffles. For this reason, this technique is not recommended for fresh, brand new truffles.
Step 1: Follow the first 2 steps above.
Step 2: Pour a layer of uncooked rice into an airtight container, then place your truffles on the rice. Remember to place them evenly and avoid clustering them together.
Step 4: Finish off with another layer of rice and stop pouring when your truffles are fully submerged in the rice.
Step 5: Close the container's lid securely and keep them in a dry, dark, and cool place in your refrigerator.
Whether you choose to go with the rice or the kitchen towels method, you should always check your truffles daily for condensation. If you see any condensation formed on top of the truffles, simply wipe it away and change the kitchen towels.
You might also see a little white mold on your truffles. Luckily, these molds are harmless, so it's fine to clean them off with a brush and cold water. Remember to dry your truffles completely before putting them back into storage, though.
Store Truffles By Freezing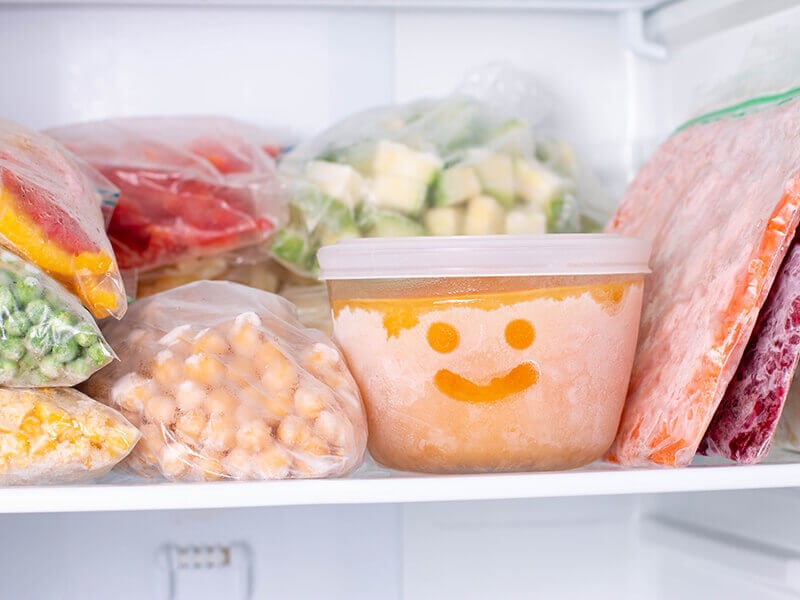 If refrigerating is ok, should you store this mushroom in the freezer for a longer storage life? Other mushrooms may have different answers, but with truffles, a freezer is your best bet.
By freezing your truffles, you'll be able to store them for up to 6 months. However, if you want the best taste (by frozen truffles standard, of course), you should consume them in under 3 months.
Step 1: Rinse the truffles quickly under running water with a small brush.
Step 2: Dry the truffles carefully with kitchen towels. Make sure that they're completely dry before storing.
Step 3: Freeze each truffle in a resealable or Zip-loc bag. Remember to squeeze as much air out as possible before sealing the bag.
Step 4: When all the truffles have frozen completely, you can transfer them into a single bag for ease of usage.
Frozen truffles are best used in cooking since the heat will naturally thaw them.
Transform Eggs And Butter With Truffles!
Not only do truffles taste amazing on their own, but they also can be used to transform other ingredients by giving them some of that gourmet taste and aroma.
Here's a simple way to "level up" your eggs and butter.
Infuse Truffles Into Your Eggs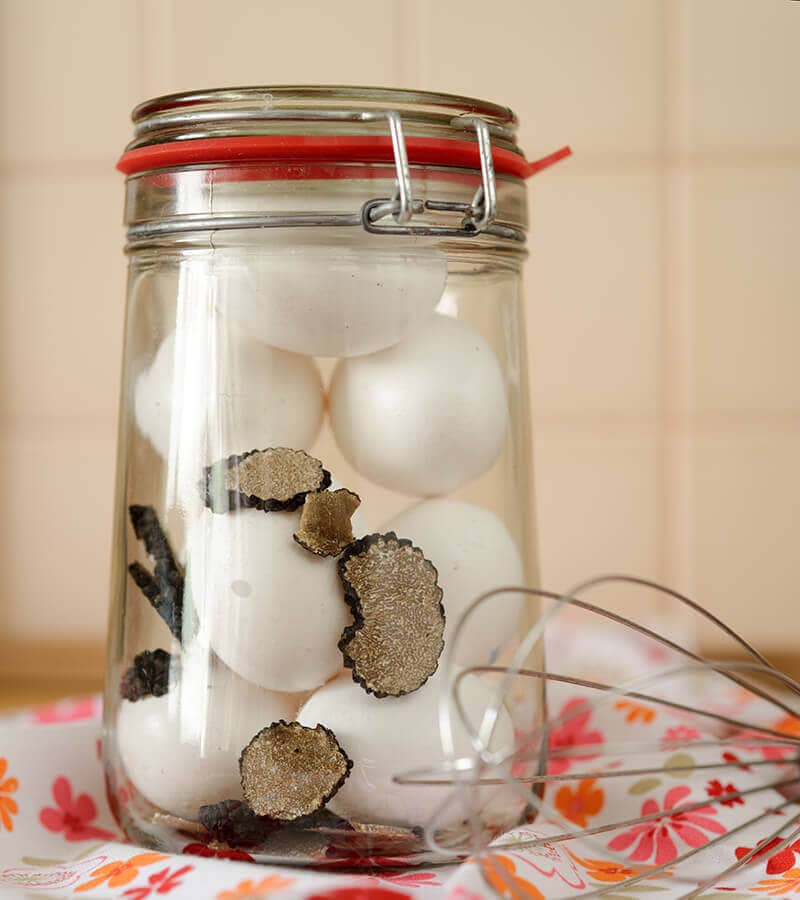 While eggs are already wonderful with tons of delicious recipes, you can elevate them further by infusing them with truffles. Here's how:
Step 1: Place half a dozen full-shelled eggs and 1 or 2 fresh truffles together in a sealed glass jar or plastic container. You can also add a sheet of kitchen towel.
Step 2: Refrigerate them at least overnight or 2-3 days.
Step 3: That's it, there's nothing else to do apart from enjoying your truffled eggs!
Infuse Truffles Into Butter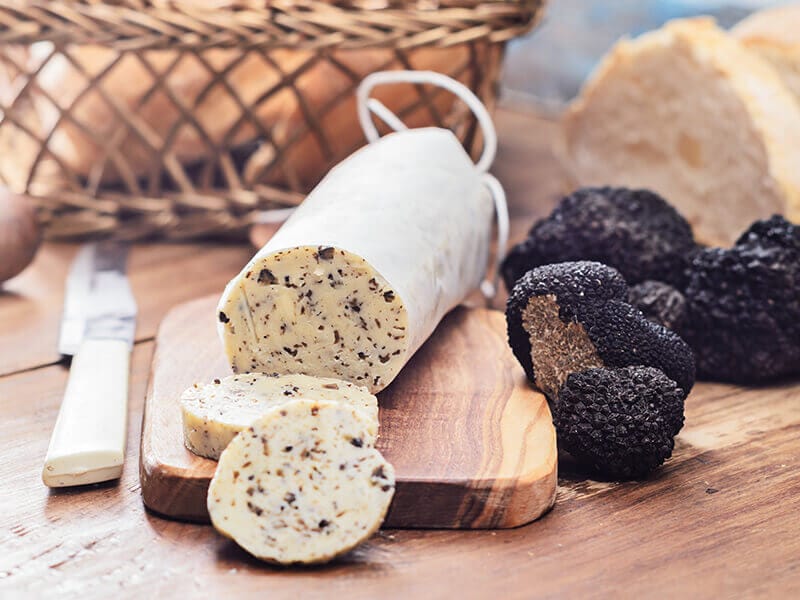 The truffle butter that you made yourself will surely give other pre-packaged types a run for their money!
Step 1: Grate your fresh truffles as finely as you can
Step 2: Soften salted butter and mix it with the grated truffles
Step 3: Put the mixture into a sealable jar. You can also roll it in parchment paper if you want the butter to look like a log.
Step 4: Refrigerate for at least 2 days.
Step 5: Before using, make sure to rest the butter at room temperature for about 1 hour.
Infusing your truffles into butter is also a great way to lengthen their shelf life since truffle butter can last for 1-2 weeks in the fridge or up to 6 months when frozen.
Watch this video: Learn how to make perfect truffle butter right at home!
The Best Way To Cook Truffe
Now that you've spent quite a decent amount of money on some high-end truffles. You might wonder whether you should eat these mushrooms with or without cooking to get the best out of them, right?
Fortunately, you won't have to do much cooking since the best way to enjoy truffles is to let their natural flavor and aroma shine naturally.
White truffles are perfect for eating as they are without any cooking. To fully enjoy white truffles, simply shave some on fresh pasta, scrambled egg, steamed asparagus, or risotto.
Although you don't have to overcomplicate the cooking, do try to use the best ingredients.
For black truffles, a little heat will help bring out their best potential. You can cook black truffles gently with mushroom risotto, add some minced truffles to your scrambled eggs, or elevate the classic Mac and Cheese by shaving some into the sauce.
As black truffles are not as expensive as white truffles, feel free to experiment more with them.
Here are some great truffle recipes for you to try:
Pairing truffles with tagliolini is one of the most common ways to bring out the best of their flavor. For this pasta, you can either add some uncooked, shaved truffles on top or integrate truffles into the sauce. Actually, you can do both to create a burst in flavor!
Remember the truffle-infused eggs that I told you about in the previous sections? This is the time to put them to good use! The mild flavor and fluffy texture of scrambled eggs will pair flawlessly with truffles' intense aroma and taste.
Risotto is a classic Italian dish that goes extremely well with truffles. A touch of truffle's robust flavor and aroma will take this creamy dish to a whole new level.
FAQs
Thanks to their delicacy status, it's easy to understand why there are many questions regarding truffles. Although I believe that this article has provided you with quite a lot of helpful information, here are some other frequently asked questions just in case.
Give Truffles A Try When You Have The Chance
How do you feel about truffles after reading this post? I hope that this post has intrigued you to give truffles a try. If you're still skeptical about this fungus, let me know what else you want to know in the comment section.
If you enjoyed the post and want more articles like this, please hit the like button and share it around.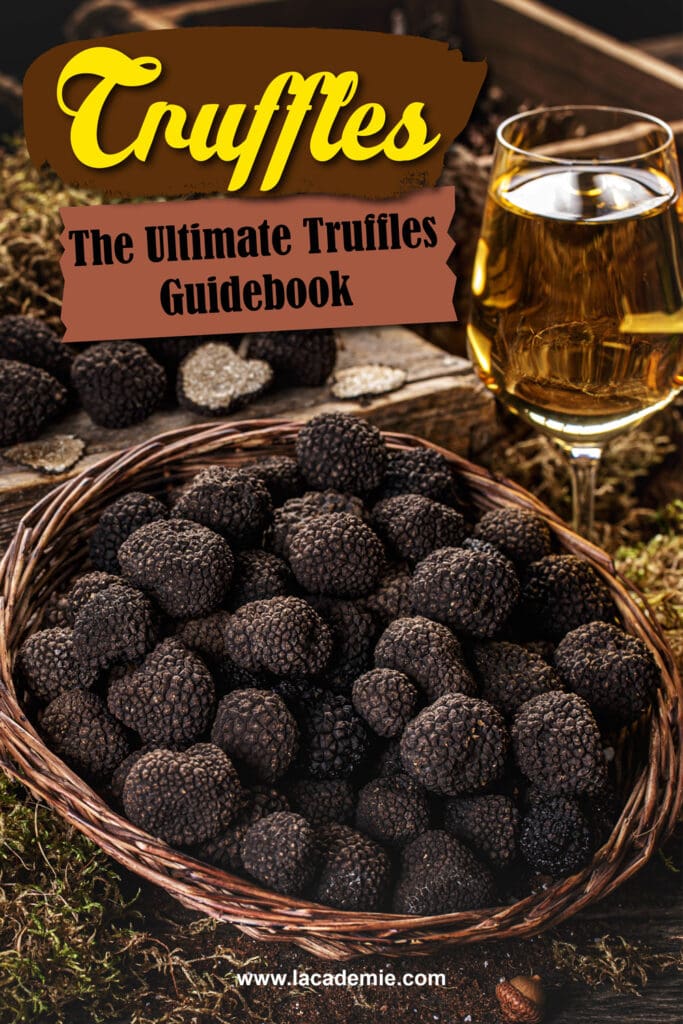 References
Truffles | National Wildlife Federation [online]. National Wildlife Federation.
RD, R. L. M., (2018). 6 Surprising Health Benefits of Truffles [online]. Healthline.