Dried vs. Fresh mushrooms – how are they different? And what is the connection between them? If you're still thinking that fresh mushrooms are always better than dried ones, be prepared, this post might change your mind!
I'll include all the essential information on dried and fresh mushrooms in this article to help you know more about their features. You'll also learn some tasty dishes to make with them and the proper way to cook dried mushrooms.
So, keep rolling the page down to avoid missing any exciting facts about dried and fresh mushrooms. Now, let's start!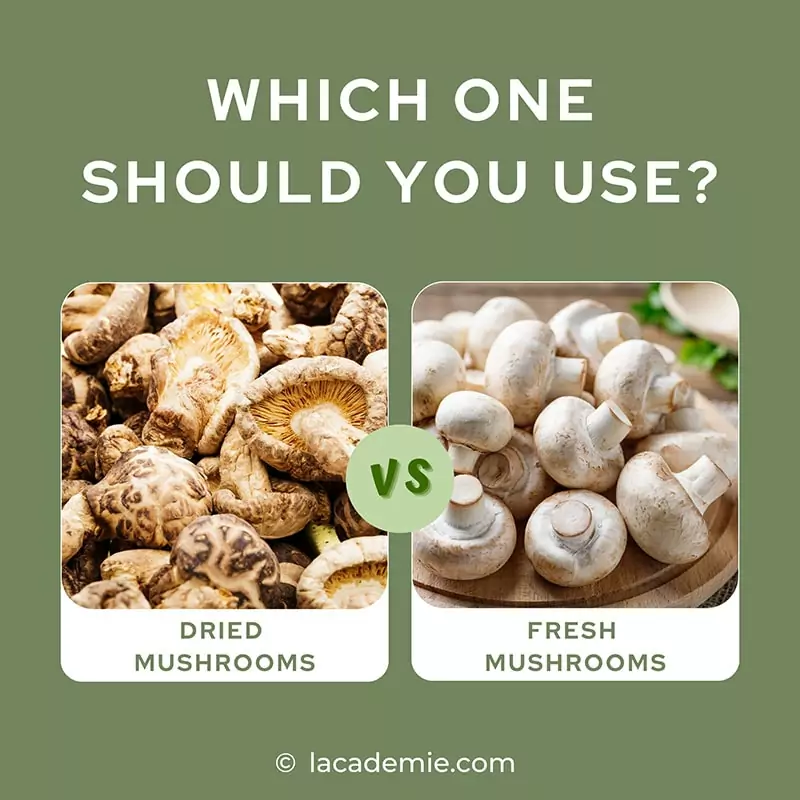 Overview Of Mushrooms
Mushrooms are vastly popular food used in cooking worldwide. Apart from being nutritious, they are also delicious and easy to prepare. But not all mushrooms are safe to eat.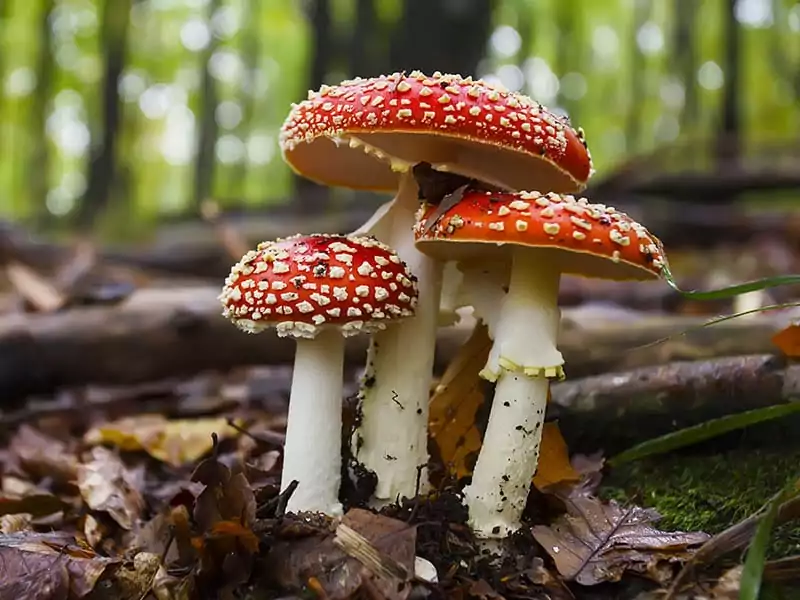 Scientifically speaking, there are more than 50,000 species of mushrooms scattered around the globe. They can be divided into two major categories: edible mushrooms and poisonous mushrooms.
Oyster mushrooms, Cremini mushrooms, White Button mushrooms, etc., are some notable edible mushroom varieties. They contain many vital nutrients and are used in many dishes and cuisines.
The Land of the Rising Sun – Japan is home to many famous mushroom types. In addition, Belgium, the Netherlands, Mexico, and Italy are other excellent places to go if you're a mushroom lover.
However, if you accidentally ingest poisonous mushrooms (usually brightly colored), you may get a stomachache, nausea, or even death. So, unless you're a fungi expert, I'd advise against picking and eating wild mushrooms, especially colorful ones, in the forests.
Let's learn a thing or two about famous mushroom species!
Must-Know Characteristics Of Fresh And Dried Mushrooms
Before going into the main part, you need to know some characteristics of fresh and dried mushrooms. These facts will help you grasp the key information more accurately.
Fresh Mushrooms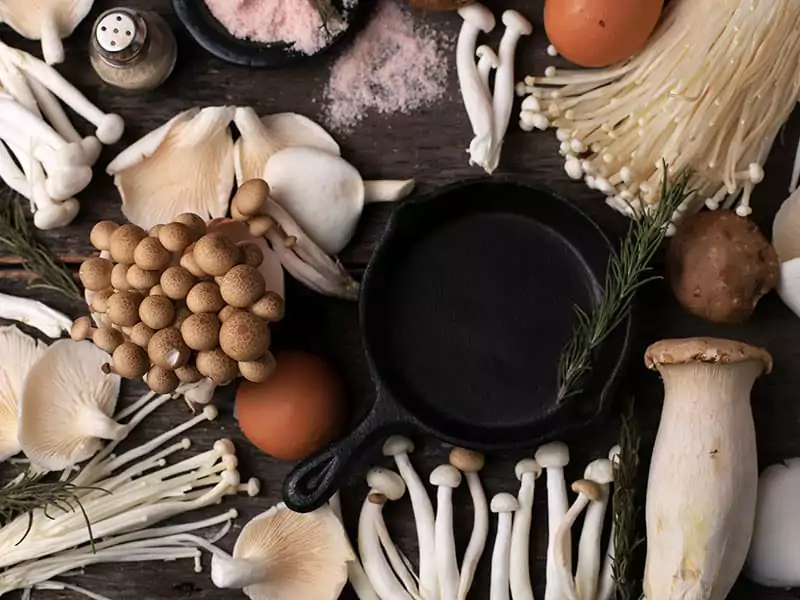 Fresh mushrooms are vital ingredients for cooking many dishes such as pasta, soups, stir fry, etc. They have high water content and can keep their freshness in the refrigerator for up to 10 days (whole) and 7 days (sliced).
Fresh mushrooms are rich in nutritional value. They are low in calories while containing many vitamins, minerals, and amino acids. They are suitable for diet, weight loss, keeping in shape, and will even boost your immune system.
Dried Mushrooms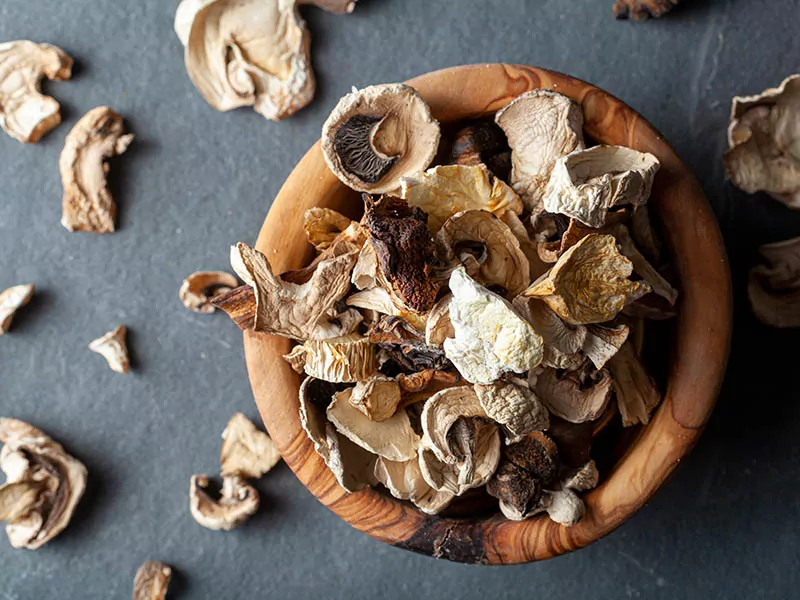 Dried mushrooms are made by sun or machine drying fresh mushrooms after harvesting. This process will dehydrate them, thus lowering their water content and extending their shelf life.
Dehydrated mushrooms are widely sold and are an incredibly convenient food for daily cooking. If you don't want to buy them, you can also dry your mushrooms easily right at home.
Turn fresh mushrooms into dried ones with just an oven!
Fresh Mushrooms And Dried Mushrooms – All The Differences
Without further ado, let's get right into the main topic of this article. This section will point out the differences between fresh and dried mushrooms, so you have a more objective view of which one to buy.
Key Aspects
Fresh Mushrooms
Dried Mushrooms
Appearance
Smooth
Shriveled and wrinkled
Texture
Soft and spongy
Firm, tough, and chewy
Water Content
High, more than 90%
Low, about 5 to 8%
Flavor
Earthy, umami, quite mild
More concentrated
Nutrition
Contain many nutrients and vitamins such as fiber, iron, carbohydrates, iron
Quite similar to fresh mushrooms. Might be lower in vitamin C but higher in vitamin D (sun-dried mushrooms)
Shelf Life

7 - 10 days refrigerated

9 - 12 months frozen

12 months (best quality)
Price And Availability
Higher than dried mushrooms, less available
Cheaper, more easily found
Uses In Cooking
Best for pasta dishes, stir-fries, pizza and dishes where the texture is important
Best for soups, stews, broths, and gravies
Texture And Appearance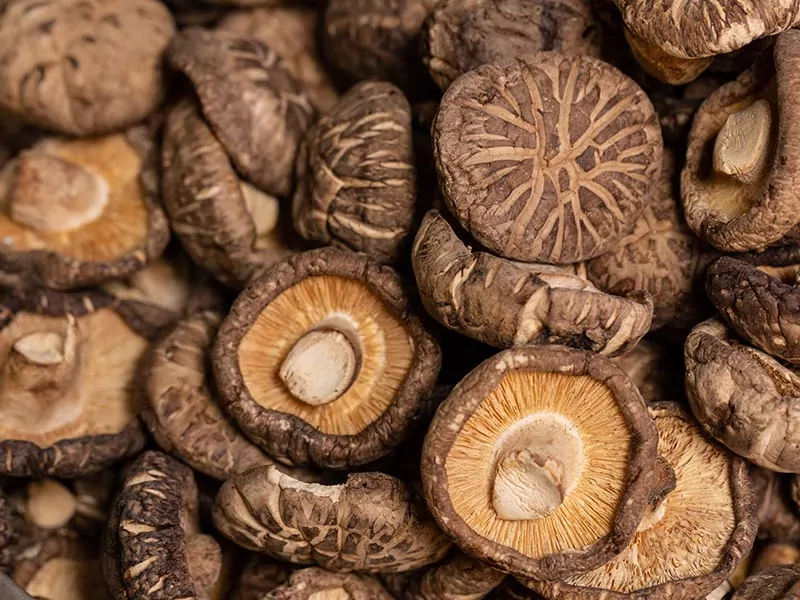 Fresh mushrooms have a smooth appearance and are soft or spongy to touch. Thanks to these characteristics, many people consider them a better option in dishes where the mushrooms' texture plays an important role.
On the other hand, the mushrooms lose most water content and become shriveled and wrinkled after drying. As a result, they feel tough, firm, and can be quite chewy if not prepared properly.
All things considered, I believe you'll agree with me that fresh mushrooms are the clear winner in this category.
Water Content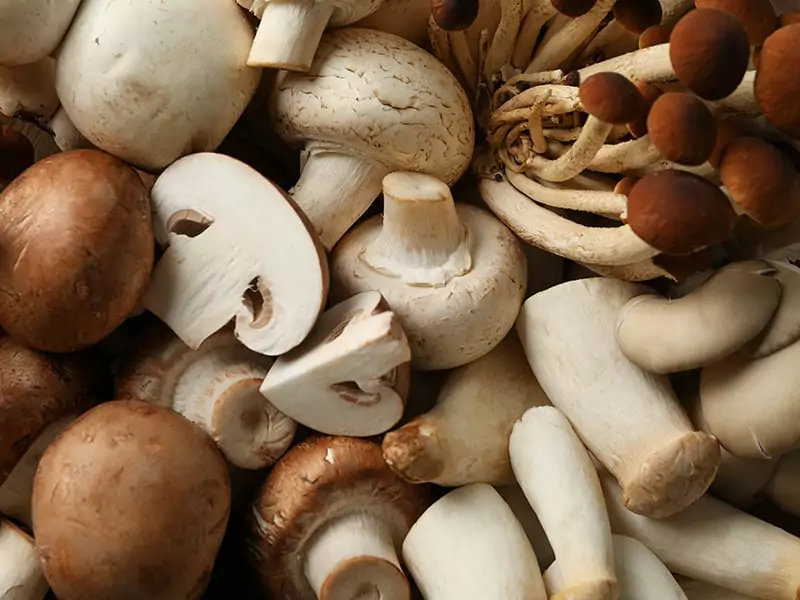 Fresh mushrooms contain about 90% water or more(1). Therefore, many dishes don't require cooking oil when using fresh mushrooms, except for stir-fries. The water that these bad boys release when cooked will also add to the flavor and nutrition of your dish.
Dried mushrooms should have between 5 and 8% moisture content. Once reconstituted by soaking in water, this percentage might go up to 50-70%.
Flavor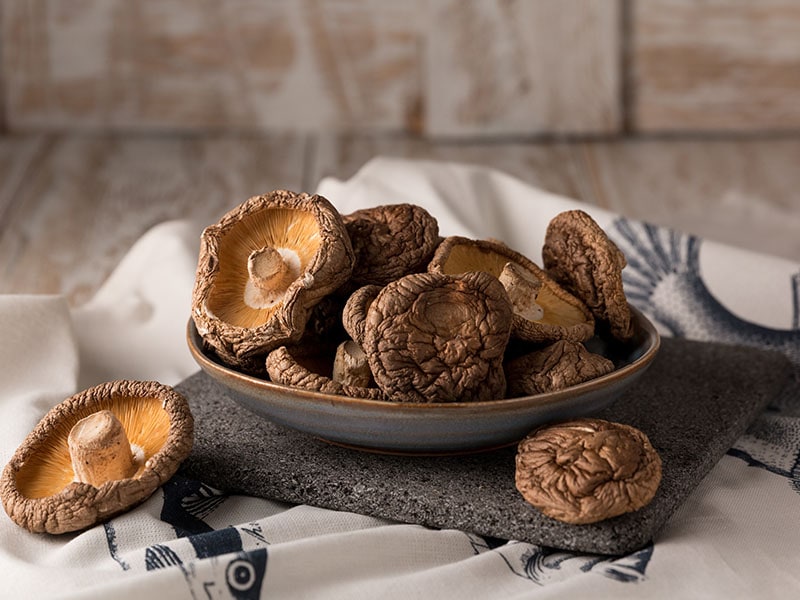 Since there are countless types of fungi, mushrooms' flavor will vary depending on the species. In general, fresh mushrooms have a sweet, earthy, and umami taste that is quite mellow and mild.
Dehydrated mushrooms possess a more concentrated and intensified flavor than fresh ones due to the removal of water content. They taste quite rich, savory, meaty, and have a distinctive aroma.
Shelf Life And Storage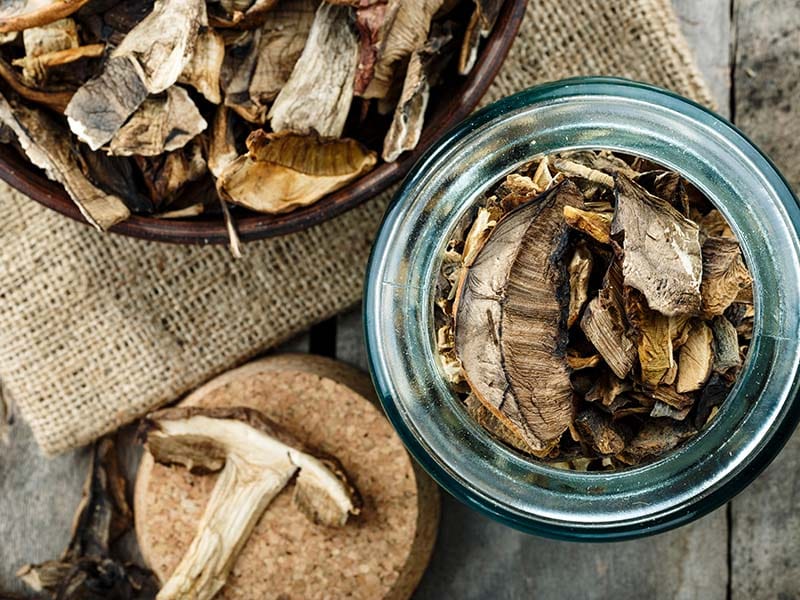 You can store fresh mushrooms in the refrigerator or freezer. When put in an airtight container or sealed bag, the fungi will maintain their freshness from 7 to 10 days in the fridge or 9 months to 1 year in the freezer.
Besides storing in the refrigerator and freezer like fresh mushrooms, you can also put dried mushrooms in an airtight container and keep them in a dry place, away from direct sunlight. With these methods, you can safely use them within 12 months.
Although mushrooms have a relatively long lifespan, don't overlook some signs of spoiled mushrooms, such as slimy skins, mold, or weird smells. Always remember that eating overdue fungi can lead to severe food poisoning!
Nutrition
In general, fresh mushrooms and dried mushrooms are similar in nutritional content. They contain many nutrients such as fiber, iron, energy, carbohydrates, iron, etc., and are rich in vitamins.
However, if analyzed in detail, the amount of vitamin C in mushrooms will decrease during the drying process. However, the vitamin D content will increase significantly if the mushrooms are sun-dried.(2)
Price And Availability
In terms of price, dried mushrooms are generally cheaper than fresh ones. They're also more widely available.
If you live in an area where mushrooms aren't cultivated, it might be tricky to get your hands on high-quality fresh fungi. On the contrary, a quick trip to a grocery store is enough to grab a delicious pack of dried mushrooms.
Uses In Cooking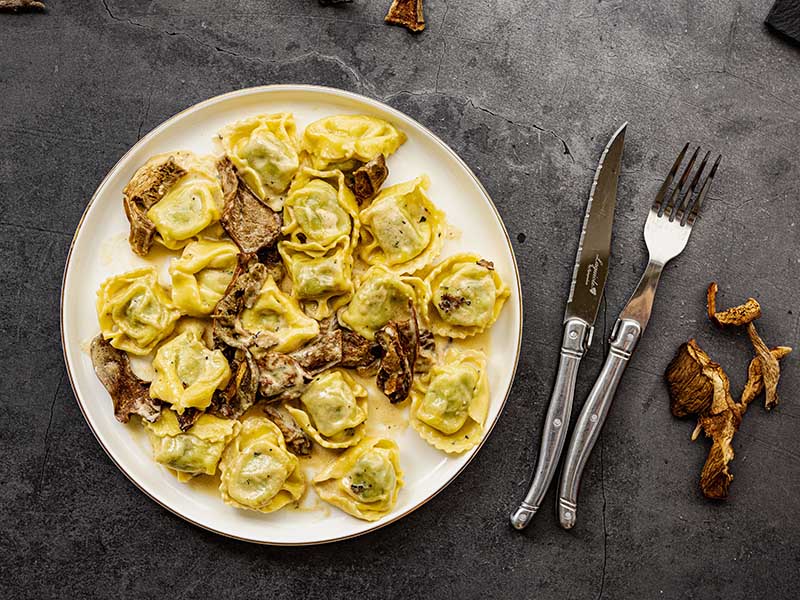 You can use fresh mushrooms in pasta dishes, stir-fries, and pizza, thanks to their light, refreshing taste and better texture. If you want to consume mushrooms without cooking, fresh ones are better.
Because of having a firmer texture and more robust flavor, dried mushrooms are suitable in soups, stews, and gravies. They also work excellently in adding flavor and depth to broths.
The Perfect Alternatives To Dried And Fresh Mushrooms
If you wonder if fresh mushrooms and dried mushrooms are interchangeable, this section will give you the answer. In addition, there will also be some excellent alternatives in cases when you can't get your hands on mushrooms.
Substitute Dried Mushrooms For Fresh Mushrooms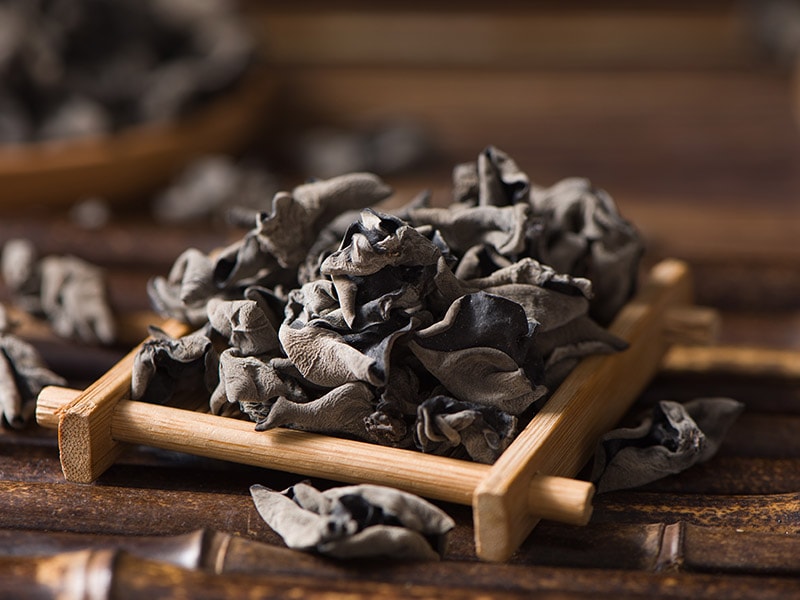 Although dried mushrooms can't completely replicate the taste and texture of fresh mushrooms in recipes, they're still your first choice.
Use about three ounces of dried mushrooms for every pound of fresh mushrooms for the best result. You may think it's not enough, it's too little, but when reconstituted, the dried mushrooms will expand and meet the required amount of fresh ones.
Other Substitutes For Dried And Fresh Mushrooms
Besides dried mushrooms, you can also use some other foods to replace mushrooms in a pinch. There shouldn't be too much of a difference in flavor with the right ratio.
First, think of tofu and tempeh. Both are made from soybeans and are quite similar to fungi in texture and taste. Using tofu and tempeh will make your dish richer and more complex while not drastically changing its flavor. The best replacement ratio would be 1:1.
Zucchini, carrots, and yellow squash will be the next choices. Although they cannot replace the taste of mushrooms, they will bring a new flavor to your dishes. You should also apply the 1 to 1 ratio when using them as replacements.
Finally, you should consider using Umani seasoning. Although it is just a spice, the taste of umami is similar to mushrooms. Depending on the dish and food preferences, you can easily adjust the umami seasoning to your liking.
How To Prepare And Use Dried Mushrooms For Cooking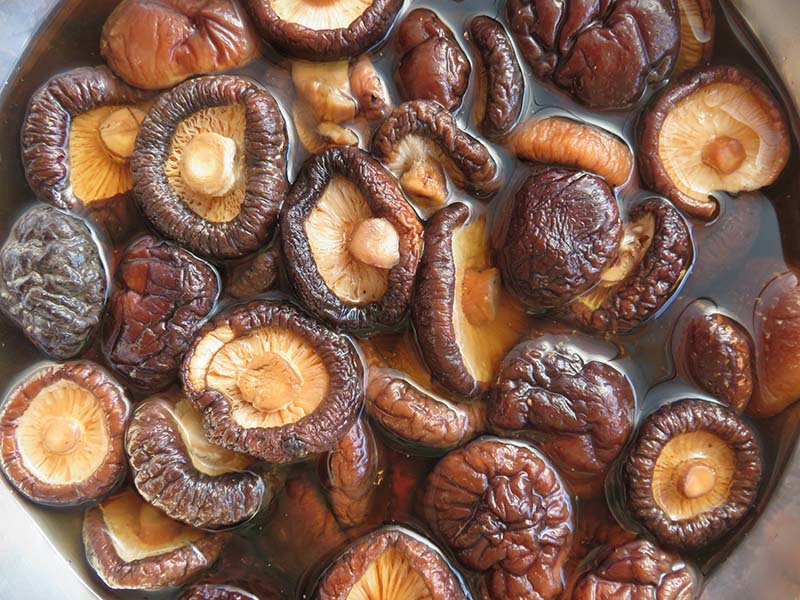 Dried mushrooms need to be reconstituted before being used as a substitute for fresh mushrooms. So what is the right way to rehydrate them? Don't worry, I'll tell you right now. Follow these steps to prepare your dried mushrooms properly.
Step 1: Measure The Number Of Mushrooms Needed
Each recipe calls for a certain amount of mushrooms for the dish to taste perfect. First, you need to consider and measure the number of dried mushrooms you need to use. As mentioned above, 3 ounces of dried mushrooms is equivalent to 1 pound of fresh ones.
Step 2: Add Water To The Mushrooms
After measuring, put the dried mushrooms into a bowl, then add enough water to submerge the mushrooms completely.
Step 3: Soak The Mushrooms
Soak mushrooms in the water for 30 minutes. Depending on the size and thickness of the mushrooms, you might need to adjust the time accordingly. Thinly sliced mushrooms are soaked for 20 to 30 minutes, while thicker mushrooms usually take a little longer.
Step 4: Take The Mushrooms Out Of The Water
Use your finger to check the softness of the mushrooms. After the mushrooms are completely soft, remove them from the water. Squeeze gently to eliminate any remaining water on the mushrooms.
Step 5: Clean The Mushrooms
Place the mushrooms in a strainer and let them run under the spout for a few seconds to remove any grit. Now your dried mushrooms are reconstituted and ready to be cooked.
Step 6: Save The Soaking Water
Hold your horses! Don't be too hasty to throw away the soaking liquid as you can actually use it in cooking.
Use another bowl and place a strainer over it, lined with a coffee filter or paper towel, or cheesecloth to remove fine dust and grit. Then, pour the soaking water into the strainer and let the water run through.
If you are not using the broth right away, pour it into a covered container and refrigerate for about a week or 3 months if stored in the freezer.
Notes
If you're in a hurry, you can soak the dried mushrooms in warm or hot water to help them rehydrate faster. However, the mushrooms might lose more flavor, which will transfer to the broth.
If you're making soups or stews, you can also add the dried mushrooms directly to the pot to save time. However, you should wash the mushrooms before putting them in the pot to limit the grit in the dish.
Learn how to properly rehydrate your dried mushrooms in under 3 minutes.
Don't Miss These Tasty Recipes With Mushrooms
There are numerous mouth-watering recipes to make with mushrooms, fresh or dried. Here, I will introduce some mushroom dishes that will make your family meals more delicious.
Dried Mushroom Recipes
Dried mushrooms are often included in vegetarian dishes or in the healthy menu of dieters or people who have a passion for mushrooms. Let's discover some delicious recipes for your dried fungi below.
Morel mushroom gravy has a buttery, greasy flavor suitable for family meals. It's a rich, hot sauce that's appropriate for chilly winter dinners. This sauce served with meat and wine will be a perfect pairing. What are you waiting for? Bring this dish to your dinner table right now.
This dish is a favorite of many people. The richness of the ribs, the sweetness of mushrooms, and the aroma of herbs, all make up the perfect ragu. This dish is usually available in bistros, but you can also recreate it in your kitchen. It is best served with pasta.
This risotto has an attractive appearance with an umami flavor from dried porcini mushrooms and a fatty taste from cheese. It will taste even better when paired with some Parmesan cheese and a glass of fruity wine.
Fresh Mushroom Recipes
Fresh mushrooms appear in plenty of family meals. Check out these recipes to impress your family members right now!
This delicious dish with a beautiful appearance will whet your appetite. Although completely meat-free (replacing meat and fish with Shiitake mushrooms), the combination of ingredients will bring a very different flavor to your dish.
This mushroom larb will light up your family meals for sure!
This dish is very simple to prepare. It is made with crab, cheese, garlic, and breadcrumbs – ingredients that are easy to find. You only need about 20 minutes to cook it. Now you have a delicious appetizer for the holidays or parties.
This soul-warming Hungarian mushroom soup is made from chicken or vegetable broth, onions, butter, soy sauce, mushrooms, and other spices that will satisfy your taste buds.
You can serve it with crusty bread. Trust me; you certainly won't be disappointed.
FAQs
There are some other common questions that you should also know to understand mushrooms better. Don't miss out!
What is Your Final Choice?
Now that you've reached this part of the article, I'm sure that you've learned everything you need to know about dried and fresh mushrooms. So what is your choice for tonight's dinner?
Let me and everyone know your choice by leaving a comment below. And if you have any questions regarding this topic, don't forget to let us know. I appreciate all of your questions and suggestions. Thanks in advance!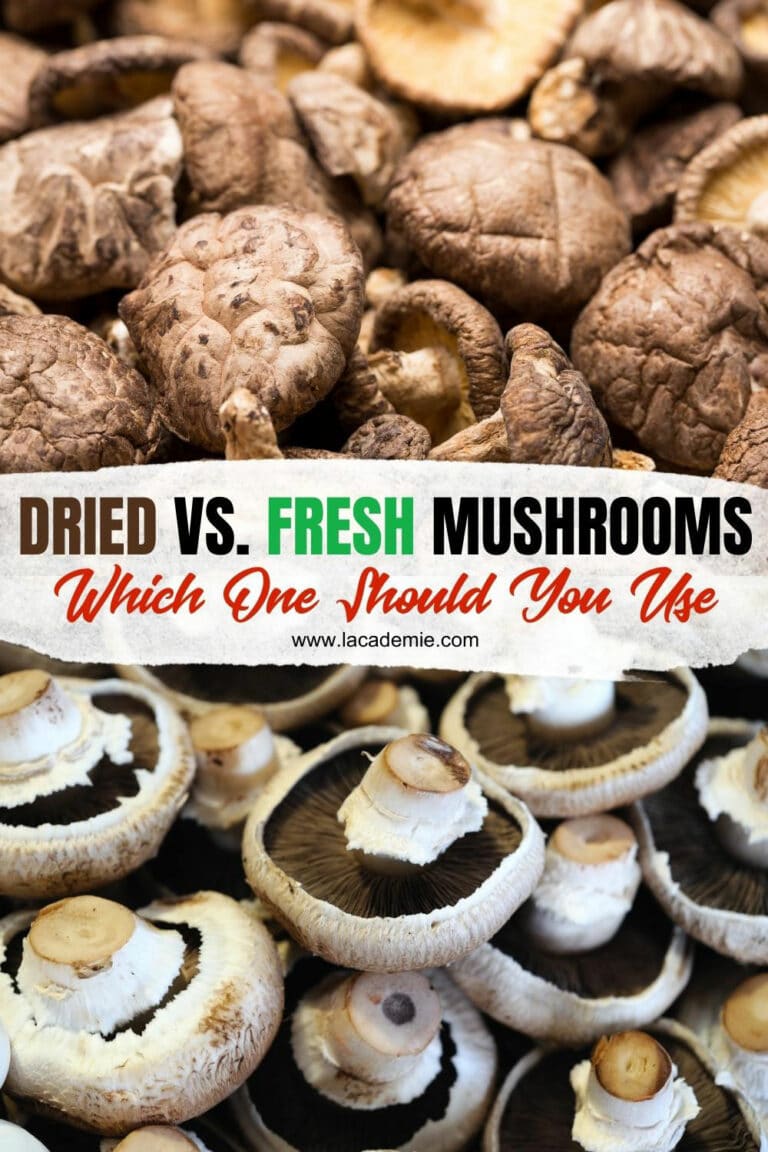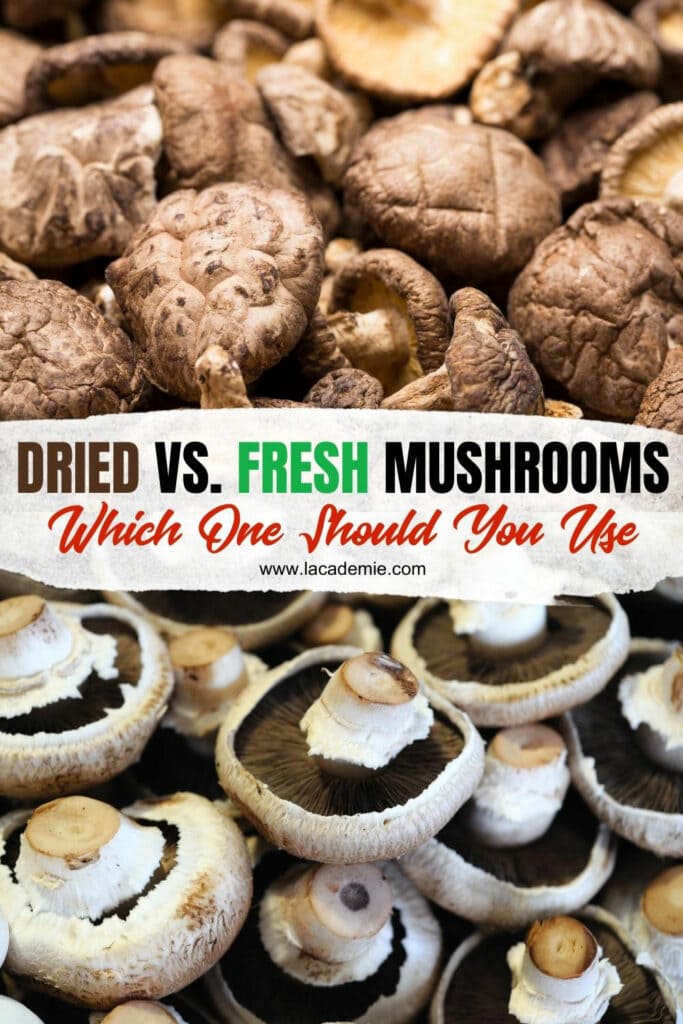 References
En.wikipedia.org. Mushroom – Wikipedia.
Fungi Ally. Dried Mushroom Benefits: The Value in Eating Dried Mushrooms.