"Are mushrooms vegan?" is a concern for many vegans and vegetarians. While there's no denying that mushrooms are incredibly delicious and nutritious, are they suitable for a vegan diet?
If you are looking for the perfect answer to this question, I'm sure you won't regret reading this article. In this post, I'll give you some characteristics of mushrooms, answer the question "what is vegan?" and tell you if mushrooms are truly vegan.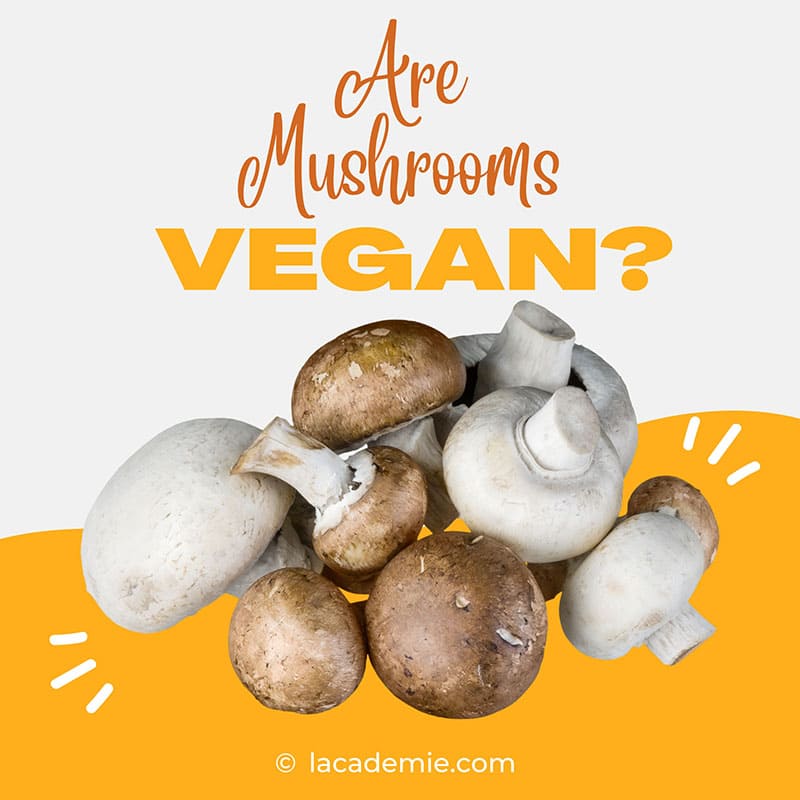 Mushrooms- A Favorite Food
I'm sure you've eaten mushrooms more than once. They are quite tasty and rich in flavor. But do you know any of their features? Let's explore some of their characteristics and health benefits before getting into the main question.
Mushrooms are a type of food that is no longer strange to all of us. Did you know that there are about 14,000 mushroom variants known to humans? Although some fungi species can be poisonous, the ones you find on the market are mainly safe-to-eat mushrooms. (1)
Popular delectable mushrooms include shiitake mushrooms, oyster mushrooms, enoki mushrooms, reishi mushrooms, etc. Each mushroom boasts a unique and memorable flavor profile, especially the more "sumptuous" types like truffles.
Speaking of costly mushrooms, Japan is home to many mushroom variants, one of which is Matsutake mushrooms, a fungus that's often considered "more precious than gold".
Mushrooms are a very healthy choice. Nutritional benefits vary by species, but in general, mushrooms are not only low in fat, cholesterol, sodium, and calories but are also rich in fiber, vitamins, and other minerals. (2)
Because of their rich nutritional content, some types of mushrooms are used to make functional foods and medicines. Besides, eating a lot of mushrooms helps prevent cancer and strengthens the body's resistance, regulates energy metabolism, etc. (3)
Learn more about the powerhouses that are mushrooms.
A Quick Definition Of Veganism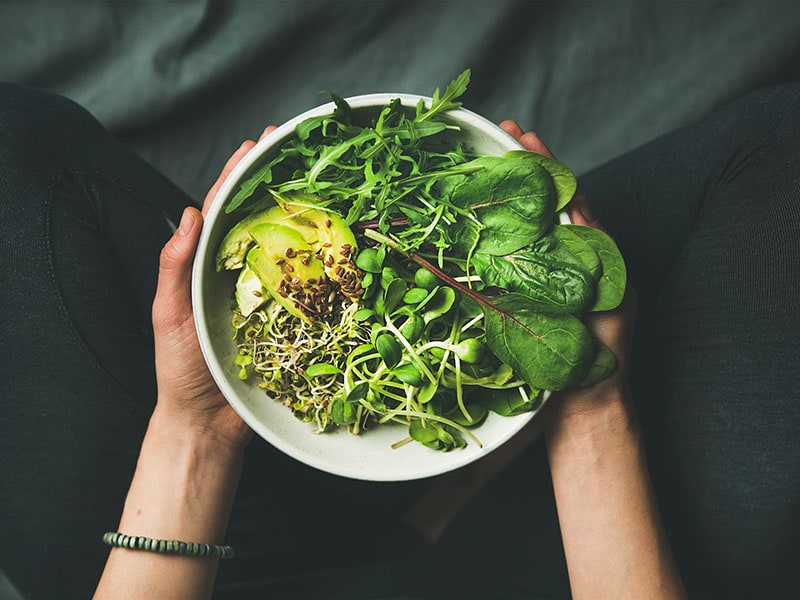 The term "vegan" has become widely known in recent years. It first appeared in 1944 and was an invention of Donald Watson and his future wife Dorothy Morgan, two founding members of the Vegan Society. (4)
Simply speaking, "veganism" is the practice of not consuming animal products, especially in daily diet. Furthermore, this philosophy also detests any kind of animal cruelty and the current commodity status of animals.
For example, vegans would not eat chicken and eggs, nor would they eat beef and drink cow's milk. Their diets revolve around vegetables, nuts, fruits, grains, and other non-animal products.
There are many reasons why people choose to be vegan. But in general, some common reasons are health benefits, limiting negative impact on the environment, and ethical issues.
Does a vegan diet provide enough protein for the body? The answer is here.
Reasons Why Mushrooms Are Vegan
As defined above, vegans cannot consume animals and animal products. By that definition, mushrooms are vegan-friendly because they do not fall into that two categories. However, this doesn't mean that they're a kind of vegetable.
Here are some characteristics that make mushrooms suitable for a 100% plant-based diet.
Mushrooms Are Not Animals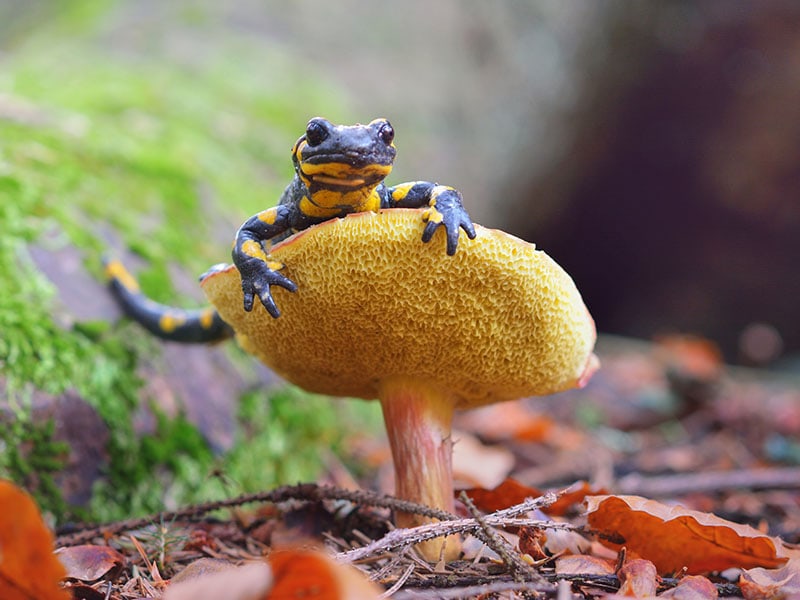 Mushrooms belong to the Fungi organism kingdom. Interestingly, they possess the characteristics of both animals and plants.
On the one hand, mushrooms are similar to plants in that they grow on soil and above ground. They also can't move and have cell walls. However, their cell walls include Chitin – a fibrous substance found in insects, arthropods, and spiders' exoskeleton.
Mushrooms have different feeding patterns depending on their types. Some species feed on dead or decaying tissues, while others form a parasitic or symbiotic relationship with a host. They generally reproduce by dispersing spores, which are spread through animals and wind.
Certain kinds of edible mushrooms are carnivorous, so some vegans are concerned about consuming them. I'll discuss this later on, so make sure to stick around!
Mushrooms Don't Feel Pain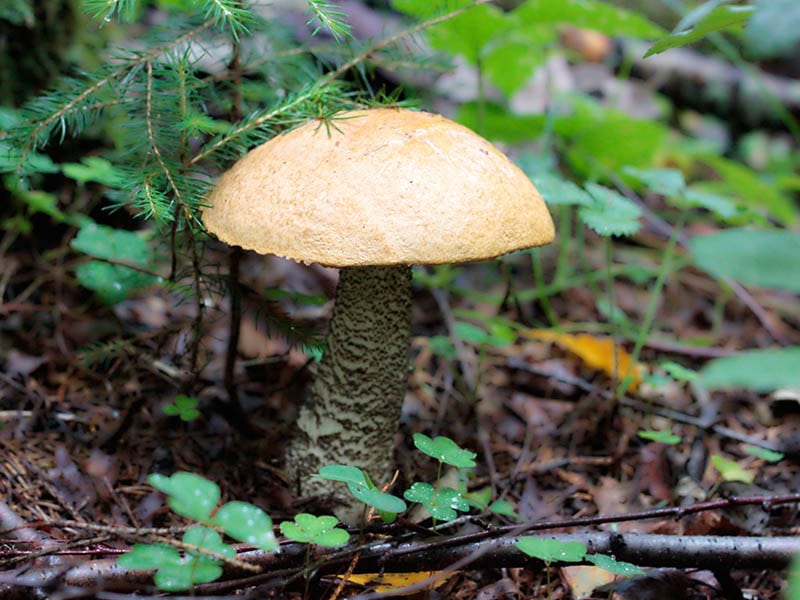 One of the main reasons vegans refuse to eat animals is because they think animals are sentient. This means that animals have feelings just like humans. If you kill them, it will lead to suffering and pain for them.
However, fungi don't possess a nervous system, or rather a very underdeveloped one. So whether you pluck them out of the ground, cut them, or eat them, they won't feel or show any signs of suffering.
In a way, consuming mushrooms is like eating mussels, as they both don't have a nervous system. The most significant difference is that mollusks like clams or mussels are technically animals, while fungi are not.
Mushrooms Farming Doesn't Harm The Environment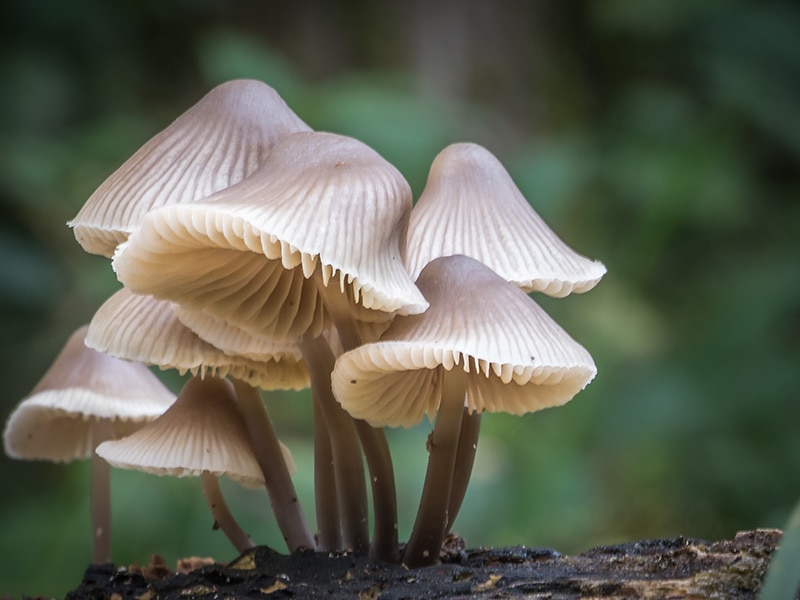 If you're worried that mushroom farming might cause harm to the environment, you can rest assured that it isn't.
In fact, many fungus species, such as truffles, can't be effectively cultivated and are generally harvested from the wild. This practice doesn't leave any negative effect on the natural ecosystem.
Though, things might be a bit different in a farm setting, as plastic bags are necessary to keep the mycelium and substrate. However, farmers can compost the substrate later and turn it into fertile soil.
The farmers also need to use electricity to control the humidity levels, lights, and other factors to ensure the ideal growing conditions.
All in all, compared to other forms of farming practices, mushroom cultivating is one of the most sustainable ones. Plus, they're among the least needy crop in terms of water, land, and energy.
Why Some Vegans Don't Eat Mushrooms
Despite the 3 factors listed above, some vegans are still hesitant to enjoy mushrooms. Now, don't be too quick to judge them, they have their reasons, and this section will explain why.
Mushroom Farming Might Require Animal Products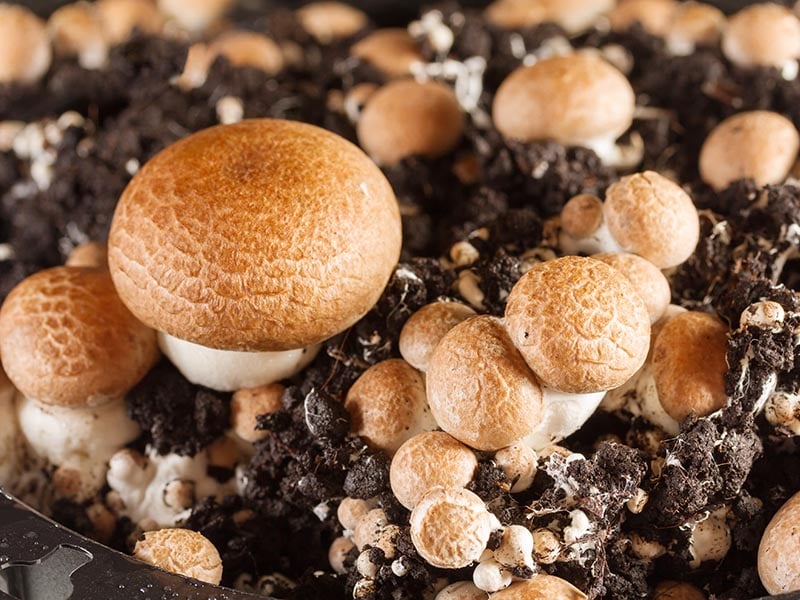 Fast-yielding mushrooms like portobello, button, and portobello are commonly cultivated. They also appear in various recipes, vegan ones included, due to their meat-like texture and crowd-pleasing flavors. In addition, they're a great source of vitamins, fiber, and protein.
However, there's a concern about the use of animal-derived products, like manure, animal bones, and gelatin to boost productivity. For this reason, some vegans might refuse to eat commercial mushrooms.
Harvesting Wild Mushrooms Might Affect Other Animals
Now that commercial mushrooms are out of the question, the obvious choices are wild mushrooms, right? Well, not really.
As the name implies, wild mushrooms, like morels and chanterelles, are picked in their natural habitats, such as forests, mountainous or coastal areas. Many bugs and animals feed on these mushrooms.
As a result, some people believe that humans are depriving these animals of their food sources and habitats by harvesting these mushrooms. On the contrary, others say that doing so won't harm the animals since they can also feed on plants.
Some Mushrooms Are Carnivorous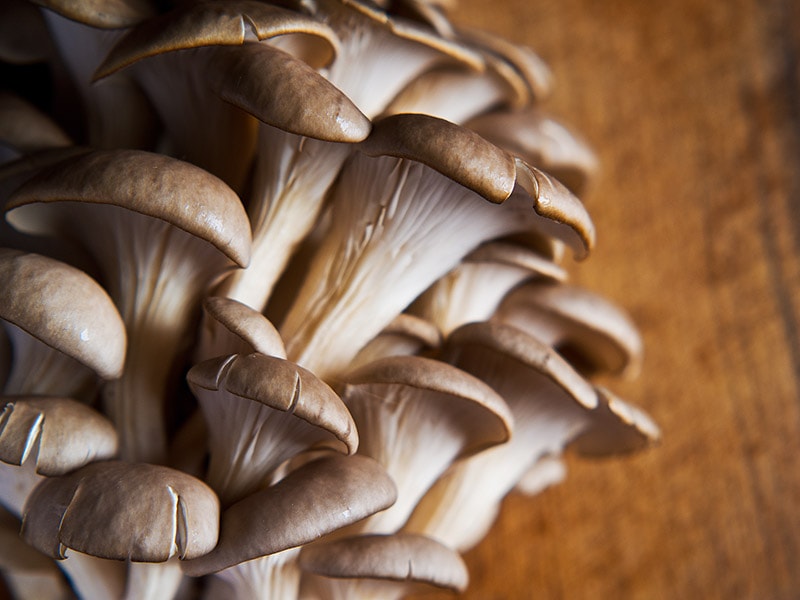 As mentioned above, certain kinds of mushrooms are carnivorous. Oyster mushrooms (yes, the oyster mushrooms that everyone loves) are one of these species.
Oyster mushrooms and other kinds usually live on dead wood, so they only have a small amount of nitrogen. These fungi presume a carnivorous feeding pattern and eat small animals and worms to provide themselves with enough nutrients.
In addition, while plants can produce nutrients from sunlight, mushrooms can't do this. They are saprophytes that live on rotting organic matter from plants, animals, or other fungi.
However, this topic is still highly debatable, even among the vegan community. As a matter of fact, all plants can thrive on soil that contains animal by-products, not just mushrooms.
In addition, commercial mushrooms (oysters included) can be cultivated on coffee grounds rich in nitrogen, thus eliminating their need to eat other animals.
Explore the fascinating lives of carnivorous mushrooms.
Truffles Might Be Able To Feel Pain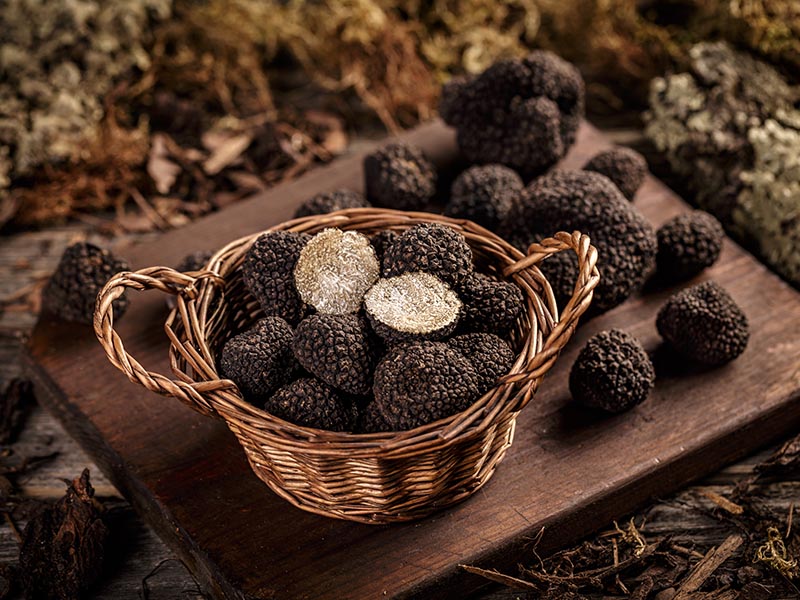 Here comes a big surprise about truffles! These mushrooms are arguably able to feel pain. Without unnecessarily overcomplicating things, "The king of the kitchen" produces a natural chemical responsible for pain and memory regulation in animals.
This compound is also the source of truffles' unique aroma. As a result, some vegans claim that truffles experience pain when they're plucked. Others, however, believe the existence of said chemical alone is not solid proof for that statement.
Another issue regarding truffles is the use of "truffle hunting dogs and pigs," as this might be a form of animal exploitation.
Vegan Mushrooms To Grow At Home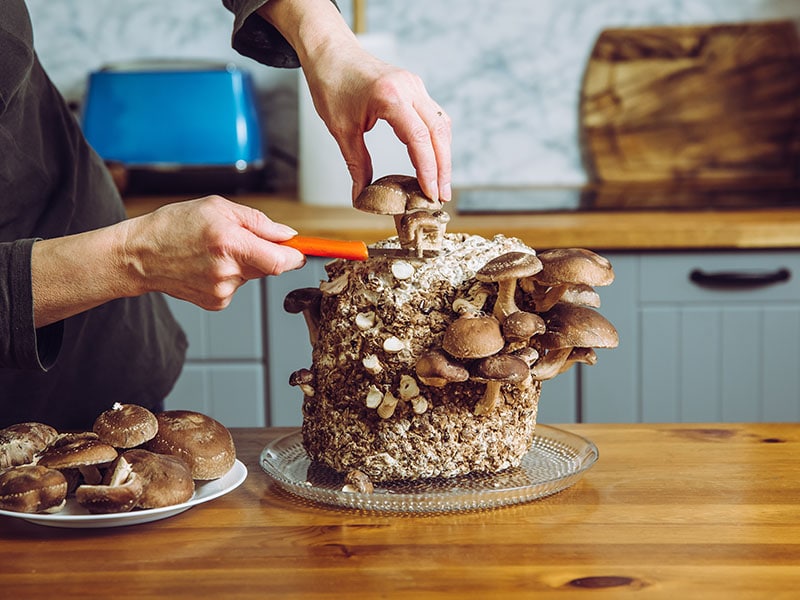 If you're a fan of enjoying mushrooms raw but are concerned about the quality of mushrooms at the store, try growing them at home. Doing so will ensure the mushrooms are grown completely organically, without animal manure or harmful chemicals.
Another great thing about home growing your fungi is that you can preserve them in many ways, from drying to freezing. Once you've learned the correct ways to freeze your mushrooms, they will last surprisingly long.
Plus, check for any spoiled signs of mushrooms to ensure your food is safe to eat. If you want to grow them, mushrooms are not challenging to grow, especially oyster mushrooms. You can grow them on coffee grounds, logs, stumps, and even cardboard.
Besides, you can consider growing reishi, shiitake, chanterelles mushrooms. You can grow them from mushroom growing kits and use coffee grounds, straw, wood chips as a medium.
Growing mushrooms is easier than you think!
The Best Vegan Substitutes For Mushrooms
If you insist on excluding fungus from your vegan menu, then these alternatives to mushrooms make good enough options when you when some of that umami flavor.
Tofu and tempeh are the two essentials when it comes to vegan food. Fortunately, they also make excellent mushrooms stand-in and are extremely versatile. You can use these soy-based products in pretty much any mushroom recipe.
In addition, other vegetables such as zucchini, eggplant, sun-dried tomatoes, or squash can also replace mushrooms in a pinch. That said, they might lack the earthy and umami taste that fungi are known and loved for.
Try These Tasty Vegan Mushroom Recipes!
If you're looking for some delicious vegan recipes with mushrooms, check this section out right now!
Creamy vegan mushroom risotto is one of the delicious vegan dishes that you should try. It is creamy and filled with the flavor of mushrooms. To make the dish even more mouth-watering, don't forget to top it with vegan cheese and fresh celery.
Your vegan friends will love this mushroom risotto!
Vegan mushroom wild rice soup is here for you when you need a heart-warming soup. It is incredibly delicious and only takes less than an hour to make! The soup is made from mushrooms, wild rice, and vegetables. It's a great choice for chilly nights.
Vegan mushroom bacon is a dish that deserves to be added to the list of tasty and attractive vegetarian dishes. The mushrooms "bacon" are deep-fried, and you can eat them with burgers or sandwiches.
This vegan mushroom wellington dish is properly the most delicious meal for both vegans and even non-vegans alike. It is made from thyme mushroom chestnut, a puff pastry, and is served with cranberry sauce.
FAQs
Here is some other short information about mushroom and vegan food that I think you should know as well.
All things considered, mushrooms will certainly fit well in a vegan menu. Unless you're completely against the idea of eating anything animal-related, even just a little bit, then definitely add mushrooms to your meals!
Finally, I hope this article has helped you learn about mushrooms and their place in a vegan diet. And if you have any questions about this topic, please write a comment below. Thank you!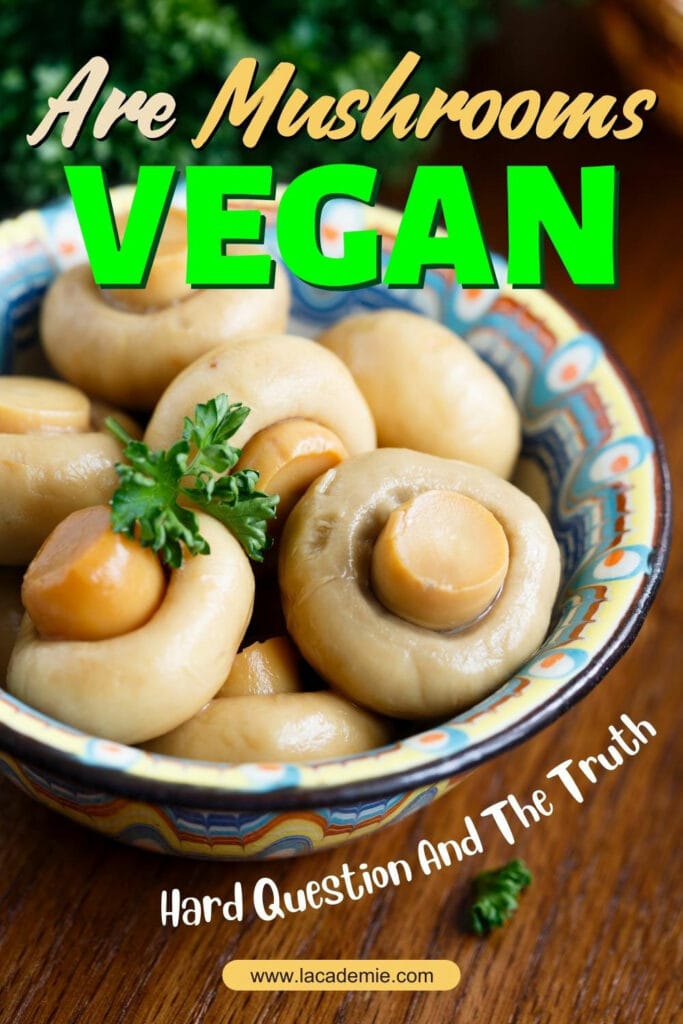 References
Contributors to Wikimedia projects, (2001). Mushroom – Wikipedia.
D, M. W. R. L., (2019). Mushrooms: Nutritional value and health benefits.
Health Benefits of Mushrooms [online]. WebMD.
Contributors to Wikimedia projects, (2001b). Veganism – Wikipedia.