I have to admit, Polish recipes are hard to come by, and even if you did find any, the chances are that only their names are given. Don't worry; I'm here to help! Not only will you learn about their origins, but you will also know how to rustle up these fantastic dishes in the easiest way.
Polish cuisine is famous for the use of meat and game, promising to alleviate your hunger at any time. Additionally, the Poles are experts with spices and seasonings. They take great pride in their culinary history, with fast-food chains in this country having decreased dramatically over the years.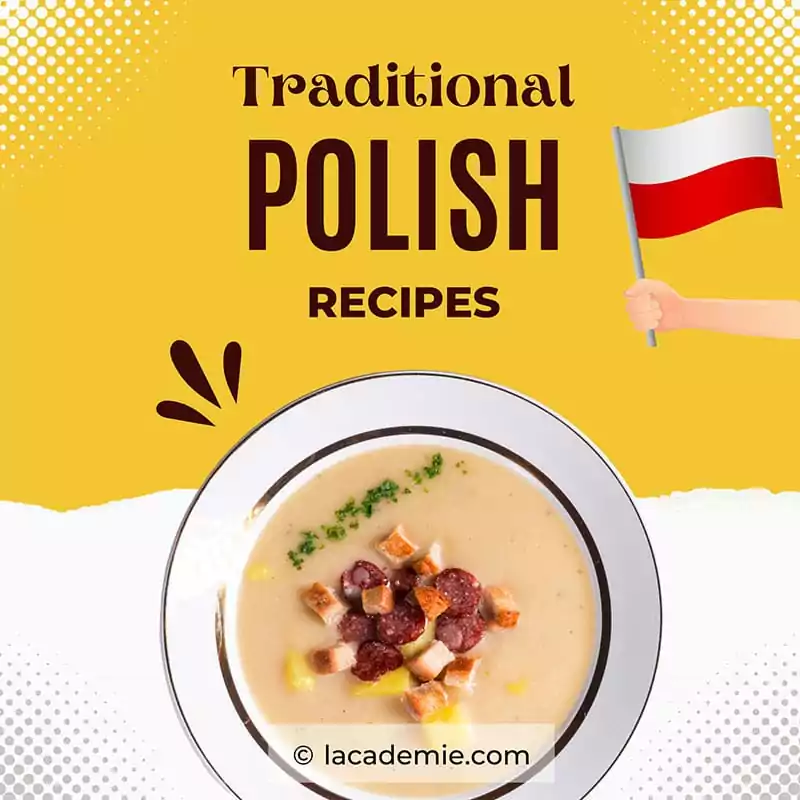 30 First-Rate Recipes From The Land Of Fields
Are you curious? Well then, let's check out the list of the best Polish dishes I have rounded up for you below. A friendly warning, these dishes are about to change your life forever – in a friendly manner, indeed.
Savory Polish Recipes
Polish Soup and Stew Recipes
Zupa Ziemniaczana (Polish Potato Soup)
Slow-Cooked Polish Sauerkraut Soup
Bigos (Polish Hunter's Stew)
Goulash (Polish Beef Stew)
Zurek (Polish Sour Rye Soup)
Krupnik (Polish Mushroom Barley Soup)
Polish Salad Recipes
Surówka Z Marchewki (Polish Carrot Apple Salad)
Surówka Z Buraczków (Polish Beetroot Salad)
Mizeria (Polish Cucumber Salad)
Kielbasa Hot Potato Slaw
Other Savory Polish Recipes
Kotlet Schabowy (Polish Breaded Pork Chops)
Polish Cabbage, Potato, and Bacon Casserole
Kielbasa Cabbage Skillet
Haluski (Polish Cabbage and Noodles)
Smoked Polish Sausage and Sauerkraut
Golabki (Polish Cabbage Rolls)
Kluski Slaskie (Silesian Dumplings)
Sweet Polish Recipes
Kompot Wigilijny (Polish Fruit Compote)
Babka (Polish Easter Bread)
Piernik (Polish Gingerbread Cake)
Nalesniki (Polish Crepes)
Cranberry Rugelach
Szarlotka (Polish Apple Pie)
Blueberry Pierogi
Placki Ziemniaczane (Polish Potato Pancakes)
Placek Z Sliwkami (Polish Plum Cake)
Zupa Truskawkowa (Polish Strawberry Soup)
Racuchy Z Jablkami (Polish Apple Pancakes)
Paczki (Polish Donuts)
Polish Poppy Seed Loaves
Are you ready for an authentic Polish culinary experience? Let's go!
Scrumptious Savory Polish Recipes For A Cozy Meal
The Poles are tremendously proud of the following recipes, and you will be impressed with how they build up your appetite with the clever use of spices. Once you tuck into these dishes, there's no going back. Mark my words.
Delectable Polish Soup And Stew Recipes To Keep You Warm
These Polish soup recipes are here to cure your winter blues. From hearty bigos, the national soup of the country, to zurek and goulash, I'm positive that you will be spoilt for choice.
The best potato soup in the world comes from Poland, and there's no debate on that. This cheesy soup is loaded with potato cubes and Polish sausage (also known as kielbasa), which is world-famous for its heady garlic flavor.
You can eat this potato soup with various accompaniments. But for me, it's already delicious and filling enough on its own.
If you've been to Germany before, the chances are that you have come across sauerkraut, which is fermented cabbage. It tastes somewhat like kimchi without the spicy kick, but the salty taste is perfectly balanced with a heft of fresh vegetables in this elegant recipe.
The Poles love bigos, and the stew has become a fixture on every special occasion. It is enriched with natural flavors of wild mushrooms and sweet prunes with a woodsy hint from kielbasa. Thanks to the intricate use of spices, bigos gets better with every reheat.
Make this hearty bigos for your family and friends, check out this video:
Some people say that the Hungarian goulash tastes better, but I beg to differ. Pork cubes are browned to perfection, bathing in a rich, well-seasoned broth before serving with potato pancakes for a filling meal (the recipe for potato pancakes is provided below).
Zurek is soup-er delicious, and once you start tucking into it, there's no stopping until the very last spoonful. The comfort food is made of fermented rye flour and enjoyed with a hard-boiled egg or spicy sausage. It is also considered a panacea for hangovers.
Krupnik is a hearty soup dish popular with the Jews, but not many people know that it is evidently Polish in origin. The soup features chewy barley and an array of mushrooms, perfumed with fresh herbs, and brought to a boil until desired consistency is achieved.
Easy Polish Salad Recipes To Boost Your Nutritional Intake
Sure, coleslaw is good, but sometimes I turn to these recipes for the sake of change. Strong-flavored and dense with essential nutrients, you will love to have these salads anytime, anywhere.
Besides the amazing nutrition content, carrot also adds a nice crunch and color to various dishes, particularly salad. In this recipe, carrot is in its raw form, mixed with apple, fenugreek, and cumin, all rounded with the tartness from apple cider vinegar.
Nothing can beat beet, and I mean it. The vegetable is packed with many essential nutrients, and it has a unique flavor profile: rich, earthy, and a tad bitter. The salad is finished with a squeeze of lemon juice and can be enjoyed warm or cold.
Hear me out! This appetizer is for all the cucumber fans out there. Light, healthy, and refreshing, the Polish salad is a blend of your favorite ingredient along with red onions and sour cream. There's also dill for a subtle sweetness to the final result. Serve cold.
You get more than what you pay for with this hearty slaw. The flavors are genuinely irresistible thanks to the distinctive garlic taste of turkey kielbasa, which strikingly contrasts with the potato and coleslaw mix. All ingredients are jazzed up with a zing from mustard.
More Tasty Savory Polish Recipes You Should Try
A few more savory Polish recipes you have to try once in your life. Keep scrolling and let your jaws drop to the floor!
Although regarded as one of the staples of Polish cuisine, this dish used to face much rejection until Poland became the largest pork producer in Europe after World War II. The cutlets are coated with a bread mixture, fried until golden, and served with sauerkraut.
You will drool over this lip-smacking kotlet schabowy, let's see this video:
If you are looking for a Polish recipe that can feed a hungry crowd, here's your savior. This delicious casserole is made with bacon, potatoes, and cabbage, topped with layers of cheese (Polish Koldamer cheese is my suggestion), and baked until golden.
Here comes an easy one-pan recipe for a busy weeknight. Since cabbage is a blank canvas ingredient, it's a brilliant idea to cook it with kielbasa, which is prominent for its garlicky nuances. For the final touch, add mustard and vinegar to balance the flavors.
Haluski has many variations, but the two main ingredients that must be included are cabbage and noodles. Stir in the cabbage mixture when the noodles are al dente and let all the ingredients bathe in butter. Season with salt and pepper to taste.
Smoked Polish sausage and sauerkraut are an inseparable pair, and they are the two primary ingredients in many traditional Polish dishes. In this recipe, they are complemented with a creamy potato mash and sauteed onions for an easy breakfast.
These gorgeous cabbage rolls are a labor of love, but it's worth every minute as soon as you taste them. The flavor is unmatched, with juicy ground meat and tomato sauce making up the filling, wrapped with cabbage leaves that have been meticulously prepared.
These Polish cabbage rolls are deceptively simple and yummy, let's see this video:
Apart from the unique bouncy texture, these potato dumplings are effortless, and they are ready after only 20 minutes. This dish is often seen accompanying beef stew or roast meat. No matter which options you choose, make sure to never serve these dumplings alone.
Sweet Polish Recipes That Takes You Straight To Heaven
Even if you don't have any sweet tooth, you wouldn't want to skip these fantastic Polish sweets. The following recipes can be knocked up surprisingly quick, but guaranteed that the taste will linger in your mind for good. From bread, cake to crepes, what's on your mind?
During the holiday, the Poles love to treat their guests with this fruit compote, a tasty Polish beverage made with dried or fresh fruits boiled with a host of fragrant spices. For a dynamic pop of flavor, lace it with any strong liquor of your choice – my pick is brandy.
Instead of sugar cookies and chocolate eggs, the Poles celebrate Easter with babka, a simple but delectable dessert made with raisins and rum syrup. Additionally, Babka is a well-known dish in Belarus, although the Belarusians prefer the savory version.
Icing is optional, with choices like streusel or seeds, and the bread is garnished with extra warm syrup.
This babka is certain to hit all your senses. Let's make Babka in the chef level with this video:
Piernik is typically made during the festive season, but with its incredible taste, you will love to have it all year round. The classic dessert comprises layers of spiced cake, plum jam, and boozy walnut cream enriched with a soothing dark chocolate coating.
Nalesniki, also known as blintzes or filled crepes in plain English, is pretty thin and delicate, which is only acquired by making it with a professional crepe maker. Thus, these crepes are mainly rolled and filled with cream cheese or cherry sauce for a wonderful depth of flavor.
Originating in the Jewish communities in Poland, these crescent-shaped treats are usually thought to be the antecedent of the French croissant. Rugelach has many filling options, but cranberry is indeed one of the best – its astringency is perfect against cinnamon.
What's the difference between szarlotka and the American apple pie? It is less sweet, and the filling is just apples with no added spices. The result is traditionally dusted with icing sugar, but modern versions are topped with raisins or meringue, which are even tastier.
Pierogi is a legacy in the Polish dessert scene, and it would be a hard miss if I failed to mention it on this list. These dessert dumplings are filled with luscious blueberries combined with sugar and potato starch and served with sour cream and more sugar.
Light, crisp, and tender, it's not easy to say no to these terrific potato pancakes. Many mix-ins can be added to the batter before frying, namely bacon, garlic, or carrots, but those are left far behind when sour cream or applesauce is on the plate. Yummy!
When you want to cut back on the heaviness of cream cheese, let's make use of your plums and whip up this wonderful dessert. It's light, refreshing, and more than perfect. Here's a tip: Italian prune plums work best in this recipe because they hold their shapes well.
A soup made with strawberries and noodles – sounds weird, right? But, trust me, it tastes like nothing else in this world, and it's ideal for serving on hot summer days. You can serve it hot, too, with an extra dollop of sour cream for a full-bodied flavor.
Are you ready for more Polish pancakes? You will be surprised to learn that these call for yeast, which is used to create more body and enhance the flavor of the apples. These pancakes are an excellent Polish dish for breakfast, and you'll love to have them with some maple syrup.
Fat Tuesday, or Mardi Gras, in Poland is not complete without some paczki, a donut treat that dates back hundreds of years ago. If you have the chance to visit this country, you'll easily come across this sweet delight on Polish streets.
Apart from the pillowy texture, people are obsessed with them because of the toothsome filling made with jam, lemon curd, or chocolate.
With those hypnotizing swirls, there's no point fighting the temptation. Makowiec is a flavorful bread featuring poppy seeds as the main ingredient, along with nuts and raisins. Undeniably, the glaze is the cream of the crop, which is made with icing sugar and rum.
End your meal delightfully with mouth-watering makowiec, Let's make Makowiec with this video:
Polish Your Cooking Skills With These Polish Recipes
I'm sure that these decadent Polish recipes have made you hungry already, isn't it? With such robust flavors, it is completely understandable, and they will be a great chance of pace to your daily rotation.
I hope you have a great time learning about these authentic Polish recipes as well as cooking them. If you have any questions while making them, or if you want to share your results with other readers and me, go ahead and comment below. I'm waiting!
Nutrition Facts
5 servings per container
---
Amount Per ServingCalories211
% Daily Value *
Total Fat 10.1g

16

%
Cholesterol 10mg

4

%
Sodium 738mg

31

%
Potassium 647mg

19

%
Total Carbohydrate 24.6g

9

%

Dietary Fiber 3.7g

15

%
Sugars 2.6g

Protein 6.7g

14

%
---
* The % Daily Value tells you how much a nutrient in a serving of food contributes to a daily diet. 2,000 calories a day is used for general nutrition advice.