Have you ever looked at your everyday sweets and wondered why donuts have holes? It has been a trademark for donuts for a very long time. And if you are a fan of donuts, this should be a topic that interests you.
Today, with this article, let us go on a little adventure about some interesting facts about this much-beloved cake. I'm sure you will be quite surprised about those simple things you still have yet to know.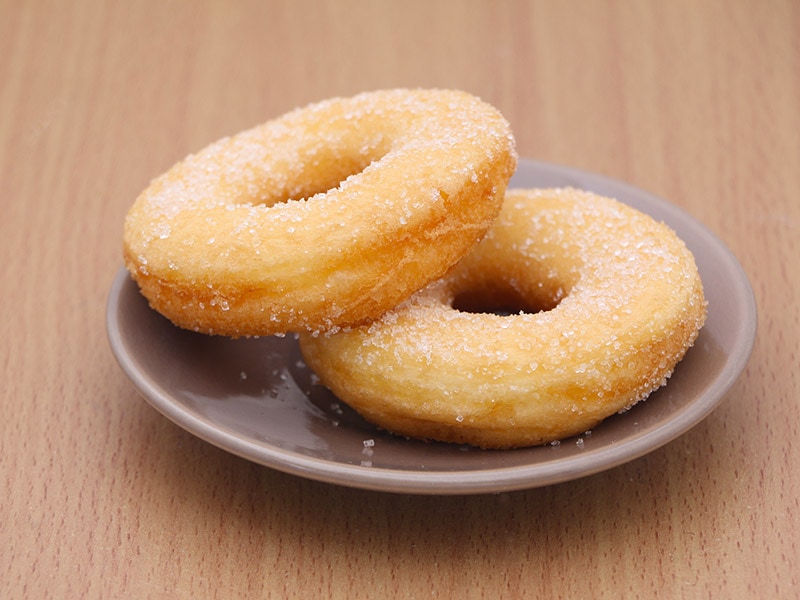 What Are Donuts?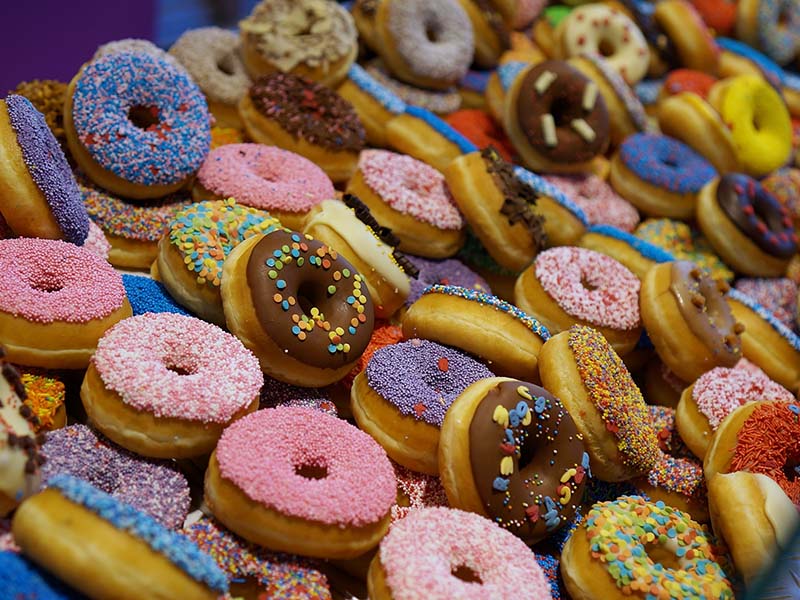 I think this is probably not the first time you have heard about donuts. That just shows how popular they are. Although not everyone knows how donuts get their name, just mention "donut" or "doughnut" and people will immediately think of them.
Donuts are made of leavened fried dough, mainly flour, eggs, sugar, and oil. They have a wide range of flavors and toppings that are very attractive to many people.
The two basic methods of making donuts are frying or baking. Nowadays, more and more people choose baking as a homemade method since it doesn't consume oil and is better for their health.
Usually, people divide donuts into two main types based on their shape: ring donuts and filled donuts. Ring donuts are the typical ring-shaped cake you often see on the media or display at many stores. They are the representative of all donut varieties in the world.
Compared to the ring donut, filled donuts are much simpler, just flattened spheres injected with jam, custard, cream, and other fillings. Then, chefs will dip them into sugar for more flavor. (1).
Although you can make donuts at home, many Americans choose to buy them from donut shops. Famous donut chains like Dunkin' Donuts have plenty of menu choices with numerous stores located throughout the country.
Besides Dunkin' Donuts, Krispy Kreme is another popular option for avid donut lovers. Krispy Kreme offers great variety in their menu, and all the donuts are made in-house, meaning that you get to enjoy fresh donuts every time!
Why Do Donuts Have Holes?
Obviously, this question is for the ring donuts with their signature ring shape and a hole in the center. There are several theories for the answer, but I will give you the most reasonable ones here.
For Better Cooking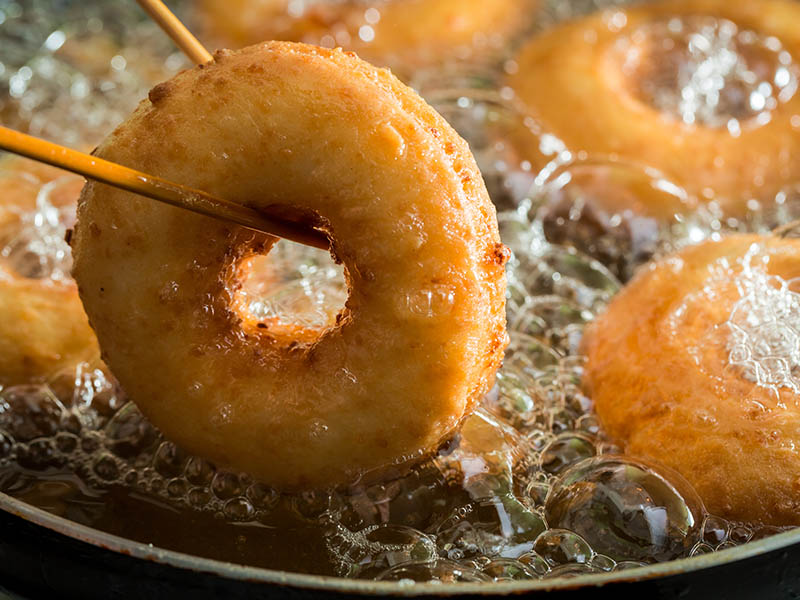 Once added with egg and oil, the dough will become very rich, making it hard to cook evenly. The outside is cooked faster than the center, resulting in the crispy layer, but the inside is still raw.
Cooking longer will burn the outside while the inside is still undercooked. Thus, punching a hole in the center will allow both sides to be cooked evenly. This has become a tradition for donuts ever since.
Just For Convenience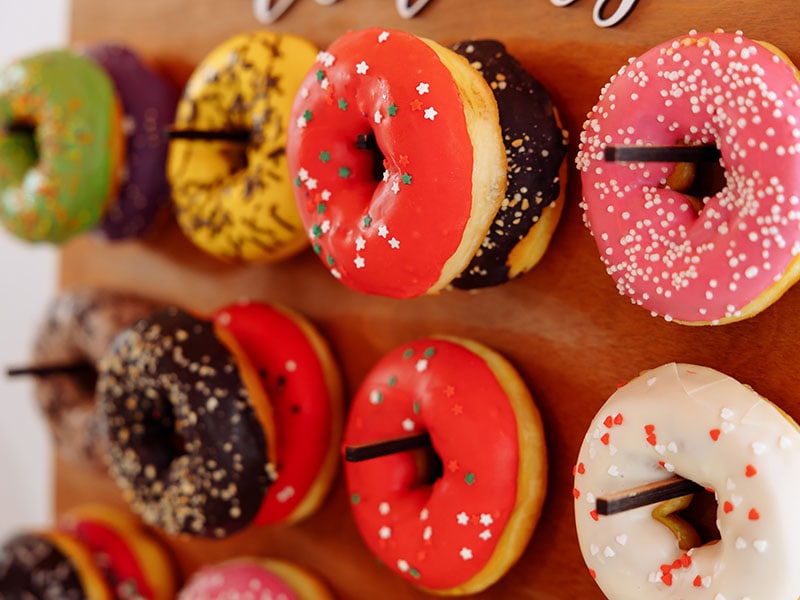 Another theory applies to when bagels and the likes reached their peak of popularity. At those times, the bakery usually put a hole in them to easily hang them on a string or put them on a stick.
People think that donut sellers also learned from this convenient method and made use of it. Therefore, the donut gains its unique trait like today.
Donut Holes, An Unexpected Treat
At first, the leftover dough from the donuts hole tends to be discarded, but some stores don't want to waste it. They decided to make those leftovers into a small snack, thus donut holes.
Although they are usually considered a by-product of donuts, they have become something more over time. Donut holes can be made as a separated product by frying small dough balls then adding various toppings.
They now have become a popular sweet that is no less amazing than the original donuts. Due to their size, donut holes are faster to make and easier to enjoy as a snack. And many people even prefer them over donuts because of this.
Donut holes are an unexpected gift that comes from donut
Types of Donut Holes
When they have become so popular, the people demand more of them. Other types of donut holes have been developed to satisfy them.
The ingredients and flavor can differ depending on the country and region. But most of them still have the same traits of donut holes: small, bite-sized, and easy to consume as a light snack.
Here I will show you some of the most popular types of donut holes.
Zeppole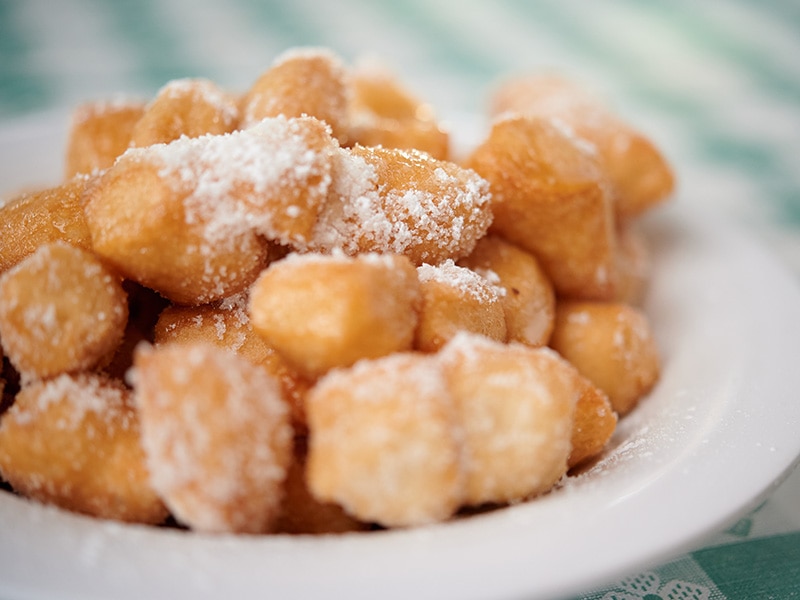 This is a kind of fried dough ball that comes from classic Italian gastronomy. It is various in size, but typically 4 inches. People top Zeppole with sugar and fill it with custard, jelly, cream, or honey butter. All Italians love this famous sweet.
Lokma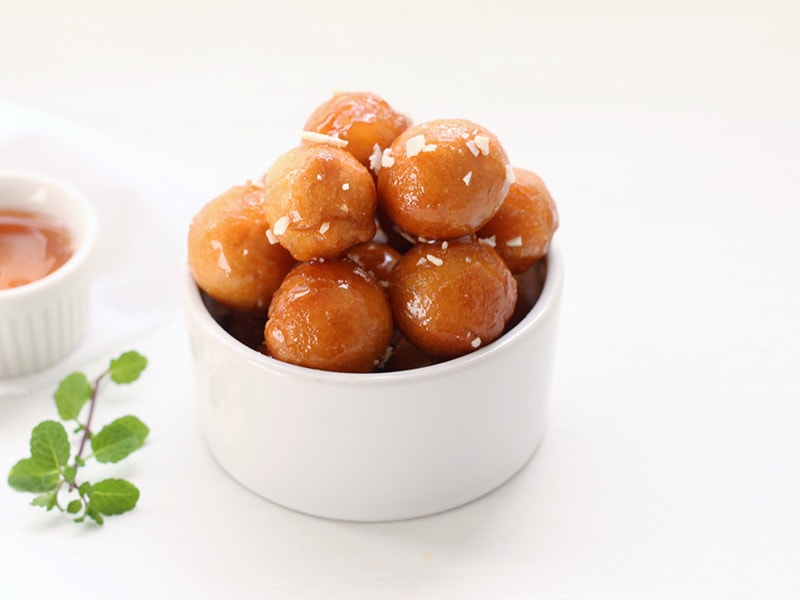 Another bite-sized, fried dough but this time, it's a recipe from Greece. It's made from deep-fried dough coating with syrup or honey and other flavors. The characteristic is pretty notable with the crispy, golden layer and soft, puffy outside. 
Most of the time, Lokma can be served with sprinkled walnuts and cinnamon for decoration.
Nun's Puffs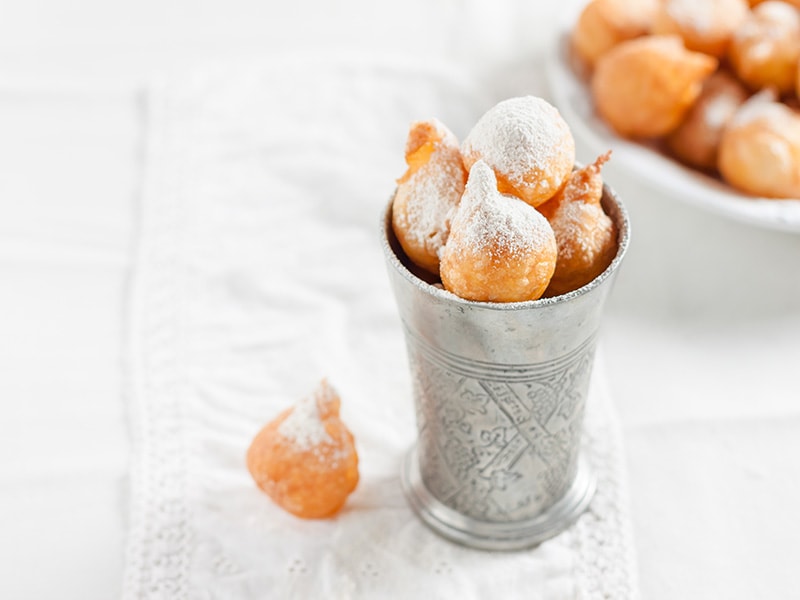 They are desserts that have origin in France, where they are usually called Pets-de-Nonne. The main ingredients of Nun's Puffs are choux dough, milk, sugar, eggs, and sometimes honey. They are available for both frying and cooking. (2)
Beignet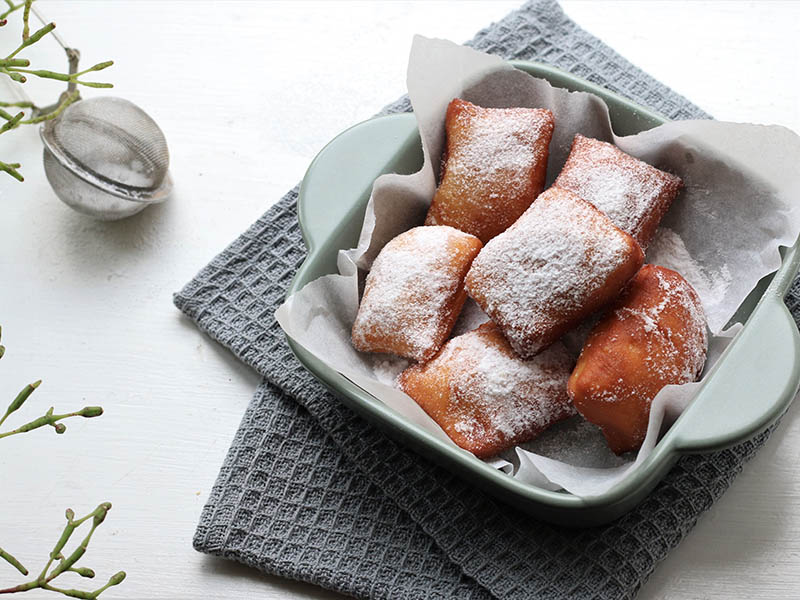 Beignet is the successor of Nun's Puffs, commonly known in New Orlean. Just like its predecessor, Beignet is a deep-fried choux pastry, but you can also make it from yeast pastry. It is a famous dessert in New Orlean, sprinkled with powdered sugar, and hardly anyone can ignore it.
Ricotta Donuts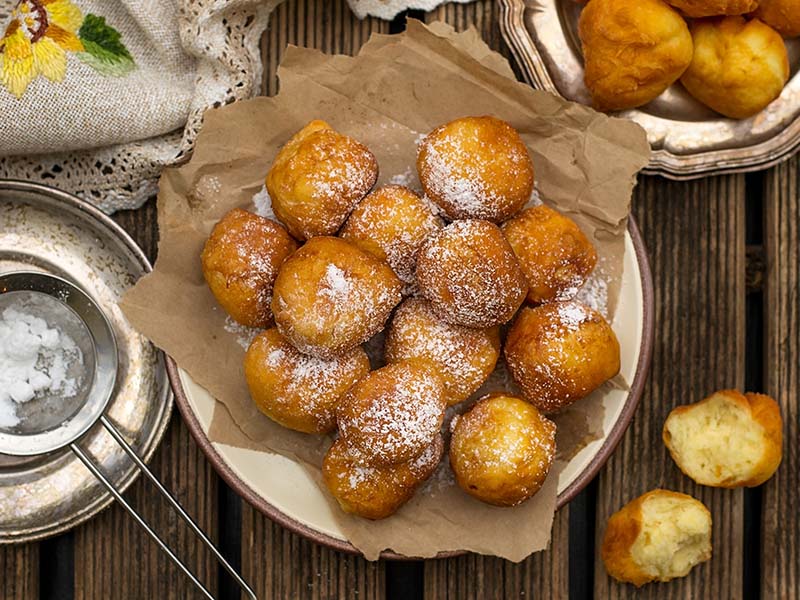 These are some of the easiest donuts to make, with no raising or shaping required. Ricotta donuts just have the same basic ingredients like flour, egg, sugar, oil, and the addition of ricotta cheese.
They are crispy, soft, and sweet, just like many other types, and have their own unique taste of ricotta cheese as the filling.
Homemade Donut Holes
As you know, donut holes are relatively easy to make, even at home. You just need some simple ingredients like flour, egg, milk, oil, together with a frying pan.
Mix flour, sugar, baking soda, salt into a bowl, then stir in the egg, milk, and vanilla. Stir them for 1 or 2 seconds, put melted butter in to continue. After a while, they will form into a thick dough, and you can use your hand to knead them into balls of equal size.
Pour a good oil type for frying donuts into a large pan, and heat it until 350 degrees Fahrenheit. Use a clip or metal spoon to drop the dough balls into the pan one by one. Fry them for about 2 minutes, and you can remove them from the oil.
Place them on a dish with kitchen papers to drain the oil and let them cool down. Depending on your preferences, you can dip them into sugar, coat them with chocolate and cream o,r fill them with any sweet sauce.
After finishing, they will be one of the best desserts and light snacks you can make at home to enjoy with your family.
You can make these delicious donut holes with just some simple steps
FAQs
As usual, to end the article and give you a clearer answer, this section will provide you with some extra information.
It's Not Just About The Shape
Although you may think donuts are most famous for their ring shape with the hole in the center, it's actually more than that. Appearance is important because that's their signature so that everyone can recognize them easily.
But it is the taste and quality that make people stay with them. Thanks to the constant development and adaptation, even a simple thing like donut holes can become a favorite snack. That's the real reason why they can be so popular even till now.
If you think this answer satisfies you, please share this article with everyone and maybe you can discover even more interesting things together with them.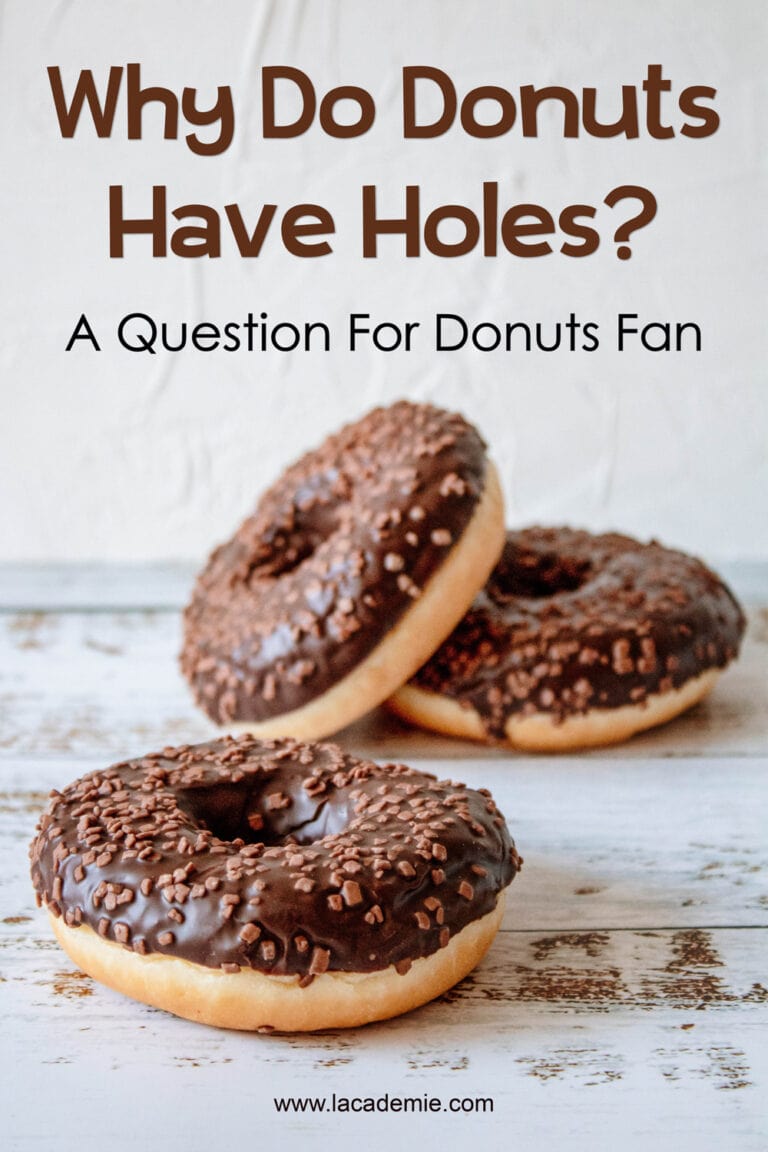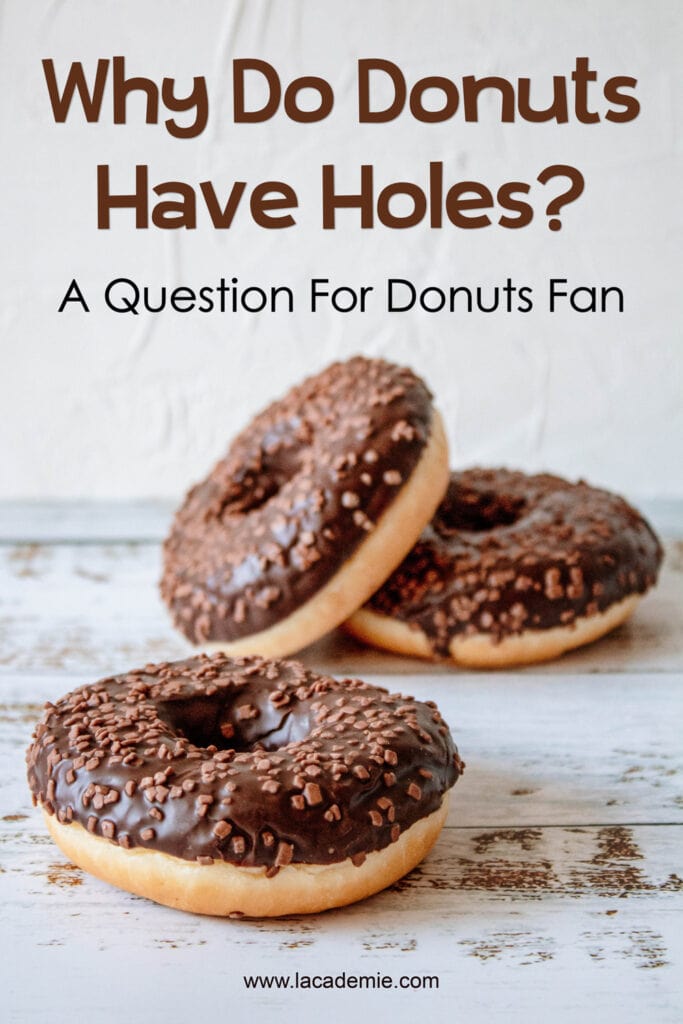 References
En.wikipedia.org. 2022. Doughnut – Wikipedia.
En.wikipedia.org. 2022. Nun's puffs – Wikipedia.