All donut lovers out there know that learning how to keep donuts fresh is key to being able to enjoy their amazing taste for longer. After all, there is nothing more satisfying than having a nice, yummy, freshly baked donut.
Whether you have baked them yourself with a top-ranking donut maker or you bought them from a store, donuts are the best little treats for your tummy that will make you feel better as soon as you eat them.
However, in some cases, you can bake or buy too many donuts and in such a case, you have to quickly figure out what to do with them.
If you find yourself in a similar situation, the first thing you should do is find out how to store the donuts to keep them from going stale. Today, I will share with you some of the best ways to keep donuts fresh and the best storing techniques. So, without further ado, let's get into it.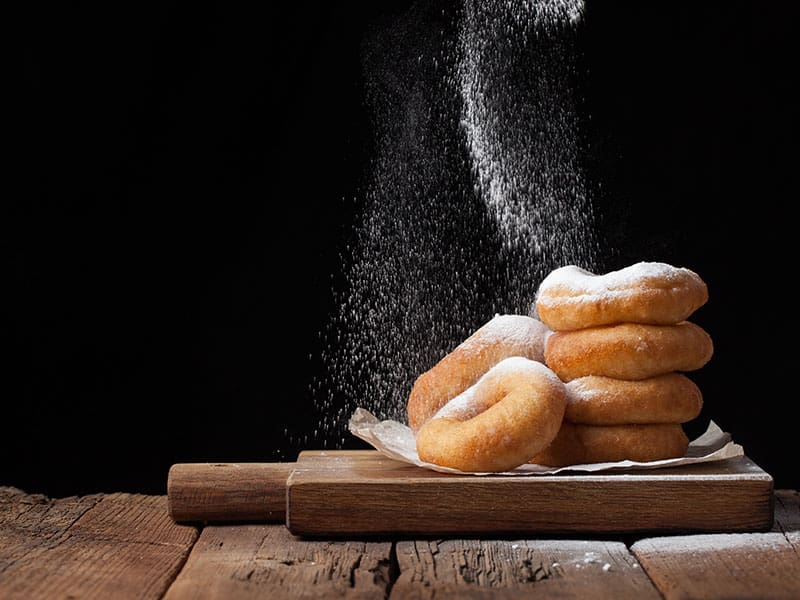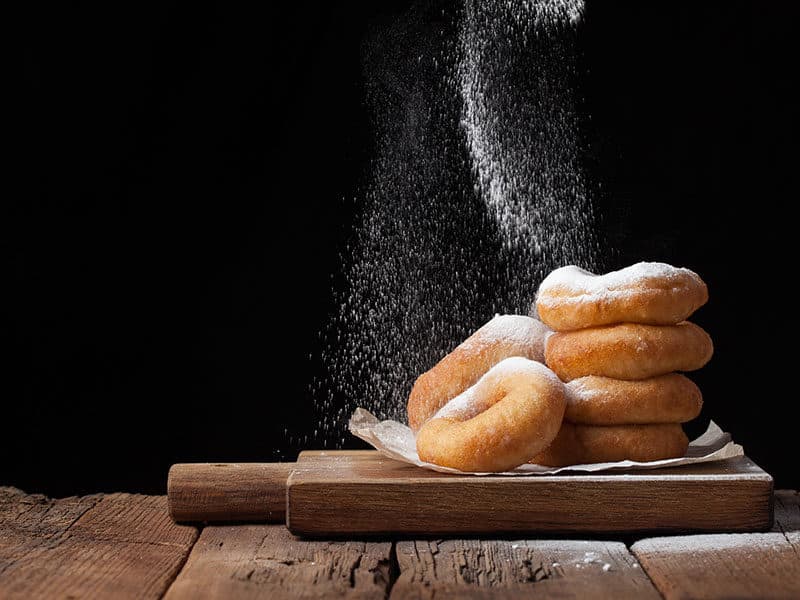 How Long Do Donuts Stay Fresh?
When it comes to how to keep donuts fresh, it is important first to know how long they last. There is not an easy way to say how long a donut would last. It mostly depends on the type of donut, the place where you store it, as well as the ingredients used.
Generally, I would say that donuts last only 2 days when left at room temperature. However, you can make them last longer if you put them in the fridge. In that case, the donuts will last up to a week.
With that being said, donuts that are glazed or filled will always last a few days less than plain donuts. Even if you store glazed or filled donuts properly, always make sure to check if they are still good before you eat them.
How Long Can You Keep Donuts In The Open?
If left in the open, donuts will last only a couple of days. Fresh donuts will stay fresh for longer than filled donuts in a case like this.
With that being said, you can try to wrap the donuts with some foil or plastic to make them fresh for longer if you are not planning on putting them in the fridge or the freezer. This will keep them from drying out.
If you want to keep the donuts fresh for longer, you will need to store them properly and not keep them in the open. This will help maximize their lifespan.
Can You Use Airtight Containers To Store Donuts?
Using an airtight container is always a good idea no matter if you are planning on freezing your donuts or keeping them out in the open. Don't know if it is possible to freeze donuts? Luckily, they can freeze well in the freezer.
In all cases, using airtight containers will keep the donuts fresh for longer. This type of container will keep the donuts from drying or getting wet.
If you do not have such a container, you can always go for a storage bag that you can vacuum seal.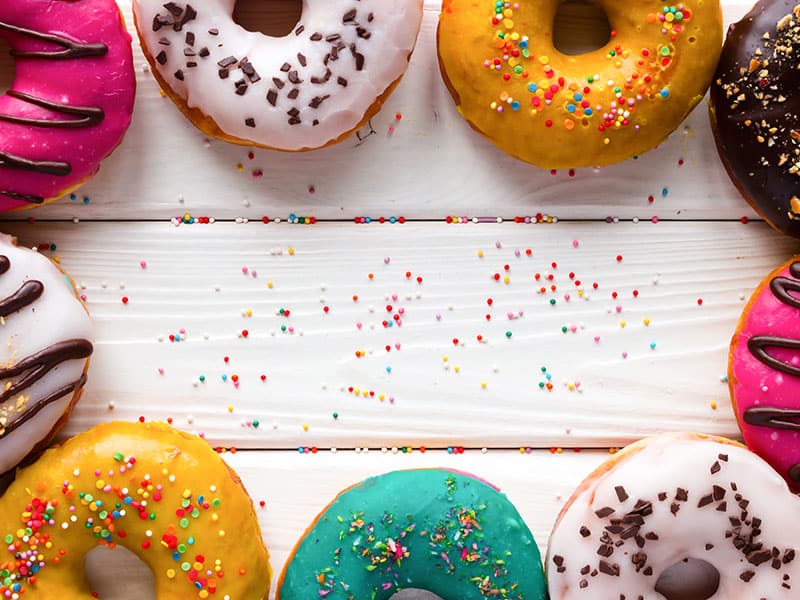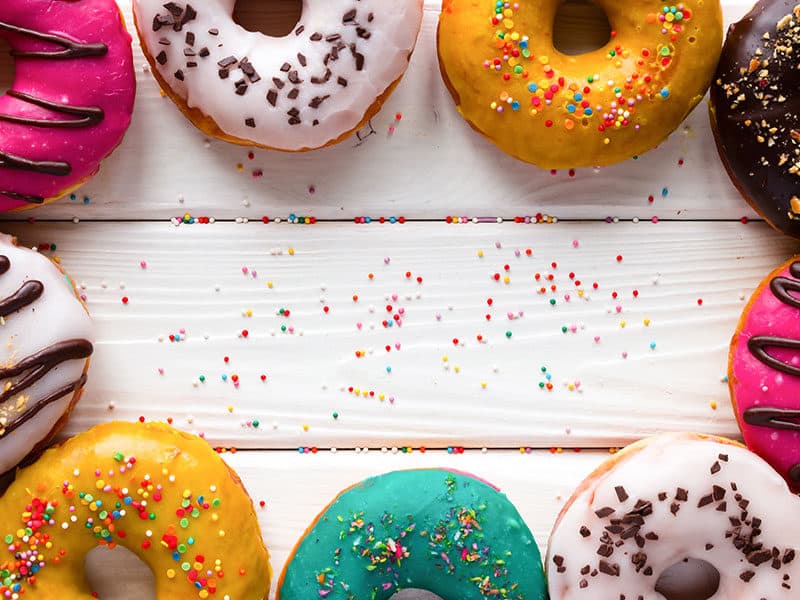 Why Do Donuts Go Stale So Fast?
Before going any further into the discussion about how to keep donuts fresh for longer, I would like to talk a bit about why donuts go stale so fast. Well, one of the main reasons for this is the absence of preservatives.
When you leave donuts out on the open, they start to dry out quickly as the moisture from the donut and the moisture from the air start to intertwine. This causes the donuts to start going bad quickly.
If you want to protect your donuts from going stale, you should keep them away from moisture, air, as well as heat. Keeping them stored in a cold and dark place should also do the trick!
How To Revive Stale Donuts?
Even if you use all your knowledge on how to keep donuts fresh, some donuts will not last more than a couple of days. Once they are stale, you will not necessarily need to throw them away – you can also heat them and eat them!
If you have a stale donut on your hands, the best thing to do is to put it in the microwave. Heat the donut in intervals of 15 seconds, and check to see if it is soft enough for you.
For those who do not have a microwave, you can also try reheating them in the oven or toaster oven.
In fact, there are different characteristics between toaster ovens and microwaves, but these kitchen appliances can warm your food perfectly. And always keep an eye on the donuts while it is heating because you will not want to keep them in there for too long.
Watch this video to know more:
How To Keep All Types Of Donuts Fresh?
Donuts come in various versions with different ingredients. They can be in American, European, or Asian style, like those in Korean sweet course menus. And the proper way to keep donuts fresh will depend on the type of donut.
First of all, there is a big difference between the donuts you make at home and the ones made in a donut shop. Then, there is a difference between cake and yeast donuts, as well as donuts that have filling or icing.
Depending on the specific type of donut, you can do something to make it last longer and taste fresher. Let's go over some handy tips and tricks to keep all types of donuts fresh for longer!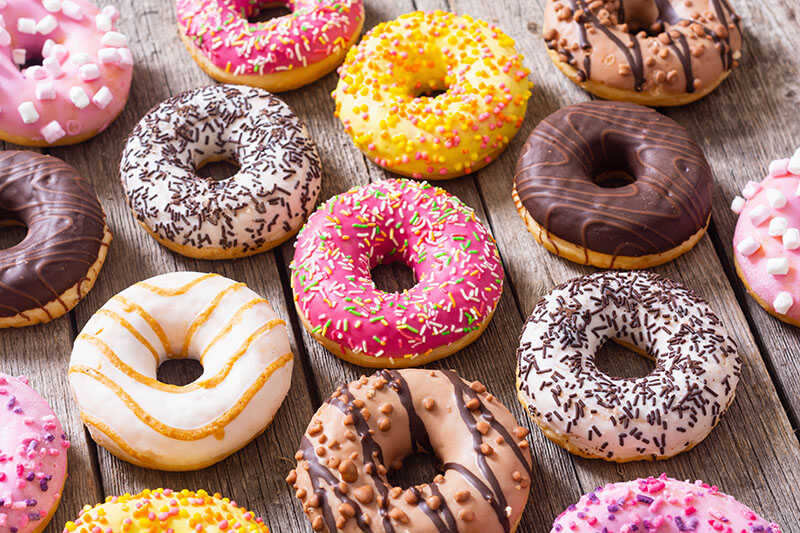 1. Cake Donuts
Cake donuts are some of the easiest donuts to store. The only thing you need to do is wrap them in plastic or put them in an airtight container.
If you wrap the donut properly, it can last for as long as five days when left at room temperature, while it will stay fresh for even longer if you refrigerate it. The only thing to look out for is not leaving the donuts in the sun or the heat because that will make them go bad sooner.
2. Yeast Donuts
Yeast-raised donuts last only a couple of days when at room temperature, or up to 4 days when in the fridge. It is best to put them in airtight containers or wrap them in plastic foil, you can also put them in aluminum foil but it will not do as good a job at protecting them.
Yeast donuts tend to be fluffy and very light, so they will dry out a bit faster. This means that you should protect the donuts as soon as possible because they will turn stale even if left only overnight!
3. Donuts With Filling
Donuts are usually filled with cream or jelly, even pudding in some cases. While this contributes to the moisture of the donut, which can make it last longer, it will also cause the donut to go bad faster.
Too much moisture will cause the donut to go bad. This means that filled donuts will have to be stored properly if you want to eat them days after you make them.
Keep the donuts in the fridge and stored them in an airtight container. You can enjoy them for 3 to 5 days this way. This is necessary no matter what kind of filling the donut has. Trust me on this one!
4. Donuts With Icing
When it comes to donuts with icing, it might not be the best idea to store them in a fridge. The reason for this is that the fridge creates a moist environment that causes changes in the glaze of the donut.
Once the glaze gets absorbed into the donut, it will become all sticky and messy. If you want to avoid this, do not place the donut in the fridge – instead, try keeping it at room temperature.
This means that you will have to wrap the donuts or place them in a plastic bag. Make sure to keep them like that for only a couple of days because they will start to go bad after that.
How Do You Store Donuts At Home?
One of the most important steps to learning how to keep donuts fresh is learning how to properly store them. From aluminum and plastic wrapping to containers – there are so many things that I want to talk to you about.
If you want to learn more about proper storing techniques, make sure to keep reading, as I will cover all that you need to know about storing donuts at home.
1. Keep At Room Temperature
If you want to store donuts at room temperature, you will need an airtight container. Find the best and most effective freezer containers that will keep your donuts from going stale.
You can also use a storage bag to keep the donuts in. In this case, you should try to get as much air out of the bag when you are storing the donuts, possibly even seal the bag with a vacuum sealer.
Wrapping the donuts in aluminum foil or plastic wrapping is also a great way to keep them fresh on the counter.
2. Store In Refrigerator
This is a very good idea because it can make the donuts last for up to seven days. It is advised to always put cream-filled donuts in the fridge because it will keep them from going bad.
When you put donuts in the fridge, you should wrap them in foil first or put them in an airtight container. You can also place the donuts on a plate and cover them with plastic wrap. If you still have the original donuts box, you can put them in it and wrap the box with cling film.
Stir clear from plastic bags, as they tend to turn donuts into a mess because of the moisture that is trapped in them.
3. Freeze Donuts
Freezing donuts is not a good idea unless you are planning to keep the donuts for at least a couple of months before you eat them.
If you want to freeze donuts, you should first place them on a lined baking sheet and freeze them on the sheet for about four hours. Once those four hours pass, you can transfer the donuts to an airtight container. Make sure to seal the container properly and place it in the freezer.
Even though donuts can be frozen for up to three months, it is not advised to keep donuts for as long. You should try to eat them before those three months pass.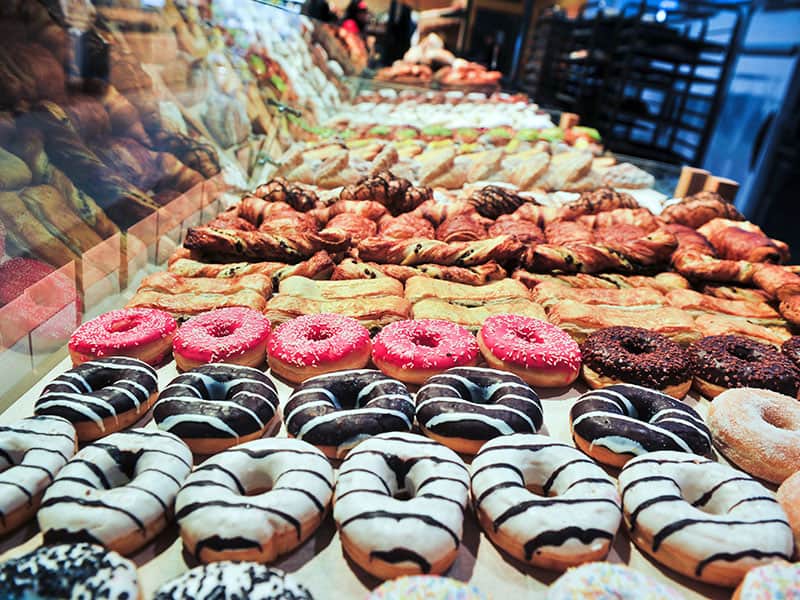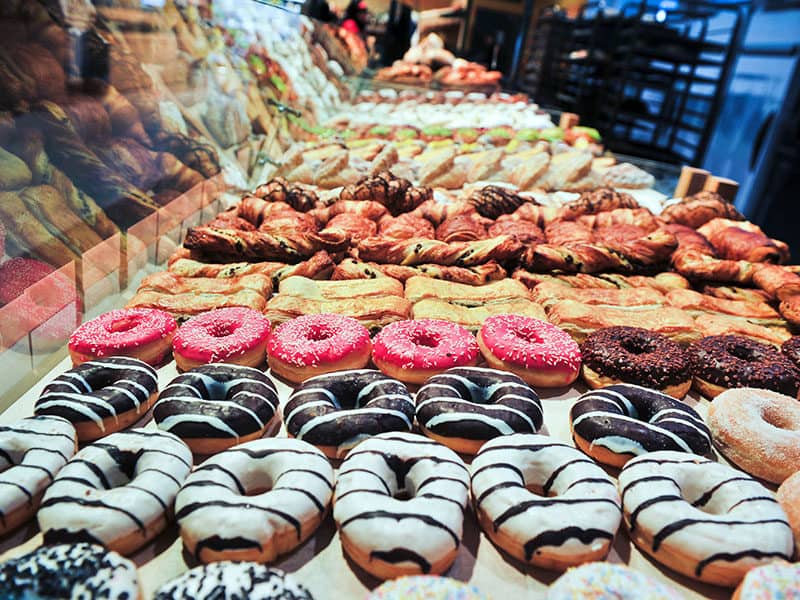 Do Homemade Donuts Stay Fresh Longer?
I have mentioned before briefly that there is a difference in how to keep donuts fresh when it comes to homemade donuts and store-bought ones.
For one, when you make donuts at home you are in total control of the things you use. You know what kind of ingredients you are using, if they are fresh or not, or if there is anything bad in the donut mixture.
On the other hand, with bought donuts, you do not know what has been used in the making. There might be some ingredients that are not good for you or that might cause the donuts to go bad quicker.
My advice is always to try to make the donuts at home. There are also other ways to prepare donuts without the help of donut pans in case you don't have them on hand.
Or you can use a donut maker that will make things easier for you. Or the last option, go to a trusted shop and buy ready-made donuts!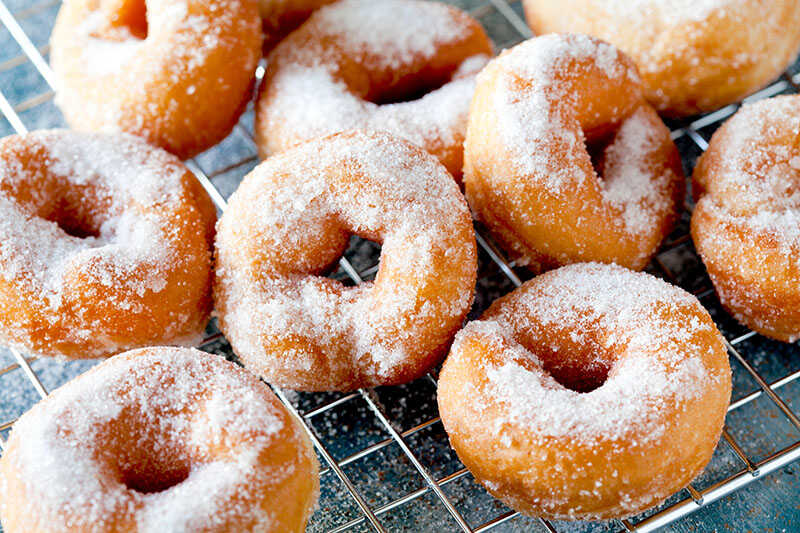 Watch this video to know more:
Why Do Glazed Donuts Get Wet?
In addition to learning how to keep donuts fresh, you should also learn how to keep them from getting wet or sweating. This usually happens with glazed donuts, as a result of the sugar that has been used in the glaze.
As it happens, the glaze starts to melt after some time and it shows on the donut in the form of sweat. This is not something bad so if you see your donuts getting wet, do not worry about them, as they are still good for eating.
Are Stale Donuts Bad For You?
Every so often, you can forget a step when learning how to keep donuts fresh and that results in your donuts going bad or stale. If you are wondering what to do with stale donuts, the best answer is to just throw them away.
In case the donuts are only a couple of days old, you can try to reheat them and eat them. However, if they have been laying around for longer than that, you should throw them away without tasting them.
If you are not sure how old the donuts are, check to see if they smell bad or if they show signs of mold anywhere on them. In case you see that they are already turning bad, you should throw them away.
Eating moldy donuts can cause many problems, including stomachaches and diarrhea. You will want to avoid this at all costs as that can lead to additional problems.
FAQs
Last but not least in my detailed guide on how to keep donuts fresh, I would like to mention some of your most frequently asked questions. I hope that these answers will help you make good decisions when it comes to donuts!
All You Need To Know About Keeping Donuts Fresh!
I hope that my guide helped you learn how to keep donuts fresh and all the storage techniques that you can use to get the most from them. From homemade to store-bought donuts with filling or glaze or anything else, this guide will help you learn everything you need about the durability of all types of donuts.
If you have any tips or tricks on this topic that you would want to share, please do not hesitate to share them in the comment section below! All advice is welcomed!
Nutrition Facts
12 servings per container
---
Amount Per ServingCalories192
% Daily Value *
Total Fat 10.3g

16

%
Cholesterol 14mg

5

%
Sodium 181mg

8

%
Potassium 46mg

2

%
Total Carbohydrate 22.9g

8

%
Protein 2.3g

4

%
---
* The % Daily Value tells you how much a nutrient in a serving of food contributes to a daily diet. 2,000 calories a day is used for general nutrition advice.