Vietnamese noodle salad with shrimp is a flavorful and refreshing dish that brings together the unique tastes of Vietnamese cuisine. This salad features delicate rice noodles, perfectly cooked shrimp, and a variety of fresh herbs and vegetables.
Everything is tossed together in a fish sauce dressing that perfectly balances sweet, salty, and sour flavors. Whether you're looking for a health-giving recipe or an impressive salad to share with your loved ones, this Vietnamese delicacy is a sure win.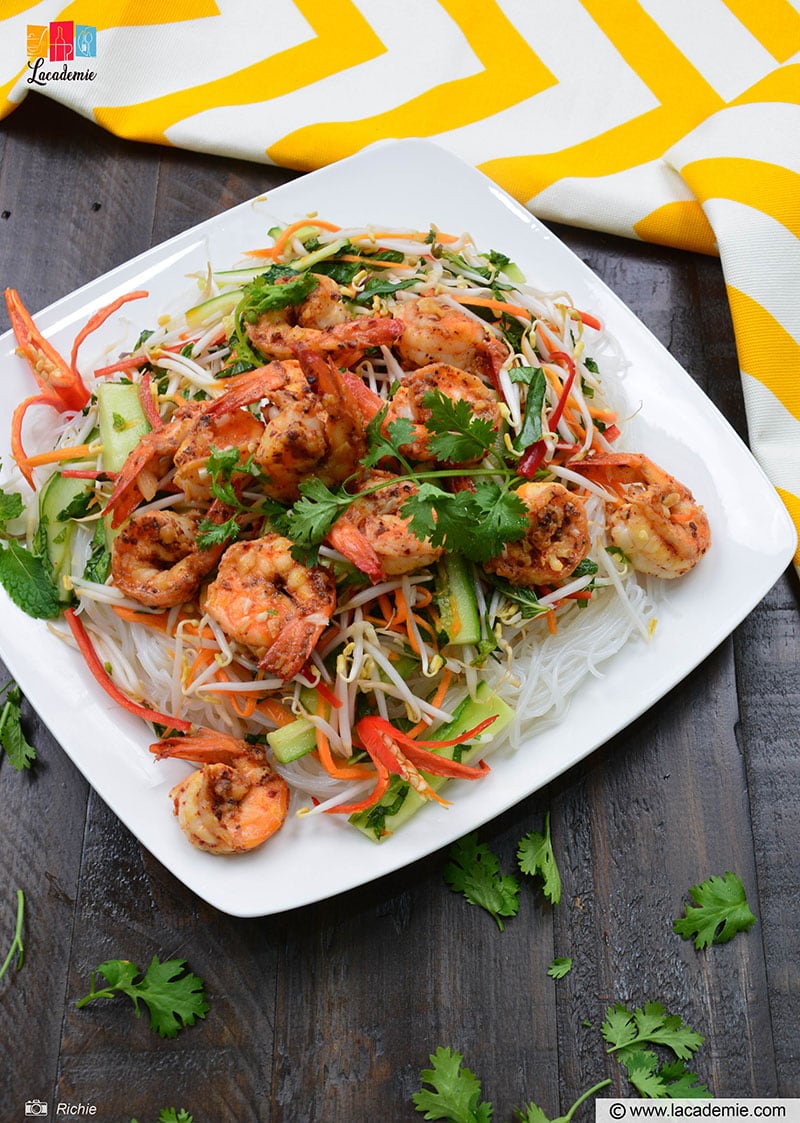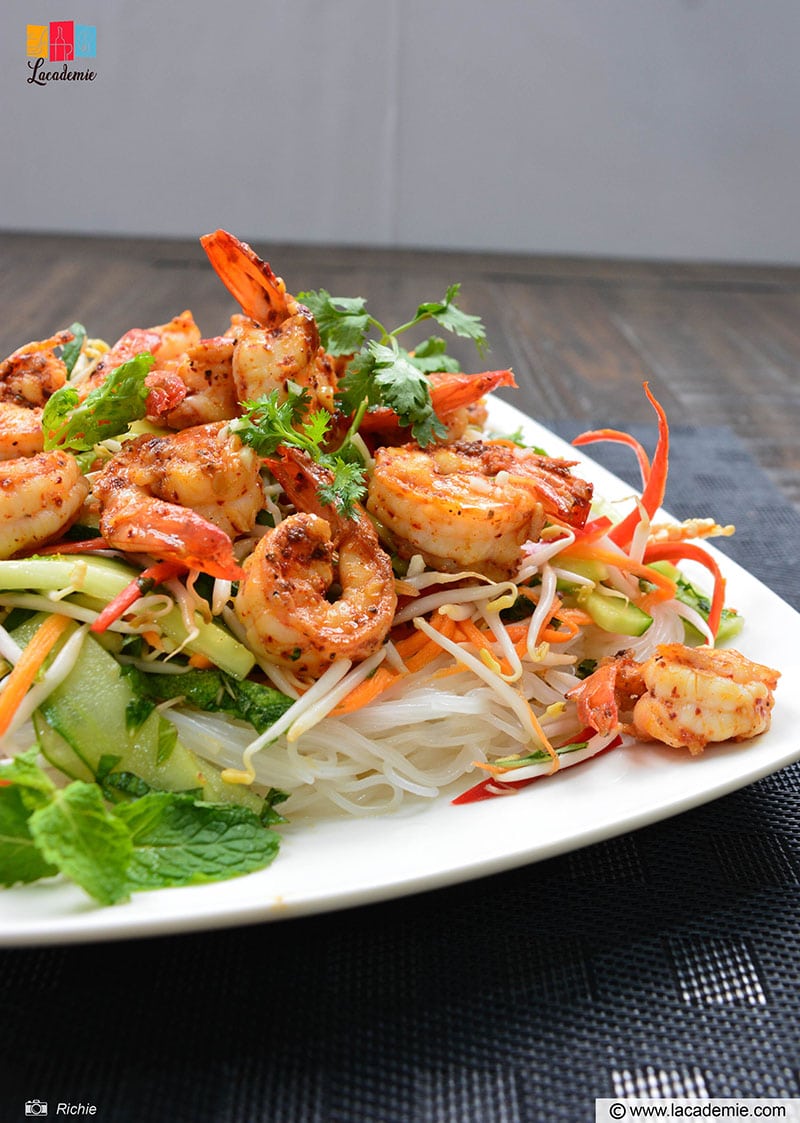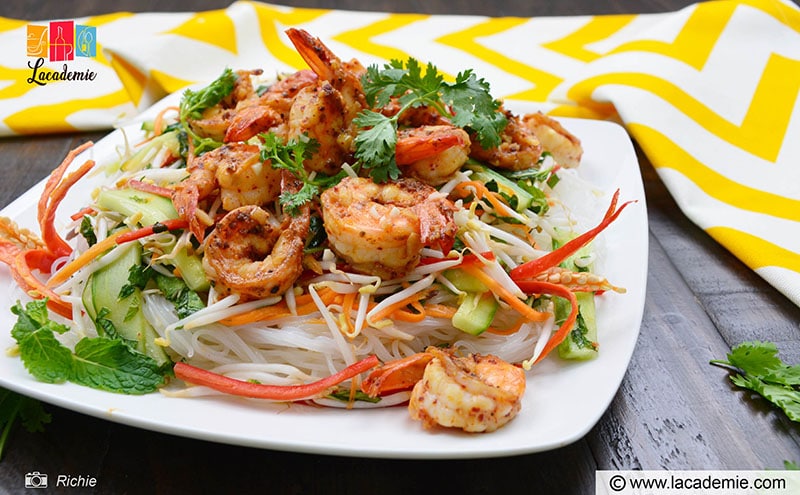 Reasons You Have To Try Vietnamese Noodle Salad With Shrimp
There are many reasons why you should definitely give Vietnamese noodle salad with shrimp a try. It's a dish that will light up any meal and impress your guests or families with its bold flavor, which is a combination of sweet, sour, and salty, and stunning presentation.
Each bite is bursting with the freshness of carrot, bean sprouts, cucumber, and aromatic herbs tossed in an impeccable fish sauce-based dressing. At the same time, the tender shrimp adds more protein to the dish. With the addition of noodles, this salad can easily double as a full meal.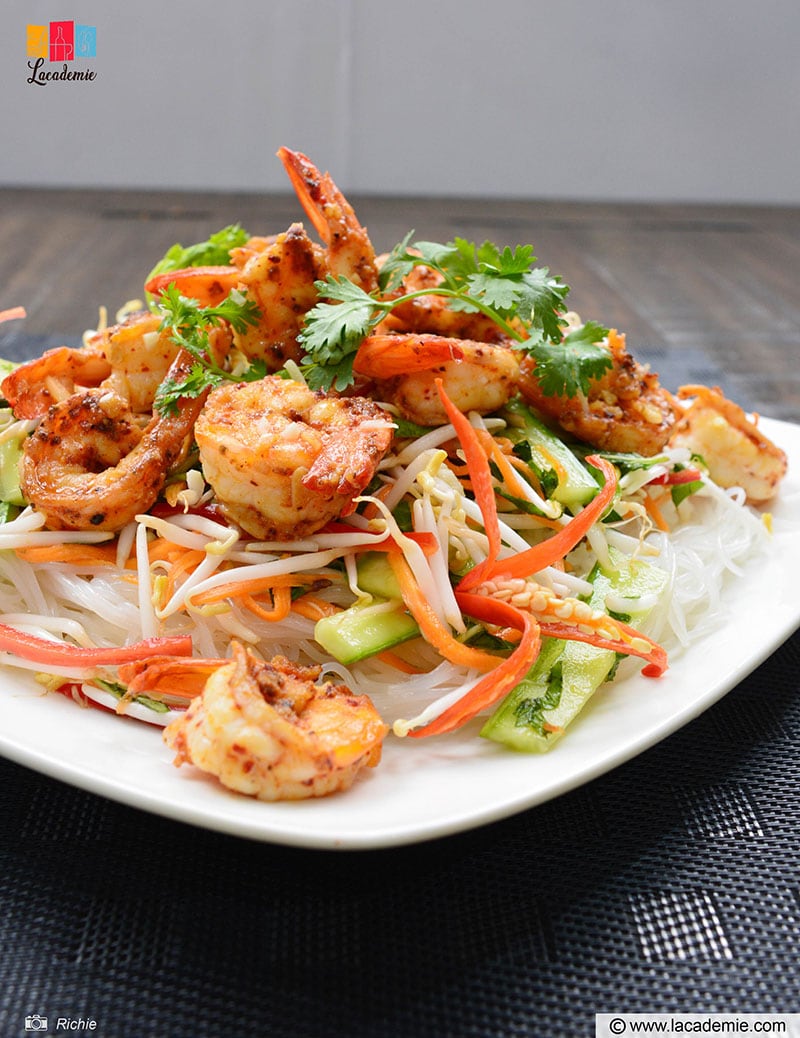 Tools
This recipe asks for only a few tools. Even if you're missing one or two, they're all basic tools that you can easily purchase.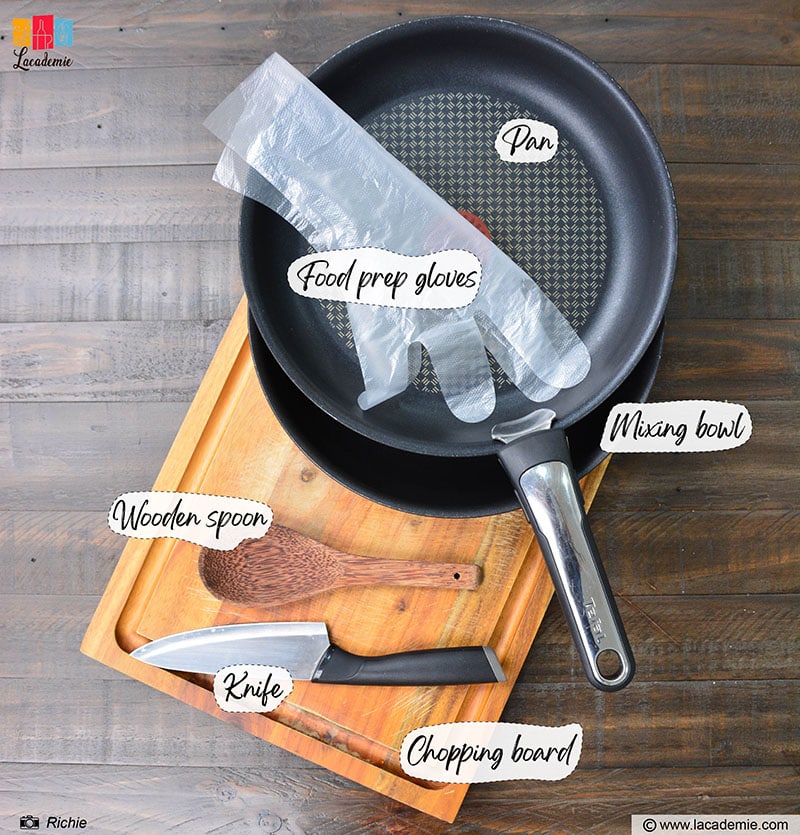 Pan: For sauteing the shrimp.
Knife and chopping board: A well-maintained set of knives and chopping board will help you cut through any ingredients with ease.
Wooden spoon: For stirring the ingredients.
Mixing bowl: You should use a large bowl that allows you to toss the vegetables comfortably.
Food prep gloves: Helps you toss the salad without your hands smelling like fish sauce.
Ingredients
Using the right ingredients is the vital step to creating a delicious dish. Here are the key ingredients you'll need for this recipe.
Shrimp: Dried shrimp is an acceptable alternative if you are running short on time.
Vegetables: Cucumber, carrot, and bean sprouts. These three kinds of veggies make the dish look and taste incredibly refreshing.
Cow horn chili pepper: Go for the mild types if you don't like spicy food.
Vermicelli noodles: Fresh noodles are obviously the best option, but dried noodles also taste great and are easier to find.
Butter: I use unsalted butter.
Herbs: Thai basil and spearmint. You can also add laksa leaves and cilantro to the mix.
Spices: Brown sugar, pepper, salt, vinegar, and red pepper powder.
For the dressing: Fish sauce, lime juice, brown sugar, garlic, chili pepper, and warm water.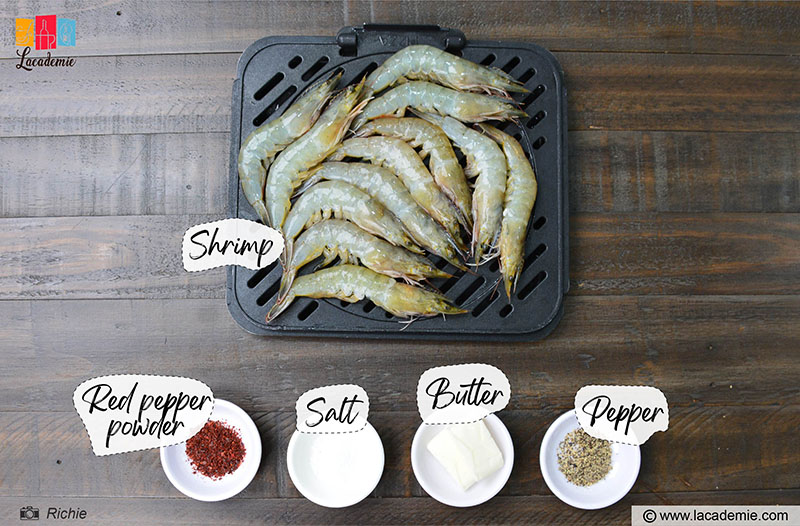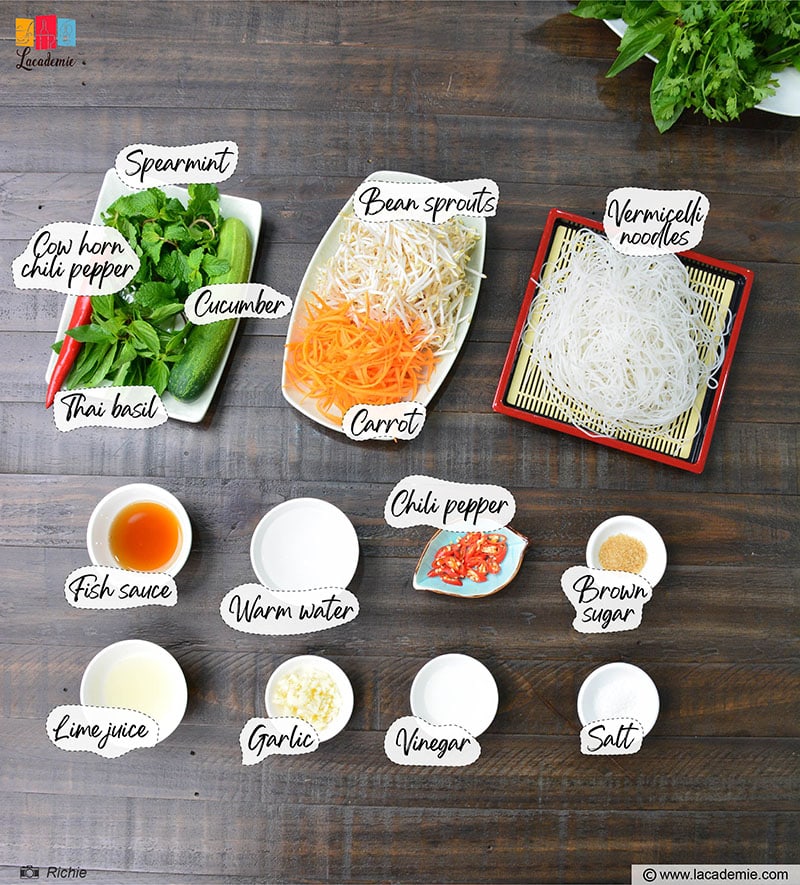 Directions
In this section, I'll guide you through the steps to make a plate of irresistible noodle salad and enjoy a taste of Vietnam in your own kitchen.
Step 1: Prepare The Ingredients
Chop the spearmint and Thai basil into small pieces.
Shred the carrot into thin sticks. Core the cucumber and julienne it. Remove the seeds from the cow horn pepper and julienne it.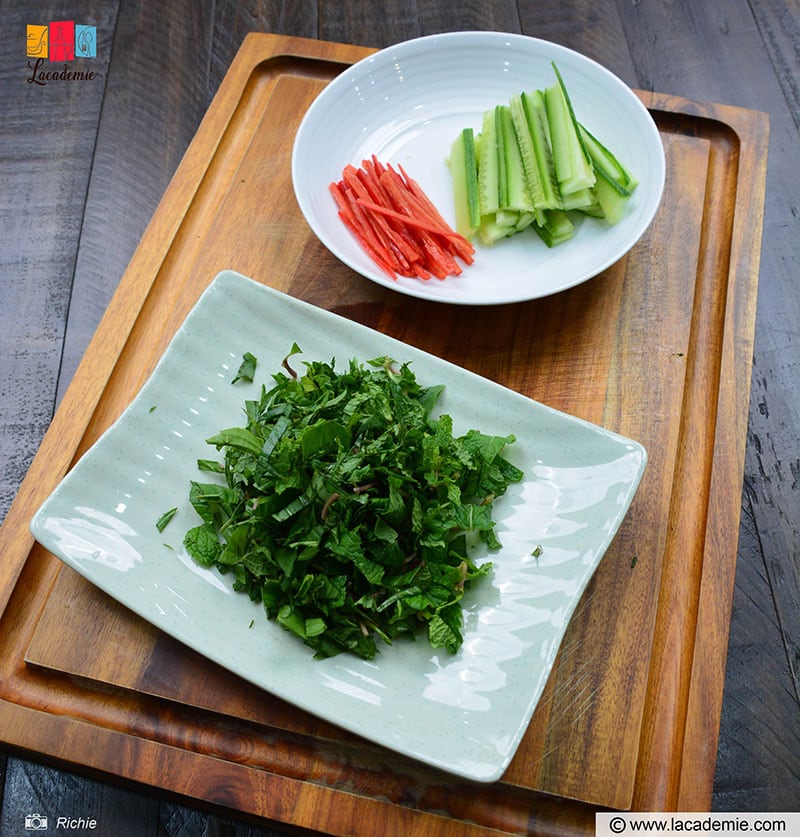 Clean and remove the shrimp's heads and veins. It's important that you learn how to clean shrimp properly to avoid food poisoning.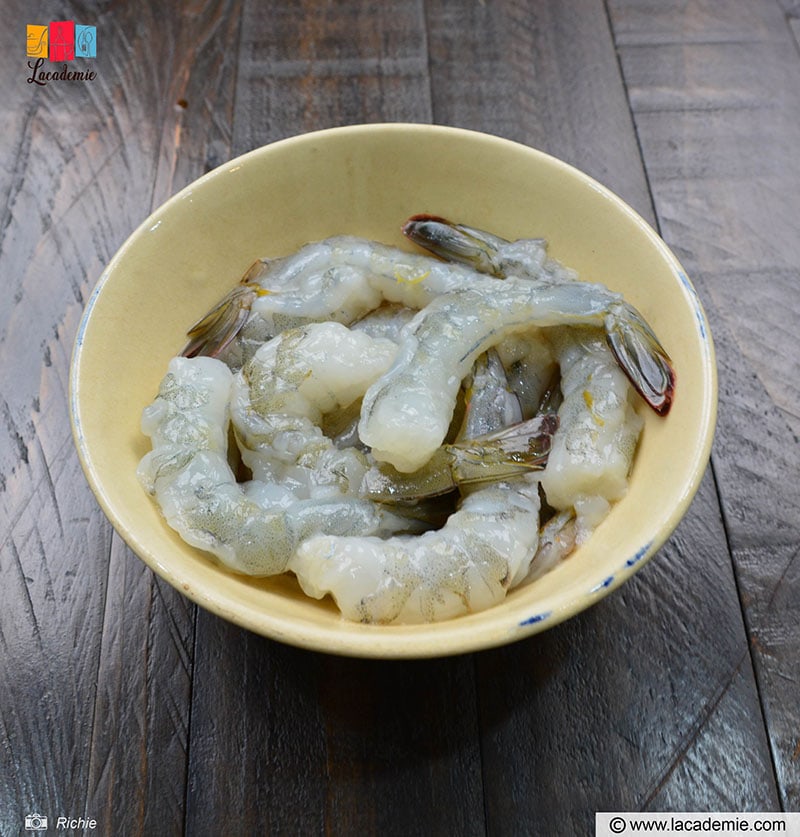 Put the carrot sticks, bean sprouts, cow horn pepper, and cucumber in a mixing bowl. Season the vegetables with 2 teaspoons of vinegar and 1 teaspoon of sugar. Mix well and let the mixture rest for 5 minutes.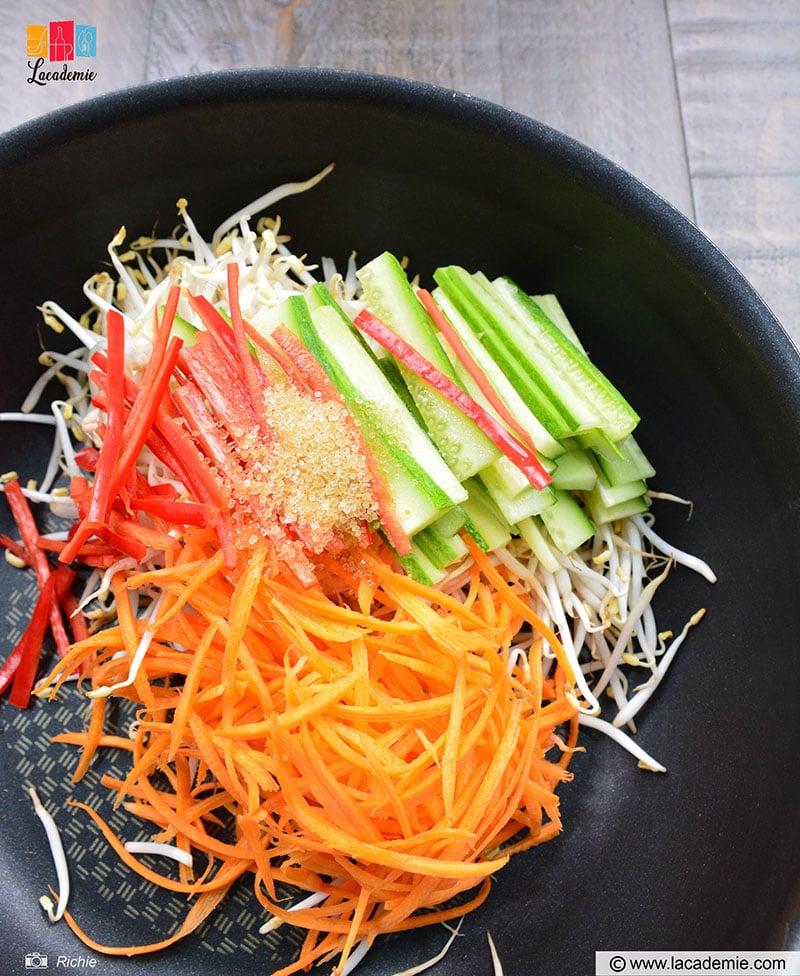 Season the shrimp with 2 teaspoons of red pepper powder, 1 teaspoon of salt, and 1 teaspoon of pepper. Mix well.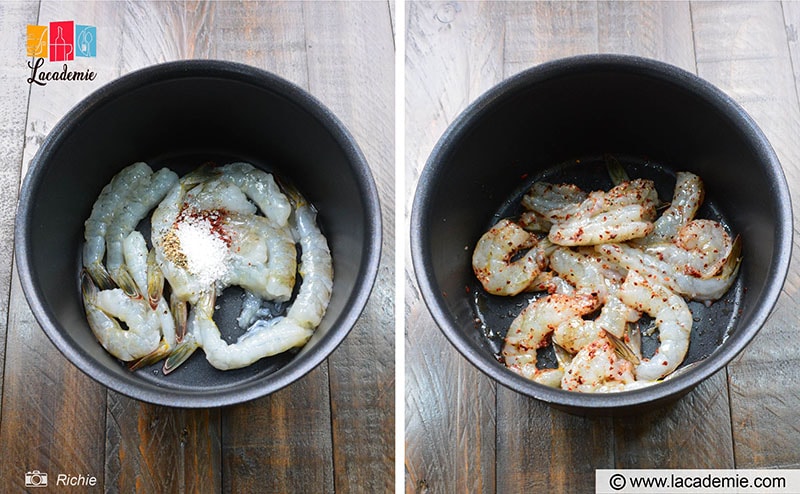 Step 2: Cook The Shrimp
Add the unsalted butter to a heated pan. Then, add the minced garlic and fry it until fragrant.
Next, add the shrimp and saute them on all sides for 5 minutes or until cooked.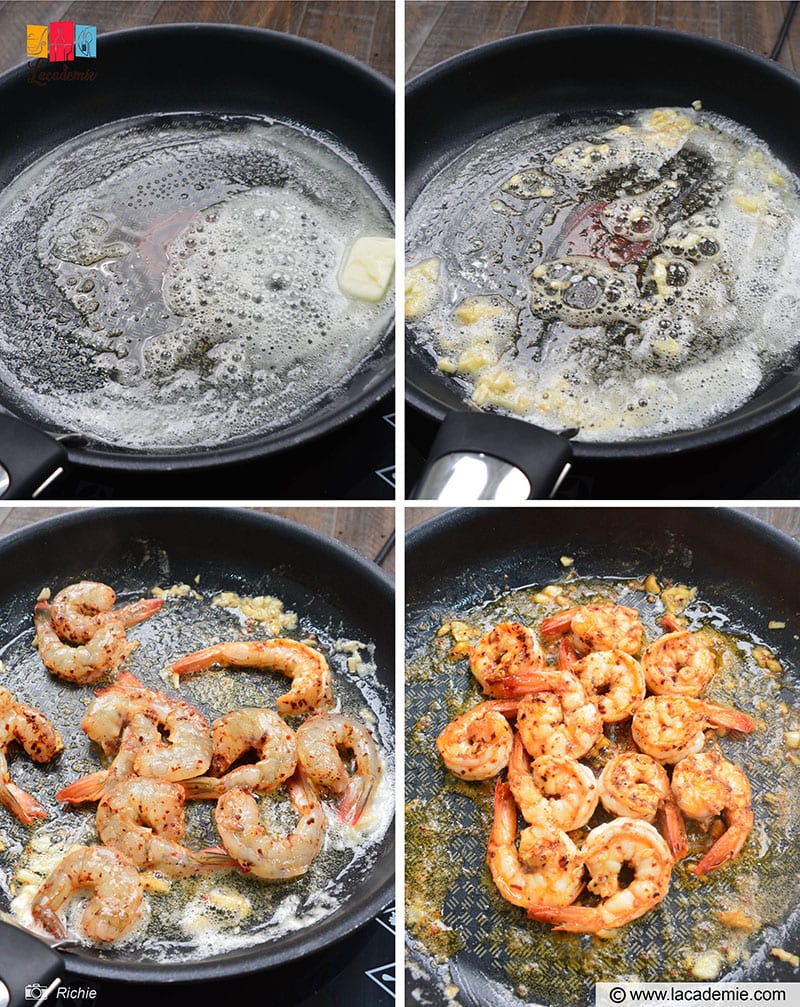 Step 3: Make The Dressing
Combine the ingredients for the dressing in a bowl. Feel free to adjust the spices to your liking.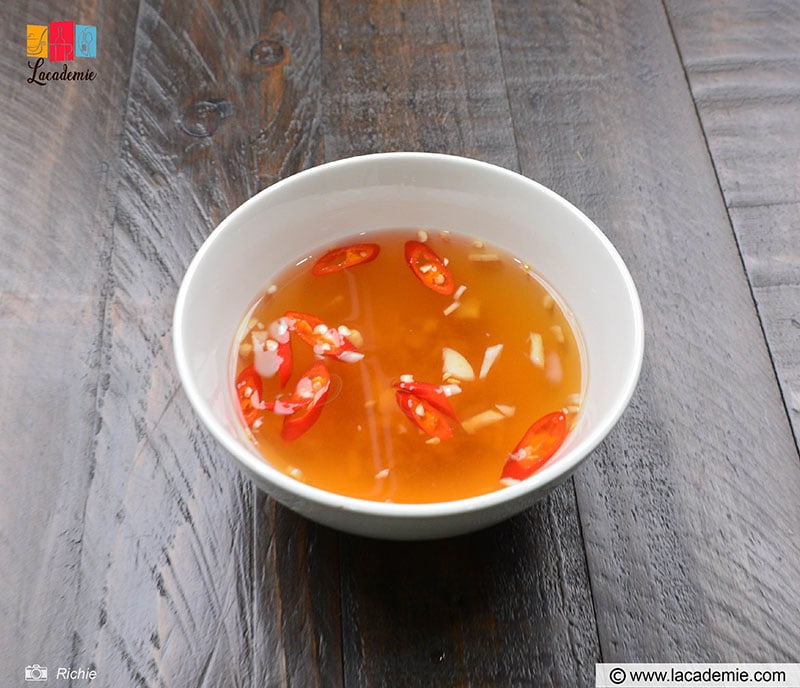 Step 4: Cook The Noodles
Cook the noodles as per the instructions on the package. Then, drain them and put them on a separate plate.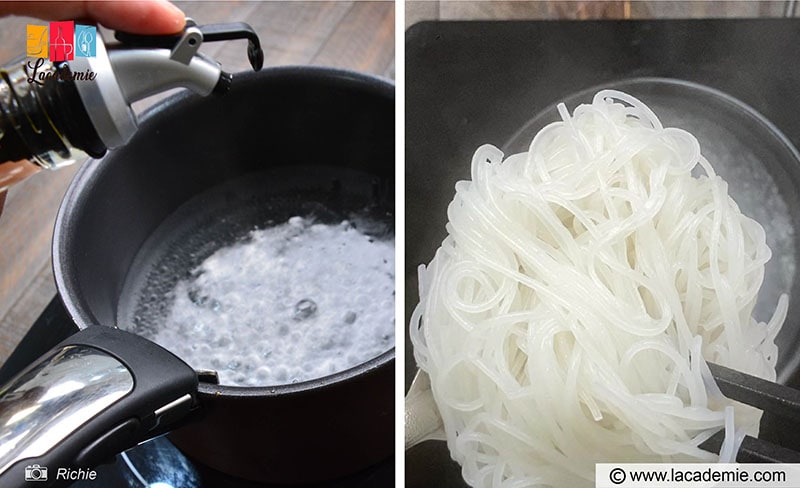 Step 5: Toss The Salad
Add the spearmint and Thai basil to the vegetable bowl. Season them with 1 teaspoon of salt. Pour the dressing over the veggies and toss well to combine.
Remember to wear your food prep gloves while mixing the salad. Also, save a bit of the dressing to use as a dipping sauce or to add to the noodles.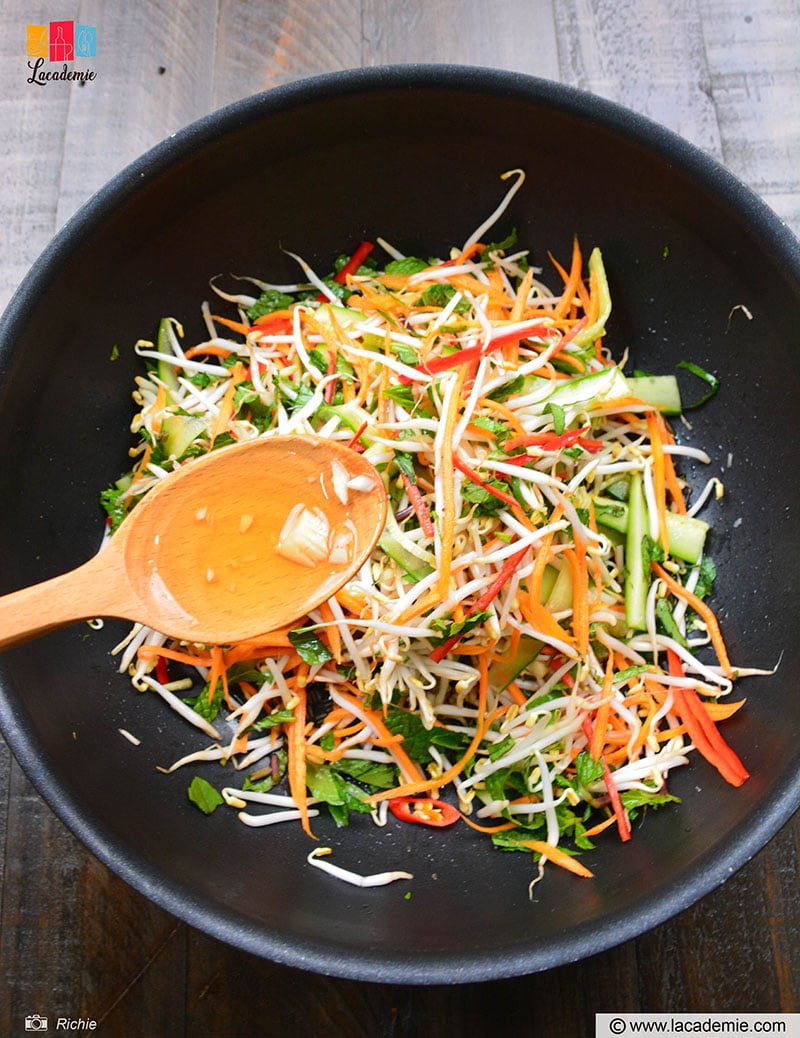 Step 6: Present The Dish
Spread the noodles on the plate and top them with the salad. Place the shrimp over the salad, and garnish with some basil and chili pepper. Enjoy!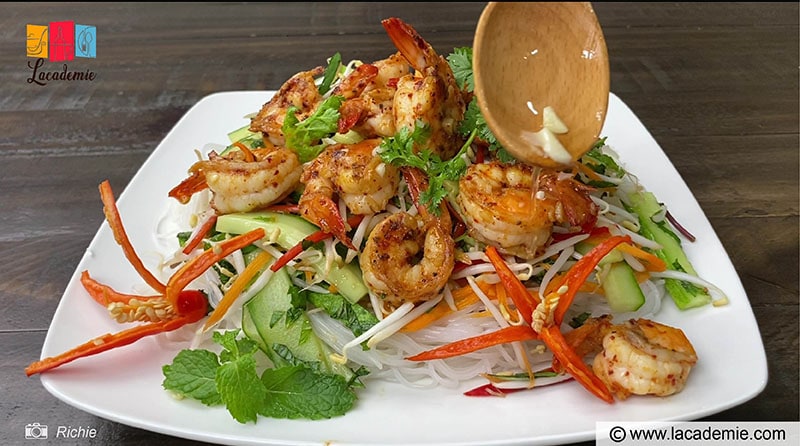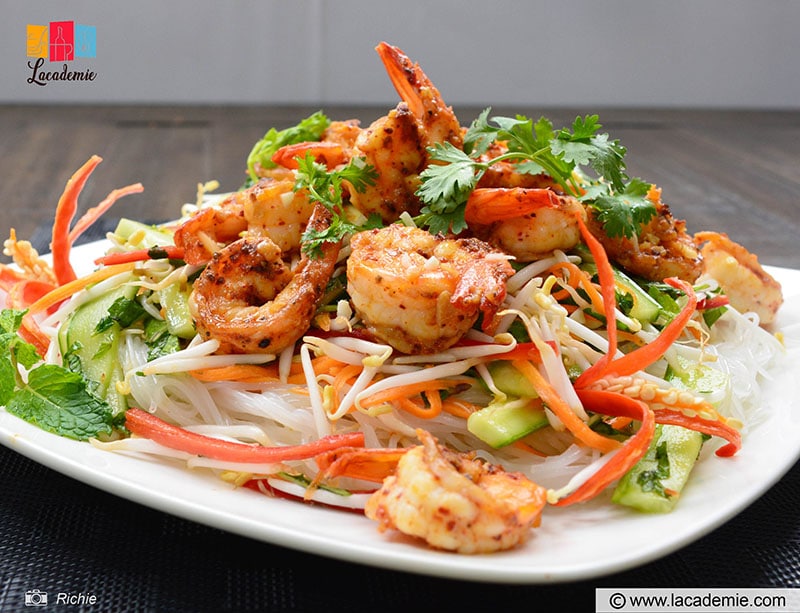 Notes
Here are some notes to make sure that your Vietnamese noodle salad comes out perfectly. Give them a read.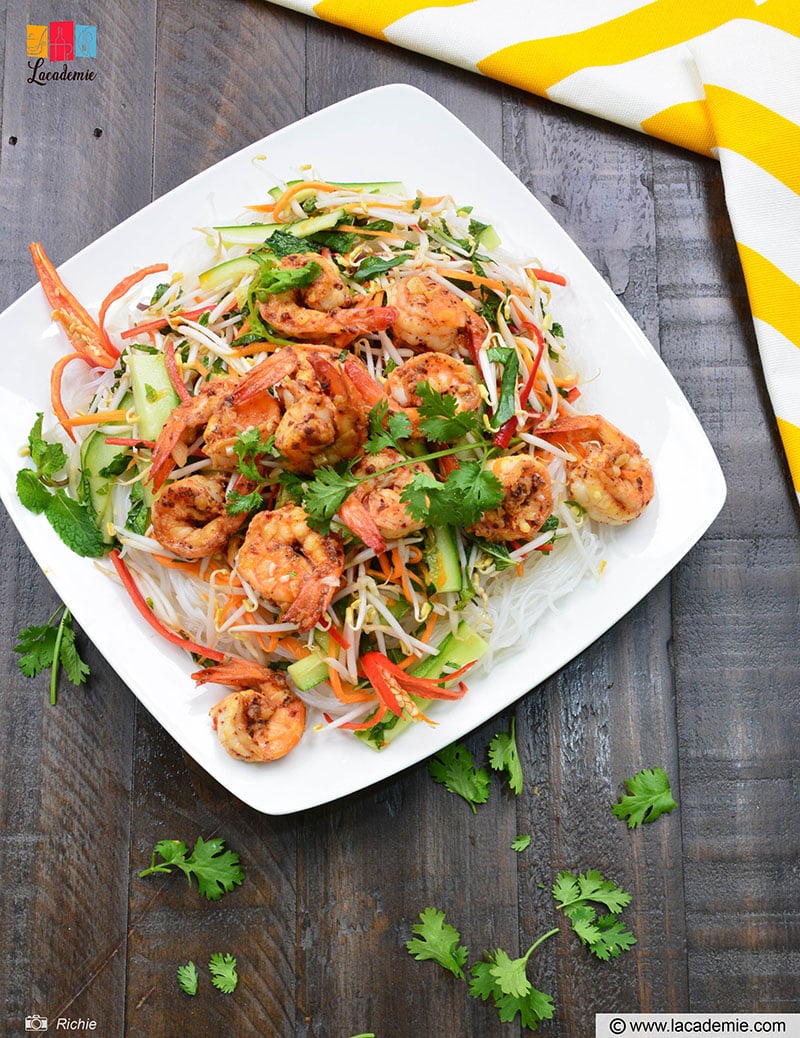 In addition to the dressing shown in this post, you can also dress the salad with the traditional Vietnamese dipping sauce (Nuoc Cham).
While sauteing the shrimp, sear the edges a little to give them more flavor.
If you don't want to saute the shrimp, steaming or boiling are also viable cooking methods. Note that they won't be as flavorful.
Enjoy This Refreshing Salad With Your Loved Ones
Noodle salad with shrimp is one of the tastiest salad recipes from Vietnam and is perfect for any occasion. The combination of tender noodles, juicy shrimp, and crispy veggies is simply irresistible. With its zesty dressing and fresh herbs, this salad will leave you feeling satisfied.
If you find this salad enjoyable, please consider liking and sharing the recipe with your friends and family. I would also love to hear your thoughts on this dish, so please leave a comment below and let me know what you think. Thank you for reading!
Nutrition Facts
4 servings per container
---
Amount Per ServingCalories308
% Daily Value *
Total Fat 7g

11

%
Cholesterol 222mg

74

%
Sodium 2703mg

113

%
Potassium 686mg

20

%
Total Carbohydrate 34.1g

12

%

Dietary Fiber 3.7g

12

%
Sugars 7.5g

Protein 28.7g

57

%
---
Calcium

216

%
Iron

4

%
Vitamin D

3

%
* The % Daily Value tells you how much a nutrient in a serving of food contributes to a daily diet. 2,000 calories a day is used for general nutrition advice.