Texas Roadhouse Chilli is sure to spice up any get-together, whether it's casual or formal. It is perfect for any meal on any day, but I normally enjoy this delicacy on Saturday dinner with my family. Trust me! It is not as difficult as you think.
Texas Roadhouse is among the most renowned restaurants in Midland (Texas), West Kendall (Florida), and many more places. The recipe of Texas Roadhouse Chilli is one of the best-kept secrets in the world. However, this does not stop me from recreating my own, which I believe will remind you of the authentic version after the very first try.
I won't keep you waiting for long. Let's find out what ingredients we will have to prepare!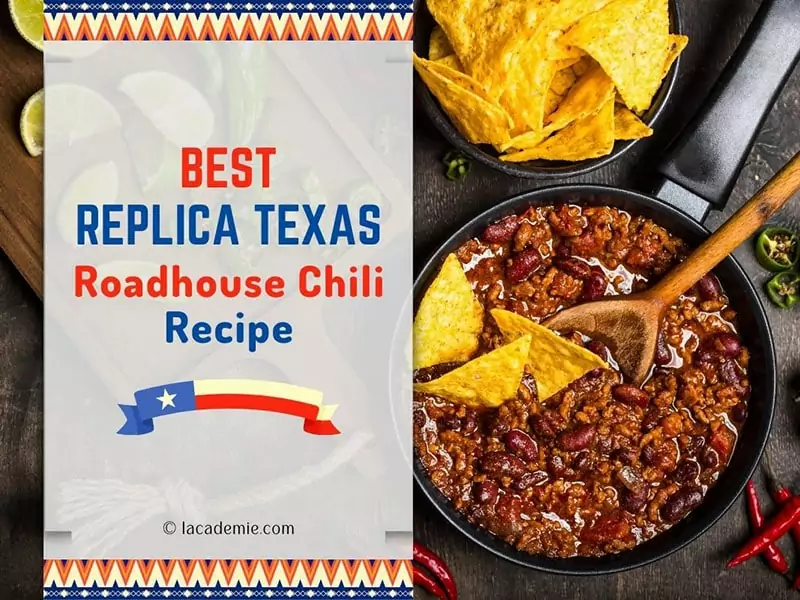 What Do We Need?
To make this dish, you will need the following ingredients:
2 lb of beef stew meat (you can use ground beef also like in the recipe of making Texas Roadhouse Roadkill)
Vegetable oil (check your vegetable oil's shelf-life, as its spoilage signs are usually not easy to notice)
1 can of black beans (if you don't like beans, skip this)
2 cloves of garlic
1 yellow or white onion
1 cup of crushed tomatoes
¼ cup of jalapenos
2 teaspoons kosher salt
1 ½ cumin
1 teaspoon chili powder or its appropriate alternatives
1 tablespoon brown sugar
1 tablespoon smoked paprika
1 tablespoon vinegar
1 tablespoon Italian seasonings
1 tablespoon brown sugar
1 cup of cheddar cheese
You can adjust the above ingredients according to your preferences or the number of servings.
Step-By-Step Recipe Of How To Make Texas Roadhouse Chili
Is making a pot of Texas Roadhouse chili a daunting task? Not quite. If you want to try out something other than pre-made canned chili, follow my five-step recipe below to make a delicious dinner at your convenience.
Step 1: Cut the meat into bite-sized cubes. If you are using ground beef, make sure it is minced nicely. Heat the pot and add the oil. Add the beef once the pot gets sizzling hot. Cook the meat until it gets that golden brown finish.
Step 2: Continue to add black beans, onion, garlic, and jalapenos into the spot. Stir the ingredients until they are softened. Let the mixture simmer for 2 to 3 minutes.
Step 3: Add the tomatoes and stir it evenly so that they will release the juice. Lower the heat as soon as the sauce thickens.
Step 4: Add the spices to the pot and season to taste. Continue to simmer for the next 10 minutes until it obtains consistency.
Step 5: Serve it hot with cheddar cheese on the top. Opt for a top-notch cheddar cheese product for the best result.
The preparation takes you somewhat 10 minutes while the cooking process lasts for about 25 minutes.
You can see this video to know more:
What Should I Serve Texas Roadhouse Chilli With?
There are a variety of side dishes to go with chili, especially with Texas Roadhouse chili. Here are some options that you can take into consideration.
Baked Potatoes
Baked potatoes have slightly crispy skin and they give off a nice smoky aroma. They can be plain or stuffed with Cheddar cheese or bacon to stimulate your taste buds.
Also, there are many tricks to use your leftover baked potatoes and turn them into new delicious dishes. To enjoy your food correctly, fork a slice and dip it in the chili, you will be amazed at how well these two go together.
Nachos
Nachos are no doubt the most common topping that is served with chili. Crunchy and pleasant on the ear, nachos is a match made in heaven for any kind of sauce or salsa and Texas Roadhouse Chili is no exception.
Cornbread
Similar to nachos but contain fewer calories, crunchy cornbread is a great option for you to consider. It's best to make it salty and not the other way round to balance the spicy flavor of chili.
Coleslaw
If you like greens, coleslaw is the perfect choice for you. This side dish is super quick and easy to make. Its main ingredients are cabbage that is cut into thin shreds so that they can be mixed-and-mingled with ease. When served with chili, I suggest that you should not add the dressing onto your coleslaw as it may affect the taste of the chili.
Green Salad
Are you trying to cut down on your calories intake? Have your homemade chilies with some fresh green salad. These two make a great combo that makes you feel far from satiated.
Though there are differences between lettuce and cabbage, they are both ideal ingredients to make salads. But if you are looking for something new besides these 2, try these out: spinach, arugula, cherry tomatoes, kale, or avocado.
Tortilla Chips
If you are way too busy to make your own topping, grab a bag of tortilla chips from the nearest store. These triangle-shaped chips are your lifesaver when you realize you run out of nachos and your friends are coming over for your pot of chilli.
Here's a tip – you don't need a spoon, you can use the chips to scoop the chili directly. An authentic Mexican experience right at your home.
Pasta
It's no exaggeration to say that pasta goes well with almost anything and chili is no exception. Once you have boiled your pasta, mix it with your chili for a simple yet delightful homemade dinner.
Margarita
Nothing can end your last scoop of chili better than a glass of margarita. Margarita is a refreshment that helps balance the spiciness of the chili.
It has got everything in the package: the salty taste from the rim, the sweetness from the agave, the sourness of the lime and the bitterness of tequila with a dash of citrus coming from the orange liqueur. Take a sip and your taste receptors will be wide awake in no time.
Some Useful Tips For You When Making Texas Roadhouse Chili
These tips and tricks will come in handy one day, so don't skip them – they are the key to a perfect pot of Texas Roadhouse chili.
Preserving And Heating
If you are stuffed and can't finish all your chili, you can store it for later. Leftover chili tastes best when they are stored in the fridge for 3-5 days. You may be surprised to know that they can last for over 3 months in a freezer.
For reheating, you can use either a stove, a pot or a slow cooker.
Spice Up The Heat
Are you feeling like your chili is not as spicy as you want? Simply add a tablespoon or two of vinegar to increase the tanginess. Here are some options of what to use: white vinegar, balsamic vinegar or cider vinegar. Isn't that enough? Pour some beer into the pot when you are cooking the tomatoes.
Improving The Texture
If your chili is way too juicy, consider adding more ground beef to increase the volume and thicken the consistency. You can also use roasted veggies to enhance the texture and remember to simmer for no more than 10 minutes.
Changes For Your Preferences
It's always fun to think outside the box, especially when you are cooking. Here are a few alternatives for your special preferences.
The Beef
There has been heated debate whether which one is best for Texas RoadHouse chili recipe: beef ground or stewed meat. Either option works fine, yet I believe the latter will bring out the more scrumptious flavor. The chewy texture of stewed meat is also a plus for me.
What if you don't like beef? Replace it with turkey, chicken, or sausage. They will all produce the same delicious mouthfeel that lingers in your palate for hours.
The Condiments
The original recipe is famous for its smoky but not overwhelming smell coming from the chilli flakes. They play an integral part in the success of this dish.
The other spices, however, completely depend on your choice, but you can expect to give a pinch of cumin, smoked paprika, chili powder and red pepper flakes. Without those, chances are that your take on Texas Roadhouse Chili will be nothing like the O.G.
For The Vegetarians
Against eating meat? No worries, there's a solution for everything. Simply replace the meat with other vegetables if you are a vegetarian. Here are some of my suggestions:
Squash: This vegetable is packed with numerous vitamins including A, B6, and C. To prepare it, cut it open and remove the seed. You can then chop them into smaller blocks and add them directly into the pot or bake them in two halves.
Sweet potatoes: Sweet potatoes can help keep your chili pot on an even keel. I suggest that you should not boil them or it would reduce the flavor. It's best to bake them in the oven so that they will turn out nice and smoothly. Who can resist a sweet-and-sour combination like that?
Other types of beans: The selection is wide, namely chickpeas, lentils or kidney beans. You can mix different types of beans together, too! There's no such thing as "too many beans".
Do you have any other vegetables in mind? Lettuce know if you do!
About Texas Roadhouse
It would be a miss if I forgot to mention the origin of this delicious chili dish, Texas Roadhouse. You may guess that it is based in Texas, yet it is actually based in Indiana and now has over 600 branches across the States (as of March 2023).
The restaurant specializes in Texan and Southwestern cuisine; they serve steak, ribs, chicken, and seafood. Their signature chili, the Texas Roadhouse, has been quite all the rage for its flavorful taste that guarantees to satiate your appetite right away.
The secret recipe and the mastermind behind it has remained a great mystery over the years. Whoever that person is, I can't help thanking him for giving me and many others the inspiration to make such a mouthwatering delight to enjoy right at home (despite a few failed attempts).
FAQs
By the time you are here, I'm sure that you're still having some unanswered questions. Look no further, this section will help you clear your confusion.
Extra Tips
No matter how experienced you are in cooking, your chili will slowly lose its flavor and consistency after 3-4 days. If you want to revive it, here's a tip: add some corn flour into the pan while reheating to improve the consistency. If the taste matters to you, add some fresh tomatoes. Don't put in too much – you don't want your chili turning into tomato sauce!
After this post, I hope that you have gained useful knowledge about cooking your own pot of Texas Roadhouse chili. Do you know any other tips or do you want to share your recipe with me and other readers? Don't be shy to comment below, you are more than welcome here.
Nutrition Facts
8 servings per container
---
Amount Per ServingCalories307
% Daily Value *
Total Fat 12.6g

20

%
Cholesterol 117mg

39

%
Sodium 810mg

34

%
Potassium 539mg

16

%
Total Carbohydrate 7.6g

3

%

Dietary Fiber 1.9g

8

%
Sugars 5g

Protein 39.2g

79

%
---
Calcium

132

%
Iron

22

%
Vitamin D

2

%
* The % Daily Value tells you how much a nutrient in a serving of food contributes to a daily diet. 2,000 calories a day is used for general nutrition advice.