Are you asking yourself how long to bake chicken breast at 4000F to have the best quality of this product? If yes, stay here because what I'm going to introduce to you will change your baking chicken breast habit.
Don't be hasty! I will provide you with everything you need to know about ways to bake chicken breast, the right amount of time to bake it, and some useful tips for a better taste of your product.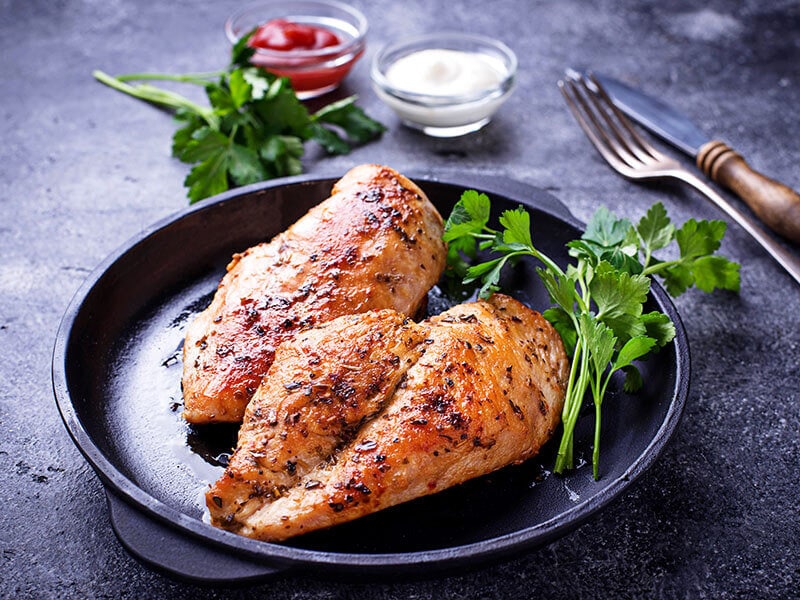 How Long Should You Bake Chicken Breast At 4000F?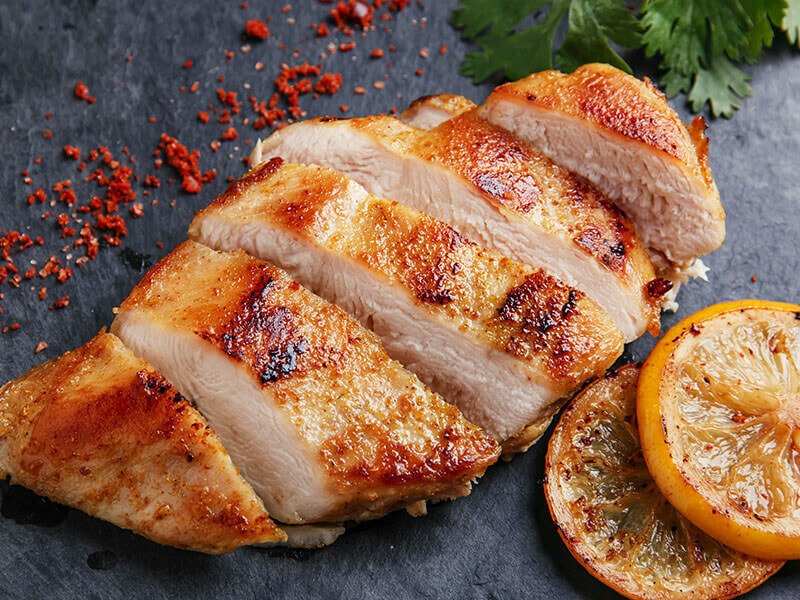 Baked chicken breast is one of the most favorite dishes in your family. Some people might compare chicken tenderloin with chicken breast, but for me, nothing can beat perfectly baked chicken breasts.
This dish is extremely easy to make because you just need to add a few seasonings. However, you should adjust the temperature and time to get this product's flavor at its peak.
You should bake your chicken breast at 400⁰F and an interval of 20 to 30 minutes. These baking times and temperatures are ideal for chicken breast with one-inch thickness.
However, this time is not fixed. It will vary depending on the chicken breast's size, whether your product is covered, the method you use to bake it, etc.
Don't skip the information below to collect more useful methods and tips for baking chicken meat.
Note: Your chicken will taste better if you remove all the bones and skin before baking.
Is 4000F The Best Temperature To Bake Chicken Breast?
Are you still wondering if 4000F is the best temperature for baking chicken breast or not? Or can you set the temperature higher or lower during baking? If these questions still bother you, continue reading to find the answer.
4000F is the ideal temperature to get the best results. This is a temperature that is neither too high nor too low, helping you preserve the sweetness and tenderness of your meat.
This doesn't mean that you can not bake it at lower or higher, but the result might not make you satisfied. If you bake chicken breast at 350⁰F for the proper timespan, your meat will still be delicious but less juicy. At 4500F or higher, your meat will be dried or even burned if you bake it too long.
In addition, once you've figured out the correct time to bake chicken tenders at 400⁰F, you can also enjoy this chicken cut to the fullest. Don't be afraid to experiment with different chicken parts, too!
3 Simple Steps To Bake Chicken Breast At 400⁰F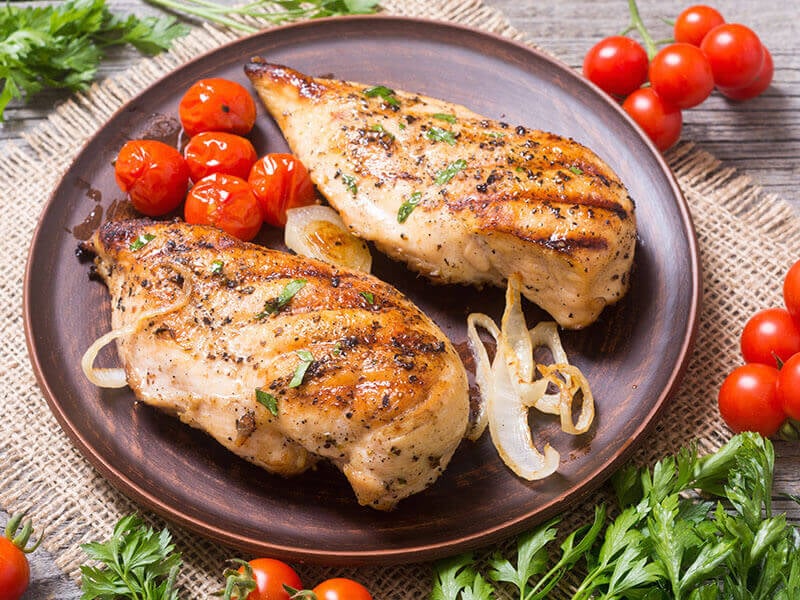 Many people complain that they have followed the above time and temperature but still do not get the desired result. Don't worry, here are some specific and detailed instructions to have tasty baked meat like at a restaurant.
Step 1: Preparing
You should prepare chicken breast and other ingredients such as Italian seasoning, olive oil, pepper, Kosher salt, paprika, etc. You should prepare the right amount of seasoning to suit your family's taste.
Rinse the chicken and let it drain, or you can use a paper towel to pat it dry. After that, set the machine to run at 4000F.
Note: Removing bone and skin will make your baked product better.
Step 2: Seasoning
First, you should add the prepared seasonings to the meat and mix them well. You can use your hands to massage seasonings to ensure that they stick well to the product.
Step 3: Baking and Serving
After everything is ready, this is the most important stage. Place your poultry in a baking dish, and always keep in mind that 20-30 minutes is the best time to get the best quality of meat. After this time, remove the meat from the oven and enjoy it.
Notes
Here are some important notes to help you improve the quality of your chicken breast. Don't ignore them because they are very important to the success of making this dish.
Choose pieces of meat that are roughly the same size. Don't choose the ones that are too thick or too thin to bake together.
Let your result rest for 5 to 10 minutes before slicing and serving.
Don't let the chicken pieces overlap. Place them in a single layer so that they can cook evenly.
You can bake chicken breast for 20-30 minutes this way to have the best result.
Types Of Chicken Breast: Times To Bake Them At 4000F?
For different types of chicken breast, you should change a little bit of baking time to make them more delicious. Here is some basic information about baking some common types of this foodstuff. Keep on reading!
| | |
| --- | --- |
| Types Of Chicken Breast | Time |
| Stuffed Chicken Breast | 25 minutes |
| Butterflied Chicken Breast | 22-26 minutes |
| Frozen Chicken Breast | 40-50 minutes |
Stuffed Chicken Breast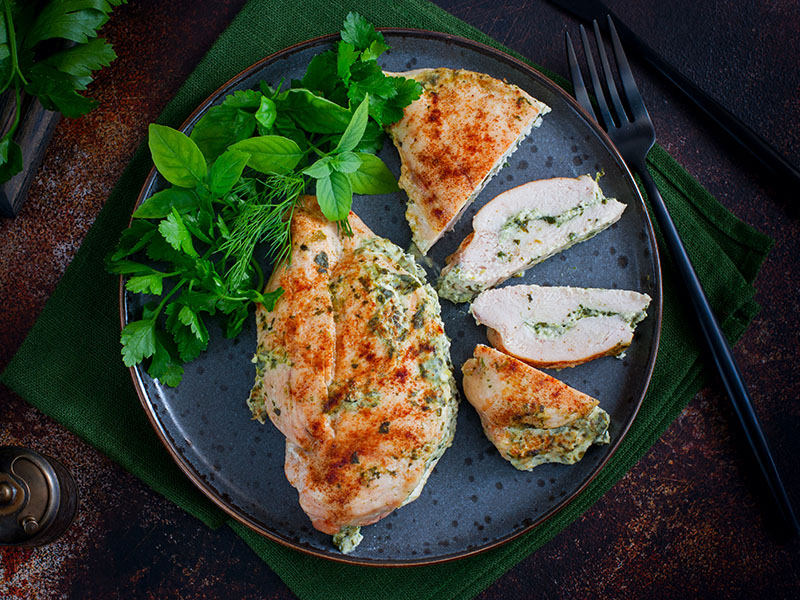 Stuffed chicken breast is an ideal choice for dinner. You are worried whether stuffing chicken breasts with the fillings will prolong the baking time. You will have the answer soon.
The truth is that the filling won't make the chicken any harder to cook, nor will it cause your meat to solidify. Therefore, you can completely apply the time you would normally bake this kind of product, which is about 25 minutes.
You don't have to worry that if you follow the above time, the chicken's filling will not be cooked. It's because the chicken is the thicker part and takes longer to cook. If you want to make sure your baking dish is done, check the covering, not the stuffing.
Some Simple Steps You Can Follow to Bake Stuffed Chicken Breast:
Step 1: Prepare the necessary ingredients and preheat the oven to 4000F.
Step 2: Make the filling by mixing the prepared ingredients.
Step 3: Slice your poultry to create space between the pieces.
Step 4: Stuff the product with the fillings.
Step 5: Use some toothpicks to sewer it to keep the filling during the baking process.
Step 6: Bake for 25 minutes as suggested and enjoy your product.
How simple it is to make a stuffed chicken breast.
Butterflied Chicken Breast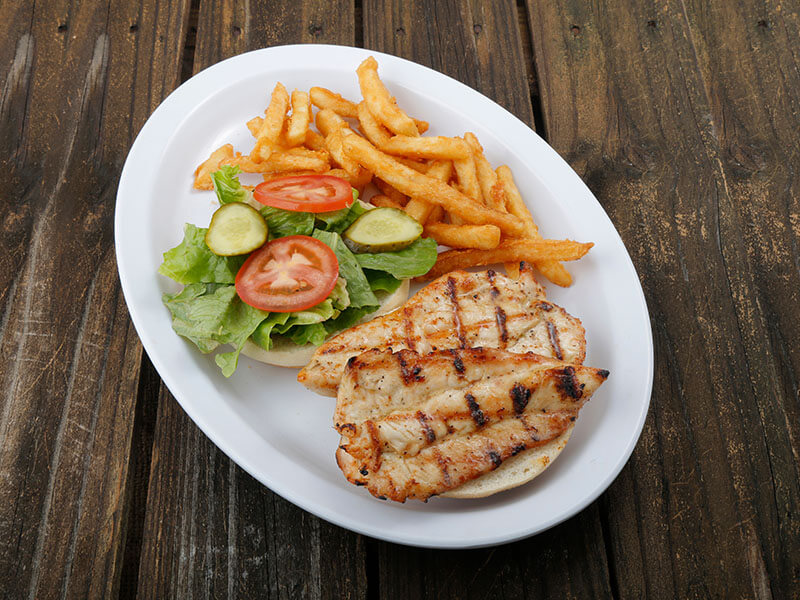 One of the ways to make the chicken breast softer is to butterfly it before baking. So is the cooking time of chicken by this method faster?
The butterflied chicken breast will take 22 to 26 minutes to bake at 4000F. This length of time will depend on your chicken meat's thickness.
This method will help your poultry cook more evenly and not dry out. Moreover, because it is cut thinner before baking, the seasoning will absorb faster.
Frozen Chicken Breast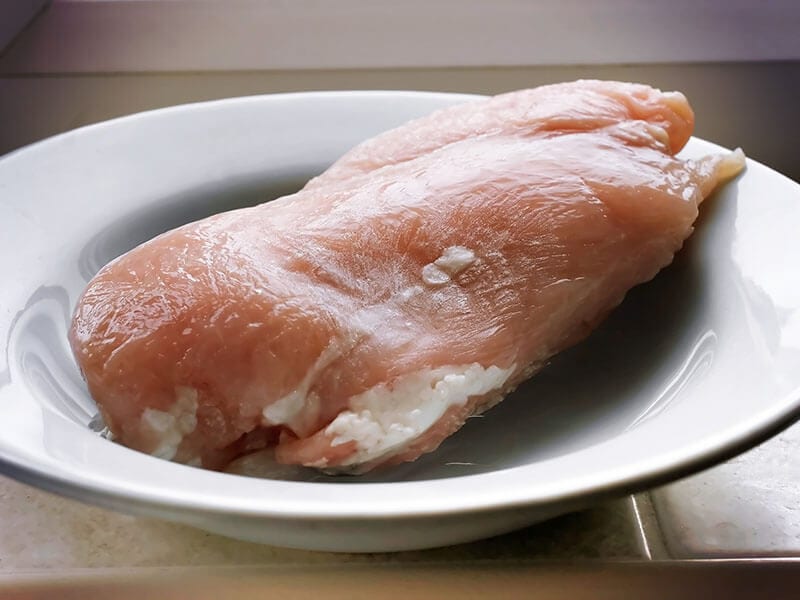 Another problem that arises with your chicken breast is that it is frozen. So do you know the right time to bake it? Stay tuned for the next section to collect this useful knowledge.
For frozen ones, you will need a longer time to bake them. In particular, it takes 40-50 minutes to bake them at 4000F. However, cooking them in an air fryer only takes you 15-25 minutes.
You can bake the meat after taking it out of the freezer, but I recommend defrosting it first to preserve the flavor, especially unseasoned chicken breast.
One of the safest ways to thaw the frozen chicken is to let it in the fridge overnight. Or you can soak it in warm water, it will be ready for you to bake in just 3 hours.
Times To Cook Chicken Breast At 4000F With Different Conditions
I will share a few tips to bake chicken breast under different conditions. Don't skip this part because it's very valuable for you.
| | |
| --- | --- |
| Conditions | Time |
| Uncovered | 25 minutes |
| In Foil | 30 minutes |
| In An Air Fryer | 20 minutes |
Uncovered Chicken Breast
How much time should you spend baking chicken breast uncovered, and will it cause any harm to the meat? If you have the same questions above, continue to follow this post.
Baking this kind of product uncovered is not much different from the methods mentioned above. It also takes you 25 minutes to bake them at 4000F.
However, I do not recommend baking the meat this way because the resulting chicken will be dry. They won't be succulent, tender, and sweet enough like other chicken pieces.
Some Simple Steps You Can Follow When Baking Chicken Breast Uncovered:
Step 1: Prepare chicken breast and necessary ingredients.
Step 2: Prepare a marinade and soak your chicken for 3 hours.
Step 3: Preheat the oven to the temperature of 4000F.
Step 3: Pour a little lemon juice, melted butter, or vinegar into the baking pan.
Step 4: Place your product in the pan and bake for about 25 minutes.
Chicken Breast In Foil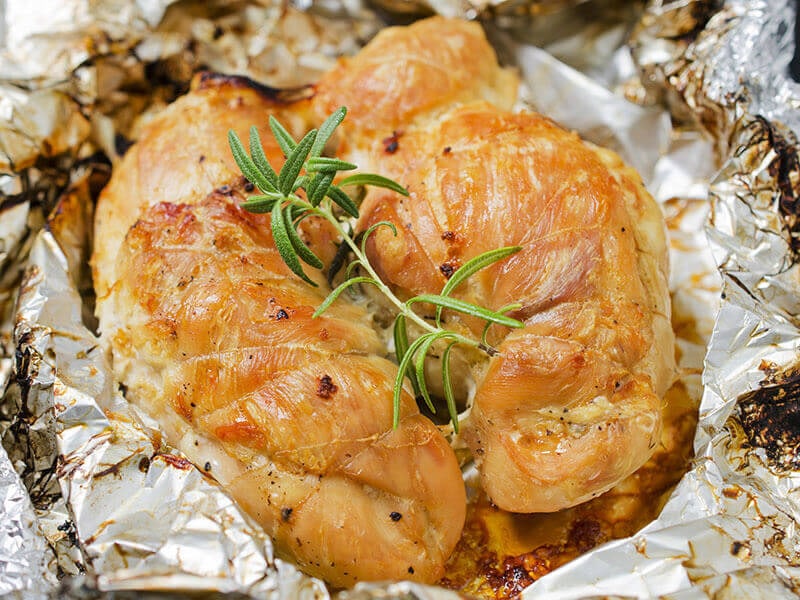 Using aluminum foil to cover chicken breast before baking will help you improve the quality of your result. So, do you need to adjust the suggested time above? Keep on reading!
When covering this foodstuff with foil to bake at 4000F, the best baking time will expand to 30 minutes. While the process takes more time, the product will delight you.
One of the advantages of this method is that the poultry will absorb spices quickly. Moreover, it will preserve the chicken's sweetness, moistness, and softness due to the coating.
Some Simple Steps to Help You Bake Chicken Breast in Foil:
Step 1: Prepare the ingredients and foil, and set your machine to 4000F.
Step 2: Tear a piece of foil so that it can warp your meat.
Step 3: Spray the foil and place a layer of lemon or vegetables on the foil before putting the chicken in. This improves the flavor and prevents your product from sticking to the foil after baking.
Step 3: Place the chicken pieces on the foil and marinate them.
Step 4: Seal all ends of foil.
Step 5: Bake for 30 minutes.
Bake your chicken breast in foil to improve the quality of your product.
Chicken Breast In An Air Fryer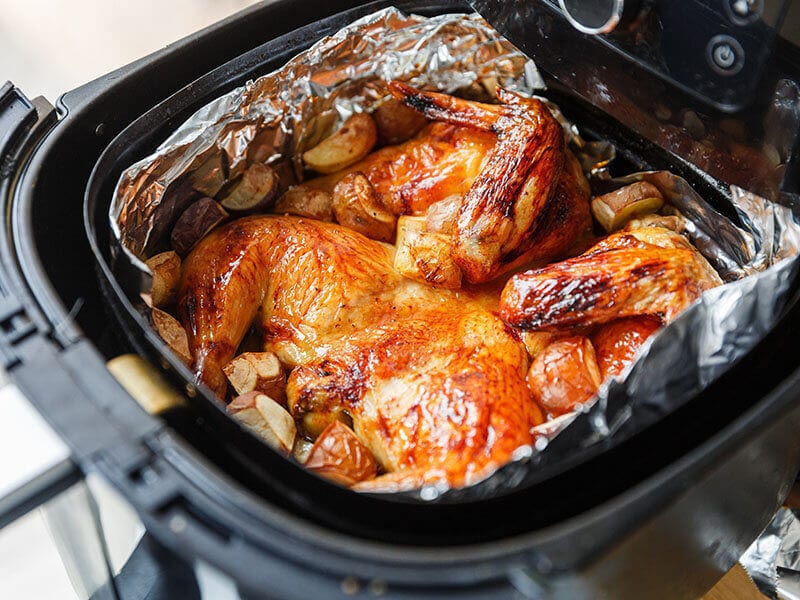 Baked chicken breasts are a fast and tasty air-fryer meal prep. However, there are a few things you should remember when using this method. Read the information below to have a better understanding of this issue.
First of all, you'll need to learn the proper way to use an air-fryer. The best time to bake chicken breast in an air fryer at 4000F is 20 minutes. If your product is uncovered, it will take 8-10 minutes for each side.
However, when using the air fryer, you can only bake a small amount of this product. If you need to cook a large amount of chicken breast, you should bake them in batches.
Here are some notes that you should be careful about when using this method:
Do not overload the machine by putting too much chicken breast in it.
Leave spaces between pieces of chicken.
Spray the breasts and basket of your machine to prevent it from sticking to your meat.
Preheat the air fryer no more than 3 minutes before baking.
When you finish cooking, you should let the air fryer cool off at least for 30 minutes.
Let your resulting chicken breast rest for 5-10 minutes after cooking.
The Best Way To Know Your Chicken Breast Is Cooked?
It's good to get the chicken breast out of the oven during this suggested time. However, if you are unsure how long you have baked it, don't skip these quick tips. They will help you solve this problem.
With A Thermometer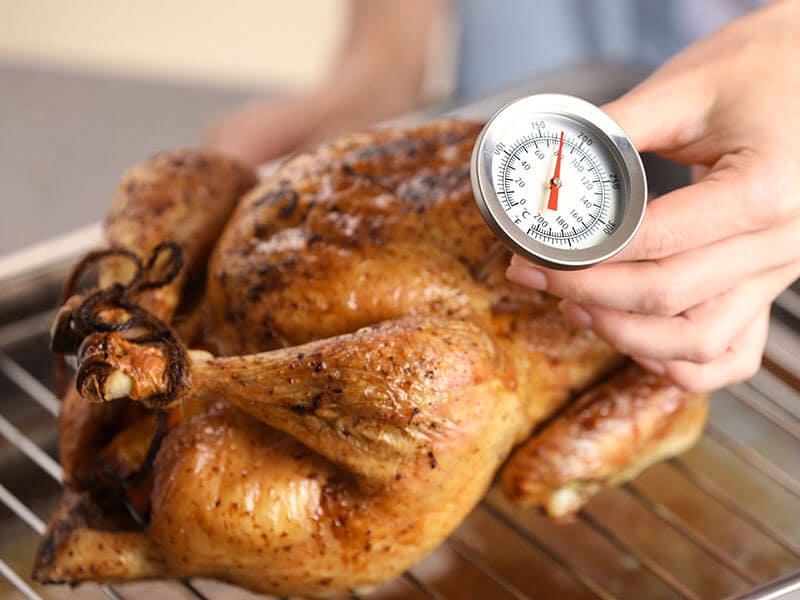 Using a high-quality wireless food thermometer is the best way to check if your chicken breast is perfectly done. Here is a brief guide to help you use the thermometer correctly.
Step 1: Prepare the thermometer and make sure that it is working properly.
Step 2: Insert the thermometer into the center of the thickest part of your meat.
Step 3: Hold it for about 10 seconds and read the result. If the thermometer reaches 1650F, your product is fully cooked. (1)
Note: Do not put the thermometer in the bones and tendons of chickens.
Let's learn how to use a food thermometer properly.
Without A Thermometer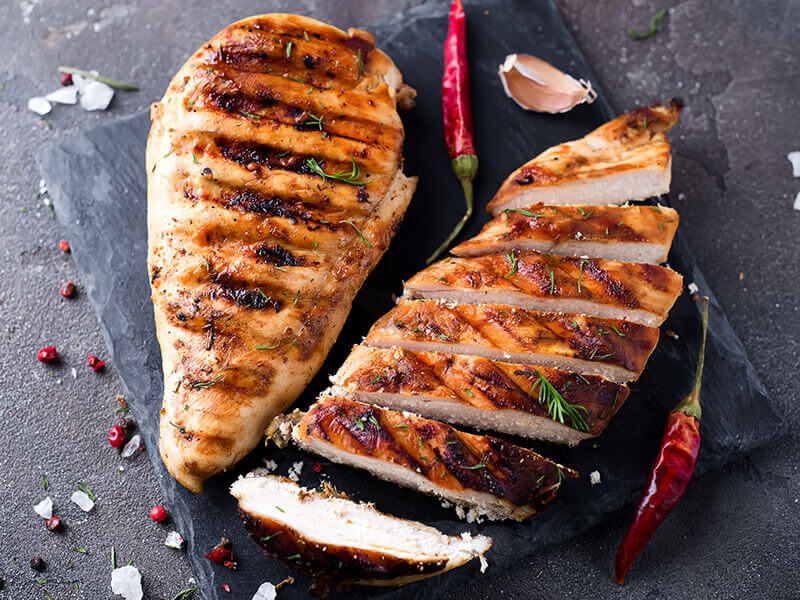 If you can't use the thermometer to check the internal temperature of your baked chicken breast, don't worry, here are some simple steps you need to follow to solve this issue.
Step 1: Prepare a knife and a fork.
Step 2: Use the fork to hold the meat and cut the thickest part of your product with a knife.
Step 3: Observe the color of the chicken. If it's evenly white, your meat is done. If it's still pink or peachy in color, your chicken is not ready to serve. You need more time to bake it.
Note: You should not eat undercooked meat because it contains some microorganisms harmful to your health. (2)
FAQs
These questions and answers below will help you have a deeper understanding of the best time as well as the best temperature to bake your chicken breast. Don't waste this useful knowledge.
No More Mistakes When Baking Chicken Breast
The time it takes to have a delicious piece of baked chicken breast in the right way for many different conditions made you confused, right? Now, I believe that you don't need to worry every time dealing with this dish.
If these cooking tips are valuable to you, don't be afraid to share them with everyone. Please share your thoughts in the comment section to let me know if this post is helpful for you. Thank you for reading.
Nutrition Facts
4 servings per container
---
Amount Per ServingCalories214
% Daily Value *
Total Fat 6.1g

10

%
Cholesterol 98mg

33

%
Sodium 404mg

17

%
Potassium 5mg

1

%
Total Carbohydrate 0.3g

0

%

Dietary Fiber 0.1g

0

%
Sugars 0.1g

Protein 39g

78

%
---
* The % Daily Value tells you how much a nutrient in a serving of food contributes to a daily diet. 2,000 calories a day is used for general nutrition advice.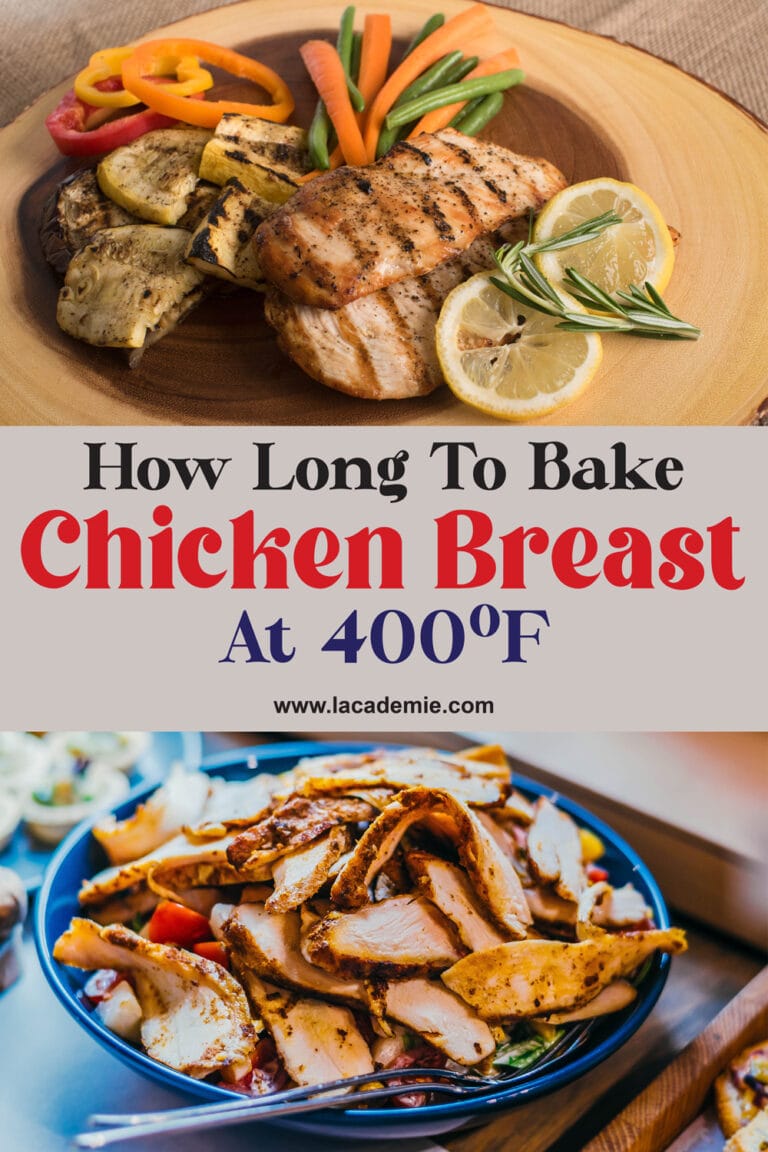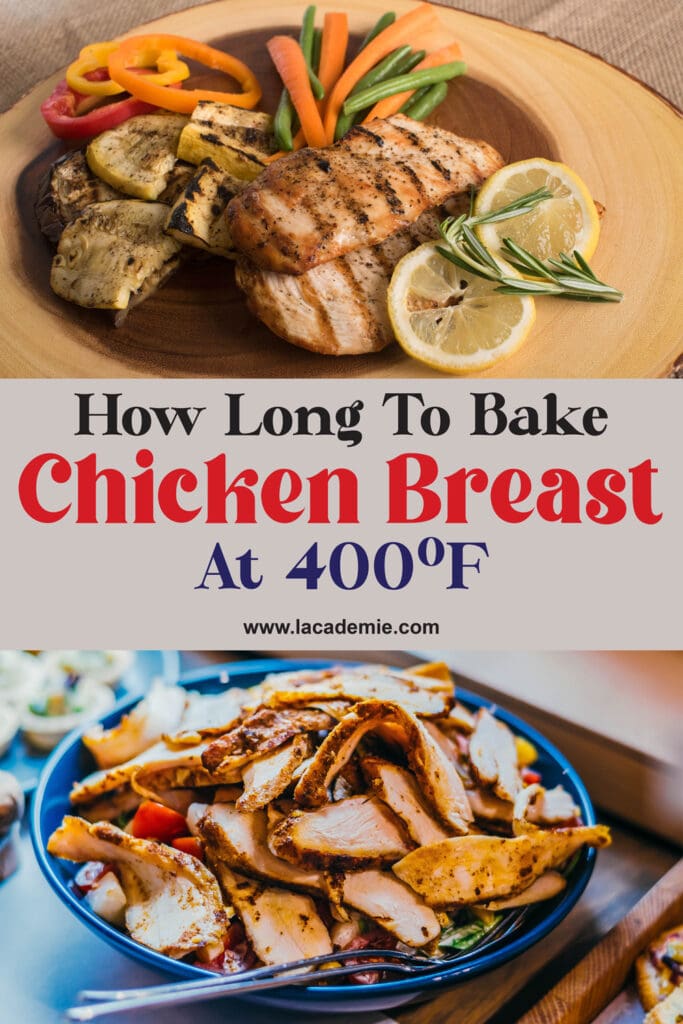 References
Health.state.mn.us. 2022. Use Proper Cooking Temperatures to Ensure Safe Food – Food Safety – Minnesota Dept. of Health.
Healthline. 2022. What Happens If You Eat Raw Chicken?.