What is caviar? Even if you have an impressive knowledge of gastronomy, this question may take you some time to come up with an answer. Because real caviar is rare and expensive, chances are that not many people have seen or tasted it.
Or at least that is what it used to be. Now, caviar has involved into many kinds, some of which are quite affordable. In that light, it is useful to know everything about caviar. Your party will be more wonderful with extra servings of caviar. Keep reading to discover more!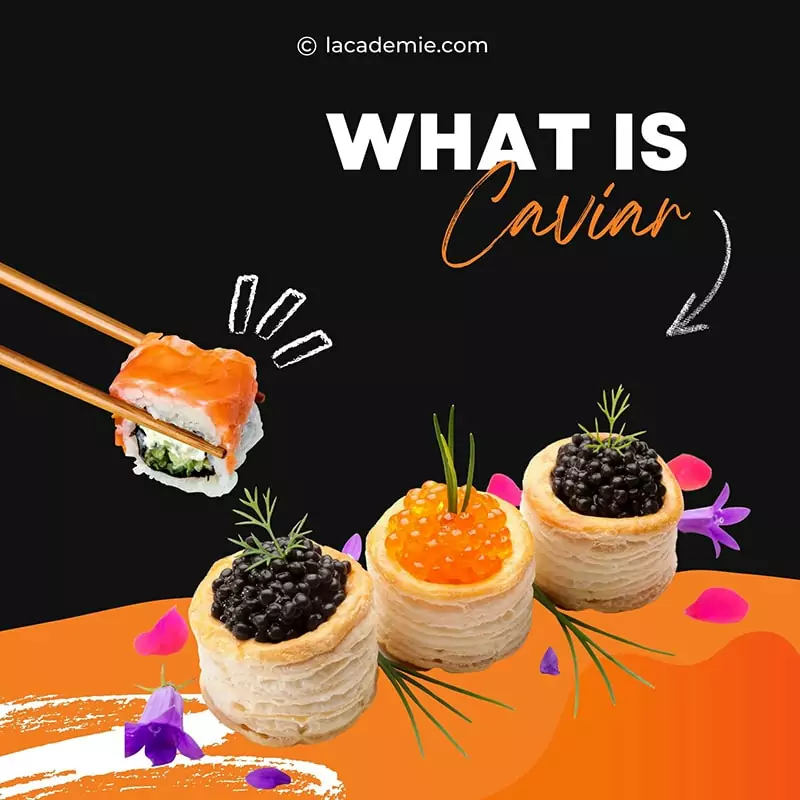 What Is Caviar
When it comes to luxury status or priciness, caviar has few competitors. Many factors contribute to its superstar reputation, from its rarity to the sublime taste caviar can give.
Caviar Is Raw Fish Eggs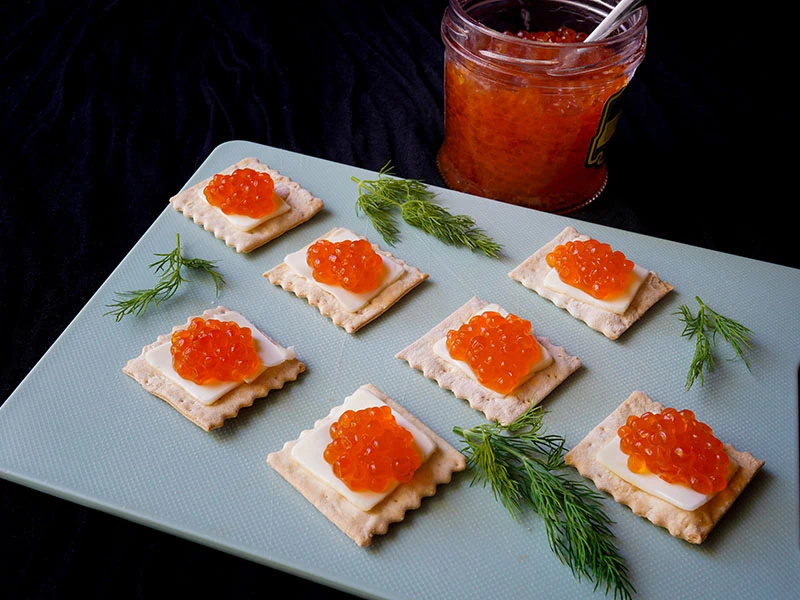 In essence, caviar is a food made from salted fish eggs or hard roes ("roe" is a fancy name for fish or shellfish eggs) and sold in small tins. It is a terrible mistake to cook caviar. This food is always eaten fresh alone or with toasts and crackers.
The freshness and rawness are the backbones of delicious caviar. Caviar can be pasteurized to be cleaner and last longer but doing so will spoil its unique flavor. Anyway, raw caviar is rarely infected with harmful bacteria so you can eat it freely.
The integrity of the eggs is important to the quality and value of caviar. Batches of caviar with big and intact eggs will fetch a higher price. On the contrary, those with oddly-shaped eggs are less expensive.
Where Does Caviar Come From?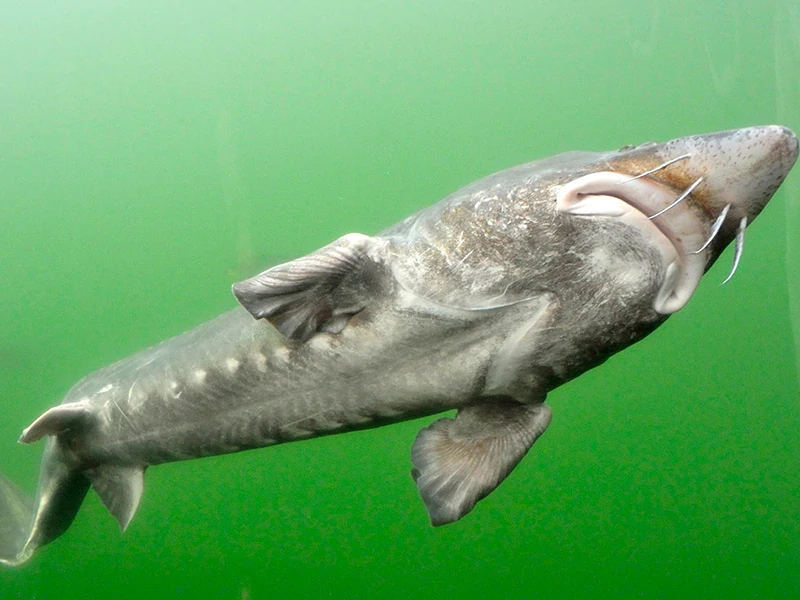 The name "caviar" owes its origin to the Persian word "khâvyâr" that literally means "egg-bearing". Not all fish eggs are fit for caviar. Only one family of fish can produce eggs suitable to make caviar: the sturgeon. As caviar is nicknamed "black gold", it would be no exaggeration to call sturgeon the "golden fish".
It is a fish family which encompasses 27 species of fish found in Asia, Europe, and North America (1). Of these 27 species, however, only a small number lay the right eggs to create famed caviar. Most of them are around the Black and Caspian Seas.
Caviar Or Fish Roes?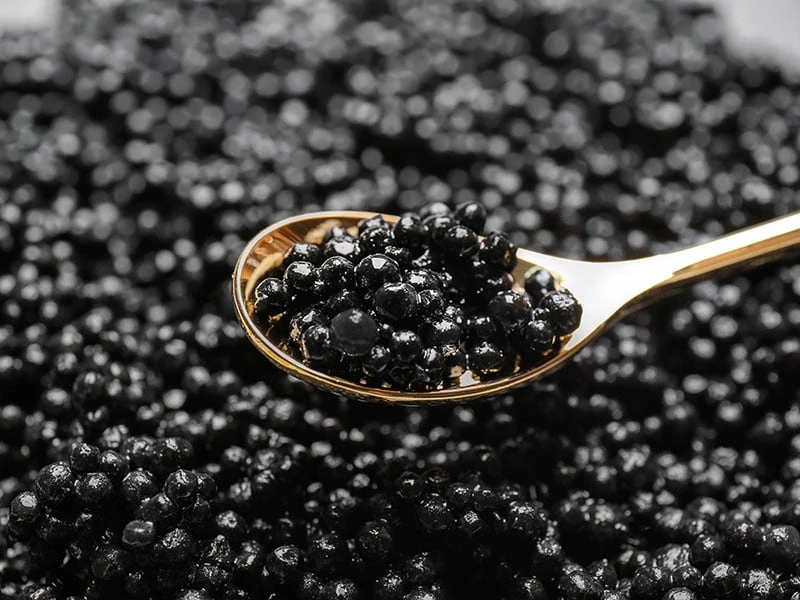 People cook roes from both saltwater and freshwater fish in many dishes. Some notable examples are salmon and squid eggs. While caviar is fish roes, not all fish roes are caviar.
"Caviar" refers exclusively to food made from sturgeon roes. It is common to label all kinds of fish roes as "caviar" but this is a misleading practice. For example, it is incorrect to say "salmon caviar" or "herring caviar".
Caviar Is Getting Cheaper Thanks For Farming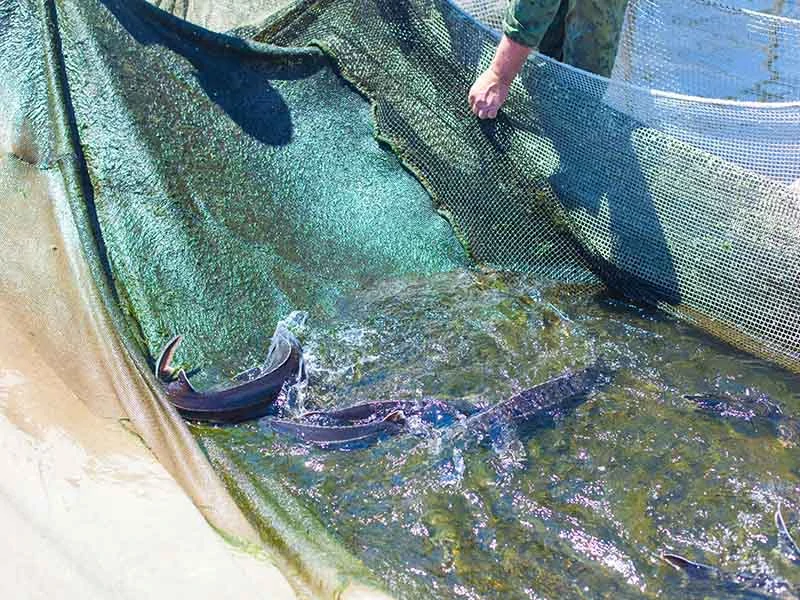 Due to their eggs, wild Caspian sturgeon have been overexploited over the years. This in turn makes caviar harder and more costly to make. Yet, at the present, there is more caviar on the market than ever before. What is happening?
We are living in one of the biggest paradoxes ever. Wild sturgeon is low in numbers but you will have no trouble buying a large quantity of caviar at a relatively low cost. How? You have farming to thank for this.
Many caviar farms have been built around the world, from China to America. Here, people breed sturgeon and harvest their eggs on a large scale. They keep all kinds of caviar-making sturgeon, from the premium beluga species to the cheaper hackleback one.
Unsurprisingly, many picky eaters consider farm caviar inferior to the wild one in taste and flavor. At the same time, most people find it more accessible and reasonably-priced.
A controlled diet and captivity slightly reduce the quality of farm caviar. However, the difference is insignificant and perhaps unnoticeable to most people. Therefore, I will refer to both the wild and farm varieties by the term "caviar" in this post.
What Is So Special About Caviar?
There are three reasons why caviar wins the hearts of so many foodies. I am going to show you how caviar has taken the world by storm.
Fit For A King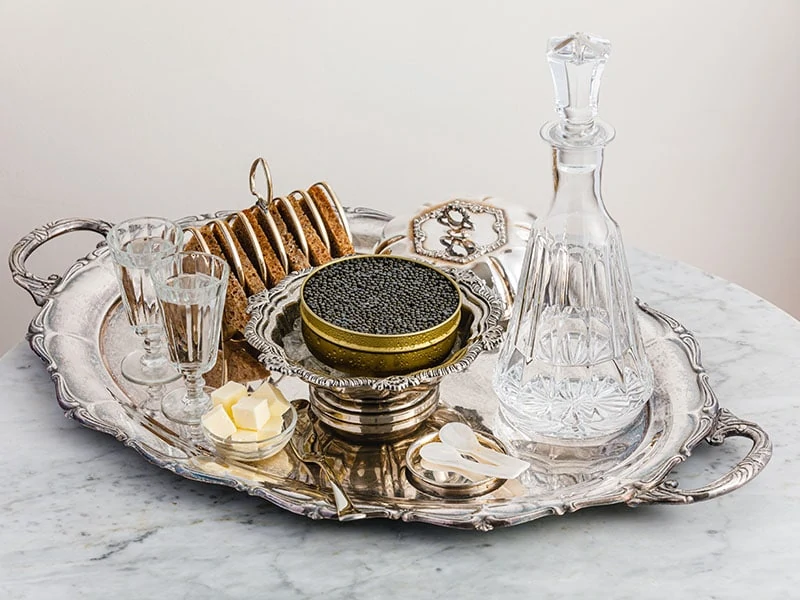 Caviar's reputation was established hundreds of years ago in the Russian Empire. Back then, high-end caviar was already scarce. It was reserved for members of the ruling family of the world's largest empire.
As a result, caviar is forever associated with luxury and prestige. When Russian royalty became no more than a faint memory, caviar became available to anyone with taste and a deep, very deep pocket.
But that didn't change the luxury status of caviar. Plus, as wild sturgeon is becoming rarer, its caviar consequently becomes costlier. Nowadays, it is set in stone as among the most expensive foods.
Sublime Flavor And Taste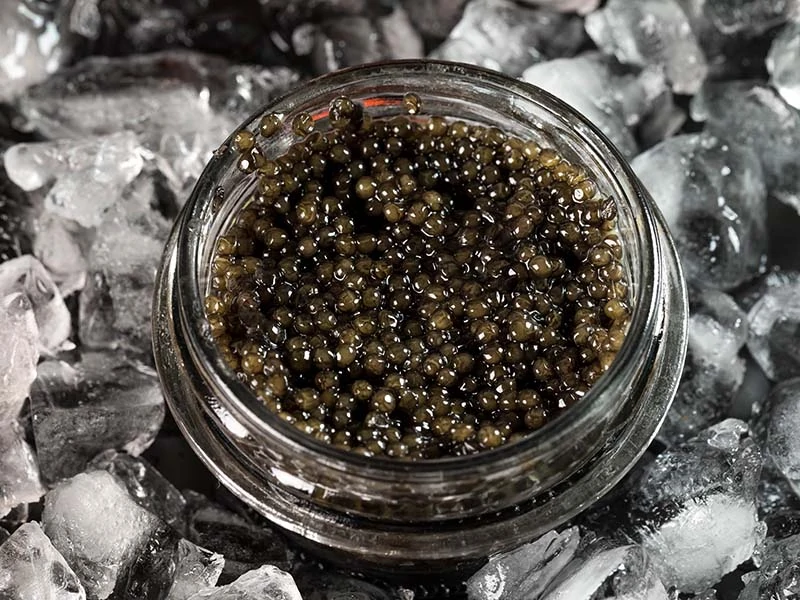 Some people describe that they feel the sea in their mouth after tasting caviar. Those feelings include a touch of saltiness and a sweet, nutty sense of fish. As caviar is always served fresh, the flavor is strong and stimulating.
Caviar can also release another wonderful sensation. With some caviar in your mouth, you can move your tongue gently to let the hard roes pop up and sink your teeth into their rich texture. You will then experience wave after wave of strong oceanic flavors.
However, it is important to remember that different varieties of caviar send out different flavors. Other factors, such as storage conditions and production methods, also affect what your caviar tastes like.
Caviar As A Treasure Trove Of Nutrients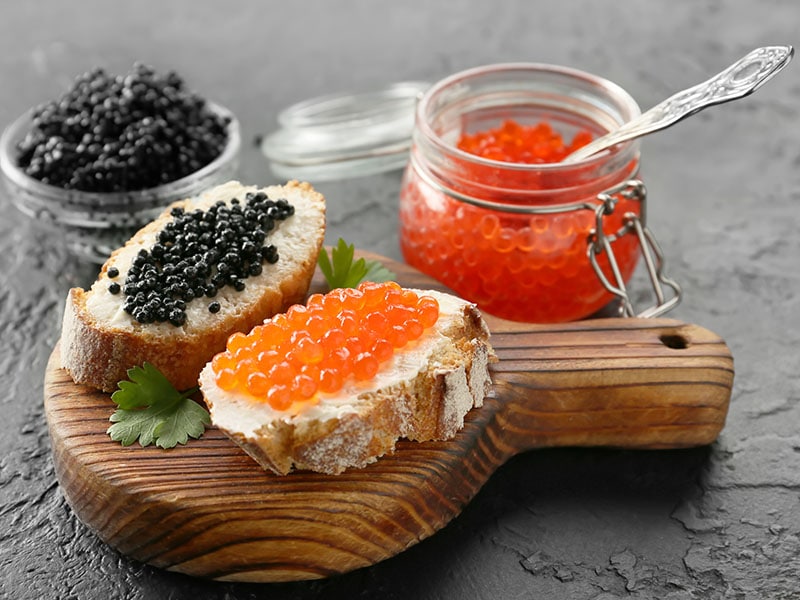 Caviar contains a wealth of vitamins and minerals. Cooking tends to remove a large part of the nutrient content of foods. But since caviar is eaten raw, you will absorb everything caviar has to offer.
Caviar is rich in vitamins A, B12, C, and D which are vital to health. It also has a high content of magnesium, iron, and calcium necessary for organ systems to function normally. Healthy fatty acids like omega-3 are also part of the package.
As a highly nutritional food, caviar can give you many benefits. They range from brain health improvement to immunity boost (2). But you shouldn't eat too much caviar because it contains a lot of bad cholesterol and calories.
The Most Popular Types Of Caviar You Shouldn't Miss
Since there are 27 species of sturgeon, you have as many types of caviar to choose from. And caviar is available in many colors, which can make it confusing. But don't bother to try all of them. Only some types of caviar taste like heaven and are worth your money.
There is also the factor of grading to consider. There are two grades of caviar. Caviar with intact and uniform eggs will be classified as grade 1 and sold for a higher price. Grade 2 caviar is cheaper and of lower quality.
Beluga Caviar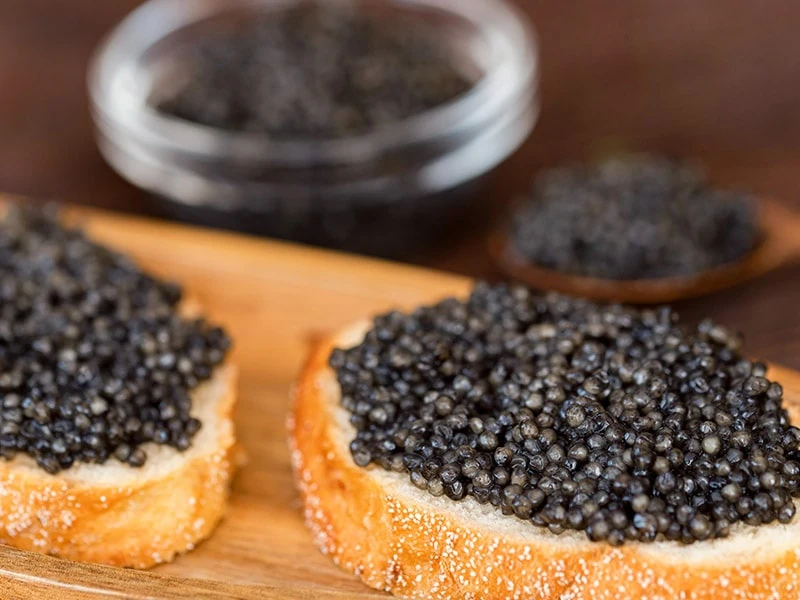 This is the best of the best caviar. It is harvested from the roes of beluga sturgeon. This fish swims around the Caspian and Black Seas and the surrounding rivers.
Beluga caviar is praised for having a smooth, pearl-like texture. Adding to this is an incredibly rich, umami flavor that just melts in your mouth. Each egg is the size of a pea with colors ranging from light gray to black.
Unfortunately, wild beluga sturgeon are overfished and critically endangered. In some countries, like the US, it is illegal to import wild beluga caviar. But with some luck and a big budget, you can buy farm beluga caviar on the market.
Osetra Caviar
If beluga sturgeon didn't exist, osetra caviar would certainly rank as the best caviar. The osetra sturgeon resembles its beluga cousin in many ways. They live in the same places, lay high-quality eggs, and are overexploited.
Osetra caviar is a little cheaper than beluga caviar but it tastes just as wonderfully rich, perhaps a bit saltier. There are many shades of color for osetra caviar, from light grey to golden brown.
Sevruga Caviar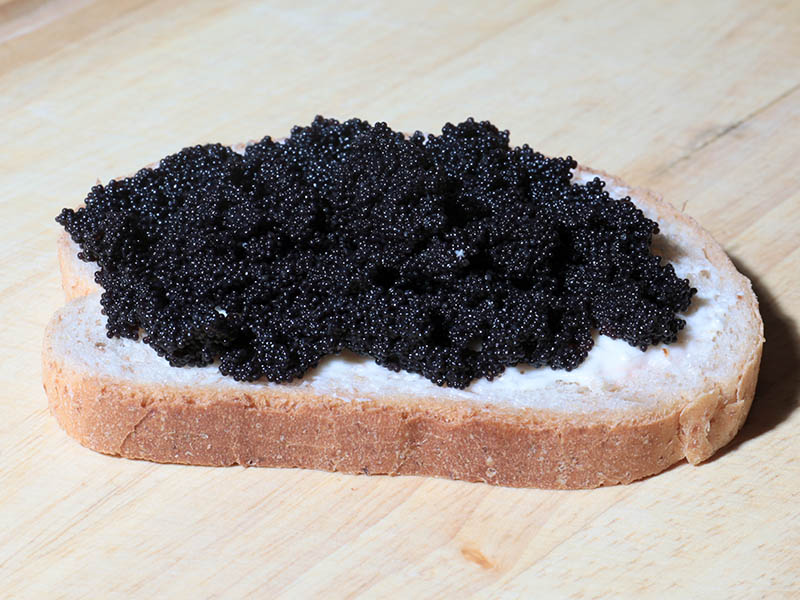 In the ranks of premier caviar, sevruga caviar comes last in taste and egg size. Still, it can charm countless foodies with its crisp texture and a distinctly briny and rich flavor. Sevruga caviar can be light gray or black.
This type of caviar comes from sevruga sturgeon living alongside its beluga and osetra relatives in Caspian Sea. Unlike those two, wild sevruga sturgeons are quite plentiful, so its caviar costs less and is easier to find.
Hackleback Caviar
Most varieties of premium caviar come from the areas surrounding the Black and Caspian Seas. But that doesn't mean you can't find great choices outside this region. Hackleback sturgeon from the United States is one of them.
It has black eggs and a creamy texture. Its flavor is dominated by a sweet, rich taste that isn't as salty as the three Eurasian types mentioned above. Hackleback caviar is quite affordable, making it even more attractive.
Caviar Harvesting: A Tale Of Two Methods
Harvesting is one of the factors that affect the quality of caviar. The eggs have to be harvested before they are laid or they will be lost. There are two ways to extract the eggs from sturgeon, one that kills the fish while the other doesn't.
The Traditional Harvesting Method That Kills
This method is used for most wild egg-bearing sturgeon. Many fish farms also employ it to extract eggs from their fish. This way of harvesting is quite cruel to the fish but it preserves the excellent flavor and texture of caviar.
The harvesters stun the fish with ice-cold water and kill the unconscious fish. Then they remove the roe sacks, the organs that contain the eggs, from the fish before curing the roes.
Here is the complete process of how to farm sturgeons for their eggs using the classic harvesting method.
The No-Killing Harvesting Method
No-kill caviar takes more time and effort to produce. First, the harvesters have to dose their fish with a special hormone that makes the eggs come out earlier and more easily. After extracting the eggs, they will sew up and bandage the fish.
This method prolongs the sturgeon life span. But eggs harvested this way have more damage and a higher content of chemicals caused by the hormone.
Five Great Alternatives To Caviar
Caviar is part of a wide range of edible fish eggs. There are many other types of hard roes you can enjoy. In case you can't get your hands on real caviar, you can try those substitutes to feel what it tastes like.
Sometimes, those substitutes will be marketed as "caviar". This is a move to cash in on the popularity of the real thing. You shouldn't fall for this trick: authentic caviar only comes from the roes of sturgeon.
Salmon Roes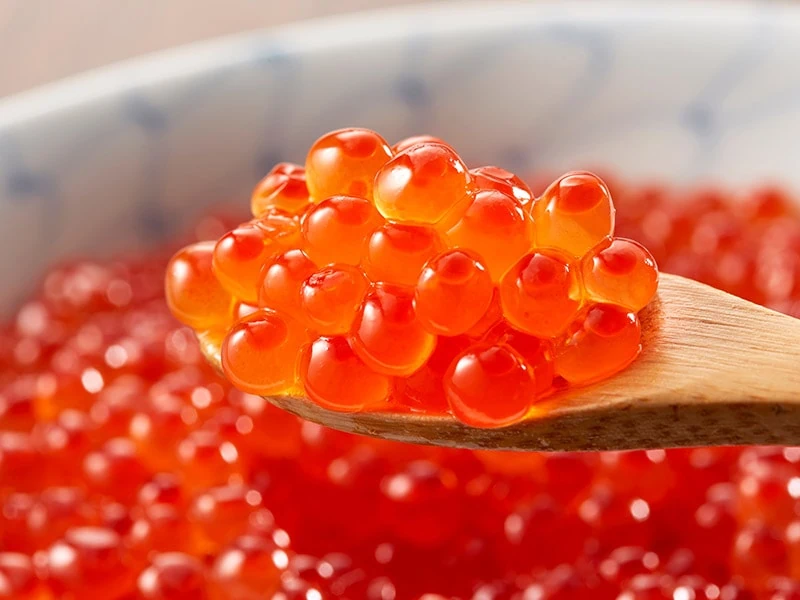 The most popular substitute for caviar is probably salmon roes. They are big, affordable and can be bought at any supermarket. Their colors vary considerably from pink to bright red.
Unlike some may think, salmon roes' taste doesn't resemble salmon's iconic flavor. Instead, they're rather rich and fatty. They are loaded with vitamins and extremely beneficial to health. But they lack the salty touch and briny flavor that define caviar.
Paddlefish Roes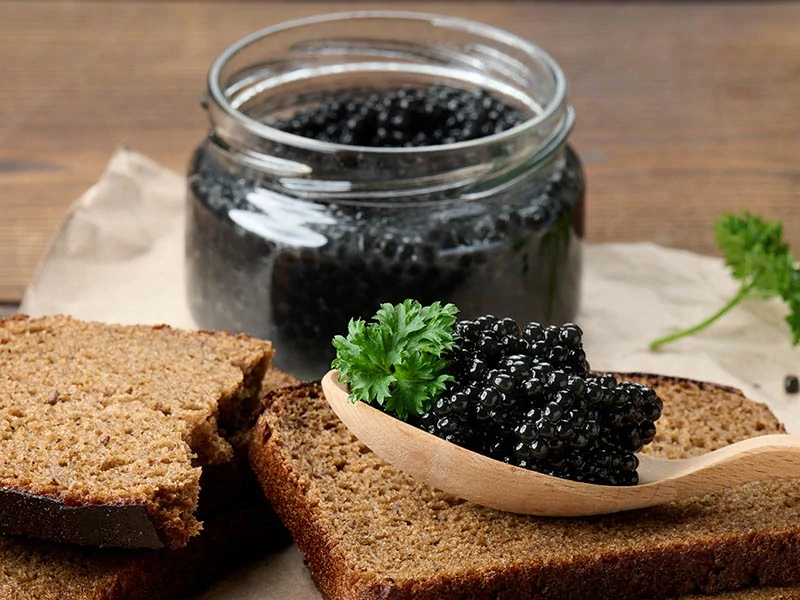 The American paddlefish doesn't belong to the sturgeon family, but it is a close relative. Paddlefish eggs have a scrumptiously buttery flavor and provide an inexpensive substitute for caviar.
Trout Roes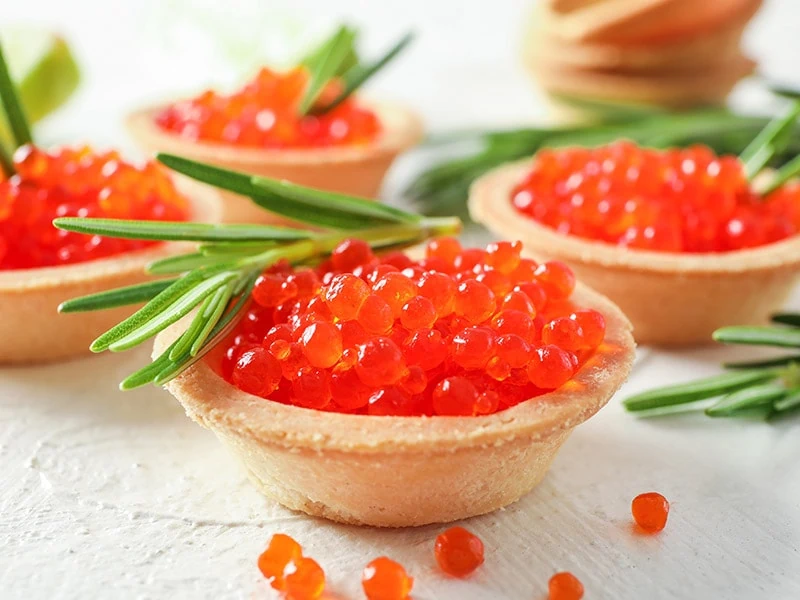 Most caviar alternatives shouldn't be served raw like the real thing, but trout roes are an exception. Coming in sexy shades of red and orange, trout roes tempt people to sink their teeth into the crisp, fatty eggs that pop up just like beluga caviar.
Herring Roes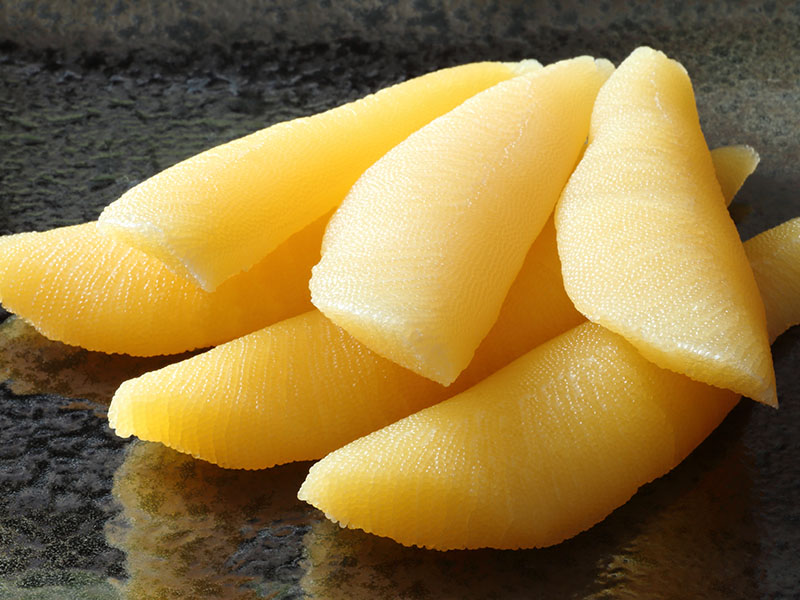 Herring eggs are another great replacement for caviar. There are two types of herring roes. One is salted herring roes of a brilliant gold hue. They are quite briny and very popular in Japanese culture.
The other is smoked herring roes drenched in oil. They are as dark as black pearls and very sweet and crunchy to bite.
Vegan Caviar
When you're unsure if caviar is vegan or vegetarian, choose a vegan variety, which is an imitation food made to look like caviar. Commercial vegan caviar can be made from kelp and seaweed while soy sauce is usually the main ingredient for homemade recipes.
Vegan caviar comes in many flavors depending on how it is prepared.
The professional chefs will show you how to turn seaweeds into vegan caviar.
Great Tips For Buying And Storing Caviar
Has all the reading made you hungry for a bite of caviar? If so, allow me to introduce some tips that will help you buy and store the best caviar.
Don't Buy Caviar In A Supermarket
Most caviar products that fill supermarket shelves are of mediocre quality. You should head to the nearest gourmet store to find good caviar.
If this isn't possible, you can look up reputable caviar brands and order from their online stores. Or you can check if you can find their products at the supermarket.
Check how you should analyze the label when shopping for caviar.
A Higher Price Doesn't Mean Higher Quality
An inexpensive caviar tin can taste quite good, and vice versa. Factors that raise the costs don't necessarily improve the final flavor. Rarity is usually the main reason behind caviar's exorbitant price tag but some people may find high-end caviar rather ordinary.
By contrast, run-of-the-mill caviar that is skillfully prepared, salted, and tinned can be well worth your money.
Online Order Is Convenient, But It Limits Your Choice
It is cost- and time-saving to buy caviar online. But this approach can potentially prevent you from buying the best caviar.
Caviar quality isn't always consistent, even between tins of the same batch. One could be excellent while the rest isn't on par. So the only sure way is to taste the very sample you want to buy, which you can't do when ordering online.
Therefore, use online shopping only as your last resort. In that case, you should choose reliable stores to increase your chance of finding good caviar.
Opened Caviar Should Be Eaten As Soon As Possible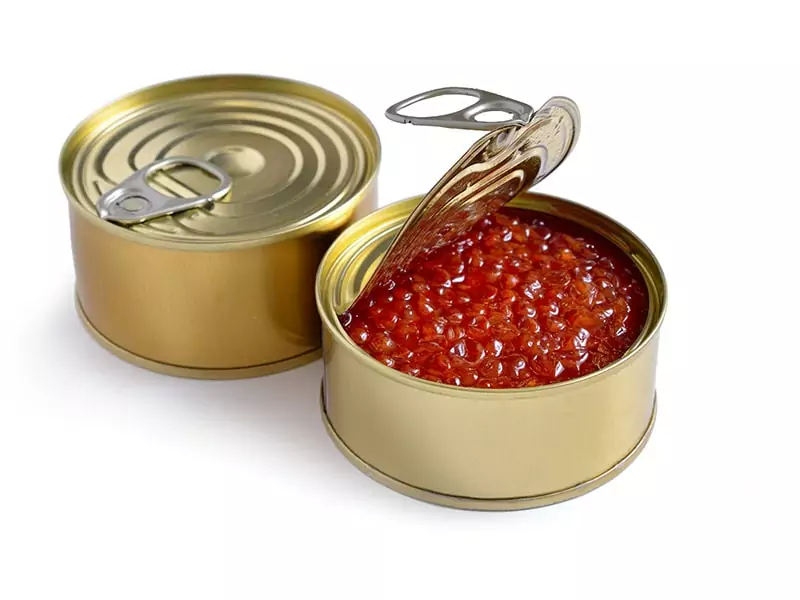 Caviar can easily go bad. An unopened caviar tin stored in the refrigerator can have a shelf life of up to 4 weeks. But as soon as the tin is opened, the caviar has to be consumed within the day.
If there is still leftover, you have to wrap the caviar tin in plastic bags, then store it in the refrigerator. Change temperature settings to the 0°C to 5°C range. This is the optimal temperature to keep opened caviar.
In this way, the caviar will last for 2 to 3 days, beyond which you have to throw it away. Caviar shouldn't be frozen or it will lose its flavor.
How To Serve Caviar With Style
After buying and storing some good caviar, don't hesitate to level up to the next step: eating it. Unlike many other mundane foods, the intricate rules for serving caviar correctly means that you'll need to spend quite some time learning and remembering them all.
Caviar Needed To Be Chilled Before Serving
To bring out the best flavor, you need to serve caviar very cold without freezing it. The best way to prepare is to store the caviar at 0°C to 5°C for a few hours before opening the tin. Another approach is to keep it on crushed ice.
Prepare Non-Metallic Bowls And Spoons
Metal, except for silver, can easily spoil the delicate flavor of caviar with its sharp tint. To truly enjoy this food, you must prepare utensils made of other materials. Suitable alternatives are silver, ceramic, glass, wood, bone, or something fancy like marble and mother-of-pearl.
Caviar Should Be Eaten On A Spoon And With Your Tongue
Although caviar goes nicely with other foods, it is best enjoyed alone and eaten in small spoonfuls. Don't use your teeth, just move your tongue gently around and let the eggs burst open, releasing the salty, succulent flavor. Close your eyes and savor the wonderful sensation.
Accompany Caviar With The Right Foods And Drinks
After savoring a spoonful of pure caviar, you can pair caviar with other foods/drinks. Common choices are unsalted toasts, bread, pancakes, hard-boiled eggs, and oysters. For drinks, a cup of fine champagne or vodka will greatly improve your experience.
It's also a good idea to combine caviar with other ingredients to make new dishes. Have you ever dried caviar pasta? It's so delicious I'd say that caviar pasta is definitely a dish to die for.
Don't Eat Too Much Caviar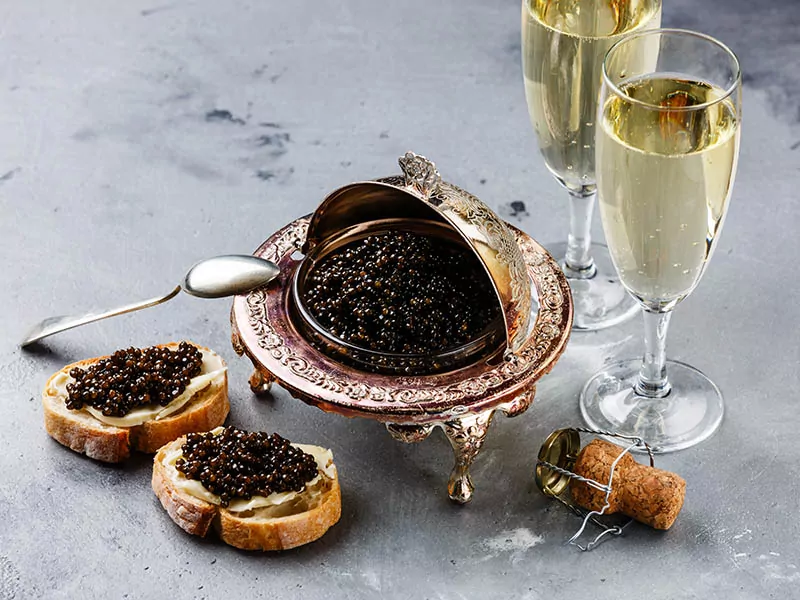 Caviar is rich and expensive. Eating a liberal amount of caviar is bad for your appetite, your budget, and your health.
Learn how to serve caviar properly in 4 minutes.
Q&A
Caviar is a special food that requires special attention. To help you know more about caviar, I am going to answer several questions people usually ask about it.
It's Time To Put Caviar On The Table
That is everything you need to know about caviar. I hope you will soon have an opportunity to use it.
From a luxury delicacy, caviar has become cheaper and more available than ever before. Why don't you buy some to enjoy with your friends and loved ones? They will certainly appreciate such a treat.
If you find this post useful and informative, please don't hesitate to share it with other people as well as write your comment. Thank you very much!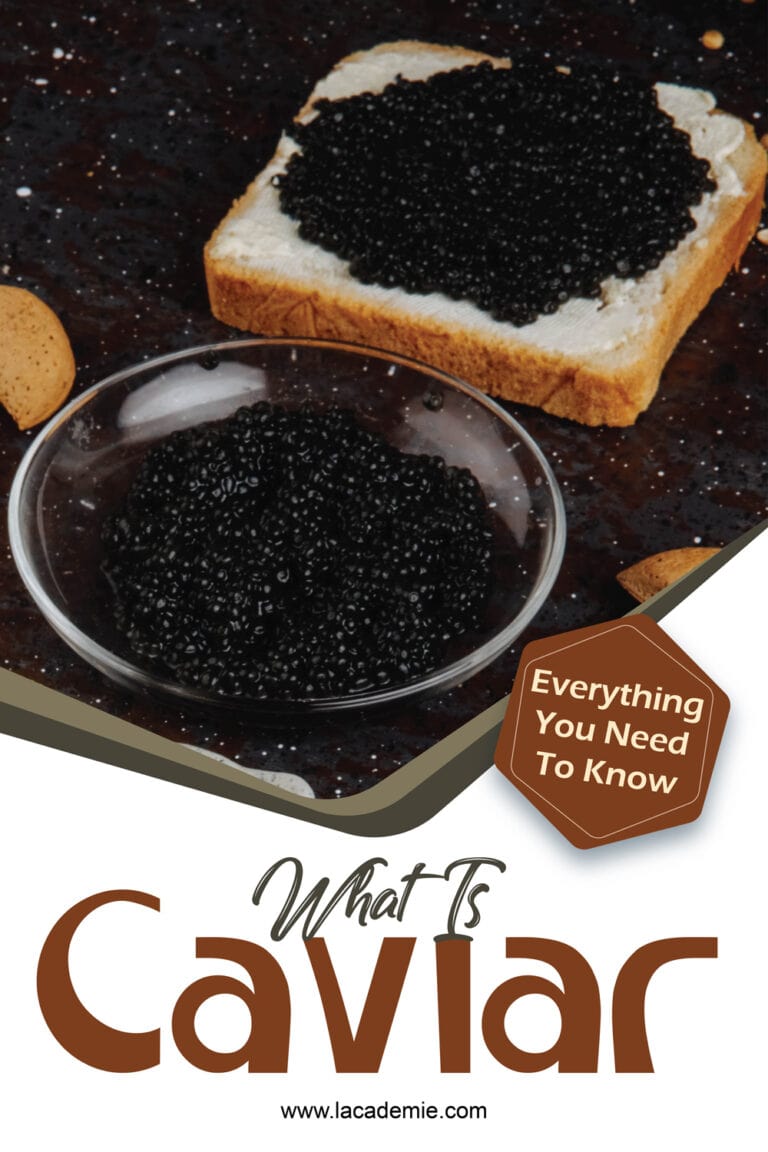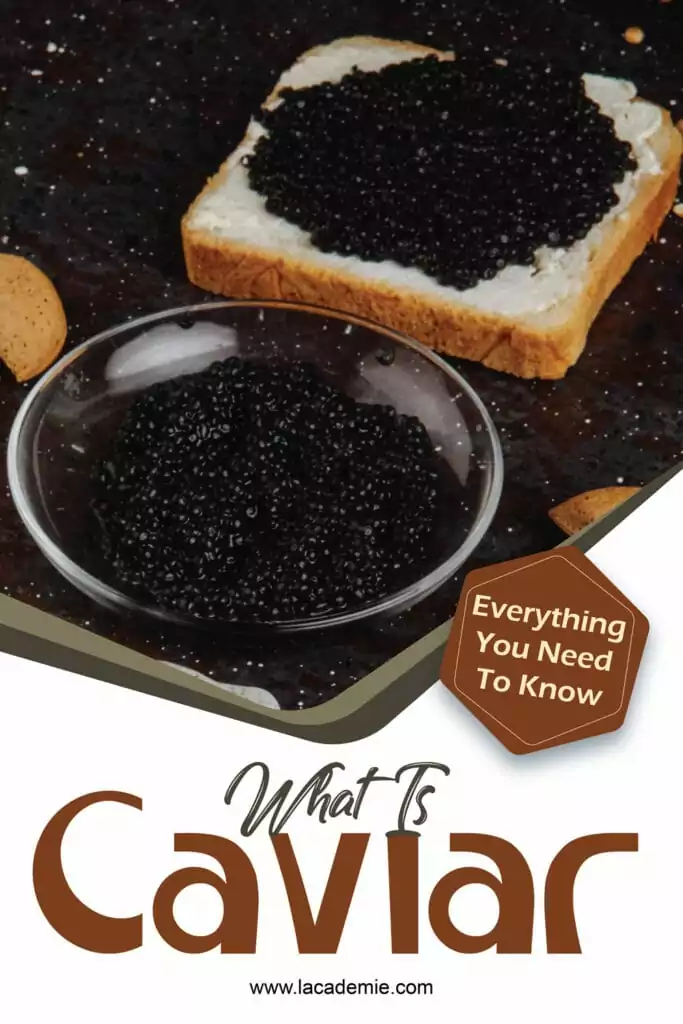 Reference
En.wikipedia.org. 2021. Sturgeon – Wikipedia.
Healthline. 2021. 6 Surprising Health Benefits of Caviar.