Knowing the answer to the question is Worcestershire sauce gluten-free is not simply about the recipe for a tasty condiment. If you have Celiac or find your stomach annoyed when consuming this sauce, it seems that you are reacting to the gluten ingredient.
Why does the presence of gluten matter? How do you make sure Worcestershire sauce in your kitchen is gluten-free? Can you make gluten-free Worcestershire sauce on your own? Let me answer all of these questions for you right now. Read on.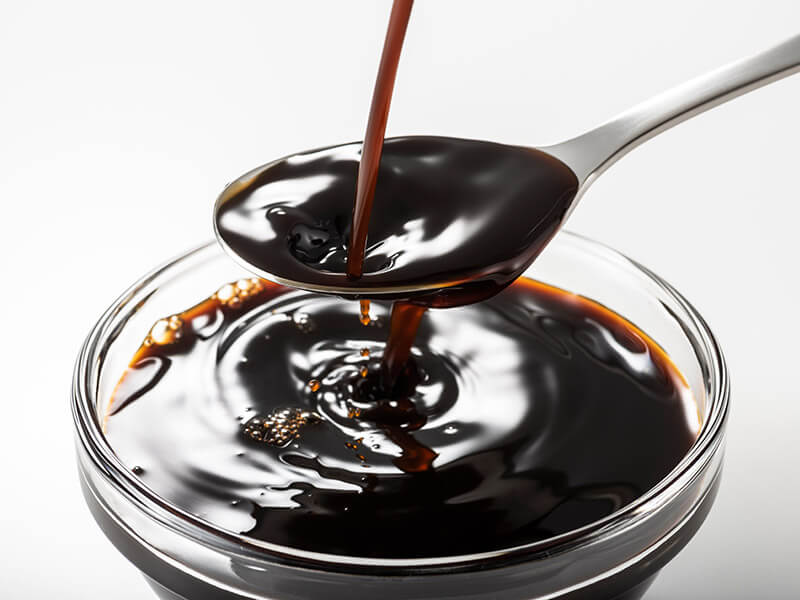 The Basics Of Worcestershire Sauce
Worcestershire Sauce was named after the place where it originated. While the invention of this sauce seemed like an accident, it involved a lot of effort from two men, John Lea and William Perrins.
So, how was it created? How does it taste that makes it an amazing sauce for every kitchen? Let's find out.
How It Was Invented
Worcestershire sauce is one of the most popular condiments that have earned a place in almost any kitchen.
It was first created in 1837 by John Lea and William Perrins in Worcester, England. Among many seasoning sauces that failed the chemists' experiment at the time, this particular one fermented and developed a complex flavor as it sat in the basement.
Now, over a century later, Worcestershire sauce is a more generic term. And it is produced by many brands.
How It Tastes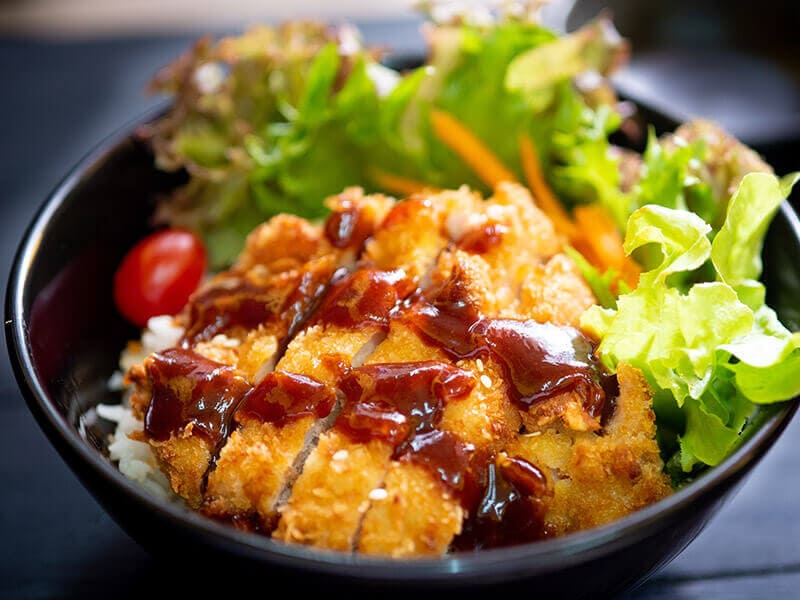 Originally, Worcestershire sauce tastes tangy, savory, and sweet. Thanks to this excellent, balanced flavor, people often use this sauce as an option in place of tamarind paste, soy sauce, etc.
Nowadays, however, the Worcestershire sauce taste varies depending on the brand and the market it's made for. For instance, the US version of this sauce is often sweeter and saltier than the UK version due to a slight difference in the formula.
What It Is Made Of
The most important and leading ingredient of Worcestershire sauce is vinegar. It's also responsible for the tangy flavor. There are also anchovies that add savoriness and tamarind, giving the sauce its unique flavor.
Here's the full list of Worcestershire sauce ingredients:
White vinegar
Anchovies
Tamarind extract
Onions
Garlic
Molasses
Sugar
Slat
Cloves
Chili pepper extract
Natural flavorings
Water
While the key ingredients remain the same, their proportions mean varied tastes among different versions. This also makes it harder to determine whether your Worcestershire sauce is vegan-friendly or gluten-free.
In the case of US and UK versions, the US uses distilled vinegar as opposed to malt vinegar used by the UK, and three times as much sugar as the UK version. It makes the US Worcestershire sauce both saltier and sweeter than the UK one.
Find out the origin of the name Worcestershire and how the recipe was created.
3 Types Of Worcestershire Sauce
There are three varieties of Worcestershire sauce: Gluten-free, Vegan, and Low Sodium.
Gluten-free Worcestershire sauce: It's popular in the US and uses distilled vinegar to ensure the absence of gluten in the sauce.
Vegan Worcestershire sauce: It doesn't use anchovies.
Low Sodium Worcestershire sauce: It's made for those who follow a low-sodium diet and tastes less salty than the original version.
The three varieties of Worcestershire sauce are suitable for different types of eaters. This information is displayed on the label of each bottle.
Overview Of Gluten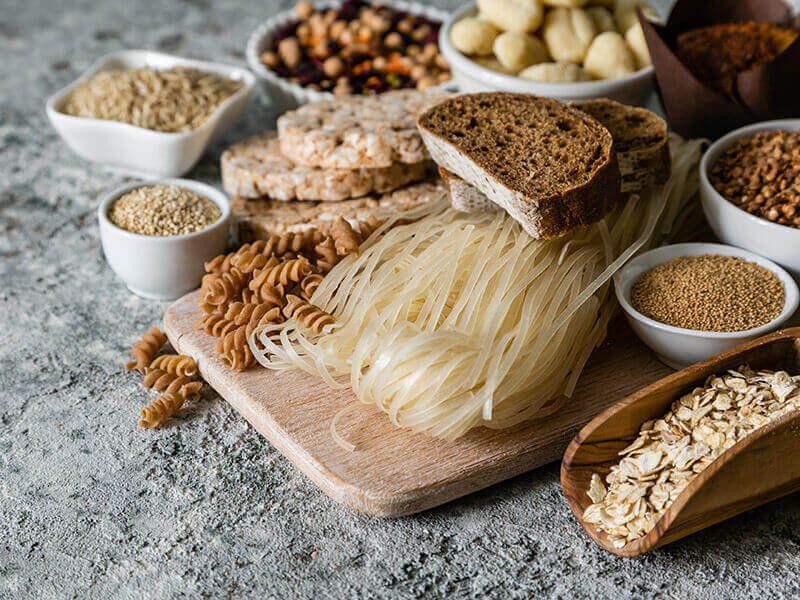 Why do you need to care about gluten? Over the past 150 years, a lot of changes have been made to its recipe, leading to various versions and variations to fit the taste of different people and cultures, including using different ingredients.
Among them, some contain gluten, and some don't. More importantly, gluten is dangerous to certain types of people, so some must use gluten-free foods.
Read on to understand what gluten is and what harm it can do to a person.
What Is Gluten?
Though I don't want to bore you with too much science, it's important to have a basic understanding of gluten and the exact reason why there is a gluten-free recipe for Worcestershire sauce.
Gluten is a protein present in many grains like wheat, rye, and barley. It's found in several popular types of food, bread, pizza, and cereal, for example. (1)(2)
More importantly, it doesn't really have nutritional values, and about 1% of the world population cannot digest gluten, particularly celiac patients.
The celiac disease triggers an immune reaction when its patients eat foods that contain gluten, including intestinal inflammation and damage, not to mention impacts on other parts of the body.
Therefore, it's an undesired ingredient for their diet, hence gluten-free foods.
Discover what gluten is and why it is related to celiac disease.
Who Needs Gluten-Free Products?
Because gluten has harmful effects on Celiac patients, a gluten-free diet is a must for them. (3)
At the same time, there are gluten-sensitive people, who don't likely suffer from Celiac disease but show symptoms like diarrhea, bloating, and abdominal pain when consuming this protein. Such people also benefit from a gluten-free diet.
Is Worcestershire Sauce Gluten-Free?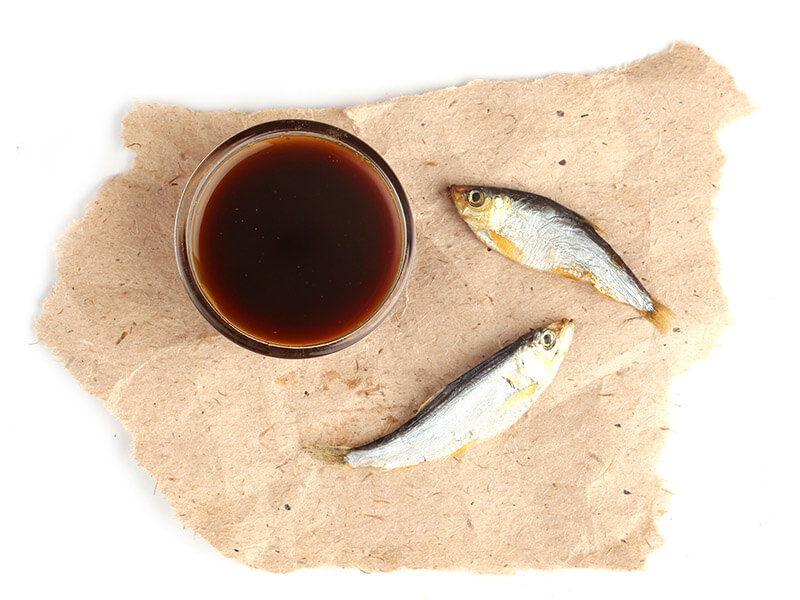 As stated above, there are three varieties of Worcestershire sauce, including a gluten-free variety. So, to answer the question if Worcestershire sauce is gluten-free, the answer is it depends.
The Worcestershire sauce is gluten-free if its recipe uses distilled white vinegar.
Distilled white vinegar is made from grain alcohol, adding oxygen to allow for bacterial growth and acetic acid production. White vinegar does not contain gluten as the distillation process already removes this protein from the ingredient.
However, a Worcestershire sauce made from malt vinegar is not gluten-free because it's made from grain barley that contains the protein and doesn't undergo the distillation process to filter out gluten.
What Worcestershire Sauce Brands Are Gluten-Free?
There are many brands and models on the market offering Worcestershire sauce, some of which mark their bottles gluten-free so consumers can select easily. Meanwhile, others don't show this claim, but their recipes don't involve gluten.
If you are confused and don't know what to buy, refer to the following list of gluten-free Worcestershire sauce brands.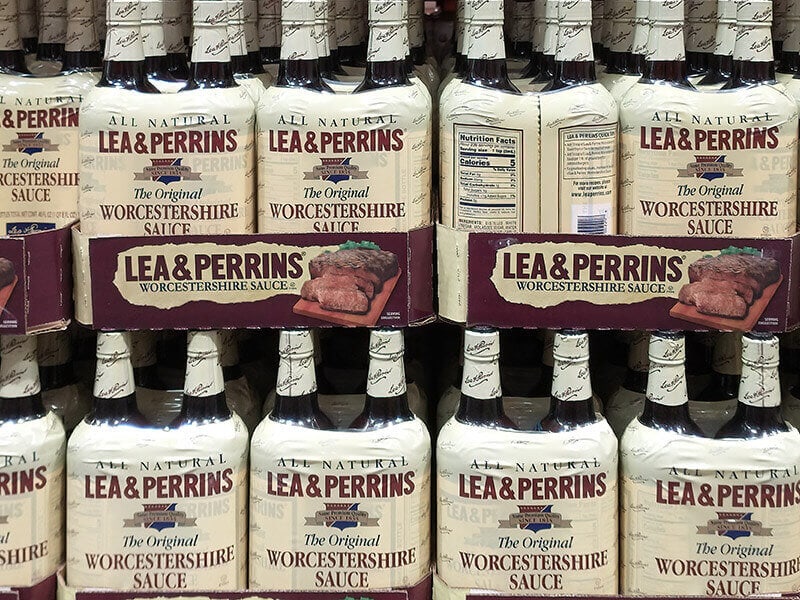 Lea and Perrins Worcestershire sauce is made with distilled white vinegar, ensuring the product is free of gluten. However, this is only applied in the US market.
The brand offers Worcestershire sauce made with malt vinegar in Europe and Canada, which means the sauce contains gluten. You should check the bottle label to see if the product you're looking at is gluten-free or not.
French's is one of the most popular Worcestershire sauce brands in the US, and its sauce doesn't have any gluten. The brand's product is often used in restaurants and food services in general.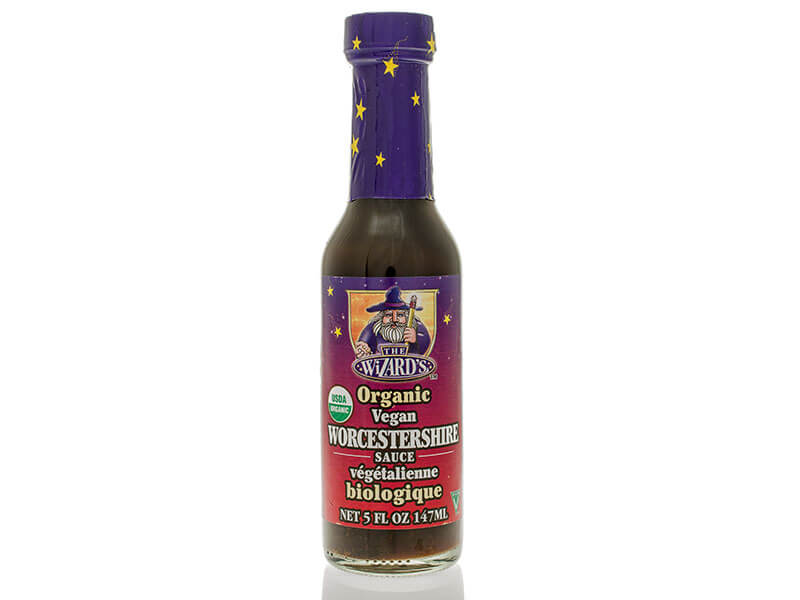 The Wizard's Worcestershire sauce is not only gluten-free but also vegan. If you are a vegan and suffer from Celiac disease or gluten sensitivity, this brand is great for consideration.
The Wizard's Worcestershire sauce is made with apple cider vinegar instead of white vinegar, tamari, organic molasses, cane juice, and other typical ingredients of the original sauce.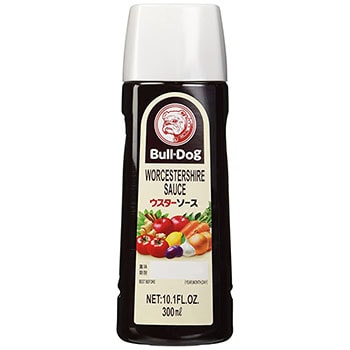 Bull-Dog is a brand coming from Japan, selling products in the US. You can find its offers on Amazon and other e-commerce platforms.
Its Worcestershire sauce excludes gluten-based ingredients, such as wheat-containing soy sauce. That said, keep in mind that the brand also makes gluten-based sauces.
That means you need to be careful not to buy the wrong product and think twice before buying Bull-Dog's sauce, considering that the gluten-free and gluten-based sauces are made in the same facility.
Kroger's offers certified gluten-free Worcestershire sauce. To put customers' minds at ease, the brand provides a detailed list of ingredients included in its product.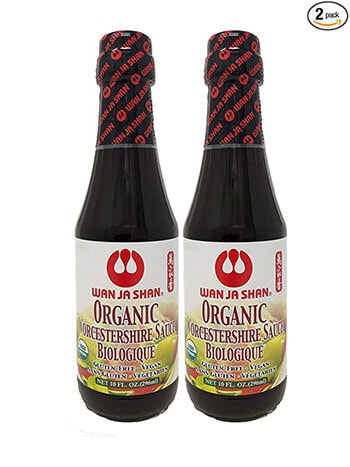 WanJaShan's Worcestershire sauce is both gluten-free and vegan. In addition, its sauce is made with organic ingredients.
So, if you are highly sensitive to ingredients, this brand may be your go-to choice. On top of that, WanJaShan is delicious, and well worth a try.
There are other brands offering Worcestershire sauce that seem gluten-free, but their products are not certified and include ingredients that may still have gluten. That means you should pay extra attention when browsing them.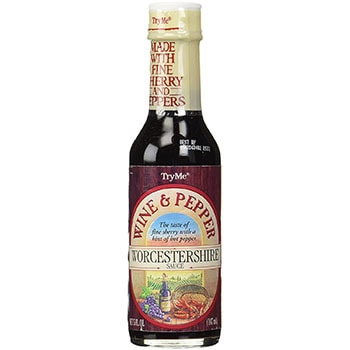 Among gluten-free options, TryMe Wine & Pepper offers a more "creative" sauce. Specifically, the brand adds hot pepper and sherry; the result is a product that's thicker and a little different from the traditional Worcestershire sauce.
Apart from hot pepper and sherry, TryMe Wine & Pepper contains distilled vinegar, which is gluten-free, hydrolyzed corn protein, tamarind, anchovy flavor, sugar, xanthan gum, and caramel color.
It's worth noting that there may still be gluten in the caramel color, so it's best to check with the manufacturer before opting for this sauce.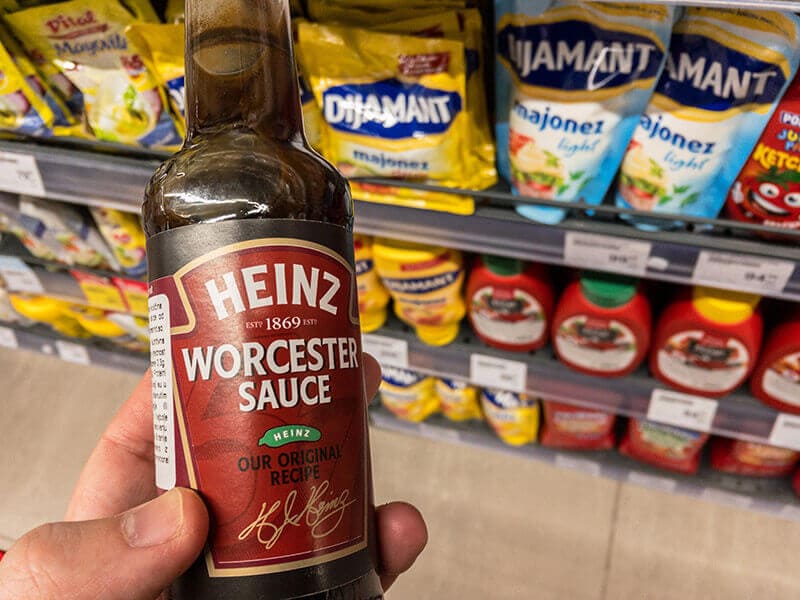 Heinz Worcestershire sauce is made with distilled white vinegar, non-wheat-based soy sauce, high-fructose corn syrup, molasses, and other spices.
The Kraft Heinz Company has a policy that all sources of gluten must be clearly labeled on products, and Heinz Worcestershire sauce doesn't have such labels. That means its sauce is supposed to have no gluten.
That said, the company itself doesn't consider its Worcestershire sauce gluten-free due to the unverified gluten content of ingredients from its suppliers. Ultimately, you need to watch out and beware if you decide to buy Heinz Worcestershire sauce.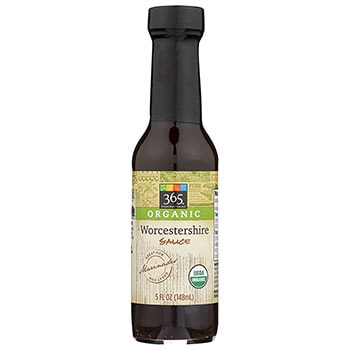 365 Everyday Value Worcestershire sauce's recipe includes organic white vinegar; other ingredients are organic, too, such as molasses, cane sugar, caramel color, and spices.
On paper, this brand's sauce doesn't contain gluten-based ingredients. However, it's not labeled gluten-free, either.
What Worcestershire Sauce Brands Are Not Gluten-free?
Those with Celiac disease or gluten sensitivity should look for gluten-free brands. At the same time, it helps to keep in mind what brands use gluten in their Worcestershire sauce products.
If you are browsing sauces and see the following brands, turn away.
Annie's Homegrown
Worcestershire sauce produced by this brand uses wheat, which is gluten-rich. It's not for a gluten-free diet.
Bourbon Barrel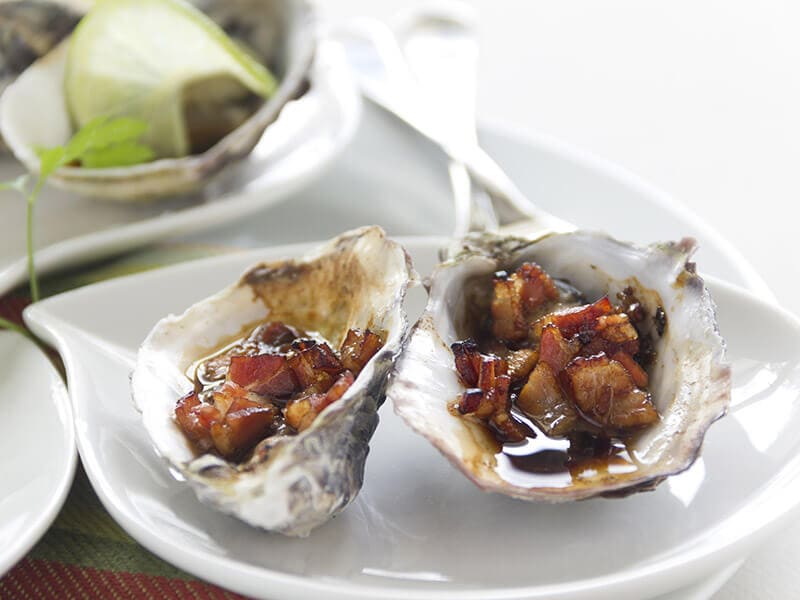 Bourbon Barrel has a unique Worcestershire sauce recipe that gives it a sweeter, tangier taste. Unfortunately, gluten-sensitive stomachs may never get a chance to try it as it's made with conventional soy sauce.
How To Choose A Gluten-free Worcestershire Sauce
In case you are going shopping and cannot find the gluten-free brands we listed here, or when a brand makes both gluten and gluten-free sauces, it helps to know some tips for choosing the right product.
Here's how you can find a gluten-free Worcestershire sauce.
Check The Label
The easiest way to check if a bottle of Worcestershire sauce is gluten-free is by looking at its label. Brands often mark their products gluten-free on the front.
If the brand's label is not secure enough for you, look for a bottle with a certified gluten-free label. It means the product meets established standards by the Gluten-Free Certification Organization (GFCO) and similar trusted entities.
Check The Brand
Some brands don't label their sauces gluten-free, but the ingredients can satisfy a gluten-free diet.
In such cases, visit the brand website, read about their sauce, and examine their recipe to see if it's gluten-free or not. Pay attention to the type of vinegar and soy sauce they use.
Contact The Company
Pick up your phone and ask the company directly. This way, you can not only ask them whether their Worcestershire sauce contains gluten, but you can also ask for other information if necessary.
How To Make Gluten-free Worcestershire Sauce At Home
If your gluten-free Worcestershire sauce runs out and you don't have any suitable replacement for your Worcester sauce, this homemade recipe will help you. It can take some time, but the result will satisfy you.
The good news is that all ingredients can be found in any supermarket or grocery. Now, let's take a look at how to make gluten-free Worcestershire sauce at home.
Preparation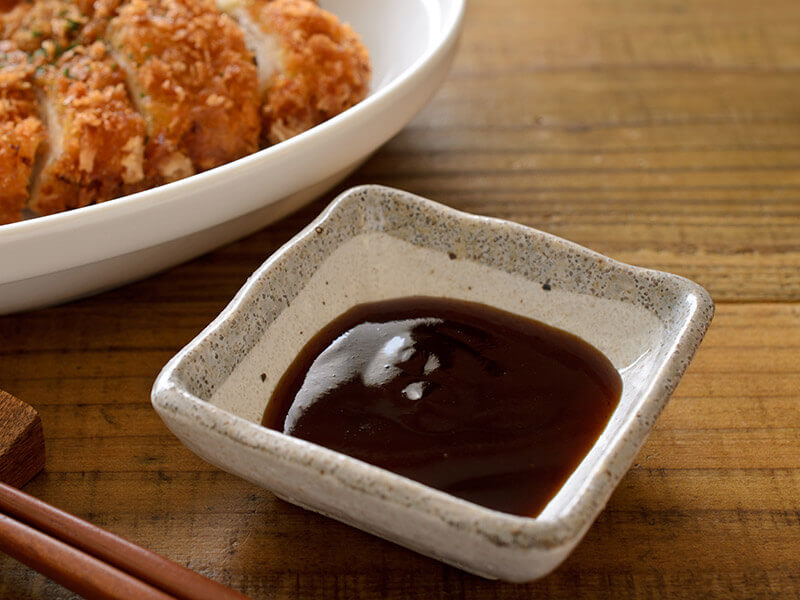 Here's a list of everything you need to have handy before making the sauce:
Apple cider vinegar: ½ cup
Gluten-free soy sauce (tamari): 2 tablespoons
Water: 2 tablespoons
Brown sugar: 1 tablespoon
Ground ginger: ¼ teaspoons
Dry mustard: ¼ teaspoons
Onion power: ½ teaspoons
Garlic power: ¼ teaspoons
Cinnamon: ⅛ teaspoons
Pepper: ⅛ teaspoons
A saucepan large enough for the ingredients
Let's Make The Sauce
First, put all the ingredients in the saucepan and stir to mix them completely.
Stir the mixture constantly until it boils. Simmer the mix for 1 minute.
Let it cool down.
Pour the sauce into a bottle.
Shake well before each use.
Follow these simple steps to cook your perfect homemade Worcestershire sauce.
Store The Sauce
There are many conditions that can affect your Worcestershire sauce's shelf life. So, you should store it in the fridge to maintain its original flavor.
Store-bought bottles can last about a year before starting to lose their aroma and flavor. Homemade sauce, however, may not last that long.
So, you should make just enough sauce for a few uses and then make a new bottle. It doesn't take much of your time anyway.
FAQs
So far, you have learned a lot about the gluten-free version of Worcestershire sauce. I hope you will be able to get a bottle of this sauce for your next tasty dish.
That said, you may still have other questions about this condiment, and the following answers to frequently asked ones will help. Take a look!
A Gluten-free Worcestershire Sauce Is A Friend For Life
A gluten-free diet is compulsory for Celiac patients and those with a gluten-sensitive digestive system. If you fall into these types of people, pay attention to what's included in your meals.
Finding a gluten-free Worcestershire is not hard now that you have a list of trusted brands as well as a detailed recipe to make the sauce at home.
If you have found useful information about gluten-free Worcestershire sauce here, share it with your friends and family. There are certainly more people with the same needs as you out there, and you can help them by simply showing them this article.
References
fda.gov. 2021, 'Gluten-Free' Means What It Says.
niddk.nih.gov. N.d., Celiac Disease.
celiac.org. N.d., What is Gluten?