Italian foods represent a long-standing culinary culture of Europe and the world. Italy is the cradle of ancient civilization, and its famous cuisine is a reflection of the country's wonderful culture.
In this article, a collection of Italian recipes will be shown to you. I hope you will gain valuable knowledge about Italian cuisine and have a list of great recipes for your travels. Without further ado, let's get right to this post!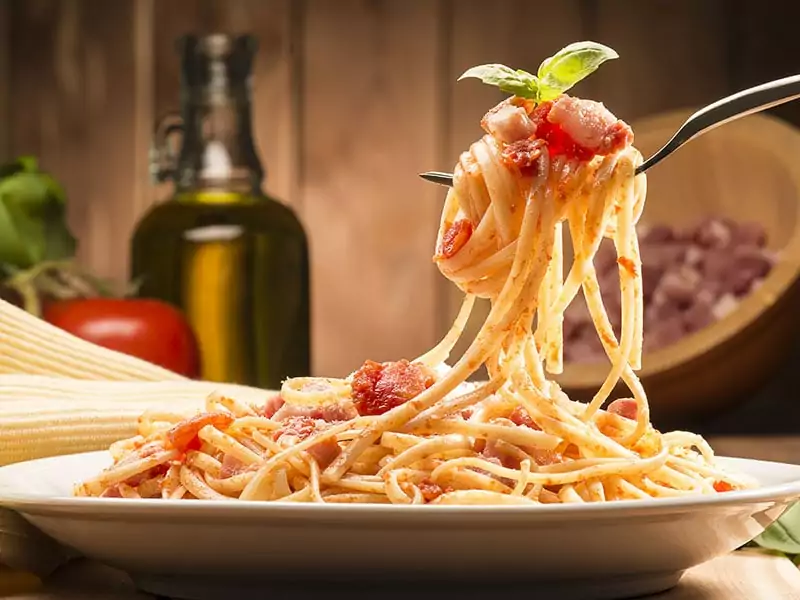 Outstanding Choices For Fantastic Pasta
Pasta is the identity of Italian cuisine. Everyone wants to taste the pasta before leaving Italy to feel the authentic flavor of this iconic dish. Below is a list of traditional Italian pasta that you must try.
1. Tagliatelle – Long, Ribbon-Style Pasta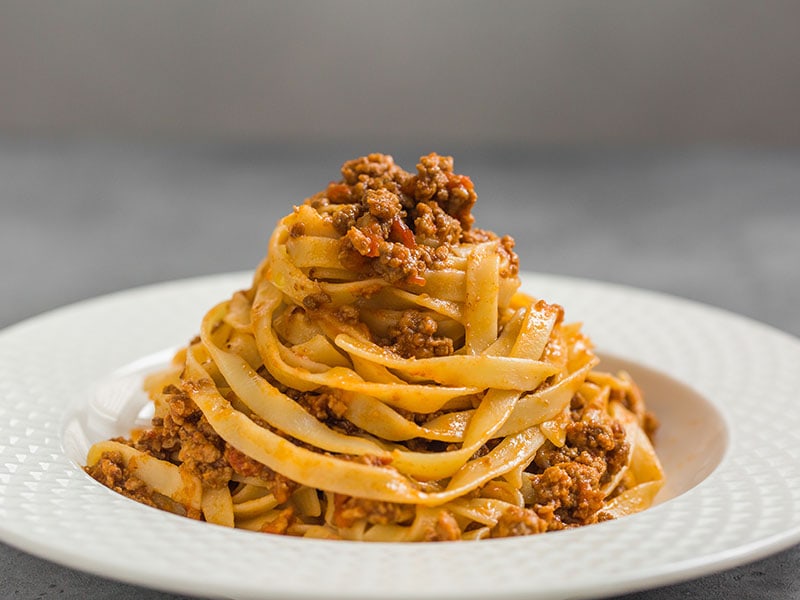 It is a fantastic experience to taste the quintessential flavor of tagliatelle pasta in the beautiful Emilia-Romagna and Marche regions. This is a traditional dish for your Italian lunch recipes. These long and flat noodles will fill your hungry stomach.
You will fall in love the moment you look at a dish of yummy and fragrant tagliatelle. There are many types of sauces to choose from when eating this food. However, you should try tagliatelle with Bolognese sauce – an iconic kind of pasta sauce, to feel the authentic flavor of this dish.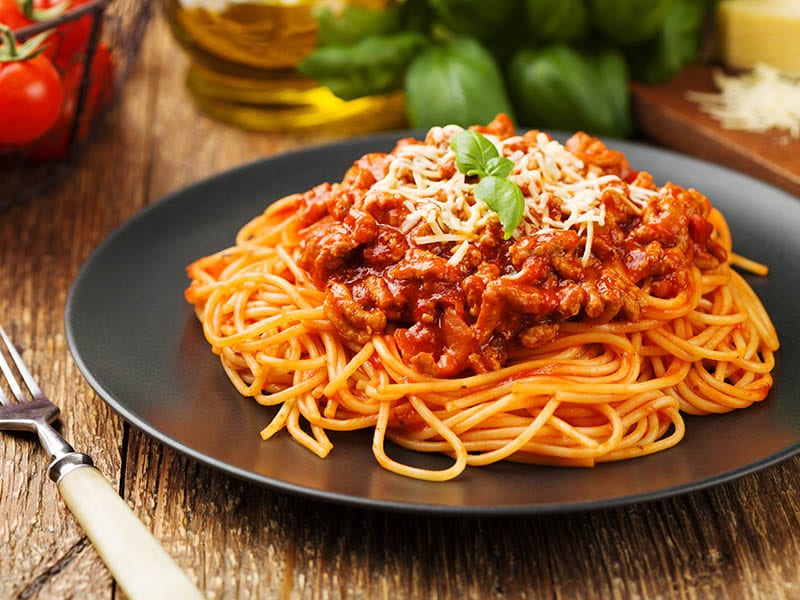 When it comes to Italy, I think of spaghetti immediately. It is one of the most famous pasta dishes of its gastronomy. There are various versions of spaghetti, depending on the ingredients and the sauces served.
Different regions of Italy will have distinct ways of preparing spaghetti. However, I recommend enjoying carbonara spaghetti when you visit Rome because it is a classic and traditional Italian spaghetti.
Since the 5th century AD, it has been around, but it only became popular in the 19th century when many spaghetti factories were formed.
Spaghetti can go well with many dishes. For instance, spaghetti is great accompanying food for porcupine meatballs, salad, Cacio E Pepe Brussels sprouts, ragu, bruschetta, etc.
Learn some helpful information about the history of spaghetti
3. Ravioli – Pasta With Fillings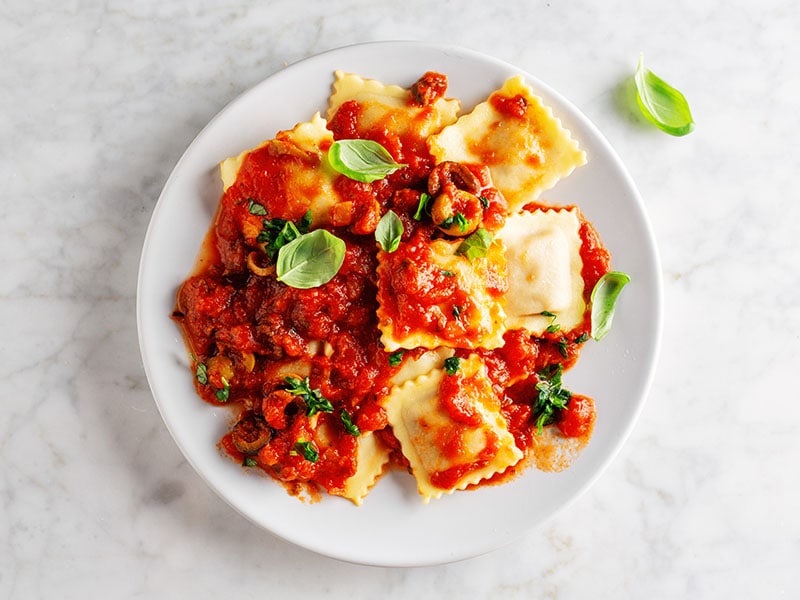 Pasta with a distinct look that you should not ignore in Italy is Ravioli. It will appear in front of you with a beautiful square and filling inside. You may find nutmeg, pepper, spinach, or cheese filling with a bite of ravioli.
According to Italians, this mouthwatering food was invented in the 14th century when Italians simmered beaten eggs, cheese, and herbs together with a broth. This recipe is associated with Lent, which is a fasting festival with about 40 days.
When it comes to food that goes well with ravioli, there are so many fun combinations you can try. My favorite one is ravioli with spring salad and a few slices of fragrant garlic bread.
Do not miss the ways to make ravioli and crucial knowledge about it.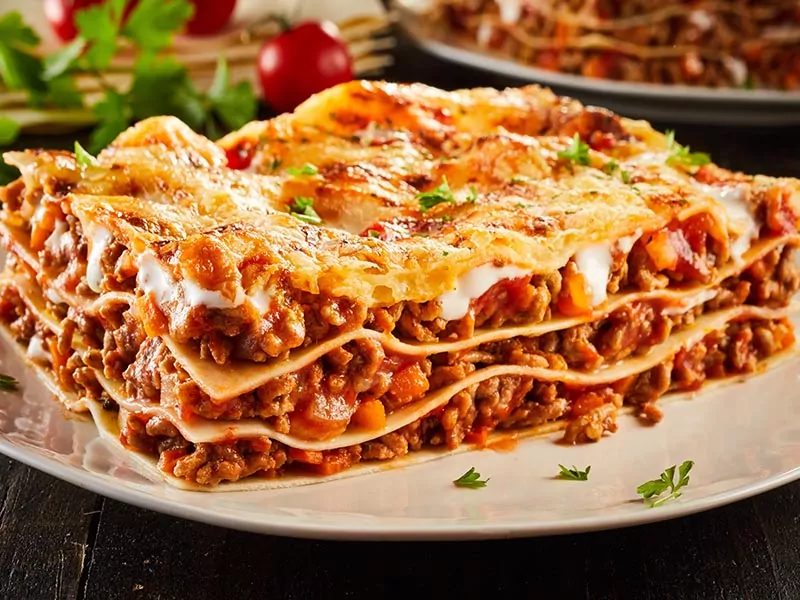 You should not miss the famous lasagna if you are a foodie. This incredible dish comprises many layers of flat pasta and is bathed in a rich sauce with meat, vegetables, and cheese. I believe you will be mesmerized by it after enjoying it.
To achieve the authentic lasagna taste, you'll need to know the specific cheese varieties that are compatible with lasagna. Picking the wrong one might result in less than desirable flavor and texture.
Naples is the birthplace of this fantastic recipe and dates back to the Middle Ages. However, modern lasagne was introduced into the English cookbook in the 14th century. Its name is taken from the Greek word "laganon."
The largest lasagne in the world at 4,865 kg was made by Magillo Restaurant and Macro Supermarket on 20 June 2012 in Poland. This was during the time when the Italian national football team was playing the European football championship. It was made by 5000 people.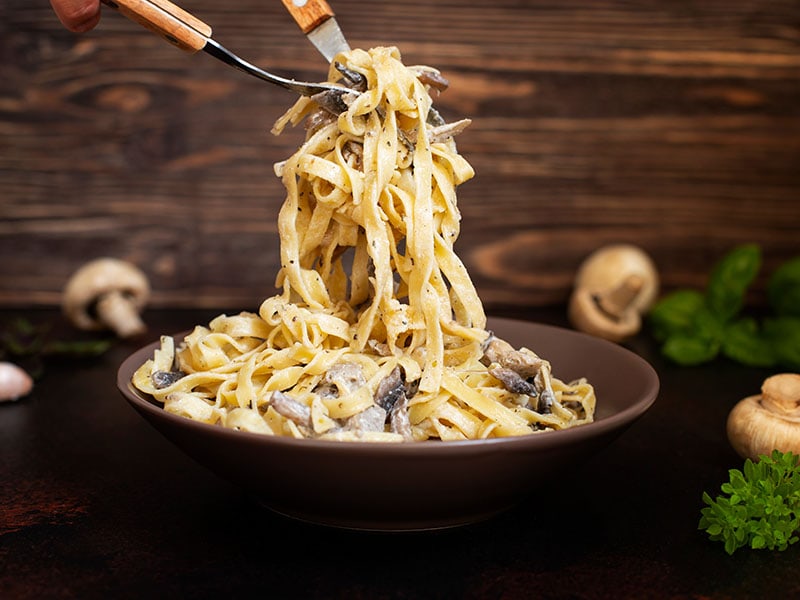 Fettuccine is another famous Italian cuisine pasta, especially of the Roman and Tuscan regions. The noodles are shaped in a ribbon style that will leave a deep impression on your mind. It is served with beef, chicken, tomato, seafood, and cheese sauce.
It is one of those Italian recipes with a long history. Alfredo Di Lelio invented this incredible dish in 1914 when he opened the first restaurants in Rome with his name.
Many say that fettuccine looks a lot like linguine. However, don't think fettuccine and linguine are the same, there are many differences between them. These include main ingredient, overall shape, sauces, possible side dishes, etc.
Listen to some reviews after tasting fettuccine.
6. Pappardelle – A Famous Ribbon Noodles In Rome And Tuscany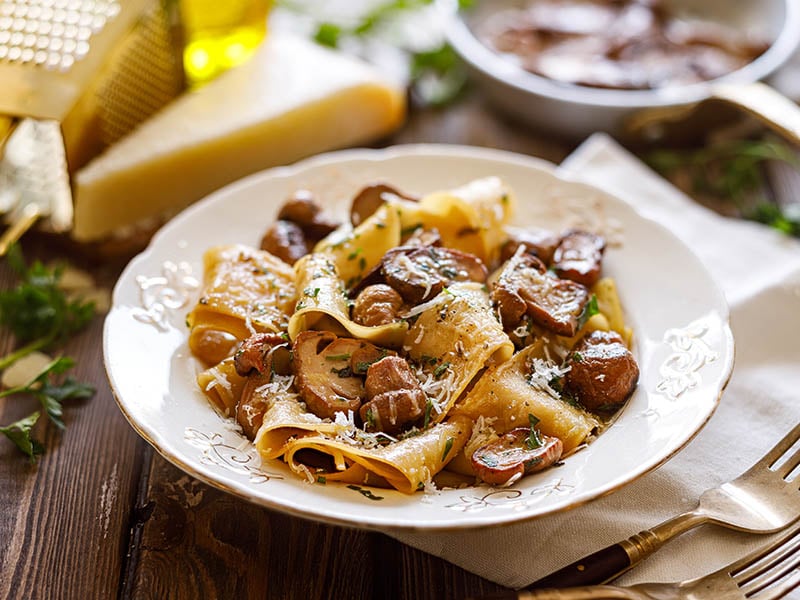 The region of Tuscany has produced a wonderful pappardelle pasta dish to treat tourists when coming to beautiful Italy. Nowadays, you can easily come across pappardelle plates with thick and flat noodles in restaurants in Rome and Tuscany.
They usually serve it with delicious beef or chicken sauce. In addition, you can feel the taste of vegetables from this signature dish. These incredible noodles will delight your taste buds when you eat them.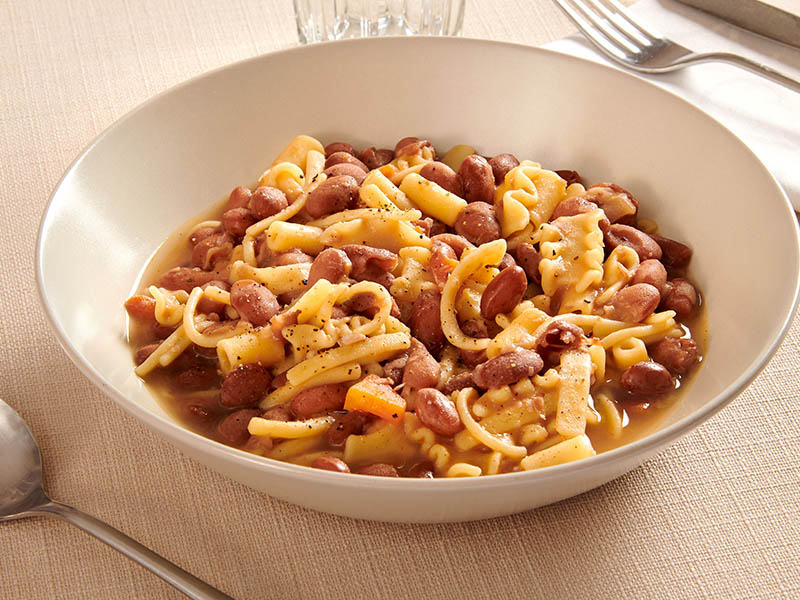 Have you ever enjoyed the famous pasta with soup and beans of Italian cuisine? If not, find and taste pasta e Fagioli as soon as you arrive in Italy because its great flavor will satisfy those with fastidious palates.
Pasta covered with rich, thick soup and delicious soft beans will bring you indescribable feelings. This traditional food originates from the regions of Campania and Emilia-Romania.
Follow these instructions to make mouthwatering pasta e Fagioli.
8. Linguine – Ribbon-Style Noodles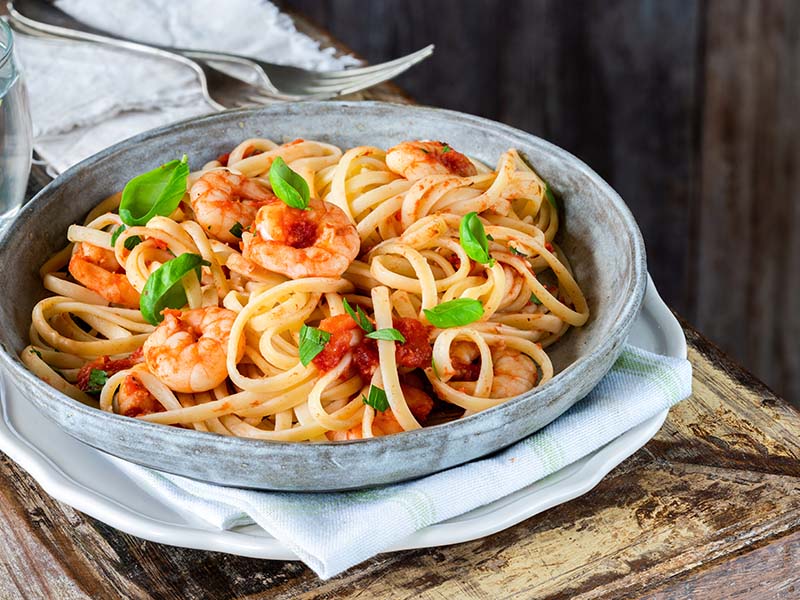 It would be a pity if you did not enjoy the excellent taste of linguine pasta. To enjoy authentic linguine, you should go to restaurants in Genoa because this is the hometown of this traditional pasta.
Linguine is a type of noodle made in the typical ribbon style and oval shape. Compared to Fettuccine, linguine noodles look narrower, but they are slightly wider than spaghetti. It is fantastic to eat the noodles soaked in the delicious garlic sauce.
The Italian Baked Goods Are Something You Should Not Miss
Italian bread always leaves an indelible impression in the hearts of diners. If you have plans to visit Italy, remember these beautiful pieces of bread to fill your hungry stomach.
9. Focaccia – Italian White Pizza For Breakfast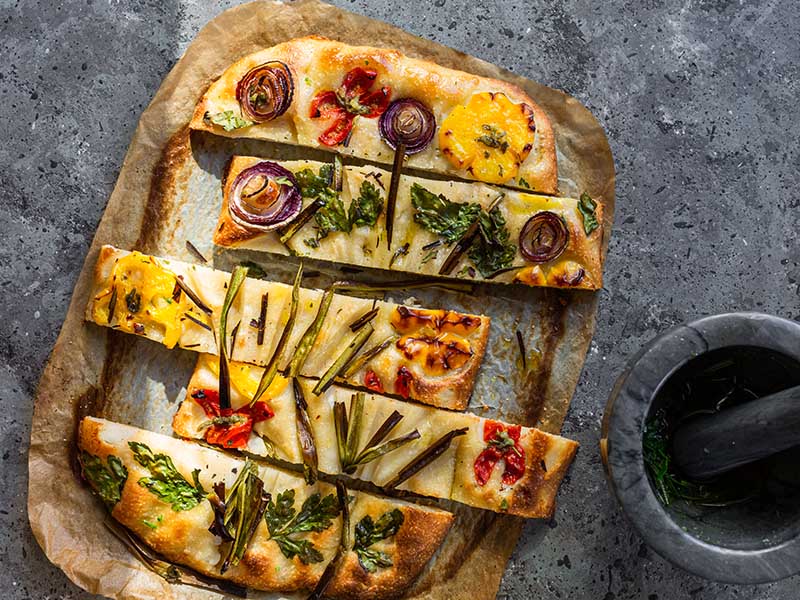 Your Italian breakfast recipes will be even better with a Focaccia flatbread. You will be immersed in the tenderness of the inside and the crunchiness of the outer crust. You can choose from a savory or sweet version of Focaccia to enjoy.
This fantastic food originated in the North-Central part of Italy in the pre-Roman era and was made by the Etruscans. Its name is taken from the word "panis focacius", which means "hearth bread".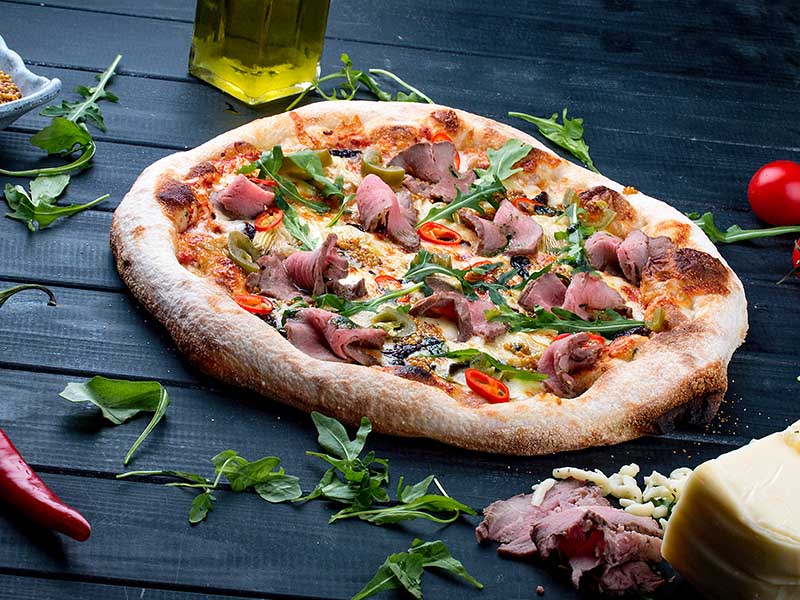 Pizza is a food that has brought Italian cuisine closer to the world. Today, yummy pizzas are famous in many parts of the world, thanks to their appealing flavor.
The flatbreads are carefully shaped to an excellent round shape. You will feel the softness and chewiness of the bread and the richness of the cheeses. The toppings will depend on the preferences of each person.
This wonderful dish was first created in 997 AD in Gaeta and is commonly used in Southern and Central Italy. However, it was not until the 18th century that modern pizza was made in Naples and became popular in the 1940s.
Understand more about pizza through some information about history and variations.
Every Italian household makes a sweet panettone from candies, lemon zest, oranges, and chocolate at Christmas. It is incredible to gather with family and enjoy delicious Italian cakes and pies. The cupola shape of the cakes gives a nice look to them.
Panettone is most famous in Milan because it was born here. Today, it is popular in Italy and has also become an indispensable dish in Christmas celebrations around the world.
12. Bruschetta – Finger Bread For Appetizer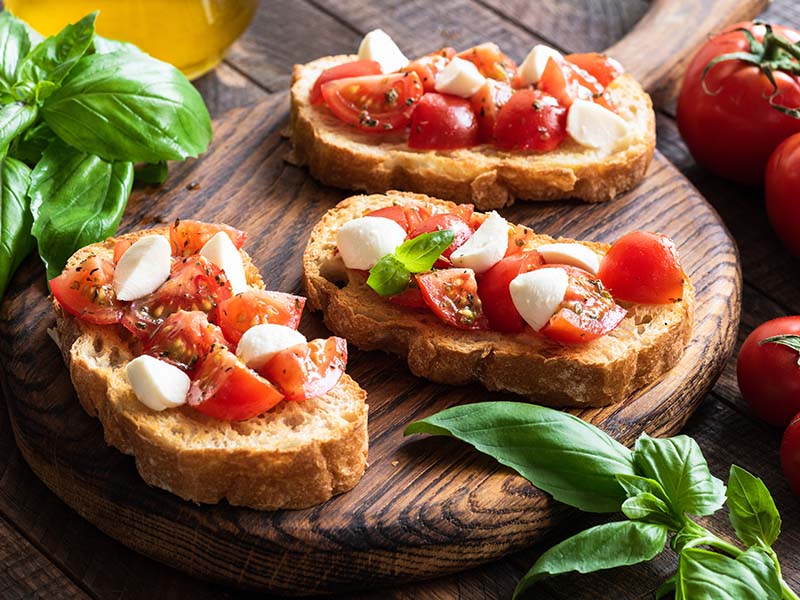 If you are a big fan of bread, bruschetta is a perfect choice for you. This is a fantastic addition to your tasty Italian breakfast recipes during your travel days in the country. This famous recipe dates back to ancient Rome and is popular worldwide.
Small pieces of bread shaped like fingers are toasted to create a crunch. The distinctive aroma of garlic will make you unable to stand the attractiveness of this dish. It looks perfect with tomatoes, vegetables, and basil garnished on top.
Learn how to make yummy bruschetta to treat your loved ones.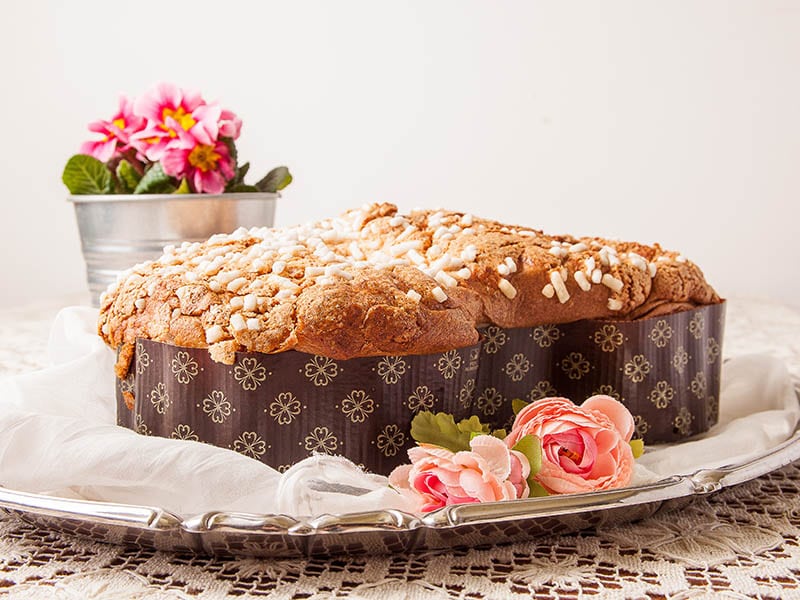 Colomba di Pasqua is an outstanding dessert that you should order after every meal at Italian restaurants. Its taste is quite similar to panettone, and it was also invented by the people of Milan.
This iconic bread has a dove-like shape. One story has it that Colomba di Pasqua was created to celebrate the successful defense of Lombardy against the Holy Roman Empire in 1176AD.
Another legend says that the bread was a peace offering to King Alboin of Lombardy in exchange for his mercy for 12 young girls and the city of Pavia.
You will be mesmerized by the sweetness and porosity of this beautiful bread. Unlike panettone, you will not find raisins in these cakes. The almonds and nib sugar will coat the outside of the cake.
14. Grissini – Well-Known Breadsticks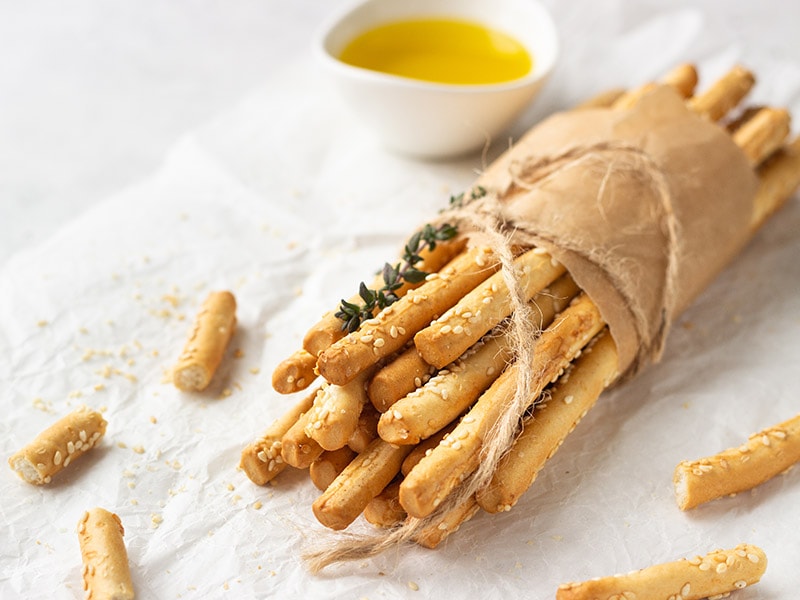 Grissini is a typical Italian snack that you should definitely try. The long and crispy breadsticks will be a perfect finger food for you when walking on the streets of Italy. It was first produced in the city of Turin in 1670.
This famous bread is associated with Duke Vittorio Amedeo II. He suffered from indigestion as a child, so a doctor advised the Duke to eat foods that were easy to digest and stimulate his appetite, and a local baker created Grissini for him to eat.
Add Protein With Meat And Seafood-Based Italian Foods
Besides starchy dishes, you need options with meat or seafood to change the taste of your meals in Italy and recharge for the journeys to explore this beautiful country. You can refer to the dishes below.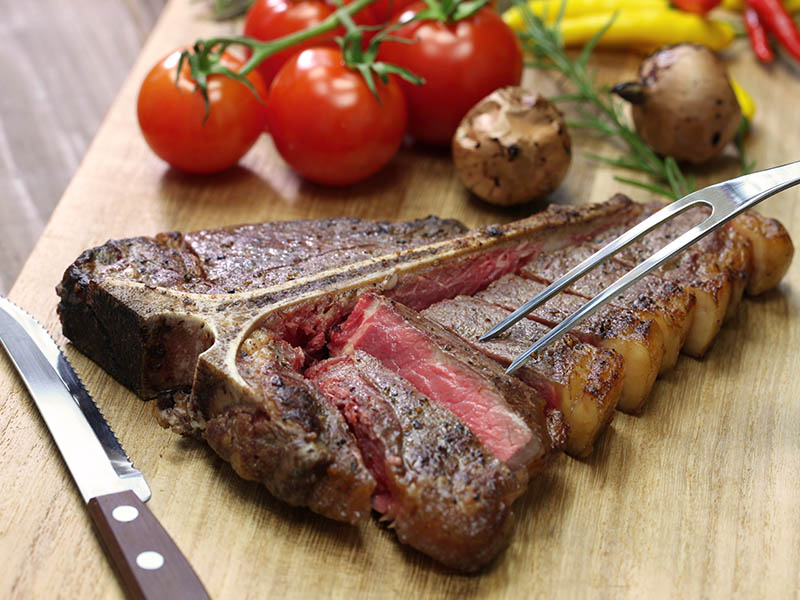 It is time to add protein with a great Italian dinner recipe. Bistecca Fiorentina is a yummy steak with attractive veal cuts. This is a culinary masterpiece of Florence that you should not miss when coming to Italy.
The processing of T-bone veal steaks is done with charcoal fire to create a beautiful color on the outside of the meat. When exploring inside them, you will be surprised. The meat still retains its red color inside, and you will feel the softness and juiciness when eating.
Boost your knowledge with incredible knowledge about Fiorentina steak.
16. Carpaccio – Authentic Flavor Of Raw Fish Or Meat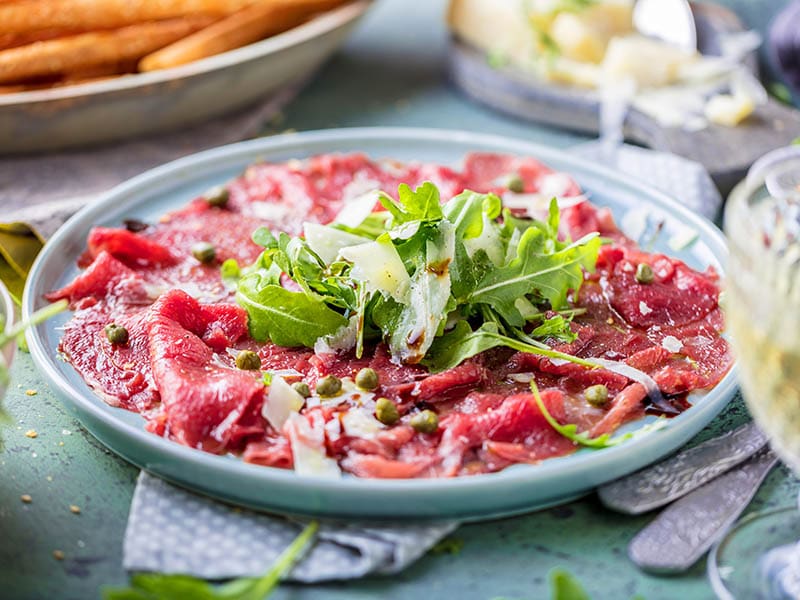 If you are craving raw fish or meat, you should not skip the carpaccio. The food has an eye-catching appearance, with thin slices of beef, veal, salmon, or tuna arranged neatly on the plate. This is a fantastic Italian appetizer recipe.
This dish originated in Venetian gastronomy. It was first made in 1950 in Venice by Giuseppe Cipriani. You will feel the freshness and authentic flavor of seafood and meat. You will enjoy this food with lemon, vinegar, salt, or olive oil.
17. Vitello Tonnato – Black Truffles For Christmas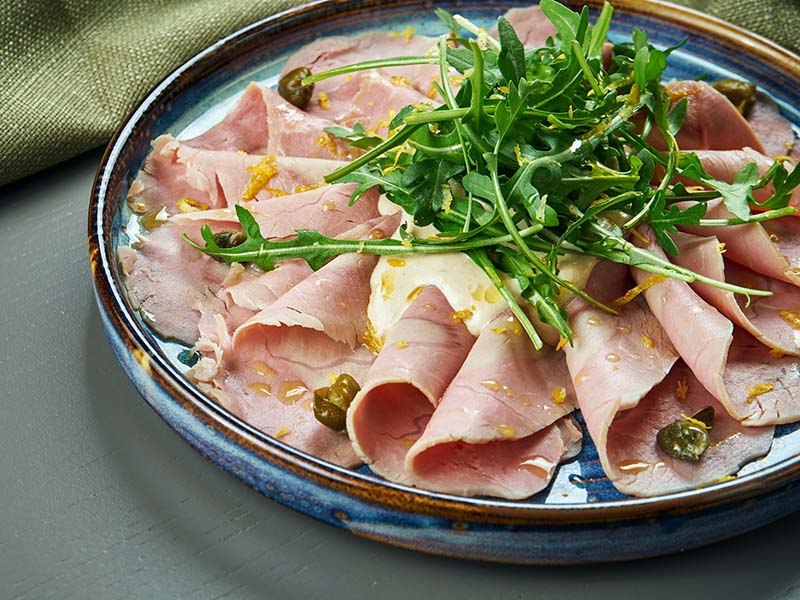 If you go to Italy around Christmas, you will find Italians eating Vitello Tonatto a lot. The Piedmont region has brought this wonderful food whose name begins with "V" to Italian cuisine. The main ingredients that make up its appealing flavor are veal and tuna.
Tuna will be combined with lemon juice, pepper, anchovies, and capers to make a smooth sauce. Restaurant chefs will pour this sauce over the entire veal. All the elements will blend and melt in your mouth as you enjoy.
18. Polpette – Italian Meatballs With Classic Flavor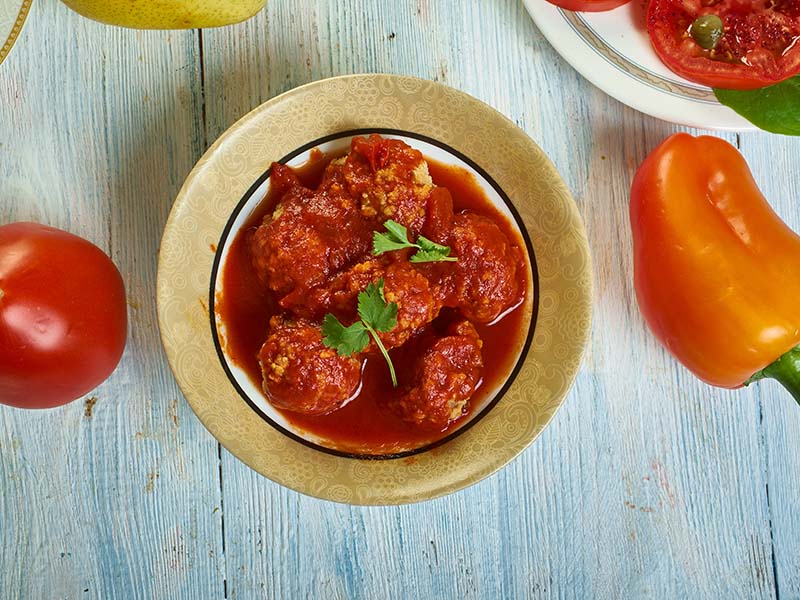 Meat lovers will fall in love with this wonderful Polpette. You will be immersed in meatballs made from beef or veal. Besides, the flavor of parsley and Parmigiano cheese will make it impossible to stop eating this fantastic recipe.
According to Italians, this meat dish was first prepared in Persia by the ancient Romans. Initially, it was called kofta, and the cookbook recorded it as a meatball in the 14th century. It is considered a dish tied to the history of Italian cuisine.
19. Salami – International Sausage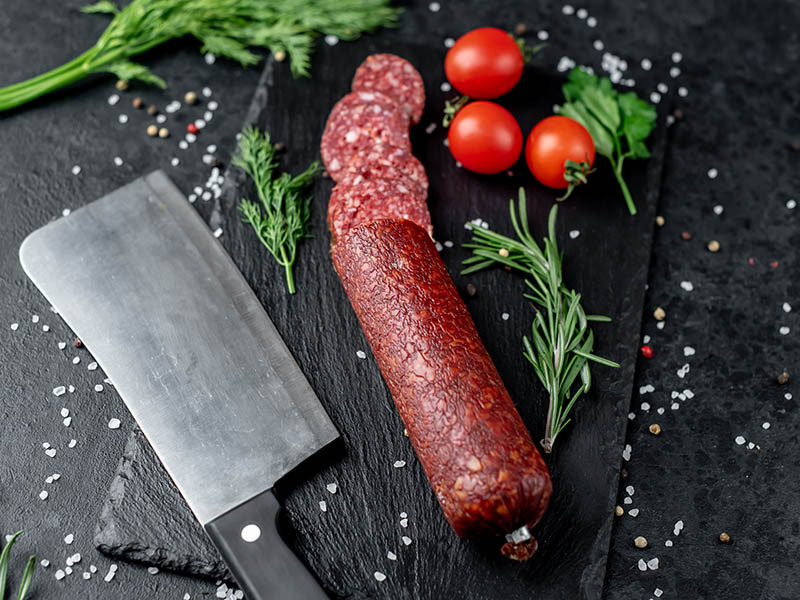 Salami is a traditional Italian sausage dish. Since Roman times, salami has been a favorite dish. It is famous in Italy and many other parts of Europe. In Latin, the word "salami" means salt or salare.
When buying salami, you'll notice that there are many types of salami out there, each with its own unique features. For instance, there are many distinctions between Genoa salami and hard salami, despite their apparent similar appearance.
Pork meat and pork fat are the two primary ingredients of this recipe. It will become more flavorful with salt, pepper, garlic, cinnamon, and wine. Different regions of Italy will have various types of salami as they can be made from beef or rabbit.
When enjoying salami, you will be adding a large amount of protein, sodium, and fat. Moreover, it has a high content of vitamins and minerals. The best thing is that you will not need to worry about the high amount of carbs and calories in the food.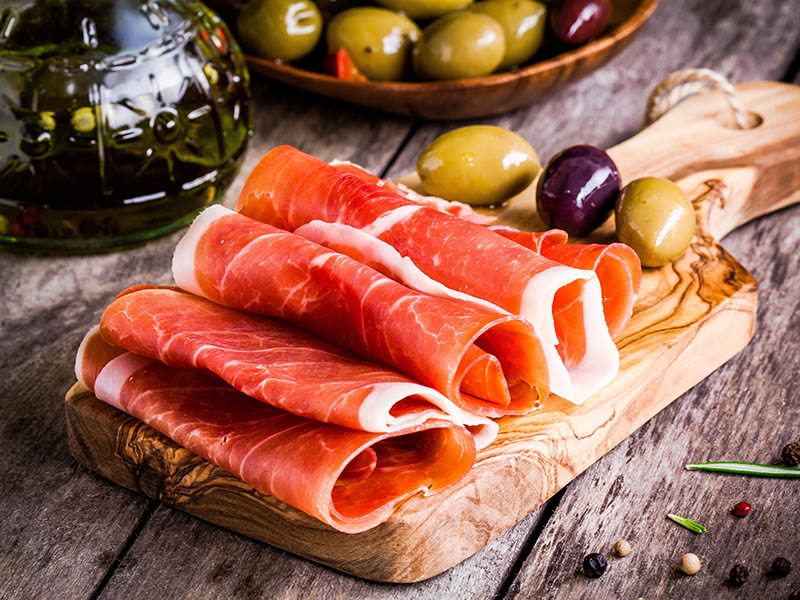 If you like ham, prosciutto is a food you must enjoy. This air-cured ham serves as a top appetizer at Italian parties. Prosciutto usually includes raw and cooked ham. I am sure that you will hardly forget this recipe after leaving Italy.
The food first appeared in the Parma province of the Po River valley. You can use a knife to slice the ham as thin as leaves to eat directly. This is a new and memorable experience you should try.
Please discover how to make remarkable prosciutto in Italy.
21. Mortadella – Wonderful Sausage In Bologna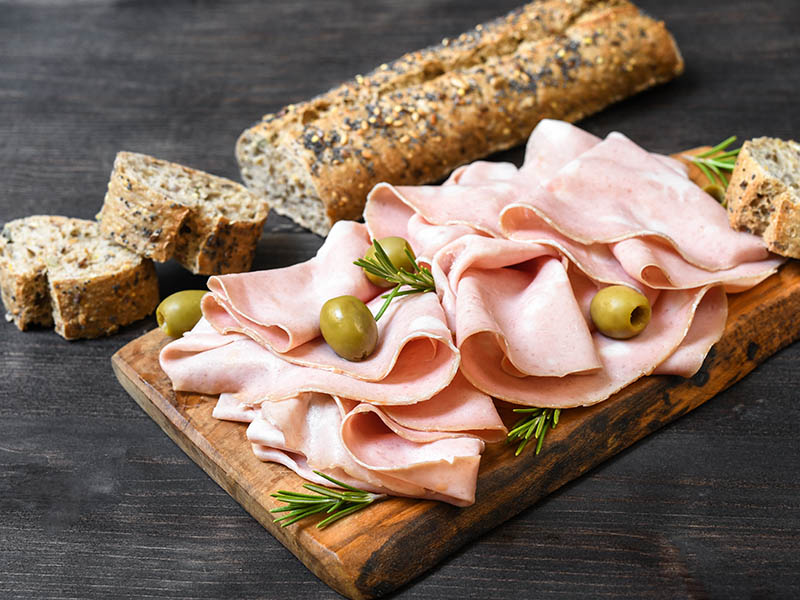 Mortadella is one of the famous pork sausages in Italy. Bologna is the place to introduce this wonderful dish. Pork is combined with black pepper, myrtle berries, and pistachios for various flavors.
You can enjoy its taste in many delicious Italian sandwiches. There are many versions of mortadella with different components. Tuscany is famous for its mortadella paired with liquor or smoked mortadella. If you want an authentic version, please go to Bologna.
Other Yummy Suggestions You Should Keep In Mind
This section will bring you other fabulous dishes to refresh your Italian meal. Therefore, do not miss out on any of the incredible recipes of this age-old cuisine. You will not be disappointed with the taste of these foods.
22. Tiramisu – Sweet Cake For Dessert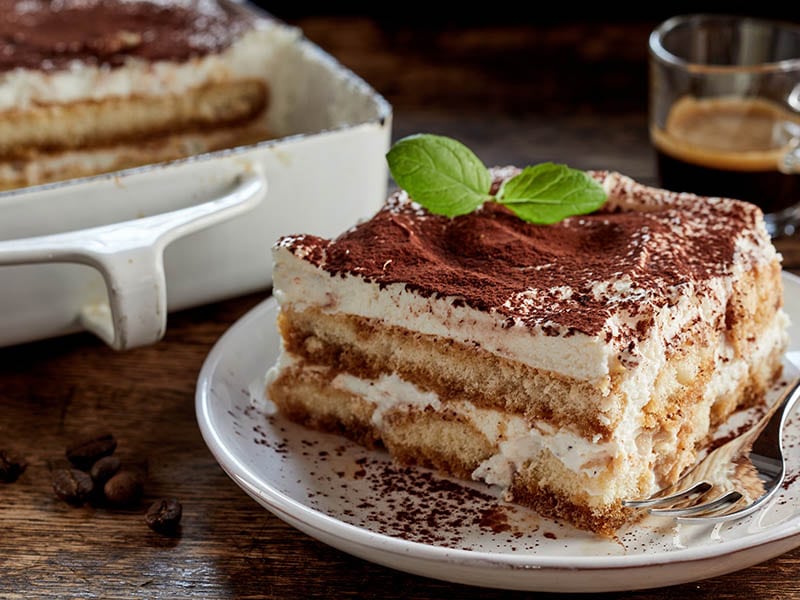 Your list of delicious Italian dessert recipes cannot be complete without tiramisu. It is a type of pastry chosen by many Italians to refresh their taste buds after each meal. You will feel the coffee flavor in this cake.
Coffee, biscuits, cheese, and sweet cream make up this Italian-style dessert. Italians in the Treviso region were the first to make and enjoy this cake, and it became common across Italy over time.
Tiramisu has taken the world by storm when it is the most searched keyword in the most populous country in the world (China). In addition, March 21 every year is celebrated as Tiramisu Day.
It is time to know when the tiramisu was made and its origin.
23. Risotto – Traditional Rice Comes From Lombardy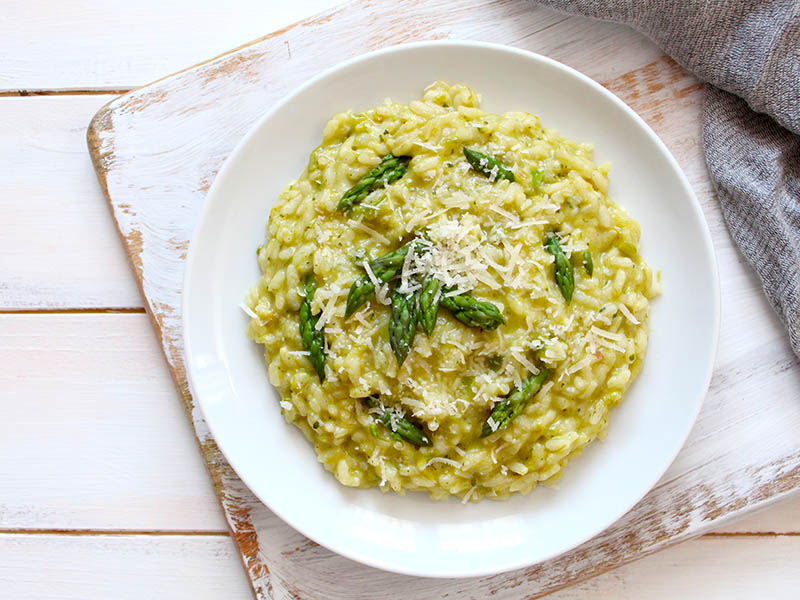 Referring to Italian rice dishes, it is impossible not to mention risotto. It is a traditional rice dish that originated in the Lombardy region. Rice is combined with broths made from meat, fish, or vegetables to make the recipe rich.
Arborio and Carnaroli are two types of rice used frequently for this wonderful rice dish. You will have a headache choosing a risotto to enjoy because they are diverse. For starters, you should eat Risotto Alla Milanese when traveling to Milan city.
Do not ignore the outstanding information about the history of risotto.
24. Arancini – Fille Your Stomach With Rice Balls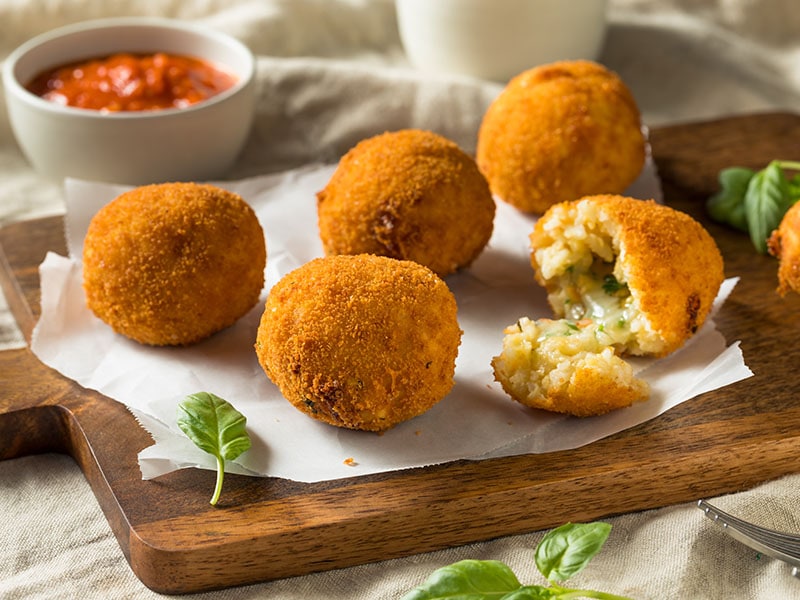 Italians have created unique rice balls to bring a twist to the cuisine. This incredible food originates from the region of Sicily. You will think of oranges since the rice balls are deep-fried until they have an eye-catching golden brown color.
When you take a bite of a rice ball, you will be struck by the crispy outer crust and the soft inside of the rice. In particular, the filling made from cheese, ham, peas, and minced meat will stimulate your appetite.
Do not ignore the yummy rice balls when coming to Italy.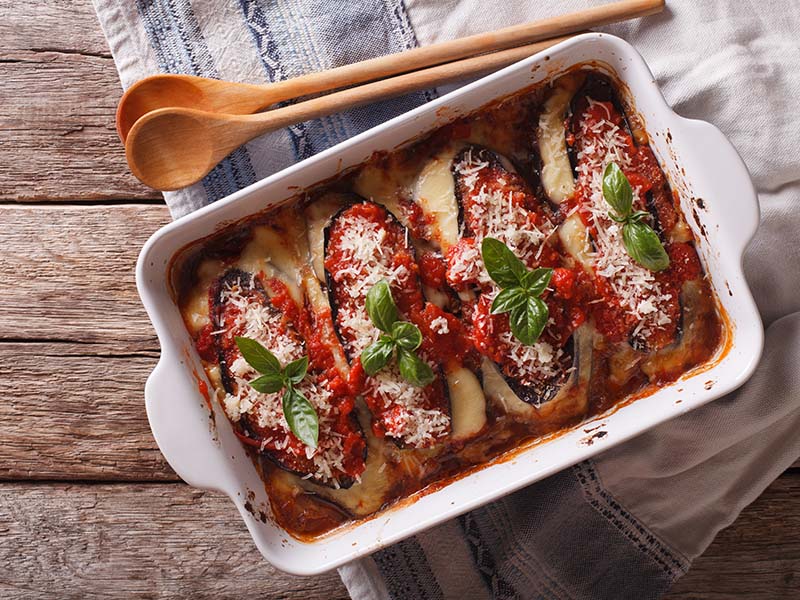 Melanzane Alla parmigiana is a healthy choice for those who love vegetable-based dishes. It is an iconic food from Sicily and Campania. The flavor of this recipe is best in Parma and Naples.
Its deliciousness is made from deep-fried eggplants baked in the oven. The signature feature of this classic casserole from Italy is its rich sauce. You will feel the tastes of tomatoes and parmesan cheese in this fantastic sauce.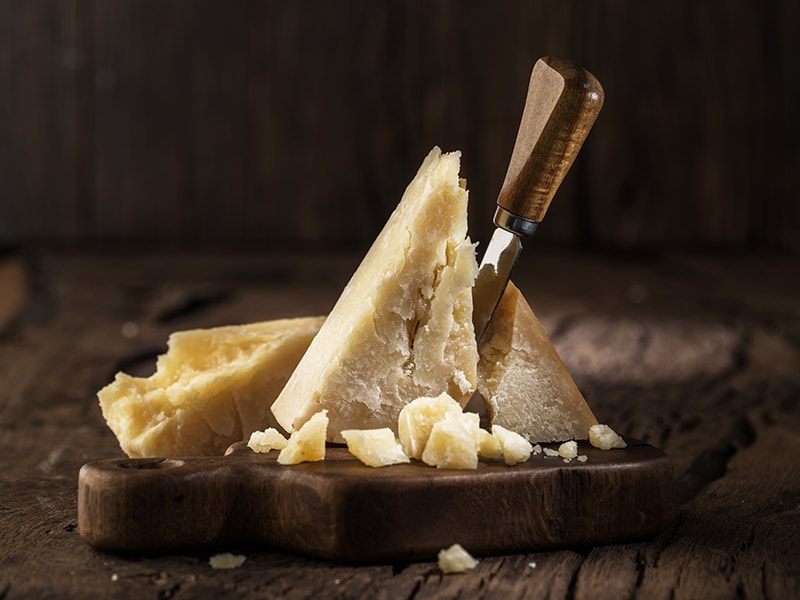 Italy is a country famous for its great cheeses, and Parmesan is one of them. People in the Parma province of Emilia Romagna created this delicious cheese in 1928. Its name is also derived from the name of this province.
This hard cheese made from cow's milk is considered the king of cheese in Italy. Its versatility has allowed it to appear in several dishes, including salads and pastas. Do not forget to enjoy slices of parmesan cheese when visiting Bologna or Modena.
Parmigiano Reggiano is a legal name protected by Protected Designation of Origin since 1996. Similar cheeses outside of Europe can use the name Parmesan, but Parmigiano Reggiano is only used for authentic parmesan cheeses made in certain Italian provinces.
Find out some reasons why the cost of Parmesan cheese is so high.
27. Insalata Caprese – Excellent Caprese Salad For Meal Starter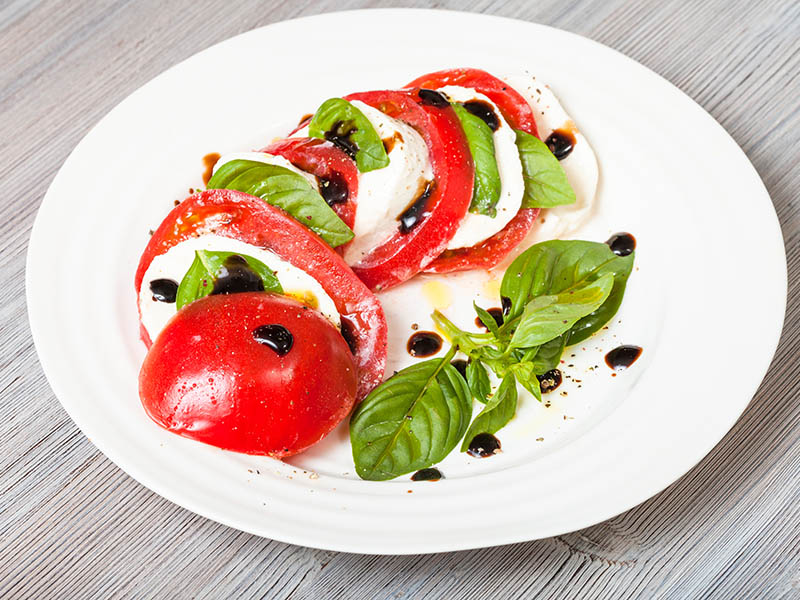 It is time to refresh your taste with yummy Caprese salads. This food is a perfect combination of mozzarella cheese and tomatoes. The basil leaves, olive oil, and vinegar will bring a new breath of fresh air to the dish.
It will be served as a great appetizer when eaten at restaurants before starting your outstanding main course. Italians have been eating this salad since World War I.
You can easily find different variations of caprese. One type is to use Italian dressing instead of olive oil. In some cases, oregano or black pepper will be used in this salad recipe. The version with mozzarella cheese gives it an intense flavor.
Gain all fantastic things about the history of insalata caprese.
28. Mozzarella – Southern Italian Cheese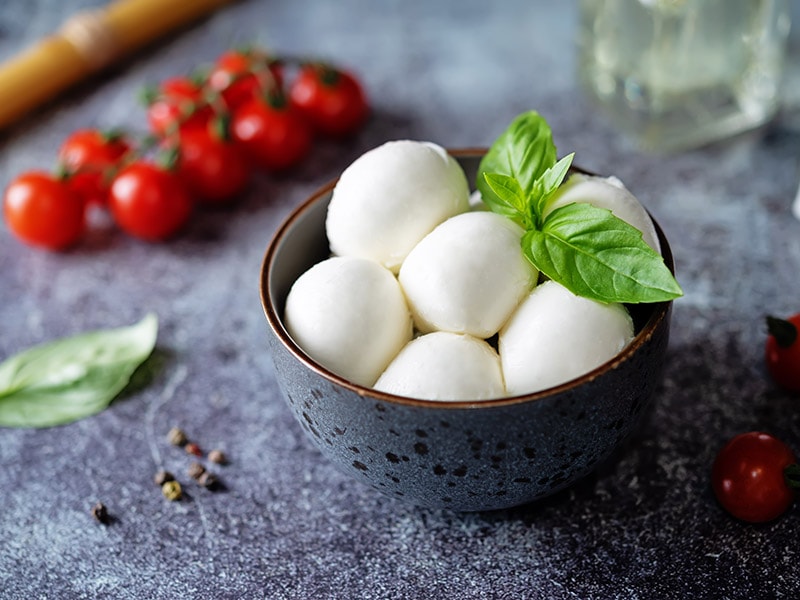 The list of well-known Italian cheese cannot be complete without Mozzarella. It is made of buffalo milk and water, so it has a semi-soft texture and a mild flavor. Lazio and Campania are home to Mozzarella.
You can enjoy these cheese slices directly or combine them with salads and pasta for a new and extraordinary culinary experience.
29. Gelato – Famous Ice Cream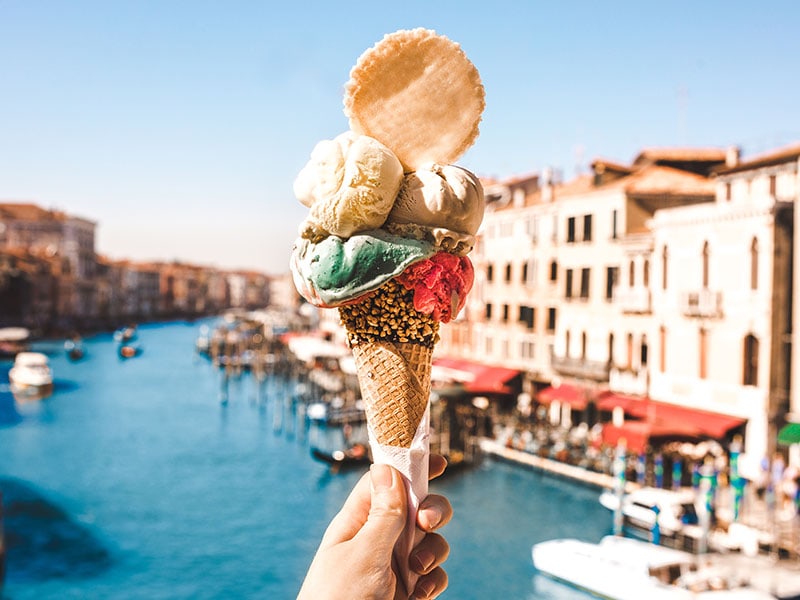 It is time to cool off with the signature Italian gelato. It is widely known all over the world as an ideal dessert. Eggs and milk add creaminess and richness to this fabulous dish. In addition, the tastes of chocolate, vanilla, and fruits will make you fall in love with it.
In Italy, gelato is preferred over ice cream because it has a silkier and thicker texture than ice cream. This makes the flavor of the gelato richer and more appealing. In addition, the taste of gelato comes from natural sources.
If you want to eat the world's first gelato, you need to go back to the 16th century. It was made by a man in Florence named Bernardo Buontalenti.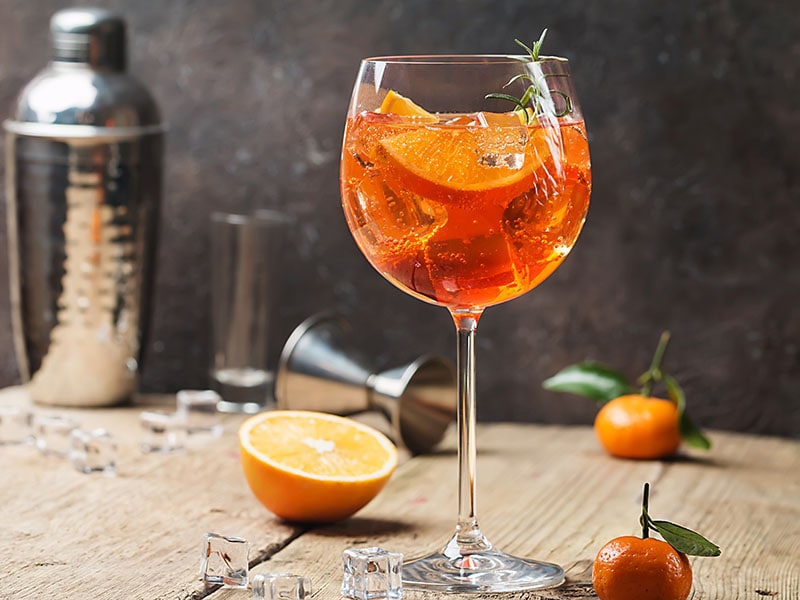 There's no shortage of enchanting drinks in Italian cuisine. Unleash your palate with this amazing Aperol spritz cocktail. You will be less likely to get drunk when drinking it because of the low alcohol content.
Aperol spritz was invented in Padua with a combination of soda, Aperol, orange, and Prosecco alcohol. This is a fantastic option for you to cool down on hot summer days in pasta country.
It Is Time To Discover Italian Cuisine
Food is an extensive category for you to explore, but it is always fun and stimulating as you discover. Italian cuisine contains many fantastic dishes, so it is time to pack your bags and come to this gorgeous country to enjoy delicious foods.
Do you know any other famous Italian dishes? Please recommend them in the comments if you know. I look forward to your comments to let everyone know about many other amazing dishes. Thanks a lot!