Is oyster sauce vegan, or do you have to stay far away from it if you're following a plant-based diet? As oyster sauce becomes more well-known, more people begin to ask this question. After all, everyone loves the unique flavor that this sauce brings to a stir-fried dish.
In this post, I'll answer your question of whether oyster sauce is vegan or not, along with some awesome meat-free condiments that you can use instead of oyster sauce.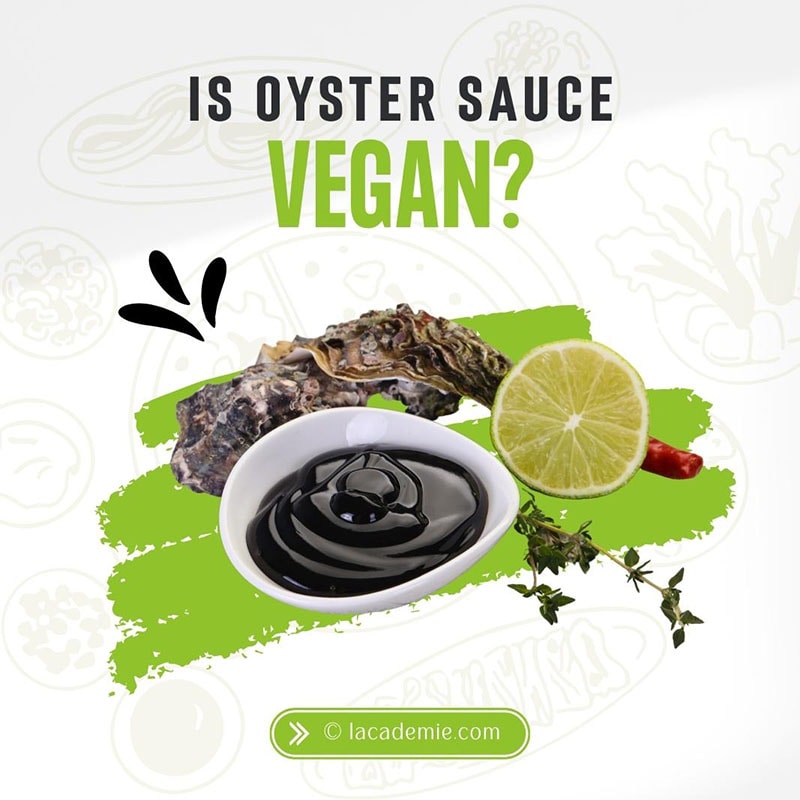 A Quick Introduction To Oyster Sauce
To decide whether oyster sauce is vegan or not, first, let's have a look at the basic definition of oyster sauce. Although there are lots of fascinating things to learn about this condiment, I'll keep it short and simple for the sake of not making this post too wordy.
Oyster sauce is a popular condiment in Asian cooking, especially in Chinese, Malay, Khmer, Thai, and Vietnamese signature cuisine. It has a dark brown color and an incredibly thick, syrupy consistency.(1)
Oyster sauce boasts a rich and complex flavor that's hard to describe precisely in just a few words. Simply put, it has a sweet, salty flavor with an abundance of umami goodness.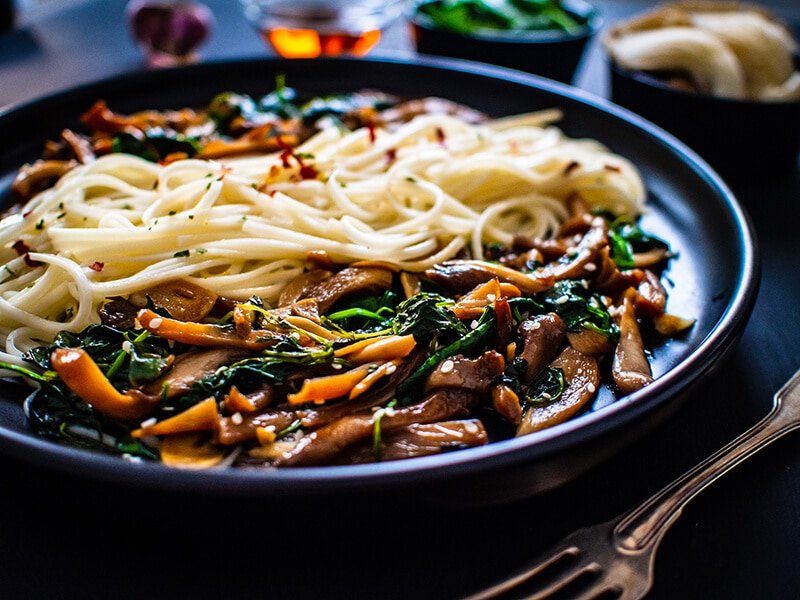 Initially, oyster sauce was made by cooking oysters in water until the broth caramelized and turned into a viscous sauce. Since this process is quite time-consuming, a large percentage of modern oyster sauce isn't made using the traditional method.
Instead, sauce manufacturers tend to replace real oysters with oyster extracts or essences. The extracts are mixed together with sugar and salt, sometimes soy sauce, and thicken with cornstarch. This type of sauce is often called oyster flavored sauce.
Some people insist that there is a huge gap between oyster sauce and oyster flavored sauce, while others can't see any real differences.
Is Oyster Sauce Vegan?
As you might have already guessed from the description above, oyster sauce can not be considered vegan since it requires real oyster types or oyster extracts to make. However, if you're a pescatarian, there's nothing wrong with enjoying this condiment.
Does this mean that you'll have to miss out on this delicious sauce if you're a vegan or sensitive to shellfish? Well, the good news is vegan oyster sauces are not that hard to find!
This is one of the distinguishing aspects that set oyster sauce from fish sauce. While it's true that you can also find vegan fish sauce, it's much harder than vegan oyster sauce. And you don't even need a discerning palate to detect the clear difference in vegan fish sauce's flavor.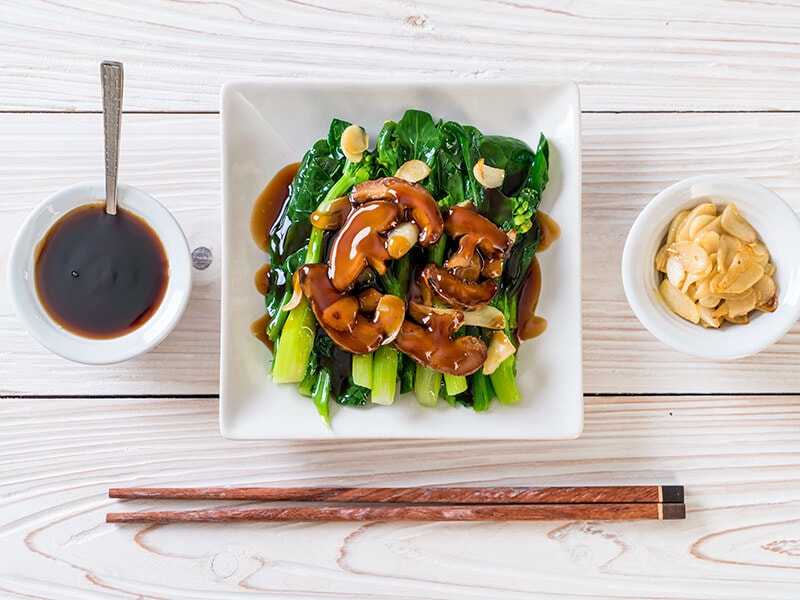 Mushrooms (usually shiitake or oyster mushrooms) or mushroom extracts are used in the vegan version of oyster sauce to mimic the umami flavor. And I have to admit; they really do an excellent job on this.
Another great thing about vegan oyster sauce is that they're typically lower in price than the oyster-based one. However, some cheaper brands may include more flavor enhancers to make up for the lack of mushroom extracts.
For this reason, it's better to buy sauces that come from reputable brands. I will cover this topic in the next section so keep reading if you want to know the best vegan oyster sauces to get.
4 Must-Try Vegetarian Oyster Sauce Brands
As promised, here are some of the most beloved vegan oyster sauces that you can buy right now. To prevent yourself from wasting money on low-quality products, make sure to give this section a read before buying a bottle of vegan oyster sauce.
Made with mushroom extracts, this vegan oyster sauce coming from Kimlan – a renowned Taiwanese condiment company, is packed full of a fresh umami taste. Even if you've tried real oyster sauce before, it'll be hard to spot a difference between the two.
Kimlan vegan oyster sauce makes an excellent addition to soup, vegetables, stir-fried, or grilled recipes and is a great dipping sauce on its own.
Wan Ja Shan mushroom oyster sauce is a perfect choice for people who want to keep MSG far away from their food. This high-quality condiment contains no MSG, chemical soy sauce, or caramel coloring and is brewed 100% naturally.
The flavorsome sauce works exceptionally well in stir-fries, marinades, and can elevate the taste of your meats, vegetables, or tofu drastically.
If you're gluten-intolerant, then whether the oyster sauce is gluten-free or not is one of the first things to consider when shopping for vegan sauce. Worry not, as this Kikkoman sauce is vegan and gluten-free at the same time.
Kikkoman vegetarian sauce has all the famous flavor traits of a traditional oyster sauce. Its well-balanced sweet and salty taste make this sauce an amazing ingredient for rice, vegetables, and stir-fried dishes.
Roland Foods vegetarian oyster sauce is another MSG-free option that is made with the finest mushroom extracts. This Malaysia-originated sauce boasts a deep, sweet-savory flavor and a dense texture.
You can use it with ease to cook stir-fried recipes, drizzle on vegetables, or use it directly as a table condiment.
Let's Make Your Own Vegan Oyster Sauce!
If you don't want to buy vegan oyster sauce elsewhere, you can totally make some right at home. This way, you can ensure that no unwanted flavor enhancers or food coloring are added to your sauce!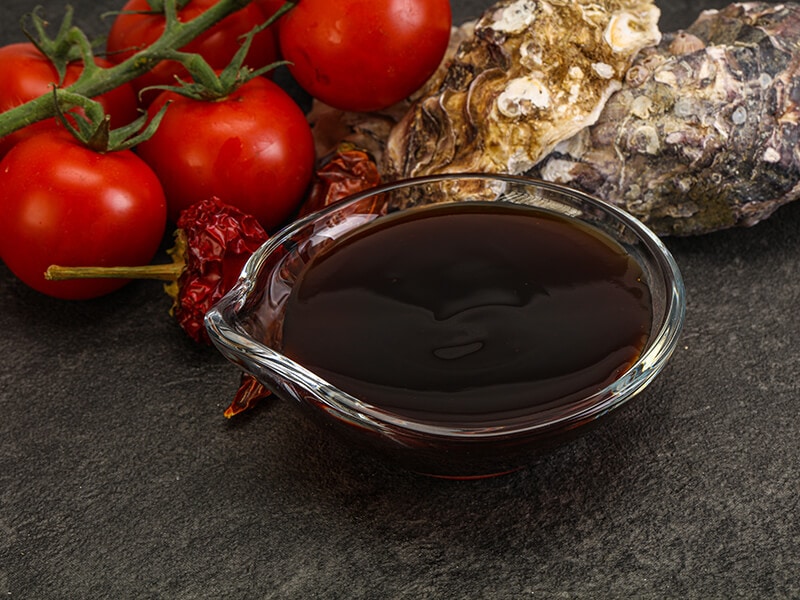 All you need are some dried shiitake mushrooms, gingers, coarse salt, avocado oil, and coconut aminos. No need to search far and wide for the top-tier oyster knives. After you've gathered all the necessary ingredients, follow these steps for homemade vegan oyster sauce.
Step 1: Soak the mushrooms overnight. Keep the mushroom water to use as a base for your sauce.
Step 2: Add avocado oil to a heated pan or skillet and saute your mushrooms with chopped gingers and salt at medium heat for 4 minutes.
Step 3: Add a little coconut aminos and keep cooking for about 1 minute.
Step 4: Cut the heat and let everything cool.
Step 5: Blend the sauteed mushrooms and gingers with your mushroom water until smooth. You can also add some salt and coconut aminos to the mix.
Learn how to make tasty vegan oyster sauce with just 5 ingredients! Watch this video:
Vegan Oyster Sauce Substitute
Apart from oyster sauce, you can also use other condiments to give your food an umami taste. There are actually quite a lot of choices when it comes to replacing oyster sauce, but I'll only list the plant-based ones in this section so you can make the switch without any worry.
| | |
| --- | --- |
| Vegan oyster sauce alternative | Substitution ratio |
| Mushroom stir-fry sauce | 1 to 1 ratio |
| Soy sauce | Use ½ the amount of oyster sauce needed |
| Kecap manis | Use ½ the amount of oyster sauce needed |
| Hoisin sauce | 1 to 1 ratio |
| Black bean sauce | 1 to 1 ratio |
Mushroom Stir-Fry Sauce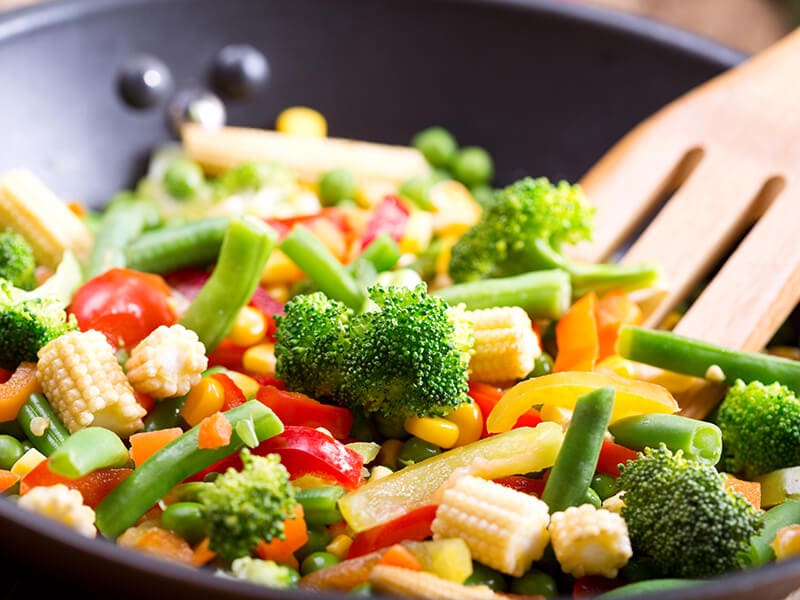 When you forget to pay attention to the length of time oyster sauce can stay fresh, and now you can't use it for your recipe, fret not. Mushroom stir-fry sauce will be the perfect substitute in most recipes.
As the name implies, mushroom (or mushroom extract) is one of the main ingredients of this sauce. In addition, it also contains soybeans, sugar, salt, flour, caramel coloring, and cornstarch.
If you've used vegan oyster sauce before, you'll find mushroom stir-fry sauce quite familiar as they both have a salty-sweet flavor and thick consistency. For this reason, you can effortlessly swap one for another in a 1:1 ratio.
Soy Sauce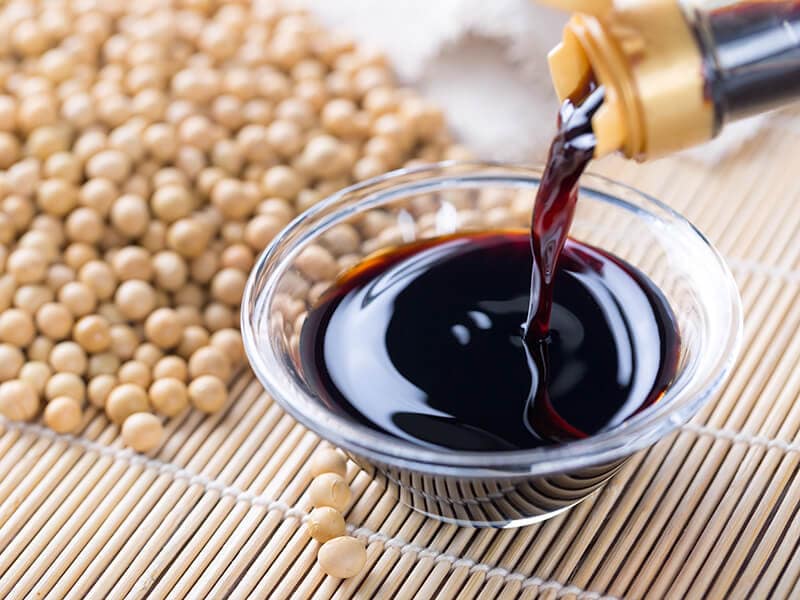 Soy sauce is a well-known condiment with a unique savory flavor and a deep, dark color. To make this sauce taste a bit more like oyster sauce, remember to add one or two teaspoons of sugar to it.
Since soy sauce has a fairly high salinity level, you only need to use half the required amount of oyster sauce.
Commonly found in Indonesian dishes, Kecap manis gives you the salty flavor of soy sauce along with a much-needed sweetness coming from its palm sugar content. It also has a dark color that looks just like oyster sauce.
To utilize this condiment as an oyster sauce alternative, use ½ the volume of oyster sauce that the recipe calls for.
Hoisin Sauce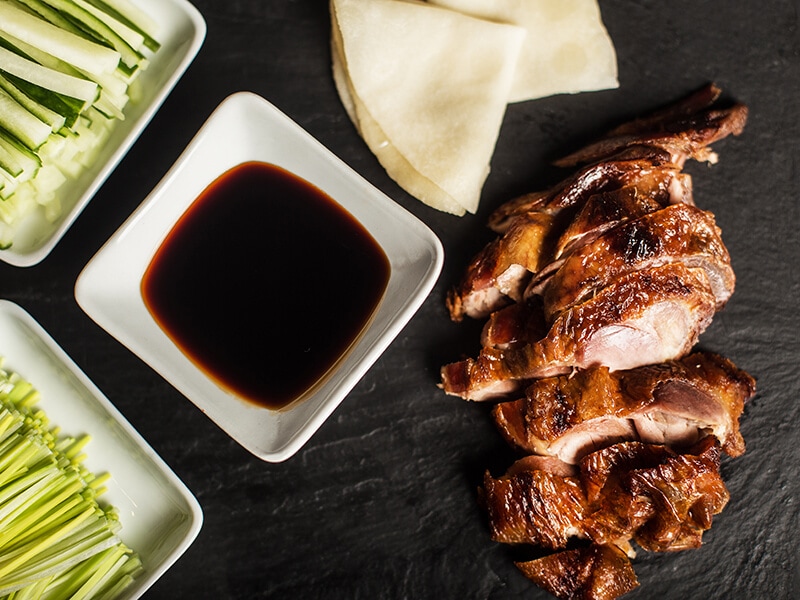 If you fear that soy sauce or kecap manis a little too thin to replace oyster sauce, then you should go for hoisin sauce. This sweet and salty condiment boasts a syrup-like consistency that's even thicker than oyster sauce in some cases.
Some of you might be scratching your head, "Doesn't hoisin mean seafood, which makes hoisin sauce non-vegan?" The truth is, hoisin sauce doesn't contain any seafood, and this is one of the clearest differences between hoisin sauce and oyster sauce. The more you know!
Hoisin sauce works flawlessly as a 1 to 1 stand-in for oyster sauce.
If you can't find a good store to buy hoisin sauce, try making it at home. Watch this video:
Black Bean Sauce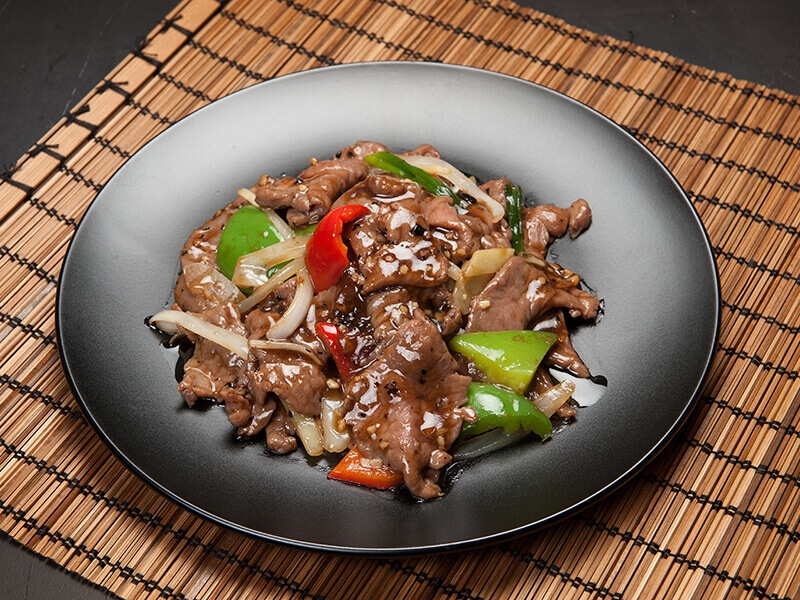 Black bean sauce is similar to oyster sauce in many ways. It has a thick texture, rich, savory flavor, and deep black color. The only flaw of this sauce is that it's a little lacking in sweetness which is totally fixable by mixing it with some mushroom sauce and sugar.
If you want to trade oyster sauce for black bean paste, you can do so in a 1 to 1 fashion.
FAQs
If you have more questions about vegan oyster sauce, don't pass by this FAQs section, as it is very likely that you'll find the answer here.
Don't Overlook This Sauce Because You're A Vegan
While it is true that the original oyster sauce is far from being a vegan-friendly ingredient, there's now a vegetarian version that's totally fitting for your plant-based diet. So don't neglect this tasty sauce just because it has "oyster" in the name!
Are you following a vegan diet? If so, have you ever tried vegetarian oyster sauce? Leave your answer in the comment section and please like and share this article if you enjoy reading it.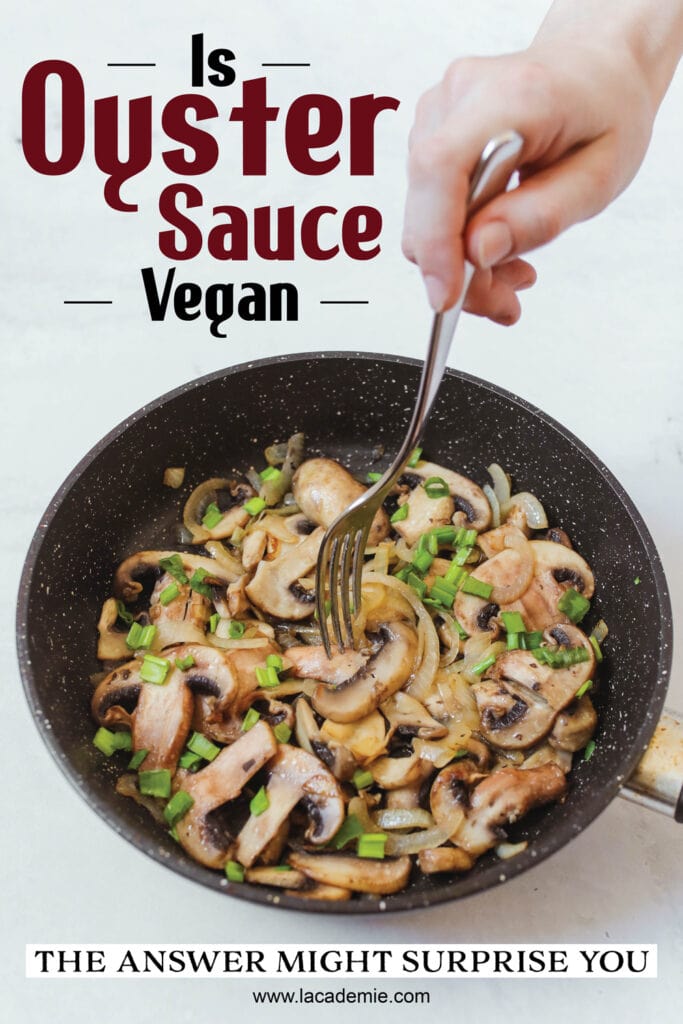 References
Contributors to Wikimedia projects, (2005). Oyster sauce – Wikipedia.
Kikkomanusa Homecooks.