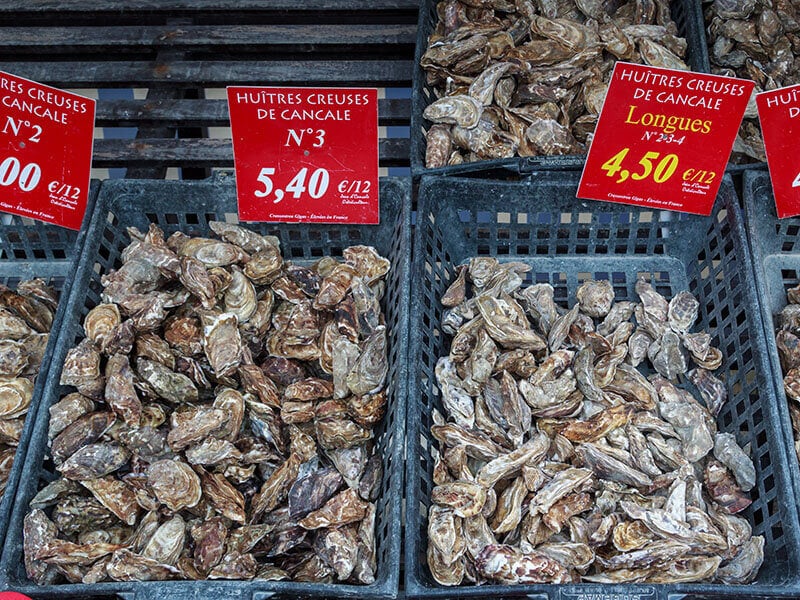 There are a lot of different types of oysters existing in this world. However, not many people know all of them. If you love oysters, just like me, you will find this article interesting and helpful. I will introduce to you all varieties of oysters and their characteristics.
But that's not the only thing that you get after reading this article. Besides being the perfect seafood for your menu, their health benefits are also impressive.
In this post, I will also show you the best way to enjoy oysters with some easy and delicious recipes that you can make with them. Please read on to find out!
14 Types Of Oysters You Must Taste At Least Once
I believe this excellent food with an "O" at the beginning is one of the best types of seafood. But there are several oyster varieties around the world, so how to differentiate them from each other?
First, take a look at this table to learn the most crucial information about them.
| Types of Oyster | Taste | Shell Characteristics | Growing Areas |
| --- | --- | --- | --- |
| Sydney Rock (Saccostrea Glomerata) | Deep, mildly sweet, and slightly salty | Flat, thin, smooth | Harvey Bay in Queensland or the Wingan Inlet in Victoria |
| Belon (Ostrea Edulis) | Creamy and metallic | Flat, round, light brown | California and Washington |
| Olympia (Ostrea Lurida) | Sweet, salty, and metallic | Round or elongated, color ranges from white to purplish-black | North America, Central Baja California, British Columbia, and Mexico. |
| Kumamoto (Crassostrea Sikamea) | Fruity and briny | Fluted with deep cups | Japan, Korea, China, and Taiwan, West Coast of North America, and the Pacific Northwest |
| Pearl (Pinctada) | Inedible | Vary based on their varieties | Central and eastern Indo-Pacific regions |
| Dredge (Ostrea Chilensis) | Sweet, salty with some notes of seaweed | Flat | Chile and New Zealand |
| Pacific (Crassostrea Gigas) | Creamy, sweet, buttery, meaty, and salty | Round shape with deep cups, bluish-gray color. | Pacific coast of Asia, New Zealand, Australia, North America, and Europe |
| Shigoku | Sweet and briny with some notes of cucumber and melon | Smooth with deep cups | Willapa Bay and Samish Bay in Washington |
| Fine De Claire | Nutty and salty | Elongated | France |
| Eastern (Crassostrea Virginica) | Metallic, savory, and briny | Oval, pear-like shape and smooth edges, gray color | North American Atlantic coast |
| Beausoleil | Sweet and salty | Hard, petite with deep cups | Canada |
| Well Fleet | Sweet, meaty, firm, crispy | Long and thick | East Coast |
| Blue Point | Briny | Up to 10 cm long | New York and Connecticut oyster regions |
| Misty Point | Briny and salty | Fine and consistent | The southern tip of Virginia's Eastern Shore |
Take a closer look at some outstanding varieties of oysters!
1. Sydney Rock Oysters (Saccostrea Glomerata)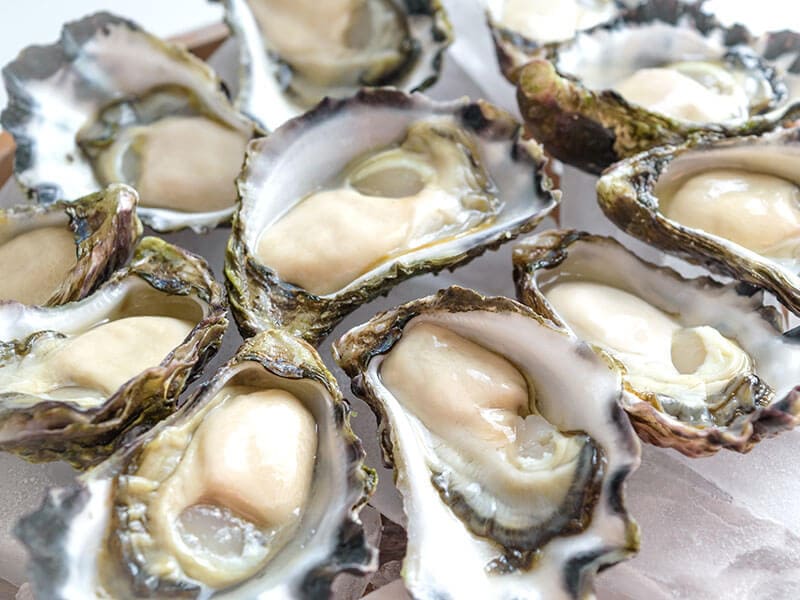 This type of oyster comes from New Zealand and Australia. Therefore, people call them "New Zealand oysters" or "Auckland oysters." Other names are "Rock oysters" and "Western Rock oysters."
Some of them live in sheltered bays and estuaries. You can find these oysters in Harvey Bay in Queensland or the Wingan Inlet in Victoria. Others also live in the islands of Furneaux Archipelago located in the Bass Strait.
Sydney Rock oysters have a deep, mildly sweet, and slightly salty taste. Their shell has a flat shape. They are also very thick and smooth. This oyster type also has some small teeth on the internal rim. In addition, their muscle scar is quite pale.
Compared to other oysters, Sydney Rock oysters are a little bit smaller. Their shell is only about 6-8 cm long. And to enjoy them at their finest, you need to use an oyster fork – a fork type to pry the meat properly.
People collect these oysters any time of the year. However, it is best to pick them between September and March.
A Sydney Rock oyster can live up to 10 years. After 3 years, they can reach a weight of 50g. They can remain fresh for 14 days if you keep them as a whole at the appropriate temperature and process them properly.
However, new and shucked oysters still taste best.
What you need to learn next is the best technique to shuck Sydney Rock oysters.
2. Belon Oysters (Ostrea Edulis)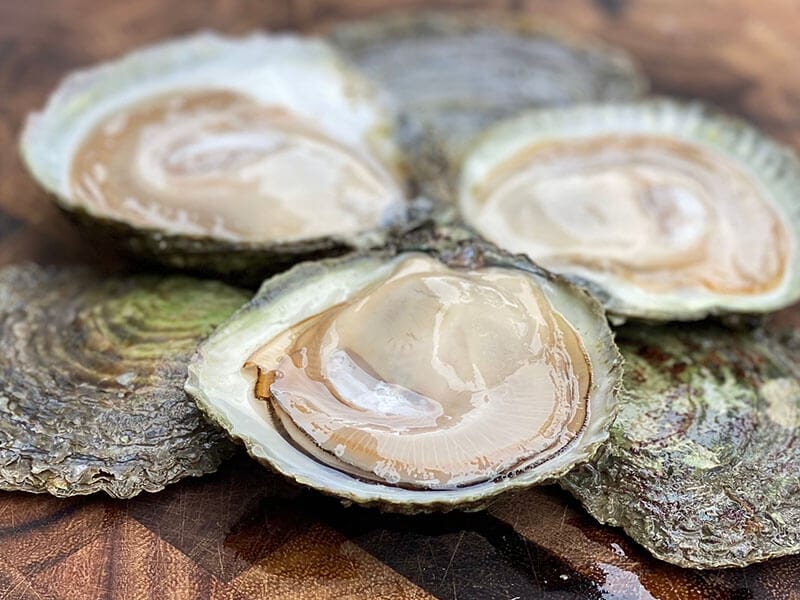 Since Belon oysters originated in Europe and have a flat shape, people also call them "European Flat oysters." The name "Belon" is derived from the Belon river estuary in Brittany (France). Other local names are "mud oyster," "edible oyster," and "Colchester native oyster."
While the shell is flat and round, the meat inside has a light brown color, a creamy texture, and an obvious metallic taste that is incredibly yummy. When you cook them, they turn to an ivory color.
This oyster has an exciting origin. In the 1950s, some people attempted to bring it from the Netherlands to Maine in North America.
Eventually, they left it in Maine because they failed to continue. However, contrary to the initial result, the oyster started to grow in quantity between the 1960s and 1980s. It is popular on the Main coast's river and the Damariscotta River.
In America, people cultivate Belon oysters in Maine, California, and Washington. If you want to enjoy them, you should seal them with a rubber band and store them with their cup down so that they do not become too dehydrated.
3. Olympia Oysters (Ostrea Lurida)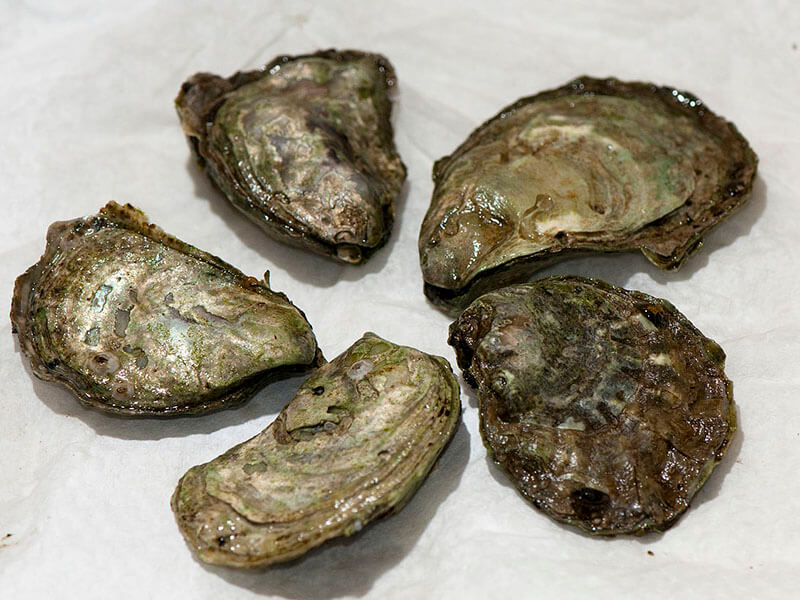 Olympia Oysters have their roots on the northern Pacific coast of North America. They are named after the city of Olympia in Washington. People also call them "California oyster", "Rock oyster", and "Native oyster".
In the past, people often considered Ostrea Lurida as being synonymous with Ostrea Conchaphila, another type of oyster. However, further research has shown that they are 2 different pieces.
This type of oyster mainly grows in estuaries and bays. You can find it in North America, Central Baja California, British Columbia, Canada, and Mexico.
It is about 6-8 cm long. Its shell has a round or elongated shape. Its color ranges from white to purplish black. It may also have some yellow or brown stripes.
The meat inside is quite small and has a white or light olive green color. It tastes sweet, briny, and metallic.
4. Kumamoto Oysters (Crassostrea Sikamea)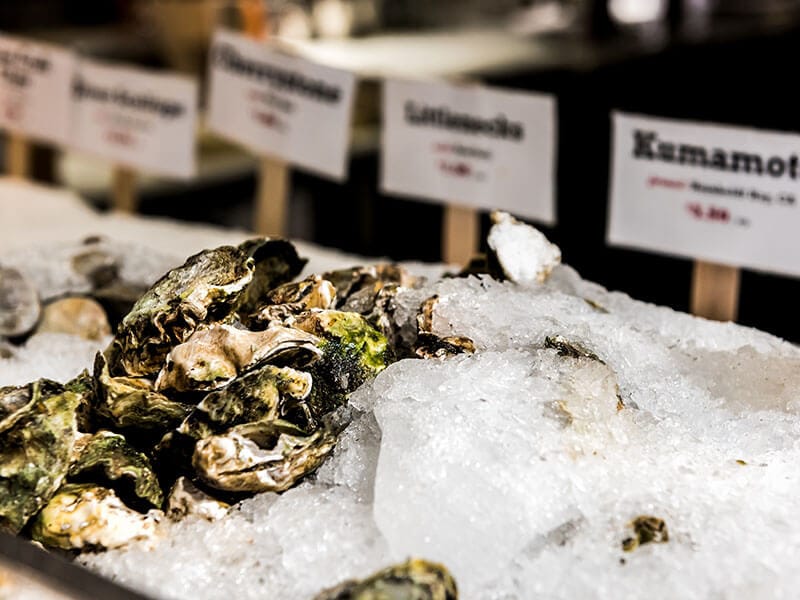 This is an Asian variety of oysters that originated in Japan. It is named after the city of Kumamoto. Nowadays, it is also popular in Korea, southern China, and Taiwan. In America, you can see it on the West Coast of North America and also in the Pacific Northwest.
This type of oyster is relatively small. It can only reach a maximum size of 6 cm. Furthermore, their shells are fluted, and their cups are incredibly deep. They have a whitish-green color. Inside is lovely ivory-white meat.
Another notable characteristic of Kumamoto oysters is that they cannot withstand cold weather very well.
Connoisseurs also call this variety "Chardonnay of Oysters" and "kumies". This is because they have a deliciously fruity and briny taste. If you have never tried oysters, I highly recommend trying Kumamoto oysters first.
Do you know the Japanese way of serving Kumamoto oysters?
5. Pearl Oysters (Pinctada)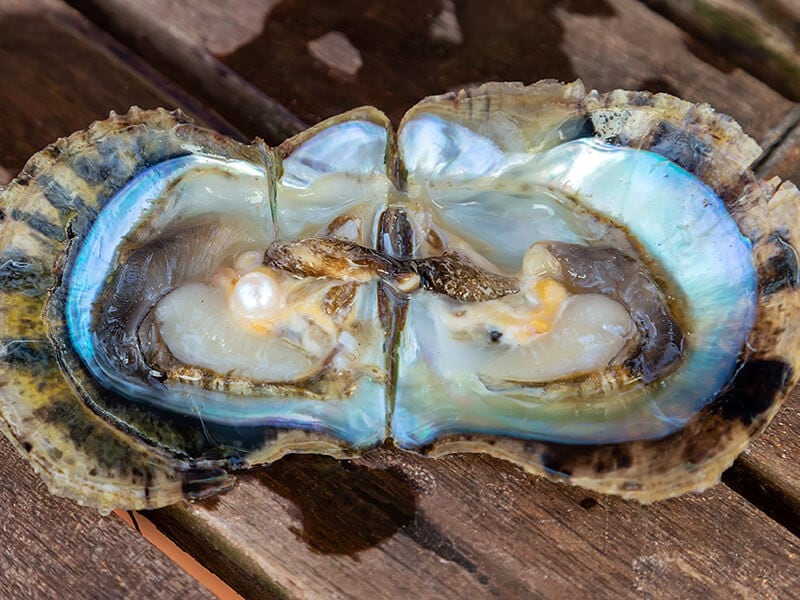 As the name suggests, this type of oyster can produce pearls, such as the South Sea and Tahitian pearls. They are inedible and do not belong to the family Ostreidae or the families of Unionidae and Margaritiferidae.
People culture them mainly in the central and eastern Indo-Pacific region. The size and color of pearl oysters vary a lot, depending on the species.
Pearl oysters have a lot of varieties. Black-lip oysters can be found in Baja California, the southern Indian Ocean, and the Gulf of Mexico. Other kinds like Gold-lip oysters, Shark Bay oysters, and White-lip oysters primarily live in Australia.
Another variety is Gulf pearl oysters. They grow in the Mediterranean Sea, Australia, Into-Pacific, and Japan.
6. Dredge Oyster (Ostrea Chilensis)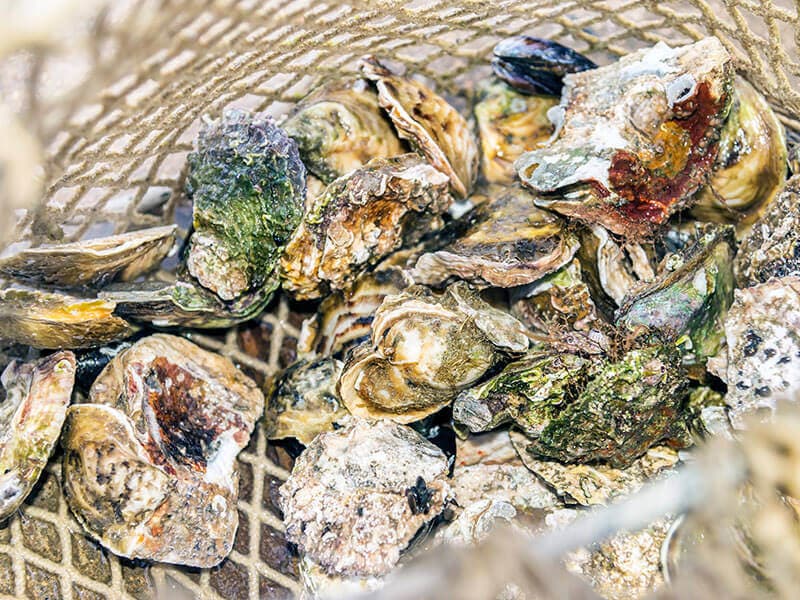 Dredge oysters are a type of flat oyster originating from Chile and New Zealand. It is also called "Bluff oysters" or "Chilean oysters."
It grows between the Chiloé Island in Los Lagos and Guaitecas Islands in Aysén. This species often lives on hard, rocky, or muddy bottoms.
The average size of this oyster is 6 to 8 cm. Some can be up to 10.5 cm long. The meat is incredibly creamy and has a sweet, mild salty taste with some notes of seaweed. Their shell is quite flat.
7. Pacific Oysters (Crassostrea Gigas)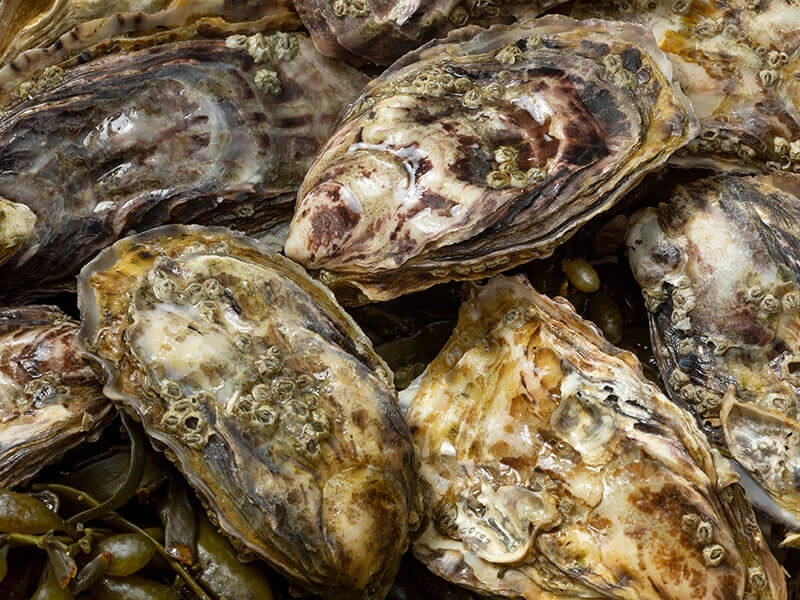 The name of Pacific oysters derives from the Pacific coast of Asia, which is their origin. Nowadays, they are also popular in New Zealand, Australia, North America, and Europe. Other names are "Miyagi oysters" and "Japanese oysters".
These oysters primarily grow on dense mats on rocks. They can also live on the soft substrates of the sub-tidal zones.
The shell of Pacific oysters has a round shape with deep cups. It has a bluish-gray color. It also has fluted edges and a deep purple muscle scar.
The white flesh inside has a creamy, sweet, buttery, meaty, and salty taste with some melon notes. But they are not as salty as Atlantic oysters.
Pacific oysters are a large variety. They can reach 10-15 cm in length in just 2-4 years. It is the most popular type of oyster in the world. 90% of oysters are Pacific oysters.
8. Shigoku Oysters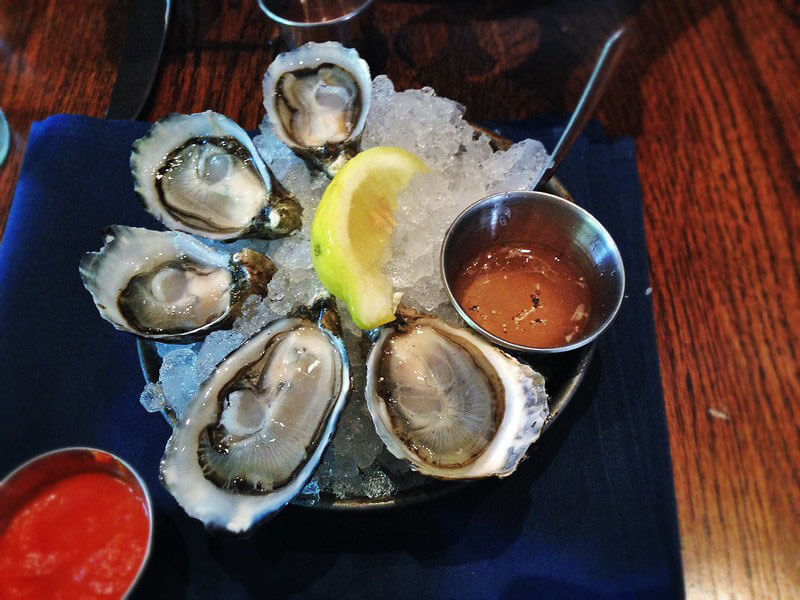 Shigoku oysters are a variety of Pacific oysters. They have a special flavor, which is sweet and briny with some notes of cucumber and melon flavor.
This variety is also very firm. However, the Shigoku oyster is relatively new. It came from the Taylor Shellfish Company in 2009.
This oyster belongs to the Crassostrea Gigas species. You can see them in Willapa Bay and Samish Bay in Washington. They are available in the period between October and February. Different growing places and conditions result in different flavors.
Mature oysters can be up to 7.6 cm long. They can reach that size in 2 years. The shells are smooth with deep cups.
9. Fine De Claire Oysters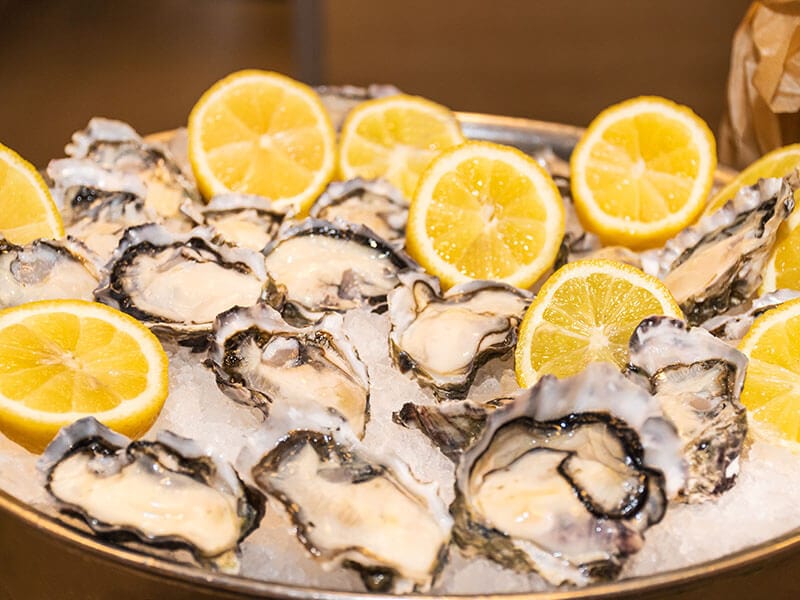 Fine De Claire oysters are a French variety. They came from Marennes – a city located in the west of France. Nowadays, they are also available on the Normandy coast and in Ireland. People grow them in shallow clay ponds for several weeks so they have excellent quality.
People use different names to refer to oysters of different maturity, namely "Fine de Claire," "Spéciale De Claire," and "Pousse En Claire." Mature Fine de Claire oyster is typically meatier.
The shells of these oysters have an elongated shape. They have a balanced nutty and salty flavor. They are also more watery than other varieties.
10. Eastern Oysters (Crassostrea Virginica)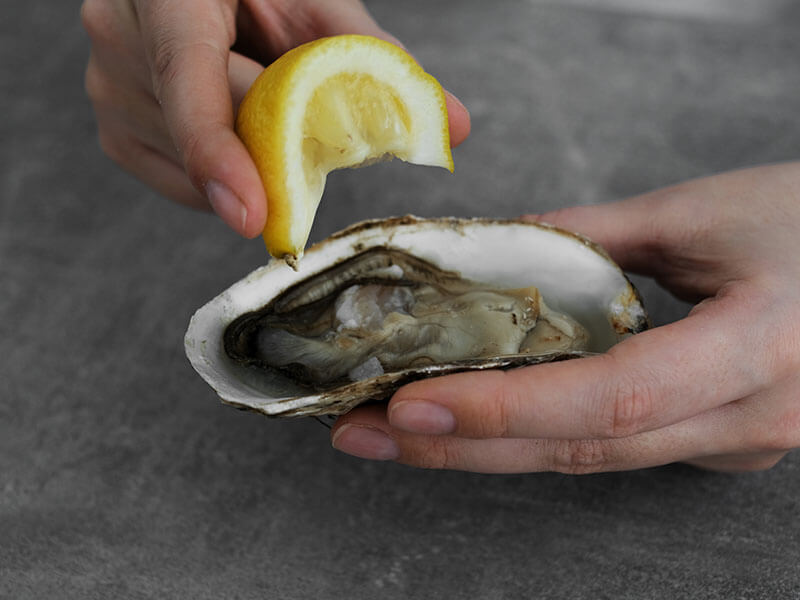 If you look for oysters in America, you will most likely find Eastern oysters. While other varieties mainly come from the Gulf of Mexico and other countries, 85% of Eastern oysters are in America.
Eastern oysters are most popular on the North American Atlantic coast. That's why people also call them "Atlantic oysters." Other names include "Virginia oyster," "East Coast oyster," "American oysters," and "Wellfleet oysters."
In Connecticut, people consider it the signature shellfish. In Mississippi and Virginia, its shell is the "state shell."
This kind of oyster typically has a large size. It has calcite shells. As the oysters grow older, their shells become thicker, keeping them safe from predators.
The shells have an oval, pear-like shape and smooth edges. Their typical shell color is gray. The flesh inside can be white, off-white, or even brown. The muscle scar is deep purple. The shell color can vary a lot. Some have a combination of cream, brown, and forest green color.
Concerning their flavor profile, these delicious gray foods have a metallic, savory, and briny taste and a slightly crispy texture.
Eastern oysters used to be very abundant. However, due to diseases and overfishing, they are more difficult to find.
Mature Eastern oysters are about 10 cm long. They will mature in 18 months. However, cultivating them in frigid water can take 4 years for them to reach the maximum size.
Learn everything about Eastern oysters with this excellent presentation.
4 Common Types Of Eastern Oysters You Must Try
Eastern oysters have a lot of varieties. Let me introduce them to you in the subsections below. You will be stunned by their delicate tastes and textures.
11. Beausoleil Oysters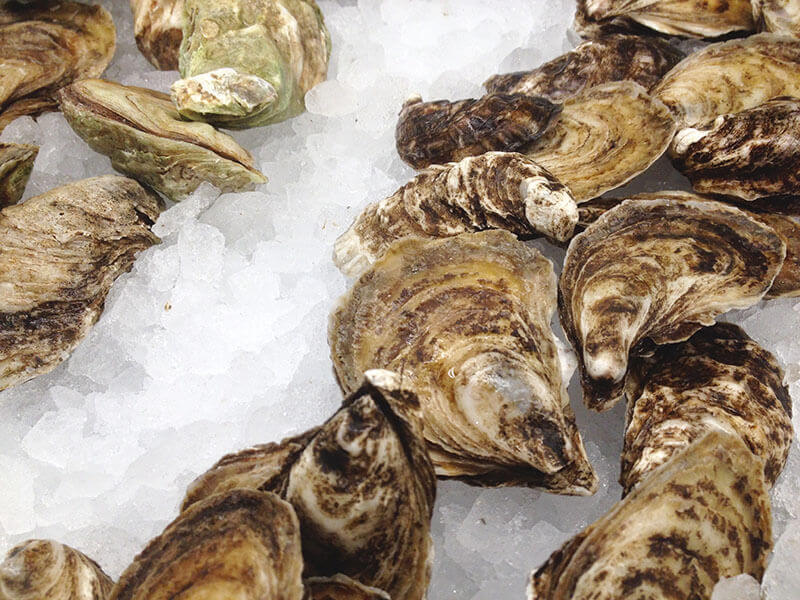 In English, "Beausoleil" means "beautiful sun." This variety of Eastern oysters is very popular in Canada. Thanks to the special tray suspension farming method, they have hard, petite shells and deep cups. They can grow to around 6 cm in length.
What people love about Beausoleil oysters is their delicious flavor. They are sweet and a little bit salty.
12. Well Fleet Oysters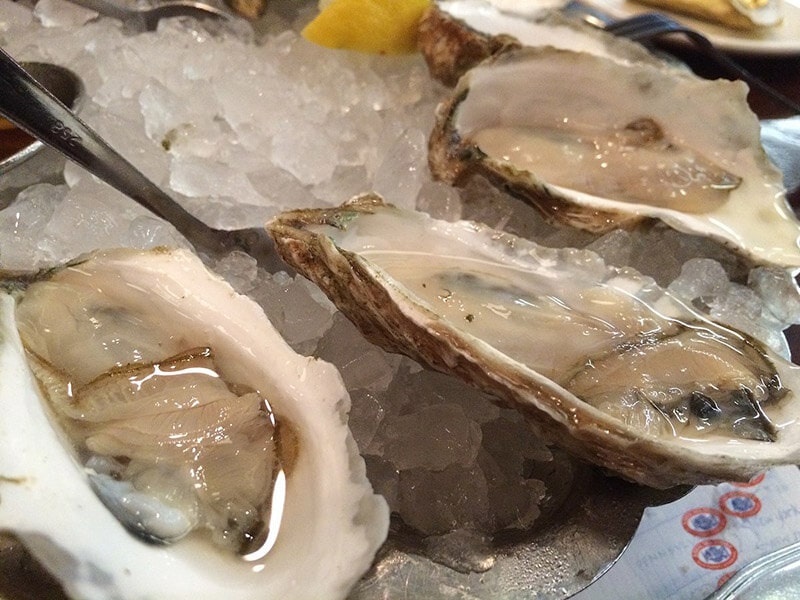 Well Fleet oysters have a sweet, meaty taste and firm, crispy texture. They are also very briny. People cultivate them in cold water to retain their sweetness. Coldwater effectively generates glycogen reserves which can slow down the metabolism process.
This species of oyster came from the East Coast. They can grow to approximately 7.6 cm. Their shape is long and thick.
13. Blue Point Oysters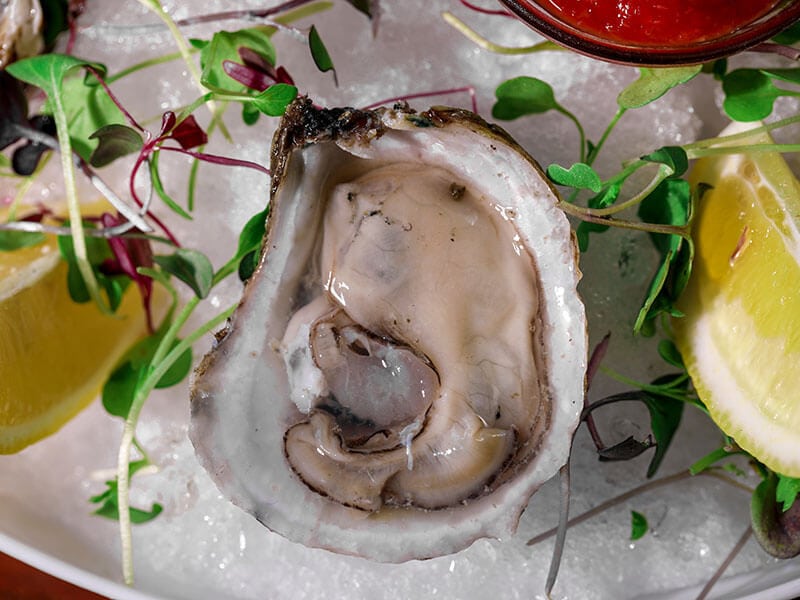 This was the most beloved oyster of Queen Victoria. It was very popular in the 1800s. Moreover, its name stems from the Blue Point town of Long Island on the East Coast side. They are available in the New York and Connecticut oyster regions in America.
Blue Point oyster has a briny taste. It is also mild, salty, and meaty. However, the degree of briny flavor varies according to the growing regions. They have a medium length of about 10 cm.
14. Misty Point Oysters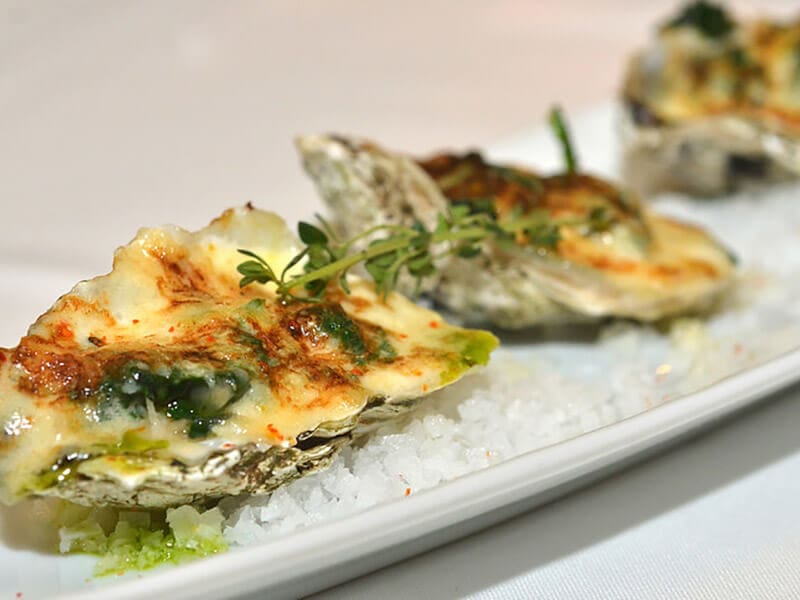 Misty point oysters grow on an island belonging to the southern tip of Virginia's Eastern Shore. Thanks to the rack and bag farming method, the shell has deep cups and a fine and consistent shape.
Regarding the flavor, they are briny and salty with some notes of celery and lettuce. They can be up to 7.5 cm in length.
The Impressive Health Benefits Of Oysters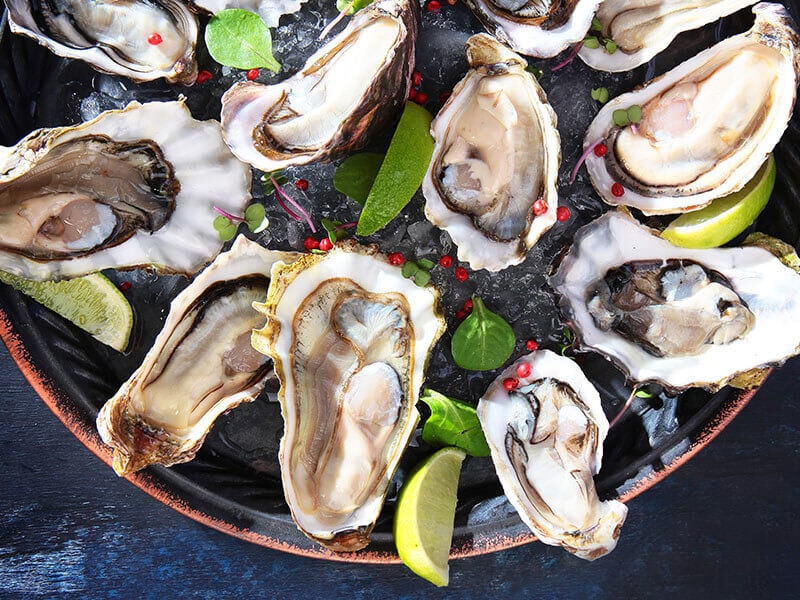 Oysters are not only delicious but also have some remarkable health benefits.
First of all, oysters contain a lot of zinc, which is an essential mineral for your body. More amazingly, it is rich in omega-3 and omega-6 fatty acids. Needless to say, these 2 types of acid can help you maintain a healthy heart and brain.
Protein is one of the most vital substances that you have to consume every day. Luckily, oysters are packed with plenty of proteins. They will provide you with enough energy to navigate through the day.
With these substances, oysters can help you reduce weight, lower cholesterol levels, and improve your metabolic activity with these substances.
You have a lot of reasons to eat more and more oysters.
How To Eat And Serve Oyster
If you have never tasted oysters, this short guide will help you. It will show you how to serve oysters correctly so that you can enjoy their best taste and texture.
To enjoy oysters, use a very sharp oyster knife to shuck them. They are ideally eaten fresh and raw. You can top the oyster flesh with Tabasco sauce, lemon, and shallot vinaigrette (mignonette), if desired.
You can also cook oysters. One of the best methods is steaming. You can retain their sweetness and tender texture. Steaming them for 3-5 minutes would be perfect. Some people also love to poach them in a mild pasta sauce.
Baking or broiling oysters is another common practice. Place them on the hard shell and top them with herbs, butter, and breadcrumbs before boiling or baking. You can even deep-fry them and serve them with baguette, hot sauce, and pickled slaw.
Commercially, people also use oysters to make oyster sauce. Oyster sauce's flavor is complex and plays an important role in many cuisines.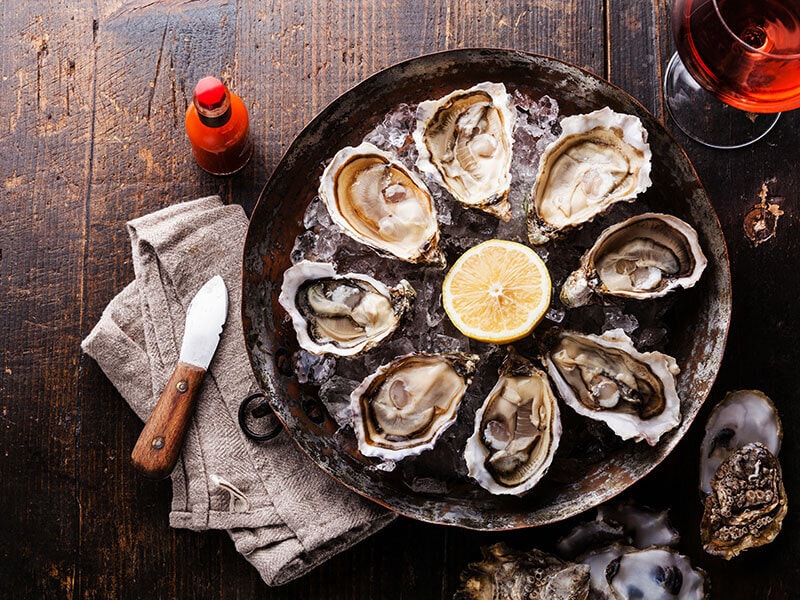 4 Amazingly Delicious Oyster Recipes
These oyster recipes are so delicious that you need to try them. They are the best and easiest ideas that everyone can make.
Roasted oysters are full of flavors. It has a subtle combination of sweetness, saltiness, and tanginess. You can choose to roast the oyster in an oven or broiler. Top them with some crispy bacon strips for more texture.
Who can resist rich, flavorful, and aromatic baked oyster? Everything about this recipe is just perfect. If you have a taste for salty food, just add some paprika and Cayenne pepper. Top the oyster with Parmesan cheese for additional richness.
Steaming is the best way to highlight the sweet flavor of oysters. For a light taste, steam them with ginger and shallots. If you want them to add savory flavor, steam them with soy sauce. This recipe surely pleases the crowd.
I have found the perfect recipe for winter dinner. It is rich, hearty, and comforting. Amazingly, you can make it with either fresh oysters or canned oysters. The other main ingredient, milk, will make your oyster stew both sweet and savory.
This oyster stew recipe will blow your taste bud.
Oysters Have A Distinctive Taste That Is Hard To Resist
Once you have tried oysters, I promise you will be in love with their incredibly delicious taste. So let's pick a favorite variety and try or cook them immediately!
If you find this article helpful, don't forget to share it on your social media account so everyone can learn more about these wonderful ocean creatures. Thank you so much!