As you come to Turkey, the first thing to do is find some delicious Turkish foods to try. That will be one of the most fascinating experiences in the country. But Turkish cuisine is so vast and diverse. So what to choose?
This can be a challenging question, given that you don't have a list of the signature Turkish dishes. Luckily, I've got your back. In this post, I will introduce you to the most iconic ones so that you can pick your favorites and enjoy them on your trip. Let's keep scrolling and see!
9 Turkish Appetizers Or Side Dishes That Worth A Try
Turkey is famous for its diverse collection of foods, especially appetizers. Let me show you the most delicate ones so that you can choose to add to your favorites.
1. Kabak Mücveri (Turkish Zucchini Fritters)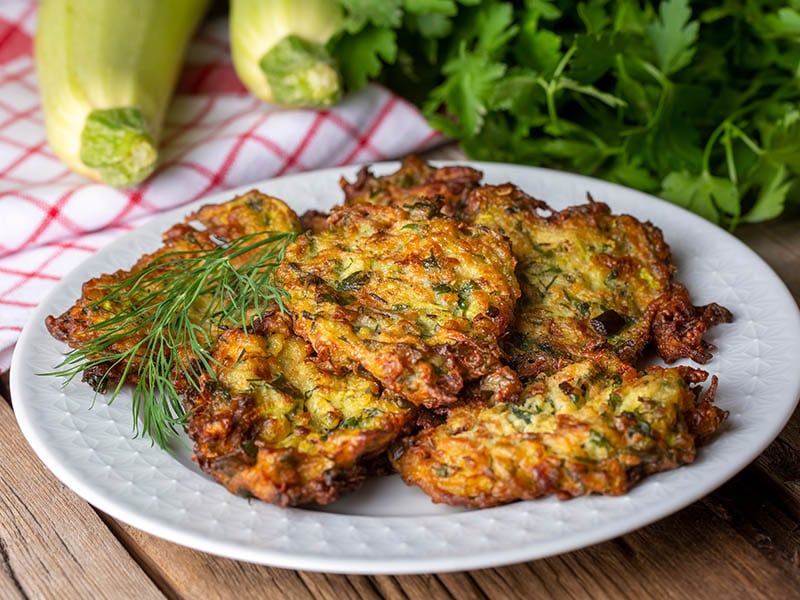 Kabak Mücveri or Mücver is a ubiquitous appetizer in Turkey. People use grated zucchini and mix it with eggs, onion, flour, and herbs to create batters and fry them to perfection. Some people also call it "pancakes."
This technique to make this dish was adopted from Ottoman cuisine. At first, its name was "Mücmer." Later on, Turkish people renamed it "Mücver." People usually serve it with yogurt or yogurt-based sauce. Its excellent flavor will blow your mind.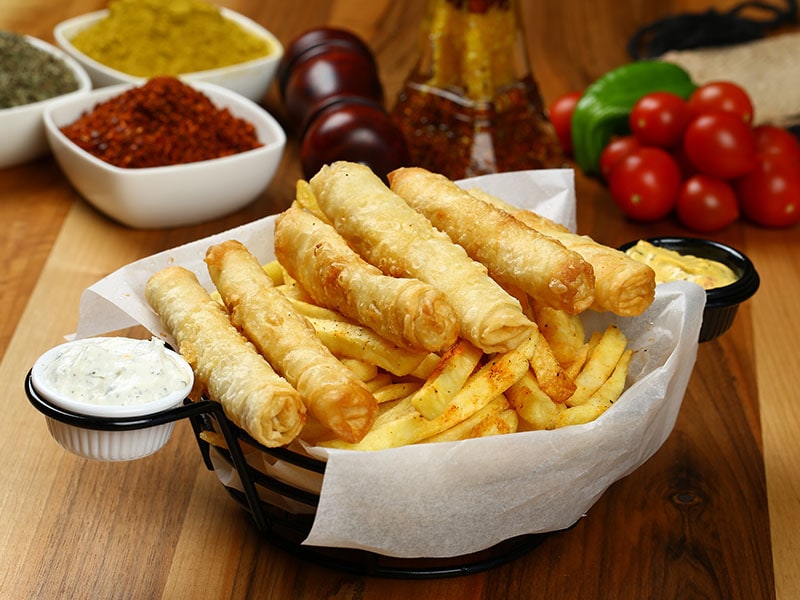 Sigara Böreği means a deep-fried savory pastry. Turkish people make plenty of thin triangular-shaped dough, stuff them with feta cheese and parsley, roll them up, and fry the rolls until crisp.
This dish originated in either Persian or Turkey. Some said that it was invented by Turkish people living in Central Asia before the 17th century, while there is also evidence that it came from the Ottoman court.
3. Haydari (Yogurt Sauce)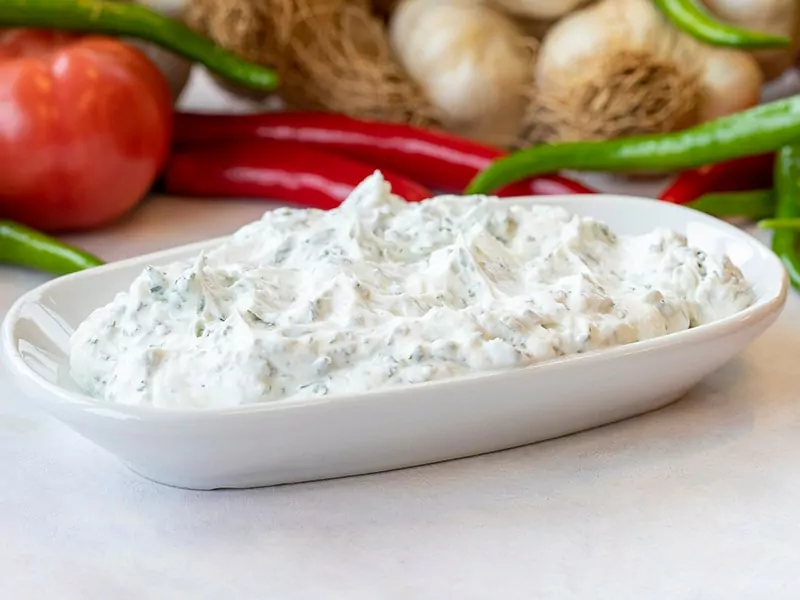 Turkish cuisine has refreshing yogurt sauce that works as a perfect appetizer in your meal. You can dip everything in it. It is made from natural yogurt and flavored with dried herbs, cucumber, and garlic.
People serve alongside grilled meat, pita bread, and raw vegetables. Its acidic and salty taste will enhance the flavor of any other dish. You will see it very often at wedding parties.
The origin of Haydari is still a mystery. But some people posit that it came from the Bekaa plain in modern-day Lebanon.
4. Çöp Şiş (Shish Kebab)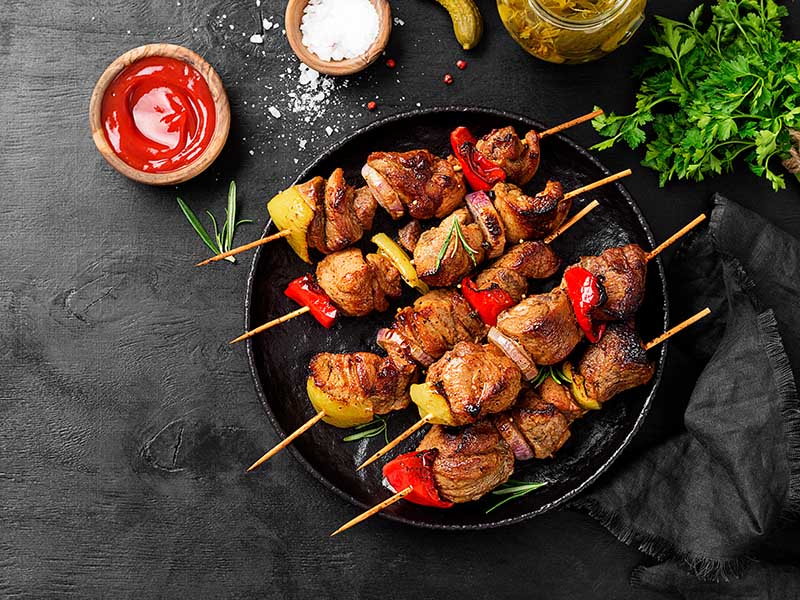 Kebab is a favorite food of Turkish people and also a typical Middle Eastern delicacy. Shish kebab is a variant that is popular in the Anatolia region. Interestingly, it is even mentioned in Homer's Odyssey.
Legend has it that the Turkish soldiers often skew lamb meat in their swords and grill it on the fire. This happened at the time they invaded Anatolia. Then Çöp Şiş came into existence. Nowadays, it features skewed lamb cubes with onions, bell peppers, garlic, and soy sauce.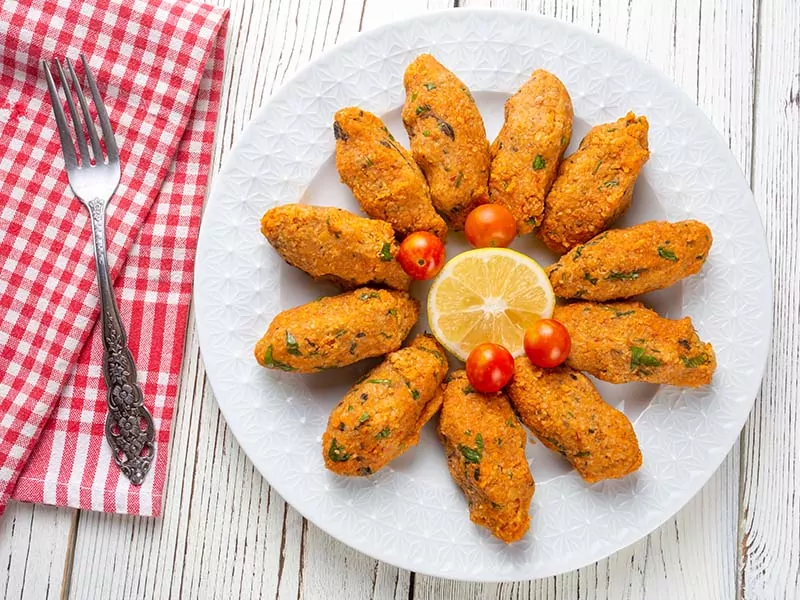 Mercimek Köftesi comes in the form of patties. People cook lentils and bulgur together. Sometimes onion, tomato paste, and spices are added. This dish originated in Turkey. But more details are still unexplored.
People often serve these patties cold. They make an excellent appetizer or side dish in any Turkish meal. Traditionally, people enjoy it with lettuce and some lemon juice.
6. Dolma (Stuffed Grape Leaves)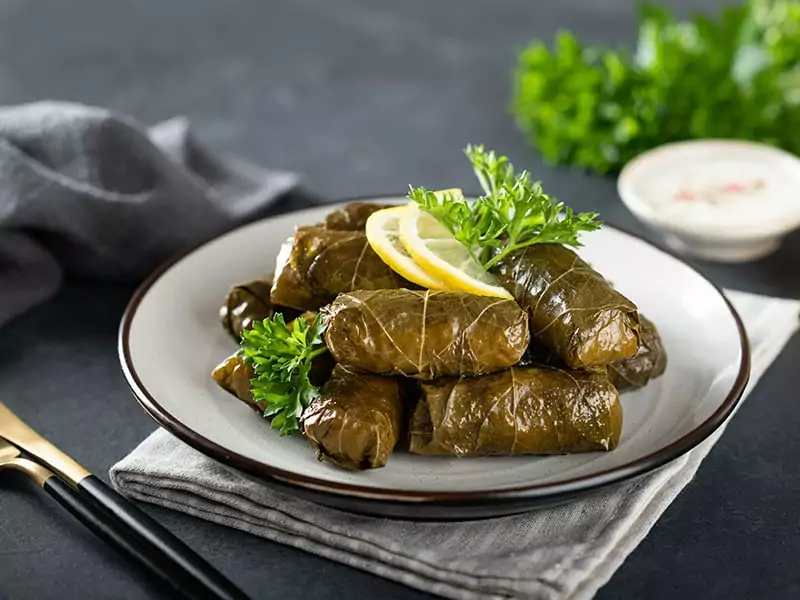 In Turkish, Dolma means "something stuffed". This dish belongs to Ottoman cuisine and is also a signature food in Lebanon. It features rolls of grape leaves or cabbage leaves stuffed with vegetables, rice, seafood, or offal.
The best thing about dolma is that it is a very nutritious dish. It can be served both warm and cold, so feel free to enjoy it any time in the day. Although I classify it as an appetizer, it can also act as a main dish.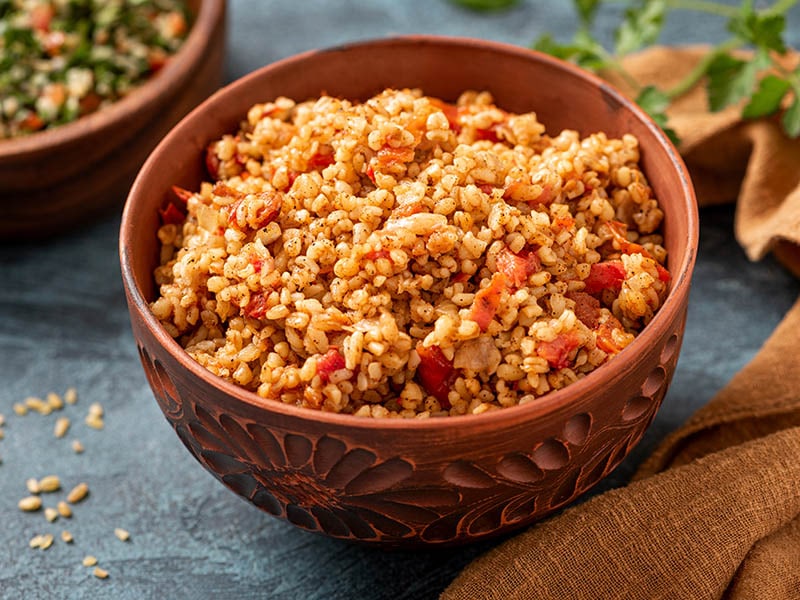 Another classic Turkish dish is Bulgur Pilaf. Bulgur originated in Anatolia, a region of modern-day Turkey. Since then, it has been used to make pilaf. This hearty dish is a traditional Turkish lunch recipe.
People parboil whole wheat, dry it under the sun, then grind it into coarse. To make pilaf, they cook the coarse bulgur with veggies, broth, and spices and topped with red onion, almonds, feta cheese, and parsley.
8. Şakşuka (Vegetable Meze)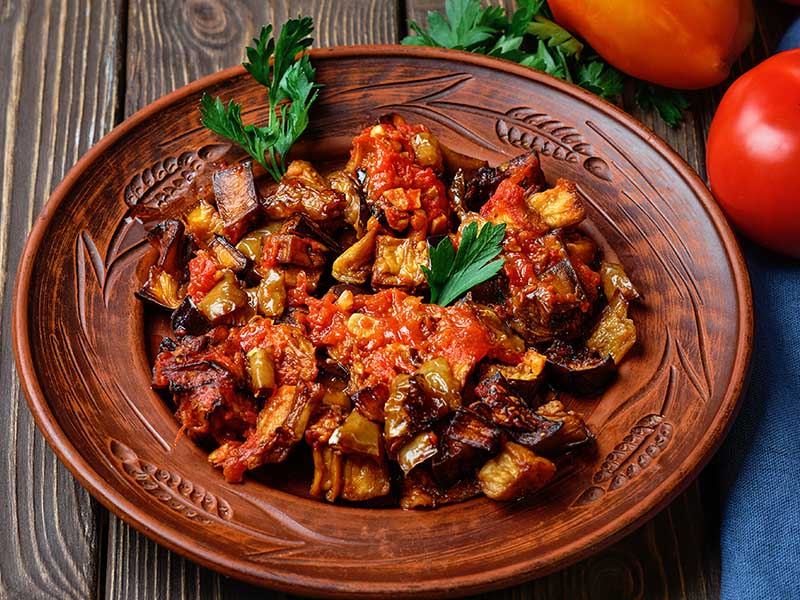 Şakşuka is a typical appetizer and side dish in Turkish cuisine and neighboring countries, such as the cuisine of Yemen, Libya, and Tunisia. However, the exact origin remains unexplored.
Turkish people prepare Şakşuka by sauteing vegetables, including eggplants, zucchini, tomatoes, bell peppers in olive oil. Then some garlic and herbs are added to intensify the flavor. You will see it in many local restaurants as an accompaniment for Raki.
9. Bazlama (Turkish Flatbread)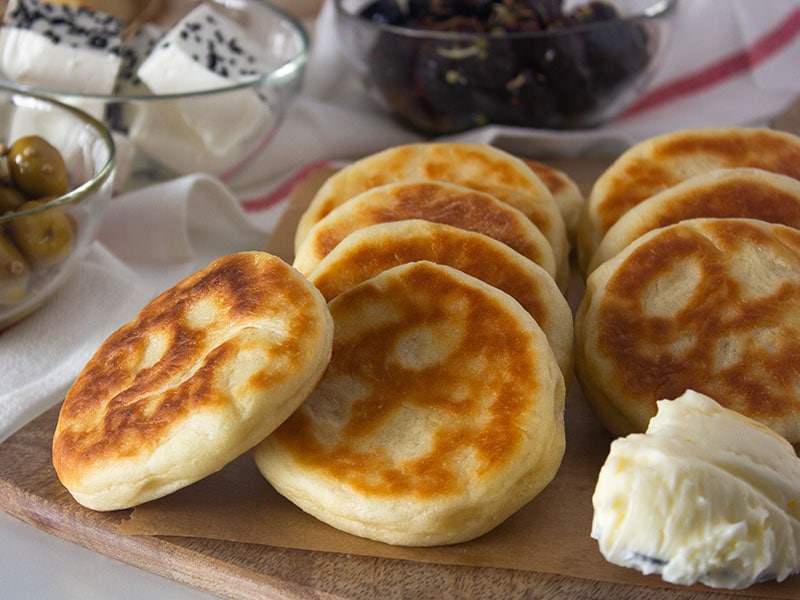 When you come to the villages in Turkey, you will see the round flatbread cooked in the rock oven. That bread is Bazlama. It has been a traditional dessert of Turkey for centuries. Local people love it so much because it can retain freshness for up to 1 week.
Bazlama can be kept longer because it is made from very simple ingredients, such as yeast, flour, salt, and water. The original version came from ancient Egypt. Turkish people adopted the recipe and developed their own version. It is best to enjoy it warm alongside salad and pickled vegetables.
7 Turkish Main Dishes That Will Be A Hit
Get ready! You are about to be stunned by the most famous Turkish main dishes. Get yourself a snack while reading if you don't want to feel hungry!
5 Best Turkish Meat And Fish Dishes That Will Blow Your Mind
A fulfilling and nutritious Turkish meal cannot be completed with some protein sources. Luckily, Turkish cuisine has plenty of delicate meat and fish dishes that are incredibly tasty.
10. Kahvalti (Turkish Breakfast)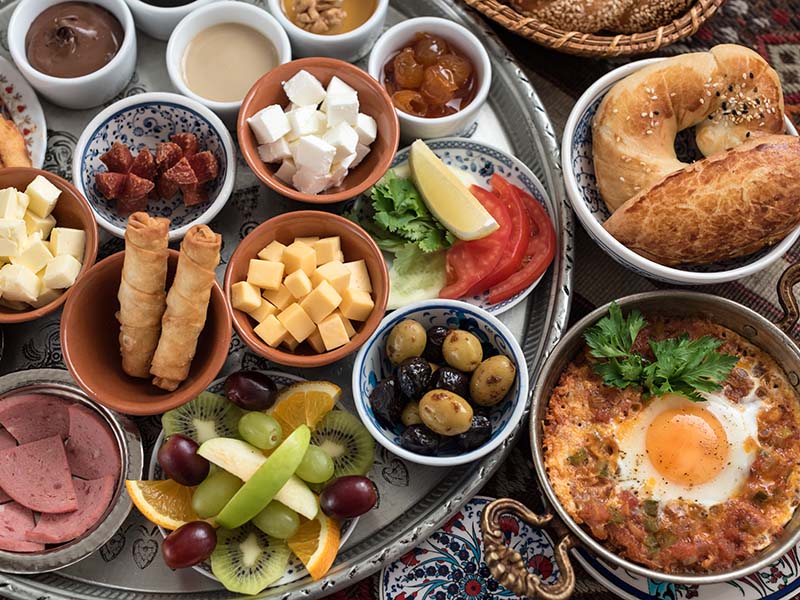 Kahvalti represents the great culture of Turkey. From the time the Ottoman Empire ruled the country, people enjoyed breakfast while socializing with other people. They eat breakfast with a cup of tea.
Turkish Breakfast is not only a dish. It is already a meal. It typically contains pastries, cheese, dipping sauce, bread, cucumber, tomatoes, cured meat, jam, and honey. With such a fulfilling meal, people have a lot of time to talk together.
Travelers are stunned by the beautiful social tradition behind Kahvalti.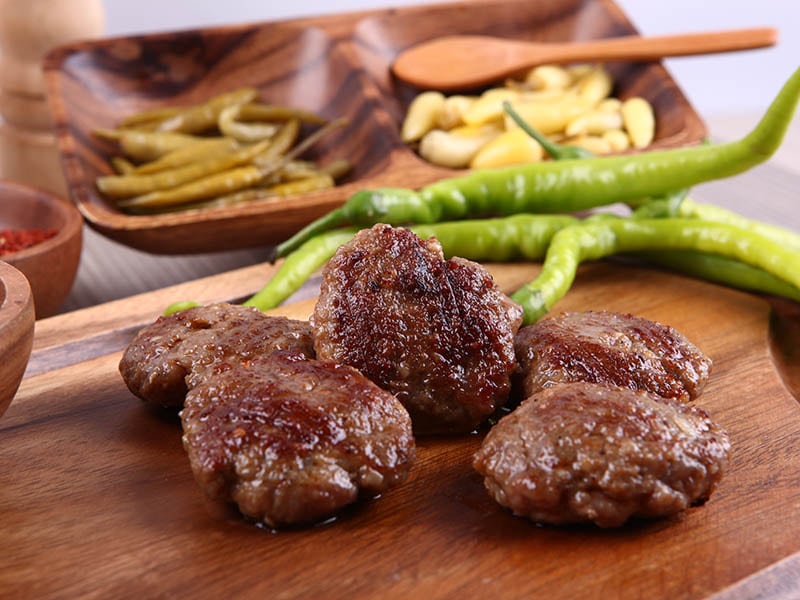 This dish was named after İnegöl, a city in Bursa, Turkey. In the 17th century, a man named Mustafa Efendi shaped meat into balls, refrigerated them for 1-2 days, grilled them, and sold them on the Ankara-Bursa road.
The unique feature of these meatballs is that people do not season the meat. At present, Inegol Kofte is a signature dish of Bursa. The place where it was first sold is still there. You can visit it and enjoy the original version.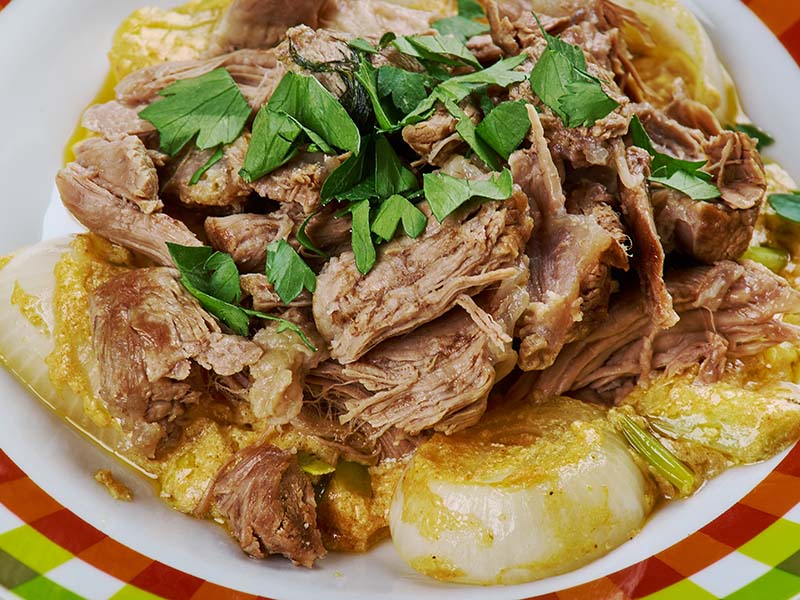 "Kuzu" means "lamb" in the Turkish language while "Tandir" refers to a method of cooking meat invented by the Seljuk Turks centuries ago. The lamb meat is cooked for hours in an oven built upon a hole in the ground. It also contains onion, potatoes, salt, and peppers.
Traditionally, Turkish people make Kuzu Tandir by hanging the lamb meat above the hot coals. The lamb in Kuzu Tandir has a mouth-meltingly tender texture and a wonderful aroma that will comfort your nose. Make sure you enjoy it with bread. It is a must-have companion.
Kuzu Tandir is available across Turkey, but it is most popular in Istanbul.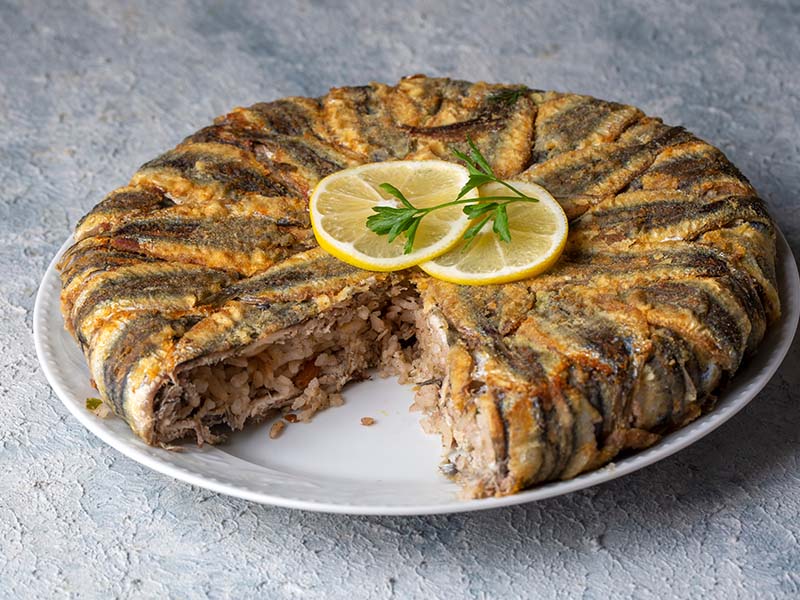 Hamsili Pilav may be the most stunning dish that you have ever seen. Who even thought of making a pilav pie coated with anchovies? Actually, it is said to be created by the Laz people living in northeastern Turkey.
To create such an impressive look, the cook first coats a baking pan with butter then arranges anchovies all over it. Then he places the prepared pilav on the top. After baking, he turns the pan upside down, resulting in a beautifully shaped Hamsili Pilav dish.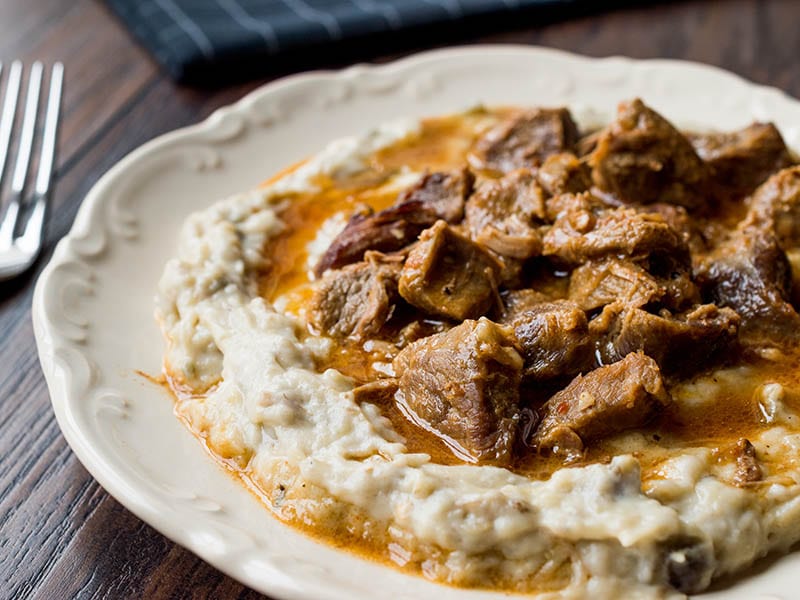 There are no Turkish people who haven't tried Hunkar Begendi. It is a creamy dish made from eggplants, milk, and butter. People then top it with some sautéed lamb.
There are many stories associated with Hunkar Begendi. Some said that it came from the tragic love of Sultan Abdülaziz and Empress Eugénie, the wife of Napoleon III. This story has not been confirmed. But some people believe that it came from the Ottoman Empire.
Hunkar Begendi is a very celebrated classic dish in Turkey.
2 Hearty Turkish Soups And Stews For A Cozy Dinner
After a long travel day, all you need is a comforting dish to end the day. These Turkish soups and stews were born for that.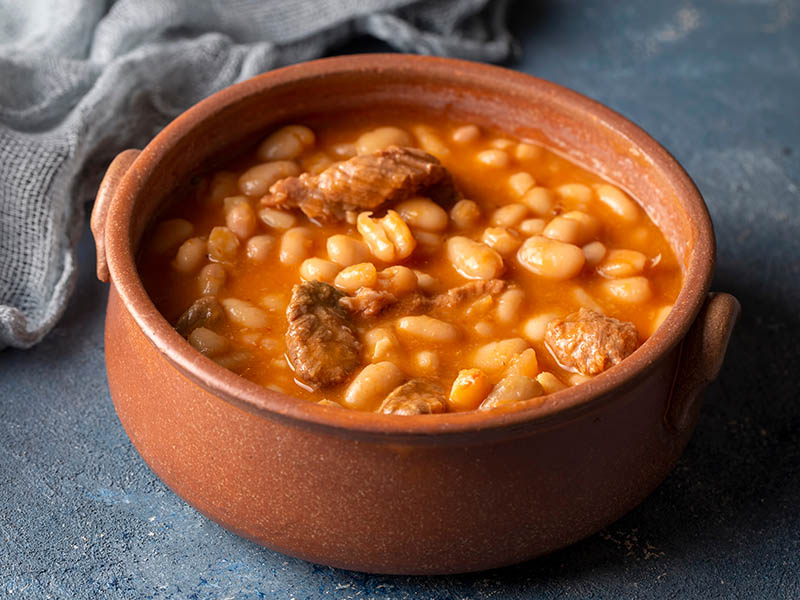 Kuru Fasulye is another national dish of Turkey, which is also famous in the exotic Albanian cuisine with another name – Jani Me Fasule. Overall, I promise that it will be a comforting Turkish dinner recipe.
The name "Fasulye" is a Greek word that means "known vegetables" and "Kuru" means "dried". Although it does not say anything about white beans, people will understand that you're referring to white beans when you say it in Turkey.
This dish initially belongs to Ottoman cuisine. It came in the 18th century. People make it by cooking white beans in tomato paste. It is available all year round, so feel free to enjoy it anytime you want.
16. Ezogelin Çorbası (Red Lentil, Bulgur, And Mint Soup)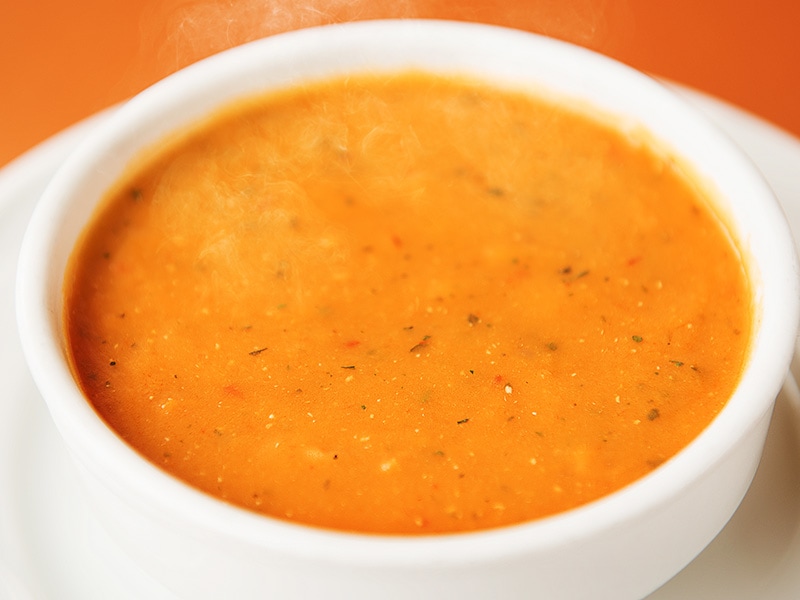 You will be very emotional when enjoying this classic Turkish recipe after I tell you the story about its origin. In the 20th century, there was a very beautiful woman named Ezo. Although a lot of men chased after her, her love life was not a happy one.
Her first husband had an affair. In her second marriage, she didn't get along well with her mother-in-law. She created this soup for herself, and it became a culinary masterpiece after she died.
Nowadays, this soup is served for the brides to provide them more strength to cope with the future ahead.
5 Turkish Street Foods To Please Your Taste Bud
Every country has some signature street foods, and so is Turkey. Check out the most delicious Turkish street foods so you know what to look for when in this country.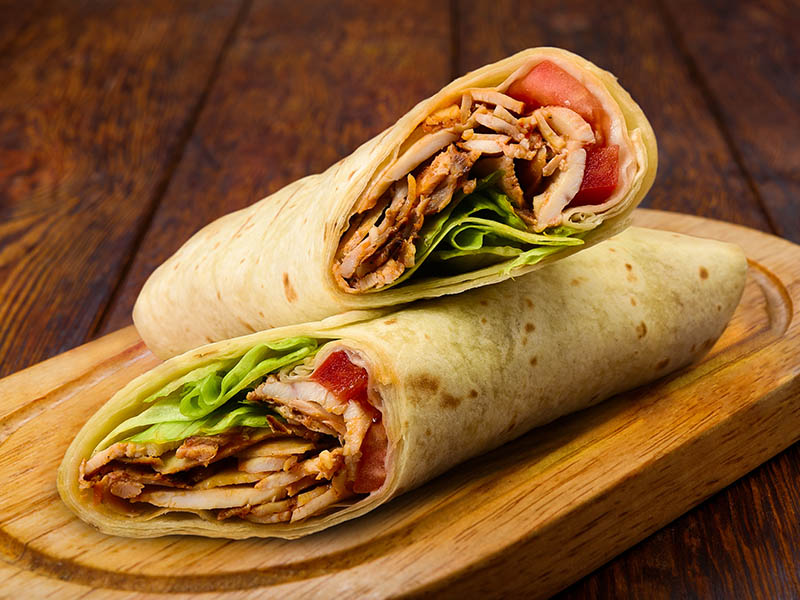 Döner Kebab is not only a Turkish specialty but it is also a very popular street food in Germany. This is because it was invented in Berlin by a Turkish worker named Kadir Nurman in 1972.
He worked in the printing industry and realized that workers could hardly find any food for lunch. So he decided to make skewered meat cubes and wrap them in a kind bread called durum. He sold the first Döner Kebab in the West of Berlin, and it soon became a phenomenon.
The modern version of Döner Kebab includes chicken, lamb, or beef and vegetables. In Turkey, it is very popular in Istanbul. This classic dish is worth trying.
The history of Döner Kebab is still a mystery. Let's find out more about it!
18. Tantuni (Meat Wrap)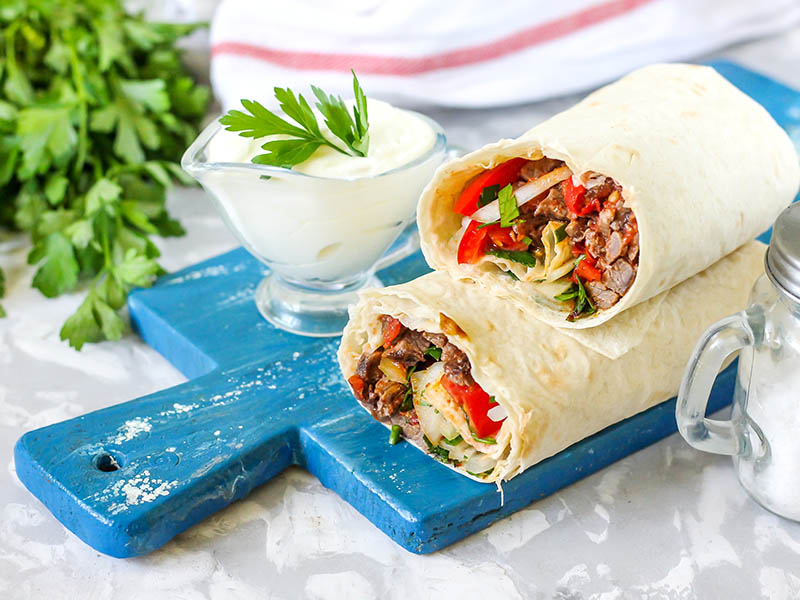 If you have a taste for spicy food, then this dish starting with a T is a must-try. It is a very famous street food that originated in Mersin city, which belongs to the Mediterranean coast of Southern Turkey. Now it is the most iconic food of Mersin.
Tantuni features rolls of lamb (or beef), vegetables, and chili powder or peppers. The rolls are usually made of tortilla. It is even more popular than Döner Kebabs. The spicy taste of peppers will definitely amaze you. But be careful because it can also burn your mouth.
19. Dondurma (Turkish Ice Cream)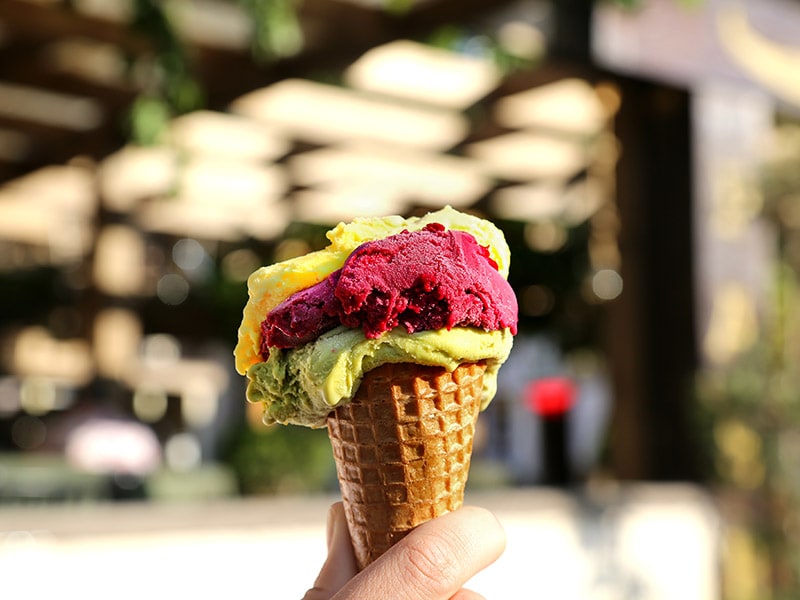 What would summer in Turkey be like without some ice cream? It would be terrible. In Turkey, people fall for a special type of ice cream called "Dondurma", which originated in the 1850s. It may be the most special ice cream that you've ever tasted!
Ordinary ice cream drips quickly, but this is not the case for Dondurma. Also, you can enjoy it while holding it upside down. Amazing, isn't it? Dondurma has fantastic features thanks to salep flour.
You can find Dondurma at the carts and storefronts of street vendors. The seller uses long-handled paddles to agitate the ice cream. As you know Dondurma can be held upside down, don't get tricked by the seller! They will try to fool you by turning the ice cream stick down.
20. Lahmacun (Turkish Pizza)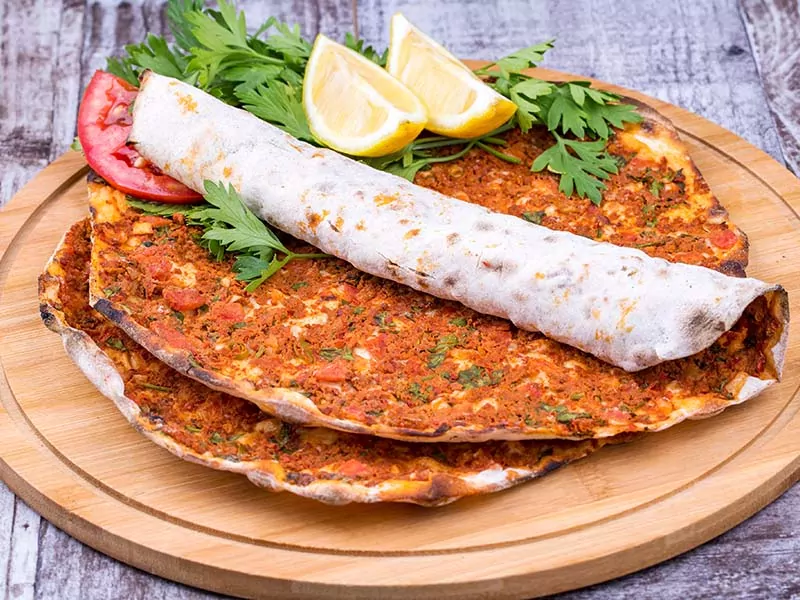 Not only Italy is famous for pizza. Here in Turkey, Lahmacun has stolen the heart of many travelers thanks to its beautiful thin dough with a crispy texture and delicious minced meat as toppings. It is thin to the degree that you even roll it up.
Lahmacun has a complicated history. No one knows exactly where and when it originated. The only thing recorded is its name. It came from the Arabic word "laḥm ˁacīn", which means "meat and kneaded dough."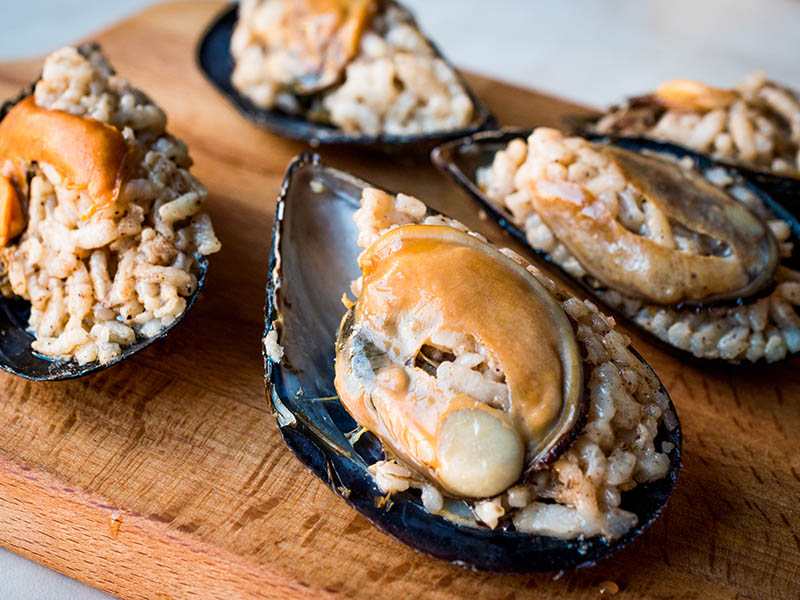 If you happen to be on Turkish streets, you will see the mussels stuffed with seasoned rice and served with lemon juice. This food is called Midye Dolma, a famous snack in Turkey.
It is native to the Armenians. A Turkish woman living in Istanbul adopted the method in the 19th century.
Nowadays, you will find Midye Dolma in the coastal regions, especially İzmir, Istanbul, and Bodrum. People often enjoy it as an after-hour food.
12 Mouth-Watering Turkish Desserts For Sweet-Tooth
If you are looking for the most famous Turkish dessert recipes, this section will provide you with plenty of choices. Stay tuned and choose your favorite sweet treat to enjoy in Turkey.
22. Tavuk Göğsü (Chicken Breast Pudding)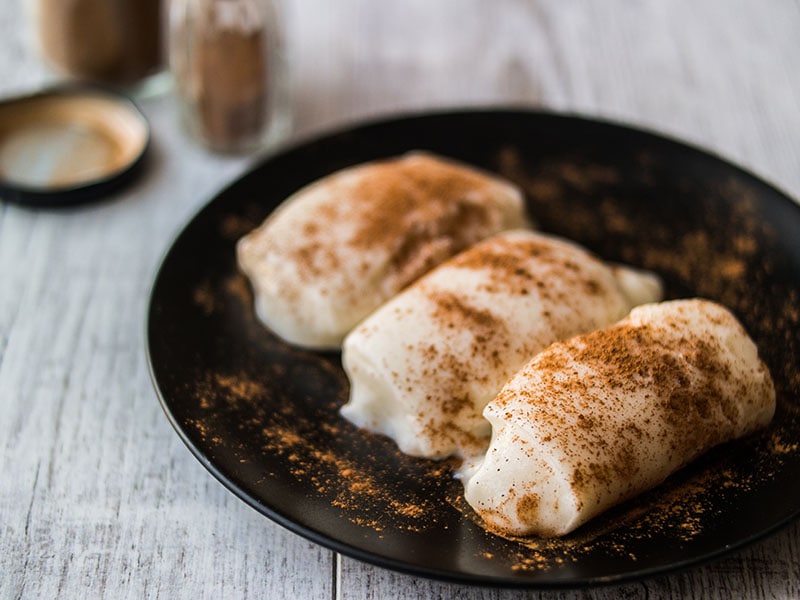 Have you ever tasted a chicken dish that does not taste like chicken? Tavuk Göğsü is that pelicular dish. It has the look of a pudding. Can you believe that?
Legend has it that a Turkish sultan created this dish in the middle of the night when he woke up feeling hungry. This happened during the Ottoman Empire.
Tavuk Göğsü has an elegant appearance. It looks just like a normal pudding with some cinnamon on the top. The taste is also not so different. You will just feel a very slight chicken flavor. I bet that you are very curious about how delicious it is. Don't hesitate! Go and give it a try!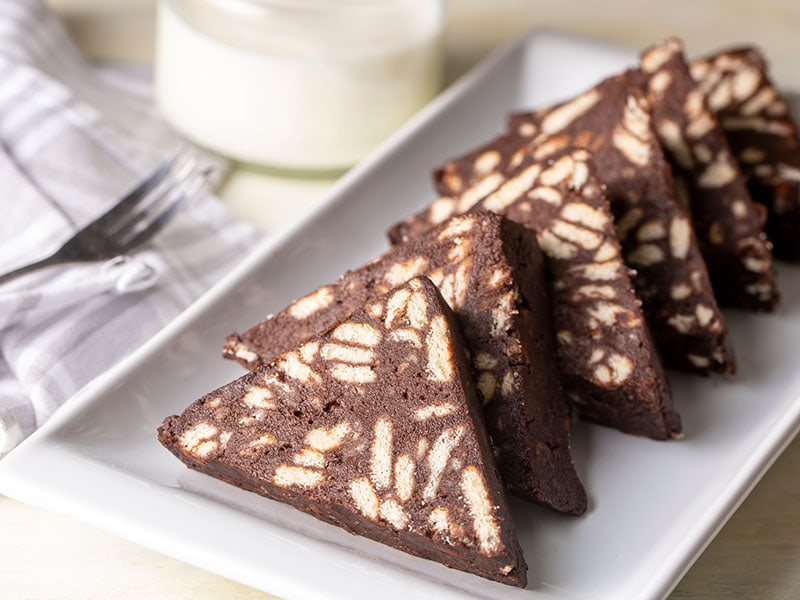 Perhaps each country has a unique chocolate cake recipe. In Turkey, when talking about chocolate, people always think of Mozaik Pasta. This dessert originally came from Italy and Portugal. When and how it made its way to Turkey is still under debate.
Mozaik Pasta consists of cocoa, butter, eggs, and broken biscuits. People often describe it as an intersection between cake and candy due to its semi-hard texture.
24. Kazan Dibi (Burned Milk Pudding)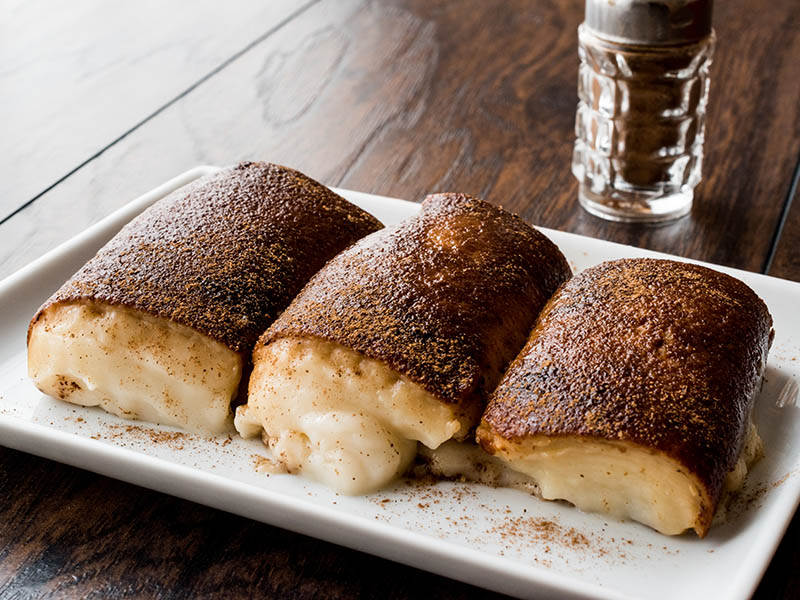 Kazan dibi is a delicious dessert that has an important meaning in Turkish tradition. It is typically served in the Muslim holy month of Ramadan. It originated in Istanbul in the 11th century. Do you notice that name sounds somewhat weird? It does, actually.
There is a story behind the origin of this famous dessert. When a baker was making the pudding with milk, he accidentally burned it. But the result was so fascinating that he decided to burn it on purpose. The burnt sugar tastes a little bit bitter, providing the pudding with a remarkable flavor.
25. Lokum (Turkish Delights)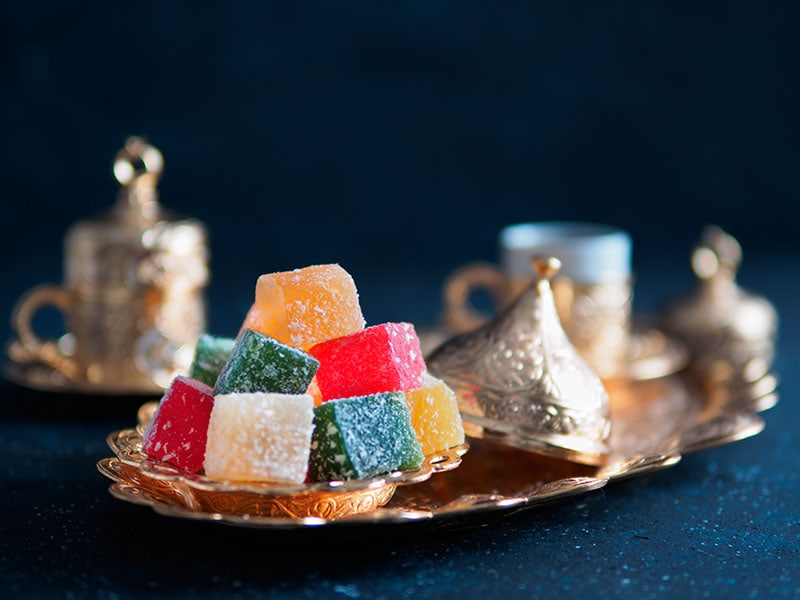 If you are a real lover of confectionery, you should never miss Lokum, a Turkish delicacy that is also a favorite food in Macedonia and has stolen the heart of many travelers around the world.
It was invented in Istanbul in the 18th century. It features small adorable cubes of candy covered by a mixture of sugar and cornstarch. There are often some chopped pistachios inside.
These cubes come in many colors, depending on the flavor. They taste amazing! You will find them in street vendors and stores. They are perfect for a lovely gift. Also, when people buy coffee or tea, they are also offered some Lokum.
Let's take a tour to the place of birth of Lokum.
26. Şekerpare (Semolina Cookies)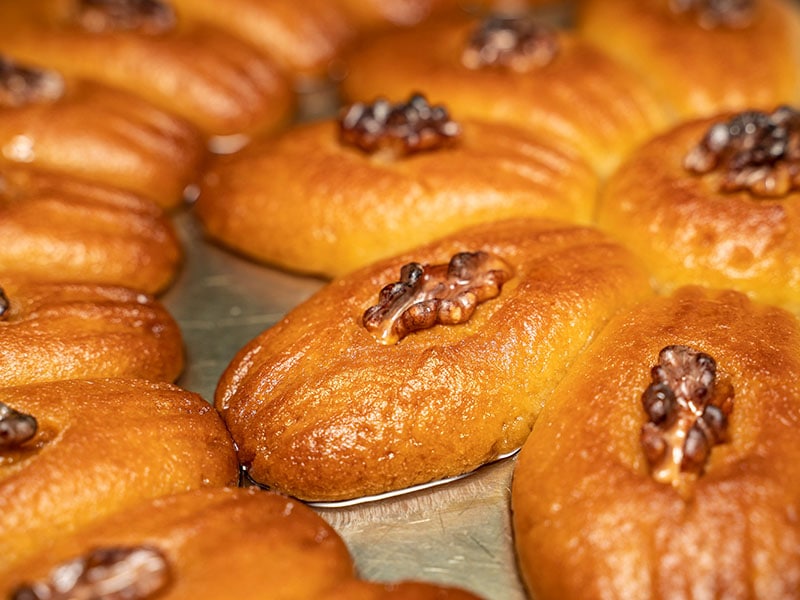 If you are finding a sweet treat to enjoy after dinner, then Şekerpare will be the best choice. It is so popular that you will see it in Turkish households, bakeries, and restaurants. People also serve it on Kurban Bayrami and Ramazan.
Şekerpare features golden-brown dough with a hole in the middle filled with lemon syrup. Its name means "a piece of sugar," which indicates how sweet and lovely it is. Turkish people love Şekerpare, and you will also not be able to resist it.
Traditionally, people enjoy Şekerpare with Turkish coffee and tea. It is served at family parties and religious festivals such as Şeker Bayrami, which celebrates the end of Ramadan.
27. Baklava (Layered Pastry With Chopped Nuts)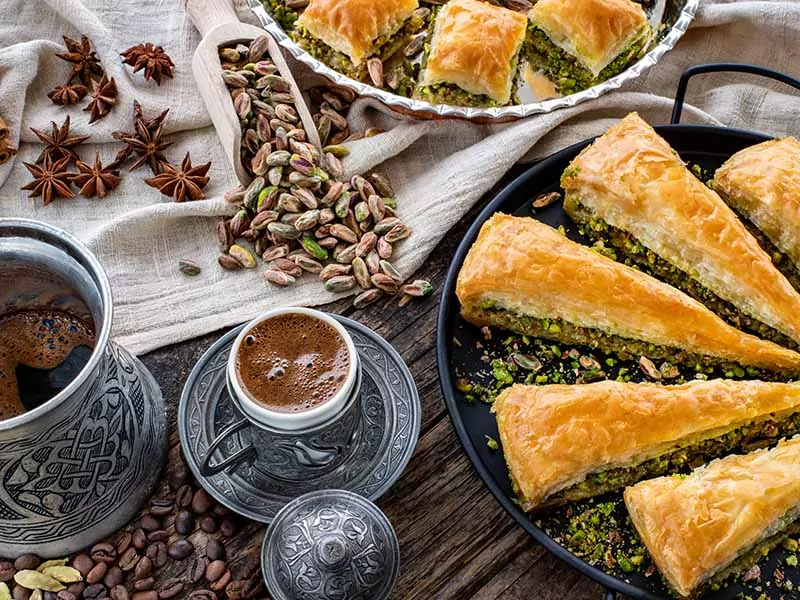 Baklava – a well-loved sweet in the Middle Eastern, is a beautiful phyllo dough filled and topped with pistachios, hazelnuts, and walnuts. People sweeten it with a syrup made from honey or sugar, water, and lemon juice.
It has a nutty and sugary flavor that few can refuse. Serve it cold to get its best refreshing and sweet taste.
The history of this wonderful dessert is still under debate. Some said that it originated from the Central Asia region of Turkey when the Ottoman Empire ruled the country, while others posit that it came during the Assyrian Empire.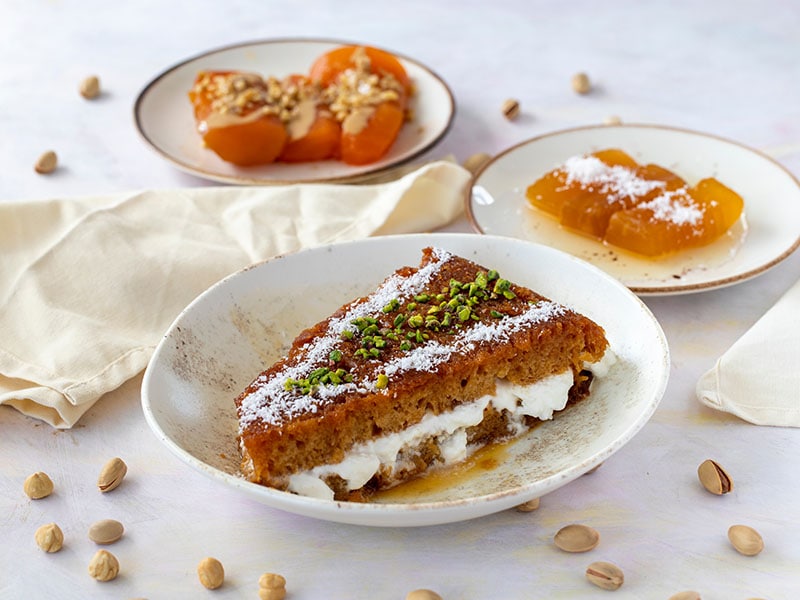 Each country seems to have its own bread pudding recipe. Here in Turkey, people make Ekmek Kadayıfı, a kind of bread pudding with a thick slice of bread topped with crushed nuts and cream and smothered in lemon syrup.
The origin of this dish dates back to the Ottoman Empire. Specifically, it came from the city of Afyonkarahisar. Due to its increasing popularity, nowadays you can find it in restaurants all over the country.
29. Katmer (Pancakes With Pistachios And Clotted Cream)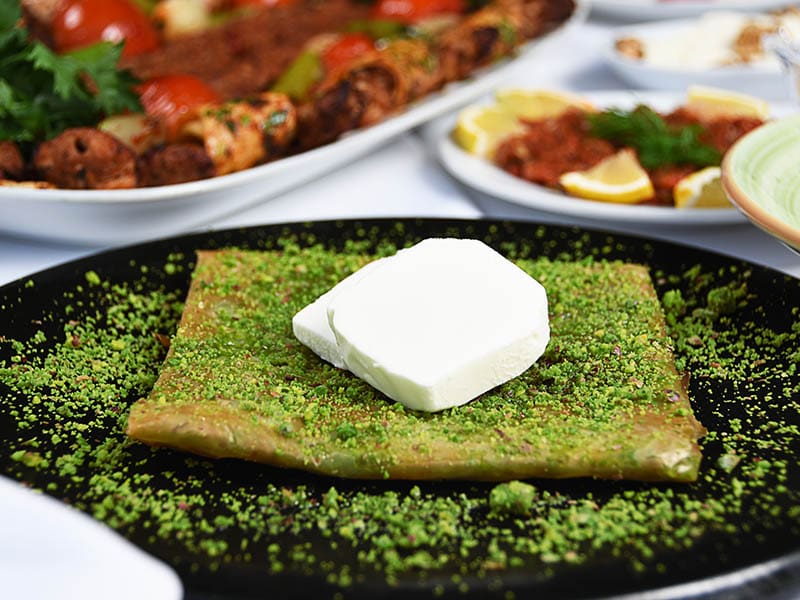 According to one record, Katmer originated in Turkish in the 14th century during the time the country was under the reign of the Ottoman Empire. However, there is evidence that it first appeared in the 11th century in Gaziantep city.
Its appearance is very similar to Baklava. Both are made of phyllo dough and topped with clotted cream. However, Katmer has thinner dough and a crispy texture. That's why people call it "pancake." Also, it contains grounded pistachios instead of nuts.
According to Turkish tradition, after the first wedding night, the bride and groom will eat Katmer to wish for a sweet love life.
30. Sütlaç (Turkish Rice Pudding)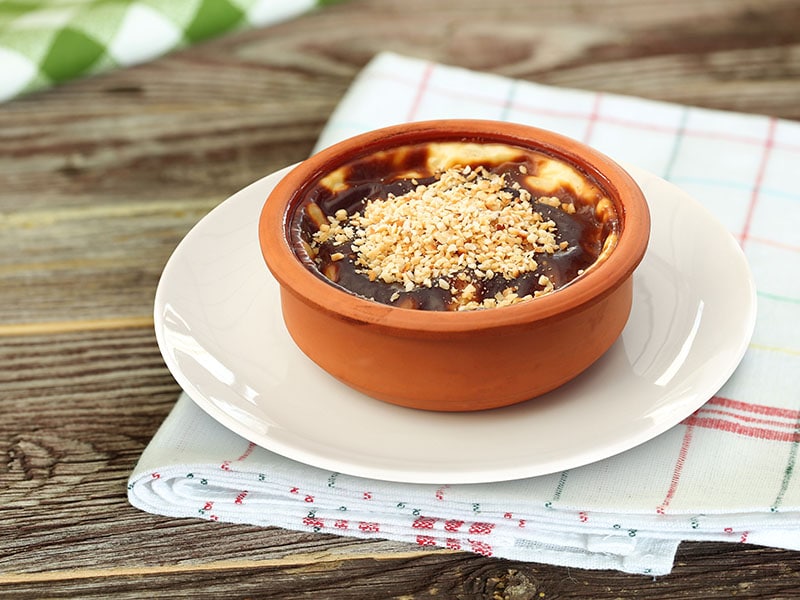 Sütlaç emerged in Turkey 400 years ago. It started out as a comforting dessert for those who have stomach problems. Therefore, it just contains healthy and simple ingredients, namely milk, rice, and sugar.
Thanks to milk as the main ingredient, Sütlaç has a creamy texture and rich taste that is heavenly delicious. It is often served cold. But if you want to enjoy it at night, a warm bowl would be perfect.
31. Kaymak (Turkish Cream)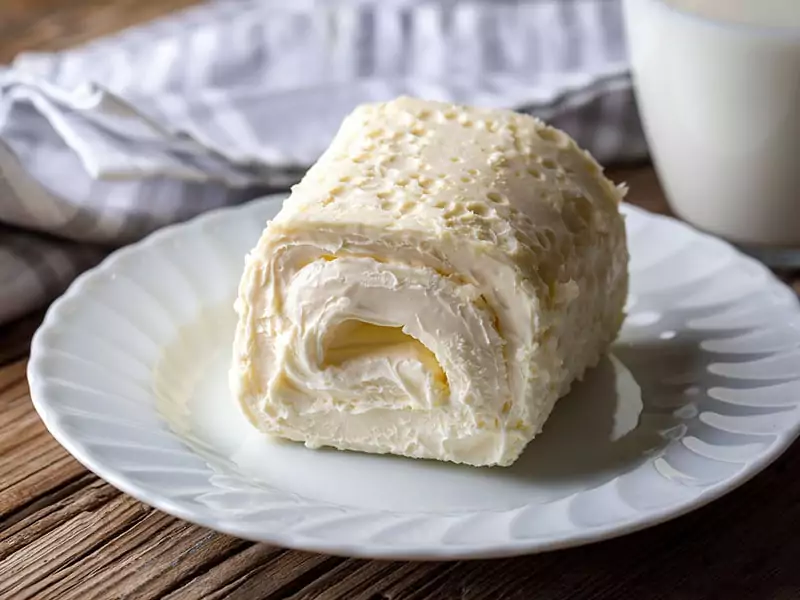 Kaymak is a kind of dairy that is typically served with Turkish Breakfast. It came from the central Asia region of Turkey during the Ottoman Empire. People collected the milk of goats, cows, and water butterflow, boiled it, and let it cool.
I don't have to say much about its flavor and texture. Rich and creamy are the best words to describe it. Thanks to these features, Kaymak is very versalite, you can enjoy it as a dessert, serve it as a breakfast or an appetizer.
32. Kunefe (Sweet Cheese Pastry)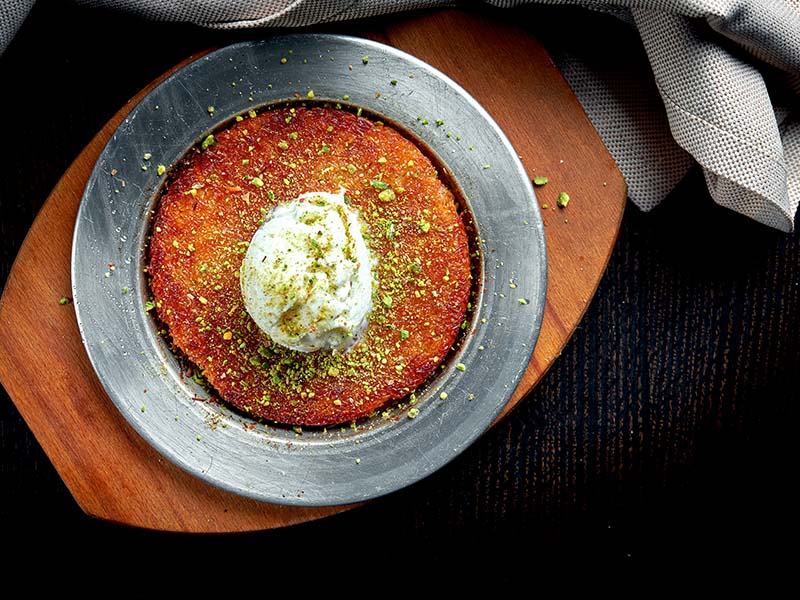 Although Kunefe is famous in Turkey, it has roots in Palenstian cuisine. The dish is native to the Arabic people residing in Palestine in the 10th century AD.
They made a fluffy cheese pastry then let it float on a sugar-based syrup. Finally, they top the pastry with pistachio nuts and cream, creating an attractive look that everyone falls for.
Another great thing about Kunefe is that it is served hot. The combination of sweet, cheesy, and warm taste is heavenly delicious.
You must know the 8 most famous varieties of Kunefe.
7 Delicious Turkish Drinks That You Must Try
Finally, let's get to the drinks. Besides the foods, Turkey's drink list is diverse and tasty, ranging from alcoholic to non-alcoholic ones. Let me show you what they are!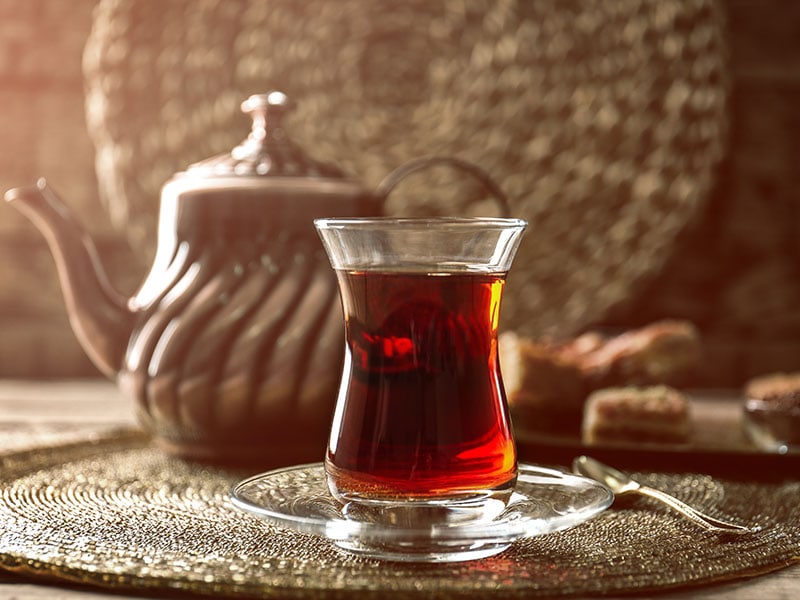 Tea is one of the most ancient drinks of Turkey. It was brought to the country in the 15th century by Silk Road traders. At the beginning, people used it merely for medical purposes. But now it has become the most popular drink of all over the country.
The average tea consumption of Turkish people is on the top of the world. It is a must-have component of conversations, social events, and gatherings. The most popular kinds of tea are apple tea, yarrow tea, and sage tea. All of them have a lovely flavor and impressive health benefits.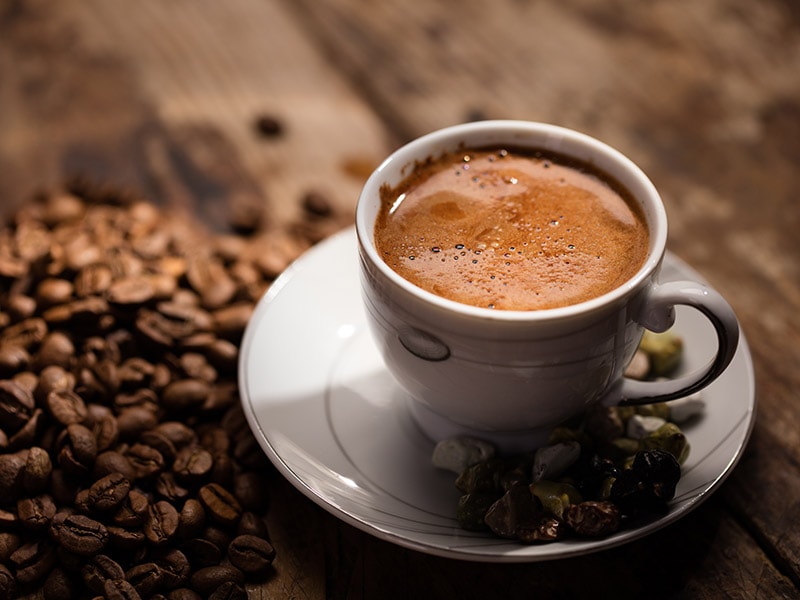 Turkish people love coffee. When you taste Turkish coffee, you will feel the original rich and bitter flavor that is fantastically delicious. This is because people use a special method to make it. They grind it and brew it to create a cup of coffee that no one can resist.
Normally, people stir coffee beans in cold water in a pot called cezve or ibrik. The mixture is brewed until it becomes frothy and about to boil. The result is a distinguishing coffee with a dark color, a rich, strong, and bitter taste, and a thick layer of foam on the top.
Coffee plays an important role in the tradition of Turkey. If someone offers Turkish people a cup of coffee, they will never refuse it. It represents friendship and respect. Plus, coffee can be used to tell fortunes.
This tradition is important in some parts of Turkey but not in others.
35. Salep (Hot Milk Drink)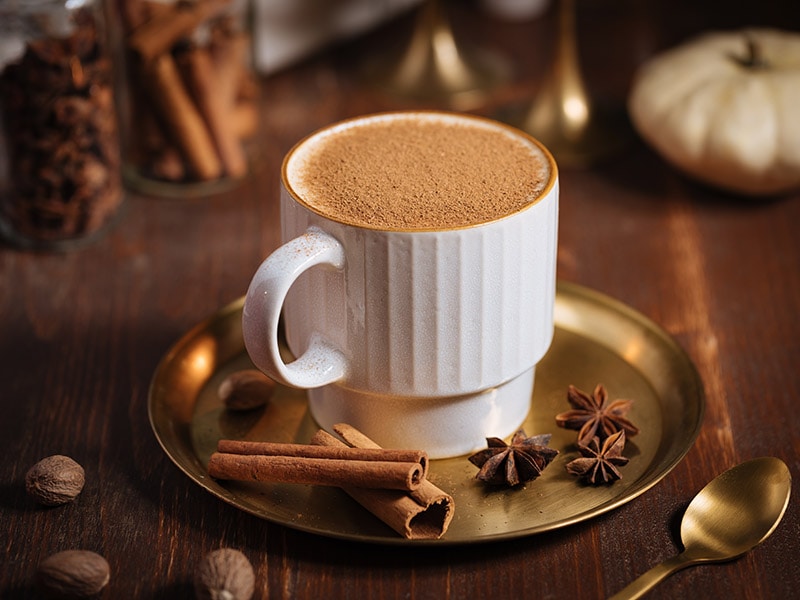 In the 8th century, when Turkish authorities banned alcoholic beverages, people made Salep. They created a warm and rich drink by adding cinnamon into hot milk. Have you ever enjoyed a drink that is made from orchids? If you haven't, then Salep is a must-try.
Turkish people harvest orchid tubers, then wash them, dry them, and grind them to create a powder. Then, they blend it with milk and sugar. When the mixture is set, they sprinkle some ground cinnamon on the top.
Traditionally, Salep is an essential drink during the winter months. Its warmth and earthiness will comfort anyone.
36. Ayran (Yogurt Drink)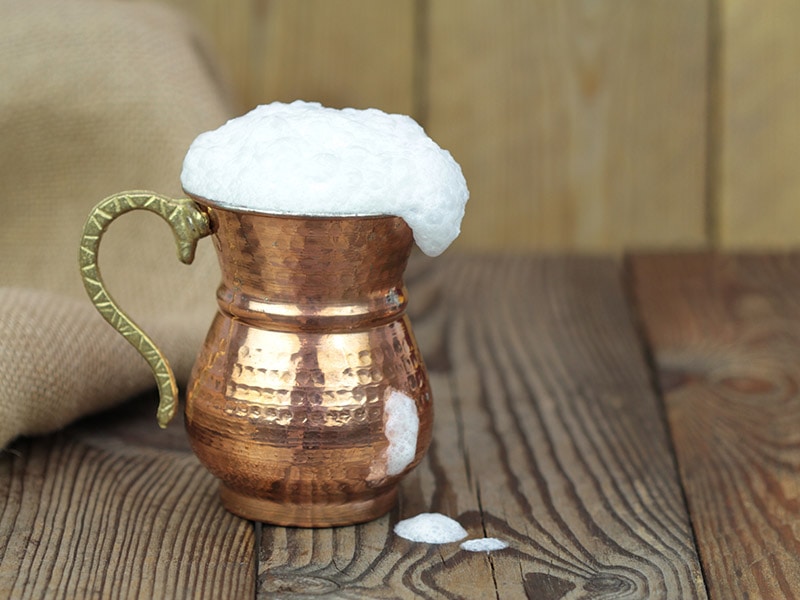 Let me introduce the national drink of Turkey! It's Ayran, a yogurt-based drink that will help you beat the heat of summer. You can also find them on Greek's beverage menu which contains yogurt, water, and some salt. It is not only refreshing but also healthy. There is no sugar at all.
The history of Ayran is still under debate. Many believe that it came from Central Asia in 1000 BC. They posit that the Göktürks invented it. Nowadays, Ayran is the most popular drink to quench thirst. Try it on a hot summer day in Turkey, and you will be over the moon.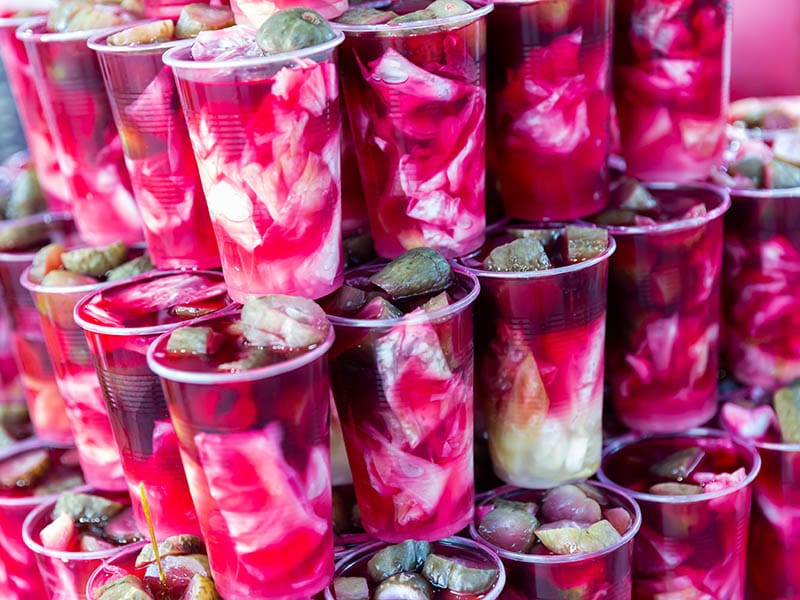 On Turkish streets, especially in summer, you will see plenty of charming pink drinks held in plastic cups. These drinks are Tursu Suyu. It is made of pickled vegetables, namely cabbage, beets, cucumbers, and carrots.
Tursu Suyu originated in Turkey, but the exact time is still a mystery. It has a strong tangy and slightly salty taste that will certainly spark you. People often enjoy it alongside street foods, such as sandwiches.
38. Boza (Turkish Fermented Drink)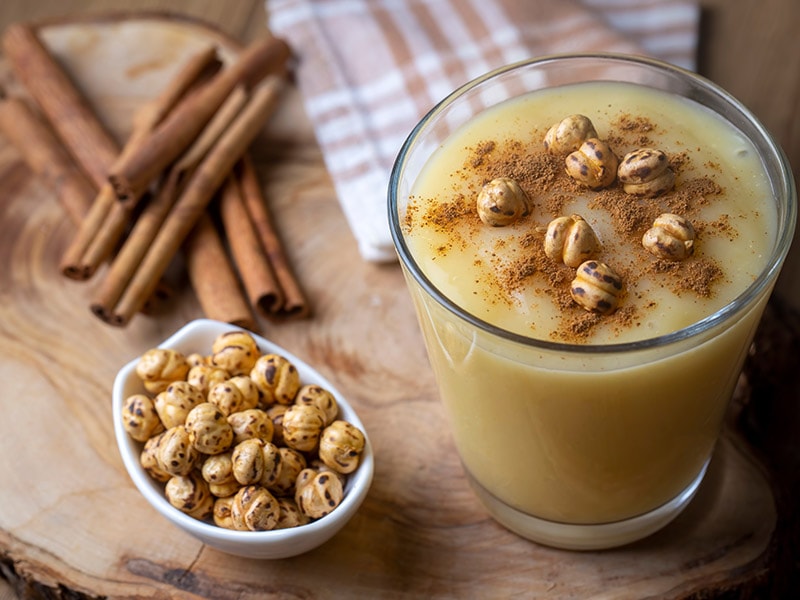 The winter days in Turkey would be incomplete without a warm cup of Boza every night. It is made from fermented wheat with some cinnamon and toasted peanuts on the top. Although it is more often a winter drink, you can also enjoy it cold in summer.
Turkish people started to make Boza in the 10th century BC. There are still controversies regarding its name. The generally accepted theory is that it came from the world "buze," which means "millet" in Persian.
39. Rakı (Grapes And Aniseed Drink)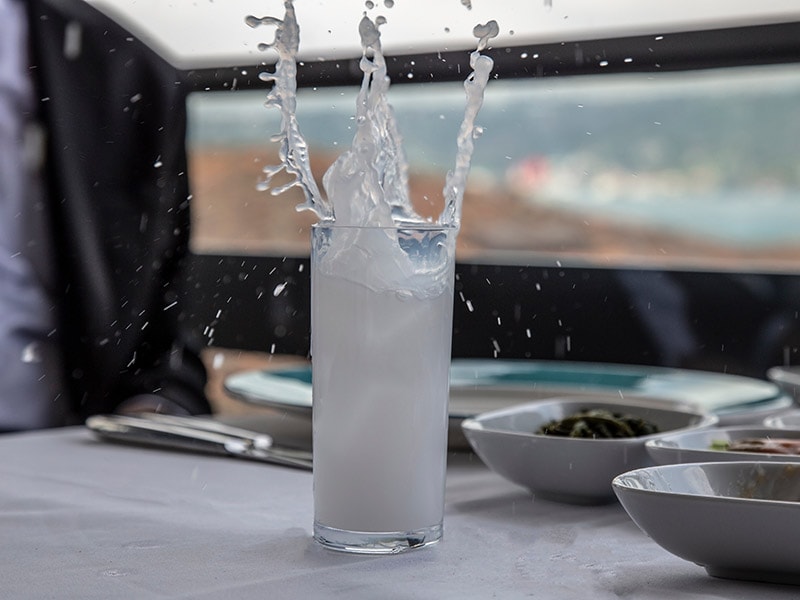 Raki is one of the national drinks of Turkey. It originated in Anatolia 300 years ago when the Ottoman Empire ruled the country. Its ingredients include twice-distilled grapes and aniseed.
It is not wrong to say that Rakı is the national drink of Turkey. It is present in every celebration and gathering, such as birthday parties, promotions, and weddings. It has a strong licorice-like flavor that will make you feel like you're in heaven.
Turkish people enjoy Rakı in a number of ways. They serve it with cold water or add water or ice cubes directly to it, resulting in a milk-like appearance, which looks like the louche of absinthe. Therefore, they often call it "Lion's Milk."
Rakı is often eaten alongside meze and seafood, such as fresh beyaz peynir, arugula, melon, and kebab. While enjoying it with kebab, a cup of şalgam is also present. It is also served at rakı sofrası before dinner.
Make Your Culinary Experience In Turkey Remarkable
What do you think about these Turkish foods? I am craving them already. If you are already in Turkey, go and get them right away! I bet that you don't want to wait anymore. But remember to make a good plan before you go to ensure that you don't miss any tasty dish.
If you like this article, please share it on social media so that more people can explore the best foods in Turkey. Also, share your experience with the dishes above in the comment section. I would love to hear that. Thank you!