Egyptian foods may not be popular worldwide, since Egypt's reputation has lied into the Pyramids, geometric shapes, and numbers. However, if you explore more about them, you may find that the foods are also one of the spotlights of Egypt!
Since they are not that popular, many people may think that the Egyptian recipes are plain and not really good. But it is an incorrect assumption! Their cuisine is super delicious with various dishes, from morning till dawn.
Most Delectable Egyptian Main Dishes You Shouldn't Miss
Egyptian foods may be more diverse than you think! You will be amazed to know that Egyptians have maintained their food recipes since ancient times. So their foods are representative of their whole culture. Let's get through some of the best main dishes ever!
All-Occasion Traditional Egyptian Foods
Egyptian cuisine contains a lot of traditional dishes that can be served in daily meals! They are all tasty and easy to absorb, even for those who have never tasted Egyptian foods before! You should definitely try these foods because they're so easy to find in any season!
1. Ta'meya (Egyptian Falafel)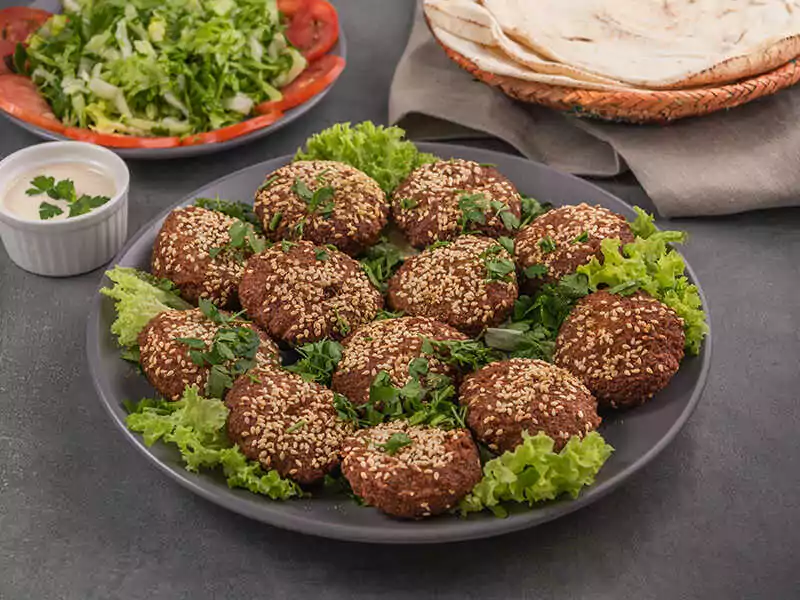 There are many variations of falafel in the world, but Ta'meya is a special edition of Egyptian. The locals usually make it from mashed fava beans, parsley, cilantro, and many other spices, then shaped into flat disc shapes.
This dish appeared in Egypt for the first time during Lent. An Egyptian, namely Coptic Christians used it instead of meat for the meal. Nowadays, Ta'meya also shows up during Ramadan as iftar – a part of a meal. Egyptians love to have falafel for breakfast!
Ta'meya usually gets along with pita bread, onions, tomatoes, and tahini sauce. It is a very popular street food in Cairo and the rest of Egypt that you must try when you come to this country! It will show the best of what Egyptian cuisine has.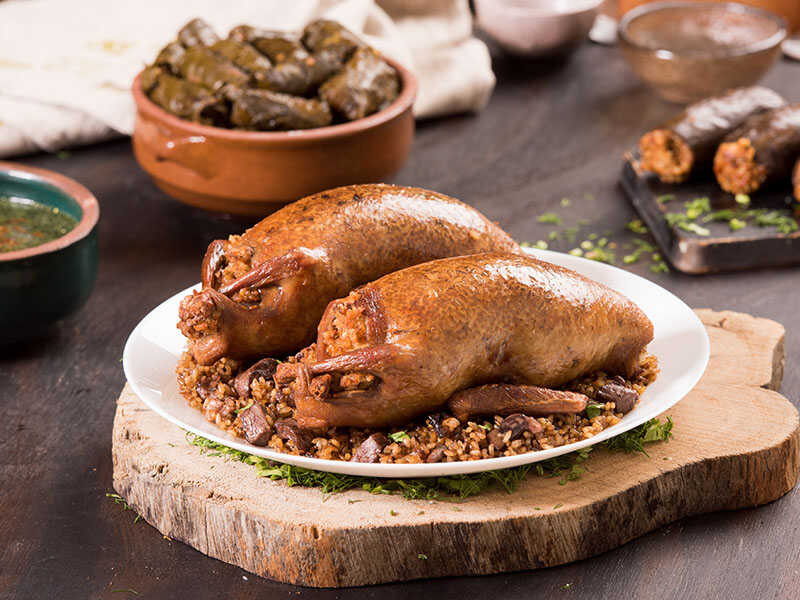 Hamam Mahshi is an ancient dish that Egyptians have eaten for centuries. It includes squab (small pigeon) stuffed with freekeh, onions, and seasonings.
Freekeh is a kind of Egyptian cracked wheat that's also a famous dish in Palestine, Syria, Tunisia, Turkey, and more. The cook can substitute this wheat with bulgur wheat or rice in this dish.
Egyptians will pick those fattest squabs about 6 weeks old to cook Hamam Mahshi. It is the most appropriate age of a squab for the best meat quality. If they are older, the meat may become too tough and chewy that is not in the best condition for cooking.
Pigeons seem to be a rare type of meat, but Egyptian villagers along the Nile River have been raising them for a long time! They usually serve Hamam Mahshi on special occasions such as weddings, but you can always find it in a traditional Egyptian restaurant if you visit Egypt.
3. Kushari (Egyptian National Dish)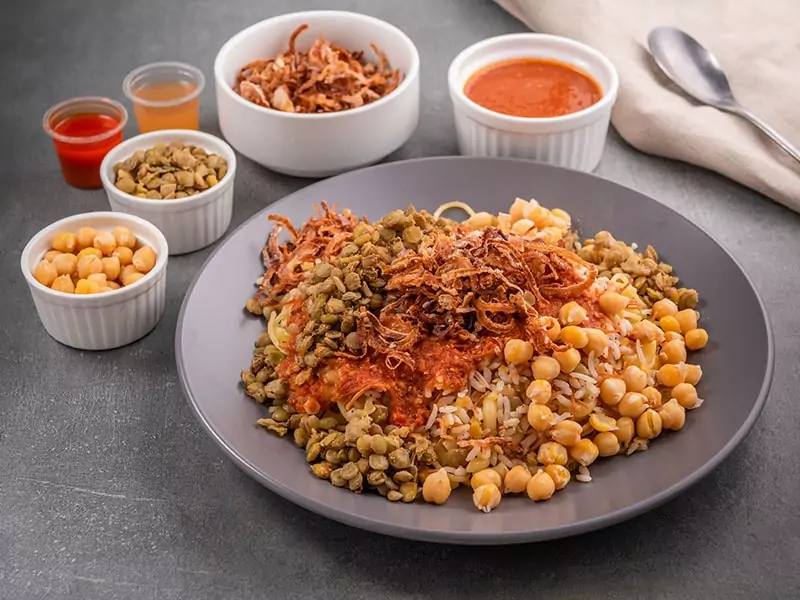 Kushari, or Koshary, is an ancient dish in Egypt since the 19th century! It is literally a mixture of rice, lentils, and macaroni with tomato or lemon sauce and onions on top. The locals usually sell Kushari in both street vendors and restaurants all over Egypt.
Kushari is a great source of carbs that you should add to your Egyptian lunch recipes list! Do you know that Kushari is so popular that it also has many variations in other countries? You can find some of them in Eastern Arabia or Yemen.
This is why Kushari is one of the best Egyptian street foods!
4. Aish Baladi (Egyptian Flatbread)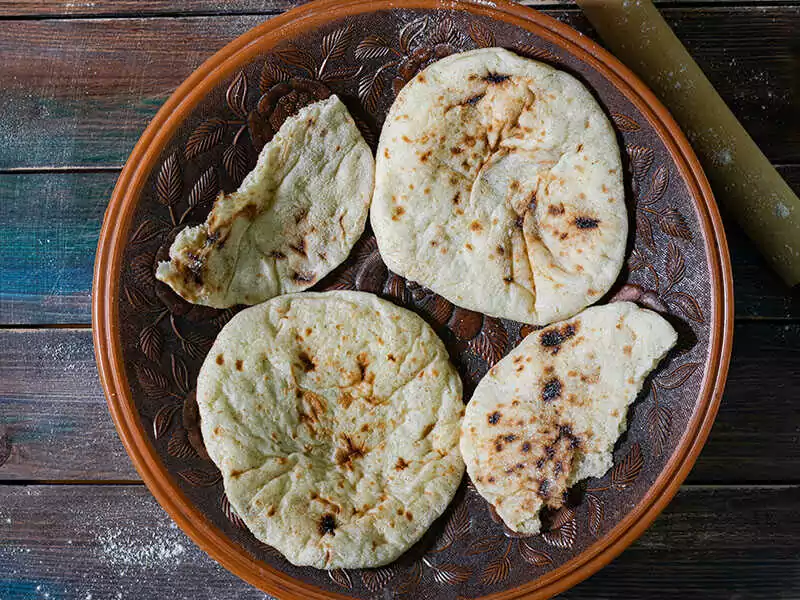 Bread is an important part of Egyptian cuisine – they cannot live without it! And this flatbread is so tasty that I'm sure you'll be amazed! It is similar to pita, a dish commonly seen in the Middle East, but Egyptians make it from 100% whole wheat flour and bake it in an extremely hot oven.
Aish Baladi has appeared in Egypt from more than 5000 years ago in Ancient Egypt. The bread back then was made of an ancient type of wheat called "Emmer," or barley. It has developed throughout the centuries and turned into the complete version of Egyptian bread.
5. Hummus (Egyptian Mashed Chickpeas)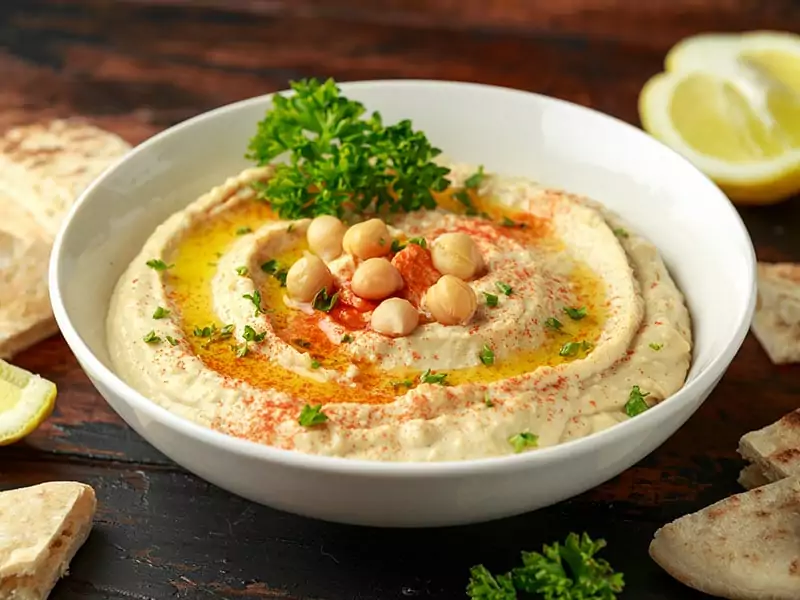 Hummus is a delectable dip made from mashed chickpeas with other ingredients such as olive oils, garlic, parsley, cumin, tahini, paprika, etc. Due to its complex ingredient, there's no surprise that hummus has a very distinct and unforgettable taste.
You can say that hummus is a super famous savory dish in Middle Eastern rich cuisine. Egyptians often serve it as an appetizer, dip, or snack with crackers.
There are different unofficial claims on the origin of Hummus, but a similar recipe showed up in cookbooks from 13th century Cairo. It is definitely the favorite ancient food of Egyptians that has been eaten for centuries in Egypt and the Levant.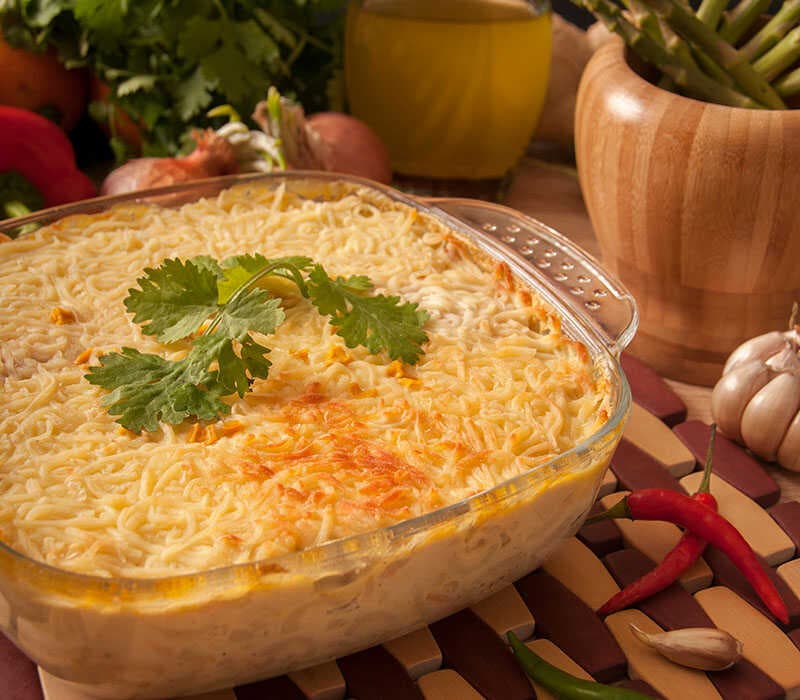 This Macarona Béchamel dish is a treat from heaven with three filling layers of casserole. The deepest layer includes boiled Penne pasta. The middle layer is usually beef mixed with tomato sauce and some onions. The top of it is white Béchamel sauce.
Macarona Béchamel will be ready when its top layer turns golden brown in the baking process. This dish is an all-occasion food and is perfect to feed the crowd! If you are going to visit Egypt with your family, don't hesitate to call this dish for a remarkable dinner!
7. Mahshi (Egyptian Stuffed Vegetables)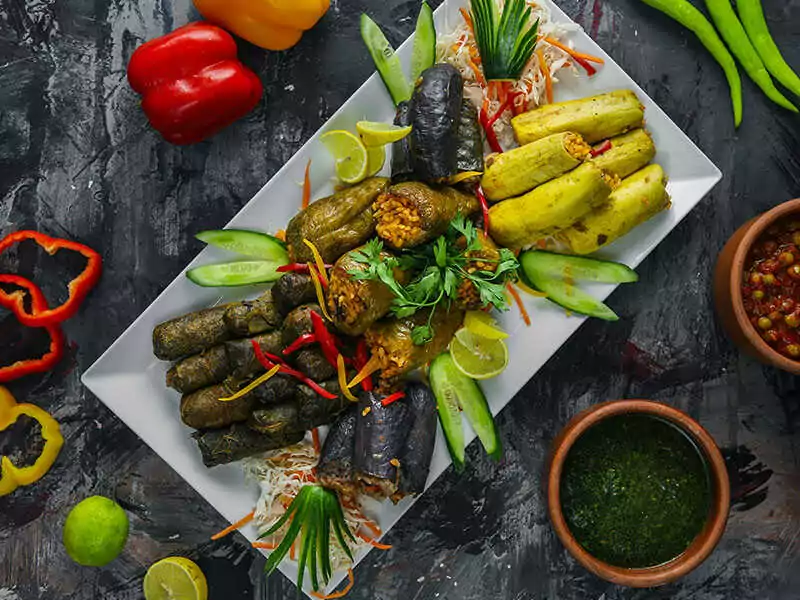 Mahshi, also called Mashi or Mashy, is a green dish including many vegetables such as eggplants, zucchini, bell peppers, cabbage, tomatoes, etc., stuffed with a unique filling. The filling contains mainly rice, herbs, spices, tomato sauce, and cinnamon.
This dish can be a seasonal one since the main ingredients will change according to the seasons in a year. For instance, the cook will use vine leaves in the summer and cabbage in the winter to make Mahshi.
Mahshi is one of the most common dishes in Egypt and the Middle East! Consider this dish among many other Egyptian dinner recipes if you want to bring an "Egyptian vibe" to the dinner table! The ingredients are easy to find, but you'll need handiness for stuffing!
Let's see how they delicately stuff the filling inside veggies to make Mahshi!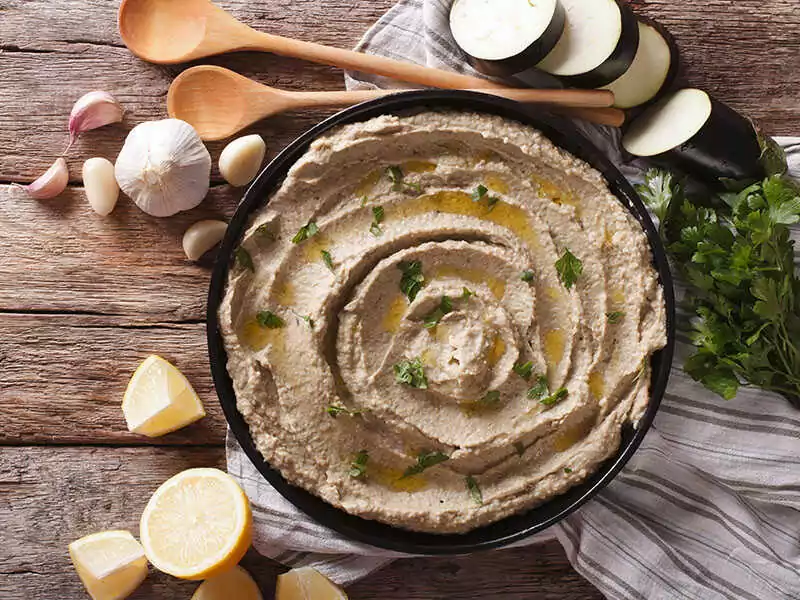 Baba Ghanoush, or Baba Ghanouj, is a famous dip originating from Lebanon. This scrumptious food beginning with "B" is somehow similar to Hummus, with eggplant as the primary ingredient. It also includes olive oil, garlic, lemon juice, and other herbs and spices like Hummus.
To make this dip, the cook will roast eggplant directly over an open fire, then peel its skin and mix with other components. Egyptians typically serve it cold as a part of a mezze platter or a side dish. You may find it on a dinner table when you visit this country.
9. Shawarma (Egyptian Sandwiches)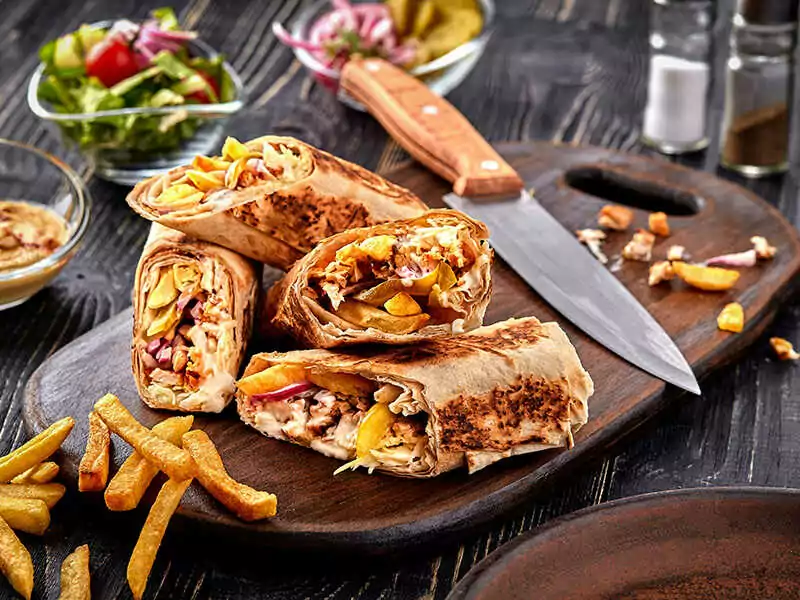 This is also the most delicious Egyptian dish, which is a large cone with pressed lamb and chicken. The cook will slice and boil the meat, then mix it with chopped tomato, onion, and parsley before rolling the mixture in a huge disc and wrapping it in foil.
Shawarma originates from Greek gyros but the Egyptians have turned it into their unique edition. It often goes with tomaya, a special type of garlic sauce. It will be a great street food option for those visiting Egypt for the first time!
You can also easily spot Shawarma in many other countries in the Middle East as well. To name one example, among the list of must-try Lebanese dishes, you'll easily see Chicken Shawarma.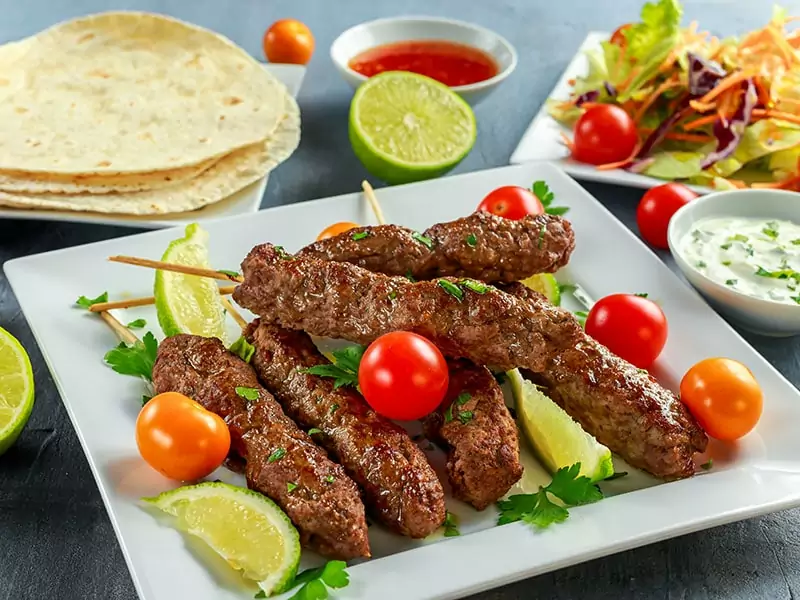 This dish is a spectacular combination of the two most scrumptious dishes ever! Kebab includes meat pieces grilled on coal fire and usually pairs with rice, vegetables, or bread.
In this dish, Kebab will go with Kofta. Kofta is a sausage containing minced lamb or beef seasoned with special spices in Egypt.
Although it may seem to hold a lot of meat, this Egyptian meatball version is also refreshing with accompanied salads like chopped cucumber and tomato. If you love to have meat in your meal, you'll definitely like this Kebab and Kofta dish!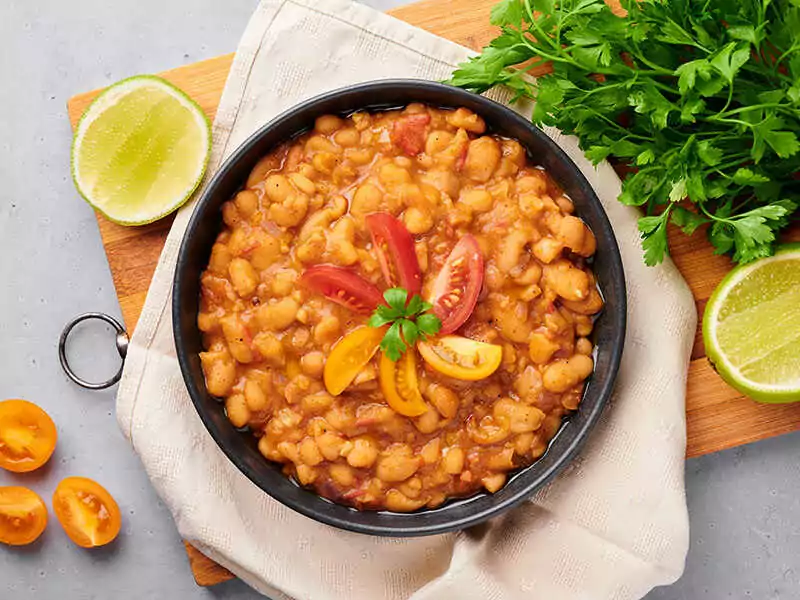 Ful Medames is considered one of the most delectable Egyptian breakfast recipes you should not miss! Egyptians soak the fava beans overnight and stew them with oil and salt for hours at low heat to make a perfect Ful Medames dish.
Fava beans contain many nutrients like carbohydrates or iron that are really good for your health. They also have a low content of saturated fats. Therefore, Ful Medames will be a delicious and healthy dish for food lovers, including vegetarians.
12. Molokhia (Green Slimy Soup)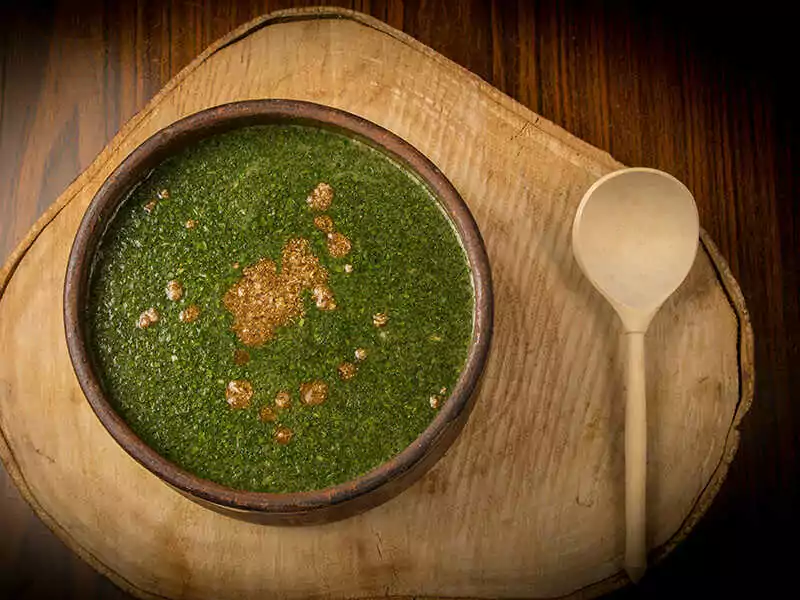 Molokhia, or Molokheyya or Mulukhiyah, is the name of the leafy veggie used to make the dish. Egyptians often make this dish from the Corchorus plant's leaves or jute mallow. They will boil the leaves in beef or chicken broth with garlic and lots of seasonings.
Molokhia is the national dish that "grow up" with Egyptians since the mothers usually include it in their children's daily meals. It is also an ancient type of soup that has appeared since Ancient Egypt.
13. Eggah (Egyptian Baked Omelette)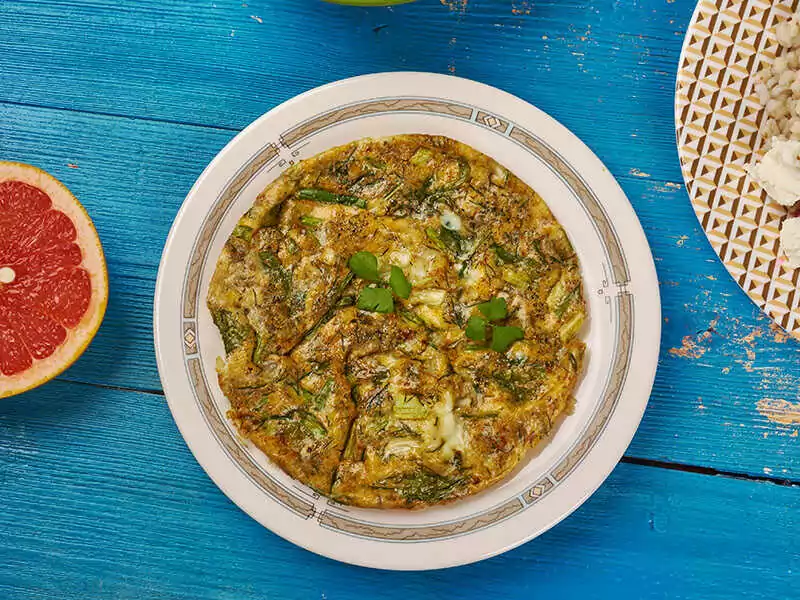 Eggah, also called Ej'jah, is a special Egyptian edition of frittata – a typical dish made from eggs. It is well-known in Egypt and the Levant – you can bump into this dish anywhere in these regions.
Eggah contains a mixture of eggs with onions, spinach, zucchini, tomatoes, leeks, etc. The cook will bring this mixture to bake in a hot oven, then season it with cumin, turmeric, cinnamon, nutmeg, and many other fresh herbs.
You can have Eggah for any time in a day, although it seems like a breakfast dish. Egyptians often serve Eggah with salad, pita bread, and other side dishes.
Some Unique Egyptian Holiday Foods You May Want To Taste
Some Egyptian dishes will represent a special annual occasion because they may only show up on those holidays. If you visit Egypt these days, there is a high chance that you will be invited to try the following dishes!
14. Feseekh (Fermented And Salted Fish)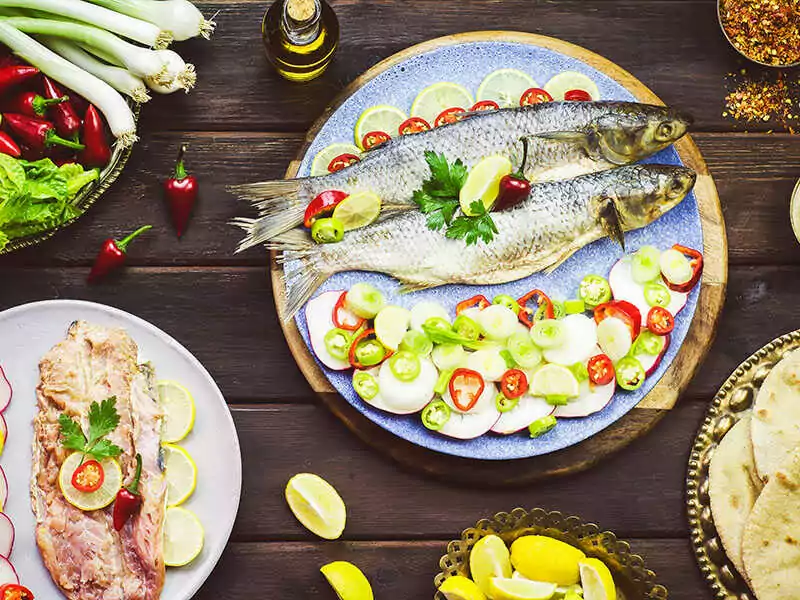 Feseekh is another ancient dish including salted and fermented fish, mainly mullet fish. Egyptians would like to serve Feseekh with herring, pita bread, and green onions. It is actually a controversial dish since not everyone will like its stinky taste.
Egyptians will serve this dish on Sham El-Nessim national day, one of Egypt's oldest celebrations held in spring. This festival may remind you of Christian Easter day because it also has colorful customized eggs. Many families serve Feseekh on this holiday!
15. Fatteh (White Rice, Meat, Pita Bread, and Sauce)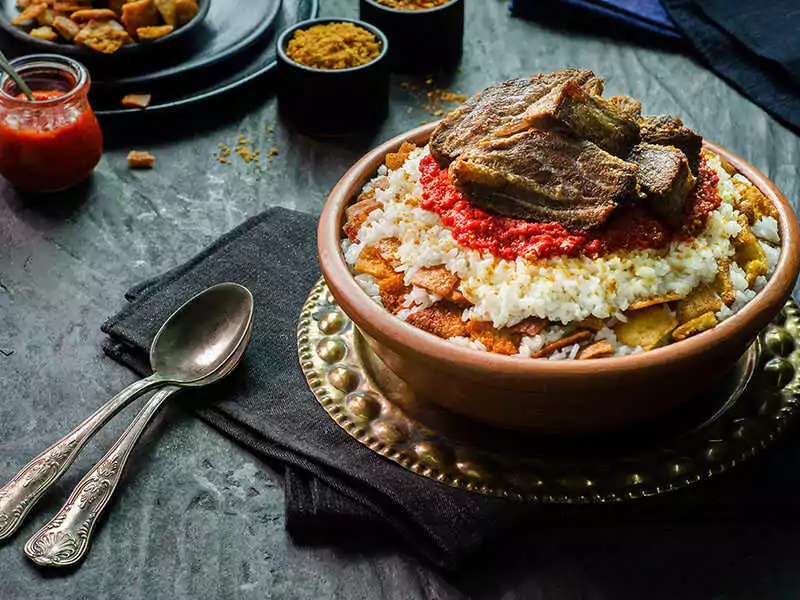 Fatteh in Arabic means "crumbs" or "crushed." So, the dish includes a lot of flatbread pieces dipped in various components, which may vary but usually are rice, lamb, and garlic tomato or vinegar sauce in the Egyptian edition. It is a simple yet delectable festive food!
Fatteh is a shared dish of many nations in the Middle East, especially in the Levant areas. As such, don't be surprised to see it appear in the must-try food list of UAE, Lebanon, Palestine, and more.
Back to those ancient days of Egypt, Fatteh often showed up on important celebrations of Egyptians, such as weddings or the birthday of a newborn. Nowadays, it is one of the main dishes on the table on the first day of Eid al-Adha, an Islamic festival held in July.
Watch this video to know more:
Hearty Egyptian Desserts That You Don't Want To Miss
Which one will be your favorite among thousands of Egyptian dessert recipes? Here are some of the most common and mouth-watering desserts in Egypt that will surely surprise you with their tastiness!
16. Konafa (Egyptian Cake)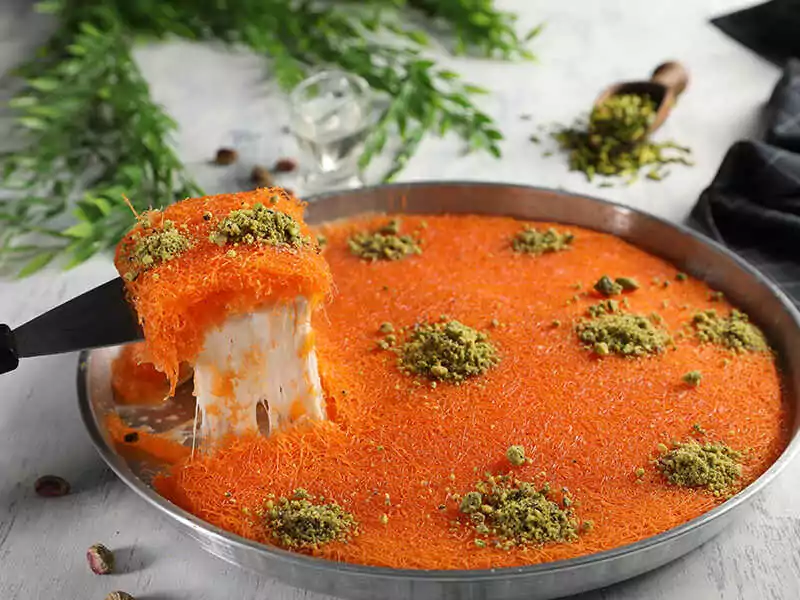 Konafa, or Kunafa, is one of Egyptian cuisine's most popular go-to desserts! They usually have this delectable dish daily, especially during Ramadan month. Konafa is a sweet treat including shredded Konafa pieces with cheese or cream filling inside.
Egyptians can make Konafa into separate pieces or a big one then cut into smaller portions when serving. The locals will serve you Konafa bubbling hot with a cup of mint tea. Make sure you enjoy this delicious dessert serving pack when in Egypt!
You'll be surprised to know that there are also a lot of Konafa variations. Some of them can be found in Syria, Greece, or the Balkans, with one notable example being Bulgarian cuisine. The Syrian edition of Konafa is called Künefe with a unique semi-soft cheese made from raw milk.
17. Umm Ali (Egyptian Bread Pudding)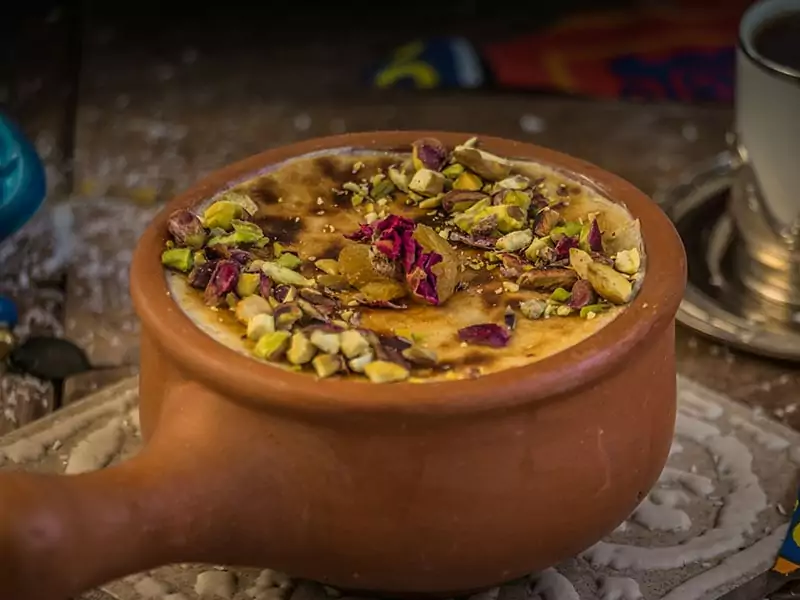 Umm Ali, also called Om Ali, means Ali's Mother. This ancient and national Egyptian dessert goes with a historical story. It is named after Sultan Ezz El Din Aybak's wife – Om Ali, who required this dish for a victory celebration in the 13th century.
Umm Ali combines baked puff pastry, or bread, with milk and sugar to create a perfect bread pudding edition. The locals typically put nuts, raisins, coconut pieces, butter, whipped cream on this dish and serve it hot. You can always see it at an Egyptian wedding!
Umm Ali is not only popular in Egypt alone. If you ever have the chance to explore African cuisine and its luscious desserts, you'll definitely come across Umm Ali at least once.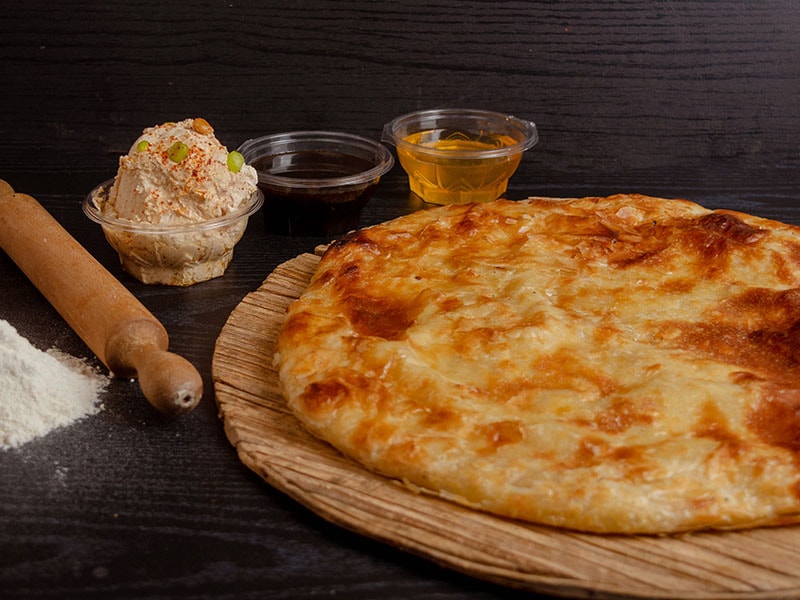 Feteer Meshaltet is the name of the Egyptian version of pie or pizza. It contains many dough layers topped with thousand options of toppings with sweet (coconut, nutella, chocolate, syrup, honey, sugar) or savory (minced meats, cheese, vegetables) flavors.
In Egypt, this dessert is an iconic symbol of hospitality that Egyptian families usually give as a gift to their loved ones or visitors. During the former U.S. President Barack Obama's visit to Egypt in 2009, Feteer Meshaltet was also the sweet treat Egyptians served him.
Feteer Meshaltet may not suit those who don't like fatty foods because this dish is super buttery! You will meet it at special celebrations of Egyptians such as weddings and holidays. Feteer is also the perfect gift from Egyptian families to their beloved ones or visitors.
19. Meshabek (Egyptian Funnel Cake)
Meshabek is a super sweet dessert in a round, tube-like shape. You can find it everywhere in Egypt! The prepared dough containing flour, cornstarch, sugar, and oil is hand-crafted into a twisted spiral shape and deep-fried in hot oil.
This sweet dessert originates from Damietta and Tanta; later on, it has become viral in Egypt. Meshabek is a bit chewy and can be served with honey as a dipping sauce. It is also an affordable snack in this country.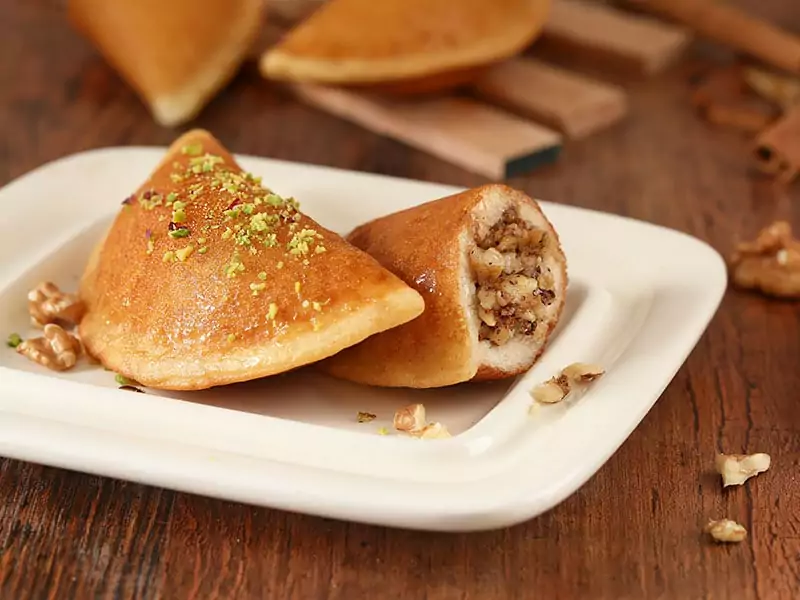 Qatayef, or Katayef, is the pancake version of Egyptians. With Konafa, Qatayef is a Ramadan dessert that will show up on the dinner table this holy month. This dish includes mini deep-fried semolina-yeast pancakes filled with cream and nuts.
The ancient Qatayef recipe was in a cookbook from the Abbasid Caliphate era. Nowadays, it has developed to a new version with the cooking process like pancakes, but for Qatayef, the cook only fries one side of it, then stuff and serves it with some sweet treats like honey.
21. Basbousa (Coconut Yogurt Semolina Cake)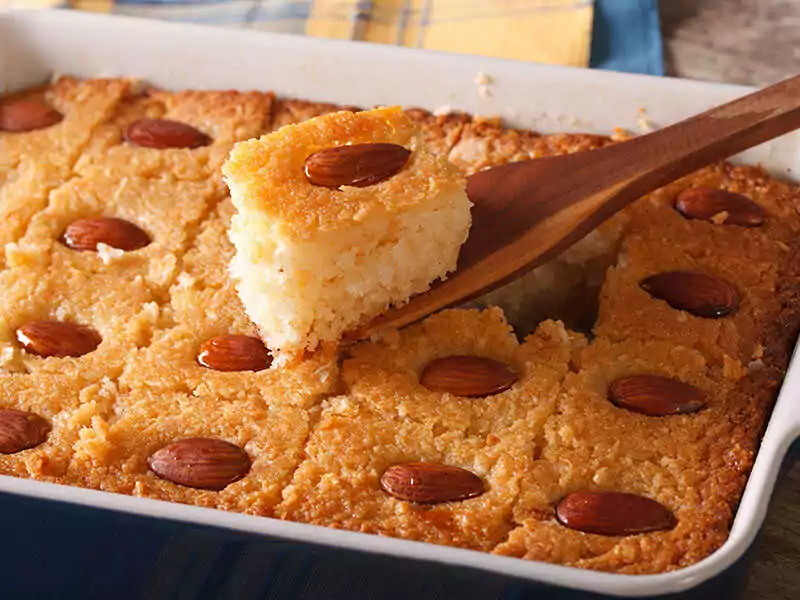 Basbousa is a ubiquitous dessert in Egypt. It is also a well-known sweet treat in Libya, Greek, Turkey, and other countries across North Africa, the Middle East, and the Balkans.
This dish is usually a mixture of semolina, yogurt, and coconut. Its sweetness comes from a special syrup with orange flowers or rose extract. The final product is topped with nuts, such as pistachios and almonds.
Its name "Basbousa" is a term in Egyptian to refer to beloved ones in the family. For instance, a mother can call her daughter "my basbousa," which is like "my love" or "my baby" in English.
22. Roz Bel Laban (Egyptian Rice Pudding)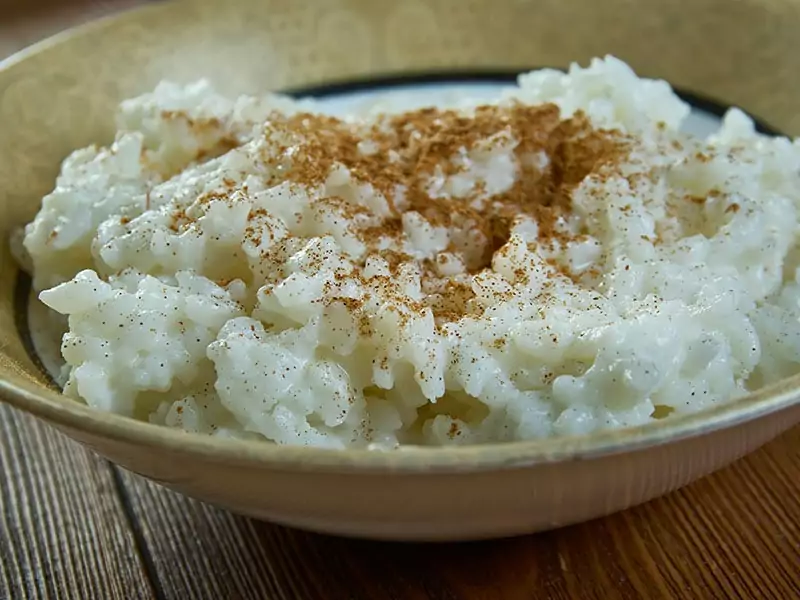 Roz Bel Laban, or Ros Bil Laban, is literally rice pudding in Egyptian old-fashioned style. It includes short-grain rice, rose water, butter, milk, vanilla, cinnamon, nutmeg, and sugar. Egyptians usually serve this delectable dessert warm or cold with hot mint tea.
For a perfect final look and taste, Roz Bel Laban will have some raisins or chopped nuts on top. Besides serving as a dessert, Egyptians will also eat this dish in the morning for breakfast or as a snack whenever they like!
23. Ghorayeba (Egyptian Shortbread Cookie)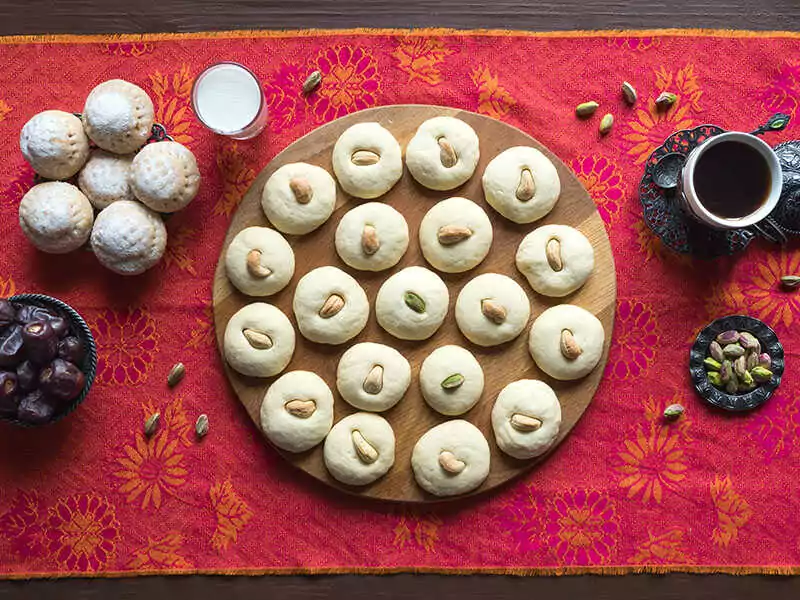 Ghorayeba, also called Ghraybeh or Ghoraybeh, is made from three common ingredients: flour, ghee, and sugar in powder form.
After baking the Ghorayeba dough, the cook will decorate the cookies with nuts on top. The most typical used nut types are almonds, cashews, and pistachios. Other versions of these sweet treats are famous in Syria or Lebanon, where people flavor them with rose or orange flower water.
In Egypt, they're shortbread cookie that the locals will serve on essential occasions such as Christmas or Easter.
Most Enjoyable Egyptian Special Beverages
If you are wondering what to drink in Egypt after a big meal, this section is for you! I have listed here the most refreshing and healthy beverages, so take a look and find yourself the best Egyptian drink ever!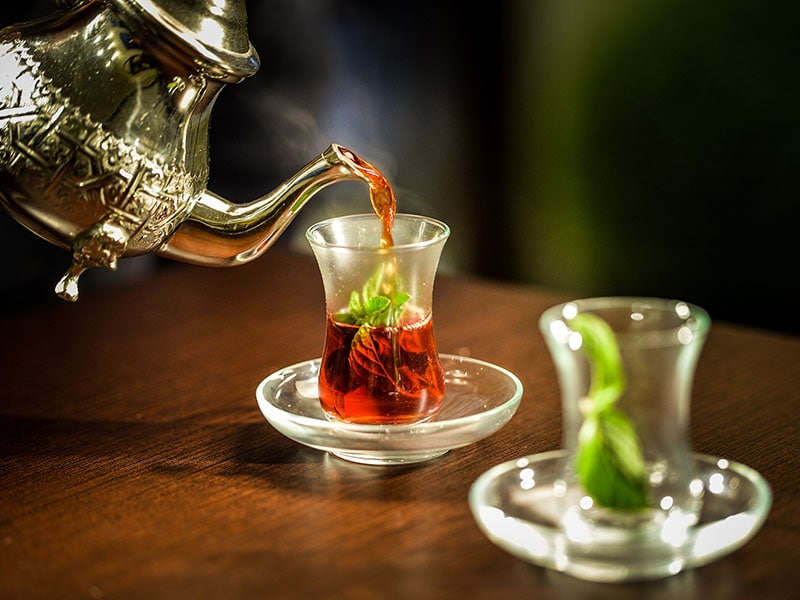 Tea is undoubtedly the most typical beverage in Egypt because tea is an essential part of Egyptians daily life!
There are thousands of types and flavors of Egyptian teas that will certainly astonish the teaholics! The most common tea here is black tea with various ways of preparation.
Another famous tea type in Egypt is herbal teas from plant leaves. Hibiscus tea and mint tea are the two most well-known variations in Egypt's tea-drinking culture. They can be mixed with lemonades or black teas to get the best blending taste.
25. Sahlab (Egyptian Warm Milk)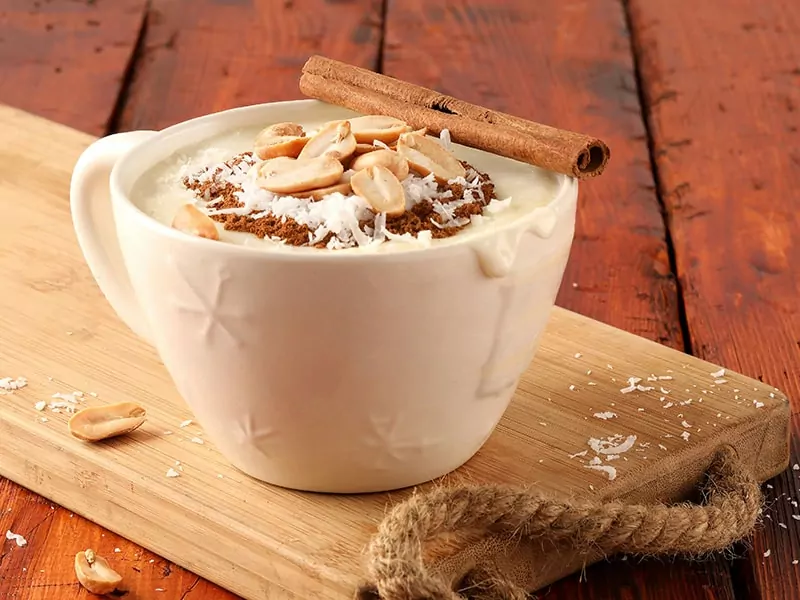 Sahlab is the name of warm Egyptian milk, whose base is from milk mixed with orchid root powder. Unlike other types of milk, Sahlab has a unique thickness from the root powder. The milk base and more ingredients like vanilla and cinnamon are kept in instant sachets.
Egyptians usually drink Sahlab during winter for breakfast or after lunch. Ancient Romans even considered Sahlab a strong aphrodisiac or fattener for young women in the Ottoman Empire before their marriage.
When you want to drink Sahlab, just dip the sachets in warm milk and let it dissolve. Then, you can top it with some favorite fruits like berries and bananas. The traditional Sahlab will have shredded coconut, pistachio, cinnamon, and raisins. Sounds delicious, right?
You can quickly make yourself a cup of Sahlab with instant milk powder!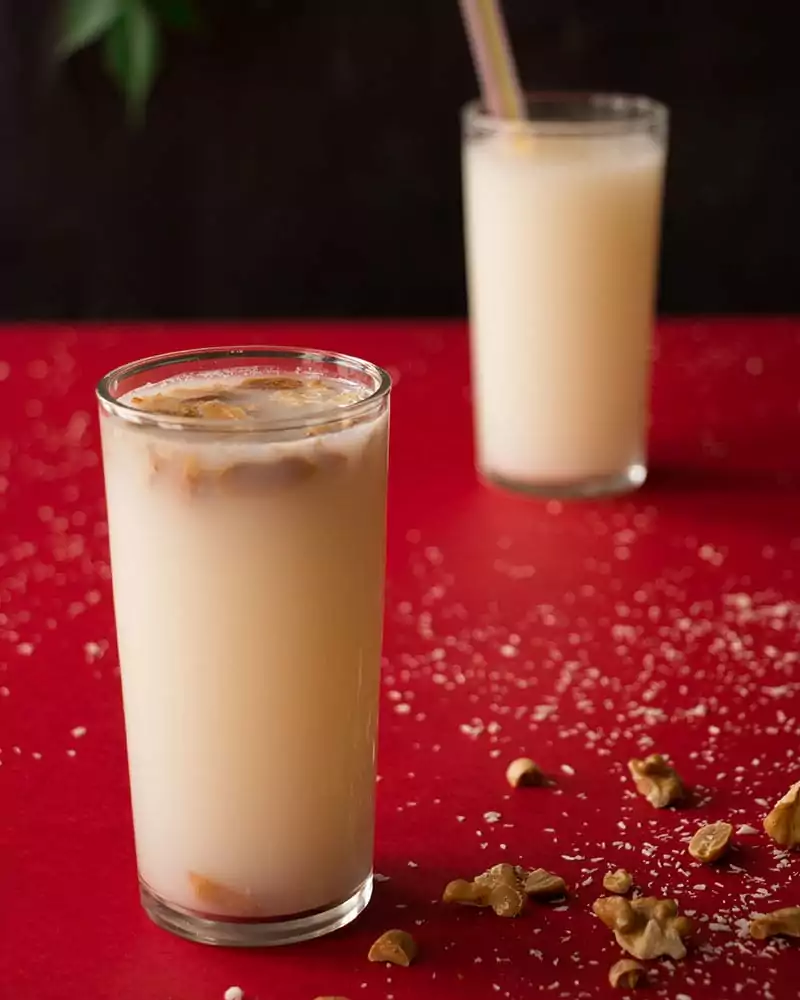 Sobia is a traditional drink from rice, dairy products, coconut milk or powder, vanilla, and sugar in Egypt. Egyptians will serve it cold with crushed ice. Sobia is creamy, rich in flavors, and thick texture; therefore, some people also consider it a dessert.
This drink is also a yummy treat for children. Like sahlab, Egyptians are likely to produce it into an instant powder that is very convenient to use. The locals sometimes mix Sobia with strawberry or mango juices to make a unique drink!
Find Out Your Favorite Egyptian Dishes From This Ultimate List!
What can be your go-to treat when you visit Egypt? You may find these dishes in an Egyptian restaurant near your place, but it is always best to taste the originals right in Egypt! So if you have the chance to visit this beautiful country, don't forget to explore their cuisine!
Hope that you have had a fun time reading this article about Egyptian foods! You can always hit the like, share button or subscribe to the newsletter to get the latest news and information about this topic.
Also, if you have any questions or stories in your mind, don't hesitate to tell me below this post through the comment section! Can't wait to reply to you all! Thank you for reading, and hope to see you soon!