The upcoming Moroccan recipes are the best representative of this country's cuisine. The majority of dishes in Morocco are influenced by the Mediterranean and a hint of exquisite European foods. So, the flavor is a sophisticated combination of these cultures.
You will find that Moroccans love the flavor of various Mediterranean fruits and vegetables. The soft, sweet, and sour taste from the natural ingredients is one of the signature features of Moroccan cuisine.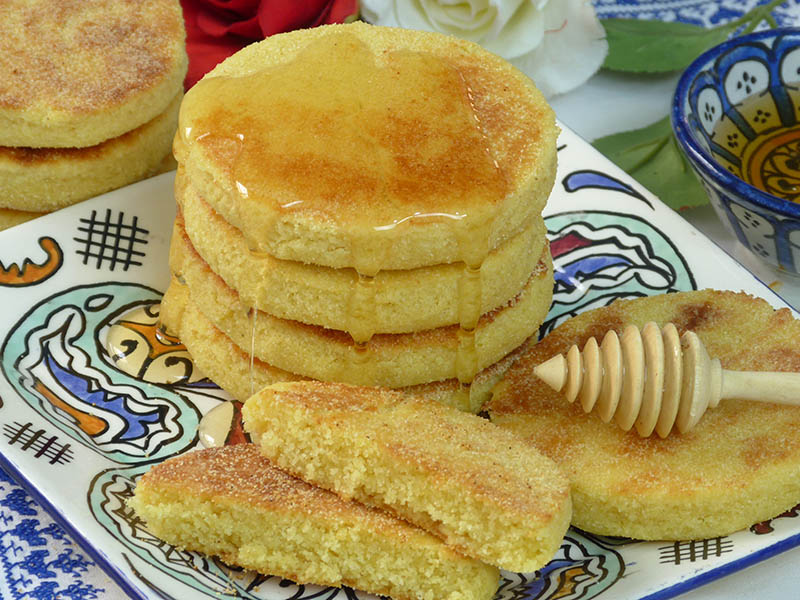 Amazing! These Delightful Moroccan Meals Are So Irresistible
Let's stop the delay and jump right into this delicious main section. You might need some tissue as these wonderful foods from Morocco are mouth-watering, wink!
Want a healthy vegetarian option from the Mediterranean regions? You can add a touch of saffron threads to the dish. This dish with rice and lots of veggies will complement the tenderness and light sweetness of the chicken meat.
It's time to spice up your dinner with fascinating Moroccan dishes. You should give this comforting soup a try because its taste will mesmerize you. You will find an intense aroma of cilantro and a nutty flavor of green lentils.
Don't you love the snake-rolling appearance of this beautiful M'hanncha cake? The word 'M'hanncha' in English means coiled snake because of the unique shape of this Morocco cuisine.
Inside the crunchy and crispy cover is a breath-taking soft center with various seed types such as cumin and fennel.
Add this famous Moroccan recipe to your lunch menu. The tomatoes are amazingly sweet with a gentle tart flavor, while the green peppers will give you a hint of peppery and an exploding experience.
One exciting feature of Taktouka is that you can enjoy the dish hot or cold depending on your preference. In any way, the dish still has a beautiful taste.
Yum! This Taktouka recipe is so delicious and healthy.
Morocco is also famous for its enchanting hot sauce that kicks your flavor and adds to the meal an unforgettable taste. Chile peppers give a dynamic feeling, while bell peppers create a gentle sweetness to the sauce.
How about a mouth-watering breakfast dish from Morocco? This super easy cake will wow you with its soft and spongy texture. You will also find a hint of orange that triggers your taste.
Wow! This Moroccan lamb looks so yummy! The well-cooked lamb is so tender and juicy, not to mention the flavorful sauce coating on the meat surface. Also, you might find a slightly sweet taste from a touch of honey.
This special Moroccan sweet course will enchant you with its rich and buttery taste. While the cover is melty and soft, the filling inside has a sophisticated sweetness that tastes like a drop of heaven.
Get ready to taste a burst of citrusy lemon from these preserved lemons recipes. Light sour and sweet taste with a hint of salty flavor. You can use this dish as a dressing or sauce to boost the flavor of the entire dish.
Such a spectacular way to make a jar of preserved lemons!
Trust me; this crusty Moroccan khobz will satisfy your taste. After baking, you will have a perfectly crispy cover with a soft and crumble inside. With a lovely sweet flavor, this Moroccan white bread should be on your must-cooked list.
If you don't like a pungent flavor, this lentil soup is perfect for you. The soup is mildly seasoned so that you can enjoy the authentic taste from the beautiful ingredients like cumin, carrots, and coriander.
This lentil soup also has a vegan variation, so you can choose the best recipe that is suitable for your diet.
If you are a fan of fava beans, don't miss out on this Bessara recipe. The fava beans are rich in protein and give the dish an unforgettable nutty taste.
Bessara is an excellent choice for breakfast with flatbread for an authentic Moroccan side dish. You can pair this soup with some cumin and chili powder for an extra flavor.
Who doesn't like a heartwarming meal on freezing winter evenings, right? This magnificent Moroccan chickpea stew will give you a warm embrace from its hot, thick, and smooth paste. The nutty chickpea is so soft that it will make you finish the whole dish without noticing.
Here is great news for vegans. I have a vegan version of this chickpea stew right here, so you can taste this flavorful cuisine without any hesitation.
Don't you want to try this hearty and healthy chickpea stew?
In case you are out of ideas for the next BBQ party, have a look at this shashlik recipe. The lamb is cut and well-seasoned, so it has a tender texture with juicy water that will pop when you bite it. Chopped mint and garlic give this dish a gentle aroma.
Here comes a traditional Moroccan cookie with a unique shape. These cookies mimic the shape of really eye-catching flowers. Crunchy, sweet with a hit of fragrant aroma from sesame seeds, these cookies must be the national treasure of this country.
This Moroccan carrot salad will greet you with its mesmerizing color; then, treat you with a savory flavor and a crunchy texture. You will taste a little spicy from paprika and a beautiful scent from minced parsley leaves.
Treat yourself to this refreshing Moroccan carrot salad right now!
You will be amazed by the juicy flavor of lamb meat. The meat from the shoulder of the lamb is the best choice to create a melt-in-your-mouth dish. Add some turmeric for a beautiful yellowish paste.
This dessert recipe is full of nutty taste! Yeah, if you love nut-based products, a bite from baklava will take you to paradise. The cake is constructed with layers that harmonize the nutty flavor and the soft texture of filo pastry.
Such a gentle dish for breakfast! Harcha is loaded with mild cream and butter to give a buttery taste. The dish has its crumbling texture from semolina that will be a perfect treat for any kid. You can shape the cake in any shape you want with the help of the baking frames.
Let's finish the list with this delectable dish from Morocco. Chicken tagine is famous for its spiced sauce that bathes the tender chicken. You will also find a strong scent from robust ingredients like ginger or cinnamon.
Hey! Don't miss this dazzling chicken tagine recipe!
Couscous is a famous ingredient in Morocco that has a rice-like appearance. You can add this ingredient to your salad to create a mild base that complements other ingredients. You should complete the dish with a beautiful aroma from parsley.
This Chraime recipe will coat your fish with an exploding spiciness from paprika and peppers sauce. Tomatoes will create a gentle sweetness that highlights the fish's tenderness. You can sprinkle some chopped fresh cilantro for garnishing.
The Start Of Something New!
Wow! You didn't expect the diversity of Moroccan cuisine, right? These recipes are an excellent choice to twist the ordinary meal with some flavorful dishes. Don't hesitate to experience new recipes; you won't regret the outcome.
Remember to subscribe to get notifications for the next exciting post. I hope you have a lovely day trying new recipes.