When speaking of Latin American cuisine, Brazilian recipes are the perfect representative for this region. A little spicy, creamy, and incredibly savory are the signature flavors of Brazil's foods. From the cute Quindim to the hearty Moqueca, this country will treat you well.
You will find the creamy and sweet taste of coconuts in many Brazilian dishes. There is even a rice recipe full of coconut flavor, fascinating, right? So, let's discover the taste of these Brazilian foods below.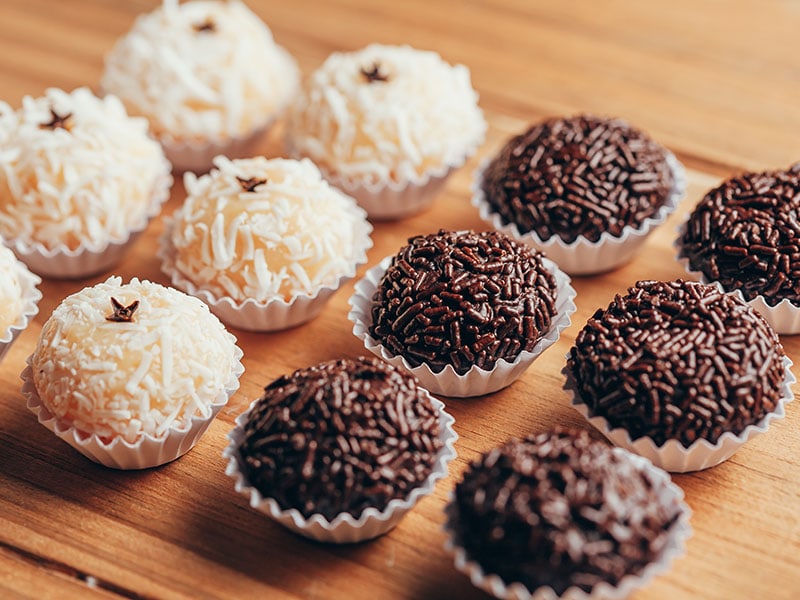 Get Ready To Be Surprised By These 50+ Brazilian Recipes!
Who doesn't want a meal full of exploding flavors? It's time to grab your apron and make these mouth-watering Brazilian cuisines.
The first recipe on this list is a traditional Brazilian dish that will welcome you with its hearty flavor. The natural sweetness and creamy taste from coconut are the key features that make the dish memorable. The stew is perfect for serving with some rice.
Amazing! This Feijioada has a unique black color from black beans. The dish is full of pleasant nutty flavor that will highlight the bed of white rice – an indispensable companion of Feijioada. A spoonful of this dish is what you are looking for right now.
If you want to have a lovely morning dish from Brazil, this Pão de Queijo is an excellent option for you. The edges have a slightly crispy texture covering a soft and pillowy interior. The experience is like eating a sweet and rich cloud.
Want to try a crispy dish with a soft chicken filling? Don't miss this fascinating Coxinha from Brazil. After deep-frying the croquette, you have a flaky and crumbly cover enhancing the buttery cream cheese interior.
Let's spice up your lunch menu with Brazilian dishes. You can try this Brazilian coconut curry for a piquant and memorable flavor. You can use cayenne pepper or paprika for a sophisticated touch of spiciness.
When speaking of Brazil, it would be a mistake not to mention the Galinhada. The dish is representative of this country's cuisine with sweet bell pepper and sour lemon juice. The presence of some saffron threads contributes to a rich nutrition profile for the dish.
This Galinhada looks freaking good! You will be amazed by its flavor.
Why not try an authentic Brazilian dish for dinner? The beef is so tender that it can melt immediately in your mouth. The smooth and rich paste bathe the meat with a bold and savory flavor.
If you need a refreshing Brazilian side dish to complete your delightful meal, give this collard greens recipe a try. The dish has a mild taste that will fit many dishes without overwhelming their flavor. Also, collard greens are an excellent 'green' protein source for you.
Hey! This beautiful Brazilian sweet course will brighten your day with a melting sugary flavor. Brazilian Pudim de Leite has a jiggly texture that will complement the sweet taste of the dessert. Don't forget the delicate caramel glaze that makes the dish irresistible.
Soft and jiggly, this Brazilian caramel flan will melt your heart.
In almost every Latin American cuisine, there is a wonderful sauce that is the spirit of the whole dish. In Brazil, it is Chimichurri. The sauce is garlicky with a gentle hint of spiciness. You can use the sauce for marinating, salad dressing, or a dipping sauce.
Arroz de Coco is a simple dish that you can replace your ordinary white rice. It has an enchanting coconut smell with a touch of creaminess. The rice has a shiny appearance with a silky-smooth texture that is perfect for pairing with spicy dishes.
Salada de Palmitos is a sweet and creamy salad with an eye-catching appearance. You can serve this dish at any barbecue party or a peaceful family picnic. A hint of sour from vinegar or lime juice will trigger your taste and make you fall in love with this recipe.
Brazil has a beautiful cake recipe with a mesmerizing look and an incredible sweetness – carrot cake. The cake has a soft and crumbly texture that will melt in your mouth. The chocolate glaze covering the cake gives the whole dish a bold and sweet flavor.
Wow! These small and cute Brigadeiros are an excellent option for your upcoming party. The thin and crispy cover highlights the fudgy chocolate interior inside. You can decorate these sweet treats with sprinkles or flaked almonds for extra textures.
Perfect! These Brigadeiros will blow a sweet party in your mouth.
It's time to fulfill your family's stomach with a rich and cheesy dish. This Brazilian lasagna is perfect for that mission. Although many people think of lasagna as a classic food in Italian cuisine, the Brazilian version is no less delicious.
The cheese is so creamy, and the filling is so flavorful that it is impossible to resist.
Cachorro Quente is traditional street food in Brazil filled with soft and juicy hot dogs. The dish is full of pungent onion and pepper scent that will please your nose. You will also feel a gentle sweetness and sour taste from tomatoes.
This dish is the perfect description for the phrase 'finger-licking good' because the chicken legs are so delicious. With the savory seasoning, you will enjoy every last piece of the chicken without noticing.
You can make this simple recipe in just a snap of a finger. The dish is full of crunchy textures with a beautiful sweet and sour flavor from tomatoes and vinegar. You can serve the dish at almost any Brazilian table.
So fresh and delicious! You must try this vinaigrette recipe now!
This lovely Frango a Passarinho is a must-listed in your party's menu because it is so crispy and flavorful. The fried chicken has a perfect tenderness enhanced with a pungent kick from white wine or vodka.
Farofa is a signature condiment in Brazilian and Angolan cuisine. This ingredient brings an exciting-crumbly texture to your dish. Farofa is perfect for serving with rice and beans; you can sprinkle it on top of other dishes for garnishing and extra flavor.
Here comes an exciting dish to add to your BBQ menu. These Brazilian meat skewers are soft and tasty with a lovely smoky flavor. You should cut the meat into large cubes for seasoning and harmonize it with other ingredients.
Rissoles is a Brazilian dish that looks like the famous empanadas from Spanish gastronomic culture. It has the half-moon shape hiding a wonderful filling. These rissoles are fried until golden brown for a melty-crispy texture that makes the dish flawless.
This Brazilian açaí bowl is a healthy choice for those who want a refreshing meal with a nutritional profile. The dish is made with mashed açaí – a signature fruit in Brazil. Bananas, granola, and seeds (flax, chia, or hemp) are some popular choices for the topping.
It's time to say goodbye to a boring breakfast dish and welcome this fruity bowl packed with delightful flavor and vitamins.
Yummy! Imagine the bouncy shrimps bathed in the rich and creamy sauce from coconut, fabulous, right? This camarão no leite de coco will be complete with a touch of cilantro or parsley for a beautiful aromatic scent.
Picanha is an outstanding steak dish from Brazil that will amaze you with its sophisticated flavor. The well-seasoned steak is incredibly tender and flavorful with a breath-taking appearance perfect for a fine dining meal.
This Picanha is incredible with a smokey and beefy flavor! Let's make it.
Camarão na Moranga is a unique way of combining the soft sweetness of pumpkin with the bouncy texture of shrimps. You can use the Long Island cheese squash or Winter squash to substitute for the traditional Brazilian Moranga squash.
The name of this beautiful dish means 'good bite' in English, which is literally correct. Every bite of this divine custard dessert will take you to heaven, where the little angels will give you lots of sweet kisses. Try this recipe, and you will understand what I am saying!
This Brazilian enchiladas recipe will fulfill your menu with a tasty and cheesy meal. The enchiladas rolls have a soft cover with a juicy and flavorful interior. You can serve the dish for dinner or lunch to your family.
Wow! This Enroladinho is a fantastic choice to energize your family for lunch. The dough is so soft, while the interior is filled with rich cheese and slightly salty ham. You can also serve these rolls as a snack to reenergize during the day.
Hold on! Let me greet you with an exquisite drink recipe from Brazil, Caipirinha. The drink is full of strawberry flavor, which is slightly sweet and sour. You can choose to add a shot of Cachaca for a bold characteristic; if you don't like alcohol, just enjoy the drink as usual.
Beijinho means 'little kisses', and these sweet treats with coconut will please you with their creamy and sweet taste. After opening the powdery and crumbly cover, the soft and moist interior will surprise your taste.
If you seek a creamy companion for your crispy bread, this Requeijão Cremoso will satisfy your taste. The cream has a mild and creamy taste with a smooth texture that makes the bread look so yummy.
Don't you want to taste this creamy requeijão recipe?
Why don't you make this Brazilian-styled french toast for brunch? I bet that no one can deny the dish's charming taste. You can quickly tell how soft the dish is in the middle, but it still retains the crispiness at the edges.
An amazing addition for a BBQ party is on the way! The dish is so simple to make; you can just skewer the pieces of Brazilian cheese and grill them until an aroma is exposed. The cheese has a creamy, slightly sweet, and delightful milky taste that the kids love so much.
Stay tuned! I have something so good for you to try. This Brazilian chicken salad is effortless to make; you can serve it as an appetizer or a side dish for dinner. The food tastes so creamy and delightful with juicy chicken and savory veggies; I believe that you will love it.
Let's make some banana crumb cake but with the Brazilian recipe. I'd really like how the dish gives out a slightly creamy taste, not too sweet, so that everyone can enjoy it. Moreover, the cake texture is so soft that it melts gently in your mouth.
The first impression of the cake will be extremely enchanting. The dish combines the two most-liked desserts: flan and cake. By a scoop of the cake, you can taste the creaminess, and then it is a gentle chocolate flavor following behind.
Another Brazilian sweet food that you may like so much. These crepes are made with tapioca flour, giving the dish a slightly sweet flavor. Plus, you can add extra fruits, cheese, butter, or grated coconut if you don't want the crepes to be plain.
If you have a chance to travel to Brazil, it is easy for you to run into an Acaraje street vendor. The dish is a deep-fried fritter with a savory taste featuring a gentle hint of pepper. You can use vatapa or caruru for the filling of these Acaraje.
Immerse yourself in the Brazilian street with these lovely Acarajes.
You may be misunderstanding pastels versus other Latino empanadas. However, these Brazilian pastries have a thinner dough so that the coat will be much crispier to enjoy. I have to say that the dough matches perfectly with the savory filling.
Why don't you try to make a glass of cold beverage to quench your thirst? This Brazilian lemonade includes condensed milk so that you can taste not only sweet and sour but also an exciting creamy flavor.
What is so special about Brazilian white rice? Well, it has to be the way to cook it. Instead of adding water right when you put rice in, you have to sauté rice with onions and garlic to let the aroma show first. By this method, the rice will be savored many times.
Let me introduce you to a delightful Brazilian cocktail that you can ask the bartender to make. The beverage is like a tropical vibe with a coconut taste. I highly recommend you to have it on a sunny day so that the cold drink can comfort you!
A small suggestion to enjoy the dish completely is to put these aromatic baked coconuts in the fridge. Trust me; the low temperature will give you a fantastic experience. In addition, you can quickly tell how the pastry exposes its delightful taste in your mouth.
Quindim is one of the well-known Brazilian desserts that take a big role in the locals' hearts. These coconut egg custards taste very creamy and sugary, combined with a spongy texture to create an exciting dish.
Yum! One bite of this sweet quindim will bring you to heaven.
Want to bake some sponge cake for everyone? Well, this Brazilian cornmeal cake is the one. The cake is so soft and delightfully sweet that it suits perfectly with a hot cup of coffee. You can dust some powdered sugar for extra sweetness before serving.
I promise that once you try these peanut candies, you can't forget how delicious they are. Pacoca has an excellent nutty taste of peanuts versus a gentle sweetness. These candy cubes will not let you down at all.
A sweet lover should never skip this Brazilian multi-layered cake. Some people consider the dessert as a mixture of tiramisu and trifle that gives you a tremendously creamy taste. Plus, you can add fruits or lemons to balance the entire flavor.
Honestly, you will nail this mousse effortlessly because of the dish's simple recipe. The whisking preparation seems to be the most challenging step, asking you to mix it softly. Trust me; it is totally worth it; a rich taste featuring a cushiony texture is something you're looking for.
If you are looking for a delightful dessert for dinner, this one is made just for you! The most-liked Brazilian cake has a fantastic aspect that looks like a conch. Plus, you can taste how creamy, chocolatey, and super soft the cake is in every single bite.
Let's make some delicious pie for your family and friends! The dish is a wonderful combination of tender chicken versus vegetable fillings that creates a savory food. You can cook the pie for any occasion so that you guys can sit down and enjoy the meal together.
Such a beautiful Brazilian chicken pie recipe! You have to try it now!
Immerse Yourself In The Colorful Culinary Culture
Brazil has a rich and beautiful culture with plenty of dazzling recipes. Just like a splendid work of art, each recipe adds a mesmerizing color to this breath-taking culinary painting.
So, let's bring these beautiful colors to spice up your regular menu. Share this post with your family and friends. Goodbye!
Nutrition Facts
4 servings per container
---
Amount Per ServingCalories758
% Daily Value *
Total Fat 38.8g

60

%
Sodium 742mg

31

%
Potassium 616mg

18

%
Total Carbohydrate 59.4g

20

%

Dietary Fiber 7.1g

29

%
Sugars 10.8g

Protein 45.6g

92

%
---
* The % Daily Value tells you how much a nutrient in a serving of food contributes to a daily diet. 2,000 calories a day is used for general nutrition advice.